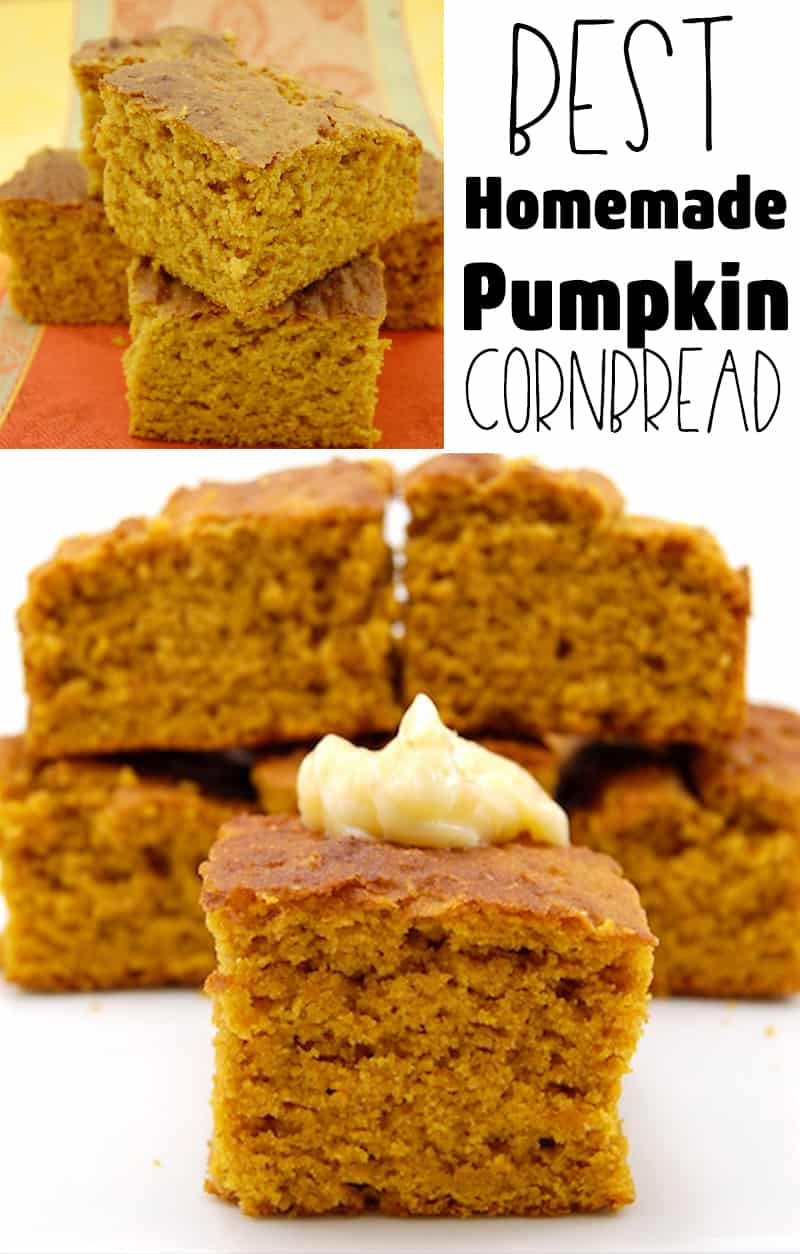 If you've never tried pumpkin cornbread, you have been missing out.
It's sweet cornbread that has a cake-like texture. This homemade cornbread has become a household staple, especially in the fall and winter months, when we all crave pumpkin. The best cornbread recipe I've ever tried had pumpkin in it. I knew once I tasted that sweet goodness, I would want to replicate it on my own. I've finally perfected this sweet cornbread and am so happy with the turnout.
Plus, this is a cornbread recipe from scratch, so there are no boxed mixes here. To me, that's a huge win!
Scroll to bottom for printable recipe card.
Best Homemade Pumpkin Cornbread Recipe
I love cornbread any time of year. This pumpkin cornbread steals my heart in the fall and winter months though. It's so different, fun and delicious. Plus, it's wonderful to take to all the holiday parties too.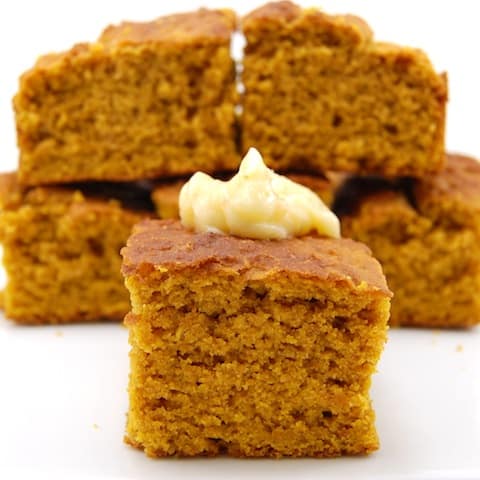 Cornbread Ingredients
Flour – Try to use unbleached all-purpose flour whenever possible. It will yield the best result.
Baking powder – Use baking powder, not baking soda when making this homemade cornbread.
Kosher salt – A little salt is a nice touch and helps it raise properly.
Ground cinnamon – Gives the sweet cornbread a nice spicy flavor.
Ground nutmeg – I can't get enough nutmeg when it comes to pumpkin cornbread. Yum!
Brown sugar – This easy cornbread recipe tastes fantastic with some brown sugar. I love the sweetness.
Cornmeal – The cornmeal gives the homemade sweet cornbread the texture we love!
Eggs – Using eggs gives you the perfect binding ingredient.
Pumpkin puree – This is a super moist cornbread recipe due to the pumpkin. It makes it so moist.
Olive oil – You could also use vegetable oil if you'd rather
Molasses – The molasses takes the sweet cornbread from ordinary to the best cornbread recipe ever!
How To Make Homemade Cornbread
Baking this cornbread recipe from scratch is one of the easiest things you can do. Because there is so little effort involved, you can work on other things while it's baking. Check out these simple steps so you can be indulging on your own homemade cornbread soon:
First Step: Preheat your oven to 400 degrees. Prepare an 8 x 8-inch cake pan by greasing it.
Second Step: Mix together the flour, baking powder, salt, cinnamon, nutmeg, brown sugar, and cornmeal with a whisk in a medium bowl. Set aside for later.
Third Step: Using a stand mixer that has the paddle attachment, beat the eggs, and add in the pumpkin puree, oil, and molasses together.
Fourth Step: Add the wet and dry ingredients together until they are combined. Pour into the cake pan and smooth out the top.
Fifth Step: Bake for 25-30 minutes. Test doneness by inserting a toothpick into the center. If it comes out clean, it's done, otherwise, bake a few more minutes.
Easy Cornbread Recipe Variations
Everything about this sweet cornbread recipe is delicious. Don't feel like you need to change a thing, but if you want to add in some variety, try these ideas.
Raisins – Toss 1/2 cup of raisins to the batter for a tasty surprise.
Semi-Sweet Chocolate Chips – If you add in some semi-sweet chocolate chips, this cornbread will almost seem like a dessert.
Cranberries – Using cranberries with the pumpkin is outstanding. You'll be hooked!
White Chocolate – I love every excuse to add white chocolate to my recipes, and this one is a winner.
Can I Replace Eggs In This Cornbread Recipe?
Yes, you can replace the eggs in this cornbread recipe. Due to the fact that this is sweet cornbread adding sweetened alternatives for eggs is a great option. You can replace the eggs with 1/2 cup of any of the following ideas. (It's 1/4 cup per egg)
Unsweetened Apple Sauce
Greek Yogurt
Flax Egg
Mashed Banana
Buttermilk
Keep in mind if you don't use eggs, the texture will be a little bit different. However, they will still taste amazing, and depending on what you use, maybe even better!
What Do I Serve Pumpkin Cornbread With?
You can really eat it for any meal, and it goes with most things. Here are a few ideas that you can pair some of this cornbread recipe from scratch with:
Barbecued Meat – Pulled pork, beef, or chicken will all go great with this cornbread. It will go well with any traditional barbecue recipes.
Soups – If you whip up a batch of soup or chili, don't forget to add some cornbread too. You'll be amazed by how delicious they are together.
Holiday Side – For Christmas or Thanksgiving, you can add some easy cornbread to the dinner table for a fun spin on the meal.
How Do You Store Cornbread?
Cornbread tends to last the longest when it's been wrapped tightly in plastic wrap or aluminum foil. This keeps the moisture away and allows it to age better. It lasts on the counter for 2 days, or you can refrigerate for 5-7 days.
Can I Freeze Cornbread?
Yes, you can easily freeze cornbread. Use a space saver bag, plastic wrap, or aluminum foil to make sure it's airtight. Then place it into a freezer bag or container. It lasts 2-3 months in the freezer.
To thaw, just place it on the counter or in the refrigerator before serving.
How Can I Reheat Cornbread?
Either toss the homemade cornbread in the microwave for a few seconds or put it in the oven. If you heat it in the oven, it should be 350 degrees F. for 10-15 minutes until it's hot. You can also eat it at room temperature or cold if you want to. It's entirely up to you.

If you love how this delicious cornbread recipe from scratch turned out, then you should try some of my other incredible recipes:
Now, remember to save this recipe on Pinterest for later 🙂

Pin this recipe now to remember it later
Pumpkin Cornbread
This pumpkin cornbread is mind-blowing good. Unlike any homemade cornbread, you've had before. 11 ingredients and you can whip up a batch of sweet cornbread!
Ingredients
1

tablespoon

baking powder

1/2

teaspoon

ground cinnamon

1/4

teaspoon

ground nutmeg
Want to save this recipe? Enter your email below and we'll send the recipe straight to your inbox!
NOTE: By saving this recipe, you agree to join our weekly recipes newsletter.
Instructions
Preheat the oven to 400 degrees. Grease an 8×8″ cake pan.

In a medium bowl, whisk together the flour, baking powder, salt, spices, brown sugar, and cornmeal; set aside.

In the bowl of a stand mixer fitted with the paddle attachment, lightly beat the eggs, and then stir in the pumpkin, oil, and molasses.

Stir the wet ingredients into the dry ingredients just until combined, and then pour the batter into the pan, smoothing the top.

Bake 25-30 minutes or until toothpick inserted in the center comes out clean.
Follow me on Pinterest for daily delicious recipes!
Here are more easy dessert recipes:
Blueberry Pie – The flavor is out of this world amazing, and it takes a fresh blueberry pie to the next level.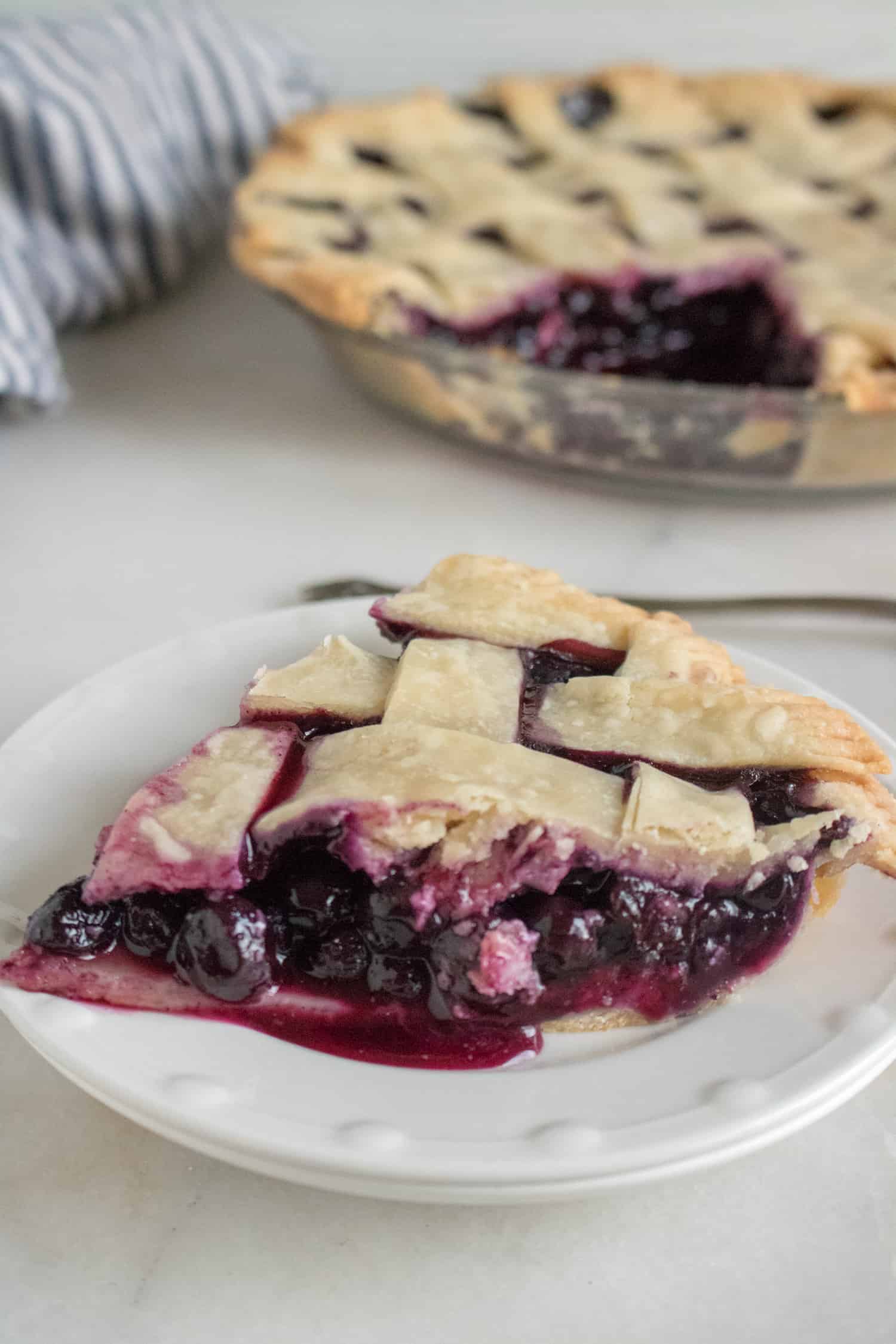 Gingerbread Loaf (Starbucks Copycat Recipe) – Gingerbread loaf is a great fall and winter dessert to serve your family or friends.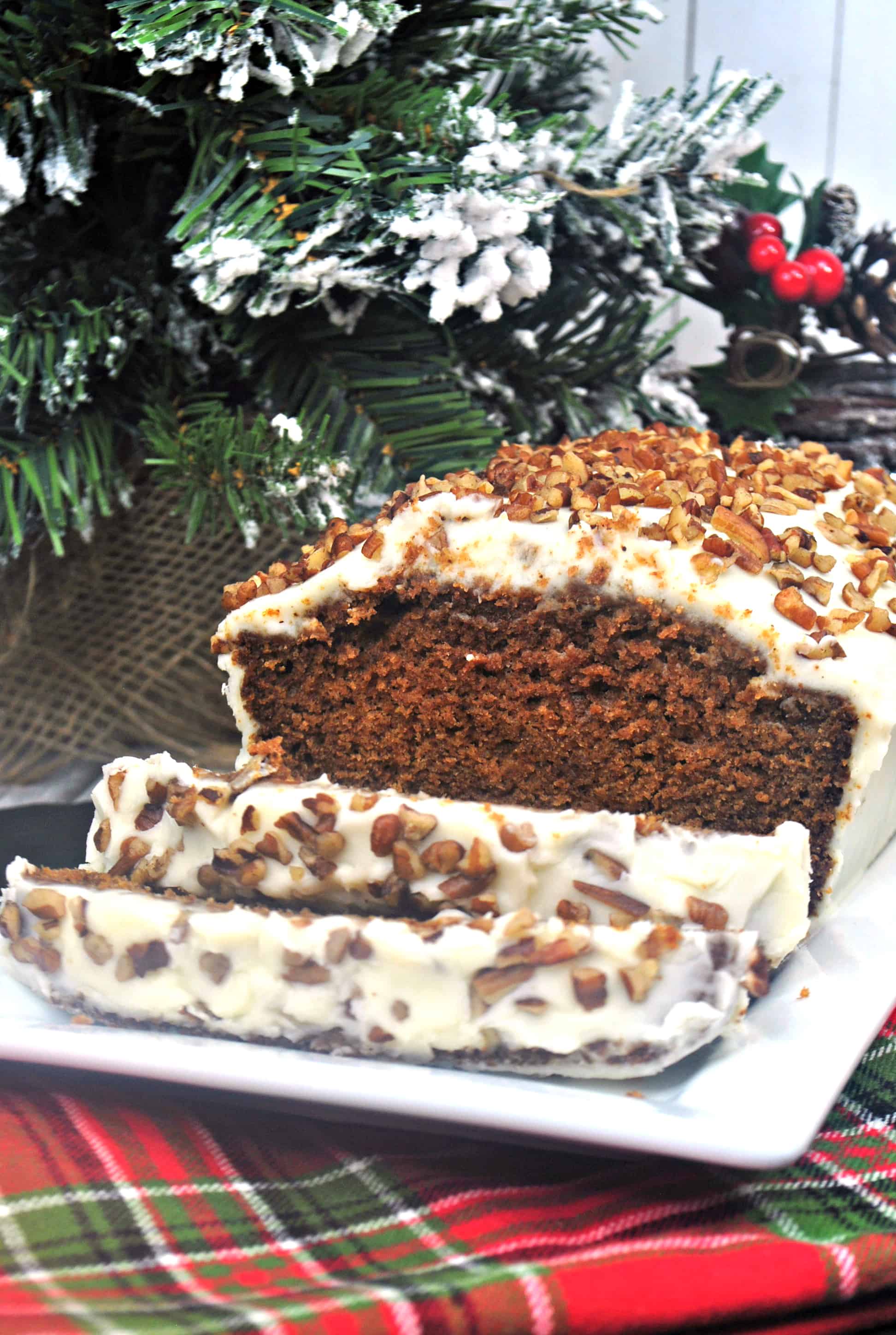 Pumpkin Bread – Don't you just love everything about fall? The cool, crisp air, the gorgeous trees, and all things PUMPKIN!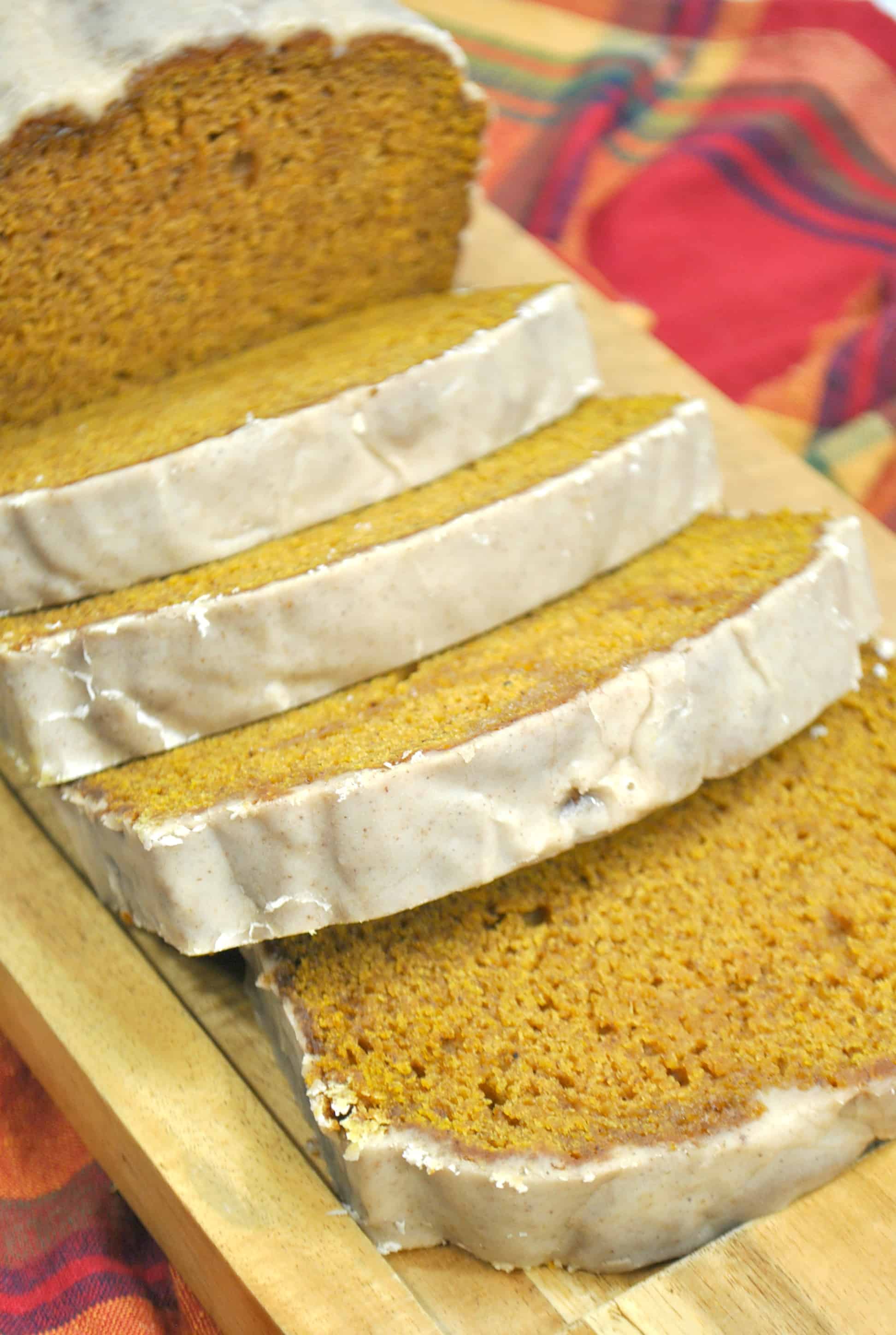 Get new recipes weekly plus our FREE ebook!