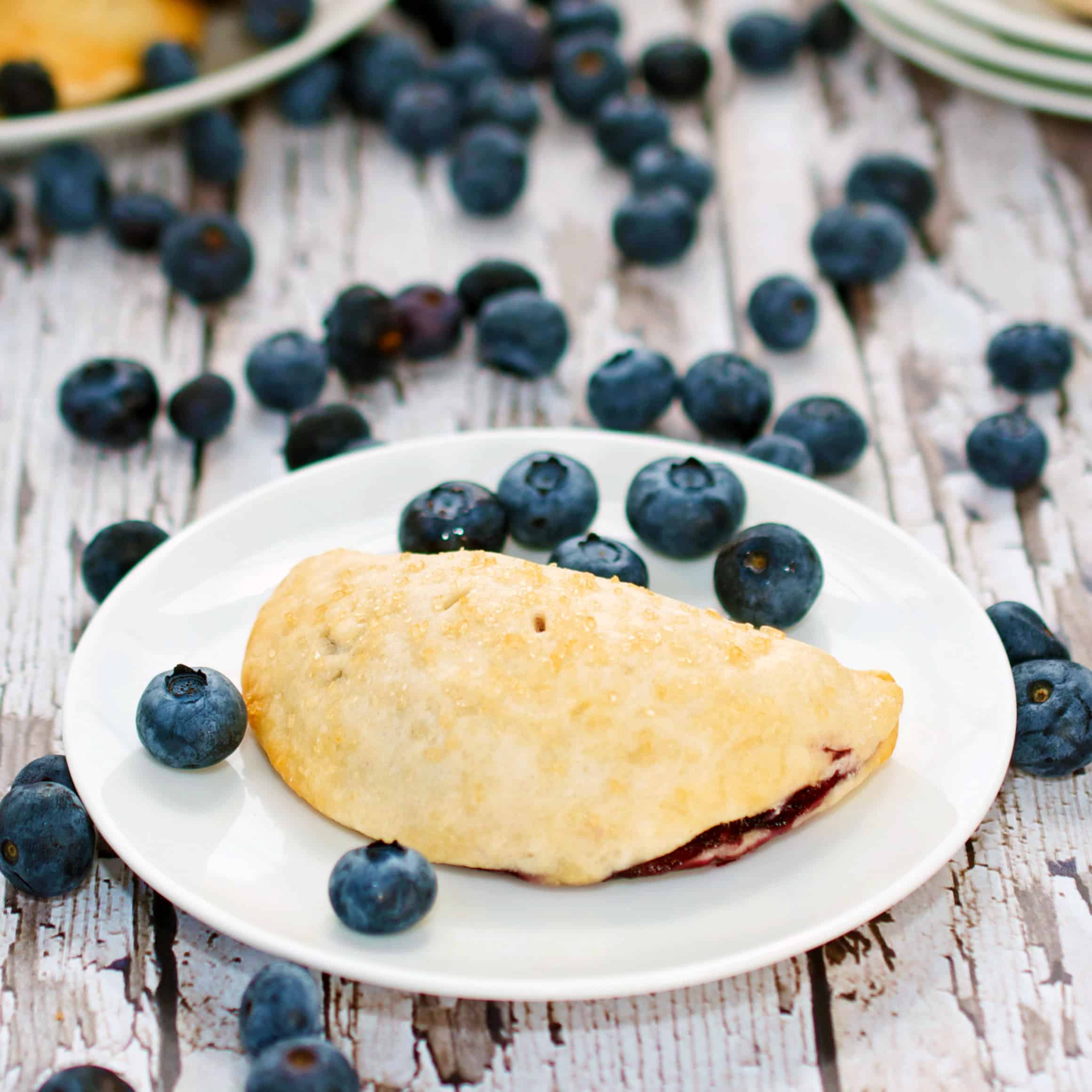 Make dessert even better with these incredible grab-and-go blueberry hand pies. These little hand pies highlight one of my favorite summery fruits. And what better time than now to stock up and enjoy their sweet goodness?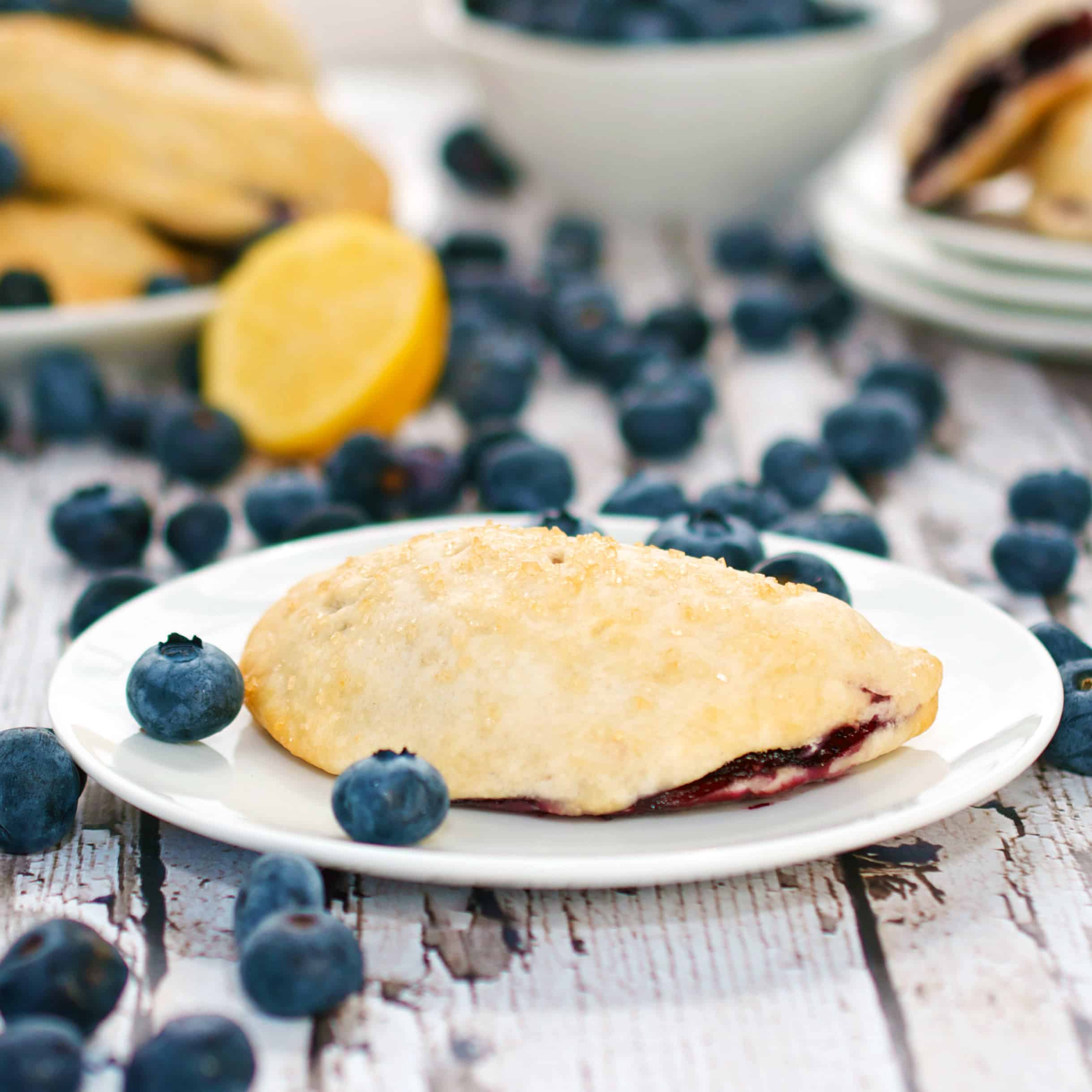 A big slice of pie is always a great accompaniment to a summer meal, but who wants to deal with cutting the pie and using forks? With this hand pie you can ditch the utensils! I just love that this recipe is baked in individual flaky little pie crust that fits right in your hand! And if you're a pie crust lover, these babies are surely for you! 😀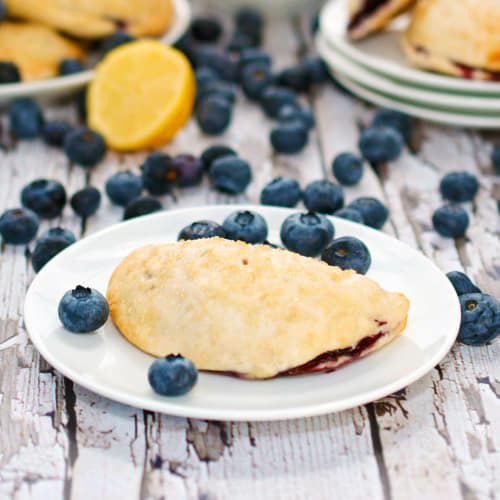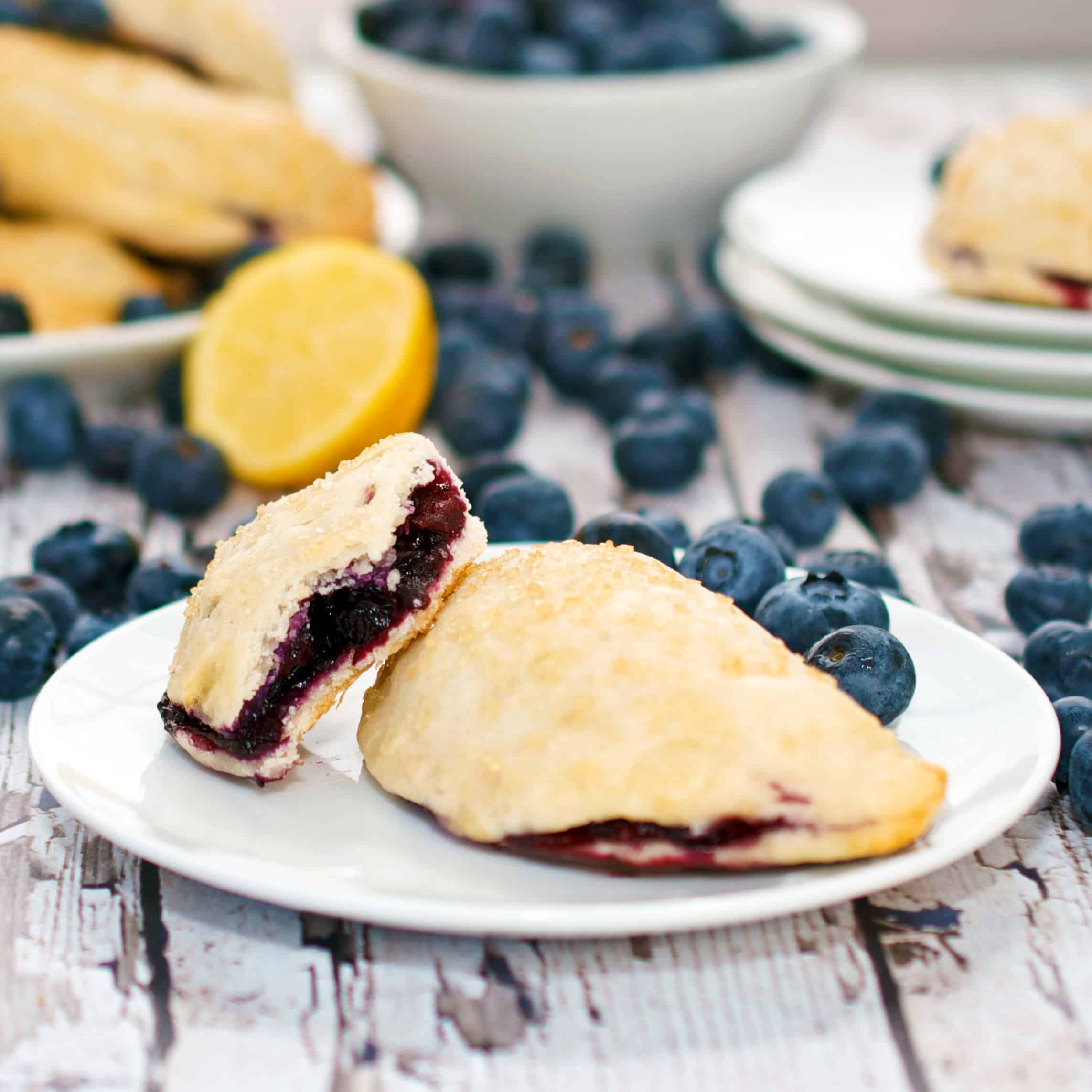 Blueberry Hand Pies
A blueberry filling stuffed into a flaky, tender little pie crust that fit right in your hand!
Ingredients
For the Pie Dough:
2 1/2 cups (12 1/2 ounces) unbleached all-purpose flour, plus more for work surface
1 teaspoon table salt
2 tablespoons sugar
12 tablespoons (1 1/2 sticks) cold unsalted butter, cut into 1/4-inch pieces
1/2 cup cold vegetable shortening, cut into 4 pieces
1/4 cup vodka, cold
1/4 cup cold water
1 large egg, lightly beaten with 1 teaspoon water
Turbinado sugar
For the Blueberry Filling:
3 cups fresh blueberries (about 15 ounces)
1/2 Granny Smith apple, peeled and grated on large holes of box grater
1 teaspoons grated zest and juice from 1 lemon
6 tablespoons sugar
1 tablespoons quick-cooking tapioca, ground
Pinch table salt
1 tablespoons unsalted butter, cut into 1/4-inch pieces
Instructions
For The Pie Dough:
In the bowl of a food processor fitted with the metal blade, process 1 1/2 cups flour, salt, and sugar until combined, about two 1-second pulses.
Add butter and shortening and process until dough just starts to collect in uneven clumps, about 15 seconds; dough will resemble cottage cheese curds and there should be no uncoated flour.
Scrape bowl with rubber spatula and redistribute dough evenly around processor blade.
Add remaining cup flour and pulse until mixture is evenly distributed around bowl and mass of dough has been broken up, 4 to 6 pulses. Transfer mixture into medium bowl.
Sprinkle vodka and water over mixture. Using a folding motion, use a rubber spatula to mix, pressing down on dough until dough is slightly tacky and sticks together.
Divide dough into 2 even balls and flatten each into 4-inch disk. Wrap each in plastic wrap and refrigerate at least 45 minutes or up to 2 days.
Remove 1 disk of dough from refrigerator and roll out on floured work surface to 12-inch circle, about 1/8 inch thick.
Using a 4-inch round biscuit cutter, cut circles out of the rolled dough. Transfer the circles to a parchment-lined baking sheet and place in the refrigerator to chill for about 30 minutes.
Repeat the rolling, cutting and chilling process with the remaining half of dough.
For The Blueberry Filling:
place 1 1/2 cups of blueberries in a medium saucepan and set over medium heat. Using a potato masher, mash berries several times to release juices.
Continue to cook, stirring frequently and mashing occasionally, until about half of berries have broken down and mixture is thickened and reduced to 3/4 cup, about 6 to 8 minutes. Let cool slightly.
Place grated apple in clean kitchen towel and wring dry. Transfer apple to large bowl. Add cooked berries, remaining 1 1/2 cups uncooked berries, lemon zest, juice, sugar, tapioca, and salt; toss to combine.
Remove the chilled dough from the refrigerator, and let stand at room temperature until just pliable, about 2 to 3 minutes. Spoon about 1 tablespoon of filling onto one half of each circle of dough.
Fold it in half so the other side comes down over the filling, creating a semicircle. Seal the hand pie by pressing with tines of a fork. Repeat process with remaining dough and filling.
Place the hand pies back on the parchment-lined baking sheet and return to the refrigerator to chill for another 30 minutes.
Preheat oven to 400 degrees F. Remove the chilled hand pies from the refrigerator, cut a small slit in each and lightly brush with the egg wash.
Sprinkle sanding sugar generously over the pies, and place pies in the oven to bake. Bake until the hand pies are golden brown and filling is bubbling, about 20 minutes.
Remove the pies from the oven, and let stand to cool slightly before serving.
Now, to save this pie on Pinterest for later 🙂