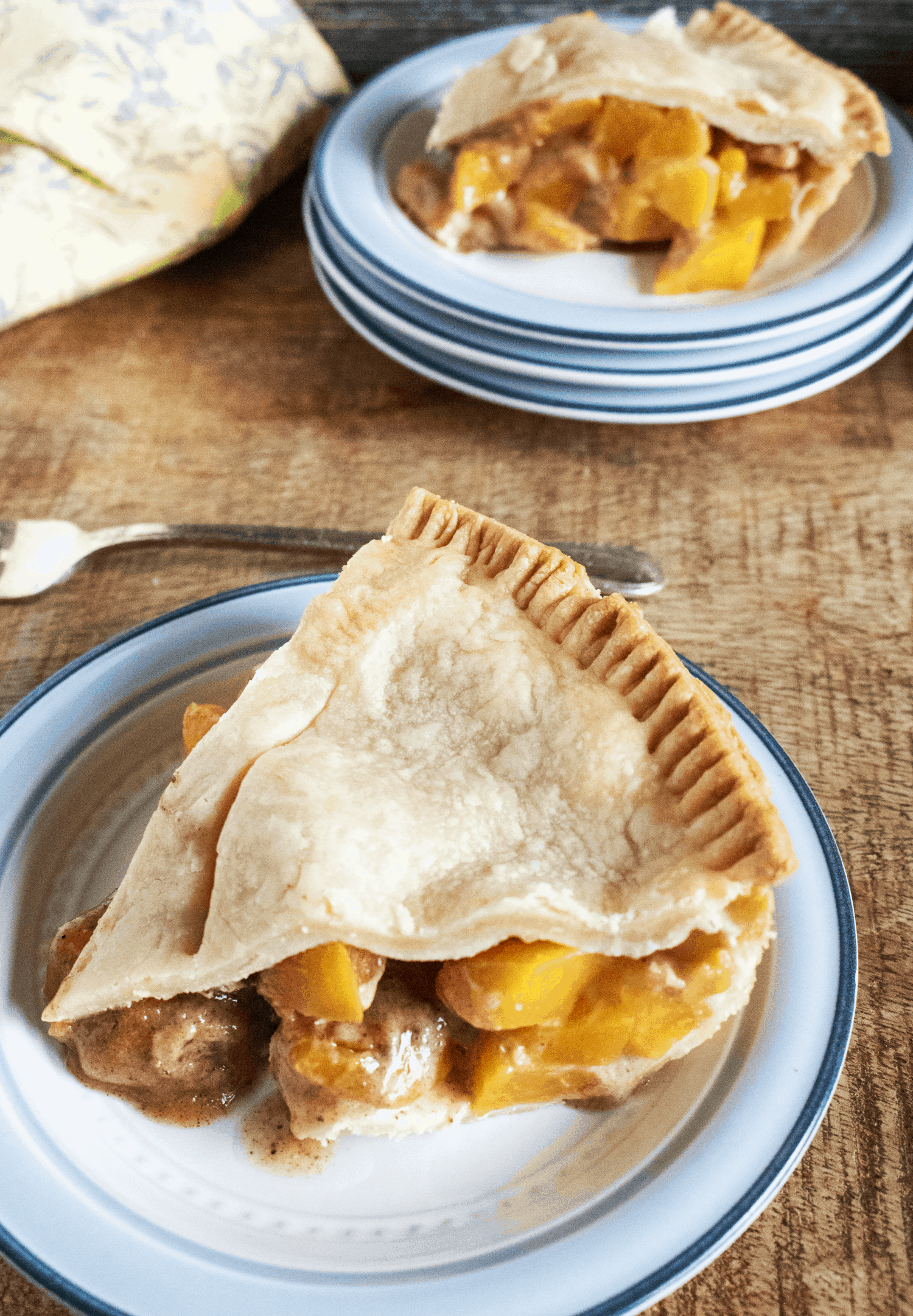 This peach pie is the perfect answer to your sweet cravings! If you have been on the prowl for a flavorful, scrumptious fresh peach pie recipe, this is the one! The peach filling has the right amount of cinnamon, nutmeg, and succulent peaches.
Often we buy a large number of peaches during the late summer when they are in season. Sometimes, it's hard to decide what to do with all of them. Many times we will cut them up and put them in the freezer, but this year, I wanted to make something extraordinary. I decided a fresh peach pie was exactly what I was looking for.
The sweetness of the pie with the flaky crust is what my taste buds dream about at night. Plus, it's been kid-tested, and it passed with flying colors. 🙂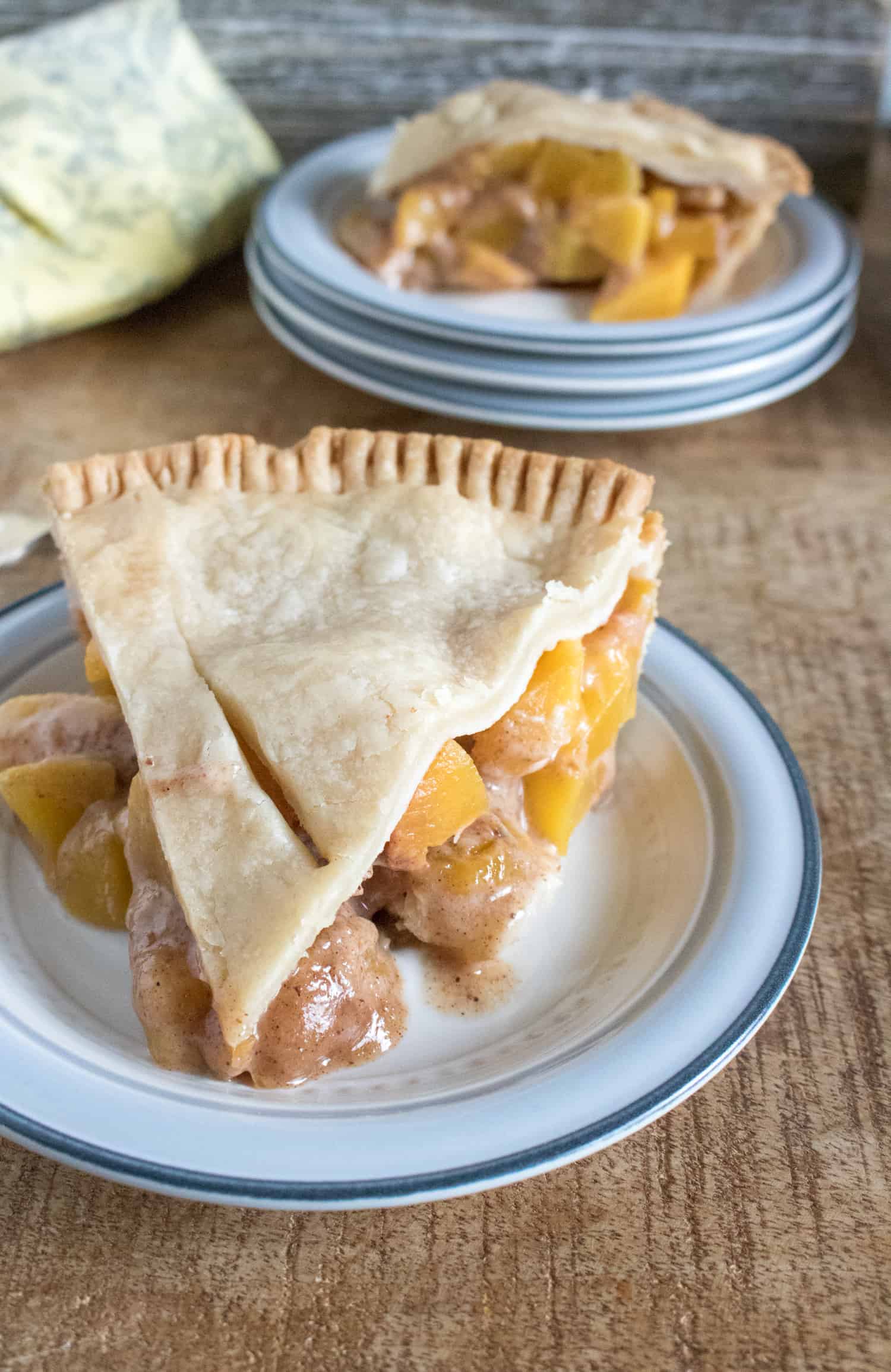 Scroll to bottom for printable recipe card.
How To Make Peach Pie
You are going to feel like a professional southern baker when you make this easy peach pie recipe! There aren't tons of steps, and you won't have to devote a bunch of hands-on time making it. Plus, the flavor is seriously out of this world.
First Step: Begin making the crust. Pulse the flour, sugar, and salt in a food processor.
Second Step: Add some cold butter that has been cut into small chunks to the flour mixture. Once the chunks are pea-sized, then you can start adding a little bit of water at a time.
Third Step: Take the dough out of the food processor and knead together with your hands — form two 4-5 inch discs with the dough. Then wrap the dough with plastic wrap and refrigerate. You can refrigerate it for 1 hour up to overnight.
Fourth Step: Once it's time to bake the pie, you will want to preheat the oven to 375 degrees F.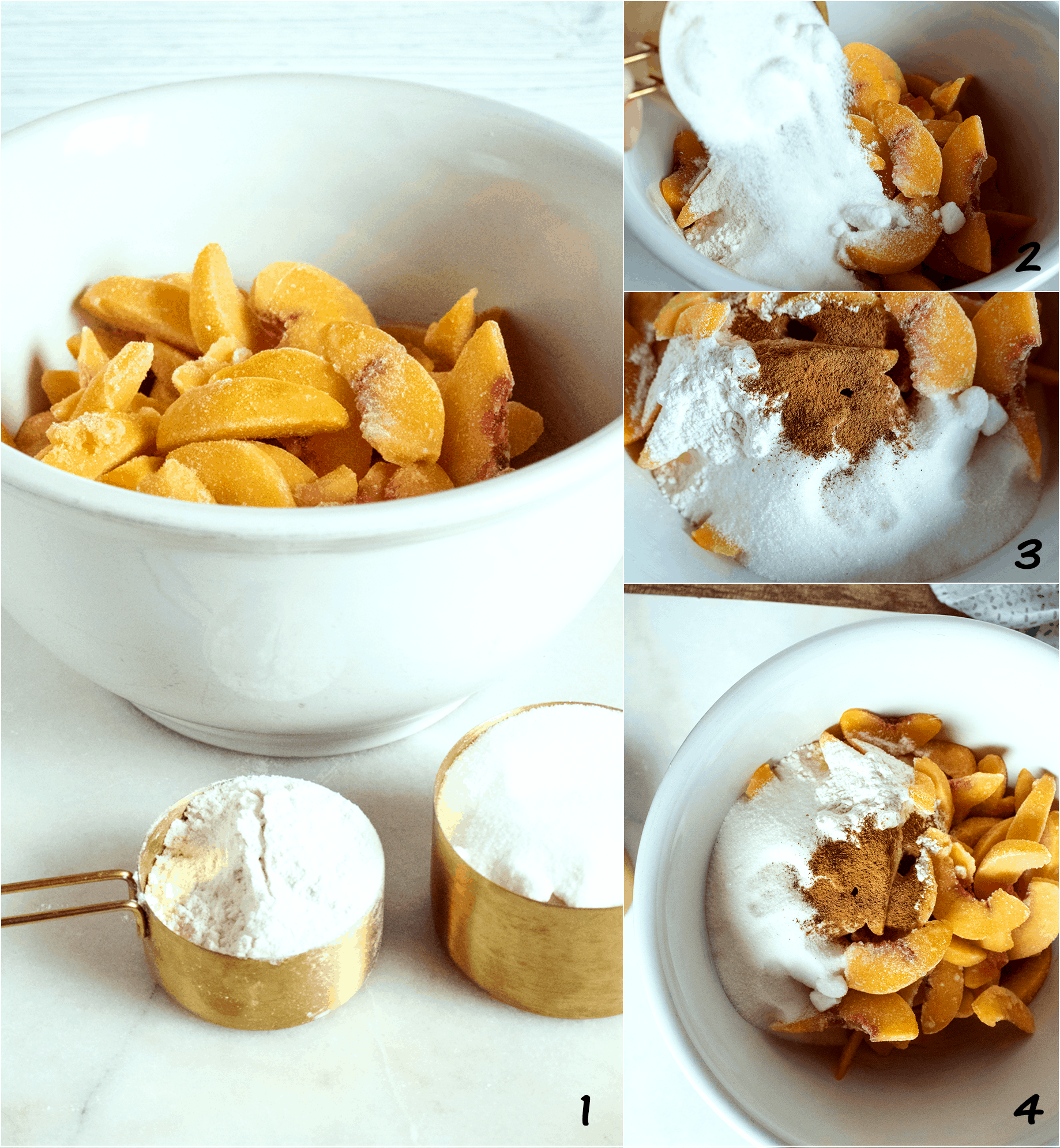 Fifth Step: Carefully roll out each dough ball until you have a circle pie crust. Place one rolled dough into the bottom of a pie pan.
Sixth Step: Cut the peaches into slices and place them into a medium-sized bowl. Sprinkle in the flour, sugar, cinnamon, nutmeg, and cloves. Stir until the peaches are coated well.
Seventh Step: Place peach mix into the prepared pie crust.
Eighth Step: Add the slices of butter and cover with the second crust.
Ninth Step: Bake for 1 hour until the crust is golden brown.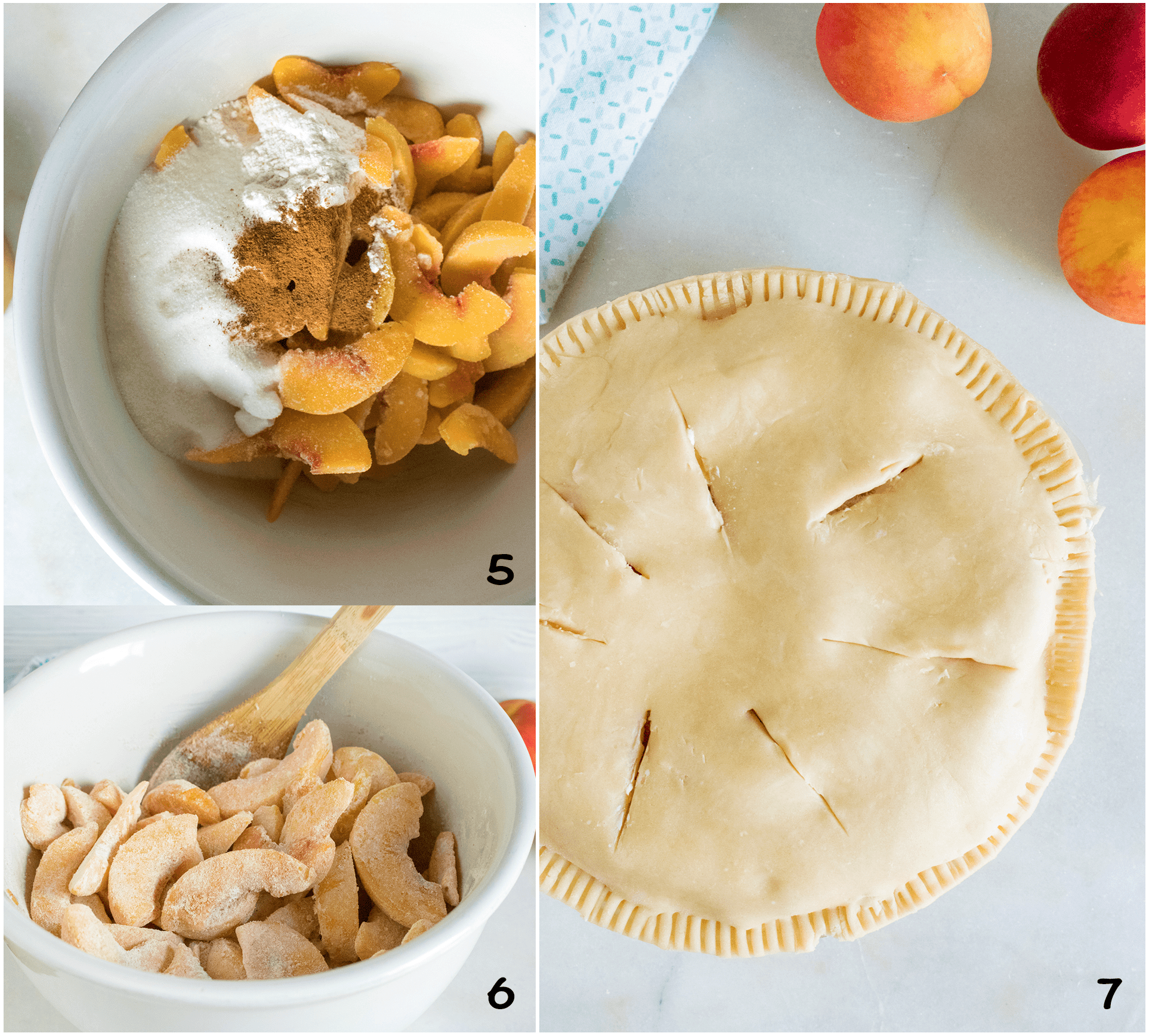 Enjoy!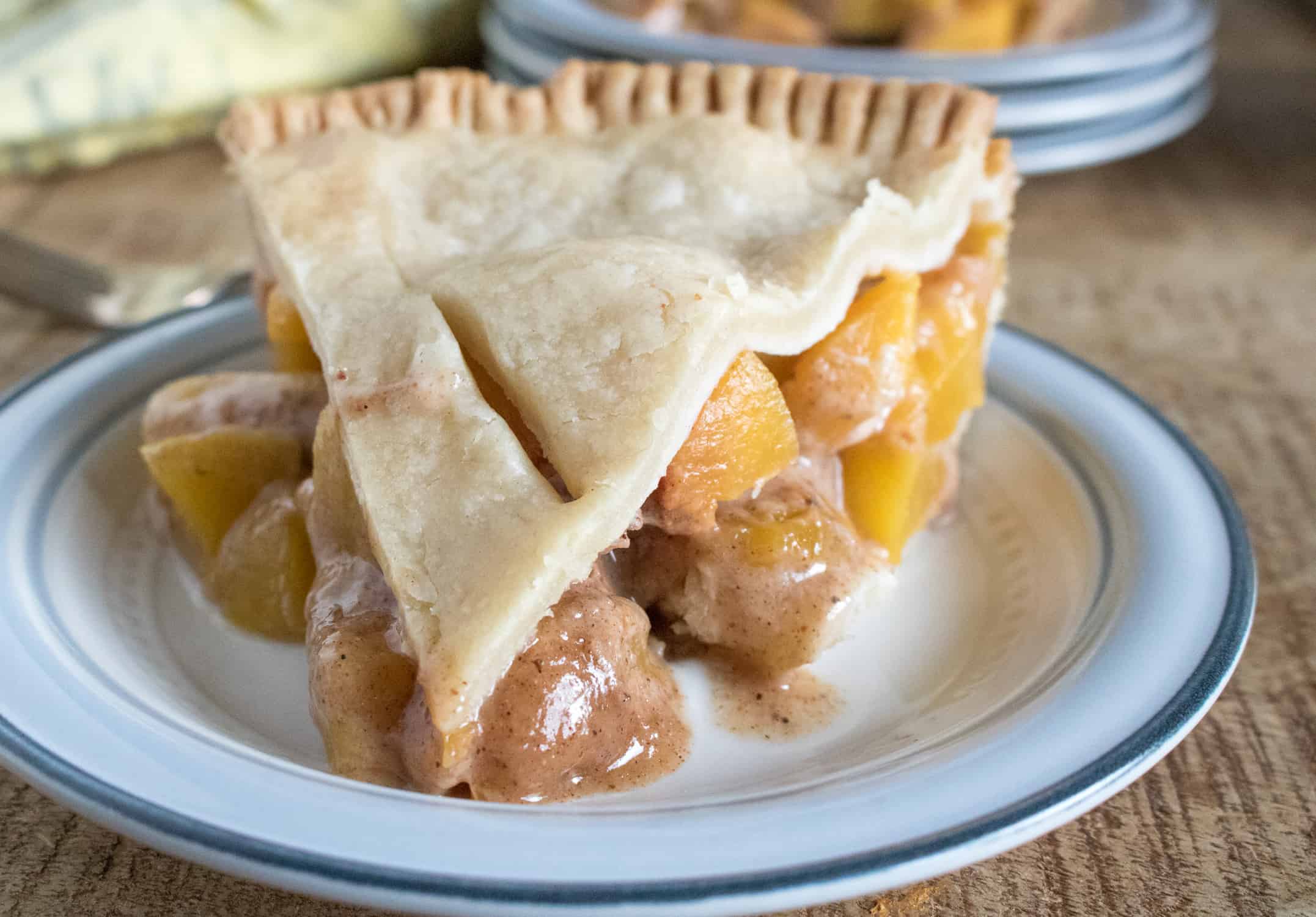 Peach Filling Variations
I'm sure you are thinking it's a peach pie, what else can I do with it? Guess what! There are lots of fun and delicious ideas you can try with this peach filling. This classic pie recipe is impressive, but it's fun to try new things here and there. Have a look at these unique ideas:
Blueberries – Add some blueberries to the peaches. You can use fresh or frozen, and both taste great! It's a fantastic combination.
Strawberries – You haven't lived until you taste the sweet goodness of a peach and strawberry pie! So yummy!
Pears – This is especially fantastic as fall is approaching. Pears are a wonderful addition to this peach filling! One thing is for sure; you won't have a crumb leftover.
Apples – Two classic flavors in one extraordinary pie! Doesn't this make you so hungry? Okay, maybe it's just me. 🙂
How Do You Prevent Soggy Pie Crust?
Occasionally, you will make a pie and be super excited to bite into it only to figure out the crust is soggy. There are a few things you can try to prevent this from being a problem. With this peach pie recipe, it shouldn't be an issue because it happens more with custards and stuff like that.
Blind Baking – This means that you poke holes in the bottom of the crust and bake it without the fillings. Then add the filling and finish baking as you normally would. It keeps the filling liquid from making the crust mushy.
Add Chocolate Layer – Okay, this is not a good idea for this peach pie recipe because the flavors will not go well, but with some pies, you can paint on a layer of chocolate! This provides a barrier between the pie crust and fillings.
Drain Moisture – It's a good idea to mix fruit and sugars together. Then allow them to sit for 10-15 minutes, so the juices flow. Then drain any of that moisture off before adding it to the pie crust.
Egg Wash – Put an egg wash (egg or egg white with a teaspoon or two of water) on the bottom crust. Bake it for a few minutes, and it will become a barrier.
When Are Peaches In Season?
Peaches are in season in late summer, typically in August. They perfect for making a fresh peach pie just like this recipe! If you live near an orchard, that is best because you can go pick your own. Otherwise, you will need to visit your nearest farmers market to find the best juicy fresh peaches!
How Do You Store Fresh Peach Pie?
You can store the homemade peach pie in the refrigerator for 4-5 days loosely covered with plastic wrap. Or it can even set in the counter for 2-3 days. The peach filling will cause the crust to get soggy faster if it's on the counter, but it will still taste great. You can serve it at room temperature, cold from the fridge, or toss it in the microwave for a few seconds. If you choose the microwave, you have to add a spoonful of ice cream too! Okay, you don't have to, but man it's good!
Can I Freeze This Peach Pie Recipe?
Yes, absolutely! Fruit pies in general freeze great. Sometimes when I am baking, I will make several so I can freeze them and serve them throughout the year. You can freeze the pie baked or unbaked depending on your preference. If it's already baked then wrap it up and place it on the counter or in the fridge to thaw. Then you can serve it as soon as it has defrosted. If you haven't baked the pie yet, then you can bake it as directed, but you will need to add 10-15 minutes cooking time to it.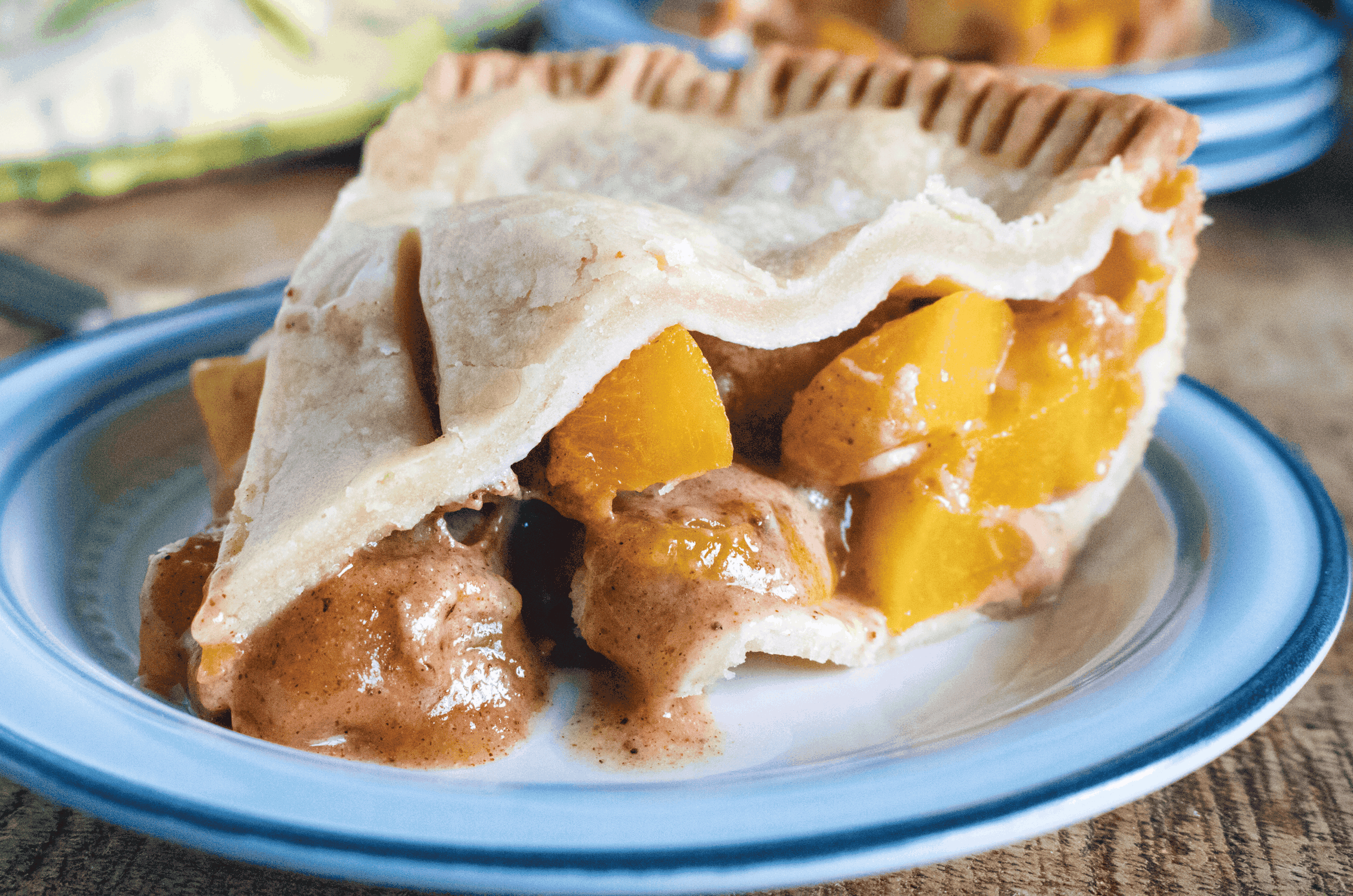 Now, remember to save this recipe on Pinterest for later 🙂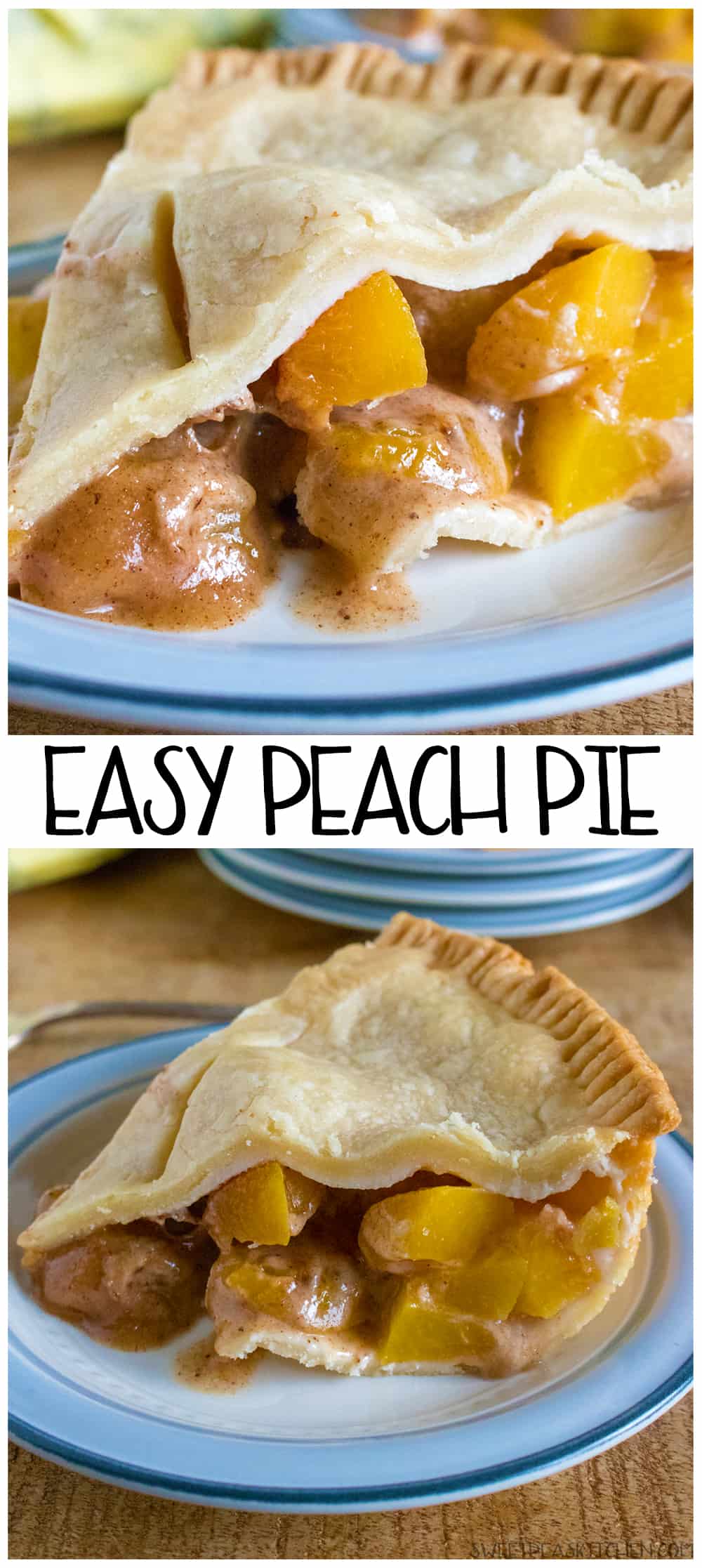 Pin this recipe now to remember it later
Peach Pie
This peach pie is the perfect answer to your sweet cravings! If you have been on the prowl for a flavorful, scrumptious fresh peach pie recipe, this is the one! The peach filling has the right amount of cinnamon, nutmeg, and succulent peaches.
Ingredients
Crust:
2 ½

cups

all-pupose flour

,

plus extra for rolling

6-8

tablespoons

ice water
Filling:
8

cups

fresh or frozen peaches
Want to save this recipe? Enter your email below and we'll send the recipe straight to your inbox!
NOTE: By saving this recipe, you agree to join our weekly recipes newsletter.
Instructions
To make the crust, pulse flour, sugar and salt in a food processor and pulse to mix together. Add in the butter, cut into small chunks, and pulse until the butter is no larger than pea size. Add water in a little at a time and pulse. Remove the dough from the food processor and knead together, forming two 4-5 inch disc shape with the dough. Wrap the dough in plastic wrap and refrigerate for an hour or overnight.

When you're ready to make the pie, preheat oven to 375.

Roll out both of the pie Line pie dish with one of the pie crusts.

Slice peaches and place in a bowl. Stir in the remaining ingredients (with the exception of the butter) until fairly well mixed.

Pour peach mix over the crust in the pie dish. Add dabs of butter, and then cover with the second crust.

Bake at 375 for 1 hour.
Nutrition
Follow me on Pinterest for daily delicious recipes!
Craving More Desserts
Blueberry Pie Recipe – The flavor is out of this world amazing, and it takes a fresh blueberry pie to the next level.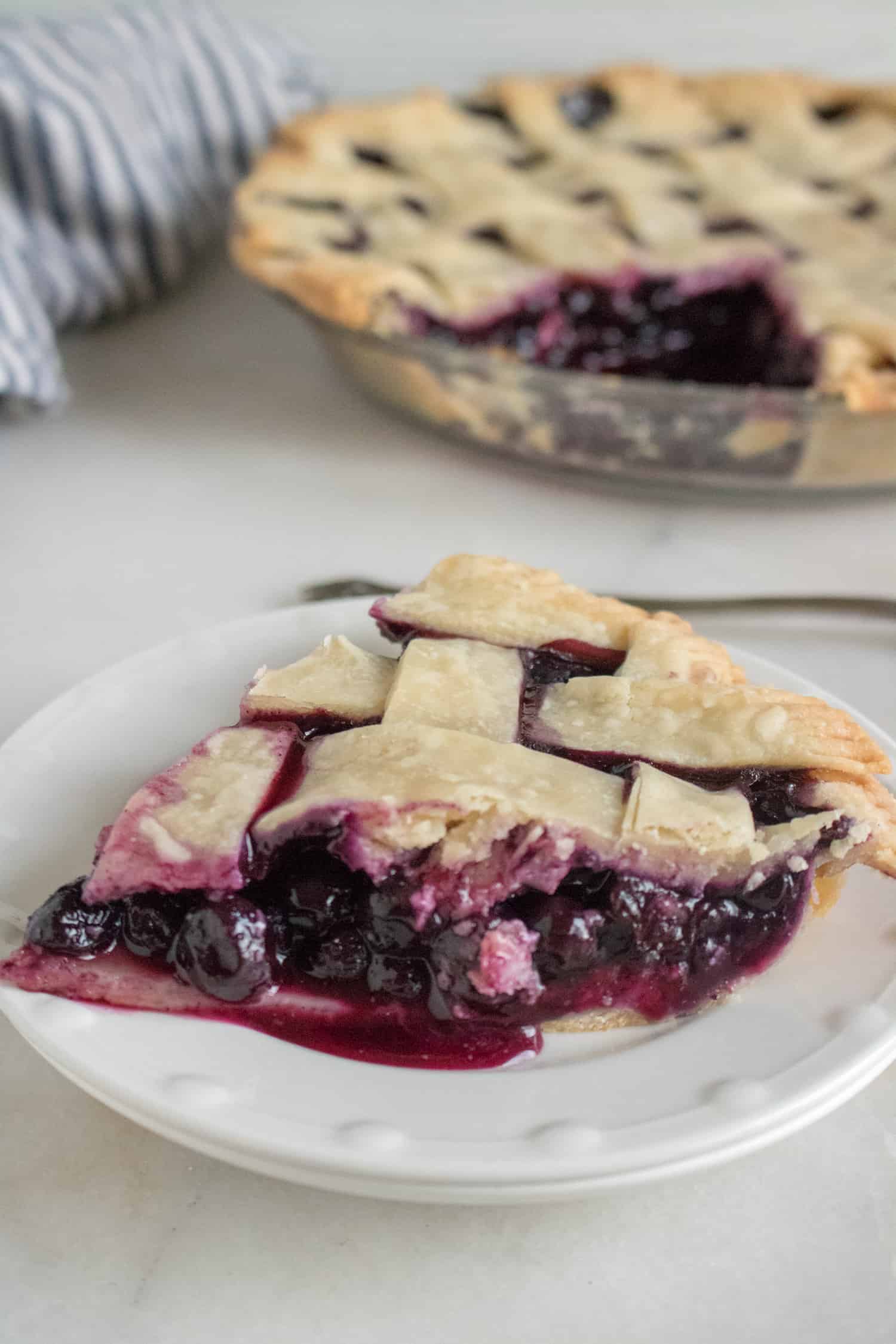 Strawberry Pound Cake – Sweet, moist strawberry pound cake is the perfect crowd pleasing dessert!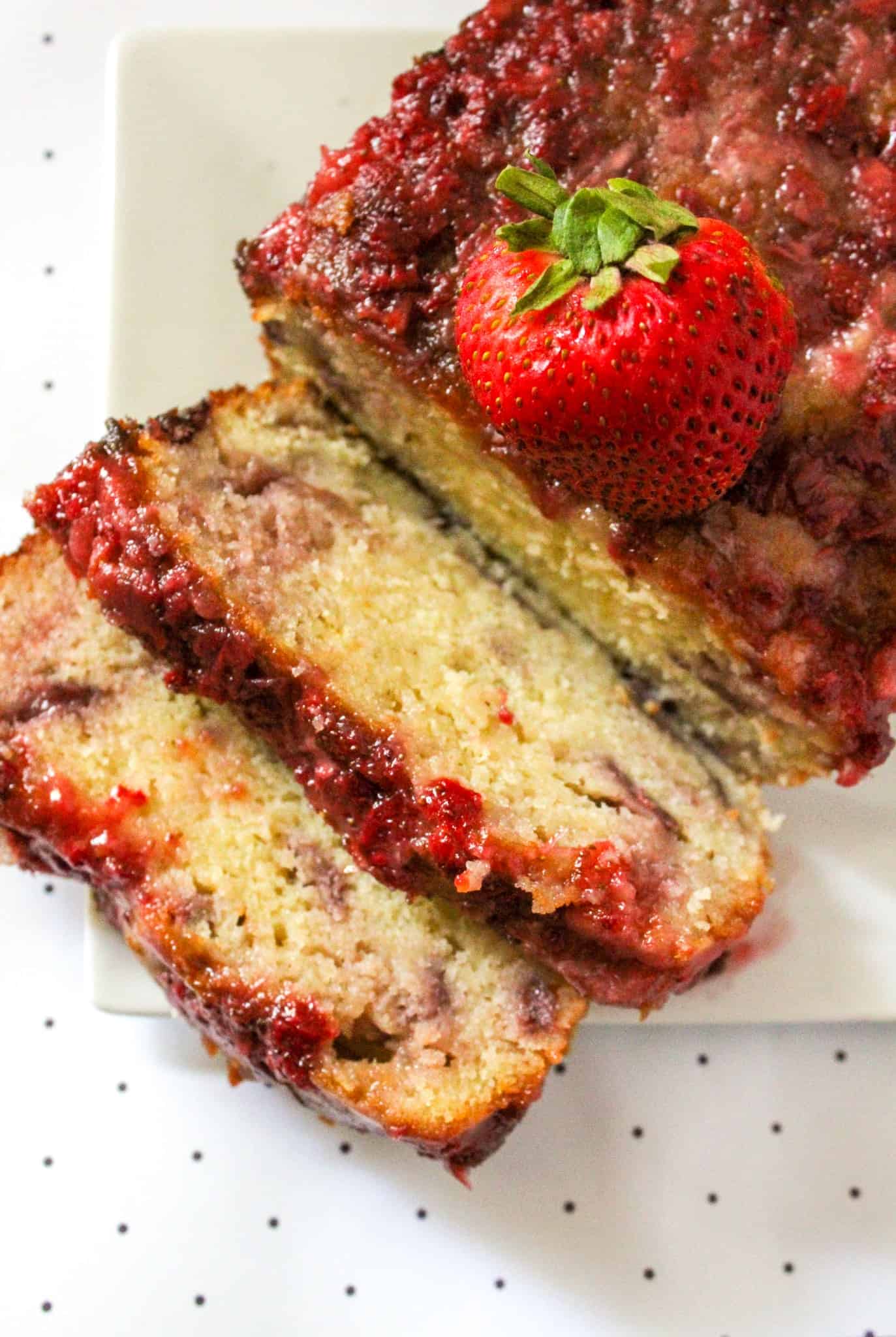 Pina Colada Pie – You can't go wrong with this coconut and pineapple dessert.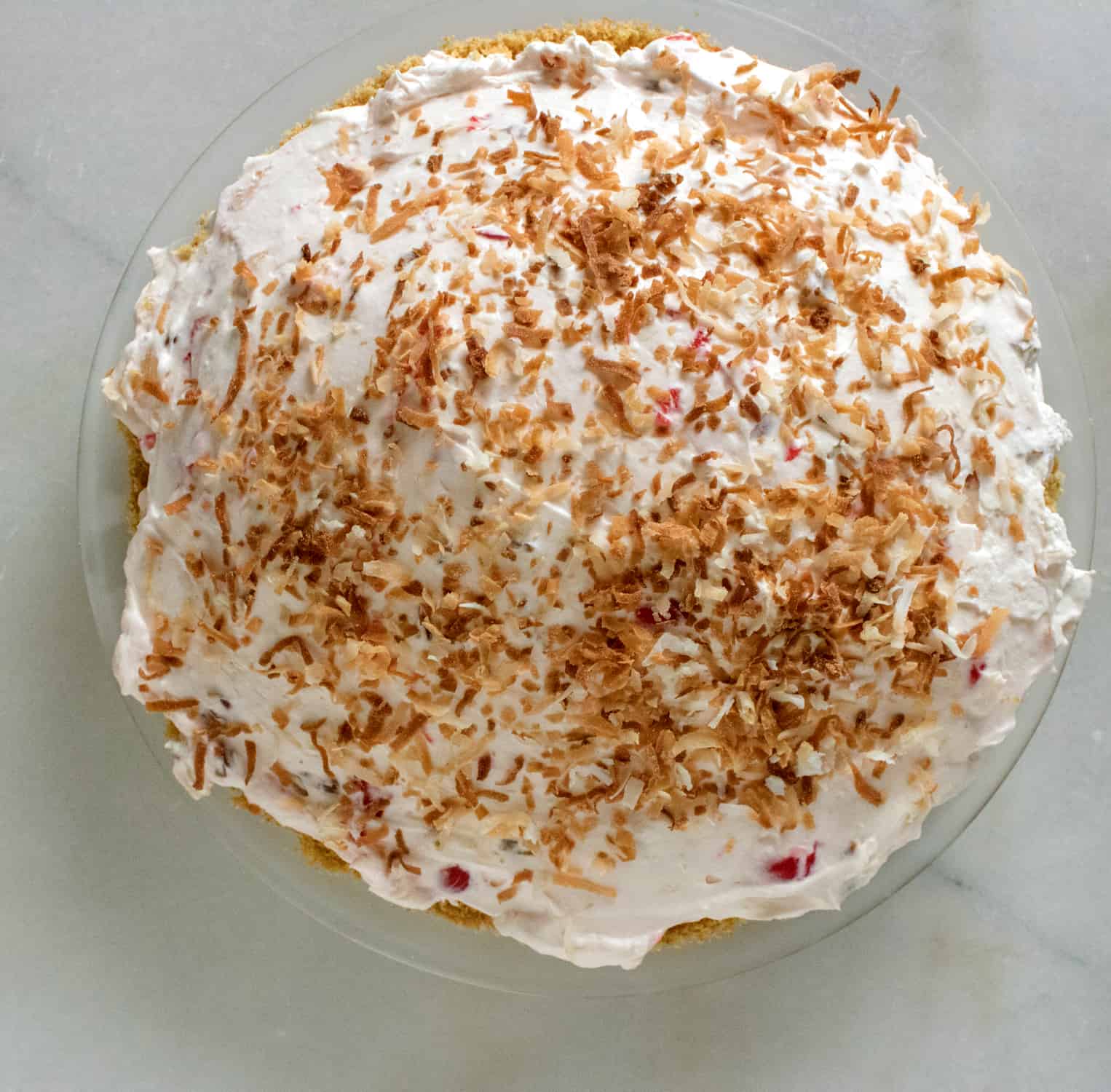 Get new recipes weekly plus our FREE ebook!