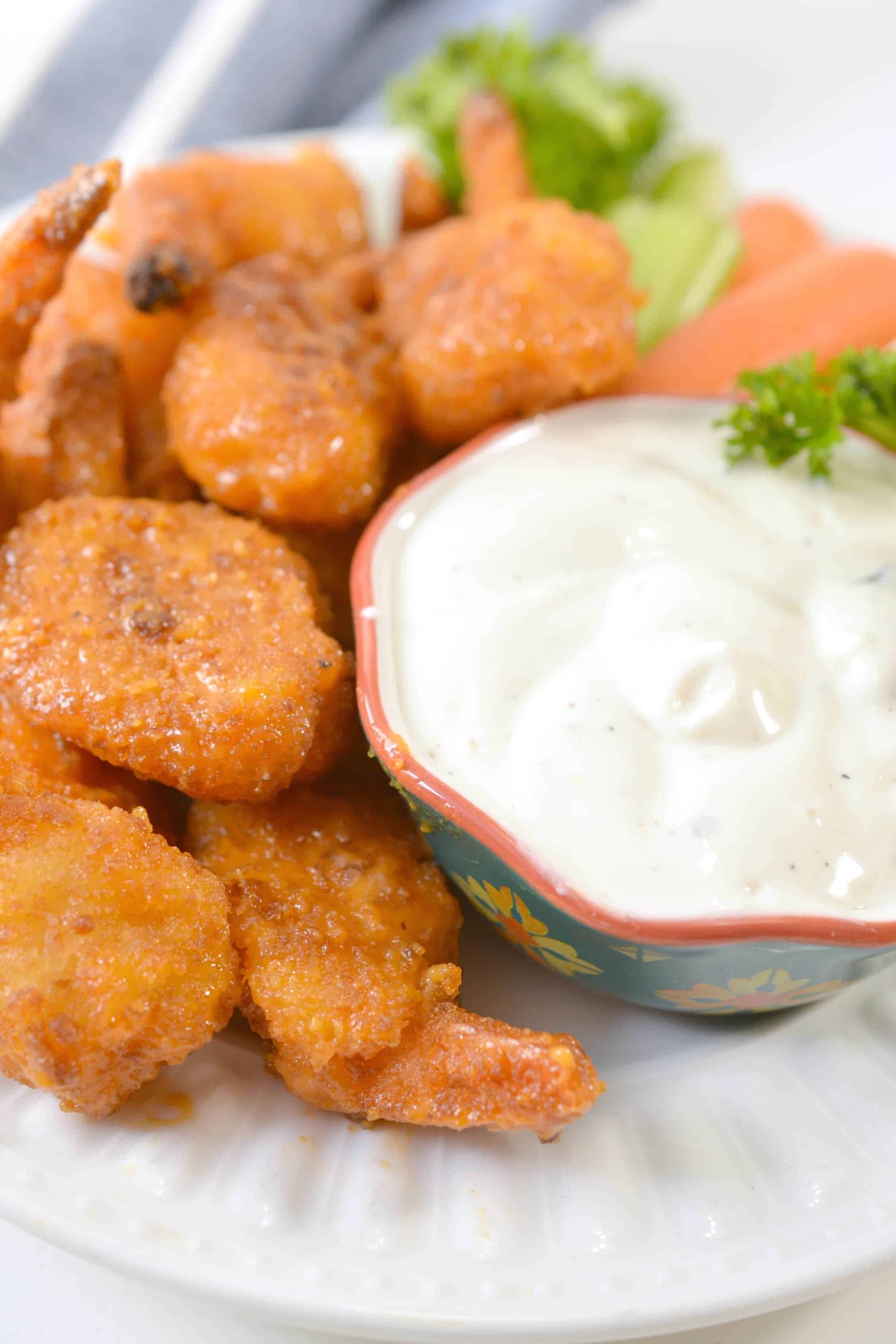 These Baked Buffalo Shrimp are a quick and easy shrimp appetizer that's perfect for holiday parties, game days or even a light dinner! Give this buffalo shrimp a try today.
We're entering the time of the year for party appetizers. Between game days and the holidays, it seems there's always an occasion I'm making asked to make something for. We even host a few parties at our home. While I love to create sophisticated and sometimes complicated appetizers, the truth is that I often just don't have time with kids constantly running underfoot. I'm sure all other moms with young children can relate.
But, I'm discovering that easy appetizer recipes can be just as satisfying as those that hours to prepare and there's no shame in taking a shortcut or two, as long as it doesn't compromise the flavor.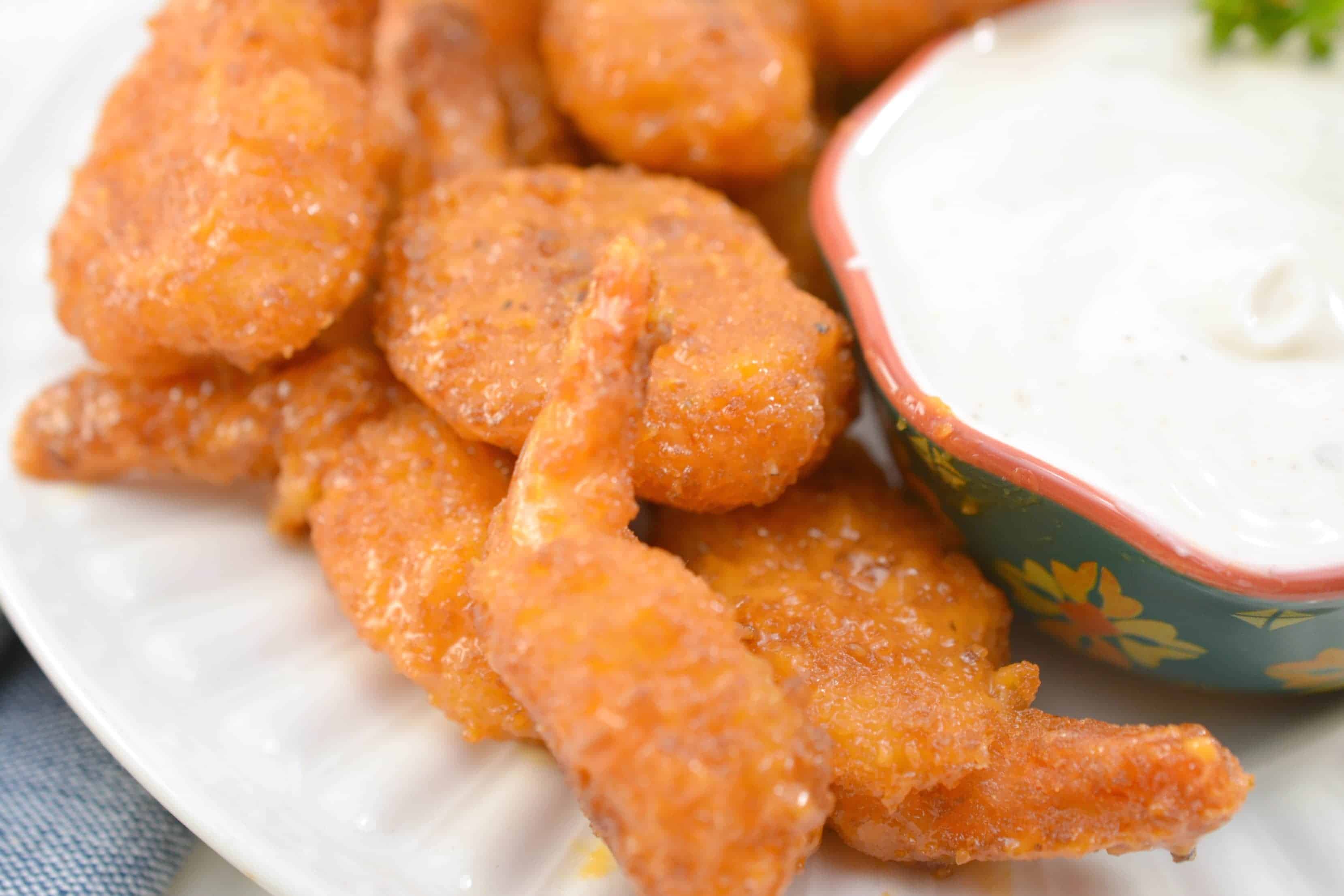 Buffalo Shrimp
These Baked Buffalo Shrimp are one of those easy appetizer recipes, and though there are only four ingredients, they definitely don't any sacrifice flavor.
To keep things as easy as possible, these Baked Buffalo Shrimp actually start with frozen breaded butterfly shrimp. If you're feeling super ambitious, you could certainly use fresh or frozen shrimp and bread them yourself, but I find being the pre-breaded shrimp saves me not only time but also money. Why add extra steps if you don't need to? The best part is when your friends taste the baked buffalo shrimp they won't know the difference!
Since the shrimp is precooked, the preparation is simple – just bake according to the instructions on the box and then toss with the buffalo sauce mixture. To make the buffalo sauce mixture, you can use your favorite buffalo sauce (I always use Frank's Red Hot), melted butter (unsalted because the breading already has plenty of salt), and honey. The honey helps mellow out the buffalo flavor making this Baked Buffalo Shrimp recipe more of a mild buffalo than a spicy hot. You can adjust the spicy-ness to your liking by using more or less honey or hot sauce. Even though I love spicy hot, I like to keep things a bit milder when serving these to a crowd.
Baked buffalo shrimp are always a hit on game day. They disappear almost as fast as the chicken wings, and I'm often asked for my buffalo shrimp recipe. No one ever believes that I make it using frozen shrimp! I also plan on making these for some upcoming holiday parties, between Christmas and New Year. I definitely foresee them being a hit then as well!
Whether you serve baked buffalo shrimp as an easy shrimp appetizer or add them to your lunch, this buffalo shrimp recipe packs so much flavor in just a few ingredients. You'll want to make it over and over!
How To Make Buffalo Shrimp
When I told you that baked buffalo shrimp was easy, I wasn't kidding! When you sink your teeth into these easy buffalo shrimp, you are going to be hooked! Not to mention that your family is going to be begging you to make buffalo shrimp more often. You are just a few steps away from falling in love!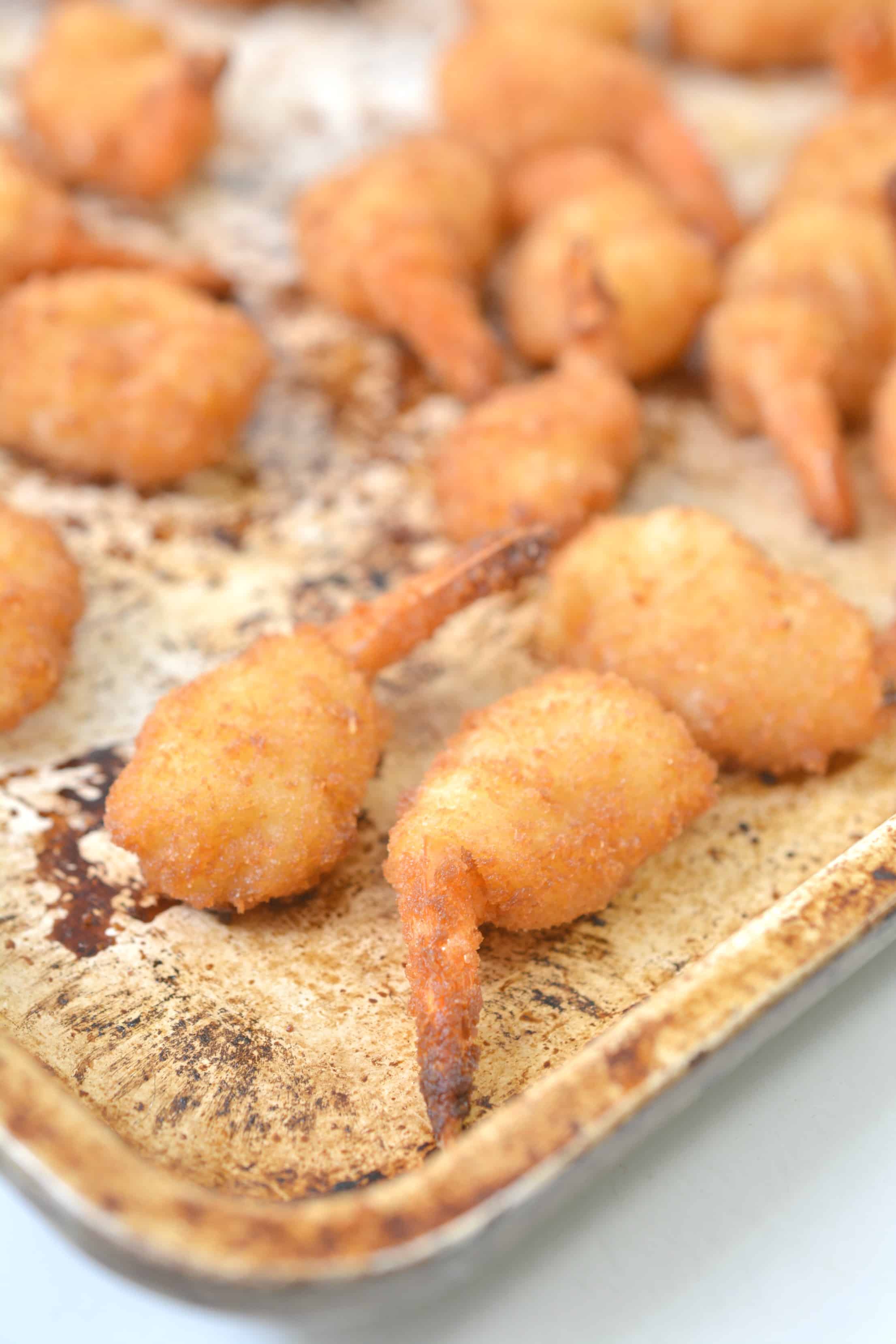 Step 1: Prepare the frozen breaded butterfly shrimp according to package instructions. Or if you want to make your own breaded shrimp, you can do this for step 1.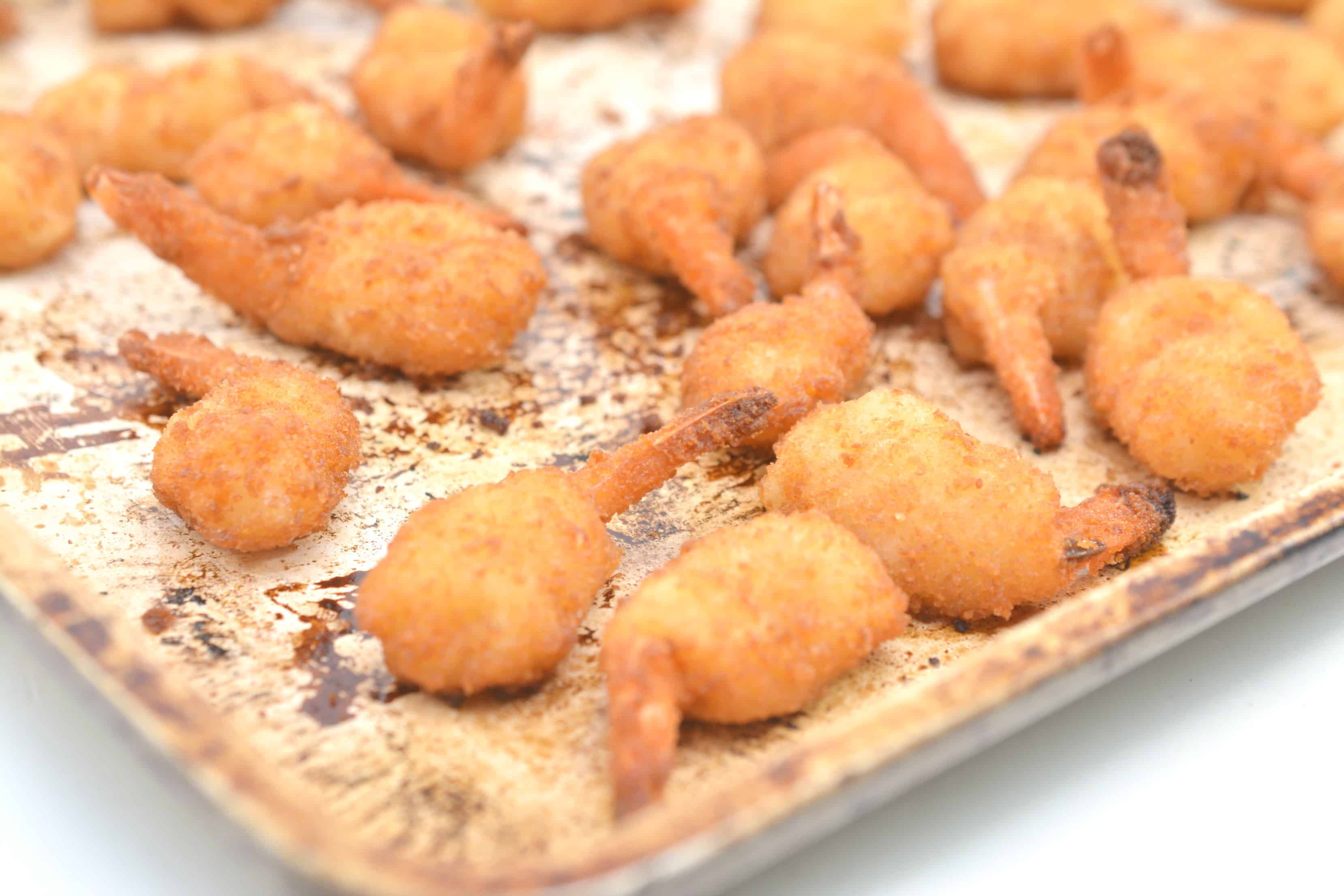 While the shrimp is cooking, you can begin preparing the sauce.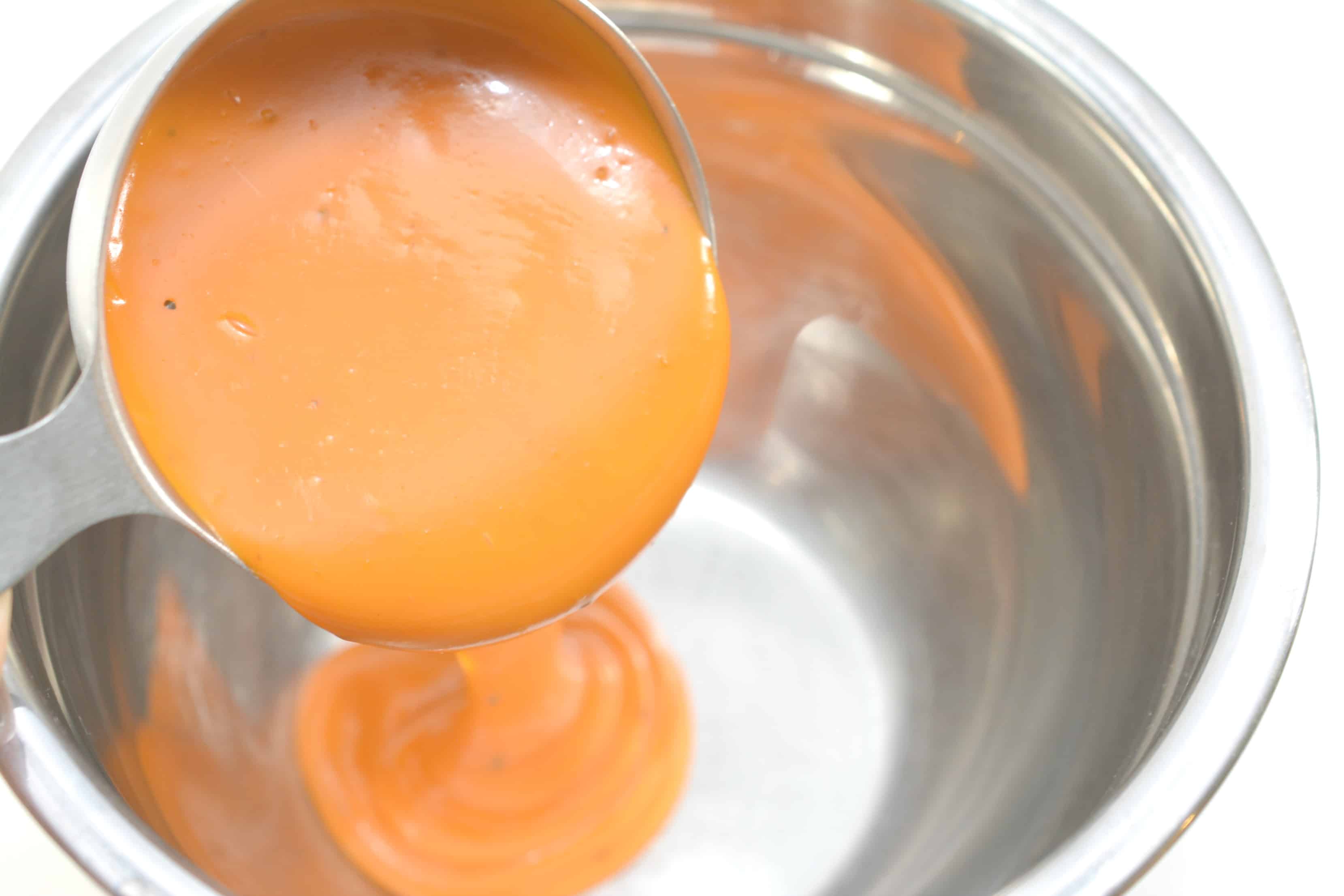 Step 2: In a separate saucepan, mix together buffalo sauce, melted butter, and honey. It will be fragrant, tangy, and slightly sweet.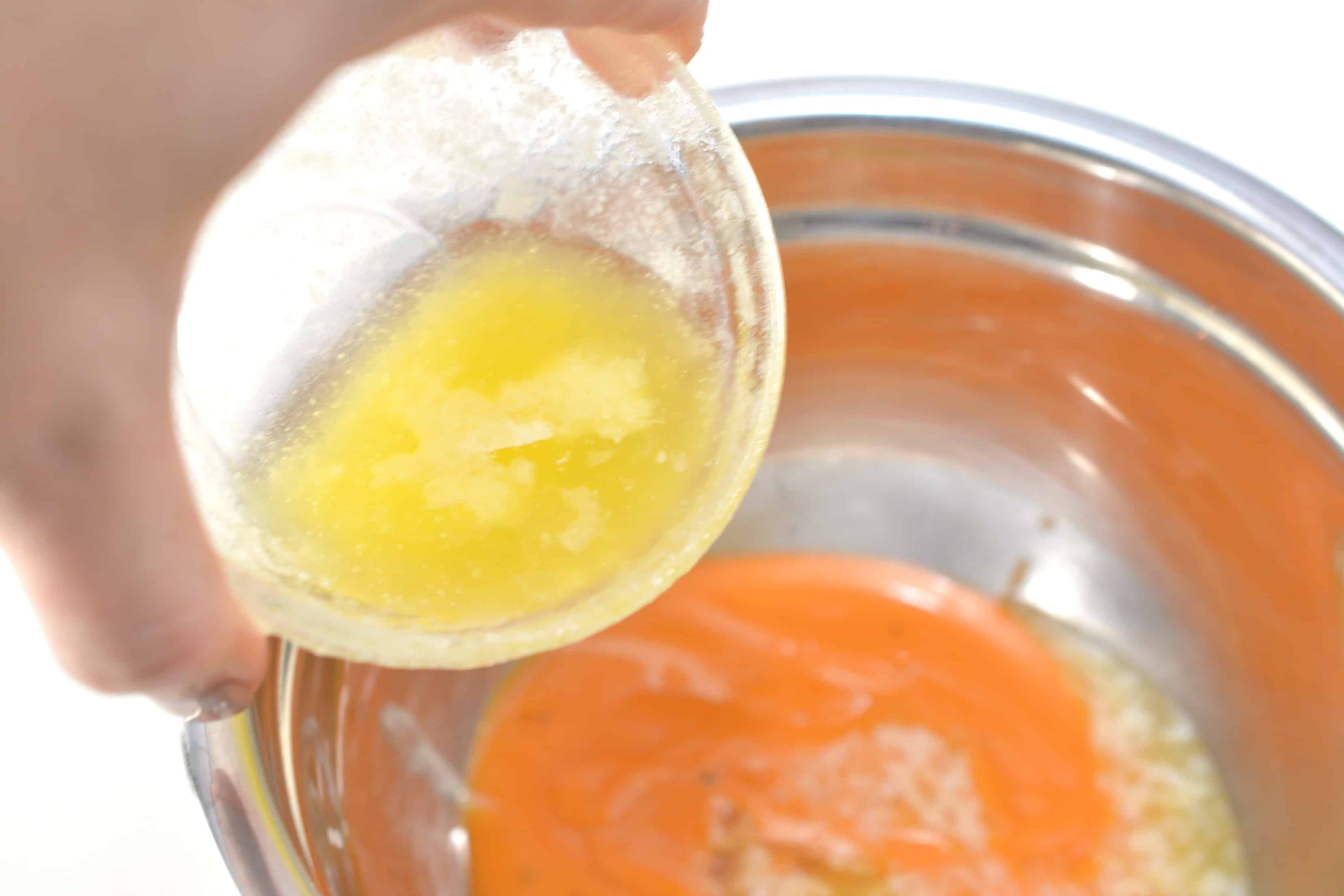 The honey adds a subtle sweetness that pairs perfectly with the spiciness from the hot sauce.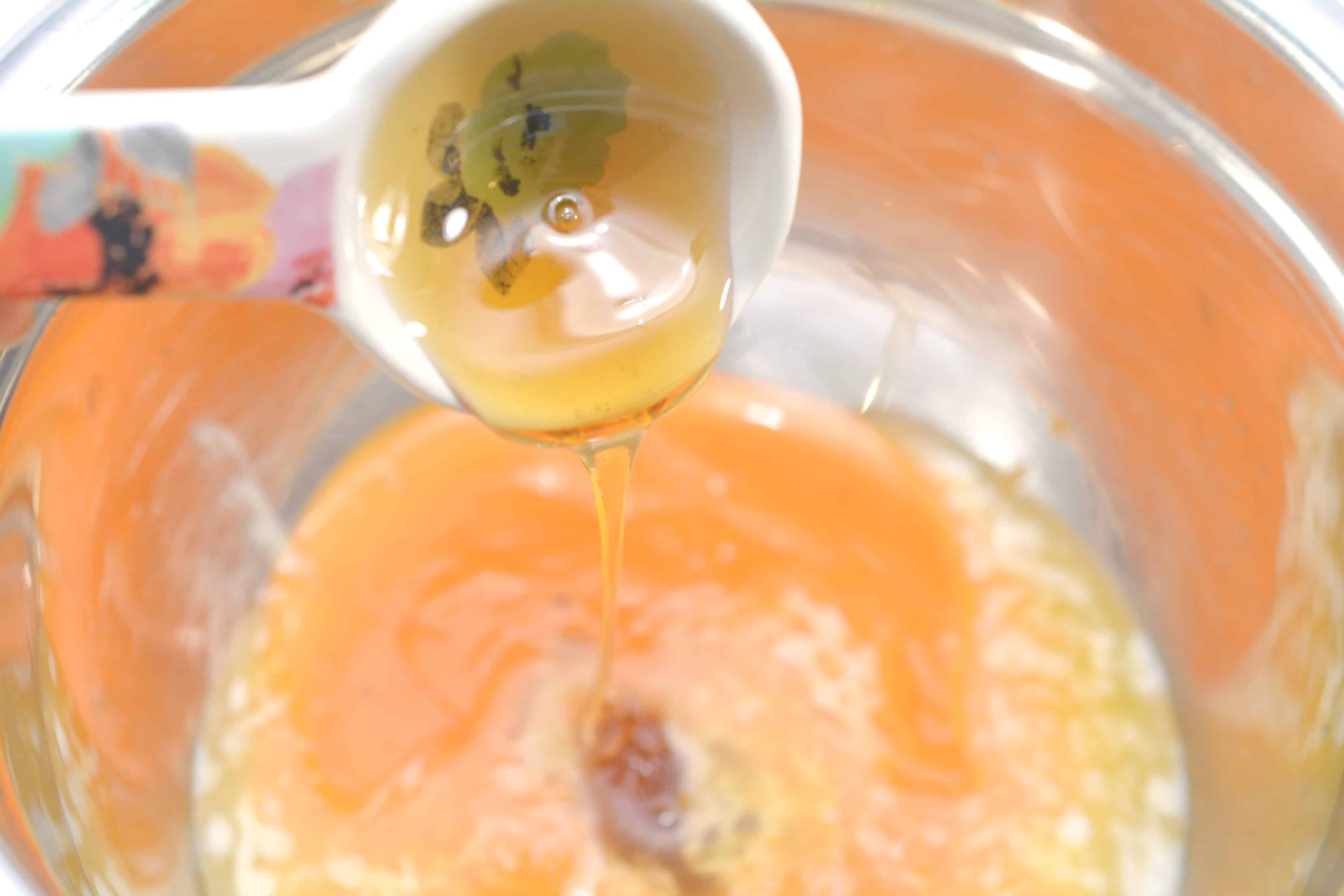 Gently pour the sauce over cooked shrimp.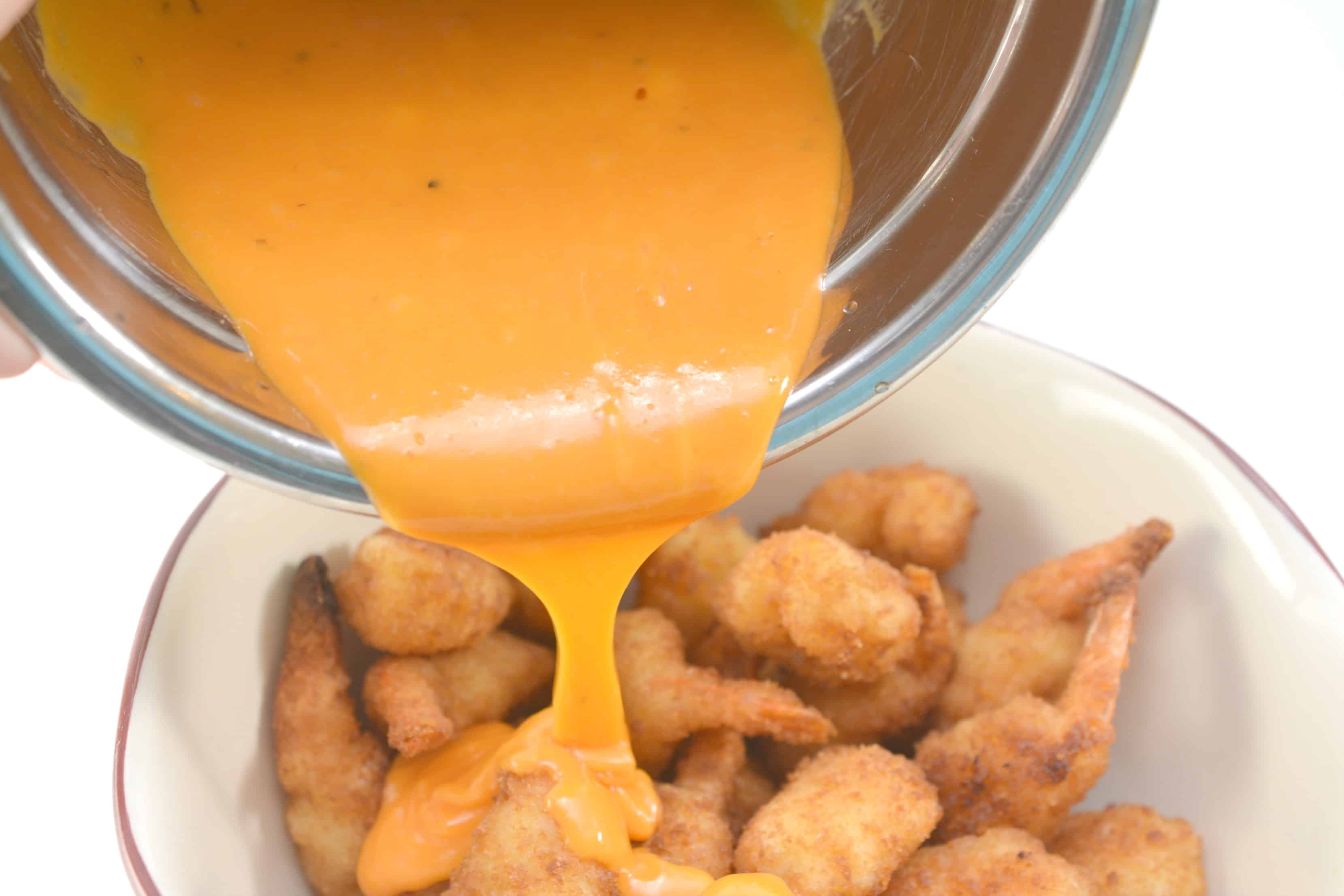 Step 3: Toss shrimp in buffalo sauce mixture and coat evenly.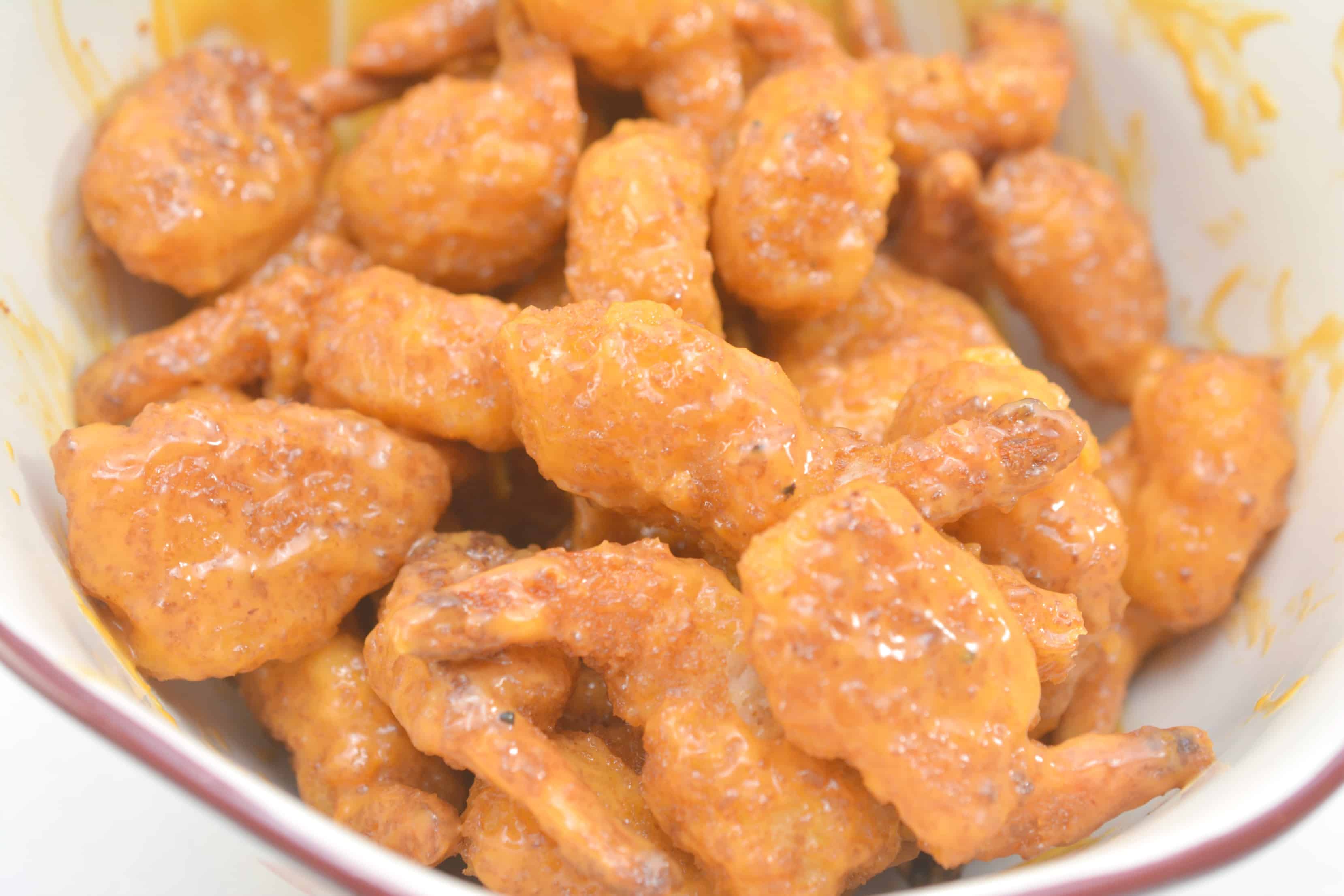 Can you believe it? That's it! Now you are ready to serve the easy buffalo shrimp hot with blue cheese or ranch dressing.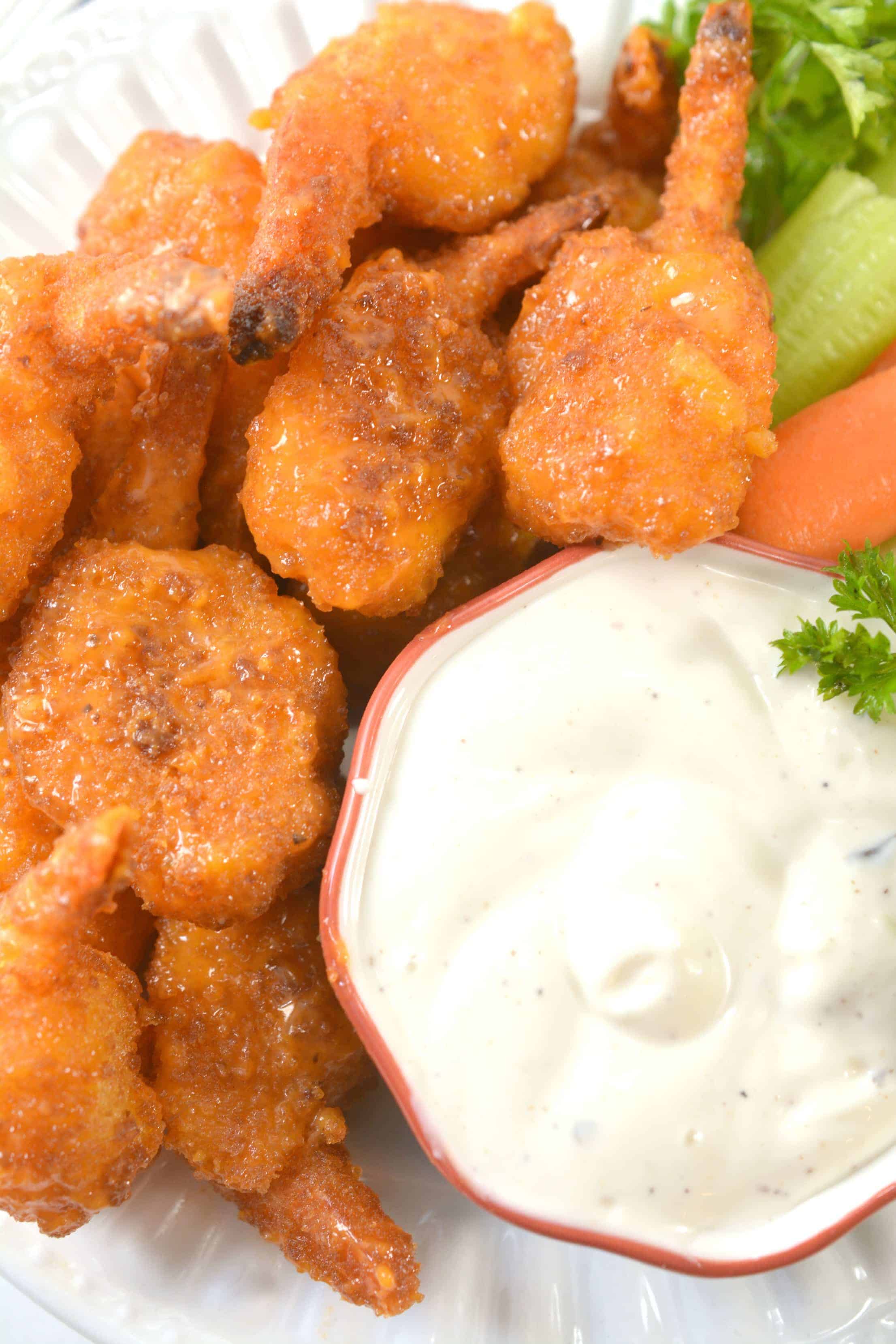 Baked Buffalo Shrimp Variations
There are many ways you can change up this buffalo shrimp recipe. It is incredible the way it's written, but if you like to change things up from time to time, you might try out these ideas:
Breaded Shrimp – Instead of buying prepackaged breaded shrimp, you can bread them yourself. If you decide to bread them, I recommend frying them instead of baking, so they are nice and crispy on the outside. Using a panko breading is perfect for shrimp!
Omit Honey – If sweetness isn't your thing, don't worry, you can simply omit the honey! No problem and the breaded buffalo shrimp will still taste scrumptious.
Air-Fryer – If you don't want to heat up the house with the oven, you can always make homemade buffalo shrimp in the air fryer. They will need to be cooked for 5-7 minutes at 350 degrees.
Barbecue Sauce – Trade the buffalo sauce for your go-to barbecue sauce. When we have a dinner party, it's nice to have a variety of options for my guests.
Garlic – If you are a garlic fanatic, you can roast some in a little bit of olive oil, then add it to the sauce mixture. I would start off small, so you don't get an overwhelming garlic flavor.
Can I Fry Frozen Breaded Shrimp?
Yes, if you prefer the flavor of fried breaded shrimp instead of baked, by all means, it will still work perfectly for this easy buffalo shrimp recipe. I like to bake them to cut back on a few calories, but the flavor is impressive both ways. So, try it however you like it and make it the way you prefer.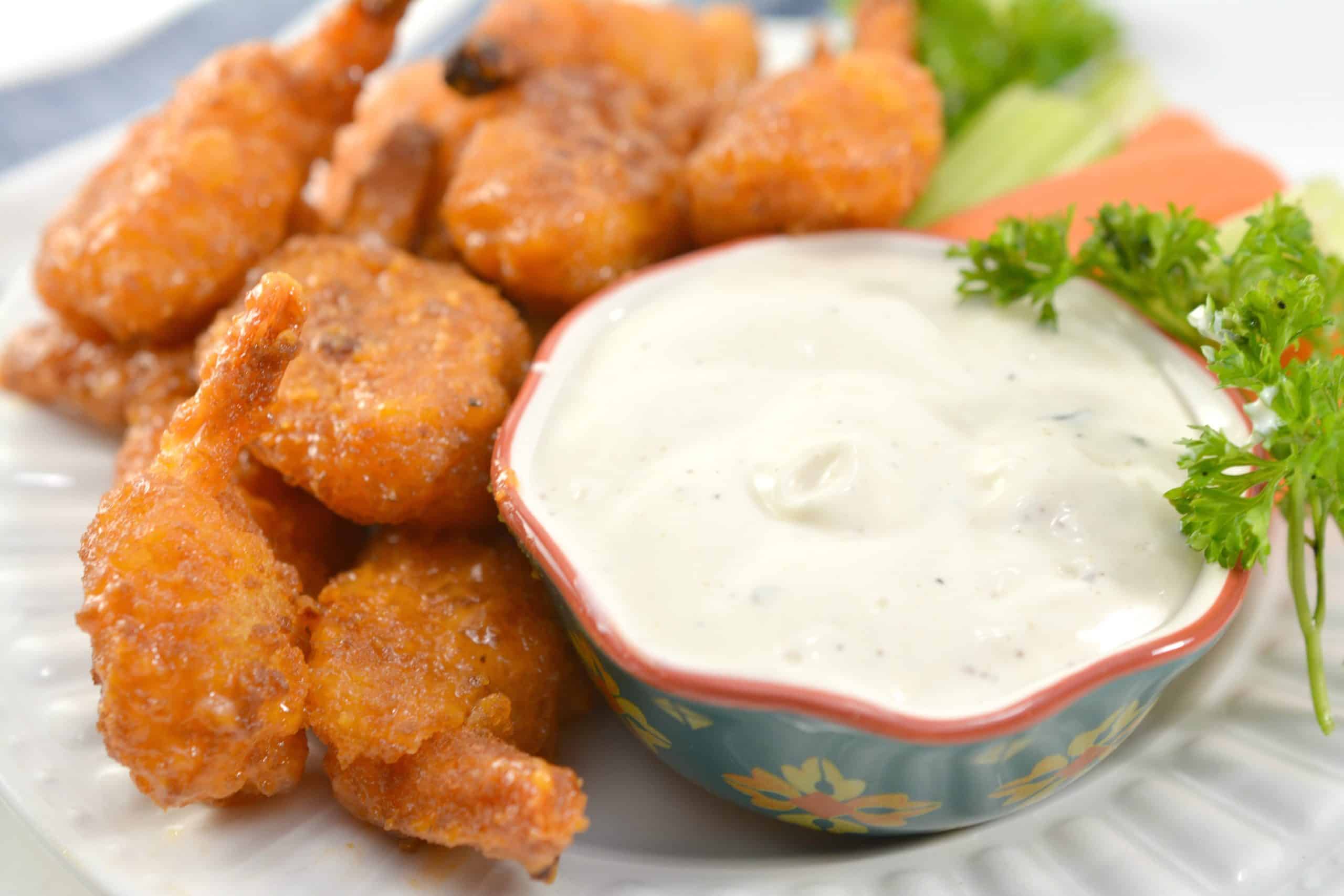 Do You Thaw Shrimp Before Cooking?
Because my recipe calls for breaded frozen shrimp, there is no need to thaw it. The best thing to do is to take it right out of the freezer and put it on a baking sheet and start cooking right away. For other shrimp recipes, if you are using regular shrimp that isn't breaded, there are many cases you would need to thaw it. The fastest and safest way to thaw frozen shrimp is to toss it in a bowl of cool water. It will thaw out relatively quick, and you don't have to worry about getting sick from defrosting improperly.
How To Serve Buffalo Shrimp
You can serve buffalo shrimp as an appetizer or the main course. Here are some of my favorite ways to eat buffalo shrimp when I want it to be more of an entree:
Spicy Shrimp Taco – Use a soft tortilla shell or corn tortilla and put in spicy shrimp, lettuce, tomatoes, ranch dressing, and cheese. It's finger-licking good!
Shrimp Wrap – I love to put spicy shrimp on a wrap with some sliced fresh cabbage and blue cheese. It is a yummy lunch option and perfect if you are trying to plan ahead.
Pasta – Toss some baked buffalo shrimp into a bed of cooked pasta for an extra zap of flavor.
Rice – Make some fluffy white rice and top it with some cooked zesty shrimp. One of my favorites!
Grits – You will feel like you are eating shrimp and grits right in the south! If you love grits, you have to try them with baked shrimp.
Salad – Toss in some buffalo shrimp with your fresh garden salad and you may never want an ordinary salad again! The tanginess from the hot sauce paired with ranch dressing and veggies is out of this world amazing!
Note: When you are adding cooked shrimp to other dishes, make sure you remove the tails, so you don't bite into one. Speaking from experience, it makes the dish a less appealing when you bite into a tail.
How To Store Leftover Shrimp With Hot Sauce
Most of the time, when you make shrimp with hot sauce, you won't have a lot of leftovers because it gets gobbled up as soon as you make it. If you do end up with some leftovers, store them in the refrigerator for 2-3 days. Store them in a bowl or container with a lid that is airtight or plastic bag. As long as moisture and air can't reach the cooked shrimp, it makes excellent leftovers.
You can also store leftover spicy baked shrimp in the freezer. Use a glass or plastic container with a lid and toss them inside. They will last 1-2 months in the freezer.
Heat them up in a skillet on the stove with medium heat for 7-10 minutes. They heat up pretty quickly so it shouldn't take too long. Another option is microwaving them, but pay close attention to the time. You don't want to cook the spicy shrimp too long, or they will become rubbery. Lastly, you can warm leftovers up in the oven. Heat the oven to 325 degrees F. for approximately 10 – 15 minutes.
Can You Eat Shrimp Without Cooking It?
There are so many varieties of shrimp in your grocery store, and I know it can be confusing as to which needs to be cooked and which ones don't. The best way to tell is to read the packaging. If it has been precooked previously, then you can eat it without heating it first. Otherwise, you should always cook it before eating. I prefer to at least warm shrimp up so it's warm because of the flavor and it just makes me feel better. However, you can do whatever you are comfortable with.
Why Is My Shrimp Mushy?
If the shrimp turned out mushy, then most likely underbaking is the culprit. I would recommend baking it a little bit longer and checking again. If you feel like the time spent baking should be sufficient, there is a chance that the oven temperature could be off a little bit. Get an oven-safe thermometer and test it to see if it's heating to the proper temperature. When the breaded shrimp are done, they will be slightly crispy and crunchy on the exterior and should be a golden brown color.
Now, time to pin this delish Baked Buffalo Shrimp Recipe for later:

Pin this recipe now to remember it later
Buffalo Shrimp Recipe
These Baked Buffalo Shrimp are a quick and easy shrimp appetizer that's perfect for holiday parties, game days or even a light dinner! Give this buffalo shrimp a try today.
Ingredients
18-24

oz.

Frozen breaded butterfly shrimp

¼

c.

Melted butter unsalted

½

c.

Buffalo sauce of your choice
Instructions
Begin by baking the butterfly shrimp according to the package instructions.

Let cool for a few minutes once they have finished baking.

In a mixing bowl, combine the buffalo sauce, melted butter and honey, stir until well combined.

Toss the cooked shrimp in the buffalo sauce mixture, and serve immediately with carrot and celery sticks as well as your favorite Ranch or Blue Cheese dressing for dipping.
Nutrition
Serving:
6
g
|
Calories:
295
kcal
Follow me on Pinterest for daily delicious recipes!
Craving More Shrimp Recipes:
Cajun Shrimp Skillet – one of my favorite easy shrimp recipes, along with one of my favorite one-skillet meals.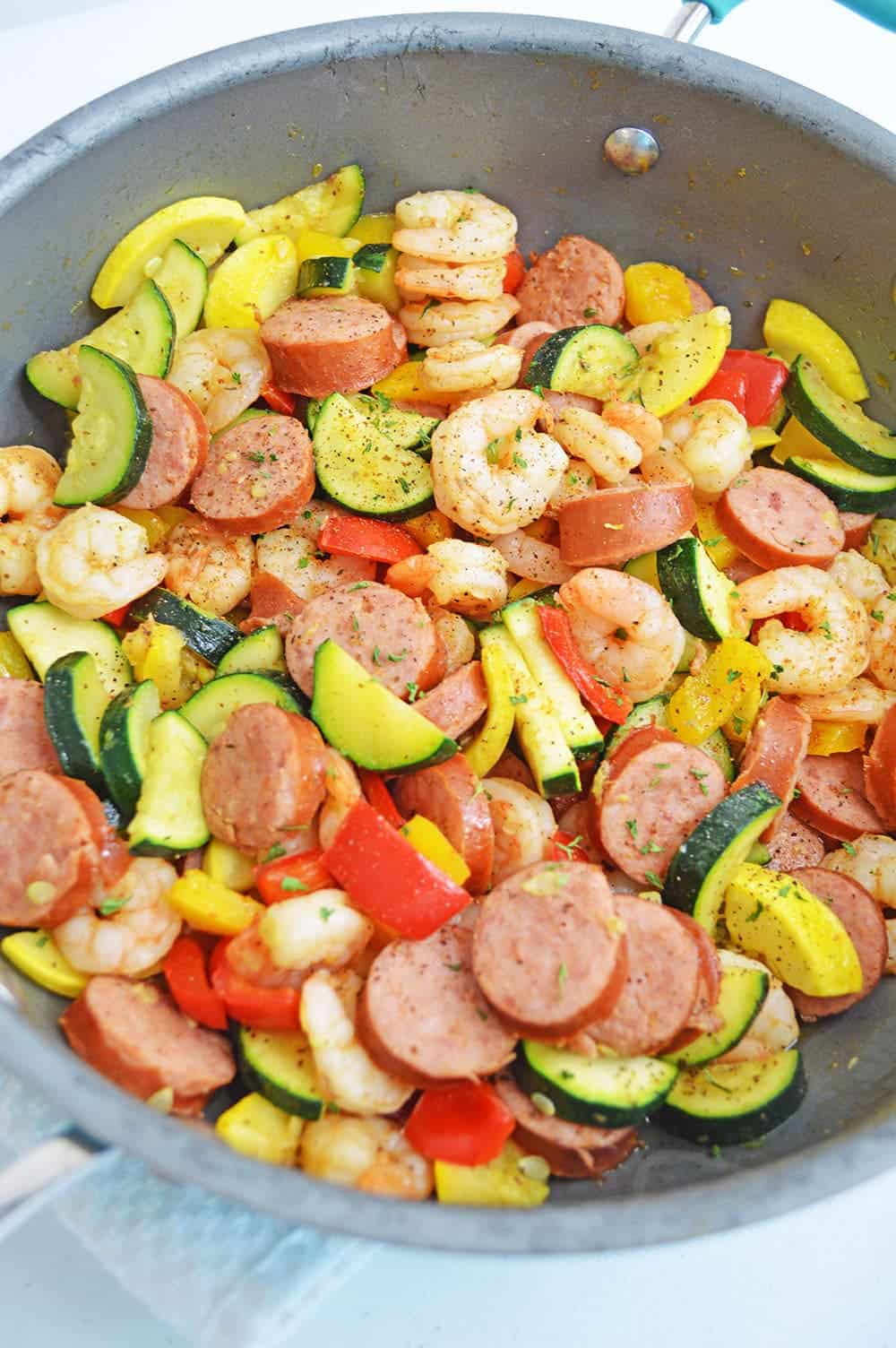 Hawaiian Shrimp Packets – These Hawaiian shrimp foil packets are a quick, easy and healthy meal that's packed with flavor.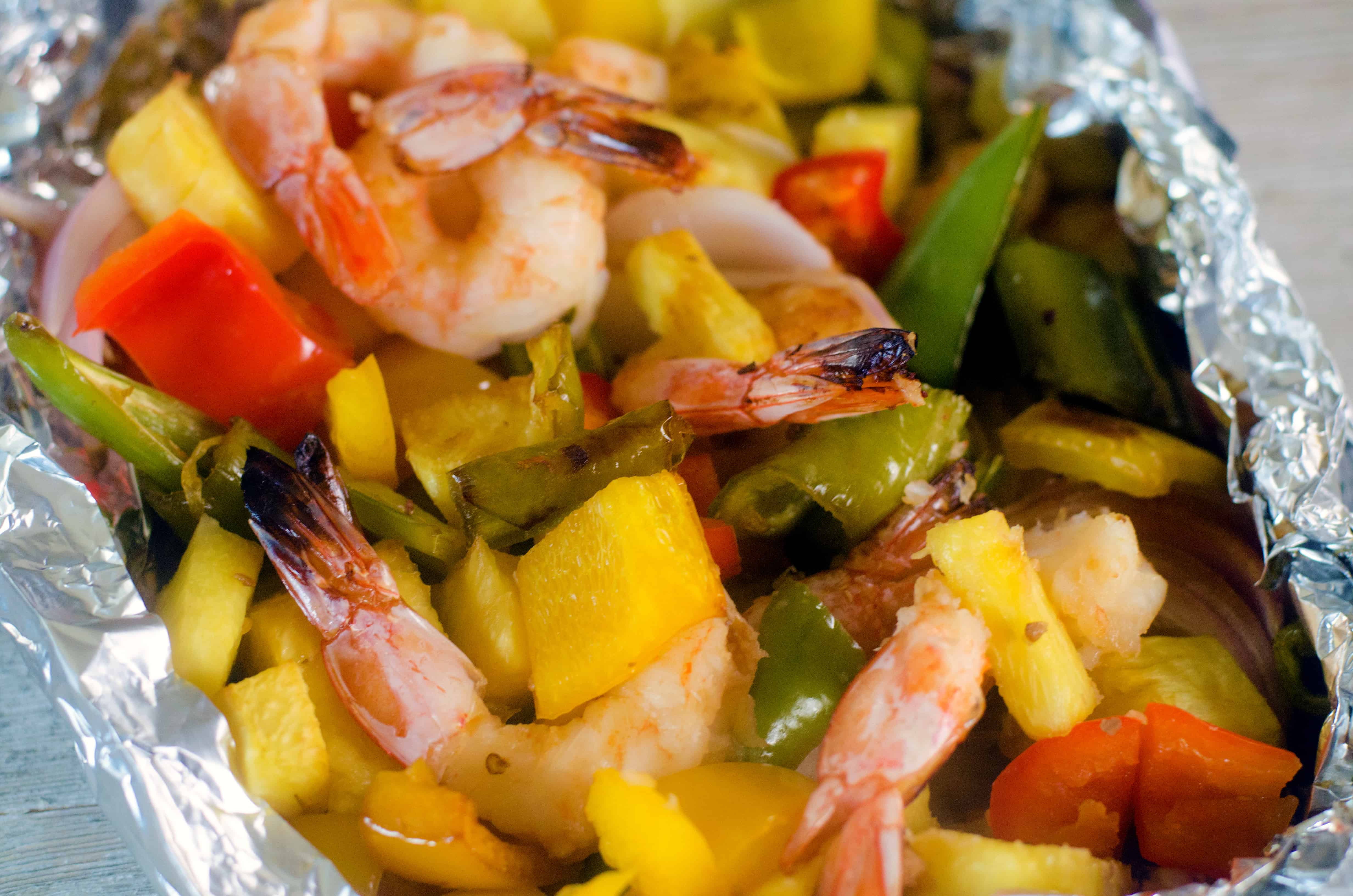 Shrimp Pesto – This Shrimp Pesto Pasta is a quick, healthy, and easy shrimp and tomato pasta recipe.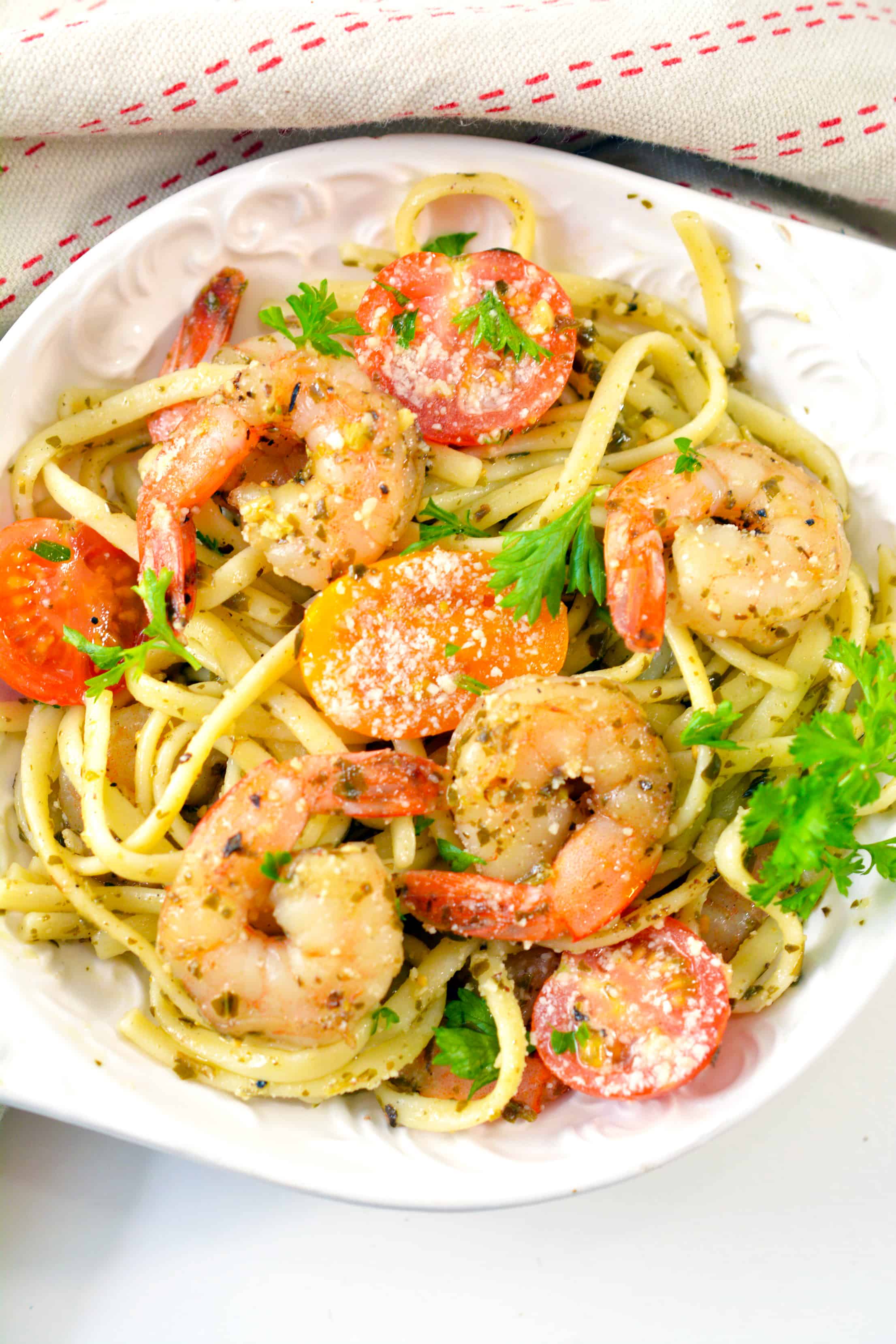 Get new recipes weekly plus our FREE ebook!