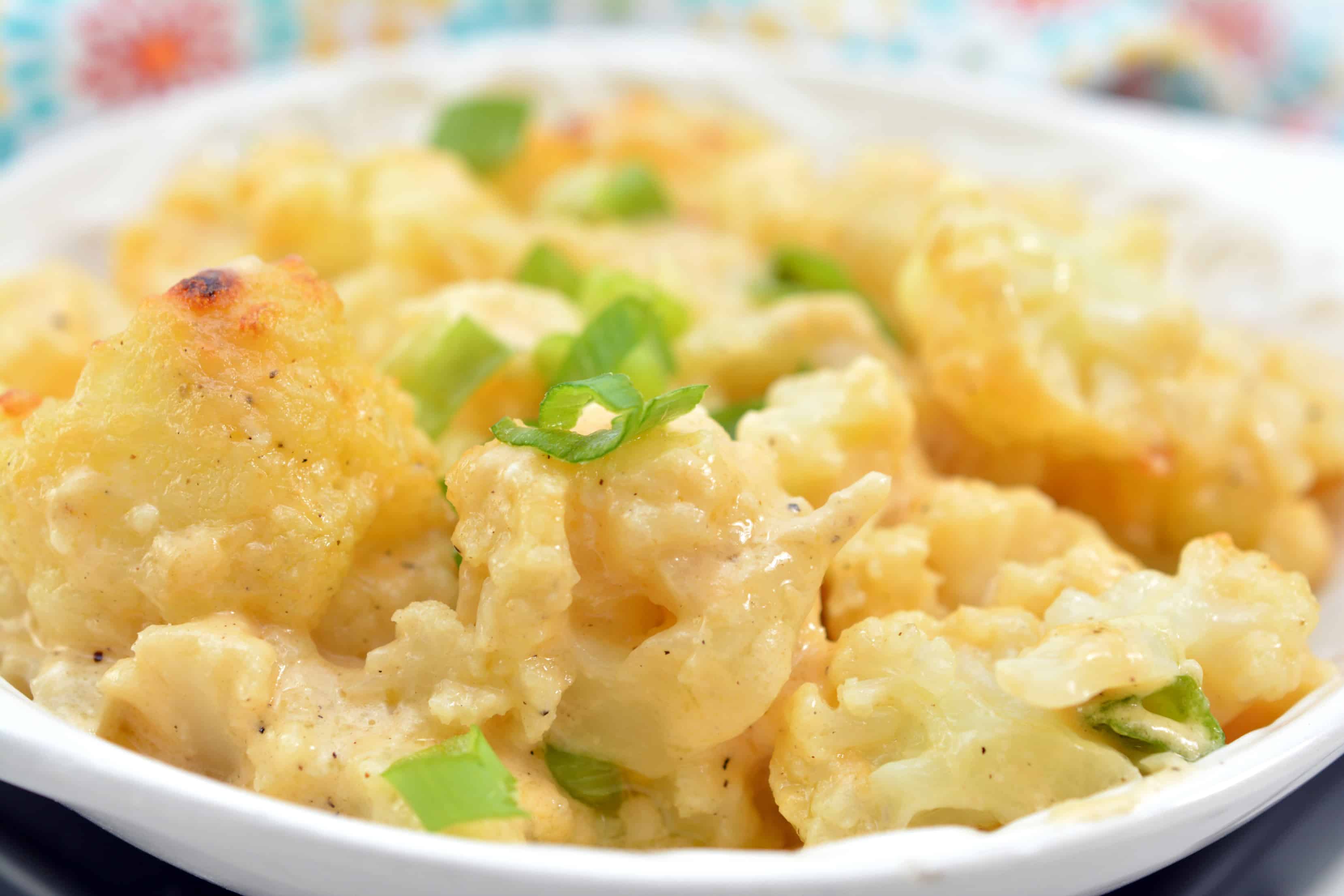 Cauliflower mac and cheese is a low carb comfort food that is healthy and keto! Once you bite into the cheesy goodness of the cauliflower cheese bake, you are going to forget all about the old stuff! This keto mac and cheese is way better because you know you are filling your body with much-needed nutrients.
I was on the hunt for some low carb side dishes so I could start eating much healthier and cleaner. I love macaroni and cheese and knew that I could easily replicate that delicious flavor and texture. Trial and error go a long way with most recipes, but in this case, I got the cauliflower cheese bake to turn out the first time!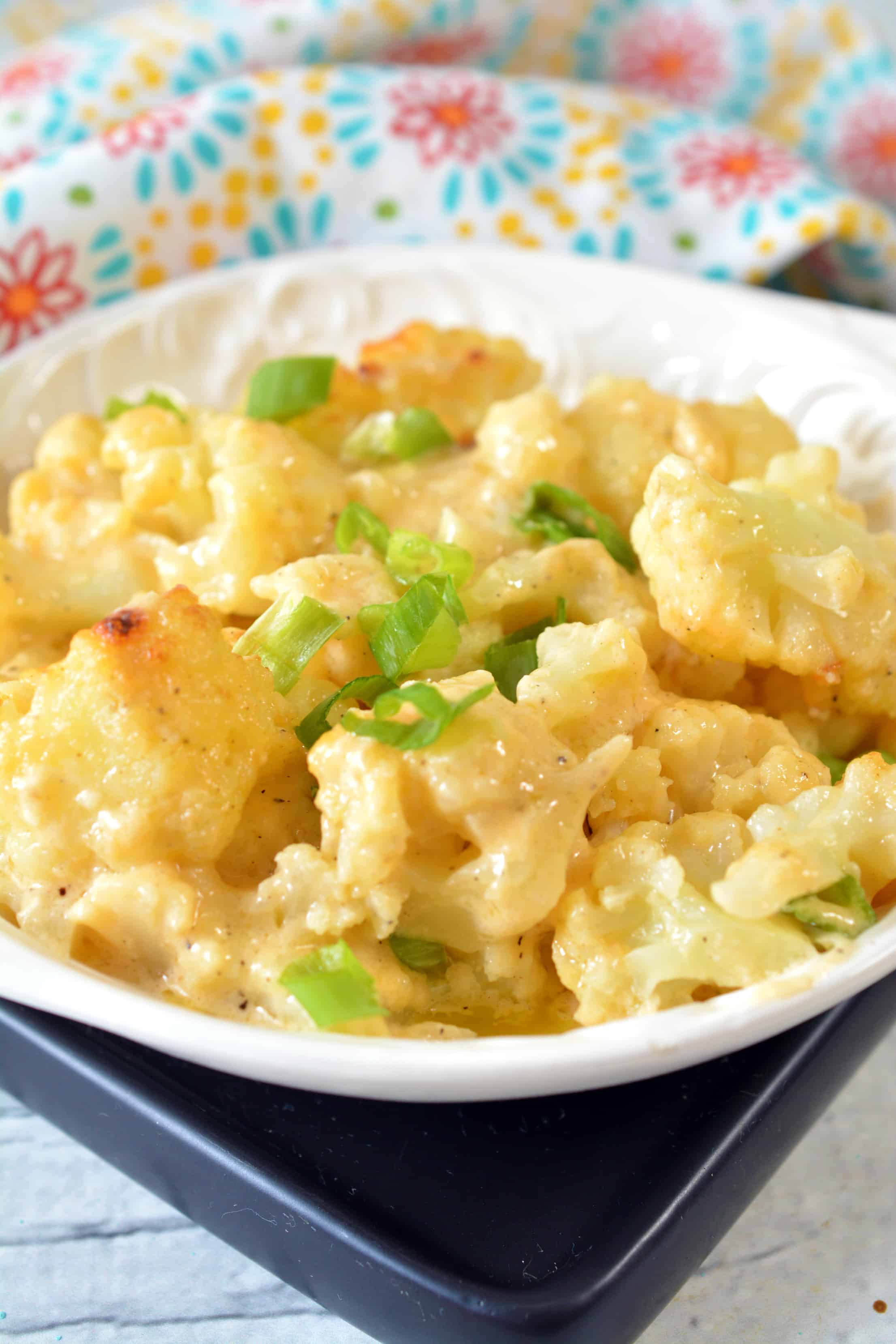 How To Make Keto Mac And Cheese
First Step: Preheat the oven to 375 degrees.
Second Step: Cut the head of cauliflower into florets, and steam or boil until they aren't crispy but tender. This process will take about 5 minutes.
Third Step: Strain the cauliflower completely, and place it into a greased baking dish. Add salt and pepper to taste.
Fourth Step: In a skillet over medium-high heat add 1 cup of heavy whipping cream, and bring it to a low simmering boil. Stir frequently, so it doesn't stick to the skillet.
Fifth Step: Whisk in the garlic powder, onion powder, and salt and pepper to taste.
Sixth Step: Add in 3 ounces of cream cheese. Stir until it is completely incorporated and smooth.
Seventh Step: Stir in 1 cup of cheddar cheese.
Eighth Step: Sprinkle in a ½ cup of mozzarella cheese. Stir the cheese sauce until it thickens and is smooth.
Ninth Step: Pour the cheese sauce over top of the cauliflower in the baking dish. Stir to coat the cauliflower thoroughly.
Tenth Step: Sprinkle the ¼ cup of Parmesan cheese on top of the cauliflower.
Eleventh Step: Bake the cauliflower for 15-20 minutes or until the mixture is browned on top and bubbly. You can turn the broiler on for the last few minutes if you want a more browned appearance on the top of your mac and cheese.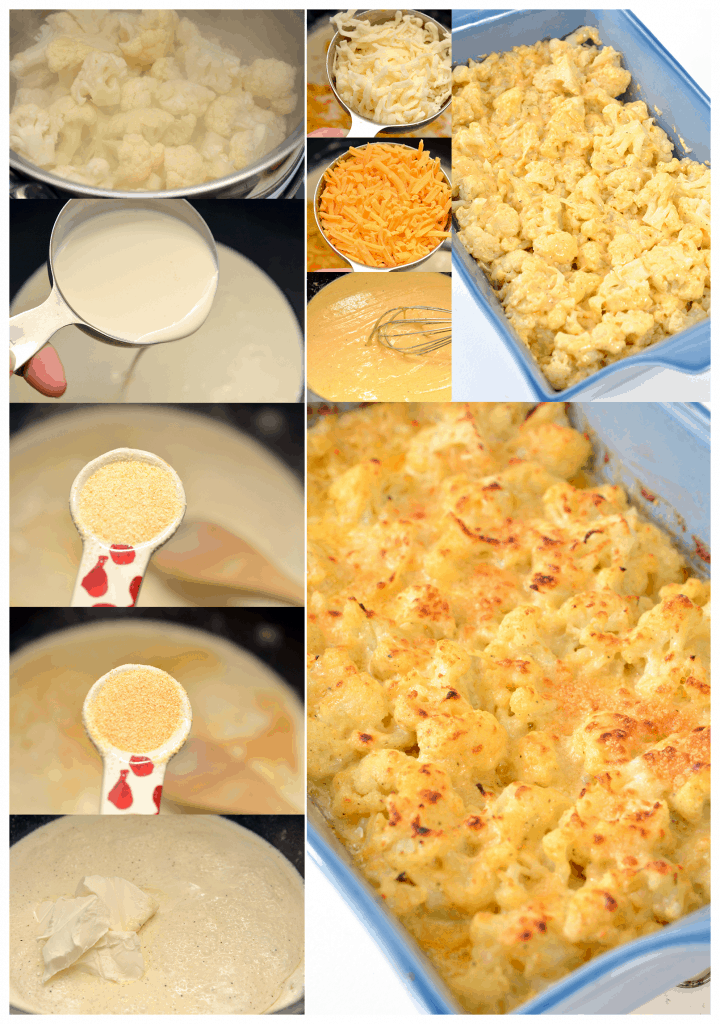 Cauliflower Mac And Cheese Variations
Like most of my recipes, I want to share some ideas to add some extra pizzazz to my recipes. I promise, this keto cauliflower is delicious as is, but trying out some new things from time to time can be lots of fun. Try some of these ideas:
Bacon – If you haven't tried bacon in your mac and cheese you have missed out long enough! Cook some bacon and crumble it up and sprinkle on top of the cauliflower before baking.
Onions – Dice up some white or red onions and toss them in with the cauliflower. You could even grill the onions with a little bit of olive oil then add them to the dish. So much flavor!
Green Onion – Sprinkle chopped green onion on top of the cauliflower cheese bake. Green onions make everything better.
Garlic – Mince up some garlic and sautee in a skillet for 1-2 minutes until it's fragrant. Then toss in the healthy cauliflower mac & cheese.
Broccoli – Cauliflower and broccoli pretty much go hand in hand! The texture of the broccoli is a little different than cauliflower, but the flavor is out of this world.
Radish – Radishes taste similar to a white potato when they are cooked. Throw in some cut radishes and be impressed with how scrumptious it is!
Pepper Jack Cheese – Cheese is life when it comes to mac and cheese! I love to add some pepper jack cheese because it's just spicy enough to make it extra incredible!
Buffalo Sauce – Go wild by adding some buffalo sauce to the mixture. It adds a lovely tanginess that makes this one of my favorite low carb side dishes because it takes it to the next level.
Is Keto Cauliflower Mac And Cheese Healthy?
Yes, absolutely keto cauliflower mac and cheese is healthy! With every bite of this scrumptious dish, you are getting loads of nutrients. Here is a breakdown of the nutrients you will get:
Cauliflower – Loaded with fiber, vitamin C, vitamin B, calcium, and good for you antioxidants.
Cheese – You might be surprised to know there are vitamins in cheese. First, it's a fantastic protein, but also has zinc, riboflavin, calcium, magnesium, and vitamin B12.
Heavy Whipping Cream – You will find calcium, phosphorus, choline, and vitamin A.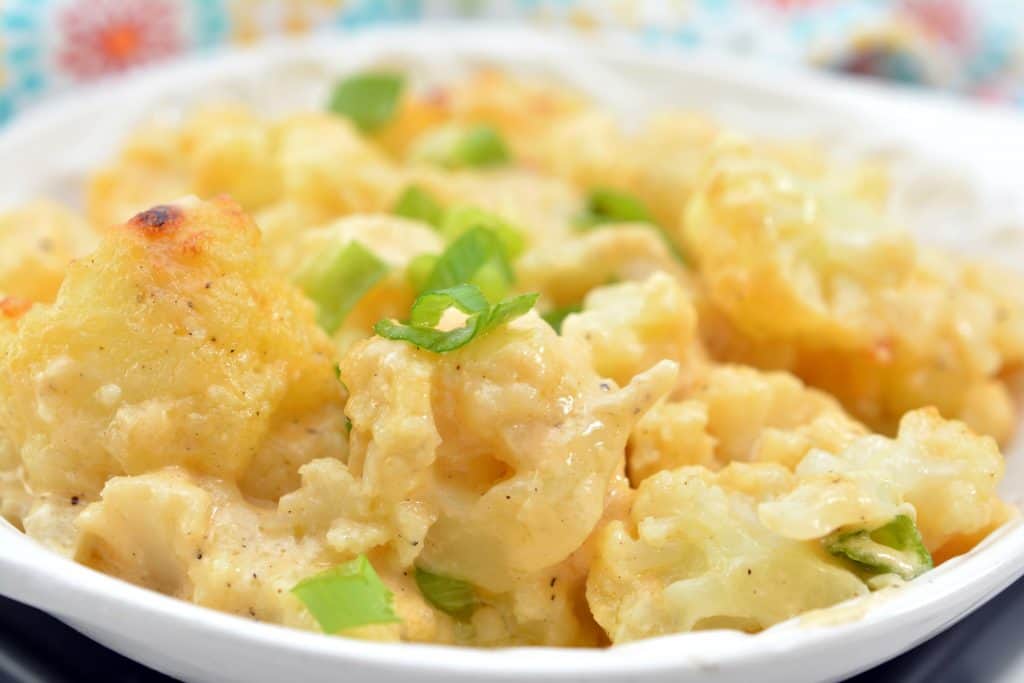 Can I Make Keto Cauliflower In The Instant Pot?
Yes, you can make this keto cauliflower mac and cheese in the Instant Pot. You will need to follow the instructions as directed except instead of placing the ingredients in a baking dish you need to put in a bowl that fits in your Instant Pot.
It's vital that you don't put the ingredients directly into the Instant Pot or it will burn. Put 1 cup of water, the trivet and the bowl with ingredients into the pressure cooker. Put it on manual time for 5 minutes.
Once it finishes cooking, allow to do a natural release for 10 minutes, then finish up with a quick release. You can broil the mac and cheese if you would like it to be browned on top.
How Do You Store Keto Cauliflower Mac And Cheese?
Store leftover cauliflower macaroni and cheese in an airtight container in the fridge. It will last 2-3 days in the refrigerator. Additionally, you can store the cauliflower macaroni in the freezer too. Place it in a freezer bag or another airtight container, and it will last 2-3 months. To defrost, place it in the fridge overnight and you can reheat it once it's thawed.
To reheat the cauliflower cheese bake, you can put it back into the oven. Bake at 375 degrees for 10-15 minutes until it is hot then serve. One thing about low carb side dishes is that they make wonderful leftovers.
They are also fantastic for meal planning. You can make up a large batch and eat it for a few days without having to cook more for a while.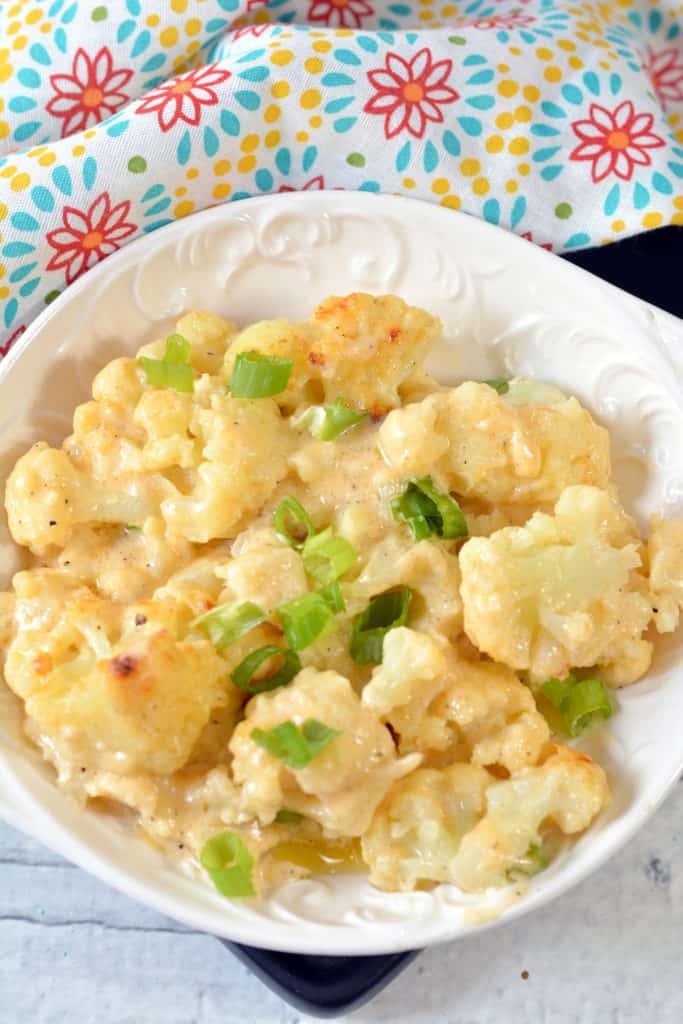 Check out these recipes
[sp_recipe]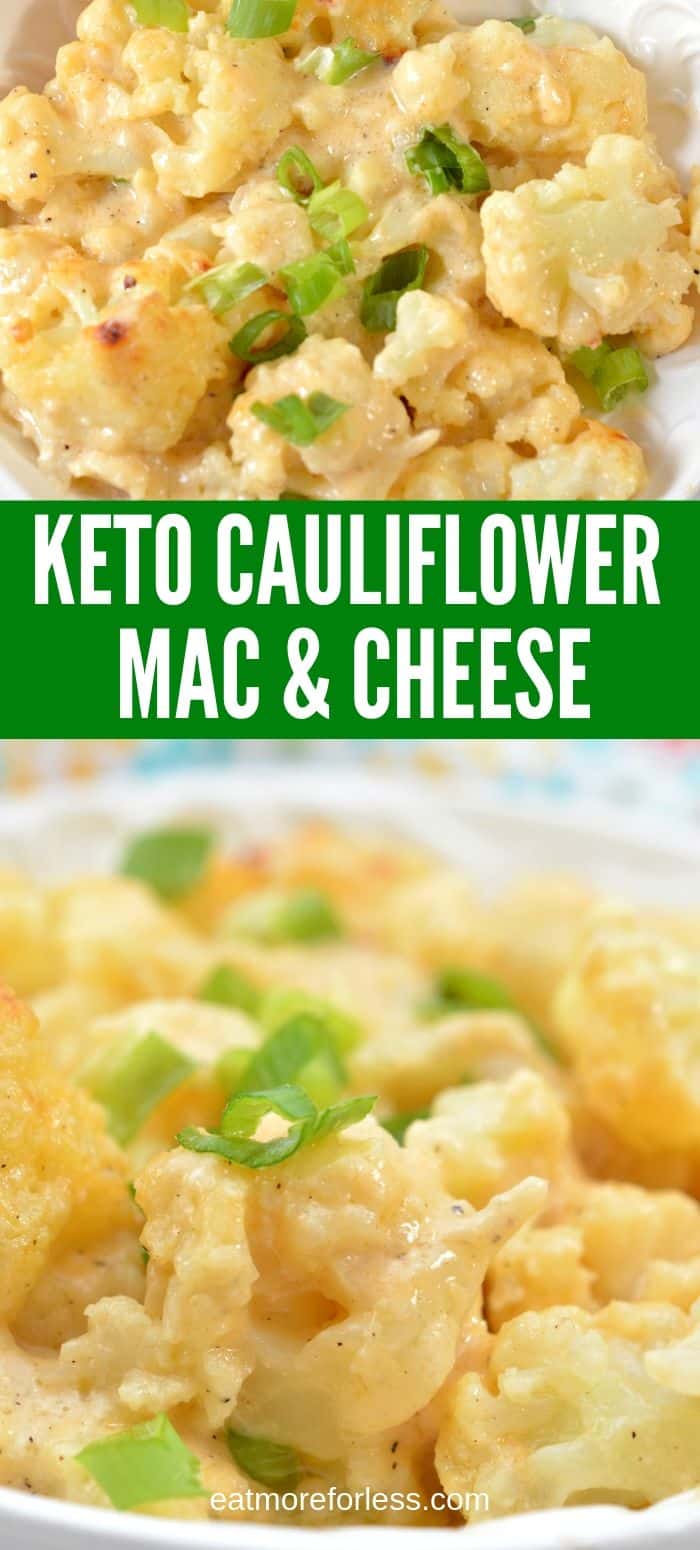 Follow me on Pinterest for daily delicious recipes!
Get new recipes weekly plus our FREE ebook!