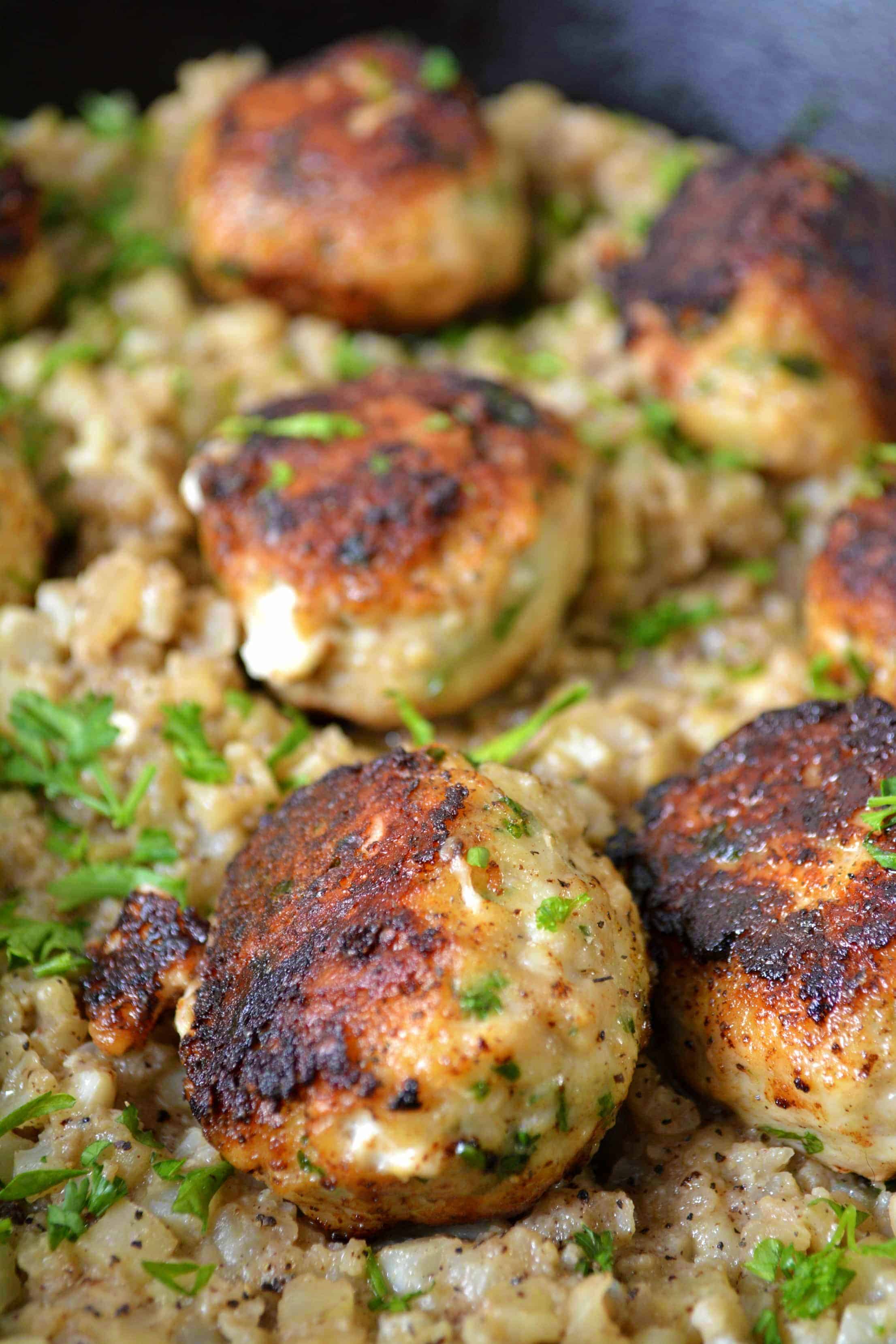 These cheesy stuffed turkey meatballs served with easy cauliflower rice are a dinner the family will be asking you to make again and again.
When it comes to comfort food, it doesn't get much better than these delicious easy turkey meatballs. As soon as the aroma hits you, you can't help but start to drool! Not to mention the fact that these ground turkey meatballs are packed with tons of flavor.
Scroll to bottom for printable recipe card.
How To Cook Turkey Meatballs
First Step: Combine the cream cheese, parmesan cheese, and garlic powder with a fork.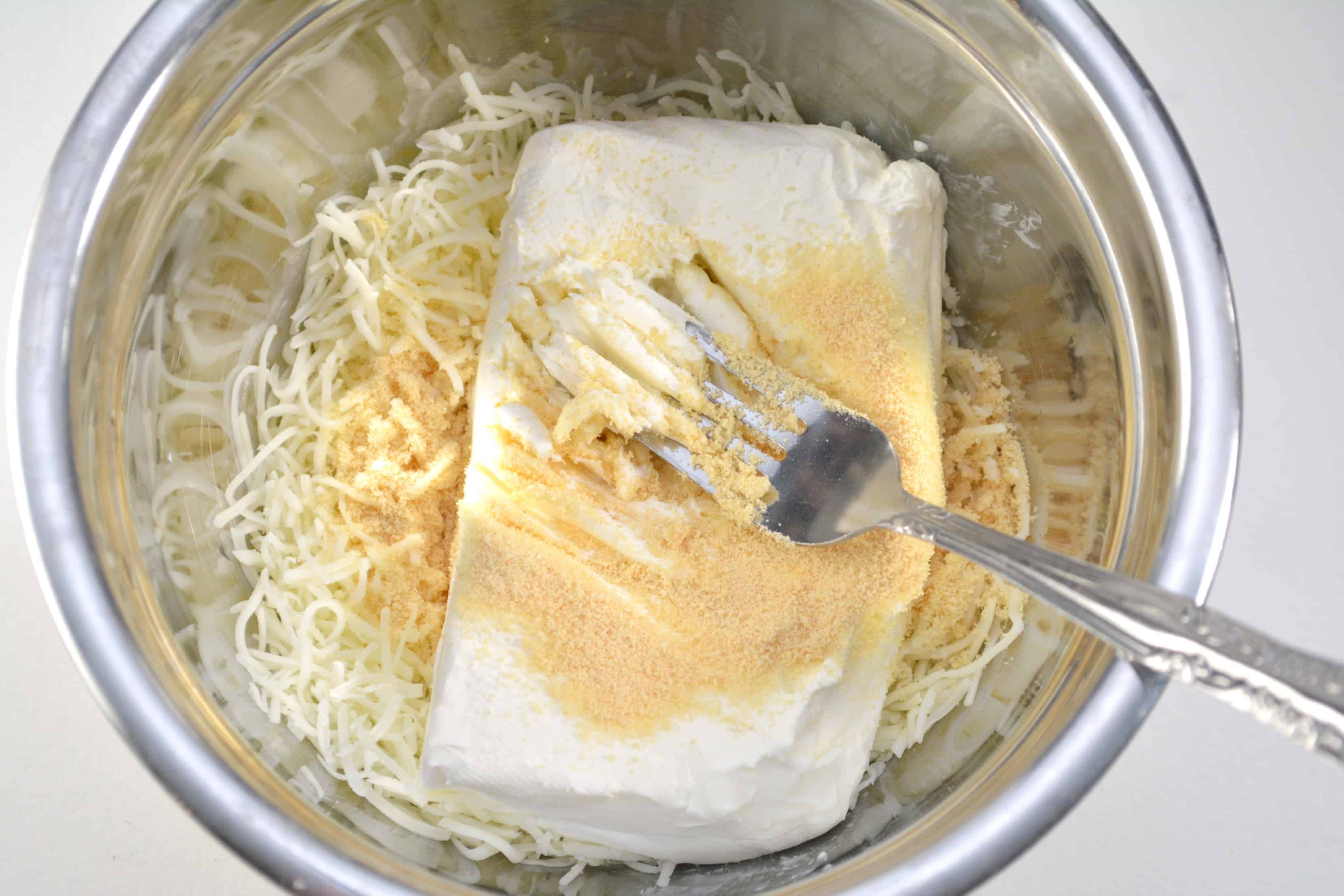 Second Step: Using a separate bowl, combine ground turkey, parsley, mozzarella cheese, beaten egg, bouillon cube, salt, and pepper. Use your hands to mix it well until all ingredients are well incorporated.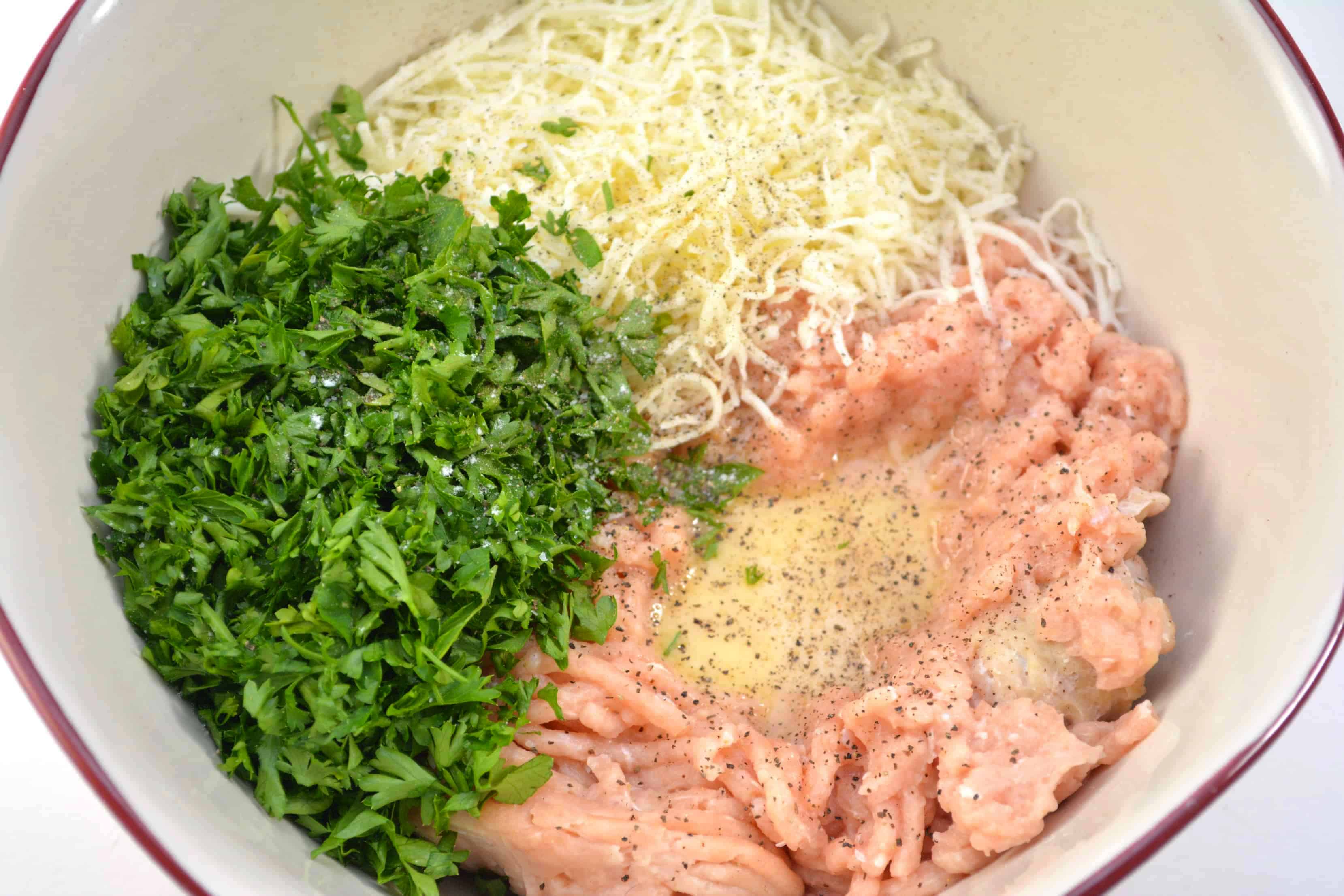 Third Step: Form small patties with the ground turkey mixture and place a small amount of the cheese mixture in each. Fold the ends around the cheese, forming into a meatball.
NOTE: Make sure all edges are entirely closed to that the cheese does not come out the sides.
Try to make them all uniform when shaping. This will ensure they all cook evenly and the ground turkey stuffed meatballs look gorgeous too!
Fourth Step: Cook meatballs in a pan with butter until brown on all sides and cooked thoroughly, usually about 15 minutes.
NOTE: Keep a watch on them, so they don't burn. They should be a beautiful brown color when they are finished cooking.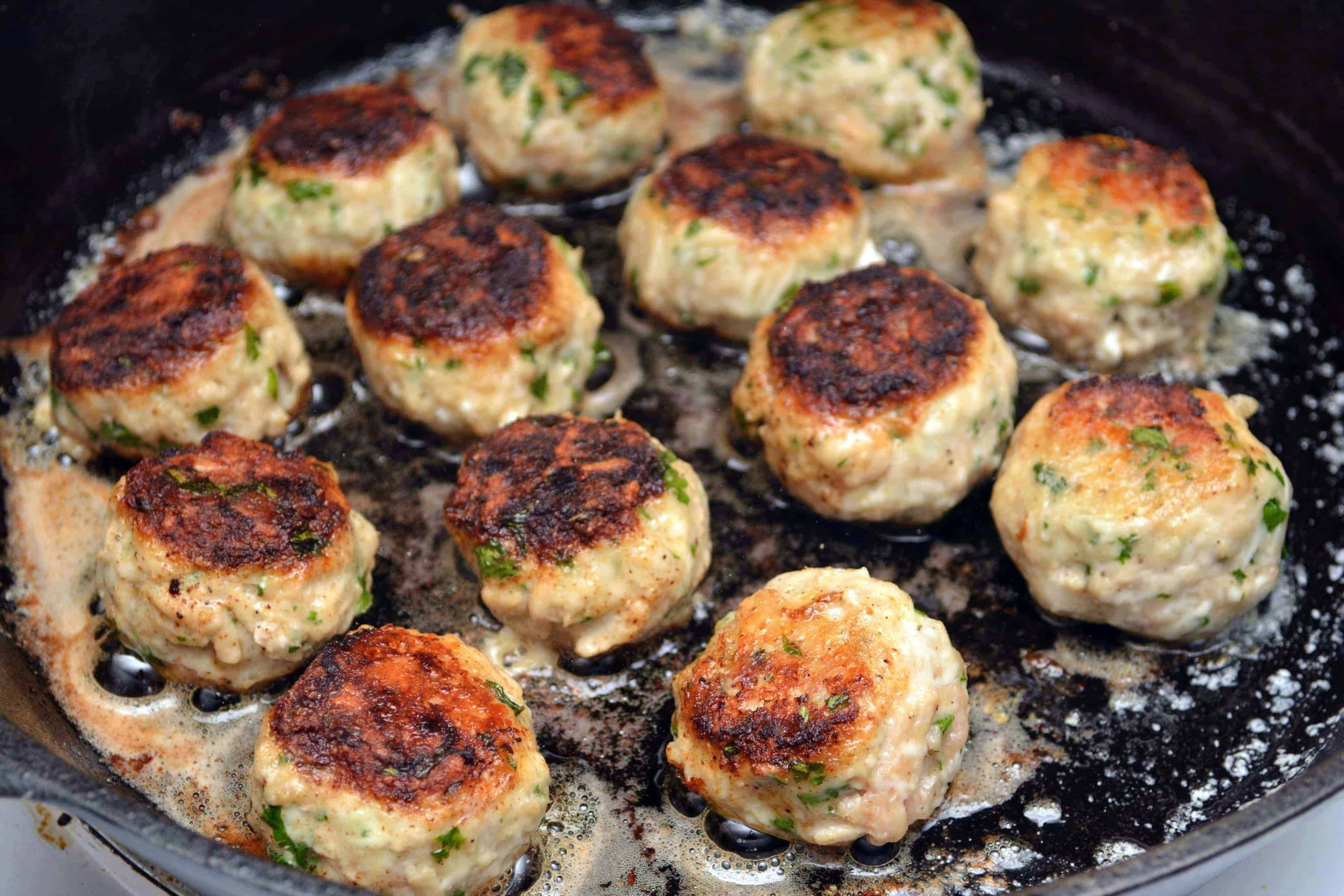 Fifth Step: For the easy cauliflower rice, add additional butter to the pan after you remove the meatballs. Melt and then add riced cauliflower, coating well with the butter.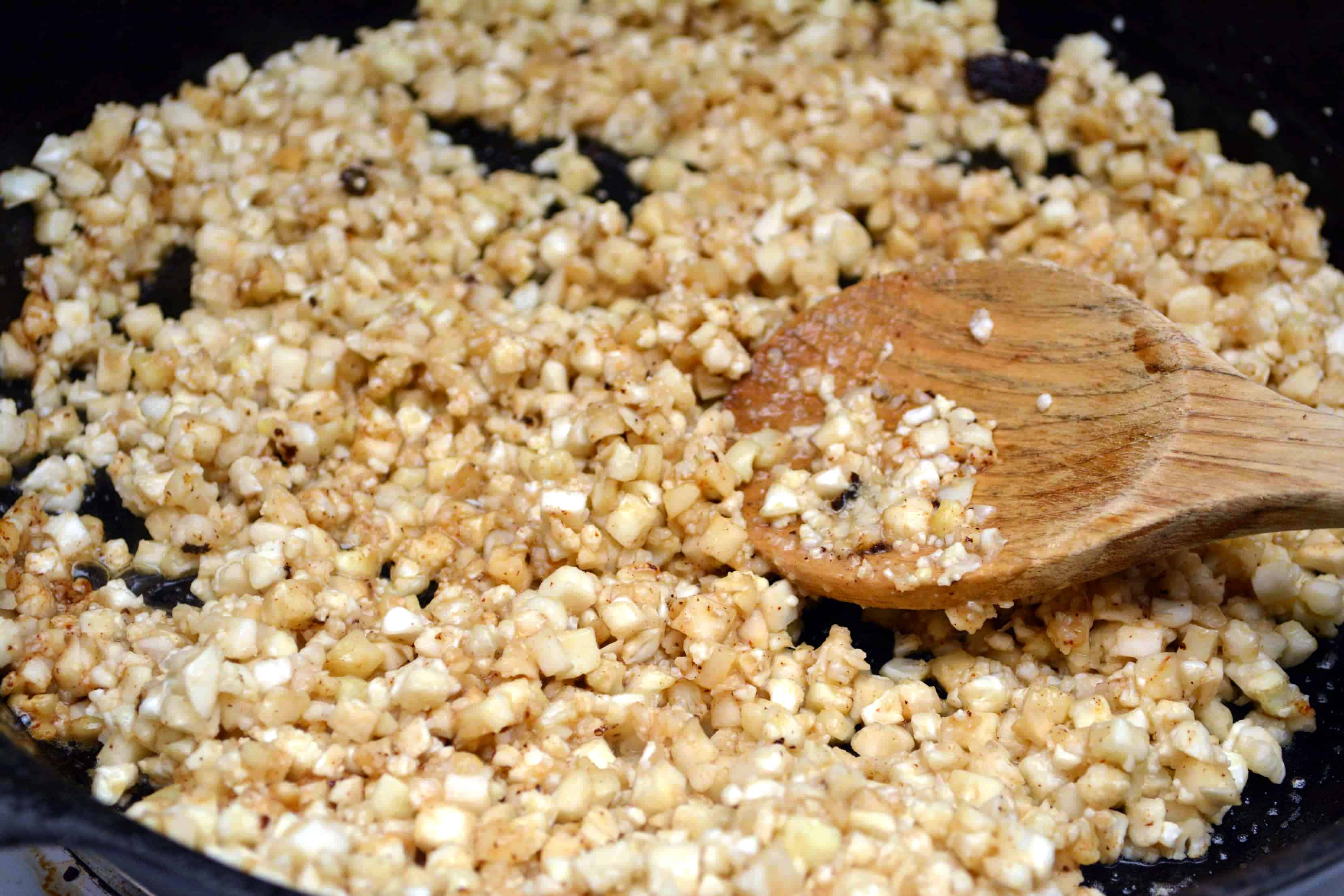 Sixth Step: Add vegetable stock to the rice, along with the hot sauce. Cook 2-3 minutes.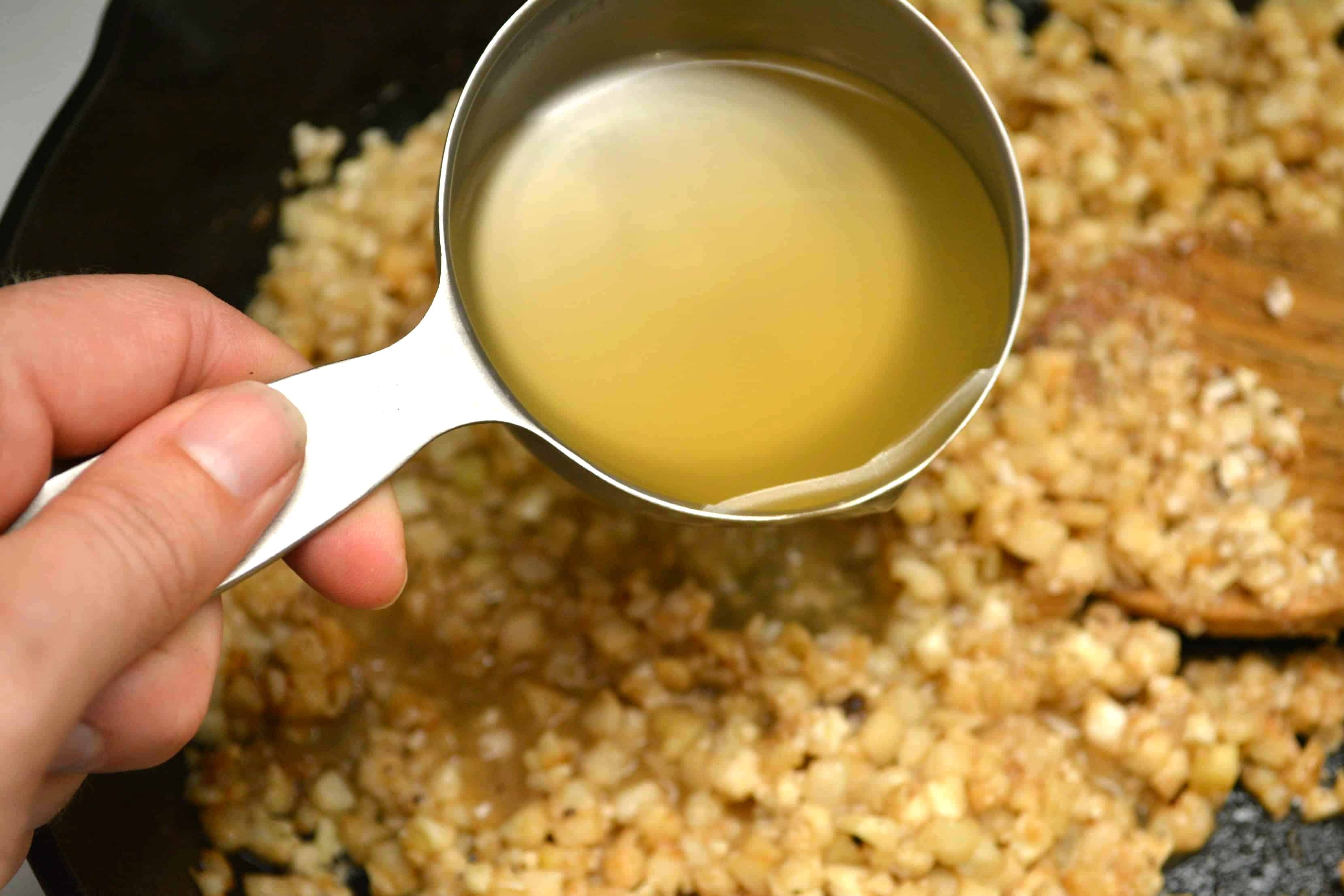 Seventh Step: Add the juice of half a lemon — Cook for one additional minute.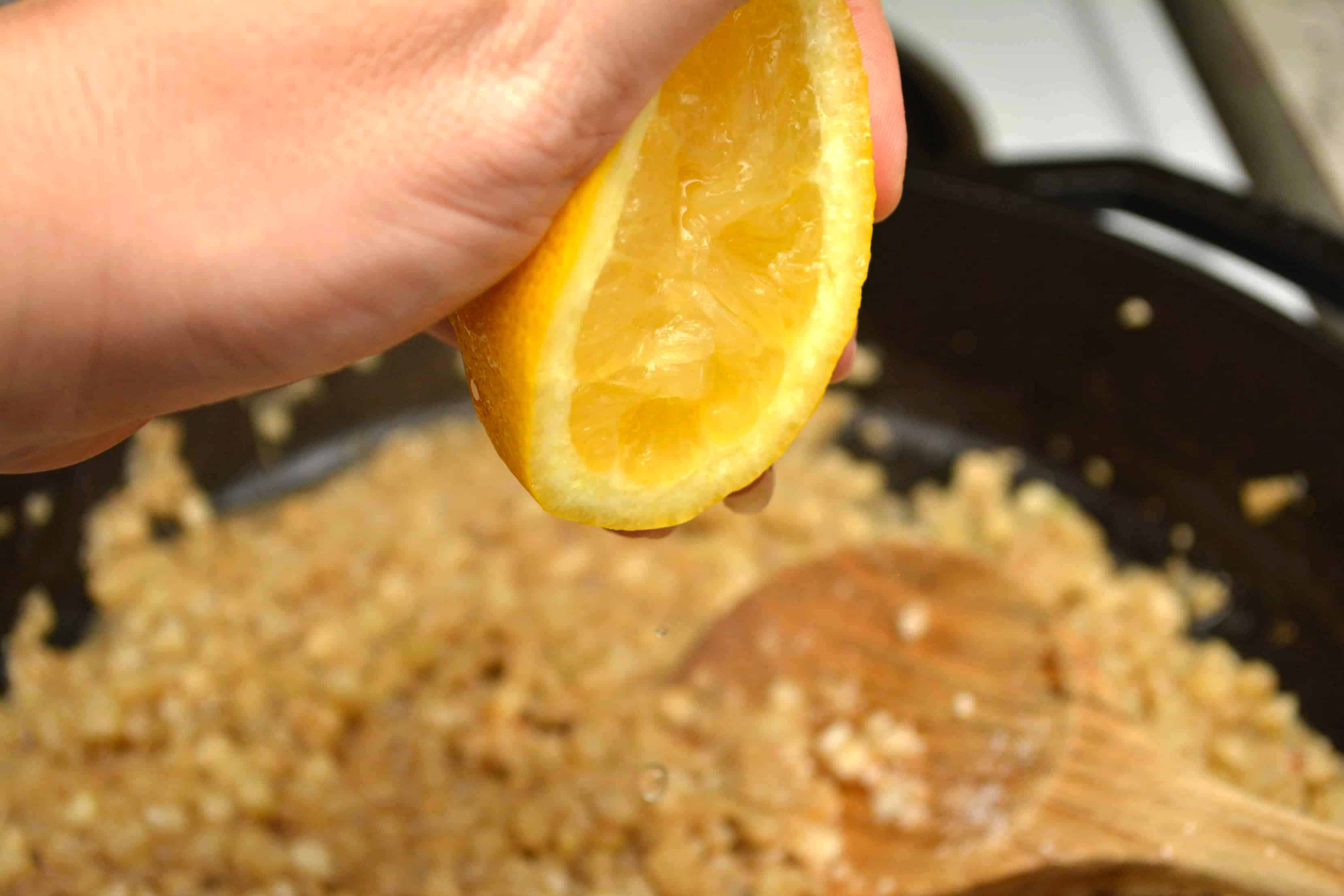 Cook for one additional minute.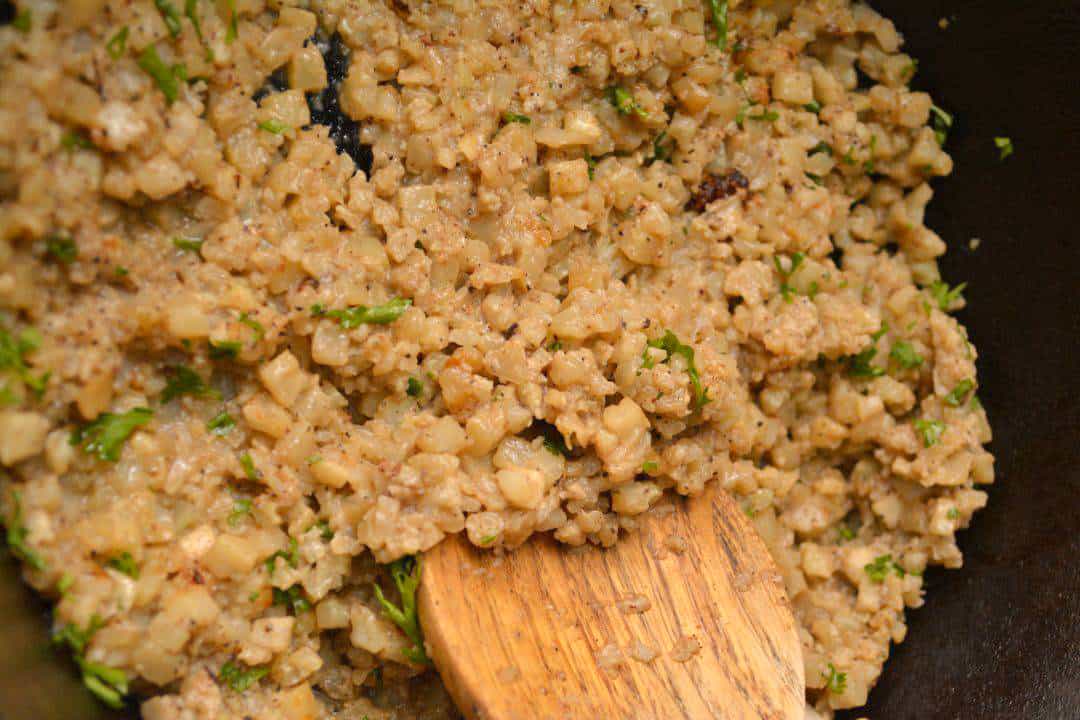 Eighth Step: Add the meatballs back to the pan.
That is all you need to do! Now you can devour every last bite of these fantastic ground turkey meatballs. You are going to be so thankful that you made the best turkey meatballs ever!
How To Tell If Meatballs Are Done?
To make the juiciest ground turkey stuffed meatballs, use a meat thermometer and check them. They should be at least 140 degrees F to be considered done. If you prefer the ground turkey meatballs to be well done, you can cook them all the way up to 165 degrees F.
Ground Turkey Stuffed Meatballs Variations
There are seriously endless possibilities of things you can try when making these ground turkey meatballs! Each idea will bring different flavors and textures to the best turkey meatballs! Here are some of my top ideas: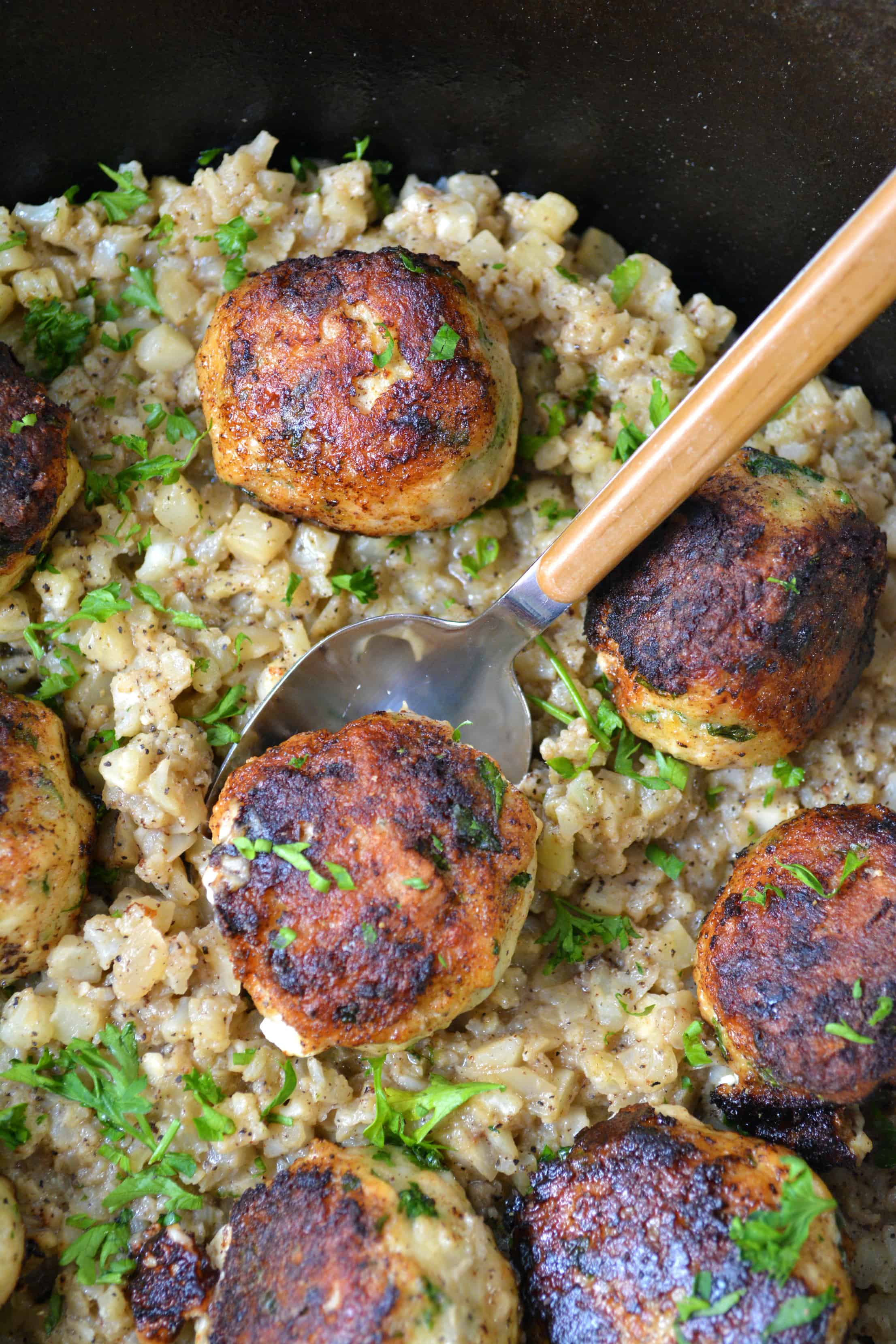 How Do I Keep My Meatballs From Falling Apart?
It's essential when making these easy turkey meatballs that you follow the directions precisely. The ingredients go together to help bind the meatballs, and that is what keeps them together when you are cooking them. If you skip a component or put too much or too little of something in the turkey meatballs, the result will yield meatballs that are falling apart. Many recipes call for bread crumbs to help bind the meatballs together. For my ground turkey stuffed meatballs, the egg is what really binds everything together.
Why Are My Meatballs Rubbery?
If you run into having rubbery meatballs, there is a strong possibility when you formed the balls that you tightened them a little too much. You want to loosely form the ground turkey meatballs, so they hold together, but not so much that they become dense when cooking. It's easy to make this mistake, so don't give up. We have all been there, just keep trying because once you get the hang of it, you will be making the best turkey meatballs like a pro!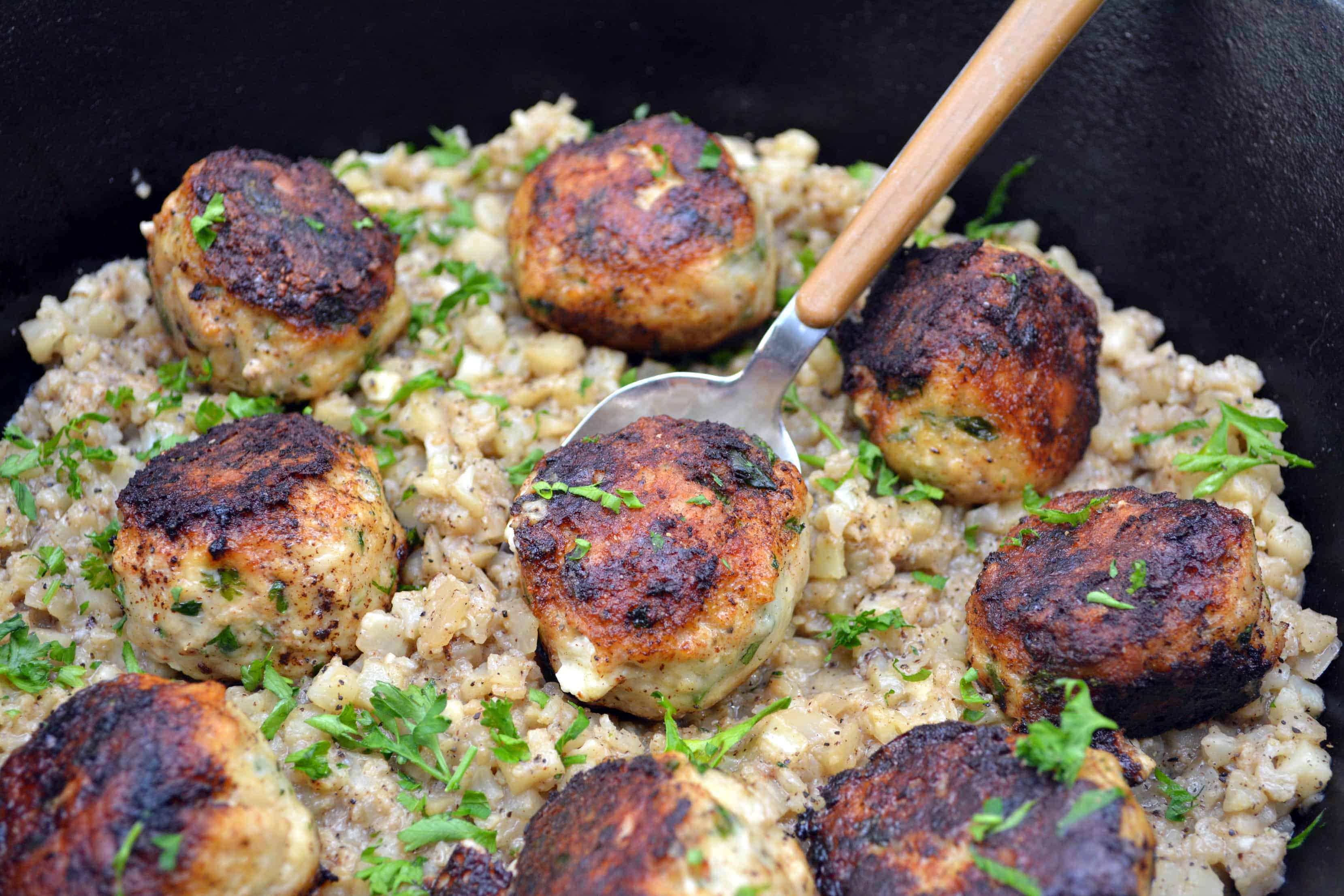 How To Rice Cauliflower
In your local grocery store, there is a strong chance that you can buy bagged frozen riced cauliflower. If you can't find it or you live in a small area that doesn't carry riced cauliflower, it's okay! You can actually make your own, and it's surprisingly easy to do. First, get a head of cauliflower. Then cut it into chunks that are a few inches big. Toss them in a food processor and give it a few pulses. You will continue to pulse it until it starts to resemble rice closely. It is seriously that easy to make! Add it to the ground turkey meatballs recipe, and you can give yourself a pat on the back! Delicious and really quick to make!
Can I Bake Turkey Meatballs?
Yes, you can actually bake turkey meatballs if you would rather. Prepare the meatballs the same way you would if you are cooking them on the stovetop. Then place them in an oven that has been preheated to 400 degrees F. Lay them on a baking dish, so they aren't touching. Bake for 20-25 minutes until they are brown and have reached the proper internal temperature. (140 degrees F. – 165 degrees F.)
How Do I Store This Easy Turkey Meatball Recipe?
You can store cooked turkey meatballs in an airtight container in the fridge. They make fantastic leftovers and are ideal for meal planning. Make up a huge batch and have them for an easy lunch all week.
Can I Freeze Easy Turkey Meatballs?
Yes, you can freeze these scrumptious, easy turkey meatballs. You can freeze them before or after they have been cooked. The best way to freeze them is by doing a flash freeze. This will ensure that the ground turkey meatballs do not stick together. Lay them on a large baking dish, so they aren't touching and freeze for 2-3 hours until they are relatively solid. Then place them in a freezer-safe bag or storage container.
If they haven't been cooked yet when you are ready to make them, place the ground turkey stuffed meatballs in the fridge overnight, then cook in a skillet or in the oven the next day. If they are precooked, you can warm them in the microwave or on the stovetop in a pan with a little bit of olive oil.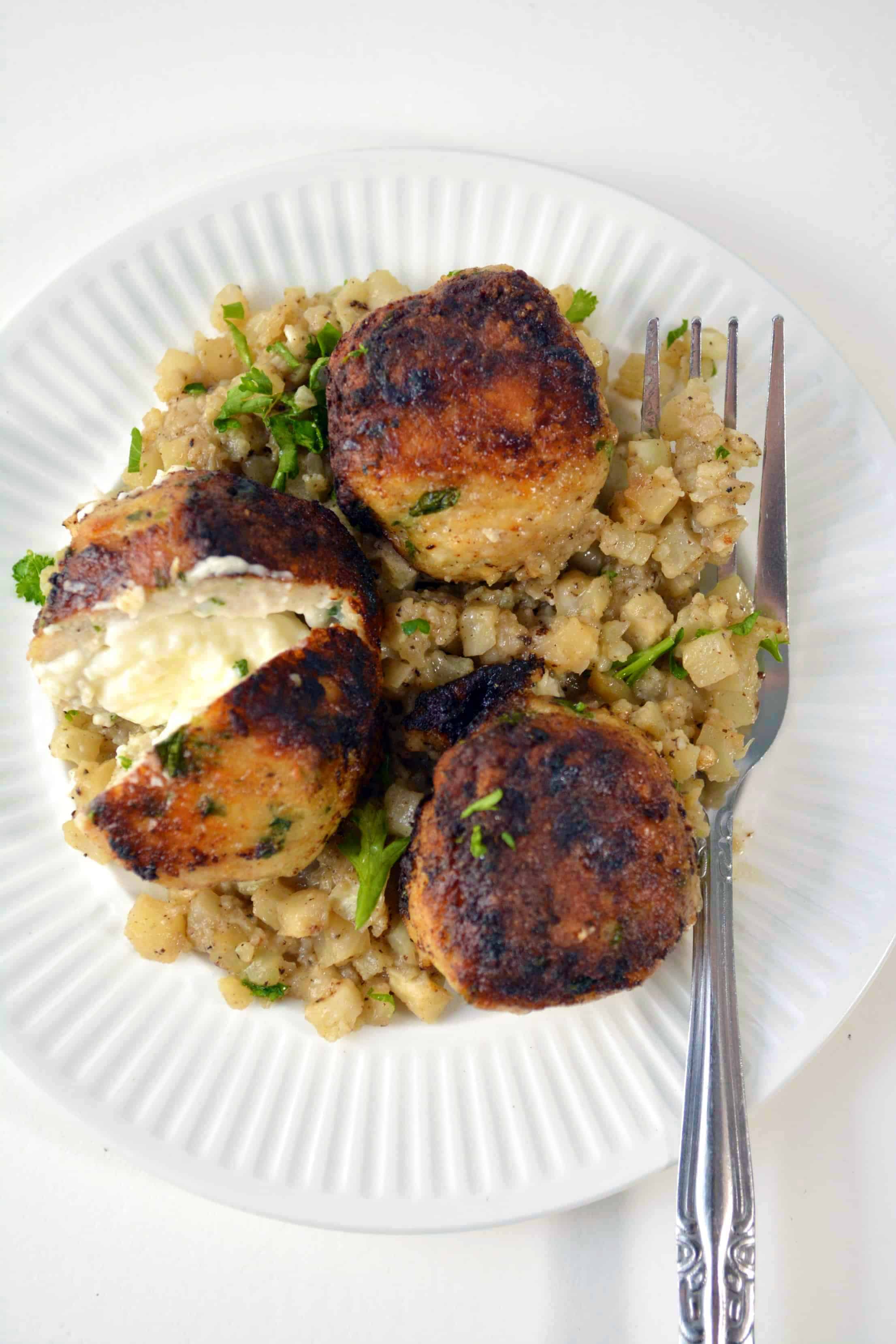 Now, remember to save this recipe on Pinterst for later 🙂


Pin this recipe now to remember it later
Cheesy Stuffed Turkey Meatballs with Cauliflower Rice
These Cheesy Stuffed Turkey Meatballs served with an easy Cauliflower Rice are a dinner the family will be asking you to make again and again.
Ingredients
For the Meatballs:
2

c.

Shredded mozzarella cheese

1

tsp.

Salt + Black Pepper to taste
For the Cauliflower Rice:
½

c.

Vegetable or chicken stock

Red pepper flakes

,

optional
Want to save this recipe? Enter your email below and we'll send the recipe straight to your inbox!
NOTE: By saving this recipe, you agree to join our weekly recipes newsletter.
Instructions
In a mixing bowl, combine 1 cup of mozzarella cheese, 8 ounces of cream cheese and 1 tablespoon of garlic powder. Mix with a fork until the ingredients are well combined.

In a separate mixing bowl, combine the ground turkey, ½ c. parsley, 1 cup mozzarella cheese, 1 beaten egg, a crumbled bouillon cube, salt and pepper. Mix with your hands until the ingredients are incorporated well.

Take a tablespoon of the meat mixture, and flatten it into the palm of your hand. Take a spoonful of the cheese mixture and roll it into a ball. Stuff the cheese mixture into the flattened meat mixture, and close the ends of the meat around the cheese. Shape to form a meatball. Continue until you have created cheese stuffed meatballs with all of the meat mixture.

Place a skillet over medium-high heat, and melt 1 tablespoon of butter. Cook the meatballs until browned on all sides and cooked through, usually 10-15 minutes. When the meatballs are done, remove them from the skillet and keep them warm.

In the same skillet, melt 2 tablespoons of butter, and add in the riced cauliflower. Stir to coat the cauliflower well with the butter.

Add in ½ cup chicken or vegetable stock and hot sauce. Cook for 2-3 minutes to reduce some of the liquid in the skillet.

Squeeze in the juice from one lemon and cook for 1 minute more.

Add the meatballs back into the skillet with the cauliflower rice, top with parsley and adjust seasoning of salt and pepper to your taste.
Nutrition
Serving:
1
g
|
Calories:
817
kcal
|
Carbohydrates:
27
g
|
Protein:
48
g
|
Fat:
59
g
|
Saturated Fat:
28
g
|
Polyunsaturated Fat:
25
g
|
Trans Fat:
1
g
|
Cholesterol:
277
mg
|
Sodium:
1607
mg
|
Fiber:
4
g
|
Sugar:
14
g
Follow me on Pinterest for daily delicious recipes!
Craving More Delicious Recipes: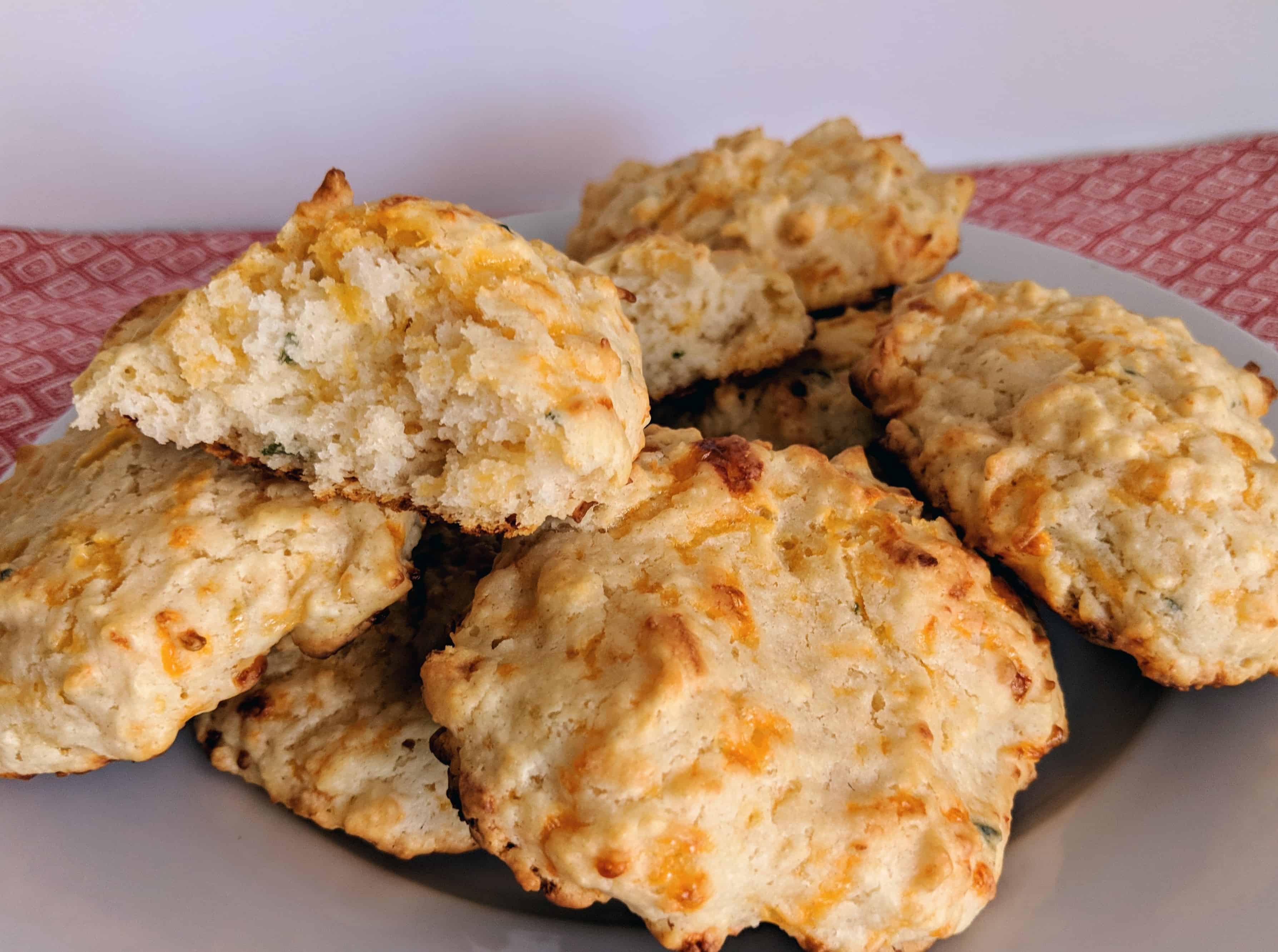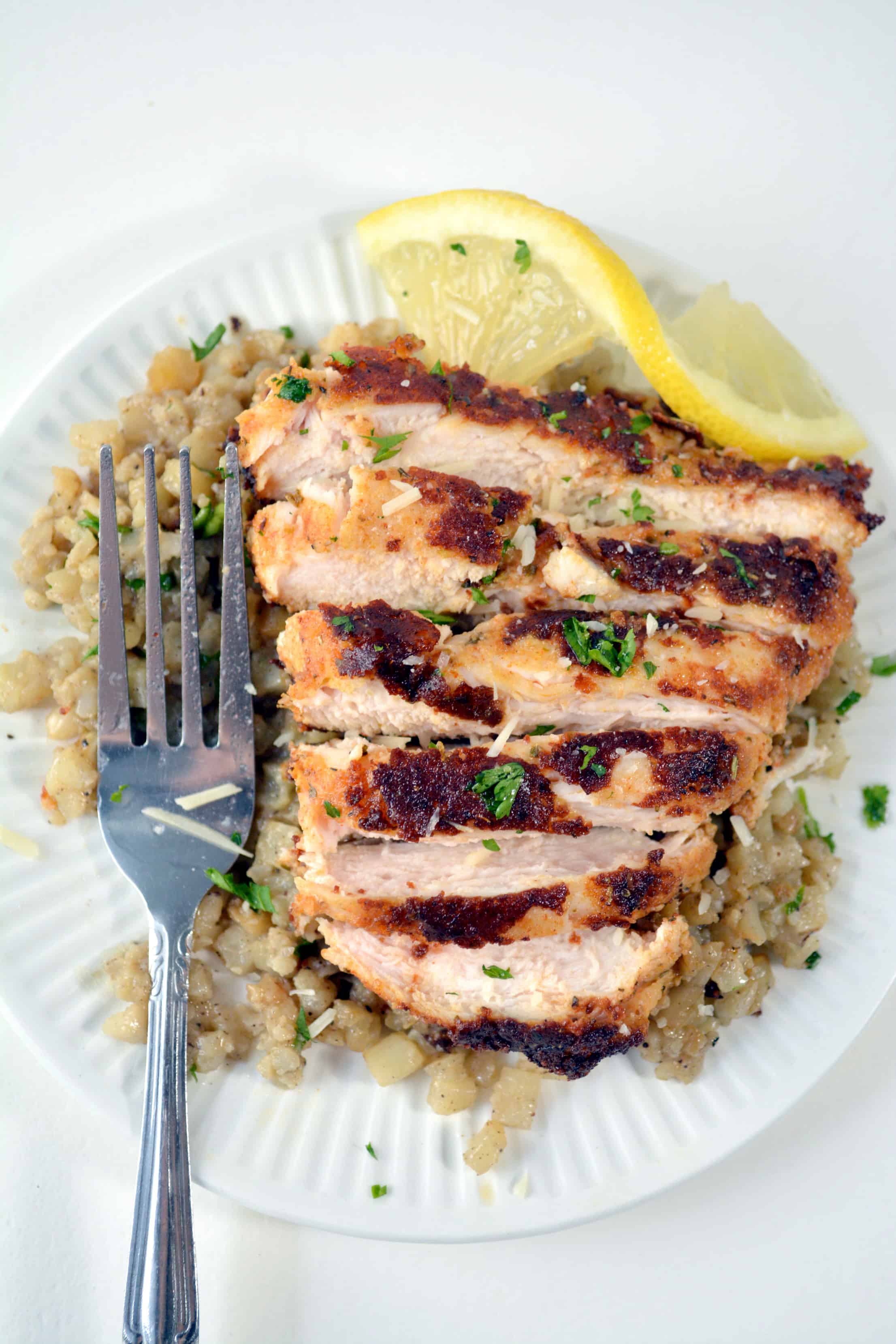 Get new recipes weekly plus our FREE ebook!