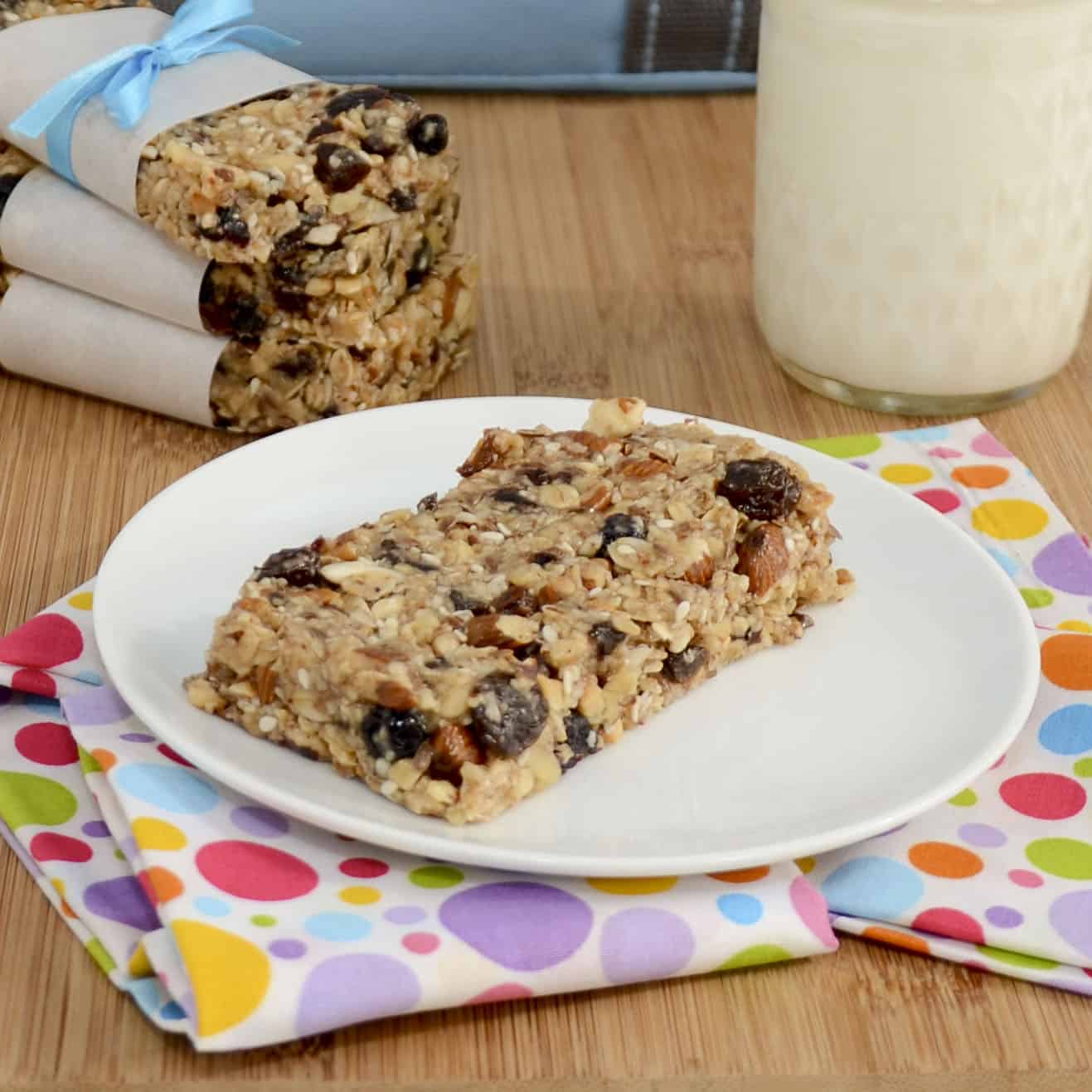 These Homemade Thick and Chewy Granola Bars will tantalize your taste buds and please your hunger. They are delicious, easy to make, and are filled with nuts, oats, dried fruit, flax seeds, and are sweetened with honey. This is one of the best granola recipes ever, and I can't wait for you to try them.
Homemade Thick and Chewy Granola Bars
Healthy, portable, and delicious granola bars packed with assorted nuts, seeds, and dried fruit. I have been looking for a chewy granola bar for a while now. It seems like many of the recipes that I have tried that claim to be chewy just fall apart when you cut them. I wanted a granola bar that is truly chewy and holds its shape when cut, and while I am shoving it into my mouth. 😉
This recipe definitely fits the bill! Since these granola bars have coconut oil in them, they're best kept in the fridge. You can even freeze them if you wish (they thaw perfectly). My favorite thing about these granola bars is that they are easily customized to taste with your own favorite fruits and nuts. I used a combination of my favorite nuts and fruits, but you can definitely try using any combination of nuts, chopped dried fruits, candy-coated chocolate pieces, or miniature chocolate chips. Hmmmm…raisinets anyone? Now we're talking! 😀
What To Do If Granola Bars Are Falling Apart
You may need to add a little bit of extra honey or even some nut butter to help hold them together. Usually, when they don't stay together, it's because there isn't enough liquid to help bind them together. I haven't had a problem, but if you do, feel free to play around with some extra ingredients to see what works for you.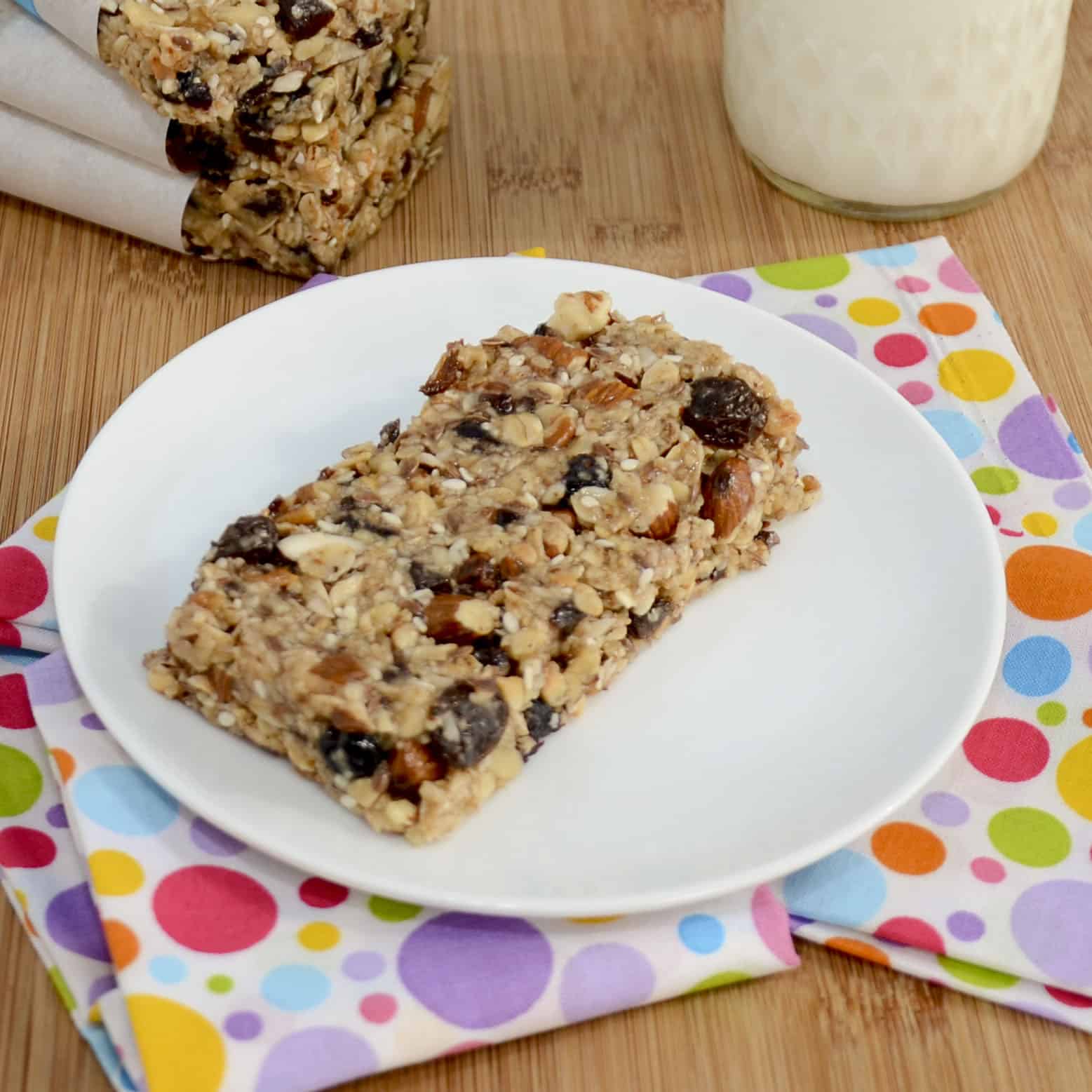 Variation to Mix In Ingredients
As with most recipes that I make, you can certainly add in some extras to make them even more extra special. I recommend adding any of the following:
Chocolate – You can either chop chocolate or add chocolate chips to the granola bars. It's nice to have a little bit every once in a while. Milk, dark, semi-sweet, or white chocolate are all awesome.
Cereal – Sometimes, we like to add in some cereal to our granola bars. There are many kinds of cereal that go so well with the other ingredients. Cheerios is one of our favorites.
Nut Butter – Add in some peanut butter or any of your favorite nut butter to add even more flavor. Insanely good!
Maple Syrup – You can either swap the honey or use maple syrup in addition to the honey. Either way, it's a lovely sweet flavor that is so tasty.
How to Store Granola Bars
It's best to store the chewy granola bars in an airtight container. I find it's best to add a piece of parchment paper in between each layer of granola bars. This will keep them from sticking to each other. They can be kept at room temperature or stored in the freezer.
How Long Will Granola Bars Last For
Fruit and granola bars will last up to one week at room temperature. Or you can store these thick and chewy granola bars in the freezer. They will last up to 2 months in the freezer.
Ingredients
Assorted nuts (I used pecans, almonds, walnuts, and hazelnuts)
Old fashioned oats
Dried fruit (I used cherries, blueberries, raisins, and cranberries)
Sesame seeds
Flax seeds
Honey
Coconut oil
Salt
Vanilla extract
Almond extract
Cinnamon
How to Make Chewy Granola Bars
First Step: Get an 8×8 inch baking pan and take butter to grease the bottom and sides. Then add in a piece of parchment paper and put it into the bottom of the pan. Make sure the parchment paper comes out the sides of the pan so you can easily pull it out when they are done.
Second Step: Using your food processer with a metal blade, add in the assorted nuts of your choice and 1/2 cup of the old fashioned oats. Process them until they are fine and not too chunky. Put them in a large bowl. Then go ahead and add in the rest of the oatmeal, sesame seeds, flax seeds, and dried fruit together. Mix well and add the rest of the chopped nuts to the bowl.
Third Step: Heat the honey, salt, coconut oil, vanilla, cinnamon, and almond extract in a small saucepan. Use medium heat and bring to a boil. Cook the mixture for 1 minute, then pour over the top of the nut mixture. Combine well to ensure all the ingredients are coated well.
Fourth Step: Add the mixture to the prepared baking pan. Take a piece of parchment paper and lay it on top of the mixture. Lightly press it down to make the granola bars stick together well. Place them in the fridge for 4 hours or until they are all the way firm.
Fifth Step: Take a sharp knife and cut the best granola bars, so they are evenly sized. Wrap each granola bar in plastic wrap and keep them at room temperature, in the fridge, or in the freezer.
These chewy granola bars are one of my favorite ways to start the day. I wanted to share some other granola bar recipes that I am sure you are going to love.
Pin this recipe now to remember it later
Homemade Thick and Chewy Granola Bars
Ingredients
2

cups

assorted nuts

,

I used pecans, almonds, walnuts and hazelnuts, divided

1

cup

old fashioned oats

,

divided

1

cup

dried fruit

,

I used cherries, blueberries, raisins, and cranberries

1

tablespoon

sesame seeds

1/4

cup

plus 2 tablespoons honey

3

tablespoons

coconut oil

1/4

teaspoon

vanilla extract

1/4

teaspoon

almond extract
Instructions
Butter the bottom and sides of a 8 X 8 inch baking pan. Put a long piece of parchment paper in the bottom of the pan, letting the parchment extend up two sides of the pan and overhang slightly on both ends.

In the bowl of a food processor fitted with the metal blade, process 1 cup of assorted nuts and 1/2 cup old fashioned oats until fine. Transfer to a large bowl. Add the remaining 1/2 cup of old fashioned oats, dried fruit, sesame seeds and flax seeds; mix well and set aside.Roughly chop the remaining nuts and add to the bowl.

In a small saucepan over medium heat, bring the honey, coconut oil, salt, vanilla extract, almond extract, and cinnamon to a boil. Cook for about 1 minute, then pour over the nut mixture and mix thoroughly to coat all the ingredients.

Pour the mixture into the prepared pan. Using a small piece of parchment paper, press mixture evenly into pan; refrigerate until firm, about 4 hours.

Using a sharp knife, cut chilled granola into bars. Wrap individually in saran wrap and store in the fridge or freezer.
Follow me on Pinterest for daily delicious recipes!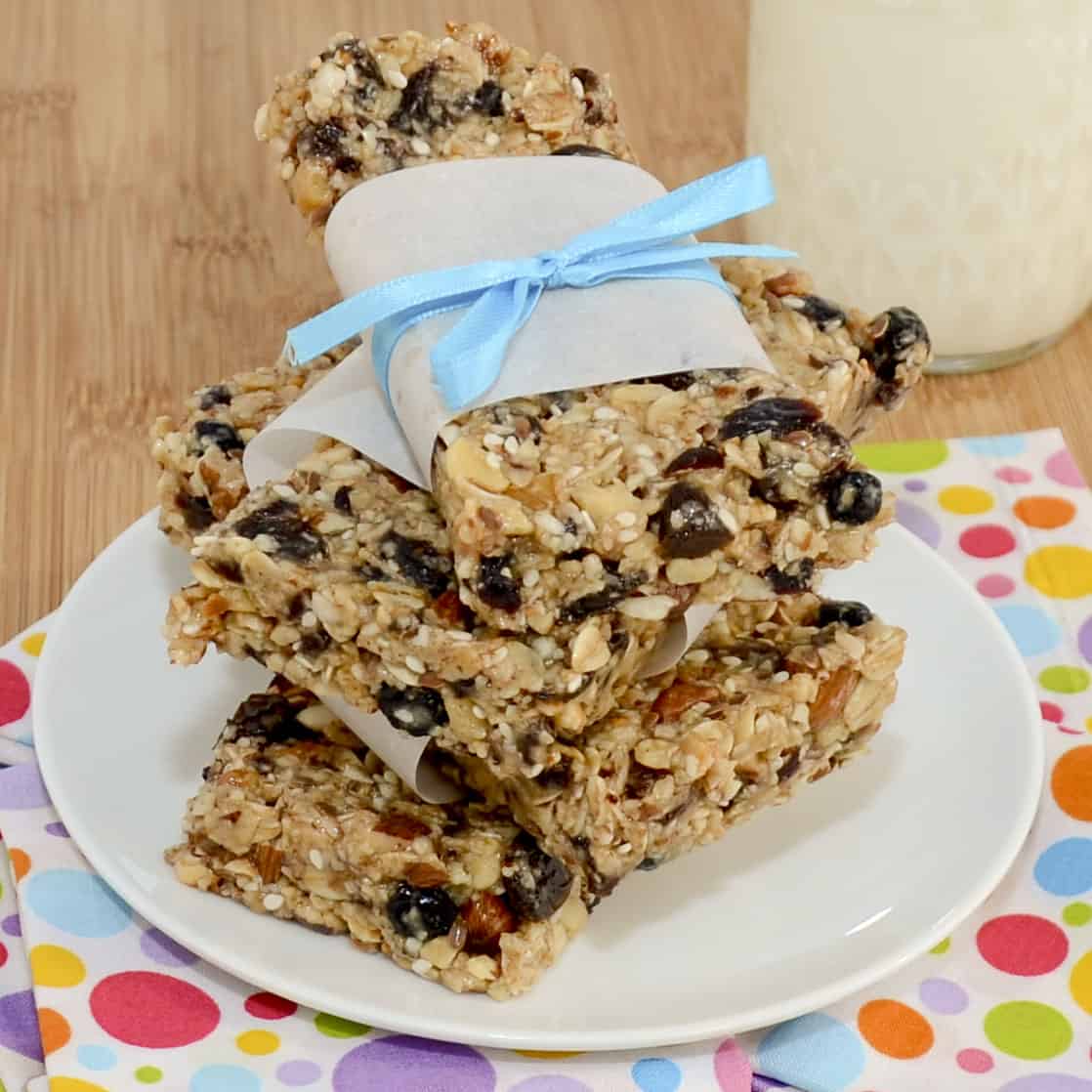 Get new recipes weekly plus our FREE ebook!