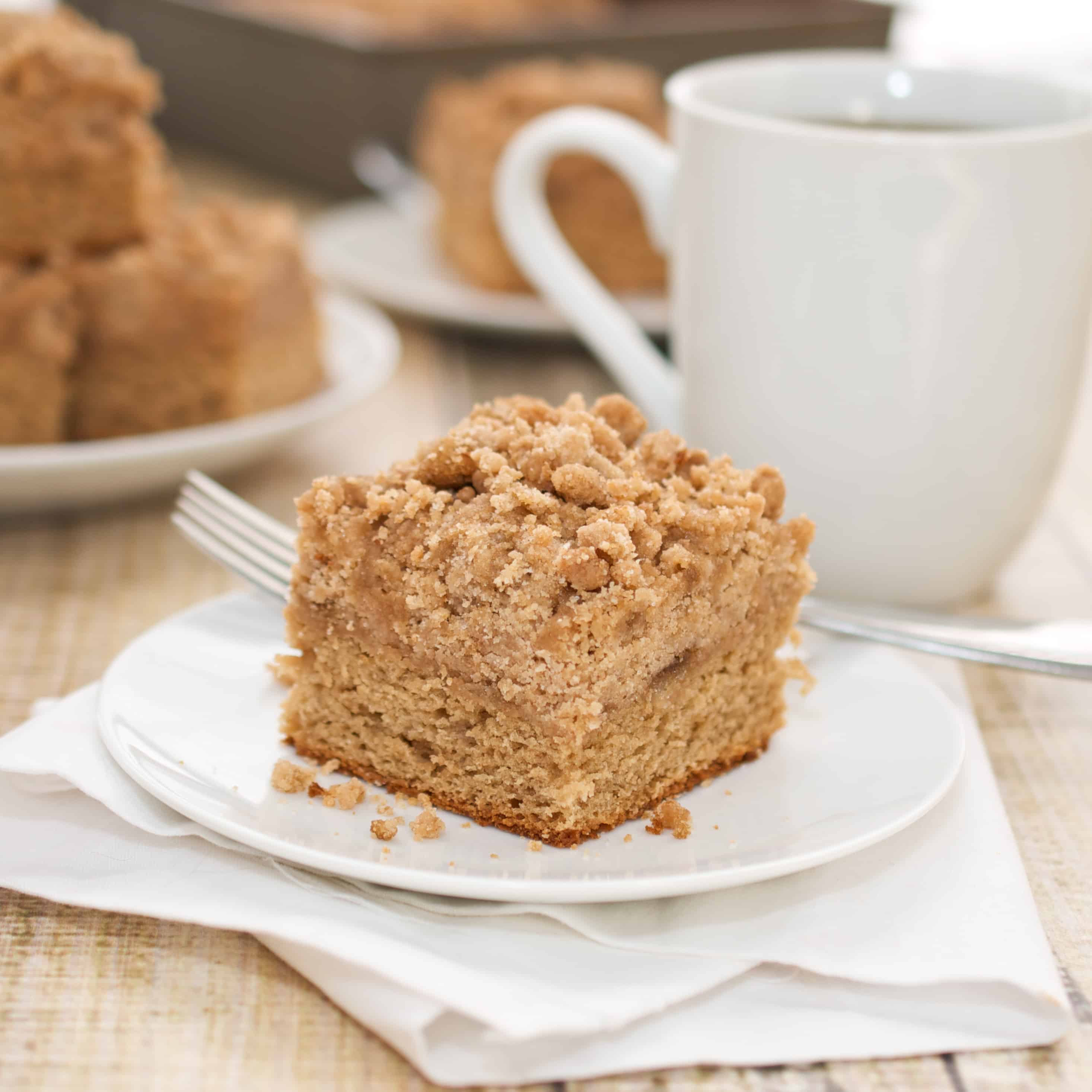 You need to taste this incredible Coffee Cake with Crumble Topping and Brown Sugar Glaze recipe! It's absolutely heavenly! Make this homemade coffee cake for brunch, breakfast, or even as an easy dessert.
Coffee Cake with Crumble Topping and Brown Sugar Glaze
There' s really nothing better on a weekend morning than a freshly baked coffee cake. An acceptable reason to have cake for breakfast? Count me in! 😀 Moist and tender cake with a cinnamon streusel topping that's finished off with a brown sugar drizzle. The house smelled amazing from the moment I started making the crumble topping until I pulled the warm, golden cake from the oven.
The crumb topping is what really makes this coffee cake stand out from the rest! It's absolutely incredible. And really, that's what makes a coffee cake anyway, right? The crumbles are big, fat, clumpy, crumbly, fabulousness!
The Greek yogurt is a nice addition and keeps the cake moist and slightly tangy. If you do not have Greek yogurt, you can substitute it for sour cream. The blend of the cake flour and all-purpose flour give this cake light and soft texture, so you are guaranteed coffee cake bliss each and every time you make this recipe!
Crumb Topping for Coffee Cake
The crumb topping is so simple to make, and it tastes like a million bucks! It's absolutely insane how good it is. It's made with brown sugar, white sugar, salt, cinnamon, butter, and flour. YUMMY!
How to Know When Coffee Crumb Cake Is Done
The edges of the cinnamon crumb coffee cake will start to pull away from the sides of the pan. Plus, you can take a toothpick and insert it in the center, and it should come out clean. You will notice when it's done that it looks set. A lot of times, I will take my index finger and lightly tap the top of the cake. If it bounces back really quickly, then I know it's done. However, it leaves an indent on my finger; then, I know it needs to be baked a little bit longer.
Storing Leftover
Leftover coffee cake can be stored in an airtight container, and it will last in the fridge for 5 days or so. If you leave it at room temperature, it will only last 2 days, so the fridge is best when you need to keep it around longer.
Does Coffee Cake Freeze Well
Yep! You can wrap it up in a plastic wrap and place it inside of a container and freeze for up to 3 months. Thaw in the fridge and enjoy it!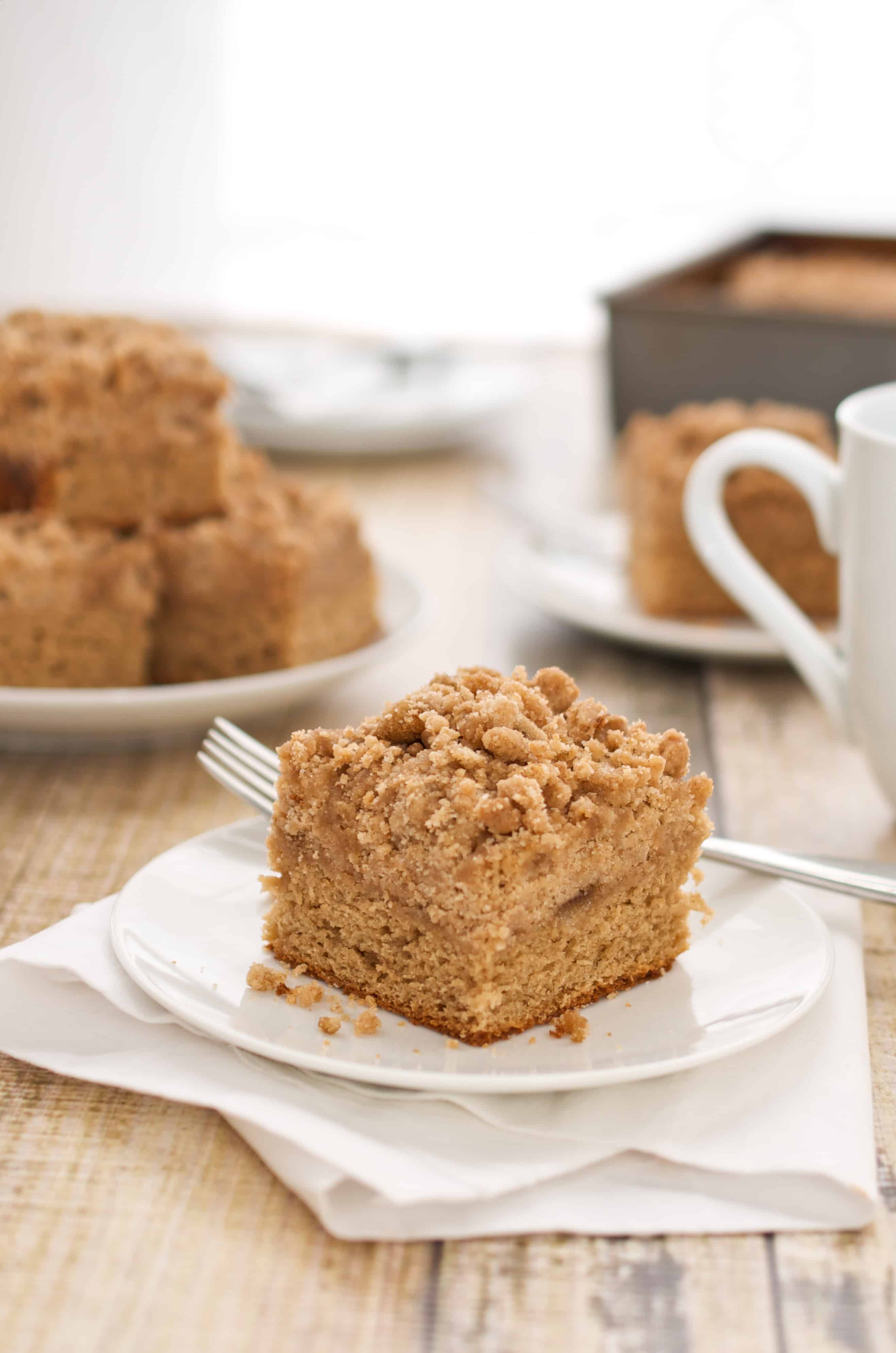 Ingredients
There are three sets of ingredients for the cake, the coffee cake crumb topping and the homemade brown sugar glaze. They are all super easy to work with and taste awesome. Let's take a look at what you'll be needing.
For the Crumb Topping:
Brown sugar, packed
Granulated sugar
Salt
Cinnamon
Unsalted butter, melted
All-purpose flour
For the Cake:
Cake flour
All-purpose flour
Baking soda
Cinnamon
Salt
Unsalted butter, at room temperature
Light brown sugar, packed
Large eggs, room temperature
Vanilla extract
Greek yogurt, room temperature
For the Brown Sugar Glaze:
Light brown sugar, packed
Vanilla extract
Water
How to Make Coffee Cake
The steps to make this incredible coffee cake recipe are so easy. When you take that first bite, it's going to be hard to believe it's that simple to make.
First Step: Prepare the crumb topping by mixing the brown sugar, granulated sugar, cinnamon, salt, and melted butter in a medium bowl. Add in the flour until it has been absorbed. Spread the mixture on a baking sheet with a rim. Heat the oven to 350 degrees and grease a 9×13 baking pan.
Second Step: Combine the flour, cinnamon, salt, and baking soda in a medium bowl to make the coffee cake.
Third Step: Combine the butter and brown sugar in a stand mixer. Use the paddle attachment and mix for 3 minutes until it's light and fluffy together.
Fourth Step: Scrape down the sides of the bowl and add in the eggs. Beat after each egg is added. Add in the vanilla and combine. Turn down the speed and add in 1/3 of the flour mixture. Mix in half of the greek yogurt and make sure it's incorporated. Add the rest of the flour and yogurt and mix again. Be sure to scrape the bowl if needed.
Fifth Step: Pour the batter into the baking pan and make level with a spatula. Add the crumb topping on top of the coffee cake. Bake for 30-35 minutes or until the homemade coffee cake is golden brown, and you can insert a toothpick that comes out clean.
Sixth Step: Place the coffee cake on a wire rack and begin preparing the glaze.
Seventh Step: Mix together the brown sugar, 2 tablespoons of water, and the vanilla in a small bowl. Whisk the ingredients together until they are well incorporated and smooth. Drizzle it over the top of the cinnamon crumb coffee cake and enjoy!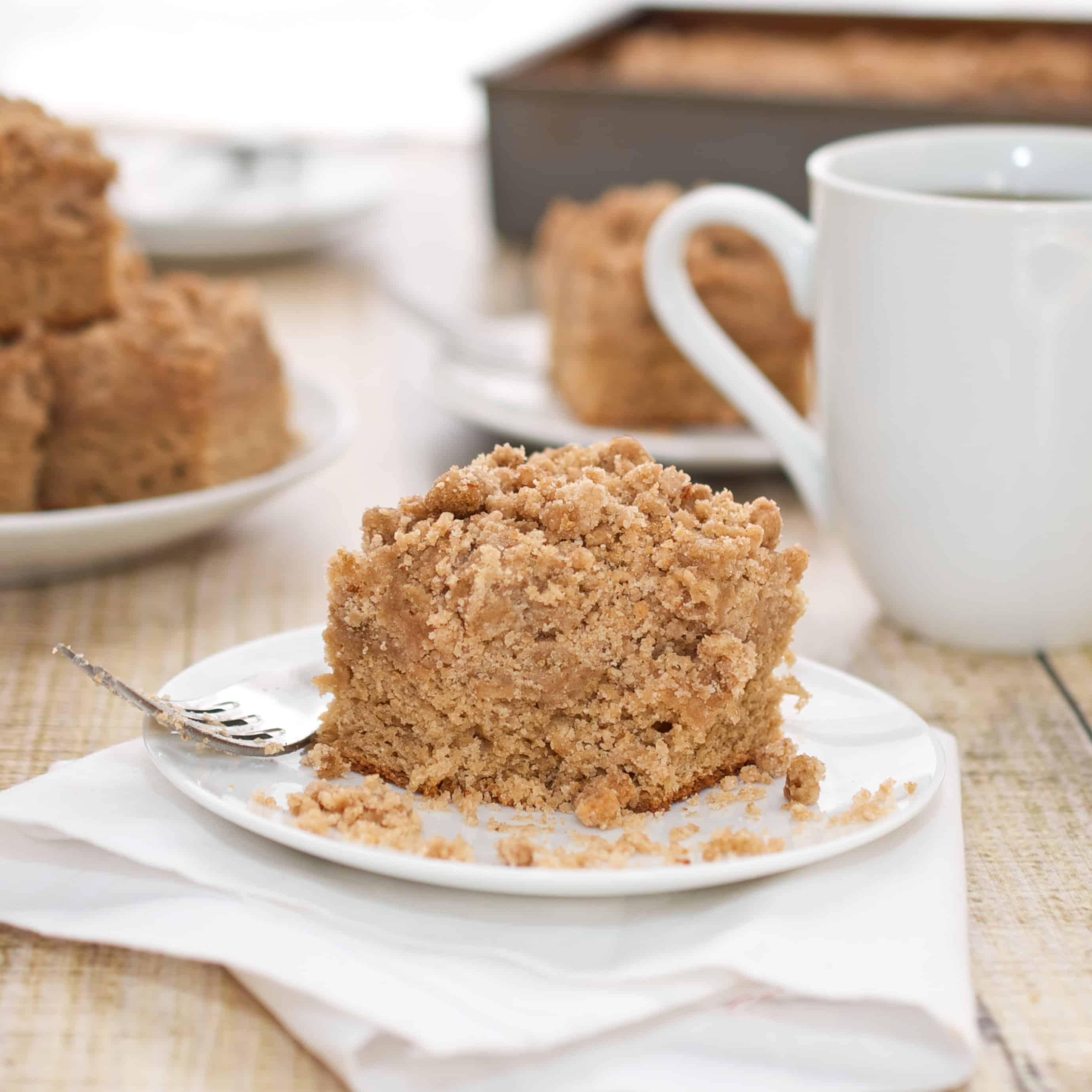 Enjoying a plate with freshly baked coffee cake and a cup of hot coffee or tea is one of my favorite things to do. You will see that I have tons of coffee cake recipes that you are sure to enjoy. Let's take a look: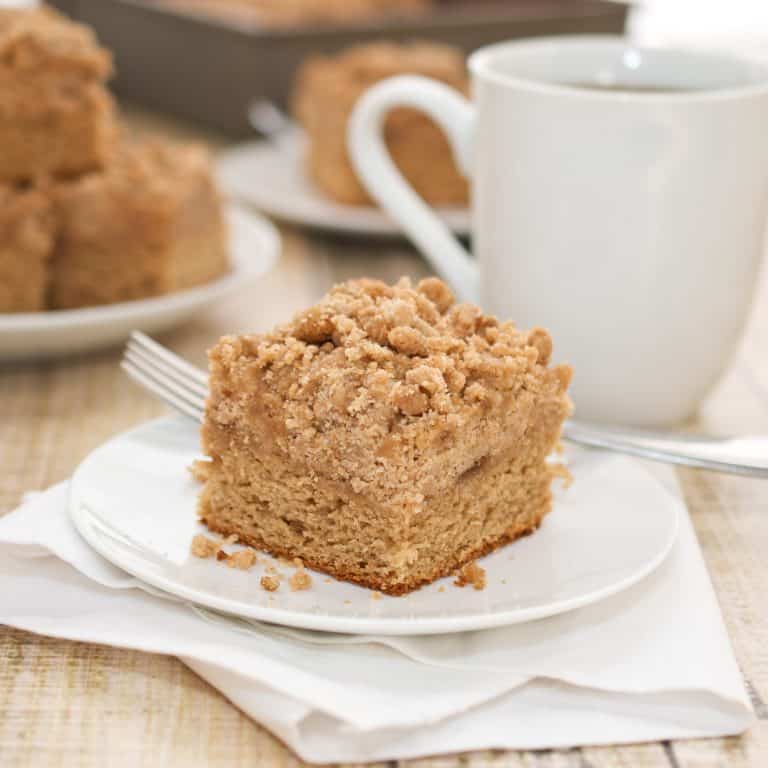 Coffee Cake with Crumble Topping and Brown Sugar Glaze
Ingredients
For the Crumb Topping:
1 cup brown sugar, packed
1/2 cup granulated sugar
1/2 teaspoon salt
2 teaspoons cinnamon
1 cup (2 sticks) unsalted butter, melted
2 1/2 cups all-purpose flour
For the Cake:
1 1/2 cups cake flour
1/2 cup all-purpose flour
1 teaspoon baking soda
1 teaspoon cinnamon
1/2 teaspoon salt
1/2 cup (1 stick) unsalted butter, at room temperature
1 1/4 cups light brown sugar, packed
2 large eggs, room temperature
1 teaspoon vanilla extract
1 cup Greek yogurt, room temperature
For the Brown Sugar Glaze:
1/2 cup light brown sugar, packed
1/2 teaspoon vanilla extract
2 tablespoons water
Instructions
To make the topping: In a medium bowl, mix the brown sugar, granulated sugar, salt, cinnamon, and melted butter together. Mix in flour until absorbed. Spread out on a rimmed baking sheet;set aside.
Preheat the oven to 350°. Grease a 9x13 inch square baking pan and set aside.
To make the coffee cake: In a medium bowl, whisk together the flours, baking soda, cinnamon, and salt; set aside.
In stand mixer fitted with paddle attachment, beat butter and brown sugar at medium speed until light and fluffy, about 3 minutes, scraping down sides and bottom of bowl with rubber spatula. Add eggs 1 at a time, beating well after each addition, about 20 seconds, and scraping down beater and sides of bowl as necessary. Add vanilla and mix to combine. Reduce speed to low and add one-third flour mixture, followed by half of greek yogurt, mixing until incorporated after each addition, 5 to 10 seconds. Repeat, using half of remaining flour mixture and all of remaining greek yogurt. Scrape bowl and add remaining flour mixture; mix at low speed until batter is combined, about 10 seconds. Remove bowl from mixer and fold batter once or twice with rubber spatula to incorporate any remaining flour.
Pour mixture into prepared pan, spread into corners, and level surface with rubber spatula. Sprinkle the crumb topping evenly over the batter. Bake until the top is golden and a toothpick inserted into the center comes out with just a few crumbs attached, 30 to 35 minutes. Let the cake cool on a wire rack while you prepare the brown sugar glaze.
To make the glaze: In a small bowl, combine brown sugar, vanilla and 2 tablespoons water. Whisk until smooth. Drizzle the glaze evenly over the top of the cake.