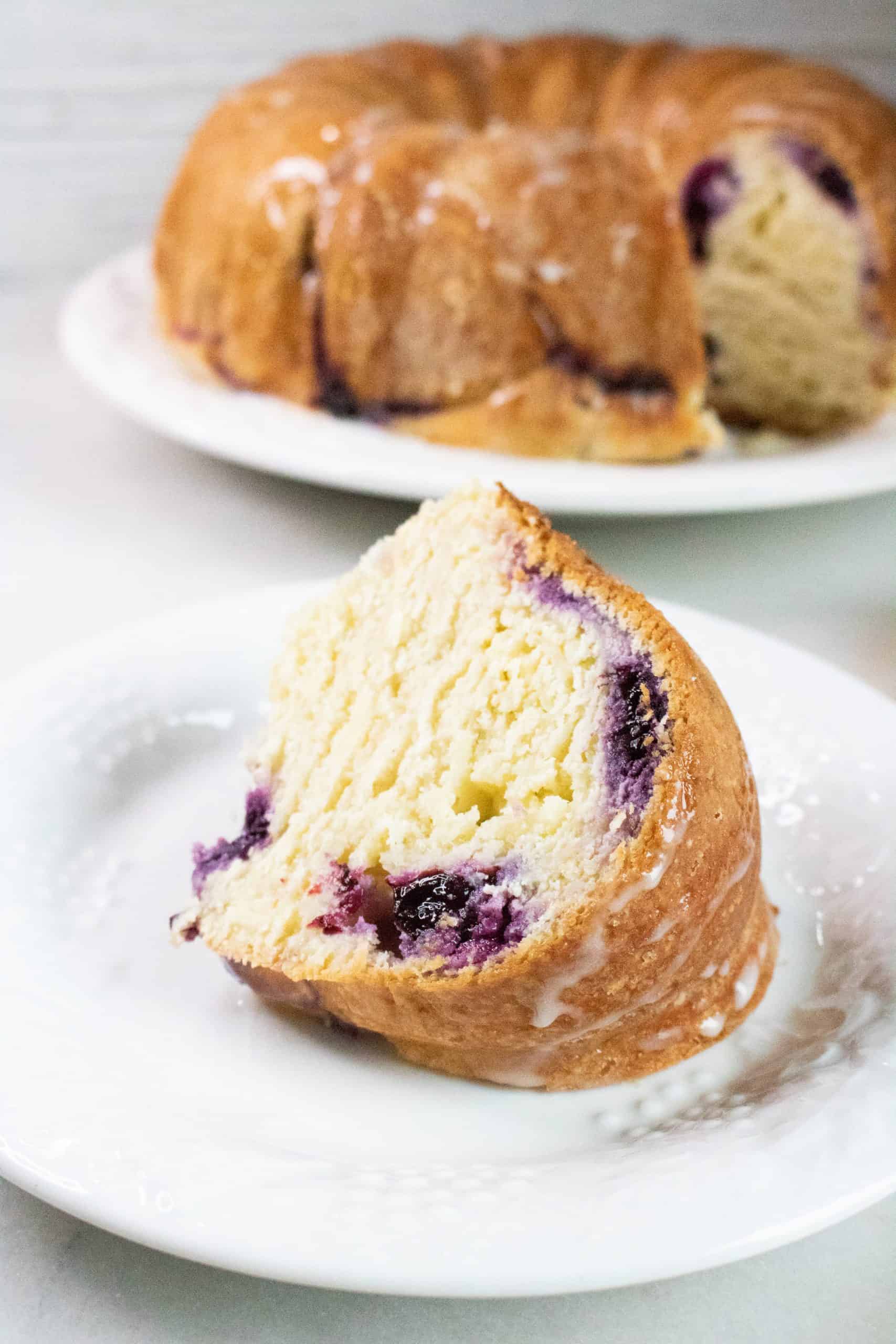 Moist, delicious lemon blueberry coffee cake is mindblowing good. The aroma of baking the lemon blueberry dessert will make you drool and wish that time could go faster. The tangy flavors of the lemon coffee cake will leave you begging for more.
If you are looking for a crowd-pleasing blueberry coffee cake, this is the right one for you. With big, plump, juicy blueberries, tangy lemon, and super moist cake, it's perfect for all occasions. Take it to your next family reunion or potluck and watch it disappear so quickly there won't even be a crumb left. Plus, it's a pretty scrumptious breakfast option too.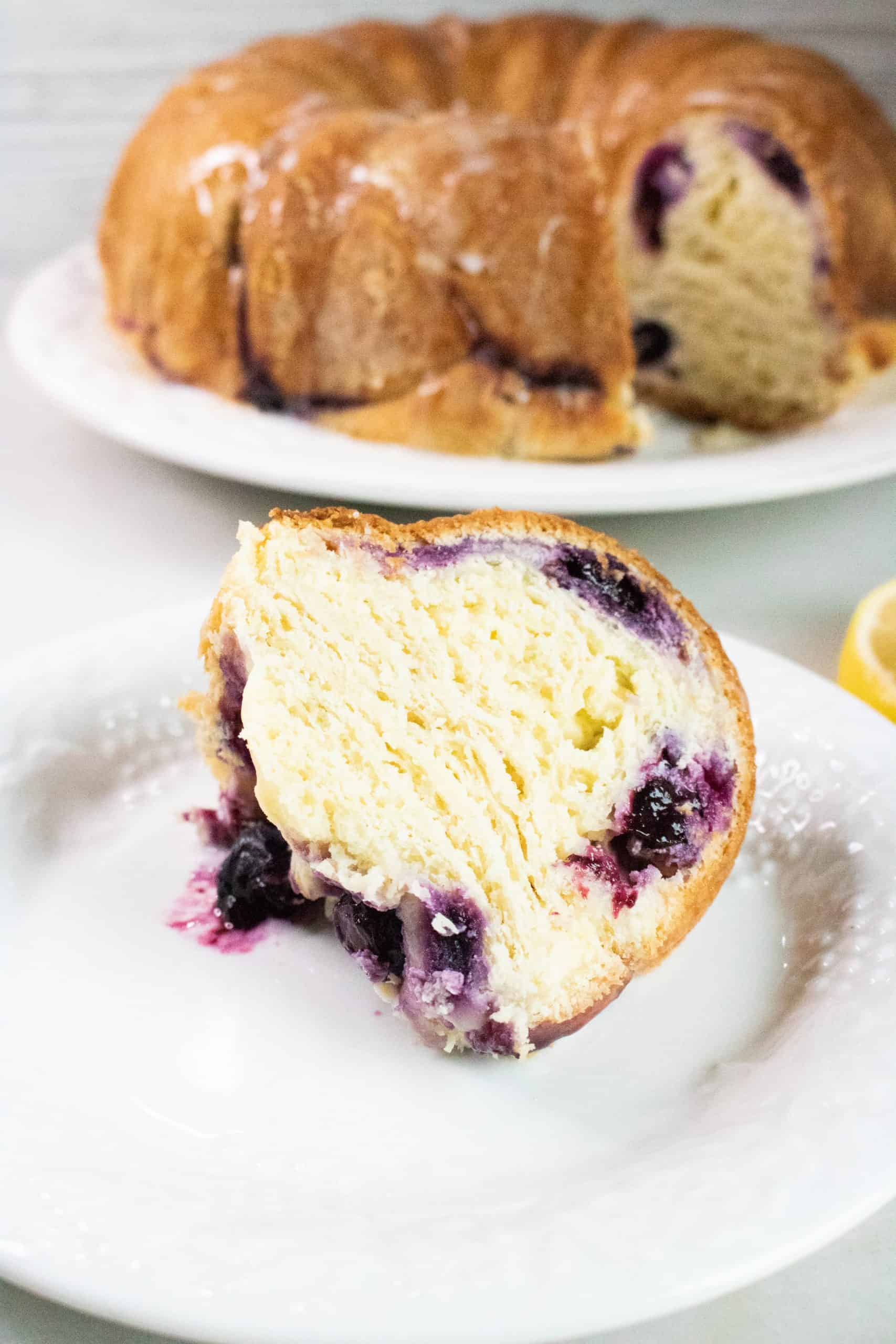 Scroll to bottom for printable recipe card.
How To Make Coffee Cake?
When it comes to baking recipes from scratch, you will find that the flavors and textures are so much better. As soon as the fork hits your mouth, it's hard not to moan because it tastes so amazing. This cake will do that to you! I have the easy to follow steps all laid out for you:
First Step: In a small saucepan on low heat, add in the butter and milk until melted. Allow mixture to cook until it is lukewarm.
Second Step: Dissolve yeast in warm water in a large bowl. Then beat in an egg yolk. Carefully pour in the cooled milk mixture and blend.
Third Step: Slowly sift in the flour and salt. Continue to beat the mixture until it becomes smooth and creamy.
Fourth Step: Refrigerate the batter overnight.
Note: It's essential to let the batter refrigerate overnight, so it's easy to work with the next day. You will be rolling the dough in a jelly-cake like fashion, and it needs to be cold to do this.
Fifth Step: The next day, you will need to blend together the sweetened condensed milk, egg yolks, and lemon juice in a medium-sized bowl.
Sixth Step: Take the dough and divide it into two equal pieces. Lightly dust each dough ball with flour. Roll out each dough ball one at a time to make an 18-inch circle.
Seventh Step: Pour half of the lemon filling onto the dough and spread it out evenly. Add half of the blueberries and roll the dough in a jelly-roll fashion.
Eighth Step: Carefully place the rolled dough into a prepared bundt pan (spray with non-stick cooking spray). It's delicate, so make sure not to let it fall apart.
Ninth Step: Repeat the steps with the second dough ball and carefully place it in the bundt pan too. The second dough will slightly overlap the first one when you put it in the pan, and this is completely fine.
Tenth Step: Preheat oven to 350 degrees F. All the dough to rise on the warm stovetop for 30 minutes.
Eleventh Step: Bake lemon blueberry coffee cake for 45 minutes or until you can insert a toothpick and it comes out clean.
Twelfth Step: All the cake to cool in the pan for 15 minutes, then you can dump it onto a serving dish. Make a glaze that is flavored with cream cheese, lemon or vanilla and drizzle all over the top of the cake.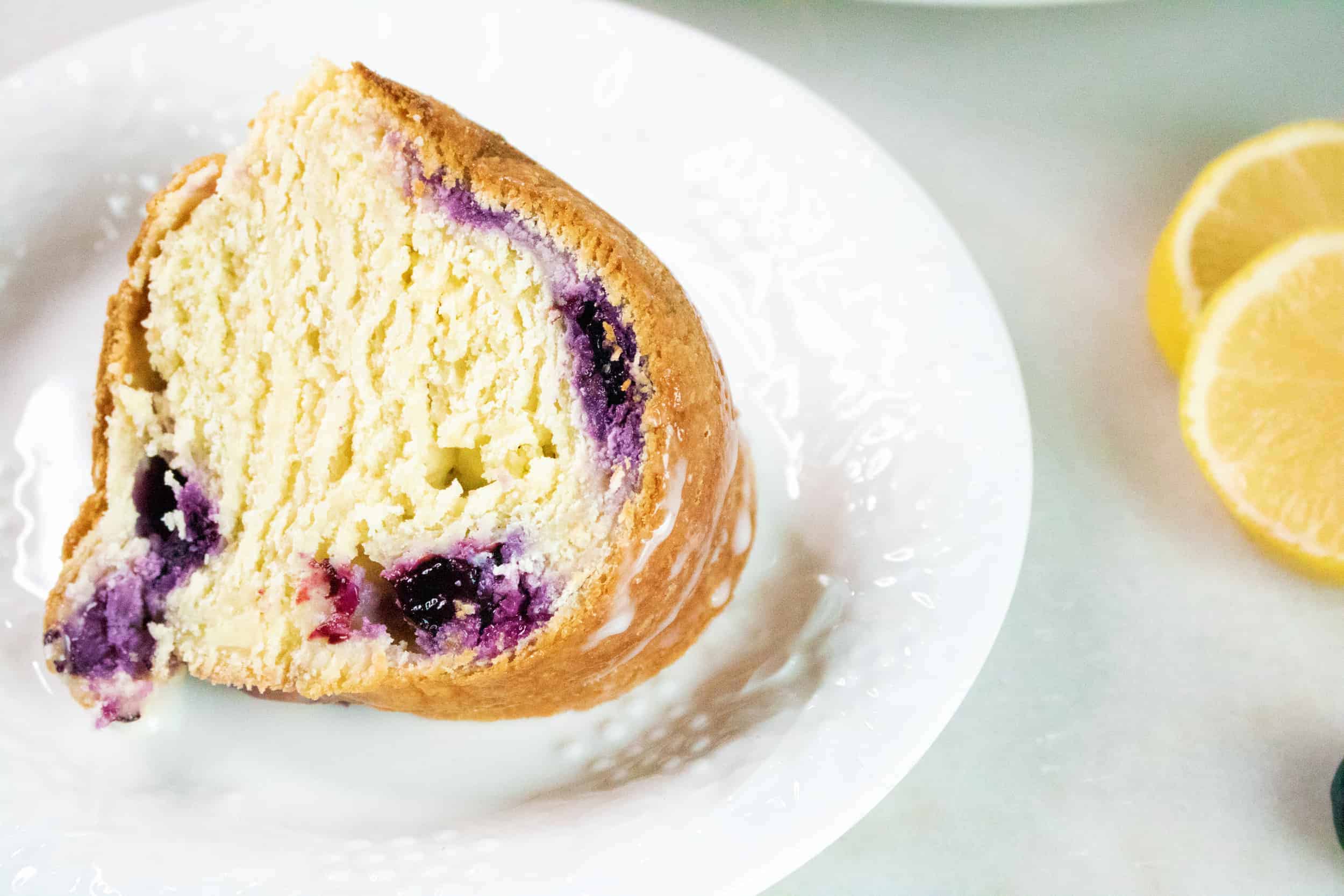 Lemon Blueberry Coffee Cake Variations
The explosion of flavors you get with this lemon blueberry dessert is out of this world! I seriously love everything about this recipe the way it is. If you want to try a few other flavors, here are a few ideas to try out:
Strawberries – Replace the blueberries with chopped strawberries instead. Then it will taste like a strawberry lemonade cake. Yum!
Orange Juice – Instead of lemon juice replace it with orange juice instead. The combination of orange and blueberry is so fresh and scrumptious.
Raspberries – Substitute fresh raspberries for the blueberries. All I can tell you is that this recipe is a home run!
Blackberries – If you are a blackberry fanatic, you will go wild for this addition to the cake — super moist and incredible flavor.
Why Is It Called A Coffee Cake?
The reason coffee cakes have the name is that they were initially intended to be eaten when you take a break and sip some coffee with it. They date all the way back to the 16th century and are known for their streusel topping and drizzled frosting. While some recipes have coffee in them, most are cinnamon or fruit.
How Do You Store This Lemon Blueberry Dessert?
The best way to store any leftover bundt cake is to wrap it with plastic wrap tightly. Make sure the cake has cooled completely before you cover it though or you may end up with condensation. This would make the breakfast cake too wet, and it won't taste as good. You can leave the cake on the counter or place it in the fridge depending on which way you like it. It will last 2-3 days either way.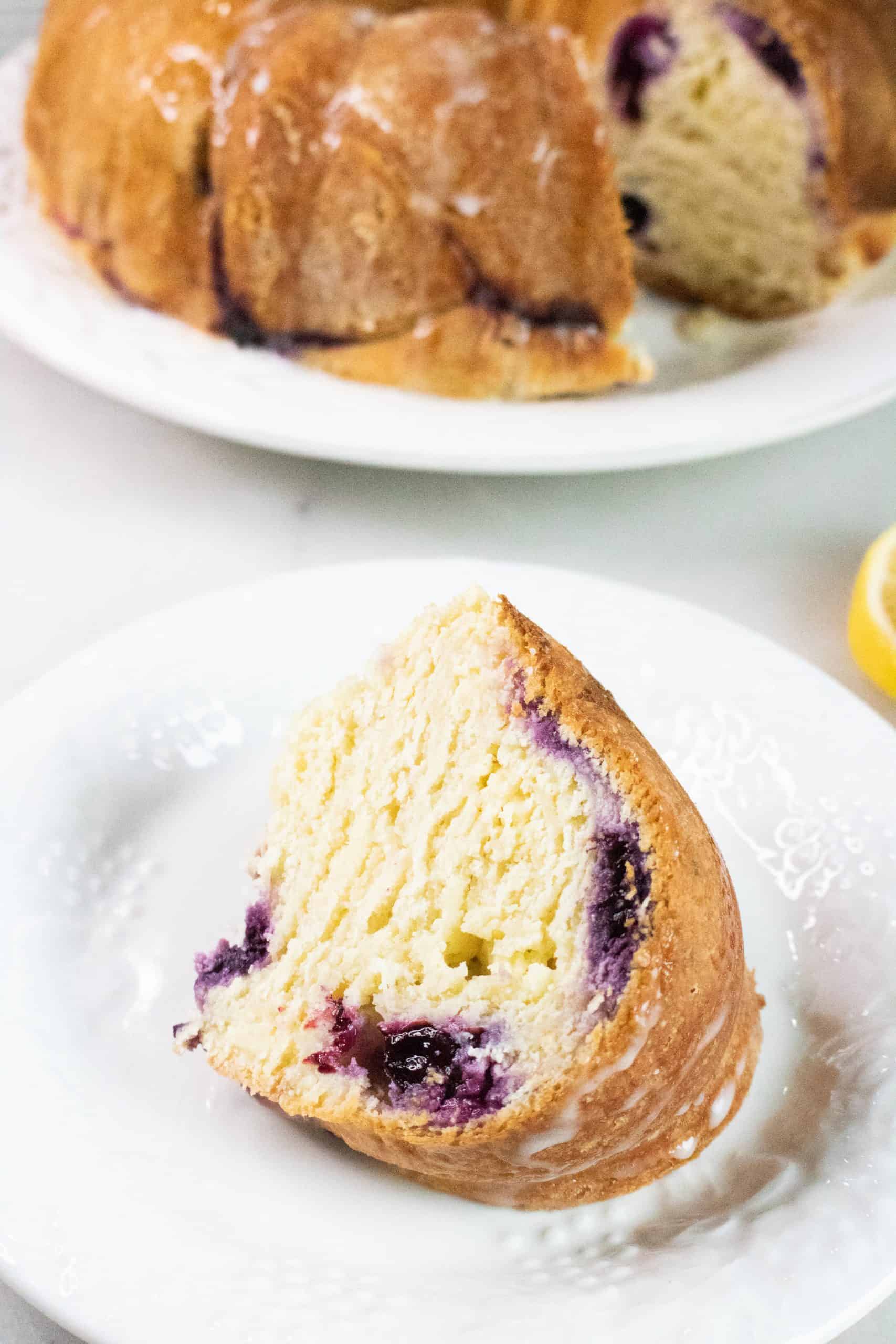 Can You Freeze This Lemon Blueberry Cake Recipe?
Yes, you can freeze this lemon blueberry cake. As with any cake recipe, you should cool it down to room temperature, then cover it with plastic wrap or aluminum foil. I prefer to slice the cake into individual pieces to freeze, but you could freeze the entire cake intact if you want. After it's wrapped tightly, then place the cake or pieces of cake in a freezer bag or airtight storage container. To serve, thaw at room temperature until it's complete defrosted.
Do I Serve This Bundt Cake Hot Or Cold?
You can serve this lemon blueberry dessert either hot or cold. I prefer it warm, but if you prefer it cold, there is nothing wrong with that either. If you want it warm, toss it in the microwave for 20-30 seconds until it's hot enough. Then serve it warm with a hot cup of coffee or tea.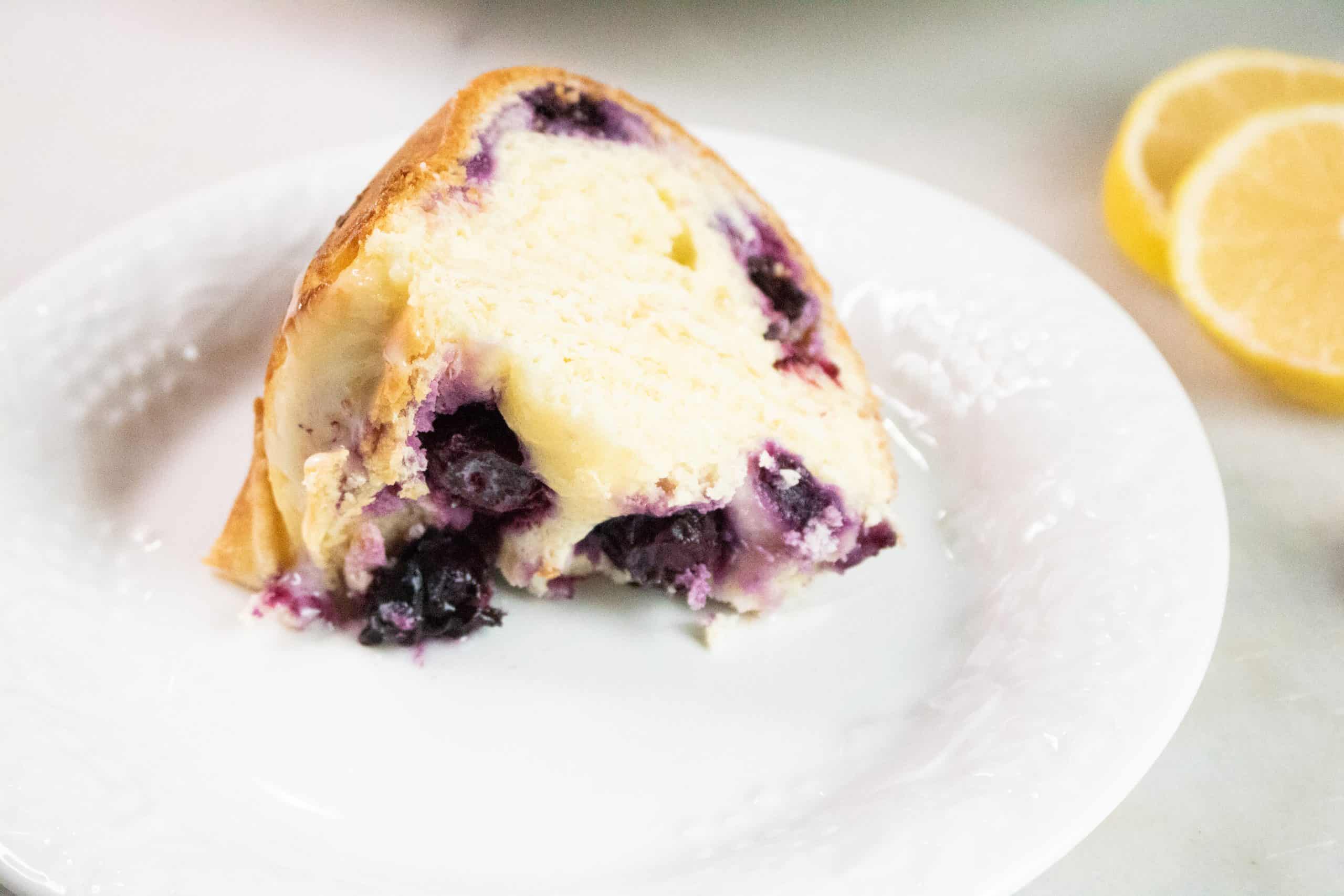 When Should I Serve This Blueberry Coffee Cake?
Many people think that coffee cake should be served for breakfast, but you can actually serve it for many other events and occasions. Take it to any of these types of events and everyone will go wild for it:
Church Events
Community Fundraisers
Potluck Dinners
Barbecues
Birthday Parties
Brunch
Snack
Office Parties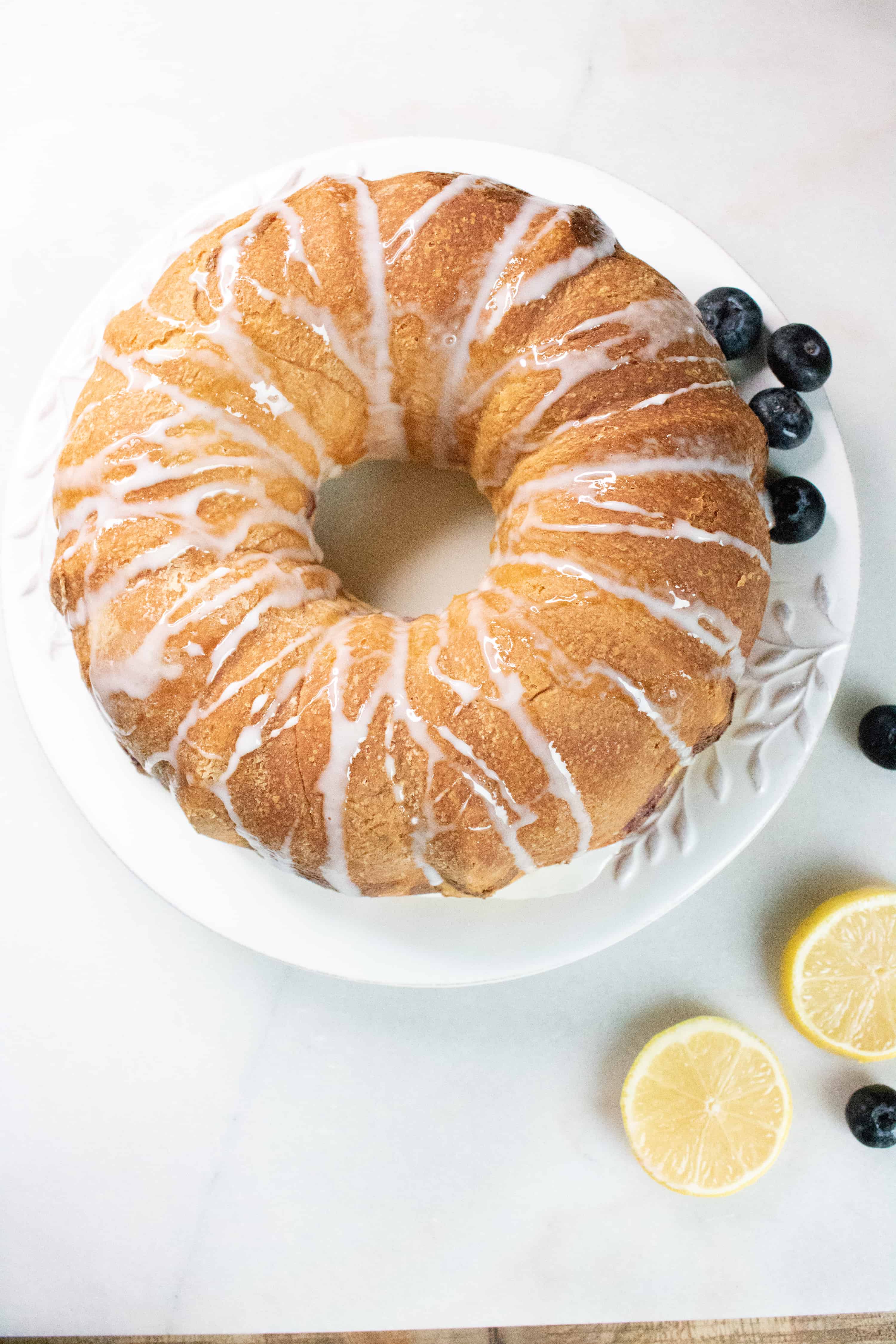 Enjoy!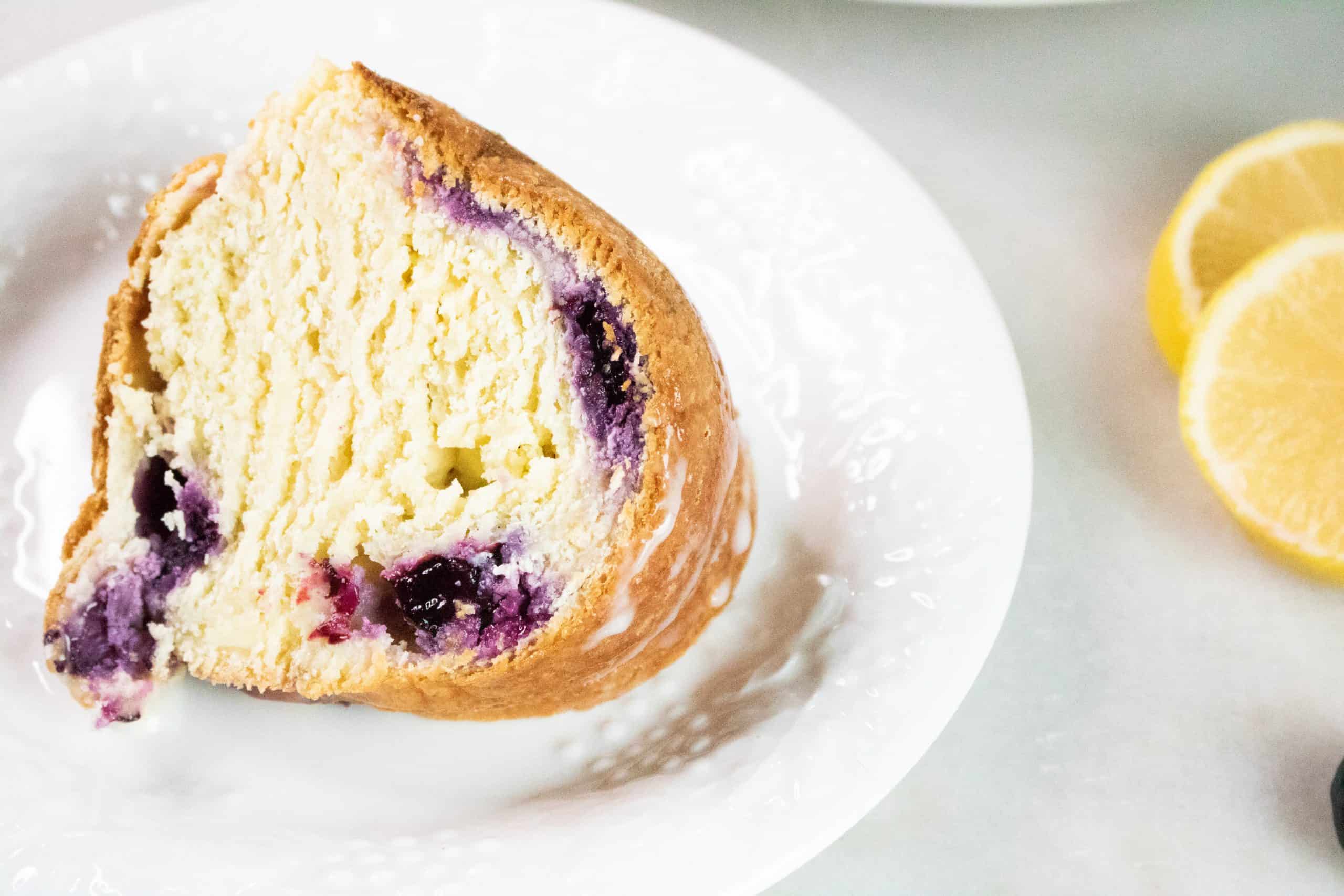 Now, remember to save this recipe on Pinterest for later 🙂

Pin this recipe now to remember it later
Lemon Blueberry Coffee Cake
An Easy Lemon Blueberry Coffee Cake Recipe. Fresh lemon and blueberries, baked into a light and moist coffe cake.
Ingredients
3

eggs

,

separated, reserve the egg whites
Filling:
8

ounces

blueberries

,

we used Jumbo

1

14 ounce can sweetened condensed milk
Want to save this recipe? Enter your email below and we'll send the recipe straight to your inbox!
NOTE: By saving this recipe, you agree to join our weekly recipes newsletter.
Instructions
Heat butter and milk over low on stovetop until butter has melted. Cool to lukewarm.

In a large bowl, dissolve the yeast in the warm water and beat in the egg yolk. Blend in the cooled milk mixture.

Sift in the flour, salt and Beat until the mixture is smooth and creamy.

Cover bowl and refrigerate overnight.

The next day, blend together sweetened condensed milk, lemon juice and egg yolks.

Divide dough into two equal pieces and dust each with flour. Roll out (one at a time) to make an 18-inch Pour half of the lemon filling onto the dough and spread out over the dough, and then add half of the blueberries and roll up jelly-roll fashion.

Carefully place into a bundt pan that has been sprayed with non-stick cooking spray.

Repeat with the second half and carefully place that half on the other side of the pan, overlapping the first half.

Place on stovetop and let rise for 30 minutes while preheating the oven to 350 degrees.

Bake for 45 minutes.

Cool in pan for 15 minutes and then invert to a cake plate. Drizzle with a cream cheese, lemon or vanilla glaze.
Notes
Serve fresh for best results or reheat slices in microwave for 30 seconds prior to serving to retain moistness.
Makes 8-10 servings.
Follow me on Pinterest for daily delicious recipes!
Here are more desserts to try:
Pecan Pie fudge – Rich and creamy and decadent, I've always thought that delicious fudge was difficult to make.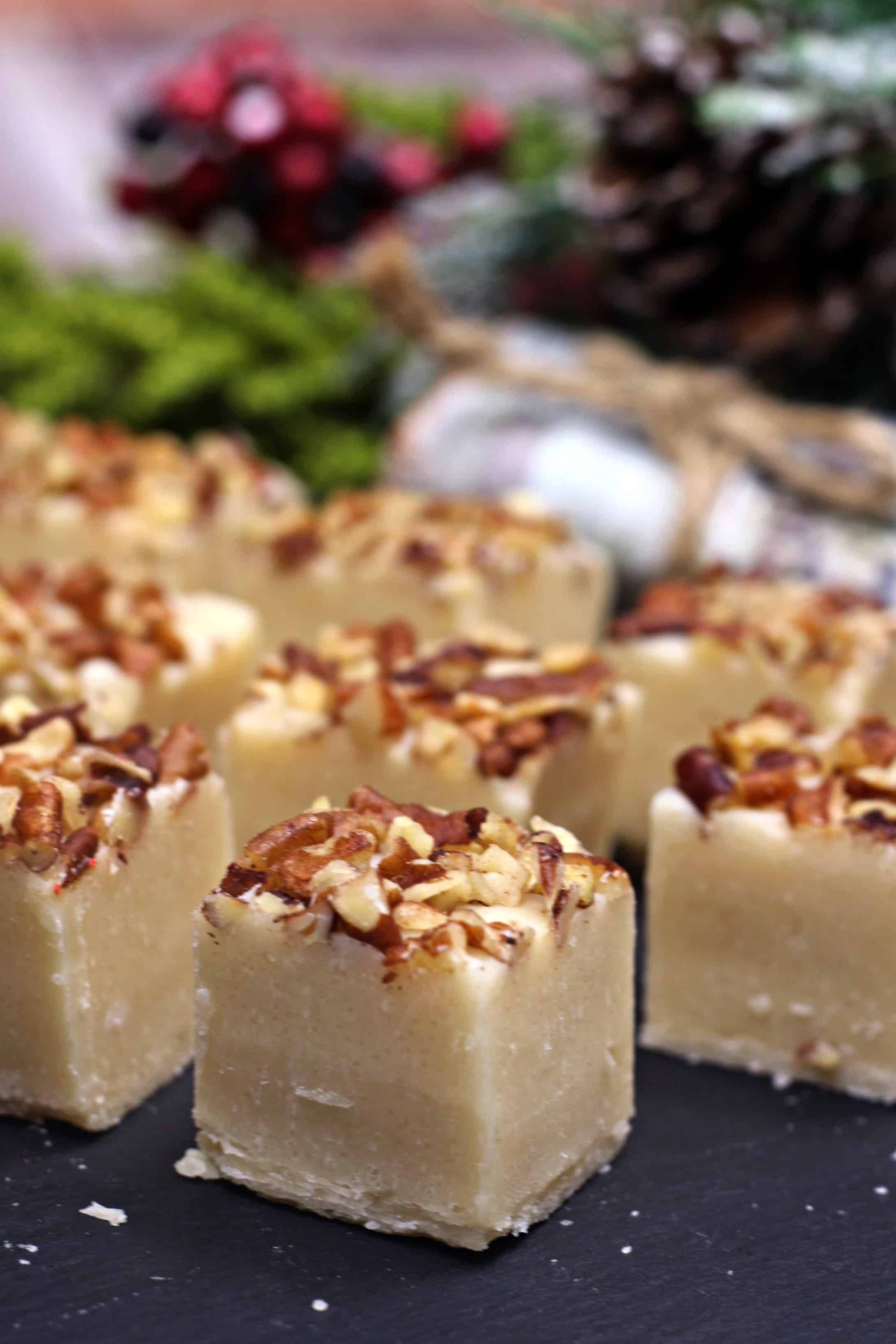 Better Than Sex Pumpkin Cake – There's only a handful of ingredients, so it's easy to make, and it'll impress everyone you know!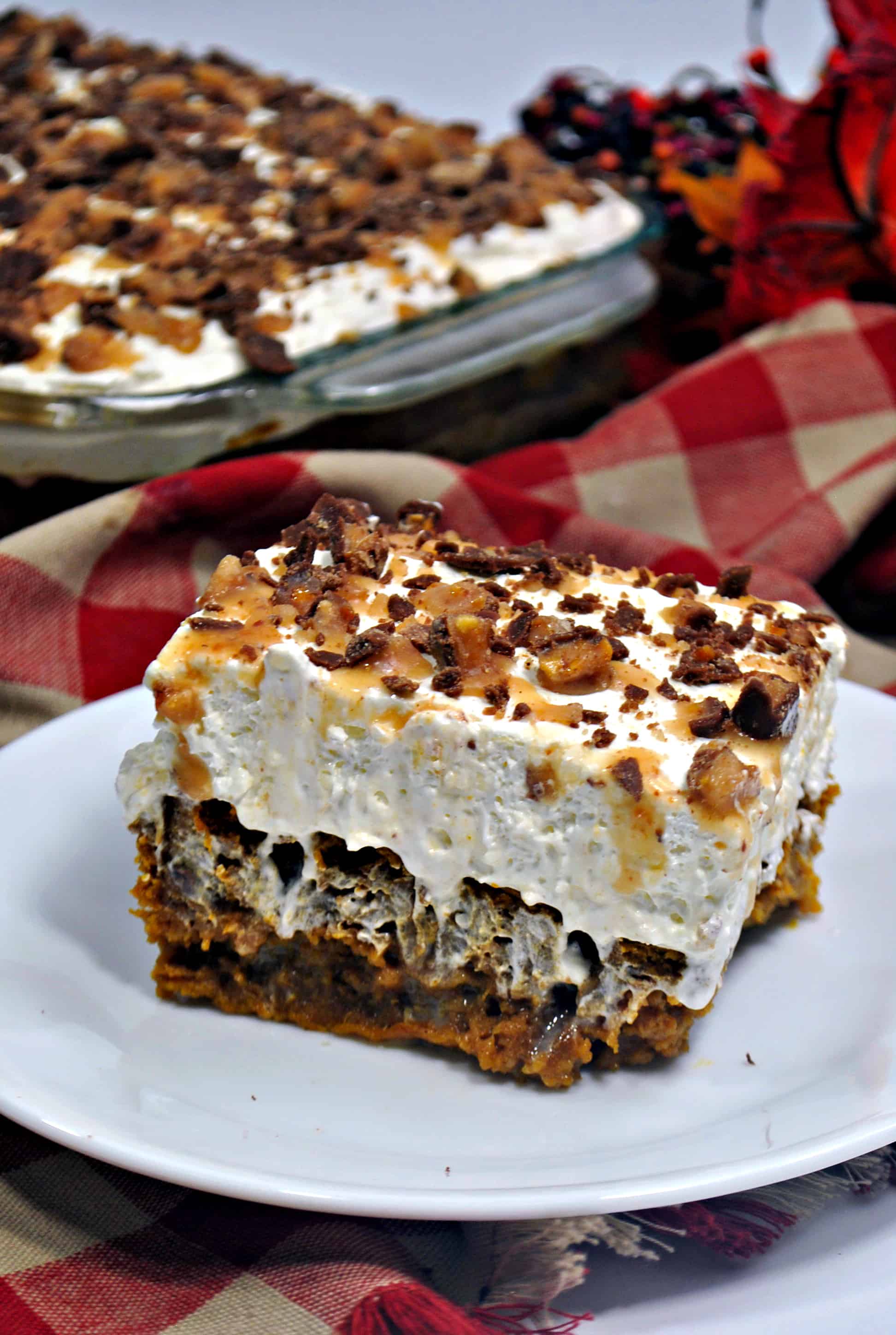 Easy Millionaire Pie Recipe – You won't be able to get enough of the creamy filling in this millionaire pie recipe.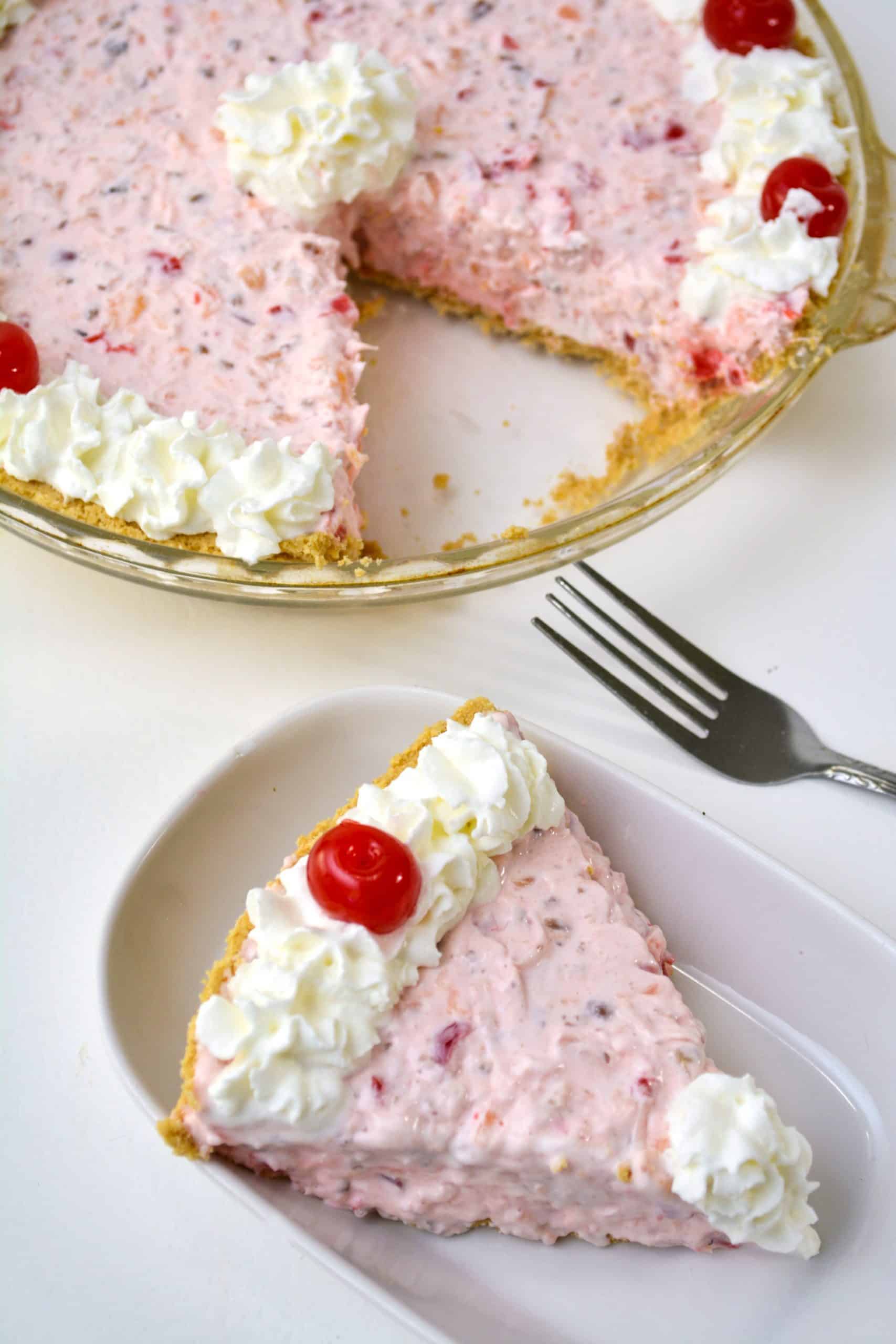 Stuffed Pepper Soup in the Slow Cooker – One of the best easy slow cooker recipes you'll ever try!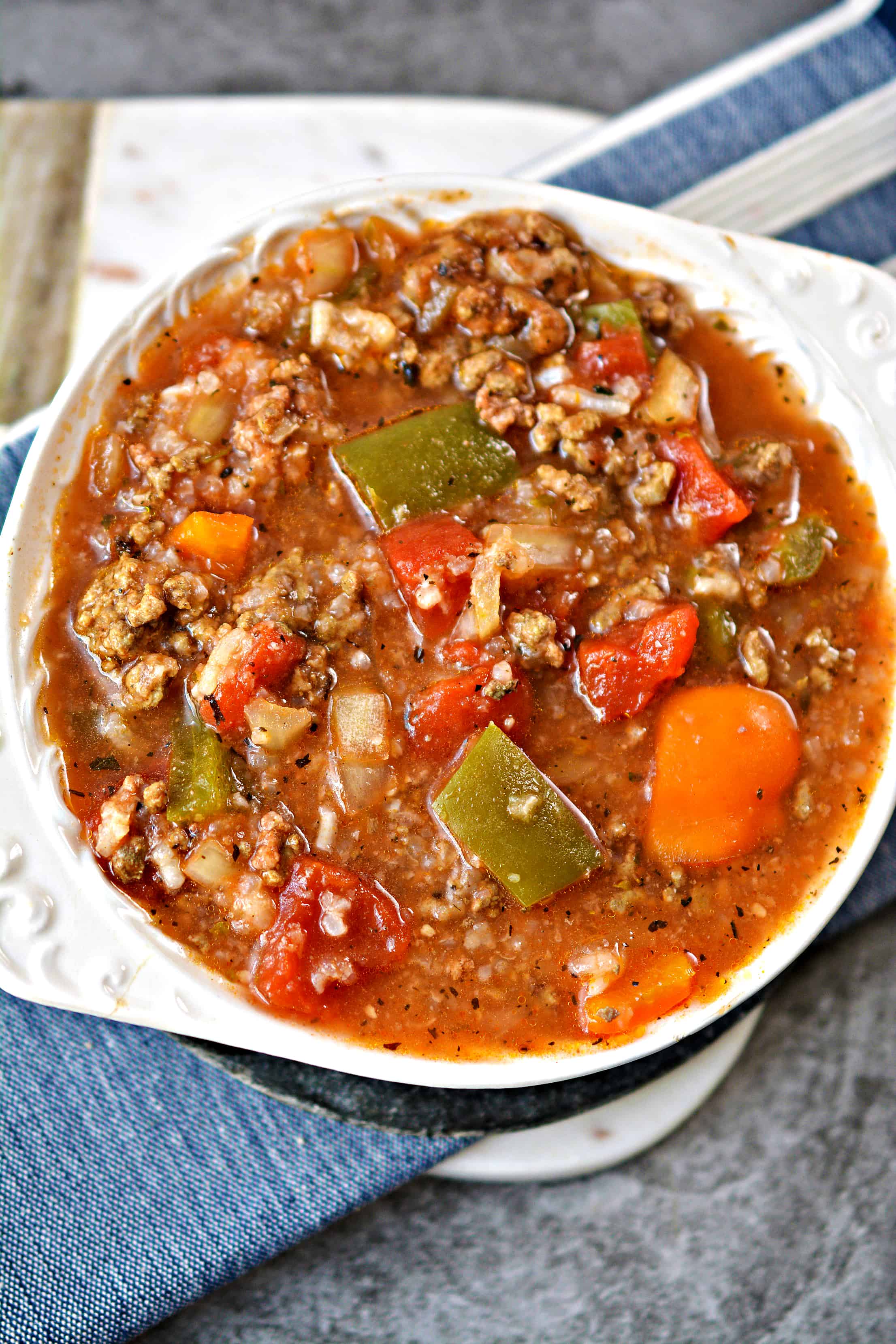 Pumpkin Apple Instant Pot Cake Recipe – With the amazing tastes of fall, this pumpkin apple cake is made in the Instant Pot for a fast and easy dessert.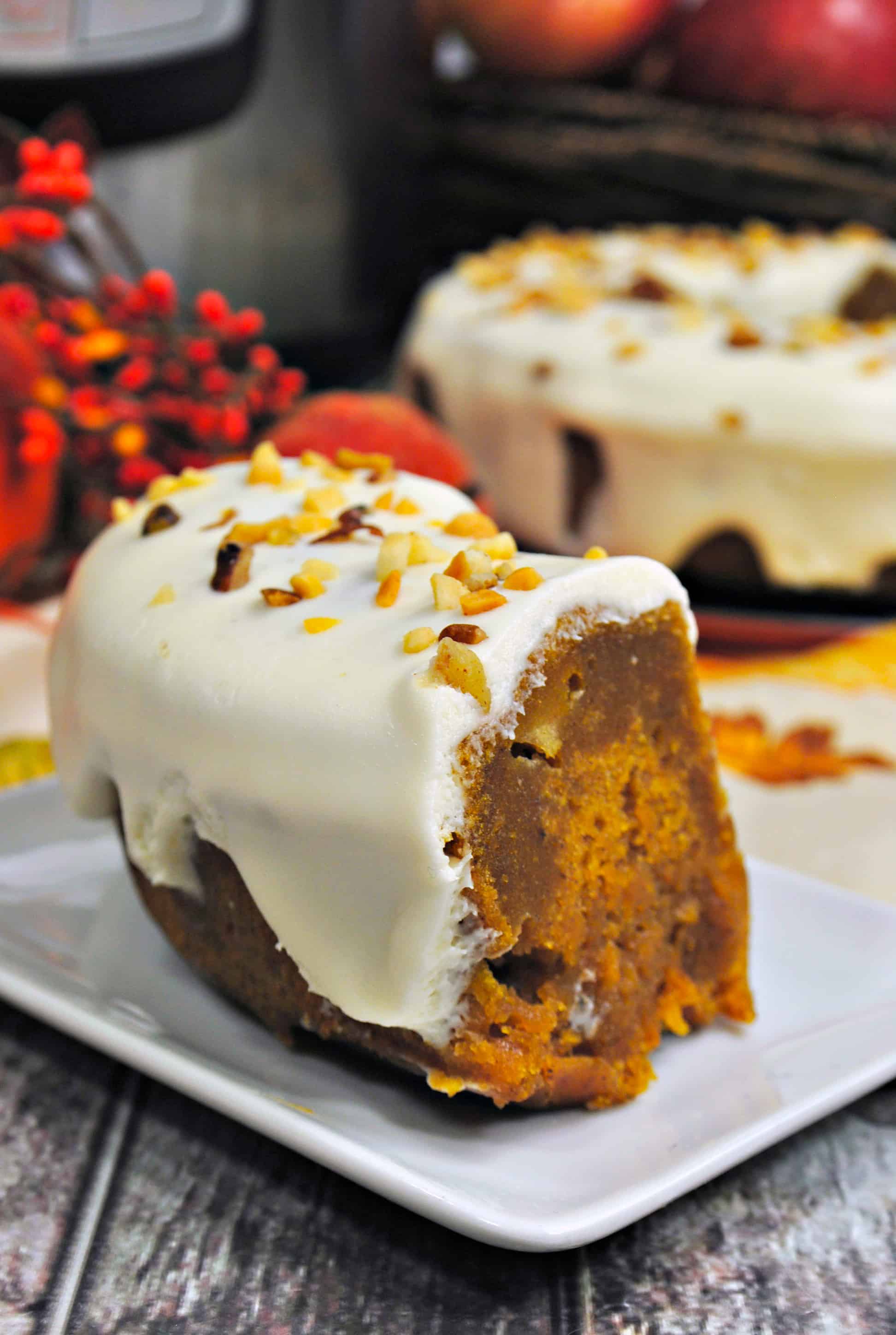 Get new recipes weekly plus our FREE ebook!