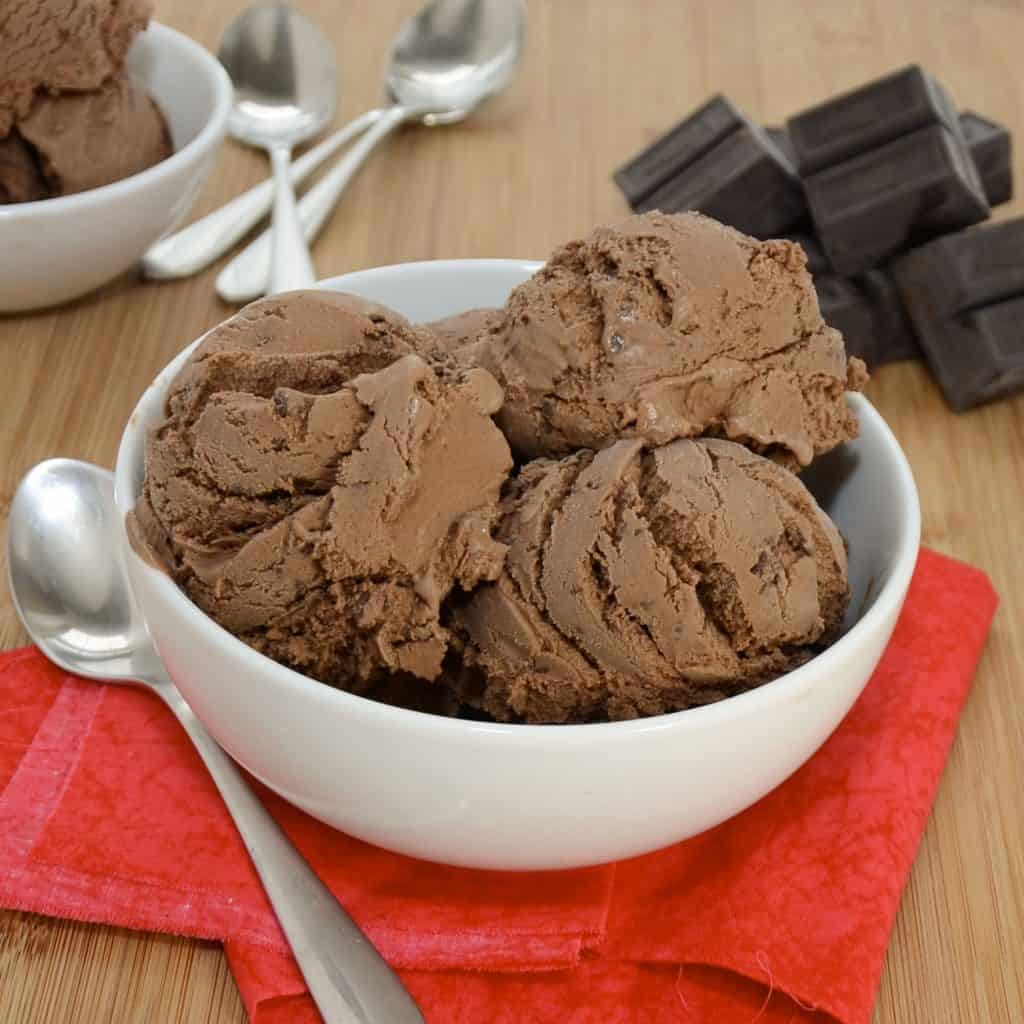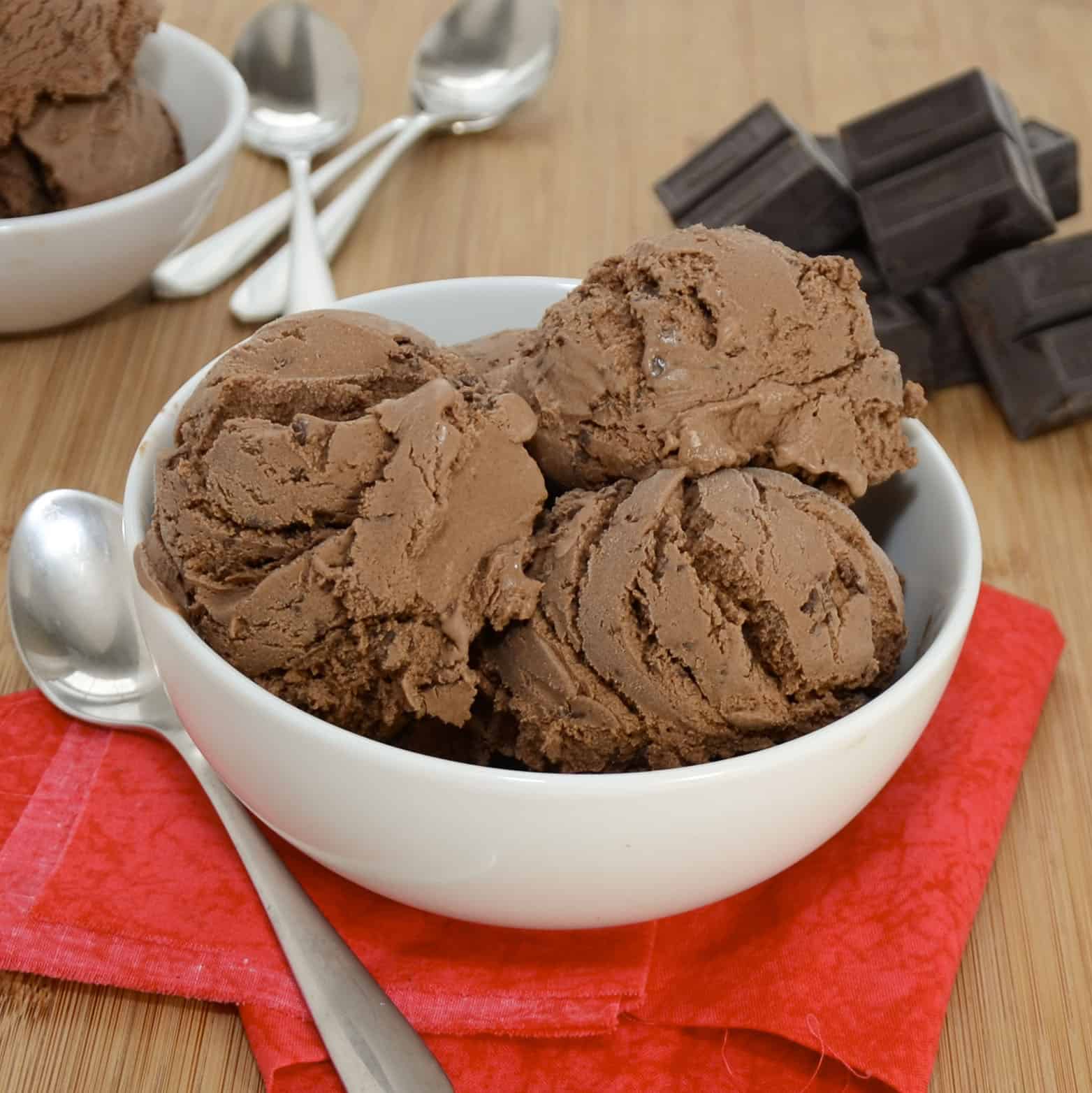 Double Chocolate Chip Ice Cream is luscious, rich, and one of the best things you will ever put in your mouth. Make this delicious homemade chocolate ice cream for birthday parties, celebrations, and a yummy after dinner treat. You are going to fall in love with this chocolate chocolate chip ice cream.
Scroll to bottom for printable recipe card.
Double Chocolate Chip Ice Cream
Chocolate lovers…watch out! If you're trying to exercise any self-control, you might want to leave now! Today's recipe just might have you running into the kitchen to dust off that ice cream maker. A chocolate-lover's dream, this rich and creamy ice cream is packed with chocolate chunks that promise to delight even the most die-hard chocolate lover in your family. Now, I really don't need a reason to indulge in a big bowl of ice cream; however, with this heatwave we've been in, it just seems right! 😀
I could literally eat this best chocolate chip ice cream every single day. It's one of my favorite ice cream recipes because it's filled with intense chocolate flavors. Let's get started because I am certain you are going to want to try this.
Variations To Recipe
I love everything about this double chocolate chip ice cream recipe just the way it is, but once in a while, I will add in some "extras" to make it even more intense. Here are some ideas that I think you will like it too.
Mini Reese's Peanut Butter Cups – Add in a few mini Reese's peanut butter cups to the ice cream. The combination of peanut butter and chocolate is irresistible.
White Chocolate – Sometimes, I get in the mood for white chocolate. Add some into the homemade chocolate ice cream to a fun flavor.
Crushed Candy Bars – Any of your favorite candy bars can be the ultimate add in. Use anything like Snickers or Almond Joy to add some extra texture and flavor.
Nuts – We like to add in some peanuts or almonds sometimes. Go ahead and toss in any of your favorite nuts to add a nice crunch.
Can I Use Milk Chocolate Instead of Semi-Sweet Chocolate
Oh, for sure! I like using a combination of bittersweet and semi-sweet chocolate. It's so delicious and gives me plenty of chocolate. You can totally swap out the semi sweet or bittersweet chocolate for milk chocolate if you want. Go wild and make this double chocolate chip ice cream your new favorite recipe.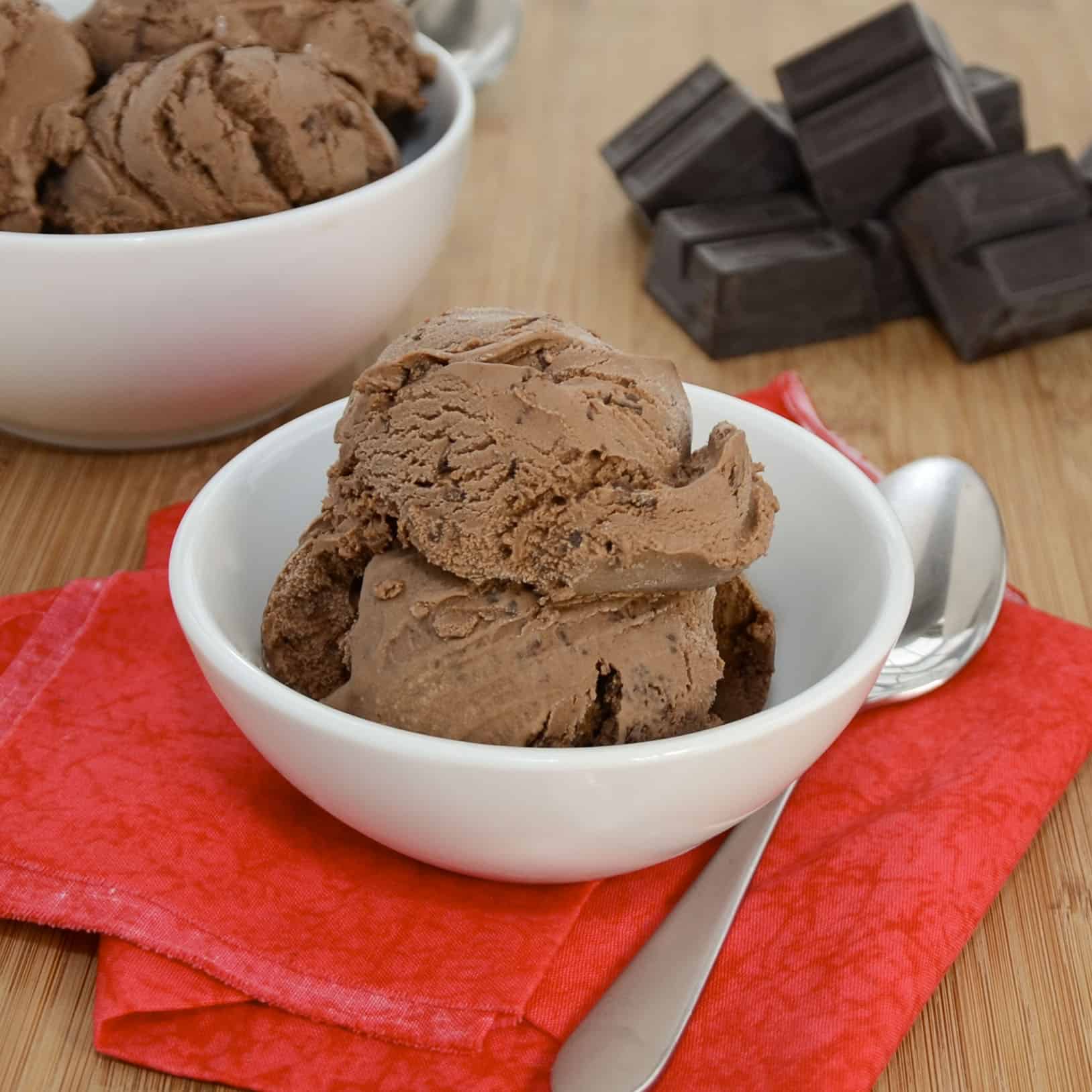 Storing Ice Cream Tips
Always store ice cream in an airtight container. If the container isn't airtight, you will notice that ice crystals form quickly, and it goes bad faster.
Never ever put the ice cream in the door of the freezer. If you do, every time you open the door and close it, you will find that the ice cream starts to melt and re-freeze every time. This can cause it to go bad much, much faster.
Ingredients
Bittersweet chocolate
Heavy cream
Whole milk
Sugar
Egg yolks
Vanilla extract
Semisweet chocolate, finely chopped
Canola oil
How to Make Double Chocolate Chip Ice Cream
First Step: Simmer some water and place a heatproof bowl over the top of it. Add in the bittersweet chocolate and melt it. Be sure to stir occasionally until it becomes smooth and creamy. Set them aside to cool.
Second Step: Place a fine mesh strainer over a medium sized bowl and place them over a container with ice water.
Third Step: Use a medium saucepan using medium heat. Warm the cream, milk, and 1/2 cup sugar and stir it occasionally. When steam appears, and the temperature reaches 175 degrees.
Fourth Step: During the time the milk is warming up, combine the egg yolks and 1/4 cup of sugar together in a separate bowl. Mix in the melted chocolate and beat it until it's incorporated. Whisk in 1 cup of hot milk into the yolk. Slowly whisk in the tempered yolk to the rest of the hot milk mixture and continue to cook it over medium heat with a wooden spoon.
Fifth Step: Pour the custard mixture into the bowl with a strainer and ice bath. Let it cool and occasionally stir until it reaches room temperature. Add in the vanilla and take the custard out of the ice bath and cover it tightly with plastic wrap. Put in the fridge until it's very cold and for about 3 hours.
Sixth Step: When it's time to churn the homemade ice cream, put the chocolate in a medium heatproof bowl. Put the bowl over the saucepan, barely simmering water. Heat the mixture until you notice that the chocolate is beginning to melt. Add in the oil and stir well. Add the mixture to a ziplock bag.
Seventh Step: Slowly pour in the mixture into the ice cream canister. Churn the ice cream using the manufacturer's instructions. Cut the corner off the ziploc bag, and during the time the machine is running, add in that melted chocolate. Keep churning until the ice cream seems like soft serve.
Eighth Step: Place the ice cream in an airtight container and cover it. Freeze for at least 3 hours and enjoy!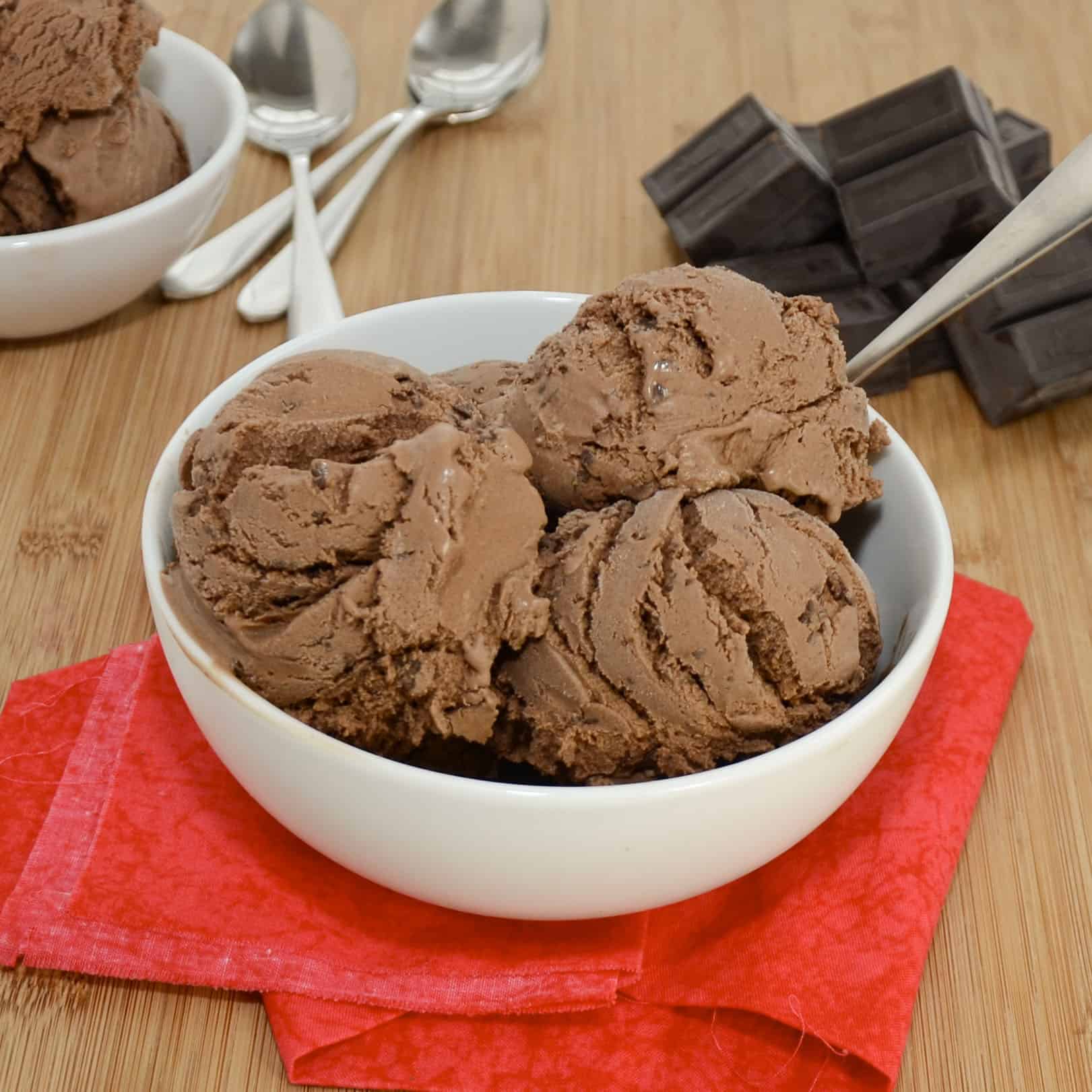 Pin this recipe now to remember it later
Chocolate Chocolate Chip Ice Cream
Ingredients
8

ounces

bittersweet chocolate

,

finely chopped

1

teaspoon

vanilla extract

3

ounces

semisweet chocolate

,

finely chopped
Want to save this recipe? Enter your email below and we'll send the recipe straight to your inbox!
NOTE: By saving this recipe, you agree to join our weekly recipes newsletter.
Instructions
In a medium heatproof bowl set over a pan of almost-simmering water, melt the bittersweet chocolate, stirring occasionally, until smooth. Set aside to cool.

Set a fine mesh strainer over a medium sized bowl and set the bowl over a large container of ice water.

In a medium saucepan over medium heat, heat the cream, milk, and ½ cup sugar stirring occasionally, until steam appears and the liquid is hot (175 degrees) about 5 minutes.

While the milk mixture is warming, in a separate bowl, whisk the yolks and 1/4 cup of sugar together until smooth. Add the melted chocolate and beat until fully incorporated. Slowly whisk about 1 cup of the hot milk mixture into the yolk mixture to temper them. Then slowly whisk the tempered yolk mixture back into the remaining hot milk mixture. Continue to cook the custard mixture over medium heat stirring constantly with a wooden spoon until it is very hot but not simmering (180-185 degrees).

Pour the custard mixture into the strainer bowl set in the ice bath and let cool, stirring occasionally to room temperature. Stir in the vanilla, then remove the custard mixture from the ice bath, cover tightly with plastic wrap and refrigerate until very cold (40 degrees), about 3 hours.

A few minutes before you plan to churn the ice cream, place semisweet chocolate in a medium heatproof bowl. Set bowl over saucepan containing barely simmering water; heat mixture until chocolate is melted and whisk until smooth. Stir in oil and transfer to a ziploc bag; set aside.

Pour the mixture into the ice cream canister and churn following the manufacturer's instructions until the mixture resembles the consistency of thick whipped cream. Snip the corner of the ziploc bag that the chocolate is in, and while the machine is running, slowly drizzle the chocolate into the ice cream. After chocolate is added, continue churning until the mixture resembles soft served ice cream.

Transfer the ice cream to an airtight container. Cover the container and freeze the ice cream until it is firm, about 3 hours.
Follow me on Pinterest for daily delicious recipes!
It's time to sit back, relax, and enjoy a bowl of this double chocolate chip ice cream after a rough day. Trust me; you will be so glad you did! Here are a few of our other favorite ice cream recipes.
Get new recipes weekly plus our FREE ebook!