Scroll to bottom for printable recipe card.

Creamy and delicious Amish Potato Salad should be a staple for picnics and summer events. It's has a creamy texture and the pizzazz of apple cider vinegar and mustard.
I love this easy potato salad recipe because it also has one of my favorite ingredients…EGGS! I know there are several people who choose to leave the eggs out of their potato salad recipes, but for me, it's a must-have.
They add so much texture and flavor as well as some healthy protein too.
Easy Homemade Amish Potato Salad Recipe
This homemade potato salad is a million times better than anything you can pick up at the market also. Call me crazy, but I think the stuff you buy that's pre-made is unappealing and doesn't taste good at all. While it's best to make this mustard potato salad a day or two in advance to get the best flavor, it's still super easy.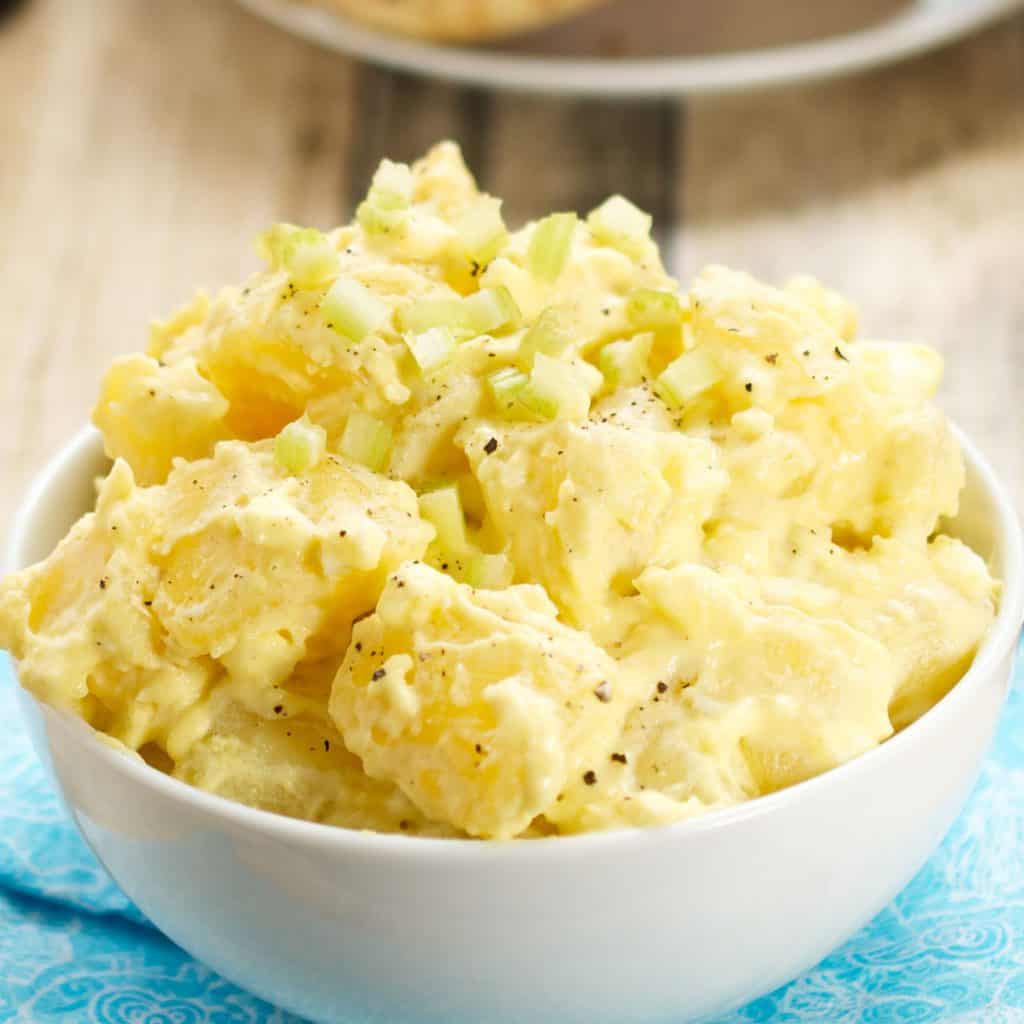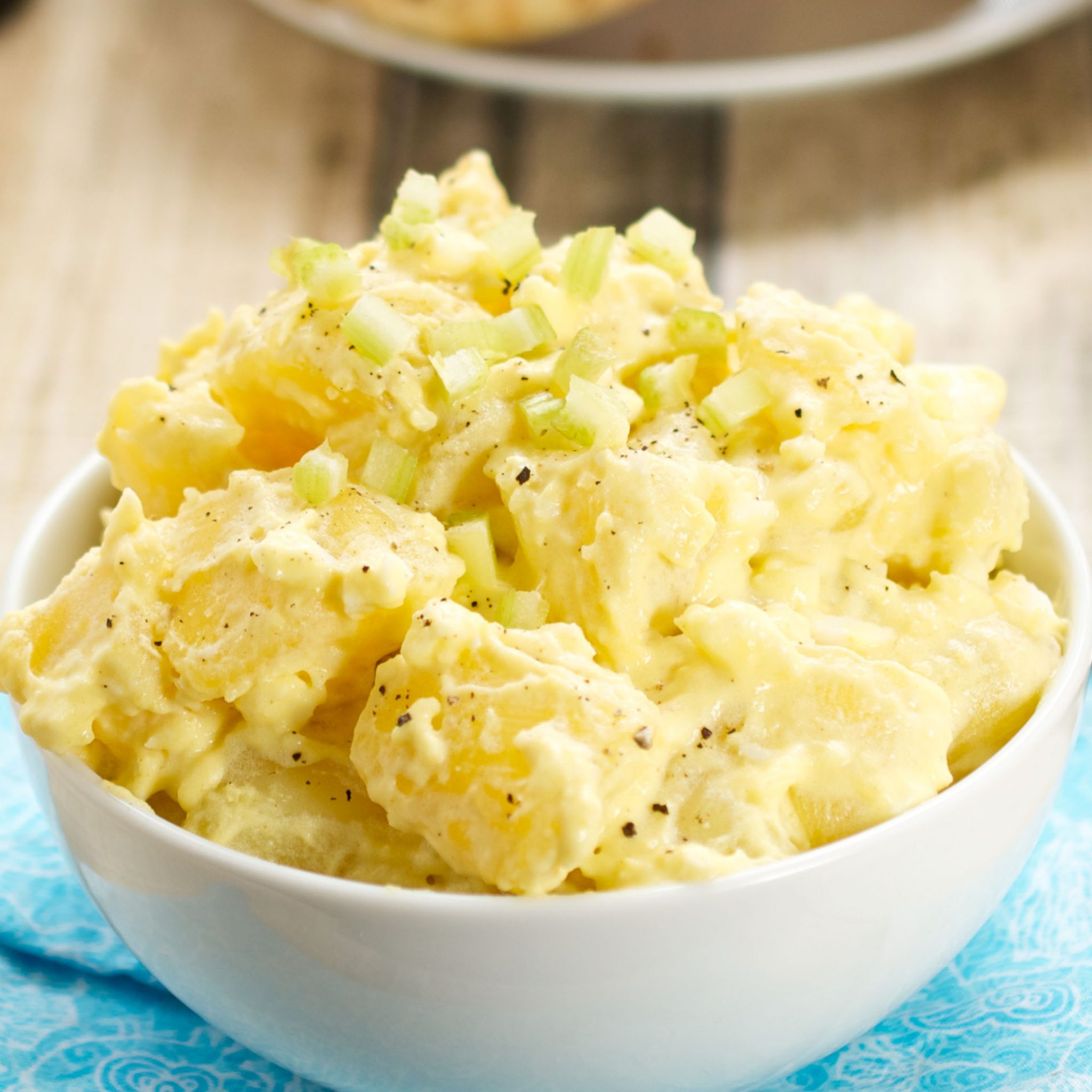 What Is Amish Potato Salad?
Amish potato salad is similar to traditional potato salad recipes, except it has sugar in it. The sugar gives the homemade potato salad a sweetness that you can't get anywhere else. My recipe for simple potato salad calls for sour cream instead of mayonnaise, which keeps it creamy but a little different.
Potato Salad Ingredients
For this Amish potato salad, you just need only 8 ingredients plus salt and pepper for flavor. How amazing is that? I think this is the perfect potato salad recipe for all occasions and find myself making it all the time in the summer.
Yukon Gold potatoes – While you can use other varieties of potatoes, Yukon Gold are my favorite for this vinegar potato salad.
Salt and pepper – Just enough to flavor it to your liking.
Apple cider vinegar – There are so many wonderful uses for apple cider vinegar, and this potato salad with egg recipe is perfect for it.
Sugar – You'll notice that the quick potato salad has a lovely sweetness to it from the sugar. I could skip the rest of the meal just to eat it!
Yellow mustard – You want a little bit of tanginess from the mustard to offset the sweetness. This is the perfect amount.
Hard-cooked eggs – Eggs are my true love in this dish, and I think you're going to be excited about them too.
Celery seed – If you don't have celery seed, you can always replace it with celery salt. However, if you do that, you need to omit any other salt, or it may be way too salty for you.
Sour cream – This luscious sour cream is where the homemade potato salad gets it's super creamy base from.
Celery rib – Adding some celery gives it a perfect crunch that's hard to beat.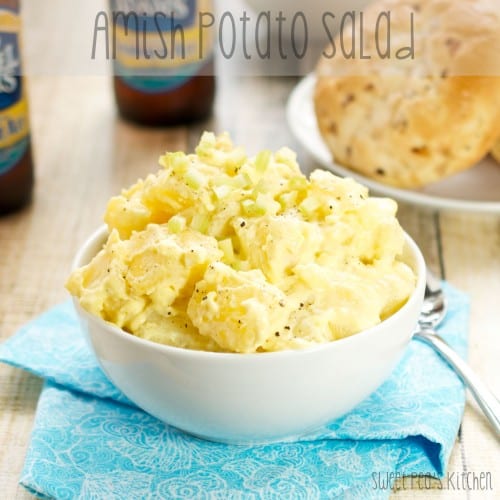 How To Make Potato Salad
Your next cookout is going to be incredible if you serve this amazing easy homemade potato salad recipe. I promise! These steps are so easy, and you will feel like you barely did anything. The part that takes the longest is letting it chill, but I'm sure you have plenty of other things to work on when this happens.
First Step: Bring the sliced potatoes to a boil by adding enough water to cover them and 1 tablespoon of salt. Once the potatoes have begun boiling, turn the heat to medium and simmer until the potatoes are tender, which usually takes around 10 minutes or so. Pierce them with a fork to test for doneness.
Second Step: As the potatoes are simmering, microwave the sugar and vinegar in s small bowl for 30 seconds or until the sugar dissolves. Using a food processor, add the vinegar and sugar mixture, mustard, one hard-boiled egg yolk, celery seed, and salt. Pulse until it's mixed smooth then transfer to a medium bowl. Remove two tablespoons of the mixture and set aside.
a.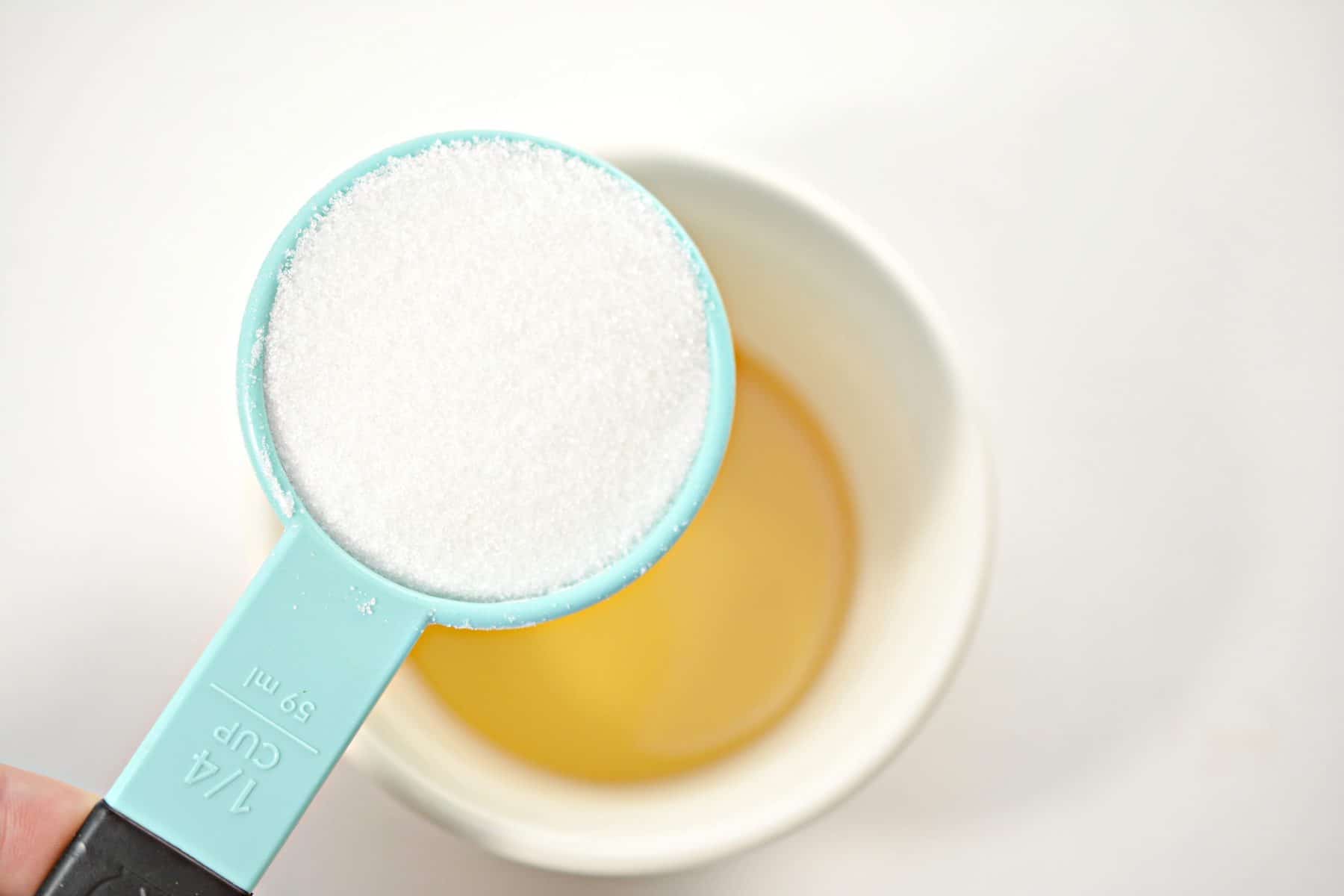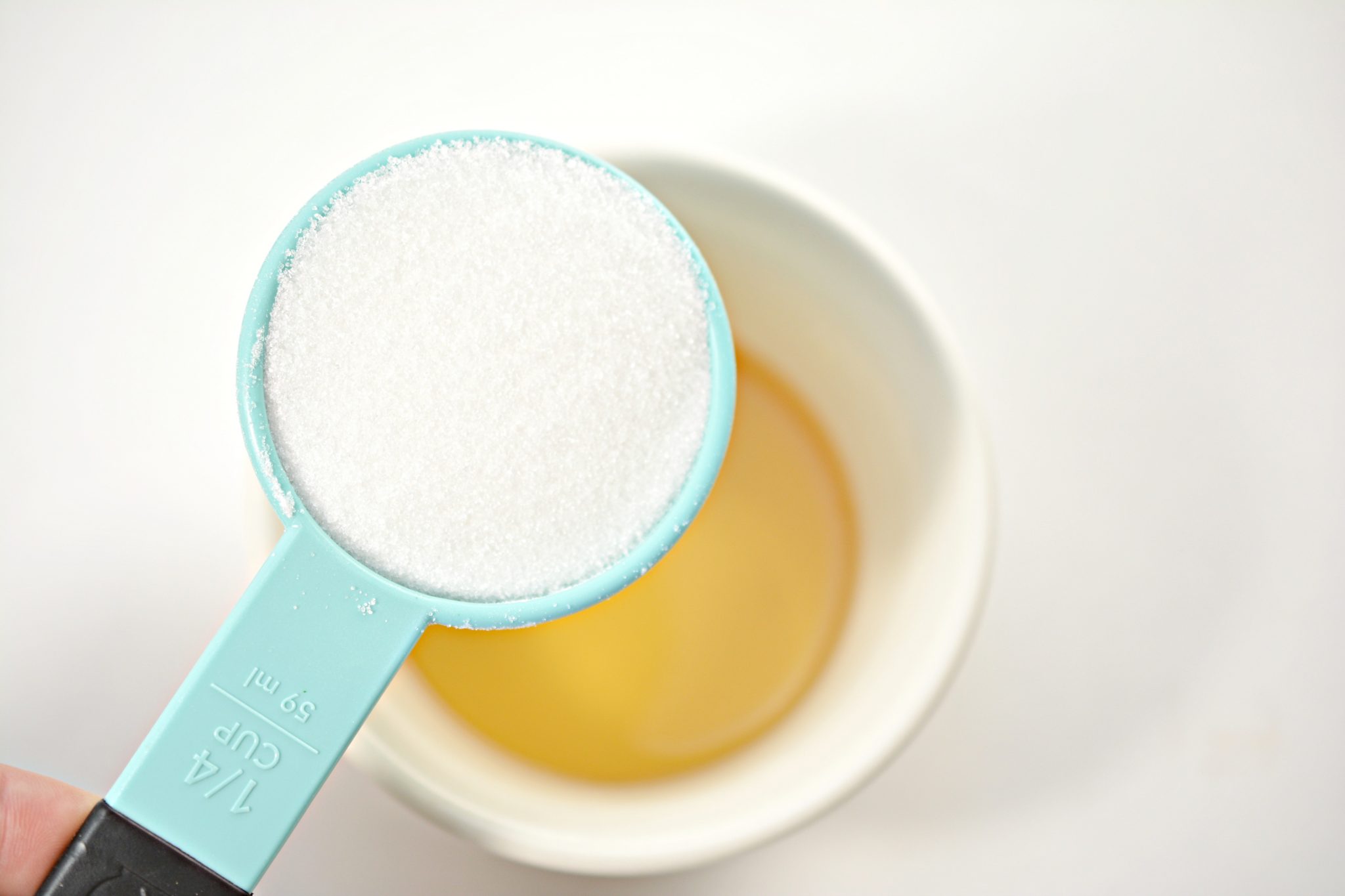 b.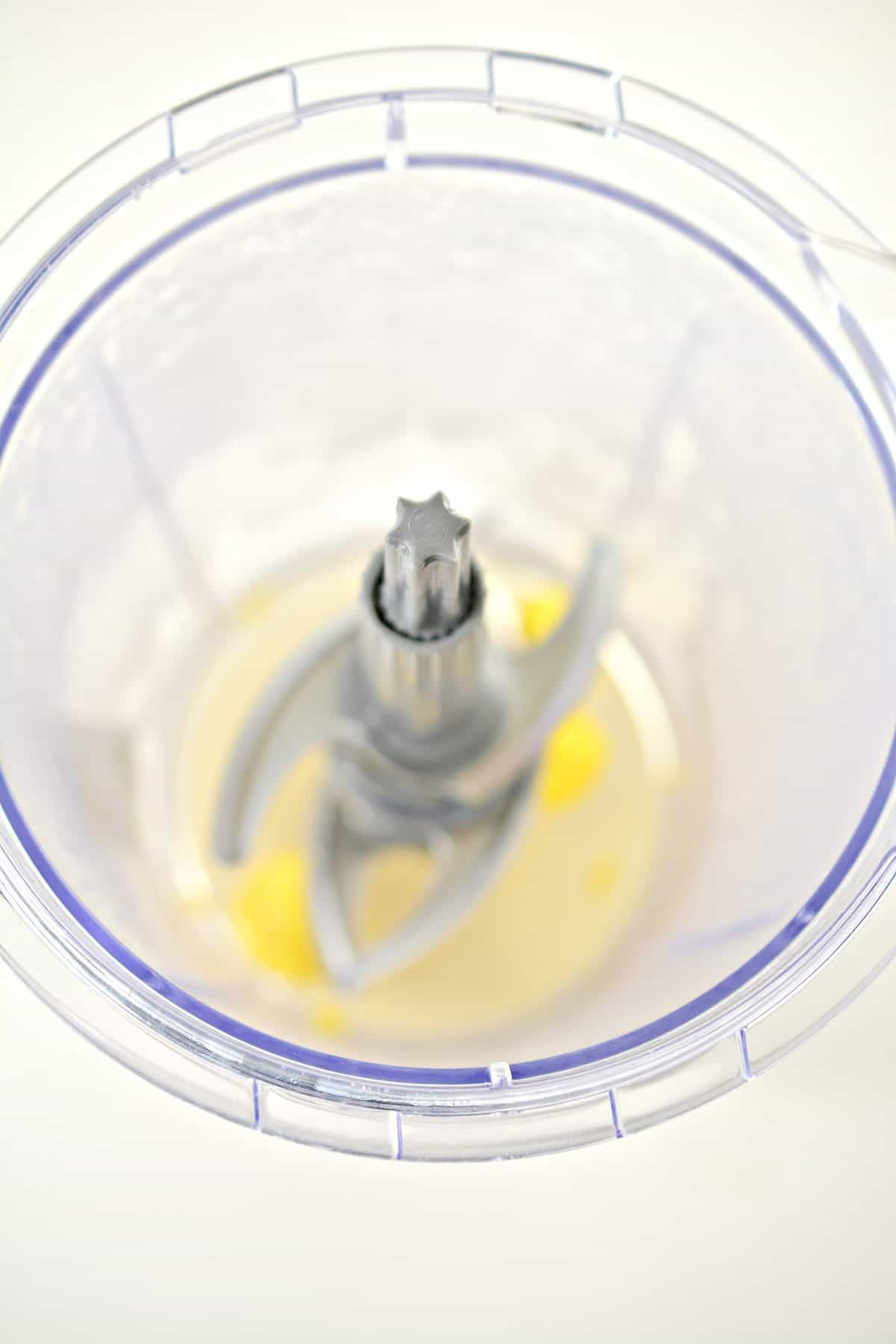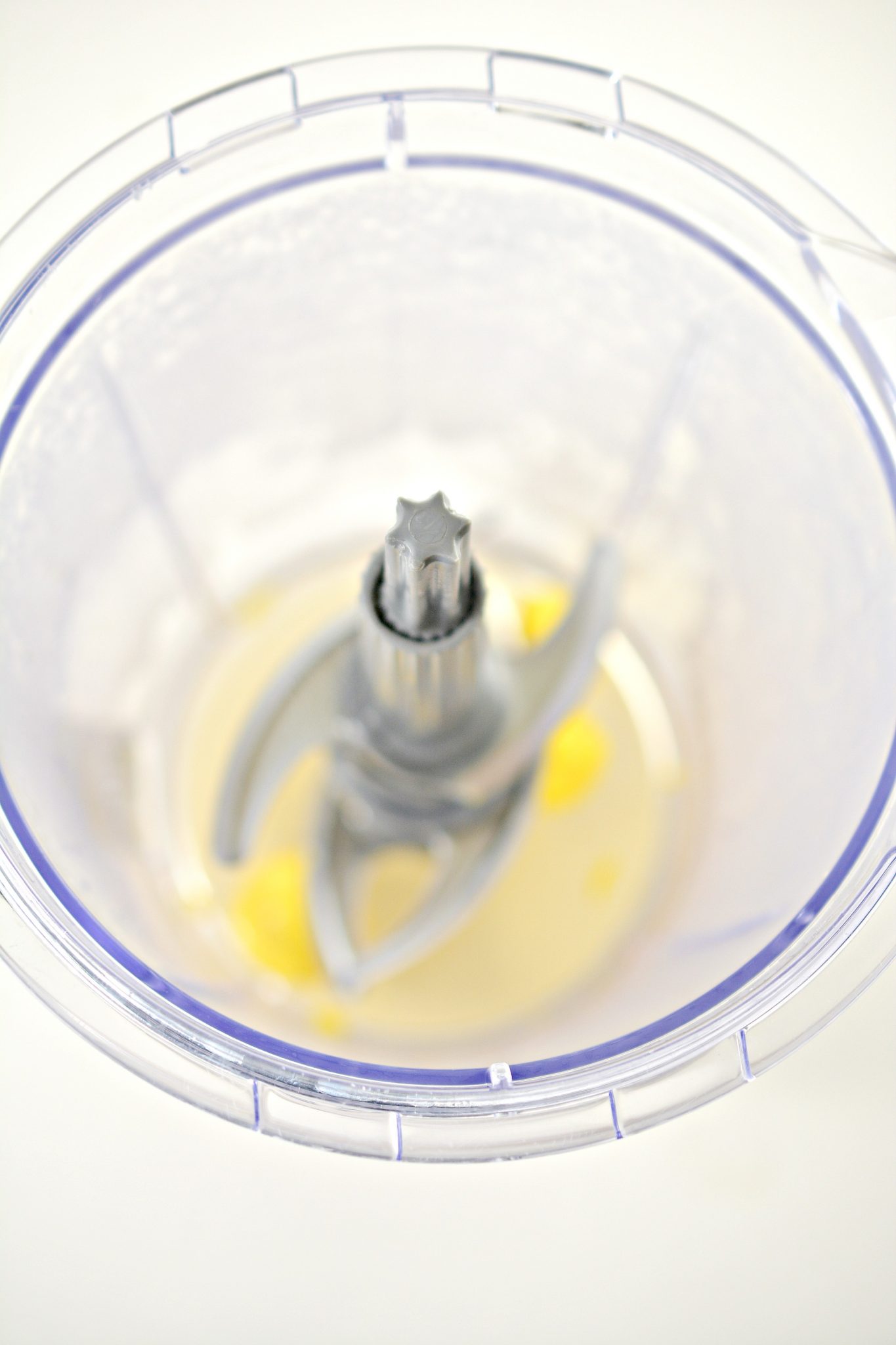 c.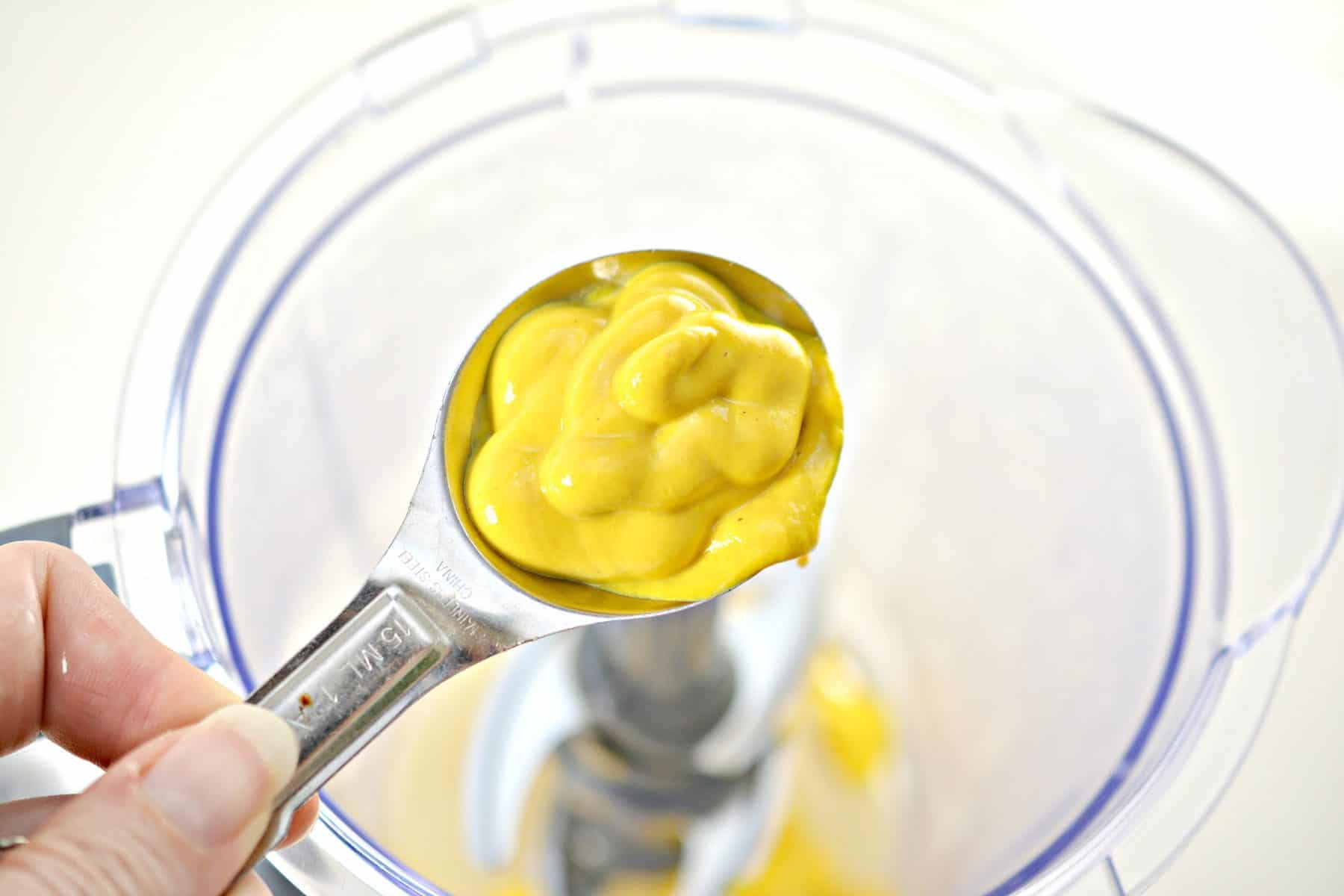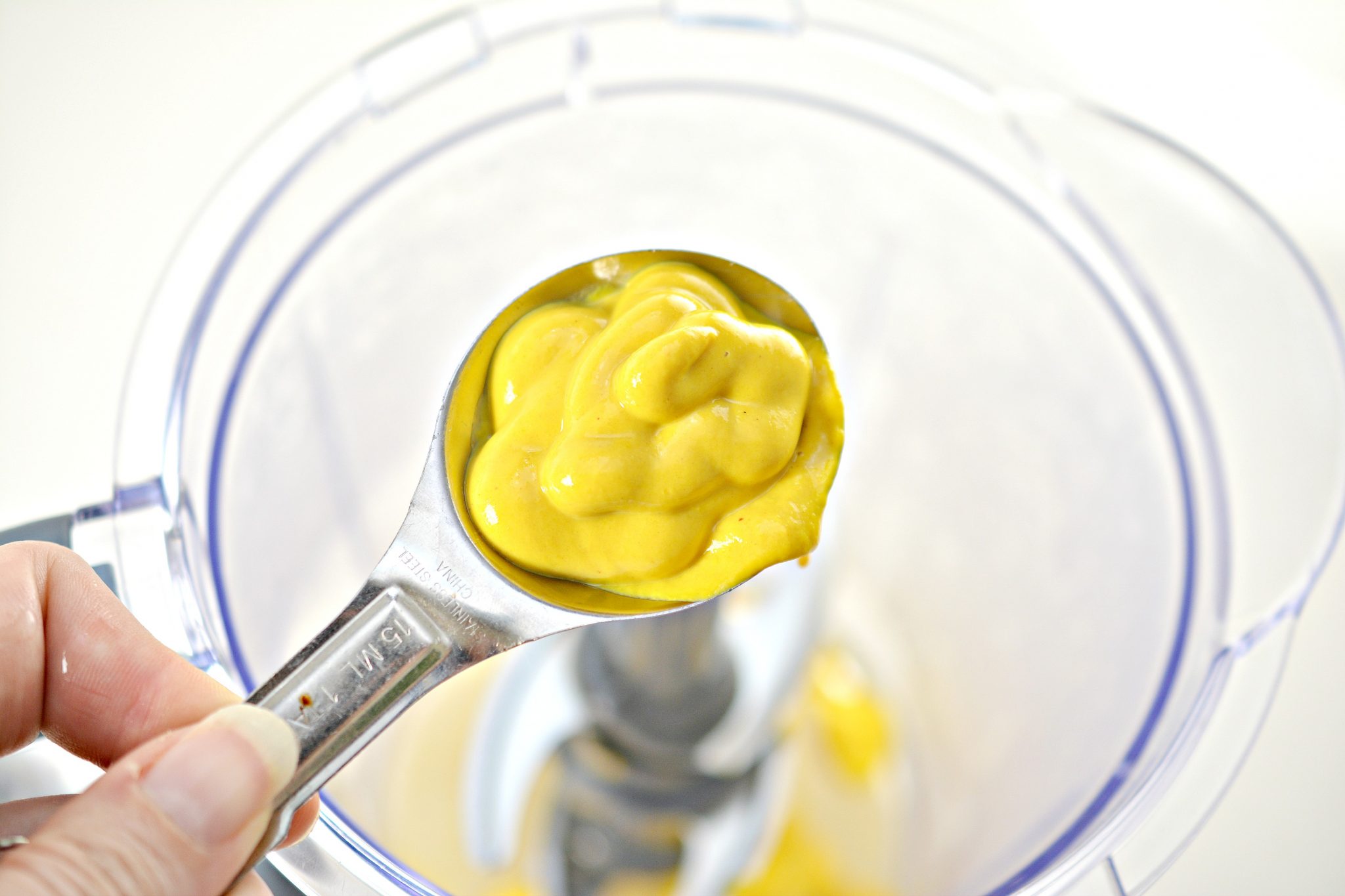 d.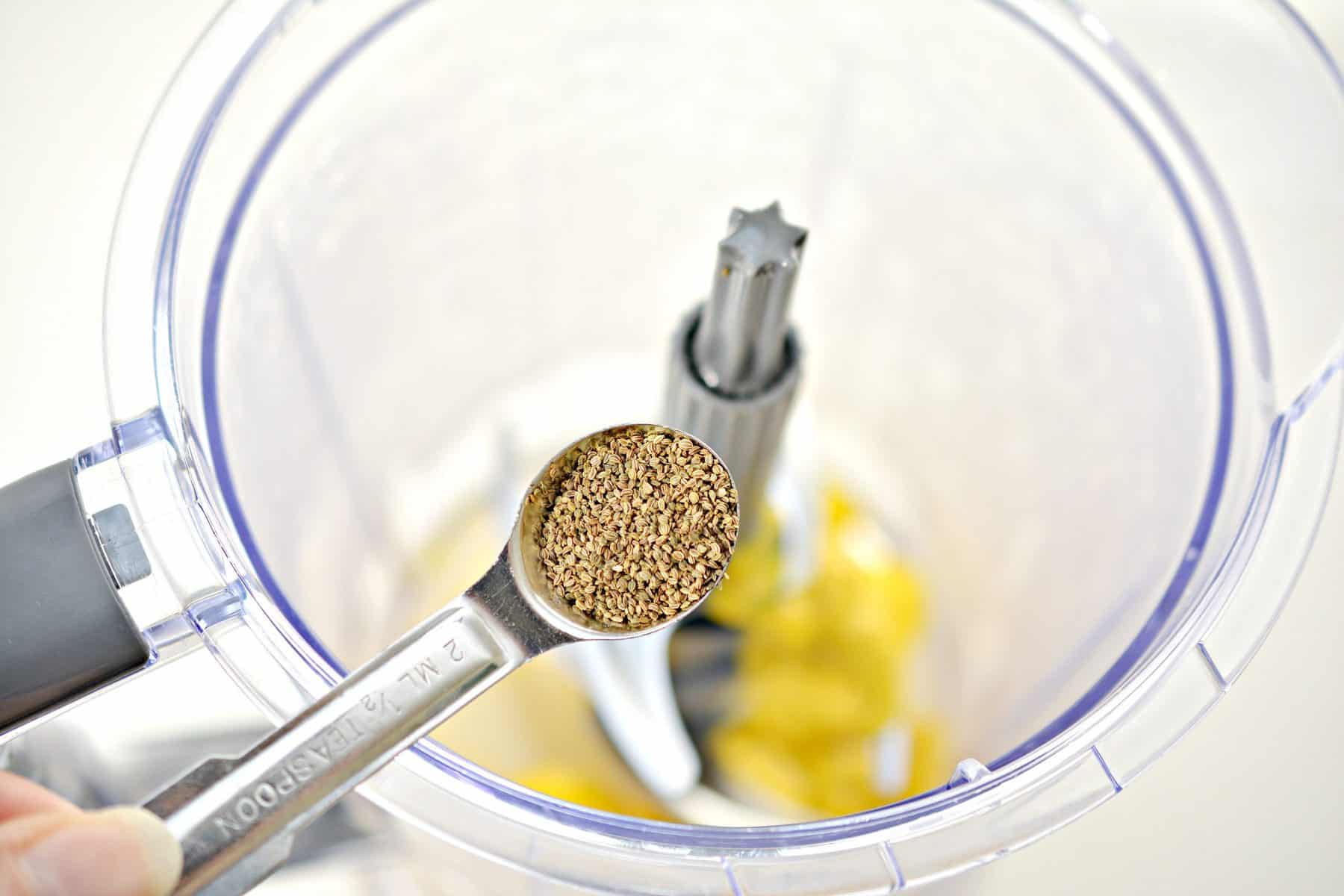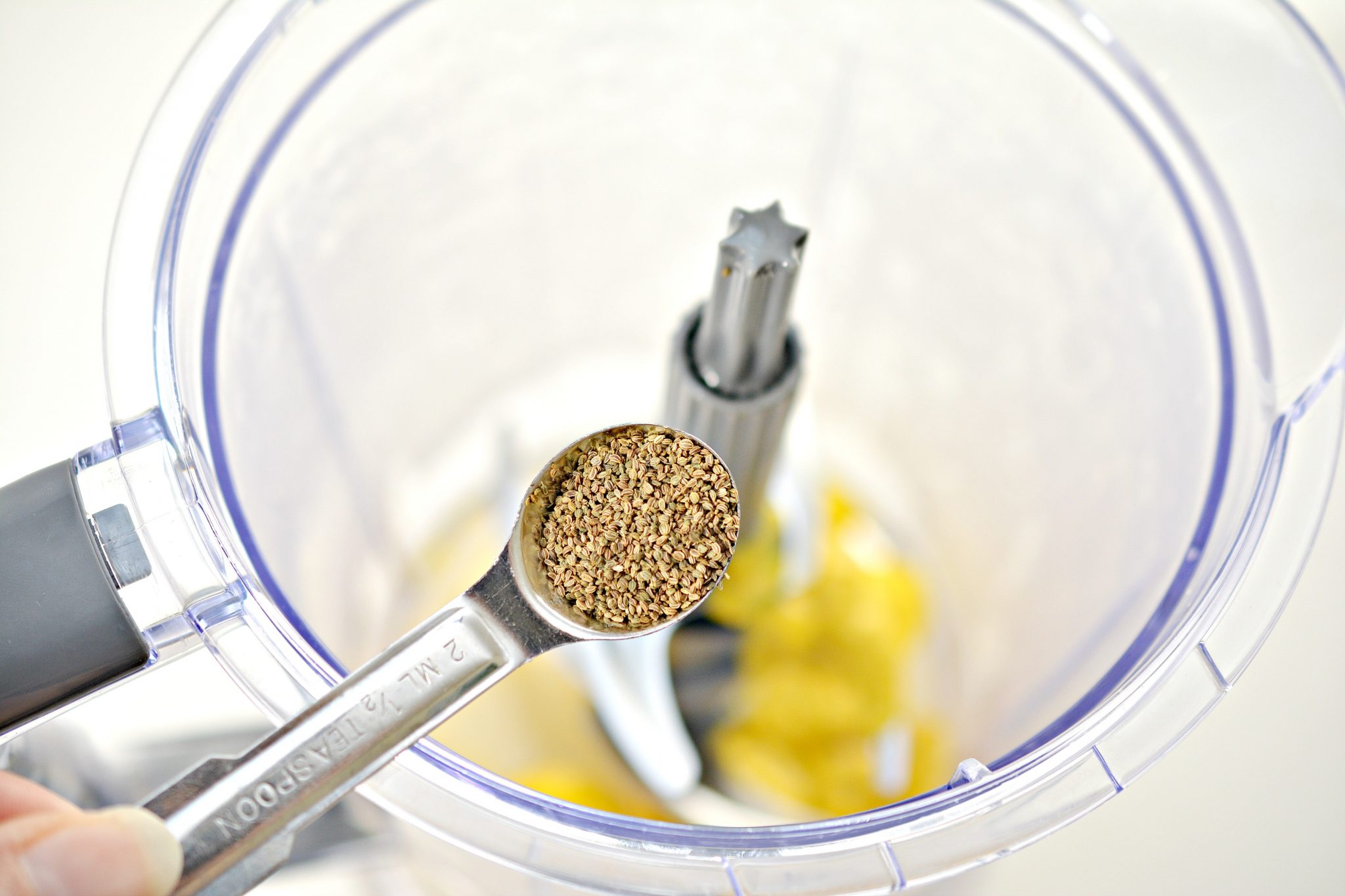 Third Step: After the potatoes are done, drain them and transfer them to a large bowl. Drizzle the 2 tablespoons of dressing over the pot potatoes while using a spatula. Gently give them a few tosses to make sure they are evenly coated. Allow the potatoes to sit in the fridge for 30 minutes until they are cooled down.
Fourth Step: Add sour cream to the remaining dressing. Put in the hard-boiled eggs and egg white with the dressing too. Use a potato masher until there are very small pieces remaining. Add in the dressing and celery to the potatoes. Refrigerate after covering until it's chilled for at least 30 minutes. You can leave the potato salad in the fridge for 12 – 24 hours for the best flavors. Sprinkle some salt and pepper then serve.
a.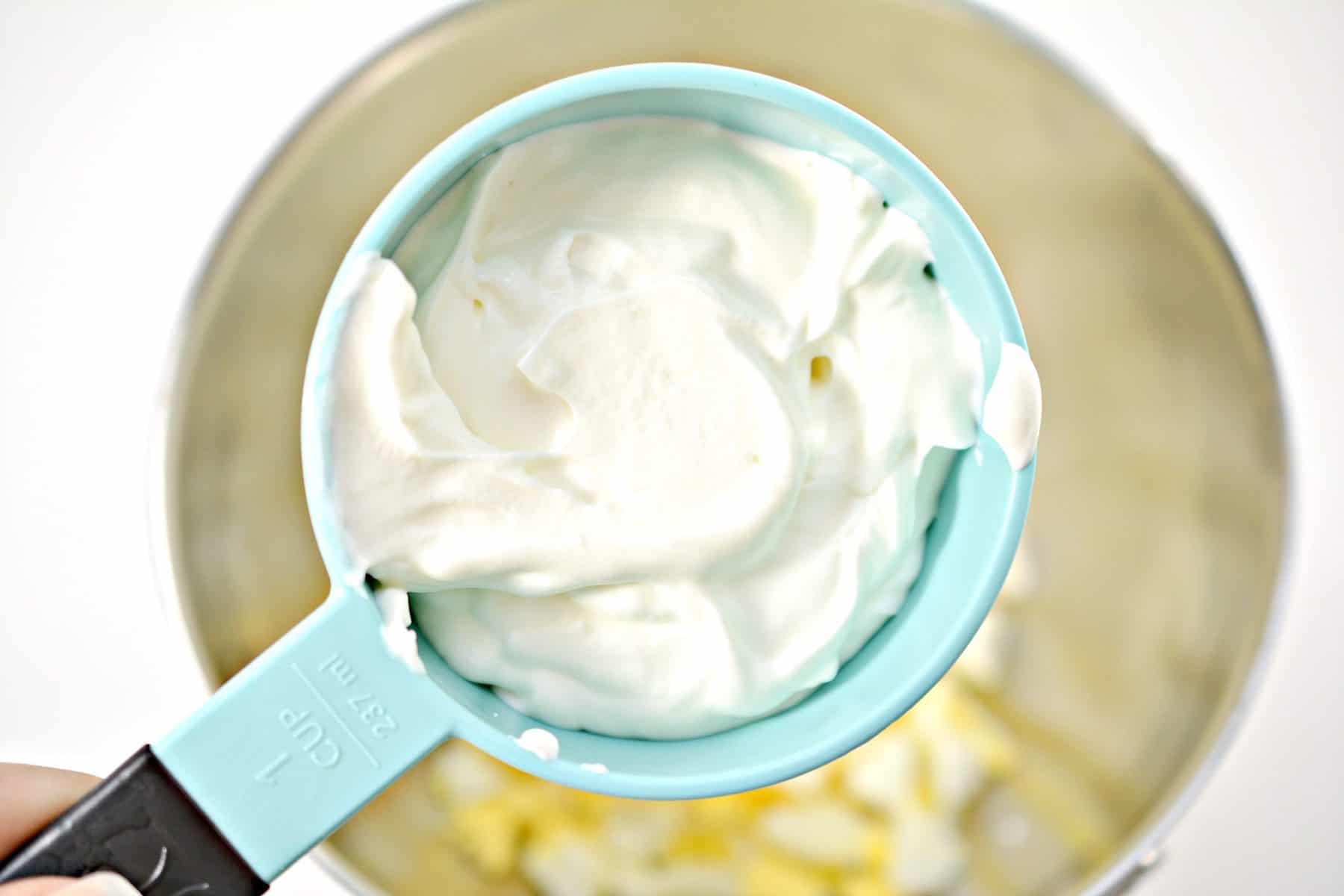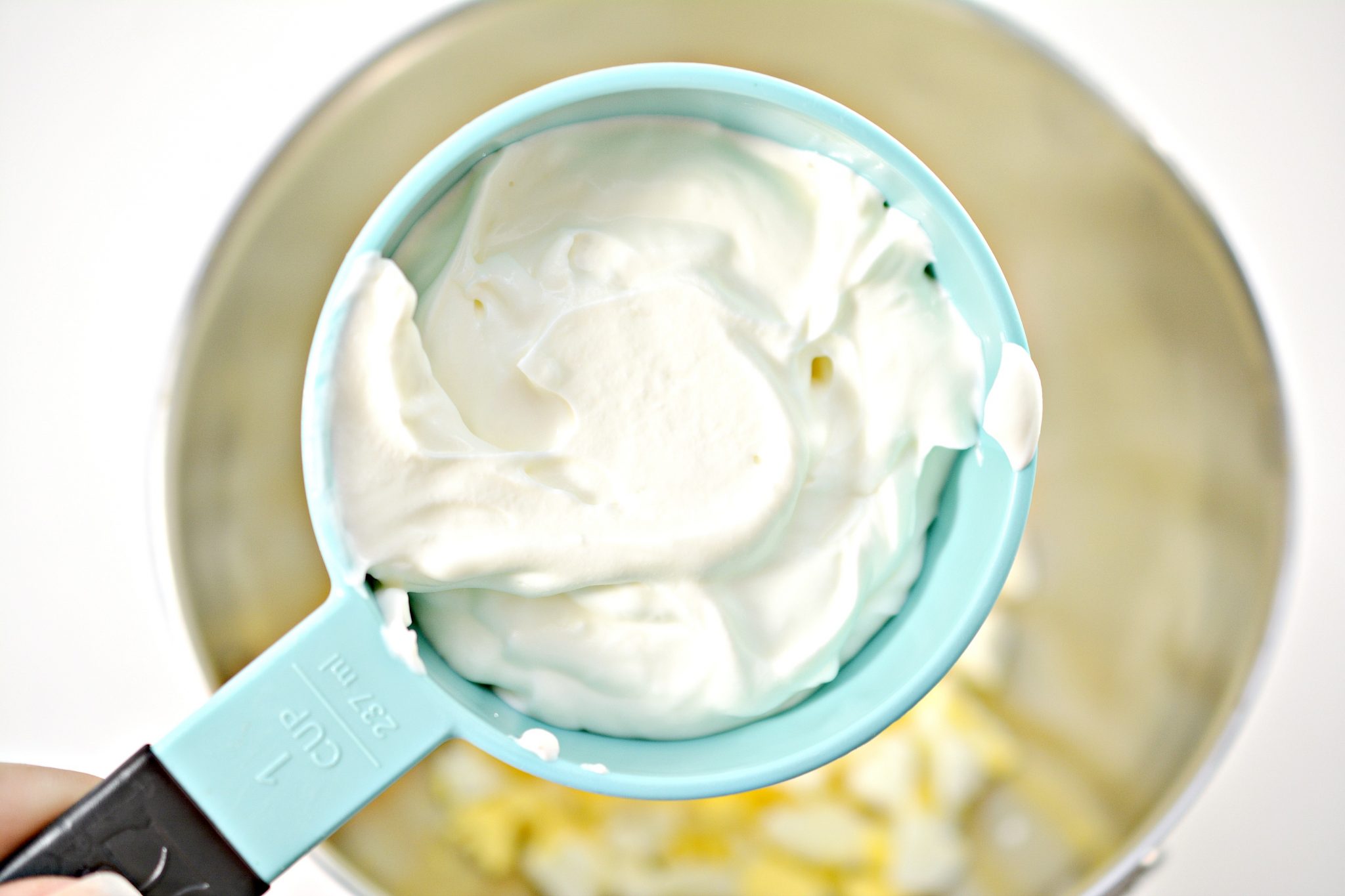 a.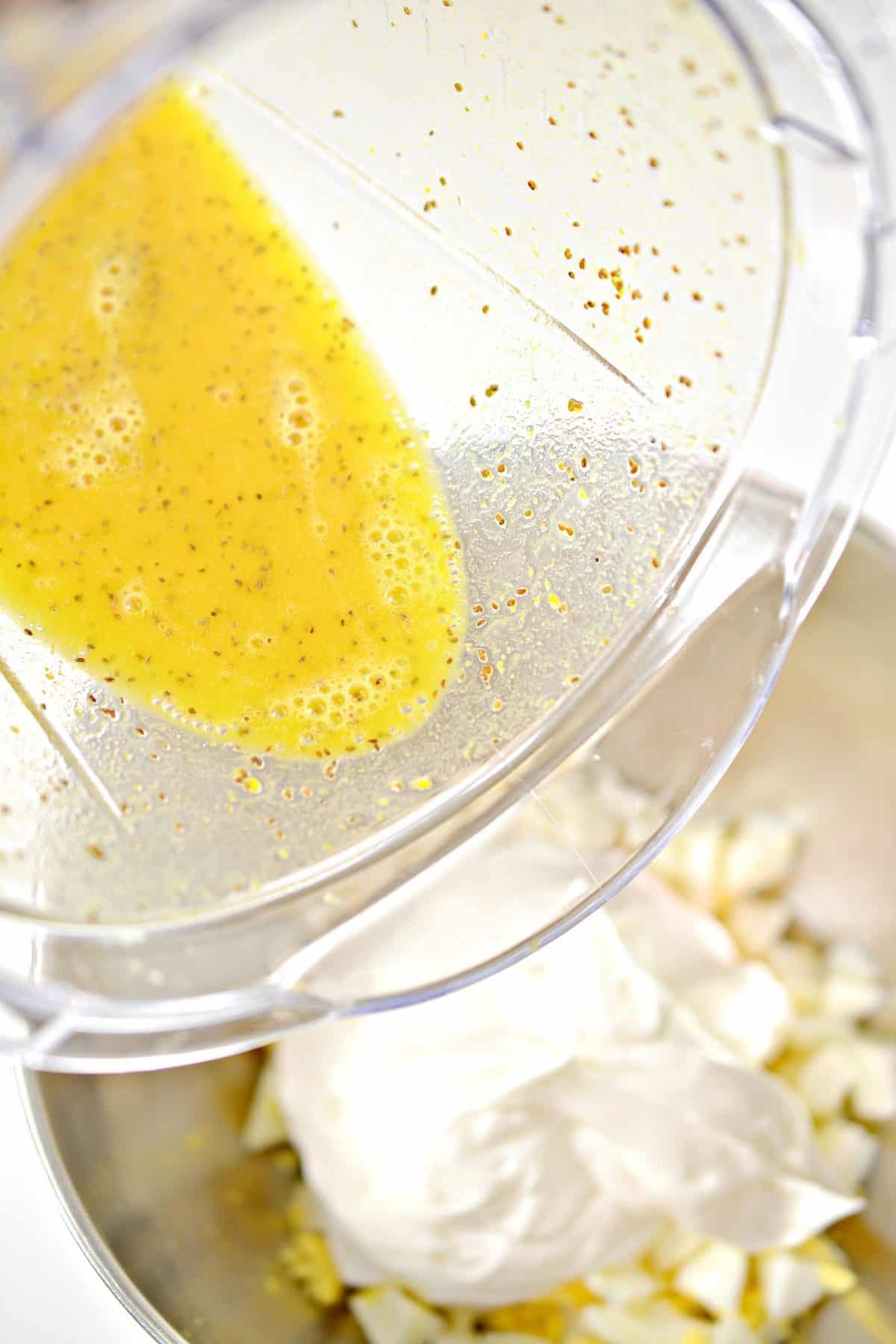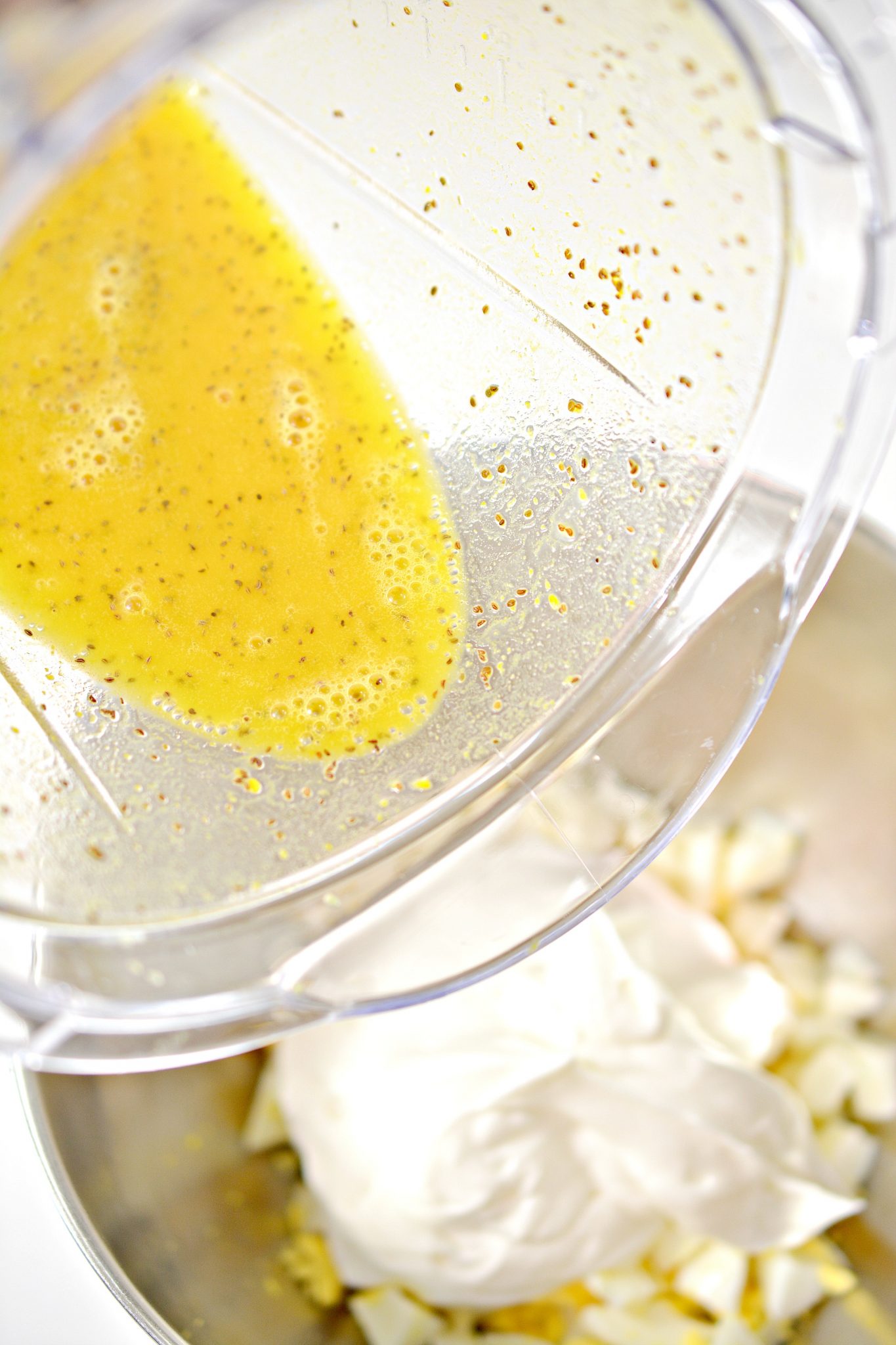 c.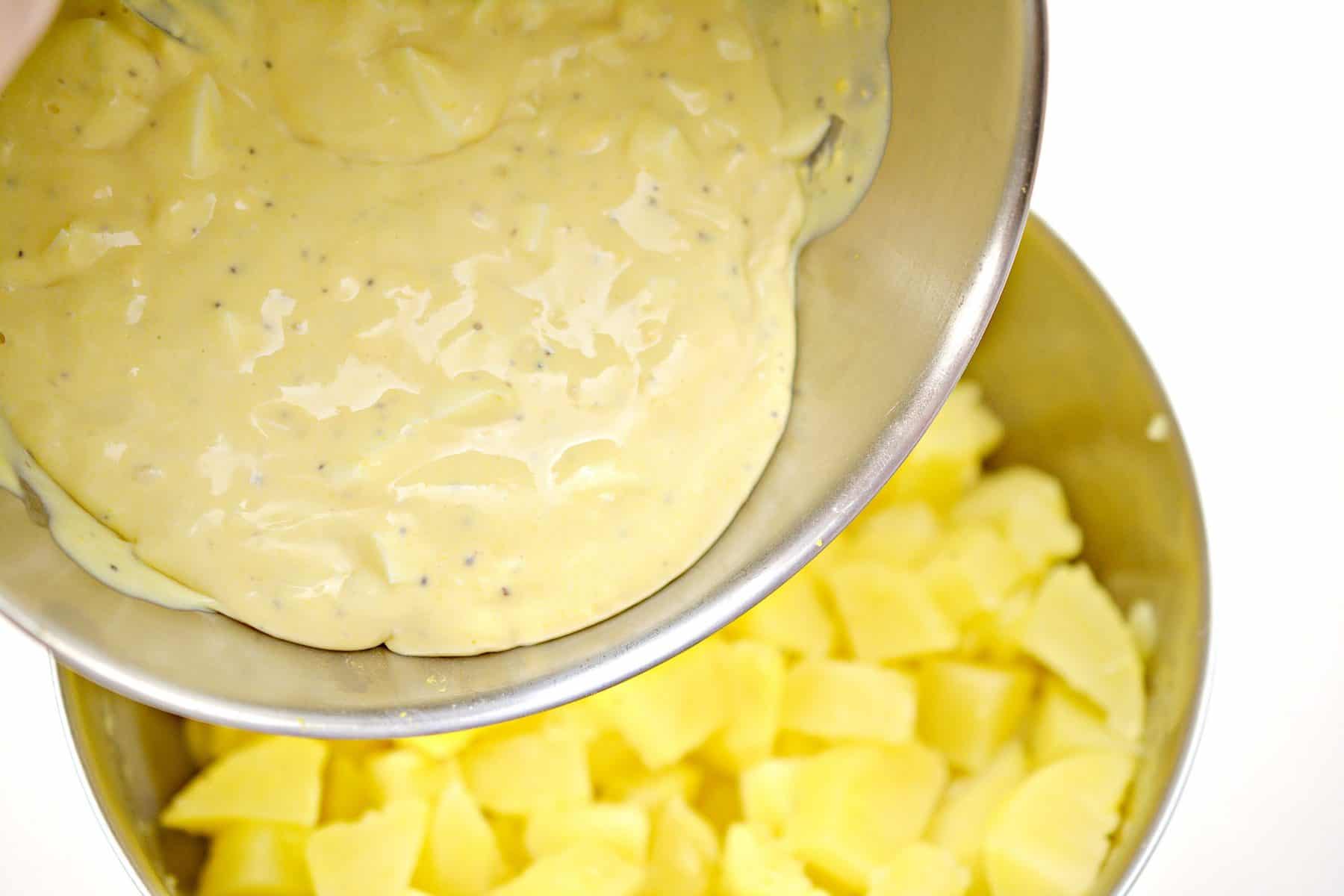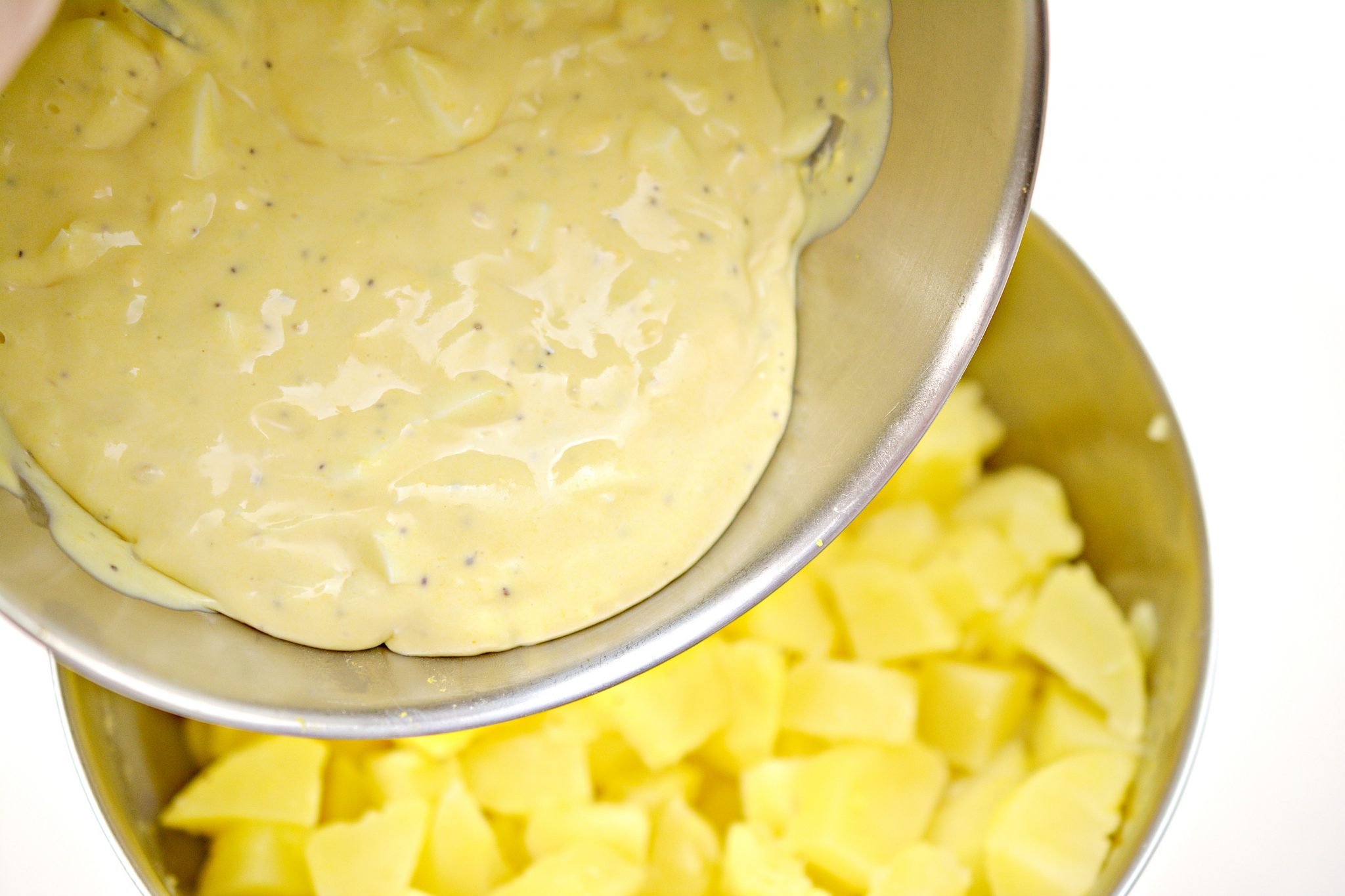 d.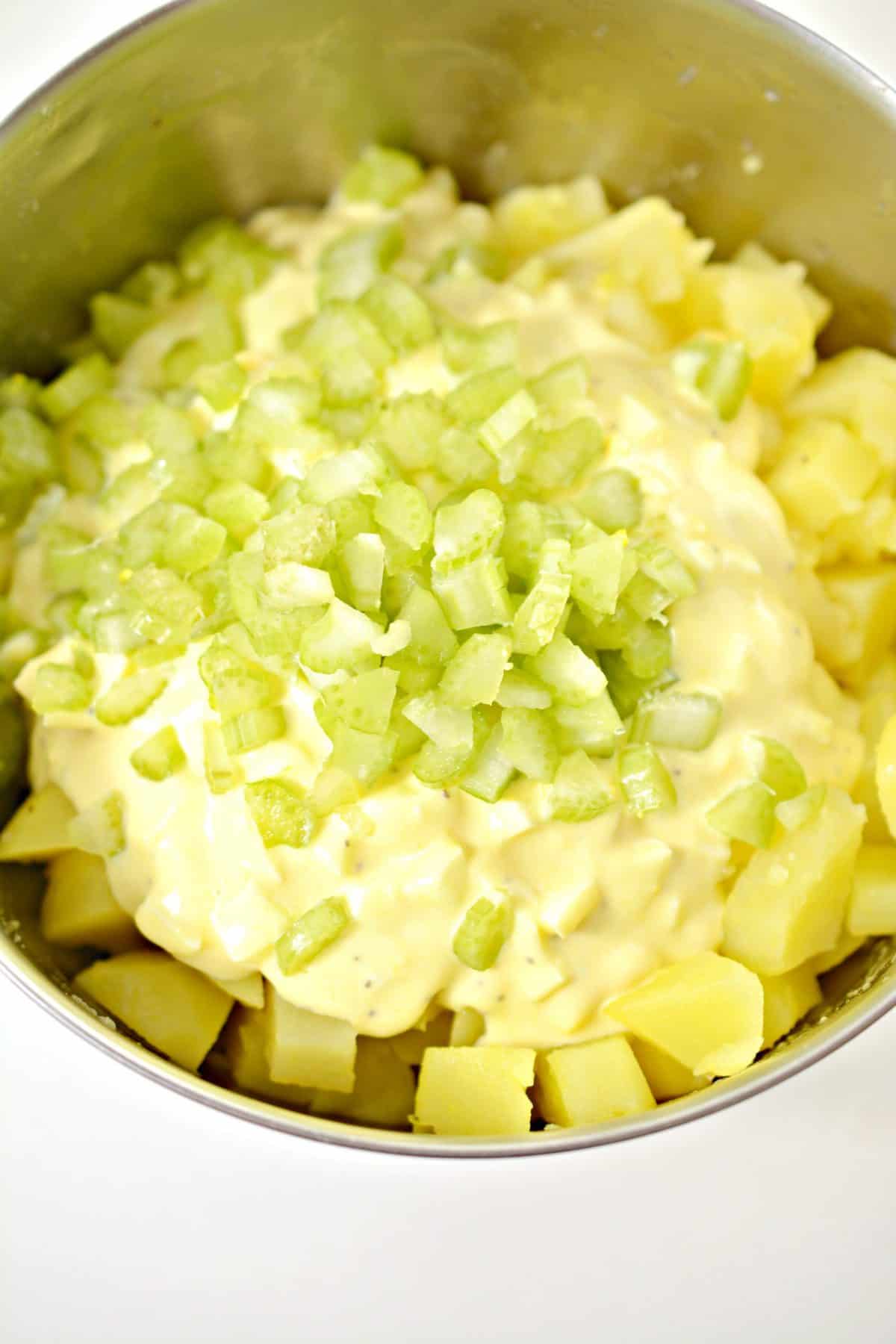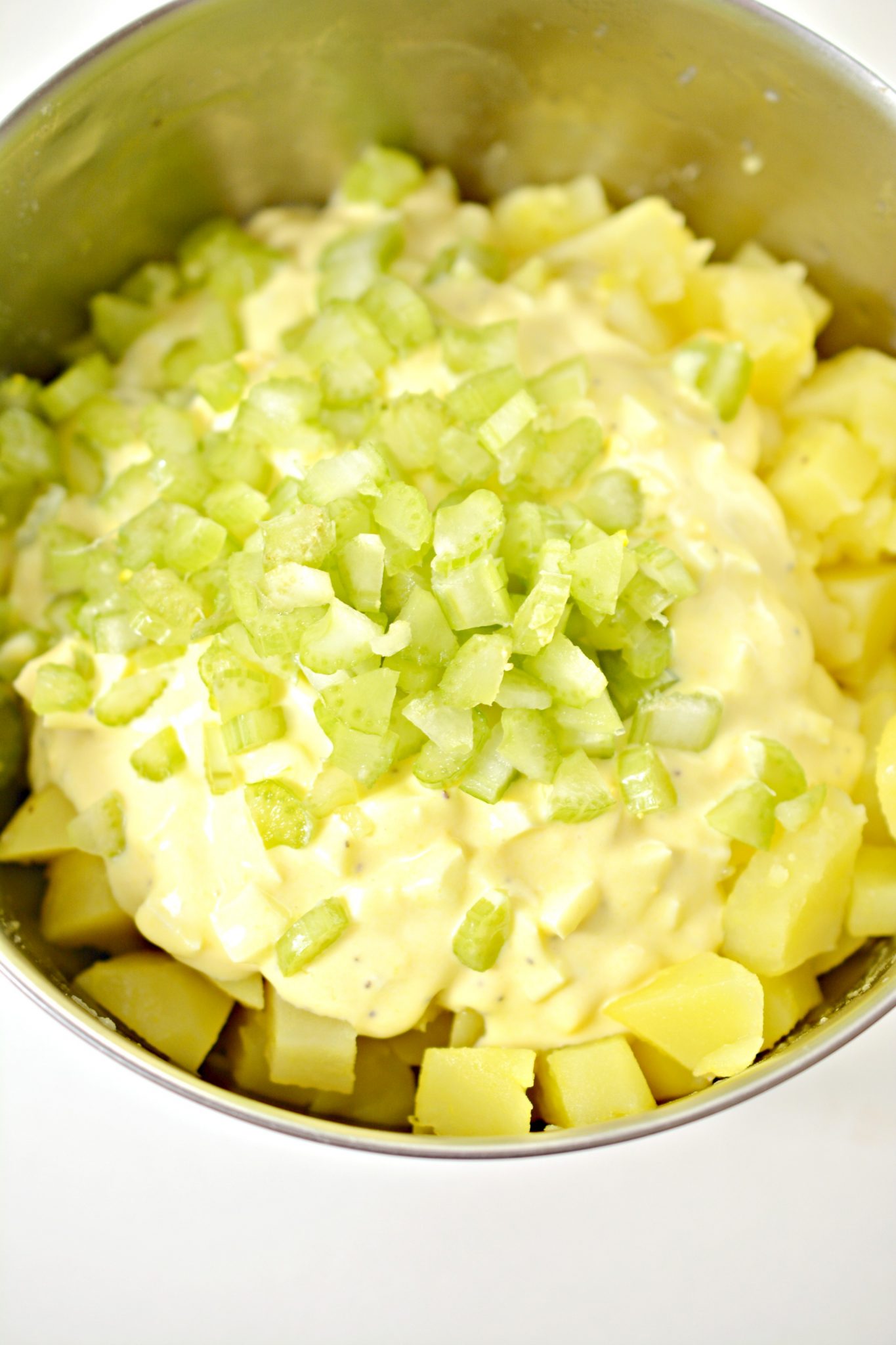 Can You Freeze Potato Salad?
Technically, you can freeze potato salad and defrost it then eat it. However, the odds are against you that the potato salad will taste like it once did. Potatoes will most likely become mushy and even a bit grainy. If you do decide to freeze the potato salad, keep it airtight, make sure it's cold before you freeze it and defrost it in the refrigerator.
You can store this Amish potato salad in the refrigerator for up to 4-5 days without any issues. My advice is to refrigerate it and then toss it if you can't eat it by the time it spoils. This way, you can ensure that you are eating the best quality potato salad, and you don't have to deal with any unappealing effects of freezing it.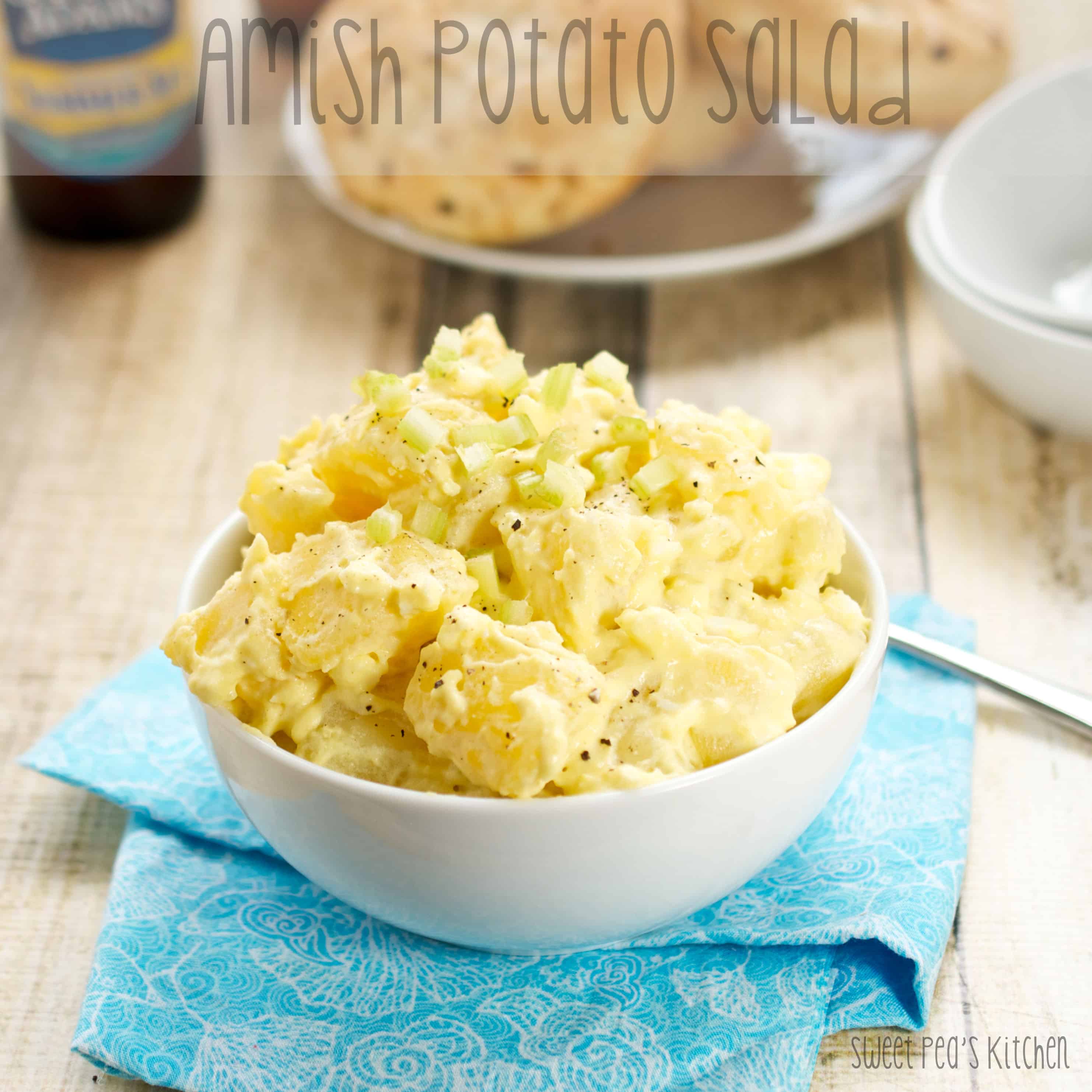 I always get excited over the main course, but honestly, the side dishes are my ultimate favorite. All the different textures and flavors keep me happy to try them all. Take a look at these side dish recipes for you to try.
Now, remember to save this recipe on Pinterest for later 🙂

Pin this recipe now to remember it later
Easy Homemade Amish Potato Salad Recipe
Creamy, Amish-style potato salad made with cider vinegar, eggs, mustard, sour cream and celery.
Ingredients
3

pounds

Yukon Gold potatoes

,

peeled and cut into 3/4-inch chunks

2

tablespoons

yellow mustard

4

large hard-cooked eggs

,

peeled

1

celery rib

,

chopped fine
Want to save this recipe? Enter your email below and we'll send the recipe straight to your inbox!
NOTE: By saving this recipe, you agree to join our weekly recipes newsletter.
Instructions
In a large pot over high heat bring potatoes, 1 tablespoon salt, and enough water to cover by 1 inch to a boil. Reduce heat to medium and simmer until potatoes are just tender, about 10 minutes.

While potatoes simmer, microwave vinegar and sugar in small bowl until sugar dissolves, about 30 seconds. Process vinegar mixture, mustard, 1 hard-cooked egg yolk (reserve white), celery seed, and ½ teaspoon salt in food processor until smooth. Transfer to medium bowl, reserving 2 tablespoons for drizzling; set aside.

Drain potatoes thoroughly, then transfer to large bowl. Drizzle reserved 2 tablespoons of dressing over hot potatoes and, using rubber spatula, gently toss until evenly coated. Refrigerate until cooled, at least 30 minutes.

Whisk sour cream into remaining dressing. Add remaining hard-cooked eggs and egg white to dressing and, using potato masher, mash until only small pieces remain. Add dressing and celery to cooled potatoes. Cover and refrigerate until chilled, about 30 -minutes. Season with salt and pepper. Serve.
Notes
You can substitute an equal amount of celery salt for the celery seed. If you do, omit the salt from the dressing.
For best flavor, make 12 to 24 hours before you plan on serving.
Video
Follow me on Pinterest for daily delicious recipes!
More of my best Recipes:
Turkey noodle soup with vegetables is a perfect comfort food dish that you can make in the Instant Pot with leftover turkey after a holiday, or your own roasted turkey breast.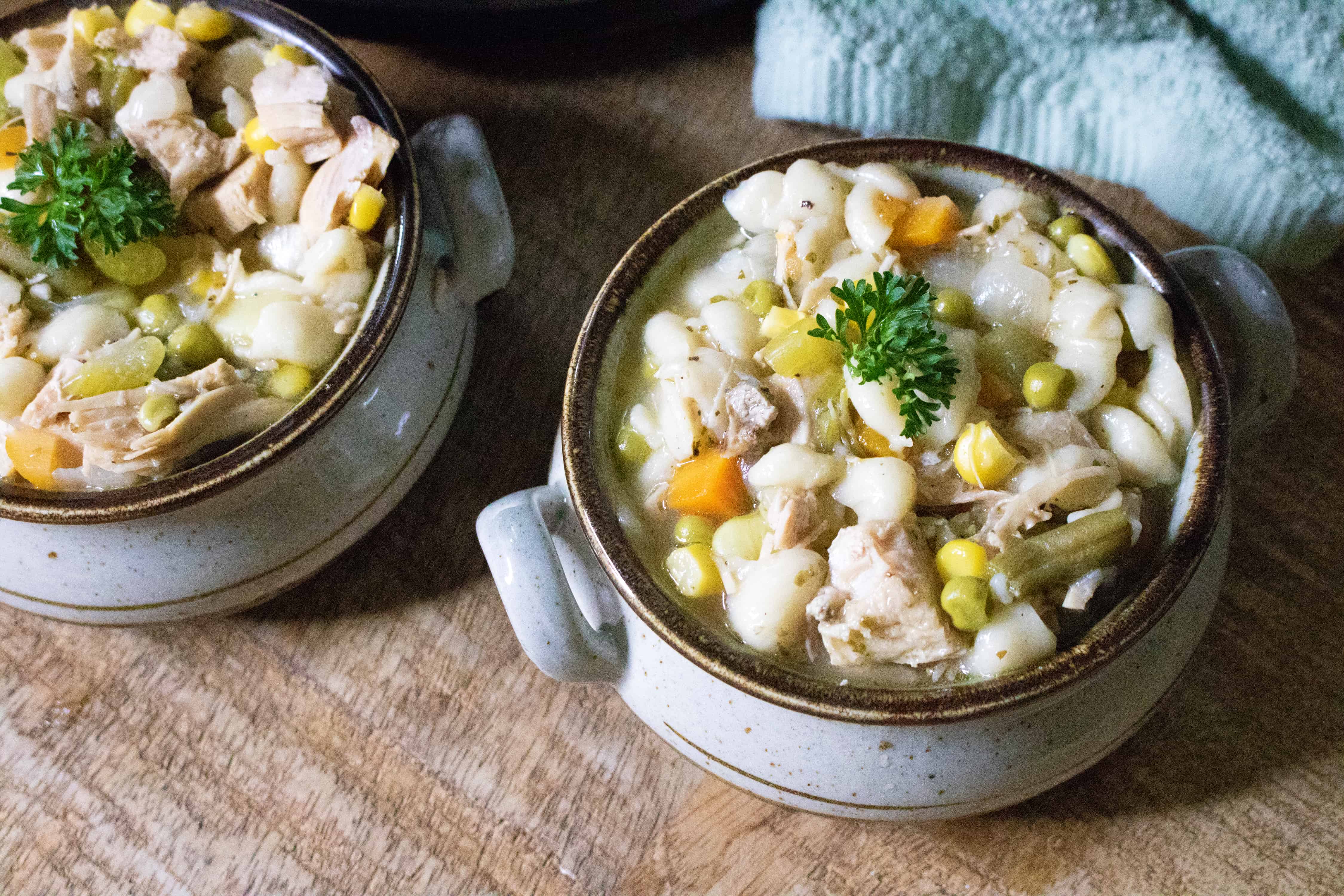 Garlic butter steak with zucchini noodles is another meal that I find comforting. It is full of flavor and an easy meal to prepare that everyone will love.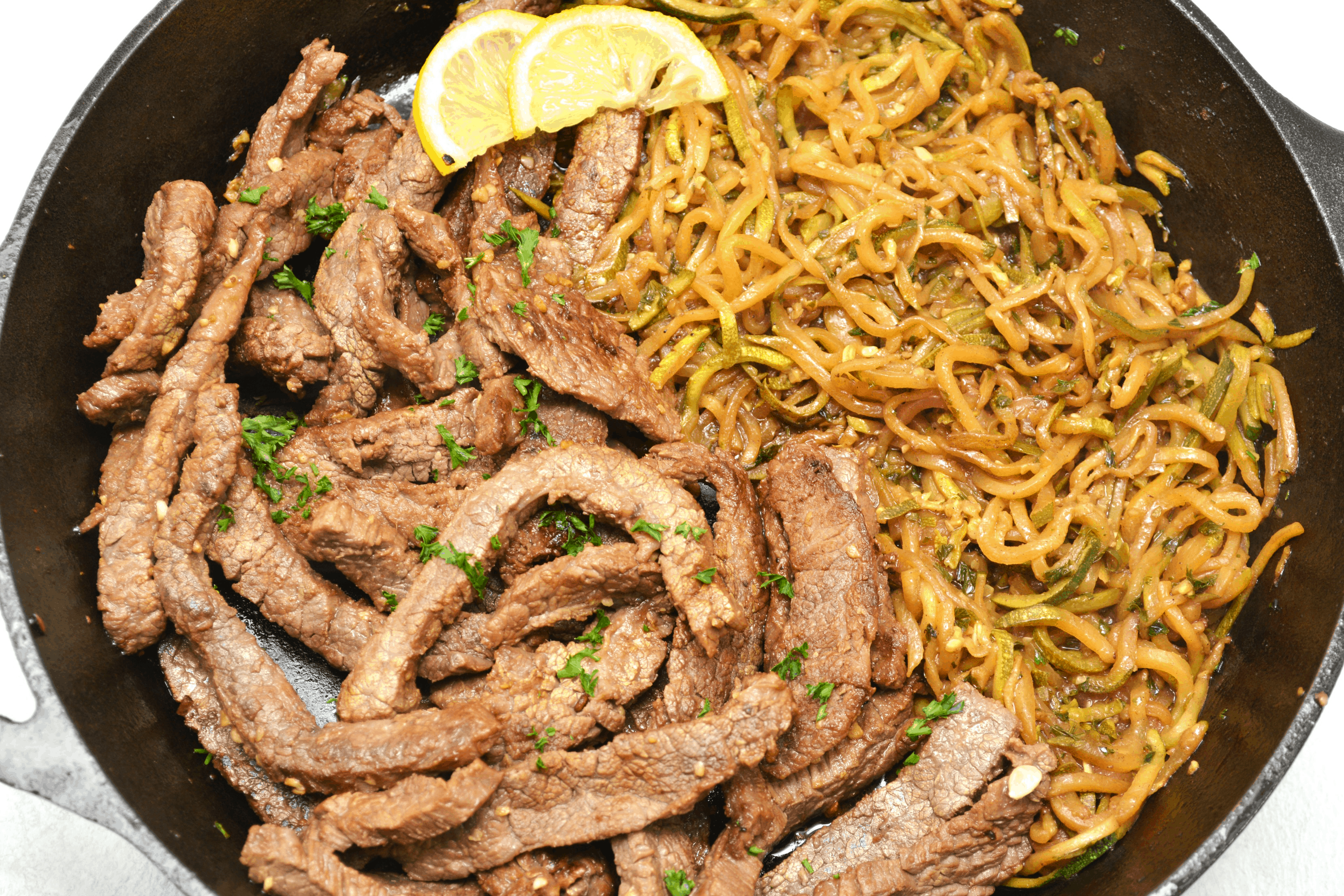 Potato soup is one of my all-time favorite options for comfort food soup. I love topping this with some crumbled bacon, chopped chives, and shredded cheddar.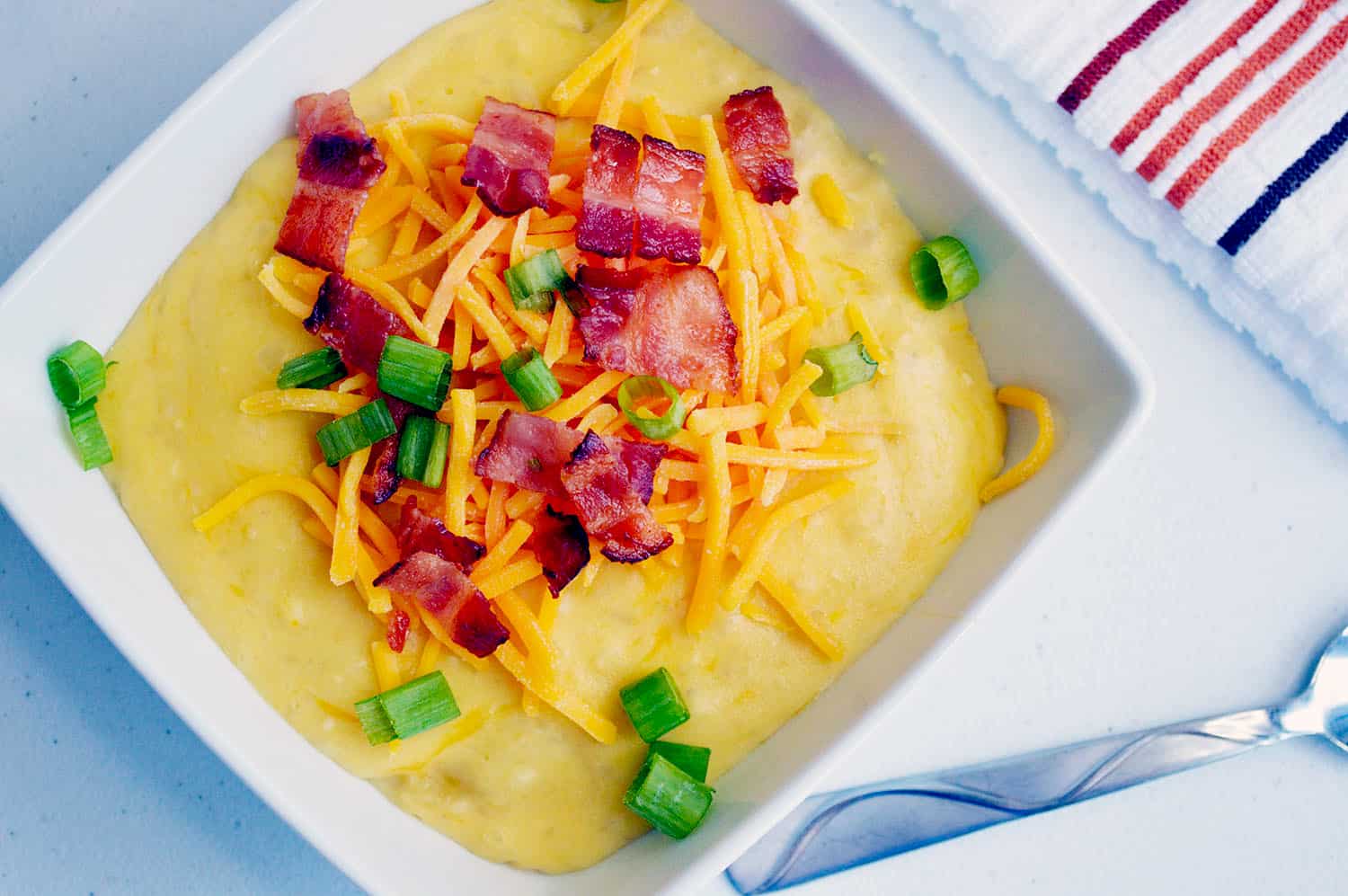 Easy beef stew is another great comfort food recipe that you can throw together and let simmer to create rich flavors. It's perfect alongside some homemade cornbread.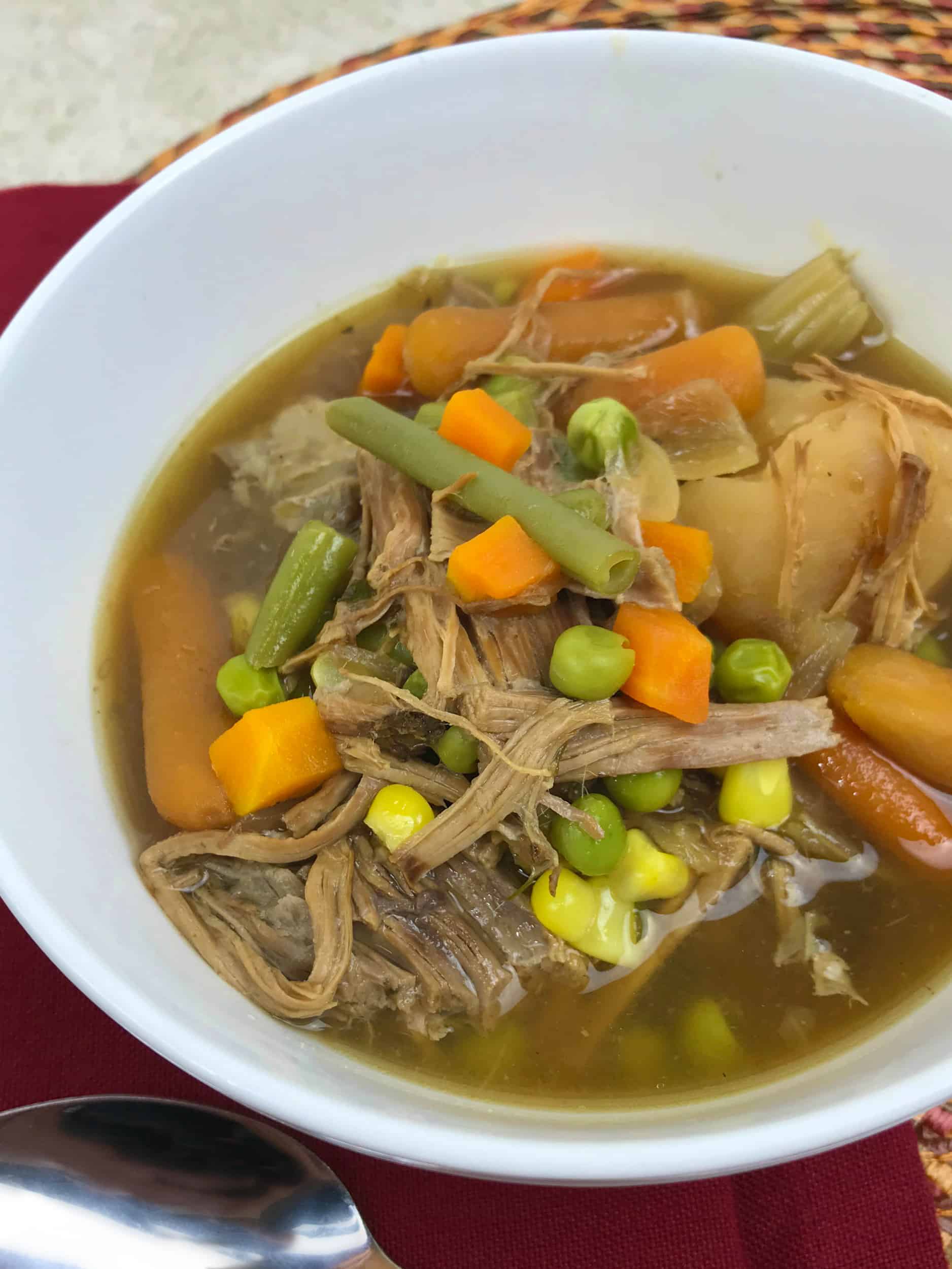 Ham and asparagus casserole is one of my favorite recipes that works well for breakfast, brunch, lunch, or dinner. Tons of flavor and easy to throw together.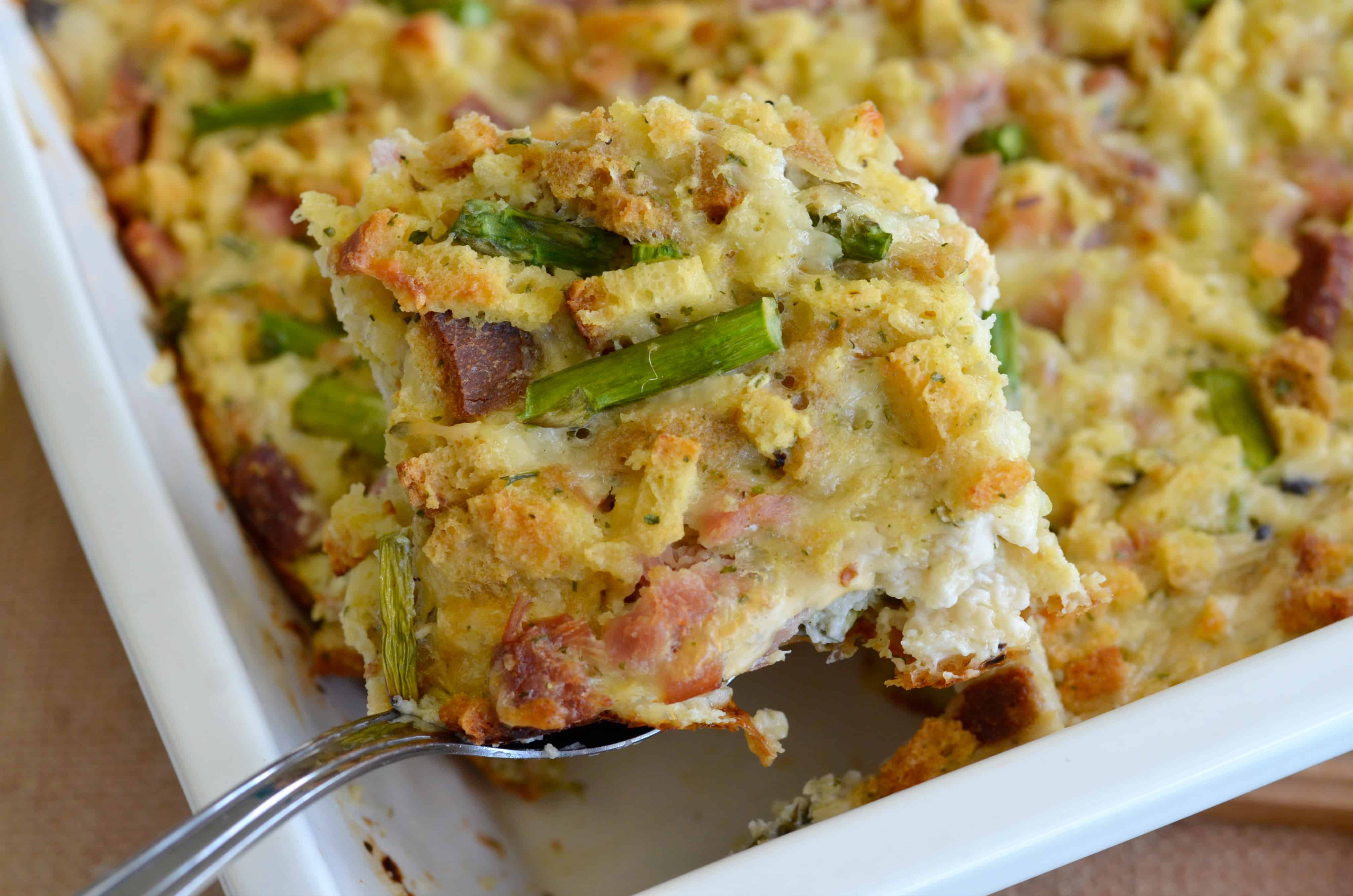 Get new recipes weekly plus our FREE ebook!