Looking for some fantastically delicious comfort food that's easy to make? Then you are in luck because this turkey noodle soup is outstanding! It's full of soothing ingredients, takes minimal effort to create, and friends and family can't resist it.
I hate wasting food for many reasons, so that makes me work extra hard to find ways to use up what we have. Food is so expensive, and I don't like tossing it out for any reason. This turkey vegetable noodle soup is excellent for any season, but I especially love to use leftovers to make it. Many times after the holidays we will have guests for several days, and it's nice when we can feast on leftovers. Giving the leftovers a facelift makes it, so you don't even realize that it is made from leftover turkey.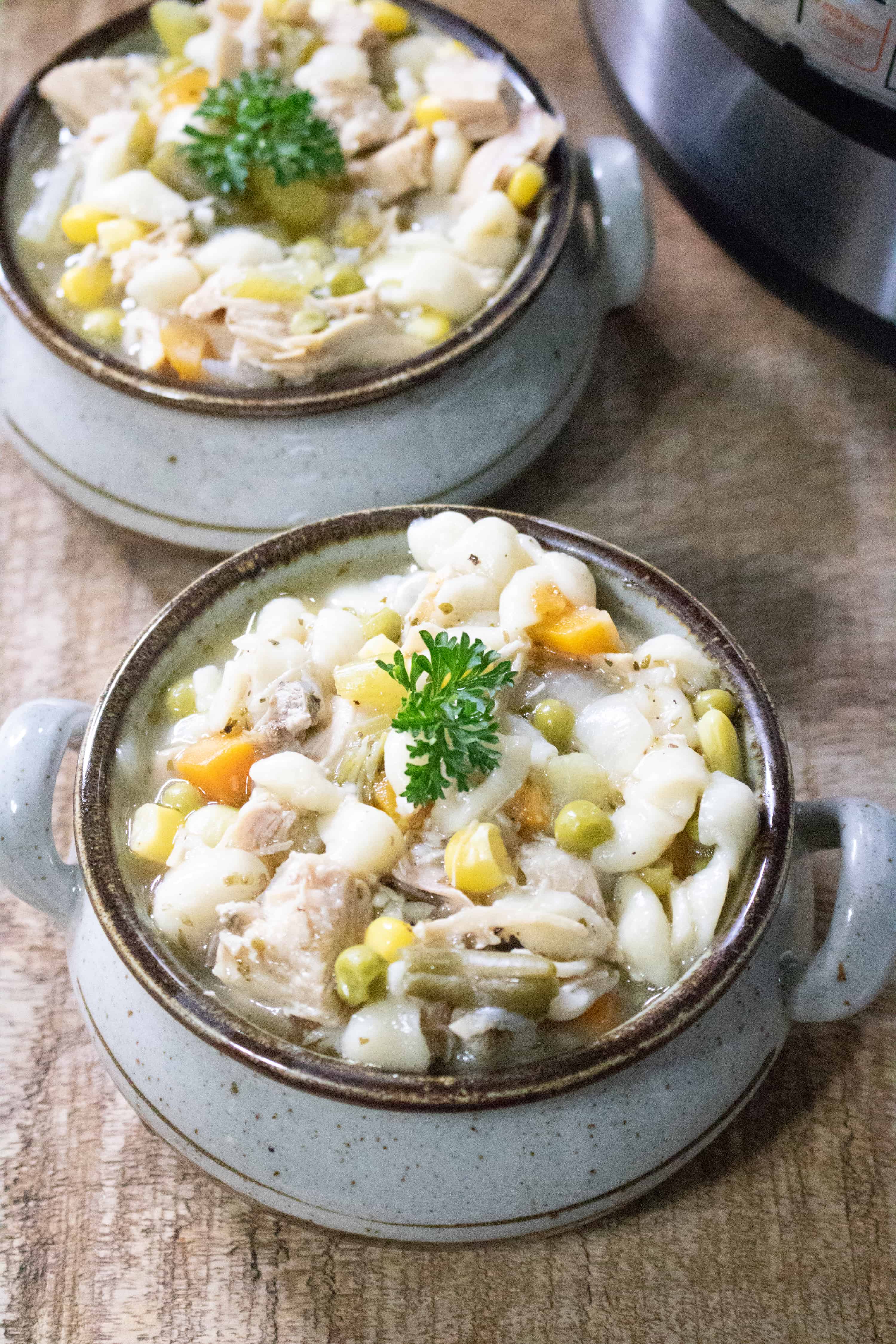 Scroll to bottom for printable recipe card.
How To Make Turkey Noodle Soup
I am so excited to share how to make this yummy turkey vegetable noodle soup recipe with you. You are going to be thrilled with how you can pretty much toss in the ingredients and then a few minutes later, dinner is ready.
First Step: Turn Instant Pot on to saute mode and add the butter, onion, and garlic to the inner pot. Cook while stirring for 1-2 minutes.
Second Step: Add chopped turkey, celery, mixed vegetables, macaroni, noodles, chicken broth, oregano, salt, and pepper to the pot.
Third Step: Close the instant pot lid and turn the pressure valve to seal. Cook on manual high pressure for 12 minutes.
Fourth Step: After the leftover turkey recipe has finished cooking, do a quick pressure release.
That is all you have to do to make this Instant Pot turkey noodle soup. It makes eight servings, so it's perfect for a group of people.
Turkey Vegetable Noodle Soup Variations
The best part about this leftover turkey recipe is that you can use other ingredients in it too. If you have some veggies, herbs, or other things you want to add in feel free. Here are some of my tried and true variations:
Fresh Vegetables – While I typically use frozen bags of vegetables, you can replace them with fresh very easily. Dice the veggies up and toss them in and they with cook without any problems.
Egg Noodles – If you don't happen to have any macaroni noodles or prefer the taste and texture of egg noodles, then go for it. I prefer the extra-wide noodles myself.
Herbs – I love to add in some fresh herbs depending on what I have on hand. Thyme, rosemary, sage, and basil are my favorites.
Soy Sauce – Add a kick of flavor by adding 1/2 – 1 Tablespoon of soy sauce. It gives the soup a salty flavor, and it tastes incredible.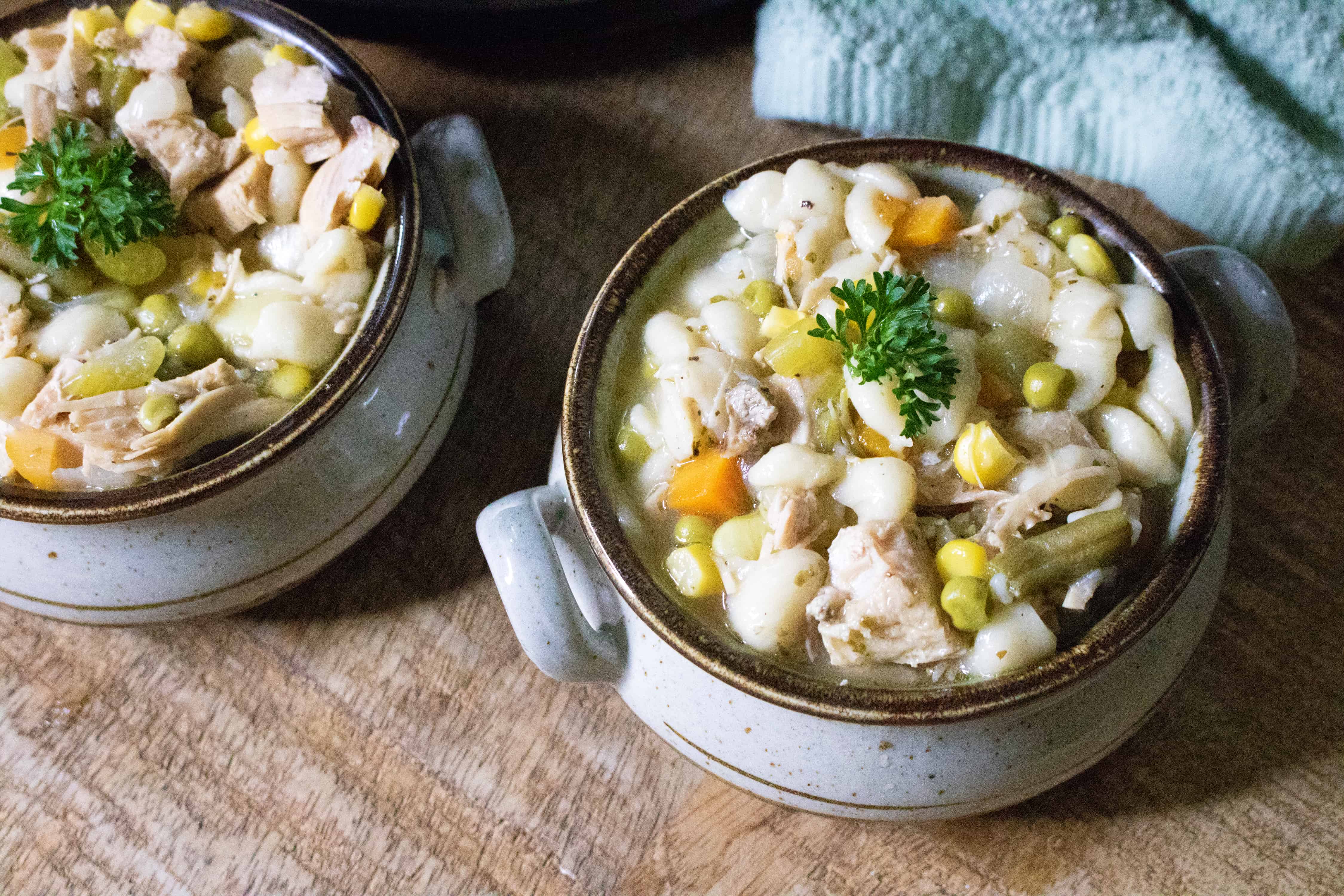 What Happens If I Overfill My Instant Pot
If you accidentally overfill the pressure cooker, your best bet is to try to remove the excess liquid before cooking anything. Otherwise, you are going to have a huge problem on your hands. Often if you overfill with liquid a lot, then it will spray out the vent and get all over the place. Even if that doesn't happen to you, it will overly dilute the recipe, and it will end up super bland and flavorless.
Why Does My Instant Pot Say Burn?
Don't worry, at one time or another we will all experience a burn message on our Instant Pots. Make sure there is no pressure built up in the pressure cooker, then open the lid. Take a spoon and scrape the bottom of the inner pot and make sure anything that is stuck comes up. Then start the process of cooking again. The reason this happens is that the pot can sense when food sticks to the bottom. It's a pain for you, but rarely a big deal.
Can I Make This Turkey Vegetable Noodle Soup Recipe In A Slow Cooker?
Yes, you can absolutely make this turkey vegetable soup in a slow cooker if you prefer. To make the easy soup in the slow cooker simply add all the ingredients except for the noodles. Cook on low for 6-8 hours or until the veggies are soft and can be pierced with a fork. If you are in a hurry, you can also cook it on high for 4-5 hours. When there are about 1 1/2 hours left, cook the noodles on the stovetop with boiling water and salt. Then add them to the slow cooker for 1 – 1 1/2 hours then it is ready to serve. Both methods work well for this vegetable soup recipe, but the Instant Pot is way faster.
Can I Substitute Turkey For Chicken?
Yes, you can substitute turkey for chicken if you want to. Thankfully, this and many other recipes can easily swap out proteins, and no one with even notice. Chicken and turkey taste enough alike too. So swap that turkey for chicken if you have it because it will still be drool-worthy!
How To Store This Leftover Turkey Recipe?
You should always store this leftover soup in an airtight storage container. You can use glass, plastic, or even a zip lock bag made for liquids. Always make sure that don't put the soup in the container until it's completely cooled. It will last 3-4 days.
Can I Freeze Turkey Vegetable Noodle Soup?
Yes, this leftover soup freezes well. My preferred method is to pour it into a freezer bag and lay it flat until it's solid. Then when it's time to serve, you can just pop it in the sink with cold water until it defrosts. Or you can put it in the refrigerator overnight. Either way is super easy. Another option is to store the soup in a glass or plastic container too.
How Do I Reheat Leftover Soup?
I find it's best to reheat the soup in a pot on the stove. Just place the simple soup in the pot and heat on medium-high heat frequently stirring until it is hot all the way through. Another option is to heat the soup in the microwave. Cover with a paper towel, so you don't get splatters everywhere. I find that using the microwave is better when you are just heating up one or two servings instead of several.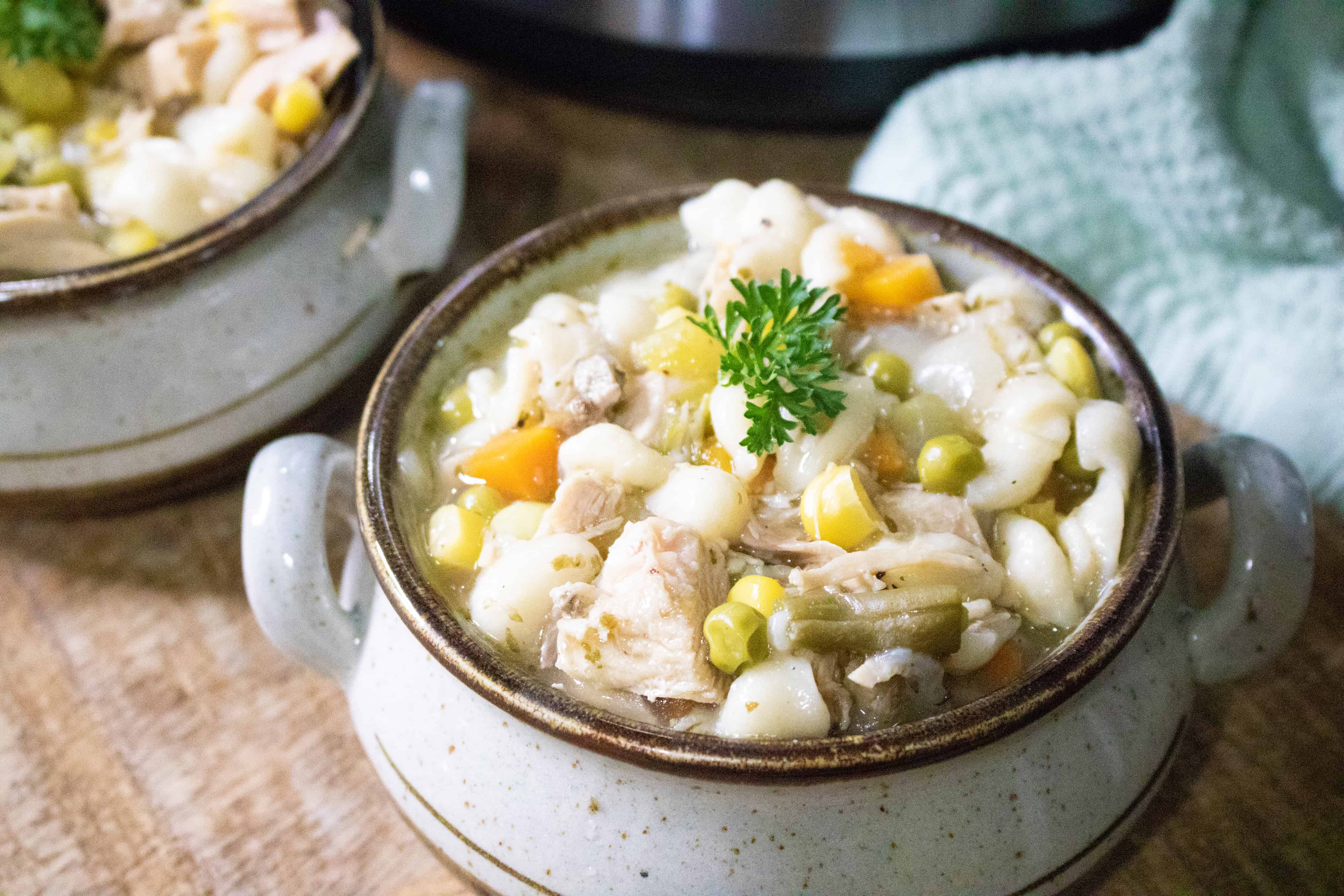 Check out more Instant Pot Recipes
Pin this recipe now to remember it later
Instant Pot Turkey Vegetable Noodle Soup
Whip up this easy turkey noodle soup recipe in the Instant Pot tonight! A great leftover turkey recipe that is paired with veggies.
Ingredients
2

cups

cooked turkey breast

,

chopped

12-

ounce

bag frozen mixed vegetables
Want to save this recipe? Enter your email below and we'll send the recipe straight to your inbox!
NOTE: By saving this recipe, you agree to join our weekly recipes newsletter.
Instructions
Turn Instant Pot on to saute mode and add the butter, onion and garlic to the inner pot. Cook while stirring for 1-2 minutes. Add remaining ingredients to pot.

Close the instant pot lid and turn pressure valve to seal. Cook on manual high pressure for 12 minute

Allow for quick pressure.
Follow me on Pinterest for daily delicious recipes!
Now time to save this recipe on Pinterest for later 🙂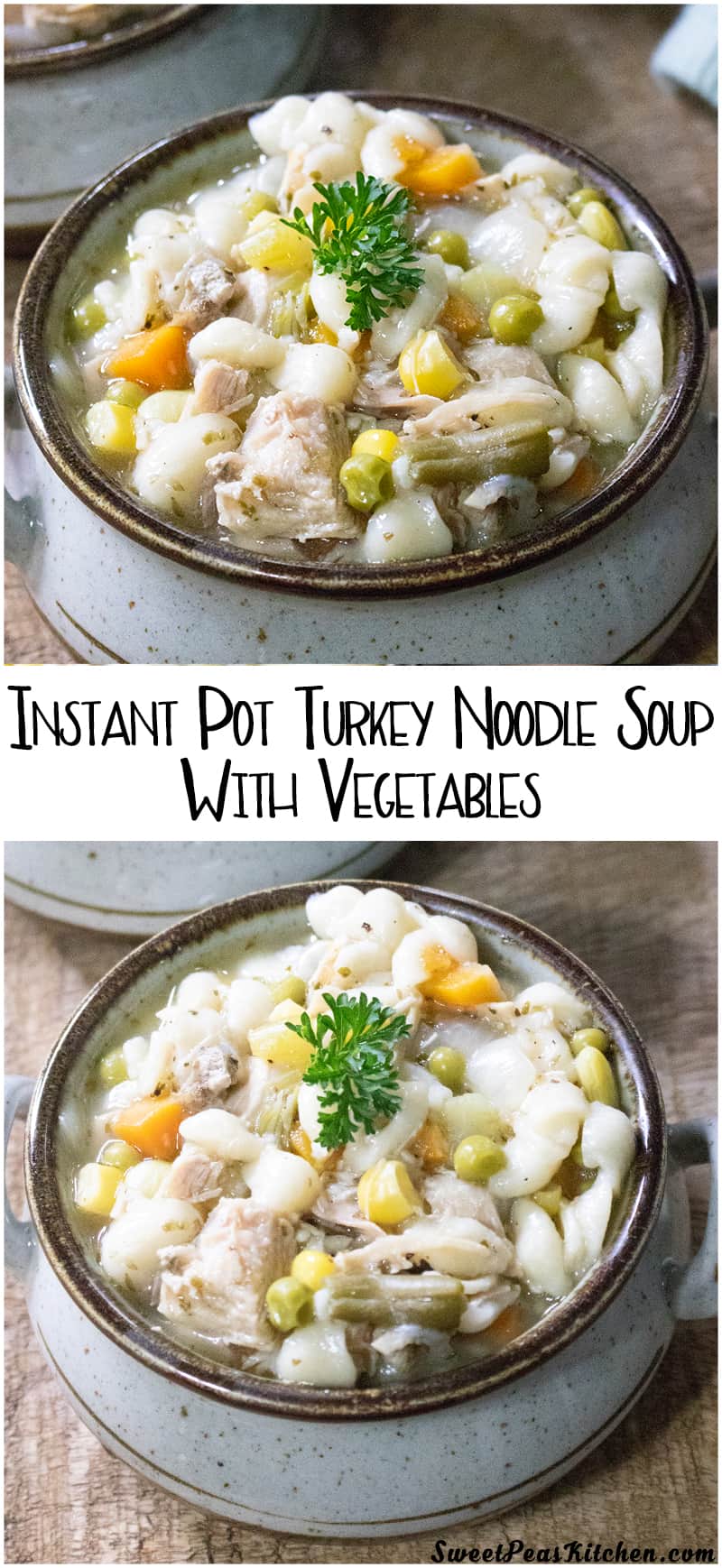 Get new recipes weekly plus our FREE ebook!