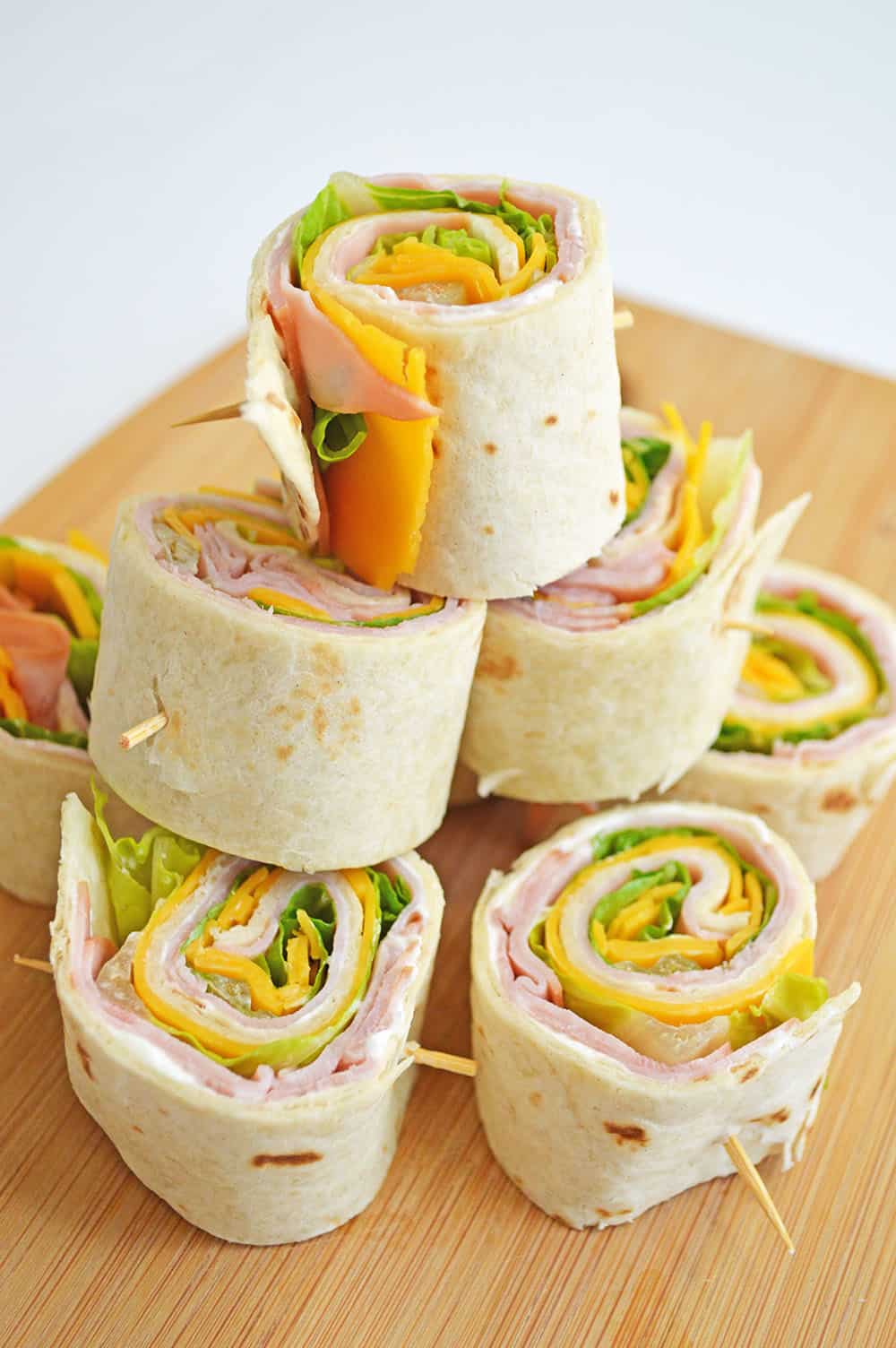 These Ham and Cheese Pinwheels, or ham roll-ups, are a kid-friendly appetizer perfect for game days, picnics and more. They can even double as a leisurely lunch for the kiddos too! I might also have a few for breakfast from time to time because they are so delicious! I can't wait to tell you all about my favorite pinwheel recipes.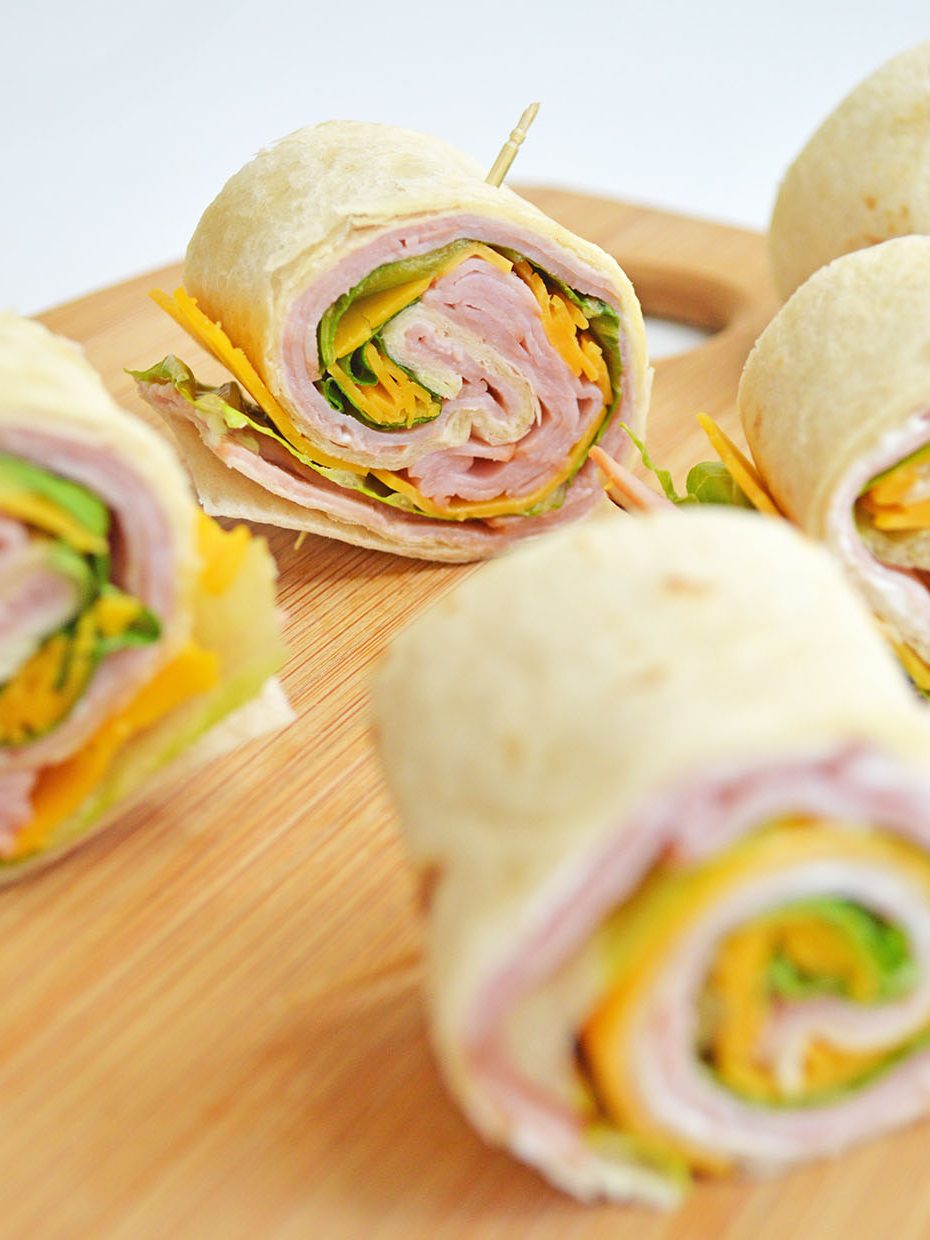 As you know, we're all about easy at my house. Easy breakfast, easy lunch, easy dinner. The less clean-up, the better. But, I also like to host and entertain and we often have guests over, especially those who have kids the same age as ours.
But when you have young kids, fancy appetizers, expensive cheese, and red wine get-togethers tend to go out the window. Instead, I've started preparing for parties with kid-friendly appetizers in mind, and these pinwheel appetizers fit the bill!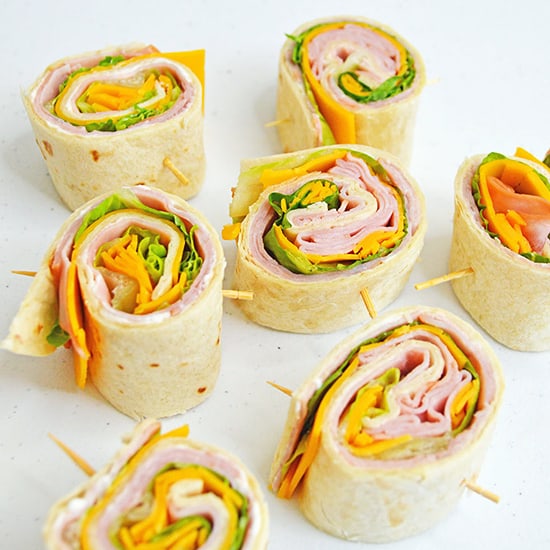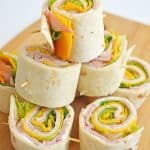 These Ham and Cheese Pinwheels are a kid friendly appetizer perfect for game days, picnics and more.
Want to save this recipe? Enter your email below and we'll send the recipe straight to your inbox!
NOTE: By saving this recipe, you agree to join our weekly recipes newsletter.
Scroll to bottom for printable recipe card.
Pinwheels
Pinwheel appetizers have become our latest obsession. Okay, so obsession might be a bit much…I mean, everyone has had a pinwheel appetizer at one point or another. They're basically like the finger sandwiches of the adult world.
I am excited because I have discovered how quick and easy pinwheel wrap recipes are to make and how many easy pinwheel recipes exist.
Plus, my kids love them so much! How can I go wrong with that?
What Are Pinwheels?
If you have never heard of pinwheel sandwiches before you have been missing out! I am happy to fill you in on these ham pinwheels. Basically, a pinwheel is a tortilla shell (you can use regular or flavored), with a cream cheese base, meat, veggies, and sliced cheese. You roll them up tightly and cut them into bite-sized pieces.
No matter what the occasion, you can seriously serve any of your favorite pinwheel recipes and the crowd will go crazy for them. Expect never to have leftovers because they go that fast!
Ingredients
Burrito tortillas
Cream cheese
Deli ham
Cheese
How to Make Ham And Cheese Pin Wheels (with Pictures):
Hand my kids a ham and cheese sandwich, and they stick their noses up because "they eat that all the time" (school lunch, anyone?) but hand them one of these ham and cheese pinwheels and it's party time. Let's not tell them that ham and cheese tortilla roll-ups are made with the exact same ingredients as a ham and cheese sandwich, with the bread just swapped out for a tortilla.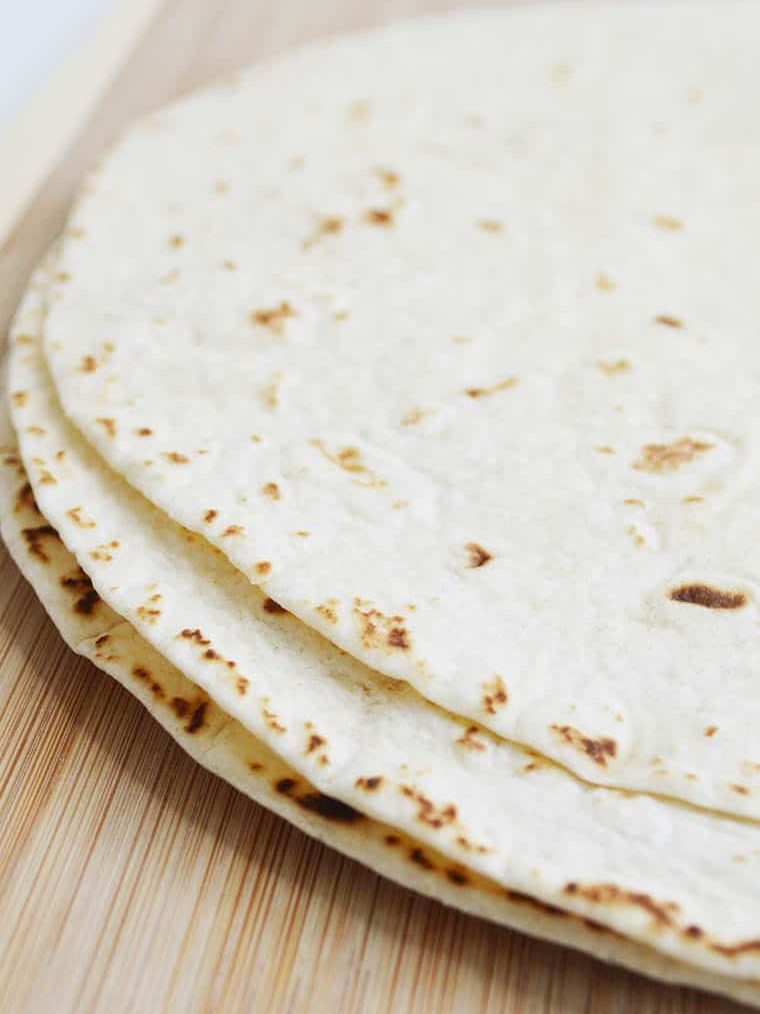 For the perfect ham and cheese pinwheels, spread a light layer of cream cheese on each tortilla.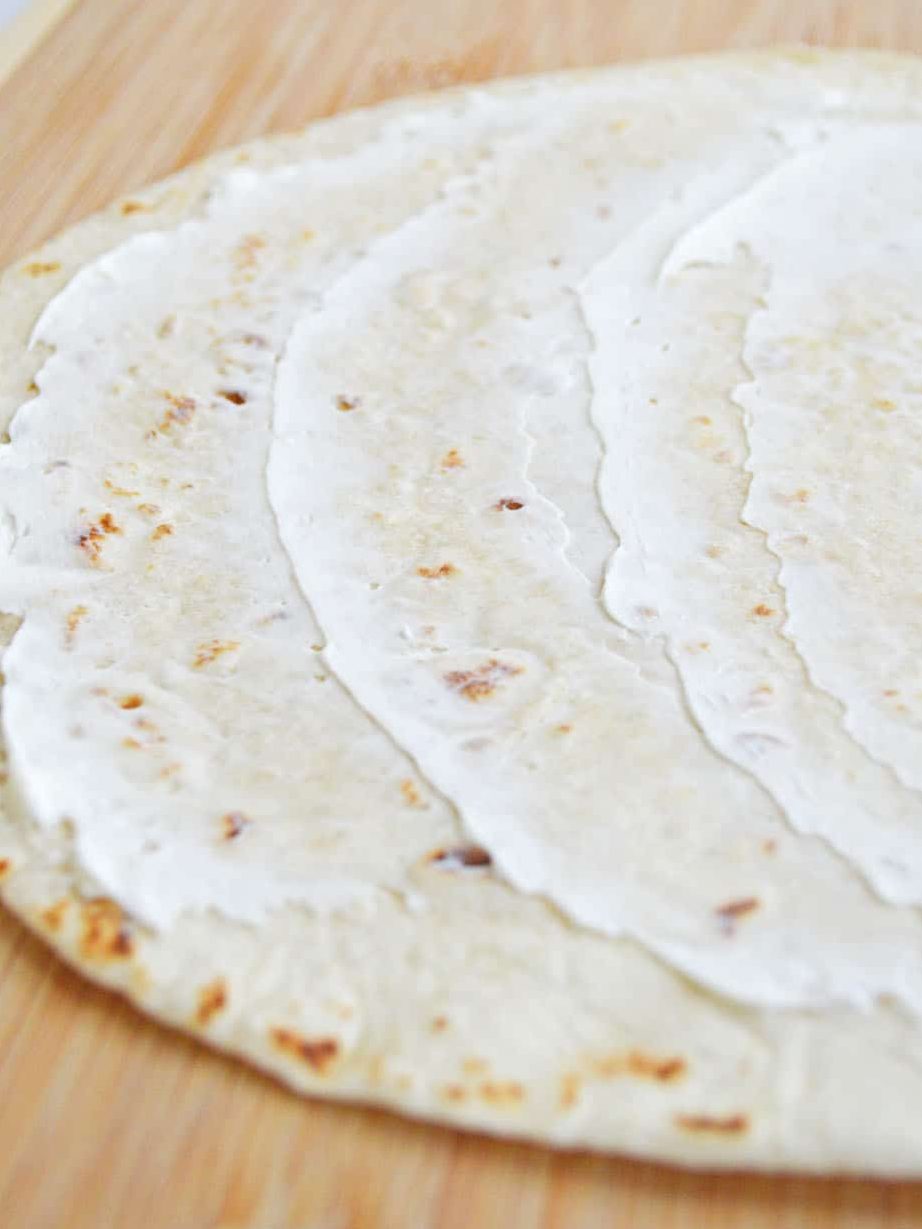 Add a layer of your favorite ham. (Honey ham is delicious on these tortilla roll ups!)
Next, add a layer of lettuce. You could also add tomatoes, onions, etc. Pickles are also a hit if your kids don't hate them. (Mine do.)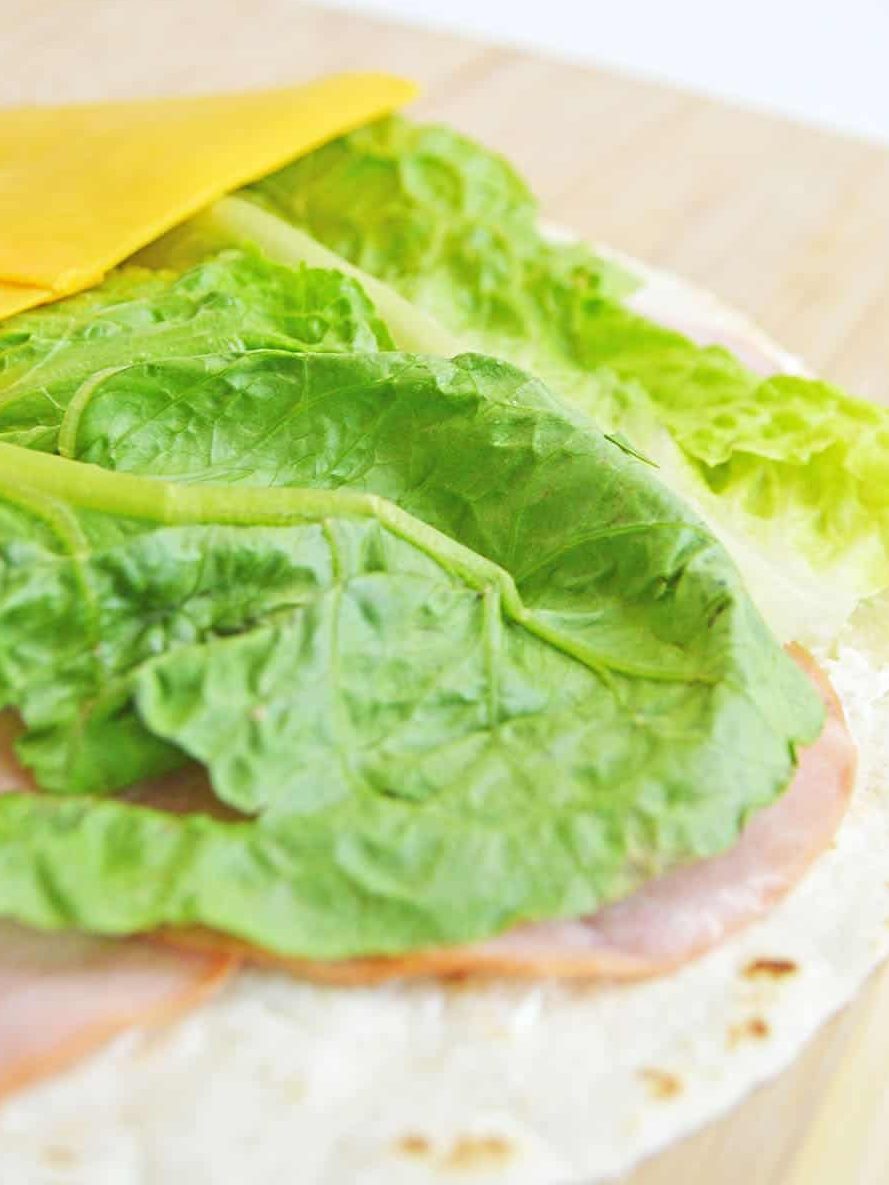 Top the veggies with a layer of your favorite cheese. American or cheddar are the go-tos for my homemade pinwheel wraps.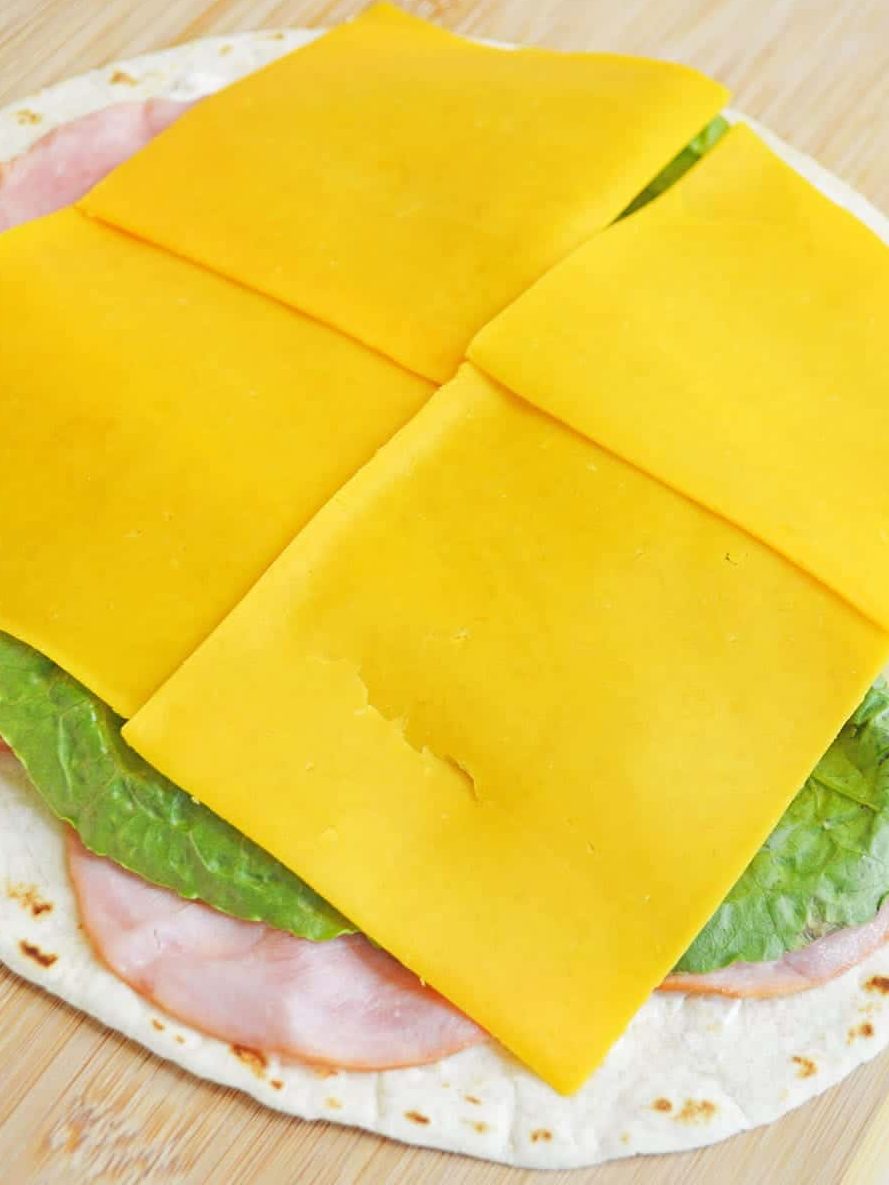 Carefully roll the tortilla, using toothpicks to help keep everything in place.
TIP: If you put too many things in the ham and cheese pinwheel, they will not roll up easily. It is better to make several tortilla roll ups than to make one giant one.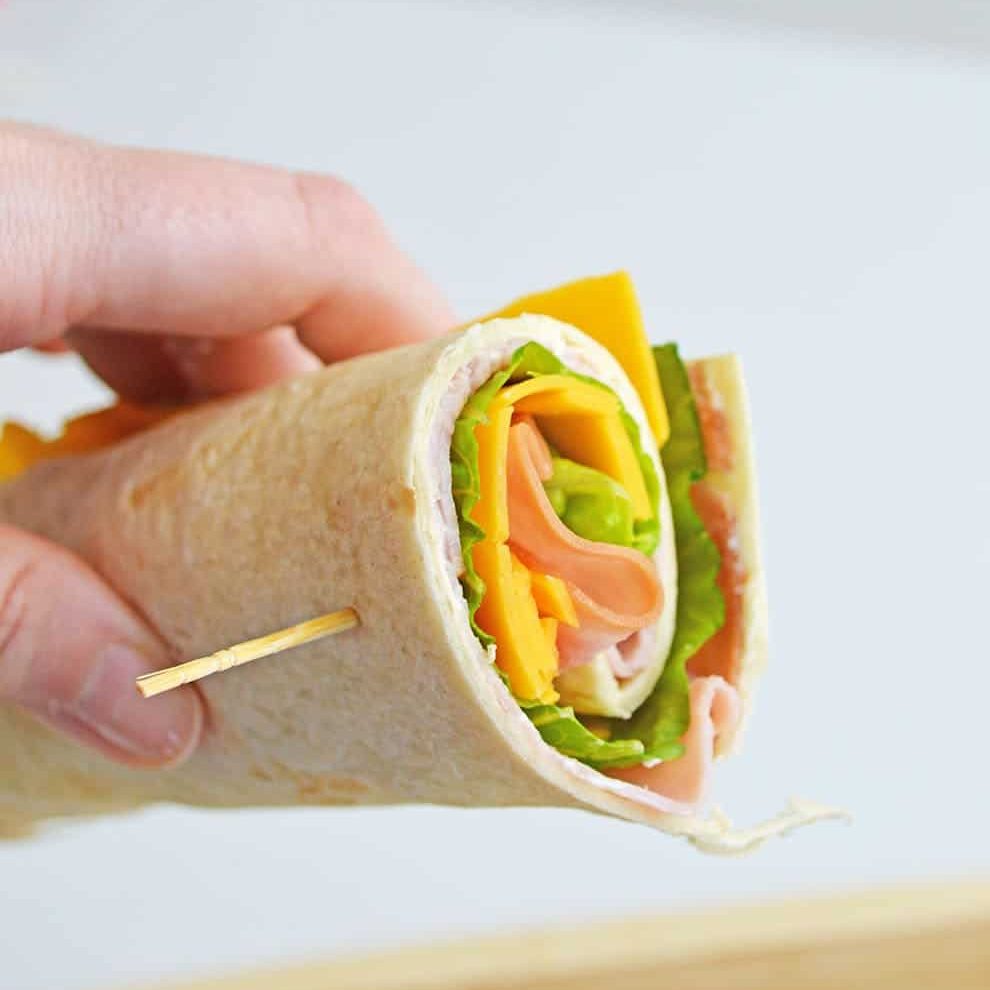 Cut the ham and cheese tortilla roll up into several pinwheel appetizers. Serve with the toothpicks for grab-and-go ease and to keep everything in place.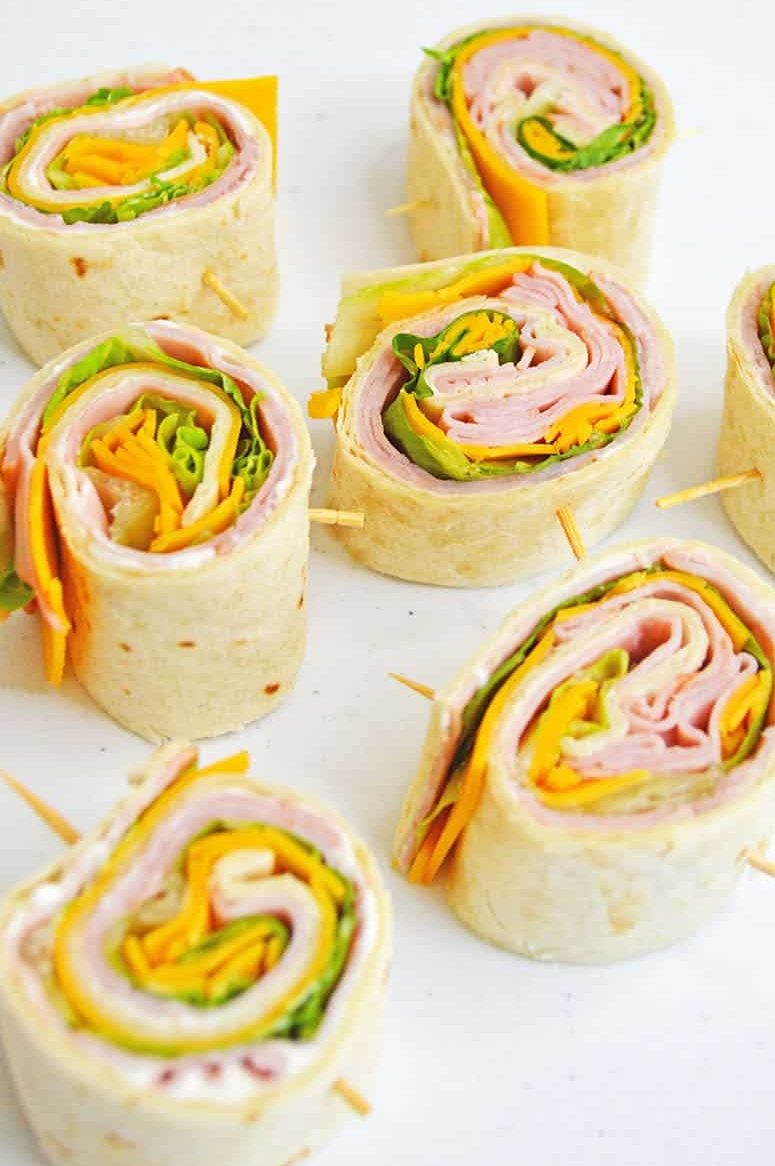 Variations For Ham And Cheese Tortilla Roll Ups
The options are seriously endless when it comes to ham and cheese tortilla roll ups. If you can think it, you can try it! I promise that no matter what you make easy pinwheels, they are going to be full of flavor! Keep in mind if you are making them for adults and children, you might adjust the recipe to whoever you are serving to. Here are my favorite ways to serve pinwheel appetizers:
Meat – Adjust the meat from ham to turkey, roast beef, dried beef, or chicken. Adding multiple proteins only enhance the flavors of the tortilla roll ups.
Veggies – You can stick to basic lettuce and tomato if you want, but sometimes it is nice to add a little flair! Sliced red peppers, diced mushrooms, green onions, chopped carrots, and red cabbage are all tasty!
Olives – Whether you use black or green doesn't matter, just chop them finely, so the ham and cheese roll ups wrap quickly.
Pickles – Go wild and ads some sweet, dill or even butter pickles. The flavor will be out of this world, and you won't forget it!
Herbs & Seasonings – Add a sprinkle of ranch seasoning, dill, Italian seasoning or any of your favorites to the cream cheese. So good!
Bacon – You can never go wrong adding some crumbled, salty bacon to your desired homemade pinwheels recipe. Drool-worthy!
Sweet Ingredients – You can turn these savory ham roll ups and turn them into a sweet treat. Just add the cream cheese, sprinkle with cinnamon then top with your favorite jam or jelly. Now you have a dessert pinwheel!
How Long Will Ham And Cheese Tortilla Roll Ups Last?
While I prefer to eat ham and cheese tortilla roll ups within the first 24 hours of making them, they will last in the refrigerator for up to 3 days. It is essential that you keep them in an airtight container because otherwise, they will dry out quickly. No one wants to eat dry ham tortilla pinwheels when they aren't fresh.
If you notice that the tortilla shells are extra hard, slimy or if there is an odor they have gone bad and should be tossed. Also, if you see any kind of mold then don't eat it. You can get sick, and no one wants that.
Can I Freeze Pinwheels?
Yes, you can freeze pinwheels so you can eat them later. They will last up to 2 months in the freezer if they are kept in an airtight container or bag. I prefer to flash freeze all of my easy pinwheel recipes by laying the cut pinwheels on a baking sheet and placing in the freezer for 2 hours. Then after they are frozen, you can move them to a freezer safe bag or container of your choice.
Pro Tip
It is crucial to make sure to get all the air out of the freezer bag if that is what you are storing the pinwheel wraps in. If you don't get the air out, they will freezer burn and will go bad quickly.
To thaw the ham and cheese tortilla roll ups, place them in the fridge overnight and they should be ready to eat the next day. I wouldn't recommend microwaving because most of the ingredients are meant to be cold and wouldn't taste good if they got hot.
Pro Tip
If you decide to freeze this homemade pinwheels recipe, I would remove ingredients like lettuce because that won't freeze well at all. Stick to meats and cheeses for best results.
How Many Pinwheels Do You Get Per Tortilla?
On average I get between 8-12 pinwheels per tortilla. You can choose how thick to cut them and try to be consistent for the whole tortilla. Sometimes, it's easy to get some a little wider than others. What I try to do is to make a few marks so I can prepare how many cuts I need to make.
How Do You Keep Wraps From Getting Soggy?
From time to time, you can end up with ham and cheese wraps that get soggy. The good news is that there are a few things you can do to help combat this issue. Place any ingredient that has a high water content like tomatoes or pickles in the center of your favorite pinwheel recipes. Use thicker condiments like cream cheese instead of dressings. Or if you are going to use dressing, lay down the meat and cheese first then spoon on the dressing in a thin layer.
What Condiments Can I Use Besides Cream Cheese For Pinwheel Appetizers?
You can actually use any condiment that you like when you make pinwheel appetizers. There are no rules, and this is a perfect opportunity to play with your food a little bit! Try as many new ideas as you wish. Here are some of the ways we like to serve ham roll ups:
Mustard – Adds a tangy flavor!
Ranch Dressing – Everything is better with a little bit of ranch!
Pizza Sauce – It adds a fun element and is so flavorful.
Italian Dressing – Especially yummy if you have olives and banana peppers.
Can I Make Pinwheel Sandwiches Vegetarian?
Absolutely, you can make these pinwheel sandwiches vegetarian. If you have an aversion to the meat or simply don't eat it, no problem! Just add more cheese and veggies instead. When serving easy pinwheels at a party or gathering, I like to make some that are vegetarian, so my guests have lots of options.
Which Tortillas Are Best For Making Ham And Cheese Pinwheels?
Tortillas are another area that you can play with and try different options to see what you like best. I usually use plain white tortillas or whole wheat, but there are many other possibilities. I say try them all because you won't regret it. The flavors aren't overpowering, just subtle. Here are a few that I have found at the market:
Spinach – A go-to option when I want something with a little more flavor.
Tomato Basil – These are the perfect combination of sweet and tangy!
Low Carb – Perfect if you are watching your carb intake.
Garlic Herb – These tortillas are amazing and go perfectly with ham and cheese roll ups.
Jalapeno Cheese – Use these, and you are sure to fall in love. Yummy!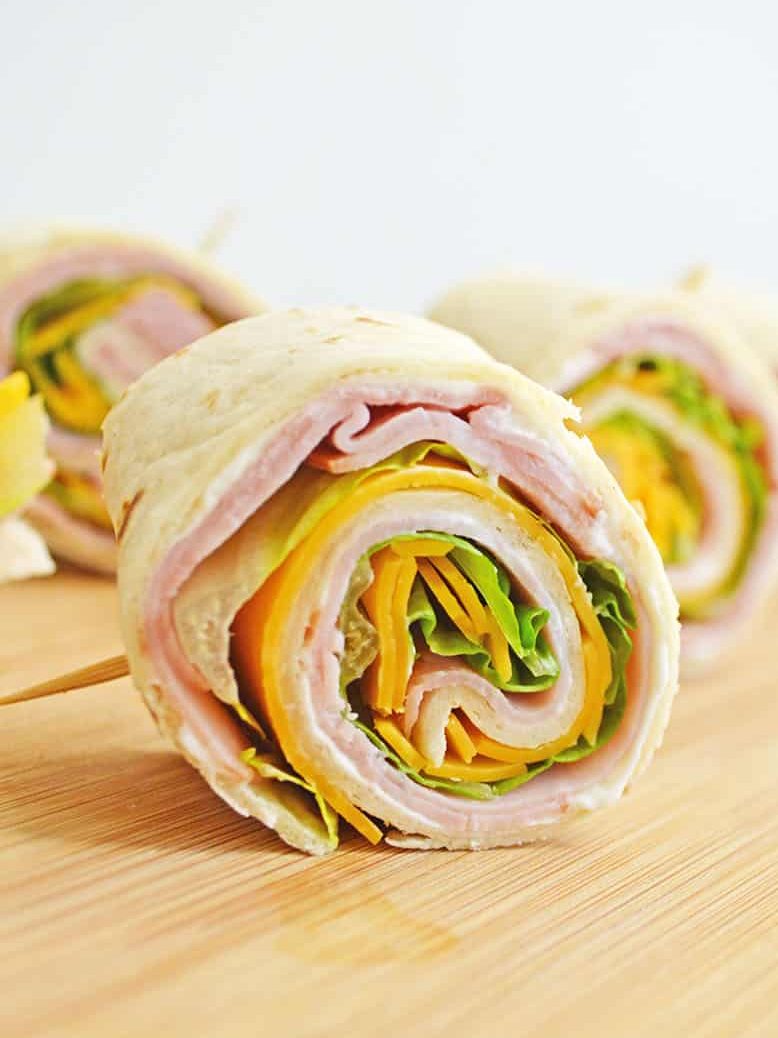 Want to save this recipe? Enter your email below and we'll send the recipe straight to your inbox!
NOTE: By saving this recipe, you agree to join our weekly recipes newsletter.
Pin this recipe now to remember it later
Ham And Cheese Pin Wheels
These Ham and Cheese Pinwheels, or ham and cheese tortilla roll ups, are a kid friendly appetizer perfect for game days, picnics and more. They can even double as an easy lunch for the kiddos too!
Ingredients
2

large

,

burrito tortillas

12

thin slices of deli ham

,

9 oz. package
Want to save this recipe? Enter your email below and we'll send the recipe straight to your inbox!
NOTE: By saving this recipe, you agree to join our weekly recipes newsletter.
Instructions
Lay out your tortillas, and spread 2 tbsp of cream cheese onto each tortilla.

Layer on ham in a circle around the tortilla, and finish with one slice in the center.

Add 4 slices of cheese. Roll up tortillas as tight as you can. Slice the roll-ups into 2-inch sections.

Use a toothpick through the center to hold the pinwheels together. Serve immediately, or store in an airtight container in the refrigerator (or with an ice pack in a lunch box) until ready to serve.
Notes
7.25 Freestyle Smartpoints (8 servings)
Video
Nutrition
Serving:
1
g
|
Calories:
557
kcal
|
Carbohydrates:
47
g
|
Protein:
28
g
|
Fat:
29
g
|
Saturated Fat:
14
g
|
Polyunsaturated Fat:
12
g
|
Trans Fat:
1
g
|
Cholesterol:
82
mg
|
Sodium:
1567
mg
|
Fiber:
7
g
|
Sugar:
4
g
Follow me on Pinterest for daily delicious recipes!
THANK FOR PINING!!

More of Sweet Pea Creations?
Fried Nutella Dumplings – Made with only 3 ingredients, these dessert dumplings are guaranteed to be a hit!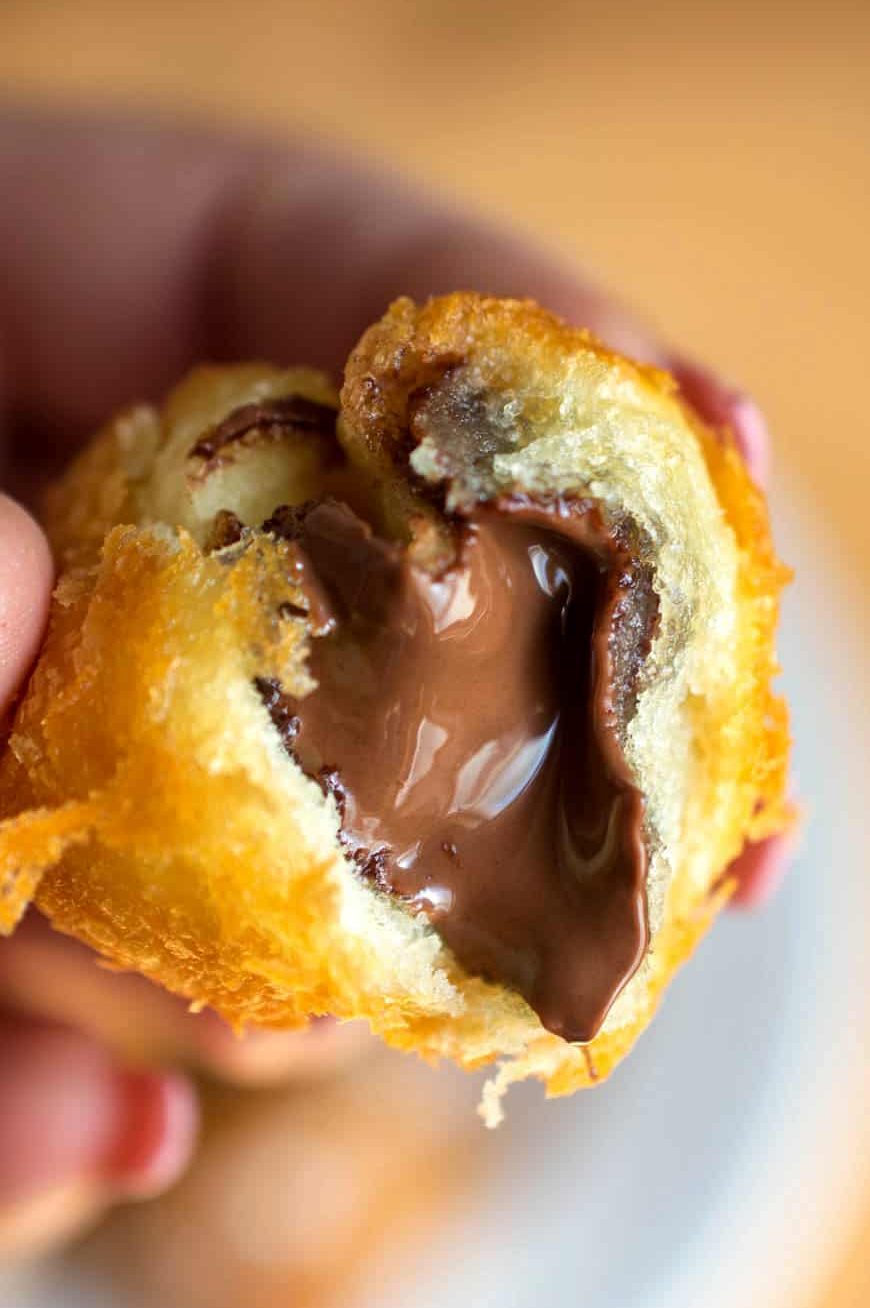 Cheesy Stuffed Turkey Meatballs with Cauliflower Rice – Easy Cauliflower Rice are a dinner the family will be asking you to make again and again.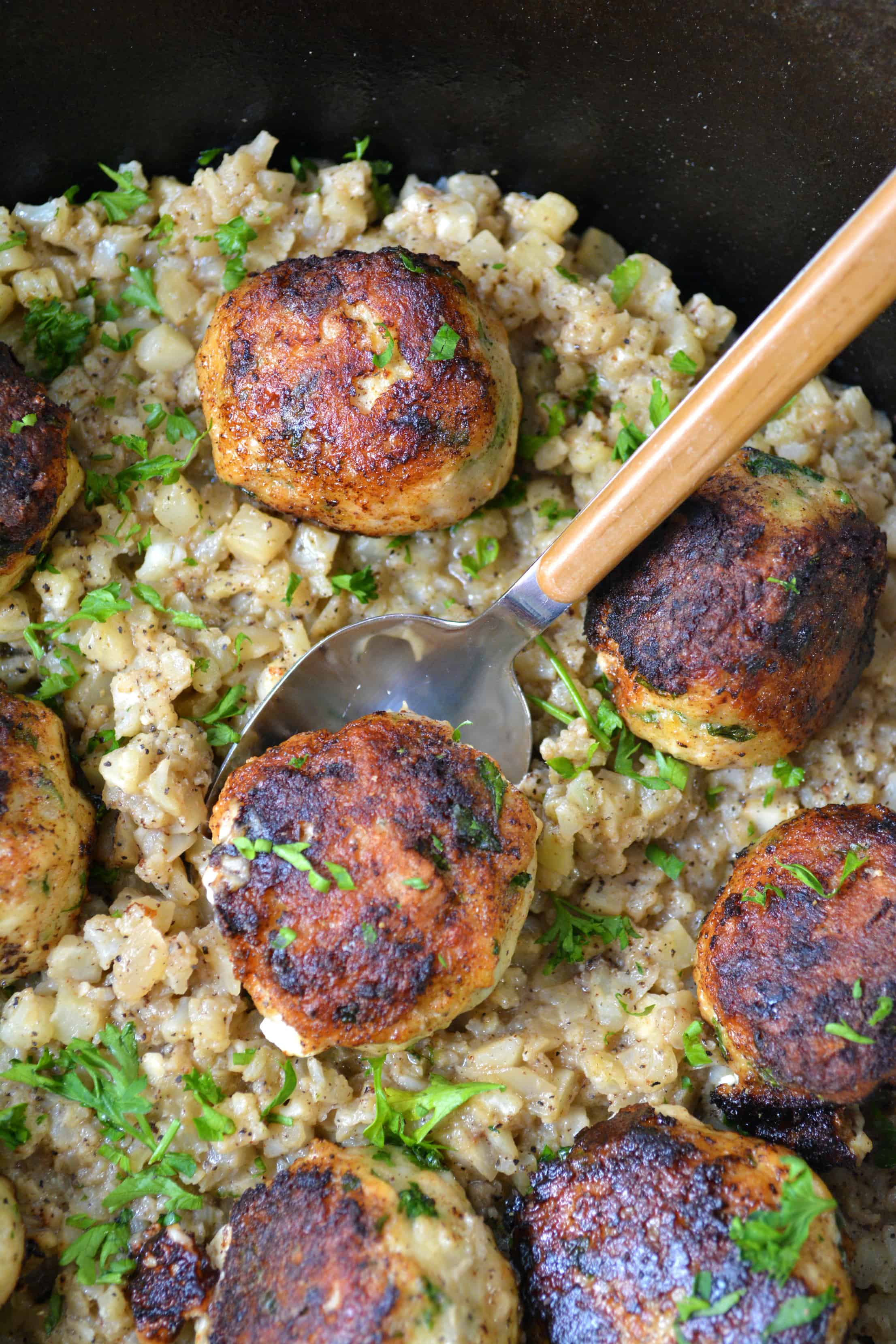 Avocado Chicken Salad – Quick and easy avocado recipe that's perfect for a healthy, fast lunch.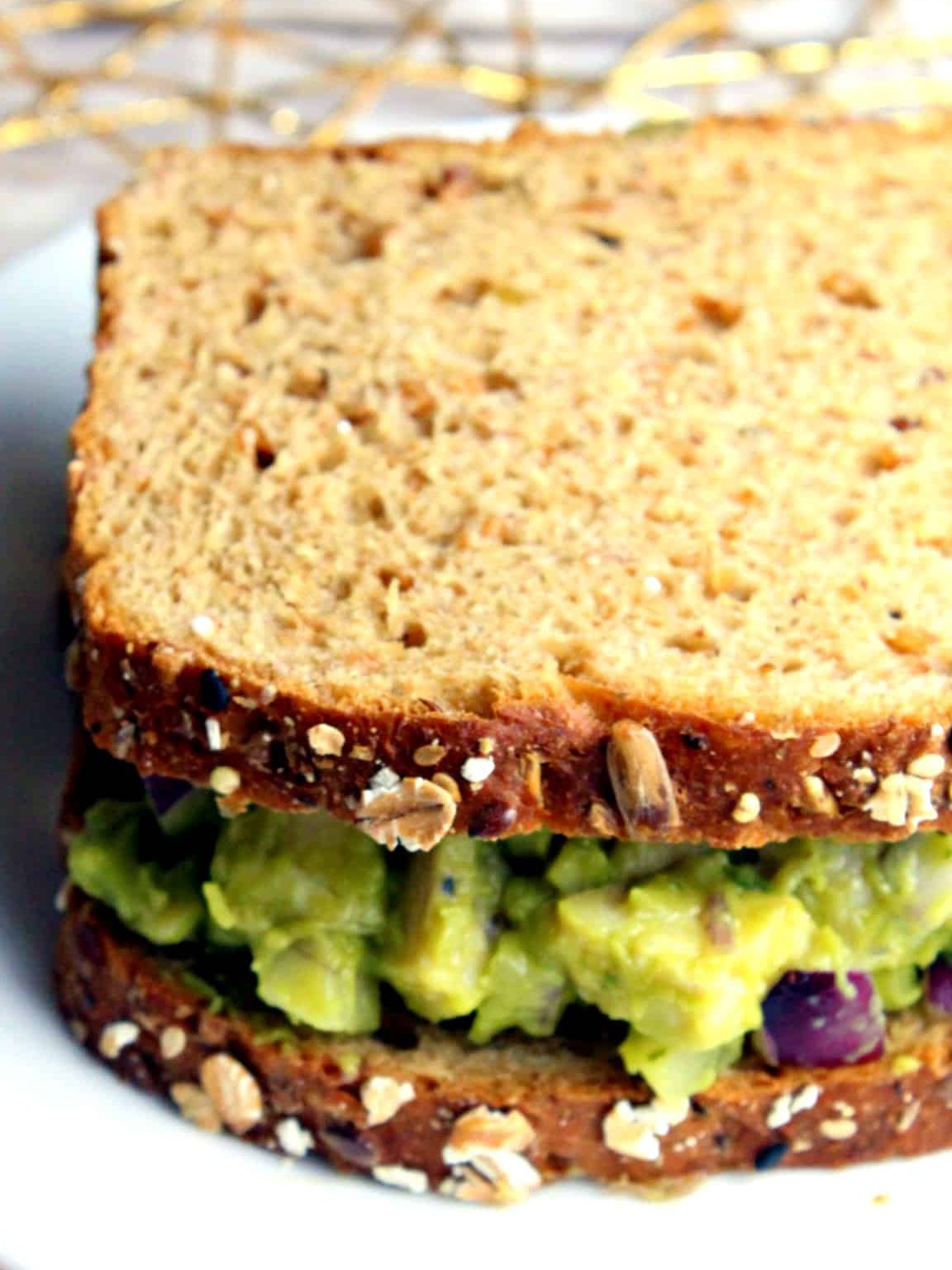 Garlic Butter Steak with Zucchini Noodles – This one is about to become your favorite low-carb, easy "melt in your mouth" dinner recipe!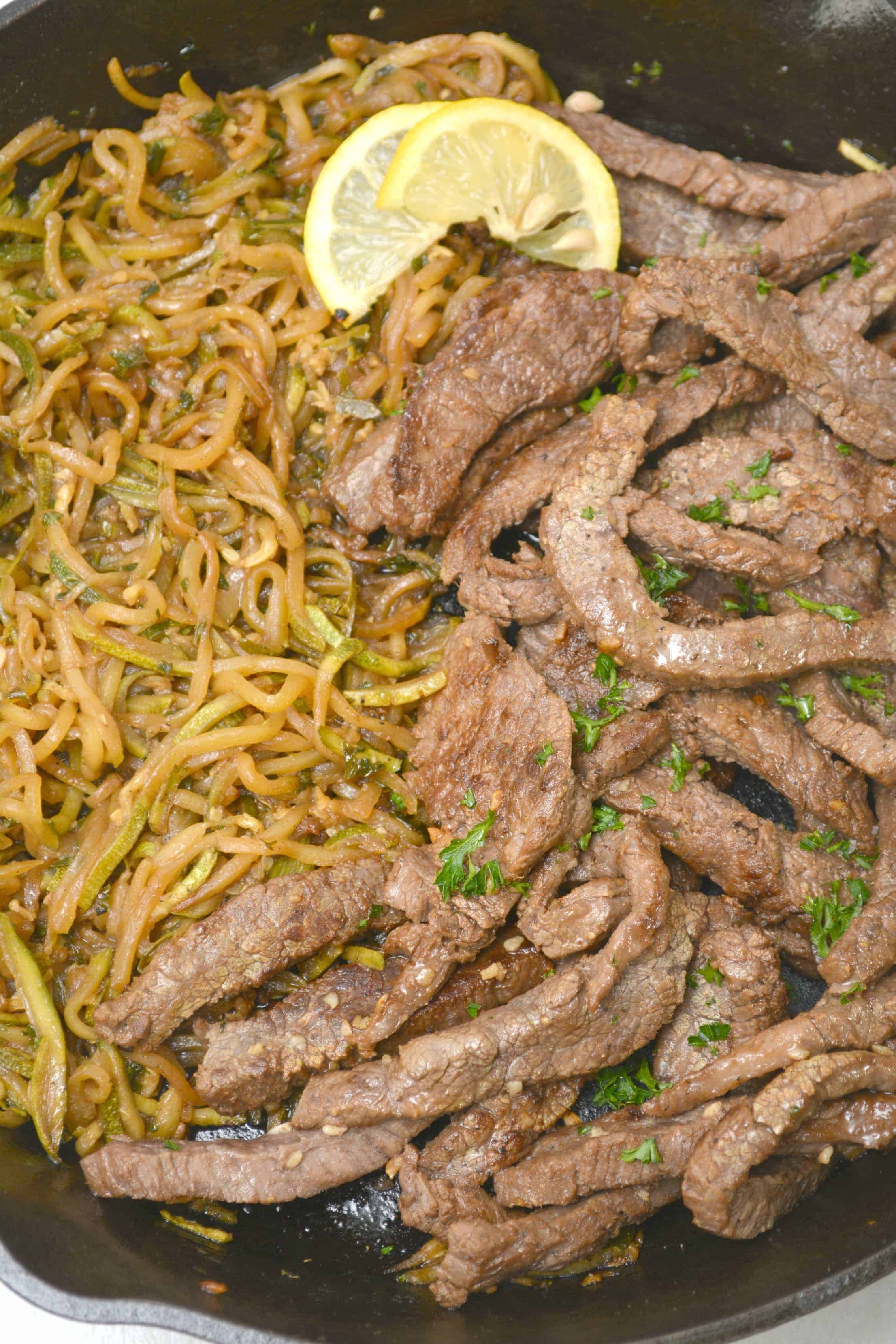 Get new recipes weekly plus our FREE ebook!