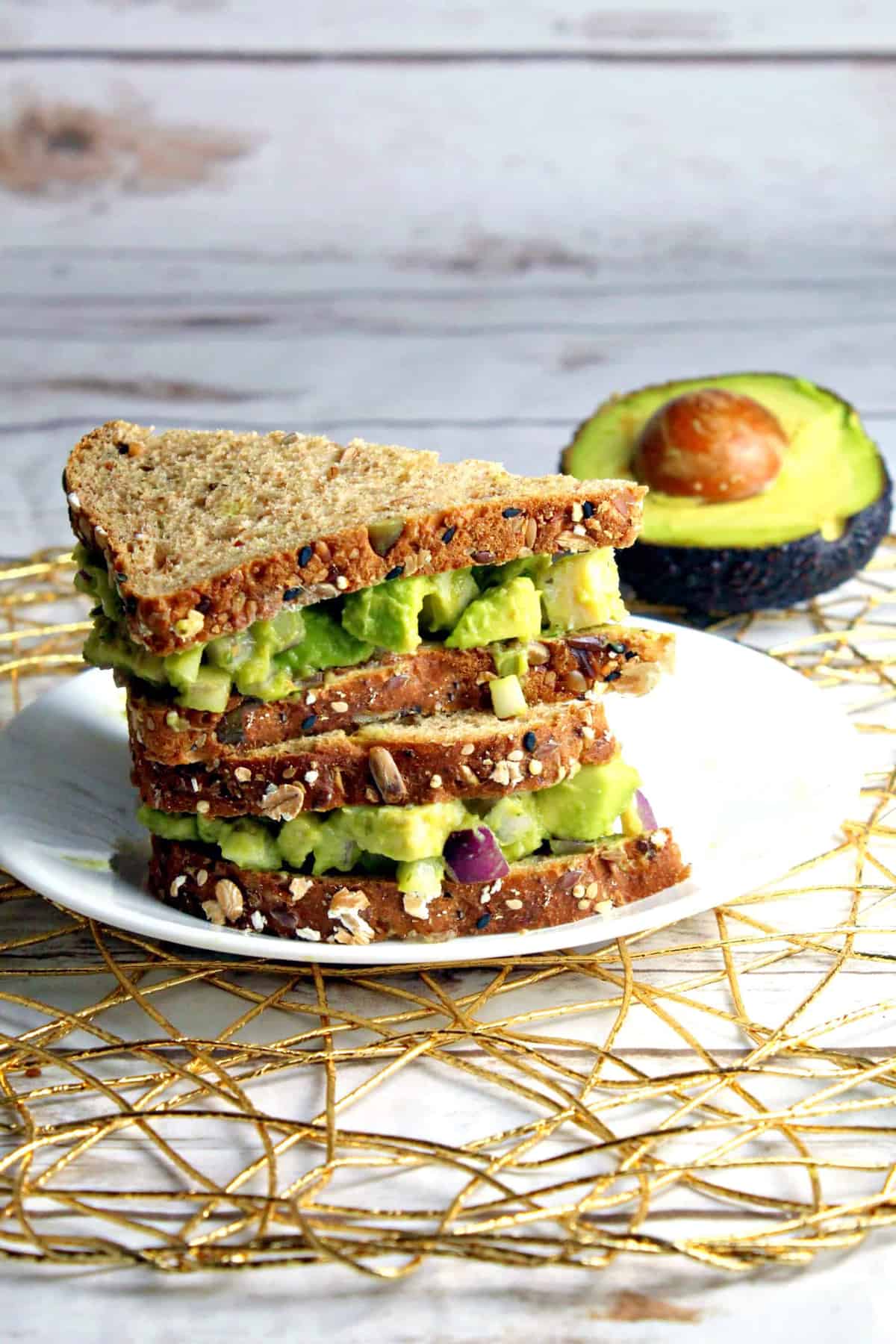 This avocado chicken salad sandwich is a quick and easy avocado recipe that's perfect for a healthy, fast lunch. Plus, this healthy chicken salad is so rich and creamy. And it's the best chicken salad no mayo that I have come across.
Does anyone ever really make complicated, complete lunches? I know I don't. Between work and kids, I just don't have the time to stop in the middle of the day to prepare a full meal and I must admit that sometimes I even have difficulty pulling together something healthy in a pinch. I mean, isn't it so much easier to just grab something from a drive-through or join the kids in their mac and cheese and hot dogs? But this chicken avocado is out of this world amazing and has become a favorite.
[mv_video key="apgrejudqnp5dcchiivu" volume="70″ aspectRatio="true" title="Avocado Chicken Salad" thumbnail="https://mediavine-res.cloudinary.com/v1595244914/n4qpbqip5yttiwiijmff.jpg" jsonLd="true" doNotOptimizePlacement="false" doNotAutoplayNorOptimizePlacement="false" sticky="false"]
Of course, none of those options are healthy, even if they are quick. Salads are often a go-to but sometimes I just can't look at another bowl of lettuce. After a week of kid lunches, I decided enough was enough, and I needed to start being more creative with my dinner, while still making something quickly.
If you love avocado, you are going to LOVE this easy avocado recipe.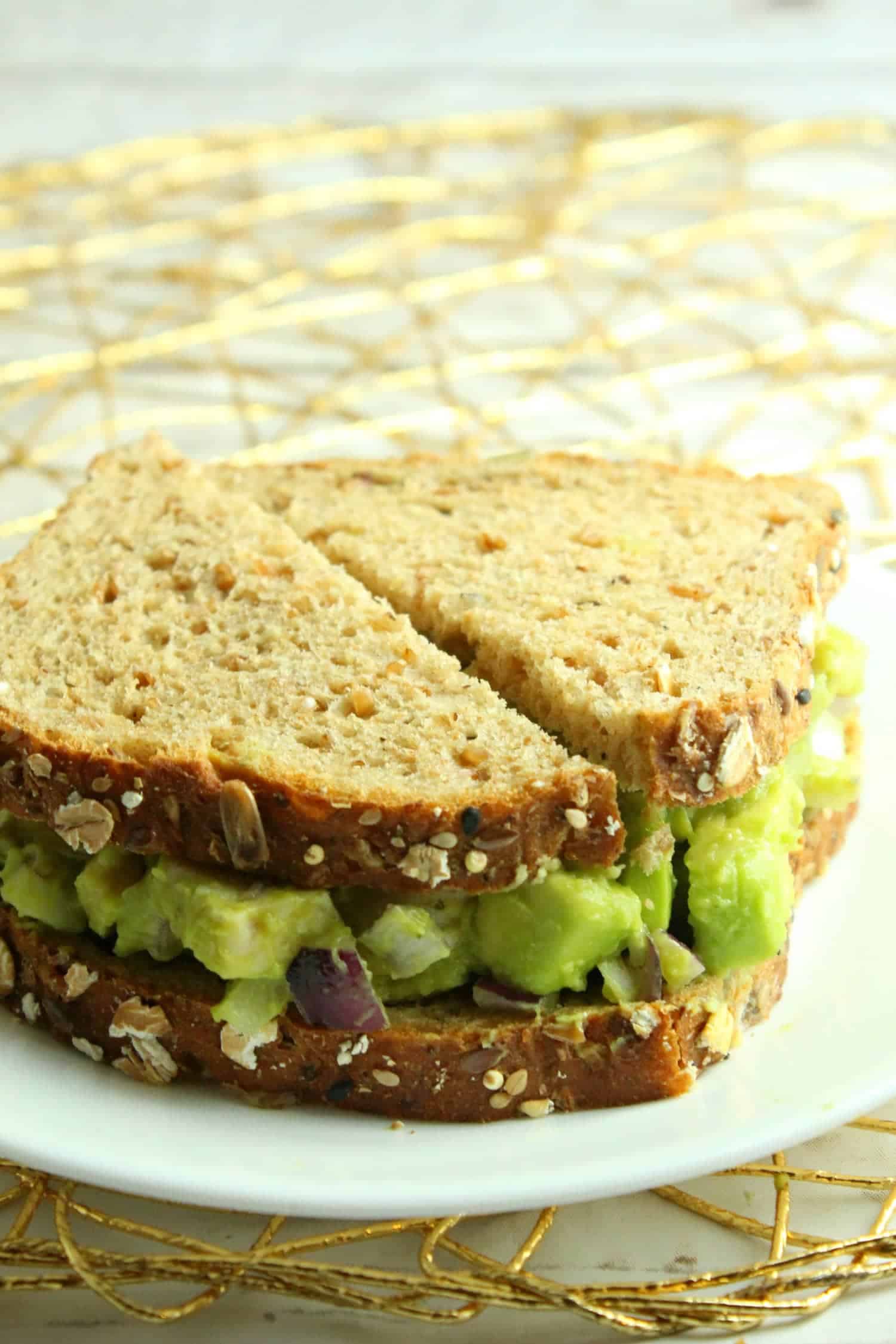 Scroll to bottom for printable recipe card.
Avocado Chicken Salad
We just so happened to have an "about to go bad" avocado on the counter (seriously, I swear avocados are only ripe for about 10 seconds before they go bad!), which is how this delicious healthy chicken salad was born.
Avocado chicken salad is essentially guacamole with chicken. Well, maybe guacamole minus a few ingredients if you add tomatoes and peppers to yours like I sometimes do. Either way, you can't go wrong with one of my favorite chicken and avocado recipes.
I think I might be addicted to these. I want an Avocado Chicken Salad Sandwich for lunch every day now, and it's definitely become my go-to when there's a perfectly ripe avocado on the counter. Plus, if you are looking for a chicken salad, no mayo recipe, you are in luck!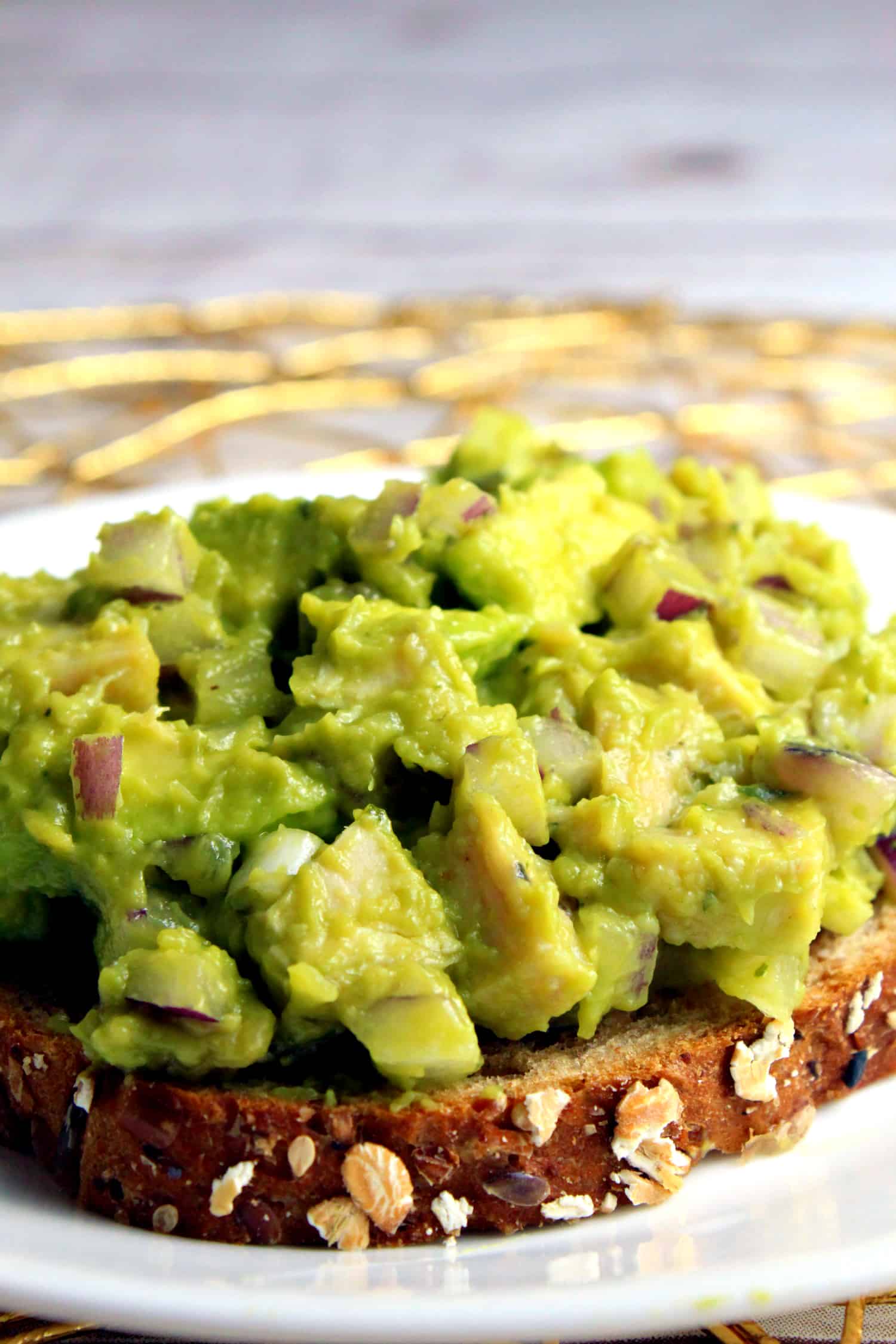 Craving More Lunch Recipes
How To Make Avocado Chicken Salad
This is one of my favorite chicken and avocado recipes because it is beyond simple to throw together. It's one of those meals you can even make right before you usher everyone out the door! You are going to be blown away by how flavorful it is and how easy it is to make.
STEP 1: Mash the avocado.
TIP: It's easiest to mash the avocado with a fork, but if you have an avocado masher then that would work as well.
STEP 2: In a medium-sized bowl, add in shredded chicken, avocado, celery, and onion.
TIP: When mixing the ingredients, you can just mix until they are just incorporated. Don't overmix because you want it to have a few chunks and not be runny.
STEP 3: Fold in chopped parsley, lemon juice, salt, and pepper.
That's all you need to do to make this chicken salad no mayo so quickly and easily! The best part is that it is kid-friendly and they will gobble up every morsel.
Healthy Chicken Salad Variations
You can count on me to give you some ideas so you can have some variety in my recipes. Sometimes you just don't have certain ingredients and don't want to run to the store, or you simply want to try new flavors. I can relate to that so much! Try some of these ideas:
Grapes – The sweetness of red grapes with the savory flavors of the chicken and avocado are beyond amazing! You have to try this chicken salad with a few grapes.
Pecans – I love to add a few nuts here and there because they give nice and unexpected crunch. Tossing in a handful of pecans really hits the spot.
Cilantro – Give this chicken avocado a little bit of a Mexican spin when you add some cilantro to the mix. So good!
Tomatoes – I especially love to incorporate some fresh garden tomatoes when they are in season. Cut up grape or cherry tomatoes, and they add so much sweetness and flavor. Yum!
Spicy Mustard – Everything is better with a dash or two of spicy mustard! This is already the best chicken salad recipe, but a little mustard takes it to the next level.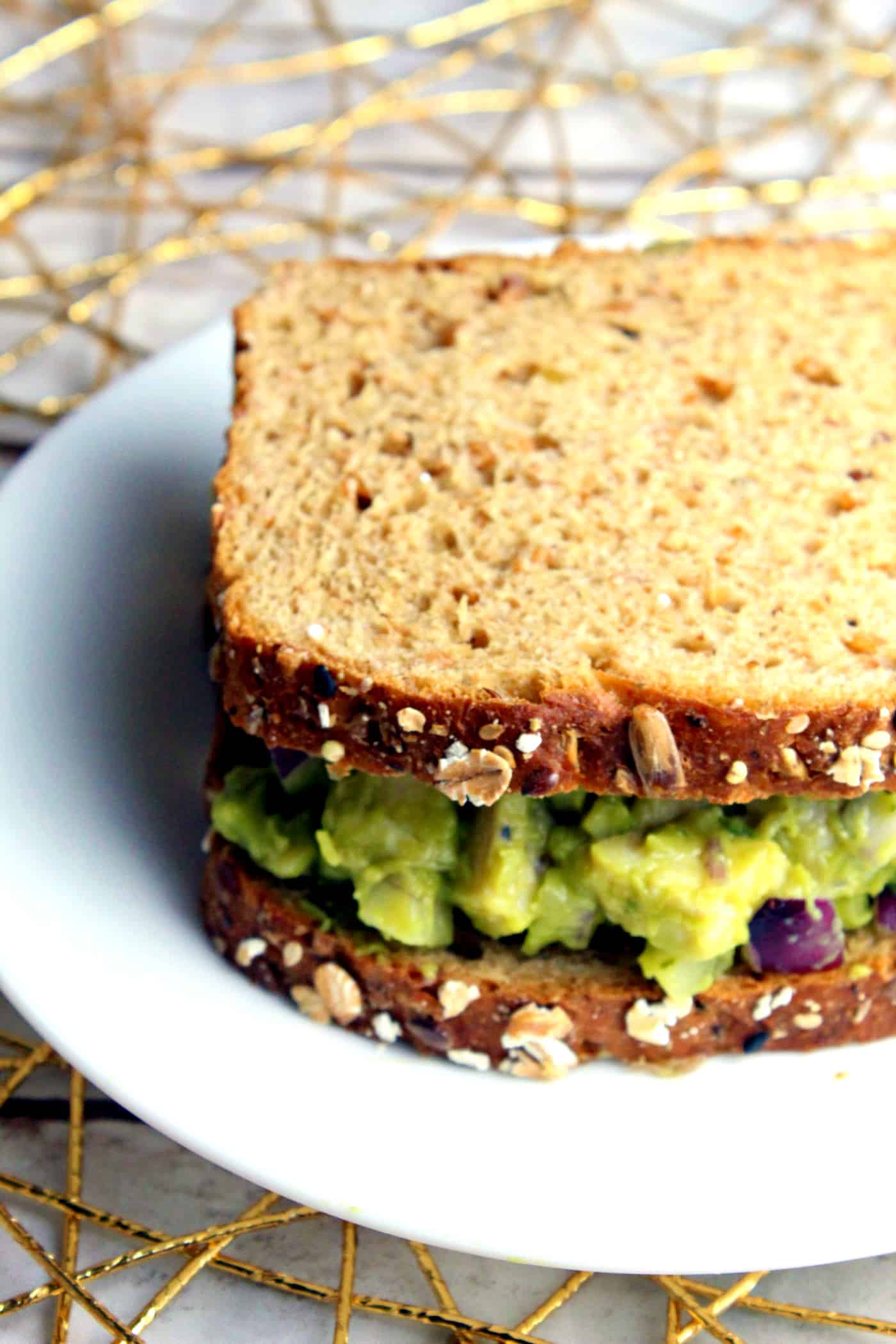 How To Serve Homemade Chicken Salad
Okay, this easy chicken salad is so good you can literally eat it with a spoon! For real, it is that amazing. Typically, we just use some wheat bread and go on our merry way, but sometimes we want something a little bit different, so if you're going to try some new things here are some ideas to get you started:
Lettuce Wrap – Whether you are trying to cut back on calories or carbs or you just love the flavor of lettuce, it goes perfectly with this healthy chicken salad recipe. Just use large-leafed lettuce and put a dollop of chicken salad in the center and fold it up. Easy peasy!
Crackers – Especially when it's hot and miserable outside, sometimes I don't feel like eating another sandwich and want something different. That is when I break out some crackers to eat with this chicken avocado. Boy o boy it's excellent!
Croissant – You hardly can't beat the light, flaky, and buttery crust of a croissant. Plus, it has a slight sweetness that compliments the chicken salad no mayo.
Avocado – Yes, fill an avocado with this easy chicken salad, and you won't be able to get enough. Okay, now I am getting hungry!
Bell Peppers – Slice bell peppers into large pieces and use it to dip into the chicken salad. Perfect if you are trying to eat healthily or are looking for something new to try.
How Can You Tell If Avocado Is Ripe?
When you are at the market shopping for avocado, it can feel like a daunting task if you don't know what you are looking for. I have found the easiest way to tell is by the look and feel of the avocado. Ones that are ready to eat tend to be darker in color, and they should be soft to the touch. Give the avocado a slight squeeze, and it's soft instead of mushy or really hard then it's ready.
Another trick is to pull off the little ball at the stem and check what color it is underneath. If it's yellow, then it's ripe, but if you find that it's brown, then it is overripe.
How To Keep Avocado From Turning Brown
We have all been there before, excitedly running to the fridge to eat that second half of the leftover avocado only to find it is brown and yucky looking. Did you know that you can still eat brown avocado? Most of us will just toss it because it looks terrible, but I like to try to prevent it altogether.
The best defense you have against browning avocados is lemon juice and onion, and that is part of why I added them to this chicken salad sandwich recipe. The other reason is that I love their flavors. 🙂 The lemon juice is citrus, and citrus simply keeps the brown coloring at bay. If you don't have a lemon on hand, you can always use a lime. It will be the same effect. The onion has sulfur in it, which is terrific at combating the browning as well.
If you do have leftovers, it is essential to keep them in a completely airtight container in the fridge. You will thank yourself later, I promise!
Can I Freeze Avocado Chicken Salad?
Because I make chicken salad no mayo, you would think it could be frozen; however, the avocado doesn't freeze well either. Your best bet is to avoid freezing the chicken avocado because the texture will be way off if you do. Thankfully, this is one of the easiest chicken and avocado recipes there is, so it doesn't take much to make up a new batch.
What Goes Good With Chicken Salad?
Sometimes I just eat chicken salad by itself without any side items because I love it so much. There are lots of options for serving with the homemade chicken salad. Try some of these ideas:
Fruit – A side of fresh fruit, especially strawberries, is perfect for this healthy chicken salad. Give it a try.
Salad – Make a simple garden salad with lettuce, tomatoes, cucumbers, and cheese because it is light and refreshing and will be a terrific side dish.
Chips – Every sandwich goes better with potato chips!
Grilled Veggies – I love to roast some mushrooms, broccoli or cauliflower and serve it with sandwiches because it adds even more nutrients to our meals.
Enjoy!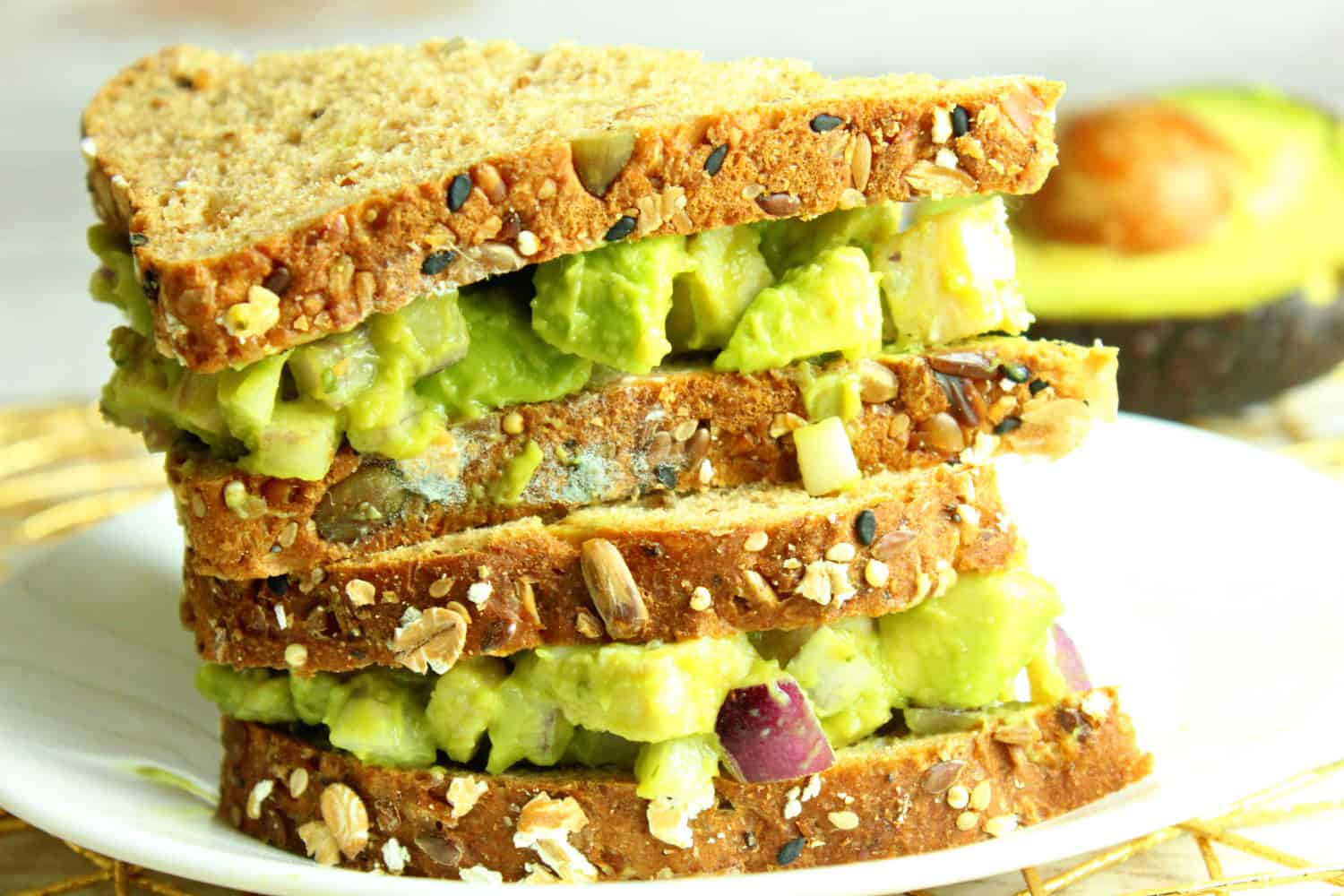 Now, remember to save this recipe on Pinterest for later:

Pin this recipe now to remember it later
Avocado Chicken Salad
This Avocado Chicken Salad Sandwich is a quick and easy avocado recipe that's perfect for a healthy, fast lunch.
Ingredients
1

cup

shredded or chopped chicken breast

1

medium avocado

,

skin and pit removed

1

stalk celery

,

chopped finely

1/2

small red onion

,

chopped finely

2

tbsp.

chopped fresh parsley

1/4

tsp.

ground black pepper
Want to save this recipe? Enter your email below and we'll send the recipe straight to your inbox!
NOTE: By saving this recipe, you agree to join our weekly recipes newsletter.
Instructions
Combine shredded chicken, avocado, celery, and onion in a bowl and mash the avocados.

Add in chopped parsley, lemon juice, salt, and pepper and stir to combine.

Add more salt and pepper to taste and serve as desired.
Notes
Weight Watchers SmartPoints: 6 (Serving 2)
Nutrition
Follow me on Pinterest for daily delicious recipes!
Make sure you check some of my best WW recipes below:
Loaded Instant Pot Potato Salad Recipe – With this Loaded Instant Pot Potato Salad Recipe, it takes potato salad to a whole new level.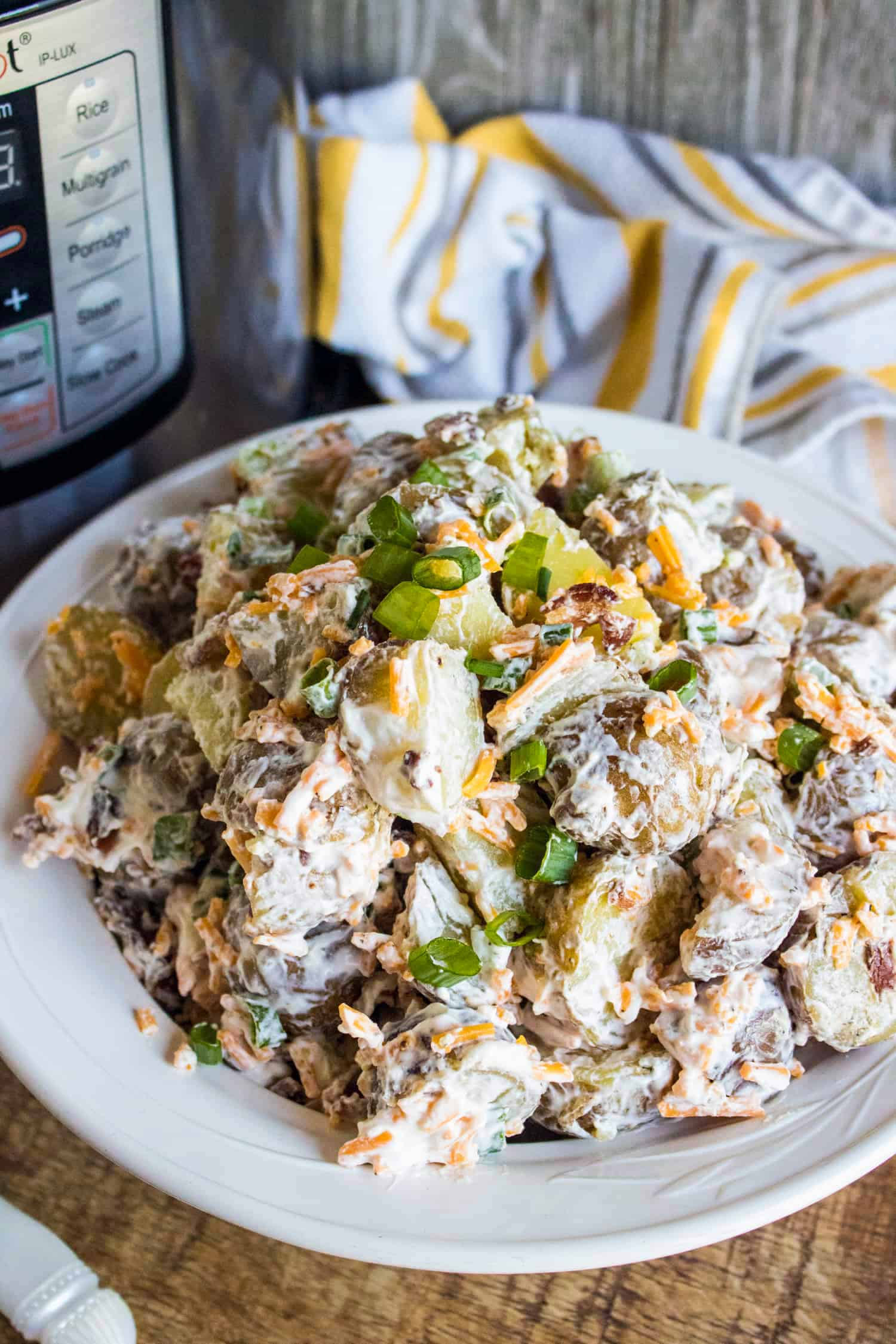 Greek Style 4 Bean Salad – Packed with protein this Greek bean salad will leave you feeling full and satisfied.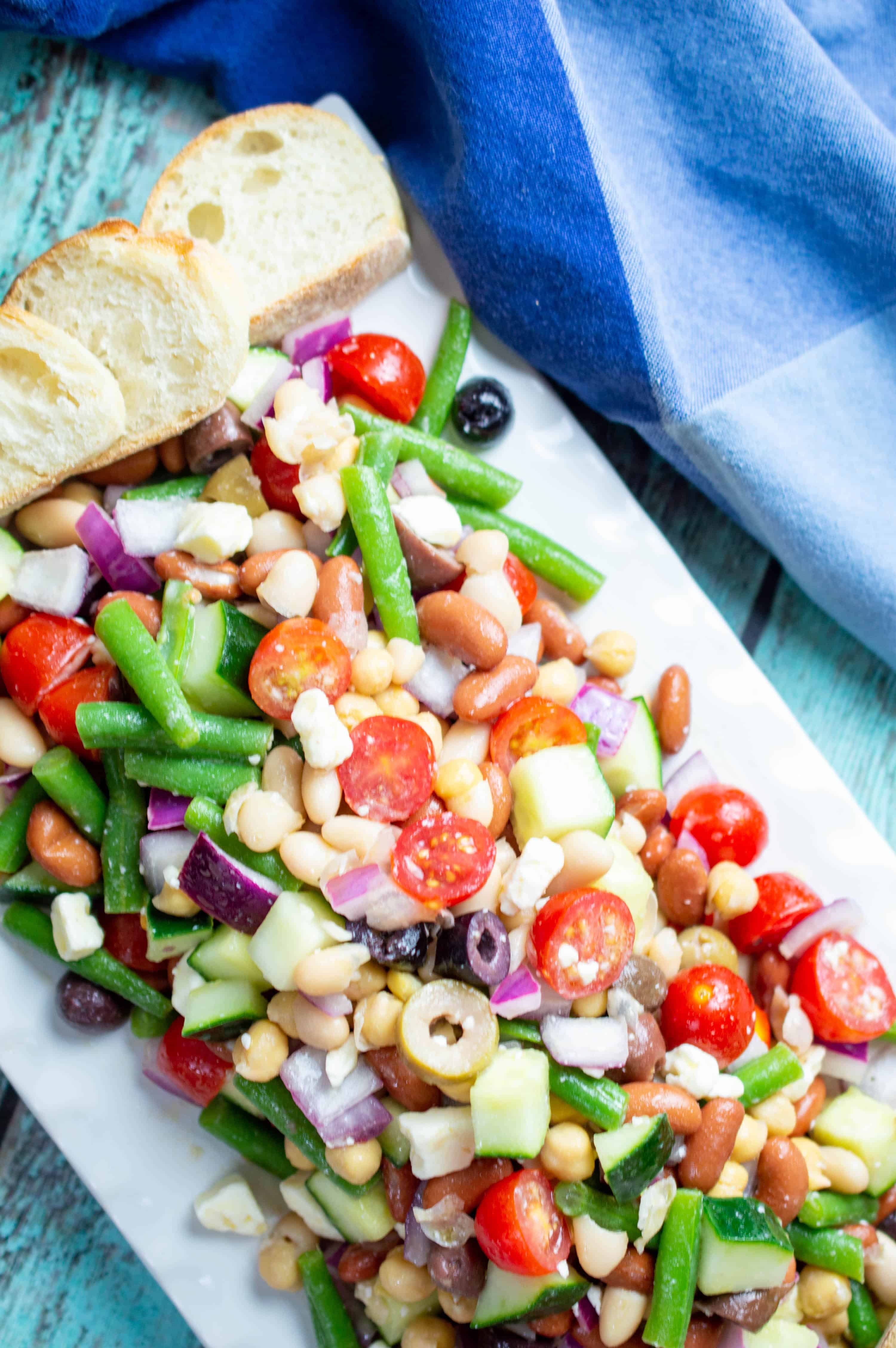 Tomato and Watermelon Salad – This really is the best watermelon salad, and I am super excited to share it with you.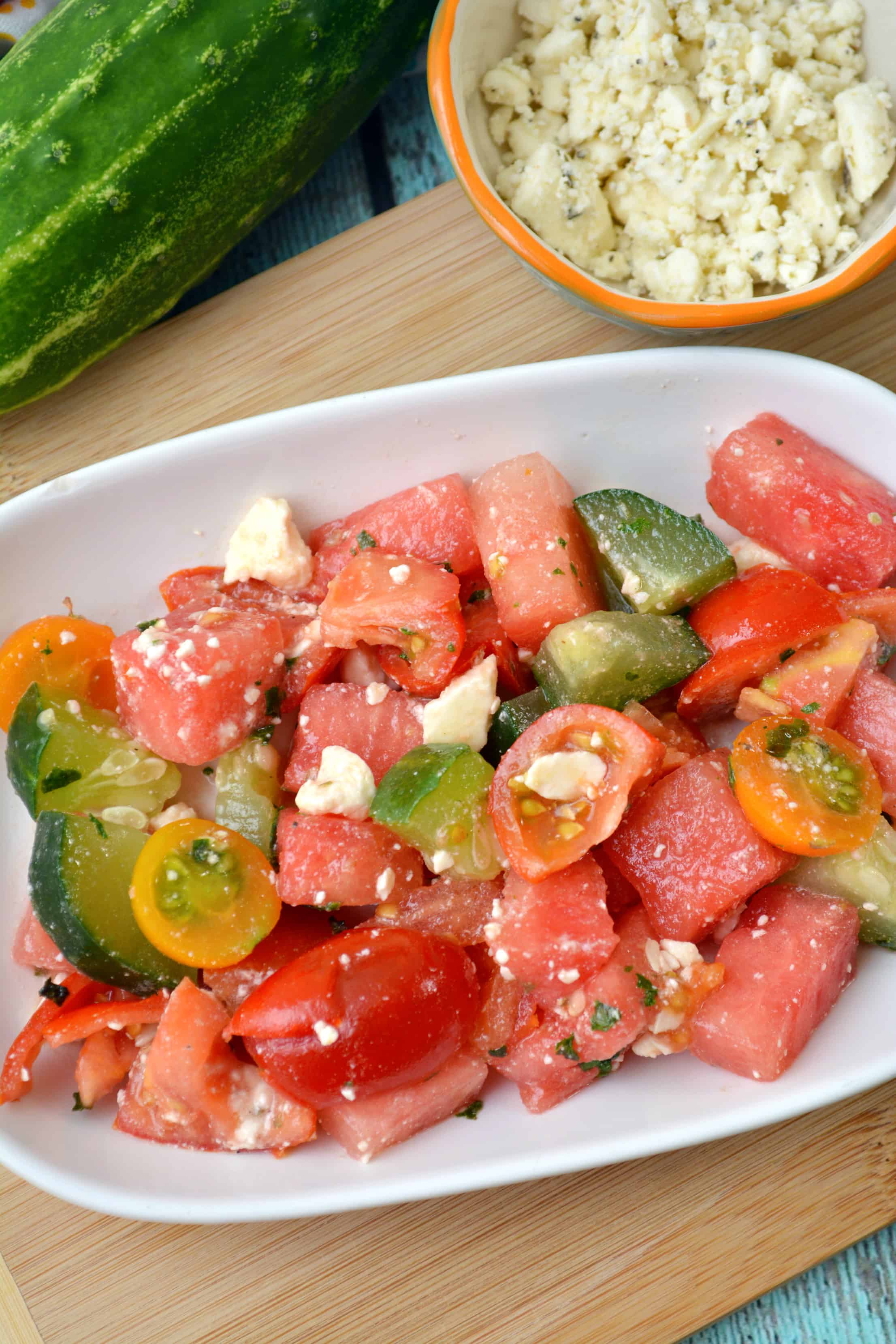 Fresh Corn Salad Recipe – It's impossible not to get hooked the second the black bean, and corn salad recipe hits your tongue.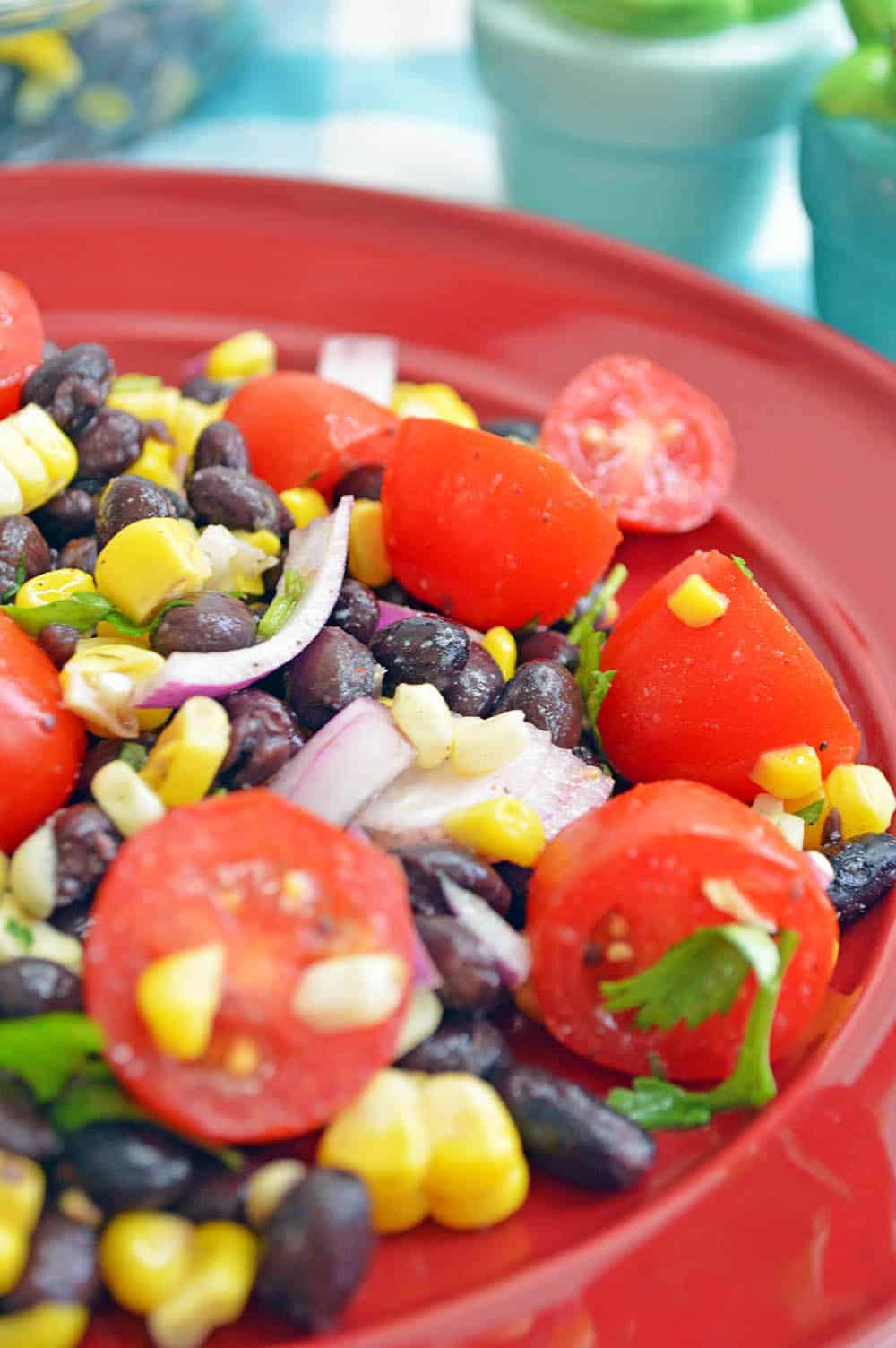 Have you ever tried an avocado chicken salad sandwich?
Get new recipes weekly plus our FREE ebook!