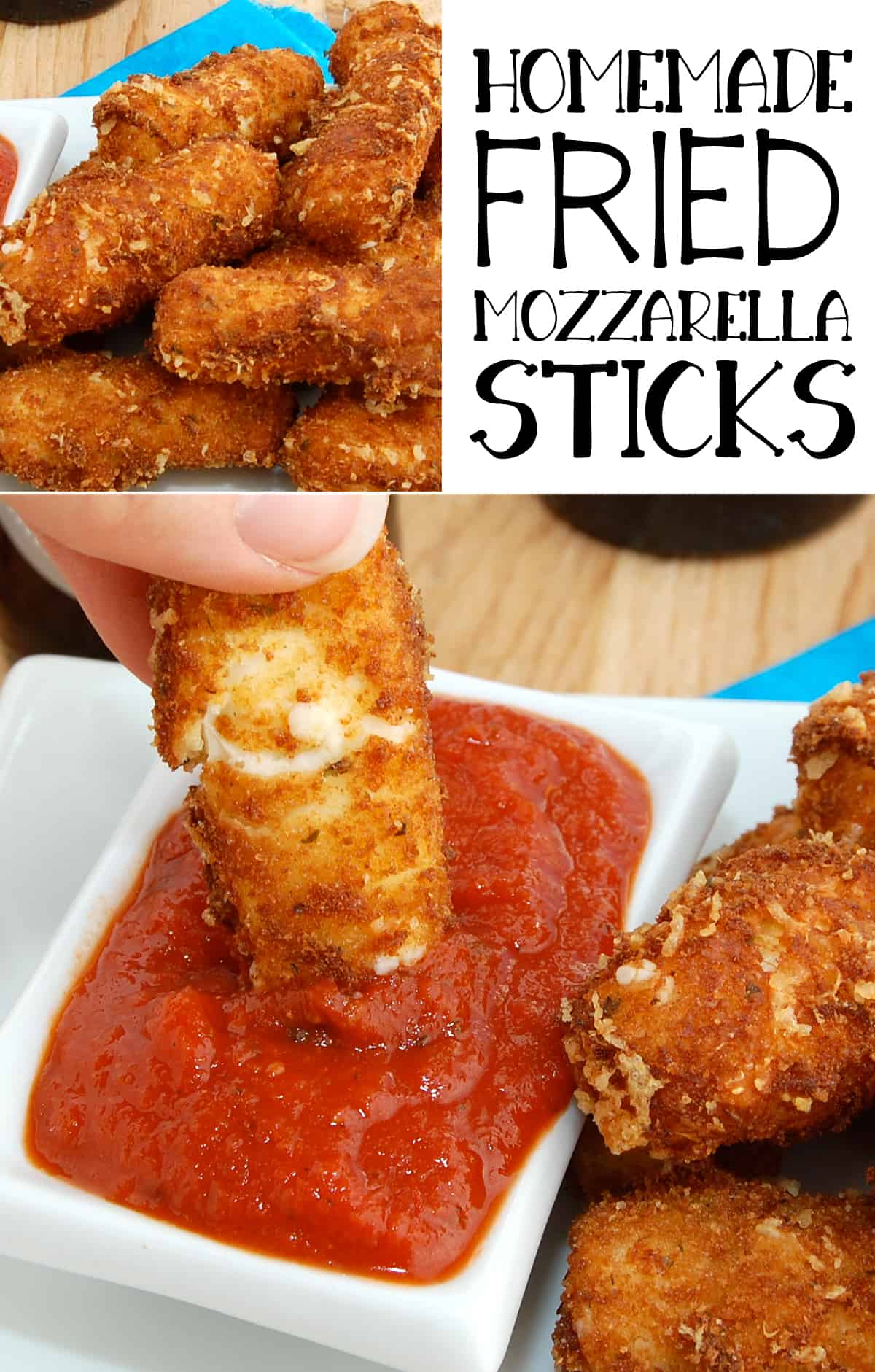 Fried Mozzarella Sticks are one of the best appetizers ever! These homemade mozzarella sticks are filled with gooey cheese and are fried, so they have a crispy coating. Make this mozzarella sticks recipe for parties, get-togethers, dinners, or any other occasion. No matter what, they go quickly when feeding them to a crowd because they taste so amazing.
Scroll to bottom for printable recipe card.
Homemade Fried Mozzarella Sticks Recipe
If you love watching sports, everyone knows that some homemade cheese sticks are a must-have! Whenever we invite friends over to watch sports or whatever, we always serve easy mozzarella sticks along with my loaded buffalo chicken fries. Everyone begs for those recipes more often than anything else because they are so good.
Sometimes we make a bunch of party food and just have a night to enjoy appetizers! It's especially fun to do when we are having a family movie night or are watching a big sports event. Try these string cheese mozzarella sticks, and you'll understand why they become a staple in your home!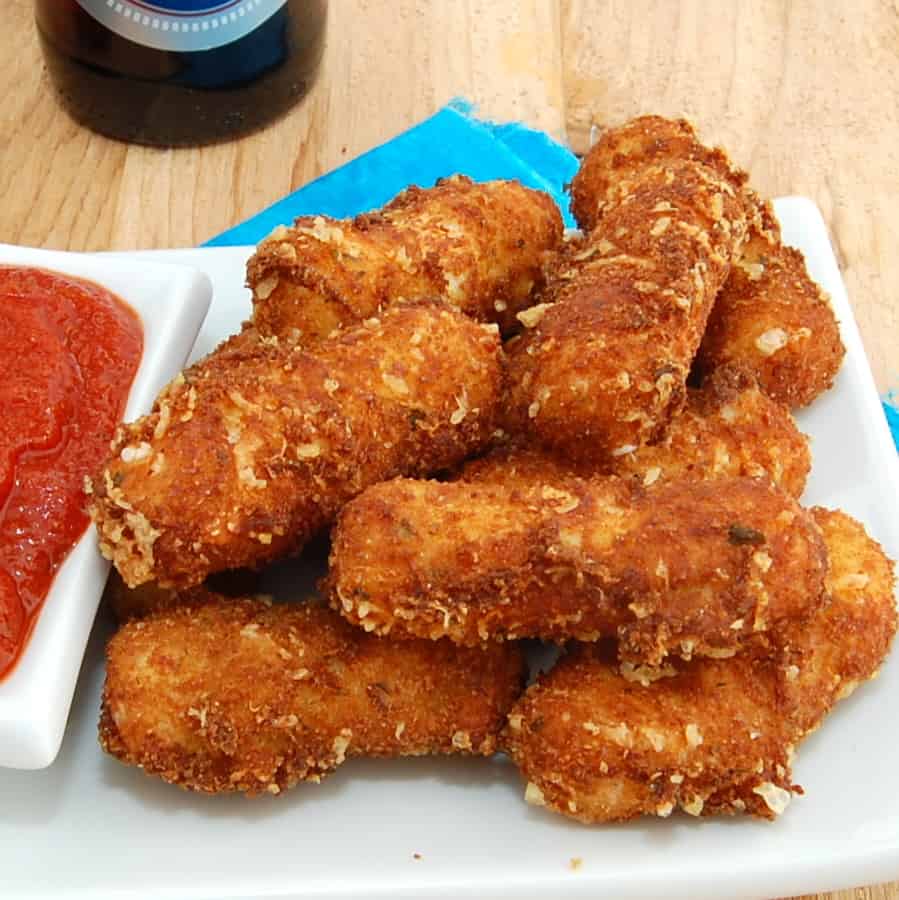 Fried Mozzarella Sticks Ingredients
These easy breaded cheese sticks only require 6 ingredients to make, and odds are you have most of them already in your kitchen. The part that takes the longest is freezing the sticks before frying them. Don't worry, though; it's completely worth the wait the second you bite into this cheesy goodness.
Italian-style dried breadcrumbs
Freshly grated Parmesan, divided
Salt
Mozzarella cheese sticks
Large eggs
Vegetable oil
How To Make Homemade Mozzarella Sticks
You can prepare the mozzarella sticks ahead of time and fry them right before serving. This saves you time when you are party planning and want to get things in order. Sorry, I'm sure you are drooling by now, so we better get to it.
First Step: Mix together the bread crumbs, parmesan cheese, and salt in a medium bowl.
Second Step: Take the packages of mozzarella sticks and cut each stick in half.
Third Step: Put the eggs in a shallow bowl and dip each cheese stick to coat with eggs completely. Then let any excess egg drip off into the bowl. Then place the cheese pieces in the bread crumbs and pat them to help the coating stick. Make sure they are all the way coated. Dip the sticks in the eggs and bread crumbs two times each. Repeat this process until all of the homemade mozzarella sticks are coated then lay them on a baking sheet. Cover with plastic wrap or foil and freeze the cheese sticks for 2 hours.
Fourth Step: Use a frying pan and heat the vegetable oil over medium heat. Do batches of cheese sticks by cooking them for 1 minute on each side. Then place them on a paper towel-lined plate or casserole pan. Add some parmesan cheese after they come out of the oil. Serve hot and enjoy!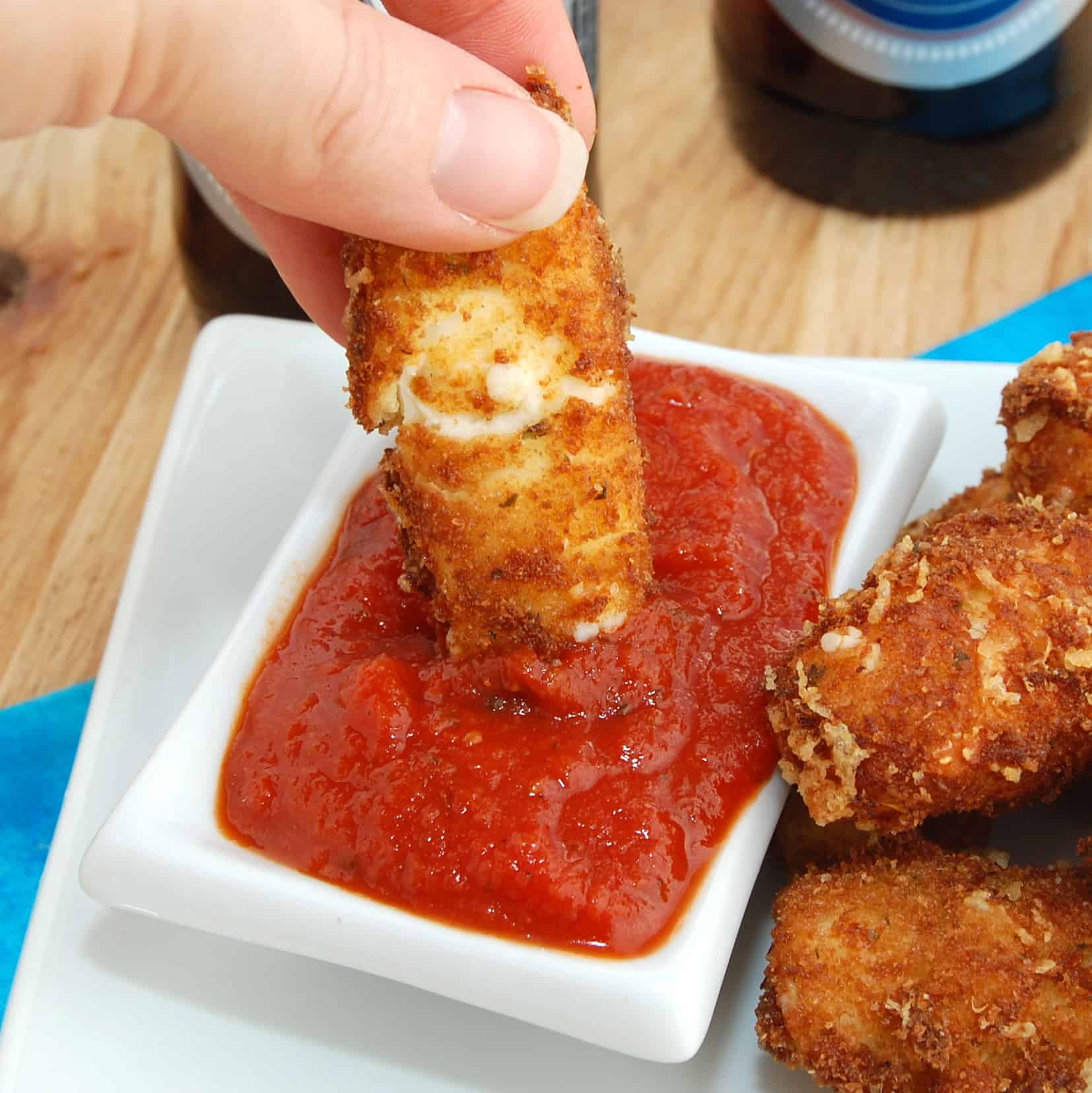 Can I Use Cheddar Cheese Sticks Instead Of Mozzarella?
Yes, absolutely! You could use cheddar cheese sticks if you would rather. Just follow the same methods as instructed, and you will have a cheddar cheese stick to munch on in no time. Since there are so many varieties of cheese sticks out there, you can try several different flavors. They have some that are mixed mozzarella and cheddar, pepper jack, and more. So go wild and try all sorts of flavors if you want.
Do I Have To Use Vegetable Oil When Frying The Homemade Cheese Sticks?
No, you can use other types of oil if you want to. I simply prefer vegetable oil over anything else. But you could use coconut oil, sunflower oil, canola oil, peanut oil, or anything else that you like. Just keep in mind that different oils are going to give you different flavors. Find the combination that works best for you and go with that.
What Happens If I Overcook Mozzarella Sticks?
If you happen to overcook the mozzarella sticks, you will see cheese spilling out of them. This is fine, and they are still edible. However, you may find large portions of breading doesn't have any cheese in the center. It happens to everyone at one point, and that's totally fine. When possible, try not to overcook them for best results, but don't stress yourself out if you accidentally do overcook a batch.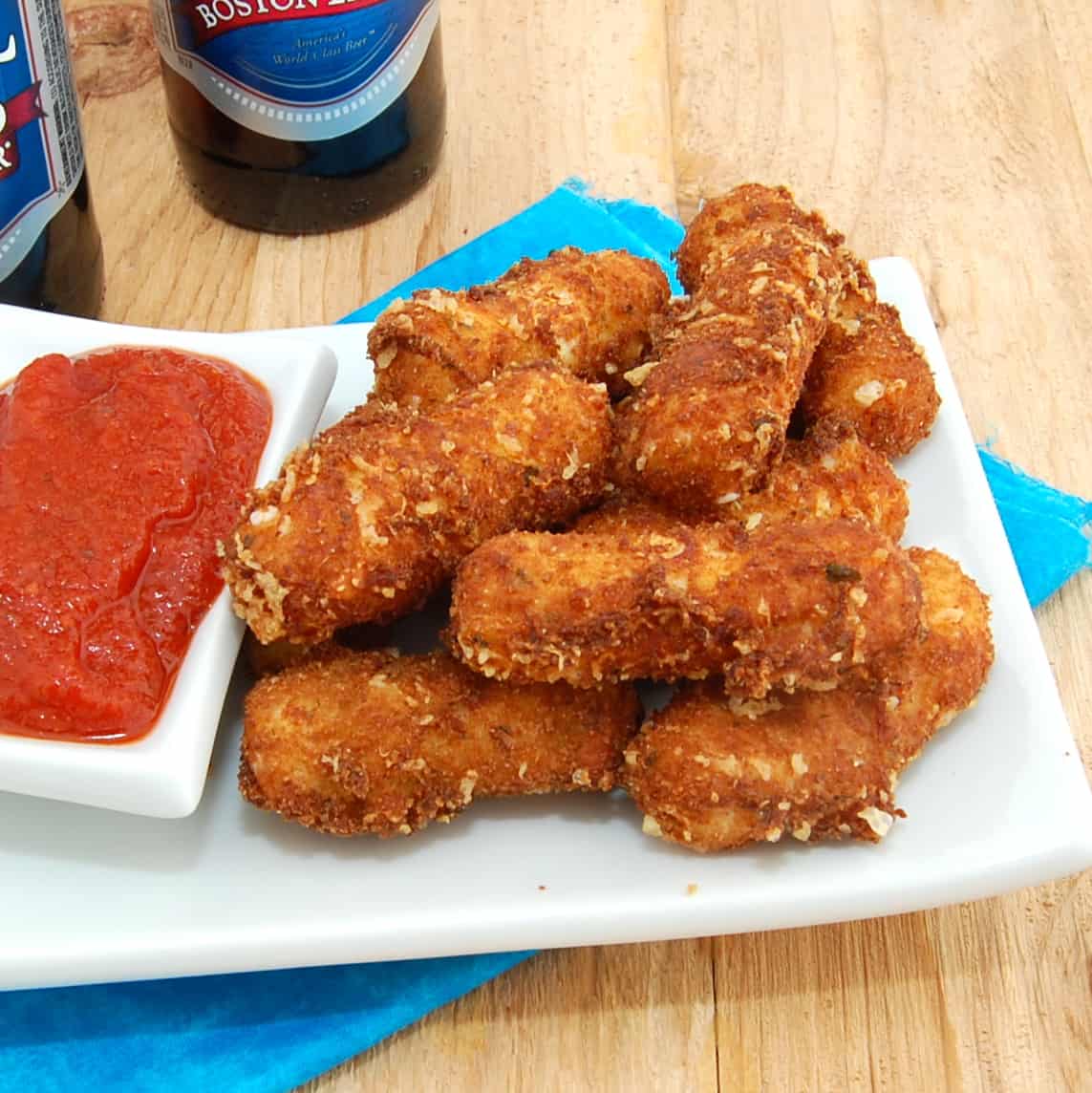 Can I Make This Mozzarella Sticks Recipe Gluten-Free?
Yes, you can use gluten-free bread crumbs instead of regular if you want to make them gluten-free. They will still taste amazing, and the texture may vary a little bit. If you eat gluten-free, this is a great recipe to swap ingredients with because they turn out so great.
Dips For Mozzarella Sticks
You can use a variety of dips for these fried cheese sticks. I most often prefer to dip them in the marinara sauce because the Italian seasoning just pairs so well with it. You could also use pizza sauce or spaghetti sauce if you have those on hand. They will just be a little runnier than marinara, which is usually thicker.
Another way I greatly enjoy eating breaded cheese sticks is by dipping them into ranch dressing. Ranch dressing is like the perfect condiment for so many foods, and it's a huge hit with these mozzarella sticks too. So give it a try because I think you will fall in love!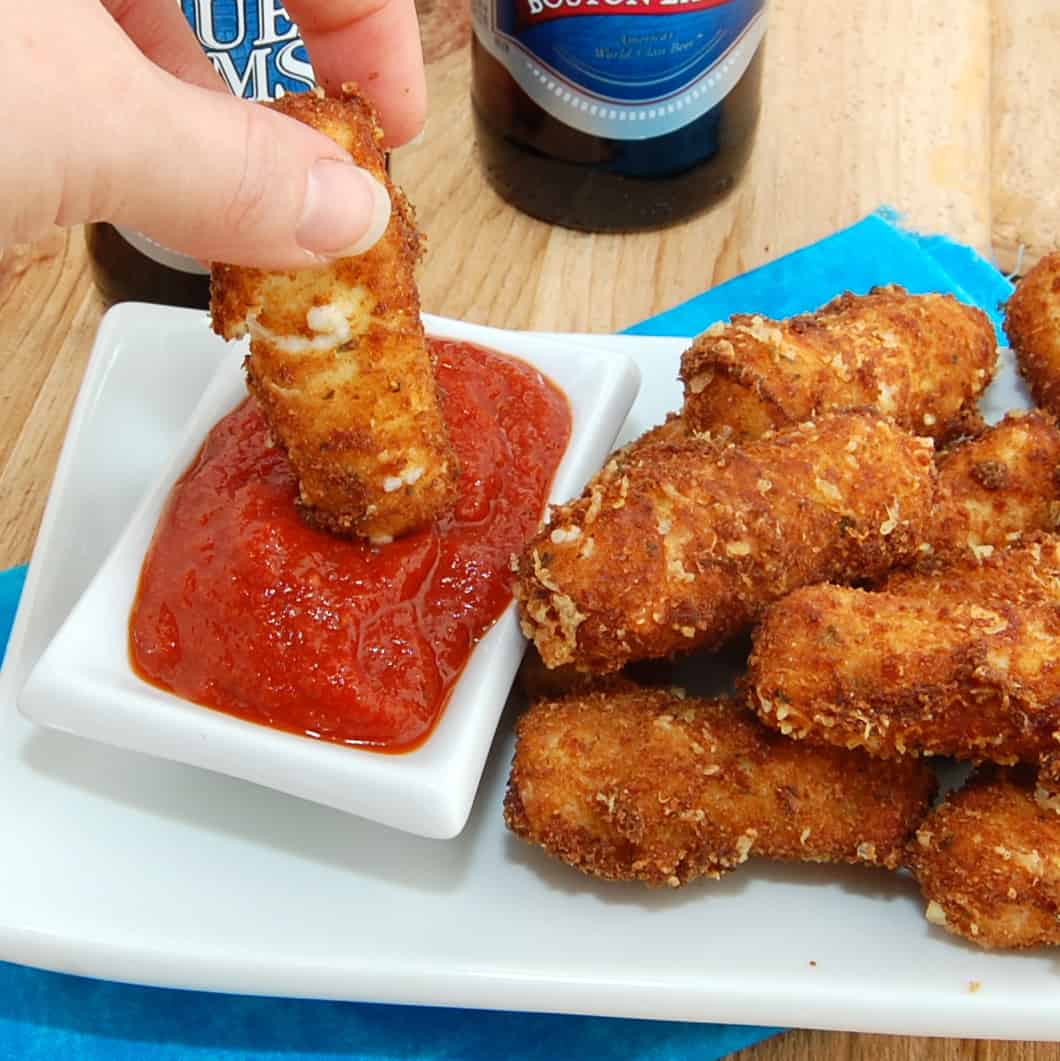 Now, remember to save this recipe on Pinterest for later 🙂

Pin this recipe now to remember it later
Homemade Fried Mozzarella Sticks Recipe
This Fried Mozzarella Sticks Recipe is filled with gooey cheese. The homemade mozzarella sticks have a perfectly crispy batter that is beyond delicious.
Ingredients
1 1/2

cups

Italian-style dried breadcrumbs

1 1/3

cups

freshly grated Parmesan

,

divided

2

16-ounce packages mozzarella cheese sticks

4

large eggs

,

beaten to blend
Want to save this recipe? Enter your email below and we'll send the recipe straight to your inbox!
NOTE: By saving this recipe, you agree to join our weekly recipes newsletter.
Instructions
In a medium bowl, combine bread crumbs, 1 cup of Parmesan and salt.

Cut each mozzarella stick in half.

Beat eggs in a shallow bowl and dip the cheese sticks into the eggs to coat completely and allow the excess egg to drip back into the bowl. Coat the cheese in the bread crumb mixture, patting to adhere and coat completely. Repeat dipping the cheese sticks in the egg and bread crumb mixture to coat a second time. Place the cheese sticks on a baking sheet, cover and freeze until frozen, about 2 hours.

Heat the oil in a large frying pan over medium heat. Working in batches, fry the cheese until golden brown, about 1 minute per side. Transfer the fried cheese to plates. Sprinkle with the remaining cheese and serve.
Follow me on Pinterest for daily delicious recipes!
If you are planning a party or just have a love for appetizers as I do, you should try some of these recipes too. Each one is a perfect compliment to these mozzarella sticks or would be good by themselves. Take a peek:
Bacon Cheddar Potato Skins – These bacon cheddar potato skins are show-stopping delicious. They are straightforward to make, and there are rarely any leftovers.
Corned Beef And Cabbage Eggroll Appetizer – I am infatuated with regular eggrolls and new I would love this combination! I was entirely right, and they turned out amazing. You really need to try them to see for yourself.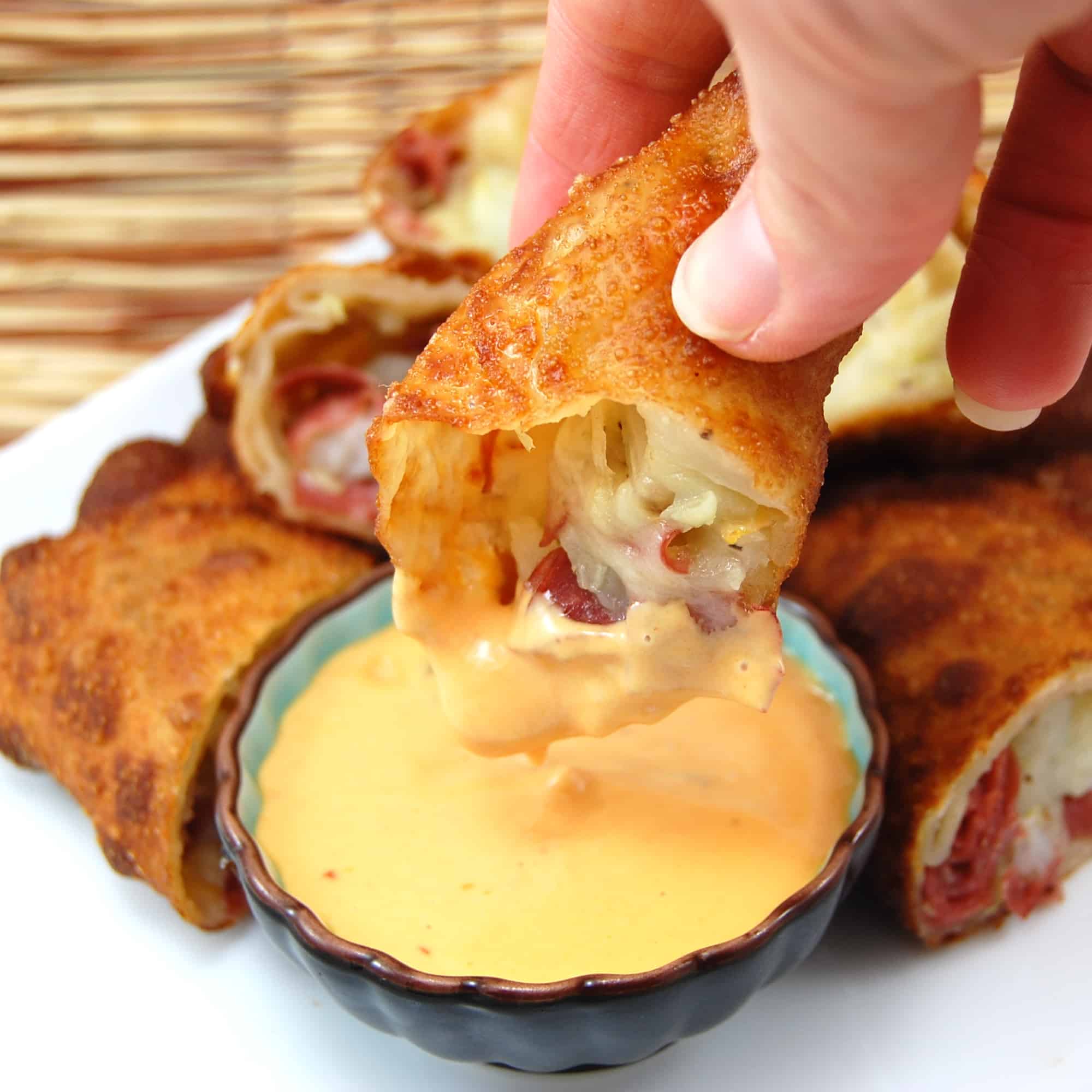 Three Cheese Pizza Nachos With Pepperoni – Nachos don't just have to have traditional flavors like beans, sour cream, and taco meat! They can be so much more with cheese and pepperoni. They would go great with these mozzarella sticks too.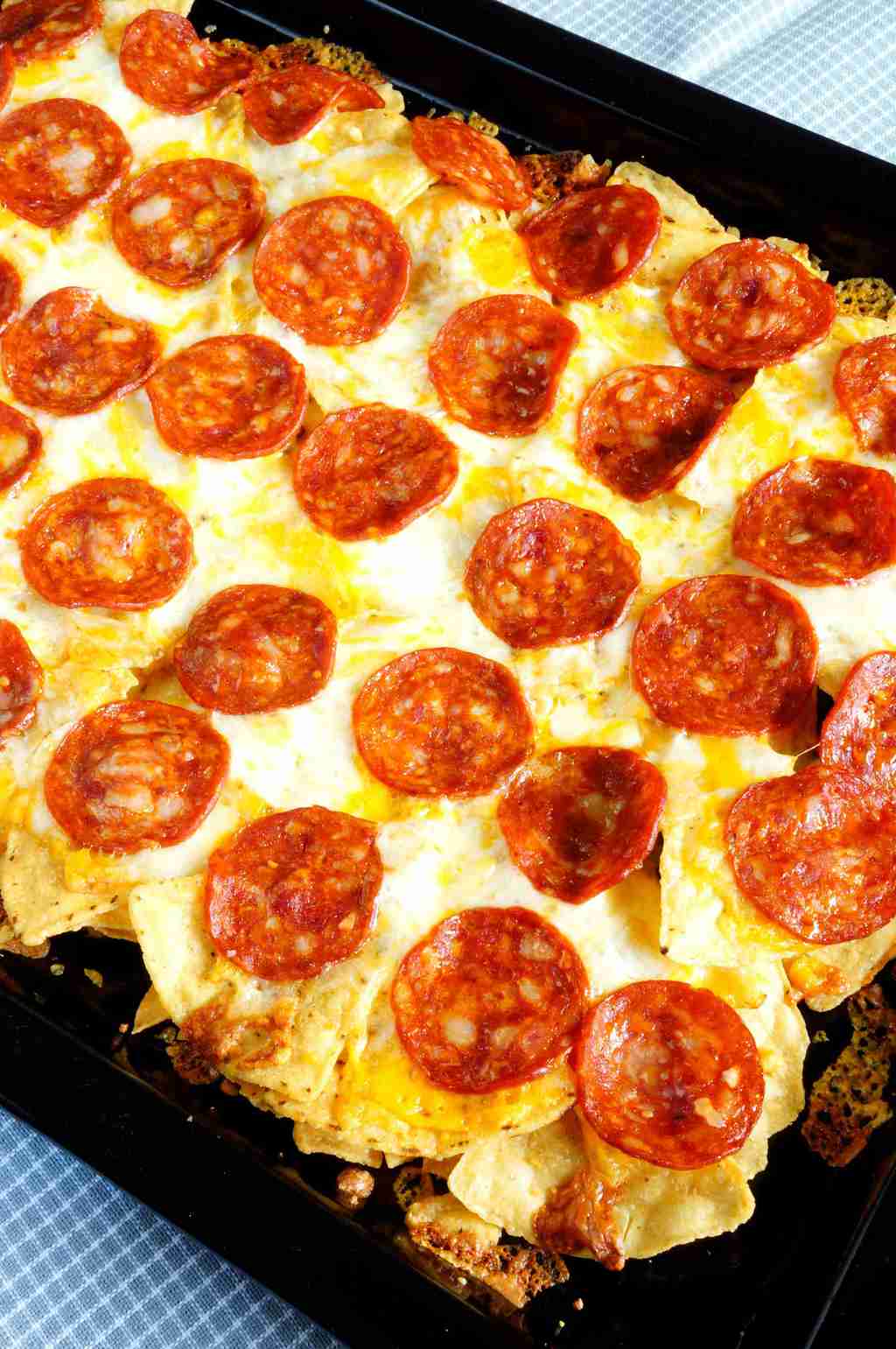 Instant Pot Garlic Parmesan Chicken Wings – Chicken wings are the perfect party, and they taste so juicy and flavorful. You can pair them with other party foods or eat them as the main course.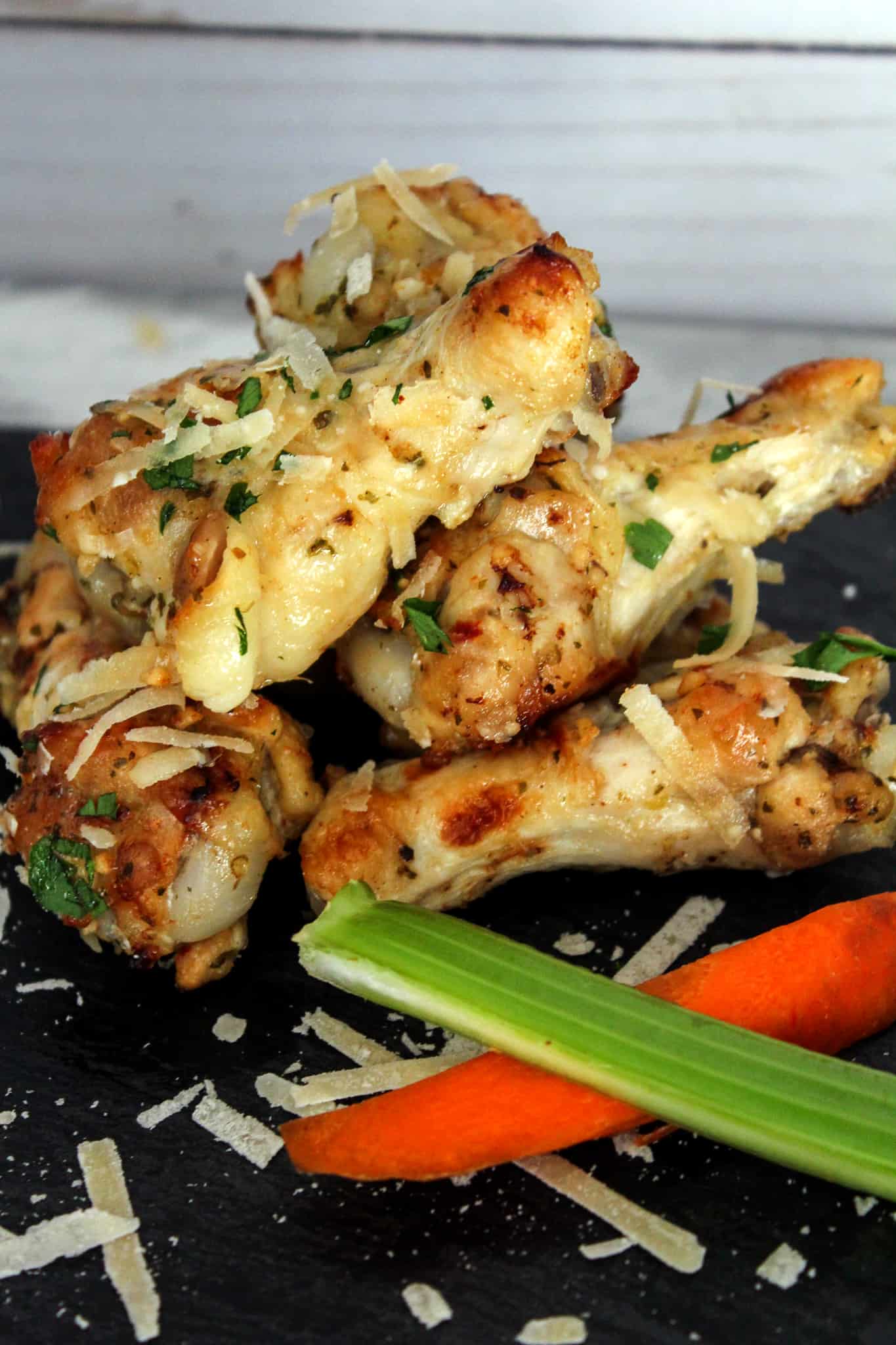 Get new recipes weekly plus our FREE ebook!