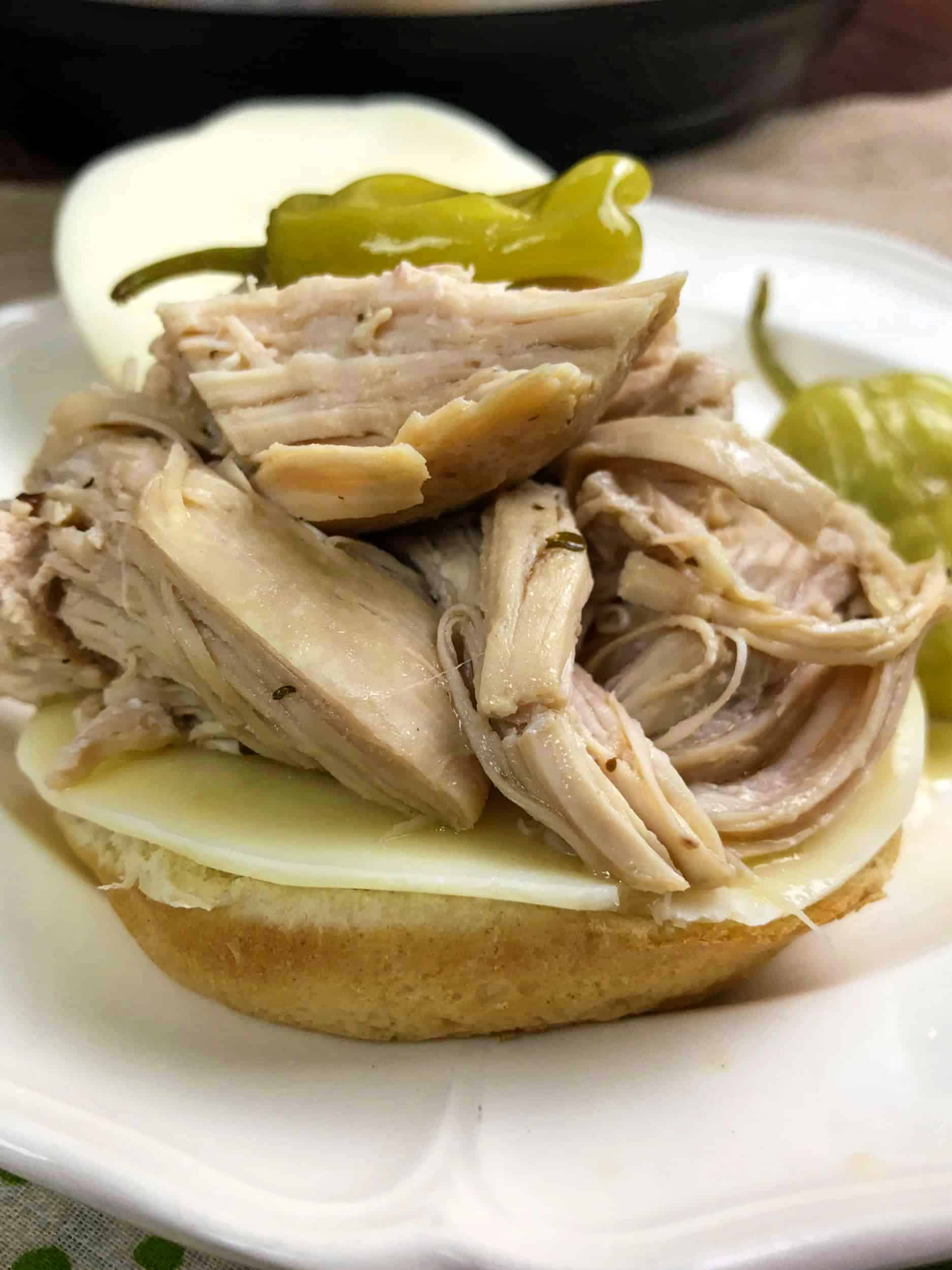 Instant Pot Mississippi Ranch Chicken is tender, juicy and so full of flavor! It's the best 10-minute dinner you'll ever make! Mississippi Chicken will win over anyone after one bite.
There are two conclusions I came to on this recipe. One, if you've never had Instant Pot Mississippi Ranch Chicken before, you're seriously missing out. And two, if you don't have an Instant Pot yet, you need one.
Instant Pot Mississippi Ranch Chicken is typically a dinner that needs to cook in the crockpot for hours, but this Instant Pot Mississippi Ranch Chicken is ready in just 10 minutes. Yes, you read that right. 10 minutes!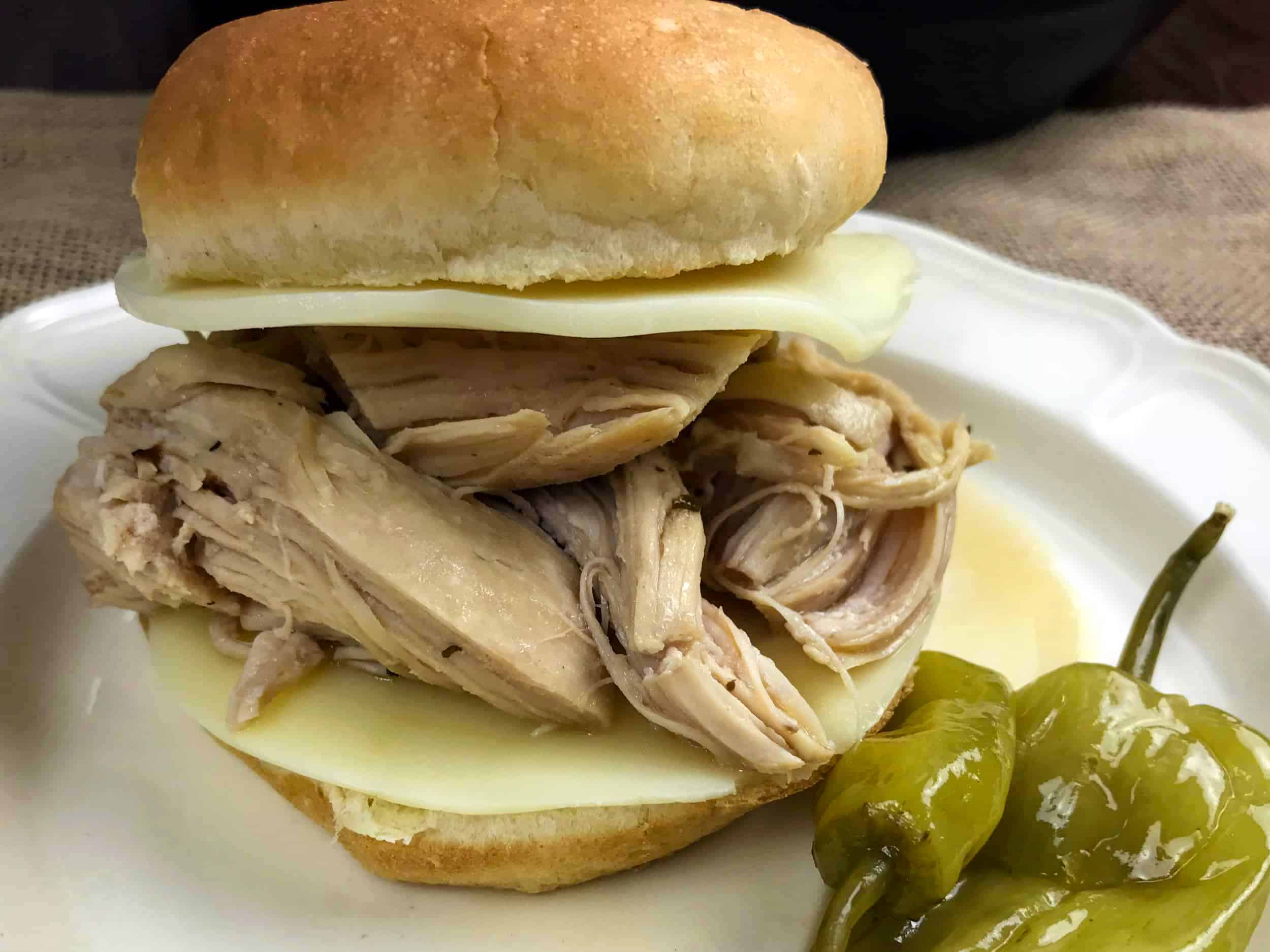 Scroll to bottom for printable recipe card.
What Is Mississippi Ranch Chicken?
It didn't occur to me until I was writing this recipe to some people may have no idea what Mississippi Chicken, or Mississippi Ranch Chicken, is because it's so popular here. Everyone has their own version of it that they love to make.
Anyway, Mississippi Ranch Chicken is, at its core, an effortless way of making chicken (either thighs or breasts) flavored with ranch, gravy, and pepperoncini or banana peppers. There are a few other ingredients, but those are the main ones in most Mississippi Chicken recipes.
It's juicy tender chicken that will become a household favorite, and it's comfort food at it's finest.
What Do You Need For A Mississippi Ranch Chicken?
For this Instant Pot Mississippi Ranch Chicken, we have only six ingredients – chicken, pepperoncini, dry ranch dressing mix, dry gravy mix, chicken broth, and butter. So much flavor in such a simple recipe. Dinner really doesn't get better than this!
You can use either chicken breast or chicken thighs to make Instant Pot Mississippi Ranch Chicken. While thighs tend to be the cheaper option, chicken breasts are slightly healthier. However, if you use chicken thighs, you can omit the butter, so it does almost even out. Some also say that chicken thighs are more flavorful, but with all the other flavors going on in this recipe, I've never noticed a difference. I personally used chicken breasts when making Mississippi Ranch Chicken and let me tell you; it was tender, juicy and full of flavor.
How Do You Serve Instant Pot Mississippi Chicken?
Like traditional Mississippi Chicken, this Instant Pot Mississippi Ranch Chicken can be served a variety of different ways. I love serving it on a bun with a slice or two of provolone cheese. You can also serve it with noodles, rice, veggies, fries or anything else you'd like. The juice from the dish makes a great "gravy" to pour over potatoes, rice, etc.
Instant Pot Mississippi Ranch Chicken is a great dish to serve to a crowd on sliders, and it's always a hit on game day too! Or turn it into dinner with rice or potatoes and veggies.
No matter how you serve it, this Instant Pot Mississippi Ranch Chicken is some of the most flavorful, tender chicken you will ever eat. My mouth is watering just thinking about it!
How to make Instant Pot Mississippi Ranch Chicken
Trim the fat & gristle off your chicken and place in the pressure cooker. Trimming the fat saves calories, and the removing gristle will make it easier to eat.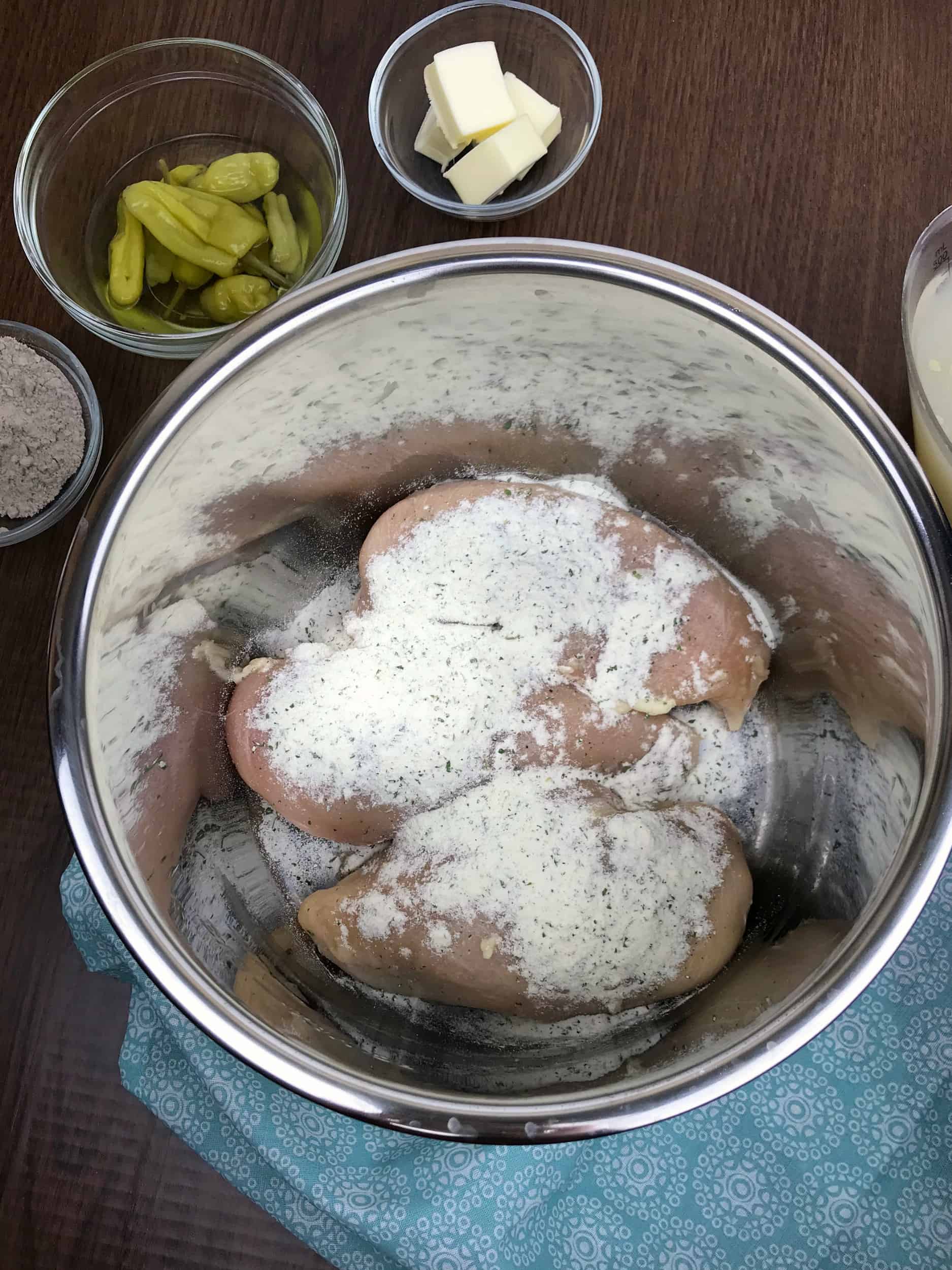 Cover chicken with dry ranch and dry gravy packets.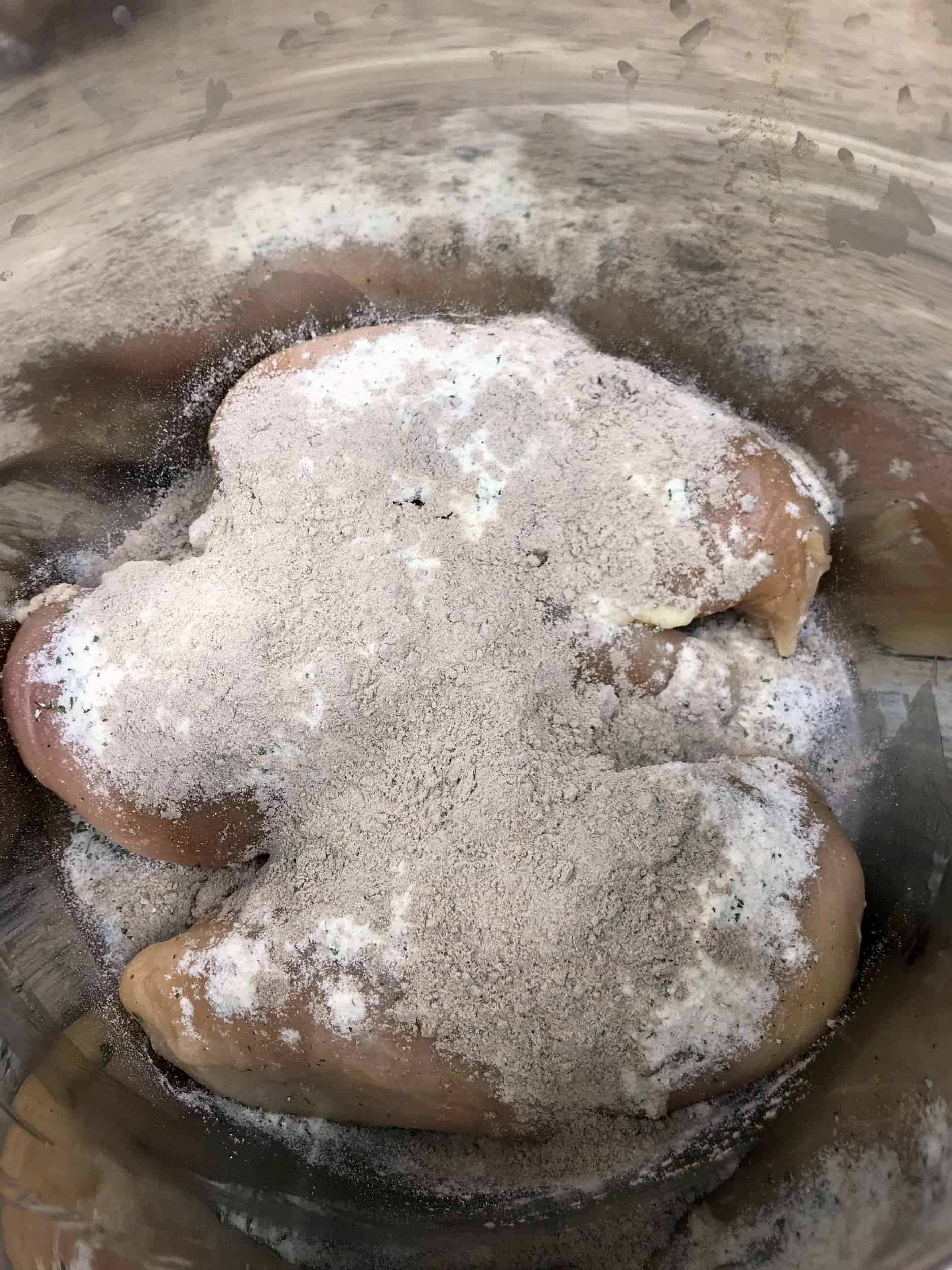 Pour in chicken stock and pepperoncini juice over chicken.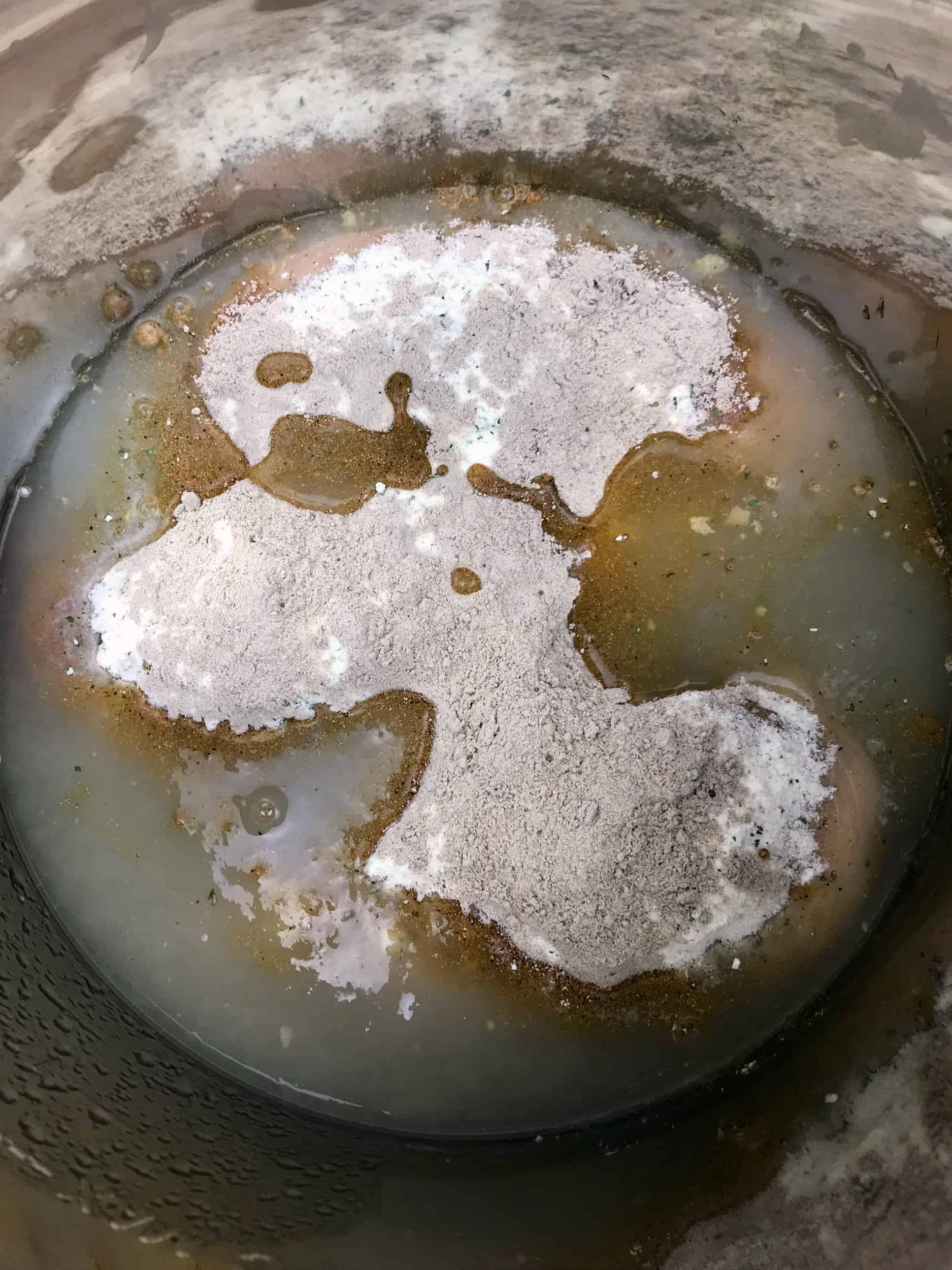 If not using chicken thighs, place butter on top of chicken. Add pepperoncini.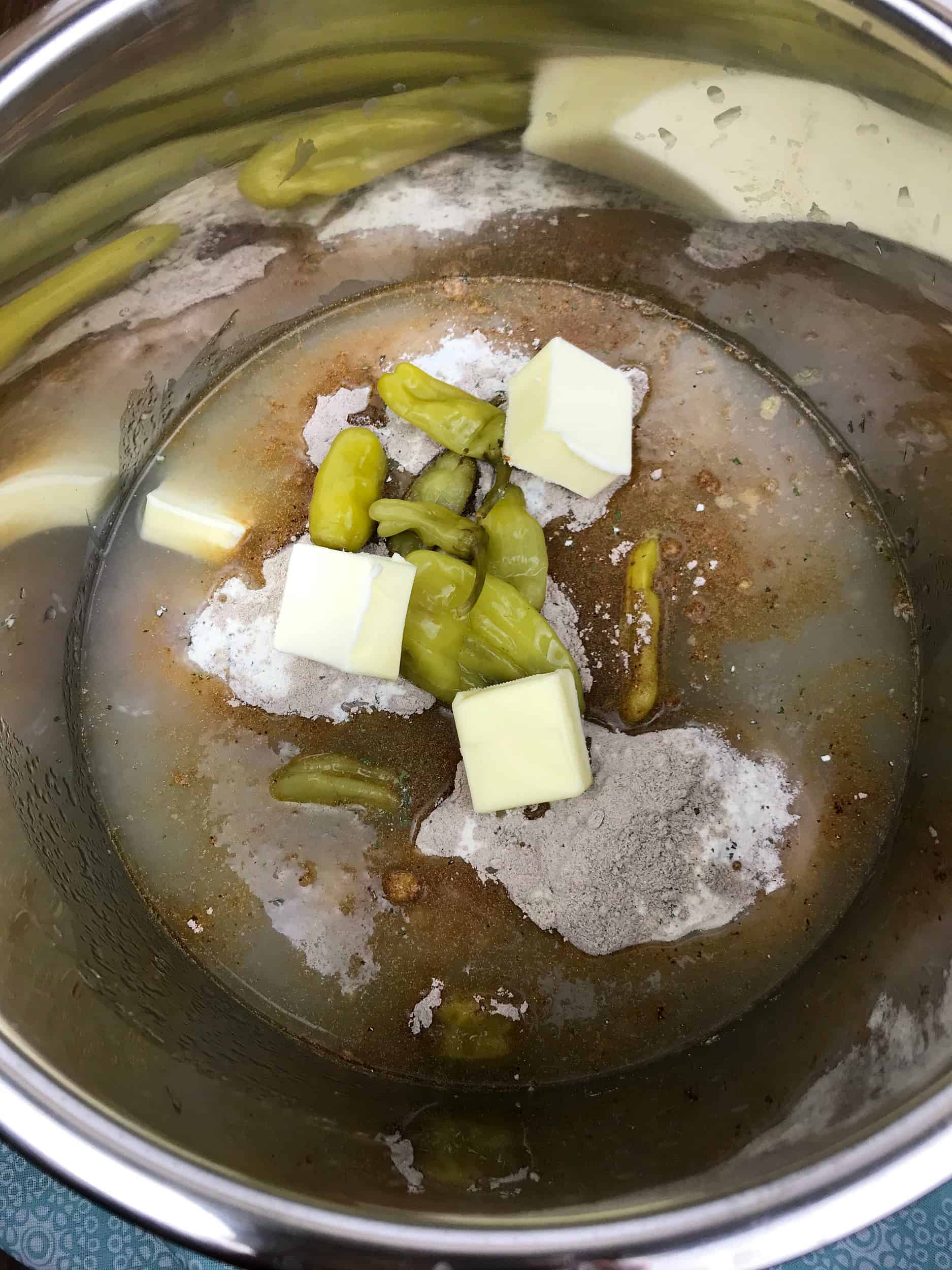 Cook for 10 minutes in Instant Pot.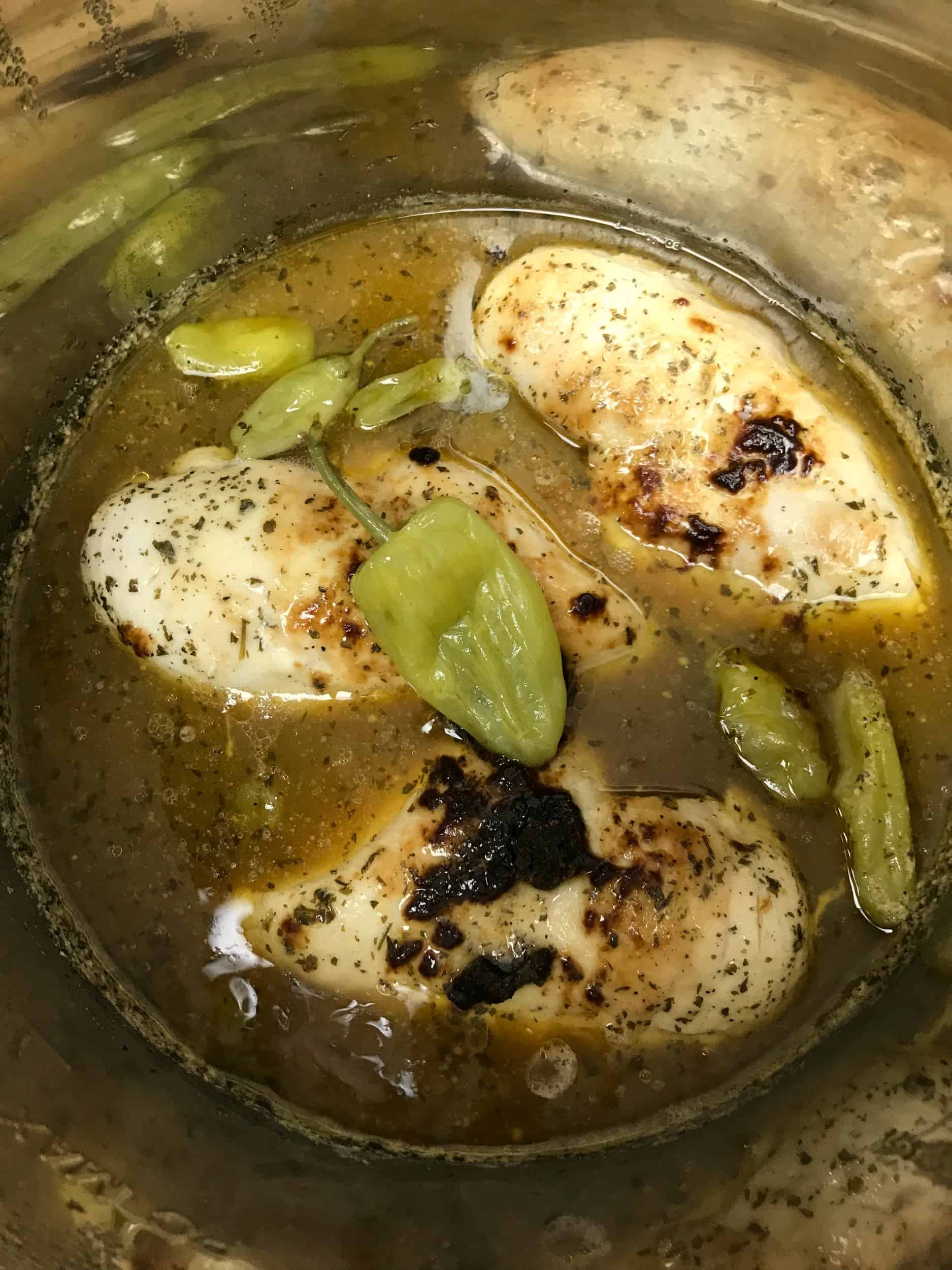 Shred chicken with a fork, pair of meat shredders, or drop it in your kitchen mixer. You want the meat to be shredded nicely with not big chunks.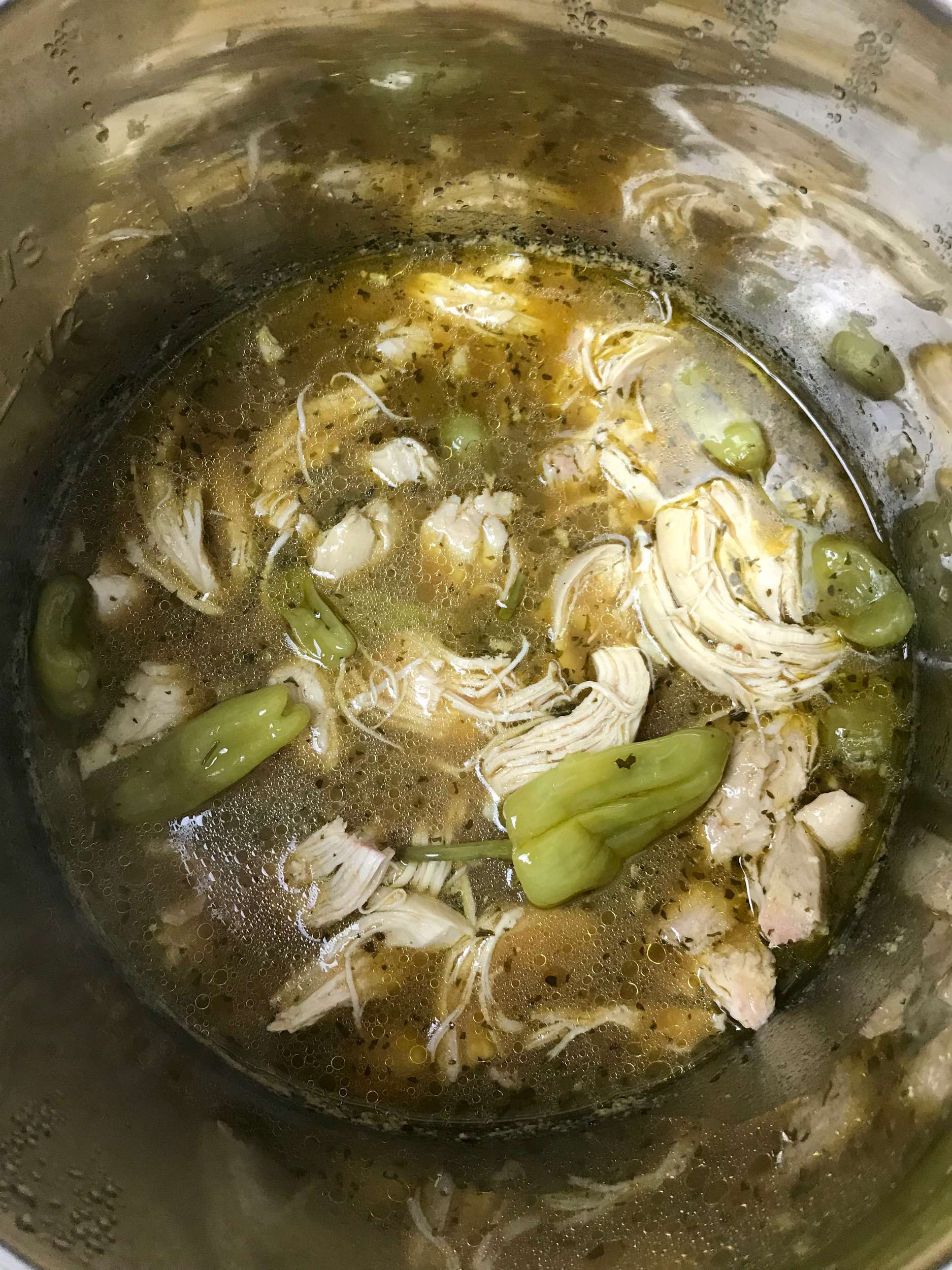 Serve however you'd like.
Mississippi Chicken
See how simple and easy this recipe is to make! Talk about savory and simple.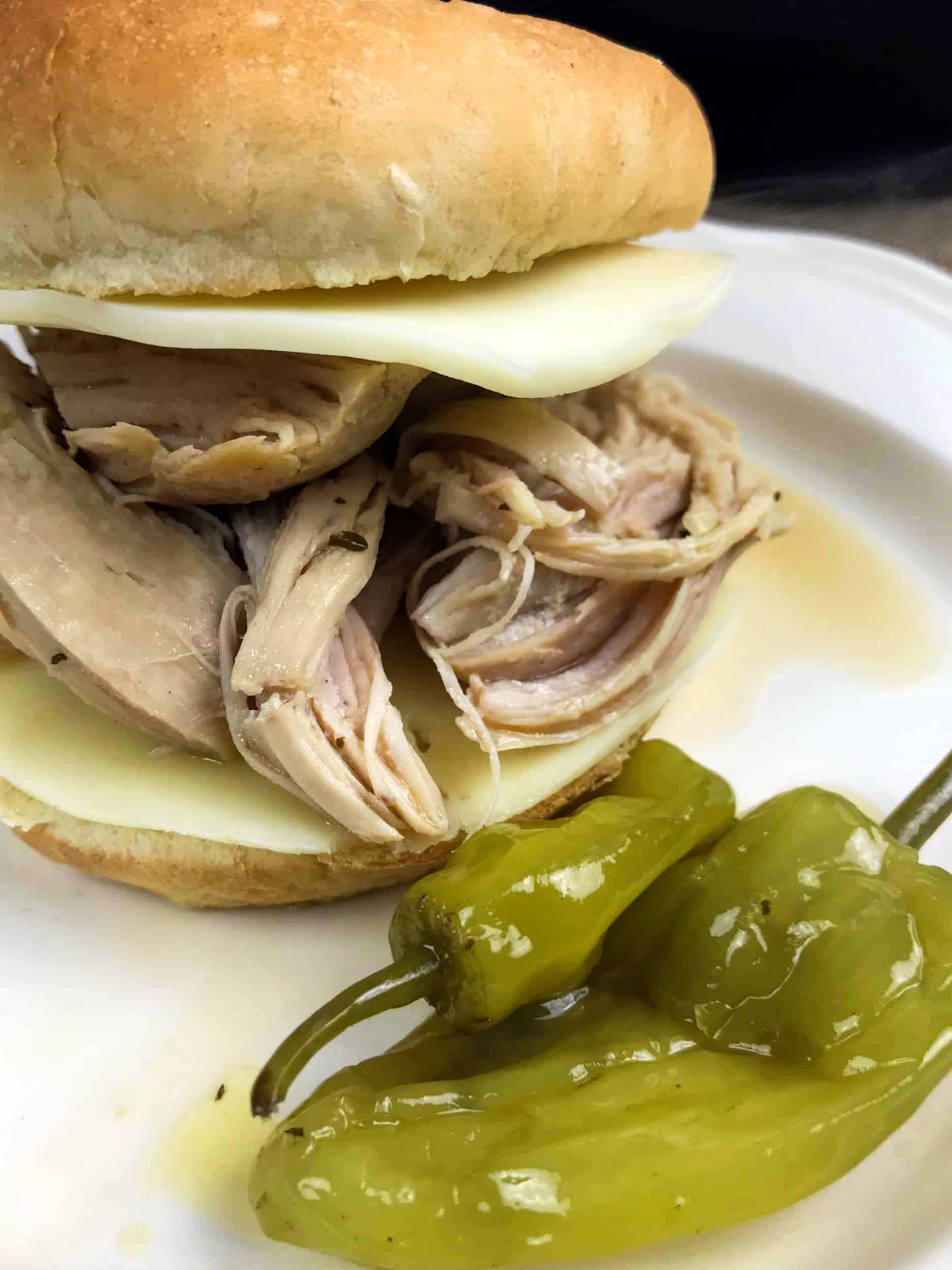 Mississippi Chicken Variations
As I mentioned earlier, there are so many ways possible to serve this Instant Pot chicken recipe. Here are some of my favorite ways that I like to change it from time to time:
Onions – Toss in a few onions to add a little pizzazz to the dish!
Over Mashed Potatoes – Make a batch of creamy mashed potatoes and put the meat right on top! So good!
Cheese – Try any kind of cheese you like. Monterrey Jack, pepper jack, mozzarella, and cheddar are my favorites when I make shredded chicken sandwiches.
Bacon – Crumble some bacon and toss on top for a salty, delicious treat!
Can I Make This Mississippi Chicken Recipe Without Butter?
Yes, if you are using chicken thighs, you can skip the butter. Chicken thighs have enough fat and juices that butter isn't needed.
When you are using chicken breasts, I recommend always using at least a 1/2 cup of butter when cooking it in the Instant Pot. If you skip this step, the shredded chicken will come out dry and not have as good of flavor. You could replace butter with margarine if you needed too, but it won't be as flavorful.
Can I Cook Mississippi Chicken In A Slow Cooker?
Of course, you can make Mississippi chicken in a slow cooker. It's effortless! All you need to do is add the chicken (thighs or breasts) to the bottom of the slow cooker, sprinkle with ranch and gravy mixtures, add butter and pepperoncini and put the lid on. Cook on high for 6-8 hours and low for 4-5 hours.
I like making shredded chicken sandwiches in the Instant Pot because sometimes I wait until the last minute to decide what to cook. If you plan ahead better, then, by all means, use your slow cooker for this dish!
What Is The Difference Between Quick Release And Natural Release On The Instant Pot?
If you are just starting out with an Instant Pot, I know it can be scary. There are a ton of buttons, and it's confusing to understand all the terminology. Quick release means that you allow the pressure/steam to release from the Instant Pot very rapidly by turning the nozzle. Always make sure to turn the pressure nozzle with a wooden spoon or towel and never turn it with your bare hands.
When you allow something to natural release, that means that the steam & pressure will leave the Instant Pot at its own rate. You don't need to do anything for this; I will happen naturally.
Once the pressure has released from the Instant Pot, it will usually make a noise to alert you of this fact. At that point, it is safe to open the lid of the Instant Pot and check on your food.
I know it sounds intimidating at first, trust me I was a little worried too! But ultimately, once you get the hang of it, you can make amazing, delicious food that is juicy and tender!
What Do I Do If I Get A Burn Message On My Instant Pot
Occasionally, you will get a burn message on your Instant Pot. This can happen with this shredded chicken sandwich recipe or any other dish you cook in the Instant Pot. Don't worry though; it happens to everyone at some point. Here are the steps to take if you do end up with a burn message:
Turn off the Instant Pot.
Carefully use a wooden spoon to turn the pressure valve to a quick release so all the pressure will leave the pressure cooker.
Be very careful and open the lid to the pot.
You will most likely find food stuck to the bottom on the pot, so carefully scrape it up.
Assuming the food is still edible and not burnt, you can start cooking it again. If you know where you were in the process, I would start there. For example, if you had 5 minutes left for that recipe, then I would put 5 minutes on the Instant Pot manually and cook.
Sometimes, if you are cooking something with a lot of cream or rich ingredients and it burns you may not be able to salvage the dish. Unfortunately, you would have to start over. Thankfully, it isn't something that is going to happen on a regular basis so don't let it concern you. Just keep trying and making those yummy meals!
How Do You Store Leftover Pepperoncini Chicken?
What I love about pepperoncini chicken is it can be stored easily in the fridge or freezer. This way, you can grab what you need out for a quick lunch idea or easy supper. Always put leftovers in an airtight container or freezer safe storage bag.
Sometimes, I use freezer safe storage bags because I fill it with the Mississippi chicken thighs and lay it flat to freeze. Once the container is frozen, you can stand it up or move it around to make more room in the freezer.
Defrost Before Serving
When you are ready to serve, I recommend defrosting in the microwave or putting in the fridge the night before. I have found the best way to reheat the Mississippi chicken is to toss it in a lightly greased casserole dish and heat it in the oven at 350 degrees for 15-20 minutes. I also add a little bit of chicken broth, so it keeps it's moisture and doesn't dry out.
You can always heat it up in the microwave too if you are packing a lunch and don't have an oven available. No matter which method you choose, it will turn out really delicious!
What Goes Good With Instant Pot Missisissippi Ranch Chicken?
All kinds of things go good with Mississippi ranch chicken, but here are some of my favorite side dishes for you to try:
Potato Salad
Baked Beans
Garden Salad
Macaroni & Cheese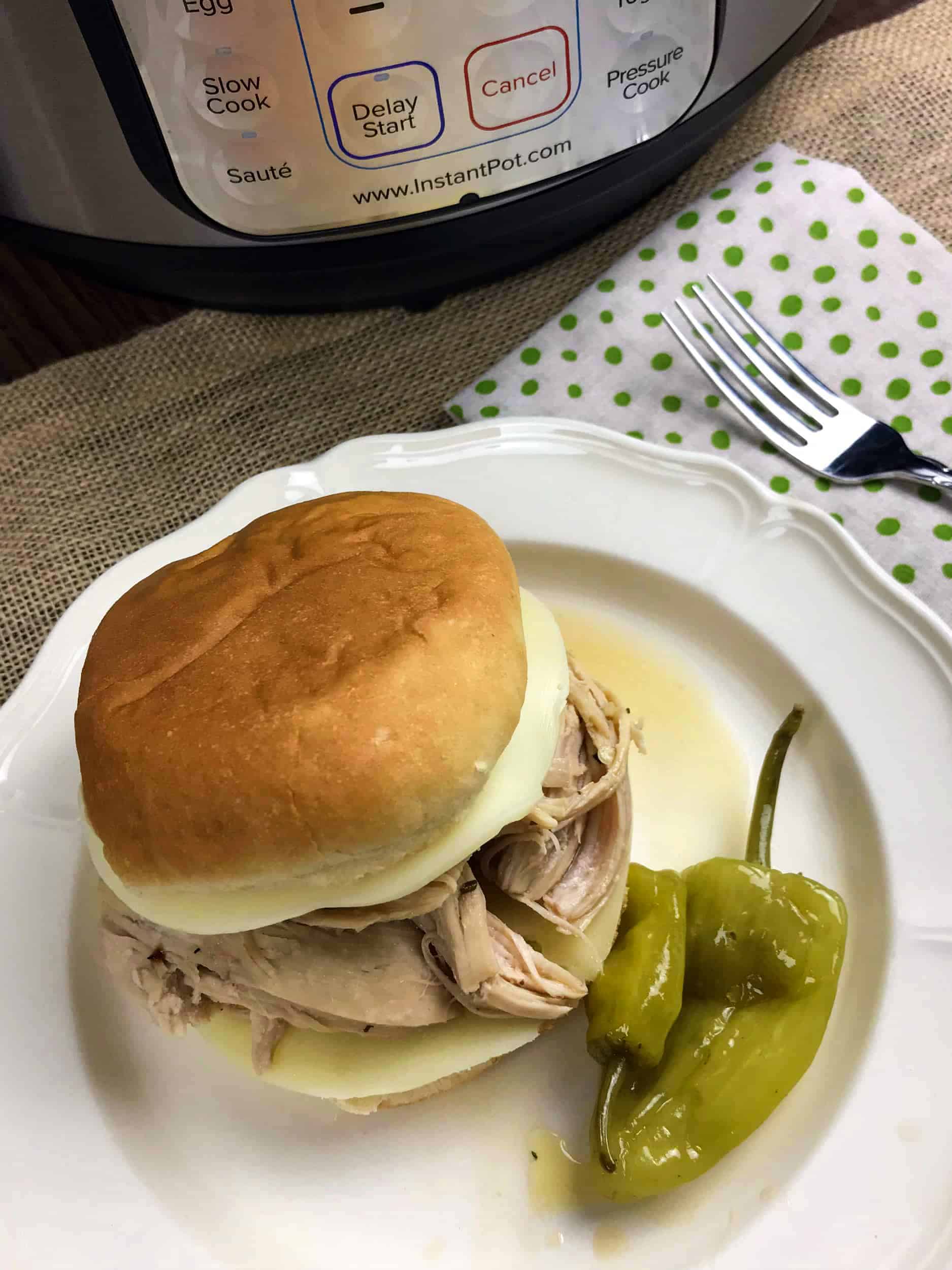 Save this delish Instant Pot Mississippi Ranch Chicken recipe for later:

Pin this recipe now to remember it later
Instant Pot Mississippi Ranch Chicken
Instant Pot Mississippi Ranch Chicken is tender, juicy and so full of flavor! It's the best 10-minute dinner you'll ever make!
Ingredients
3

pounds

boneless skinless chicken breast or thighs

1

packet dry ranch dressing mix

1

packet dry brown gravy mix

1

cup

whole pepperoncini with juice

1/2

cup

butter

,

not required with chicken thighs
Want to save this recipe? Enter your email below and we'll send the recipe straight to your inbox!
NOTE: By saving this recipe, you agree to join our weekly recipes newsletter.
Instructions
Trim chicken of excess fat and place inside the pressure cooker inner pot.

Over chicken, sprinkle ranch seasoning mix and brown gravy mix. Pour chicken stock and pepperoncini over chicken. Dot with butter if using.

Close the pressure cooker and move the steam release value to the sealing position. Select "pressure cook" or "manual" and adjust the cook time to 10 minutes.

Allow the pressure cooker to naturally release the pressure for 10 minutes before using the quick release.

Pull apart chicken using two forks and serve on buns or over noodles, rice, or mashed potatoes.
Notes
6 Freestyle Smartpoints (7 servings)
Follow me on Pinterest for daily delicious recipes!
TOP EASY INSTANT POT RECIPES :
Instant Pot Southern Stuffing – This Instant Pot Southern Stuffing is the best homemade stuffing recipe you'll ever make!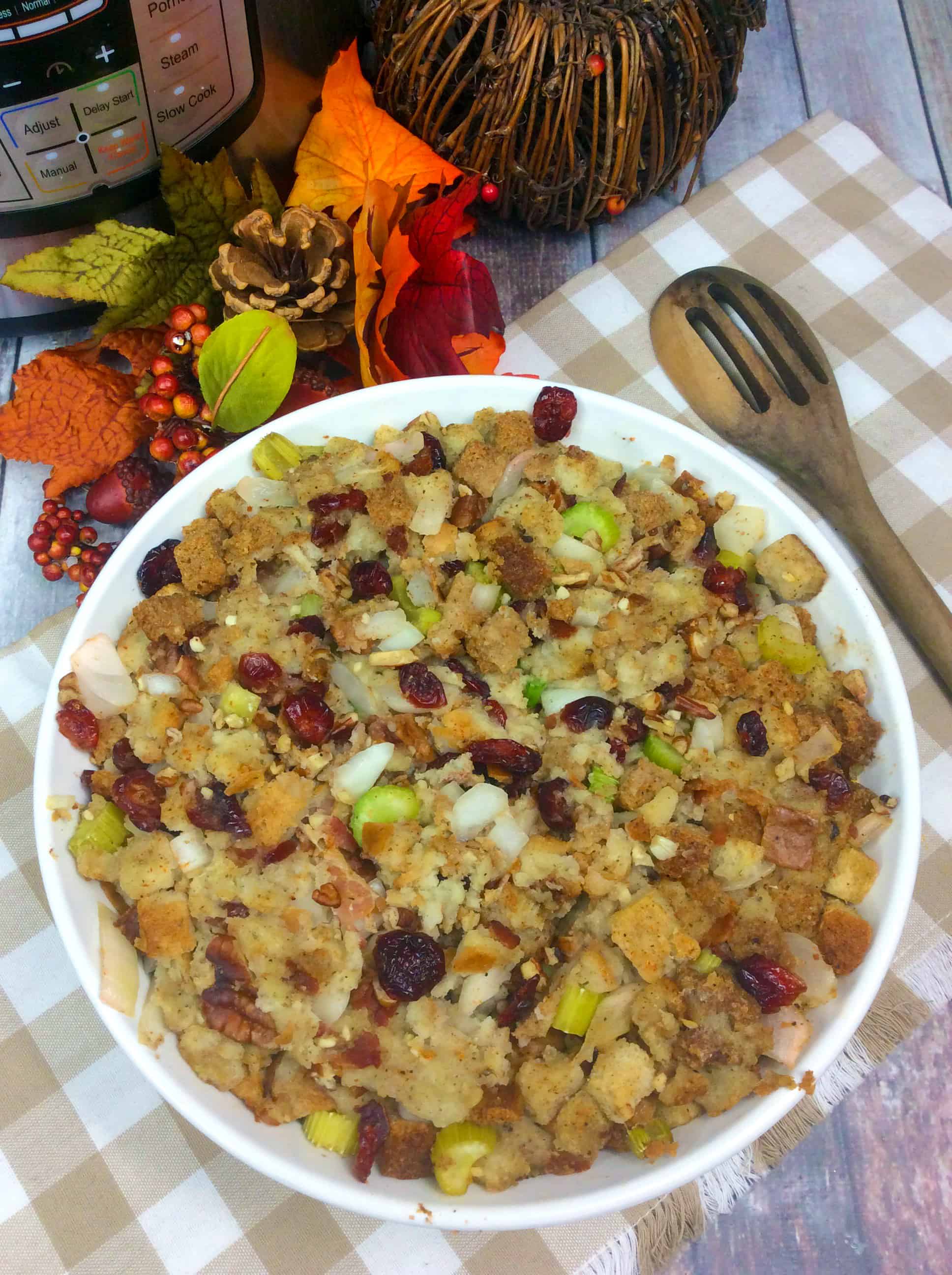 Chicken Noodle Soup – Instant Pot Chicken Noodle Soup is the easiest, most flavorful chicken noodle soup you'll ever make!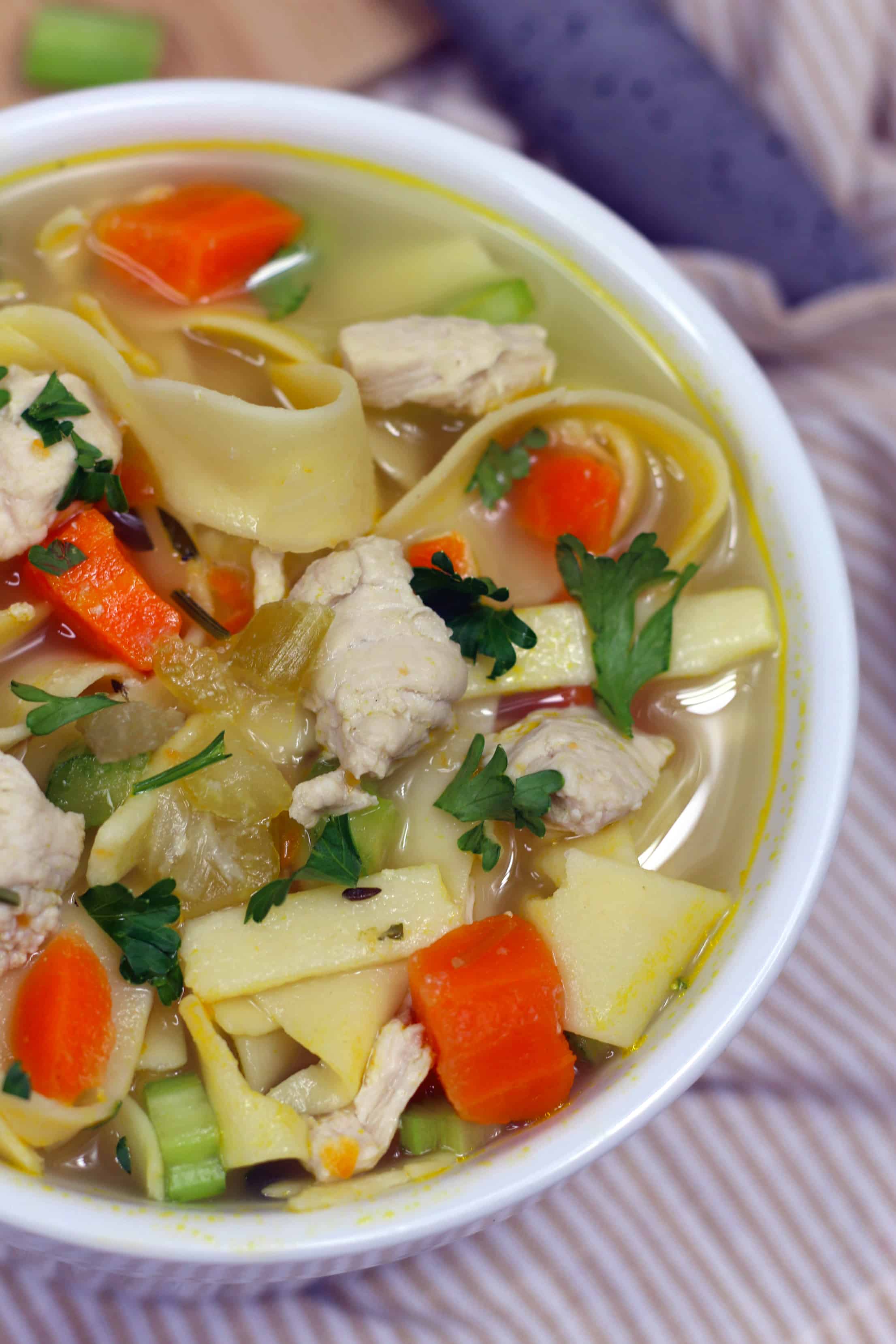 Instant Pot Roast – This Instant Pot Roast is an easy all-in-one hearty Instant Pot meal, perfect for cool nights!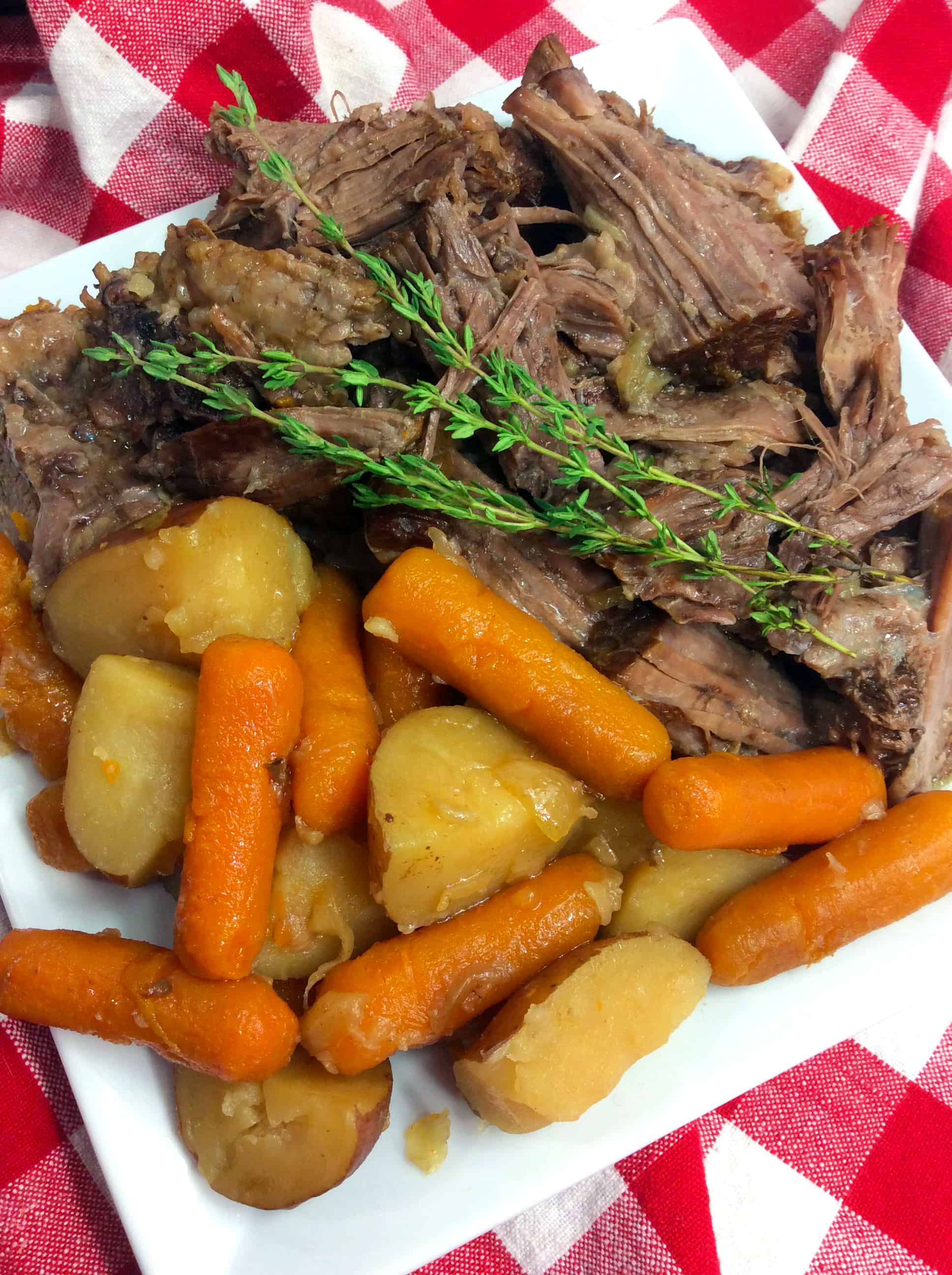 Now have you ever made Mississippi Chicken?
Get new recipes weekly plus our FREE ebook!