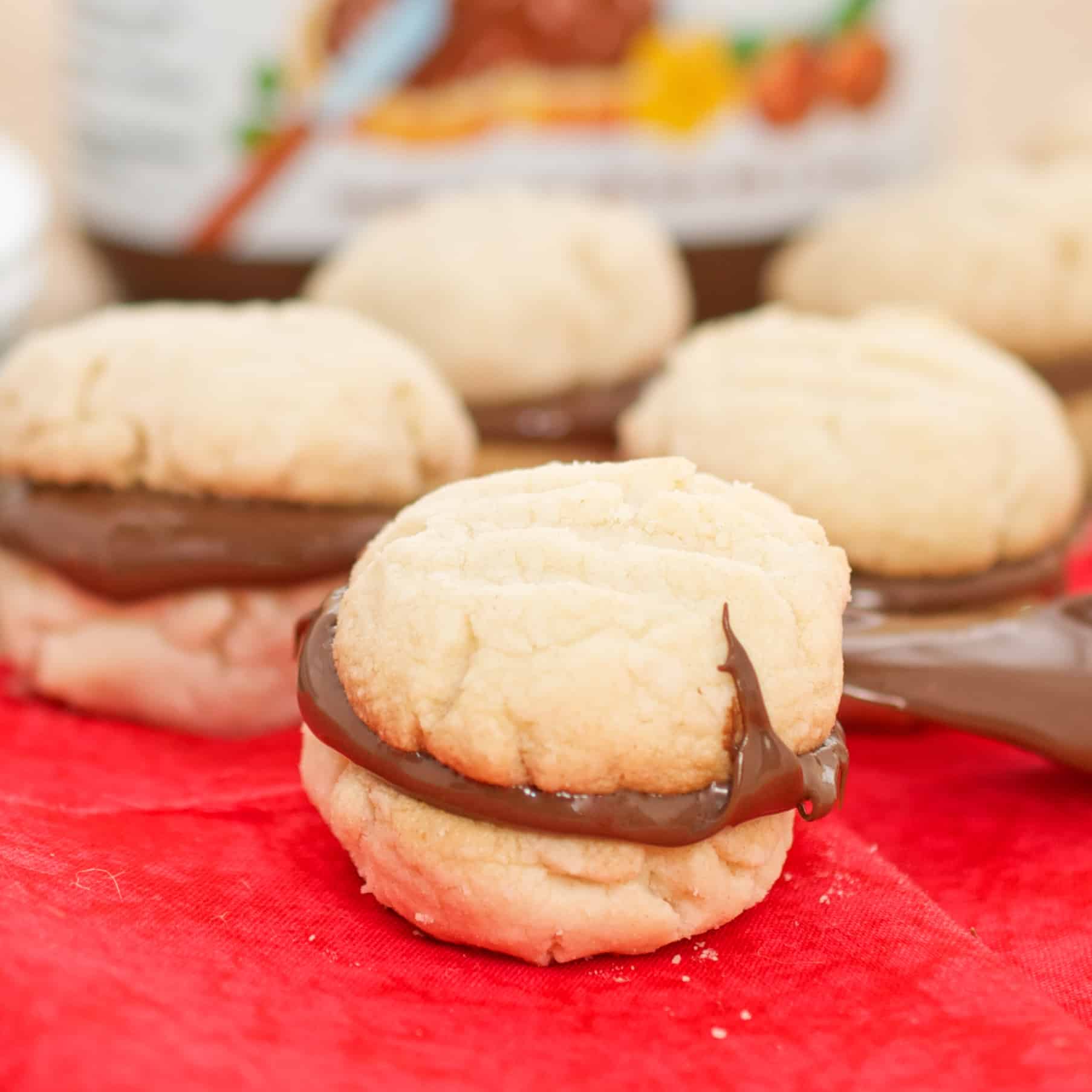 Add some flavor to your life by making these homemade Nutella Sandwich Cookies. They have incredible flavor, will please a crowd, and are super simple to make. There are a million reasons to make these soft, Nutella cookies!
Scroll to bottom for printable recipe card.
Nutella Sandwich Cookies
Today is a very special day in the food world….World Nutella Day! A whole day dedicated to Nutella Lovers around the world. Ever since the first time I tried Nutella on a trip to Rome, Italy, a few years back, I've been hooked! It's definitely one of my favorites! I couldn't possibly let February 5th pass without joining in on the Nutella fun!
Two buttery, bite-sized shortbread cookies slathered with a luscious Nutella filling. Let me warn you; these cookies are addicting. And their little size makes it really hard to eat just one!
Happy World Nutella Day, everyone! How are you going to celebrate?
Am I the only one that can totally eat Nutella with a spoon? I can't help it that the yummy hazelnut flavor pulls me in and leaves me begging for more. The way it tastes is awesome, but also the texture is pretty impressive too. It's so creamy and goes well with so many other recipes too.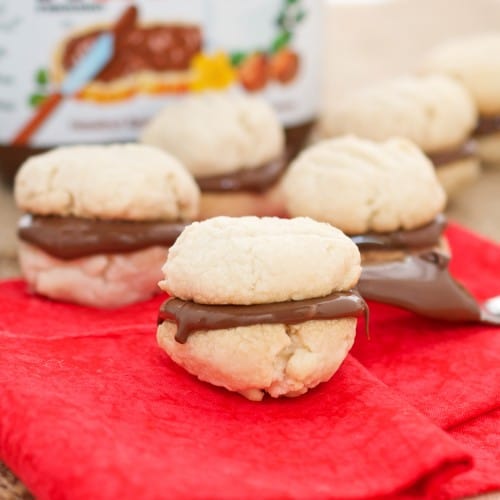 Tips for Filling Cookies
Adding the filling to the shortbread Nutella cookies is so easy! All you really need to do is use a knife or super small spatula to spread out the Nutella on the cookie. Then add the top of the cookie, and you are all set.
How to Know When Cookies Are Done
Making homemade cookies with Nutella is very easy. What you need to do is bake them for 15 minutes. They are done when you notice that they have started to look golden brown. They should look fairly set up. After you take them out of the oven, they will finish baking on the pan if you leave them there for a few minutes before removing them.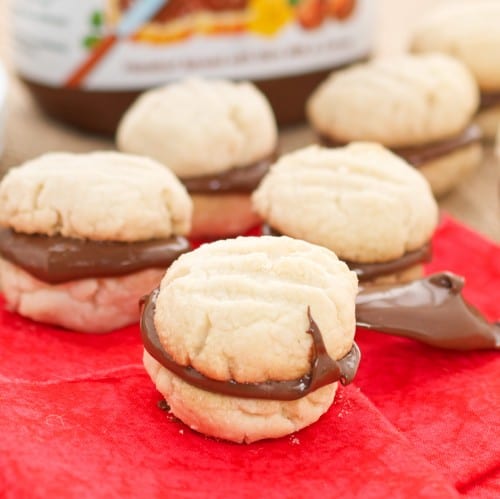 Freezing Leftover Cookies
After you have prepared the cookies and they are all cooled off, place them on a cool baking sheet. Put the baking pan in the freezer and let it sit flat for two to three hours. After that time, you can take the pan out of the freezer and place the cookies inside of a freezer container. We also use freezer bags for storing food too.
Label the container, and the cookies will last in the freezer for up to 3 months. Before serving, take them out and let them defrost on the counter for 30 minutes to 1 hour before serving. Once thawed, it's time to devour these Nutella sandwich cookies.
Tips For Mixing Cookie Batter
Preparing cookie dough is really pretty easy, but it can be messed up if you don't already know how to do it. Once you get these tips down, you shouldn't have any trouble along the way.
It's better to use a stand mixer or a hand mixer to get the correct texture of the butter and powdered sugar. You can mix it by hand, but it's going to take a lot of effort on your part.
Don't forget to scrape down the sides of the bowl; otherwise, you may have some spots that aren't well mixed.
Don't ever over mix the batter. If you do, the cookies are going to be super dense and not very appealing.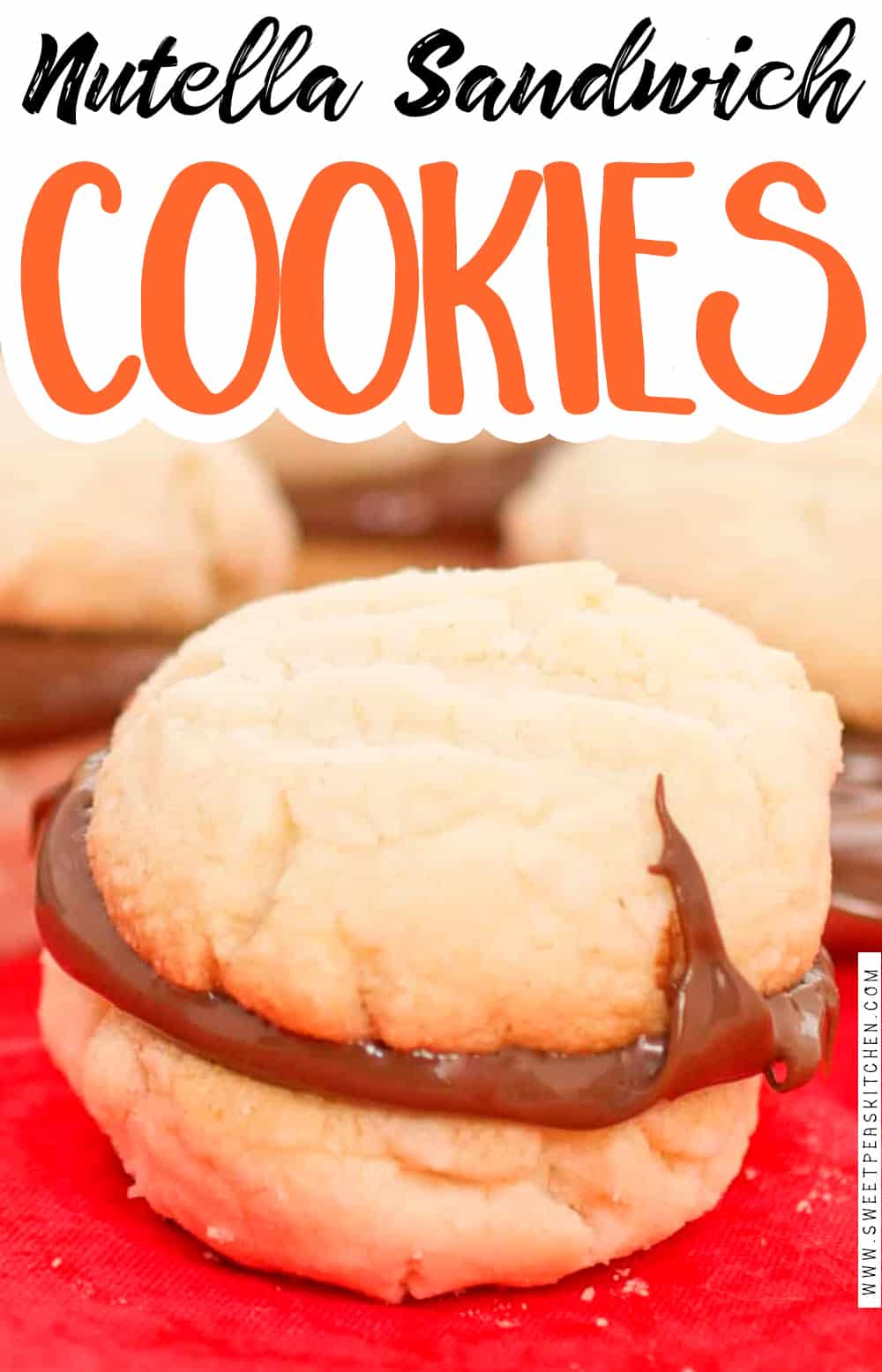 Ingredients
I love desserts that I don't need a lot of ingredients for. These Nutella cookies are perfect because they only need 8 ingredients. Let's take a look at what you will need to whip up a batch of these homemade cookies with Nutella.
All-purpose flour
Cornstarch
Baking powder
Salt
Unsalted butter softened
Confectioners' sugar
Pure vanilla extract
Nutella
How to Make Nutella Sandwich Cookies
There are only six steps, and none of them are hard. You will be pleased that you can make the best Nutella cookies ever with this much ease.
First Step: Turn on your oven and preheat it to 350 degrees. Then get two baking sheets and line them with parchment paper or a silicone mat.
Second Step: Combine the cornstarch, baking powder, flour, and salt together in a medium bowl. Mix with a whisk and set aside.
Third Step: Use a stand mixer and attach the paddle attachment. Beat together the unsalted butter and the powdered sugar together until they become light, fluffy, and soft. This usually takes around 3 minutes. Then beat in the vanilla extract.
Fourth Step: Slowly start adding in the dry ingredients and continue to beat the dough at low speed. Scrape the bowls as needed with a spatula. Roll out the dough into teaspoon sized balls and put them onto the prepared baking sheets. Be sure to leave at least 1 1/2 inches between the cookies. Gently press each cookie using a fork. This will help flatten the cookies slightly.
Fifth Step: Bake the cookies for 15 minutes and be sure to rotate the pans halfway through. They will be golden brown when they are done. Allow the cookies time to cool off on a wire rack.
Sixth Step: Place a layer of Nutella on the bottom side of one cookie. Then add another cookie to form a sandwich. Continue this process until all the cookies are sandwiched.
Eat and enjoy!
Now, remember to save this recipe on Pinterest for later 🙂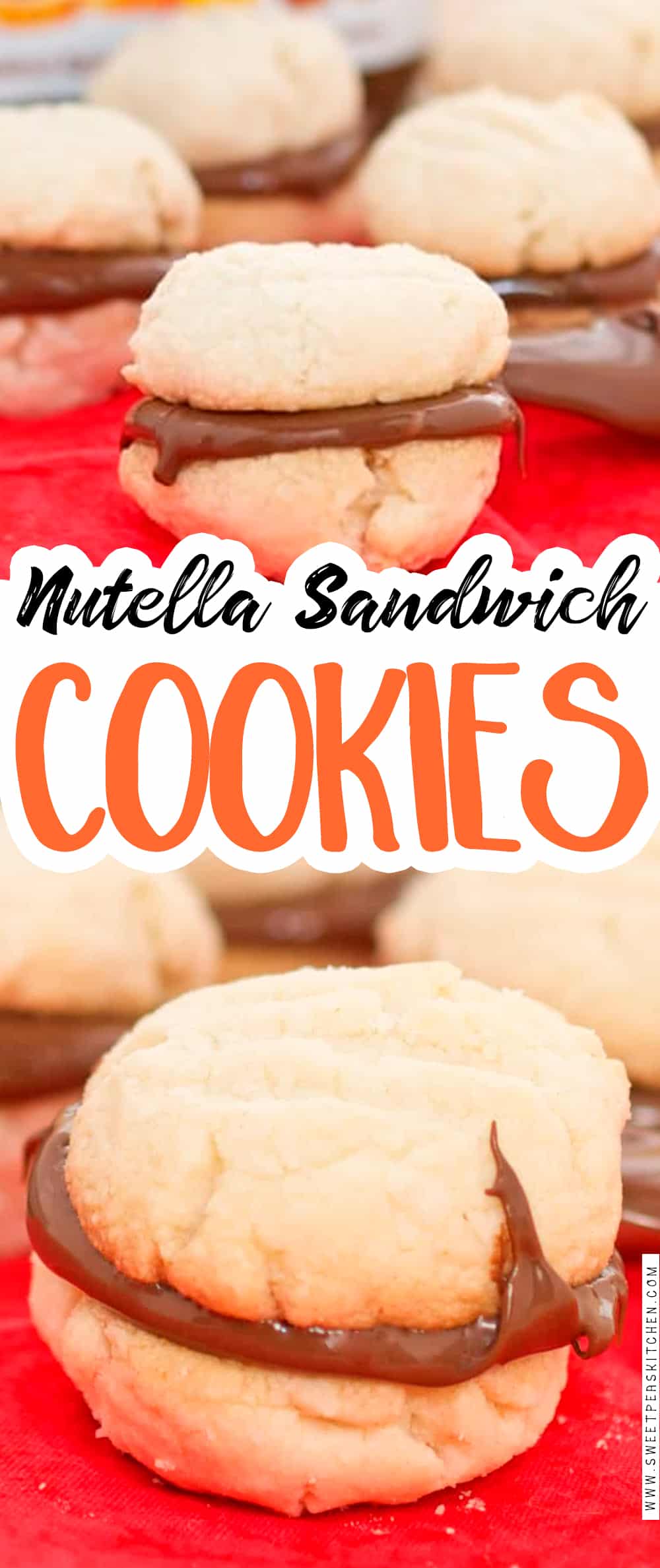 Pin this recipe now to remember it later
Nutella Sandwich Cookies
Add some flavor to your life by making these homemade Nutella Sandwich Cookies. They have incredible flavor, will please a crowd, and are super simple to make. There are a million reasons to make these soft, Nutella cookies!
Ingredients
1 1/3

cups

all-purpose flour

1/2

teaspoon

baking powder

12

tablespoons

1 1/2 sticks unsalted butter, softened

2/3

cup

Confectioners' sugar

1

teaspoon

vanilla extract
Want to save this recipe? Enter your email below and we'll send the recipe straight to your inbox!
NOTE: By saving this recipe, you agree to join our weekly recipes newsletter.
Instructions
Preheat the oven to 350°F. Line 2 cookie sheets with parchment paper.

In a medium bowl, whisk together flour, cornstarch, baking powder and salt; set aside.

In the bowl of a stand mixer fitted with the paddle attachment, beat the butter and powdered sugar until light and soft, about 3 minutes. Beat in the vanilla. Add the dry ingredients and beat at low speed, scraping the side of the bowl occasionally, until smooth. Roll the dough into teaspoon-size balls and place on the prepared baking sheets about 1 1/2 inches apart. Press each cookie with the back of a fork to flatten the cookies slightly. Bake the cookies, rotating the pans from top to bottom and front to back midway through, for about 15 minutes or until very lightly golden. Cool the cookies completely on a rack.

To assemble, Spread a layer of Nutella on the flat side of 1 cookie. Top with second cookie, forming a sandwich. Repeat with remaining filling and cookies.
Nutrition
Serving:
1
g
|
Calories:
81
kcal
|
Carbohydrates:
9
g
|
Protein:
1
g
|
Fat:
5
g
|
Saturated Fat:
3
g
|
Polyunsaturated Fat:
1
g
|
Cholesterol:
10
mg
|
Sodium:
53
mg
|
Sugar:
4
g
Follow me on Pinterest for daily delicious recipes!
We are always up for eating a recipe with Nutella. These are some of our favorite Nutella recipes, and I think you are going to love them so much.
Banana Nutella Muffins – Start your day off right with a yummy Banana Muffin that is complete with lots of gooey Nutella. Great for all occasions.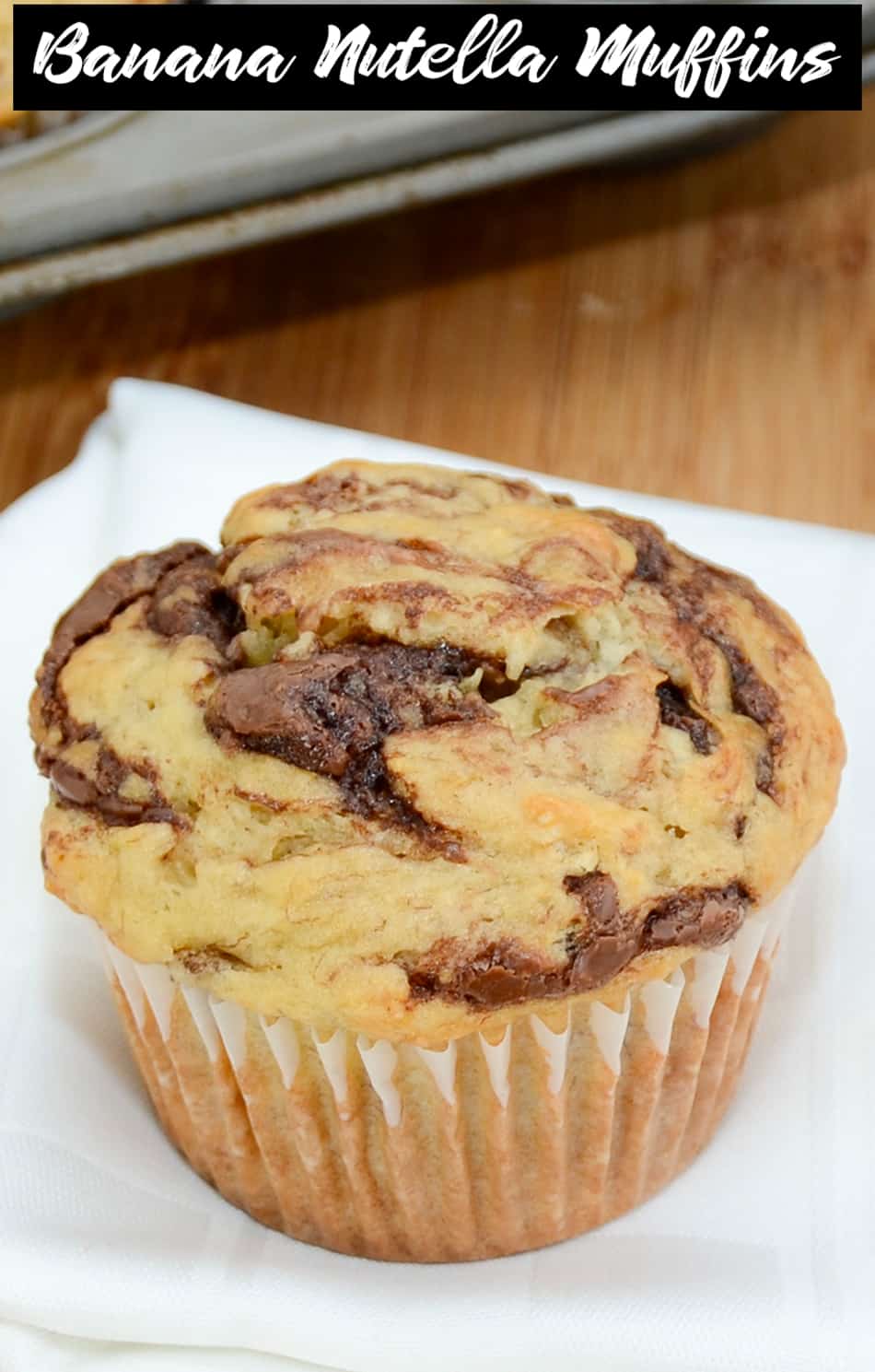 Fried Nutella Dumplings – They are flaky, tasty, and incredible. There is no way to deny a second helping because they are that good.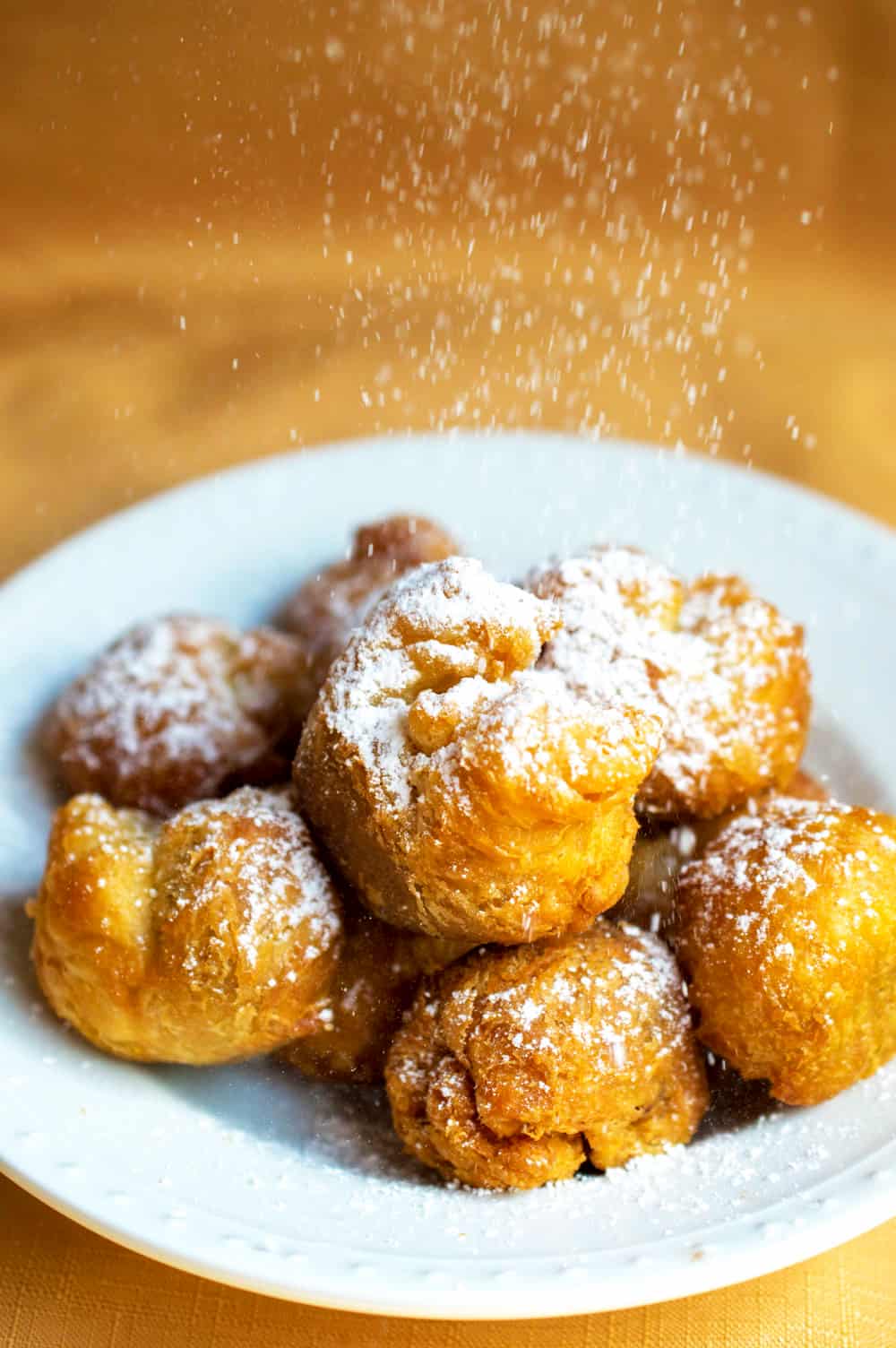 Nutella Stuffed Pancakes – Oh my heavens! There is nothing more decadent and satisfying than these insane pancakes. You are going to want to make these babies, I promise!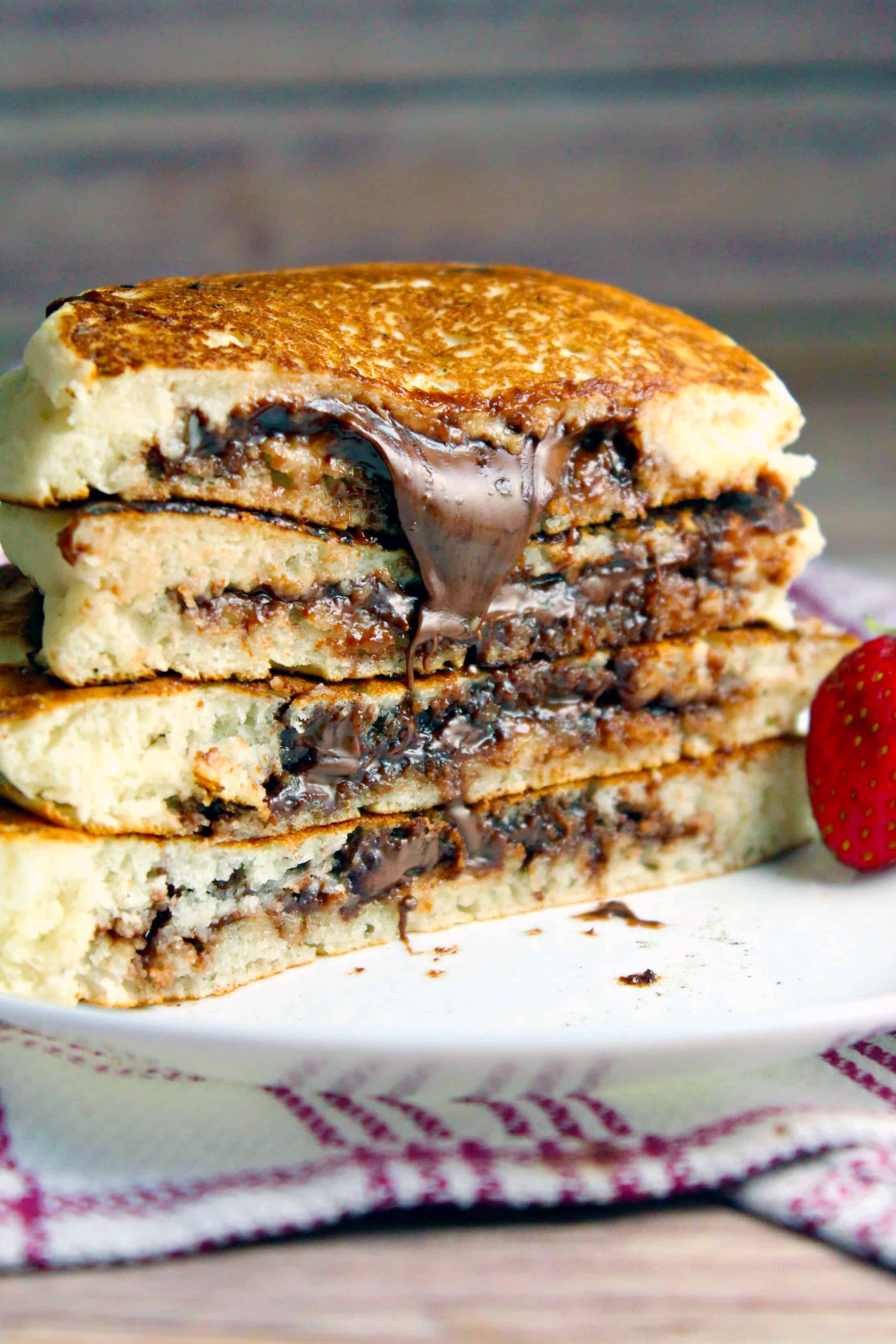 Nutella Stuffed Chocolate Chip Cookies – These are fudgy, delicious, and easy cookies to make. You have never had chocolate chip cookies like this before!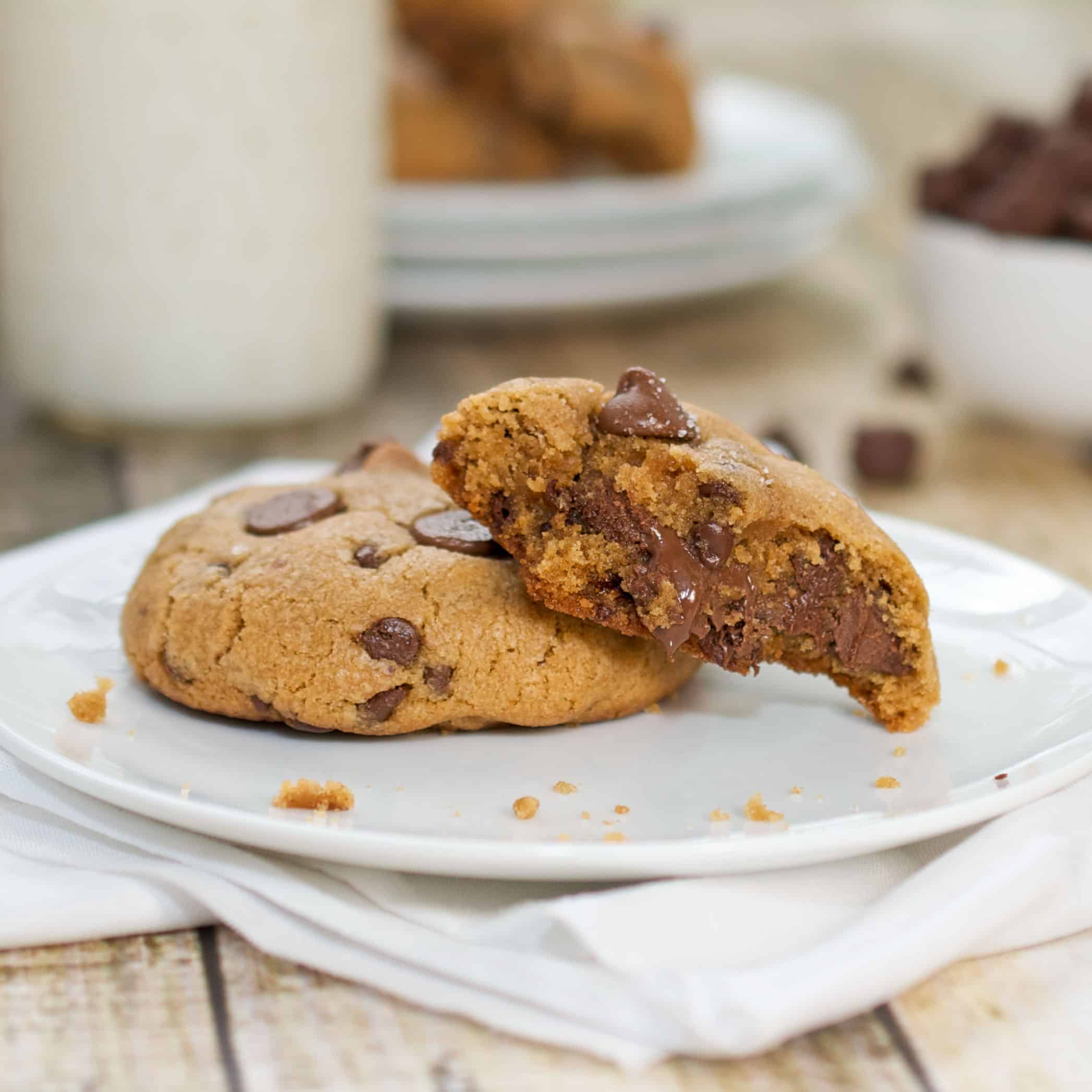 Get new recipes weekly plus our FREE ebook!