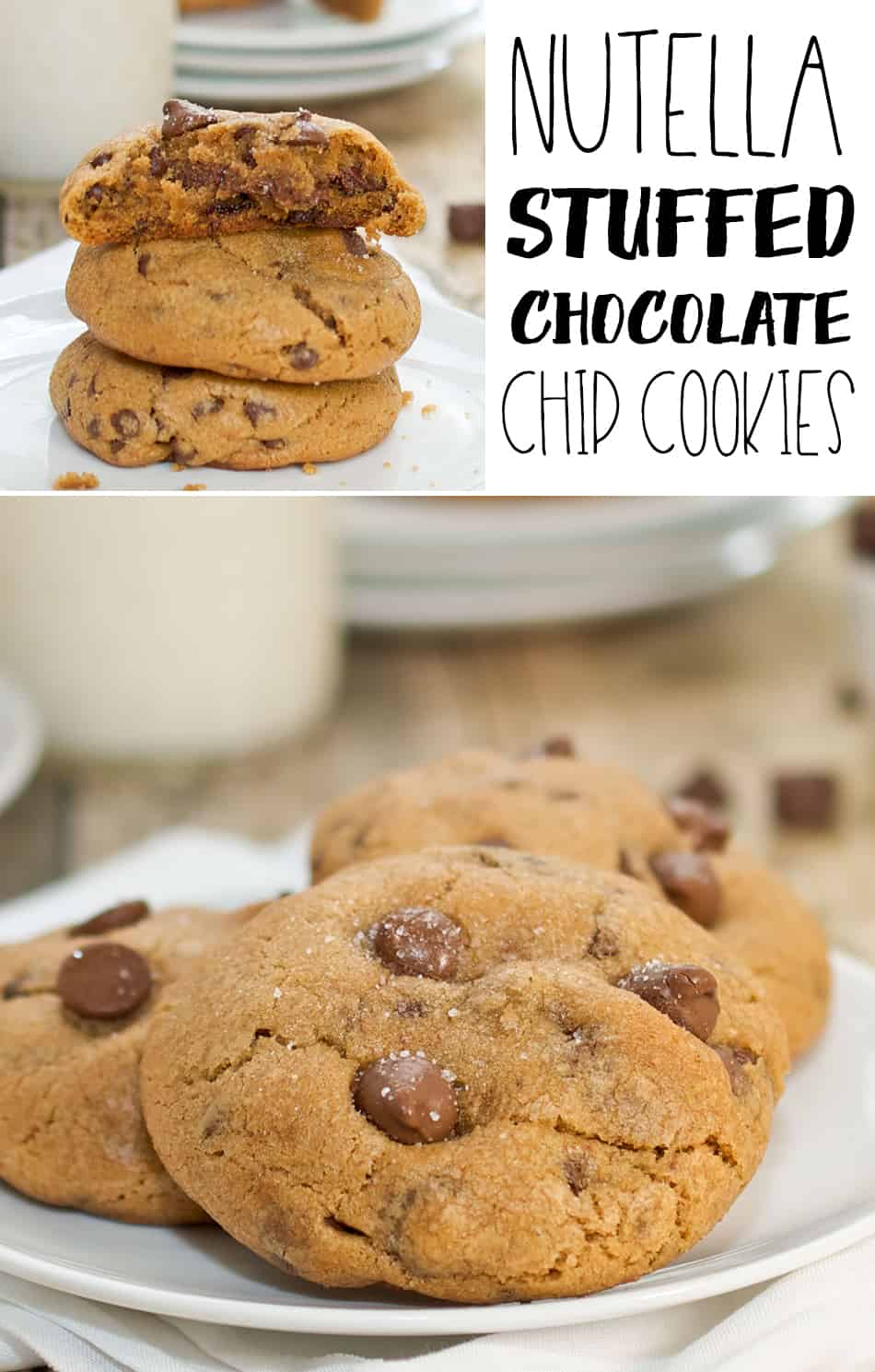 Nutella Stuffed Chocolate Chip Cookies is what your tastebuds dream about at night. They are insanely delicious, and that chocolatey hazelnut flavor is mindblowing good. Eating them warm, so the chocolate is a little melty will make your heart go pitter-patter. The aroma of these baking cookies is better than you can even imagine.
Scroll to bottom for printable recipe card.
Nutella Stuffed Chocolate Chip Cookies
These cookies are sure to steal the show at your Memorial Day cookout this weekend. Exploding with rich chocolate chips and a gooey Nutella center, these cookies are what you've been waiting for.
These babies might just be the perfect cookie! Perfect if you like your cookies thick and chewy with crisp edges and tons of chocolate chips. And did I mention the dollop of Nutella in the middle? Or the delicious browned butter?

The melty chocolate chips combined with the rich Nutella is just out of this world! So what are you waiting for? Serve warm straight from the oven with a cold glass of milk!
How do I Add Nutella to The Middle of Cookies?
Don't worry, I know that it can sound scary to add in the Nutella to the center of these incredible Chocolate chip browned butter cookies, but I promise it's a cinch. You won't have any trouble at all.
The key to getting the Nutella in the center of the cookies is by adding dollops of Nutella to a parchment-lined baking sheet. Then allow it to freeze until they are frozen or for at least 45 minutes.
While they are freezing, you will need to prepare the cookie dough. Then you will wrap the dollops of frozen Nutella with freshly prepared cookie dough. You will need to form the cookie dough around the Nutella. This way, it ends up in the center, and it's heavenly.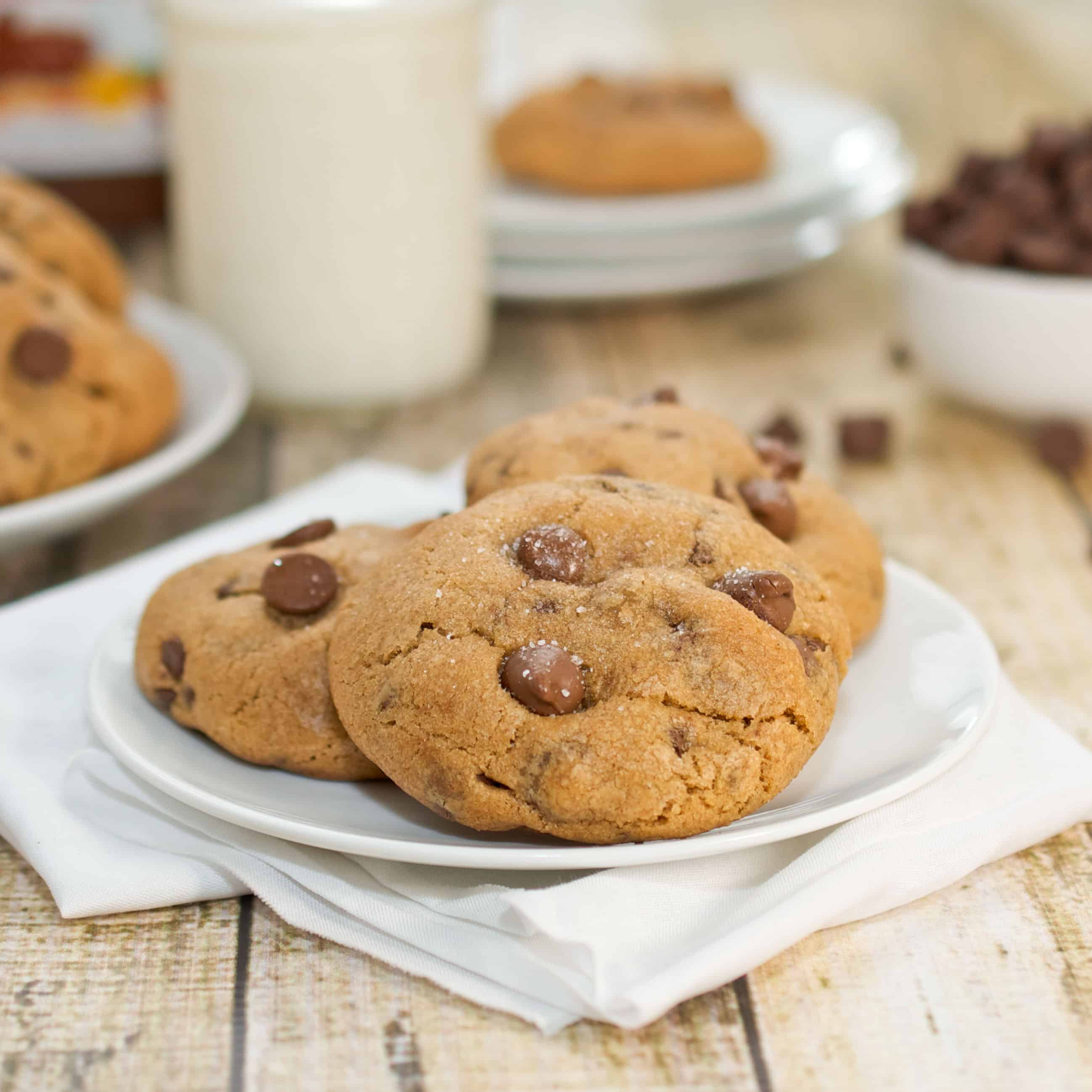 How do You Make Stuffed Cookies Easily?
I find that when I am baking or cooking in the kitchen, the first thing I do is get out all of my ingredients and measure them out. Then have everything ready to pour into your bowl easily. This is the first step to saving yourself a headache later. There is nothing more annoying when you are cooking or baking, and having to scramble around the kitchen, grabbing ingredients after you have already started.
It's important with these stuffed cookies that you get the Nutella ready and have it chilling before you start the cookie dough. Since the Nutella is timed, you don't want to be stuck waiting around for it unnecessarily.
Make sure not to overbake the cookies, so they don't become too crispy or hard. They are meant to be big, plump, and soft beauties.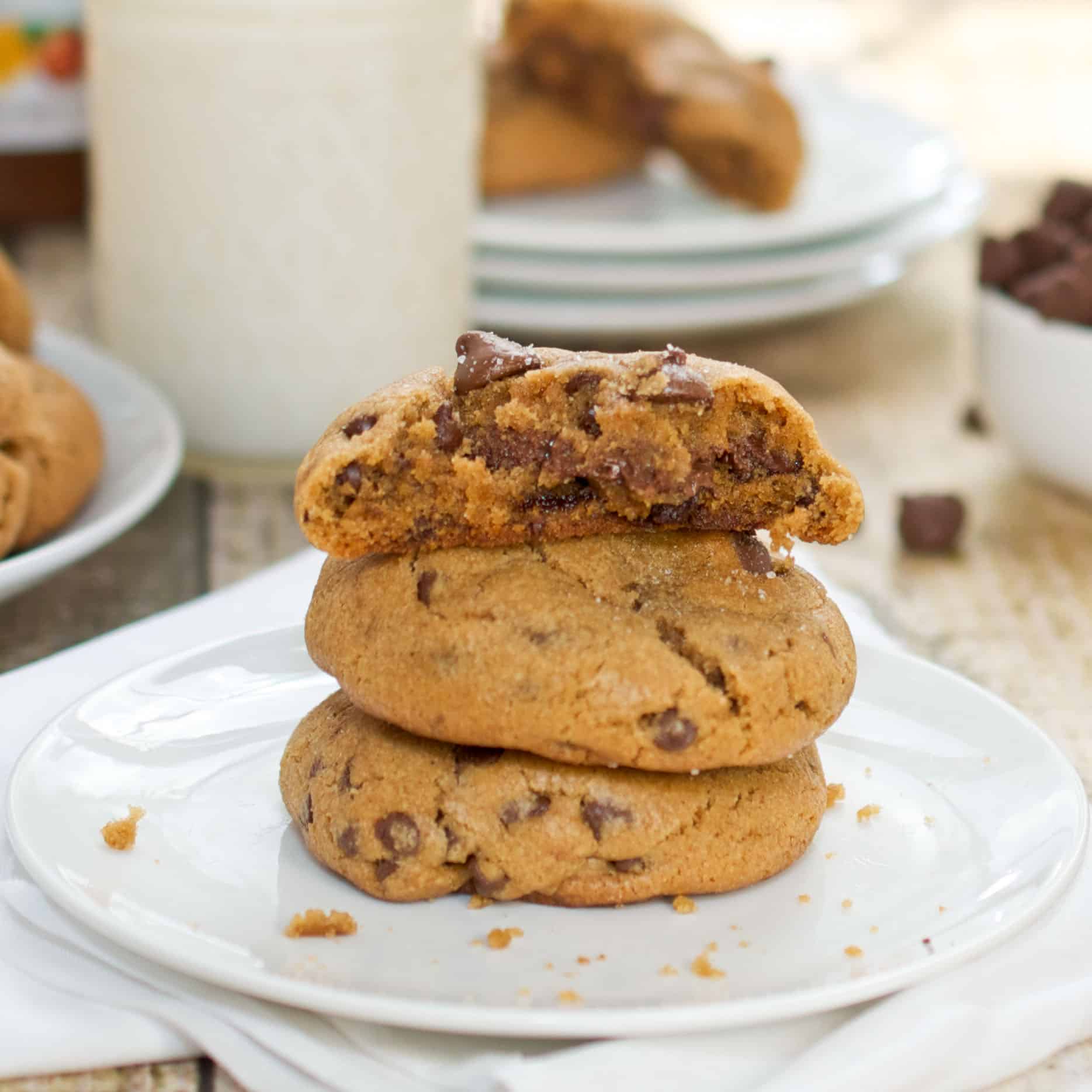 Ingredients
The ingredients are incredibly simple, and odds are you already have what you need. I love recipes like that, so I can avoid going to the market whenever possible!
Nutella
Unsalted butter, cut into 1-inch pieces
All-purpose flour
Baking soda
Salt
Packed light-brown sugar
Large eggs
Vanilla extract
Semi-sweet chocolate chips
Milk chocolate chips
Coarse sea salt
How to Make Nutella Stuffed Chocolate Chip Cookies
Once you make these stuffed chocolate chip cookies, you will find that this will easily become a new household favorite. The flavors are seriously some of the best I have ever tried. Let's get going to you can get in the kitchen and throw together a batch or two.
First Step: Prepare a baking sheet by lining it with a piece of parchment paper.
Second Step: Add the Nutella to a pastry bag with a medium sized round tip. You can also use a ziploc bag with the corner cut if you would rather. Take the pastry bag and pipe dollops of Nutella that are around 1 1/2 teaspoons big onto the parchment paper. You should end up with about 26 mounds of Nutella. Place the baking sheet into the freezer and let sit for 45 minutes.
Third Step: While the Nutella is chilling, begin making the cookie dough. First, melt butter in a 10 inches skillet using medium-high heat. Continue to cook the butter and swirl it around constantly. It should be a dark golden brown color and have a nutty aroma when it's ready.
Fourth Step: Pour the butter into a heatproof bowl and let it cool for 25 minutes to room temperature.
Fifth Step: Mix together the flour, baking soda, and salt together into a medium sized bowl.
Sixth Step: Using a large bowl, mix the browned butter and brown sugar together until they are combined using a whisk. Mix in the eggs and vanilla until well combined. Using a rubber spatula carefully fold in the flour mixture into the egg mixture. Fold in the chocolate chips and wrap tightly with plastic wrap. Place the bowl in the fridge for 30 minutes or so.
Seventh Step: Warm up the oven to 350 degrees and line two baking sheets with pieces of parchment paper.
Eighth Step: Take heaping spoonfuls of cookie dough and roll it in your hands until it is 1 1/2 inches big, then flatten it and add a Nutella dollop in the center. Then take another mound of cookie dough and top the Nutella with it, then roll it into a 3 inch ball. Repeat until all the dough and Nutella is in cookie balls. Space the cookies 3 inches apart because they will spread.
Ninth Step: Sprinkle the cookies with a little bit of sea salt then bake for 11 – 14 minutes or until golden brown on the edges. Sprinkle a little bit more sea salt after you remove them from the oven if you want to. Allow the cookies to cool on the pan for 2 minutes. Then place the cookies on a cooling rack until cooled to the desired temperature. We love them still a little bit warm.
Enjoy!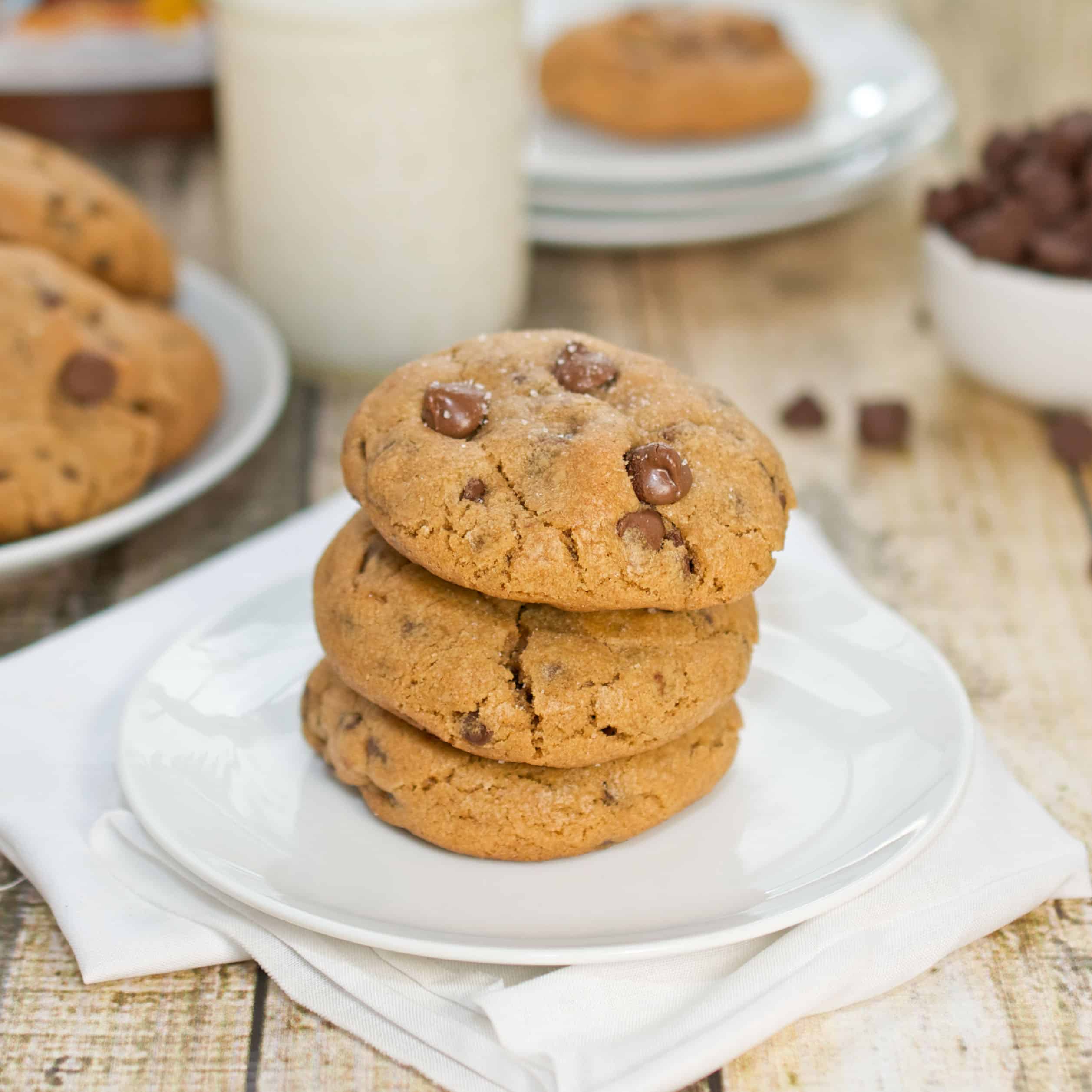 Now, remember to save this recipe on Pinterest for later 🙂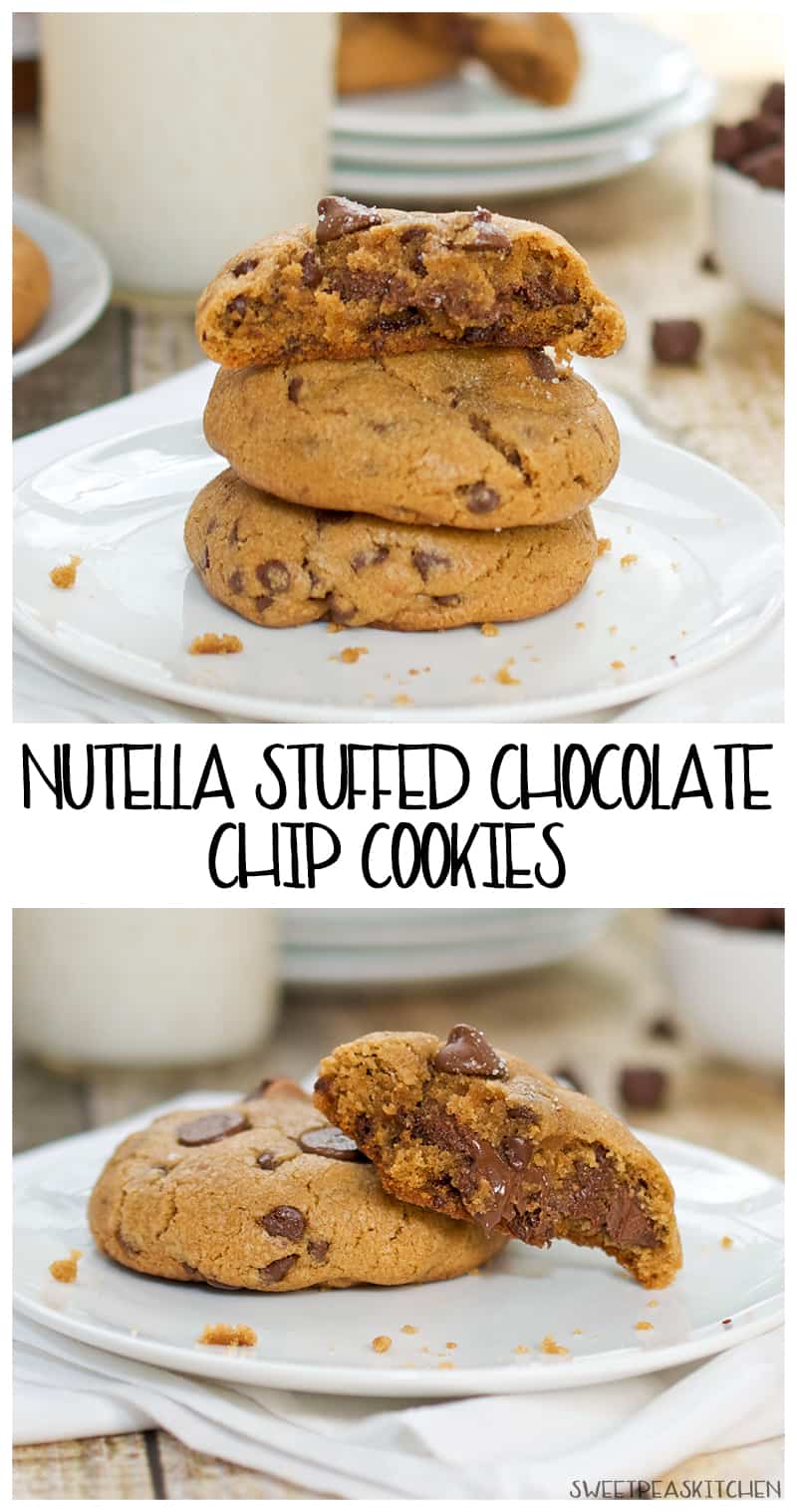 Pin this recipe now to remember it later
Nutella Stuffed Chocolate Chip Cookies
Nutella Stuffed Chocolate Chip Cookies is what your tastebuds dream about at night. They are insanely delicious, and that chocolatey hazelnut flavor is mindblowing good. The aroma of these baking cookies is better than you can even imagine.
Ingredients
1

cup

unsalted butter

,

cut into 1-inch pieces

2 1/4

cups

all-purpose flour

1 1/4

teaspoon

baking soda

1 1/2

cups

packed light-brown sugar

2

teaspoons

vanilla extract

1

cup

semi-sweet chocolate chips

3/4

cup

milk chocolate chips
Want to save this recipe? Enter your email below and we'll send the recipe straight to your inbox!
NOTE: By saving this recipe, you agree to join our weekly recipes newsletter.
Instructions
Line a baking sheet with parchment paper. Place Nutella in a pastry bag fitted with a medium round tip or a ziploc bag with the corner sipped off. Pipe 1 1/2 teaspoon dollops of Nutella onto the parchment paper, you should have about 26 dollops. Transfer the baking sheet to the freezer for at least 45 minutes, or while you prepare the cookie dough.

In a 10-inch skillet over medium-high heat, melt butter. Continue cooking, swirling pan constantly until butter is dark golden brown and has nutty aroma, 1 to 3 minutes. Remove from heat and transfer to a large heatproof bowl. Cool to room temperature, about 25 minutes.

In a medium bowl, whisk together flour, baking soda and salt; set aside.

In a large bowl, whisk together the browned butter and brown sugar until combined. Add eggs and vanilla and mix well. Using a rubber spatula, fold dry ingredients into egg mixture until just combined. Fold in chocolate chips. Wrap tightly in the plastic wrap. Refrigerate for at least 30 minutes.

Heat oven to 350 degrees. Line 2 baking sheets with parchment paper.

Roll a heaping tablespoon of dough into a 1½-inch ball between your palms, then flatten the dough ball and place 1 frozen Nutella dollop in the center of the dough. Top with another heaping tablespoon of dough and roll into a 3 inch ball (Each cookie will have 2 tablespoons of dough). Repeat with the remaining dough, spacing the balls about 3 inches apart (you should be able to fit 8 cookies on each sheet). Sprinkle each cookie with sea salt.

Bake for 11 to 14 minutes, sprinkling lightly with additional sea salt after baking if desired. Let cookies cool on sheets for 2 minutes before transferring to wire racks to cool completely.
Follow me on Pinterest for daily delicious recipes!
In the mood for more scrumptious cookies? Take a look at these tasty dessert ideas: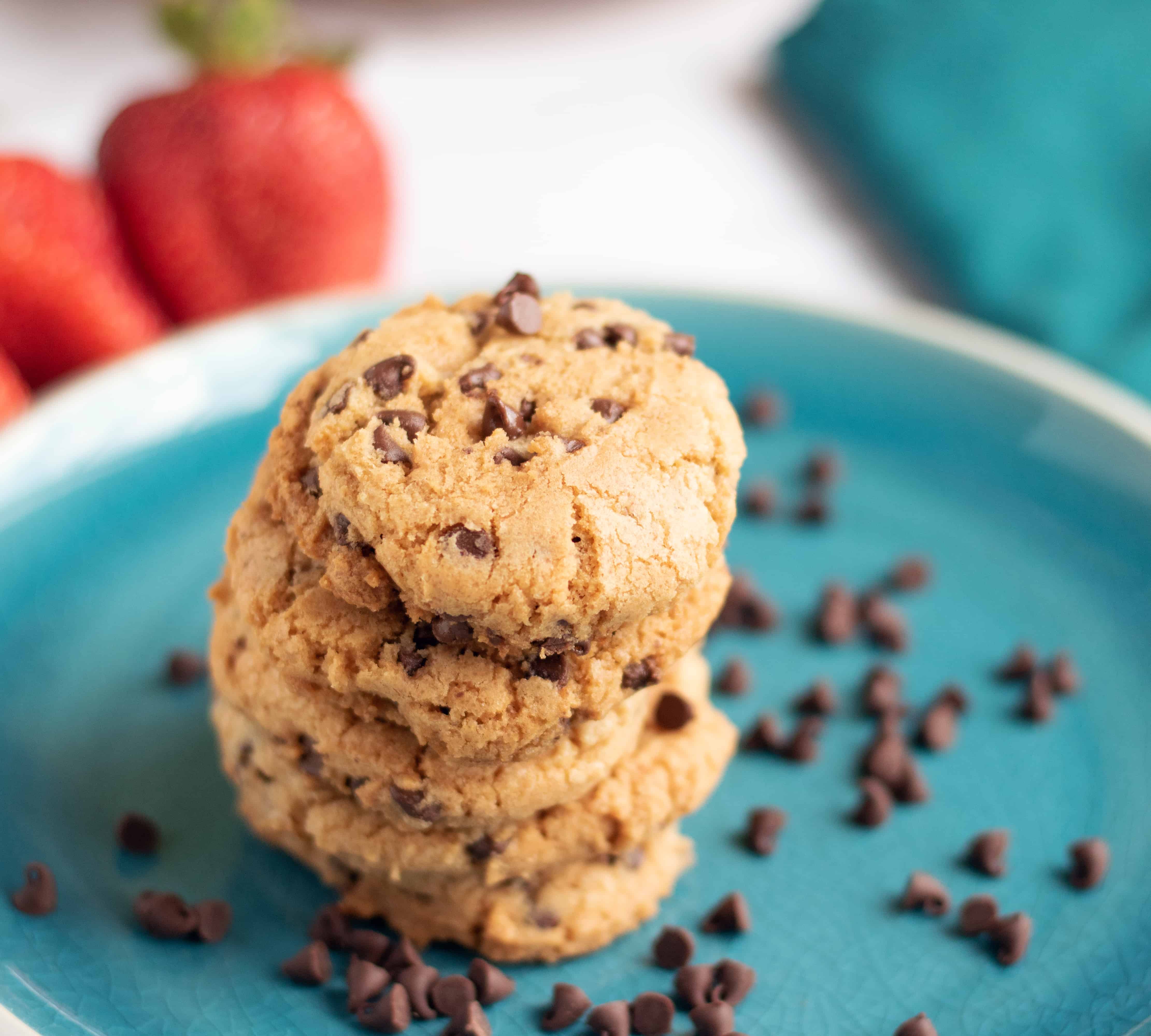 Maple Cream Cookies – I drool whenever I think of all the amazing maple flavor in these cookies. They are superb!
Homemade Gingerbread Cookies – I eat these any time of year, but especially love them in the fall and winter months. They are the perfect pick-me-up snack.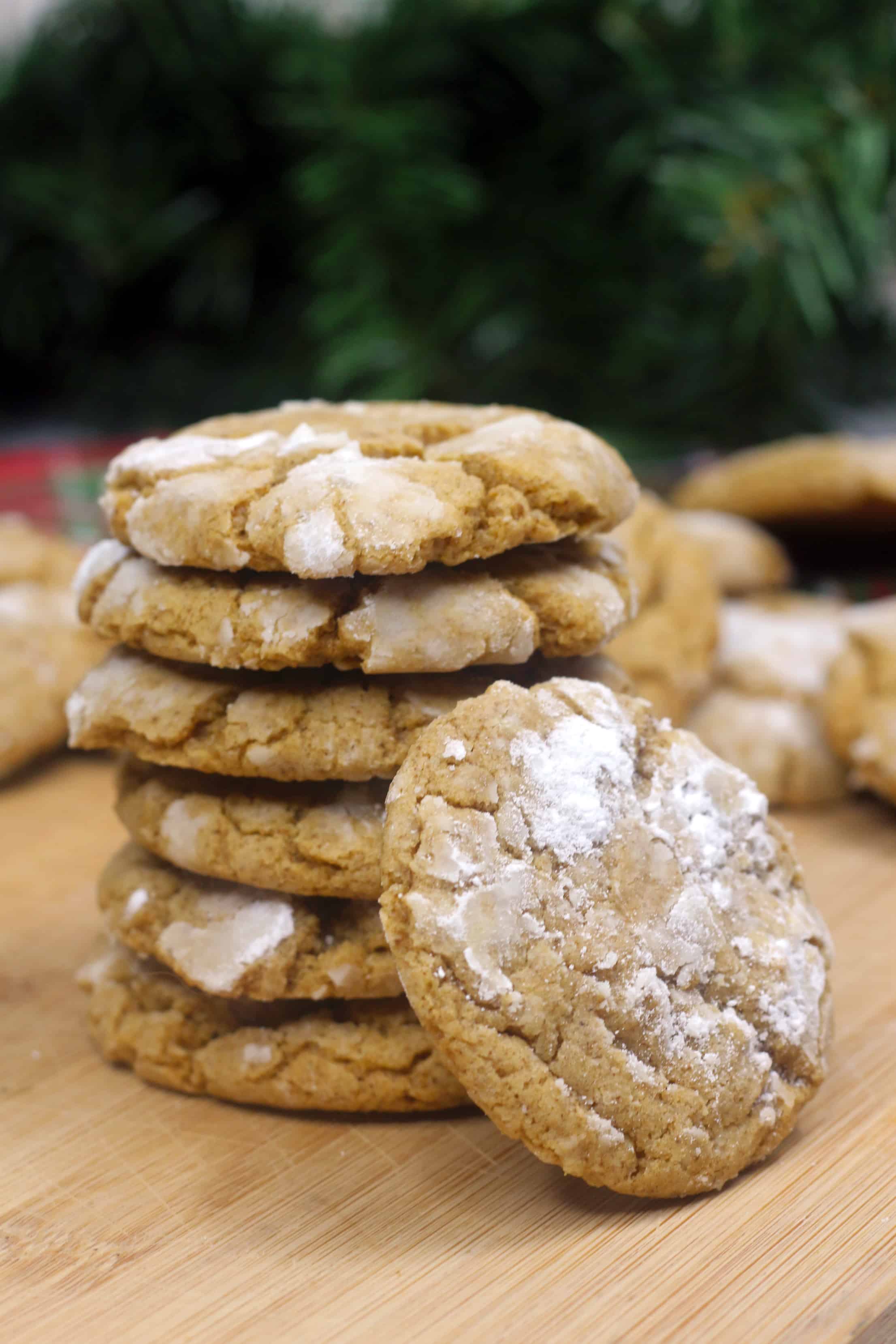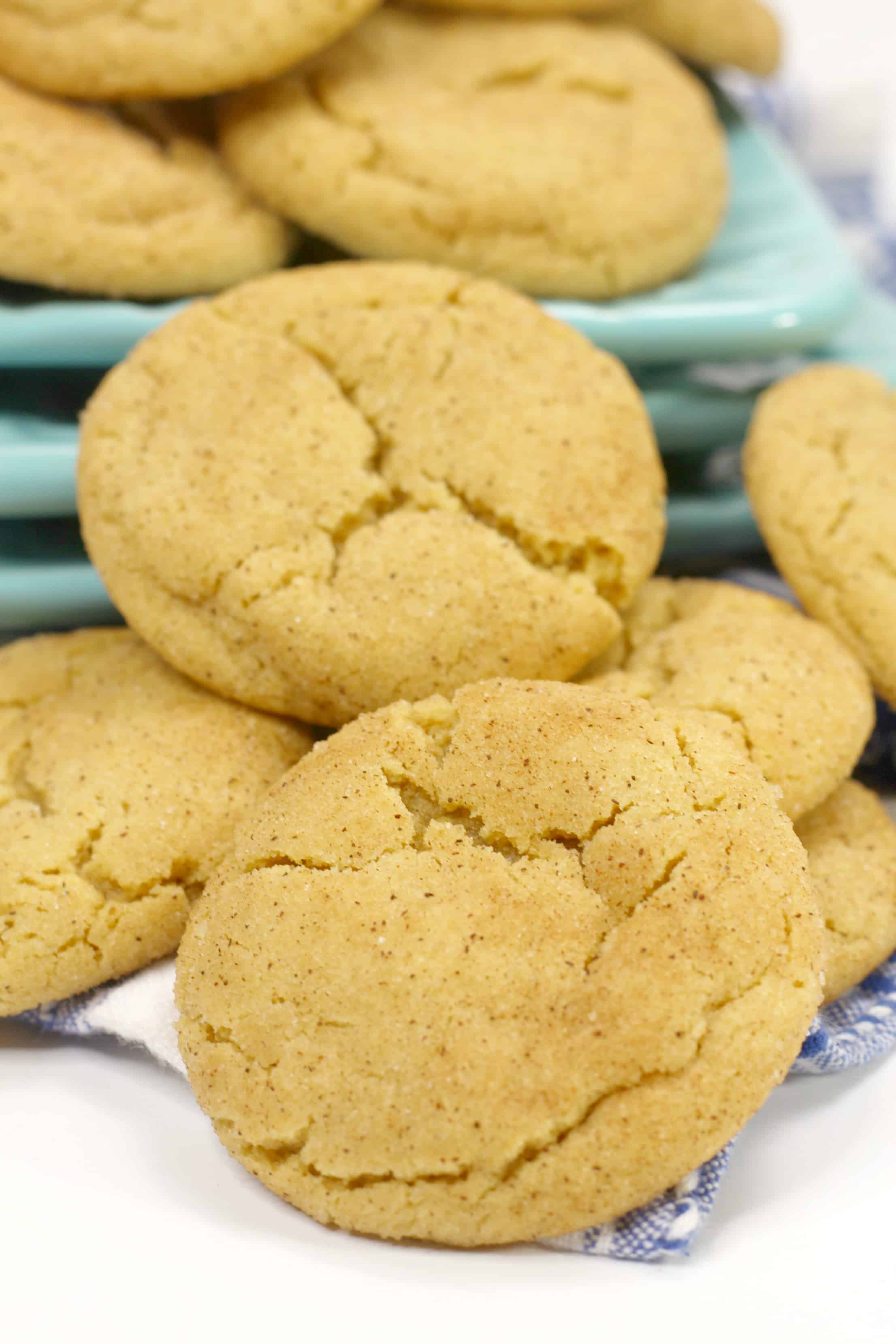 Get new recipes weekly plus our FREE ebook!