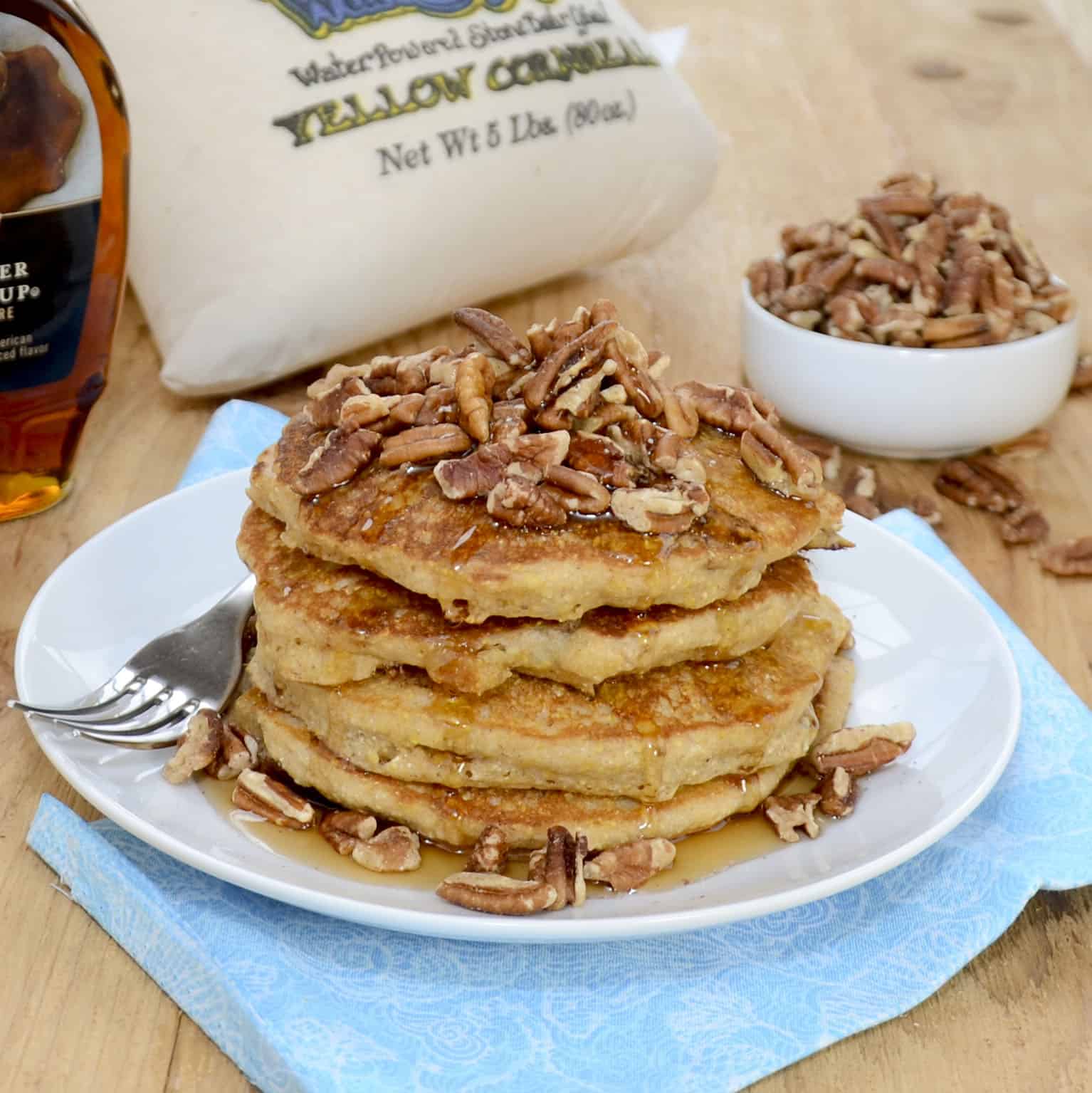 Cinnamon Pecan Cornmeal Pancakes are the delicious breakfast that's been calling for you. They are fluffy and topped with lots of crispy pecans. Add some syrup to these cornbread pancakes, and you are sure to love them. They are so easy to make and taste fantastic.
Scroll to bottom for printable recipe card.
Cinnamon Pecan Cornmeal Pancakes
These thick and hearty cornmeal pancakes packed with crunchy toasted pecans and cinnamon are sure to send you right into pancake heaven! Served piping hot off the griddle with a dab of butter and pure maple syrup, they're guaranteed to delight any pancake lover. Let's be honest; I have always been a huge fan of pancakes. Surprising, right? 🙂 In fact, when we go out to breakfast, I don't even need to look at a menu.
Ever since we went to my cousin's wedding in June, I have not been able to get my mind off of the incredible pecan hoecakes I had one morning. I just had to recreate them in my own kitchen. These pancakes are out of this world delicious and definitely curbed my craving! The only problem with this recipe is that it is very easy to make. In under fifteen minutes, a huge plate of pancakes dripping with maple syrup and butter can appear on your table. That's great when you are looking for a delicious breakfast treat, not so good when you are six months pregnant and craving everything in sight! 😉
So next time you are in the mood for some pancakes that are extra special, you should really consider these pecan cornbread pancakes! I promise you are sure to be impressed and will want to eat them all the time.
Do I Use White Or Yellow Cornmeal
We prefer to use yellow cornmeal, but both will work fine. The main difference between the two is the color and the fact that that yellow cornmeal is ground a little bit finer. Otherwise, they taste the same, and you should really notice much difference.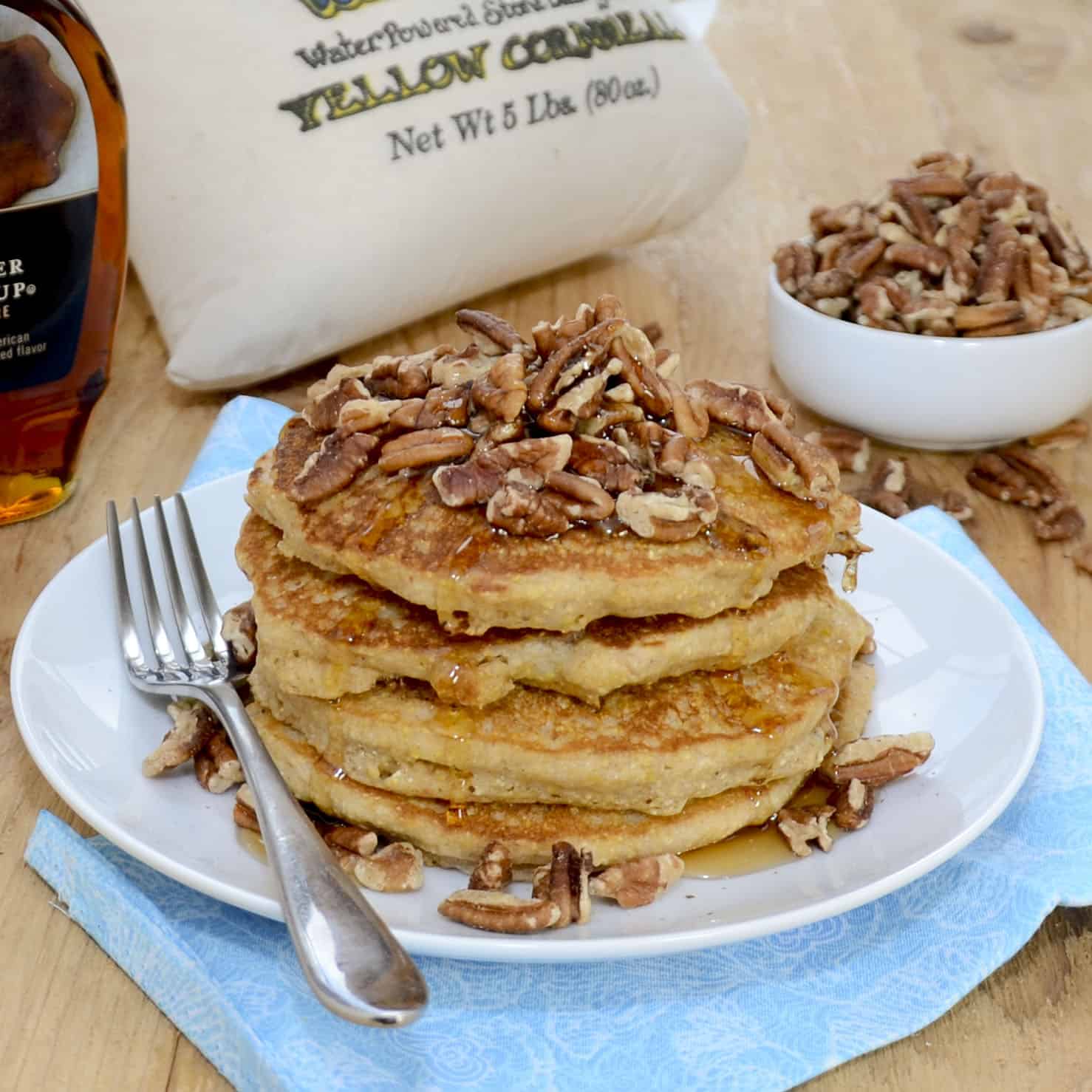 Can I Leave Nuts Out
Of course! If you don't love nuts or happen to have an allergy to nuts, you can omit them completely. Go ahead and make them how you want, and you can't go wrong. If you decide to omit the nuts, you could use chocolate chips instead. They are sweet and delicious as well and will make the homemade cornbread pancake recipe even more decadent and sweet.
Does This Recipe Double
Yep! Each batch of these sweet cornbread pancakes makes around 16 pancakes depending on how big or small you make them. So, depending on how many people you are serving, you can adjust accordingly. Most people will eat between two and three pancakes. So that that into account when you are planning on feeding a crowd.
They are also wonderful for meal prepping too. Sometimes I will make two or three batches and freeze them for later. They typically last around 3 months in the freezer. This is perfect when you are in need of a quick breakfast and don't have time to cook.
I recommend if you decide to freeze the pancakes, you should flash freeze them first. Flash freezing is super easy to do. You will first lay them out on a baking sheet and put the pan in the freezer for 2 hours or so. Once the pancakes have frozen fairly solid, take them off the pan and put them into another freezer container. This keeps them from sticking together and make storage a breeze.
Warm them in the microwave for 30 seconds to 1 minute or until they are hot. Enjoy!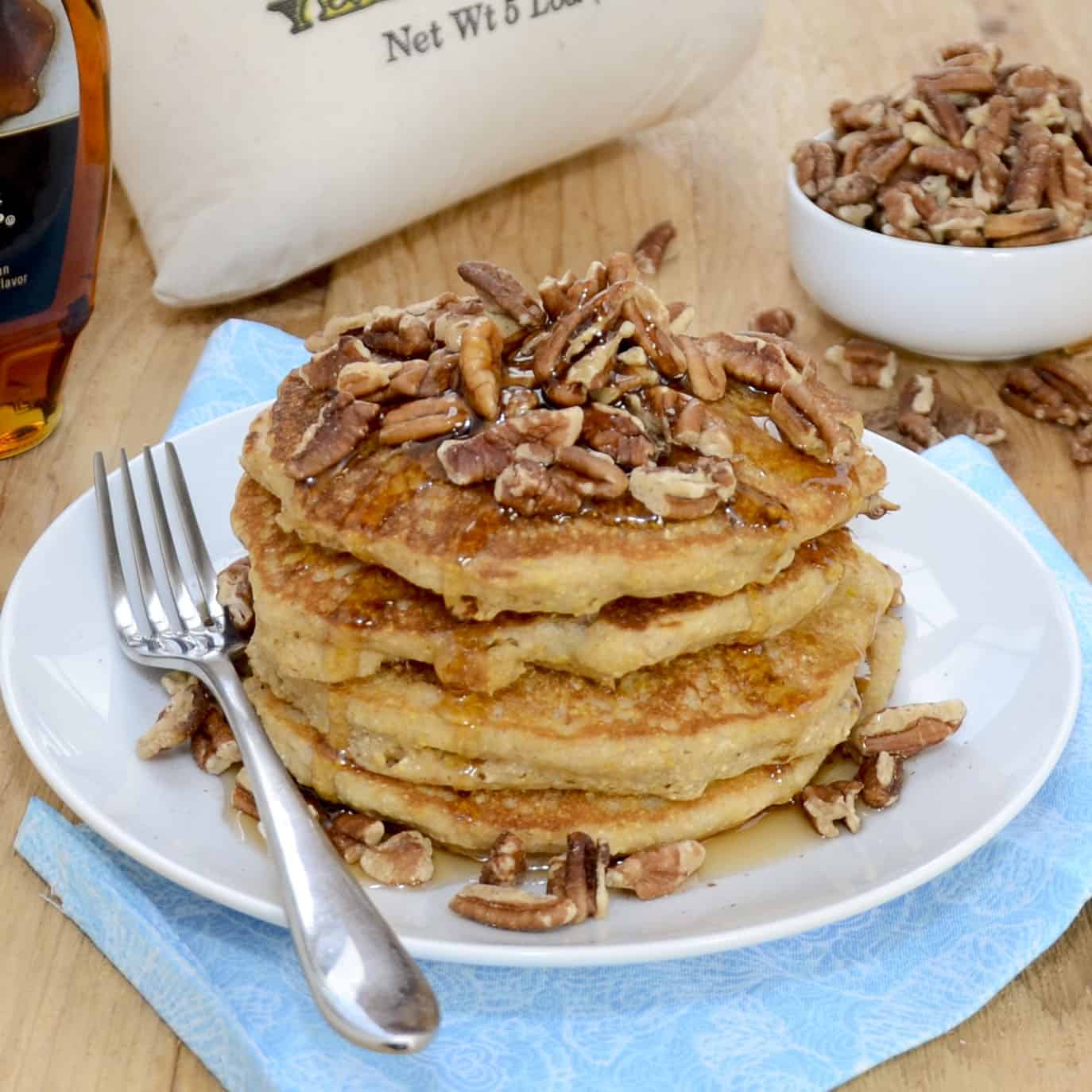 What Can You Use Cornmeal For
I love adding cornmeal into my baking because there are so many ways it can be used. Many people only think of it being used in cornbread, but it's actually awesome in lots of stuff—muffins, coating meats and frying, hushpuppies, quiches, casseroles, and so much more. Play around with using cornmeal in your favorite baked good to get even more sweetness and a different texture too.
Ingredients
I love making these pecan cornbread pancakes because they are truly so incredible. I can't wait for you to try these cornmeal pancakes because I am sure you are going to enjoy them so much.
Milk
Unbleached all-purpose flour
Yellow cornmeal
Granulated sugar
Cinnamon
Baking powder
Baking soda
Table salt
Large egg
Pure vanilla extract
Unsalted butter, melted and cooled slightly
Vegetable oil
Finely chopped pecans, toasted if desired
How To Make Cornmeal Pancakes
First Step: Mix the cornmeal, sugar, cinnamon, flour, baking powder, baking soda, and salt together in a medium bowl. Use a whisk until it's all incorporated.
Second Step: Combine the milk, melted butter, egg, and vanilla together in another bowl. Make a well in the center of the flour mixture. Gently pour in the milk mixture and whisk until it's just combined, and there are only a few lumps that remain. Be careful not to overmix the batter.
Third Step: Heat up a 12-inch nonstick skillet or a griddle using medium heat. After it's been heating for 3-5 minutes, add one teaspoon of oil over the skillet. Spread it evenly to prevent the cornmeal pancakes from sticking. Pour in 1/4 cup of batter per pancake and add 1 tablespoon of pecans per pancake. Cook until there are large bubbles that form, then flip the pancake with a wide spatula. Then cook the second side of the pancakes until they are done. Serve hot with syrup and extra nuts if you want.
Enjoy!
Now, remember to save this recipe on Pinterest for later 🙂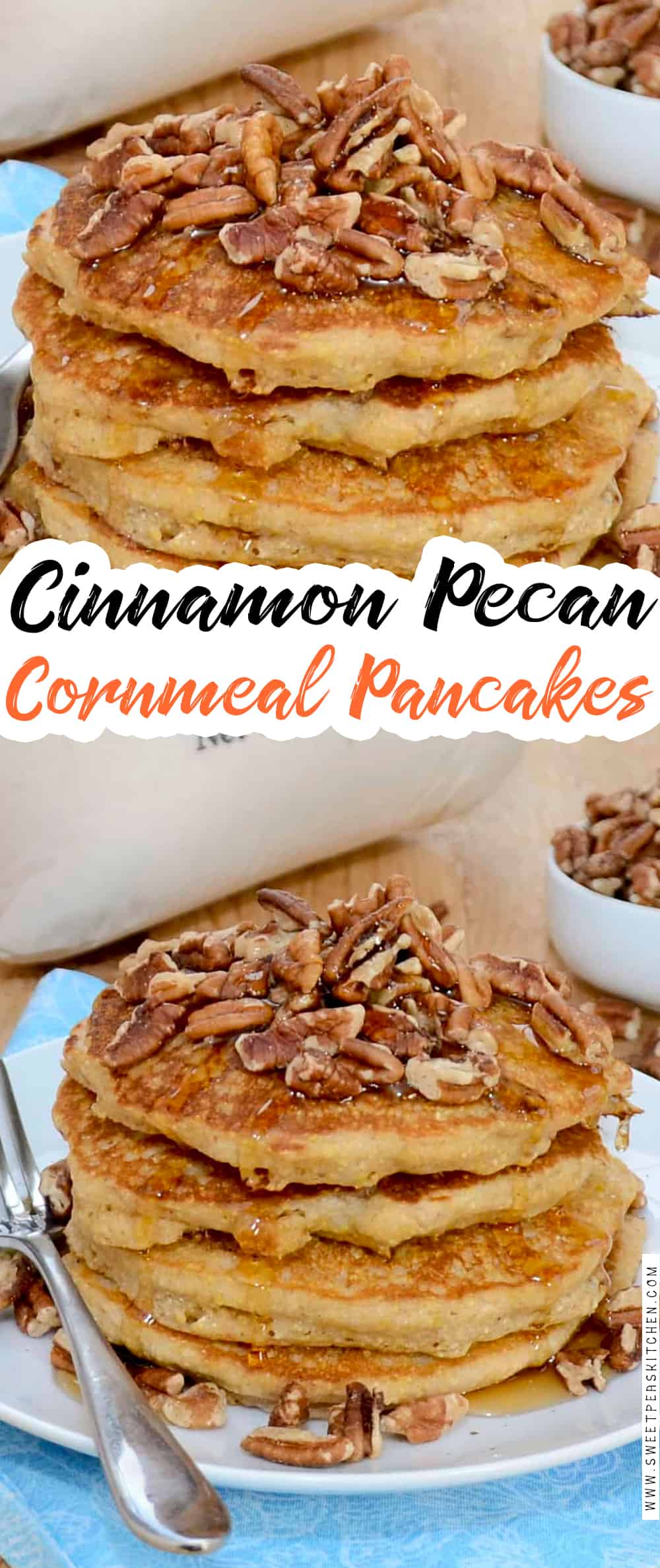 Pin this recipe now to remember it later
Cinnamon Pecan Cornmeal Pancakes
Servings:
16
(4-inch) pancakes
Ingredients
1

cup

unbleached all-purpose flour

,

5 ounces

1 ½

cups

yellow cornmeal

,

preferably stoneground

2

tablespoons

granulated sugar

2

teaspoons

baking powder

1

teaspoon

vanilla extract

3

tablespoons

unsalted butter

,

melted and cooled slightly

2

teaspoons

vegetable oil

1

cup

finely chopped pecans

,

toasted if desired
Want to save this recipe? Enter your email below and we'll send the recipe straight to your inbox!
NOTE: By saving this recipe, you agree to join our weekly recipes newsletter.
Instructions
In medium bowl, whisk together the flour, cornmeal, sugar, cinnamon, baking powder, baking soda, and salt.

Whisk egg, vanilla and melted butter into milk until combined. Make a well in center of the dry ingredients; pour in milk mixture and whisk very gently until just combined (a few lumps should remain). Do not over mix.

Heat a 12-inch nonstick skillet over medium heat for 3 to 5 minutes; add 1 teaspoon oil and brush to coat skillet bottom evenly. Pour 1/4 cup batter onto 3 spots on skillet; sprinkle 1 tablespoon pecans over each pancake. Cook pancakes until large bubbles begin to appear, 1 1/2 to 2 minutes. Using thin, wide spatula, flip pancakes and cook until golden brown on second side, 1 to 1 1/2 minutes longer. Serve immediately, and repeat with remaining batter, using remaining vegetable oil only if necessary.
Nutrition
Serving:
1
g
|
Calories:
169
kcal
|
Carbohydrates:
19
g
|
Protein:
4
g
|
Fat:
9
g
|
Saturated Fat:
2
g
|
Polyunsaturated Fat:
6
g
|
Cholesterol:
20
mg
|
Sodium:
191
mg
|
Fiber:
2
g
|
Sugar:
2
g
Follow me on Pinterest for daily delicious recipes!
We enjoy lots of pancake recipes at our house. Check out some of our favorites to add some flavor to your breakfast.
Orange Ricotta Pancakes – These are sweet and tangy all at the same time. There isn't much better than this combination. The ricotta is the perfect addition.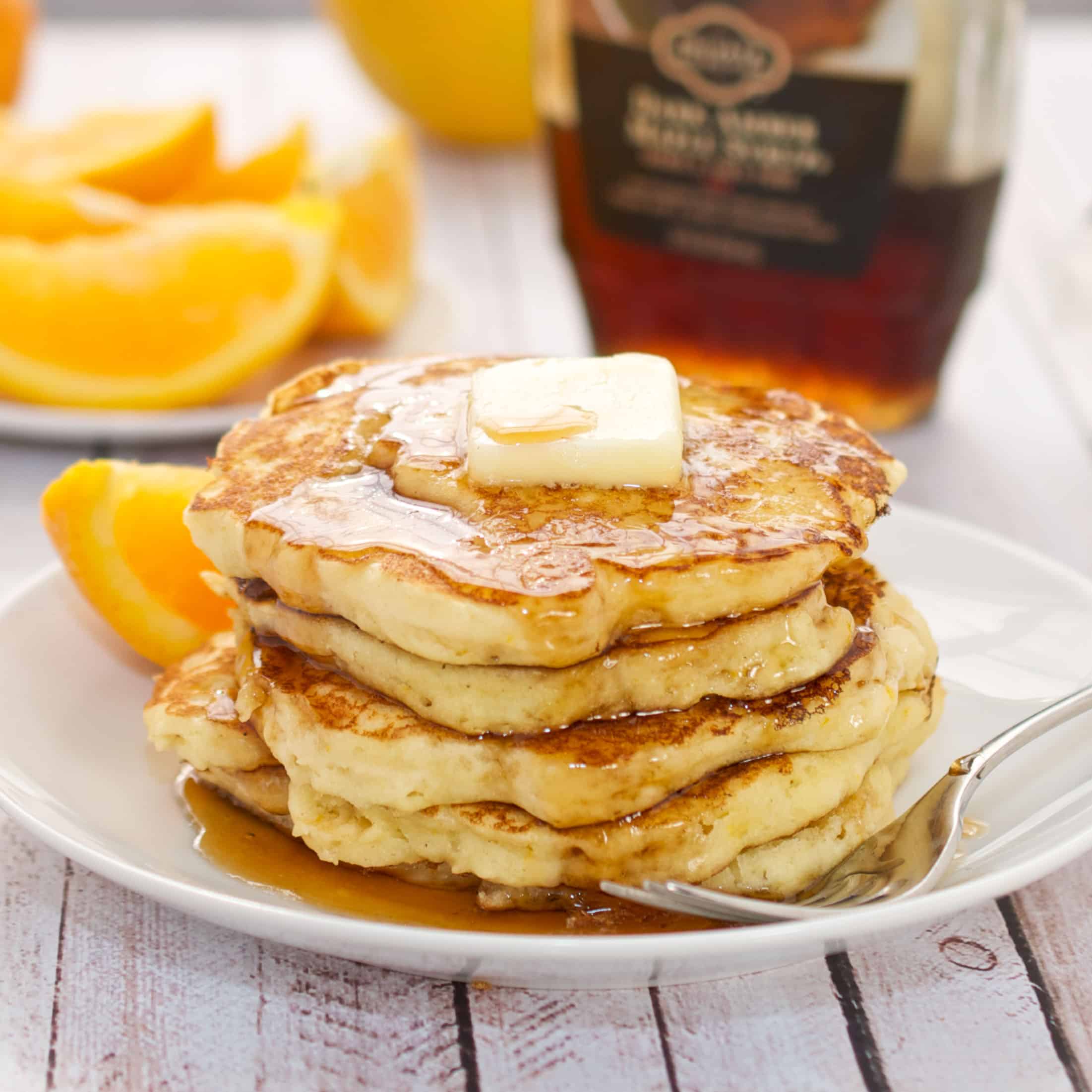 Nutella Stuffed Pancakes – I could eat these Nutella stuffed pancakes literally every day. They are so sweet, rich, and decadent.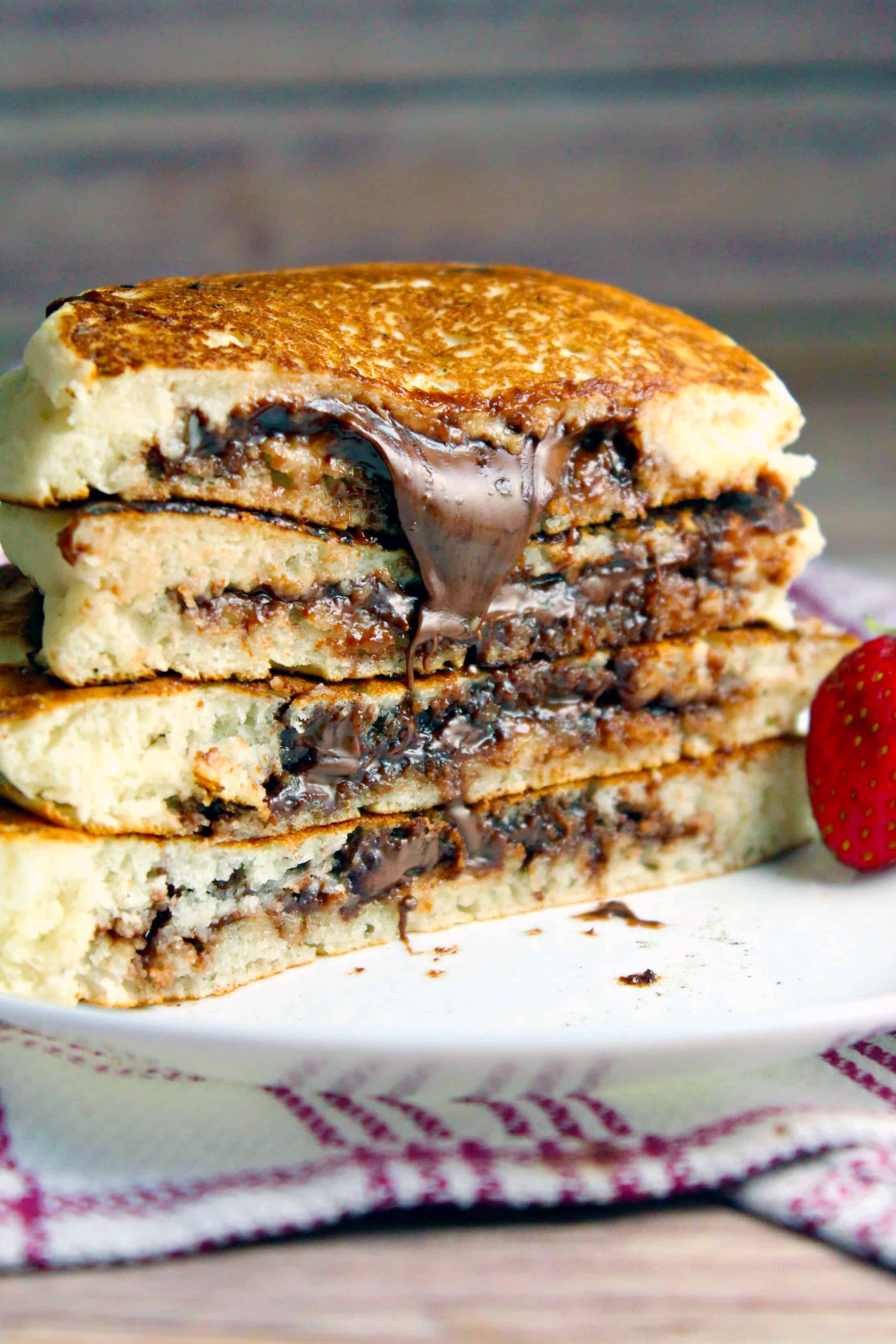 Best Buttermilk Pancakes – If you are craving a plate of fluffy pancakes, try these classic buttermilk pancakes. You won't regret it.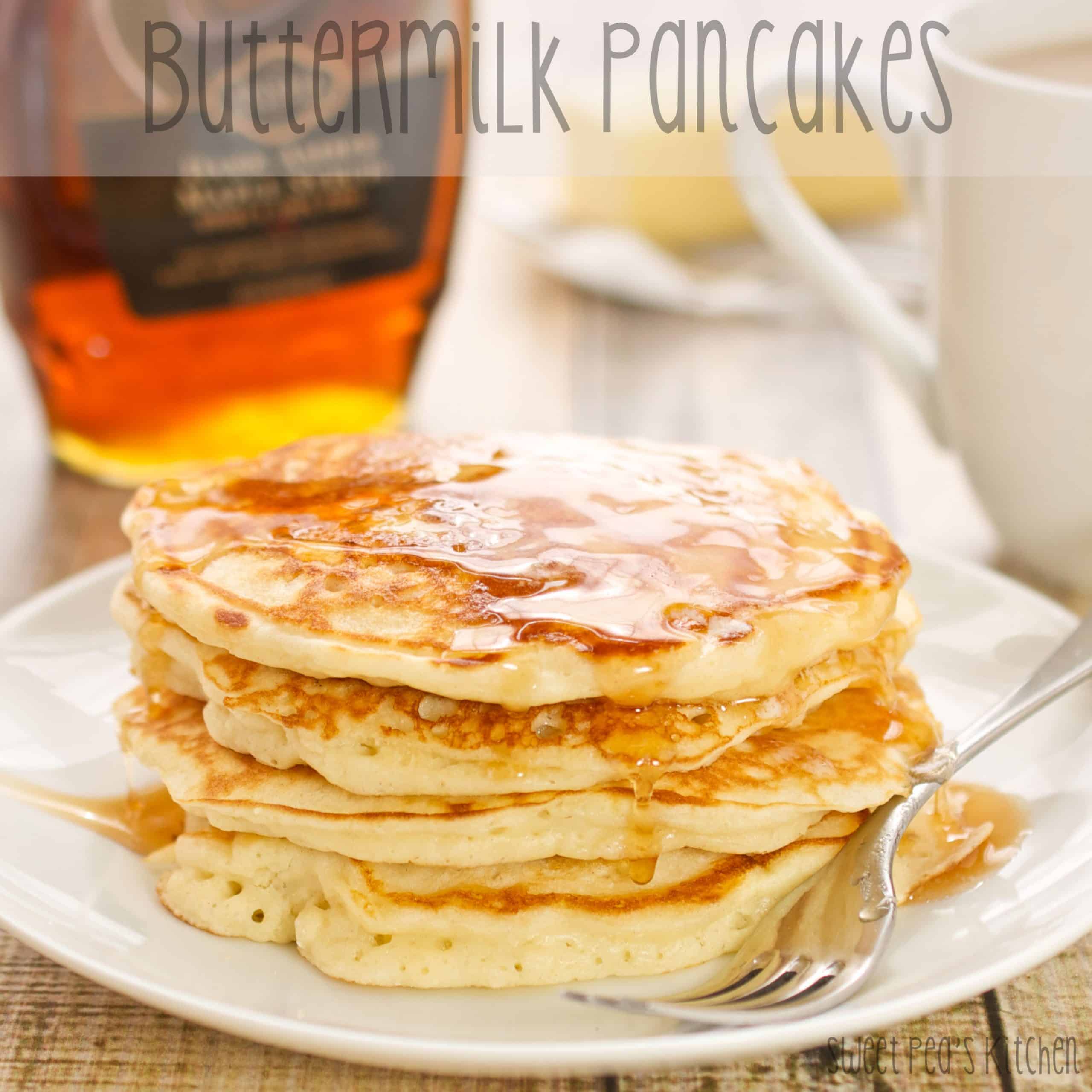 The Very Best Blueberry Pancakes – I have always enjoyed eating blueberry pancakes. If you do too, be sure to give these a try.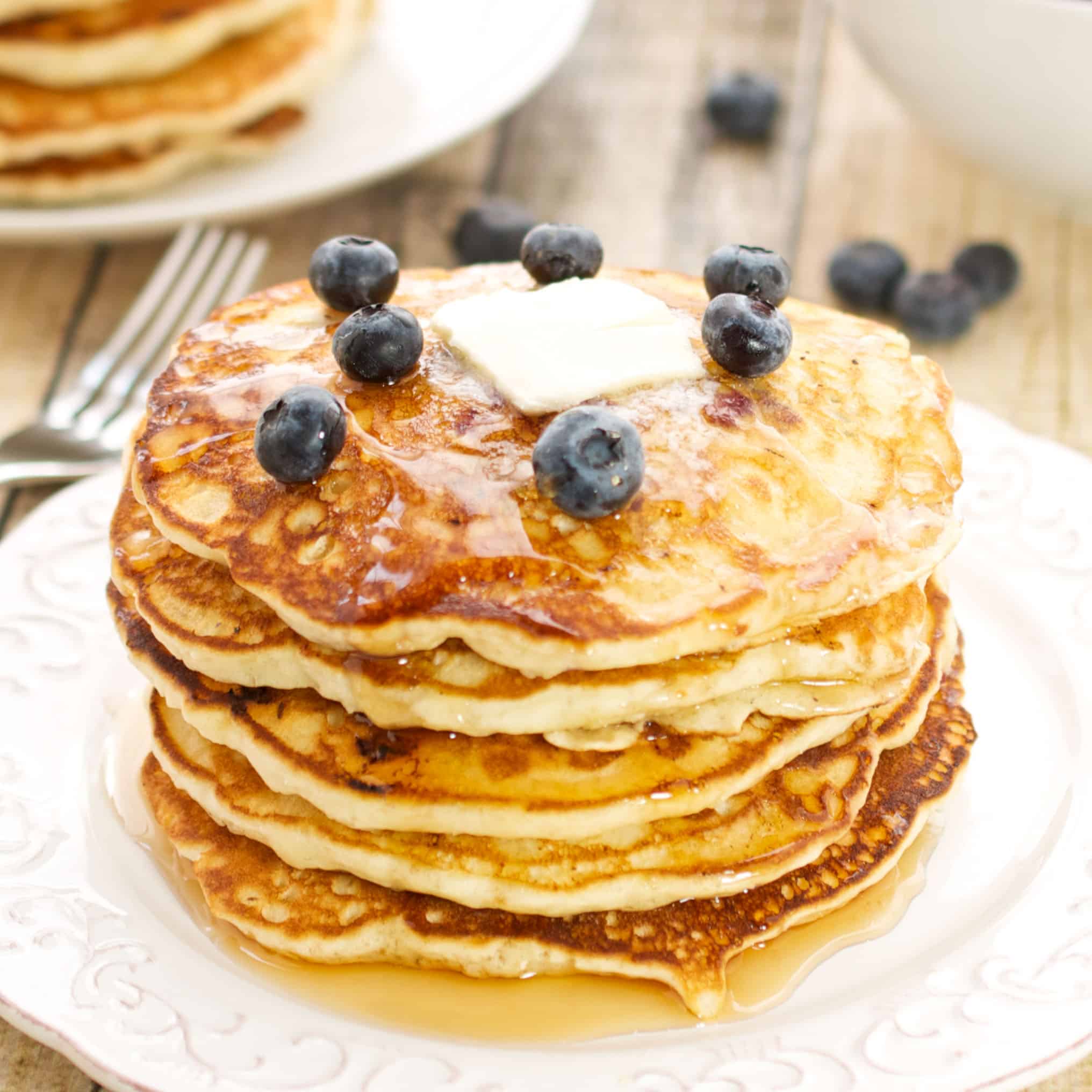 Get new recipes weekly plus our FREE ebook!