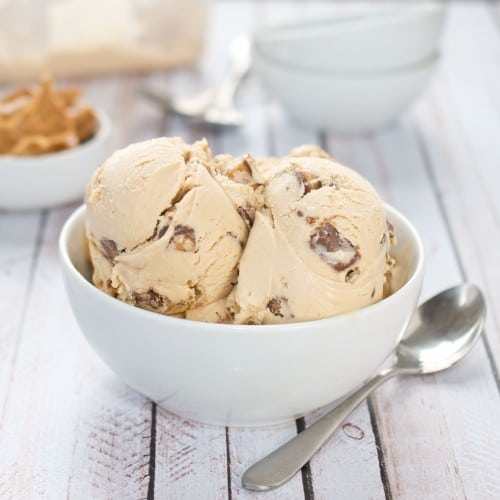 This rich and creamy Peanut Butter Cup Ice Cream is just what you need. It's a delicious dessert filled with peanut butter cups to give you the perfect result every time. When you taste this homemade Reese's Ice Cream, you are bound to love every single spoonful.
Scroll to bottom for printable recipe card.
Peanut Butter Cup Ice Cream
What's up with this weather? One day I'm sporting a hoodie and jeans, and the next, I'm pulling out my shorts and tank top again! The past two days have been unseasonably warm here. Today we are topping out in the upper 80's with a heat index in the '90s. It feels like mid-summer again! I've already mourned the passing of summer and was starting to get excited about fall when Mother Nature hits us with this?
I know I've shared with you before how much my husband likes ice cream. I'm certain he would eat a bowl every day for the rest of his life if he could. 🙂 Unfortunately, after being together for over eleven years, that ice cream obsession has rubbed off on me as well. We always have our chest freezer stocked with homemade ice cream just in case the craving hits (which sadly is almost every night!). If you're a peanut butter and chocolate fan, I don't need to tell you that you're going to like this ice cream. The truth is, you're going to love it! Delicious Peanut Butter Cups nestled in creamy peanut butter ice cream. Need I say more?
Do I Need An Ice Cream Machine For This Recipe
Yes, you will need an ice cream machine to make this homemade peanut butter ice cream. Using an ice cream machine is the only way to ensure you will get the most beautiful and delicious treat every time. Otherwise, it's not going to cream perfectly, and no one will want that. So, if you don't have an ice cream machine, now is the time to invest so you can make this homemade peanut butter cup recipe any time you want. You won't regret it either!
How Much Ice Cream Does This Make
Each batch of this peanut butter cup ice cream makes around 1 quart. That will get you around 8 scoops of ice cream, so in most cases, that will serve 4 people.
Best Peanut Butter To Use In This Ice Cream
I recommend any high-quality name brand peanut butter to make this homemade peanut butter cup ice cream recipe. If you use a store-brand or super cheap peanut butter, it won't have as creamy and delicious flavor that we all want and crave. You can get away with many recipes with saving a little money by using inexpensive ingredients, but this isn't one of those.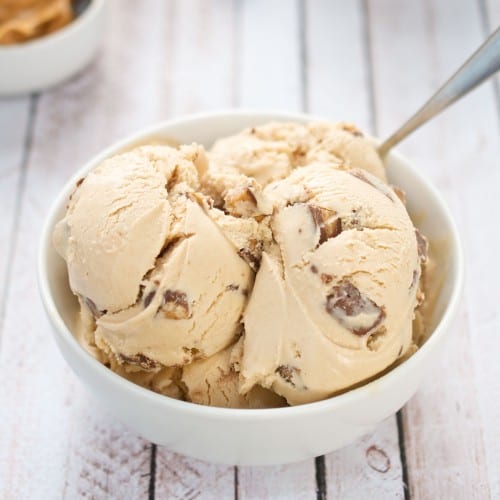 Storing Homemade Ice Cream
Keep the peanut butter cup ice cream in an airtight container in the freezer. It will last up to two weeks. Before serving, you may need to set it on the counter for 5-10 minutes to let it thaw slightly. This will make it easier to scoop for serving. Be sure to keep the ice cream in the coldest part of the freezer, so it lasts the longest.
Ingredients
Only seven ingredients stand in the way between you and this decadent, rich peanut butter cup ice cream. YUMMY! Okay, let's get started so you can make this incredible dessert.
Whole milk
Heavy cream
Creamy peanut butter
Granulated sugar
Pure vanilla extract
Large egg yolks
Chopped peanut butter cups
How to Make Peanut Butter Cup Ice Cream
Preparing ice cream at home doesn't have to be a painful experience. With these directions, you will find that it's actually pretty simple. Then you can whip up some beautiful and tasty ice cream whenever a craving strikes!
First Step: Heat up the milk, cream, creamy peanut butter, 1/2 cup of sugar, and the pure vanilla extract in a medium saucepan. Use medium heat to slowly warm it up. Be sure to stir occasionally, so it doesn't burn. When the peanut butter mixture is hot and it is steaming, then it's ready. This typically takes around 5 minutes, and the temperature of the liquid should be 175 degrees.
Second Step: During the same time, the peanut butter mixture is cooking, go ahead and whisk the egg yolks in a bowl with 1/4 cup of sugar. Blend until smooth and creamy. Then slowly whisk 1 cup of the hot cream and peanut butter mixture into the yolks to temper them. You will need to whisk slowly and pour the tempered yolk mixture into the rest of the hot milk. Continue to cook the saucepan using medium heat until it's around 180-185 degrees. Then pour the homemade custard into a bowl and place it in an ice bath to cool it down. Stir occasional and let it sit for 10 minutes or so. Then remove the bowl of custard from the ice bath and cover it tightly with a piece of plastic wrap. Allow it to cool for 4 – 24 hours until it's very cold.
Third Step: Next, you will need to pour the custard mixture into your ice cream machine's canister. Look at the manufacturer's directions to churn it properly. You will need the mixture to resemble a cream that has been whipped pretty thick. While the ice cream is still in the machine, go ahead and add in the chopped Reese's peanut butter cups. Continue to churn a little bit longer until it's like soft-serve ice cream.
Fourth Step: Place the finished ice cream in a container that is sealed and airtight. Place in the freezer for around 3 hours and serve. Enjoy!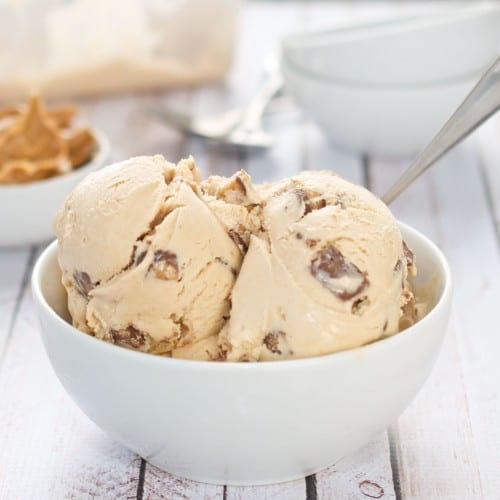 If you love cold treats, be sure to try out some of these tasty desserts.
Pin this recipe now to remember it later
Peanut Butter Cup Ice Cream
Delicious Peanut Butter Cups nestled in creamy peanut butter ice cream.
Ingredients
1 1/4

cups

creamy peanut butter

3/4

cup

granulated sugar

,

divided

2

teaspoons

vanilla extract

1 1/2

cups

chopped peanut butter cups

,

about 8 to 10 regular-sized peanut butter cups
Want to save this recipe? Enter your email below and we'll send the recipe straight to your inbox!
NOTE: By saving this recipe, you agree to join our weekly recipes newsletter.
Instructions
In a medium saucepan over medium heat, heat milk, cream, peanut butter, 1/2 cup sugar, and the vanilla, stirring occasionally, until steam appears and the liquid is hot (175 degrees) about 5 minutes.
When the milk mixture is cooking, in a separate bowl, whisk the yolks and 1/4 cup of sugar together until smooth. Slowly whisk about 1 cup of the hot milk mixture into the yolks to temper them. Then slowly whisk the tempered yolk mixture back into the remaining hot milk mixture. Continue to cook the custard mixture over medium heat until it is very hot but not simmering (180-185 degrees). Immediately pour custard into bowl set in the ice bath and let cool, stirring occasionally, for about 10 minutes. Remove the custard mixture from the ice bath. Cover tightly with plastic wrap and refrigerate until very cold (40 degrees), at least 4 hours and up to 24 hours.
Pour the mixture into the ice cream canister and churn following the manufacturer's instructions until the mixture resembles the consistency of thick whipped cream. While the machine is running, slowly drop in the chopped peanut butter cups into the ice cream. After the peanut butter cups are added, continue churning until the mixture resembles soft served ice cream.
Transfer the ice cream to an airtight container. Cover the container and freeze the ice cream until it is firm, about 3 hours.
Follow me on Pinterest for daily delicious recipes!
Get new recipes weekly plus our FREE ebook!