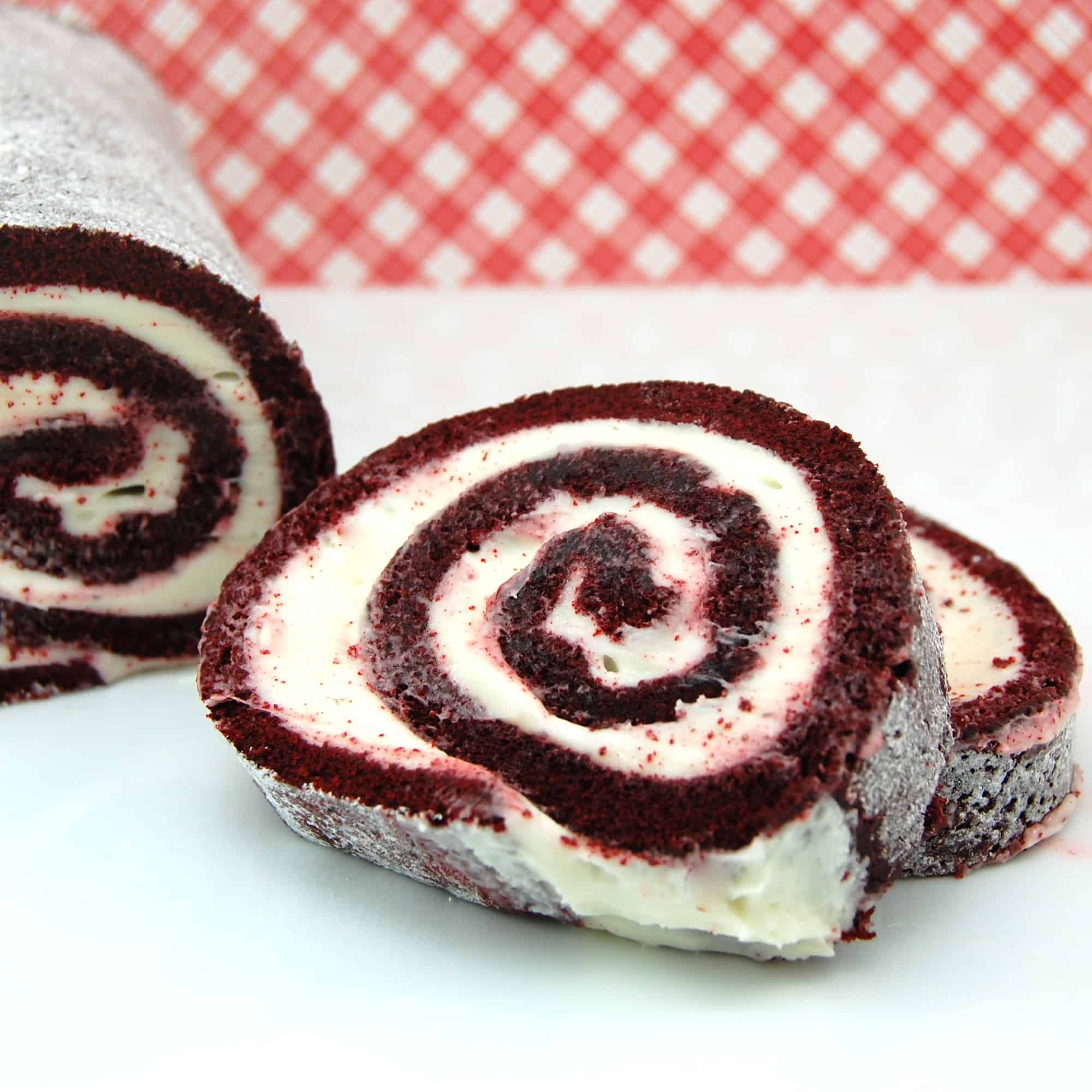 Red Velvet Cake Roll with its spirals of creamy cream cheese filling is the perfect dessert for Valentines Day. Since we have been iced in for the past three days, I have been thinking of all the yummy treats that I would like to make for Valentines Day.
I already made red velvet cheesecake brownies and red velvet whoopie pies and I knew that I wanted to make a red velvet cake. After looking through several recipes, I wasn't finding what I wanted. I then thought back to the delicious Pumpkin Roll that I make every Thanksgiving.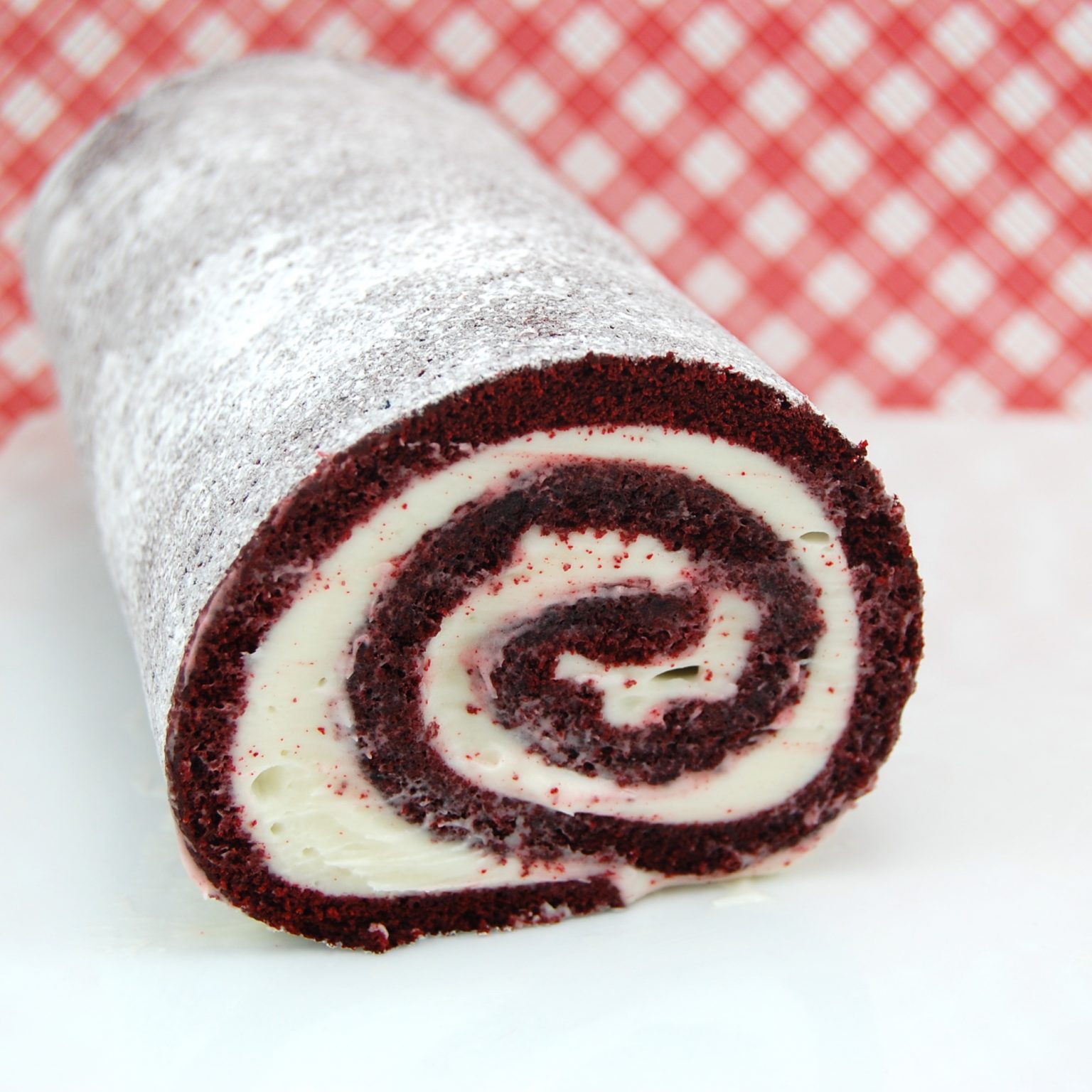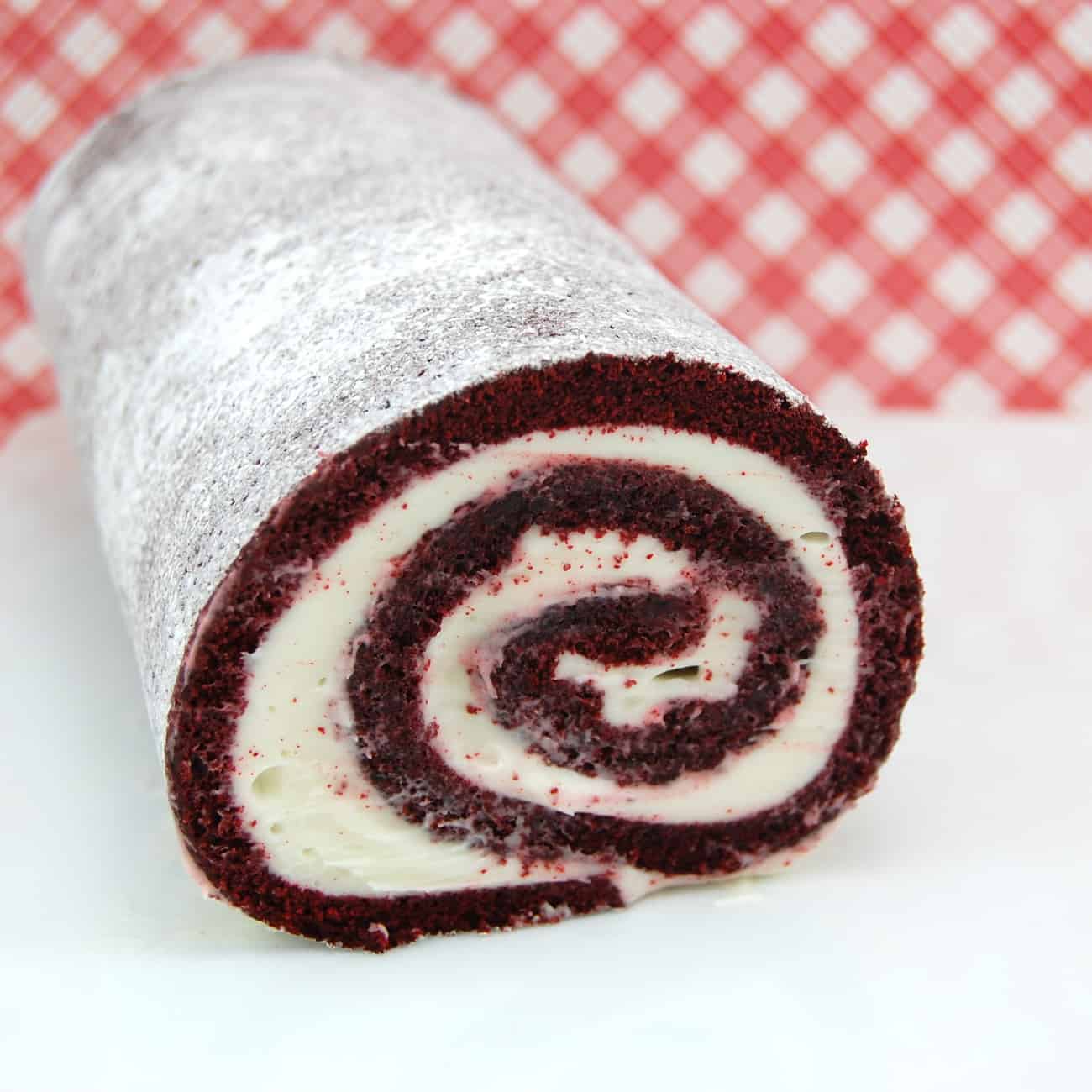 That was it-a red velvet roll! This delicious festive cake roll is perfect for Valentines day, Christmas or for just whenever!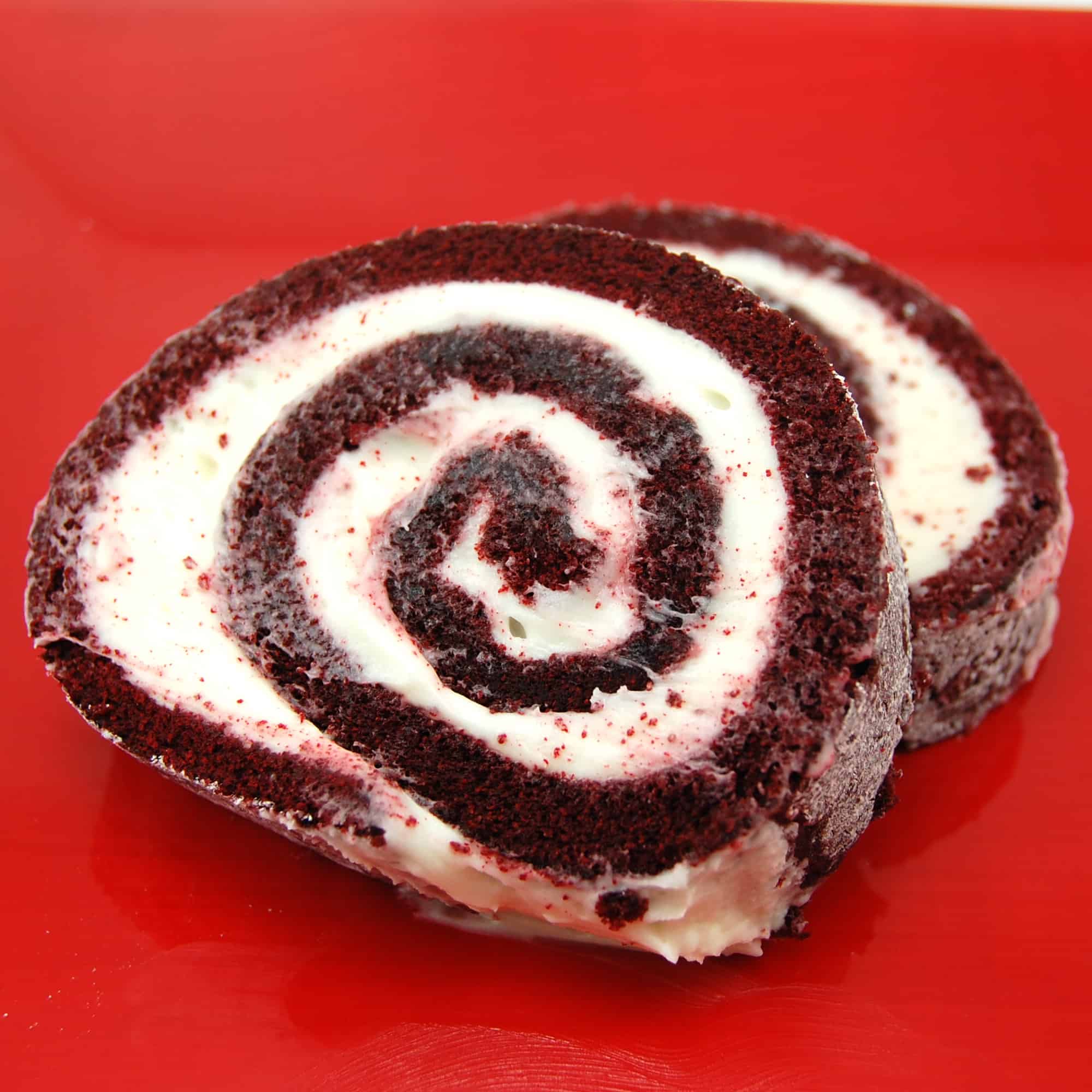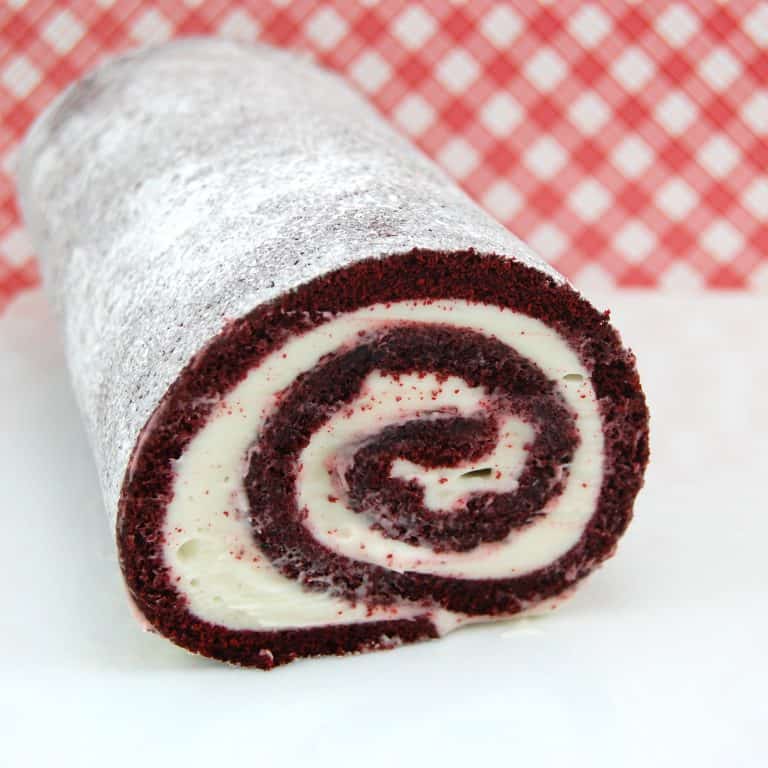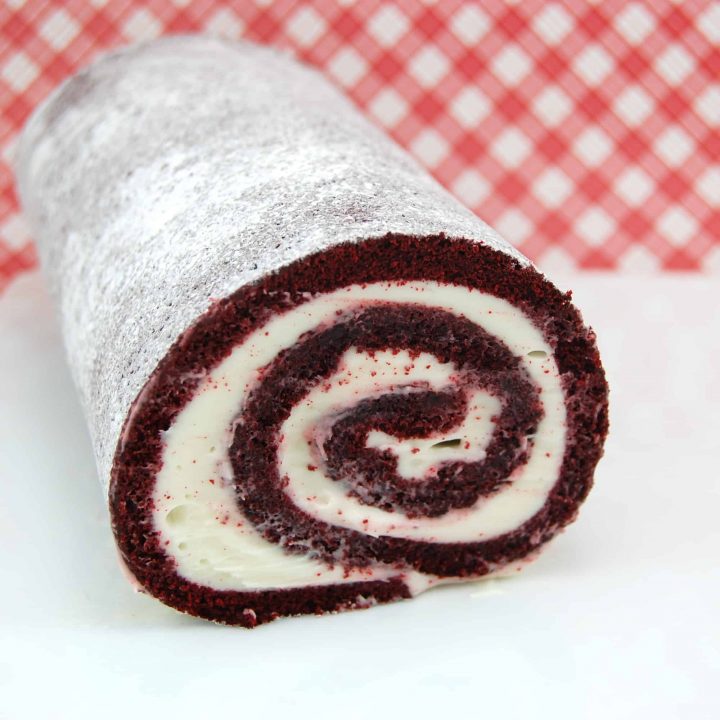 Red Velvet Cake Roll
Ingredients
For the Cake:
1/2 teaspoon salt
1 teaspoon baking powder
1/4 cup cocoa powder
3/4 cup cake flour, sifted
4 eggs
3/4 cup sugar
1 tablespoon vegetable oil
2 tablespoons buttermilk
1 teaspoon vinegar
1 teaspoon vanilla extract
2 tablespoons red food coloring
For the Filling:
1 package (8 ounces) cream cheese, at room temperature
1 cup powdered sugar, sifted
6 tablespoons butter or margarine, softened
1 teaspoon vanilla extract
Powdered sugar
Instructions
Preheat oven to 350°F. Grease 15 x 10-inch jelly-roll pan; line with wax paper. Grease and flour paper. Sprinkle a thin, cotton kitchen towel with powdered sugar.
In a large bowl, sift together salt, baking powder, cocoa powder, and cake flour; set aside. In the bowl of a stand mixer fitted with the paddle attachment, beat the eggs for five minutes. Slowly add sugar and oil. Beat until combined. Add buttermilk, vinegar, vanilla and red food coloring. Stir in flour mixture until combined. Spread evenly into prepared pan.
Bake in preheated oven 13 to 15 minutes or until top of cake springs back when touched. Immediately loosen and turn cake onto prepared towel. Carefully peel off wax paper. Roll up cake and towel together, starting with narrow end. Cool, seam side down, on wire rack .
To make the filling cream cheese, combine powdered sugar, butter and vanilla extract in the bowl of a stand mixer fitted with the paddle attachment until smooth. Carefully unroll cake. Spread cream cheese mixture over cake. Reroll cake. Wrap in plastic wrap and refrigerate at least one hour. Sprinkle with powdered sugar before serving.
Source:
adapted from
Domino Sugar