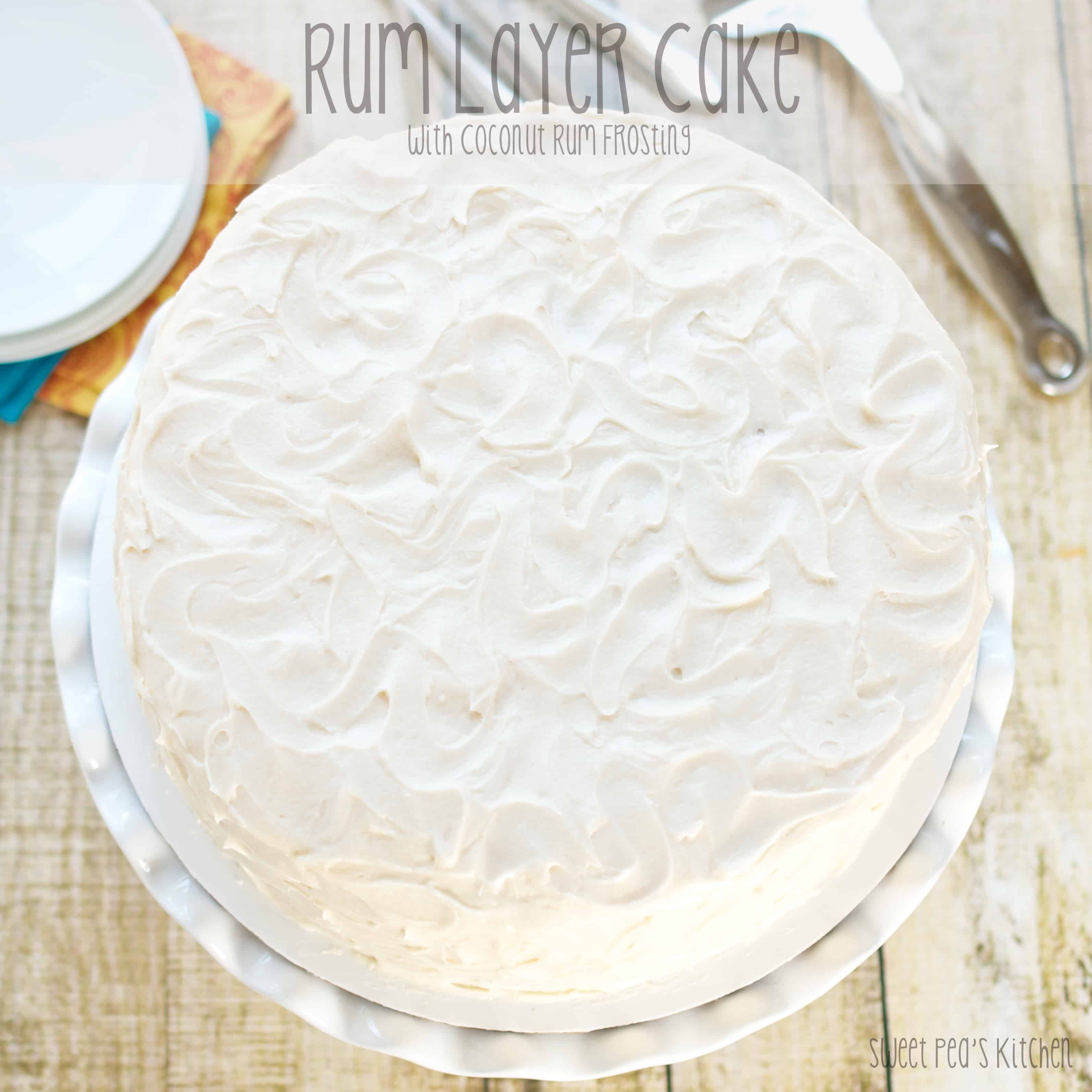 This layer cake recipe is mind-blowing delicious! Each layer of the cake has been soaked with a rum syrup, and it's filled with a coconut rum frosting. When you dig into this double layer cake, your taste buds will be thanking you! I love cake. White cake, chocolate cake, red velvet cake…give me ALL the cake!
Scroll to bottom for printable recipe card.
Rum Layer Cake Recipe with Coconut Rum Frosting
This easy layer cake is extraordinary, and you'll be amazed when you bite into it. Whenever I am heading out to a potluck or dinner party, this rum cake recipe is one that my friends beg me for. I have to say, if they're begging for it, that's a great sign! So whenever you need a dessert, and you want to impress everyone, make sure this one is at the top of your list.
What Is Rum Cake?
Rum cake is a traditional dessert that is served during the holidays in the Caribbean. Either the cake itself or fruit that's added to the cake has been soaked in rum. The texture is super moist, and it's been around for a long time.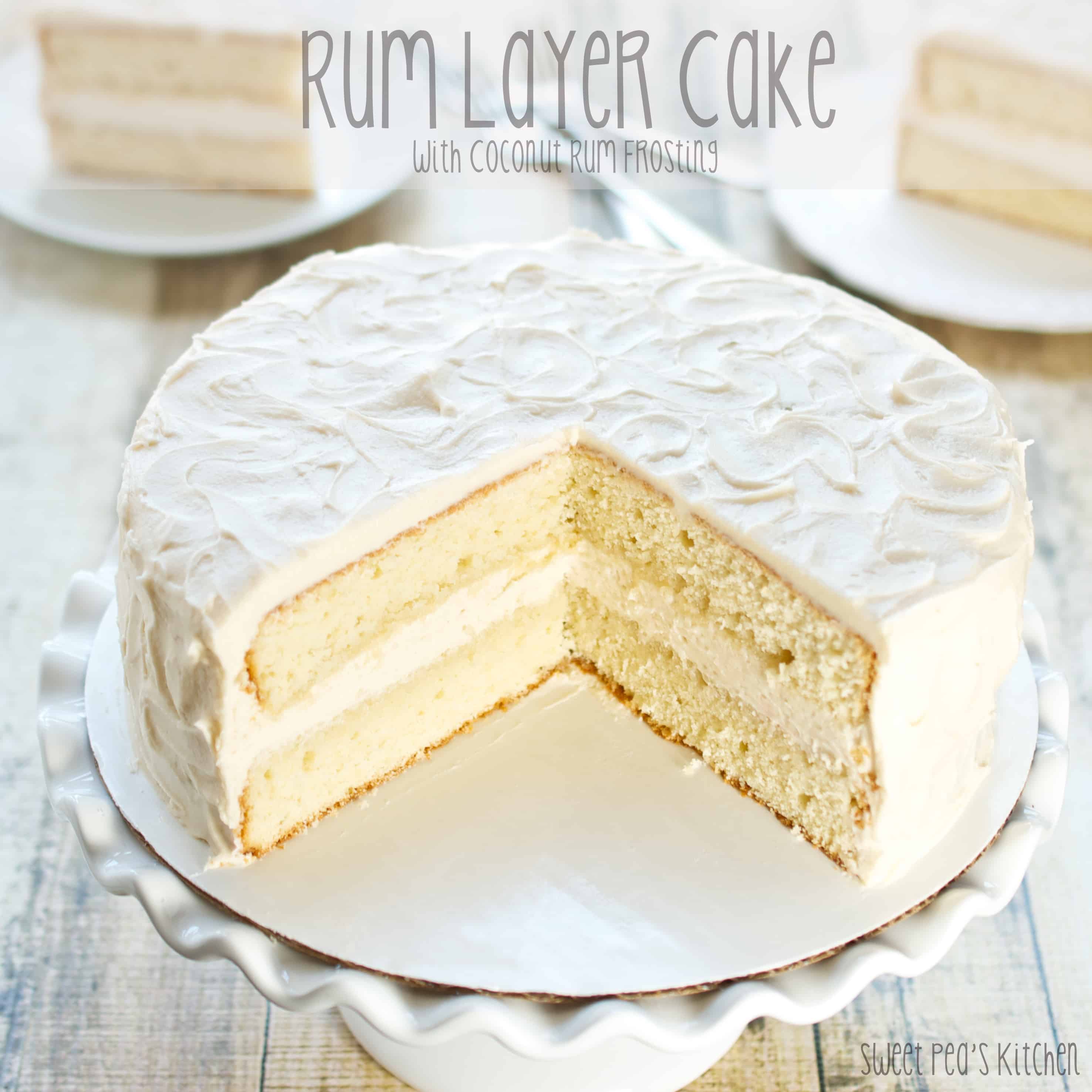 Rum Cake Recipe Ingredients
For the Cake
All-purpose flour
Salt
Baking powder
Baking soda
Buttermilk
Dark rum
Vanilla extract
Lemon juice
Unsalted butter
Eggs
For the Rum Soak
Granulated sugar
Dark rum
Water
Unsalted butter
For the Frosting
Unsalted butter
Confectioners' sugar
Coconut rum
Vanilla
How To Make A Layer Cake
This is one of the most impressive cakes I've tried, and I think you're going to love it as much as I do. It's flavorful, moist, fluffy, and begging you to devour it! Take a look at these simple steps to make this multi-layer cake.
First Step: Put the oven rack in the center of the oven and preheat it to 350 degrees F. Use nonstick cooking spray and lightly spray the bottom of two 9-inch pans. Use parchment paper to line the bottom of the pan and spray it with cooking spray.
Second Step: Using a medium bowl, combine the flour, salt, baking powder, and baking soda together. Set aside.
Third Step: Combine the buttermilk, rum, vanilla, and lemon juice in a small bowl using a whisk.
Fourth Step: Using a stand mixer and paddle attachment combine the butter and sugar. It should be fluffy and well blended. It will take around 3 minutes. Put the eggs and egg yolk one at a time and beat until it's combined. Slowly pour in one-third of the flour mixture and beat on medium-low speed.
NOTE: Don't overmix the batter or the cake will become dense. Just beat for 30 seconds or so.
Fifth Step: Pour in half the buttermilk mixture and beat for 30 seconds. Scrape the bowl as needed. Add half of the remaining flour mixture, buttermilk, and mix together. Finally, add the rest of the flour and mix.
Sixth Step: Pour the vanilla layer cake batter into the prepared pans and bake for 25 minutes. A toothpick should come out clean when inserted in the center of the cake. Cool the rum cakes for 10 minutes, then turn the pan over and place the cakes on a cooling rack. Let the cake layers sit for a least 2 hours.
Seventh Step: After the cakes have cooled, use a serrated knife to cut the tops off and make them level.
Eighth Step: Begin making the rum soak as the cake has cooled. Using a small saucepan, bring the granulated sugar, rum, and water to a boil, then simmer over medium-low heat until the sugar has dissolved all the way. This takes around 2 minutes. Whisk in the butter until smooth.
Ninth Step: Take a fork and poke holes in each layer of the cake all over. Brush the cake layers with rum syrup and allow it to soak for at least 30 minutes. Then add frosting.
Tenth Step: Prepare the frosting by adding butter to a stand mixer and beating with the paddle attachment. Once it's fluffy, add the confectioner's sugar, coconut rum, and vanilla and continue mixing until it's light and fluffy. Place in the fridge until you are ready to frost this layer cake recipe.
Eleventh Step: Place one layer of cake out and put 1 1/2 cups of the coconut frosting on top. Spread it out, so it's even. Next, add the second layer of cake on top of the first. Place the remaining frosting on the top and sides of the cake.
That's all you need to do to make this double layer cake. I promise it's worth every second of effort you put into it. Now you can serve and enjoy!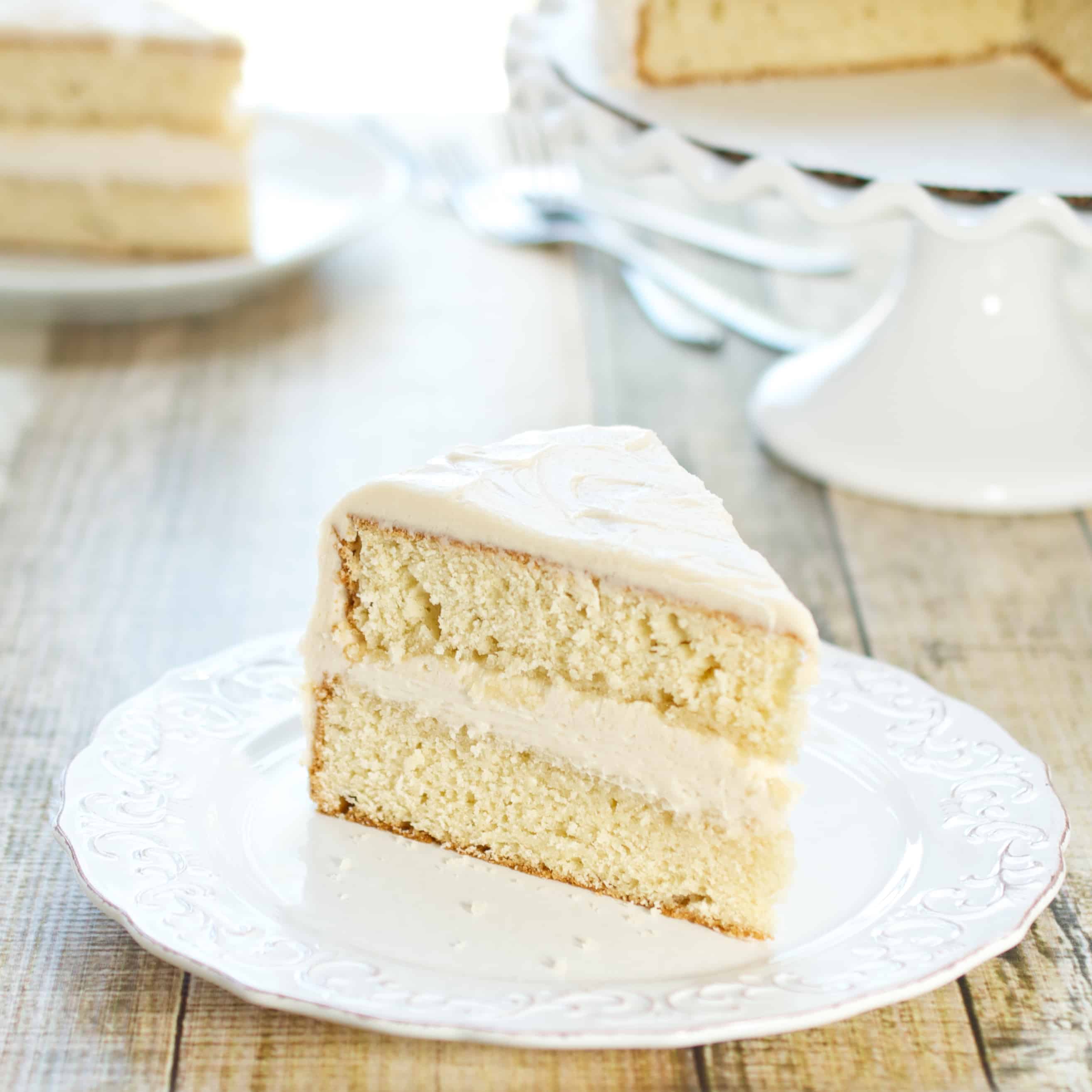 How Many Pieces Of Cake Do You Get With This Layer Cake Recipe?
Every cake you make can be cut into different sized pieces. My intention with this easy layer cake is to cut it into 12 pieces. Because the rum cake recipe is pretty rich with butter, sugar, and rum, the pieces don't need to be huge to enjoy it.
What Is The Difference Between Light And Dark Rum?
Typically, when you bake, you want to use dark rum instead of light rum because it's aged longer. This can make it a darker color, and it just tastes better in baked goods.
If you don't have dark rum on hand and only have light rum, you can still bake this amazing cake recipe! Simply replace the white sugar with brown sugar. This will give you the same effect of using dark rum.
How Do You Store This Layer Cake Recipe?
It's best to store this layer cake recipe in the refrigerator for up to one week. You could also keep it on the counter if that works better for you, but the double layer cake will only last about 3 days at room temperature. No matter how you store it, it's important to keep this rum cake recipe wrapped and airtight, so it doesn't go bad.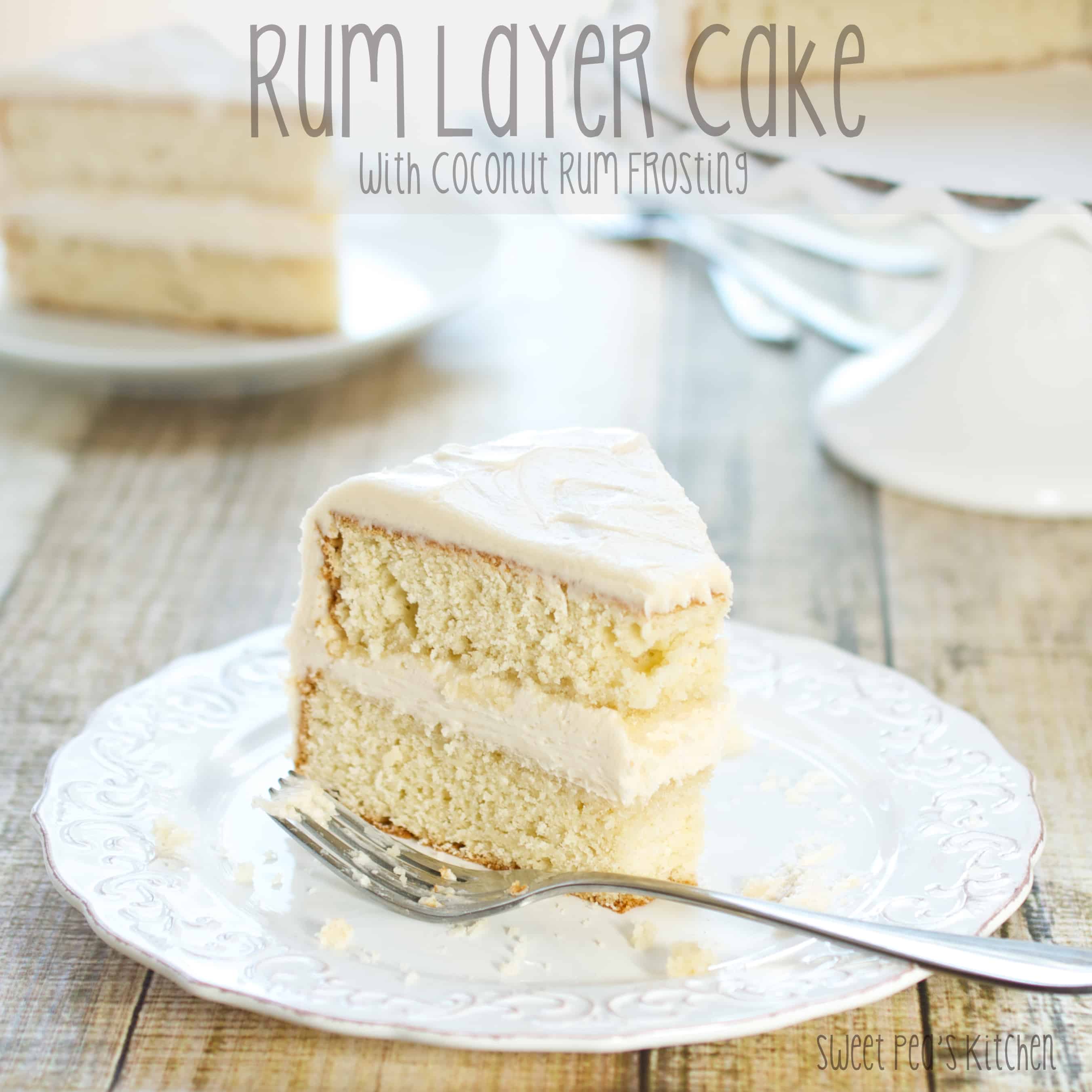 Can You Freeze This Double Layer Cake?
Yes, absolutely, you can freeze this double layer cake! It's easy to do. Just wrap each piece in plastic wrap and place them in a freezer bag. Or wrap up the entire cake and freeze in an airtight container. This layer cake recipe will last up to 3 months in the freezer, so it's perfect for meal planning and a quick snack idea.
Once you taste this vanilla layer cake with coconut rum frosting, I'm certain you'll want to try some more delicious recipes. Take a look at these:
Now, remember to save this recipe on Pinterest for later 🙂

Pin this recipe now to remember it later
Rum Layer Cake Recipe with Coconut Rum Frosting
This Rum Layer Cake Recipe with Coconut Rum Frosting is out of this world amazing! Soft, moist double layer cake filled with a delicious coconut frosting.
Ingredients
For the Cake:
3

cups

15 ounces all-purpose flour

1/2

cup

buttermilk

,

room temperature

1

tablespoon

vanilla extract

18

tablespoons

2 1/4 sticks unsalted butter, cut into 18 pieces and softened

3

large eggs

,

plus 1 large yolk, room temperature
For the Rum Soak:
2/3

cup

4 2/3 ounces granulated sugar

4

tablespoons

unsalted butter
For the Frosting:
1

cup

unsalted butter

,

softened

4 to 4 1/2

cups

confectioners' sugar
Want to save this recipe? Enter your email below and we'll send the recipe straight to your inbox!
NOTE: By saving this recipe, you agree to join our weekly recipes newsletter.
Instructions
For the cake: Adjust oven rack to middle position and heat oven to 350 degrees. Spray two 9-inch round baking pans with nonstick cooking spray. Line bottoms of pan with parchment and spray parchment. Combine flour, salt, baking powder, and baking soda in medium bowl. In small bowl, whisk buttermilk, rum, vanilla, and lemon juice together.

In bowl of stand mixer fitted with paddle attachment, beat butter and sugar on medium-high until fluffy, about 3 minutes, scraping down bowl as necessary. Add eggs and egg yolk, one at a time, and beat until combined. Add one-third of flour mixture and beat on medium-low speed until just incorporated, about 30 seconds. Add half of buttermilk mixture and beat on low speed until combined, about 30 seconds, scraping down bowl as necessary. Repeat with half of remaining flour mixture, remaining buttermilk mixture, and remaining flour mixture. Pour into prepared pans and bake until toothpick inserted in center comes out clean, about 25 minutes. Cool cakes in pans 10 minutes then turn out onto rack to cool cakes to room temperature, about 2 hours. Once cool, use a long, serrated knife to level the cakes and cut off any dome or excess off your cake.

For the Rum Soak: Meanwhile, bring granulated sugar, rum, and water to boil in small saucepan and simmer over medium-low heat until sugar dissolves, about 2 minutes. Whisk in butter until smooth. Prick each cake layer all over with fork. Brush cake with rum syrup and allow to soak into the cake for about 30 minutes before frosting.

For the Frosting: In the bowl of a stand mixer fitted with the paddle attachment, beat butter at medium high speed until fluffy, about 2 minutes, scraping down bowl with rubber spatula as needed. Add confectioners' sugar, coconut rum and vanilla and mix until very fluffy, about 1 minute. Refrigerate until ready to use.

5. To assemble, spread 1 1/2 cups frosting on one cake layer. Top with second cake layer and spread top and sides of cake with remaining frosting. Store at room temperature for up to 3 days or up to 1 week in refrigerator. Always bring refrigerated cakes to room temperature before serving.
Follow me on Pinterest for daily delicious recipes!
Cake is one of the best desserts because it usually feeds a lot of people, and there is so much variety. Here are some of our favorite cake recipes for you to try:
Texas Chocolate Peanut Butter Cake – This simple cake has big flavors of chocolate and peanut butter. It's so easy and perfect for your chocolate cravings.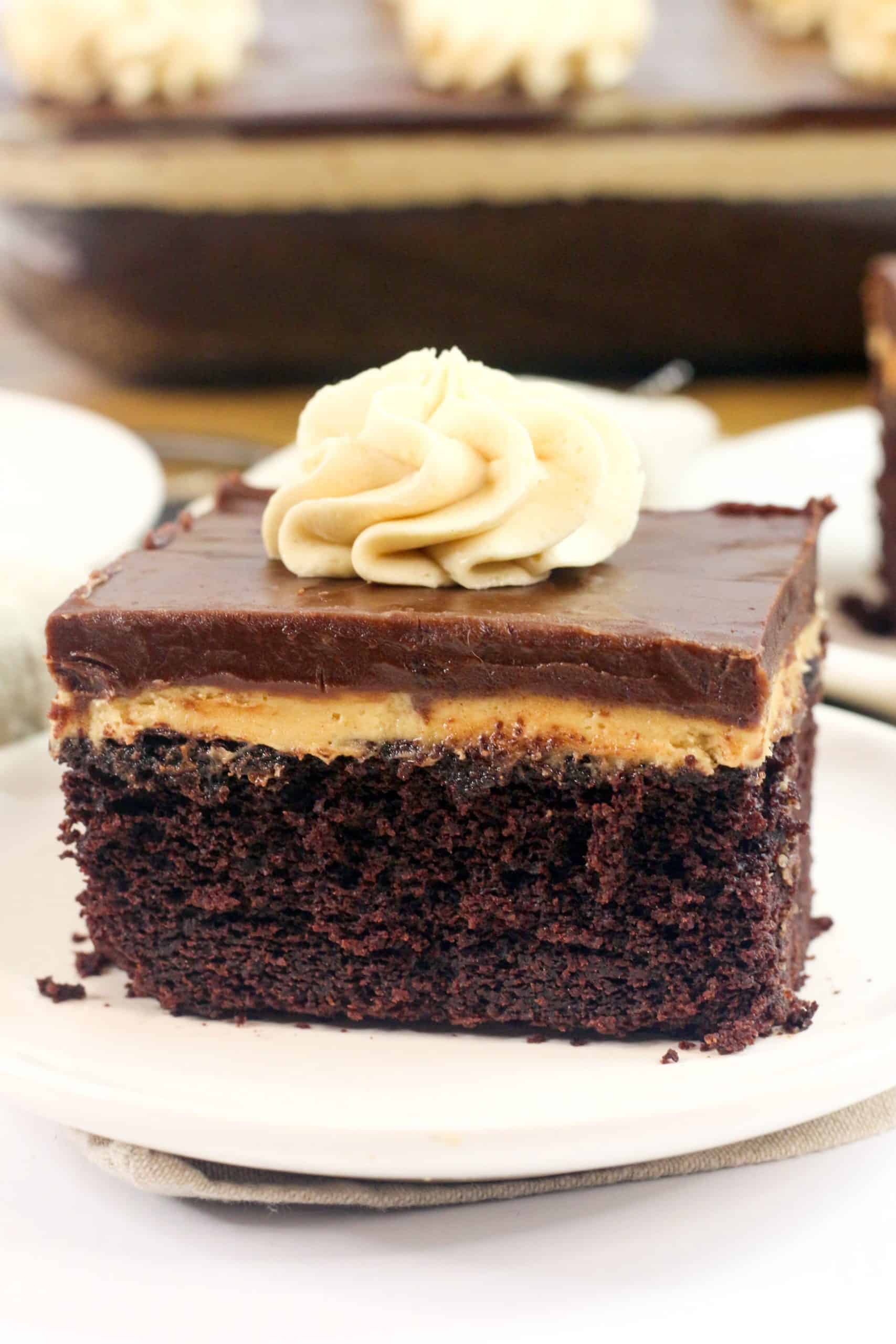 Decadent Chocolate Fudge Cake – This amazing fudgy cake is so good you are going to be in chocolate heaven!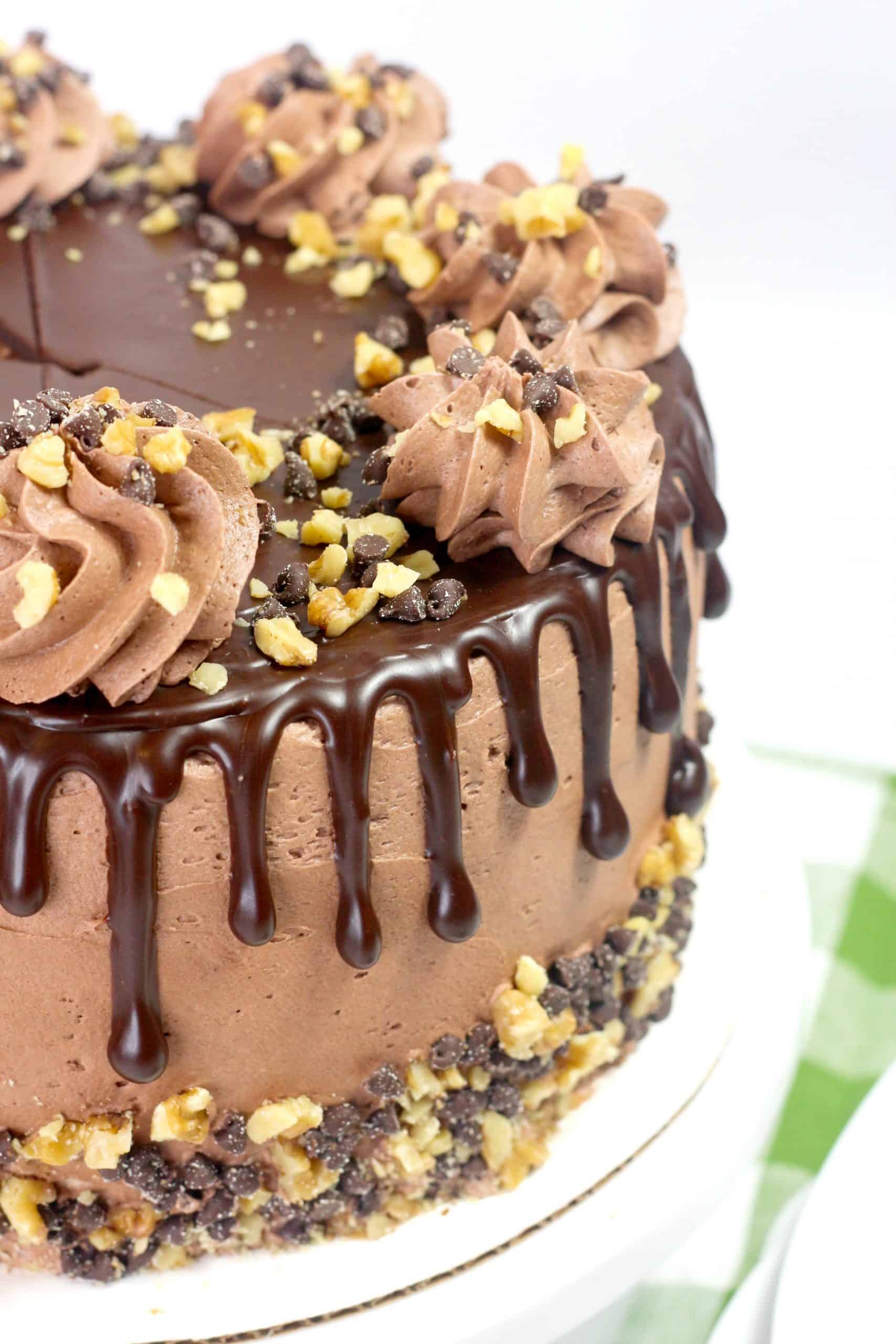 Best Easy Italian Cream Cake – One taste of this incredible cake and you will have a friend for life. It's so soft and delicious.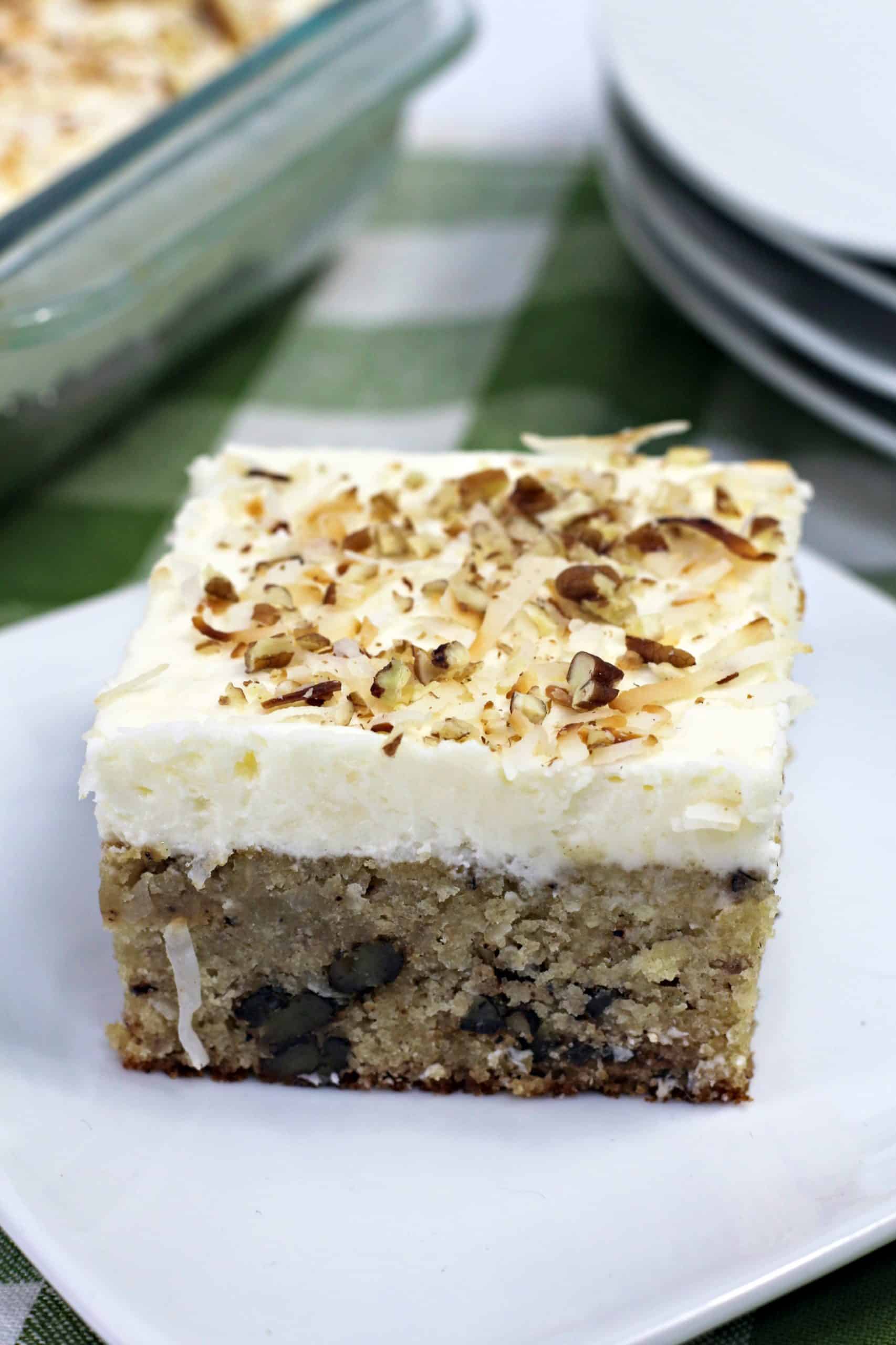 Red Velvet Poke Cake – Seriously, what's better than Red Velvet?? Nothing! This cake has everything you could want in a dessert. So good.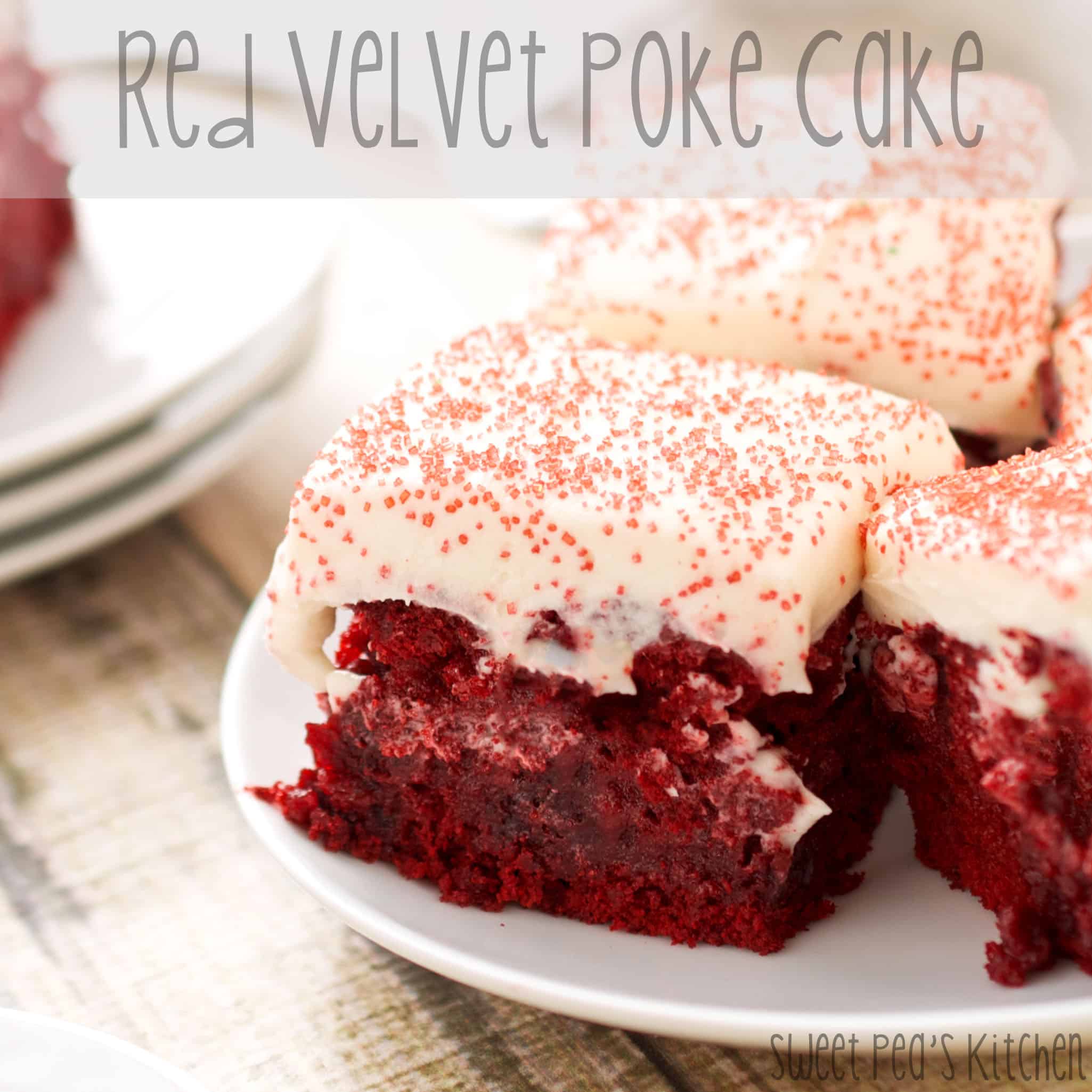 Get new recipes weekly plus our FREE ebook!