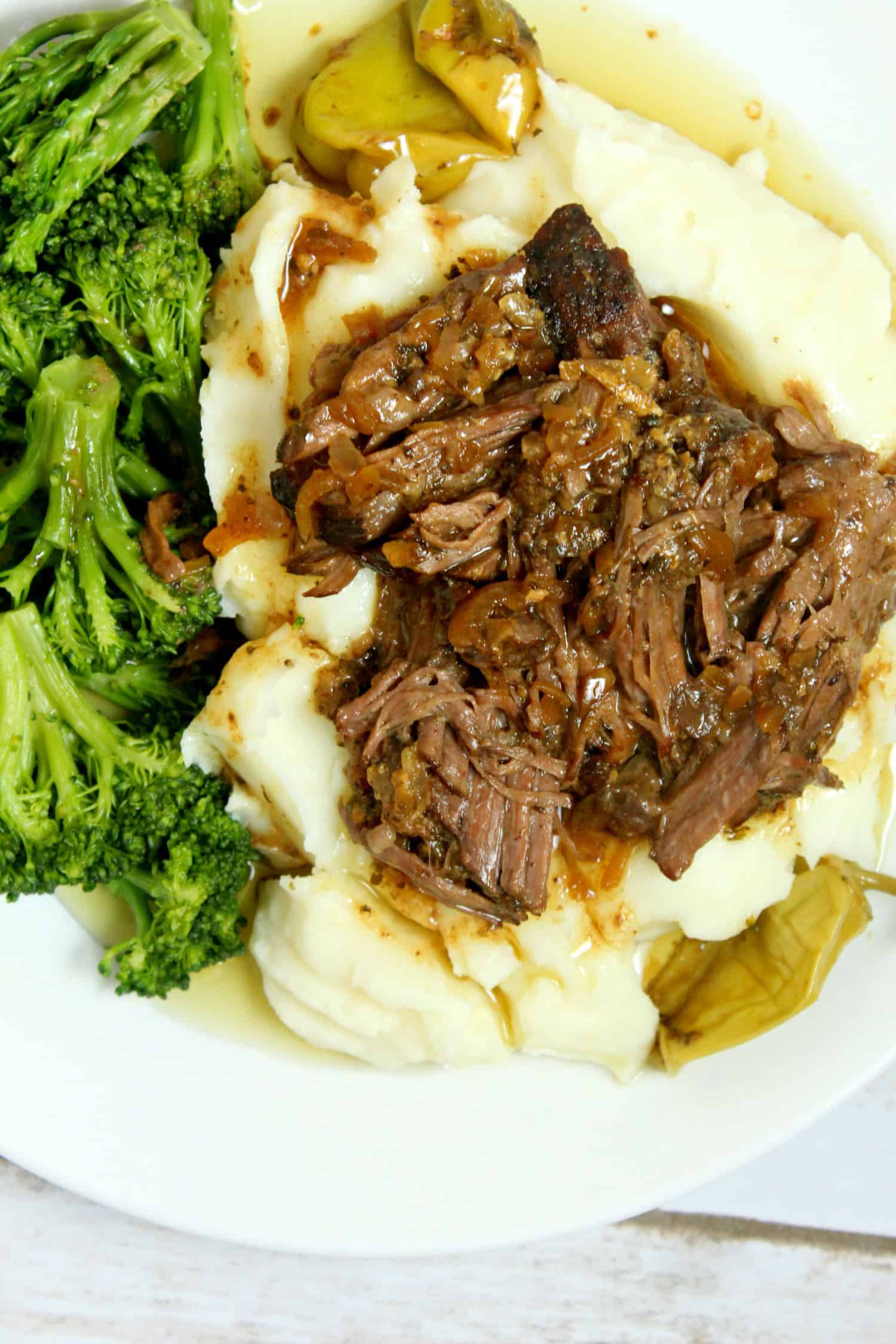 Slow cooker Mississippi pot roast is one of the easiest, most flavorful pot roast recipes you'll ever make. Made with only a handful of ingredients, it's a tender, melt-in-your-mouth pot roast that the entire family will love. Mississippi pot roast is the meal you are looking for when you are craving comfort food too!
This recipe for Mississippi pot roast slow cooker recipe only recently fell into my hands. Honestly, until a few months ago, I had never heard of any Mississippi pot roast recipe. I've made my fair share of pot roasts, including my new favorite Instant Pot Roast, but had no idea what Mississippi pot roast Crock Pot recipe was. Once I tasted this Mississippi pot roast recipe, I knew I found a lifelong recipe to keep my stomach happy while pleasing my taste buds.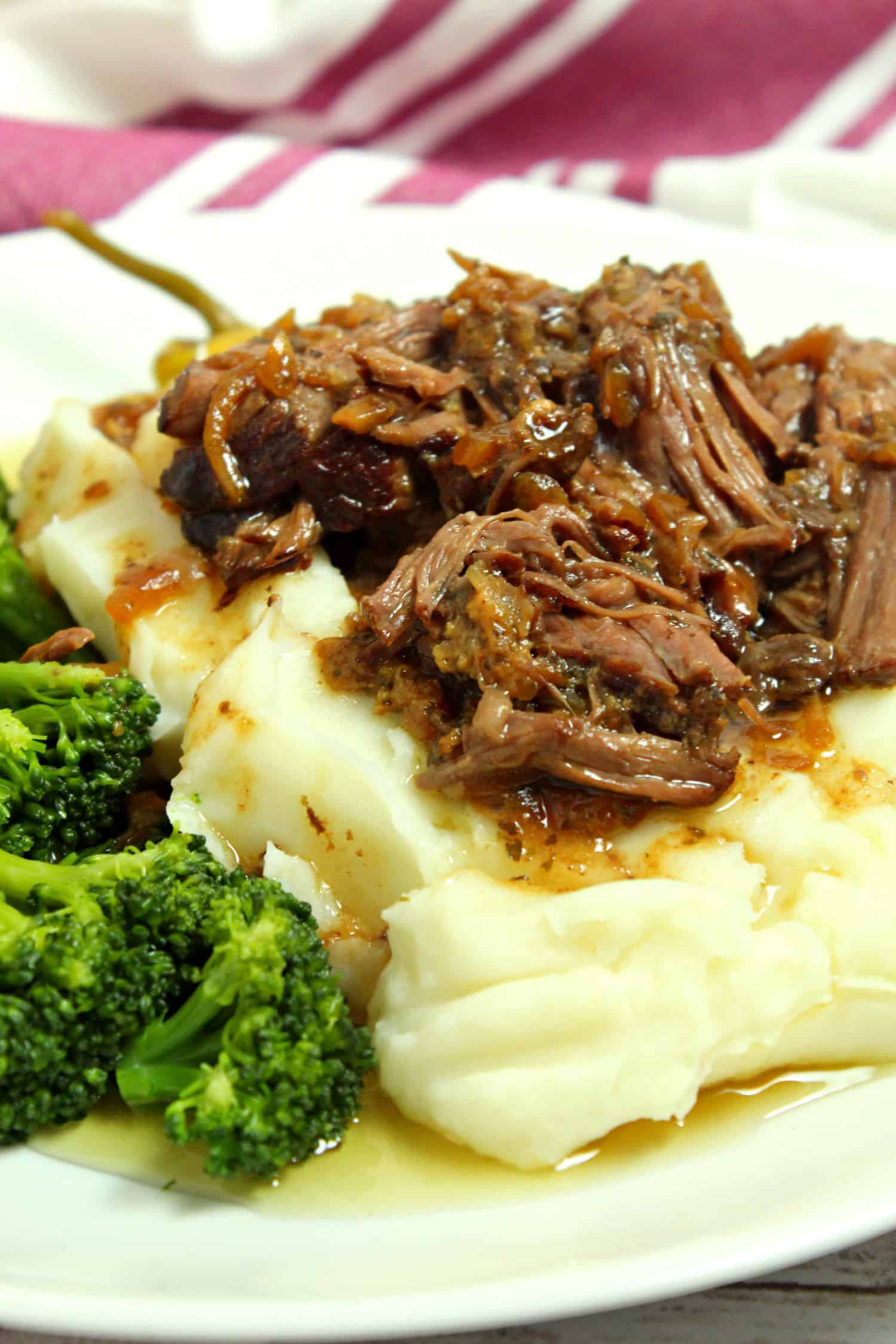 Scroll to bottom for printable recipe card.
What is Mississippi Pot Roast?
This Mississippi Pot Roast slow cooker recipe is similar to other pot roasts you may have made, like this Instant Pot Roast with the addition of ranch dressing mix and pepperoncinis.
I'm not from the South so I'm not sure why people in Mississippi are such big fans of ranch dressing mix and pepperoncinis, but I love it. (If you missed it, I recently shared a Mississippi Ranch Chicken that uses those very same ingredients!)
I'm actually not a big fan of pepperoncinis (or most peppers in most recipes, honestly) but the other flavors in this slow cooker Mississippi Pot Roast add balance so that it's not spicy but rather just flavorful. The ranch really mellows out the flavor to keep this a kid-friendly dinner. And if you don't like pepperoncinis, you can pick them off and throw them out. It's the flavor that it adds to the dish that makes it so amazing, not the pepperoncinis themselves.
Slow Cooker Mississippi Pot Roast
Making Mississippi Pot Roast Crock Pot recipe is so easy. However, there is one secret step you may not think of – searing the chuck roast before adding it to the slow cooker. This is a step I think many skip for simplicity's sake, but I think it's vital to making the very best Mississippi beef roast. Once the chuck roast is melting in your mouth, you'll be grateful you took the extra few moments to sear it.
There are three main ingredients that add flavor in this recipe for Mississippi Pot Roast – ranch dressing mix, onion soup mix, and pepperoncinis. You may think that those three are an unusual combination, but I promise you they taste amazing together. Using the two mixes keeps the preparation simple and easy, which is the name of the game in my kitchen.
Mississippi Pot Roast
Beyond searing the chuck roast in the beginning, this Mississippi Pot Roast Recipe is pretty hands-off. Just season the chuck roast, add to the slow cooker with the additional ingredients and let cook on low for 8 hours. This is a great recipe to prepare in the morning before work or, if you're a busy mom, in the morning while the kids are eating breakfast for an easy dinner that night. I love these "fix it and forget it" slow cooker recipes for nights that are busy with activities, and I really have no time to cook.
If you are a fan of pot roast, you absolutely have to try this recipe for Mississippi Pot Roast. It will rock your world!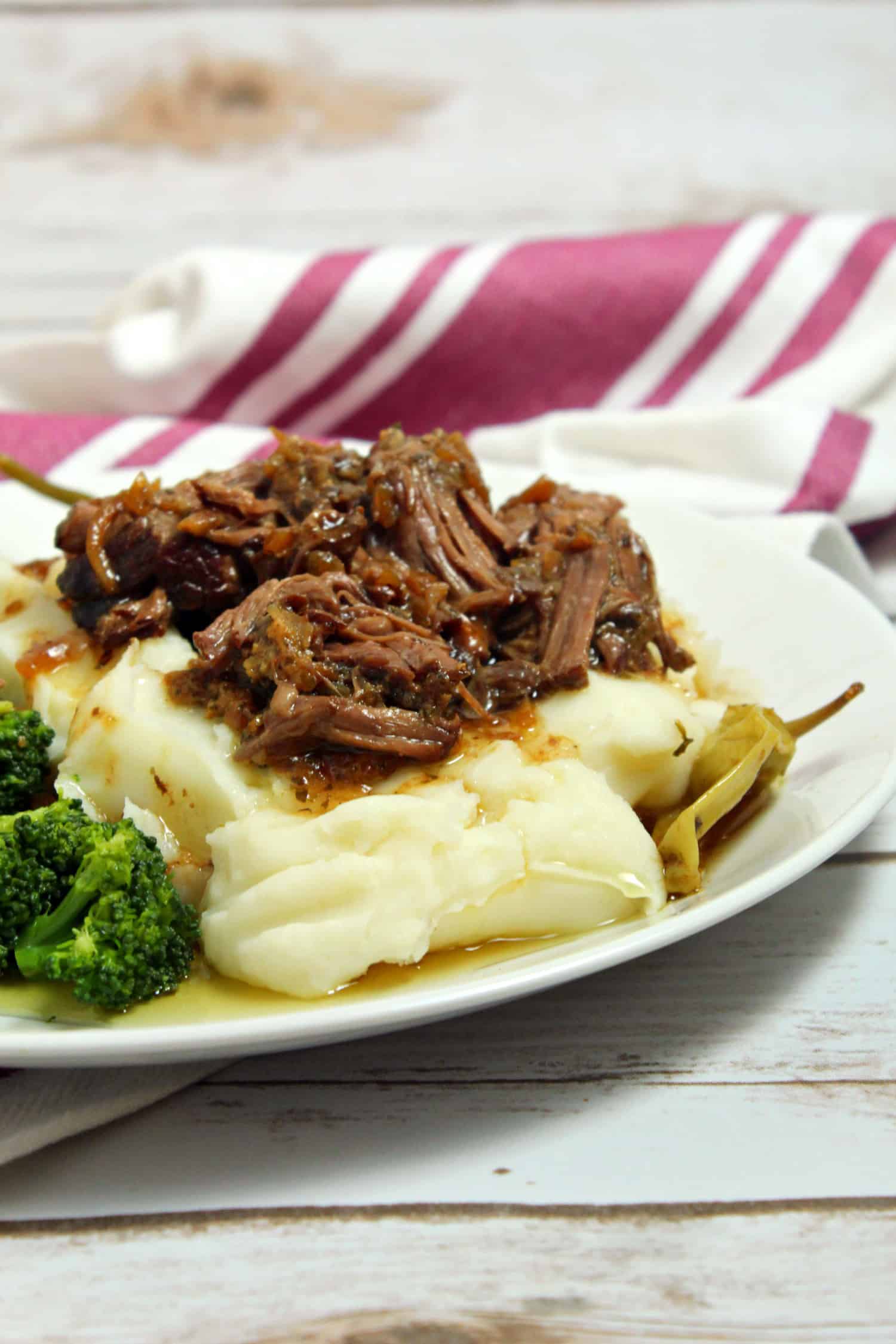 How To Make Slow Cooker Mississippi Pot Roast
Step 1: First sear the chuck roast in a pan. Season with salt and pepper.
TIP: Don't skip this step because it is what makes it so delicious and juicy!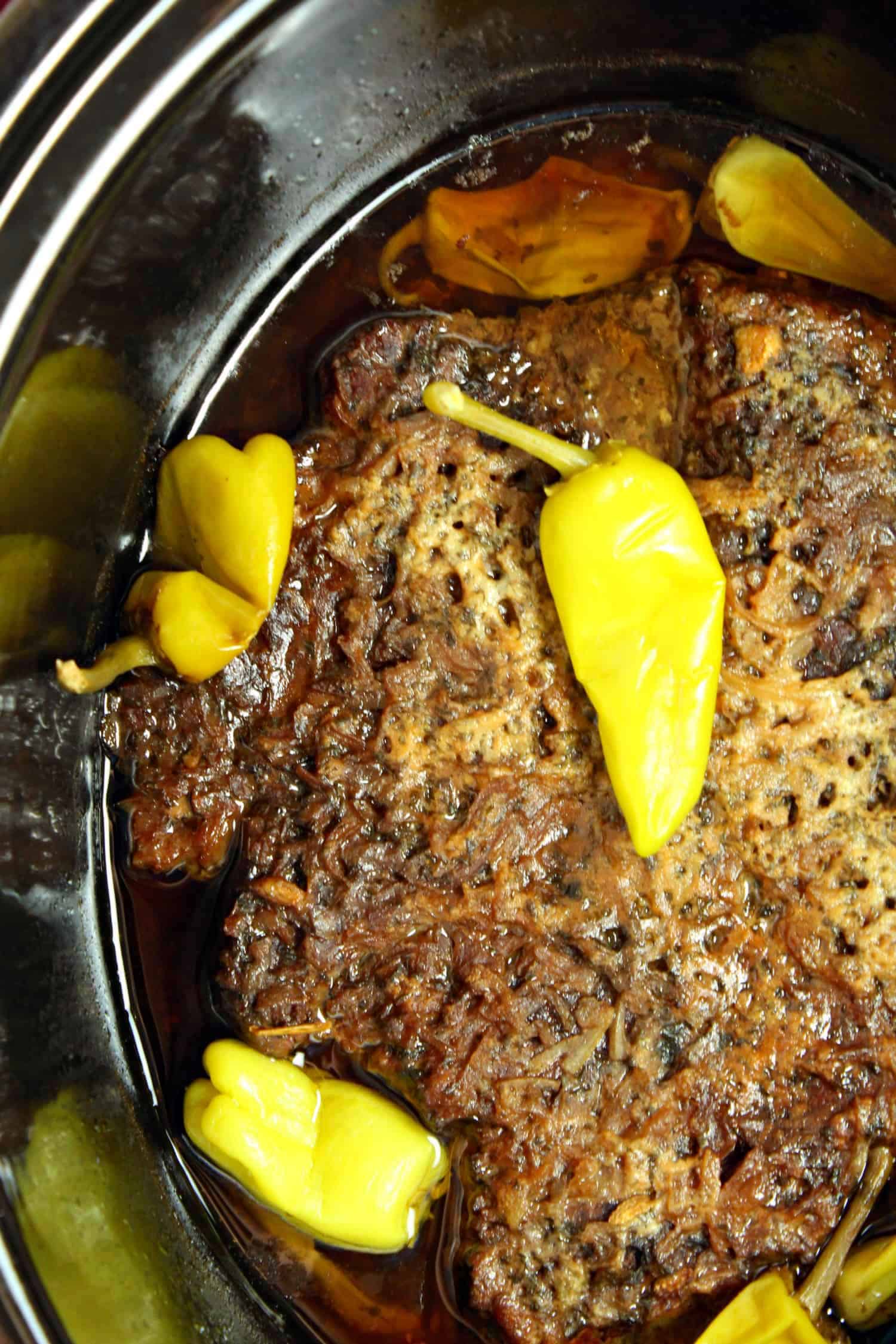 Step 2: Add chuck roast to the slow cooker. Then and add seasoning mixes, pepperoncinis, and butter.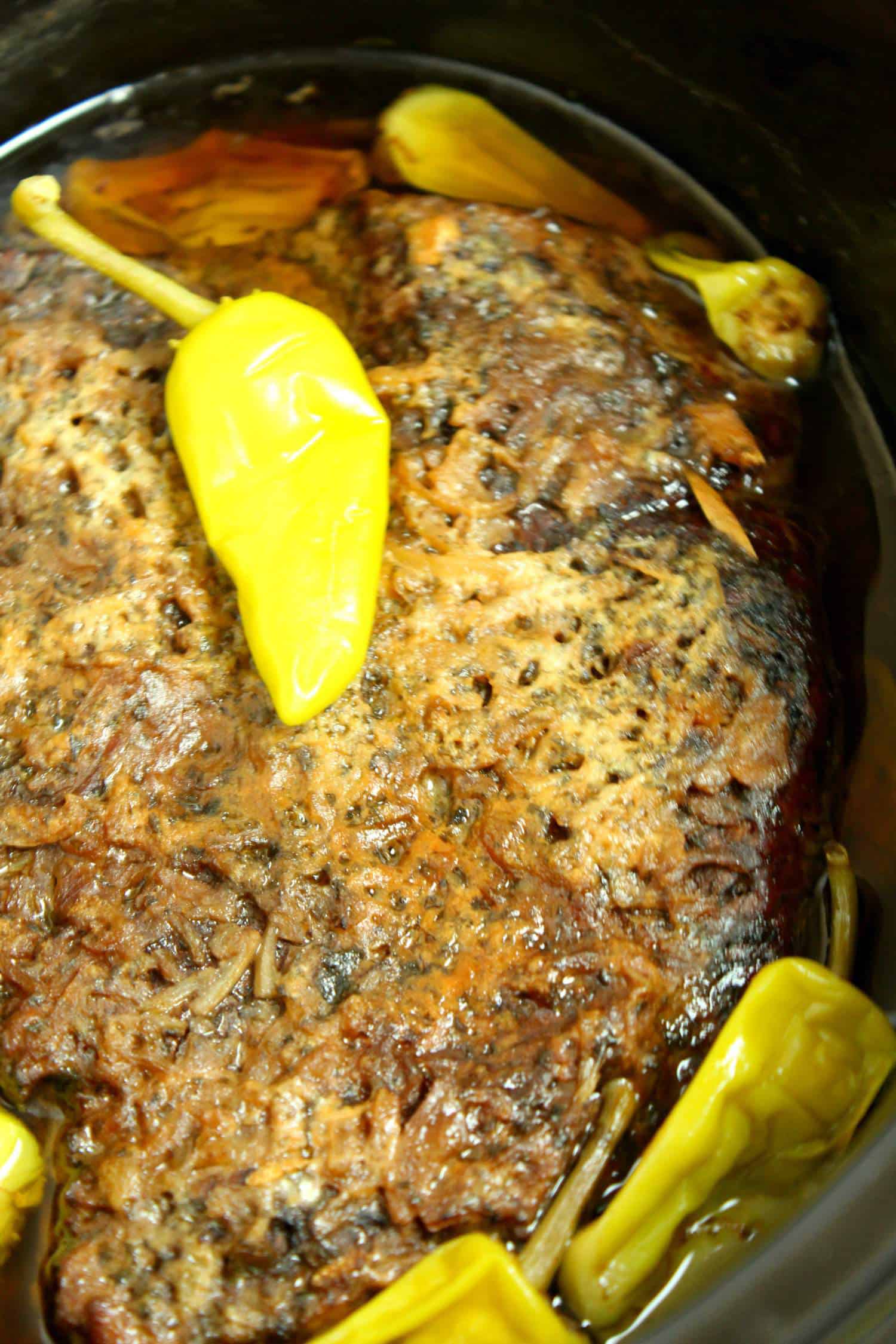 Step 3: Cook on LOW for 8 hours. When it's done, you will have moist, juicy Crock Pot roast that just falls apart. (I'm sure your mouth is watering by now!)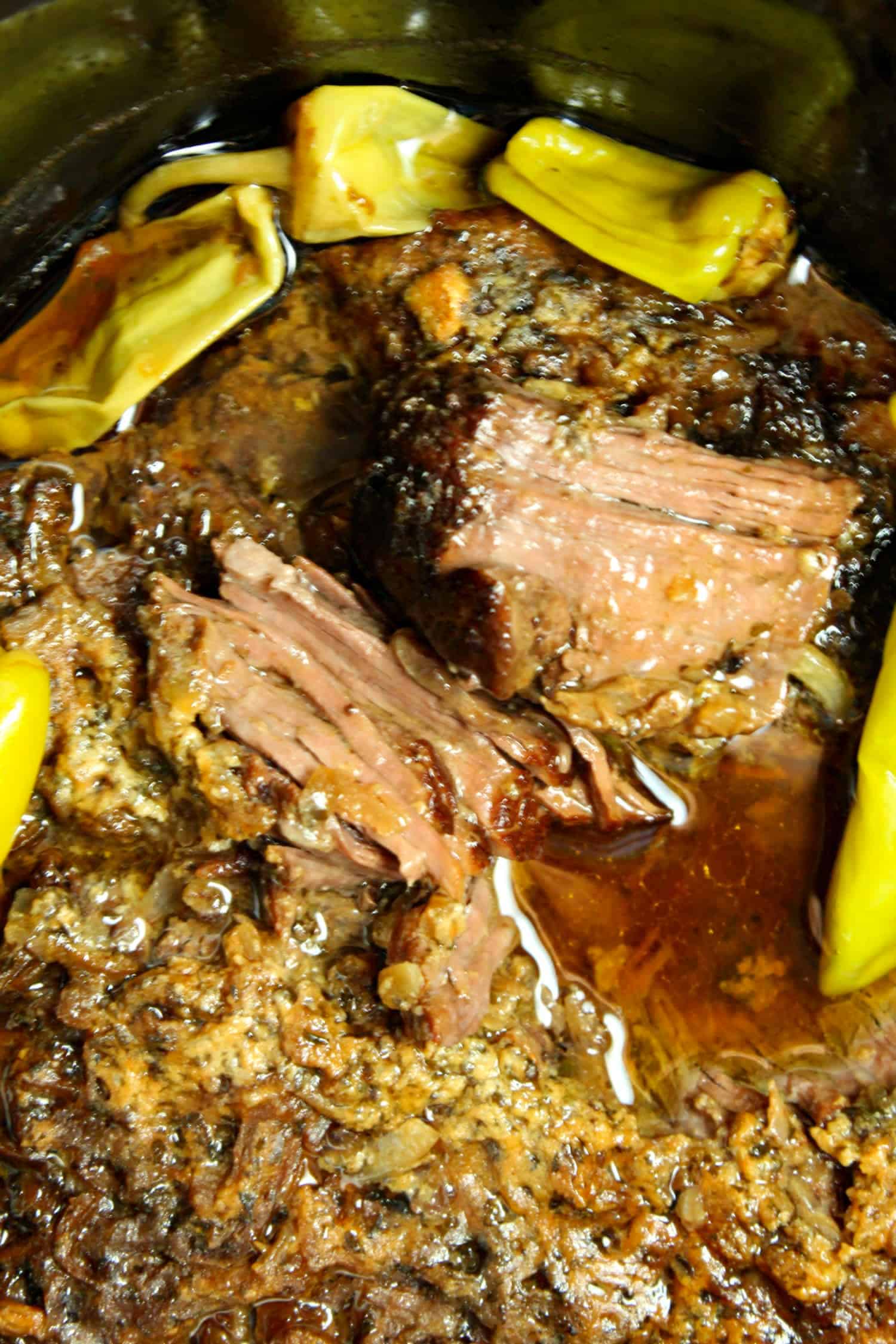 Mississippi Pot Roast Crock Pot Recipe Variations
This drool-worthy Mississippi roast recipe is perfect and amazing just the way it is! If you want to change it up from time to time, feel free! Here are a few ideas that you could try next time you make this Crock Pot roast recipe.
Potatoes – Toss in a few potatoes that have been quartered into the slow cooker. They will have all the same fantastic flavor as the Mississippi pot roast, and make an entire meal!
Carrots – Just because this roast recipe is more of a traditional southern dish, doesn't mean you can't add in some conventional roast flavors. Carrots are phenomenal with the ranch, pepperoncinis and onion soup mix. Yum!
Brown Gravy – If you don't happen to have dry onion soup mix on hand, don't worry! You can replace it with brown gravy mix instead. Both are scrumptious!
Au Jus Mix – Another option if you don't have brown gravy or onion soup mix. Don't you just love how versatile slow cooker Mississippi pot roast is?
What Is The Best Cut Of Beef For Crock-Pot?
I know how it feels when you excitedly run to the supermarket to find the ingredients for the new recipe you just found and can't remember what cut of meat you need. For this Mississippi beef roast recipe, I used chuck roast because I love the flavor and texture of the meat. One of the most significant advantages of cooking beef in the slow cooker is that it can take a tough cut of meat and turn it into a divine meal that the entire family loves! Bottom round, brisket, rump roast, chuck shoulder roast, and boneless chuck roast make the best Mississippi roast recipe. So, if you have any of those on hand or pick them up on a good sale at the market, you will be in good shape!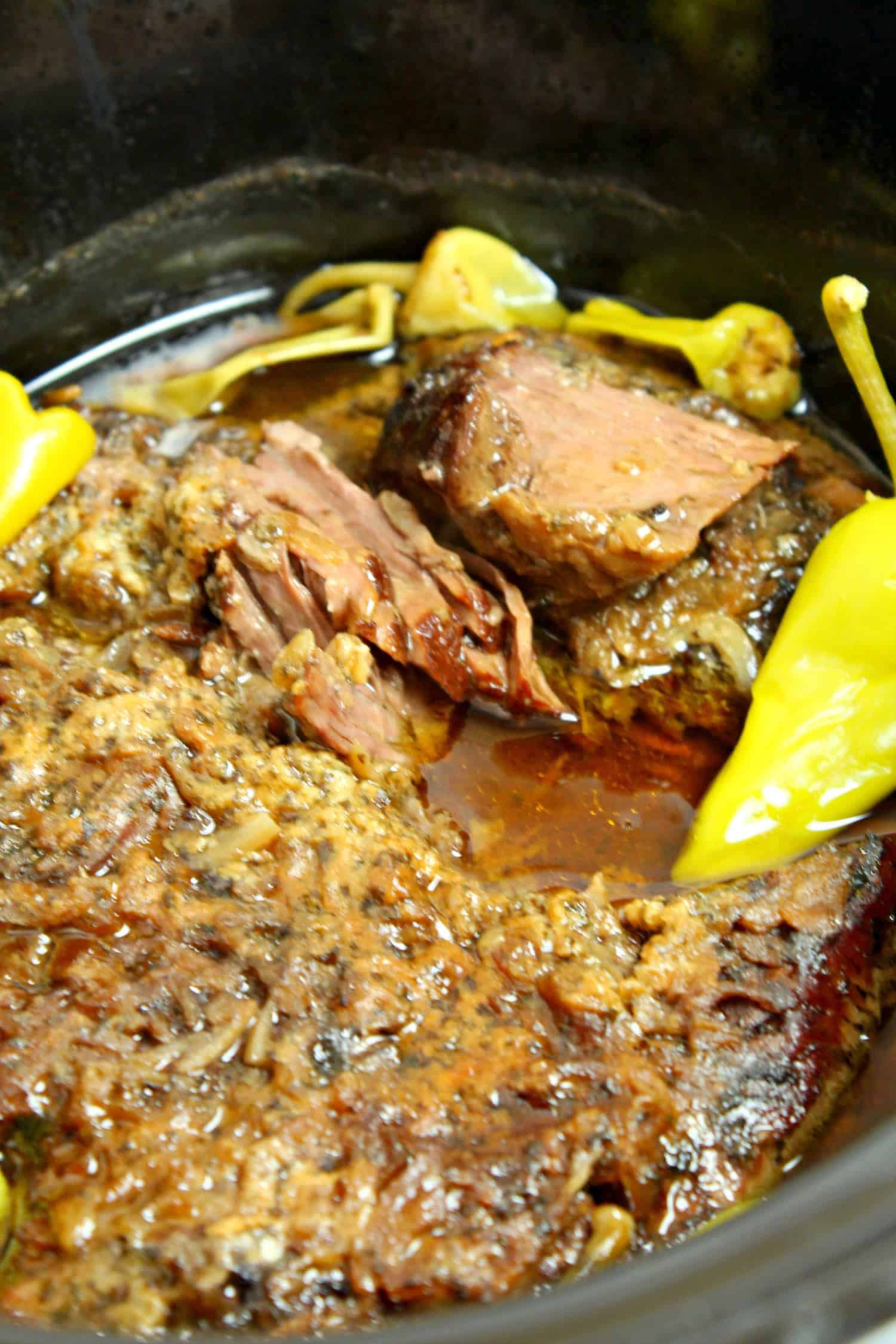 What To Serve With Slow Cooker Mississippi Pot Roast
One thing I look for in a recipe is how versatile it is. Can I make all kinds of things that go with it or can I serve it several ways? That is why I am crazy about this Crock Pot roast recipe! It goes with all sorts of things. Here are our family favorites:
Bread – Serve the best pot roast recipe on some bread and make sandwiches. It's so yummy and goes well with all types of bread. We love eating it on hoagie buns and dipping the sandwich in the juice like a French dip!
Mashed Potatoes – Holy yum! It's so good to put the Mississippi pot roast Crock Pot recipe on a large helping of comforting mashed potatoes. It's hard to get enough of this amazing goodness!
Rice – Use any kind of rice you have on hand because they are all fantastic with this Mississippi roast recipe!
French Fries – Honestly, it's pretty amazing to dip the french fries in the sauce of the Mississippi pot roast. Try it!
Veggies – Don't forget to make some roasted vegetables or steamed broccoli to make it a complete meal.
Is Pot Roast Healthy?
Yes, when you eat pot roast, you are getting lots of good-for-you protein and iron! So eat up and know you are getting nutrients your body needs.
How Do You Store This Mississippi Pot Roast Slow Cooker Recipe?
Your best bet is to store this Mississippi pot roast slow cooker recipe in the fridge. Cover it in an airtight container with a lid for 3-4 days. To warm it back up you can either place it in the oven at 325 degrees for 15-20 minutes or until it is heated all the way through. Make sure to cover it, and if there isn't liquid in the pan, you add a 1/8 cup of water to help steam it. This will give you a moist roast instead of a dried out hunk of meat.
You can also heat the roast recipe on the stovetop in a skillet. I usually add a little liquid from the roast or a tablespoon of olive oil. This is an excellent method if you are try ing to make sandwiches with the leftovers because it's so good!
Lastly, you can cover the Crock Pot roast and place it in the microwave for 1 minute or so until it's adequately heated. I usually check it and add time as necessary. The length of time it takes to reheat will significantly depend on how large of a piece you are warming up.
Can You Freeze Mississippi Pot Roast?
Yes, absolutely you can freeze a Mississippi pot roast! Cover it tightly and place in the freezer for 6-12 months. If you love to fill your freezer with cooked food for easy weeknight dinners or quick lunches, then you are in luck! You can store the leftover pot roast in individual serving containers and be all set for a grab and go lunch.
To thaw, place in the fridge overnight for best results. Then reheat using one of these methods, oven, stove-top or microwave.
Can You Overcook Roast In The Slow Cooker?
Yes, it is possible to overcook roast in the slow cooker. I recommend cooking this Mississippi roast recipe on low for 8 hours or high for 4 hours. I prefer cooking it on low because it makes the beef super tender. If you work late and the roast cooks for 10 hours, it will still probably still going to turn out good. But, if it's going to be in the slow cooker for 12 hours, you are most likely going to end up with a dry meal that isn't as appealing!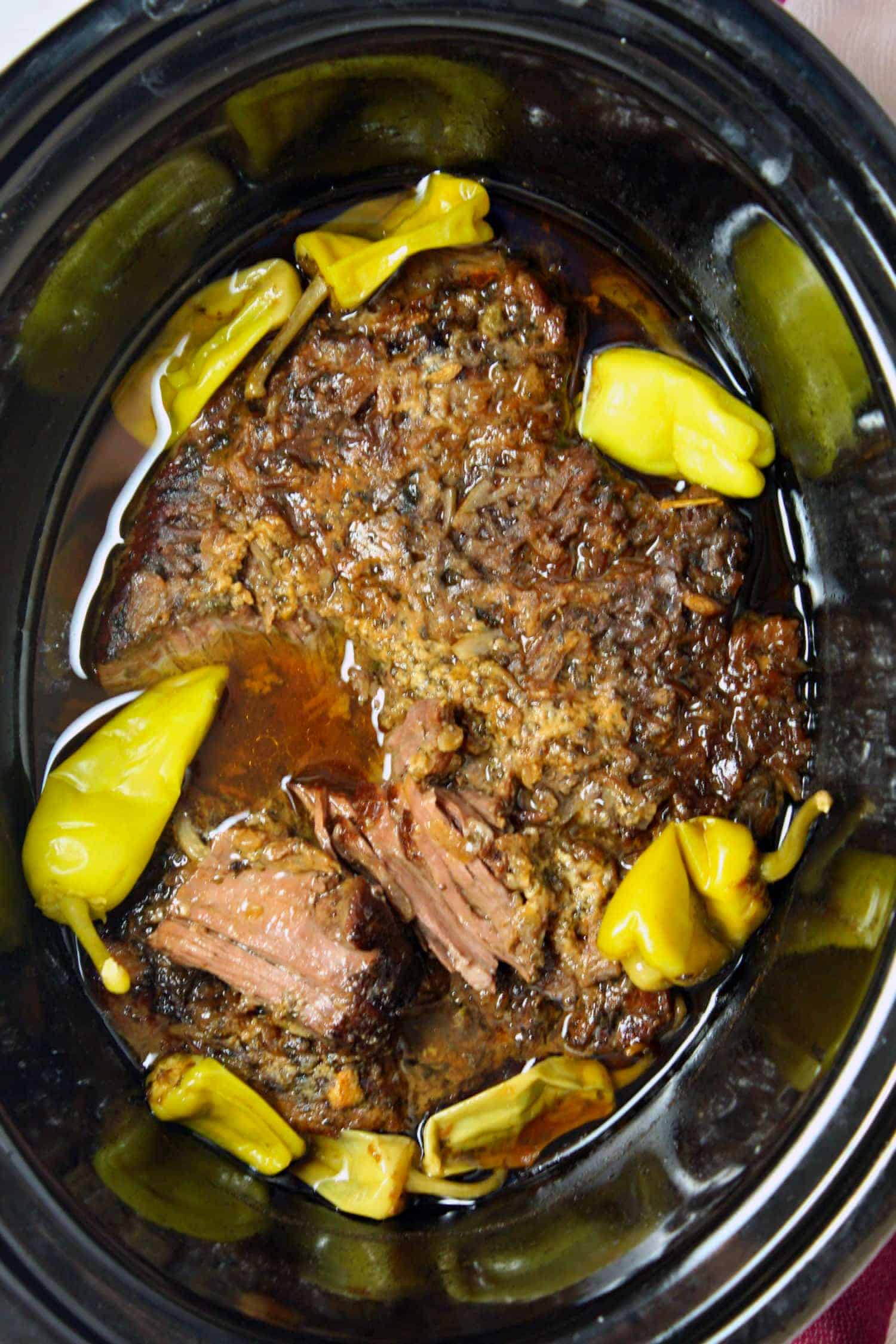 Yum!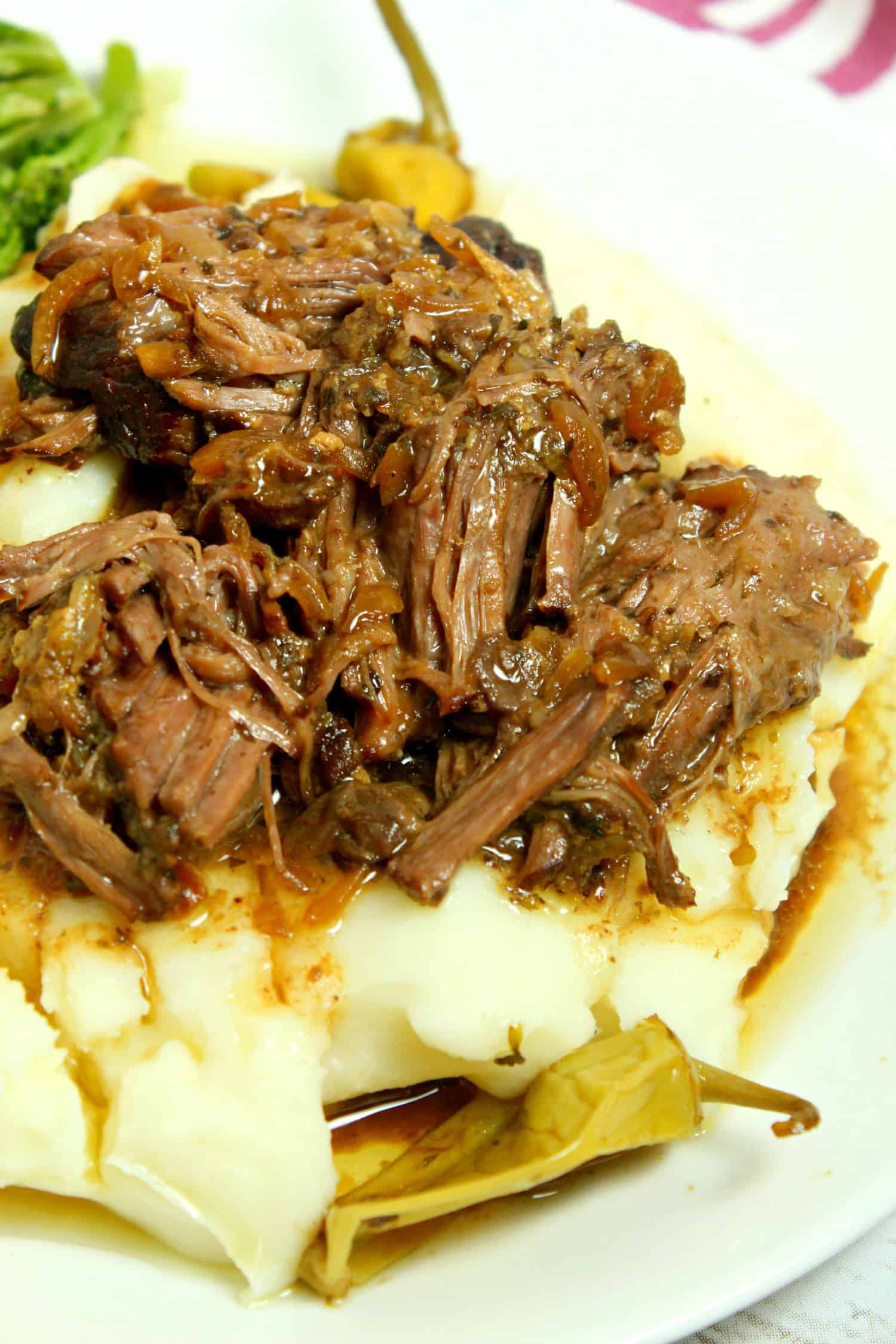 Now, remember to save this recipe on Pinterest for later:

Pin this recipe now to remember it later
Slow Cooker Mississippi Pot Roast
Slow Cooker Mississippi Pot Roast is one of the easiest, most flavor pot roast recipes you'll ever make. Made with only a handful of ingredients, it's a tender, melt-in-your-mouth pot roast that the entire family will love.
Ingredients
1/2

tsp.

ground black pepper

1

package ranch dressing mix
Want to save this recipe? Enter your email below and we'll send the recipe straight to your inbox!
NOTE: By saving this recipe, you agree to join our weekly recipes newsletter.
Instructions
Heat vegetable oil in a large skillet over high heat and sear the chuck roast.

Season with salt and pepper and add to a slow cooker, along with ranch dressing mix and onion soup mix.

Add butter and pepperoncinis to the slow cooker and cover.

Cook on LOW for 8 hours and shred chuck roast.
Notes
10 Freesryle Smartpoints (serving : 10)
Nutrition
Serving:
8
-9
|
Calories:
470
kcal
Follow me on Pinterest for daily delicious recipes!
Craving More Slow Cooker Recipes?
Crock Pot Chicken and Dumplings – If you love traditional chicken and dumplings, you'll love this easy crockpot chicken recipe!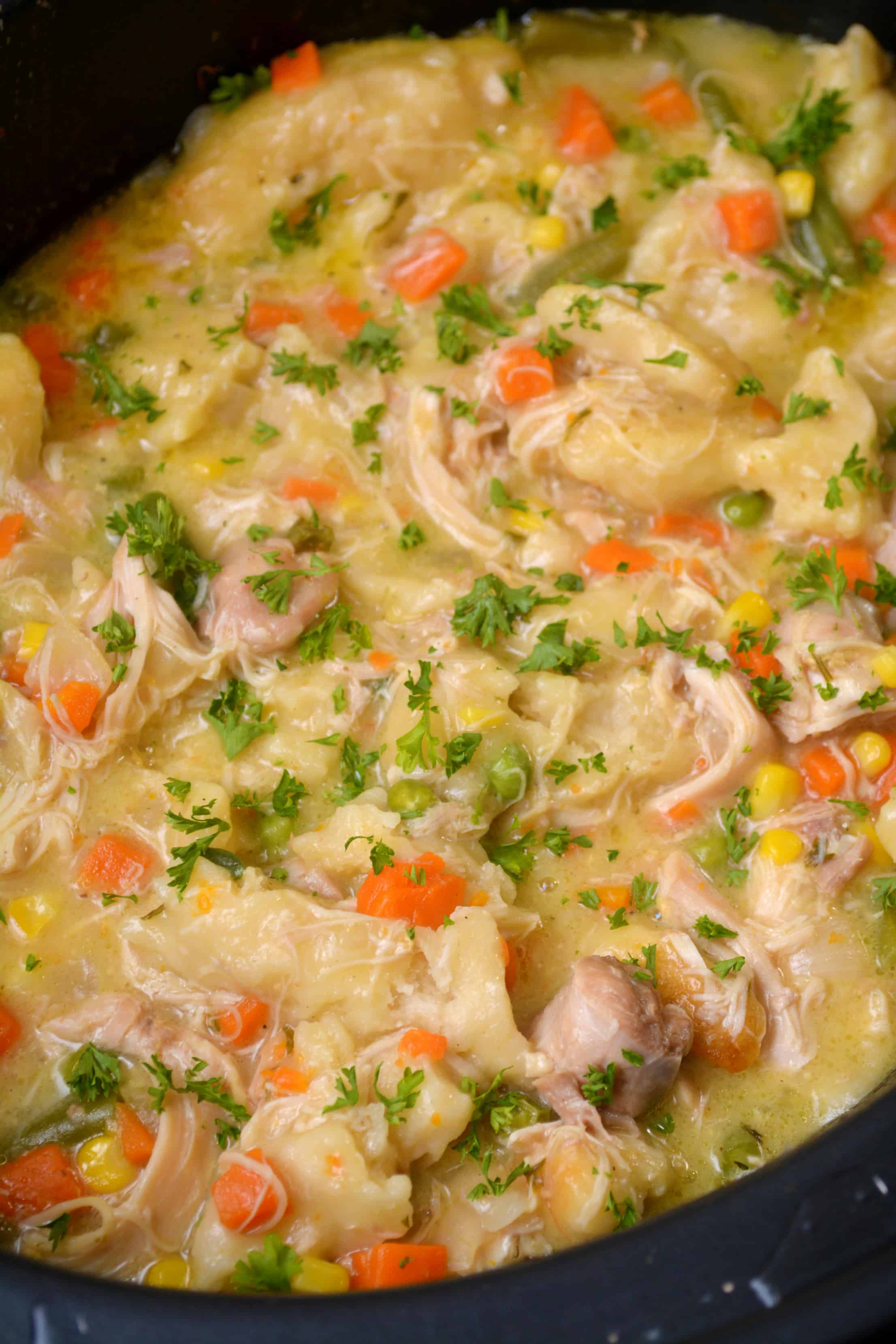 Easy Slow Cooker Pot Roast – True comfort food you can't go wrong with! Try this easy slow cooker pot roast recipe today.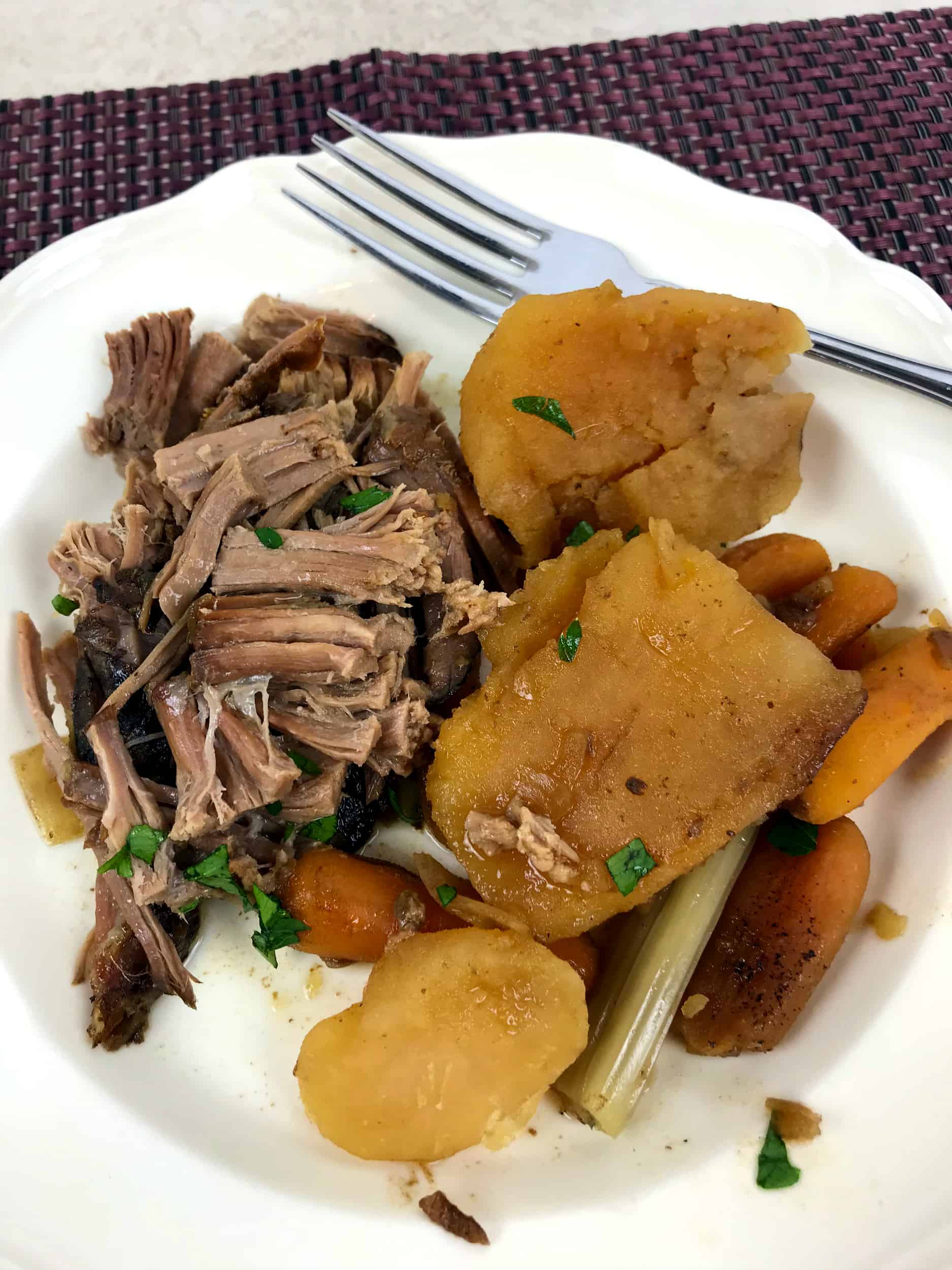 Slow Cooker Pork Chops and Potatoes – An easy pork chop recipe and a real comfort food meal the entire family will love.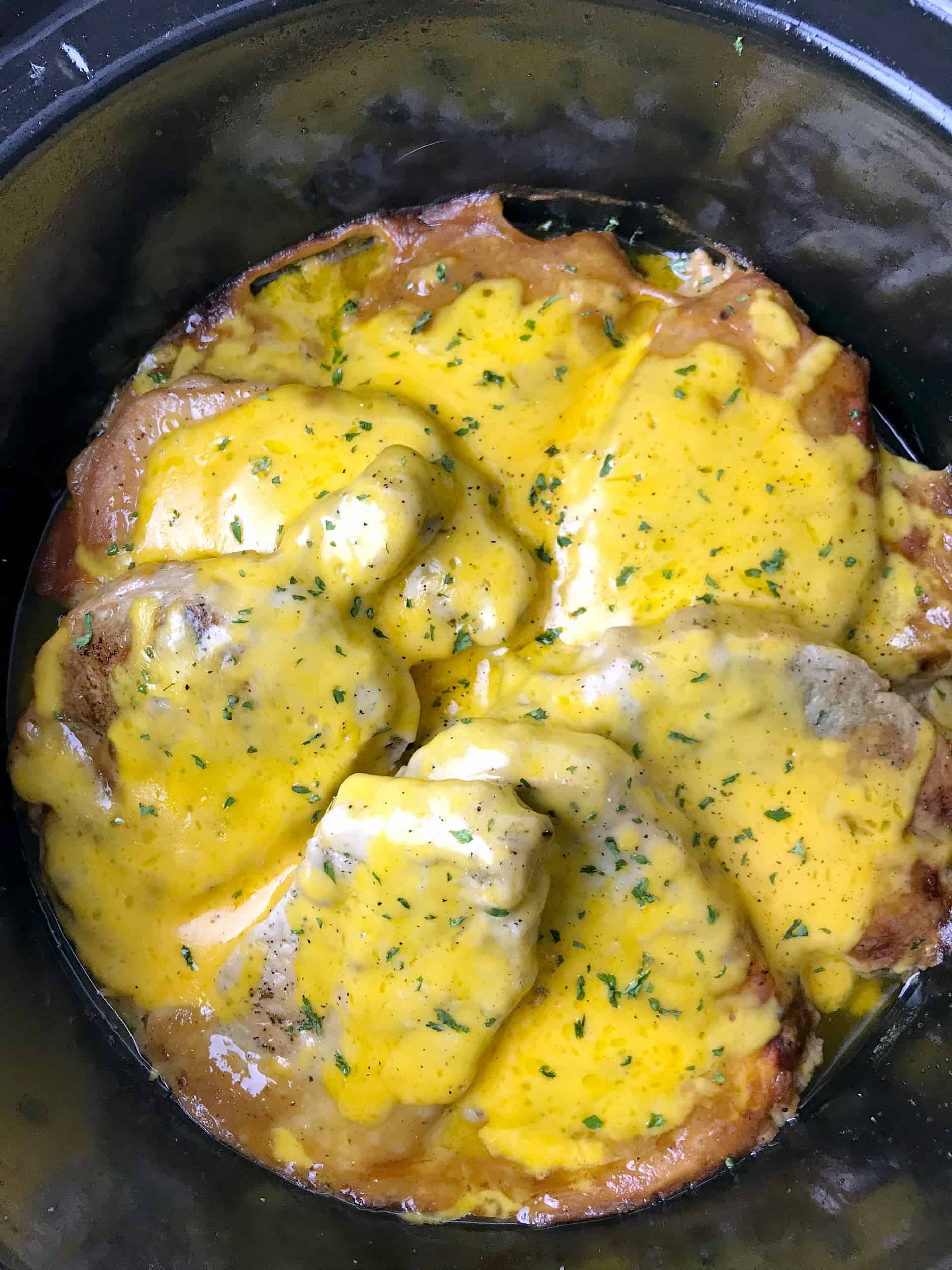 Get new recipes weekly plus our FREE ebook!