Give your pup some of these homemade Sweet Potato Dog Treats, and they will thank you all day. These doggie treats are just what your little sweetie needs. Homemade dog treats are so much healthier than anything you can buy in the store.
Scroll to bottom for printable recipe card.
Sweet Potato Dog Treats
I always like making homemade treats for our dogs. By making them in my own kitchen, I know exactly what they're eating, and I don't have to worry about tainted treats from China. These sweet potato treats were a hit from the second they got their first bite. They're certain to have your fur-baby's tail wagging! 🙂
The best part of these sweet potato dog treats is that they are made from wholesome ingredients that you can pronounce. Nothing weird, and you only need four ingredients. Your dogs are going to be more than thrilled to eat them.
You can even make these treats for other pets in your neighborhood or at your local humane society. Dogs need a treat here and there, just like we all do. They taste good, and it feels nice to have a treat. I recommend preparing the easy dog treats and placing them in a cute jar or box. Then add a bow, and you can give them as gifts.
Can I Give My Dog Sweet Potatoes
Yes, dogs actually LOVE sweet potatoes. Just like us, they are naturally drawn to foods that are sweet. The MOST important thing is that you don't give your pup any of the potato skins. They are hard to digest and may upset their stomach. It's also important not to give them any raw potatoes. They can also make their tummies feel bad and have even caused an intestinal blockage to some dogs.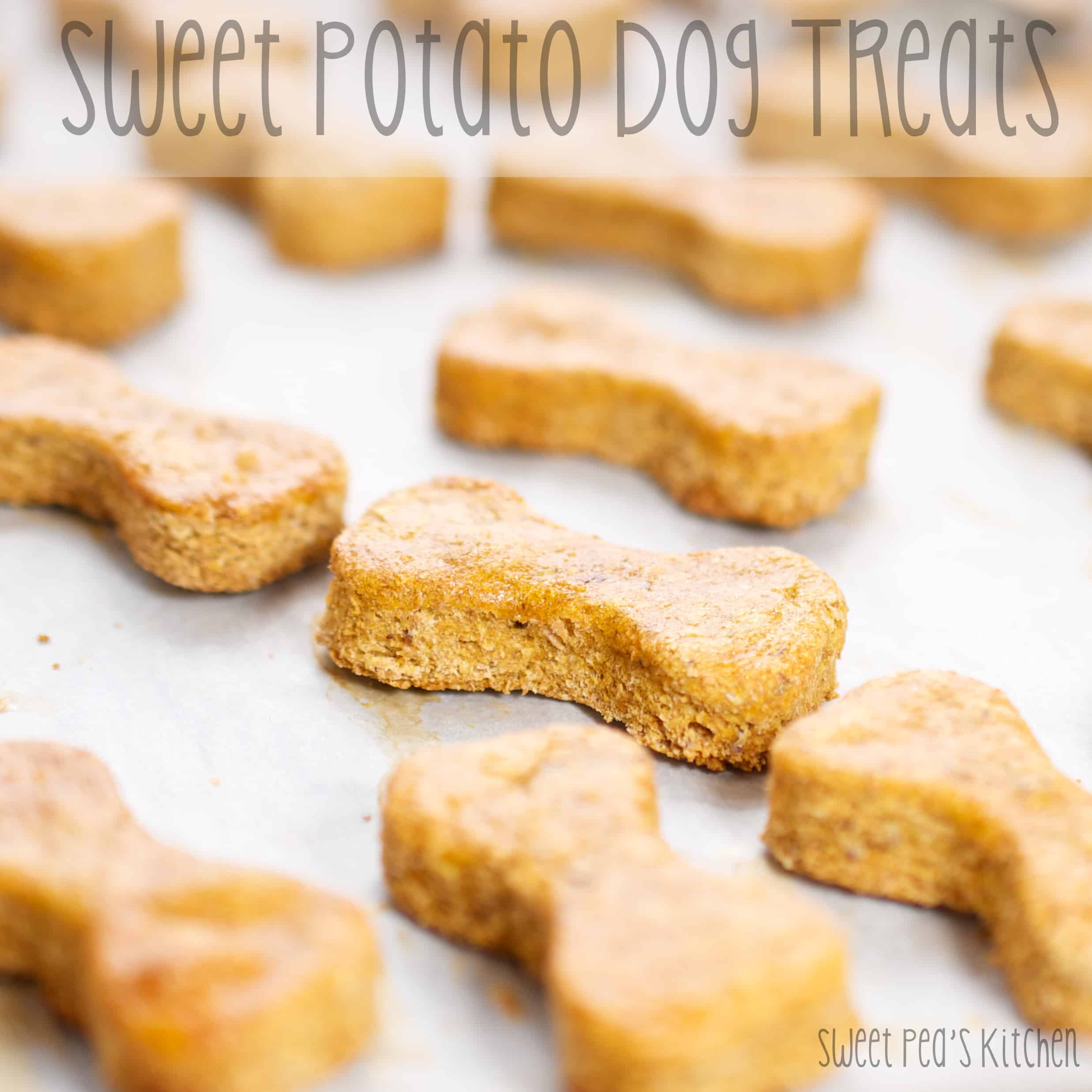 What If I Don't Have Dog Bone Cookie Cutter
No worries! If you don't have a dog bone cookie cutter, you can still make these homemade dog treats. You can simply use any shaped cookie cutter and go for it. Or, if you don't have a cookie cutter, you can cut them into any other shape you want. There aren't any wrong answers when it comes to these sweet potato dog treats.
How To Store Dog Treats
Once the dog treats are cooked and cooled, you can remove them from the wire rack and put them in an airtight container. They will last around 1-3 weeks and possibly even longer. I like to make a big batch of dog treats and have them around for anytime my pups come in from going outdoors or any other time they deserve a treat. Keep in mind they aren't filled with a bunch of preservatives, so they won't last as long as a commercially packaged dog treat.
Variations To Recipe
As with most regular recipes, you can adjust this dog treat recipe as well. Here are a few ideas that you can try out with your dogs to see what they like best.
Peanut Butter – Add a tablespoon or two of your favorite natural peanut butter. Dogs can't resist the yummy flavor.
Canned Pumpkin – Another favorite is pumpkin. If you are a pumpkin lover, you can relate to their affection for it.
Banana – Another fruit that dogs tend to like are bananas. Mash up a banana and add it to the mixture.
Cheese – You can sprinkle in some cheddar cheese or mozzarella if your dog likes cheese.
Yogurt – Add in 1/4 cup or so of some yogurt to add some extra creaminess to the snacks.
Ingredients
With just four ingredients needed, you barely need anything. I think your dog is going to enjoy these treats as much as you enjoy making them.
1 medium sweet potato (about 7 ounces)
1 3/4 cups whole wheat flour
1 tablespoon flaxseed meal
1 large egg, lightly beaten
How to Make Dog Treats
After you have made homemade dog treats a few times, you will see that they are so simple, and you could have been making them the entire time.
First Step: Begin by heating up the oven to 400 degrees F. Then take the sweet potato and puncture it with a fork several times all over. Put the sweet potatoes in a baking sheet that has been lined with a piece of aluminum foil. Bake the sweet potato for 45 minutes, then place it on a wire rack to cool down. Then lower the temperature to 350 degrees F. Add some parchment paper to a baking sheet.
Second Step: Once the sweet potatoes are cooled down some, cut them lengthwise. Then take a spoon and scoop out the insides and throw away the skins. Then puree the sweet potatoes in a food processor. Keep processing them until it's smooth.
Third Step: Combine the flour and the flaxseed meal in a large bowl. Take around 1 tablespoon of the egg and put it in a separate cup.
Fourth Step: Place the sweet potato puree in with the rest of the egg and beat. Then add the dry ingredients and mix until you see a dough has formed.
Fifth Step: Place the dough out onto a flat work surface. Roll the dough, so it's a rectangle that is around 1/2 inch thick. Then cut the dough with a bone shaped cookie cutter and place them on the lined cookie sheet. Use a pastry brush and add the egg wash to the biscuits. Bake them for 25-35 minutes or until they are golden brown in color. Take the pan out of the oven and remove the dog treats and place them on a wire rack. Once cooled, store them in an airtight container.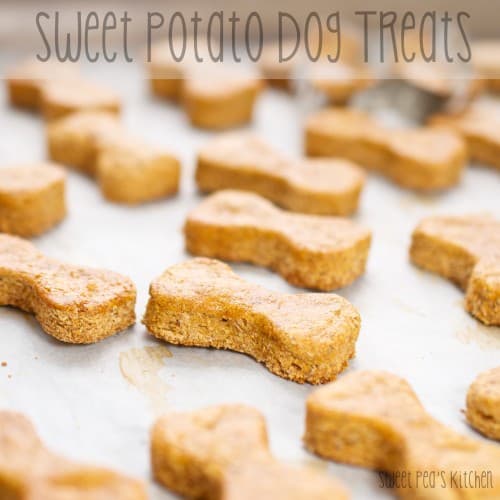 If you are looking for some more tasty dog treats, you are in luck.
Chicken and Cheddar Dog Biscuits – Your pup won't be able to resist the flavor and texture of these incredible dog biscuits.
Don't forget to make some treats for you too! Here are some good ones for you:
Delicious Famous Cream Puffs – One ultimate treat to try is these homemade cream puffs. They are easy to make too.
Pretzel S'Mores Bites – If you are in the mood for something yummy and easy, these are what you need.
No Bake Coconut Date Balls – These are an easy snack for on the go. Give them a try, and you will be hooked.
Pin this recipe now to remember it later
Ingredients
1

medium sweet potato

,

about 7 ounces

1 3/4

cups

whole wheat flour

1

tablespoon

flaxseed meal

1

large egg

,

lightly beaten
Want to save this recipe? Enter your email below and we'll send the recipe straight to your inbox!
NOTE: By saving this recipe, you agree to join our weekly recipes newsletter.
Instructions
1. Heat oven to 400 degrees F. Pierce the sweet potato several times with the tines of a fork. Place the sweet potatoes on a rimmed baking sheet lined with foil. Bake until tender, about 45 minutes. Transfer to cooling rack. Reduce oven to 350 degrees F and line a baking sheet with parchment paper.

2. When cool enough to handle, cut the potato lengthwise and use a spoon to carefully scoop out the insides; discarding the skin. Puree the sweet potatoes in a food processor until completely smooth.

3. In a large bowl, whisk together the flour and flaxseed meal. Remove about 1 tablespoons of the egg to a separate cup.

4. Add the sweet potato puree and remaining beaten egg to the dry ingredients and mix until a dough forms.

5. Transfer to a work surface and roll the dough into a 1/2-inch-thick rectangle. Cut mixture using a canine-themed cookie cutter and place on a prepared cookie sheet. Brush with the remaining 1 tablespoon beaten egg. Bake for 25-35 minutes, or until golden brown. Remove to cooling racks and allow to cool completely before storing in an airtight container.
Follow me on Pinterest for daily delicious recipes!
Get new recipes weekly plus our FREE ebook!