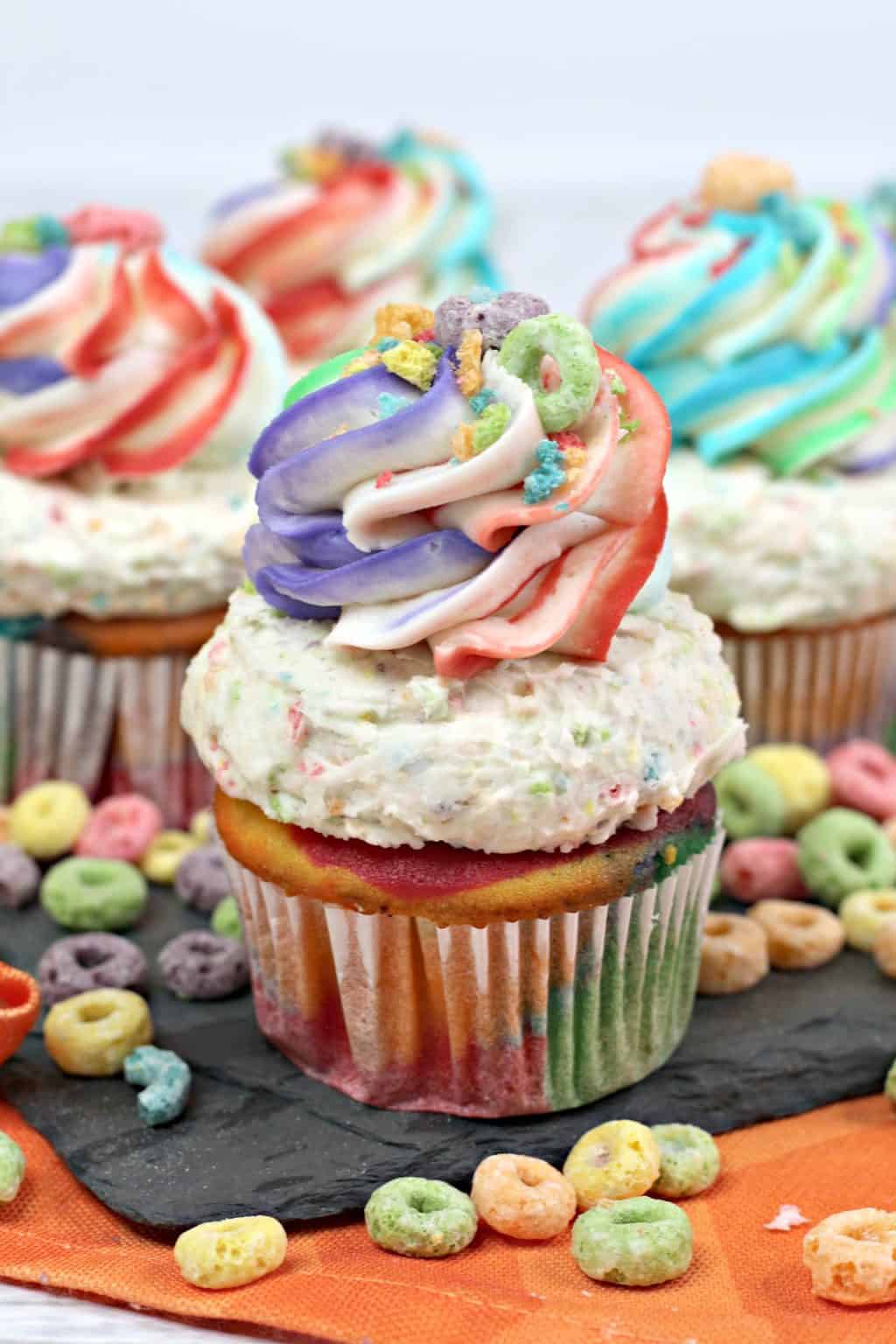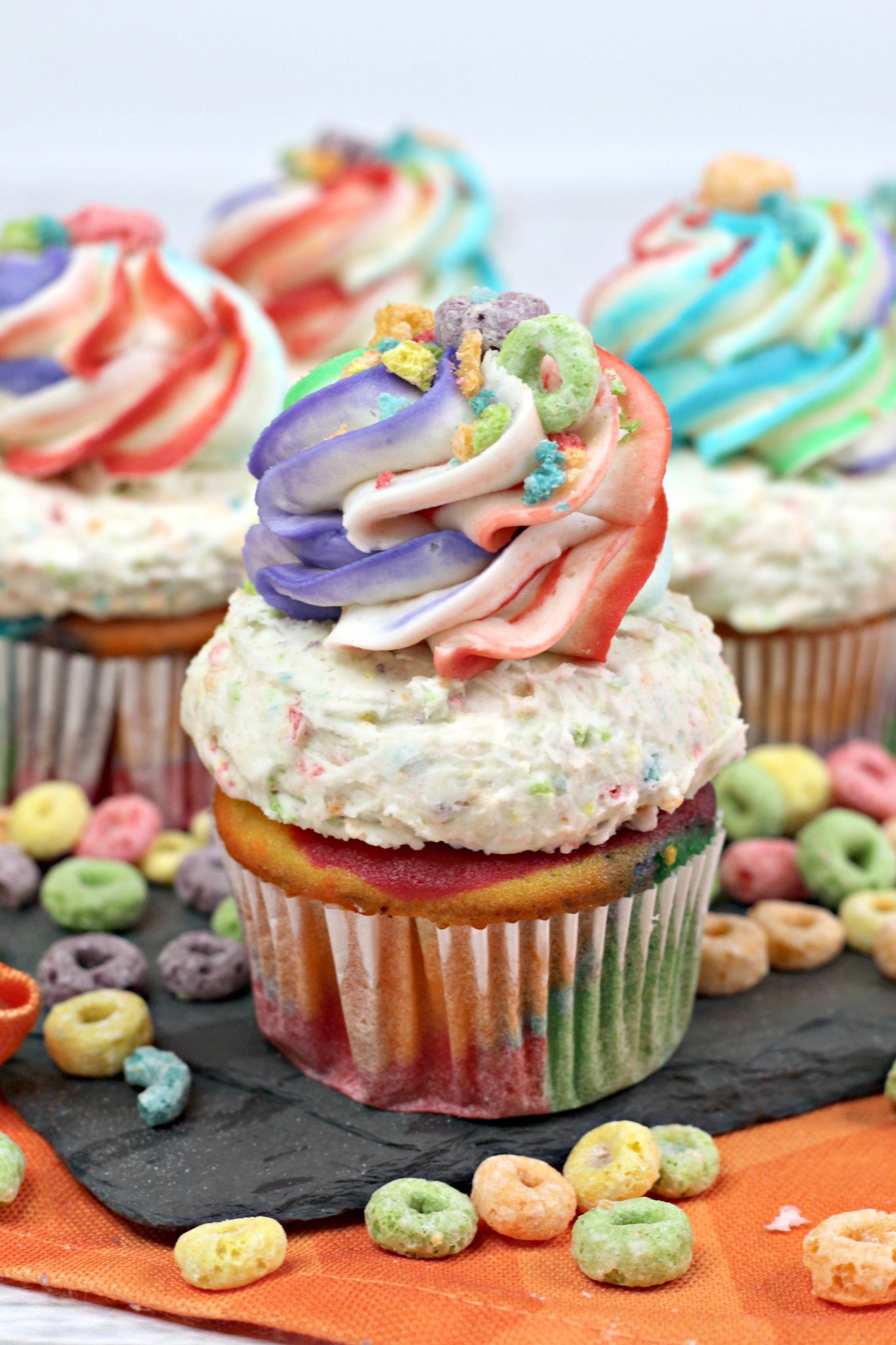 Now is the time to say goodbye to boring cupcake recipes. I have for you The Best Fruit Loop Cupcakes Recipe in the whole wide world. I'm so excited to share with you these easy, kid-friendly, and rainbow-inspired cupcakes that everyone is going to enjoy.
These fruit cereal cupcakes are the perfect birthday party idea, anniversary dinner idea, or a playful dessert for any other occasion.
Scroll to bottom for printable recipe card.
The Best Fruit Loop Cupcakes Recipe
I am pretty sure that I've loved Fruit Loops cereal my entire life. They're the perfect size to take with you in the car, eat at your desk, or anytime you need a quick snack. I knew that I wanted to take my favorite breakfast cereal and transform it into a gorgeous kid-friendly cupcake. These Fruit Loop cupcakes have turned out so amazing that I couldn't wait for another second to tell you all about them.
Kids and adults are going to be thrilled to taste these sweet, moist, and delicious cupcakes. Whether you are hosting a unicorn-themed birthday party, rainbow party, or just about any other kind of party you can think of, these fruit cereal cupcakes are exactly what you need.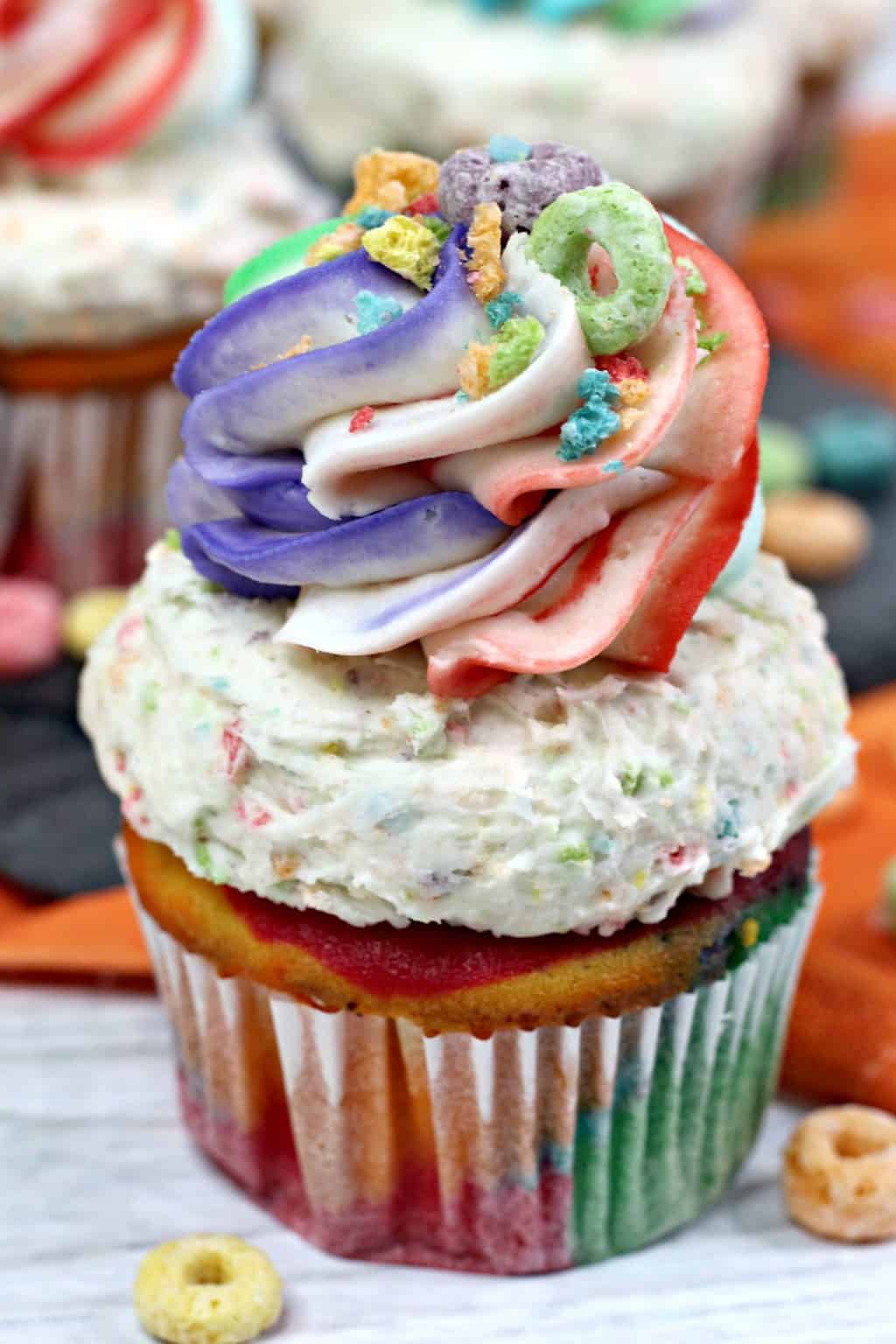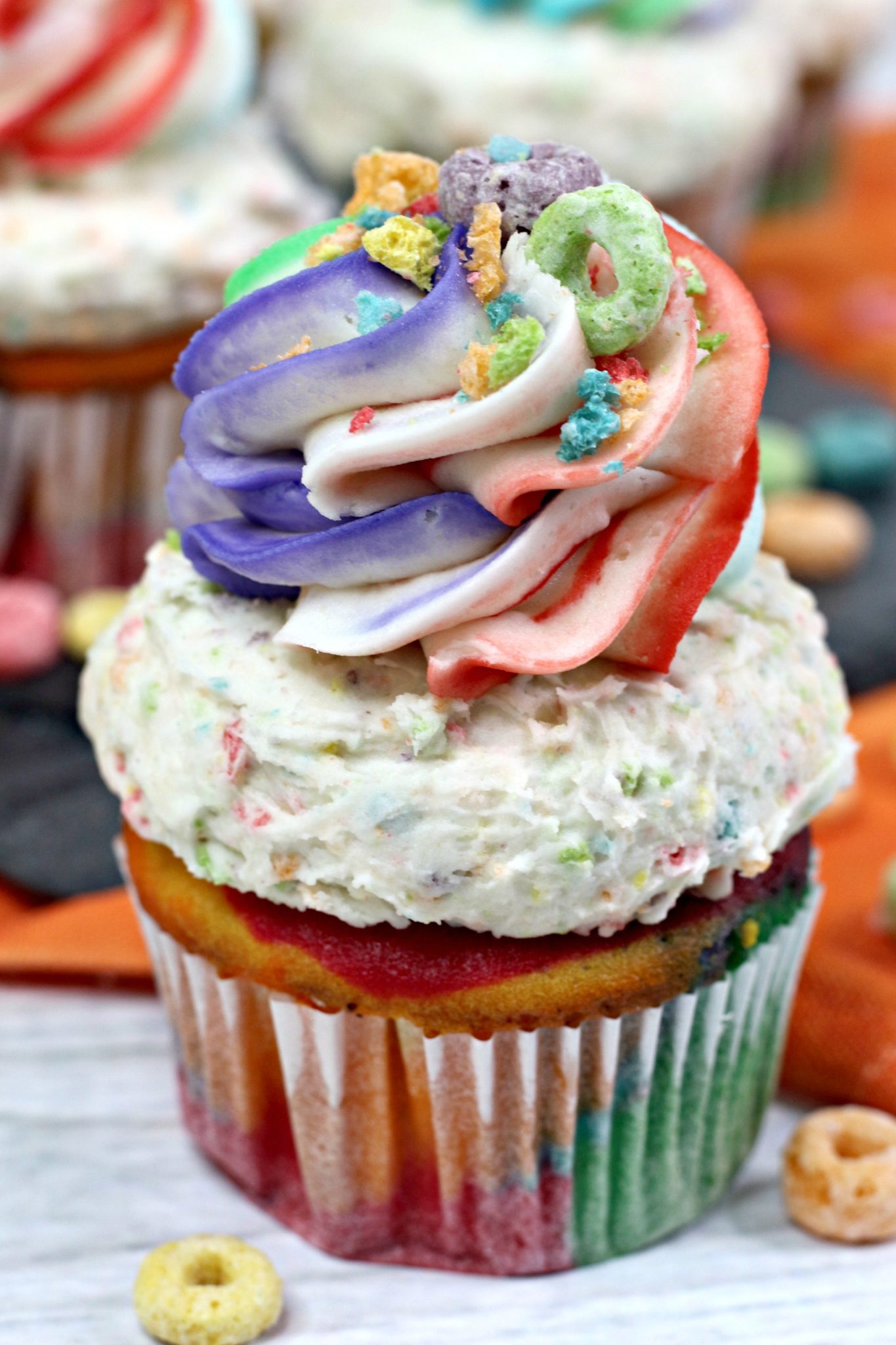 Tips For Making Homemade Frosting
There are a few things you can do to ensure that this homemade frosting recipe turns out beautiful and perfect every time. Make sure you use an electric mixer to combine the ingredients. This will give you the smoothest and best texture for the rainbow cupcakes. Additionally, make sure that the butter is room temperature before you begin. You also need to make sure that you have a Piping Bag on hand to use to frost the cupcakes. If you don't have access to a Piping Bag, you could use a large Ziploc bag and cut the corner off of it.
Either way, you want something more than just a knife to give these cupcakes the extra style and elegance that they deserve.
Storing Cupcakes
For best results, it's best to keep the fruit loop cupcakes refrigerated when they're not being eaten. Not only do they taste better when they've been chilled, the frosty last a lot longer when it's kept cold. If you leave the cupcakes out, don't let them sit out for longer than 2 hours at a time. If you know this is going to be a problem, be sure to keep the cupcakes on ice until you can get them in the fridge.
This will give you better results, and they will just taste better all around.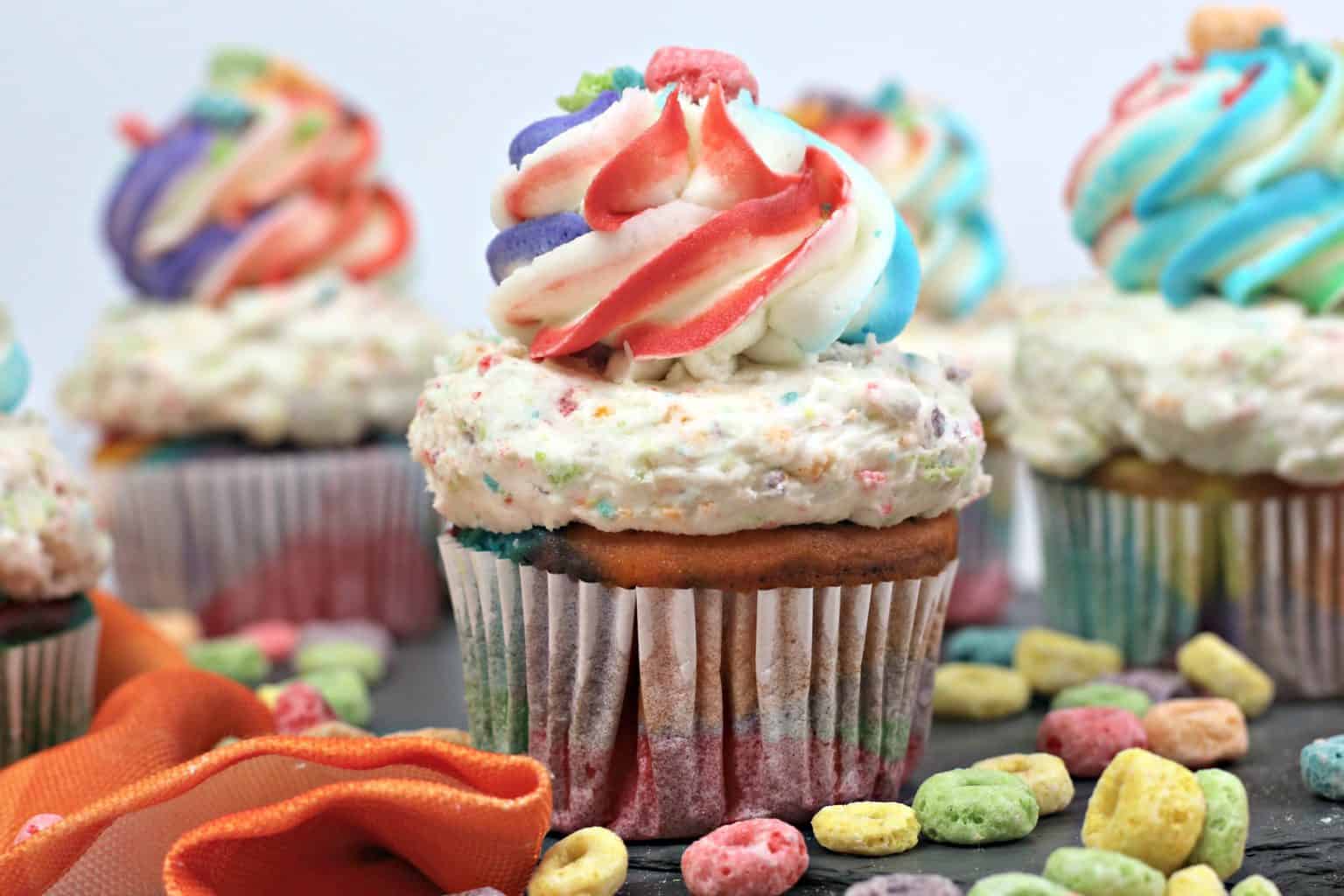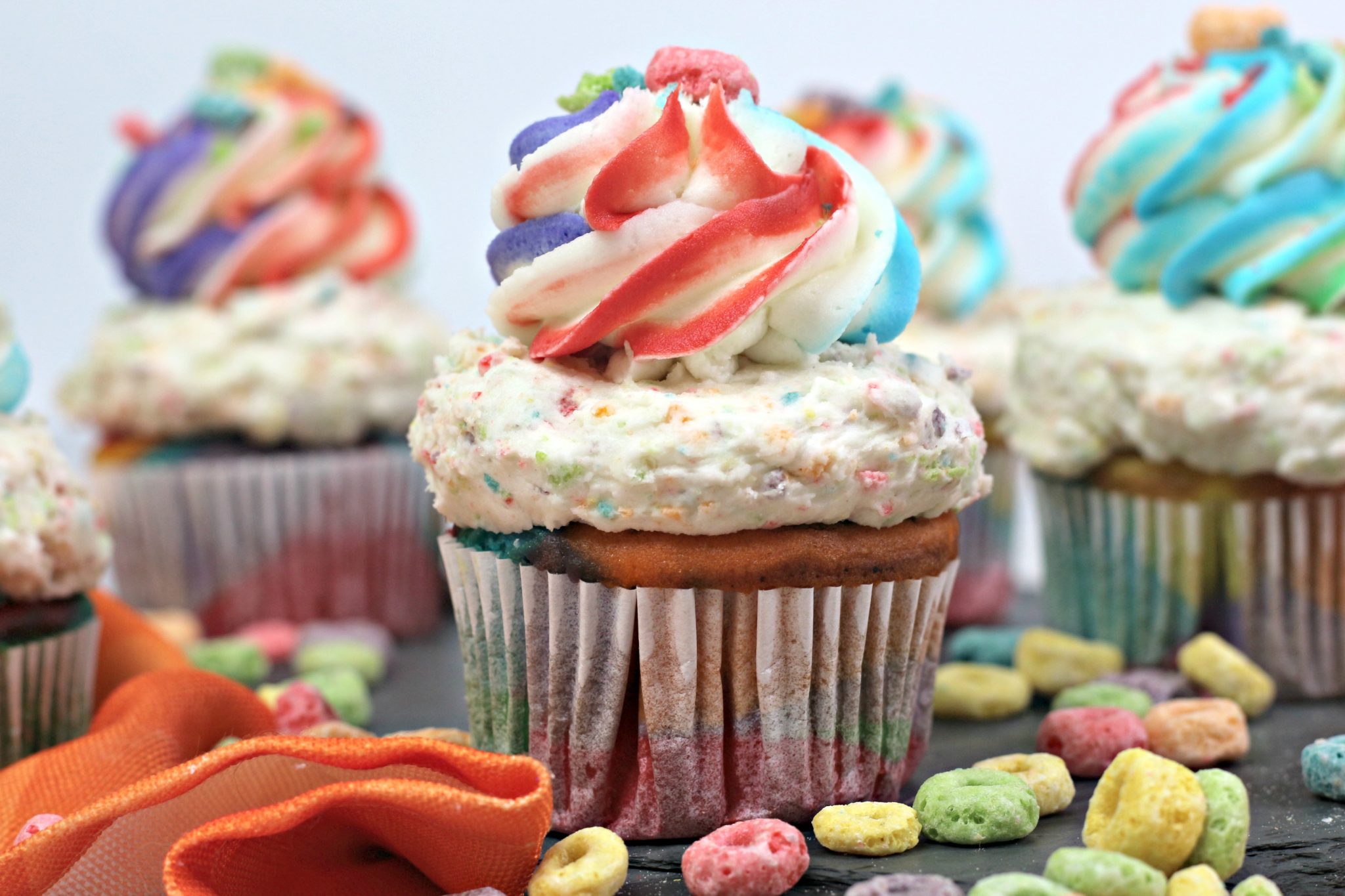 Can I Freeze Fruit Loop Cupcakes
Yes, you can freeze these Fruit Loop cupcakes. I recommend not frosting to cupcakes until you're ready to serve them. So, if you are going to freeze the cupcakes, don't add the frosting. You can make up the frosting separately, and stored in the refrigerator until you need to frost the cupcakes. The frosting the last one to two weeks in the fridge with no problems. If you know it's going to be longer than that before you're going to serve the cupcakes, then just make the batch of frosting right before decorating.
Could I Swap The Fruit Loops Out For Another Cereal
Yes, you can swap the Fruit Loops out for a different kind of cereal. Any rainbow flavored cereal would be a wonderful option. I recommend heading into your cereal aisle and finding whichever cereal you like the best. I think Lucky Charms would be a fantastic option!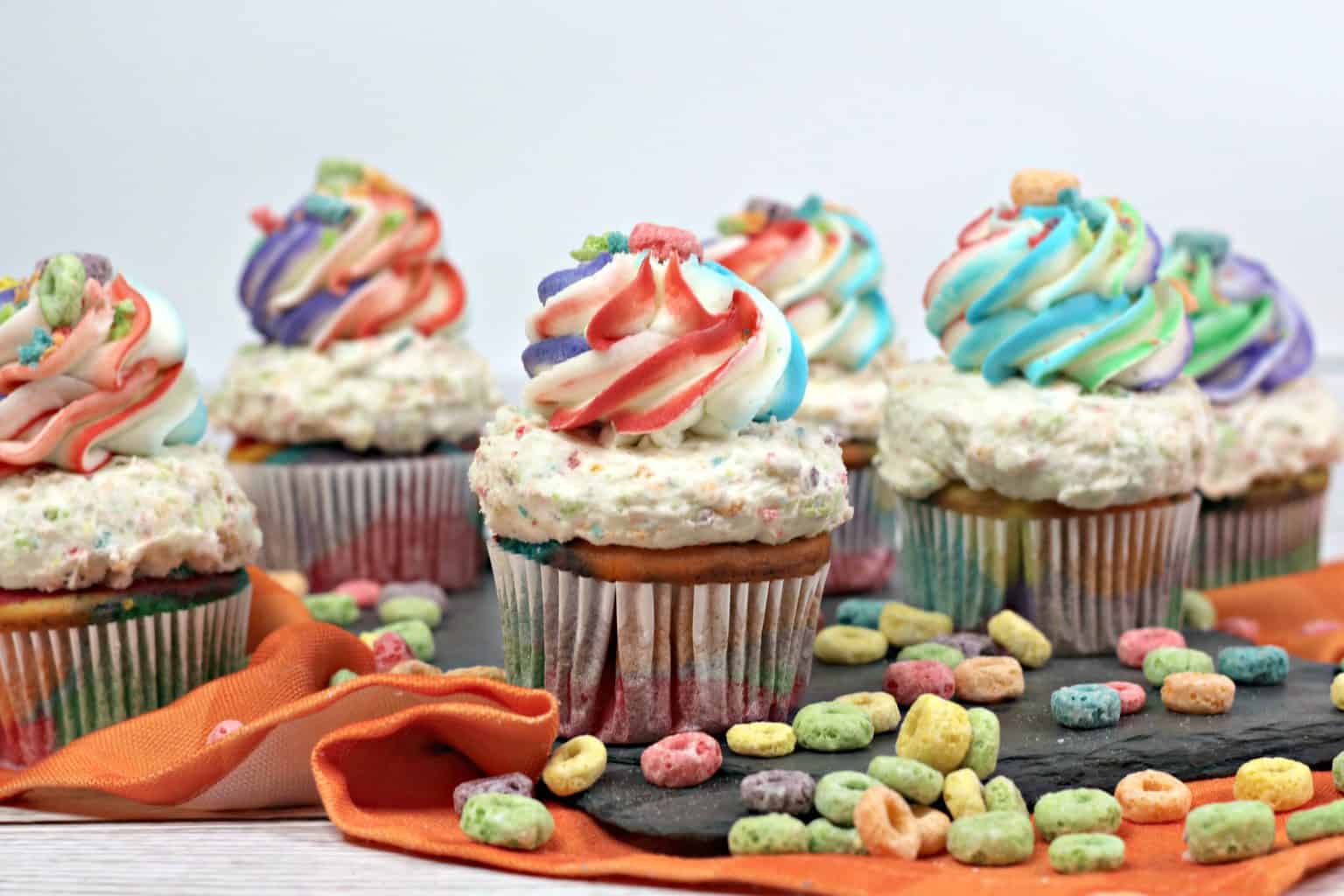 Ingredients
One box of french vanilla cake mix cake mix
Three large eggs room temp
1/2 C of softened unsalted sweet cream butter
1 C whole milk
1TBSP pure vanilla extract
Purple, Blue, Orange, Green, Yellow, Red Gel food coloring
Six bowls
cupcake pan
Frosting Ingredients:
Sweet cream butter, softened
Powdered sugar
Pure vanilla extract
Heavy whipping cream
Crushed Fruit Loop cereal
Purple, Blue, Green, and Red gel food coloring
Kitchen Supplies Needed:
1 large piping bag with a star tip
4 small bowls
1 large ice cream scooper
How to Make Fruit Cereal Cupcakes
Step 1. Heat the oven to 350 degrees Fahrenheit. Then line a muffin pan with cupcake liners.
Step 2. Using your stand mixer, combine the cake mix, eggs, milk, and butter together. Once the batter has been mixed evenly divided among 6 bowls and add in drops of your favorite food colorings.
Step 3. Add one tablespoon of each color that you made and place it into the cupcake liner. Continue to do this until all six colors are in each cupcake liner. Be sure not to overfill the cupcakes so that way they cook evenly.
Step 4. You can swirl the colors together in the cupcake by using a toothpick or fork. Bake the cupcakes for 18 to 20 minutes or until they're done. Take the cupcakes out of the oven and allow them to cool on a wire rack before you frost them.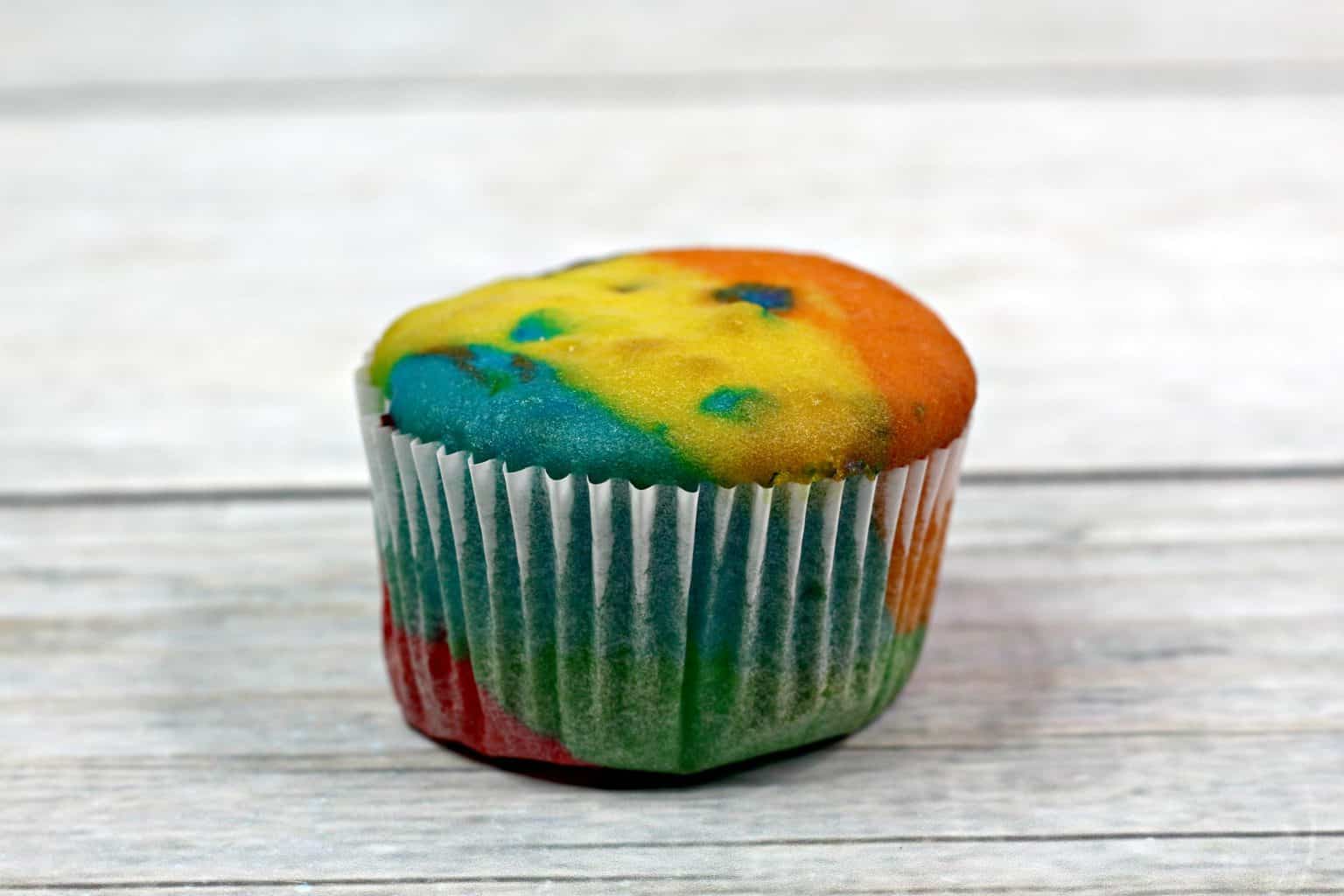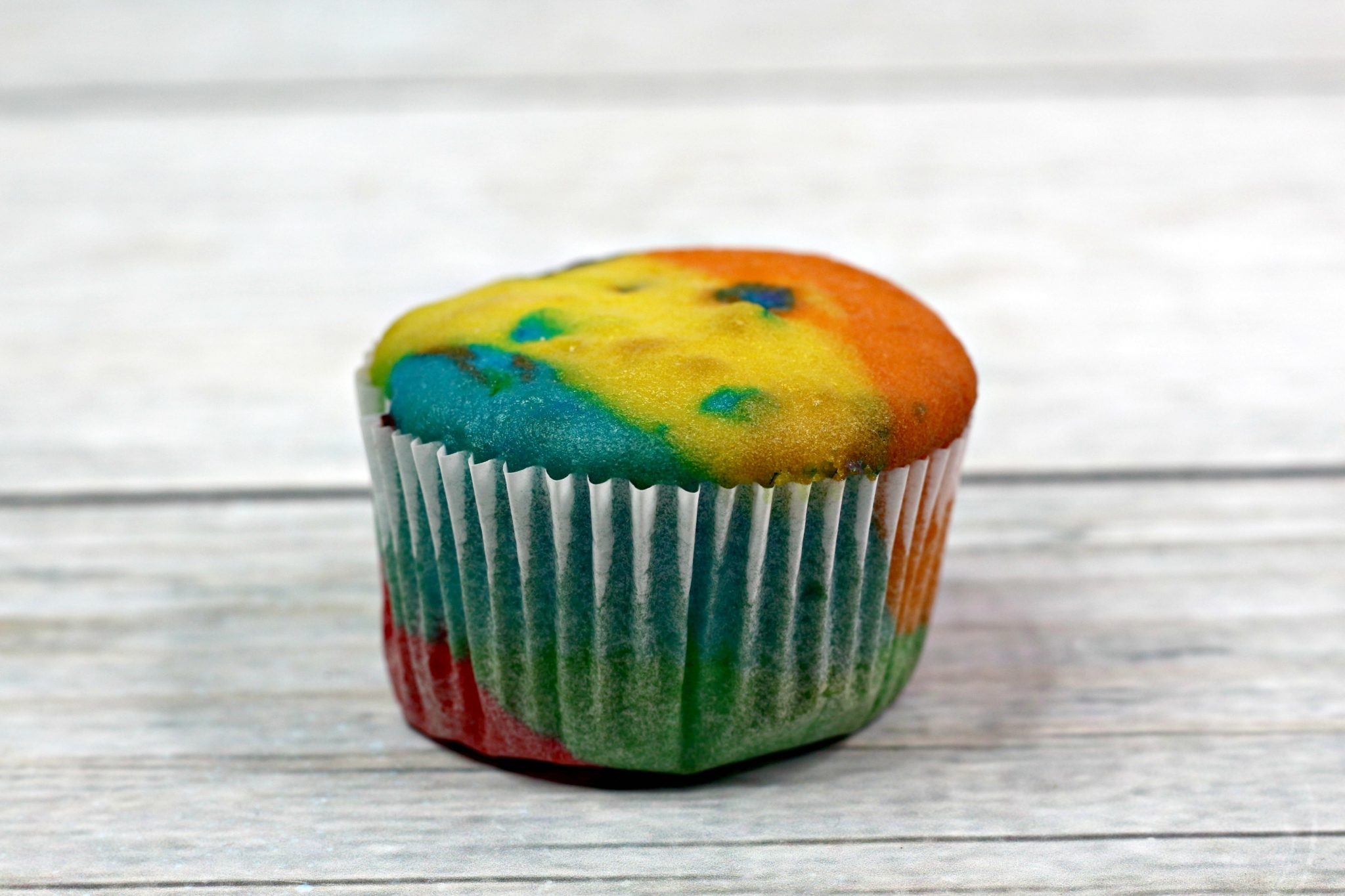 Step 5. To prepare the frosting, you will need to combine the butter, powdered sugar, vanilla, and heavy whipping cream in a stand mixer Bowl. Combine ingredients on medium speed until you notice stiff peaks have formed.
Step 6. Take 1 and 1/2 cups of white frosting and place it in another bowl. Then add 1/8 cup of frosting into four separate bowls. Use food coloring to adjust the color of the frosting. for the remaining frosting add in the two cups of crushed Fruit Loops and combined.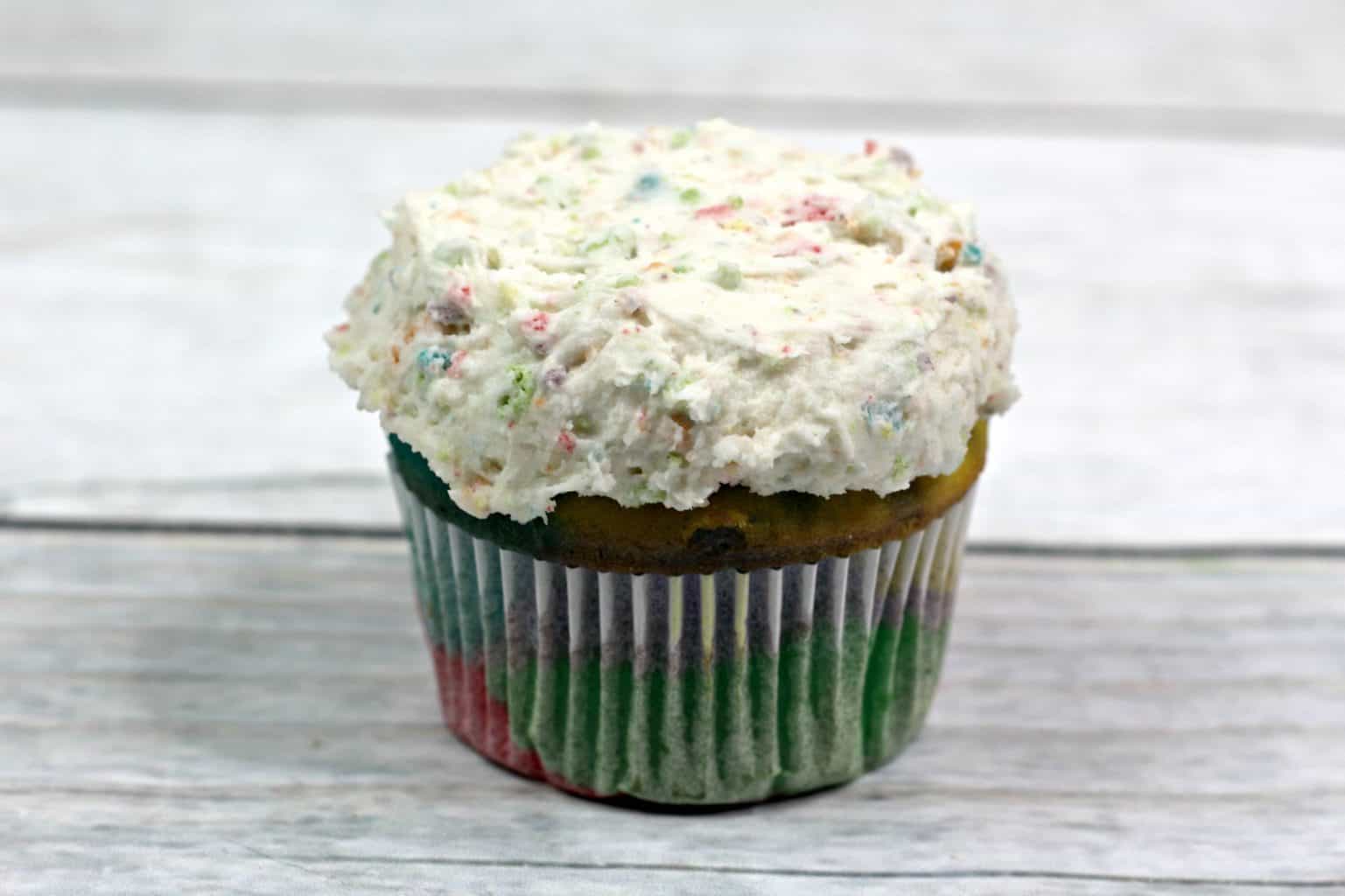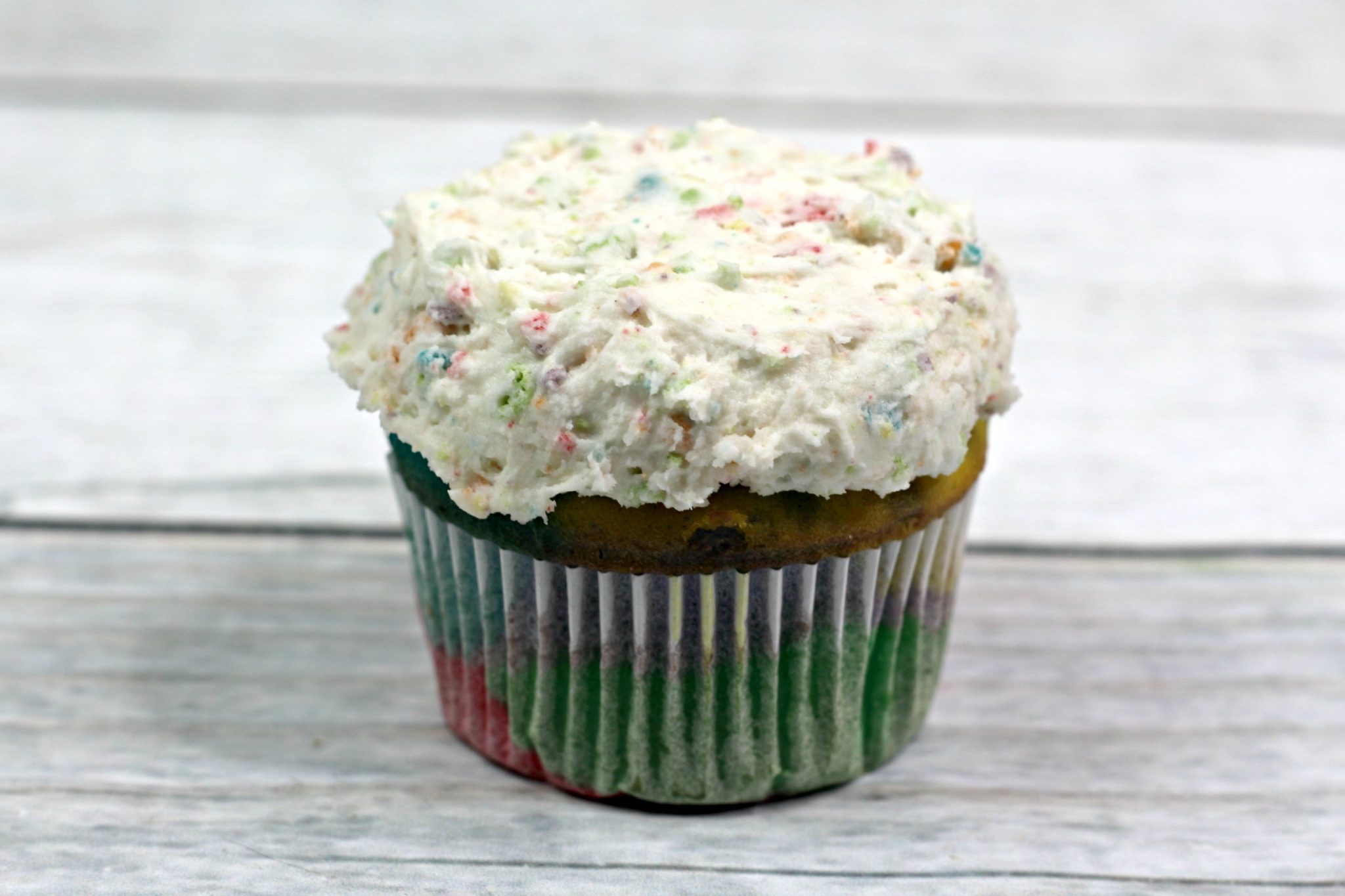 Step 7. Take an ice cream scooper and scoop frosting onto each of the cooled cupcakes. Then take a Piping Bag and fill it with each of the colored frostings, making sure to have one color per side of the Piping Bag. Add the white frosting to the Piping Bag. Begin frosting the cupcakes, and you will have a swirled Rainbow on top of each one. Add crushed Fruit Loops cereal as a garnish and serve.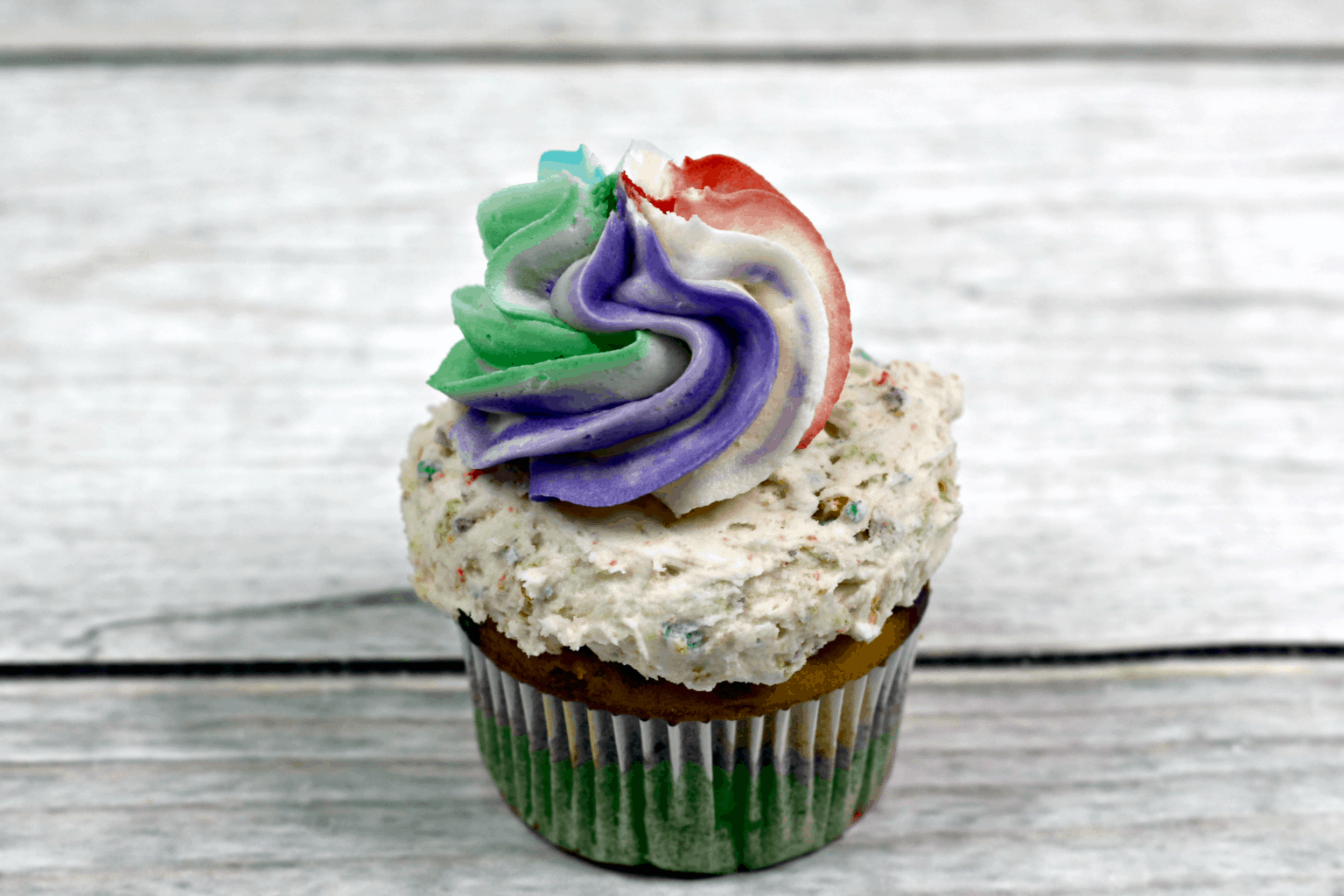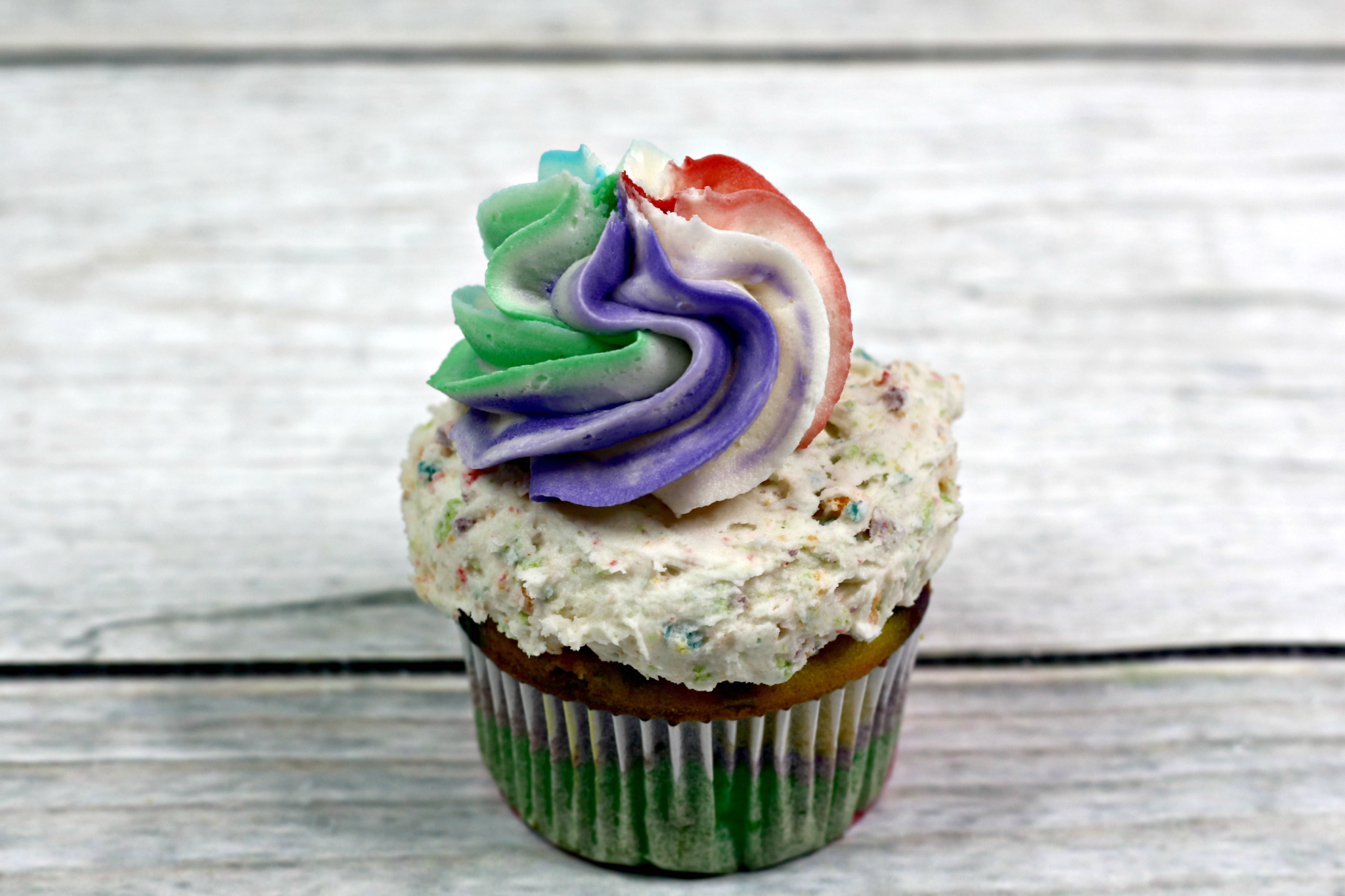 Enjoy!
Now, remember to save this recipe on Pinterest for later 🙂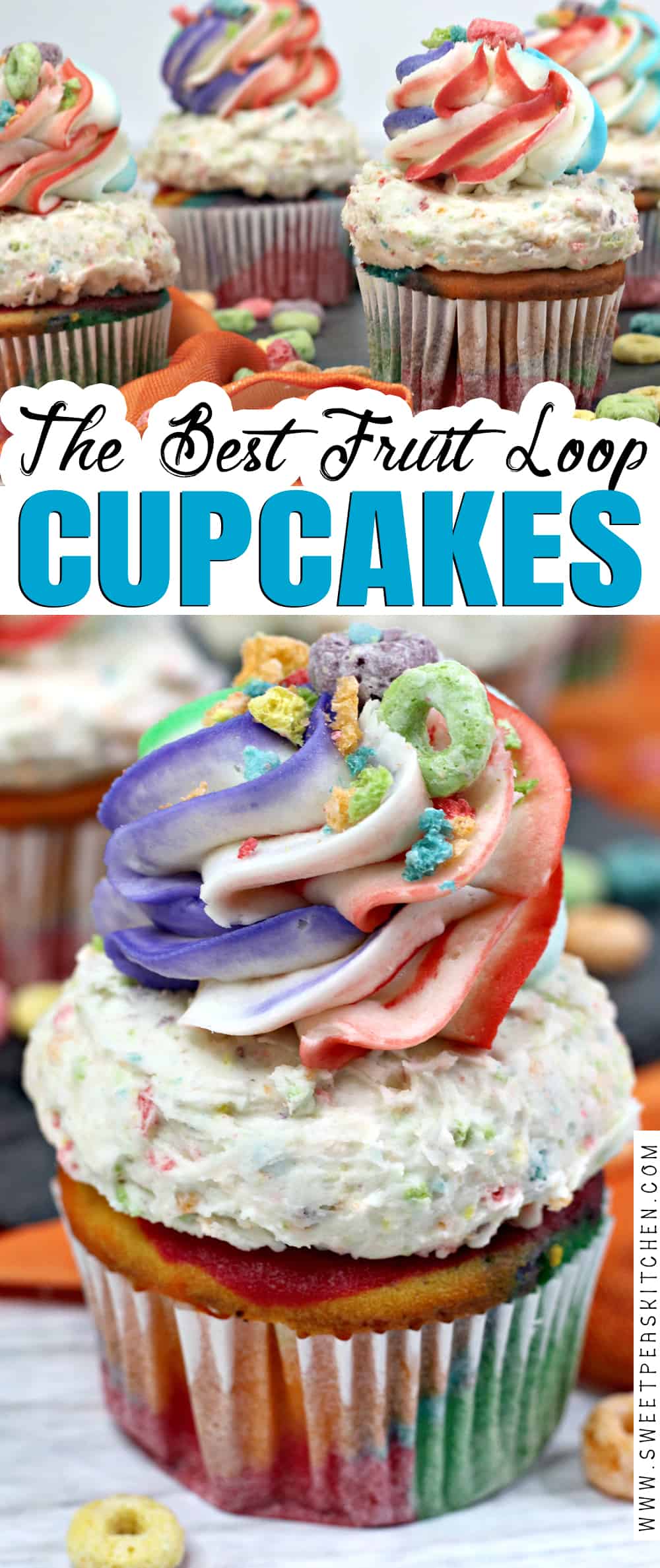 Pin this recipe now to remember it later
Fruit Loop Cupcakes
Serve up these colorful Fruit Loop Cupcakes for a weeknight dessert or birthday cupcake. These cereal cupcakes offer color in crunch in every bite.
Ingredients
1

box of french vanilla cake mix cake mix

1/2

C

of softened unsalted sweet cream butter

1

TBSP

pure vanilla extract

Purple

,

Blue, Orange, Green, Yellow, Red Gel food coloring
Frosting Ingredients:
2

C

unsalted sweet cream butter

,

softened

6-10

TBSP

heavy whipping cream

1

large piping bag with star tip

3

C

crushed Fruit Loop cereal

1

large ice cream scooper

Purple

,

Blue, Green, and Red gel food coloring
Want to save this recipe? Enter your email below and we'll send the recipe straight to your inbox!
NOTE: By saving this recipe, you agree to join our weekly recipes newsletter.
Instructions
Preheat the oven to 350 thenLine muffin pan with cupcake liners.

Using a standing mixer, beat until combined the cake mix, eggs, milk and butter. This is the cupcake base.

Divide the batter evenly between the 6 bowls, so you can add multiple colors.

Mix in a few drops of each color into 1 bowl each and mix until combined.

Scoop 1 tablespoon of each color into the cupcake liners in layers, so it creates layers of color.

Use a knife or toothpick and swirl the colors slightly.

Bake in the oven for about 18-20 minutes.

Pull out the cupcakes and allow to cool before frosting.
Frosting Directions:
Using a stand mixer, combine the butter, powdered sugar, vanilla, and heavy whipping cream and mix on medium speed until stiff peaks form

Scoop 1 ½ C of white frosting into another bowl

Scoop ⅛ C of frosting into the 4 bowls

Mix in the colors into their own bowls

Using the remaining white frosting in the mixing bowl, mix in 2 C of the crushed fruit loops

Using the ice cream scooper, scoop dollops of frosting onto the cooled cupcakes

Place the piping bag into a large glass and fold the sides over

Using a small spoon/knife scoop the red frosting onto one side of the piping bag

Scoop the blue frosting onto another side

Repeat with two remaining colors

Scoop the white icing that you set aside into the piping bag

Frost the top of the cupcakes and sprinkle the remaining crushed fruit loop cereal on top

Enjoy!
Follow me on Pinterest for daily delicious recipes!
If you love cupcakes, you really should try these delicious cupcake recipes.
Best peach cupcakes – we love these cupcakes any season, but we especially love them in the fall. They're the perfect cupcake for all occasions.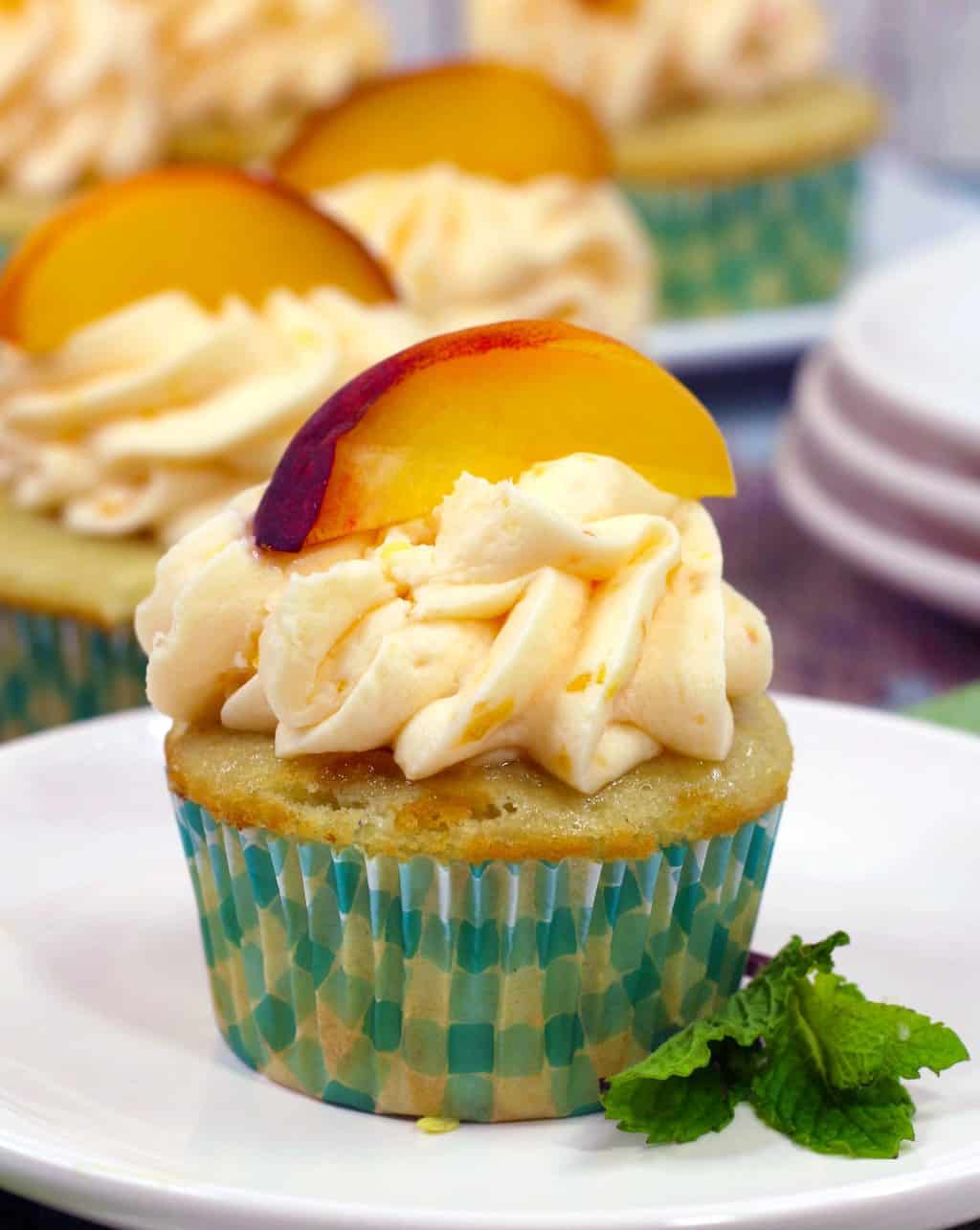 Chocolate coconut cupcakes – I feel like the combination of chocolate and coconut never grows old. Toasted coconut as a beautiful touch to the top of these chocolate rich cupcakes.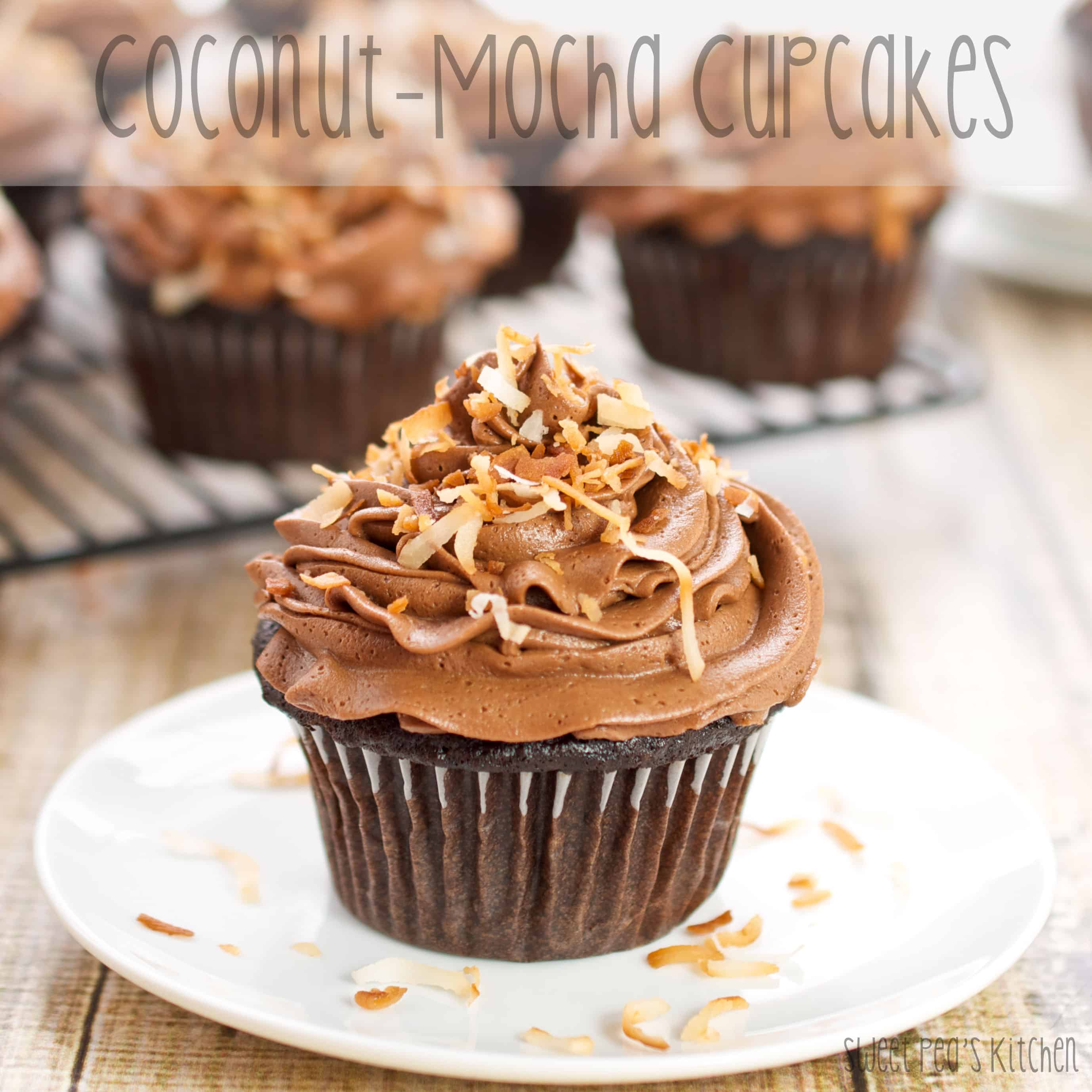 Delicious cannoli cupcakes – if you want the flavor and texture of a regular cannoli, these cupcakes are screaming your name.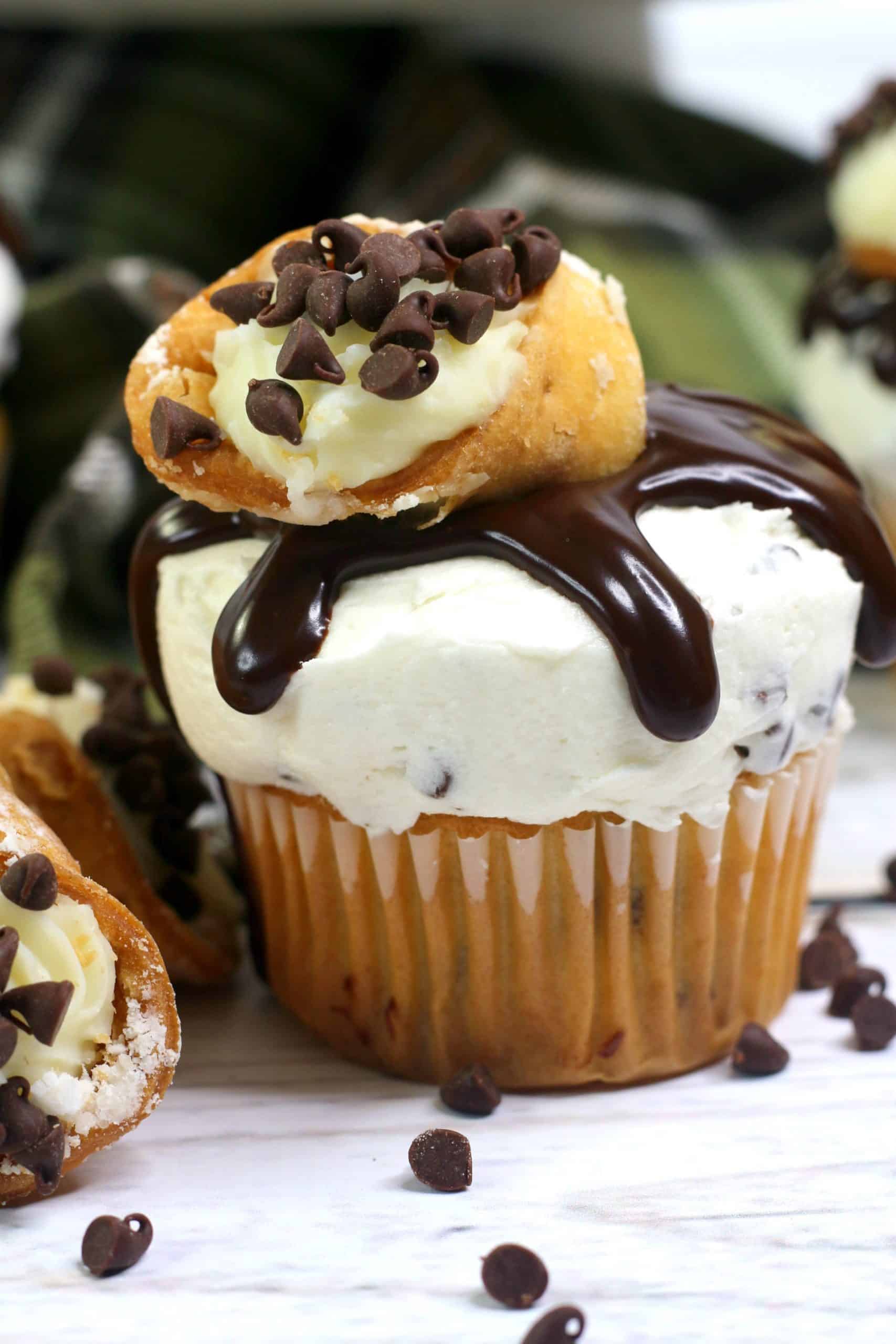 Classic marshmallow chocolate smores cupcakes – skip the mess, and make these cupcakes instead of your traditional s'mores recipe. They're easy to take with you anywhere you go and taste fabulous too.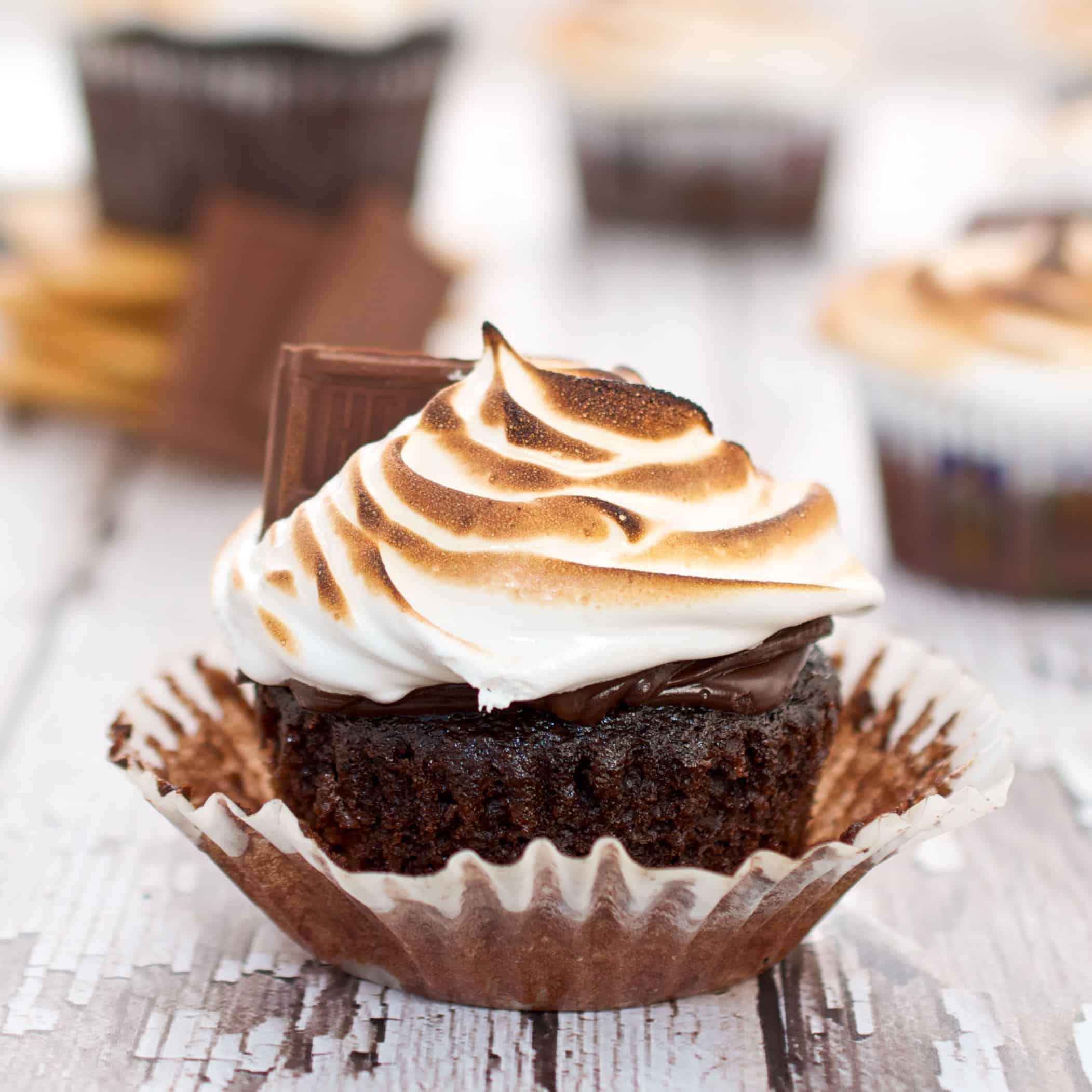 Get new recipes weekly plus our FREE ebook!