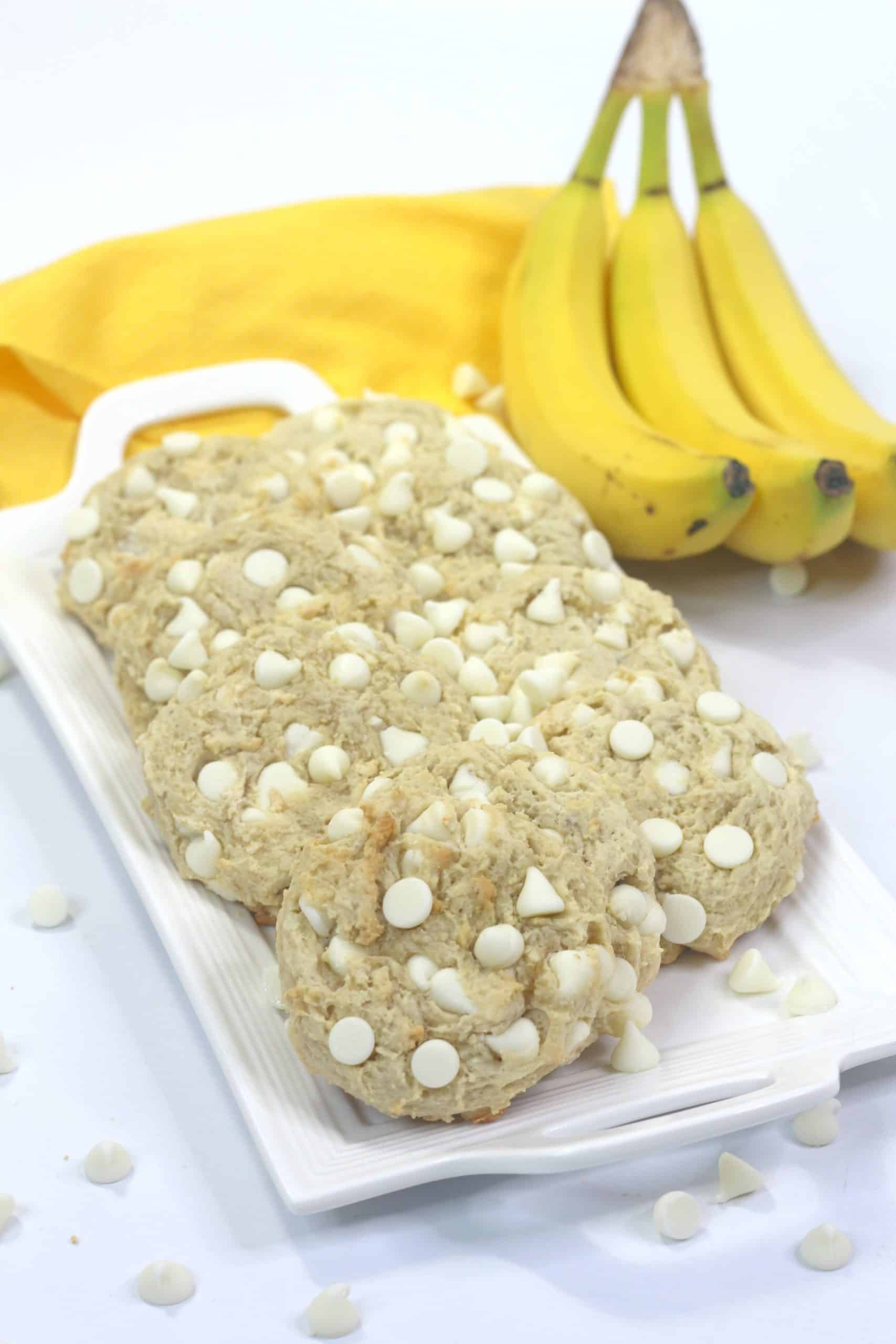 If you are craving a sweet treat, this Banana Pudding Cookies Recipe is calling your name.
These cookies are like portable banana pudding that you can easily munch on without a spoon! The flavor is reminiscent of traditional banana pudding, and these cookies will leave you wanting more and more!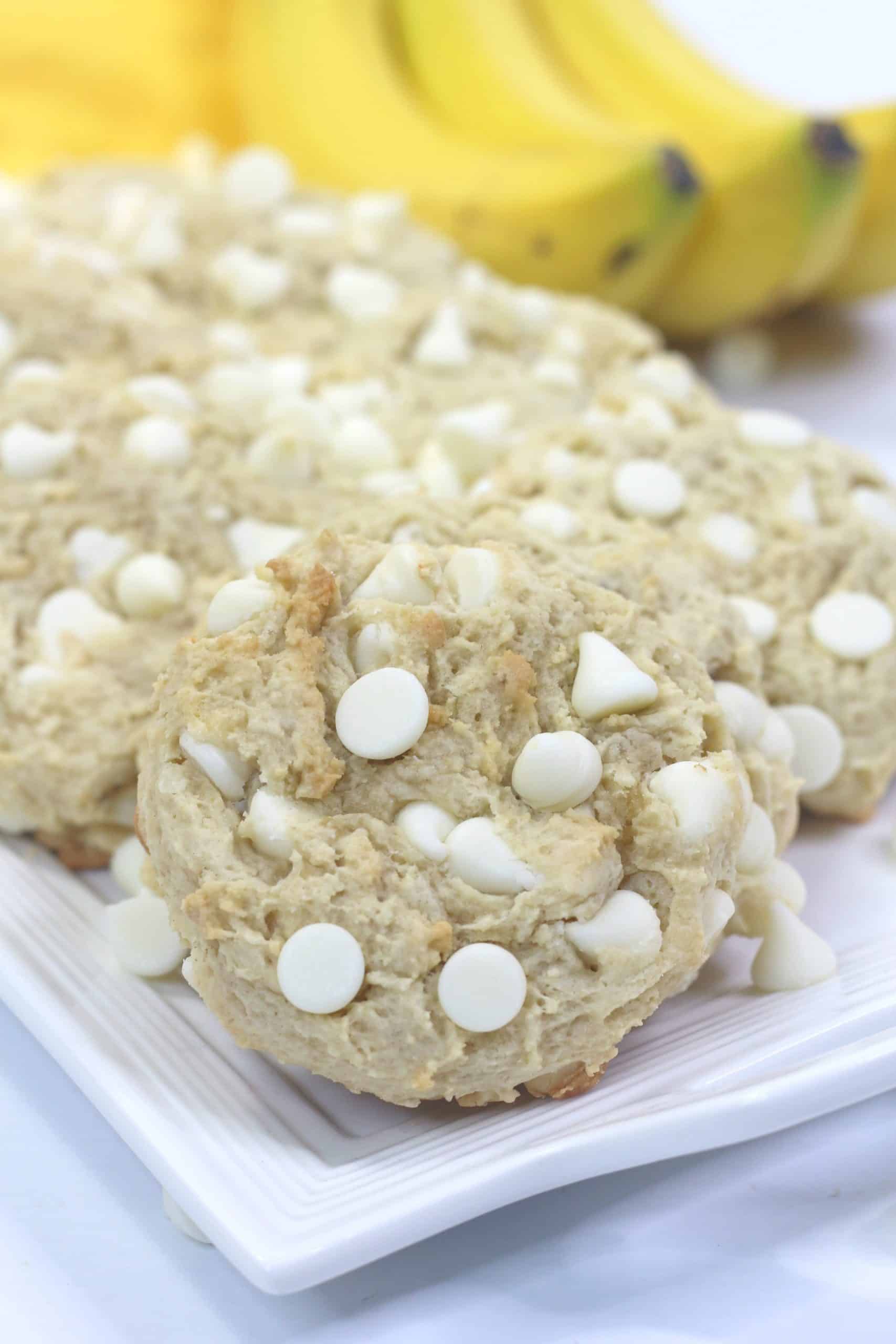 Scroll to bottom for printable recipe card.
Banana Pudding Cookies
If there is one word I can use to describe these banana pudding cookies, it's INCREDIBLE! Don't get me wrong; I love all sorts of cookies like chocolate chip, peanut butter, and pretty much anything else you can dream up. However, something about these banana pudding cookies calls my name and makes me feel like a kid.
When you bite into these banana cookies, you are hit with an intense banana flavor from real bananas and banana pudding. They are soft and chewy. One thing that makes the cookies even better is the white chocolate chips. Everything tastes better with some chocolate added to it! I love the flavor of white chocolate, but you could also use semi-sweet or dark chocolate if you would rather. Indeed there is no wrong way to enjoy these cookies because they are truly that amazing. But, you should try them for yourself to see how fantastic they are.
Take a batch or two of these banana cookies to a potluck, and you'll be the belle of the ball. They are also lovely gifts for new people that move into your area or someone that just had a new bundle of joy. Either way, these cookies are a hit!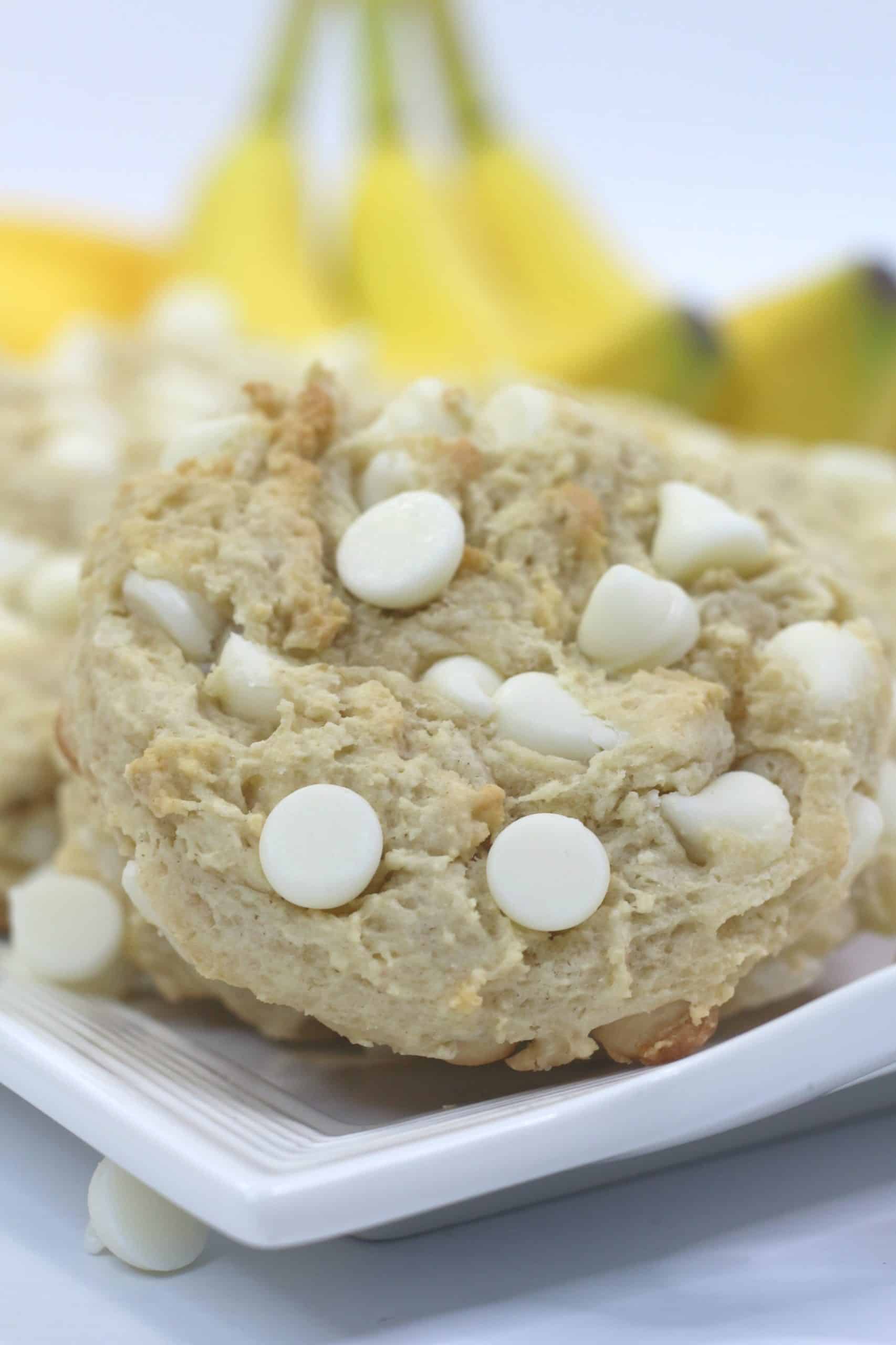 Can I Freeze This Cookie Dough?
Yes, you can easily freeze this cookie dough recipe. You can save the cookie dough in several different ways. You can make it into cookie dough balls and flash freeze them on a baking sheet for 2 hours. Once they have frozen, you can place them into a plastic freezer bag. This is my favorite way to freeze the cookie dough because then when you are ready to bake them, you can just place them on a baking sheet and let them thaw. Bake as directed, and they will be perfection.
Another option is to roll the dough into a log using plastic wrap. Then you can freeze the entire log. This is helpful too because you can slice off a cookie or two and bake what you want. Either way making an extra batch of cookie dough is a great idea to have cookies on hand all the time!
Not only can you freeze the cookie dough, but you can also freeze the baked banana cookies too. Let them cool all the way to room temperature and then place them in a freezer-safe bag or a container with a lid. They will last 2-3 months in the freezer. Then when you want to eat, some just take them from the freezer and let them warm up for a few minutes then indulge.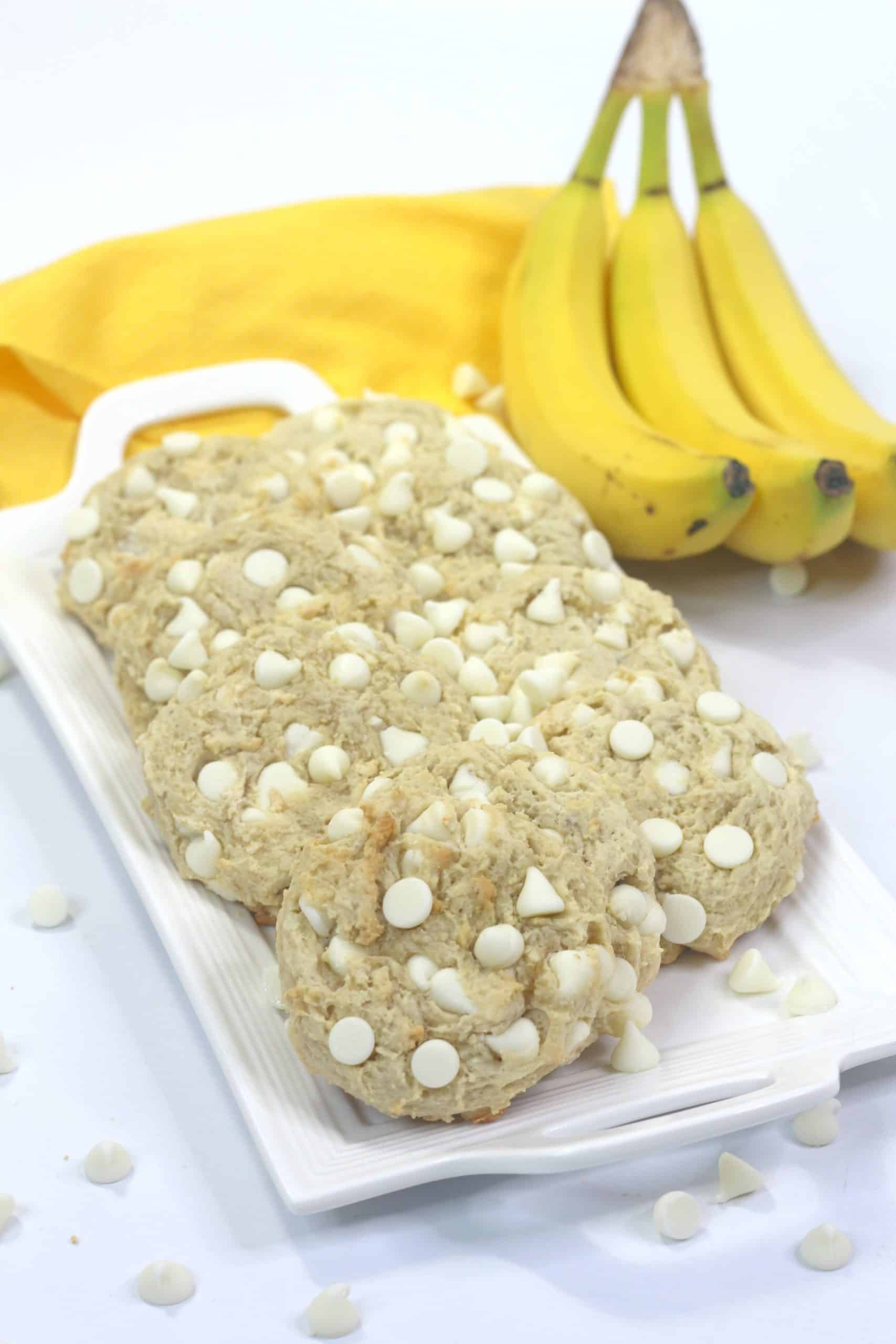 Can I Use These Banana Pudding Cookies in a Real Banana Pudding?
Yes, using these banana pudding cookies is a great way to enhance real banana pudding. Traditional banana pudding recipes call for a wafer cookie. While these cookies aren't wafers, they are LOADED with amazing flavor and are the perfect texture for banana pudding. Try it, and you will be hooked forever.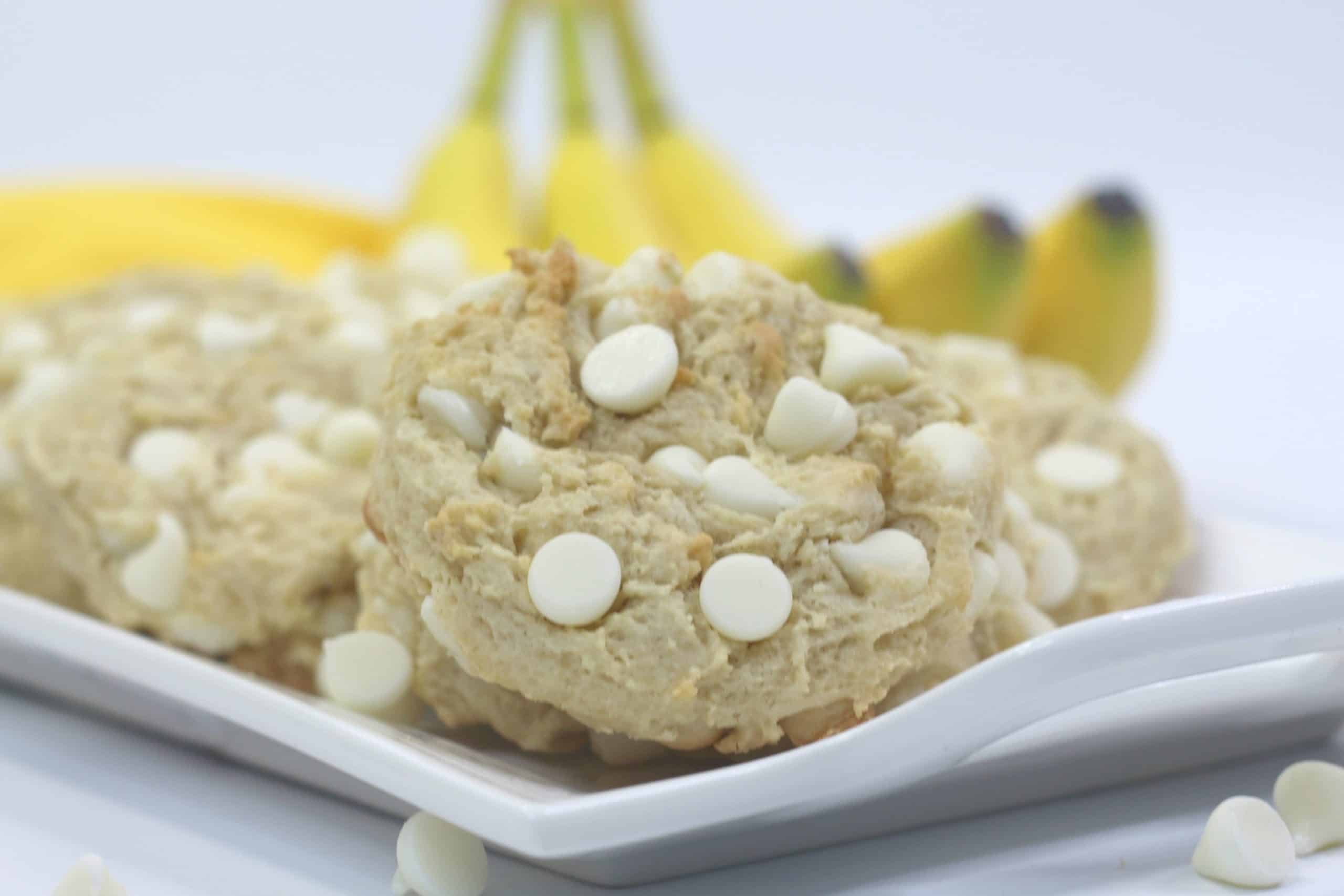 Ingredients
9 ingredients, and you will end up with the best banana cookies recipe ever. They don't take long to make, and they leave a lasting impression on all who eat them.
Unsalted butter – It's easiest to use when it's softened.
Sugar
Instant Banana Creme pudding mix
Large banana – It's best to use a mashed overly ripe banana.
Large eggs
All-purpose flour
Baking soda
Kosher salt
White chocolate chips – White chocolate is insanely delicious in these cookies, but you can also try some additional flavors like butterscotch or dark chocolate.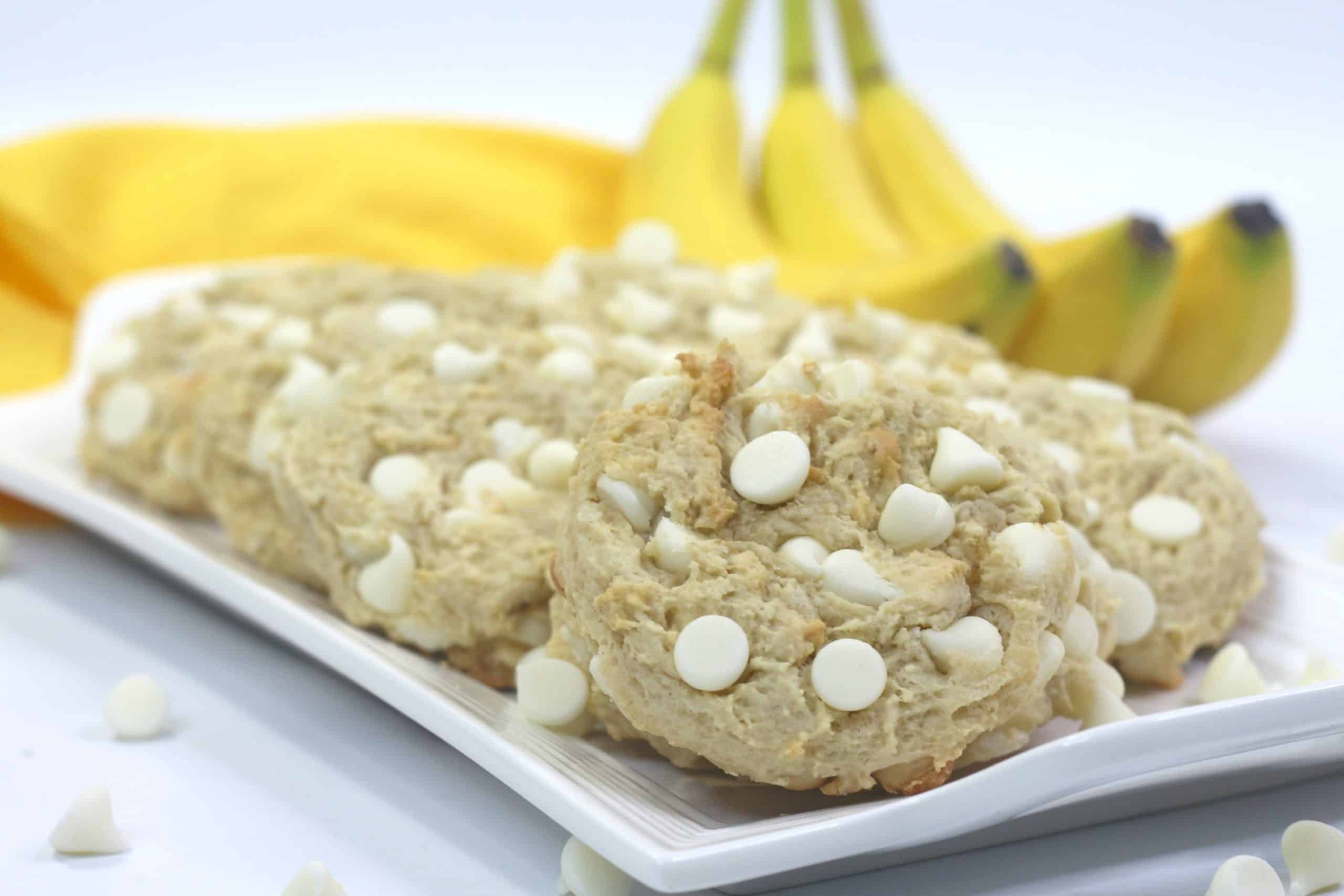 How to Make Banana Pudding Cookies
I'm so glad that baking cookies are such an easy thing to do. That way, I can enjoy a batch anytime I get in the mood for something sweet and delicious. Take a look at these easy to follow directions so you can eat your own soon!
First Step: Prepare two cookie sheets with parchment paper and preheat the oven to 350 degrees F.
Second Step: Whisk the flour, baking soda, and salt in a medium-sized bowl.
Third Step: Beat the butter and sugar together in a stand mixer until they are smooth and creamy.
Fourth Step: Take the mashed bananas, banana pudding mix, and eggs and place them with the butter and sugar mixture. Combine until it's smooth.
Fifth Step: Add the dry ingredients to the batter slowly and mix well.
Sixth Step: Add in the white chocolate chips by folding them in.
Seventh Step: Use an ice cream scooper or cookie scoop and add balls of cookie dough to the baking sheets. Make sure to keep them at least 2 inches apart, so they don't touch as they expand.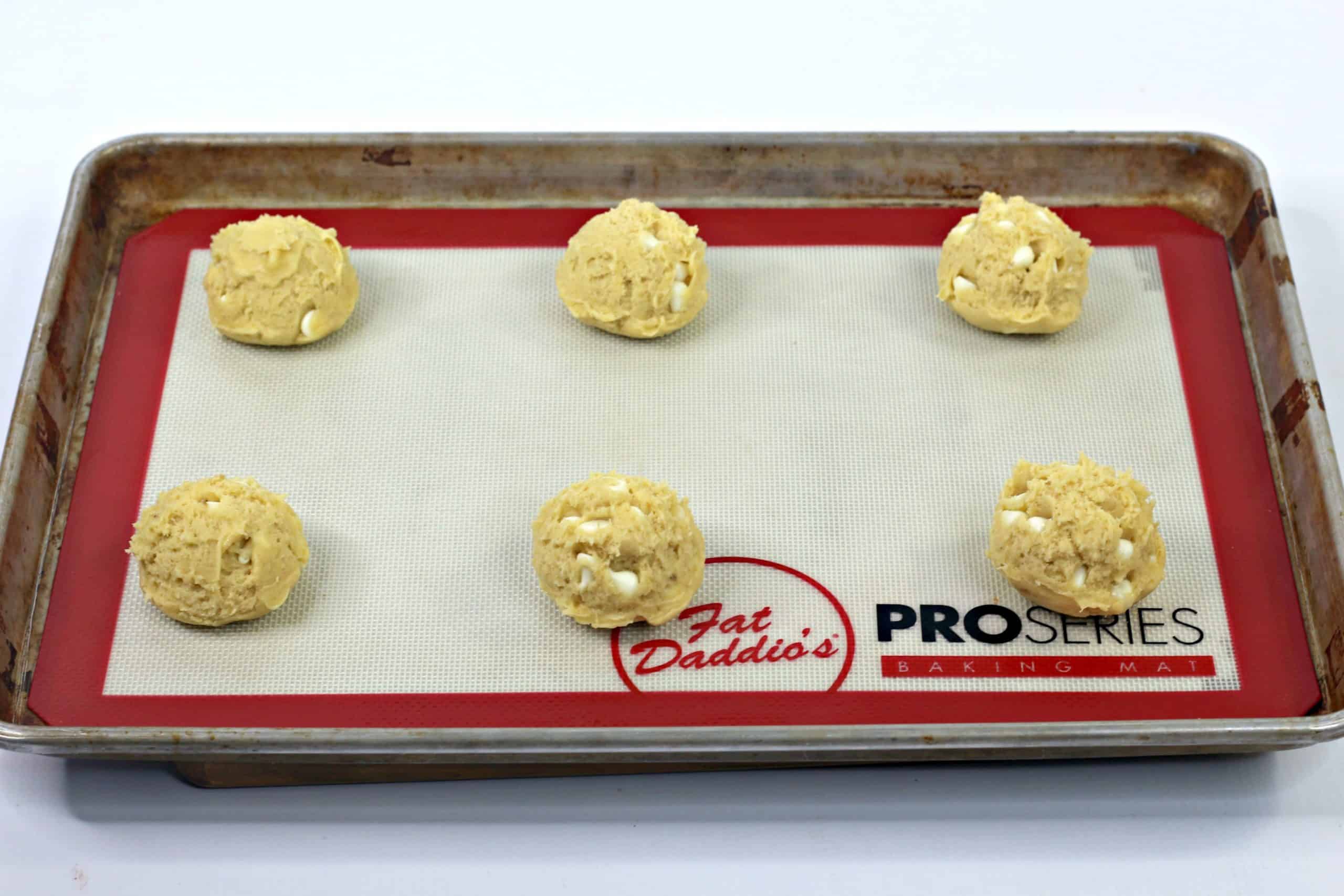 Eighth Step: Add a few extra white chocolate chips to the tops of the cookies. This will make them look extra gorgeous.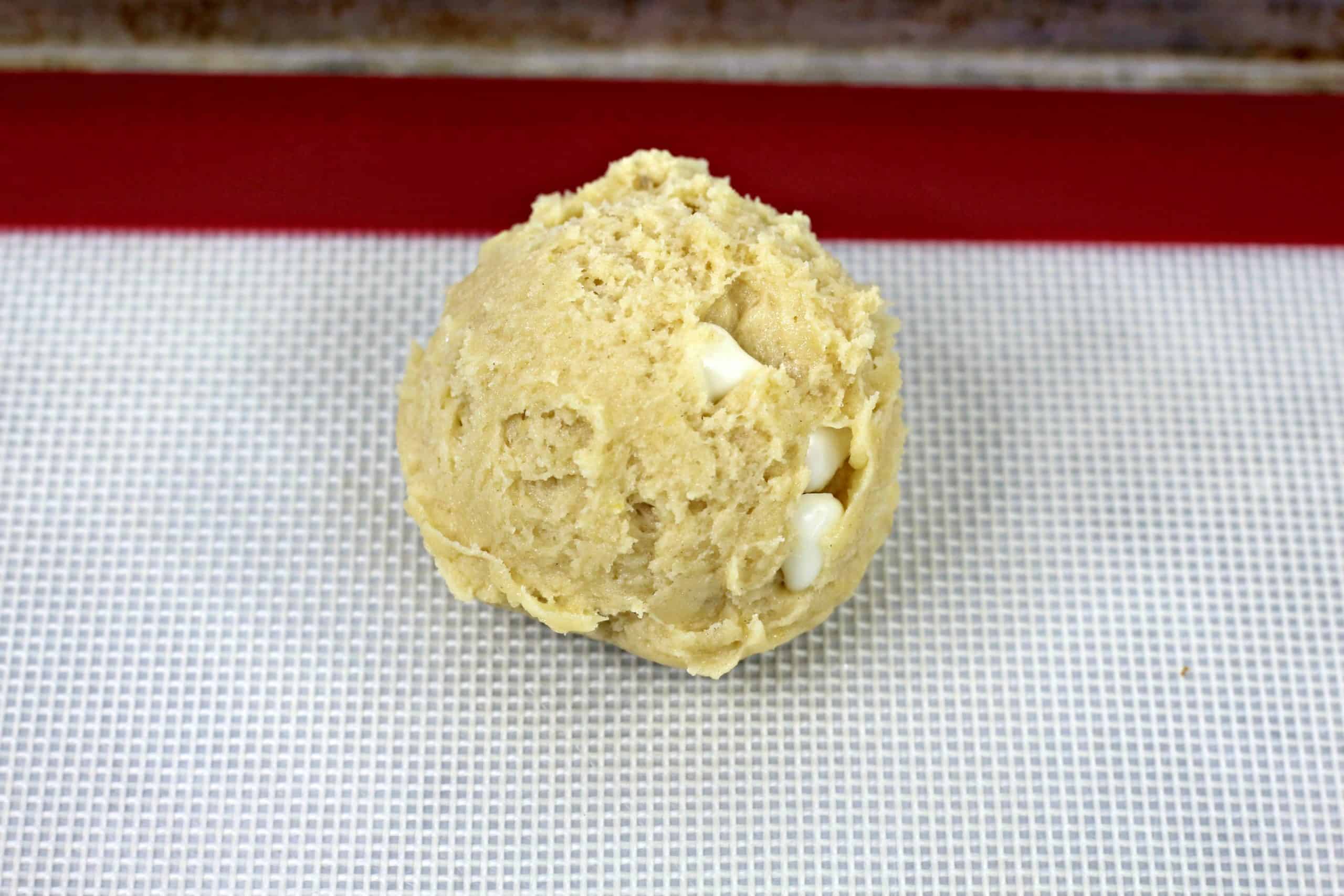 Ninth Step: Bake the banana pudding cookies in the hot oven for 10-13 minutes. They will be golden brown and have set edges when they are done.
Tenth Step: Let the cookies cool on a wire rack then enjoy!
Try out some of these other delicious cookie recipes. They are perfect for all occasions and are wonderful for a sweet treat.
Now, remember to save this recipe on Pinterest for later 🙂

Pin this recipe now to remember it later
Banana Pudding Cookies Recipe
If you are craving a sweet treat, this Banana Pudding Cookies Recipe is calling your name. These cookies are like portable banana pudding that you can easily munch on without a spoon!
Ingredients
½

C

unsalted butter

,

softened

1 - 3.4

Oz

Instant Banana Creme pudding mix

2 ½

C

white chocolate chips
Want to save this recipe? Enter your email below and we'll send the recipe straight to your inbox!
NOTE: By saving this recipe, you agree to join our weekly recipes newsletter.
Instructions
Preheat your oven to 350 degrees and line two cookie sheets with parchment paper

Using a medium bowl, whisk together flour, baking soda and salt

Using a standing mixer, beat together the butter and sugar until creamy and smooth

Beat in the mashed banana, banana pudding mix, and eggs until combined and smooth

Gradually beat in dry ingredients

Fold in 2 C of the white chocolate chips

Using a medium ice cream scooper, scoop some batter onto the cookie sheets, about 2 inches apart

Using the ½ C white chocolate chips, place some chips on top of the cookies

Bake in preheated oven for about 10-13 minutes or until lightly golden

Allow to cool completely before enjoying!
Follow me on Pinterest for daily delicious recipes!
Need More Desserts:
Chewy Lemon Cookies – If you are looking for the very best chewy lemon cookies ever, this is the recipe you are craving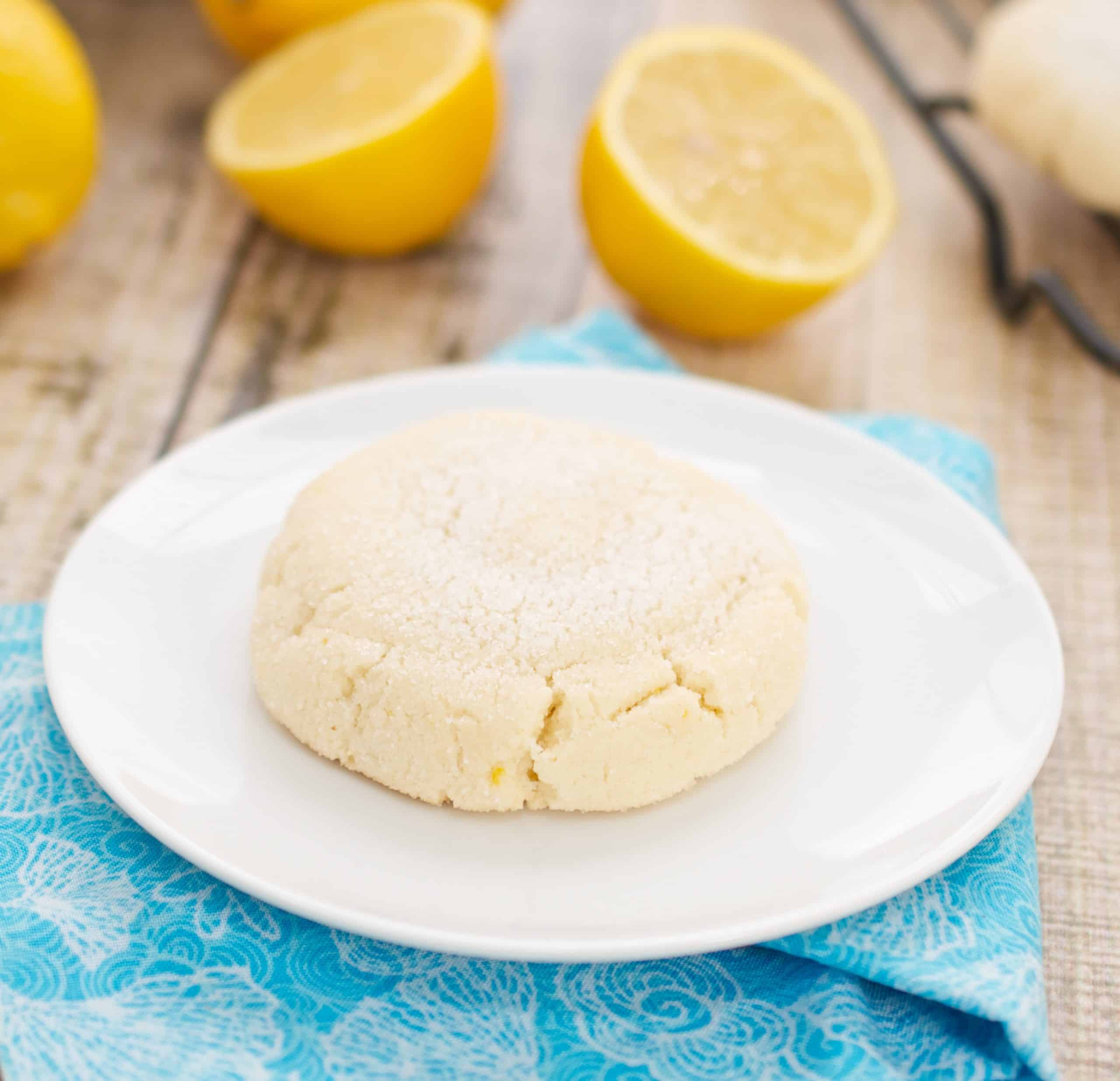 Soft Homemade Lemon Sugar Cookies – Tasting that first bite of these soft sweet lemon sugar cookies is beyond amazing.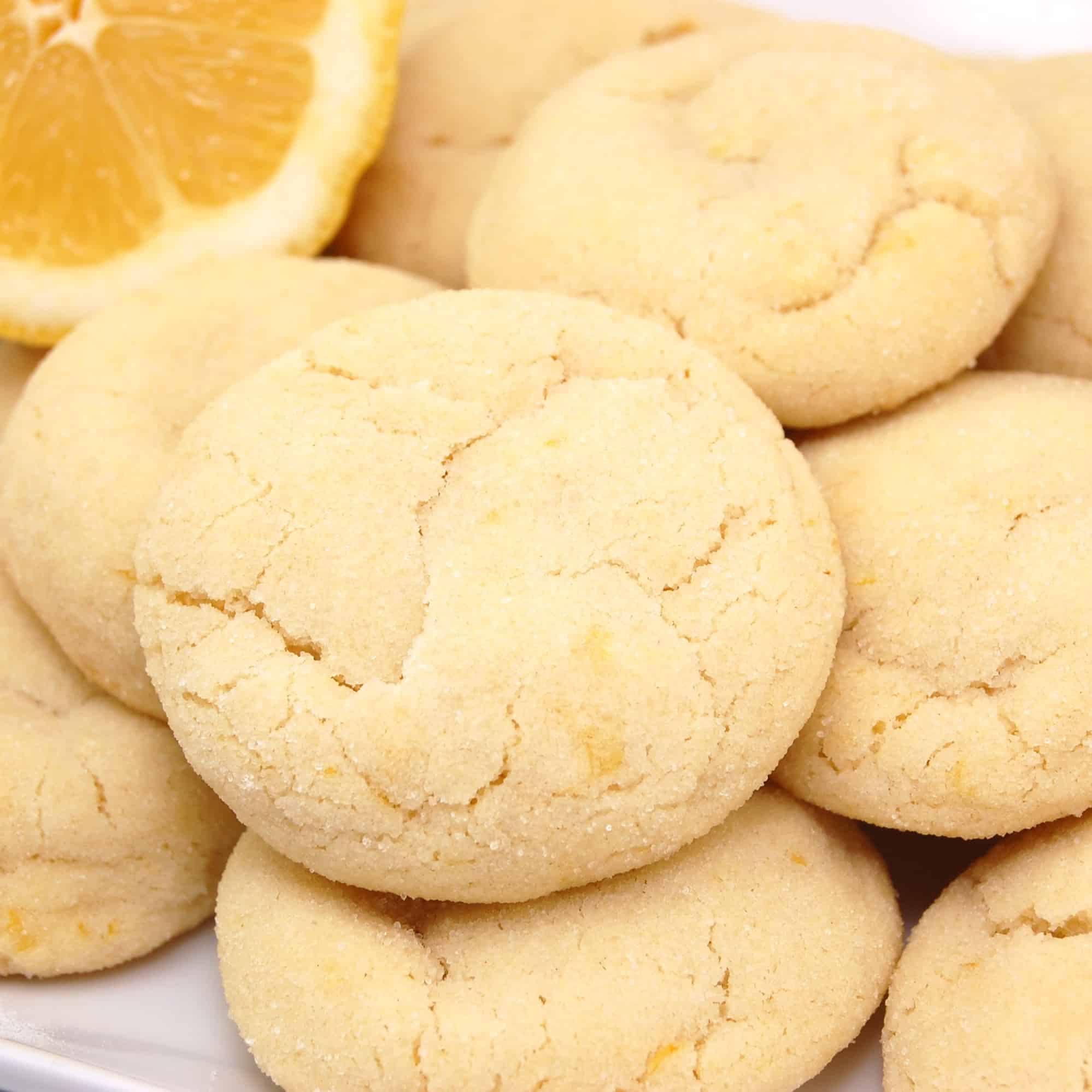 Easy Lemon Blueberry Bread Loaf – This is the perfect recipe for breakfast, a snack or dessert.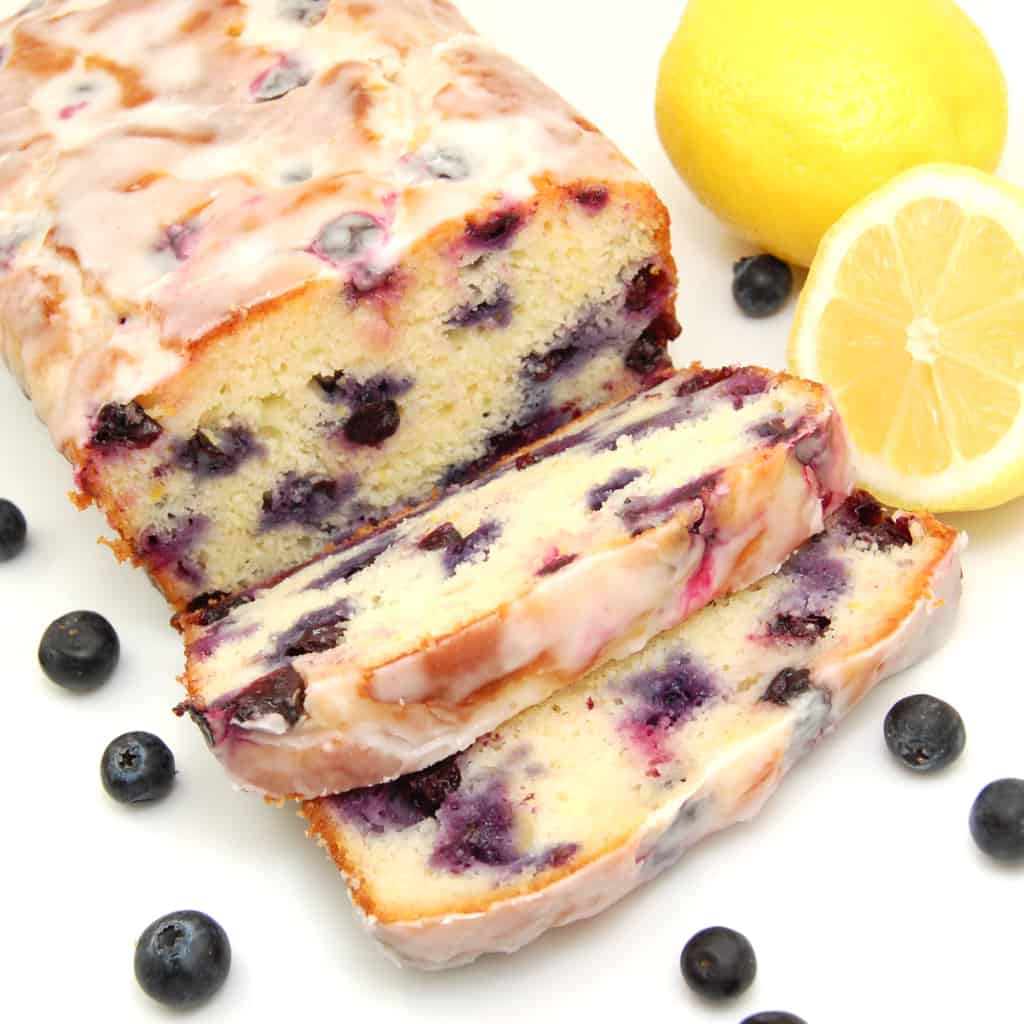 Buttermilk Lemon Sheet Cake Recipe – Looking for the perfect lemon sheet cake recipe? Look no further.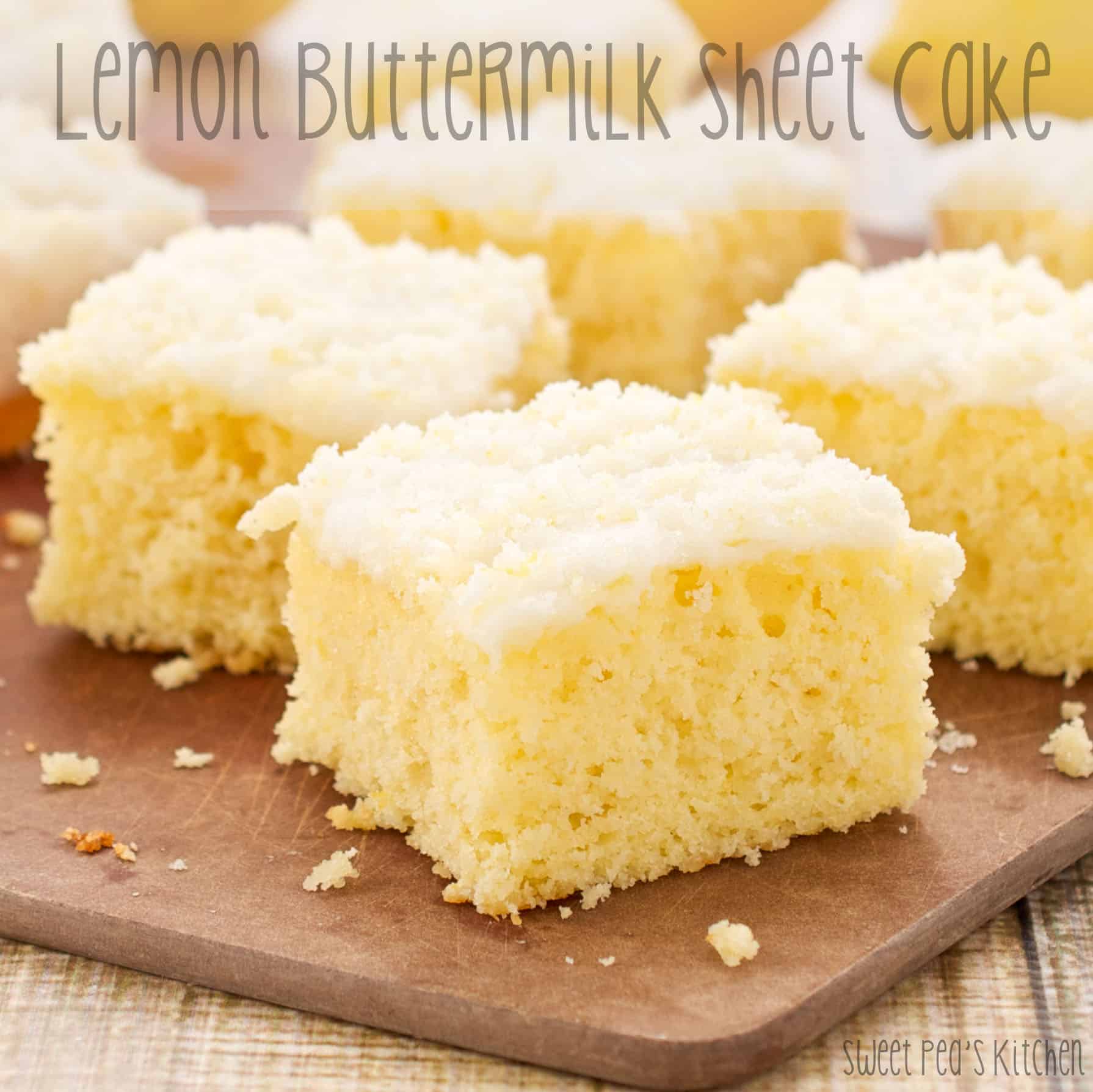 Lemon Blueberry Coffee Cake – Moist, delicious lemon blueberry coffee cake is mindblowing good.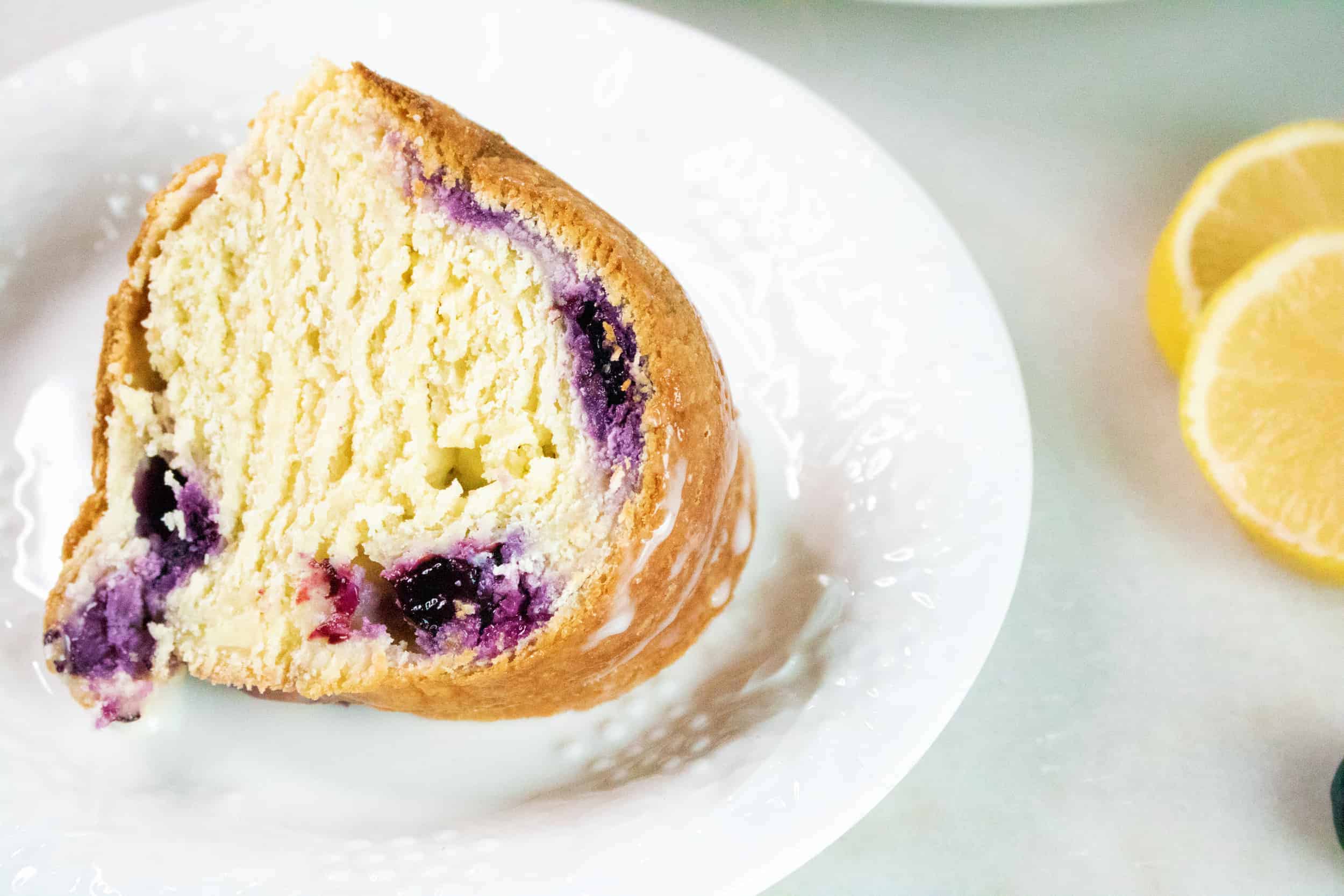 Blueberry Lemon Brownies – If you're looking for the perfect recipe for those plump blueberries, look no further!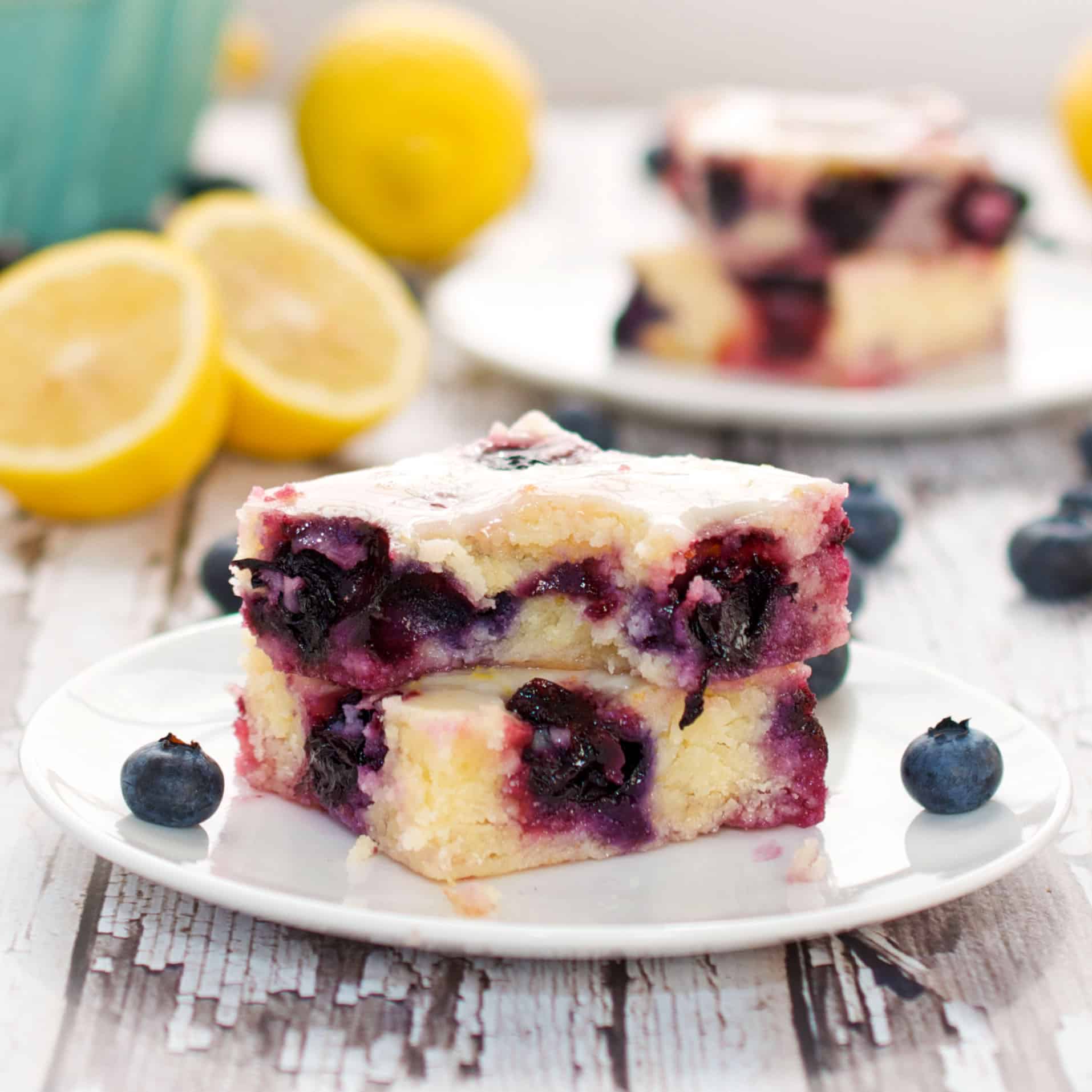 Get new recipes weekly plus our FREE ebook!