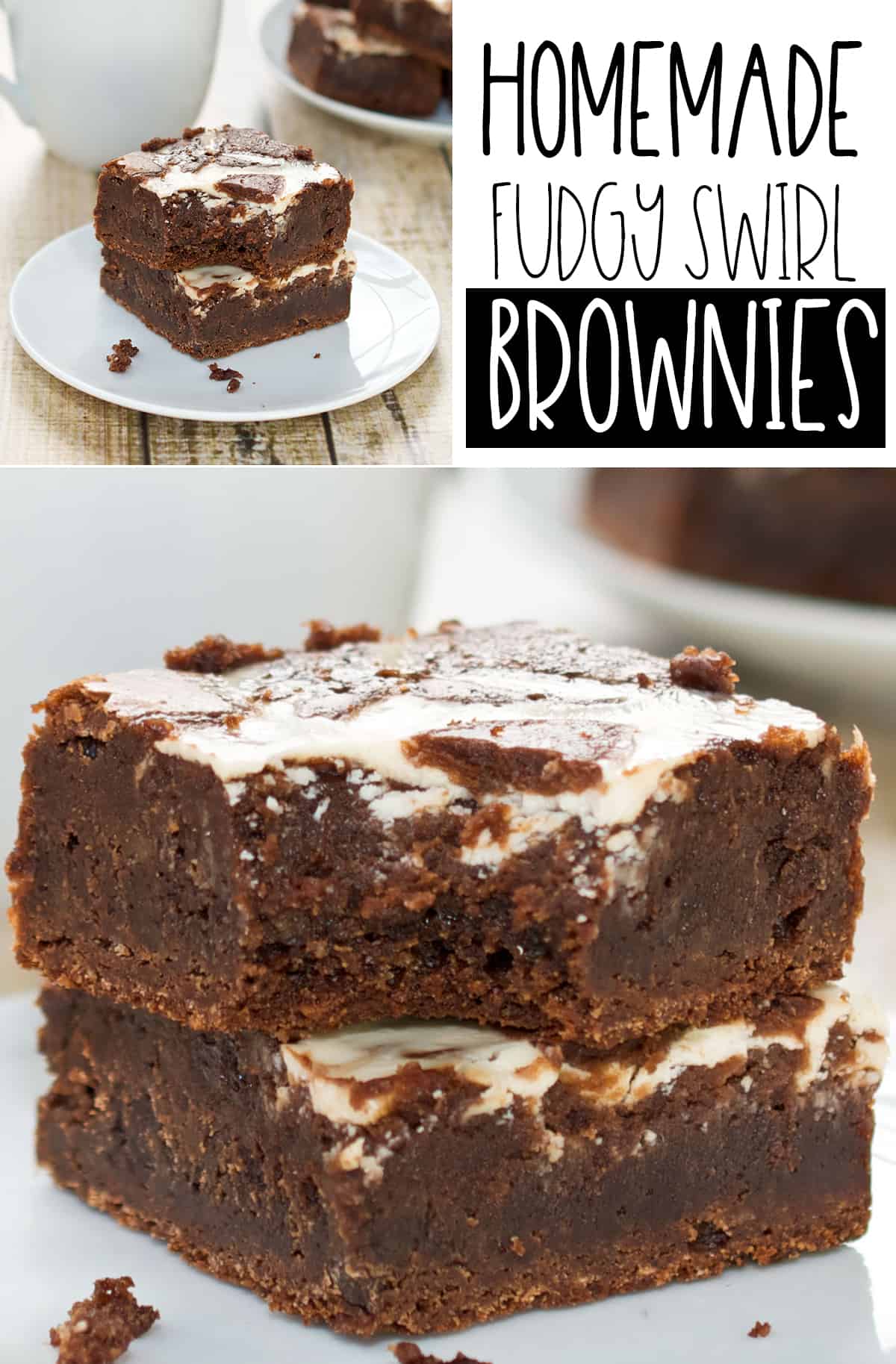 These indulgent fudgy swirl brownies are impressive, delicious, and simple to make. This is the best brownie recipe that I've made in a long time. All you need is 11 ingredients, and you'll be munching on this homemade brownie recipe. Plus, there is a secret ingredient! Greek yogurt!
Scroll to bottom for printable recipe card.
Easy Homemade Fudgy Swirl Brownies Recipe
If you've never had easy homemade brownies with Greek yogurt swirls and fudgy dark chocolate, you have missed out for way too long. I'll admit I am a brownie fanatic, but who isn't? I prefer them to be fudgy, gooey, and full of chocolate flavors. This fudgy brownie recipe has everything I like, so it's a win in eyes.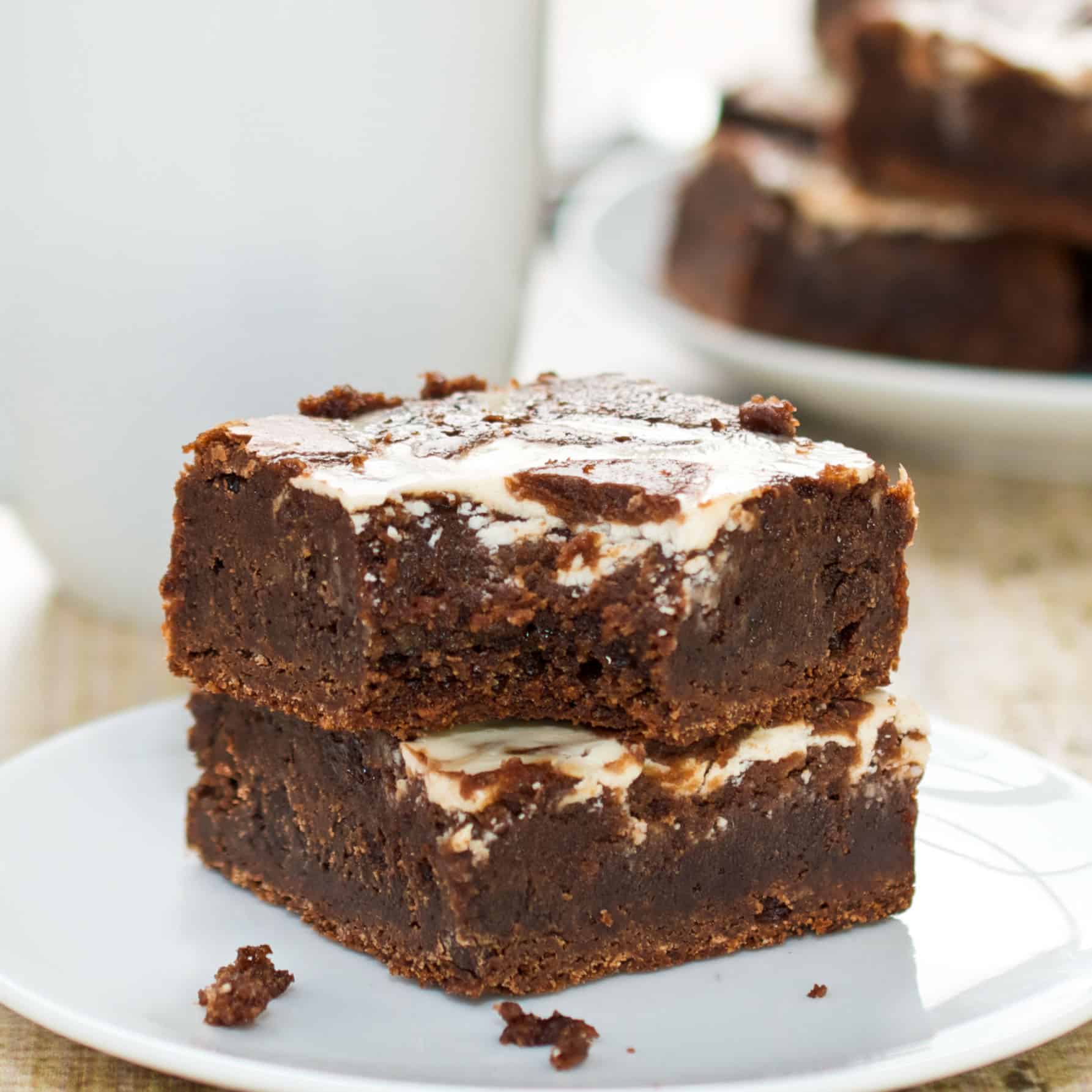 Brownie Ingredients
Unsalted butter – Always use unsalted butter when making these swirl brownies, so they are the right flavor and texture.
Dark chocolate – The dark chocolate is what makes these the best fudgy brownies so decadent and sweet.
Dutch-process cocoa powder – Using Dutch-process cocoa means you are going to have rich, indulgent easy brownies.
Granulated sugar – Brownies need some form of sugar to be sweet, and this is the perfect amount.
Eggs – These homemade fudgy brownies can be made without eggs, too, but I will go into that later.
Vanilla extract – Adding vanilla adds some extra flavor in these marble brownies. Yummy!
All-purpose flour – The flour is the base of any homemade brownie recipe, just like this one.
Espresso powder – You haven't lived until you have some espresso powder in your brownies. It's one of the best things ever.
Maldon sea salt – A little bit of salt enhances the taste and brings out even more chocolate flavors.
Choboni Greek yogurt – You can use plain, vanilla, or honey-flavored depending on what you have on hand and your preference.
Honey – A drop of honey gives these brownies some added sweetness that's not overpowering.
How To Make Brownies From Scratch
If you can make brownies out of a box, I'm certain you can make brownies from scratch. You just need 11 ingredients and a little bit of time. Your home is going to smell delicious as they are baking too!
First Step: Prepare a baking pan by greasing the bottom with butter, adding a long piece of parchment paper. Make sure there is some overhang on both ends, and it covers the entire pan. Put butter on the parchment paper as well. Then preheat the oven to 350 degrees F.
Second Step: Melt the butter and chocolate in a small microwave-safe bowl. Stir frequently, so it doesn't burn. Add in the cocoa powder and stir. It should be smooth when you're done.
Third Step: Mix together the sugar, eggs, and vanilla in a large bowl. Pour in the melted chocolate mixture until it's smooth. Then pour in the flour and espresso powder. Mix until it's just combined.
Fourth Step: Pour the brownie batter into the baking pan and make sure it's spread evenly. Give it a sprinkle of sea salt.
Fifth Step: Prepare the yogurt swirl by beating Greek yogurt, honey, and vanilla in a small bowl. Once it's smooth, put 8 dollops of yogurt over the brownie batter and swirl using a knife.
Sixth Step: Bake the easy homemade brownies for 45-50 minutes or until the edges are set, and the center is slightly underdone.
Seventh Step: Allow the brownies to cool for 1-hour at room temperature. Then refrigerate for another hour. Cut, serve, and enjoy!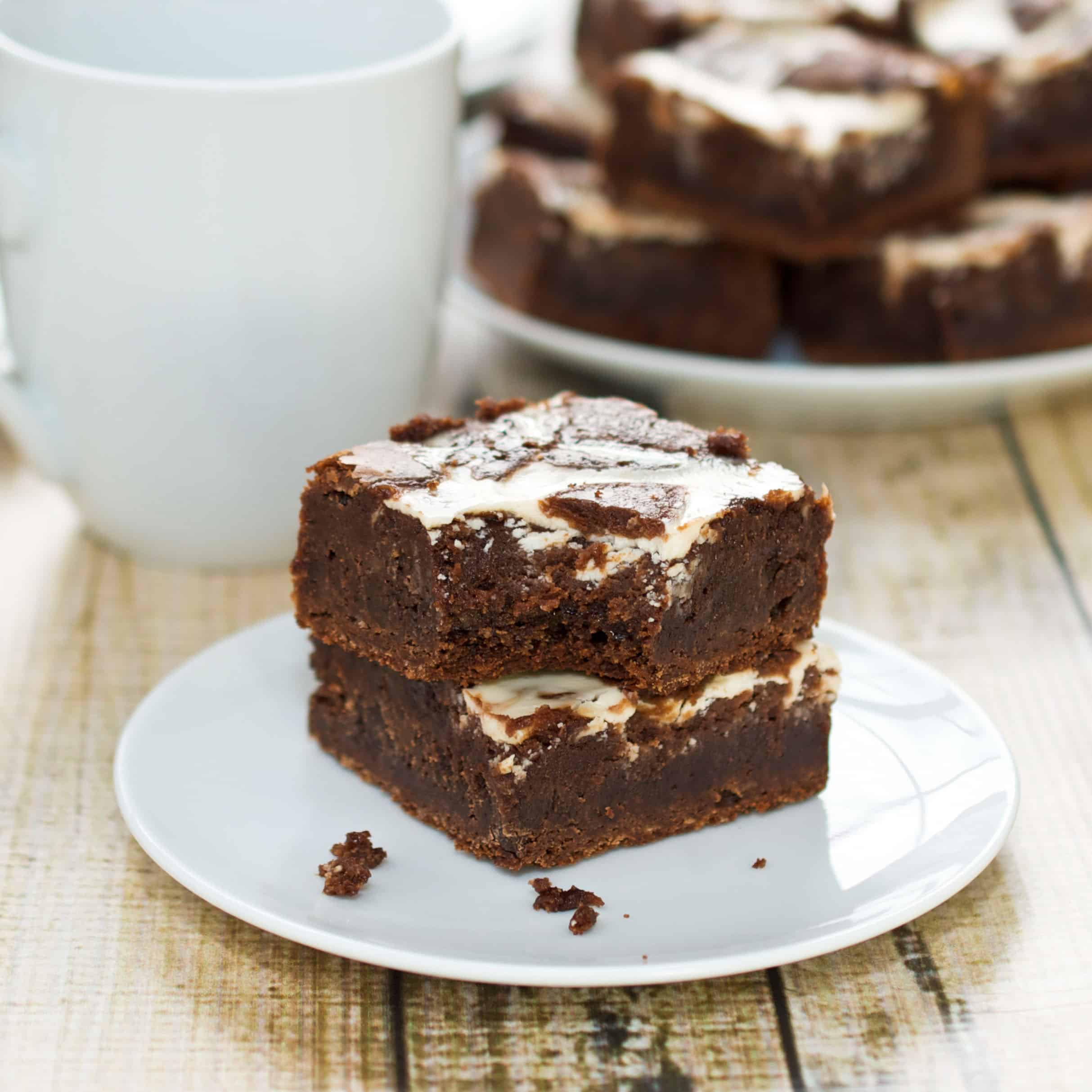 How To Make Brownies Without Eggs
If you have an allergy to eggs or just don't like to use them, you can substitute a few items in their place. Making eggless brownies is pretty simple. For every egg you will need 1/4 cup of one of the following:
Mashed Banana
Applesauce
Greek Yogurt
In this case, you would need 3/4 cup of any of the ingredients you substitute the eggs with. You will end up with a more cake-like brownie instead of fudgy, but they will still taste amazing. Plus, if you prefer cake-like brownies, then this is an excellent option for you.
How To Cut Brownies
Cutting brownies and getting them to stay together can be a challenge if you aren't sure how to do it. With these tips, you will have gorgeous, evenly cut brownies almost every time. Take a look:
Cooling the brownies is a great way to cut them easier. When the brownies are cold, the knife will glide right through them without any problem.
Use a blade that has been warmed up. I prefer to hold the knife under hot water to warm it up, then take a paper towel and wipe it off.
Clean the knife after every single cut. When cutting the brownies, you will find that the brownie crumbs stick to the knife. The more crumbs that are there, the more brownie is going to stick — cleaning it after each pass prevents that.
Plastic works the best. Because of the natural texture and coating on plastic knives, they tend to work much better than anything else.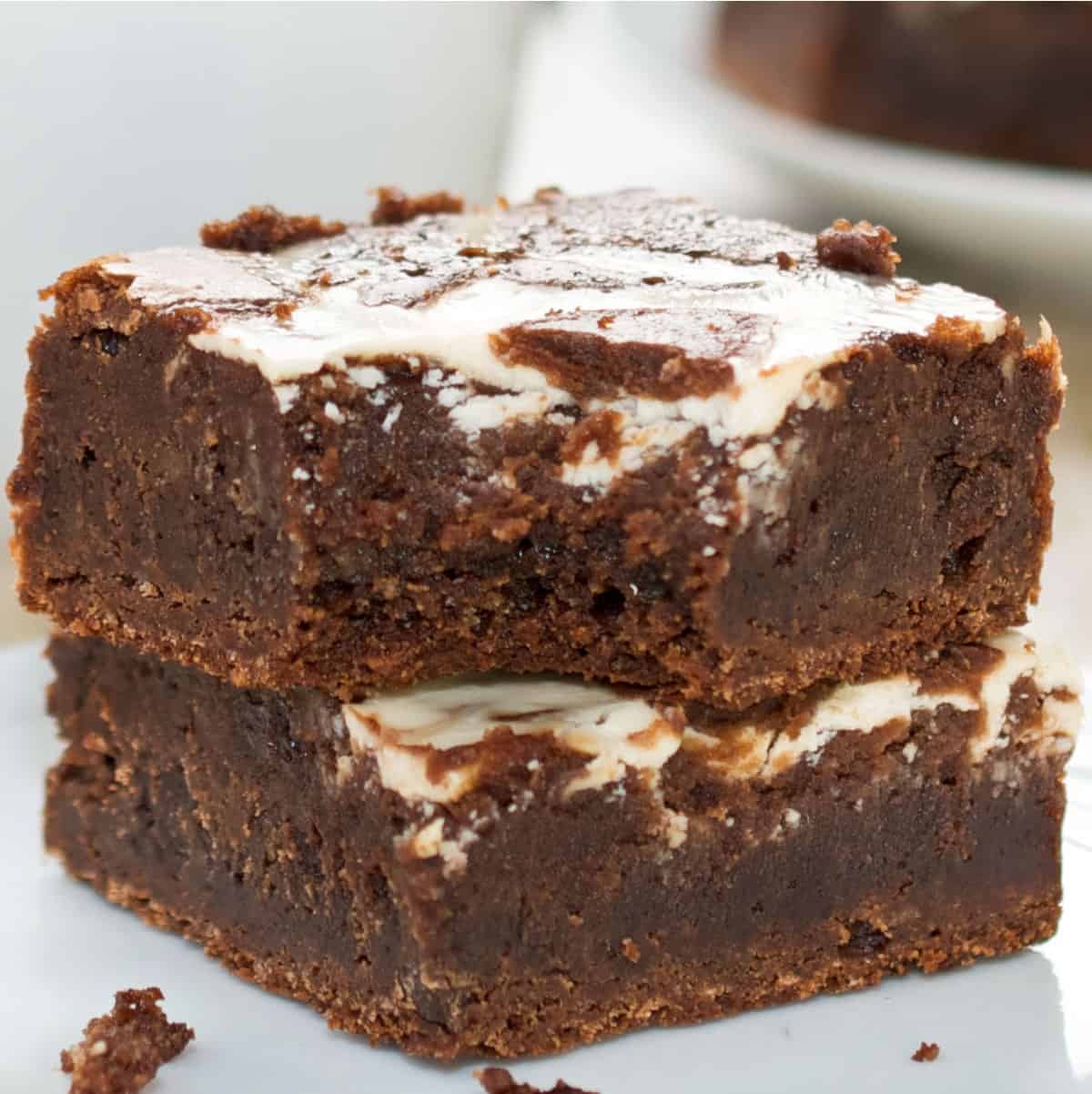 What Is Dutch-process Cocoa Powder?
Dutch-Process cocoa powder is well known in European countries. It's processed a little bit different than regular cocoa and doesn't have as acidic of flavor.
When you add Dutch-Processed cocoa powder to baked goods, it's a softer and smoother chocolate flavor. The color is a lot darker than regular cocoa because of the processing.
Finding Dutch-Processed cocoa powder is a little more difficult. If you don't have it at your local market, I recommend ordering some online. It's so delicious in so many chocolate recipes that it's a baking staple.
How Do You Store This Fudgy Brownie Recipe?
You should store this fudgy brownie recipe in the refrigerator in an airtight container. They will last 3 days in the fridge or up to 1 month in the freezer. It's important that they are kept away from heat and air, or they will go bad quickly.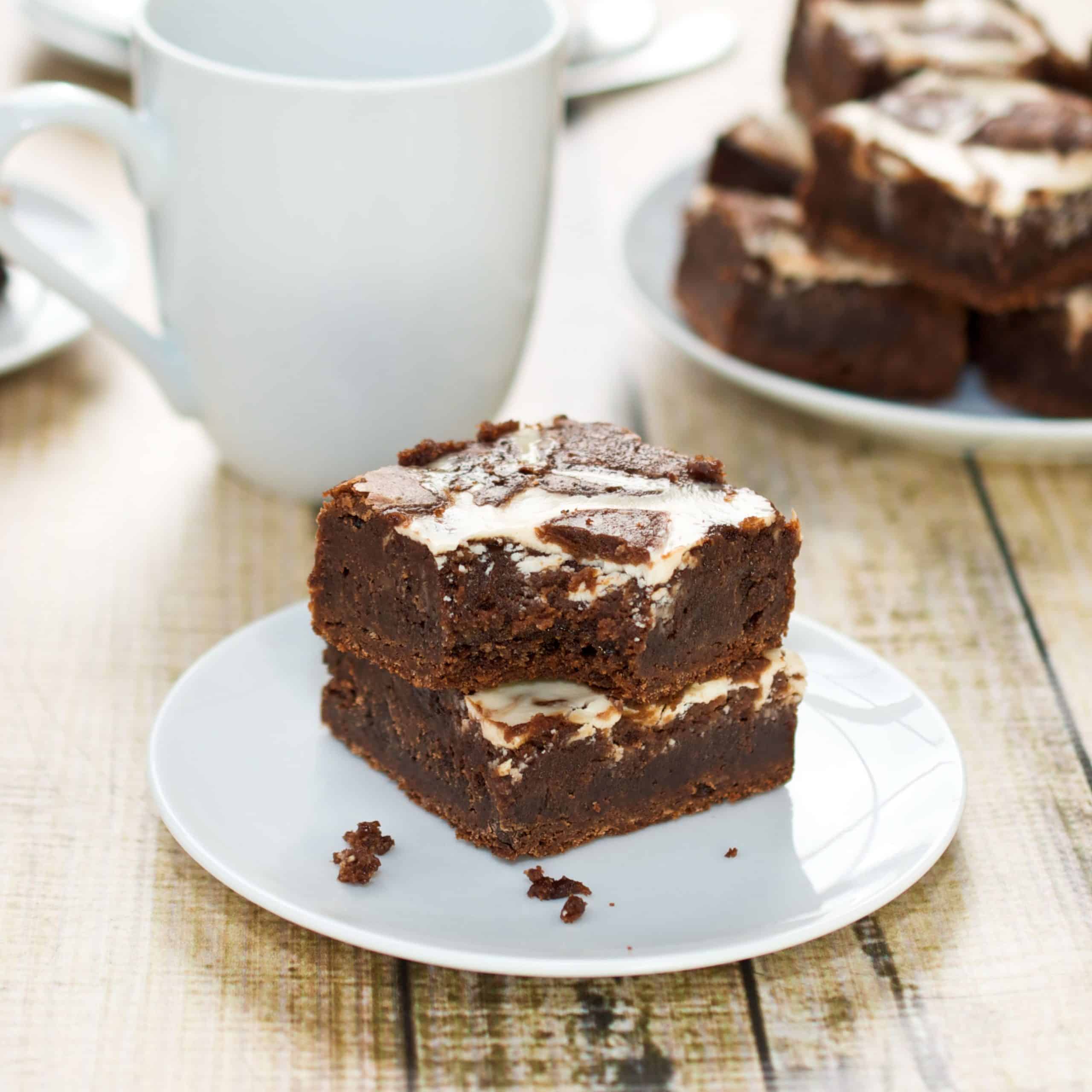 Now, remember to save these yummy brownies on Pinterest for later 🙂

Pin this recipe now to remember it later
Easy Homemade Fudgy Swirl Brownies
Deep dark chocolate Swirl Brownies have sweet, tangy Greek yogurt swirls. This is the best brownie recipe ever! You can't go wrong with this homemade brownie recipe.
Ingredients
3/4

cup

1 1/2 stick unsalted butter

2

ounces

dark chocolate

,

72%, chopped

1/4

cup

plus 2 tablespoons Dutch-process cocoa powder

3

large eggs

,

room temperature

1 1/2

teaspoons

vanilla extract

3/4

teaspoon

espresso powder

1/2

teaspoon

Maldon sea salt

3/4

cup

Choboni Greek yogurt

,

plain, vanilla or honey flavored
Want to save this recipe? Enter your email below and we'll send the recipe straight to your inbox!
NOTE: By saving this recipe, you agree to join our weekly recipes newsletter.
Instructions
Preheat oven to 350F. Butter the bottom and sides of a 8 inch metal baking pan. Put a long piece of parchment paper in the bottom of the pan, letting the parchment extend up two sides of the pan and overhang slightly on both ends. (This will make it easy to remove the bars from the pan after they have baked.) Butter the parchment.

In a small, heatproof bowl, melt butter and chocolate together. Stir until combined, add cocoa powder and stir until very smooth.

In a large bowl, whisk together sugar, eggs, and vanilla extract. Add chocolate mixture and stir until smooth. Add flour and espresso powder and stir until just combined and no streaks of dry ingredients remain.

Pour into prepared pan and spread into an even layer. Sprinkle the sea salt over the top and set aside.

To prepare Greek yogurt mixture, beat yogurt, honey and vanilla extract in a small bowl until smooth. Distribute the yogurt mixture in 8 dollops over batter in the pan. Swirl in with a knife or spatula.

Bake for 45-50 minutes, until brownies are set around the edges–the center will still appear to be a little underdone.

Let the brownies cool completely at room temperature in the pan for 1 hour, then refrigerate until they are firm, about 1 hour.
Notes
The brownies can be refrigerated for up to 3 days, and frozen for up to 1 month.
Follow me on Pinterest for daily delicious recipes!
After tasting this decadent and rich fudgy brownie recipe, you should try some of my other delicious chocolate recipes.
Mocha Chocolate Caramel Cookie – These cookies are soft, chewy, and amazing. The caramel and chocolate go perfectly together.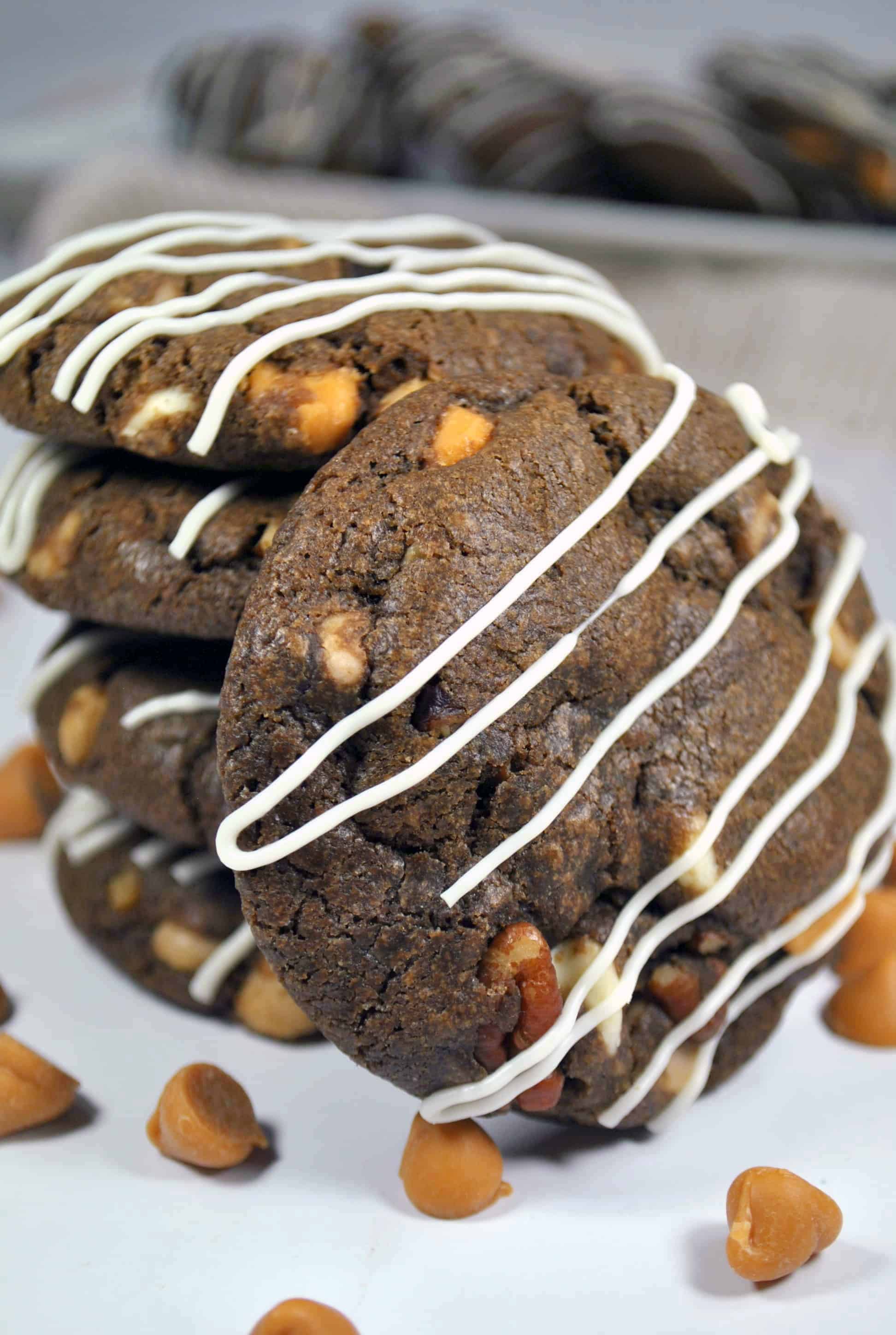 Easy Chocolate Peanut Butter Cookies – The surprise peanut butter in the center makes these one of the best cookies ever! They are so yummy.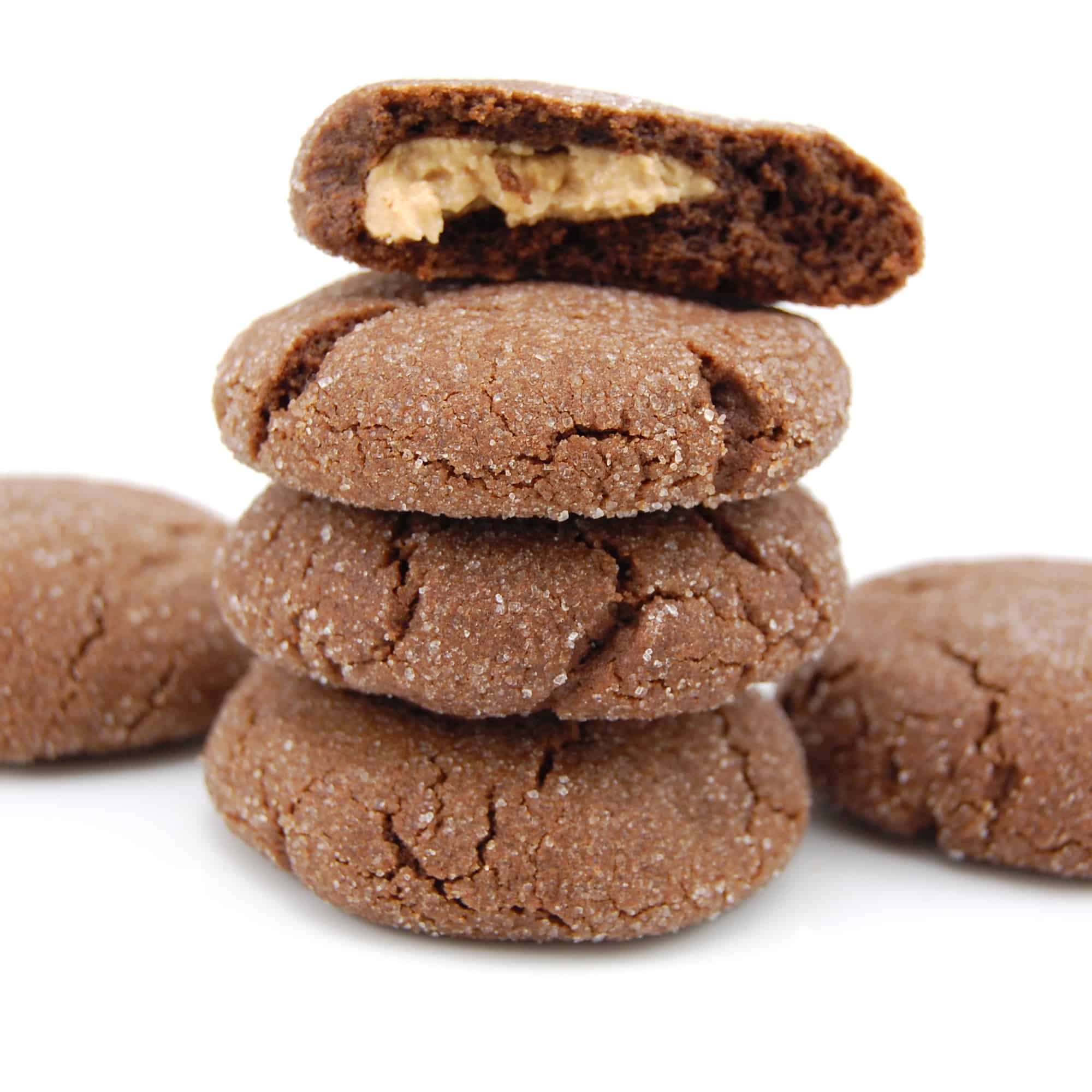 Oatmeal Chocolate Chip Cookies – The combination of oatmeal and chocolate is a match made in heaven. So good!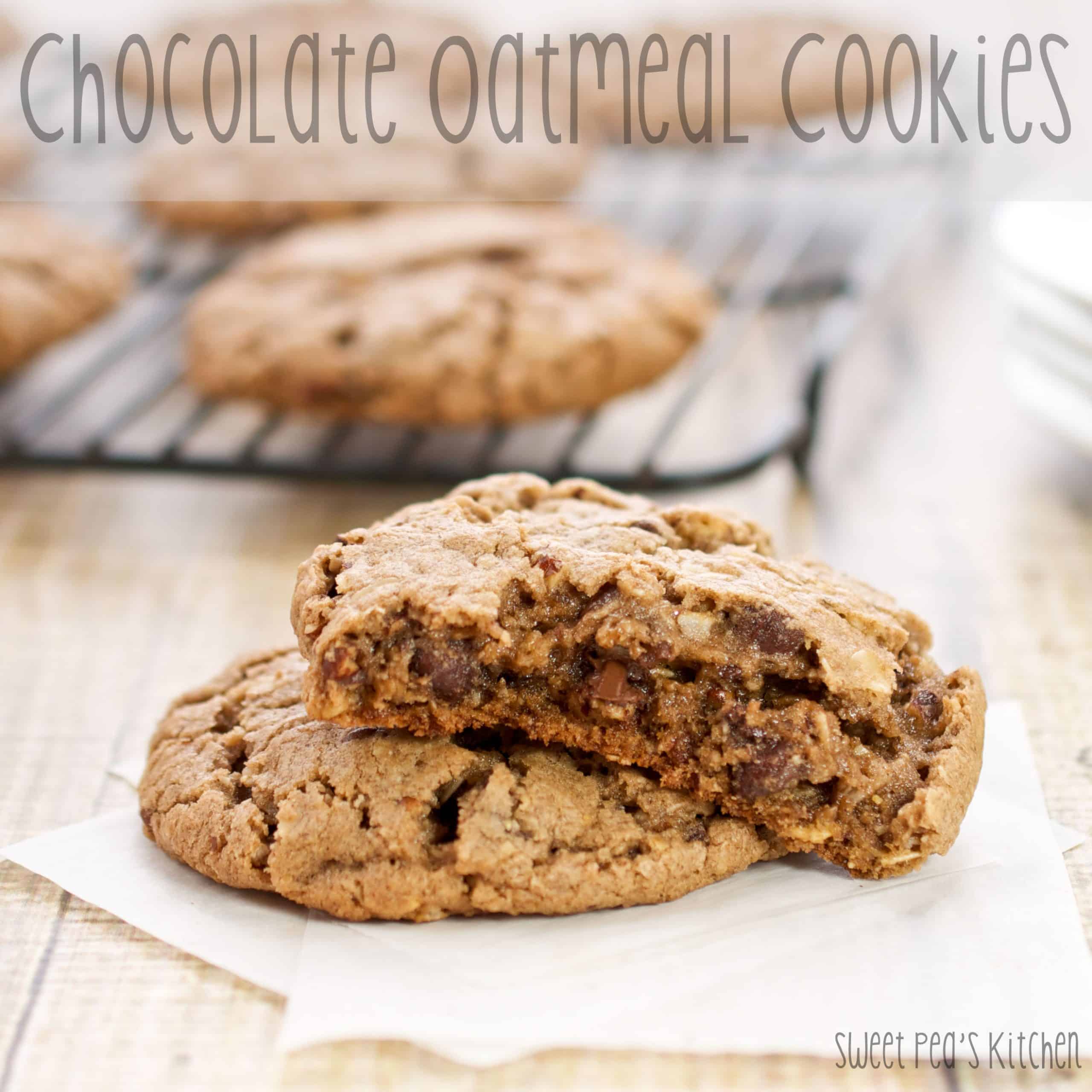 Chocolate Chip Cookie Chocolate Lasagna – Every bite leaves you yearning for the next one because it's so amazing.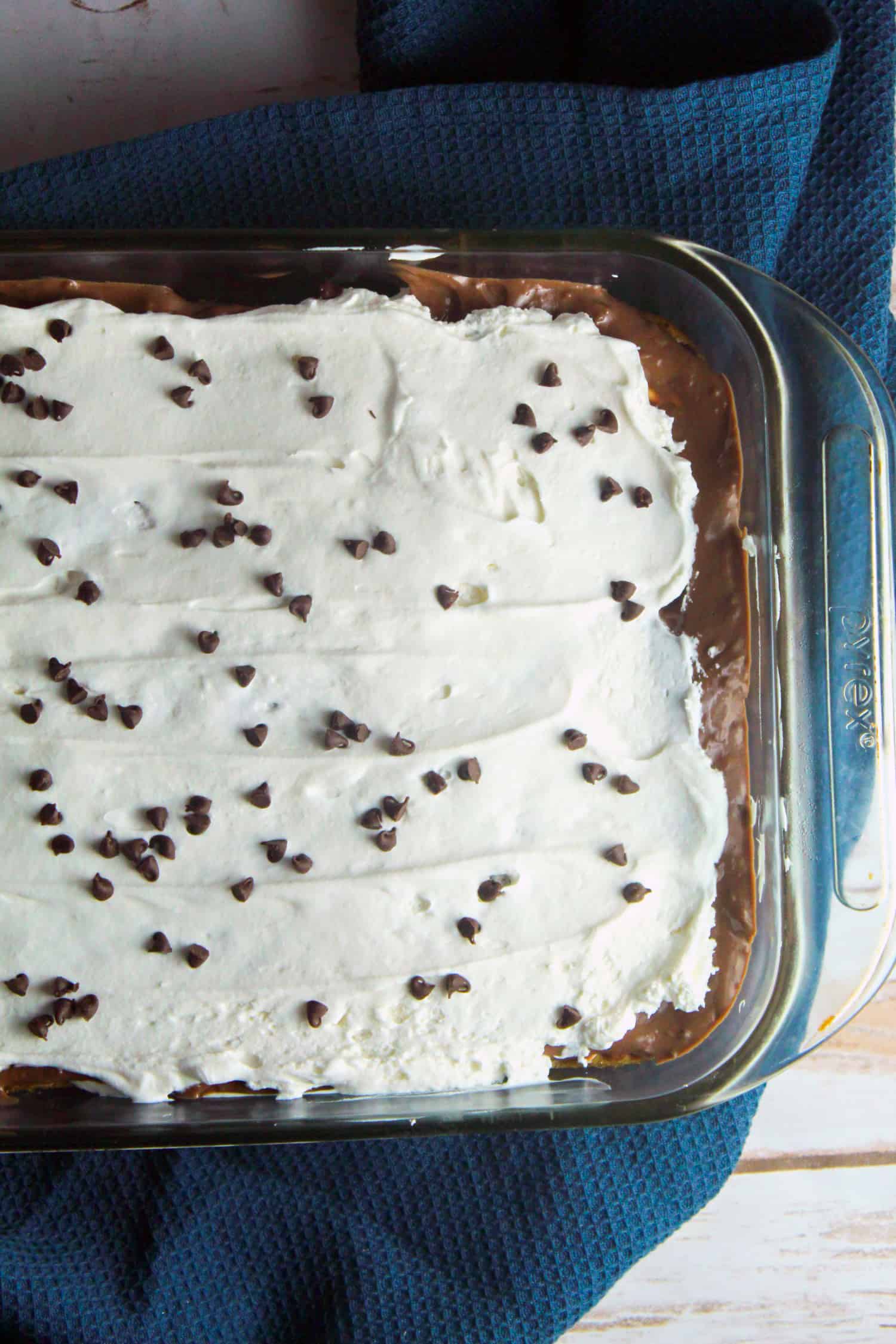 Get new recipes weekly plus our FREE ebook!