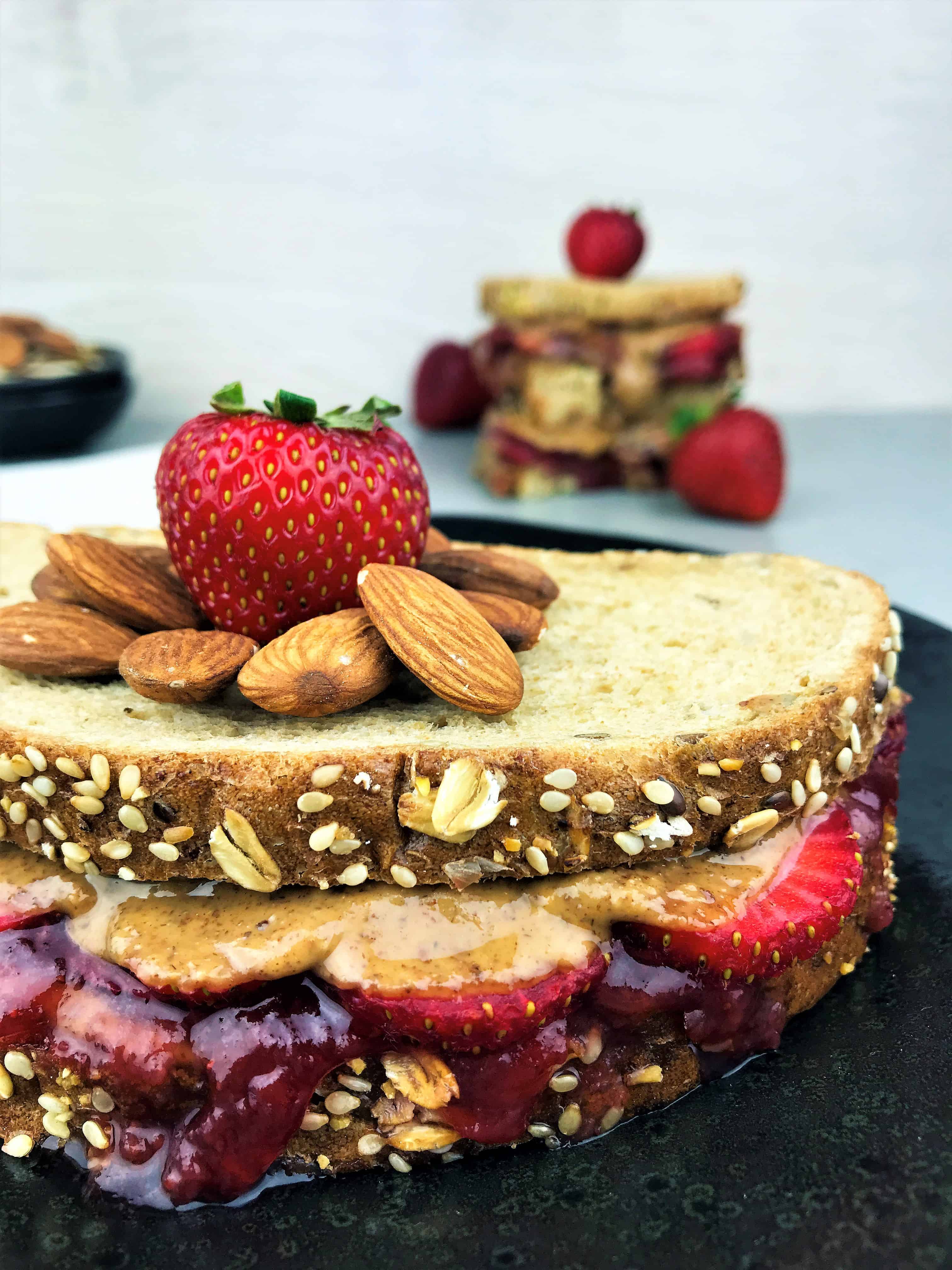 This delicious homemade copycat Starbucks PB&J sandwich is the perfect light lunch to get you through the day. Raise your hand if you grew up eating a peanut butter and jelly sandwich almost daily!
I sure did, and while I loved every moment, I wanted to make something a little bit different. This isn't your ordinary sandwich; it's an almond butter and jelly sandwich that's out of this world.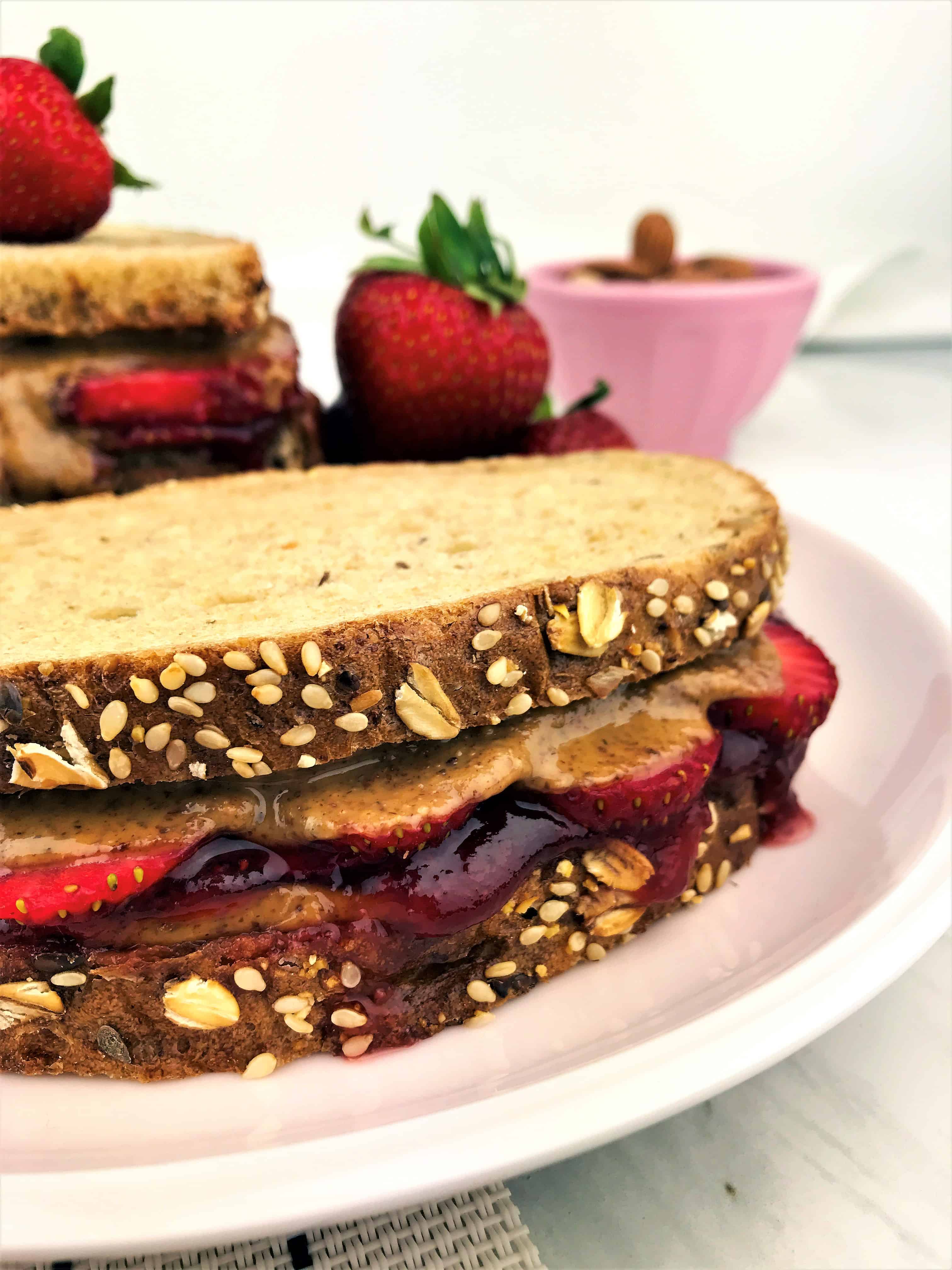 Not going to lie, I am pretty much addicted to Starbucks, and I knew I wanted to replicate their PB&J sandwich. Every bite of this yummy peanut butter jam sandwich is amazing.
Takes me right back to being a kid again and I can save LOADS of money making these myself instead of hitting up Starbucks.
Scroll to bottom for printable recipe card.
How To Make Copycat Starbucks PB&J Sandwich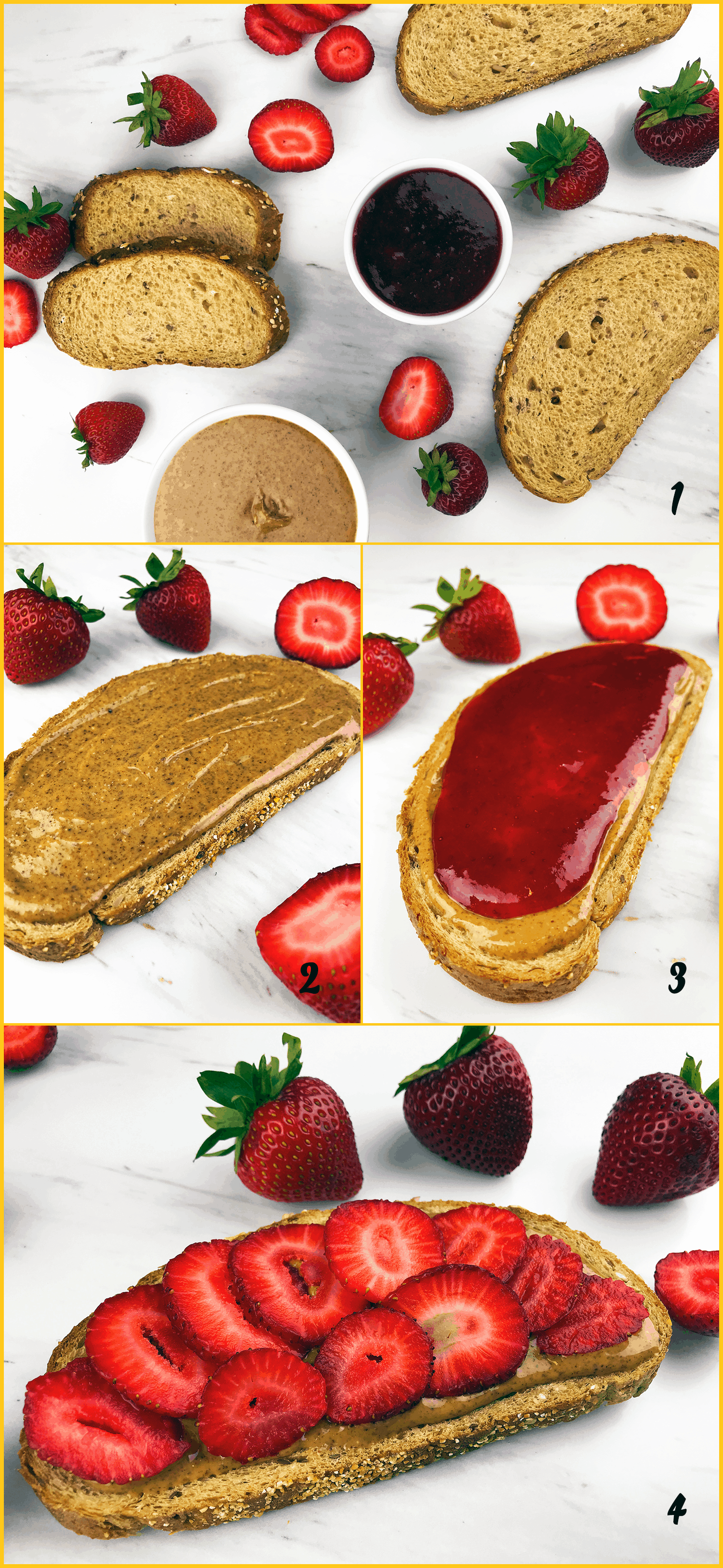 Everything about this mouthwatering almond butter and jelly sandwich is EASY and flavorful. Each bite has the perfect amount of yummy filling to bread ratios. Here are your super quick and simple instructions:
First Step: Begin by smearing 2 tablespoons of almond butter on each slice of bread.
Second Step: Top the almond butter with 2 tablespoons of strawberry jam on one slice of bread.
Third Step: Carefully slice fresh strawberries, so they are very thin.
Fourth Step: Place the 2 freshly sliced strawberries on the opposing piece of bread.
Fifth Step: Stick your sandwich together and devour every bite.
Almond Butter And Jelly Sandwich Variations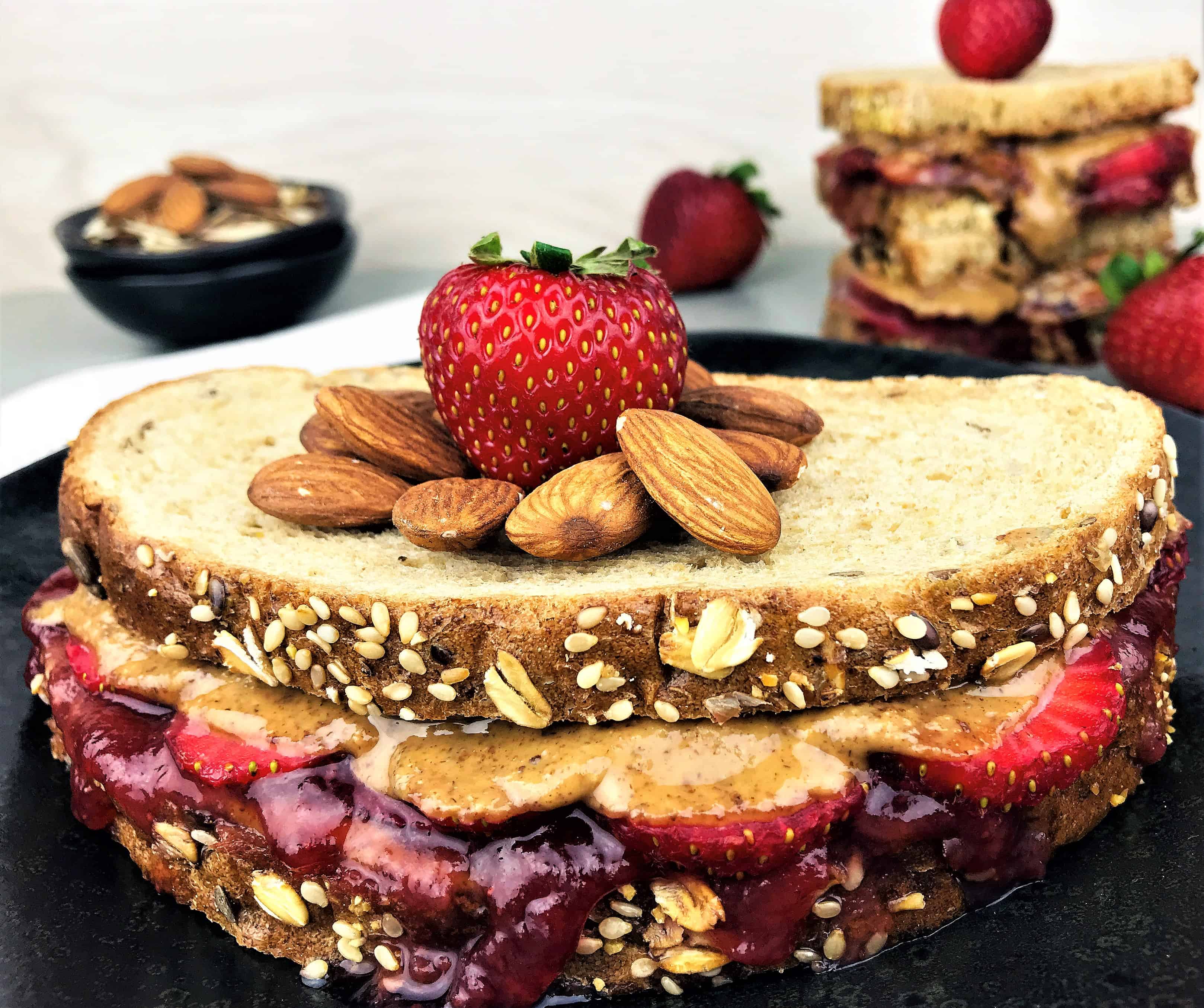 While this Starbucks copycat recipe is spot on, you may decide you want to vary how you make it from time to time. I have tried so many variations; it's not even funny! Here are some ideas I think you will love.
Peanut Butter – Instead of using almond butter, use peanut butter instead. Then you will have a flavorful peanut butter jam sandwich instead.
Nutella – If you love that amazing hazelnut flavor, you should try this sandwich with Nutella in place of almond butter. So creamy and chocolatey!
Grape Jelly or Jam – Use jelly or jam depending on your preference. I can't get enough of the grape flavor with the almond butter. You can skip adding the fresh strawberries if you want to.
Grill – If you have never had a grilled peanut butter and jelly sandwich, it's time to change that! They are so scrumptious and easy to make.
Peach Jelly – Peach jelly or jam is finger-licking good and goes so well with almond butter. Don't take my word for it though, try for yourself and see.
Crunchy Peanut Butter – If you love a little bit of a crunch, then add in some crunchy peanut butter. Holy yum these are good!
Can Peanut Butter And Jelly Sandwich Go Bad?
Yes, peanut butter and jelly sandwich can go bad. You should always wrap it in an airtight plastic baggy or plastic wrap if you can't eat it right away. Wrapping the sandwich will keep the bread from becoming stale. If you take a bite and feel like it tastes bad, toss it. You may also notice that it is growing mold or is overly moist. Those are reasonable indications that it's no longer good.
Does Peanut Butter And Jelly Sandwich Need To Be Refrigerated?
No, it's not necessary to refrigerate this copycat Starbucks PB&J sandwich. You can store it on the counter, in your lunch box, or in the pantry until you are ready to eat it. You can always put it in the fridge if you like it cold, but don't feel like you need to.
Is It Okay To Eat A Peanut Butter Jam Sandwich For Breakfast?
Yes, it's completely fine to eat almond butter and jelly sandwich for breakfast. You will get some much-needed protein, and it will keep you full. Plus, it's nice to have a little bit of sweetness with your breakfast, so the strawberry jam is the perfect fit. I enjoy a copycat Starbucks PB&J sandwich for breakfast often because it's an easy grab and go breakfast. No cooking involved!
What Should I Serve With This Copycat Starbucks PB&J Sandwich?
You can serve pretty much anything that sounds good to you. I love to eat a sandwich (or 2 if I am being completely honest) without any other items. However, when I am feeding a large group, or I want something a little more substantial, I will add some other items. Here are some things I have tried:
Apples – Slice or dice up some apples and eat with the easy sandwich. Peanut butter (and almond butter) and apples are a match made in heaven!
Veggies – Chop up your favorite vegetables like celery, carrots, cucumbers, or peppers and serve with the best sandwich ever.
Chips – Whether you make your own chips with potatoes, zucchini or sweet potatoes or you buy them prepackaged, they go great with sandwiches.
Yogurt – If you want to add some extra protein to your diet, opt for a helping of some Greek or regular yogurt. It's cool, light, and refreshing.
Banana – You will never go wrong if you serve a banana with this Starbucks copycat recipe. It's one of the best combinations ever.
Can You Freeze This Almond Butter And Jelly Sandwich?
Yes, you can freeze this Starbucks copycat recipe very easily. If you are going for making something similar to Uncrustables Frozen Sandwiches, they actually make cutters that will remove the crust and crimp the bread. It's super easy to use, and you will save a ton of money instead of buying them premade. If you don't care if the crust stays on, then you can just make up as many sandwiches as you wish. Then wrap each sandwich individually with plastic wrap. Then place the sandwiches in a gallon-sized freezer bag. Just grab out what you need and let thaw. To defrost the sandwich, you can set it on the counter for a couple of minutes or even toss it in the microwave for 10-15 seconds. It will heat up quickly, so don't go overboard.
Now, time to save this recipe on Pinterest for later 🙂

Pin this recipe now to remember it later
Copycat Starbucks PB&J Sandwich - Almond Butter, Strawberries and Jam
Serve up this Copycat Starbucks PB&J Sandwich! A mix of Almond Butter, Strawberries and Jam all in one sandwich served on multi-grain bread.
Ingredients
1

cup

Almond Butter

,

divided into 4 tbsp per sandwich
(divided into 4 tbsp per sandwich)
1/2

cup

Strawberry Jam

,

divided into 2 tbsp per sandwich
(divided into 2 tbsp per sandwich)
8

Fresh Strawberries

,

divided into 2 sliced strawberries per sandwich
(divided into 2 sliced strawberries per sandwich)
8

slices

Multi-Grain Bread

,

divided into 2 slices per sandwich
Want to save this recipe? Enter your email below and we'll send the recipe straight to your inbox!
NOTE: By saving this recipe, you agree to join our weekly recipes newsletter.
Instructions
Smear 2 tbsp almond butter on each slice of bread.

Add 2 tbsp strawberry jam to 1 slice of bread.

Cut fresh strawberries thinly.

Add 2 freshly sliced strawberries to the opposing slice of bread.

Place your sandwich together. Refrigerate or enjoy immediately!
Follow me on Pinterest for daily delicious recipes!
Check Out The Other Easy Lunch Recipes
Chicken Caprese – Caprese chicken is a home run recipe.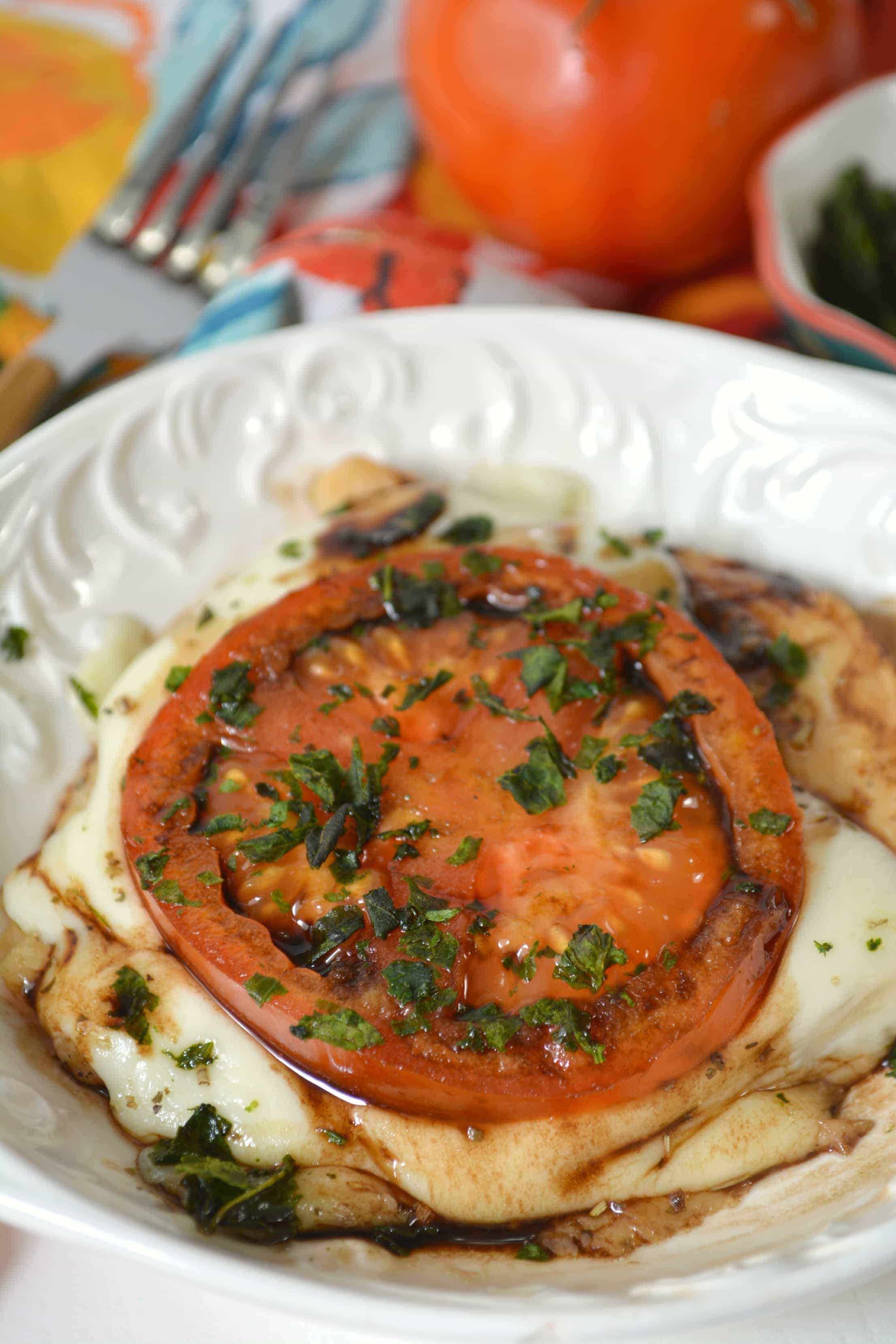 Tomato Watermelon Salad – This really is the best watermelon salad, and I am super excited to share it with you.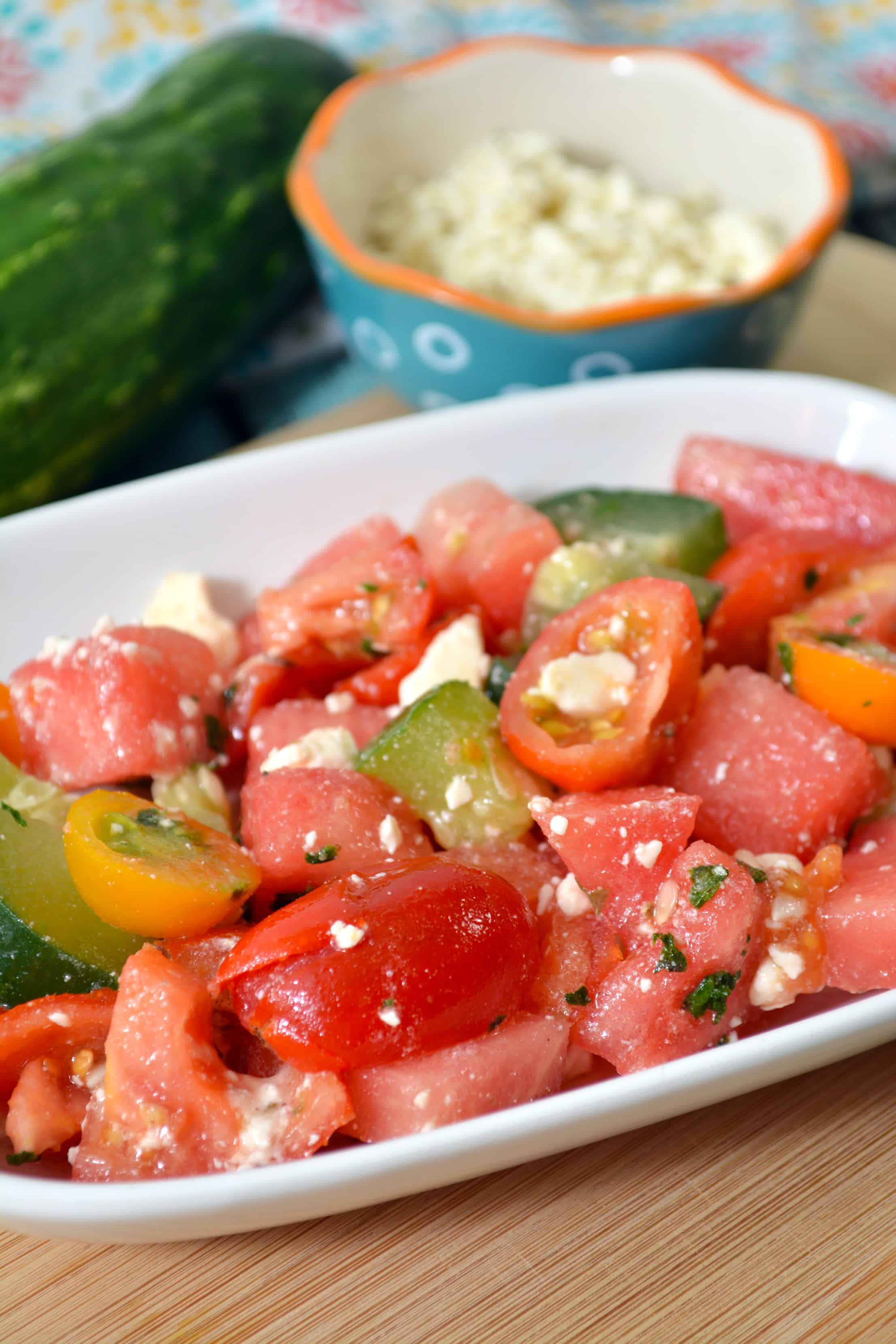 Sheet Pan Fajitas – These One Pan/Sheet Pan Chicken Fajitas are an easy, tasty weeknight meal made with an easy homemade fajita seasoning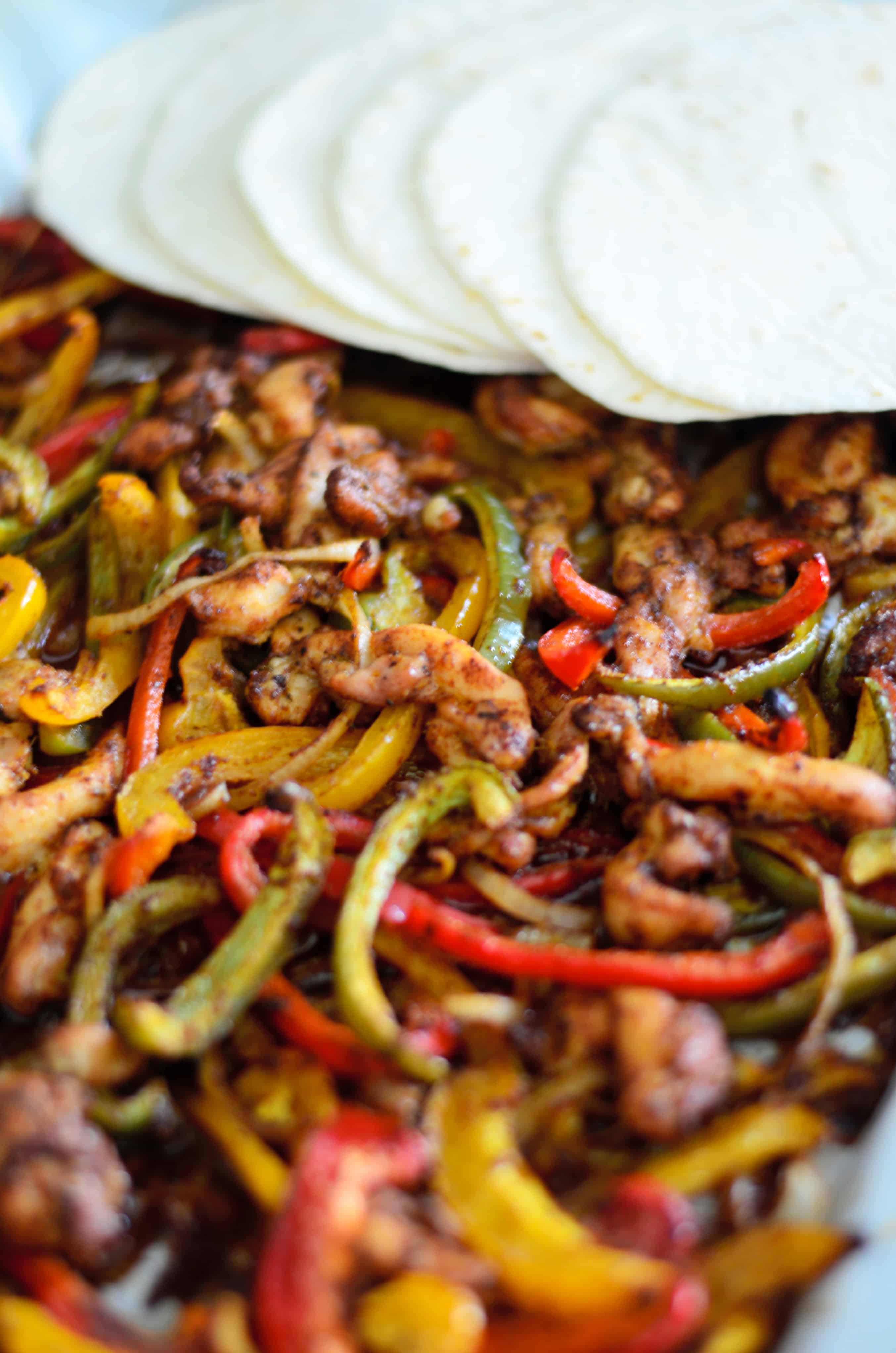 Get new recipes weekly plus our FREE ebook!