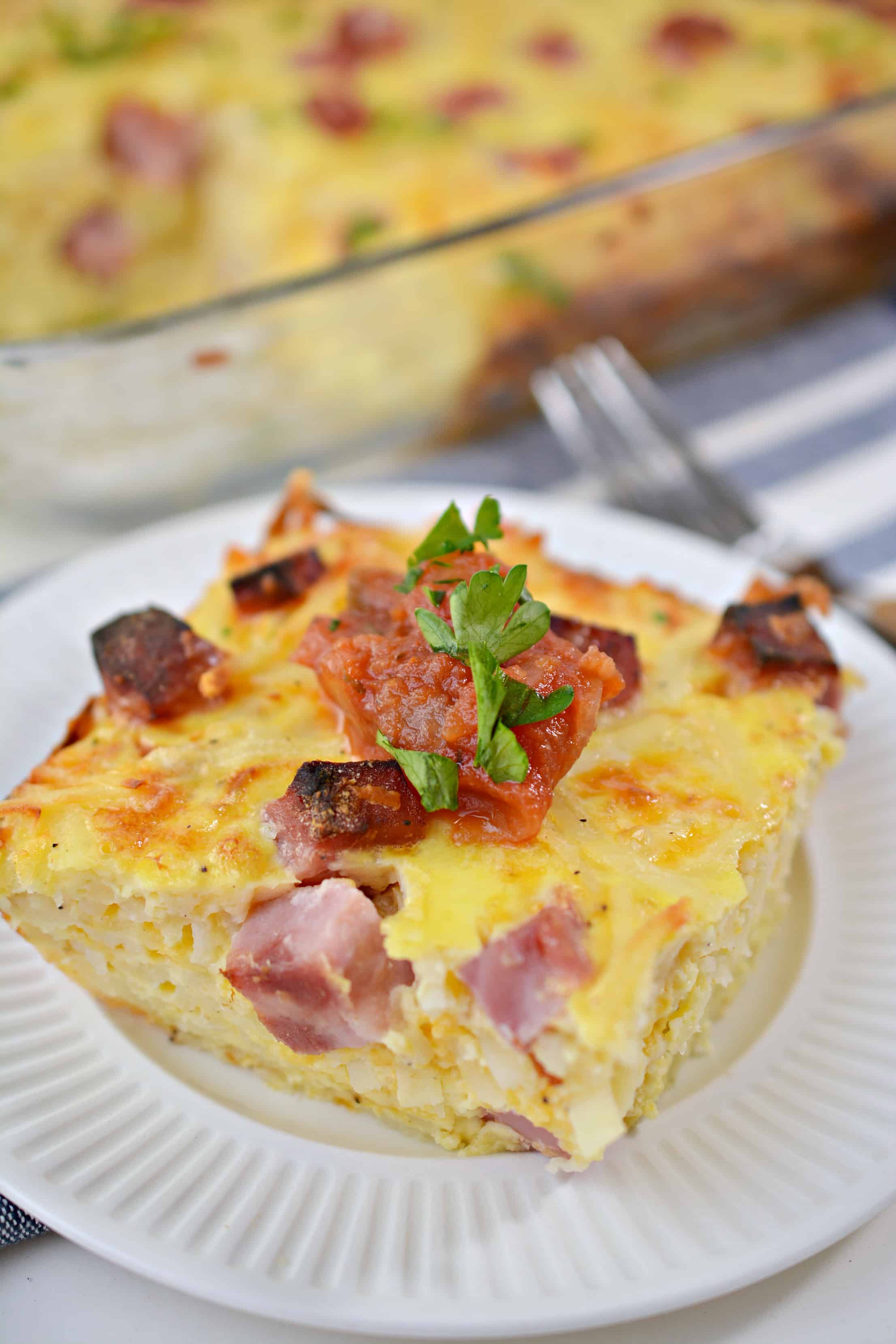 Looking for an Easy Breakfast Casserole Ideas? This breakfast casserole is savory and filling. It tastes amazing and it is great for leftovers as well. This breakfast casserole has the perfect combination of eggs and ham.
Do you ever feel like your kids only want to eat junk food for breakfast? I sure do, so I was on the hunt to figure out a breakfast idea that I could feel good about them eating each day. This easy hashbrown casserole is for sure kid approved because they love every bite. You know the kids love it when they actually ask you when you are going to make it again. That's a great sign!
When you are making this easy breakfast casserole, it is quick to make and is so simple. When you are making this breakfast casserole, it is basically combining a few ingredients and baking. With very little prep work, this easy breakfast casserole is perfect for a filling, delicious start to your morning.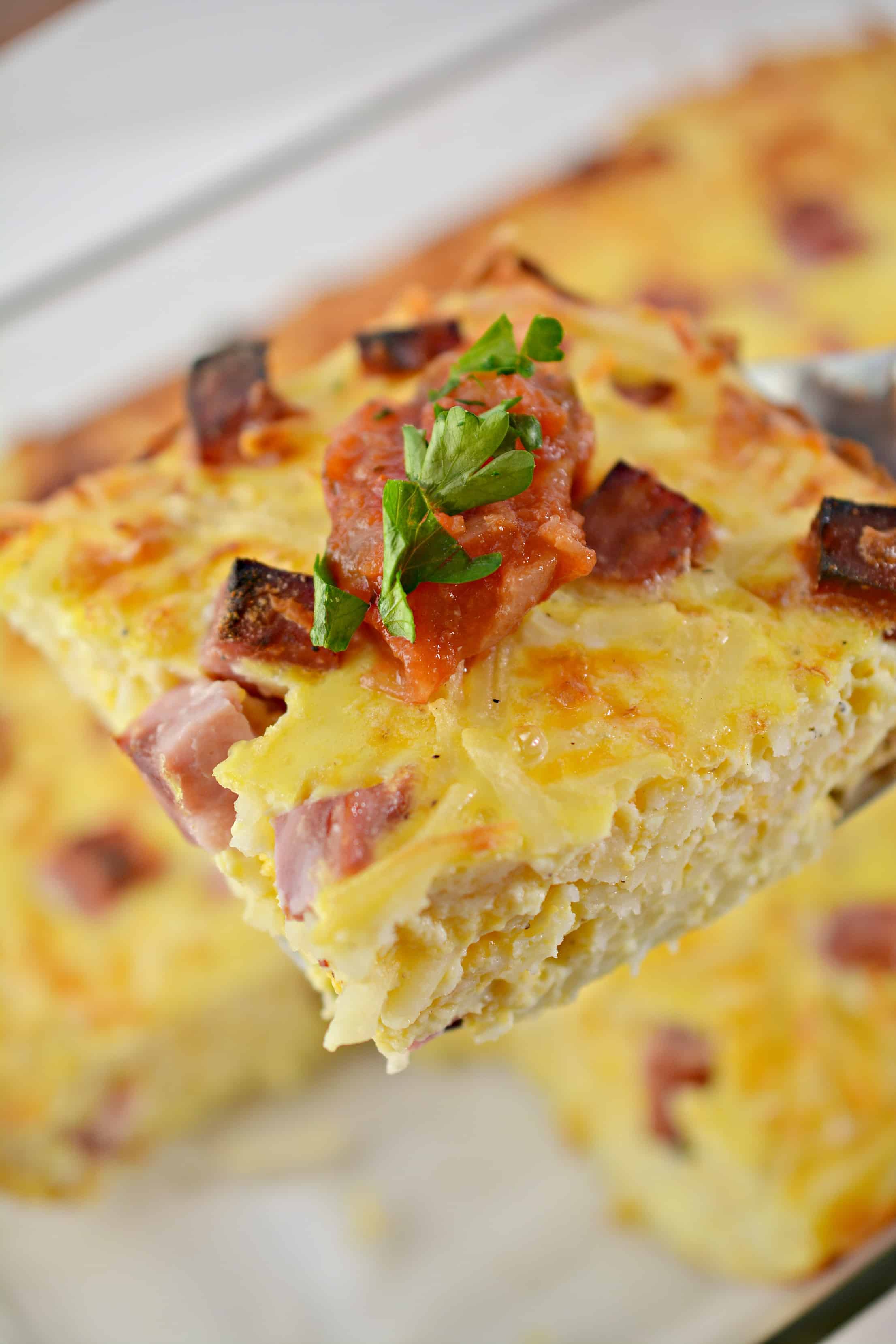 Scroll to bottom for printable recipe card.
Suggestions for when to serve this Easy Breakfast Casserole
You can eat egg casserole for breakfast of course, but there are other occasions when this yummy casserole is going to be a huge hit! Here are a few ideas to try:
Brunch – This is wonderful to serve to a group for brunch. Everyone goes wild for it, and there is never a crumb leftover.
Christmas Morning – Serve this tasty dish for the entire family for Christmas. It's easy, and you don't have to spend a lot of time in the kitchen.
Lunch – You can easily eat this for a light lunch, and it's so good! Sometimes you just need breakfast for lunch, and there is nothing wrong with that.
Dinner – Just like having it for lunch, it's nice and easy to make a quick dinner with breakfast food. Plus, it's something different, so I always welcome the change.
Breakfast Casserole with Ham Variations
This is one of the Breakfast Casserole with Ham Variations because you can do so much with it. Use this recipe as your base and then make changes according to your preferences. Try a few of these tasty ideas:
Bacon – We all know that bacon makes everything taste better, so why not crumble some cooked bacon and toss in. SO DARN GOOD!
Sausage – You could replace the ham with some browned breakfast sausage. Crumble it up and add it to the casserole dish when you put in the hashbrowns.
Onions – I love the flavor of white or green onions in this easy casserole. It adds a new level of yumminess you have to taste to believe.
Peppers – Choose red, green, orange, or yellow peppers for this dish, because they are all delicious. They give the dish an awesome texture too.
Mushrooms – Adding mushrooms to everything is a must in my world! If you are like me, give it a try because I am sure you won't be disappointed.
Tomatoes – Chop of some fresh tomatoes and toss them in or add a drained can of diced tomatoes. Either way is really good.
Mozzarella Cheese – Pair the mozzarella cheese with cheddar, and it's out of this world amazing! Every bite is utterly scrumptious and cheesy.
Tabasco – Drizzle some hot sauce on top of the casserole for a spicy treat. I love the subtle heat it gives.
Salsa – Adding some salsa is so good on this egg casserole. There is just something about the combination of eggs and salsa that I can never get enough of.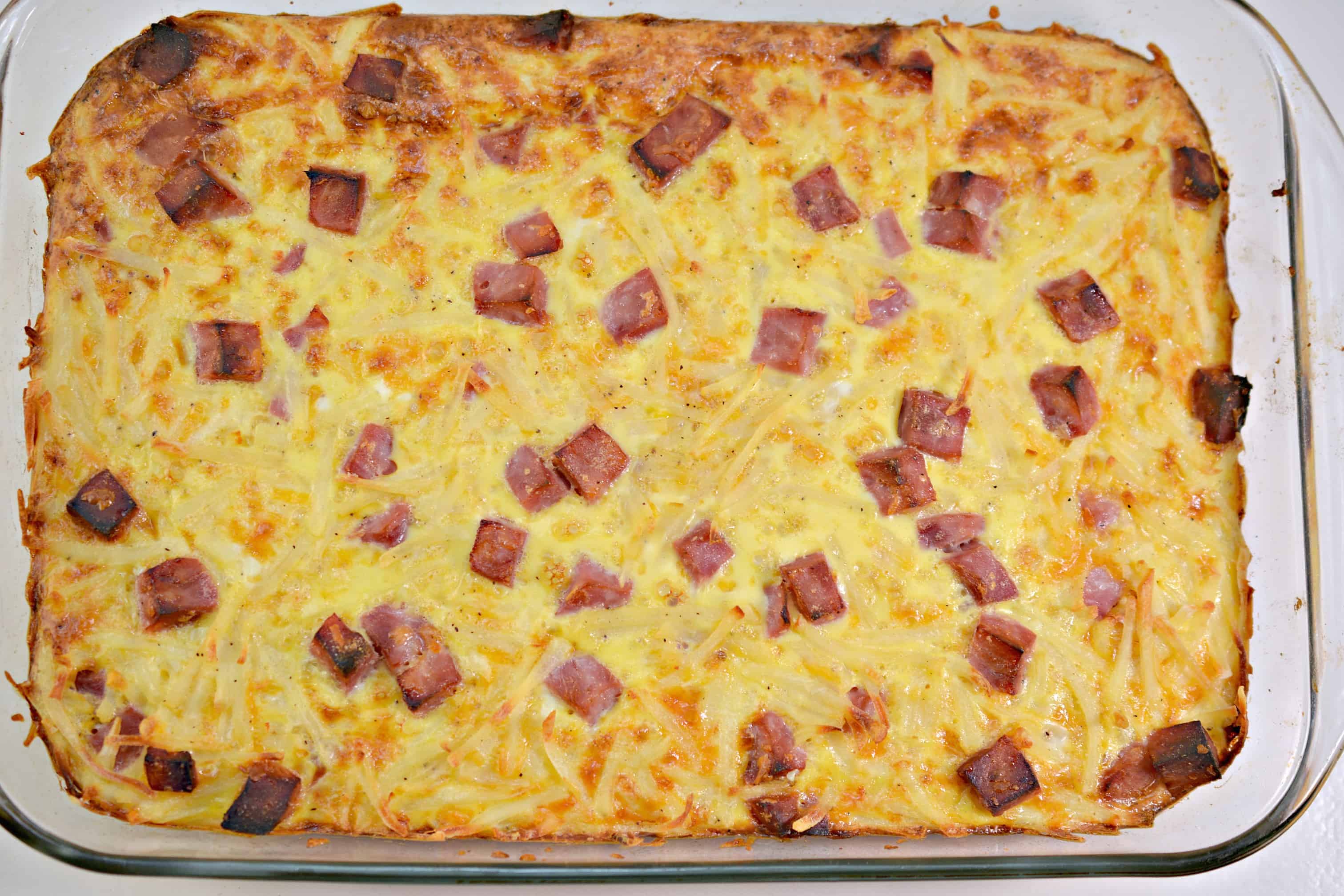 Is this a Make Ahead Breakfast Casserole
This can absolutely be a Make-Ahead Breakfast Casserole. There are a couple of options for making it ahead of time. First, you can get the casserole all ready and in a casserole dish without baking it. Then when you wake up in the morning, you can toss it in the oven. It will last 24 hours not cooked in the refrigerator.
You can also go ahead and bake the casserole and wrap it tightly with plastic wrap. Then it can be in the fridge for 3-4 days. This is wonderful if you like to meal plan because then you can have an easy to grab breakfast without any fuss.
Can You Freeze Breakfast Casserole with Hashbrowns?
Yes, absolutely you can freeze this easy breakfast idea
Breakfast Casserole with Hashbrowns
! Follow the instructions as directed and allow the breakfast to cool down all the way by placing the dish on a wire rack. Once it's cooled, then cover with plastic wrap or foil, set in a freezer container, and it will last up to 1 month. Sometimes, I like to meal individual prep servings. When I do this, I will cut up the casserole in single servings. Then wrap each one with plastic wrap. After they are all wrapped, I will put them in a large freezer bag. I just grab out a piece or two as needed.
How Do You Reheat This Healthy Casserole?
You can reheat this healthy casserole a couple of different ways. First, you can place a piece on a microwave-safe plate, then heat it for 1-2 minutes until it's hot. Sometimes if I am in a hurry, I will cut the piece into much smaller pieces, so it heats quicker.
Another option is to heat it in the oven at 350 degrees for 10-15 minutes until it's hot. Then serve like you usually would.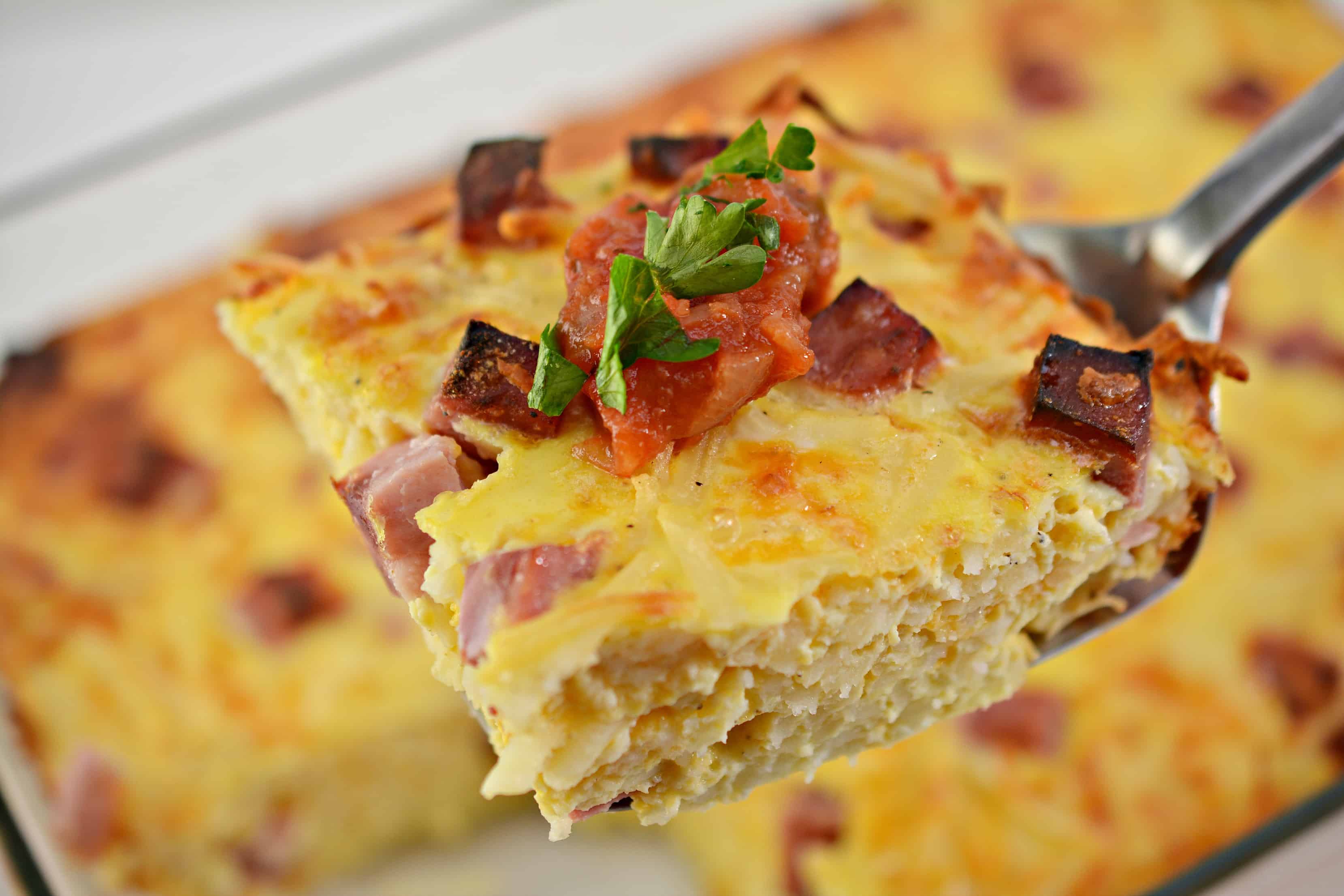 Ingredients in Easy Breakfast Casserole
Eggs
Ham
Milk
Frozen hash browns
Shredded cheddar cheese
Salt and pepper
Cooking spray
How To Make Easy Breakfast Casserole
Heat your oven to 350 degrees F.
Add the hash browns (uncooked), cubed ham, and shredded cheese to a large mixing bowl. Carefully combine so that all the ingredients are incorporated.
Add the hash brown mixture to a 9×13 casserole dish that has been greased. Make sure it's in an even layer.
Beat eggs and milk in a separate bowl until they are combined well.
Pour egg mixture on top of the hash browns. Bake for 50-60 minutes until the top is golden brown and the eggs are cooked all the way through.
Enjoy!
Now, remember to save this recipe on Pinterest for later 🙂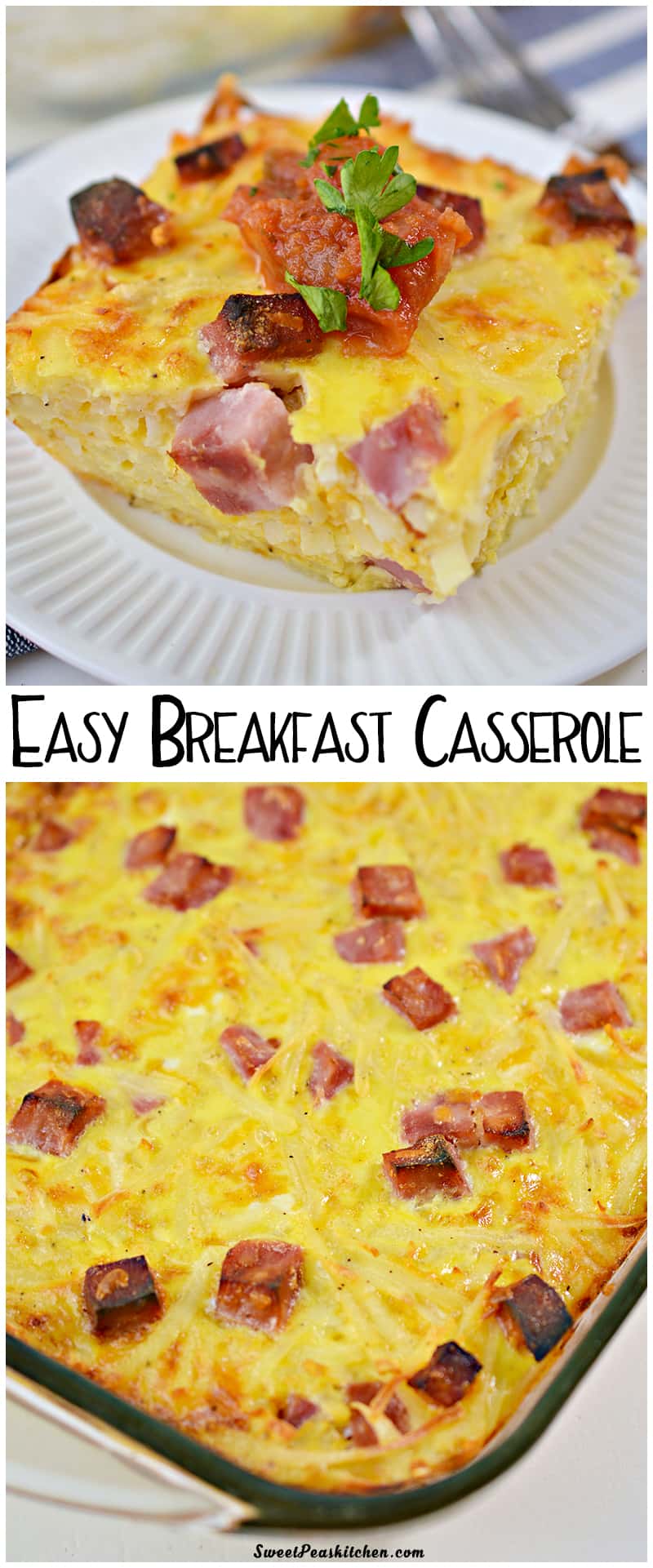 Pin this recipe now to remember it later
Easy Breakfast Casserole
An easy breakfast casserle that is made with eggs, ham and hashbrowns. This breakfast casserole with ham is a tasty way to start the day.
Ingredients
8

oz

Shredded cheddar cheese
Want to save this recipe? Enter your email below and we'll send the recipe straight to your inbox!
NOTE: By saving this recipe, you agree to join our weekly recipes newsletter.
Instructions
Preheat your oven to 350 degrees.

Place the hash browns, cubed ham and shredded cheddar cheese into a large mixing bowl, and mix to combine well.

Pour the hash brown mixture into a greased 9x13 casserole dish in an even layer.

In a separate bowl, combine the eggs and milk, and beat to combine.

Pour the egg mixture over the hash brown mixture in the casserole dish, and bake for 50-60 minutes.
Follow me on Pinterest for daily delicious recipes!
Want More Breakfast Ideas?
Nutella Stuffed Pancakes – Perfect for a special breakfast!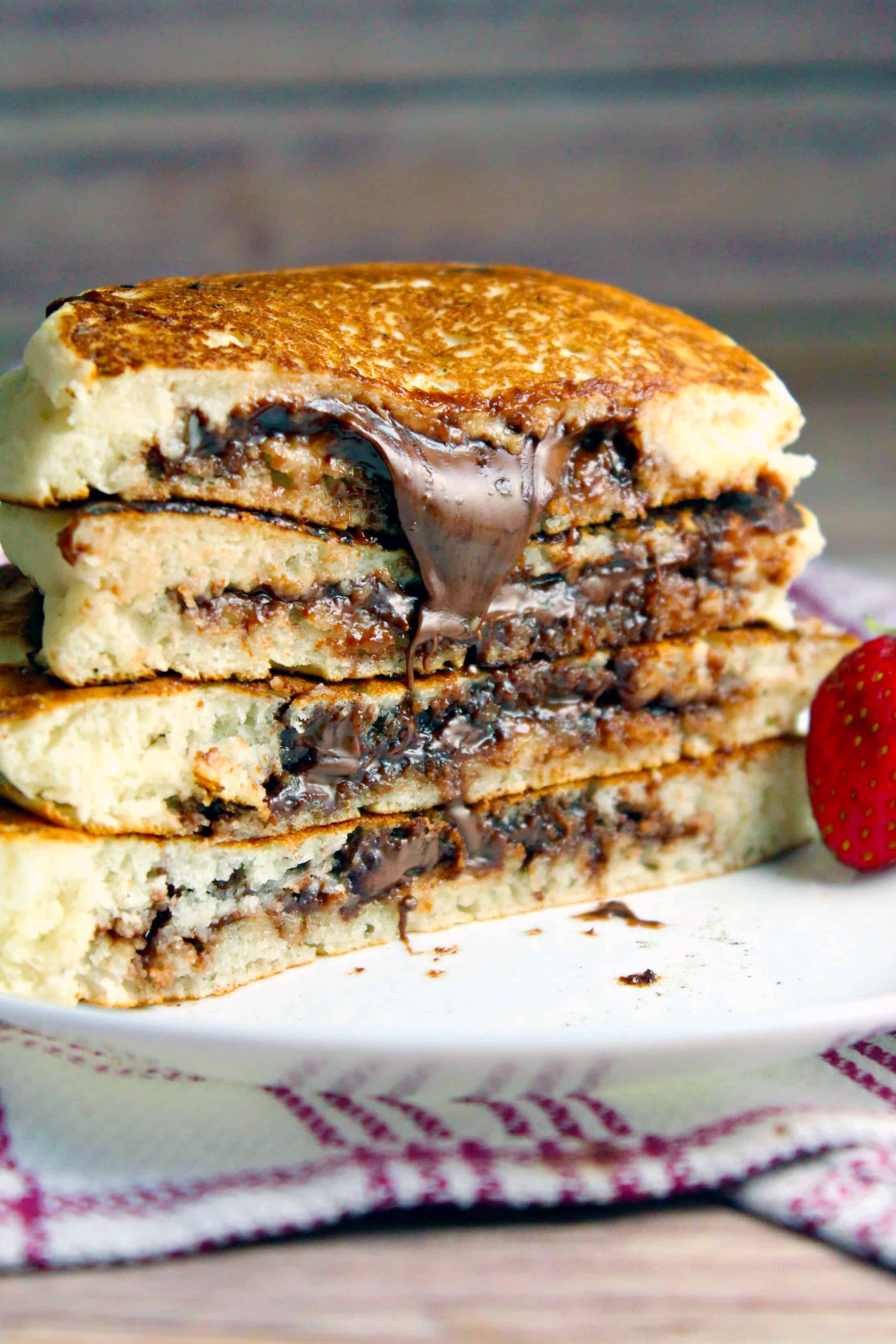 Pumpkin Spice Coffee Cake – A tasty way to kickstart your morning!
Meat and Cheese Croissant Overnight Breakfast Casserole – Mouthwatering good!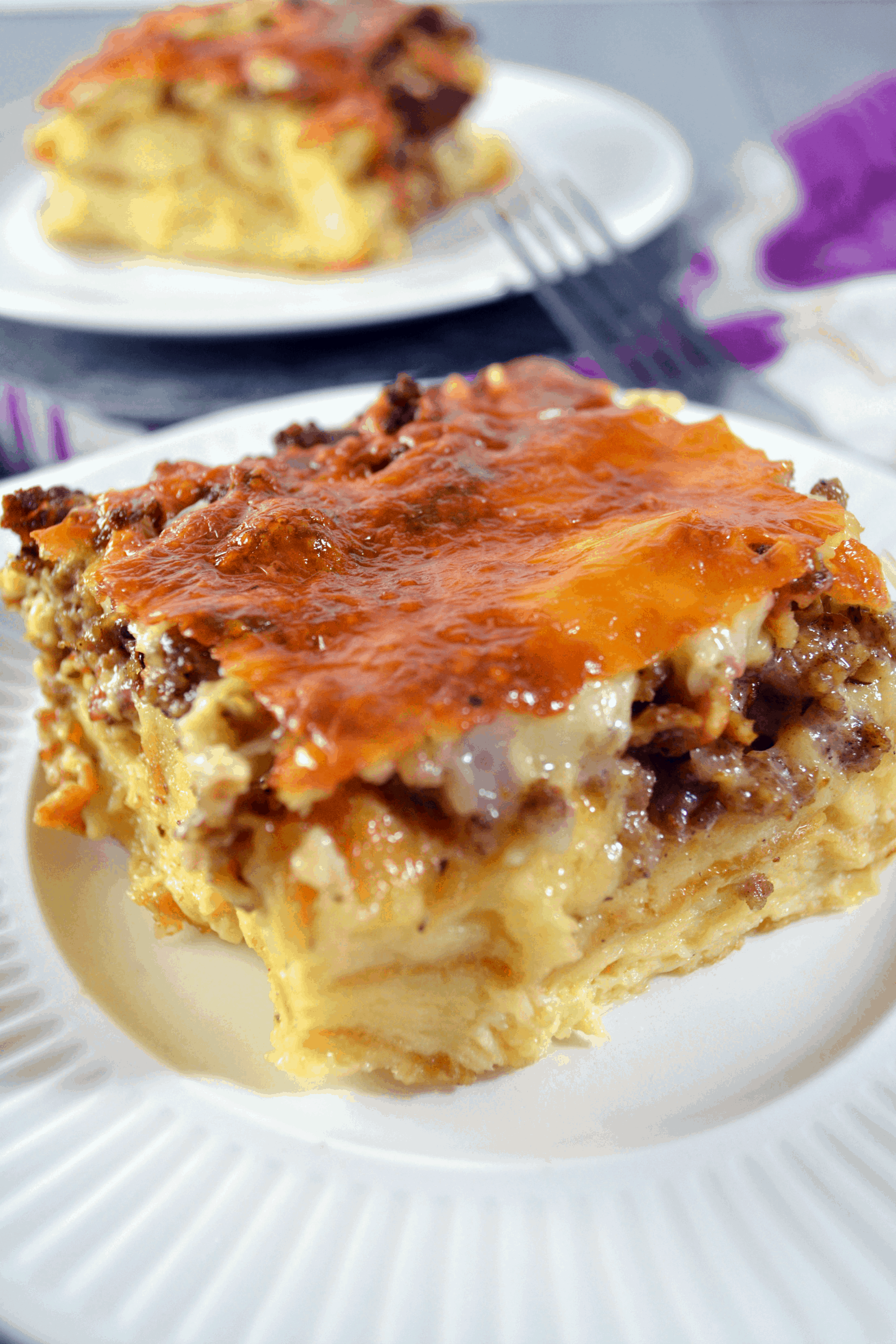 Pumpkin Breakfast Casserole – This pumpkin breakfast recipe is sure to be a crowd-pleaser.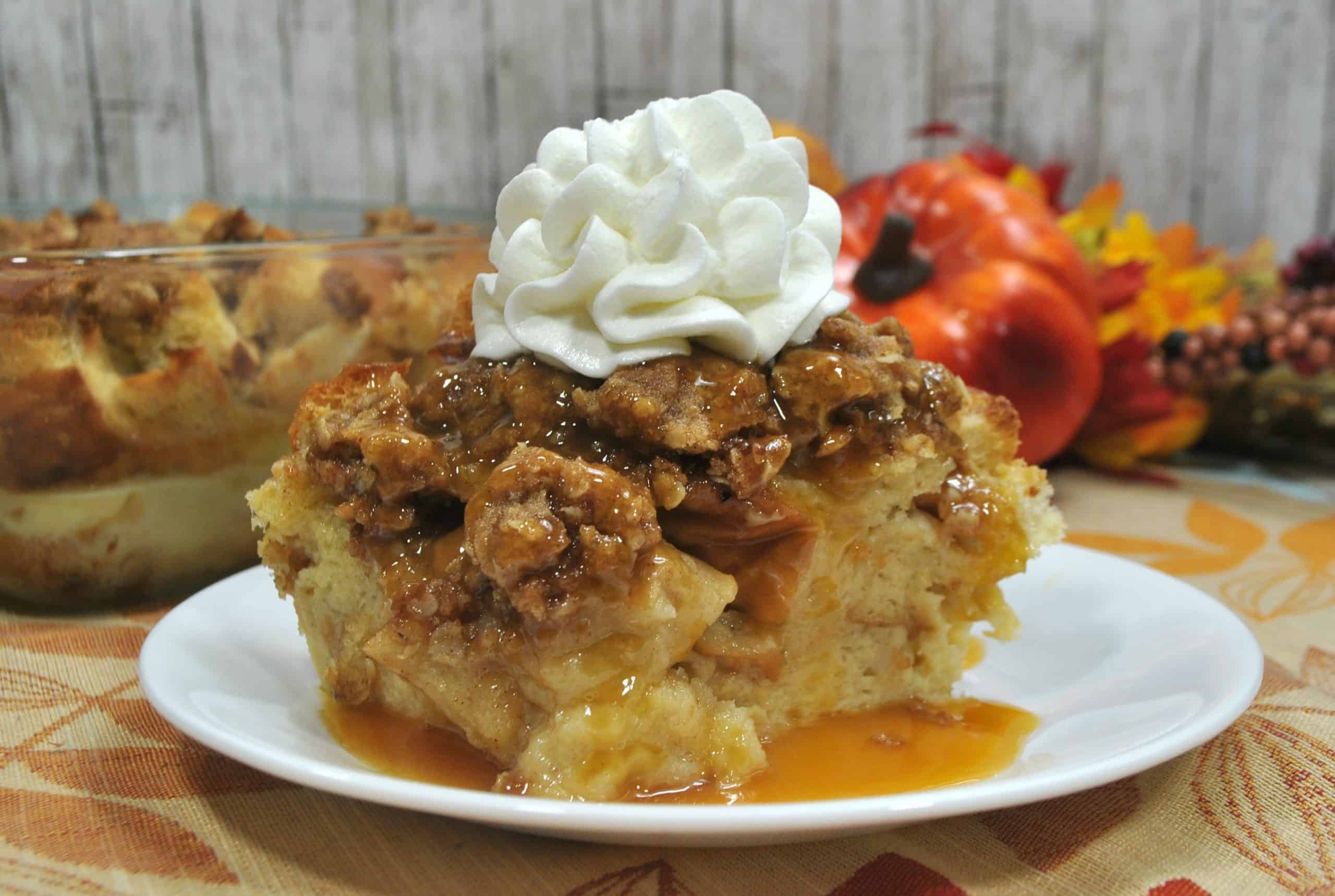 Pumpkin Spice Doughnuts – Pumpkin donuts are easy to make for breakfast!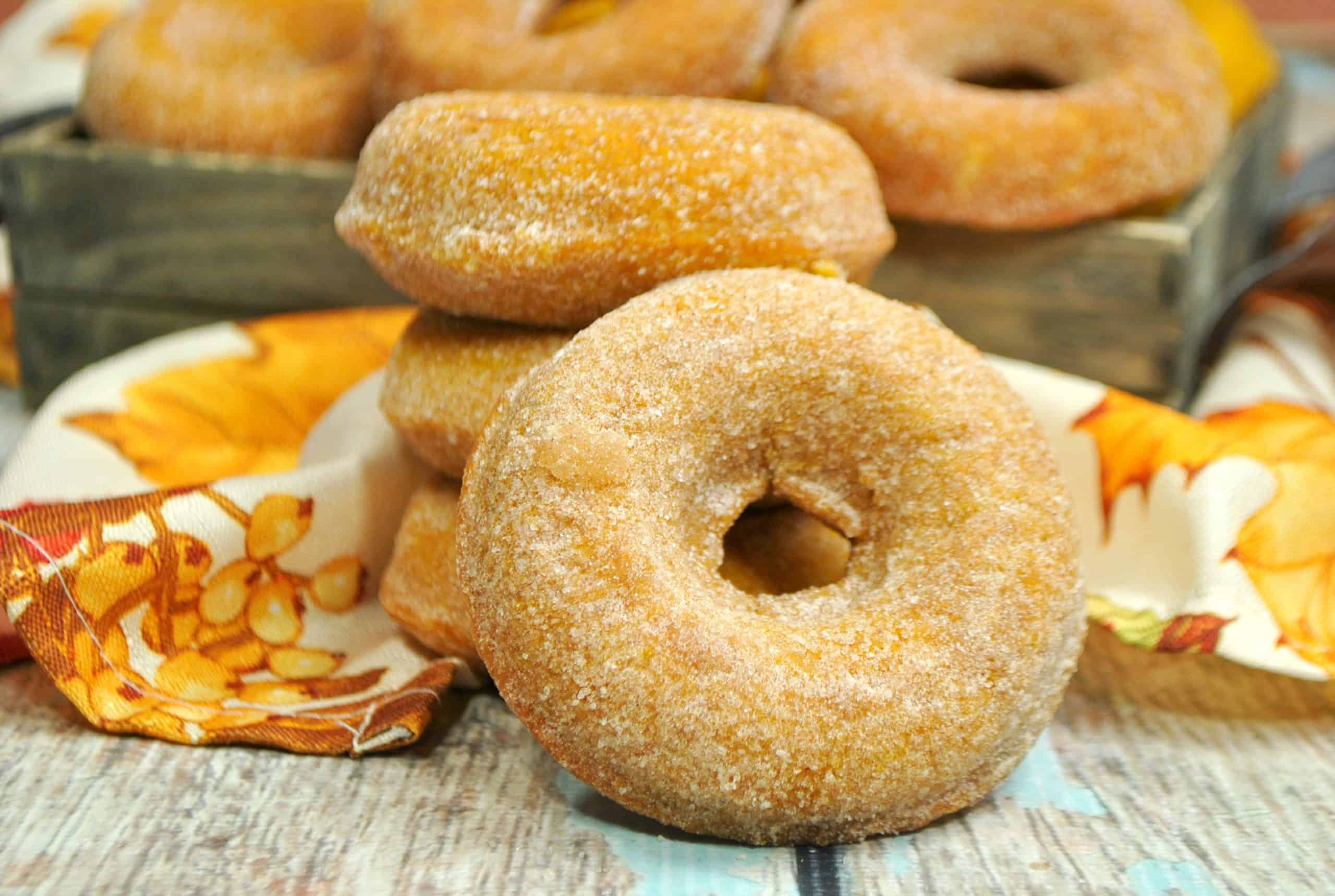 Get new recipes weekly plus our FREE ebook!