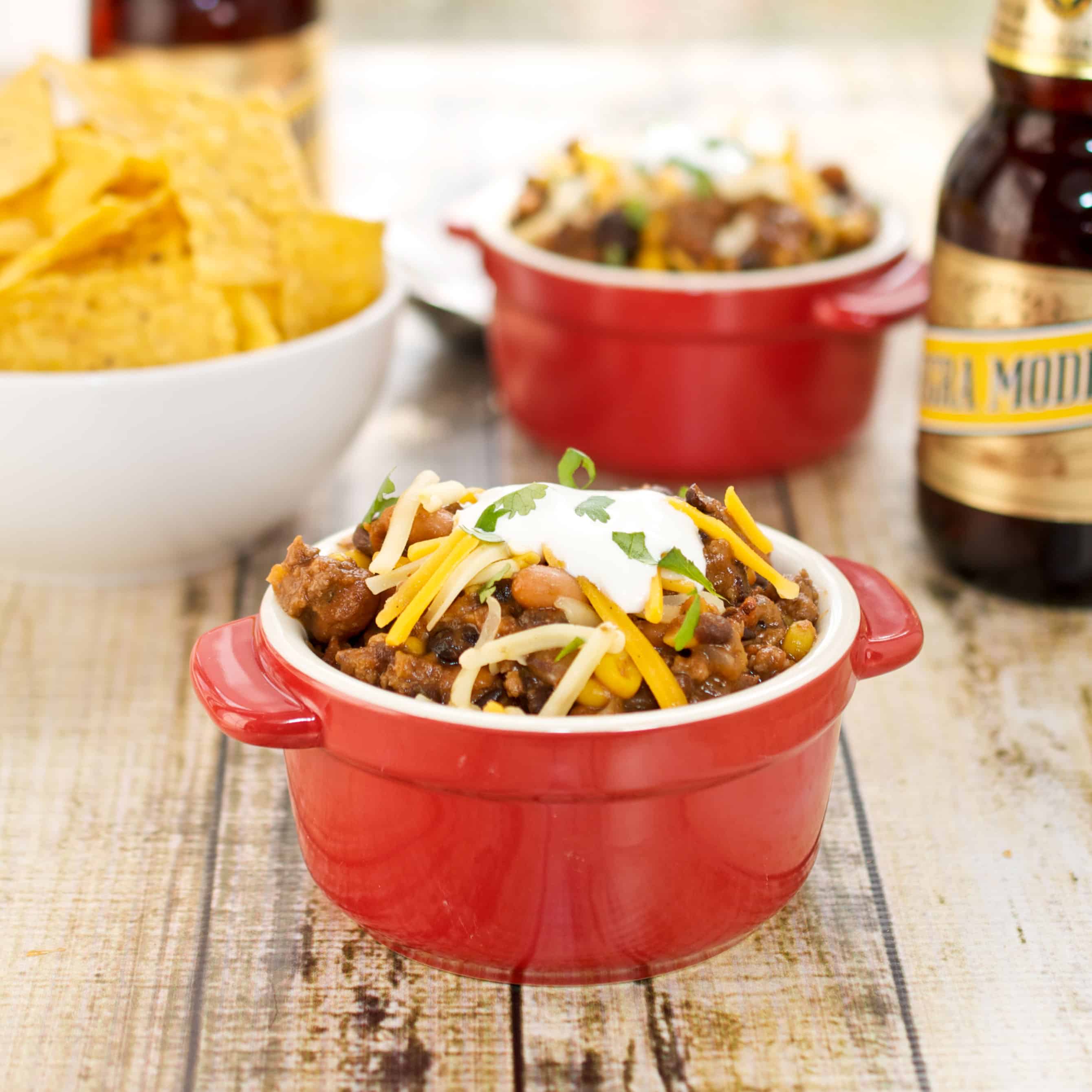 When the weather is cool, it's time to break out this Easy Taco Soup Recipe! It's packed with lots of yummy ground beef, onions, fire-roasted tomatoes, beans, corn, green chilies, taco seasoning, and ranch dressing. This ground beef taco soup is an easy dinner that works for busy weeknights.
Scroll to bottom for printable recipe card.
Easy Taco Soup Recipe
Today I'm sharing with you one of my favorite cold weather meals-Taco Soup. It's super simple and incredibly delicious (you can even throw it in the crockpot!) The fire roasted tomatoes give the chili a nice kick. If you aren't a fan of spicy, you can use plain diced tomatoes instead.
We love eating this fall soup recipe even when it's not fall! Honestly, we will eat this taco soup at any time of year. I know lots of people only eat soup in cold weather, but there is nothing better than an easy soup for a light lunch. We also like to make it for meal prepping. It's a great option to have on hand, so you don't have to actually cook every day if you don't want to.
Can I Substitute Ground Beef In Soup
Oh yes! You have several options when it comes to exchanging the ground beef for something else. First of all, you can completely omit the hamburger if you want a vegetarian meal option. Another option is swapping the ground beef for ground turkey, sausage, or ground chicken. They are all flavorful options that will go well with all the other taco soup ingredients.
One other option that is my favorite is to use boneless skinless cooked chicken. Shred it up and toss it into the soup. It tastes great and is a fun option that will keep you coming back for more.
Can I Make Soup Spicier
Yep, absolutely! Feel free to add in some diced jalapenos to kick up the heat. Another option is to give the easy taco soup a sprinkle or two of cayenne pepper. It's a tasty option to make the soup a little bit spicier. Sometimes, we will also add some red pepper flakes when we are in the mood for spice.
How to Store Leftovers
Let the taco soup cool down all the way. Once it's cooled, you can pour it into a plastic or glass food storage container. Make sure it's sealed well, and the lid fits tightly. Place the leftovers in the refrigerator, and it will last up to 3 days. Reheat in a saucepan using medium heat or microwave for 1-2 minutes or until it's hot all the way through.
Can I Double Recipe
Of course! Doubling the recipe is so easy. You can even triple the taco soup if you need to. Each batch of taco soup will produce 8 servings. So you will need to multiply that by however many people you are going to be feeding. I recommend if you need to make a lot and keep it warm, you can pour it into an electric roasting pan on the lowest setting. This will keep it warm without cooking it, so it's ready to serve your family or friends.
Does This Soup Freeze Well
This soup is a great freezer meal. To freeze, allow the soup to cool to room temperature before placing in a freezer Ziploc bag or container. It will stay good for up to six months in the freezer!
Ingredients
It's both amazing and surprising that you can prepare this soup only using ten ingredients. Once you taste it, you will feel like it's got to be made with lots of ingredients and time. However, that couldn't' be further from the truth. Let's take a look at what you will be needing.
Ground beef
Chopped onions
Fire-roasted tomatoes
Diced tomatoes with green chilies
Black beans drained and rinsed
Pinto beans, drained and rinsed
Whole kernel corn, drained
Chopped green chilies
Taco seasoning
Ranch salad dressing and seasoning mix
How to Make Taco Soup
With just a handful of steps, you can easily replicate this recipe. Feed a hungry crowd or keep it to yourself for a low-key dinner idea. I have a feeling it's sure to be your next favorite soup recipe.
First Step: Begin by browning ground beef in a large dutch oven using medium-high heat. Add in the onions and use a wooden spoon to break it up and stir the beef and onions. Once the hamburger is no longer pink, drain and put back in the dutch oven.
Second Step: Add in the black beans, pinto beans, tomatoes, green chiles, and corn. Stir well and mix in the taco seasoning as well as the ranch salad dressing mix.
Stovetop Method: Cover the dutch oven and cook for 30 minutes or an hour using low heat. Be sure to stir on occasion, so it doesn't burn to the pan.
Slow Cooker Method: Pour all the ingredients (the ground beef needs to be browned) into your crockpot. Cook using low heat for 6-8 hours.
Third Step: Sprinkle with salt, pepper, and all your favorite toppings. Enjoy!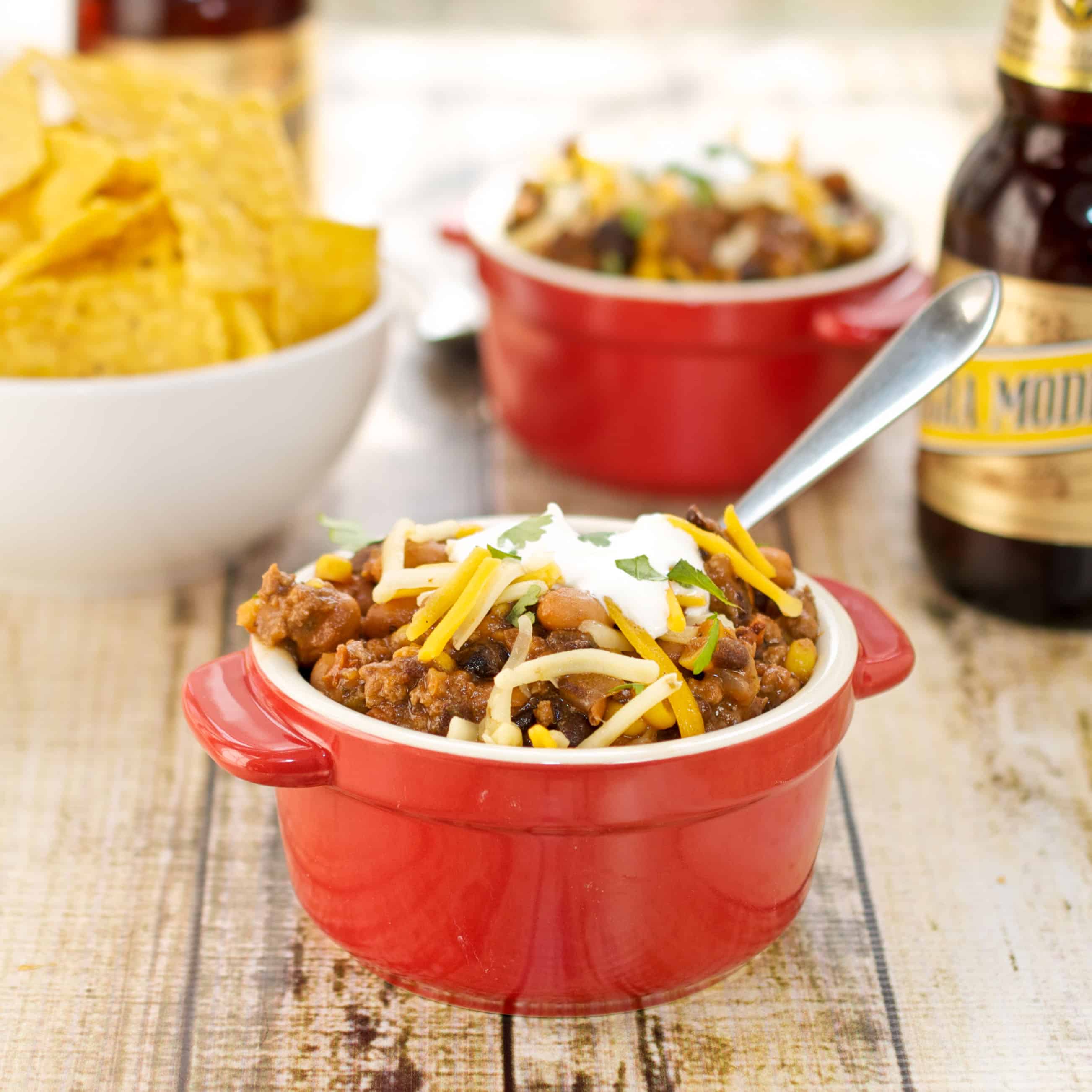 Soups are an easy and delicious meal option that is great for literally all occasions. Perfect for potlucks, fancy dinner parties, low-key dinner parties, lunch, or any other occasion when you want something with bold and delicious flavors.
Pin this recipe now to remember it later
Taco Soup
Super simple and delicious Taco Soup
Ingredients
1

14 1/2 ounce can fire-roasted tomatoes

1

10 ounce can diced tomatoes with green chilies

2

15 ounce cans black beans, drained and rinsed

1

16 ounce cans pinto beans, drained and rinsed

1

15 1/4 ounce can whole kernel corn, drained

2

4 1/2-ounce cans chopped green chilies

1

1-ounce envelope taco seasoning

1

1-ounce envelope ranch salad dressing and seasoning mix
Want to save this recipe? Enter your email below and we'll send the recipe straight to your inbox!
NOTE: By saving this recipe, you agree to join our weekly recipes newsletter.
Instructions
In a large dutch oven,add the ground beef and onions and cook, using a wooden spoon to break up large pieces, until no longer pink; drain.
Add tomatoes, black beans, pinto beans, corn and green chiles. Stir in the taco seasoning and ranch salad dressing mix.
To make on the stovetop: cover the pot and simmer soup over low heat for at least 30 minutes and up to 1 hour, stirring occasionally.
To make in a slow cooker: combine cooked beef and remaining ingredients and cook on low heat for 6 to 8 hours.
Season to taste with salt and pepper. Serve with your favorite chili toppings, such as cheese, sour cream, or tortilla strips.
Follow me on Pinterest for daily delicious recipes!
Get new recipes weekly plus our FREE ebook!