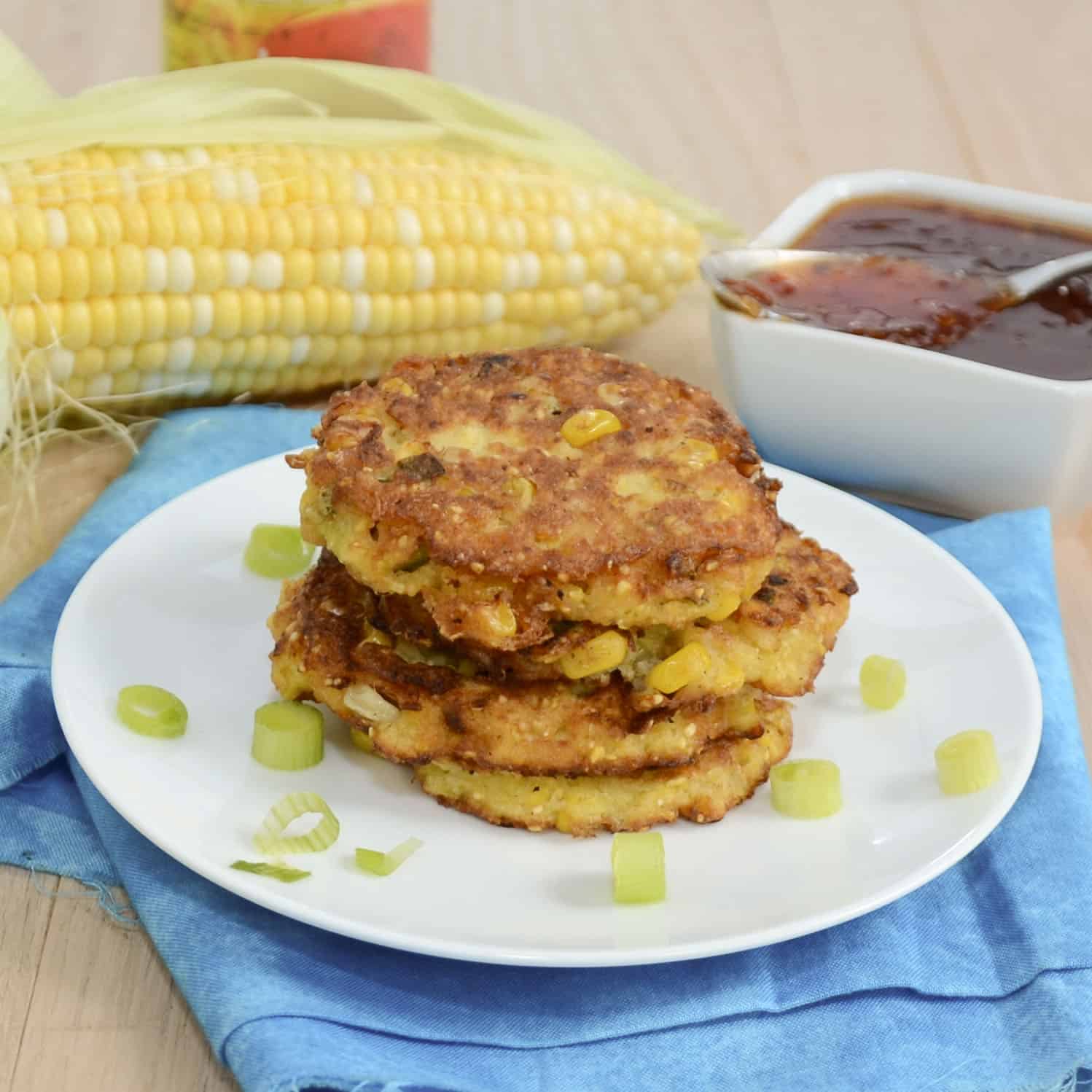 This Farmstand Corn Fritters Recipe will leave you satisfied and impressed by the incredible flavor. If you haven't tried corn fritters before, there is no better time than now.
Homemade corn fritters are SO popular and have been around for a long time. Plus, these drool-worthy beauties are easy to make too.
Farmstand Corn Fritters Recipe
The heat and lack of rain that we have been experiencing lately has really taken a toll on not only our lawn but also the quality of produce at our farmer's market. You see, this year's corn crop has been less than desirable. The heat and drought that we have been in is really taking a toll on our local corn crop. However, while strolling around the local farmers market this past weekend I spotted some delicious looking bicolor sweet corn. I eagerly bought a dozen ears hoping not to be disappointed. That night we grilled a few ears to serve with dinner, and I was definitely not disappointed! In fact, it was some of the sweetest, most tender and flavorful corn I have ever tasted. The only regret I had was that I didn't buy another dozen! 😀 I have had this recipe for corn fritters bookmarked for quite a while now, but I didn't want to try them with just some so-so corn. If you have never had a crispy corn fritter, you are really missing out! They're light, crisp, creamy in the middle and crisp on the outside and packed with fresh corn flavor. By combining whole corn kernels, grated kernels, and corn pulp, you get fritters with great texture and the fullest corn flavor possible. Serve these fritters with some Maggi's Sweet Chili Sauce for a summer appetizer you will find yourself making again and again!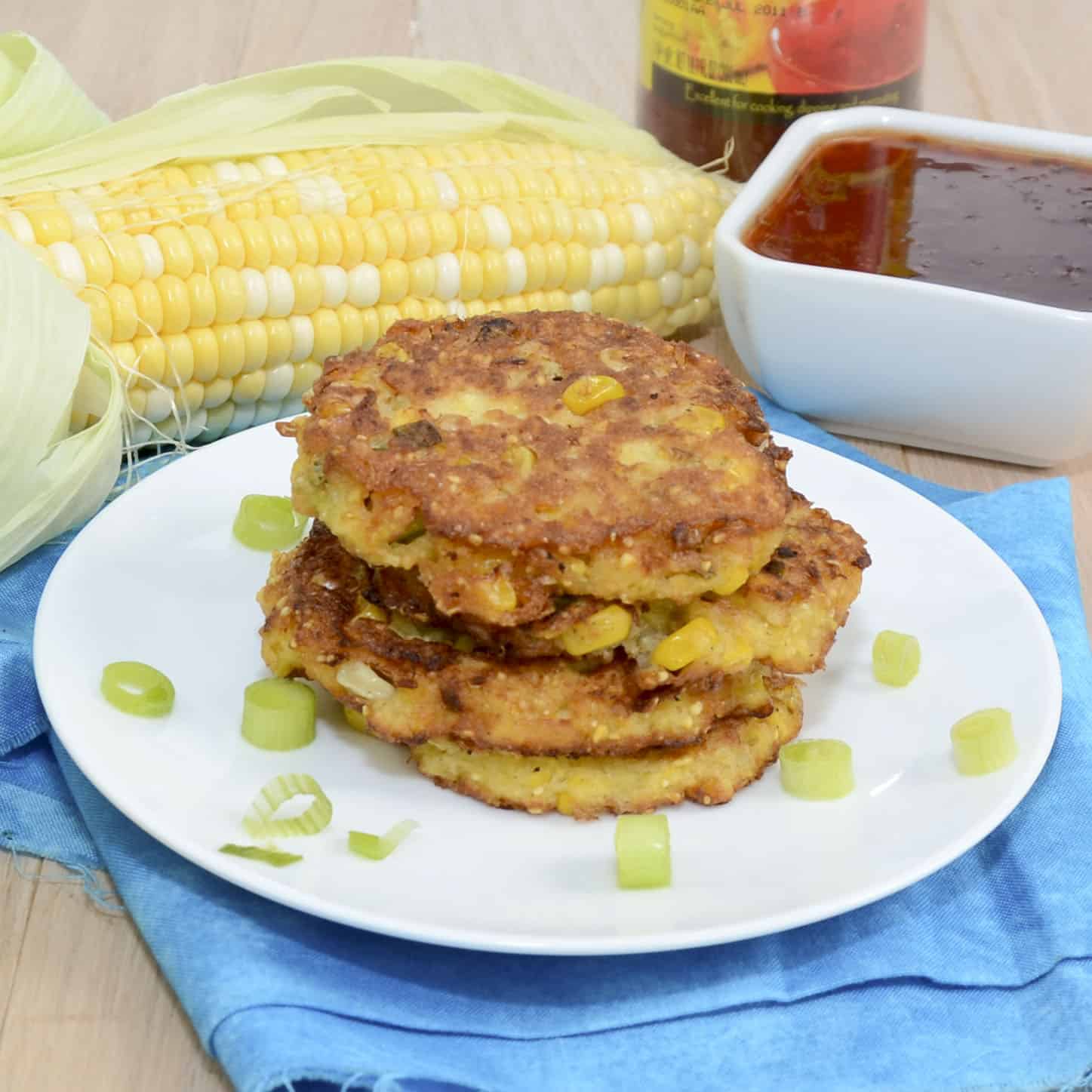 Can I Use Frozen Corn Instead?
You betcha! Using frozen sweet corn is a great option when you can't find corn in season. There are many times when it's hard to find good quality corn at your local farmer's market. That is when frozen corn can swoop in and save the day. You should allow it time to thaw or run it under some cool water to defrost it. It doesn't need to be all the way thawed, just enough that it's not solid or sticking to the other kernels.
I bet you didn't know you can use canned corn too! Just drain it and add it to the recipe like you would frozen or fresh corn. It will turn out just as lovely as fresh, and you won't even know the difference.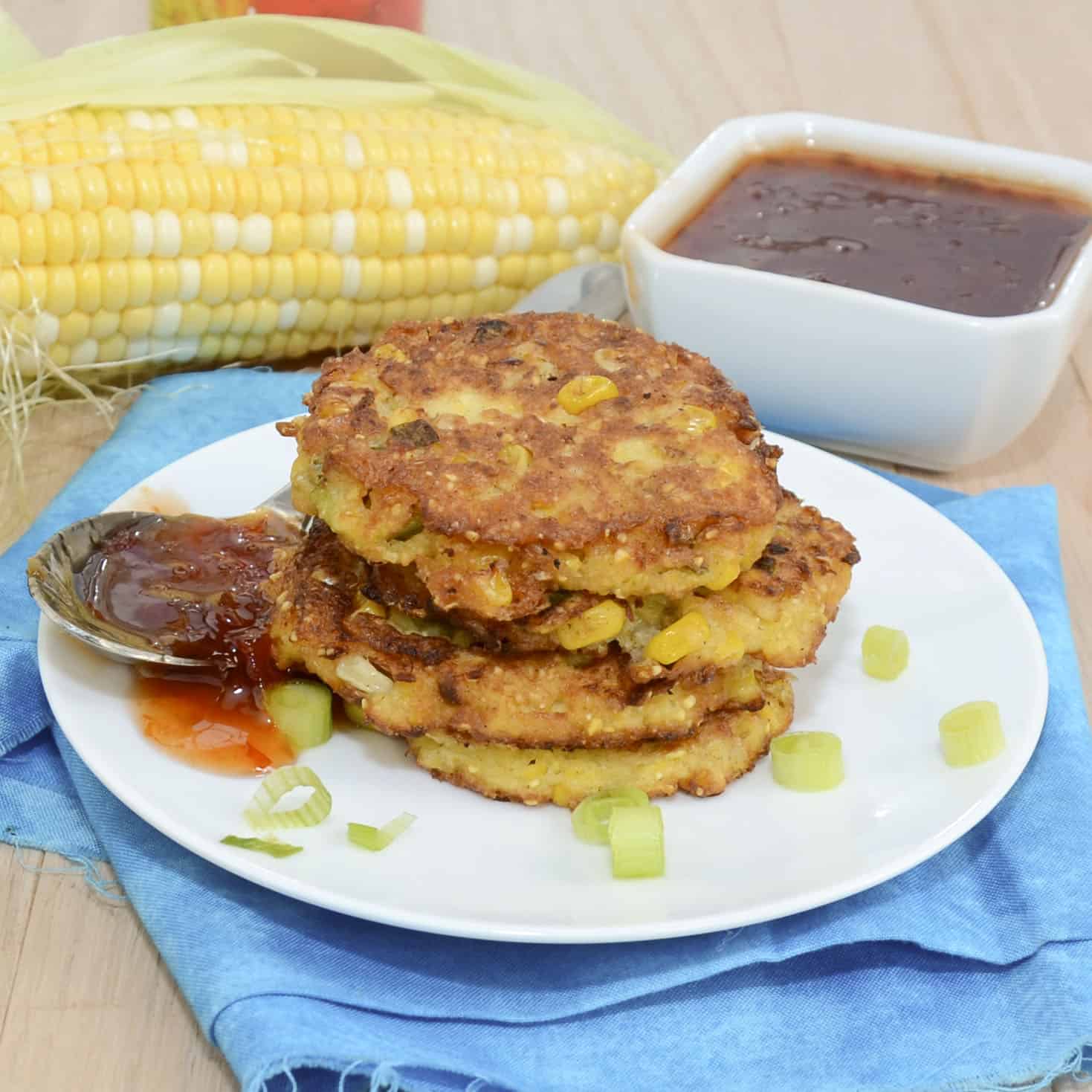 Can These be Made in the Air Fryer?
Yes, you can easily make these corn fritters in your air fryer if you want. You will need to spray the air fryer with some oil and then flip them. They will probably take a little longer to cook in the air fryer than a skillet, so you will need to check them. Once they are golden brown, you can turn them over if needed to cook the other side. Then serve and enjoy!
Ingredients
These beautiful corn fritters are made with fresh corn, egg, cornmeal, heavy cream, and a few other basic ingredients. You can add extra cayenne pepper if you want a little more spice or even a dash or two of sugar if you want them to be sweeter.
How to Make a Corn Fritters Recipe
You can make a batch of these corn fritters in a snap! It's that easy, and the flavor is beyond terrific. We love to make them when we host a barbecue or have friends over. Everyone fills up happily on the corn fritters before the rest of the meal is served. They are so good you could eat them as a meal by themselves.
First Step: Strip the corn kernels from one or two ears of corn. Make sure to only strip the portion that is sticking out of the cob and don't go any deeper, or you will end up with fibrous material. Place the cut kernels in a bowl and set aside. You need to end up with 1 cup of corn kernels.
Second Step: Take a large box grater and grate the kernels from the rest of the corn cobs. You need to have a heaping 1/2 cup of grated corn kernels. Then add them to the large bowl of stripped kernels. Take the back of a butter knife and scrape it across the cobs to remove any remaining pulp and put it in the bowl.
Third Step: Add in the egg, flour, cornmeal, heavy cream, scallions, salt, and cayenne pepper with the corn. Stir until combined.
Fourth Step: Heat up the oil in a large, heavy non-stick skillet using medium-high heat until it's shimmering. Then drop 6 large tablespoons of batter into the pan. Fry them until they are golden brown or for 1 minute on each side. Drain each of the corn fritters on a paper towel-lined wire rack with a jelly roll pan underneath to catch any drips. Continue cooking corn fritters until they are all done.
Serve right away and enjoy it!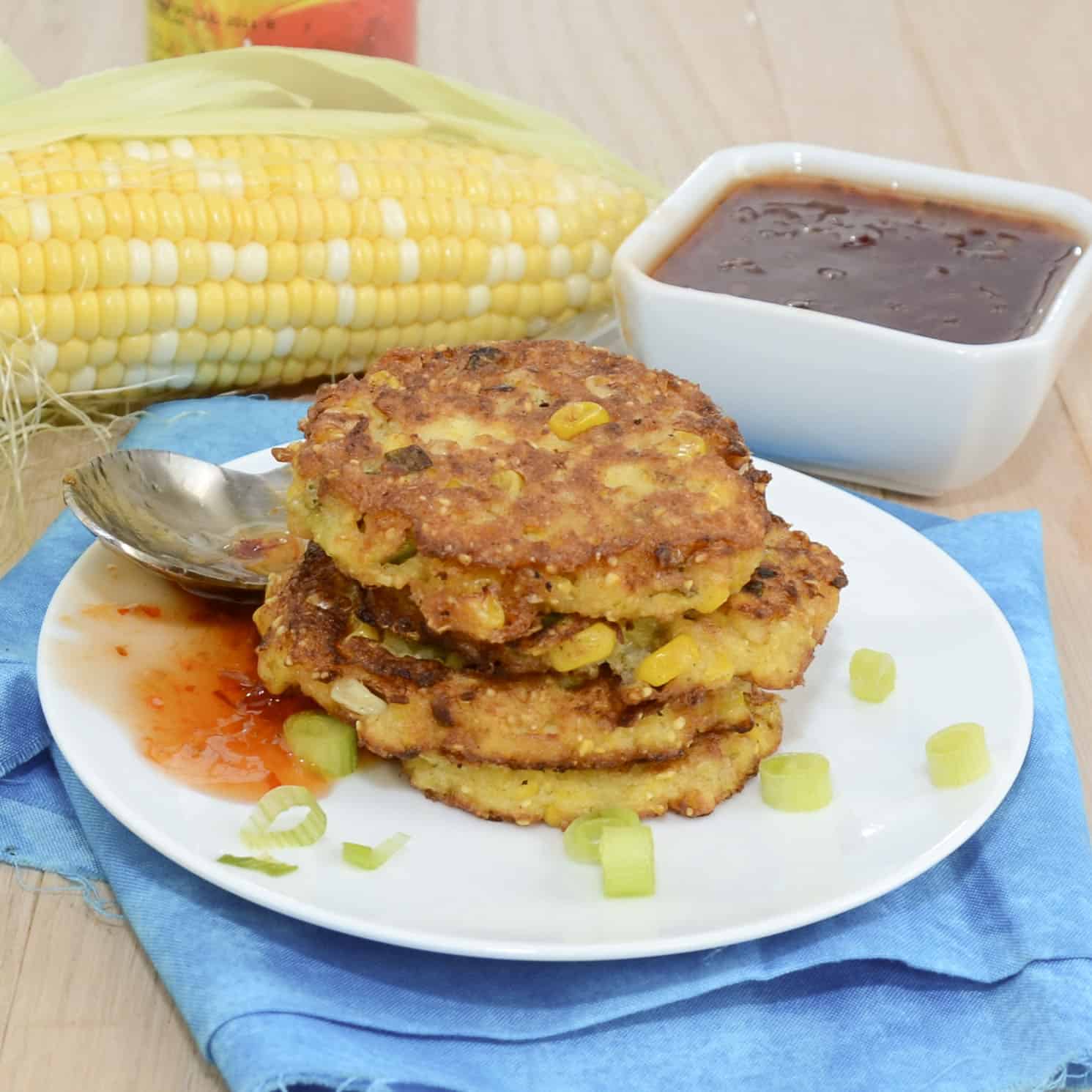 Now, remember to save this recipe on Pinterest for later 🙂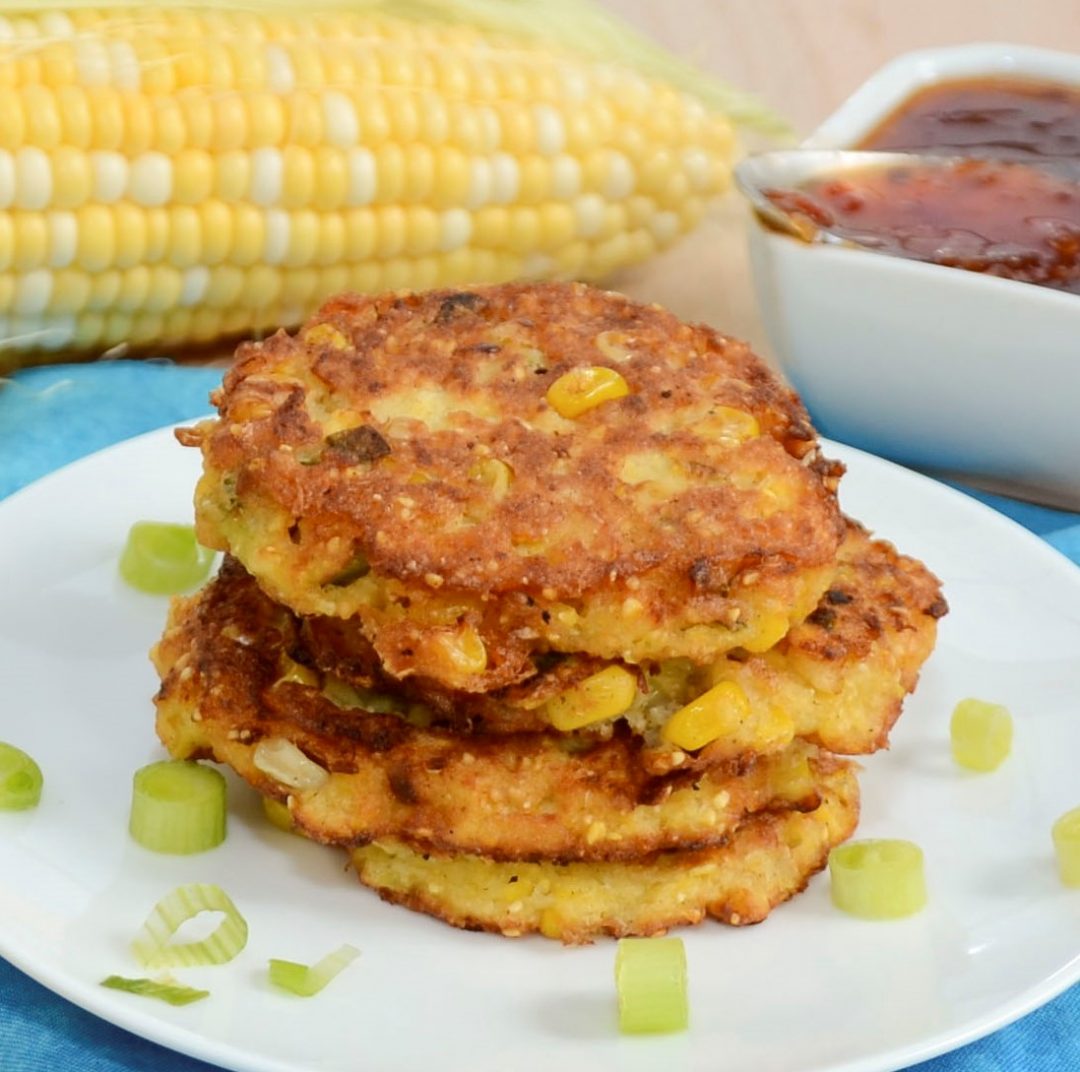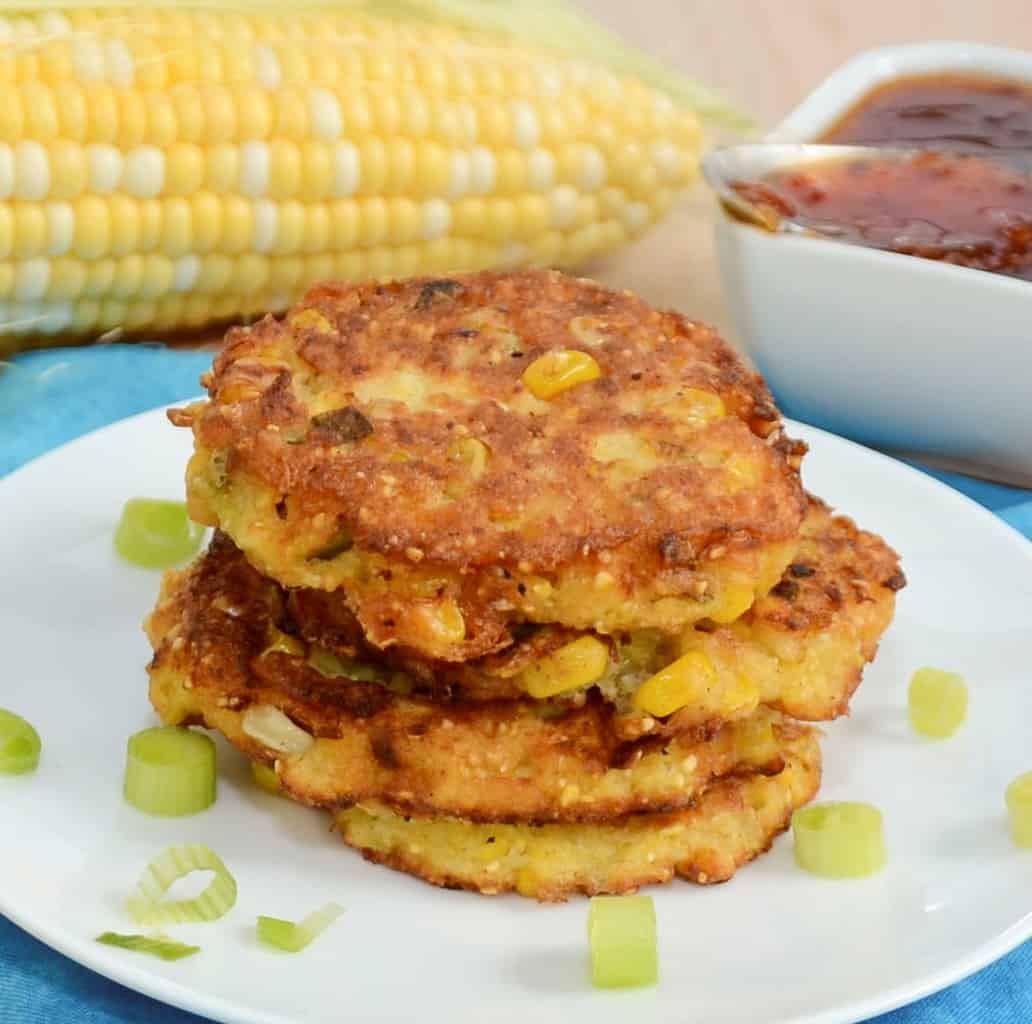 Farmstand Corn Fritters
This Farmstand Corn Fritters Recipe will leave you satisfied and impressed by the incredible flavor. If you haven't tried corn fritters before, there is no better time than now. Homemade corn fritters are SO popular and have been around for a long time.
Ingredients
1 ½ pounds fresh corn (2 large or 3-4 medium ears), husks and silk removed
1 large egg, beaten lightly
3 tablespoons all-purpose flour
3 tablespoons cornmeal (preferably stoneground)
2 tablespoons heavy cream
4 medium scallions, white and green parts, minced
1/2 teaspoon salt
pinch cayenne
1/2 cup corn or vegetable oil, as needed
Instructions
Using a chef's knife or corn stripper, cut kernels from 1 to 2 ears of corn (depending on size); Being careful to remove only the part of the corn kernel sticking out of the cob; cutting deeper will pull off fibrous material. Transfer the cut kernels (you should have 1 cup kernels) to a large bowl and set aside.
Grate the kernels from the remaining ears of corn on the large holes of a box grater. You should have a generous 1/2 cup of grated kernels. Add to the bowl with the whole kernels. Using the back of butter knife, firmly scrape any remaining pulp on cobs into the bowl.
Stir in egg, flour, cornmeal, cream, scallions, salt and cayenne.
Heat oil in a large heavy-bottomed non-stick skillet over medium-high heat until shimmering. Drop 6 heaping tablespoons of batter into the pan. Fry until golden brown, about 1 minute per side. Drain on a triple thickness of paper towels set on wire rack over a jelly roll pan. Repeat with remaining batter, returning oil to temperature between each batch and replacing oil if needed. Serve immediately.
Nutrition Information:
Amount Per Serving:
Calories:

0
Total Fat:

0g
Saturated Fat:

0g
Trans Fat:

0g
Unsaturated Fat:

0g
Cholesterol:

0mg
Sodium:

0mg
Carbohydrates:

0g
Fiber:

0g
Sugar:

0g
Protein:

0g
If these Farmstand Corn Fritters left you drooling and begging for more, check out my other appetizers!