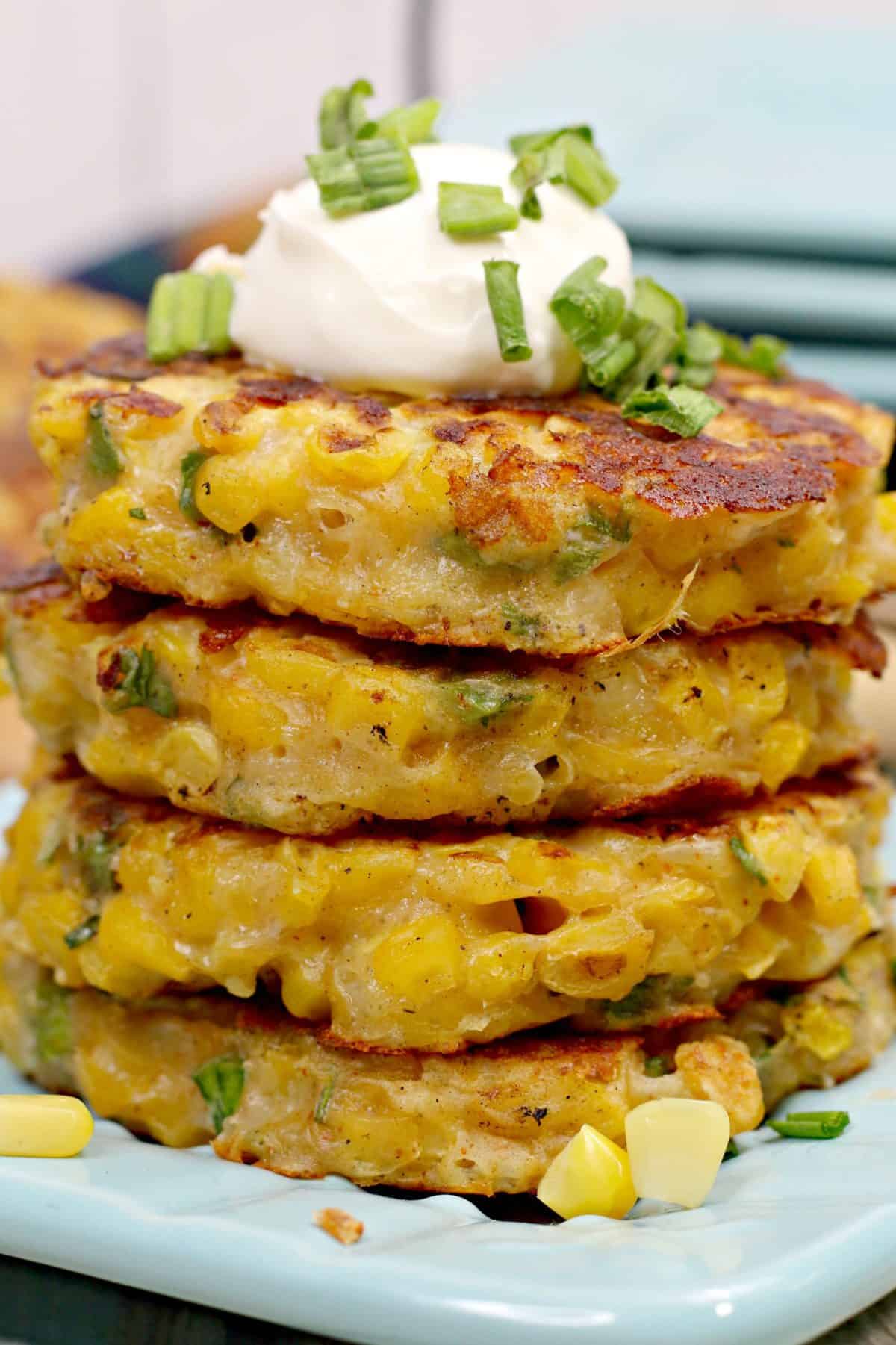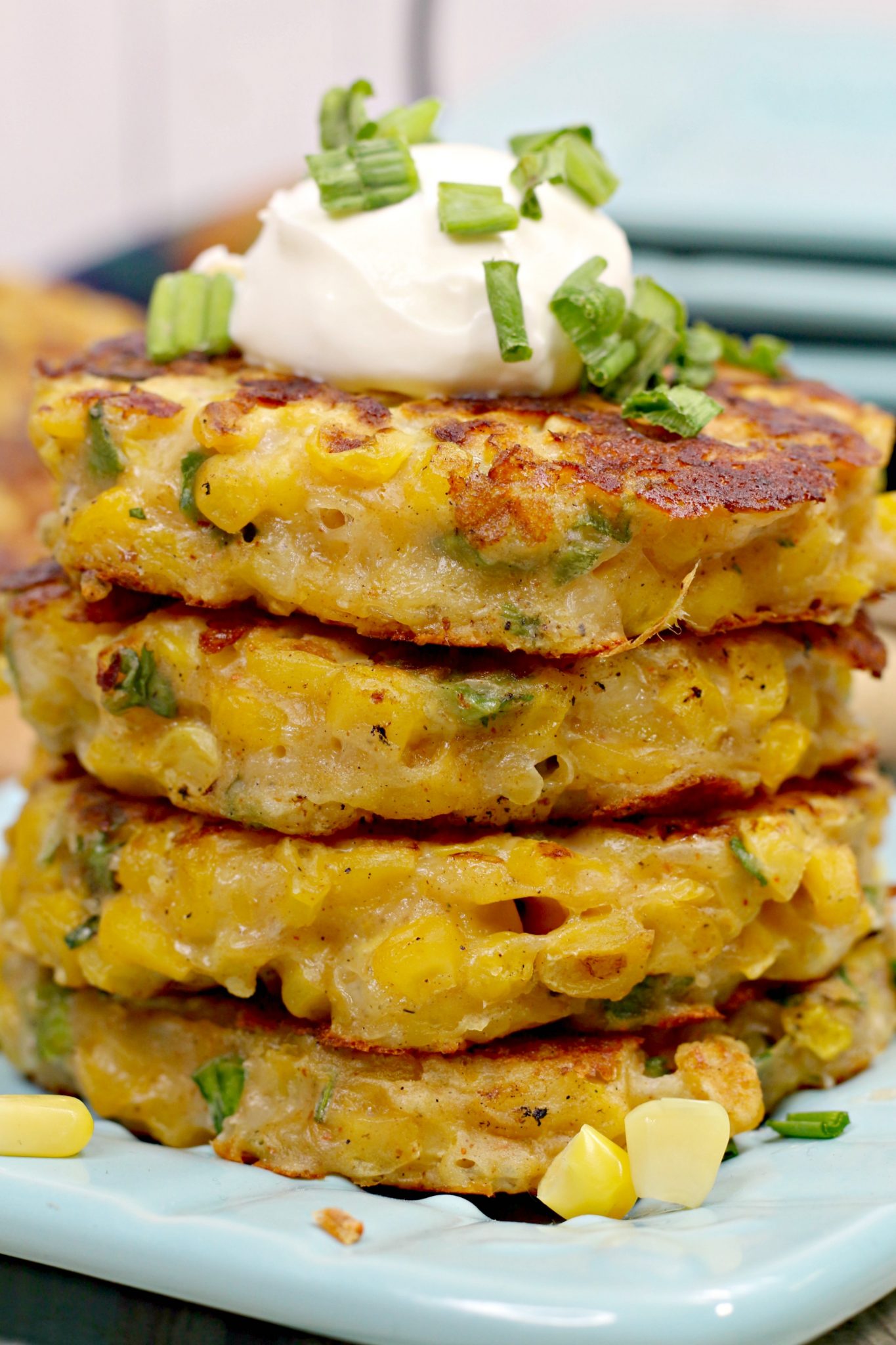 This Quick and Easy Pan-Fried Corn Fritters Recipe recipe is something you are going to fall in love with. When you sink your teeth into these cheesy corn fritters, you're going to be amazed by all the delicious ingredients.
Every bite of these fried corn cakes is filled with fresh jalapenos sweet corn green onions cilantro, and it's seasoned perfectly.
Scroll to bottom for printable recipe card.
Quick and Easy Pan-Fried Corn Fritters Recipe
We were recently invited to a friend's house for dinner, and I was in charge of bringing the appetizer. I knew immediately, that I wanted to make my new amazing fritter recipe. Everything about these fried cheesy appetizers is crowd-pleasing and brings a smile to everyone's face who eats it.
I can't blame them because I'm infatuated with their unique flavor and wonderful texture.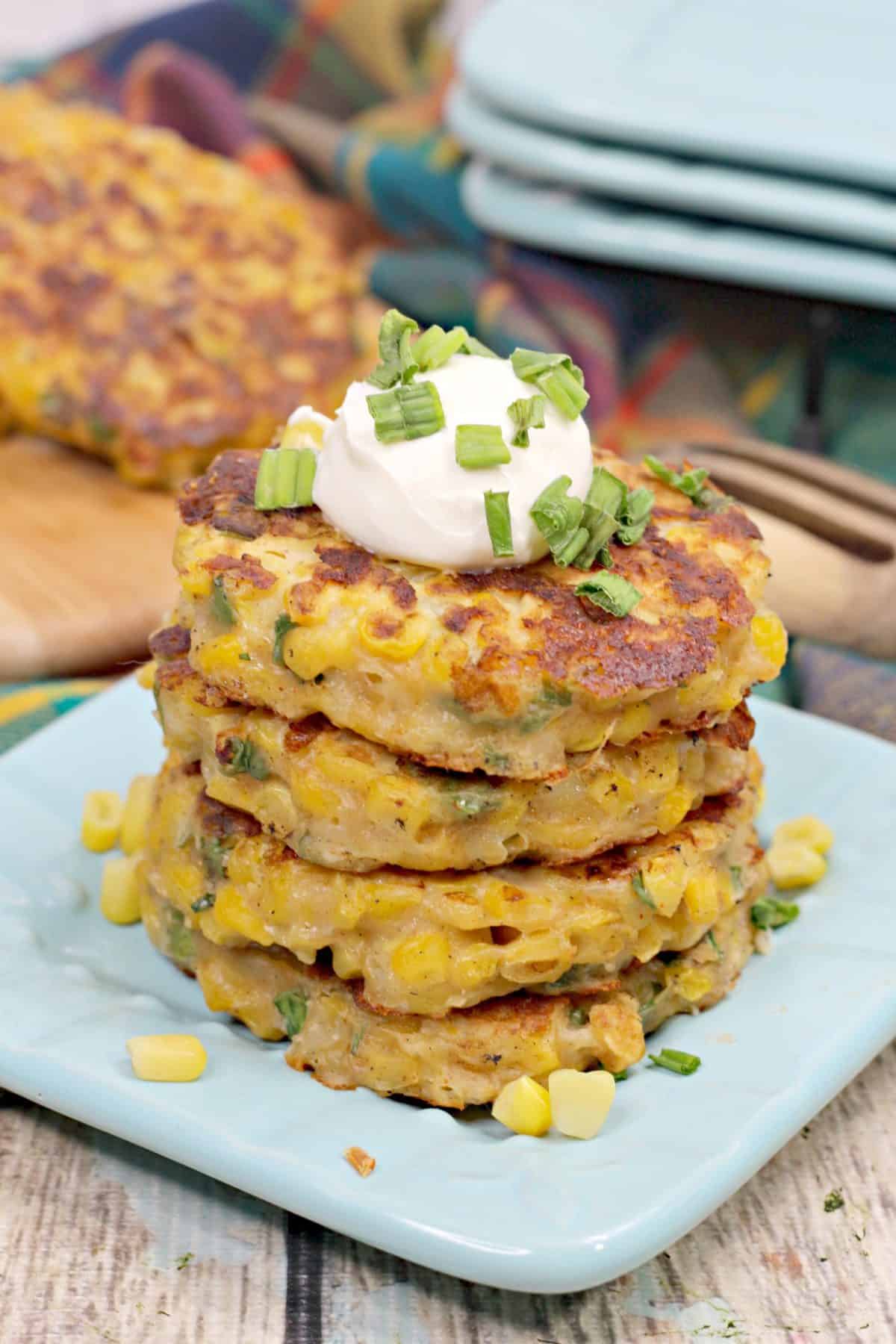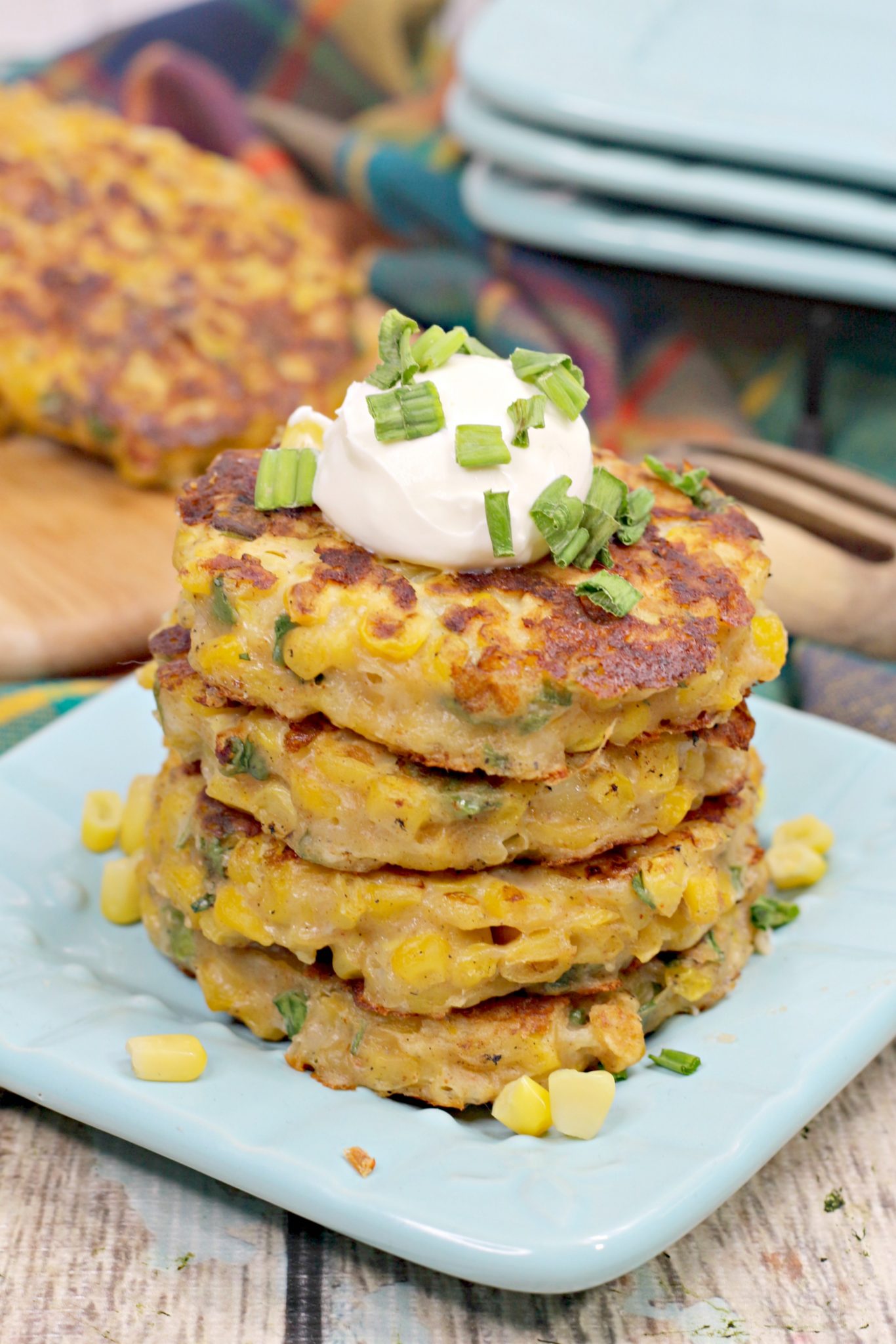 The only bad part about making these corn cakes is that everybody ate them so fast I only got to eat one! That's okay, though; at least I knew they all really liked them, so it was worth it. Next time you were looking to make a delicious appetizer, you really need to make these cheesy corn fritters because everybody will enjoy them.
Can you freeze corn fritters?
Yes, you can absolutely freeze corn fritters. All you need to do is flash freeze the corn fritters by placing them on a baking sheet for 2 to 3 hours. After they have Frozen, removed fritters from the pan and add them to an airtight freezer-safe container. The corn fritters will last in the freezer for two to three months.
You can reheat the corn fritters by placing them in the oven at 350° for 10 to 15 minutes or until they're hot all the way through. Or you can also warm them any Skillet with a little bit of olive oil in the bottom of the pan.
Make sure to flip them halfway through to make sure they warm up properly all the way through. They only take a couple of minutes to warm up in the skillet, so don't let them cook for too long.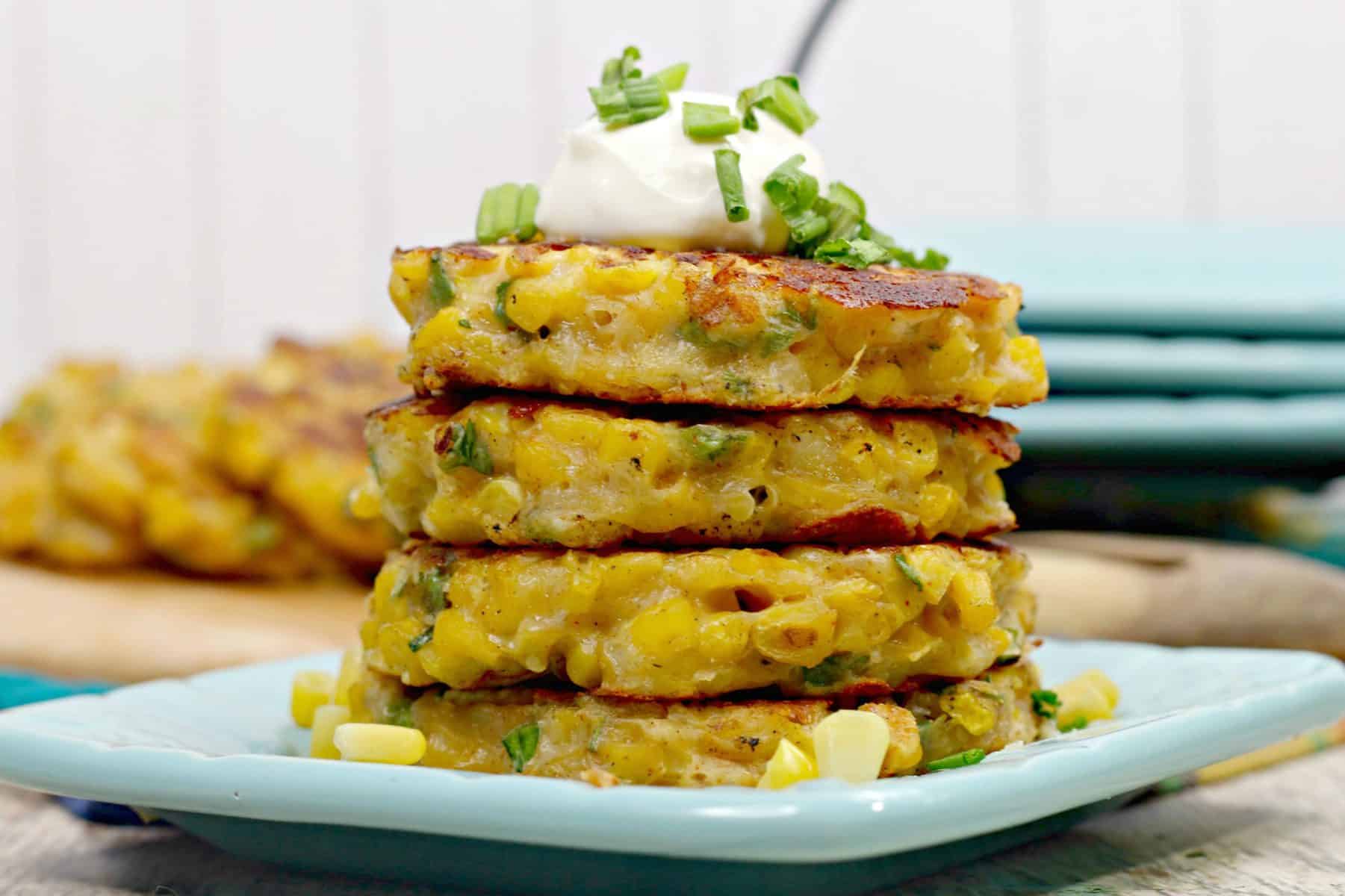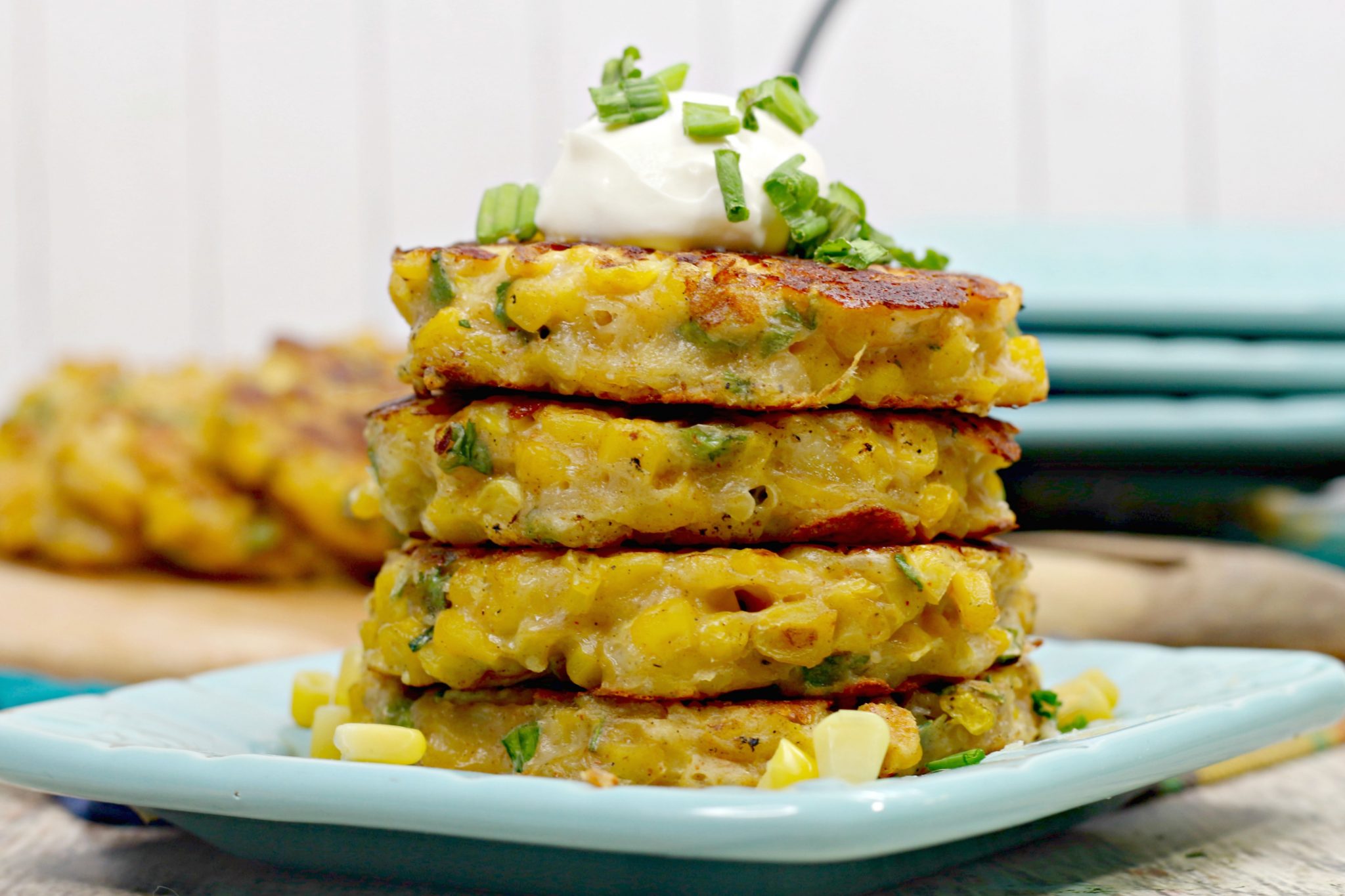 Can you eat corn fritters cold?
Yes, of course, you can eat corn fritters cold. While I prefer to eat them hot, there are members in my family that love eating cold corn fritters. So you can take them right out of the refrigerator and start munching away without heating them up if that is your preference.
Are corn fritters and hush puppies the same?
No corn fritters and hush puppies are not the same at all. Hush puppies are made with cornmeal, and corn fritters are made with actual kernels of sweet corn. Also, most corn Fritter recipes include other ingredients such as jalapenos, fresh herbs, spices, and other vegetables. Make delicious appetizers in are great for game night and other parties or events.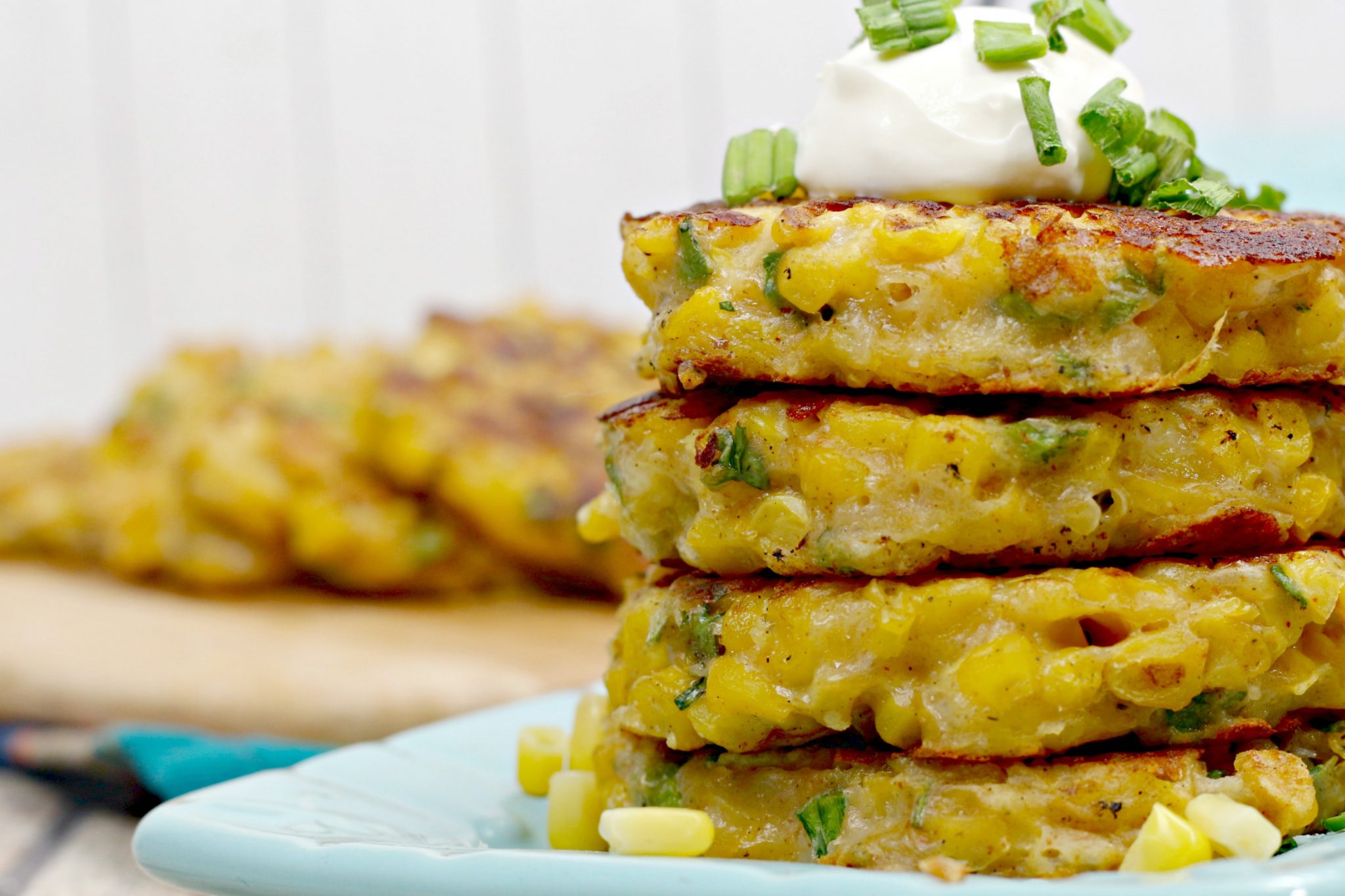 Does This Recipe Double
Yes, you can easily double these pan-fried corn fritters. Each batch of homemade corn fritters makes 18 fritters. So you will just need to multiply that by how many people you were feeding or how many you are wanting. You can double or triple the ingredients based on how large a batch you need to make. Additionally, you can make these as a freezer meal option so you can have an easy side anytime you need one to go with your dinner or if you want a light lunch idea.
How Do You Cut Corn Off The Cob
When making these corn fritters, you can use canned corn, or you can use fresh corn depending on your preference. Whenever possible, I prefer fresh corn on the cob because the flavor is so delicious, and it's so sweet. In order to cut the corn off the cob, you will need to stand the corn upright at a slight angle. Then we'll take a sharp knife and begin cutting halfway down the corn cob to shred off the kernels. You will need to continue this process over and over again until you have the bottom half of the corn cob cleaned off. Then you can flip the corn cob upside down and start at the other direction and begin cutting the kernels off that way. You need a total of 3 cups of corn, whether you use canned corn or fresh.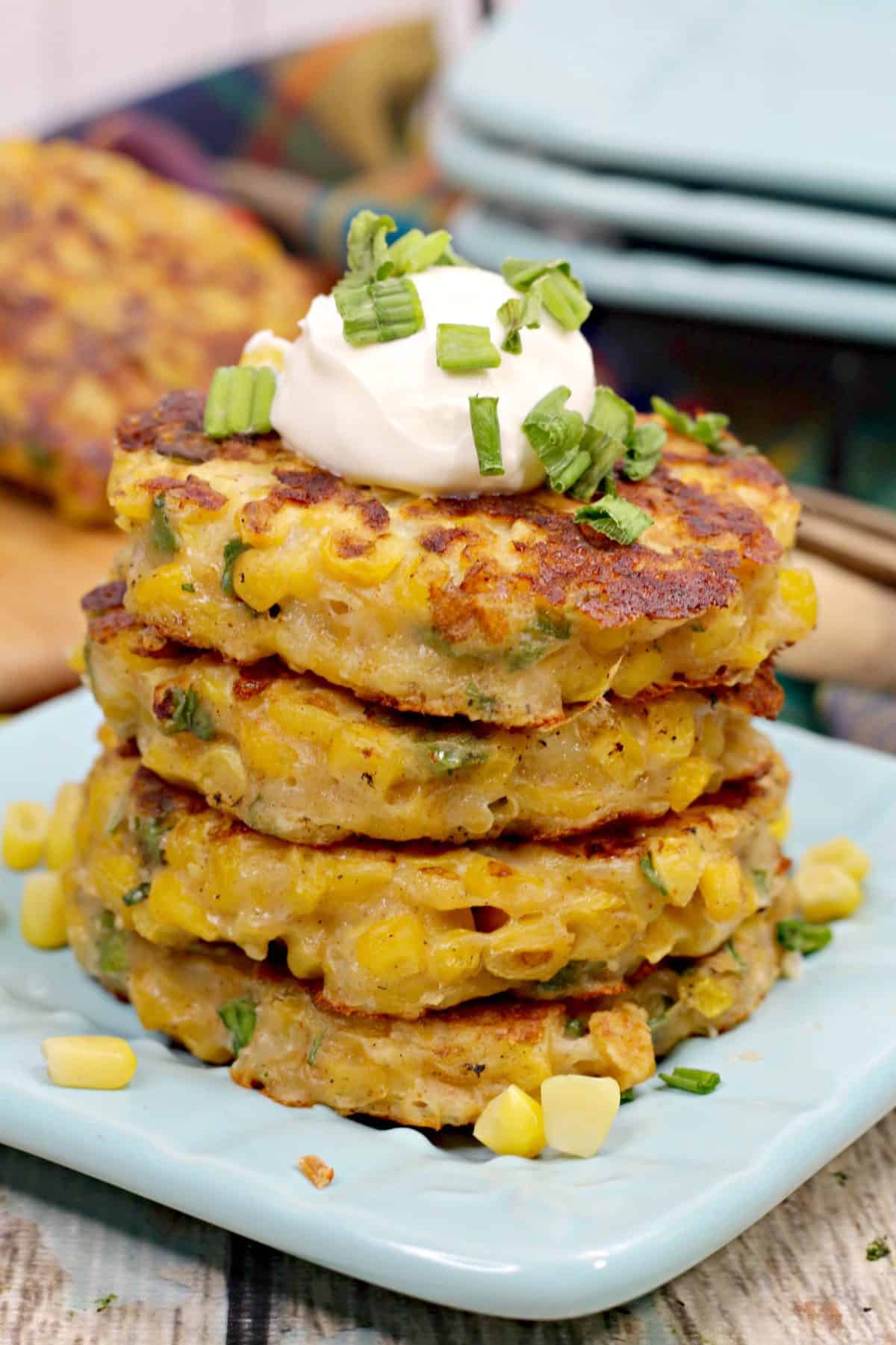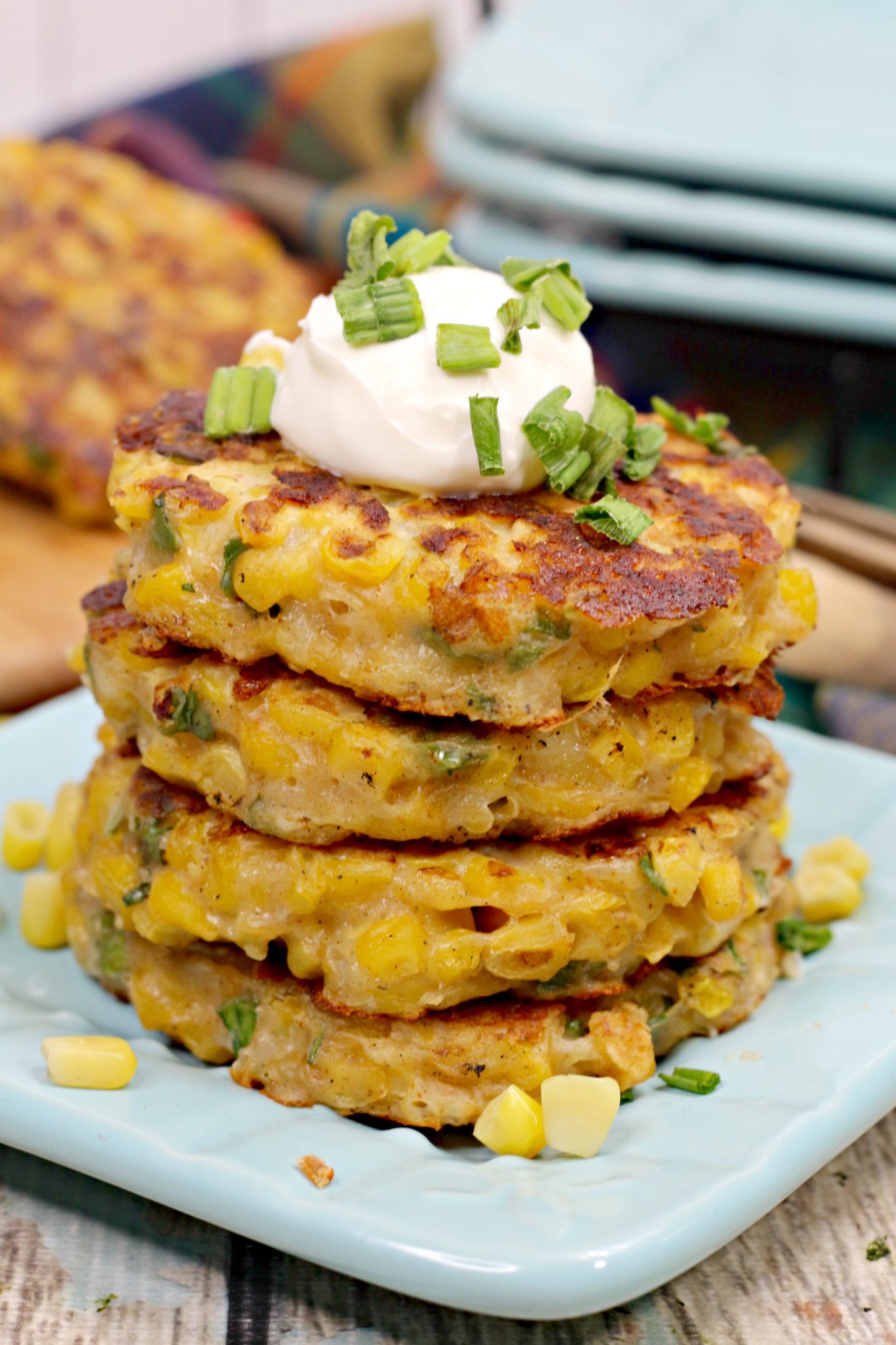 Ingredients
Sweet whole kernel corn
Chopped cilantro
Chopped green onion
Jalapeno diced, deseeded and membrane cut
Fresh lime juice
Flour
Baking powder
Kosher salt
Ground black pepper
Chili powder
Large eggs, lightly beaten
Whole milk
Monterey Jack Cheese, shredded
Olive oil
How to Make Corn Fritters
Step 1: Add cilantro corn green onion jalapeno and lime juice to a large bowl and mix together until combined. After the ingredients are combined, set them aside for later.
Step 2: Using a small bowl, then you'll need to whisk together the flour baking powder salt black pepper and chili powder. Add dry ingredients to the corn mixture and combine well.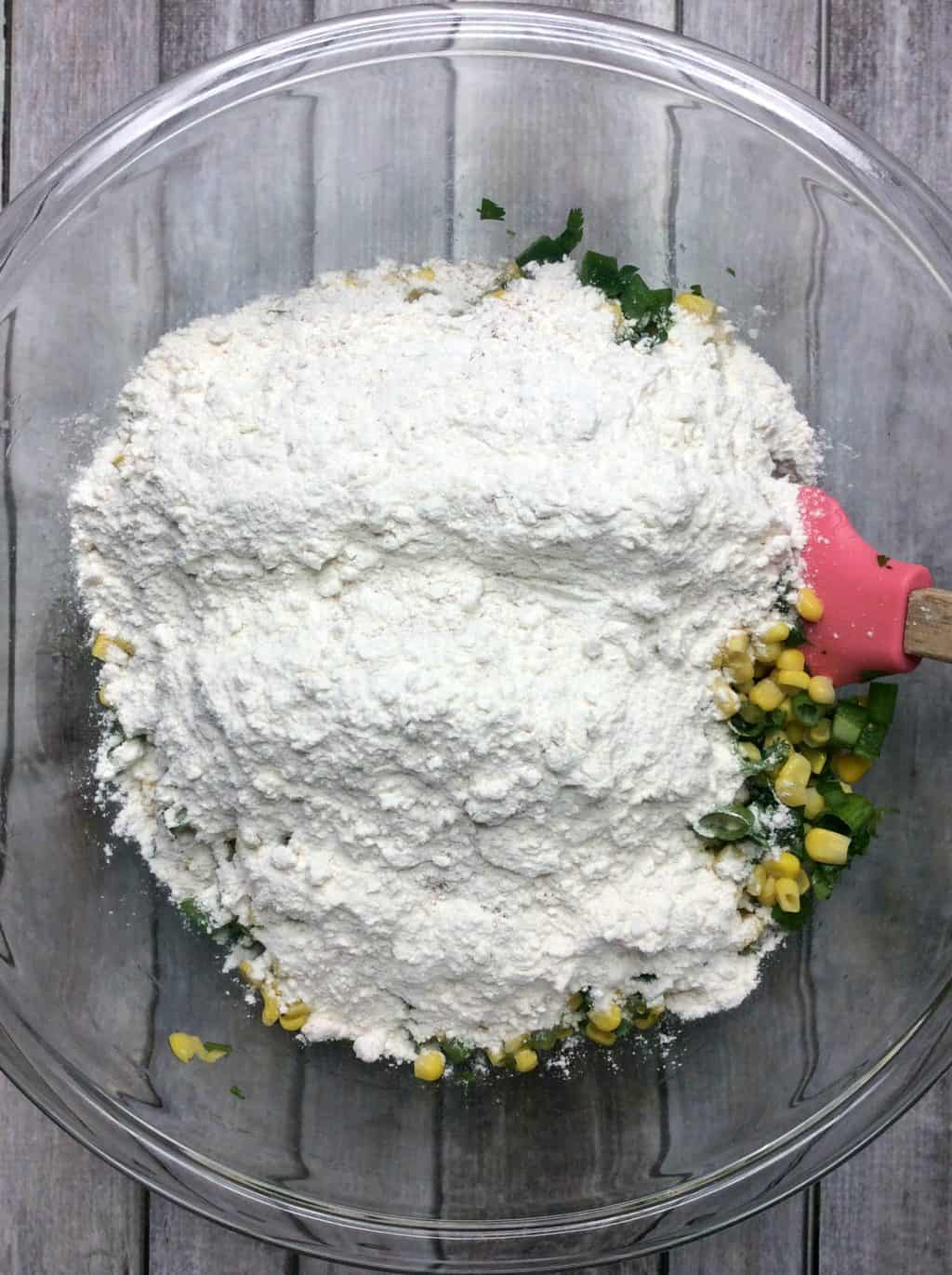 Step 3: Carefully fold in the eggs milk, and mix until combined.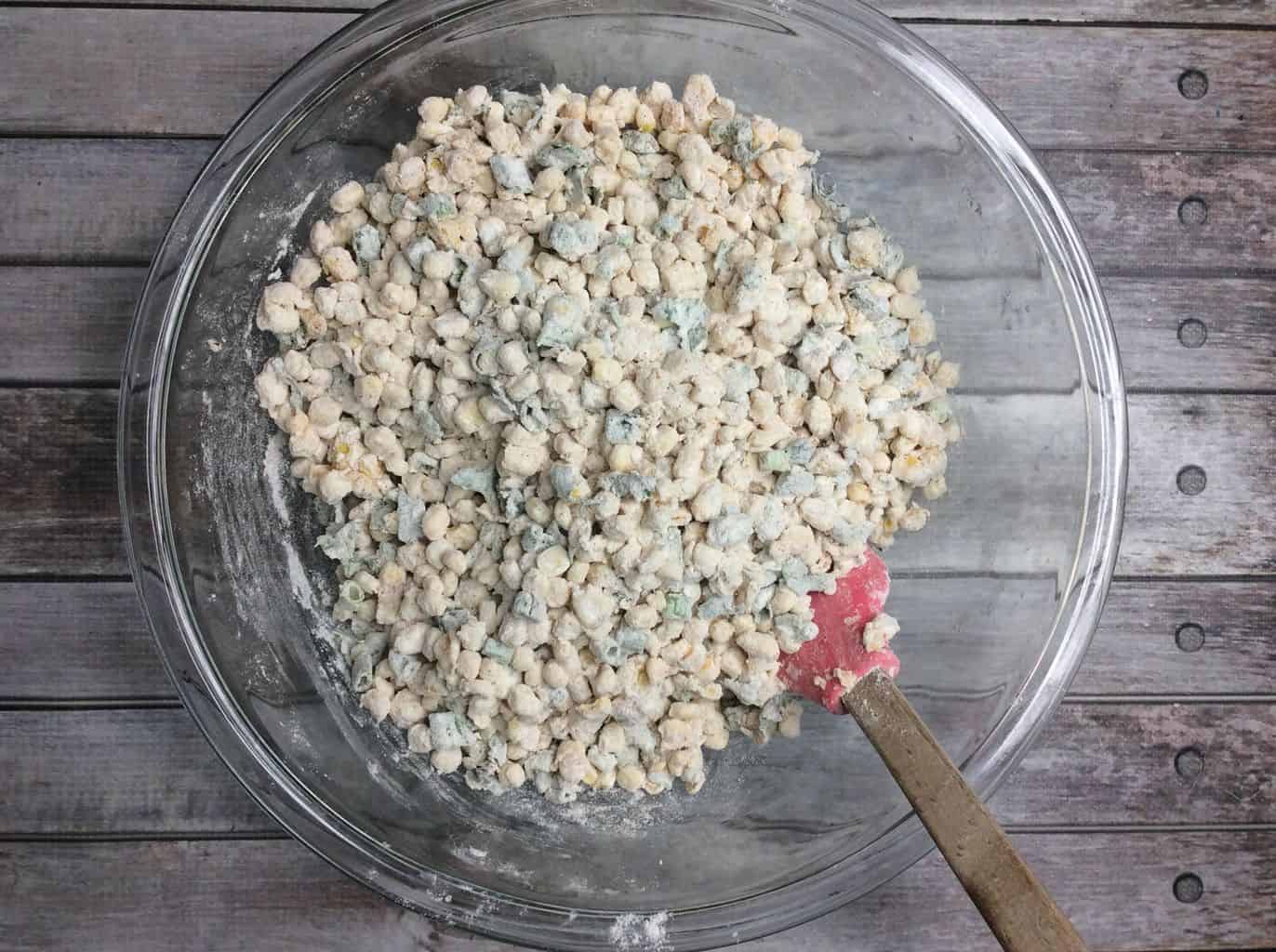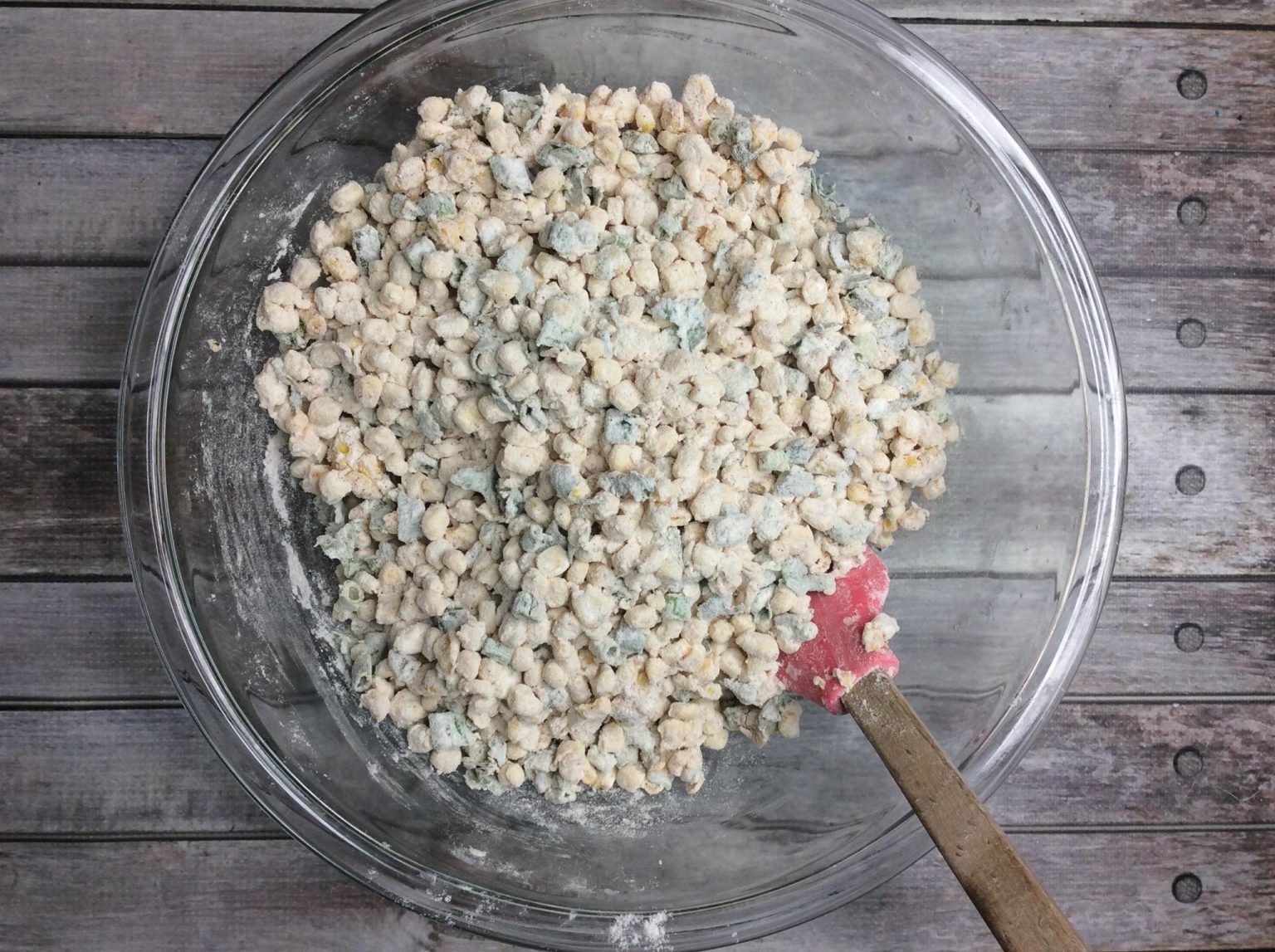 Step 4: Begin warming the olive oil in a pan over medium heat until it is hot. It is important not to cook the corn fritters until the pan is hot so that way they have a golden crispy crust on the outside.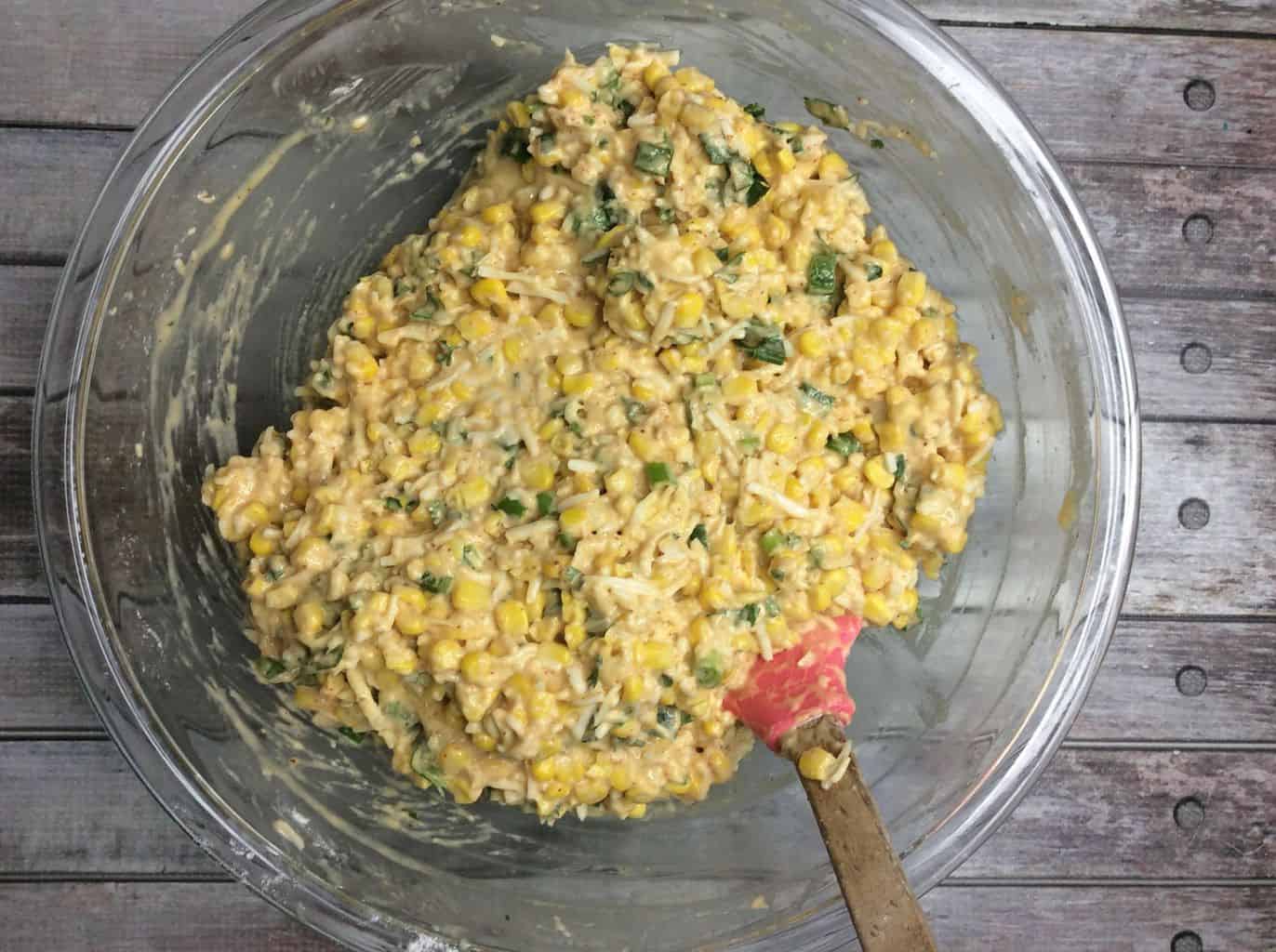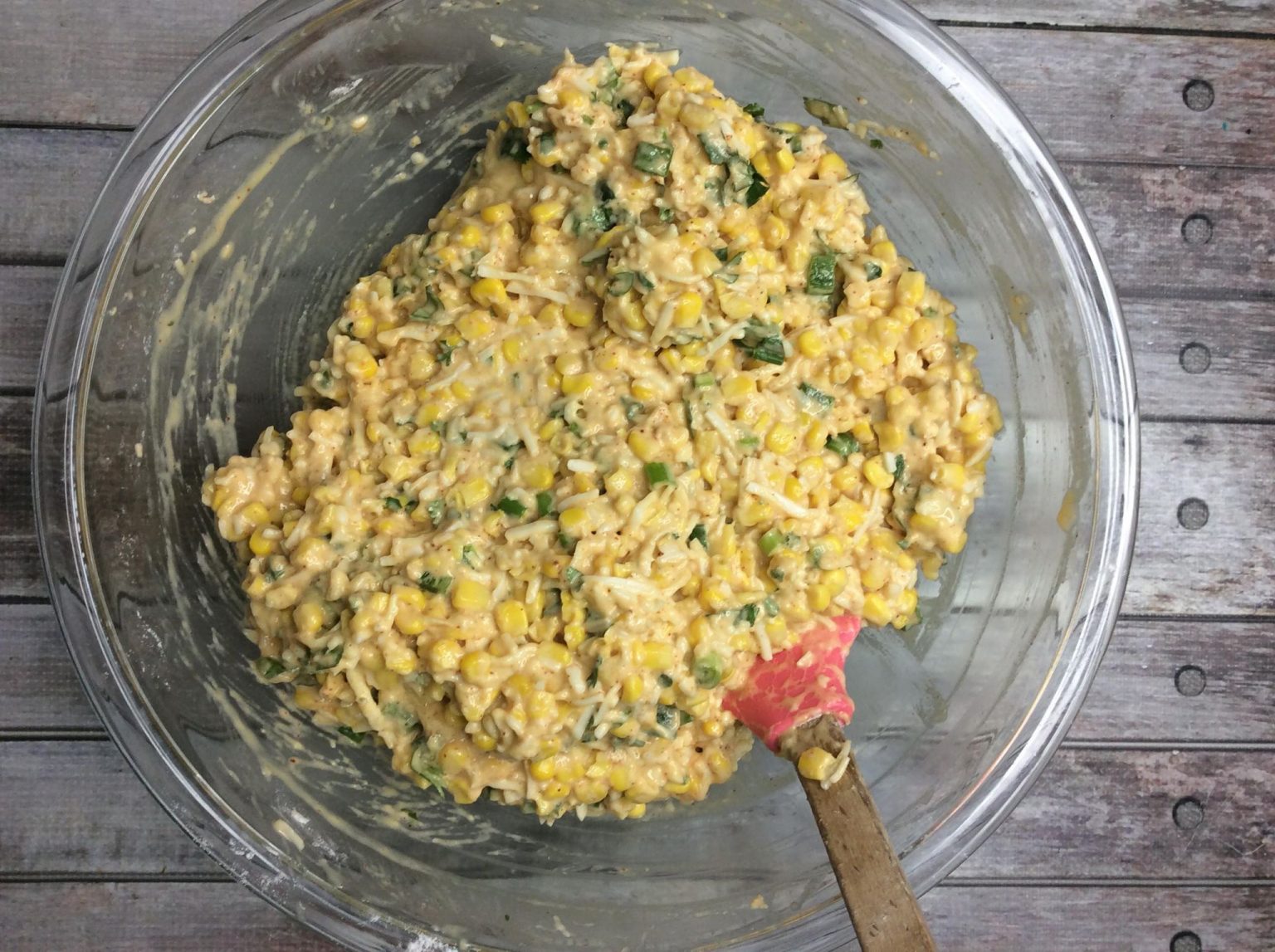 Step 5: Next take a medium sized ice cream scooper and scoop the corn mixture into the pan to start cooking the fritters.
Step 6: Take a spatula and lightly press down on each one of the fritters to flatten them out.
Step 7: You will need to cook each corn Fritter for 3 to 5 minutes on each side before flipping it over.
Step 8: Once both sides of the fritters have been cooked, you can remove them from the pan and place them on a paper towel-lined play to allow the excess grease to drip off.
Step 9: After all of the fritters have been made, sprinkle them with salt and pepper and drizzle a little bit of freshly squeezed lime juice over the top of them.
Step 10: Add your favorite toppings and enjoy warm!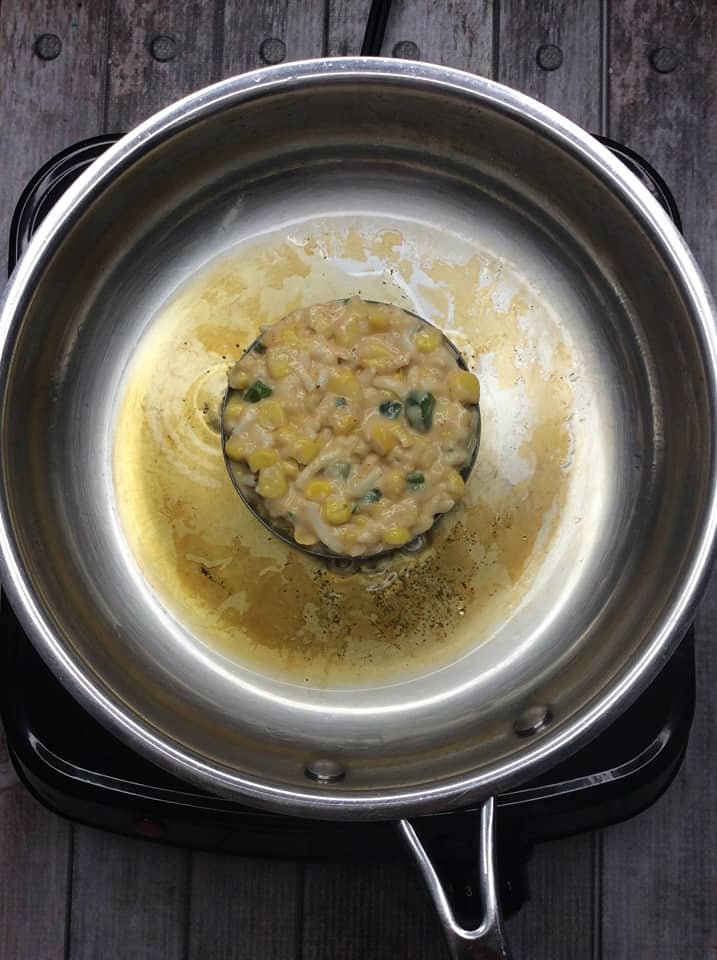 Now, remember to save this recipe on Pinterest for later 🙂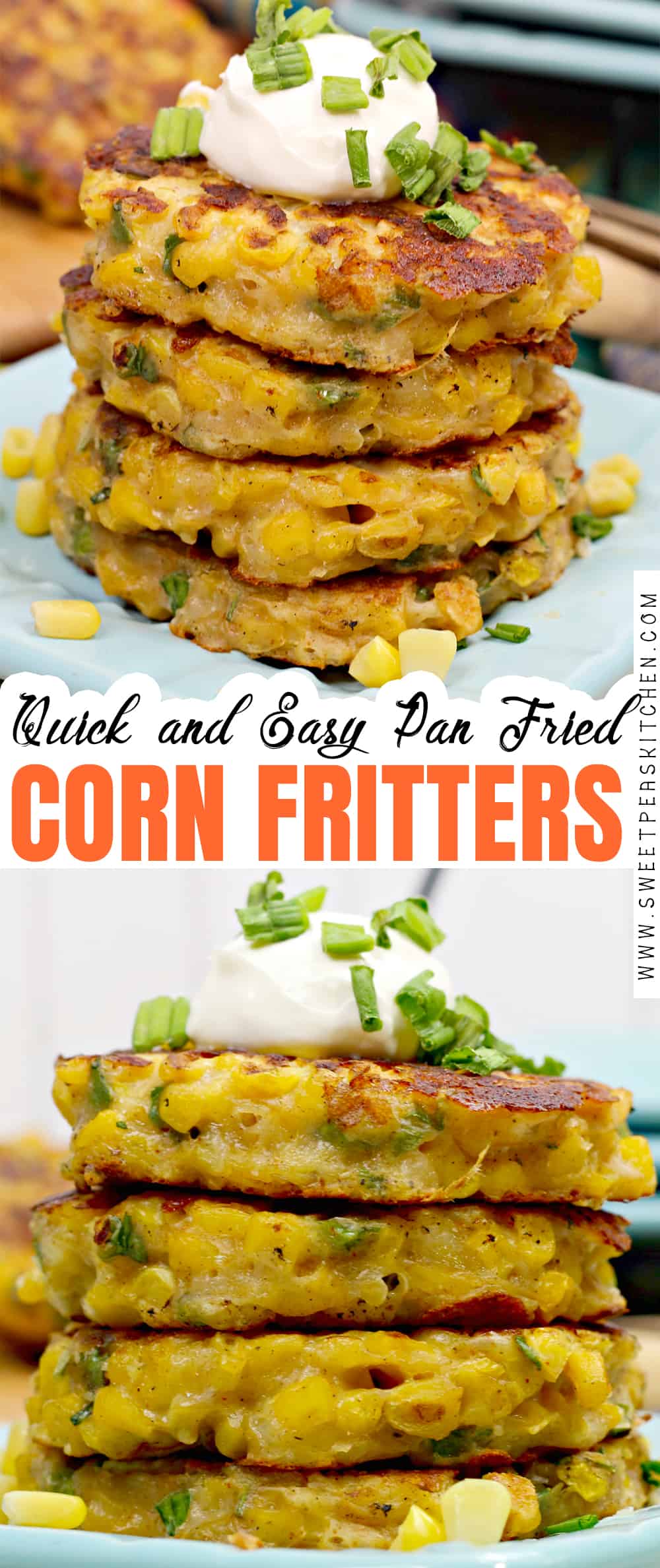 Pin this recipe now to remember it later
Quick and Easy Pan Fried Corn Fritters Recipe
Quick and Easy Pan-Fried Corn Fritters are the ultimate side dish or appetizer to serve up. Corn cakes are loaded with corn, cheese, jalapenos, and more for loads of flavor in every bite of this fritter recipe.
Ingredients
3

C

of corn

,

2 cans of sweet whole kernel corn

1/4

C

chopped green onion

1

jalapeno diced

,

deseeded and membrane cut

1/4

tsp

ground black pepper

2

large eggs

,

lightly beaten

2

C

Monterey Jack Cheese

,

shredded
Want to save this recipe? Enter your email below and we'll send the recipe straight to your inbox!
NOTE: By saving this recipe, you agree to join our weekly recipes newsletter.
Instructions
Using a large mixing bowl, mix together until combined the corn, cilantro, green onion, jalapeño and lime juice

In a bowl you will add your corn, fresh cilantro, green onions, jalapeno, and lime juice. Once mixed, set aside.

Then in a small bowl, whisk together the flour, baking powder, salt, black pepper and chili powder

Mix the dry ingredients into the corn mixture.

Gently fold in the eggs, milk and cheese until combined.

Heat the oil in a medium pan until it is hot. This is going to give you that golden crust on the corn fritters.

Using a medium size ice cream scooper, scoop some of the mixture onto the pan.

Lightly press down with a flat spatula.

All to cook for about 3-5 minutes before flipping it over and cooking the other side.

Remove from pan and place onto a paper towel covered plate to remove excess grease.

Once all the mixture has been cooked, sprinkle with some salt and pepper and squeeze lime juice over it.

Enjoy your homemade corn fritters for dinner.
Nutrition
Serving:
1
g
|
Calories:
139
kcal
|
Carbohydrates:
12
g
|
Protein:
6
g
|
Fat:
8
g
|
Saturated Fat:
3
g
|
Polyunsaturated Fat:
4
g
|
Cholesterol:
32
mg
|
Sodium:
178
mg
|
Fiber:
1
g
|
Sugar:
2
g
Follow me on Pinterest for daily delicious recipes!
Ready for some more awesome appetizers? I have some of the most mouth-watering yummy appetizers you will ever try. Take a look to get inspired for your next meal.
Mini pizza bites pretzels – these easy pizza bites are perfect for all your parties and game nights. You can't go wrong with serving such a tasty treat for all your gas.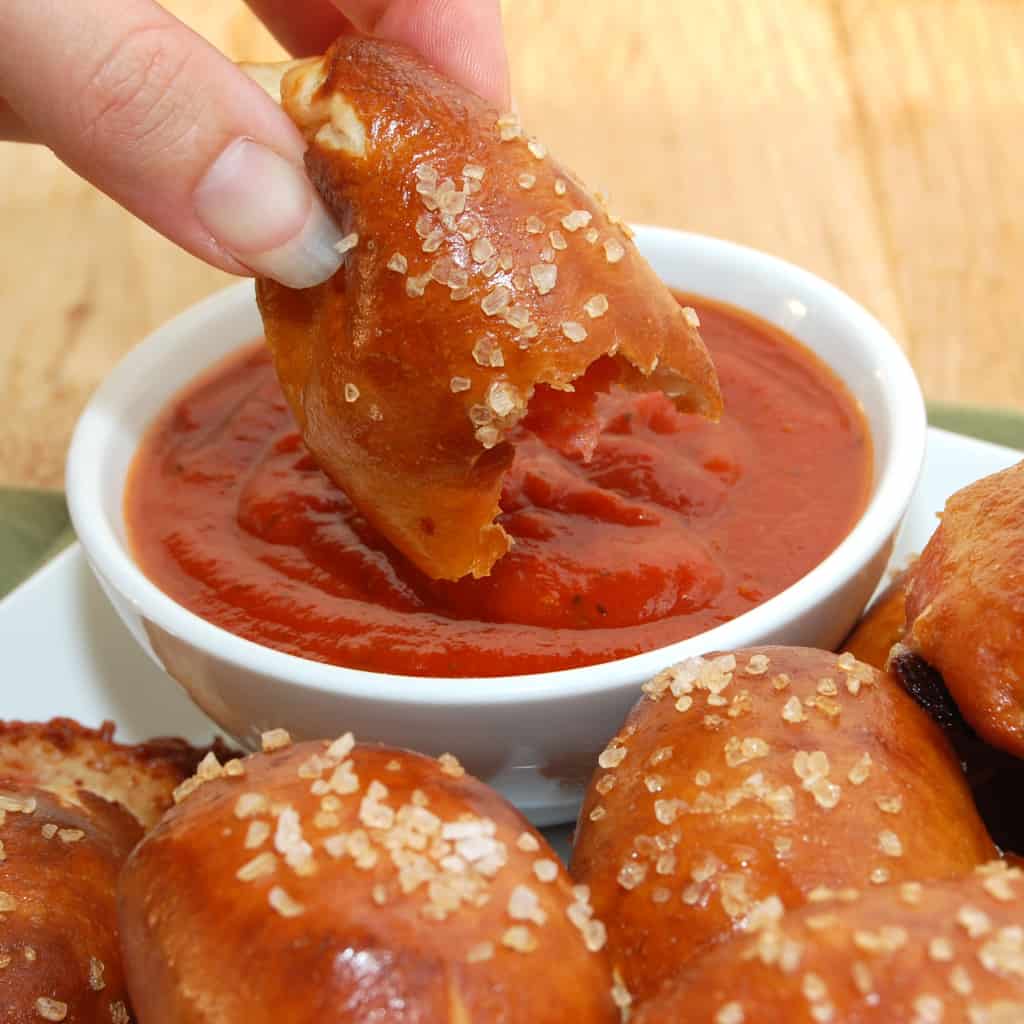 Homemade crispy potato tots – making your own tater tots is so simple. They taste way better than anything you can buy at the grocery store.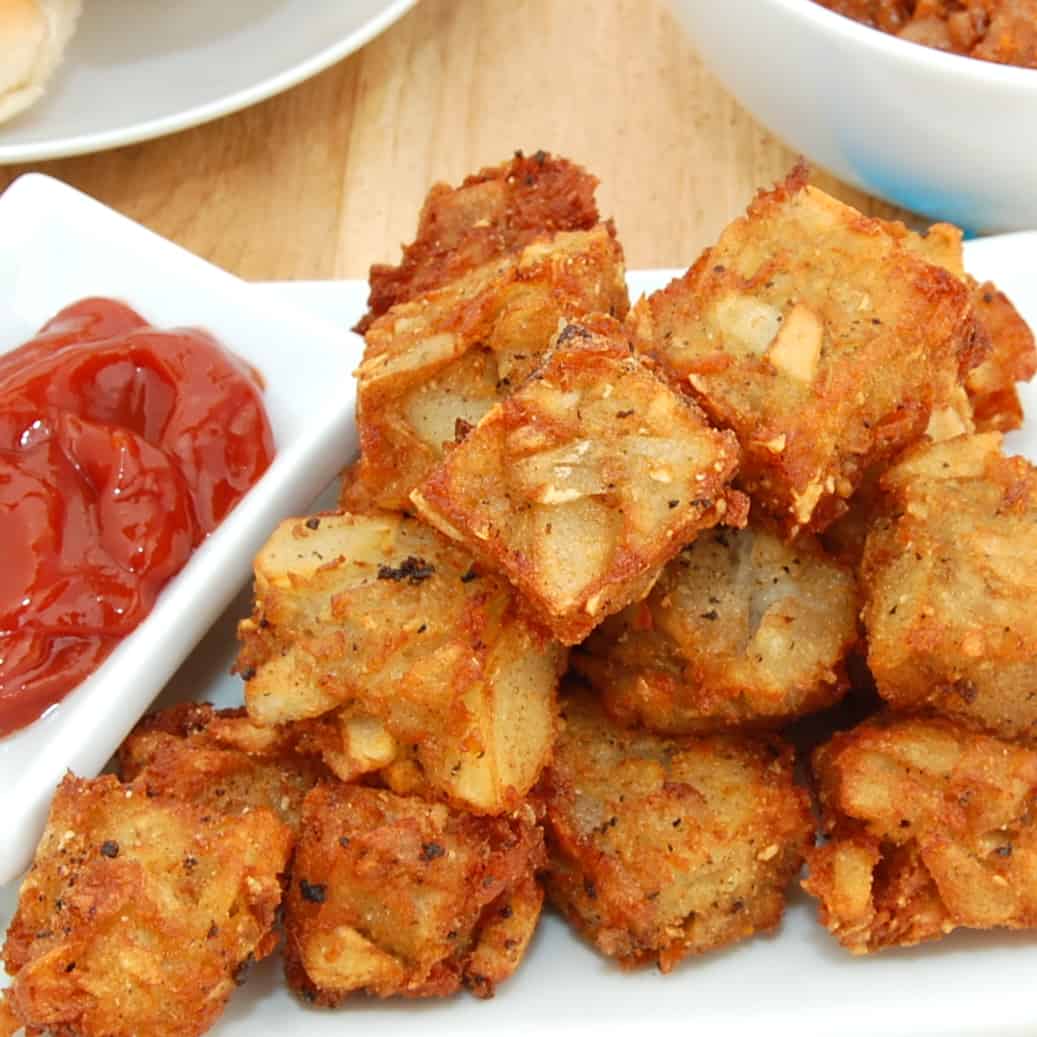 Easy baked mussels – we love to serve mussels when we have dinner parties. They are elegant classy and are sure to make everyone smile when they bite into them.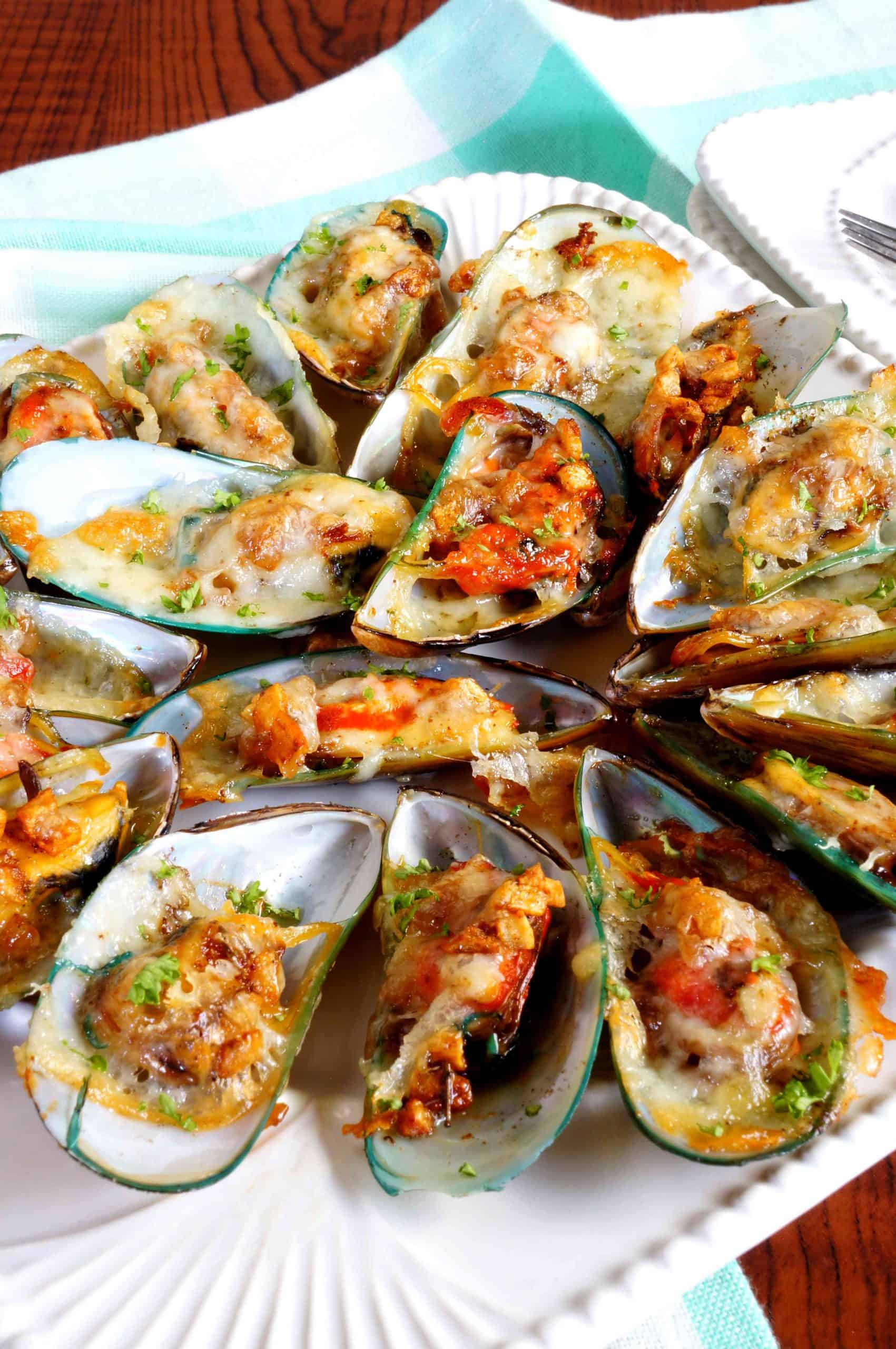 Drool-worthy beer cheese dip – this dip has three kinds of cheese black beans hamburger and lots of yummy goodness in every single bite. Serve with your favorite chips and enjoy the night away.
Get new recipes weekly plus our FREE ebook!