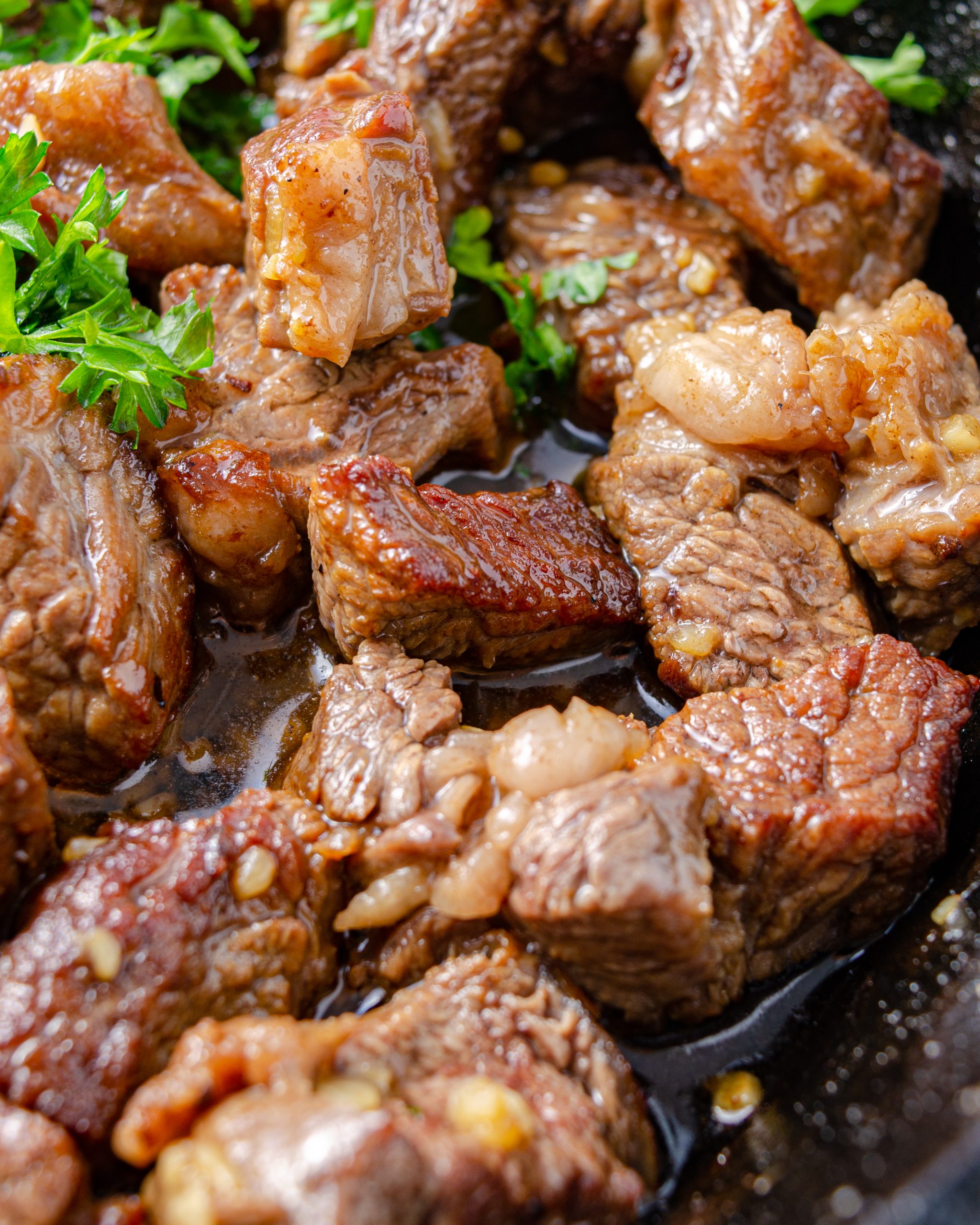 These Steak Bites with Garlic Butter are an easy steak recipe that you can turn into either a complete meal or serve as steak bites appetizers.
Steak is a rare treat in my house even though it's something that both my husband and I love. When I do cook easy steak recipes (because all recipes I make must be easy!), I tend to go for something like my Seared Ribeye Steak with Red Wine Gravy.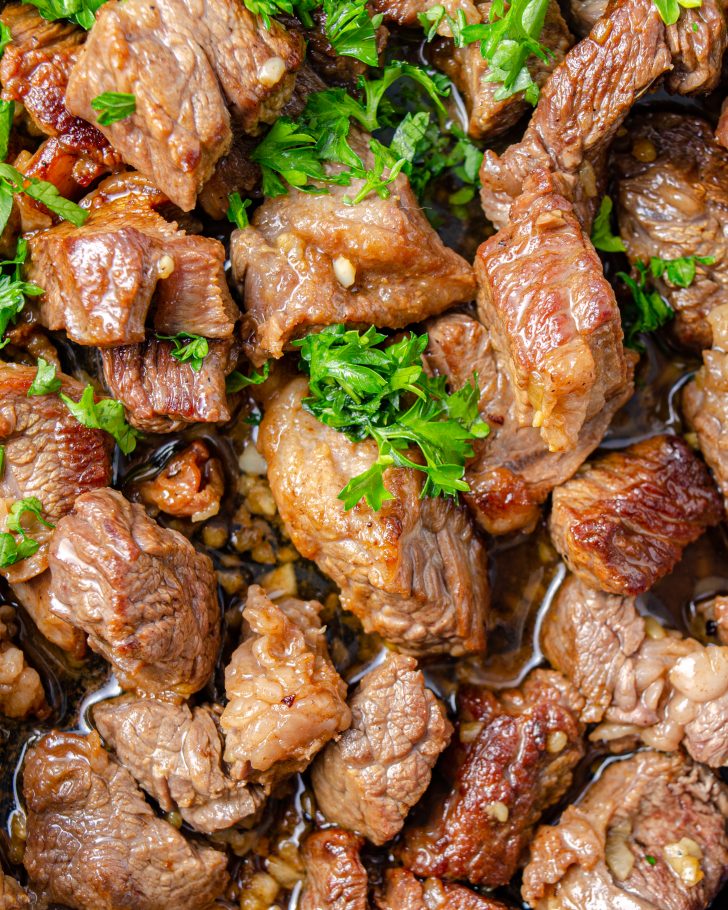 The other night, however, I had a craving for steak and decided to try out something new. The end result? Garlic Butter Steak Bites.
These Steak Bites with Garlic Butter are similar to the Garlic Butter Steak recipes you may know and love, just easier to make.
Scroll to bottom for printable recipe card.
Steak Bites With Garlic Butter
Honestly, making these Steak Bites with Garlic Butter was so incredibly easy. I used sirloin steak because it was on sale and I think it's one of the most tender cuts of steak. However, you can use whatever cut of steak you'd like.
While these are garlic butter steak bites, you don't begin by cooking the steak in garlic butter as you might assume. These are both added towards the end of the cooking process to prevent burning. Trust me, the taste of burnt garlic is not one you want to serve for dinner!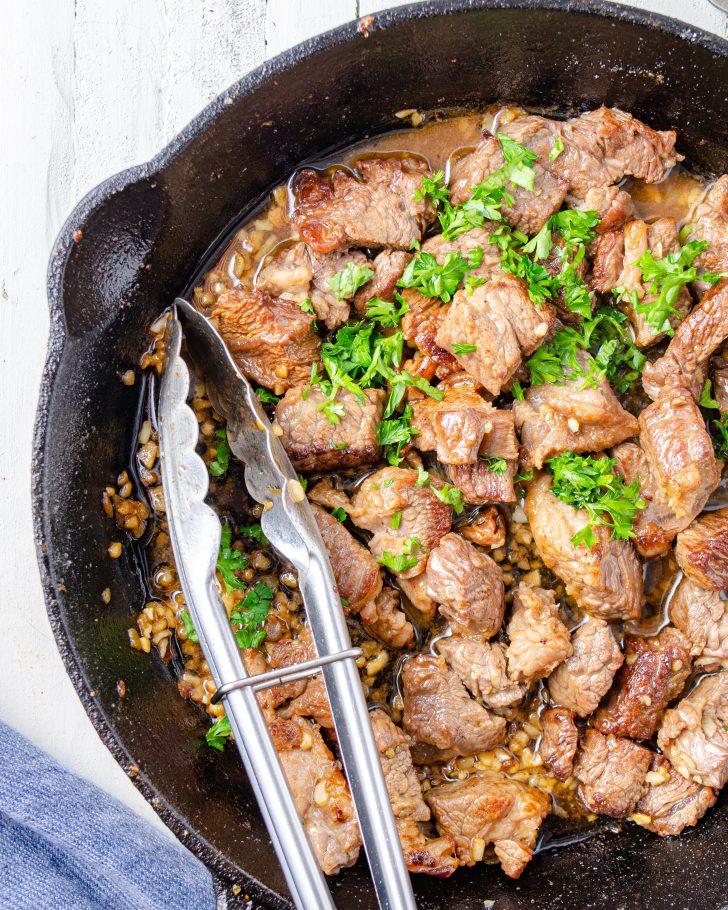 During the last minute or two of cooking, add the butter and garlic to your pan and coat the steak bites. Add salt and pepper to taste and parsley for garnish.
Easy Garlic Butter Steak Bites
The wonderful thing about these Garlic Butter Steak Bites is that you can serve them for dinner as a more relaxed version of garlic butter steak or turn them into steak bites appetizers.
I've personally done it both ways. When I serve Steak Bites with Garlic Butter as the main course, I serve them over mashed potatoes with veggies on the side. This is actually my preferred way of serving steak to my kids because it's easier for them to eat, and I don't have to worry about them trying to cut up a steak themselves.
However, I absolutely LOVE serving steak bites and appetizers. This easy steak recipe is also one of my new favorite appetizer recipes because it's ready in just 15 minutes, and only requires one pan, but tastes SO good. Guests love them too! Just serve them with a toothpick and, if you're feeling super ambitious, with a dipping sauce or aioli.
Whether you serve Steak Bites with Garlic Butter as a main course or appetizer, this is one easy steak recipe everyone will be asking for!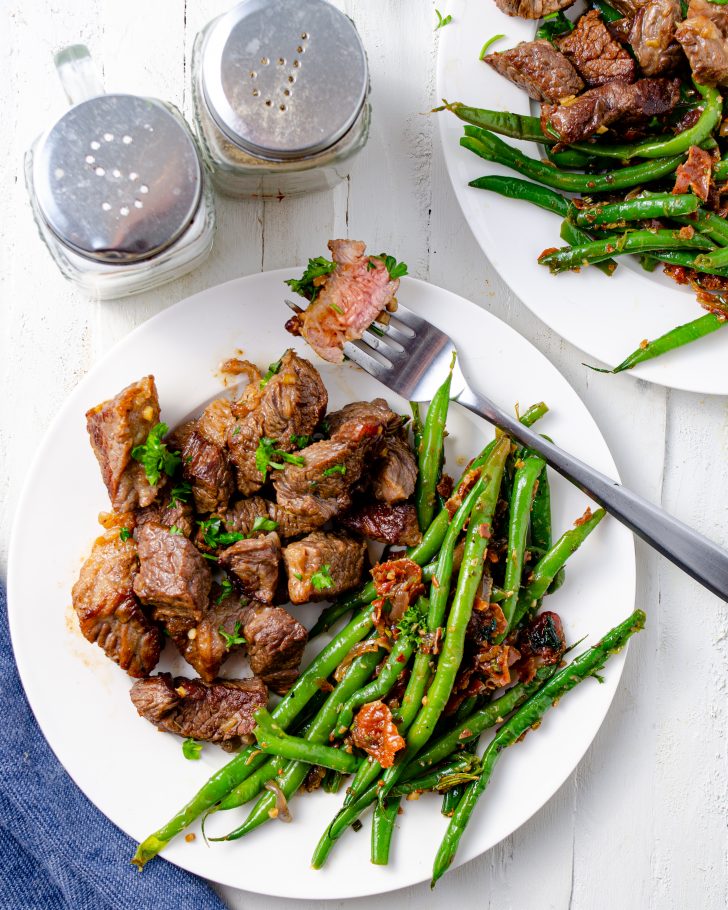 Steak Bites with Garlic Butter

ingredients
Sirloin Steak
Butter unsalted
Olive oil
Cloves minced garlic
Parsley for garnish
Salt and pepper to taste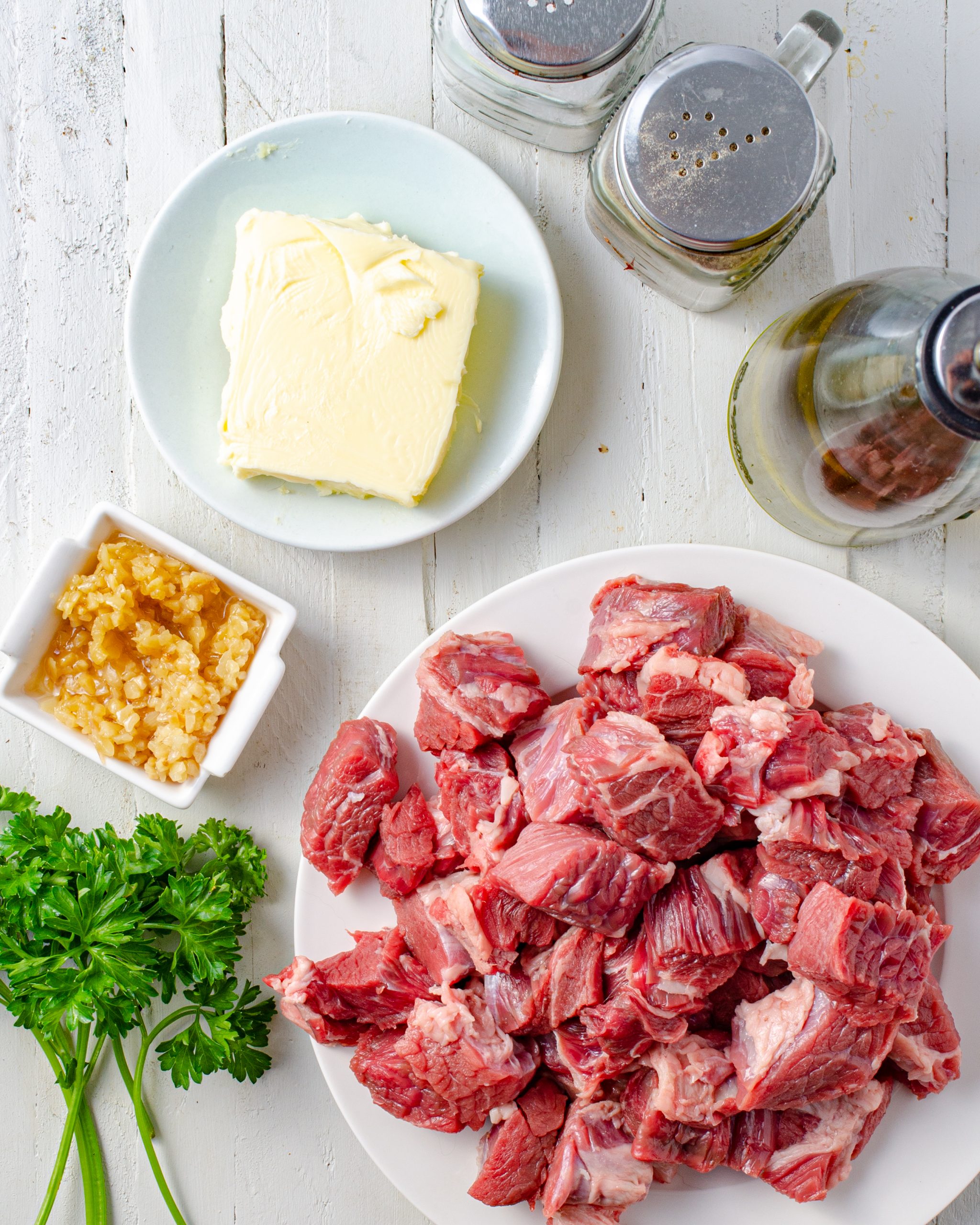 How to Make Steak Bites with Garlic Butter
Don't get me wrong; grilling steak gives you a juicy and delicious meal you can't get enough of. Sometimes, I just don't feel like grilling, or it's too cold outside. This sirloin steak won't disappoint because it's flavorful and in bite-sized pieces. Here are the instructions for how to make steak:
Add oil to a pan, when the oil is nice and hot add steak bites. Season with salt and pepper.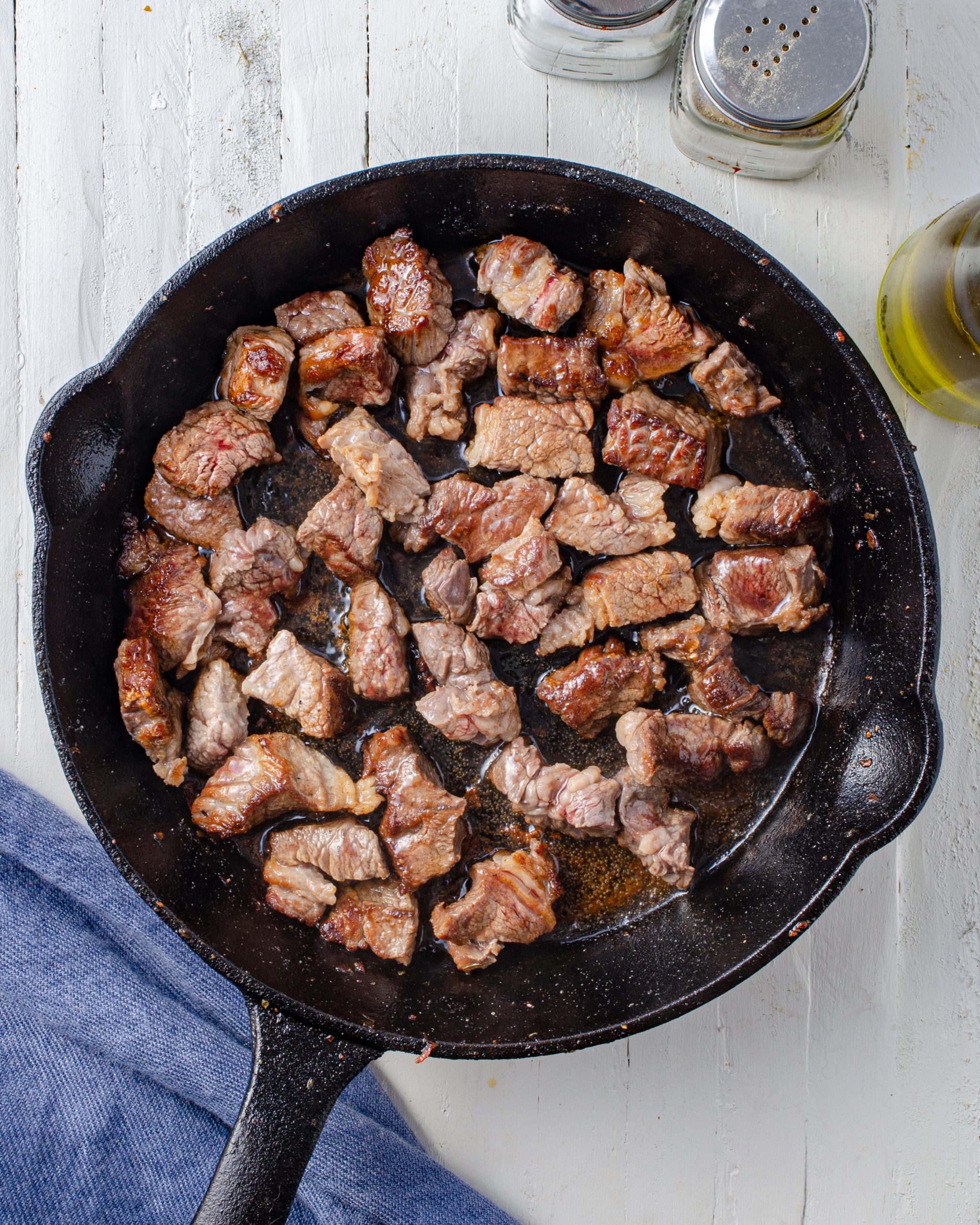 Pro Tip
One important thing in cooking this easy steak recipe is ensuring that the pan is hot before adding the steak. Not warm but hot. Cast iron skillets are great for this. This helps to create a nice sear on the outside while still cooking the inside thoroughly.
Cook steak bites for several minutes until almost done.
Pro Tip
For thinner steaks, you may need to adjust the cooking time to ensure it doesn't burn.
Add butter and garlic to the pan.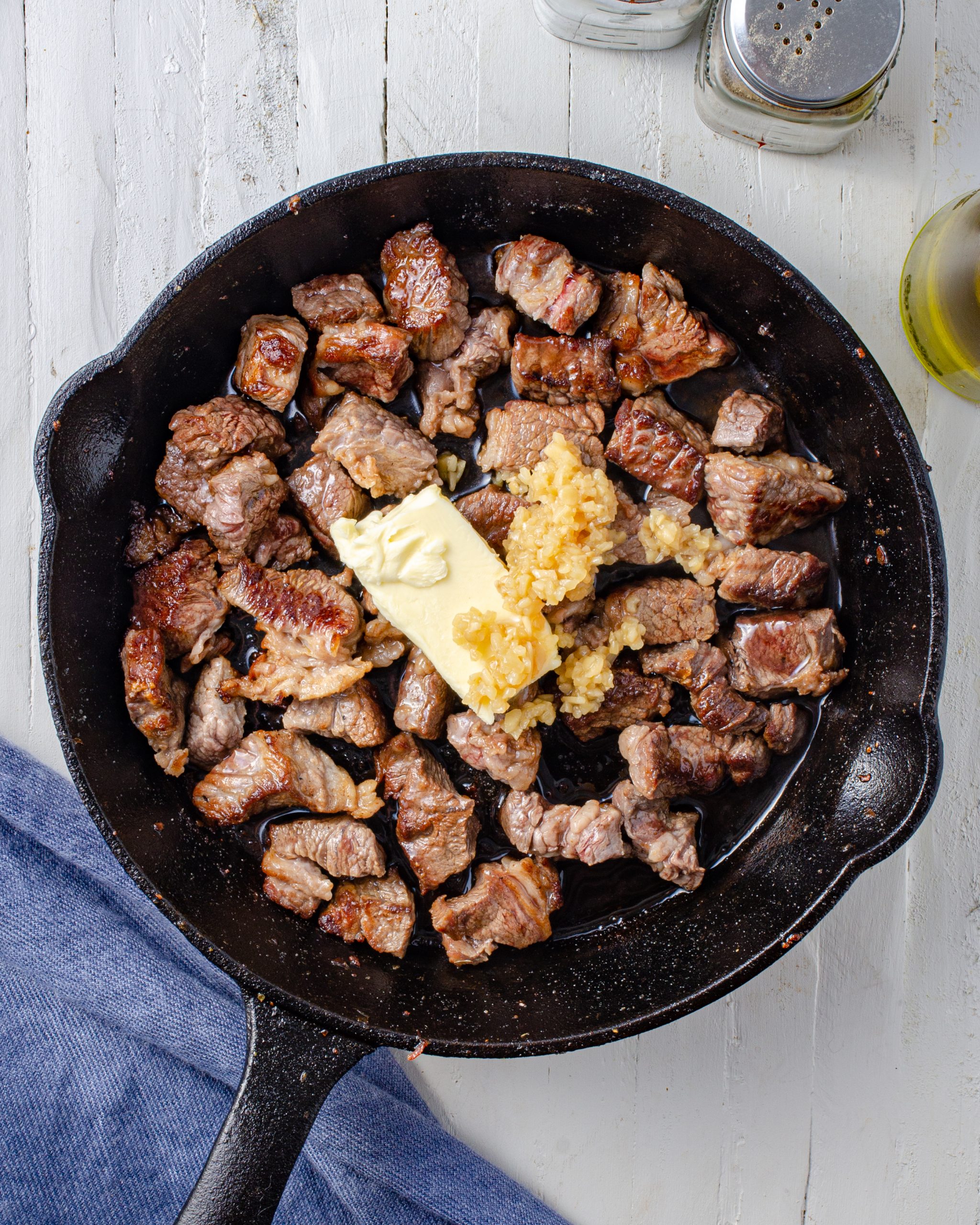 Finish cooking the steak bites, mixing well with the garlic butter. The garlic butter steak bites should be very fragrant by this point.
Add parsley for garnish.
Serve warm as an entree or appetizer.
Steak Bites With Garlic Butter Variations
One of my favorite things about steak bites is that the recipe is very forgiving when it comes to flavor. You can adjust ingredients and add a few extra in to change the flavors. Try out some of these ideas to add some extra pizzazz to your meal:
Red Pepper Flakes – I love the little bit of heat they add because it's not overwhelming. It's just enough to make your taste buds do a little dance! I would start with only one teaspoon then increase as you wish. You don't want it to be too strong.
Soy Sauce – Add a little bit of an Asian inspired flavor when you toss in a little bit of soy sauce. It's seriously so good!
Chili Seasoning – Just a few sprinkles of your go-to chili seasoning gives this easy steak bites recipe some extra flavors.
Lemon Pepper – Combines beautifully with the garlic and butter. Sorry, I am sure your mouth is watering now thinking about garlic butter steak bites with tangy lemon! Yum!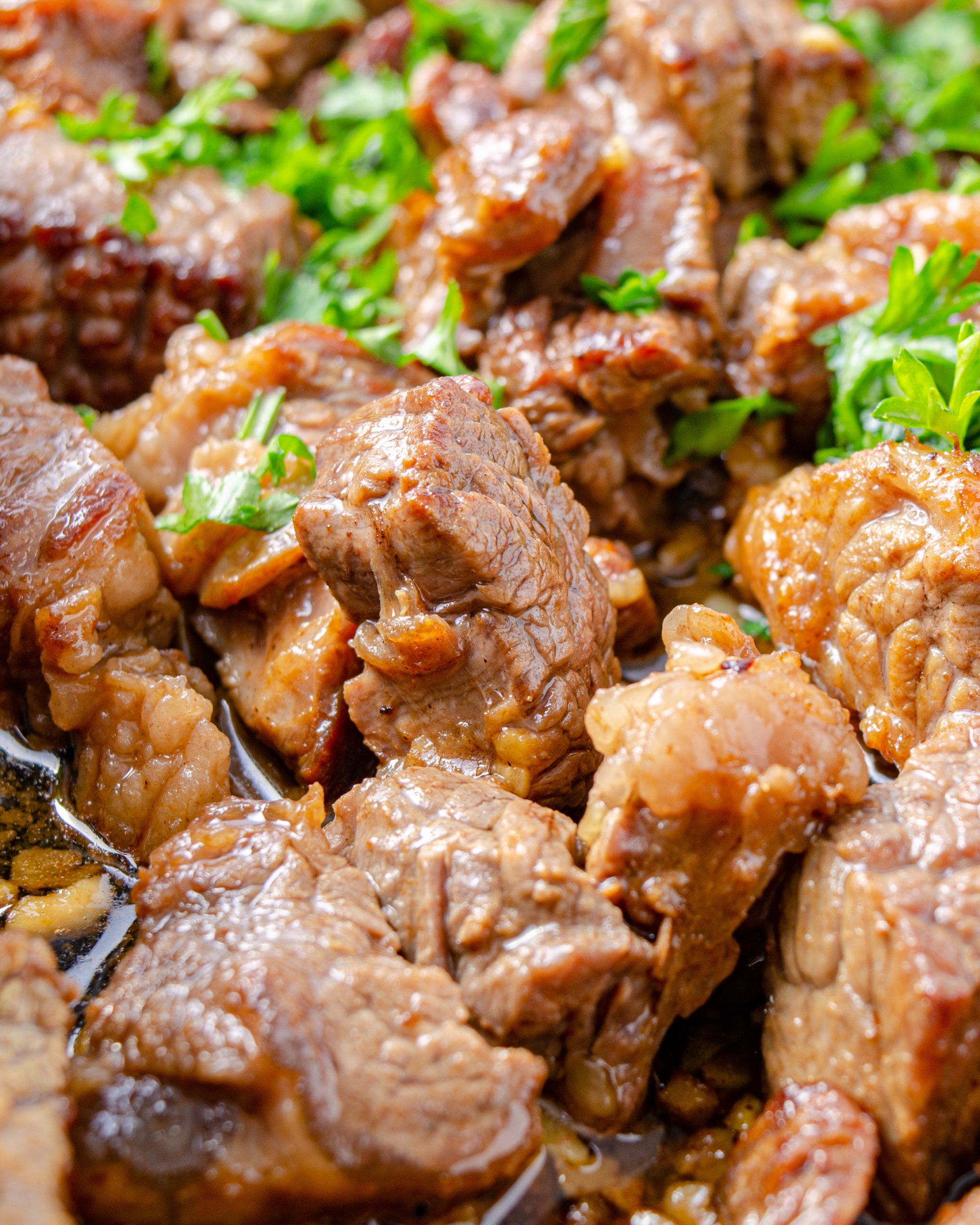 How Do You Make Steak Tender?
Sirloin steak is fortunately pretty tender, but there are a few things you can do to ensure it stays soft and juicy. You can tenderize the steak bites with a mallet by pounding it down. You will want to adjust the cooking time if you do this because the meat will thinner. Sometimes cooking the easy steak bites too fast can cause them to get a little tough. If that seems like what is going on, cook them a little slower next time by turning the heat down just a little bit. You don't want to turn it down too much though.
Another thing to do to tenderize the steak bites with garlic butter is to allow the meat to come to room temperature before putting in the pan. It tends to cook so much better when you do this. You can also sprinkle the steak bites with a little bit of salt before cooking them to keep them tender.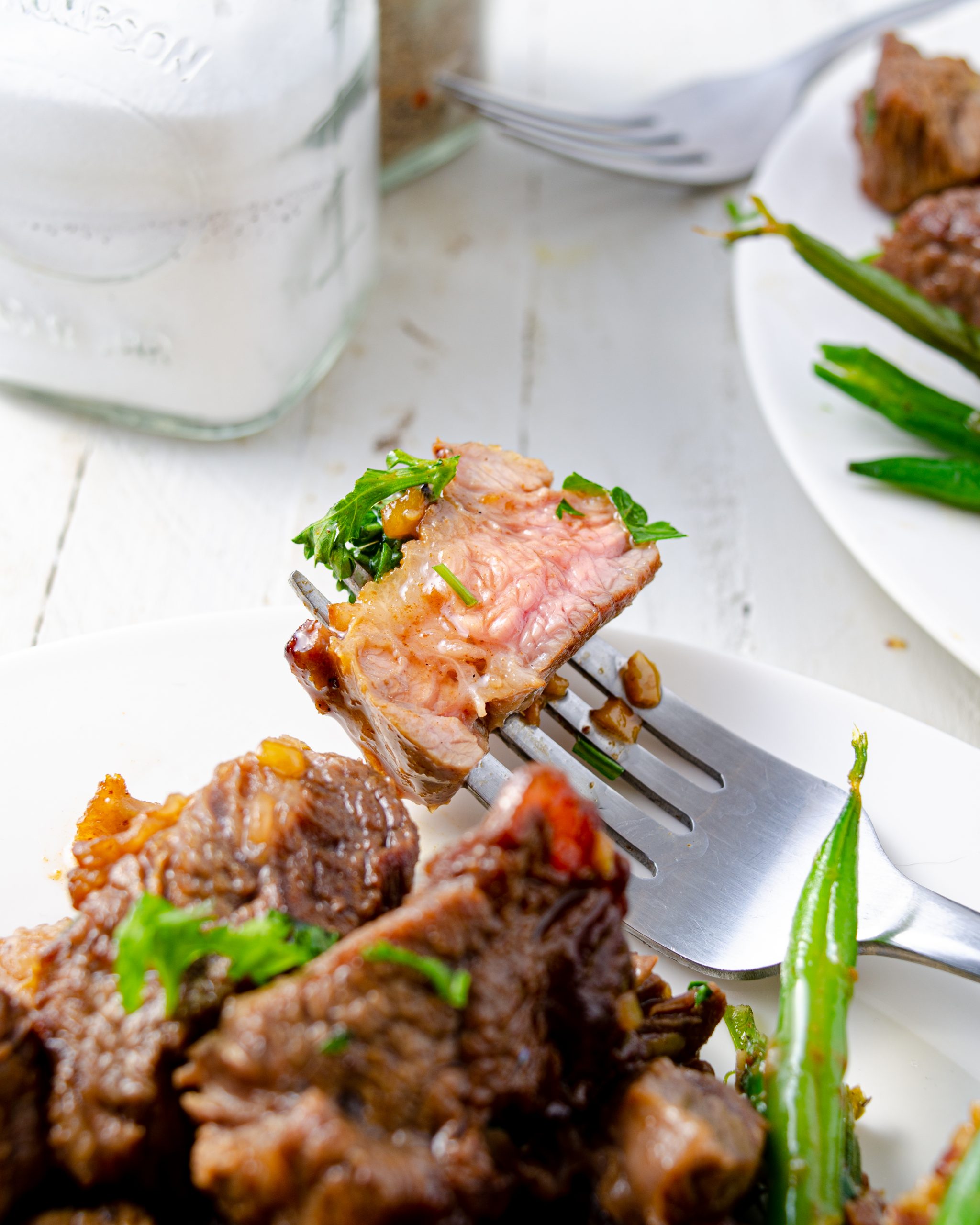 What Makes My Steak Look Gray?
When you are cooking steak on the stove, and it ends up gray that means it was cooked too low. Basically, instead of giving it a nice char you have boiled it and trust me when I say boiled steak isn't that great!
Keep in mind, if the steak is raw and it has a gray look, then there is a chance that it has gone bad and shouldn't be eaten. A little bit of gray on the exterior won't hurt, but if it's gray throughout it's definitely not safe to eat any longer.
What Is The Best Steak For Steak Bites?
I made this steak on the stove recipe using sirloin because it's our preference, but you can use many other cuts of meat. Use whatever you have in the fridge or if you find a good sale at the market. Try any of these for this easy steak recipe:
Sirloin – Of course, this is my favorite!
Porter House
Tenderloin
Ribeye
Rump
New York Strip
How To Pick Good Steak
If you haven't made too make steak dishes yet and you haven't had the best luck picking out steak here are a few things to look for. You will find that this sirloin tip steak recipe is pretty versatile, so odds are you will end up with juicy steak you want to devour. Look for marbling throughout the steak. This is the fat and helps give the meat lots of flavoring. I know that in most cuts of meat you want it to be lean so you can cut some calories, but when it comes to steak, you need a little bit of fat in it.
Another tip is to press the steak to feel the texture. It should be nice and firm to the touch. Pick steak that is a bright red or purple color. If it's brown or gray, it may still be good, but I would opt for brightly colored meat instead for best results.
How To Store Leftover Steak
If you end up with leftover garlic butter steak, don't worry because you can save it. For best results, it's a good idea to wrap the steak bites appetizer in plastic wrap or aluminum foil as added protection. Then place it all in an airtight container and put it in the refrigerator. On average, it will last 3-4 days.
Additionally, you can also freeze leftover steak using the same method, and it will last around 3-4 months. To defrost it, place it in the fridge overnight to allow it to thaw.
To reheat the steak bites with garlic butter, toss them in a hot skillet with a little bit of oil. You should be able to heat them reasonably quickly without overcooking. You could also bake them in the oven or use an Air Fryer to reheat the steak bites.
What To Serve With This Easy Steak Bites Recipe
Whatever you think sounds good will probably go well with garlic butter steak bites. Here are some of my go-to side dishes to serve with steak bites:
Potatoes – It doesn't matter if it's french fries, mashed, baked or fried potatoes because they all go perfectly with beef steak bites.
Salad – There is nothing more perfect than a cold salad with all the fixings and a steak for dinner!
Veggies – Grilled mushrooms, broccoli, cauliflower, carrots, onions, peppers, or anything else you can think of are an ideal match for this easy weeknight meal.
Bread – Don't forget those warm dinner rolls or even a slice of bread and butter. You will be stuffed after this meal, but it's totally worth it.
Dessert – You can't skip out on some decadent dessert to finish off the meal. Try my Cherry Cheesecake Brownies for a sweet treat.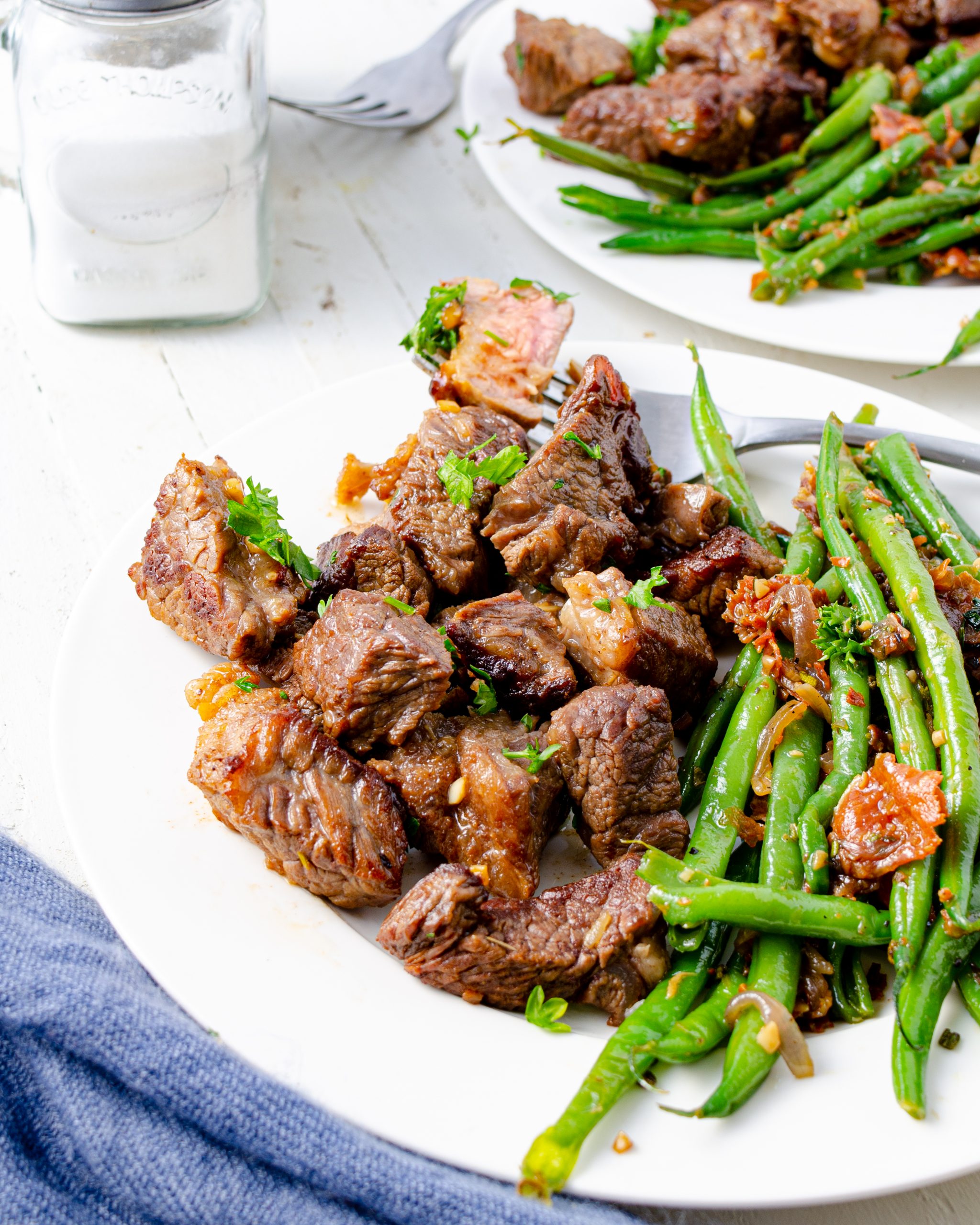 Pin this recipe now to remember it later
Steak Bites with Garlic Butter
These Steak Bites with Garlic Butter are an easy steak recipe that you can turn into either a complete meal or serve as steak bites appetizers.
Ingredients
1 ¼

lb.

Sirloin Steak cut into bite-sized pieces
Want to save this recipe? Enter your email below and we'll send the recipe straight to your inbox!
NOTE: By saving this recipe, you agree to join our weekly recipes newsletter.
Instructions
In a large skillet over high heat, heat up 1 tbsp of oil.

Once hot, add the steak to the skillet, and season with salt and pepper to taste.

Sear the meat well on all sides, and cook until you reach your desired level of doneness. Because the steak is cut into bite-sized pieces, only a few minutes of cook time is needed to keep from over cooking the steak.

Add 2 tablespoons of butter and 2 cloves of minced garlic into the skillet, and stir to combine and coat the steak bites well.

Serve with freshly chopped parsley for garnish.
Nutrition
Calories:
346
kcal
|
Carbohydrates:
0.5
g
|
Protein:
43.1
g
|
Fat:
17.8
g
|
Saturated Fat:
7.3
g
|
Cholesterol:
142
mg
|
Sodium:
94
mg
Follow me on Pinterest for daily delicious recipes!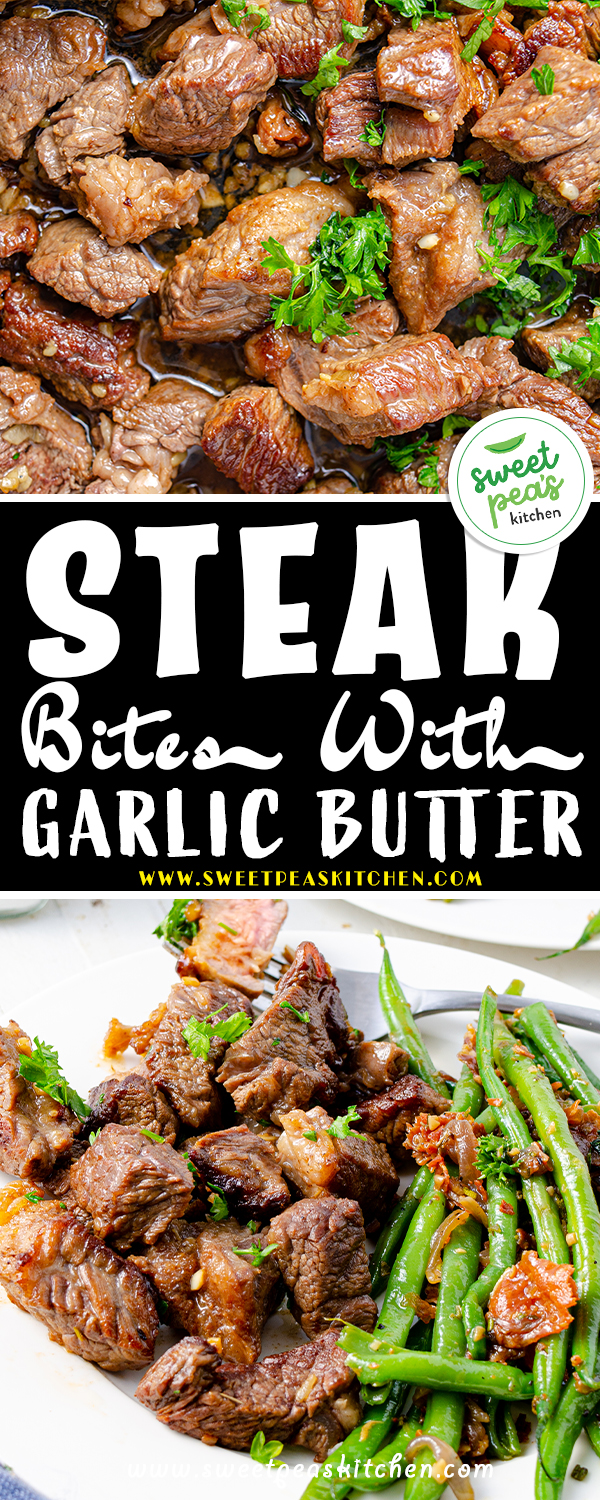 More favorite recipes:
Cheesy Stuffed Turkey Meatballs with Cauliflower Rice – Be sure, the family will be asking you to make again and again.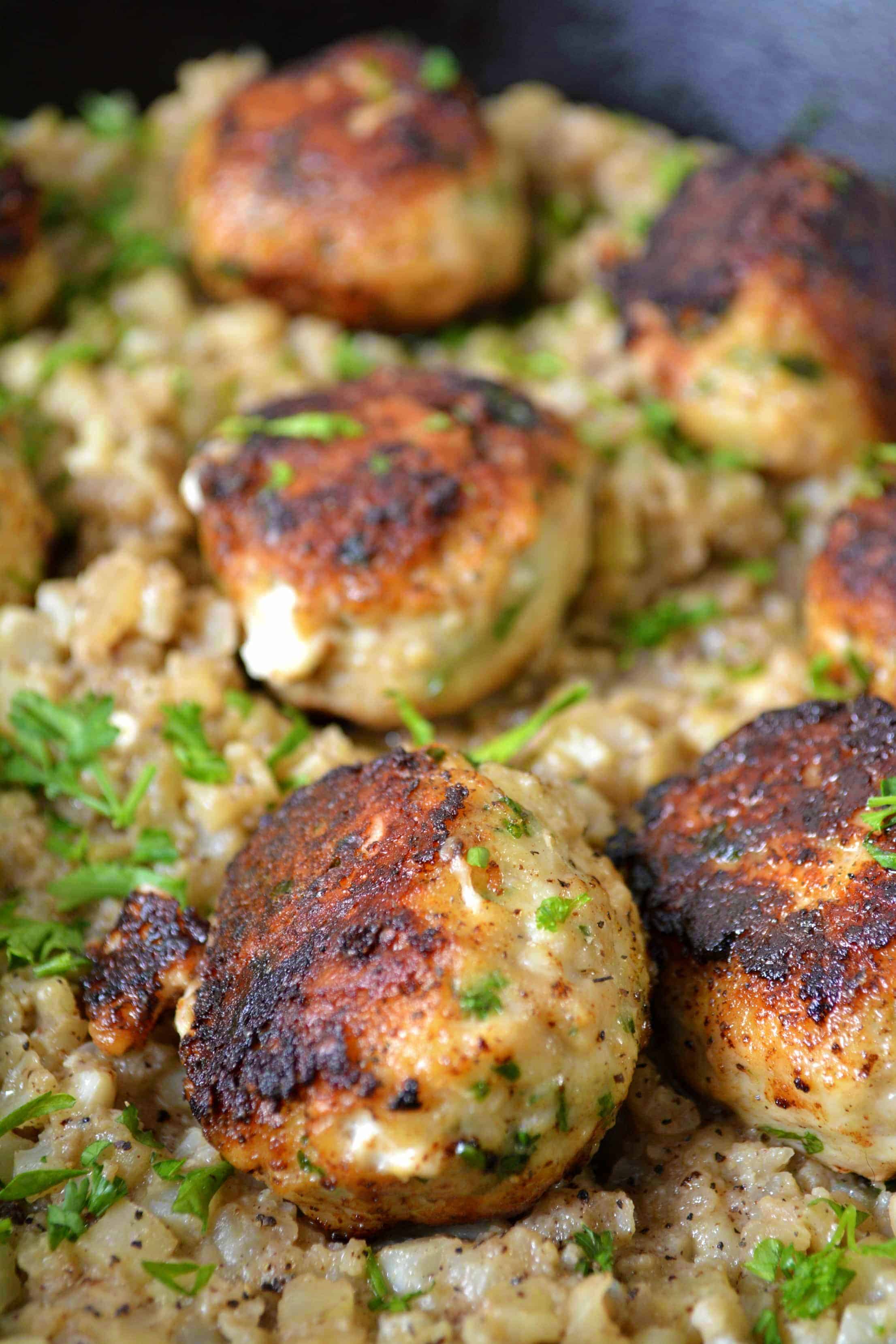 Easy Beef Stew – The easiest homemade beef stew recipes you'll find.
Ham & Asparagus Casserole – Perfect for busy weeknights or even weekend brunch!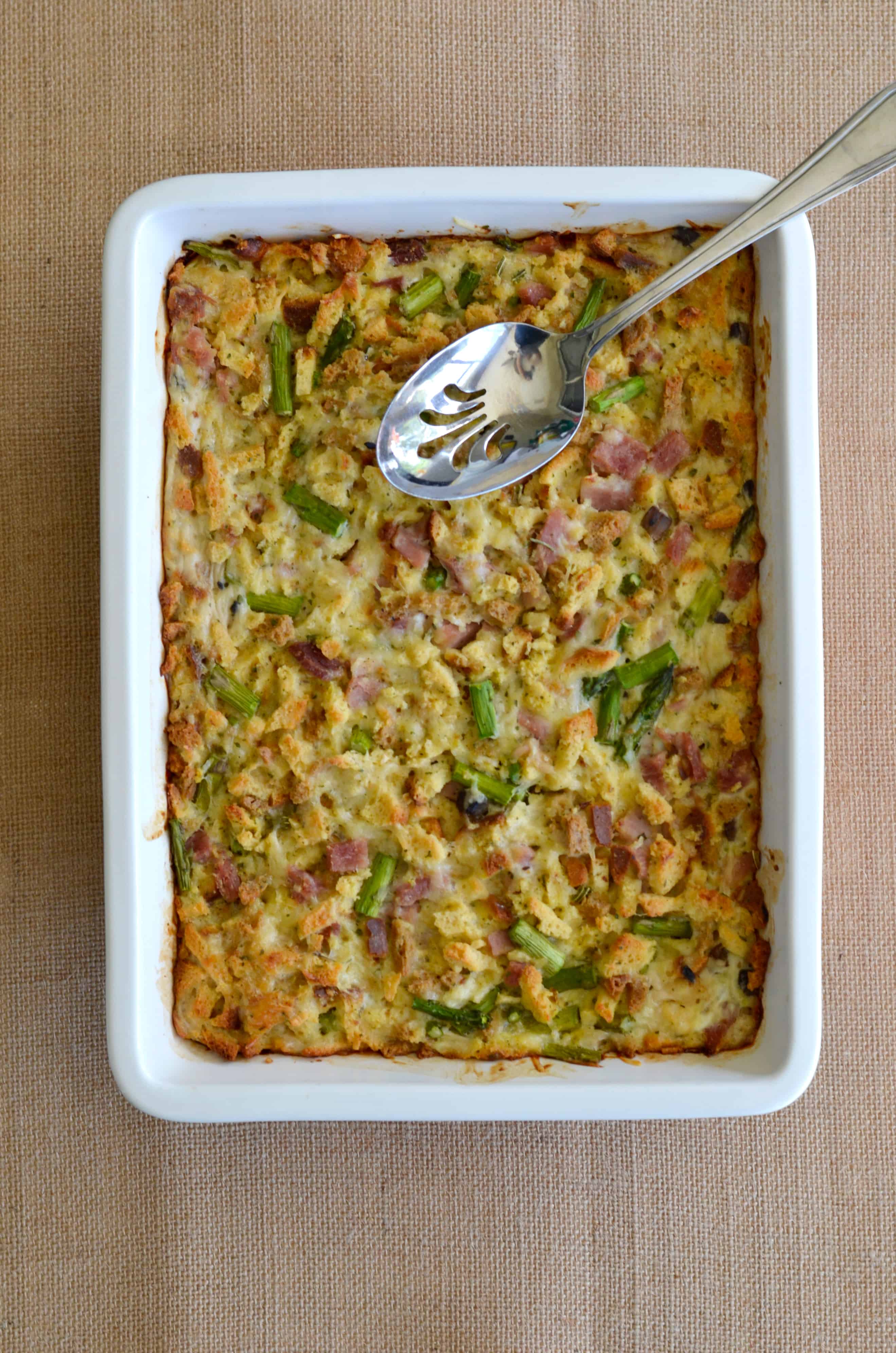 Mini Lasagna Rolls – An Italian comfort food dinner.
Get new recipes weekly plus our FREE ebook!