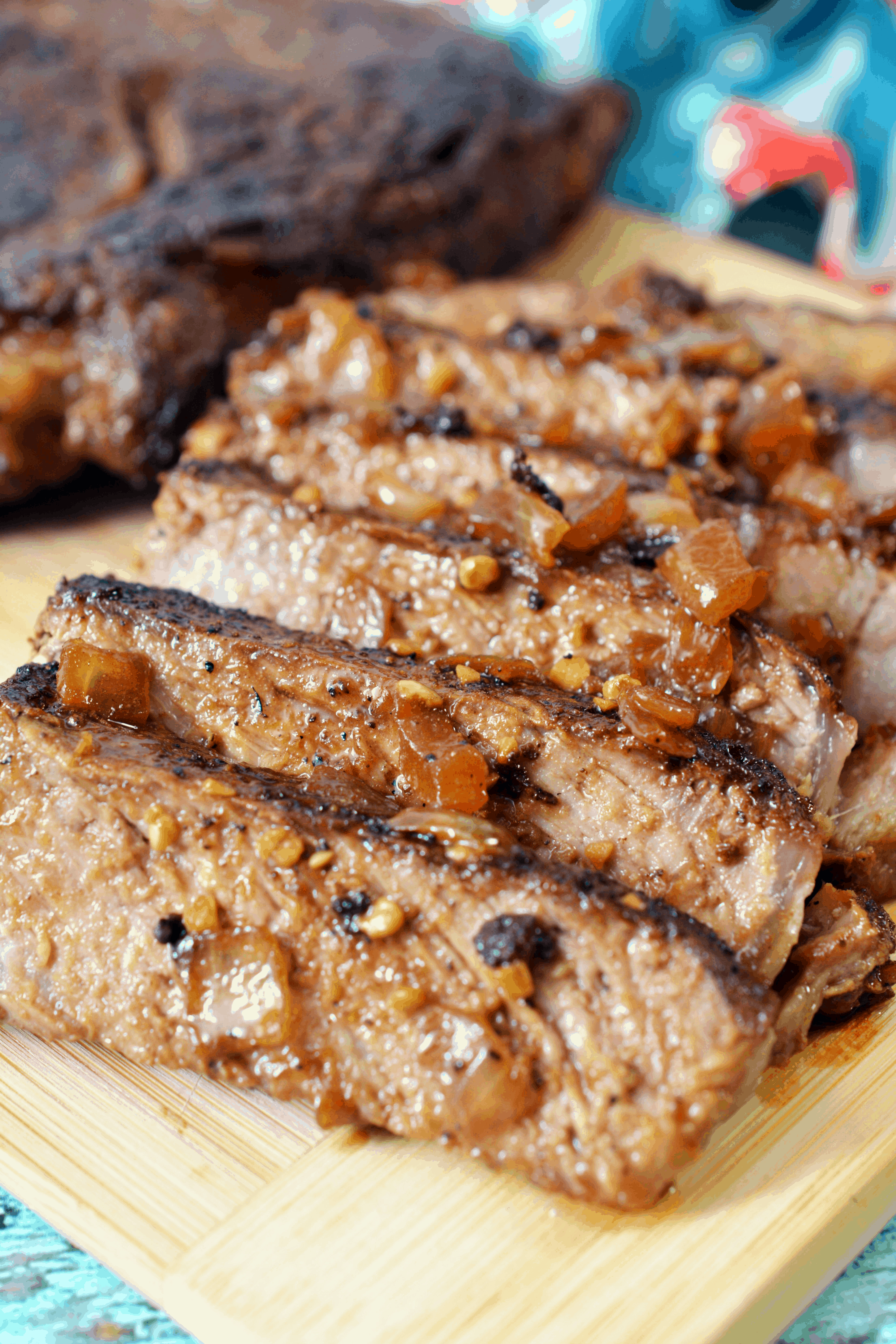 Seared ribeye steak with red wine pan gravy is a meal you won't soon forget. Have you ever made steak in a skillet? If not, you are in for a real treat with this delicious pan-seared ribeye steak.
I like to keep things cheap, easy and kid-friendly in my house, as you can see by the many casseroles and one-pan meal. I also try to keep the weekly grocery bill as cheap as possible.
However, there are sometimes where I just need to take things up a notch and prepare a nice meal, whether that's for an at-home date with my husband or dinner for friends. This seared ribeye with red wine gravy is one of those excellent meals I regularly make. It's seriously one of our favorite steak recipes!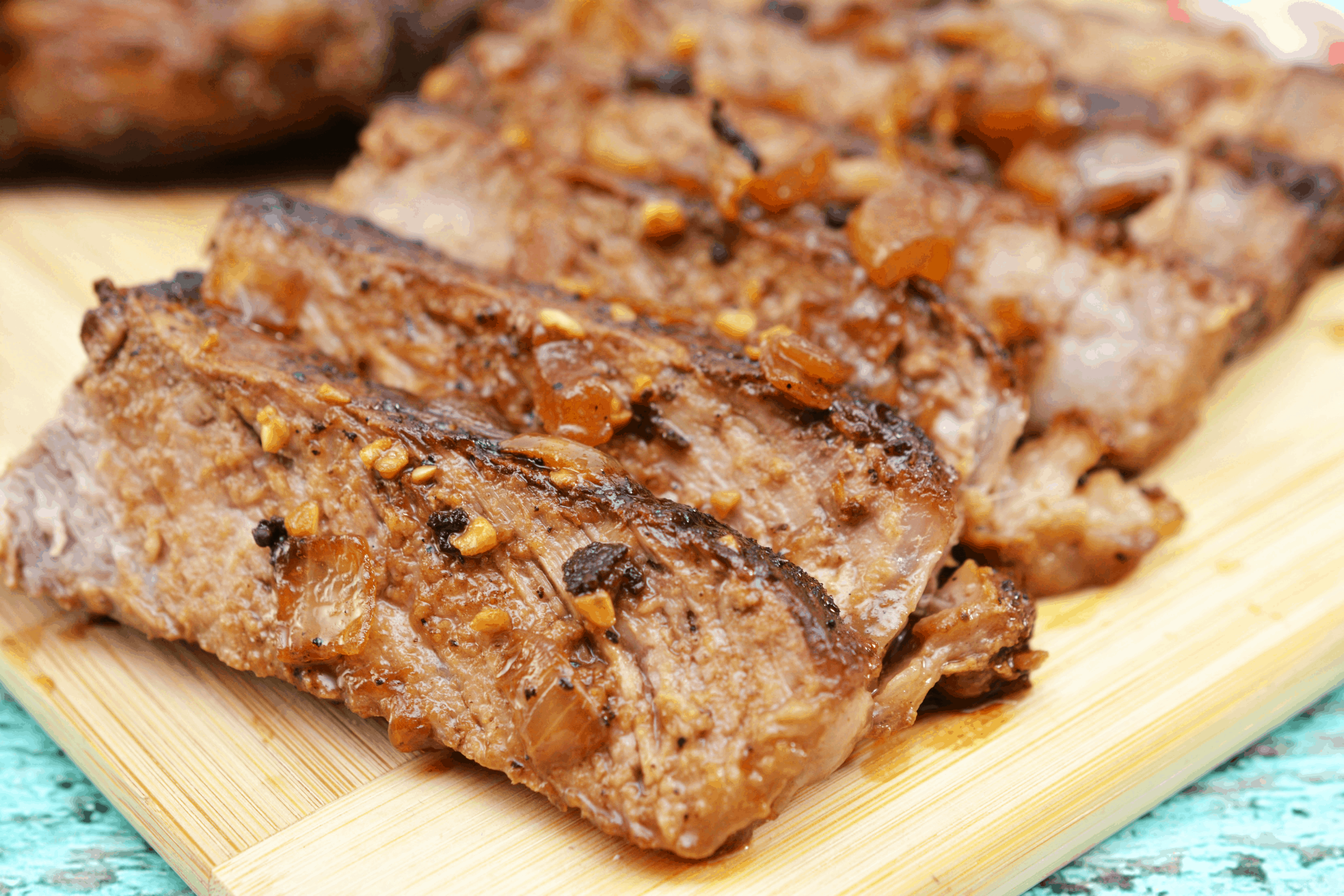 Scroll to bottom for printable recipe card.
What Is Ribeye Steak?
It's nice to understand what each cut of meat is, so I wanted to explain what ribeye steak is. Ribeye steak comes from ribs, and it's known for its marbling and juicy tenderness. You will find that ribeye steak also has tons of flavor, and that is what makes it ideal for this cast iron steak recipe.
How To Cook Ribeye Steak
Pan-seared ribeye steak is surprisingly easy, and the flavors are out of this world! Seriously, you are going to be amazed that you can make restaurant-quality cast iron steak in the comfort of your home. Take a look at these easy to follow steps to make one of your new favorite steak recipes:
First Step: For the perfect seared ribeye steak, warm butter and oil in a cast-iron skillet.
Second Step: Season steak with salt and pepper.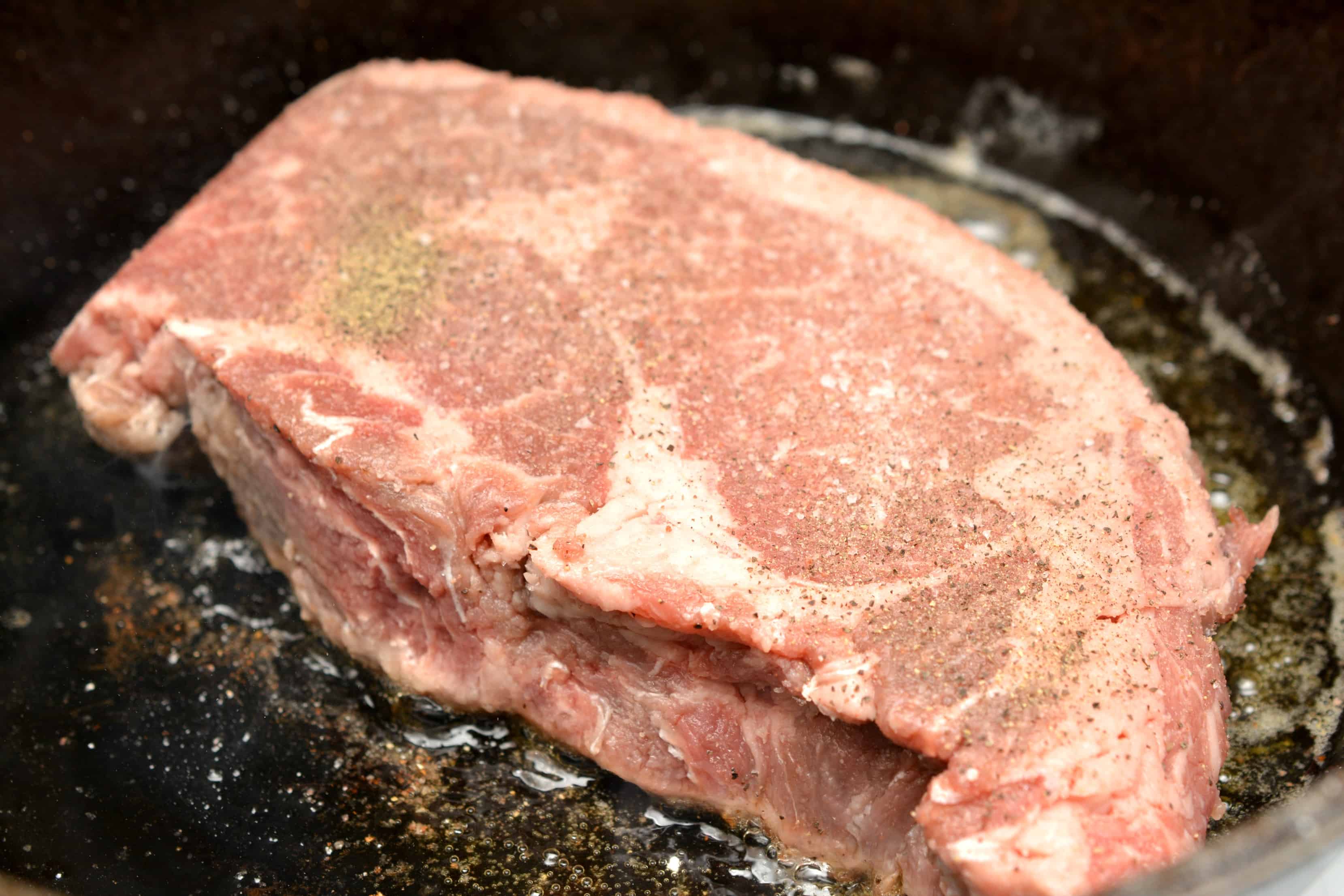 Third Step: Place ribeye into the hot pan and cook for approximately 6 to 8 minutes on each side, not moving the steak between turns. Use a meat thermometer to check internal temperature for doneness.
NOTE: It's essential to not mess with the steak as it's cooking. You want it to have a nice sear on it, and that is achieved when you let it cook for the full 6-8 minutes on each side. It's tempting to turn the pan-seared ribeye steak over early but don't.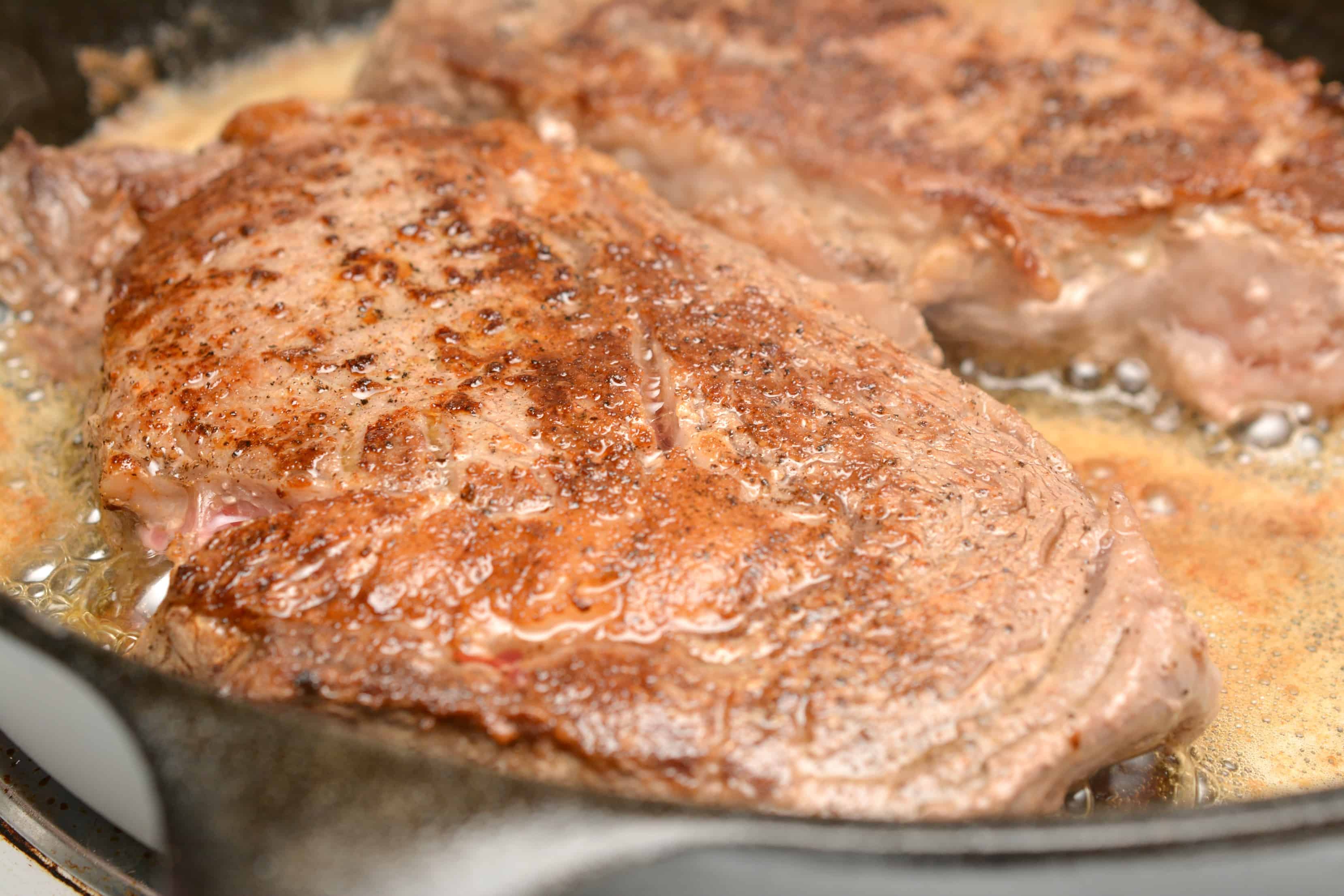 Fourth Step: Remove the seared sirloin to a pan to rest and add chopped onion to the pan. Cook until onions begin to soften, brown and become fragrant, then add garlic.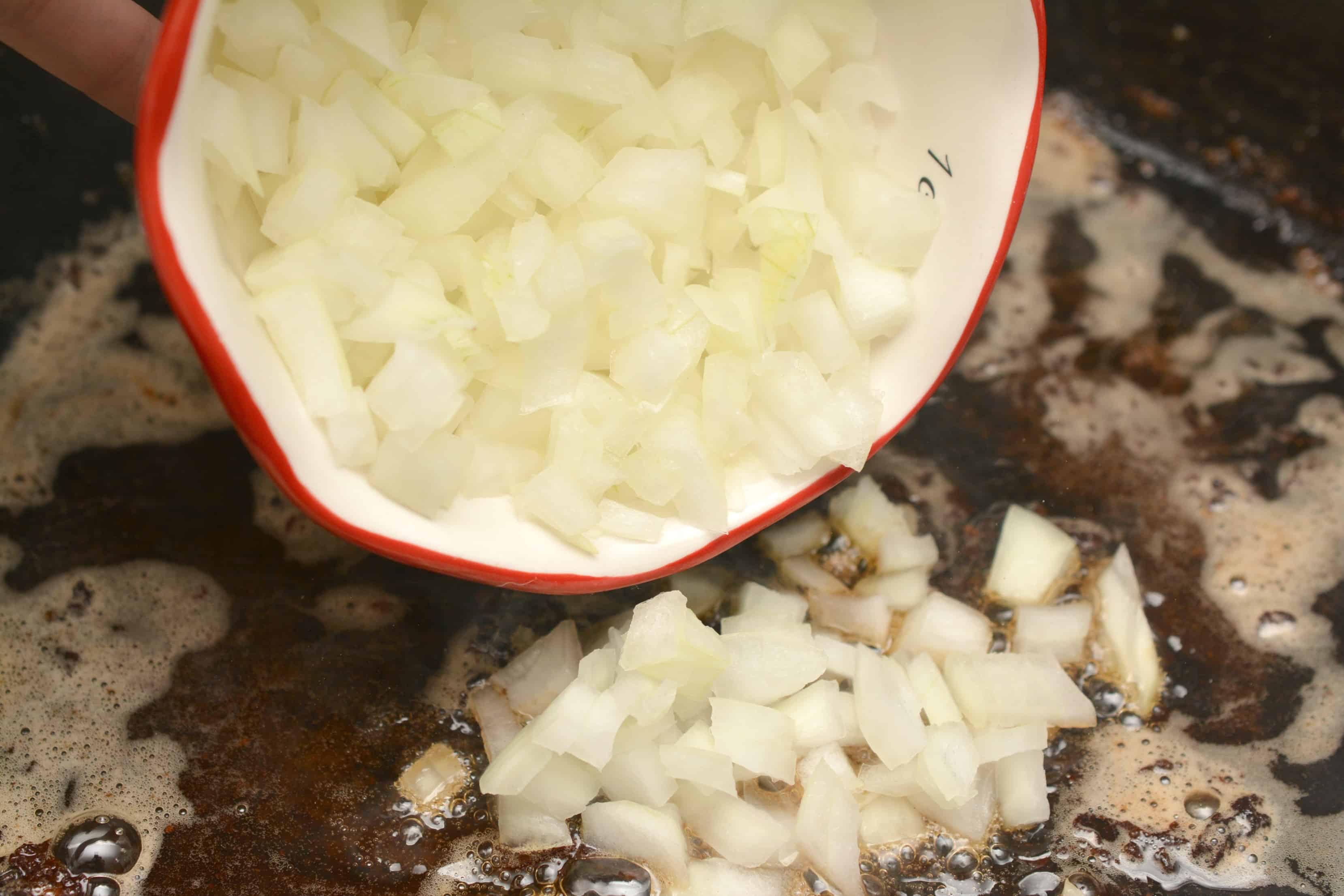 This is what the onions and garlic will look like when it's ready for the next step.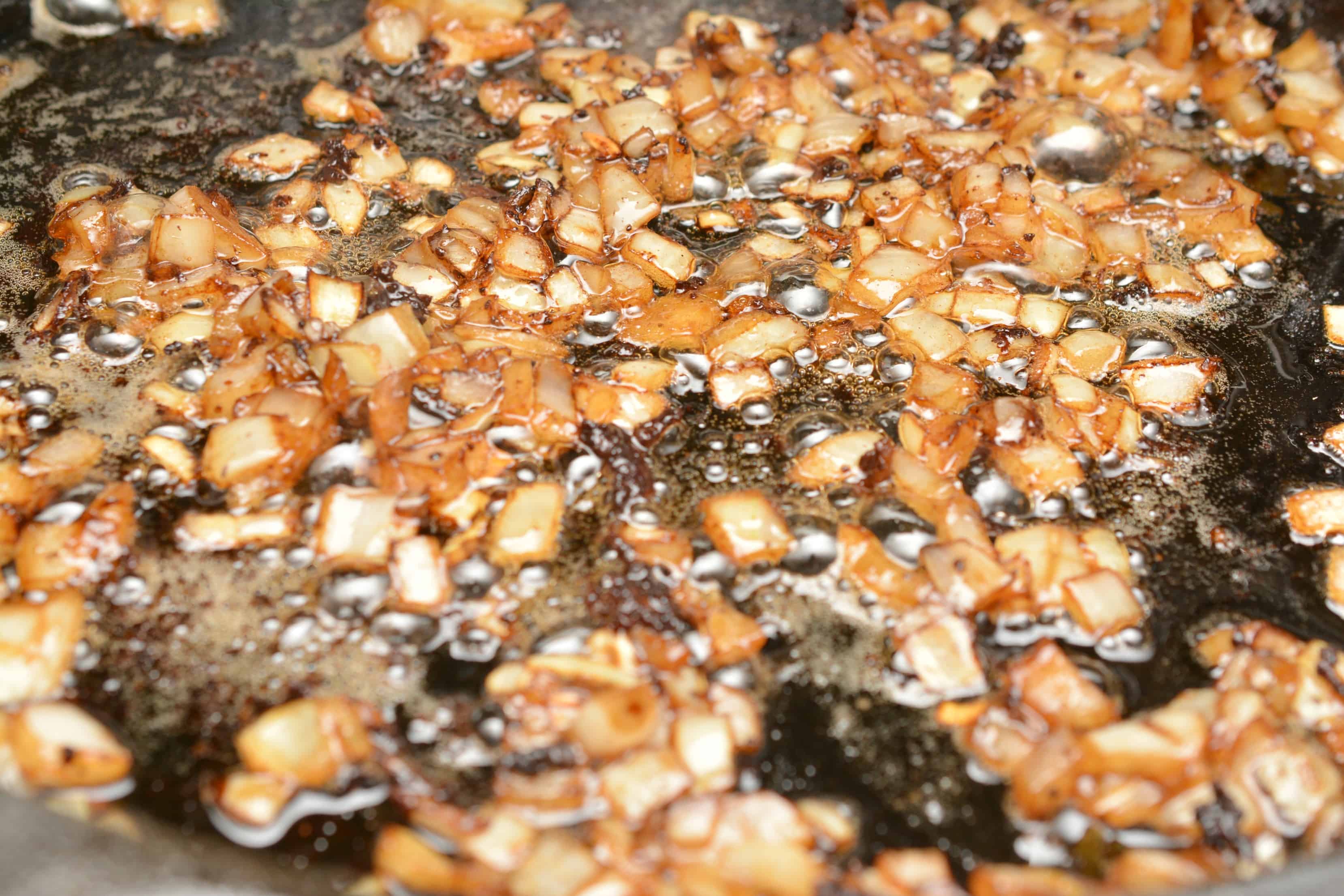 Fifth Step: Pour in red wine and scrape the bottom of the pan to deglaze it with a wooden spoon or spatula. Cook to reduce to at least half.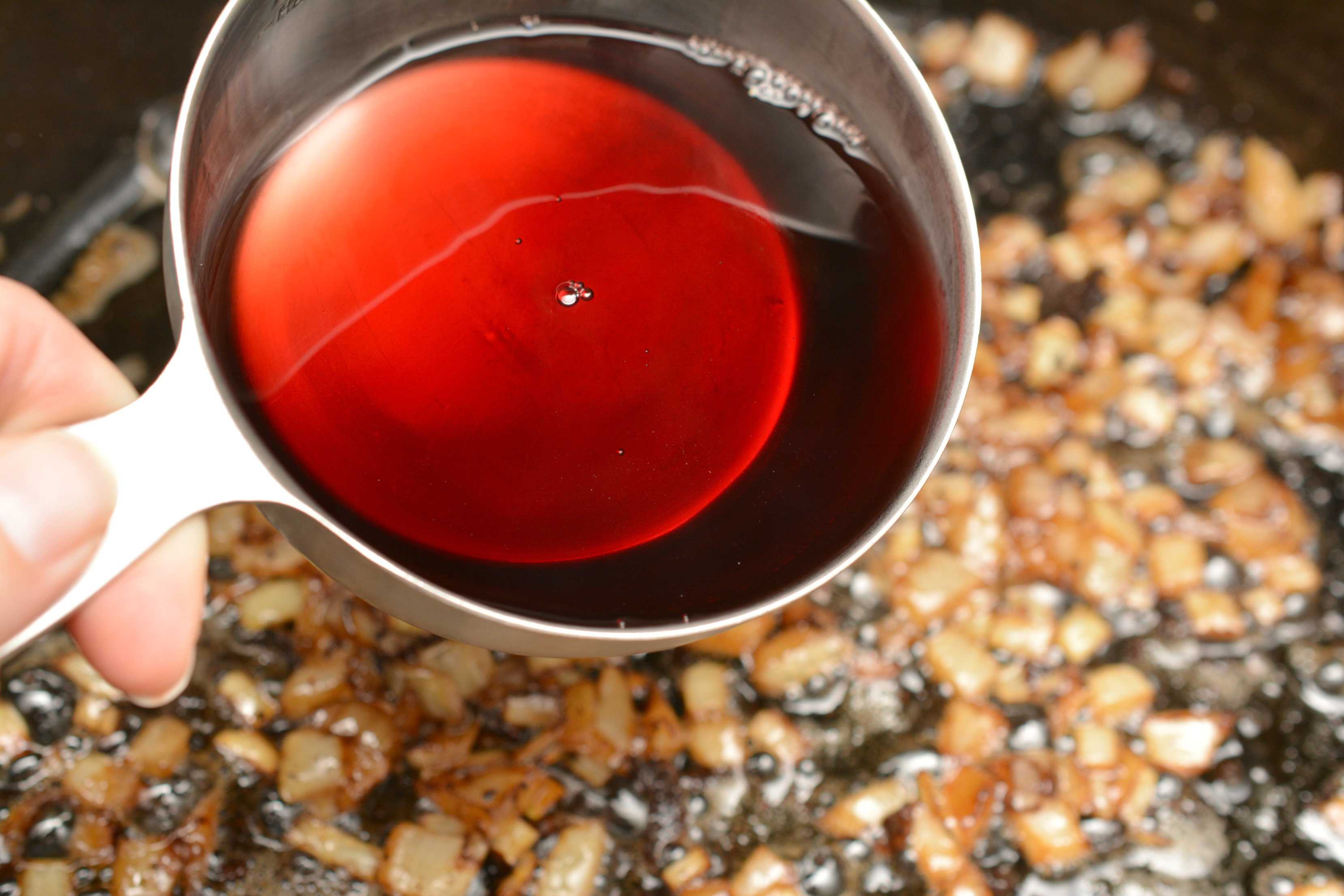 Sixth Step: Add the bone broth. Cook until it thickens.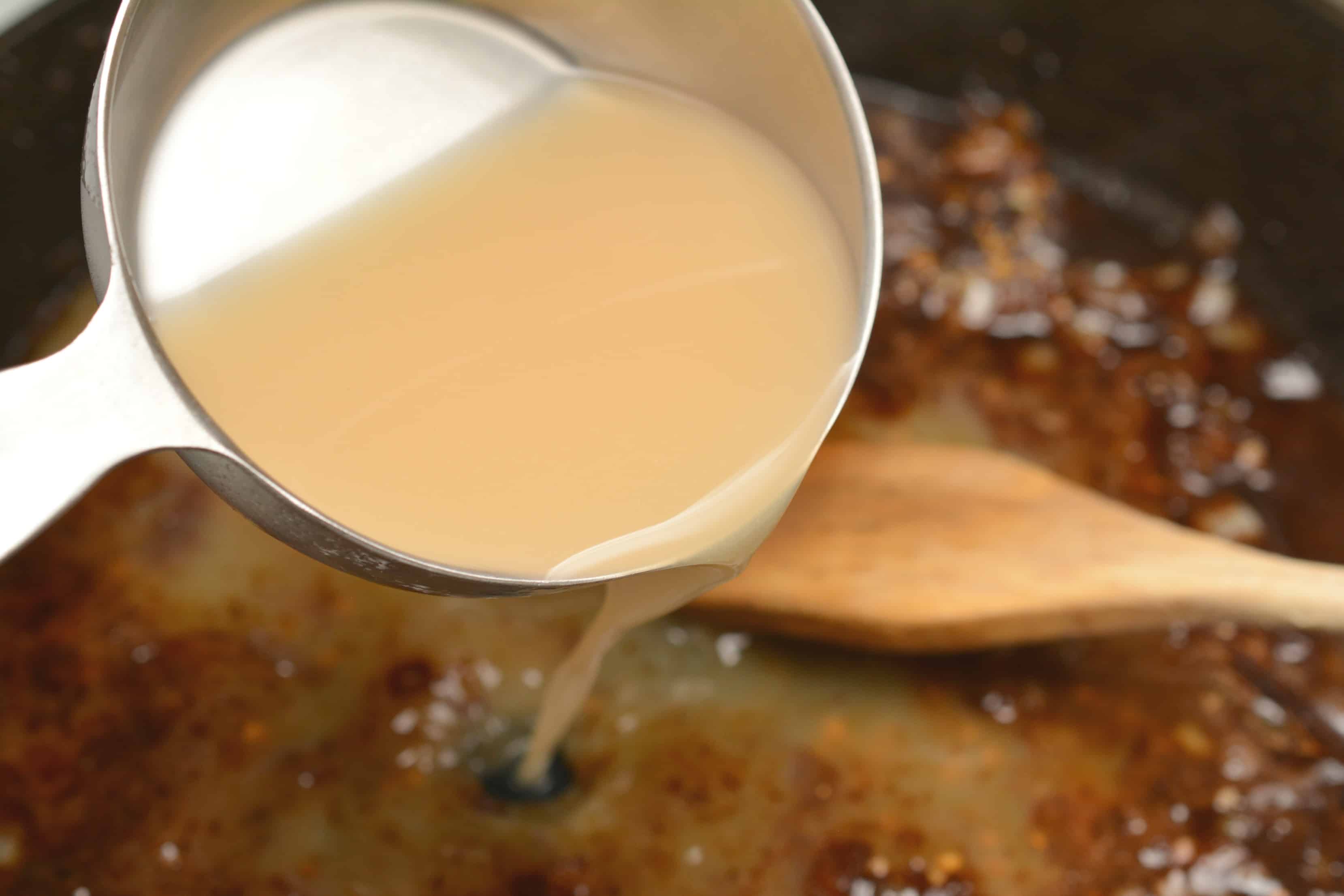 Seventh Step: Add in heavy whipping cream. Cook until red wine pan gravy reaches your desired consistency.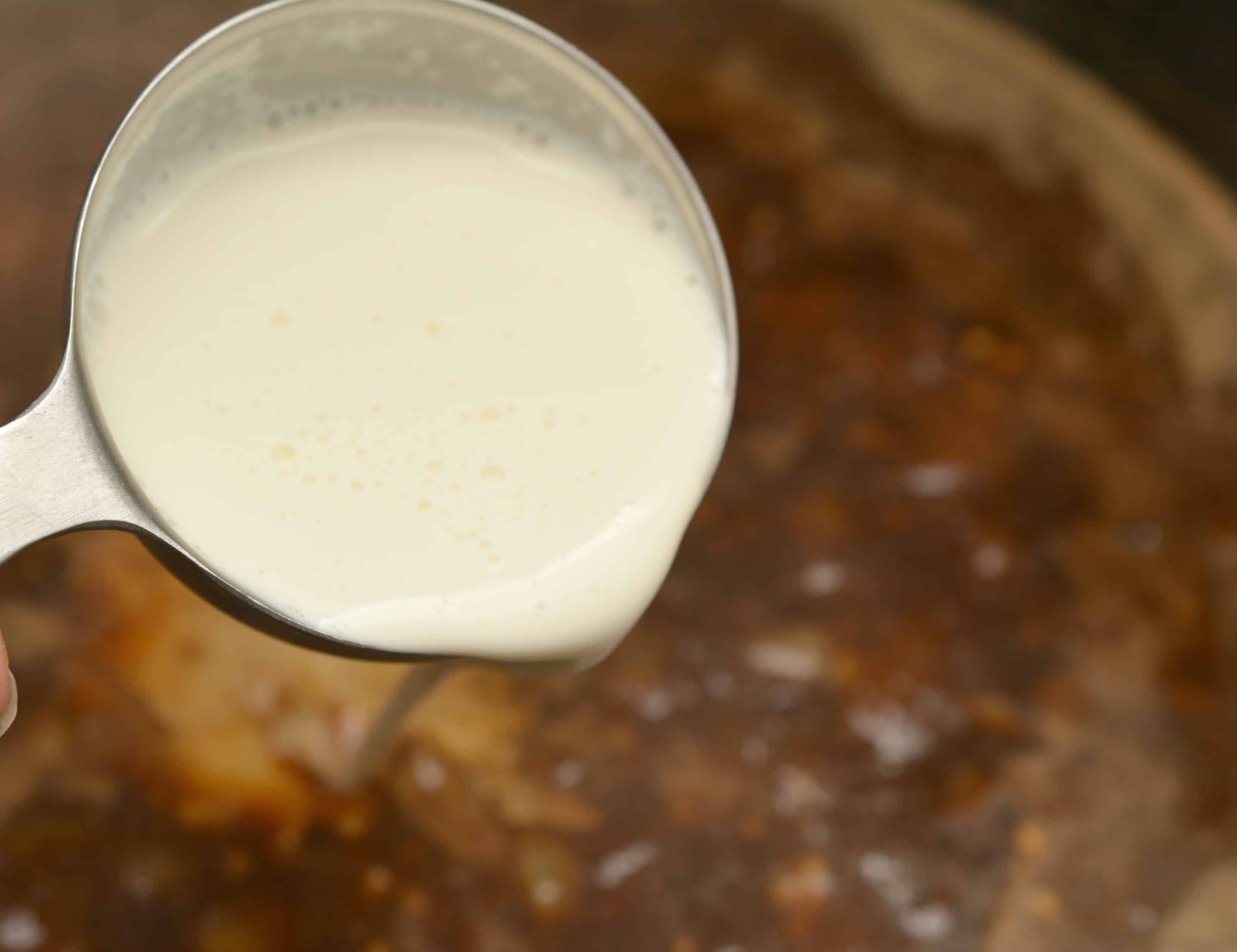 That's it! Now you can devour every bite of this delicious seared ribeye steak!
How To Tell When Steak Is Done?
There are a few ways to tell when the seared ribeye with red wine pan gravy is done and ready to eat. The easiest and most obvious way to check the pan-seared ribeye steak is to check the temperature with a meat thermometer. Here are the general guidelines for heating temperatures of steaks:
125 degrees F. for Rare
135 degrees F. for Medium-Rare
145 degrees F. for Medium
150 degrees F. for Medium-Well
160 degrees F. for Well Done
Another way to tell if steak is done is by comparing it to your face. I know it sounds strange, but you can feel your forehead, chin, and cheek with your fingers and compare it to the pan seared steak.
Cheek – When you want to make a medium-rare pan seared ribeye steak, when you press on it, it should feel like the same texture as your cheek. Fleshy and soft.
Chin – If you are looking for a cast iron steak that's medium, then it should feel similar to your chin when you push on it.
Forehead – Compare your forehead to the steak. If it's medium well, you will notice that there is a decent amount of resistance.
Best Steaks For Pan Searing
With there being so many choices when it comes to buying steak, I wanted to give you some tips to help you find the perfect steak. Look for these things when shopping for steak:
Marbling – You should notice marbling, which is white streaks and lines within the steak.
Firmness – When you press your finger into the ribeye steak, it should be soft and fleshy.
Right Cut of Meat – For this cast iron steak recipe, I used ribeyes because they cook the best on the stovetop. You can also choose a New York Strip or Flat Iron and have similar results.
How To Store Cooked Steak
Wrap leftover seared ribeye with red wine pan gravy in an airtight container. I prefer to wrap the ribeye steak in aluminum foil before refrigerating it. Wrapping the cast iron skillet ribeye, keeps it moist and makes it last longer in the fridge. You can store leftover steak for 3-4 days.
Can I Freeze Steak?
Yes, you can freeze this ribeye steak recipe. Simply make the steak as directed and tightly wrap in aluminum foil or plastic wrap. Then place the pieces of steak in a freezer safe container. It will last around 3-4 months in the freezer, so it's ideal for meal planning.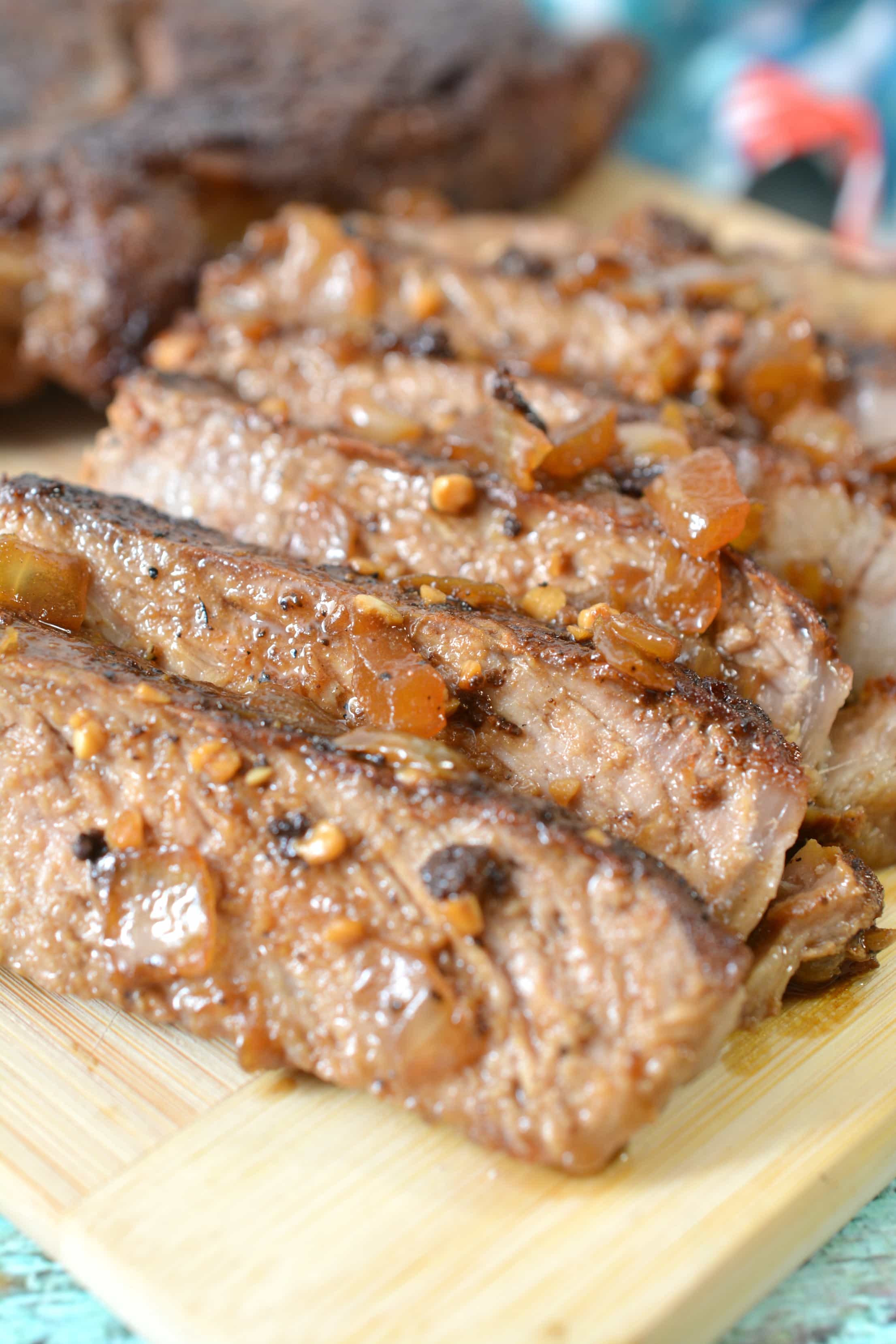 How To Reheat Steak
The last thing you want to do is make the best ribeye steak, and then you go to reheat it, and it turns out super dry. Try these methods to get a juicy and flavorful leftover steak.
In A Skillet – Pour some beef broth into a cast iron skillet and allow it to heat up, just until it's boiling. Then place the ribeye steak in the pan, and it will warm up. This will only take 2-3 minutes.
Microwave – Take the pan seared ribeye steak and put it in a deep microwavable dish. Then pour in some gravy or beef broth, cover with a lid or paper towel and microwave. Stick with 30-second intervals.
Oven Method – Place the steak in a baking dish and heat the oven to 250 degrees F. Allow the seared ribeye steak to cook for 20-30 minutes until it's heated through. Preferably, top the warm steak with leftover wine pan gravy.
What To Serve With Cast Iron Steak?
All of these ideas will go perfectly with your favorite steak recipes. Here are some ideas to try:
Salad – I love having a big garden salad that is filled with veggies and drizzled in ranch dressing.
Fruit Salad – Any fruit salad will go beautifully with this pan seared ribeye. Try my yummy tomato and watermelon salad.
Bread – Sliced fresh bread, dinner rolls, garlic knots, you can't go wrong with serving this ribeye recipe with some bread! It's all delicious.
Potatoes – Mashed, scalloped, hashbrowns, or french fries are my favorite ways to serve potatoes with steak.
Rice – I love eating steak with a bed of wild or brown rice. It's so good!
Roasted Veggies – Roast your favorite veggies in the oven with a little bit of olive oil, salt, and pepper. Most of the time they take around 20 minutes to cook and are a fantastic addition to your meal.
Enjoy!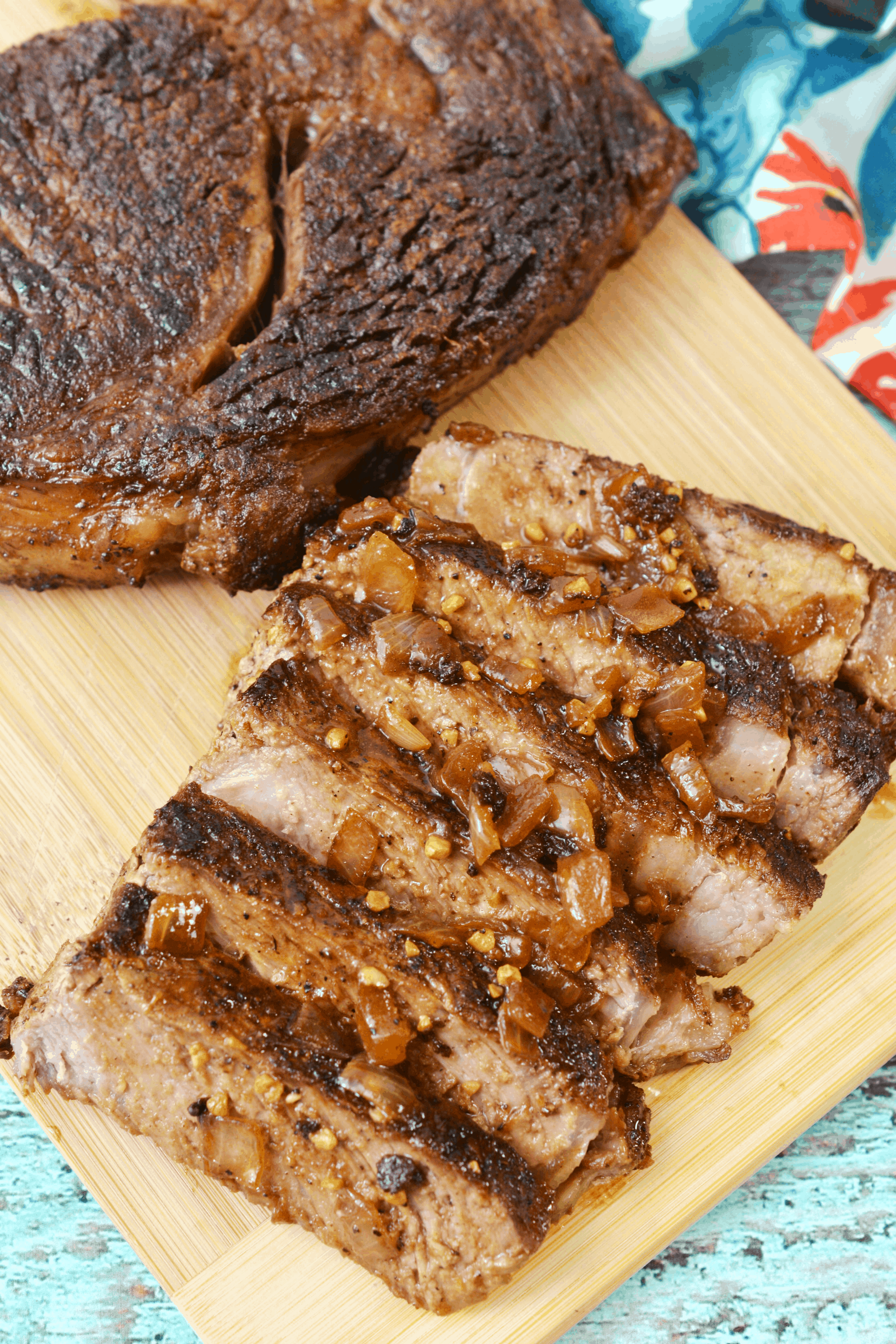 Now let's pin this hearty Seared Ribeye Steak With Red Wine Pan Gravy for later:

Pin this recipe now to remember it later
Seared Ribeye Steak With Red Wine Pan Gravy
Ever wondered how to cook a ribeye steak on the stove? This recipe for the Perfect Seared Ribeye Steak with Red Wine Pan Gravy will show you how to make the best ribeye steak you've ever had.
Ingredients
3

lbs.

Thick cut Ribeye steak

¼

c.

Heavy whipping cream
Want to save this recipe? Enter your email below and we'll send the recipe straight to your inbox!
NOTE: By saving this recipe, you agree to join our weekly recipes newsletter.
Instructions
Heat 1 tablespoon of oil and 1 tablespoon of butter over medium-high heat in a large skillet.

Apply salt and pepper to taste to both sides of your ribeye steaks.

Once the skillet is hot, place the steak into it and cook for 6-8 minutes on each side. Do not move the steak around. Let it sit on each side for the allotted time to ensure a great sear. Be sure to sear the sides all of the way around the edge of the steak as well to render the fat found there.

Remove the steak from the skillet and place it on a cutting board or cooling rake to rest.

While the steak is resting, add the chopped onion to the pan juices. Cook for 2-3 minutes until the onions begin to soften and brown.

Add 2 cloves of minced garlic to the pan and stir, cooking for an additional minute.

Pour in ½ cup of red cooking wine, and scrape the bottom of the pan to deglaze it. Cook the wine down until it is reduced by at least half

Mix in 1 cup of bone broth. Continue to cook it down until it begins to thicken.

Add in ¼ cup of heavy whipping cream. Stir and cook the pan gravy down until it has reached your desired consistency.

Slice the ribeye steak, and plate it served with a bed of greens and smothered in the red wine pan gravy.
Nutrition
Calories:
405
kcal
|
Carbohydrates:
2.9
g
|
Protein:
3.7
g
|
Fat:
28
g
|
Saturated Fat:
2.7
g
|
Cholesterol:
12
mg
|
Sodium:
30
mg
|
Fiber:
0.4
g
|
Sugar:
0.8
g
Follow me on Pinterest for daily delicious recipes!
Check these recipes too:
Ham And Cheese Pin Wheels – Absolute Yum!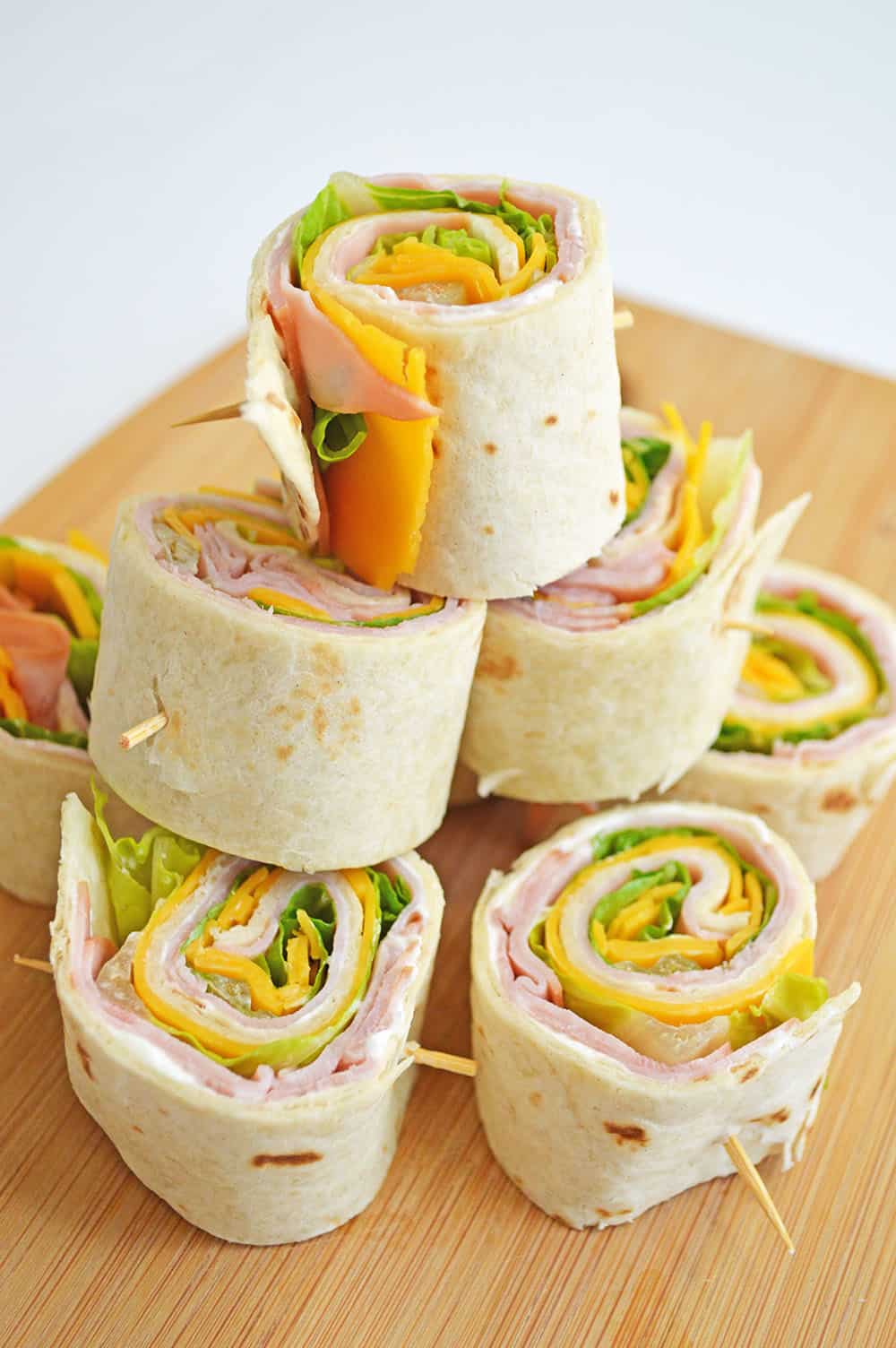 Buffalo Shrimp – Kids friendly!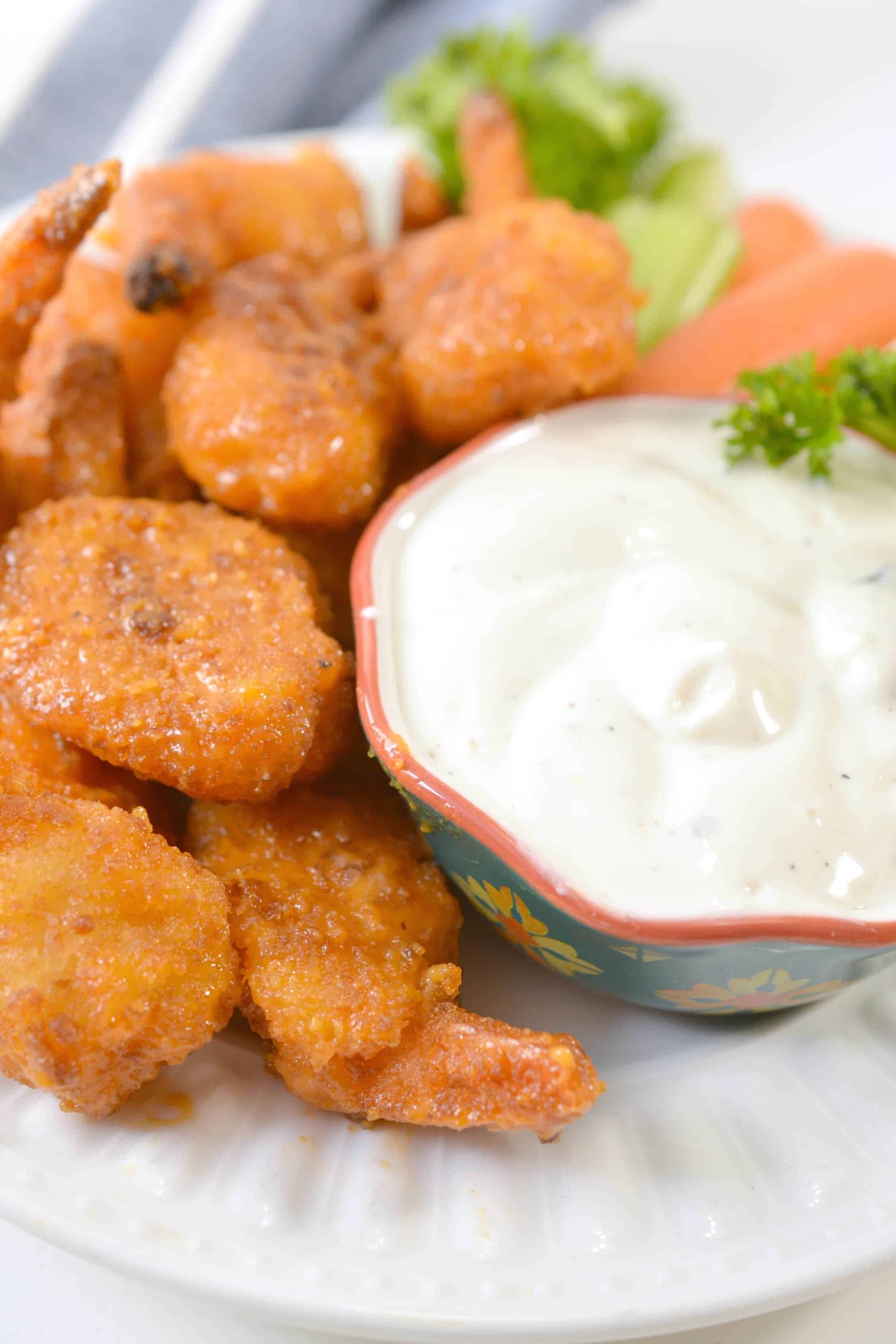 Slow Cooker Pork Chops and Potatoes – A true comfort food meal!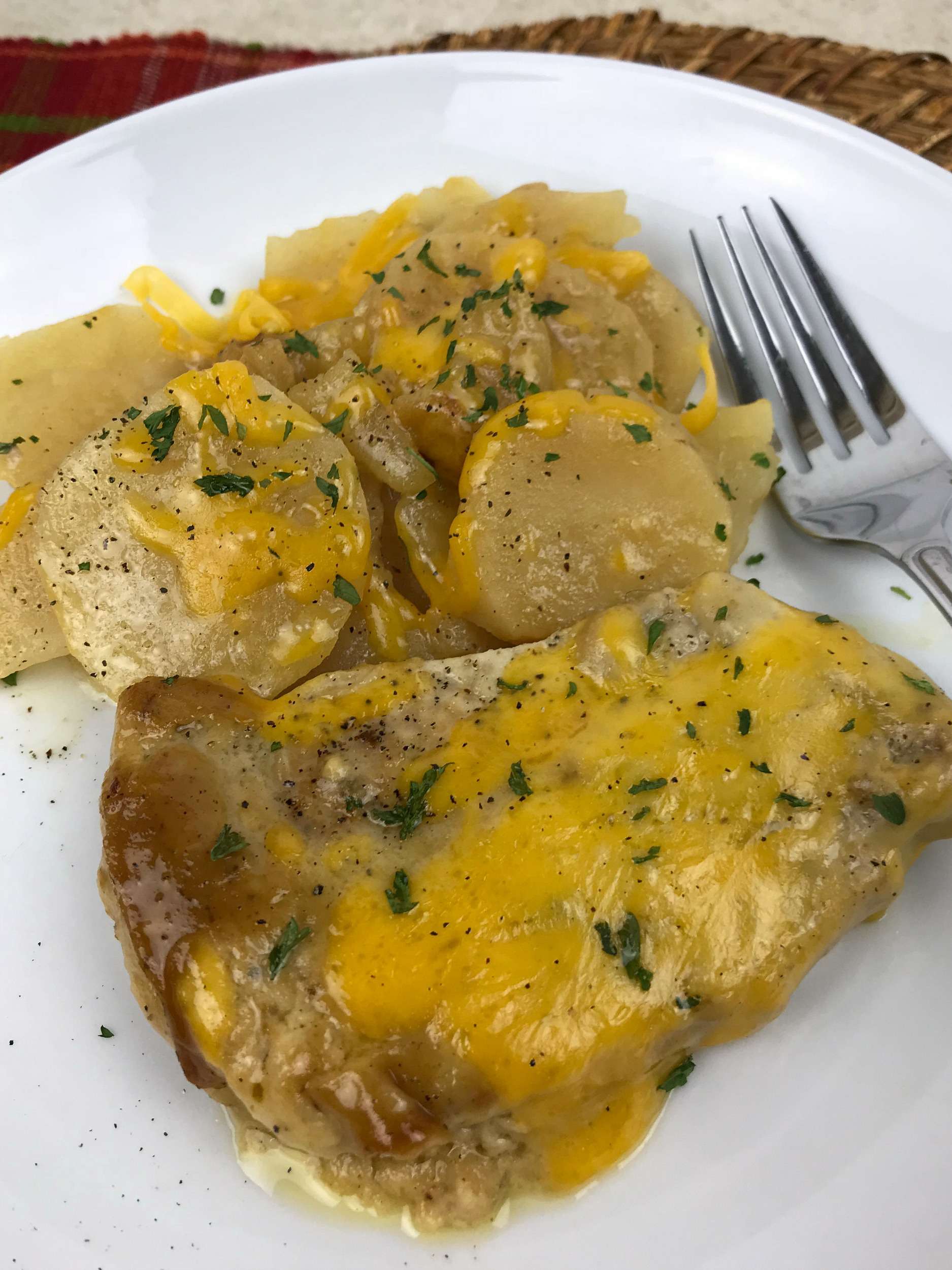 Garlic Butter Steak with Zucchini Noodles – Garlic Butter Steak with Zucchini Noodles is about to become you're favorite low-carb, easy "melt in your mouth" dinner recipe!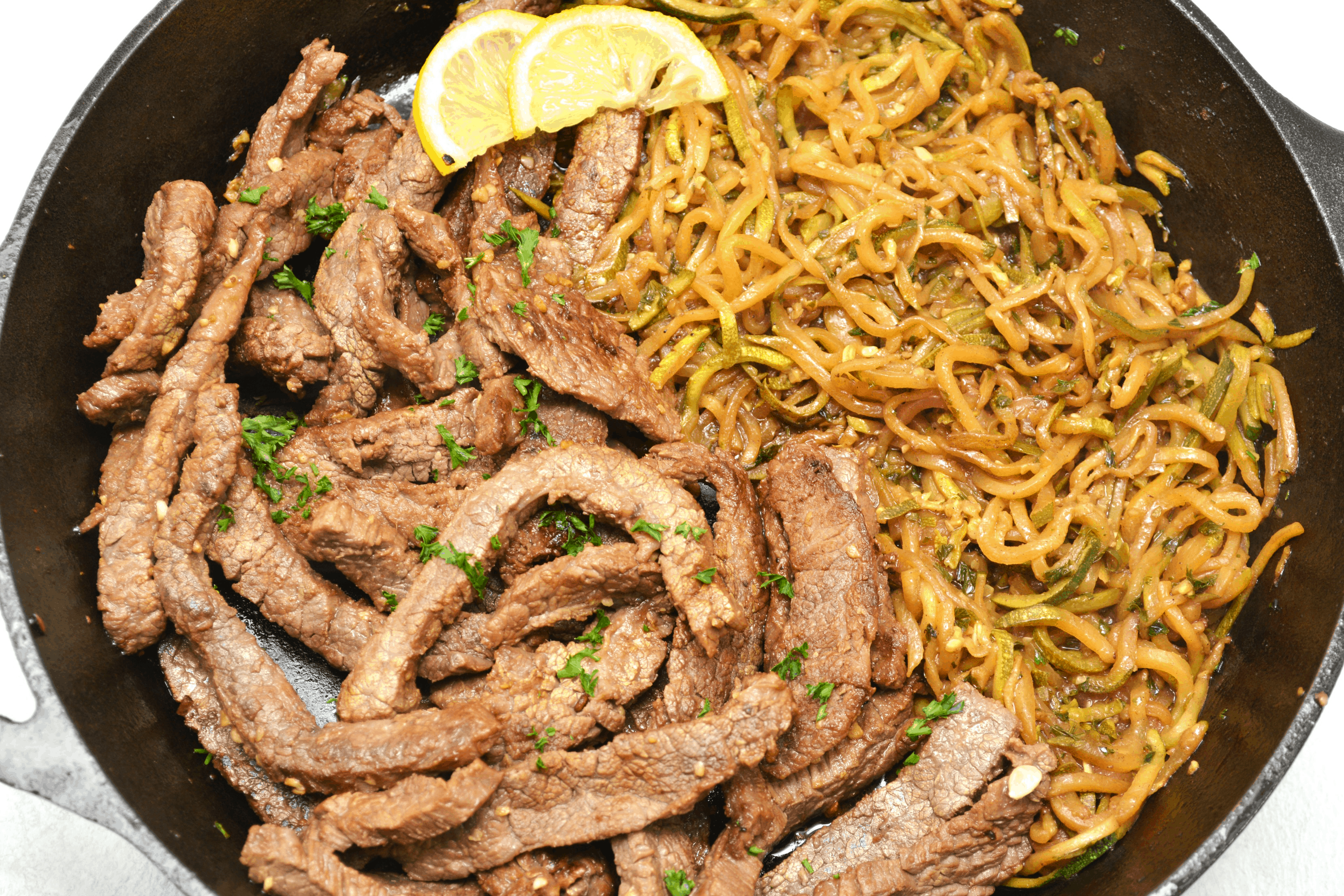 Steak Bites – These Steak Bites with Garlic Butter are similar to the Garlic Butter Steak recipes you may know and love, just easier to make.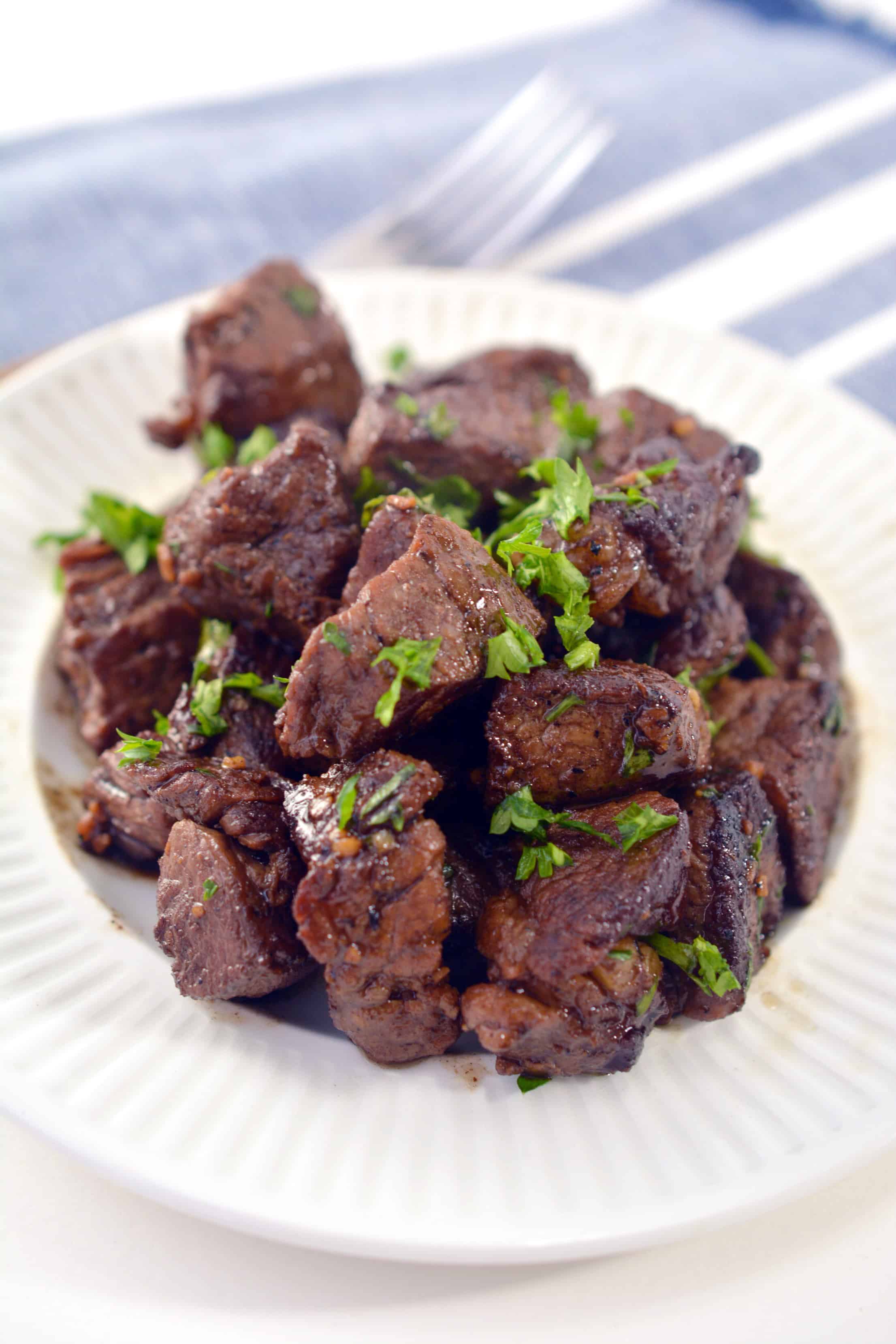 Get new recipes weekly plus our FREE ebook!