You've never had such an indulgent treat as these S'mores Cookies! They are soft, chewy, and filled with Hershey's chocolate, toasty marshmallows, and chocolate chips. You only need 12 ingredients to make these graham cracker chocolate chip cookies, and you'll be amazed by them. I have made this s' more cookie recipe for years, and it never gets old.
Sometimes I get a major craving for chocolate, and these Hershey cookies are always right there to rescue me. If you do a lot of holiday baking, summer barbecues, or parties, these chocolate chip marshmallow cookies would be a great addition.
Scroll to bottom for printable recipe card.
Graham Cracker S'mores Cookies Recipe
If you want to bring a smile to a friend or co-workers, face, I highly recommend making these graham cracker chocolate chip cookies! They make the best gifts during the holiday season and are fantastic for cookie exchanges. If you make them for bake sales or community events, they will almost always be one of the first to go.
Don't take my word for it, though! Try these Hershey's toasted s' mores cookies for yourself and make your own opinion. Just don't forget to let us know what you thought.
What Are S'mores Cookies?
A s'mores cookie is very similar to a regular s' mores treat, but it's a cookie instead. It has graham crackers in the cookie batter, and it's full of yummy marshmallows and chocolate. Those are the three staples to any delicious s' mores dessert.
S' more Cookie Recipe Ingredients
Odds are, you have most of the ingredients for these cookies in your pantry already! If not, none of them are too hard to find and aren't inexpensive either. Take a look at what you need:
Graham crackers – This is the most essential ingredient to give these easy s' more cookies the flavor you are used to.
Flour – Use all-purposed flour whenever possible. Fill the measuring cup and take a knife to scrape off any excess.
Baking soda – You need a little baking soda, so the Hershey cookies rise correctly.
Salt – Just a little bit goes a long way.
Cinnamon – I love adding a touch of cinnamon to these graham cracker chocolate chip cookies!
Unsalted butter – Make sure that the butter is softened for the best results.
Brown sugar – Brown sugar adds some depth to these yummy cookies.
Granulated sugar – You can't make cookies like this without a little sugar.
Eggs – I always have the best luck when they are room temperature when I start out.
Vanilla – One of the best ways to enhance the flavor of the cookies.
Semi-sweet chocolate chips – Adding chocolate chips gives you an even more intense chocolate flavor.
Mini marshmallows – The mini marshmallows take these cookies to the next level. Yum!
Hershey's bars – In my eyes, no other chocolate will do! It has to be Hershey's to give you that amazing flavor you're looking for.
How To Make Chocolate Chip Marshmallow Cookies
I know at first glance, you may think this s' more cookie recipe may take a lot of work, but they don't. You can whip up a batch in no time, and they are worth every second.
First Step: Line 2 baking sheets with parchment paper and preheat the oven to 375 degrees F.
Second Step: Place graham crackers on the baking sheets, so they are side by side and touching.
Third Step: Using a medium bowl, mix the flour, baking soda, salt, and cinnamon together using a whisk. Set aside for later.
Fourth Step: Use a stand mixer with the paddle attachment to cream the butter and brown sugar and granulated sugar. Mix for about 2-3 minutes, and the texture should be light and fluffy. Then add the egg and vanilla to the butter and sugar mixture.
Fifth Step: Slowly pour in the flour and continue mixing on low speed. Just mix until it's combined, and be careful not to overmix.
Sixth Step: Add the marshmallows and chocolate chips. Use a cookie scoop and put cookie dough on top of each graham cracker square. Lightly press the dough down with your fingertips.
Seventh Step: Bake the cookies for 5 minutes and remove from oven. Place the broken Hershey's bars on top of the cookies and press them down slightly.
Eighth Step: Put the cookies back in the oven and bake for an additional 5-7 minutes. The cookies should be a golden brown color when they are done. Cool them on a wire rack then serve. Enjoy!
How Do You Store Chocolate Chip Marshmallow Cookies?
This s' more cookie recipe is perfect for making ahead. You can easily store the cookies in a plastic or glass food container with a well-fitted lid. They need to be kept airtight and will last around 4-5 days. It's not necessary to refrigerate the cookies, so you can leave them in your pantry or on the counter.
It's important to know that the s' mores chocolate chip cookies won't do well in the heat. So never keep them close to the oven or near the dishwasher when it's running and steaming. Also, keep them out of the sunlight, or they will be melty and dry out.
Can You Freeze This S' More Cookie Recipe?
Yes, you can freeze these chocolate chip marshmallow cookies. For best results, lay them out on a cookie sheet and put them in the freezer for 1-2 hours. This will flash freeze them, so when they touch each other, they won't stick together.
Once you remove them from the freezer, you can put them in a plastic storage container or even a freezer-bag. When you want some, just grab out what you need and let them thaw. Then serve! It's that easy!
If you're still craving cookies after eating these s'mores cookies, you should try some of these:
Now, remember to save this recipe on Pinterest for later 🙂
Pin this recipe now to remember it later
Graham Cracker S'mores Cookies
Bite into these S'mores Cookies, and they'll make you moan with pleasure. Graham cracker chocolate chip cookies are exactly what you've been waiting for.
Ingredients
1

package graham crackers

,

broken into squares

11

tablespoons

unsalted butter

,

softened

1

cup

brown sugar

,

packed

2

large eggs

,

room temperature

1

12 ounce bag semi sweet chocolate chips

2

– 3 regular sized Hershey's bars

,

broken into pieces
Want to save this recipe? Enter your email below and we'll send the recipe straight to your inbox!
NOTE: By saving this recipe, you agree to join our weekly recipes newsletter.
Instructions
Preheat oven to 375 degrees F. Line two rimmed cookie sheets with parchment paper. Lay out graham crackers side by side on the pans as close as possible (they should be touching).

In a medium bowl, whisk together the flour, baking soda, salt and cinnamon; set aside.

In the bowl of a stand mixer fitted with the paddle attachment, cream butter with both sugars until light and fluffy, about 2-3 minutes. Beat in egg and vanilla.

Reduce the mixer to low speed and add the flour mixture, mixing until combined.

Fold in chips and marshmallows. Place tablespoons of dough on each graham cracker square. Press down slightly with fingertips.

Bake for 5 minutes then remove from oven to press Hershey's bar pieces on to the top.

Return pans to the oven and bake for 5 to 7 more minutes or until dough is golden brown at the edges. Remove to a wire rack to cool.
Follow me on Pinterest for daily delicious recipes!
If you love making sweet treats to give to family and friends, you might some more ideas. Here are some other ideas that you might like.
Iced Thumbprint Cookies – You are going to love the sweet/salty combination that these cookies have. They're buttery, sweet, melt in your mouth deliciousness.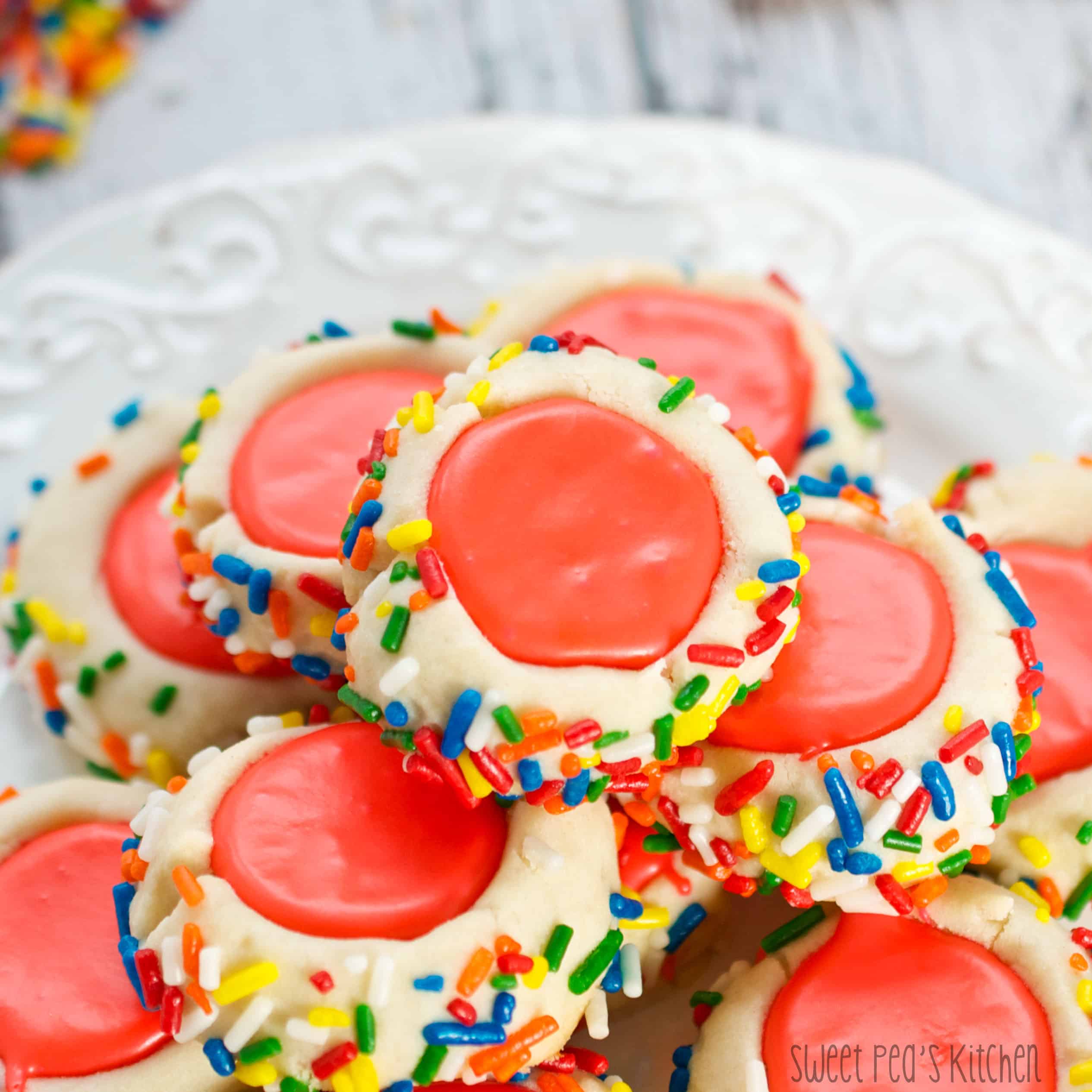 Eggnog Cupcakes with Rum-Infused Frosting – Just in time for the holiday season, you should try and gift these Eggnog Cupcakes with Rum Infused Frosting.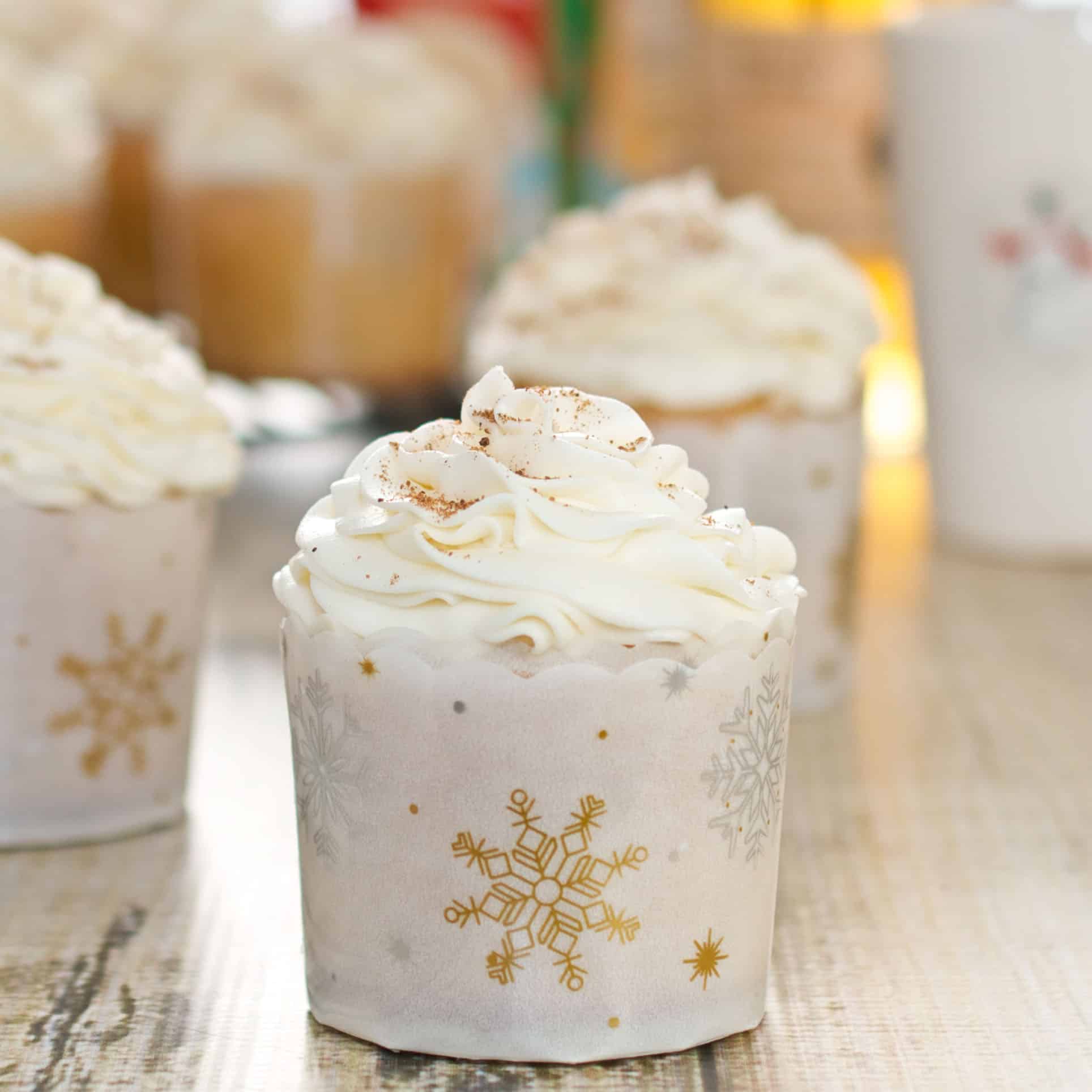 Starbucks Gingerbread Loaf – Inspired by the Gingerbread loaf at Starbucks, you are going to love this sweet loaf bread. Bring the rich gingerbread flavor into your own kitchen.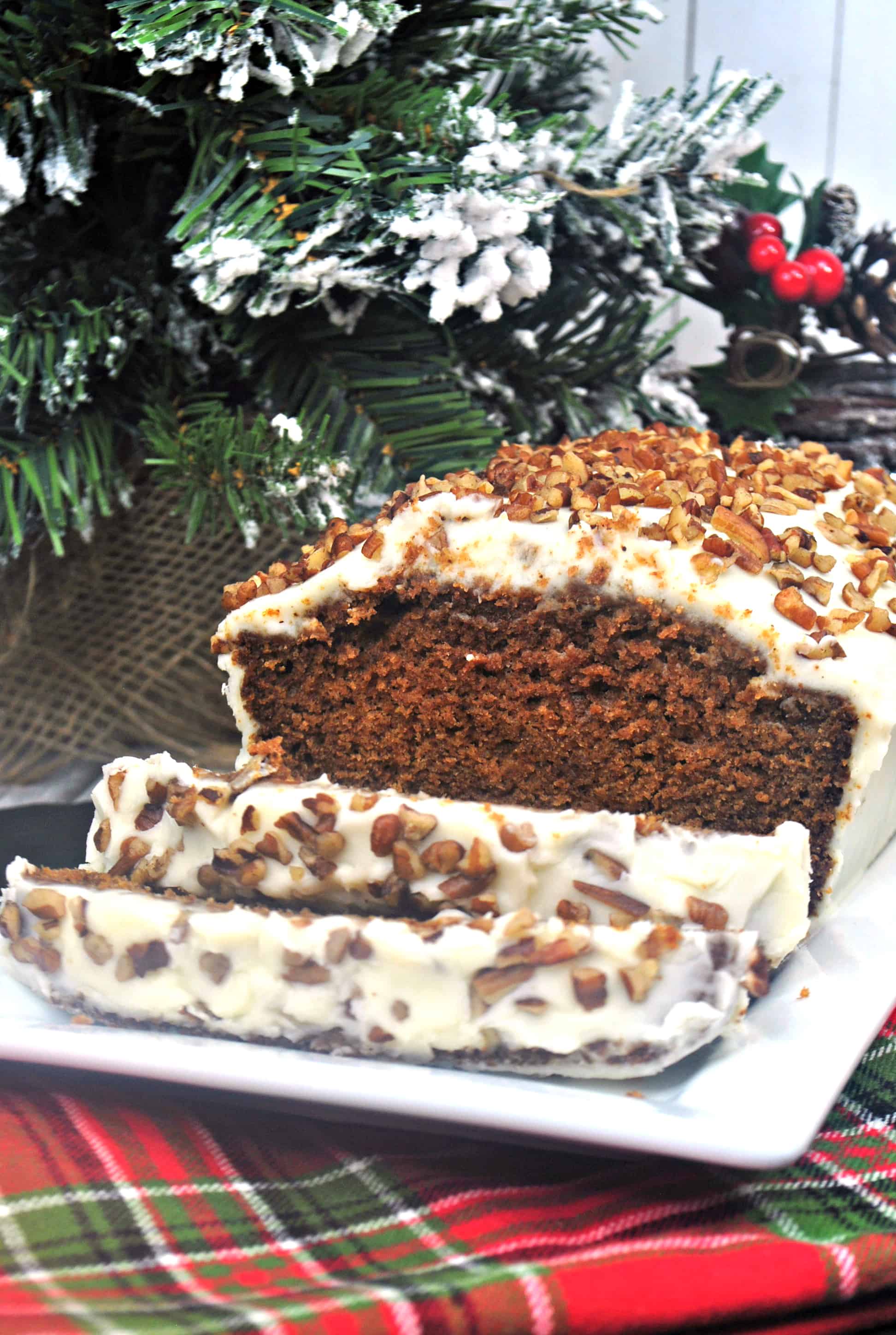 Brown Sugar Maple Cookies – Sweet, Large, Chewy and so flavorful, you are going to love how these cookies come out. Everyone is going to love to get the cookies as a gift any time of year.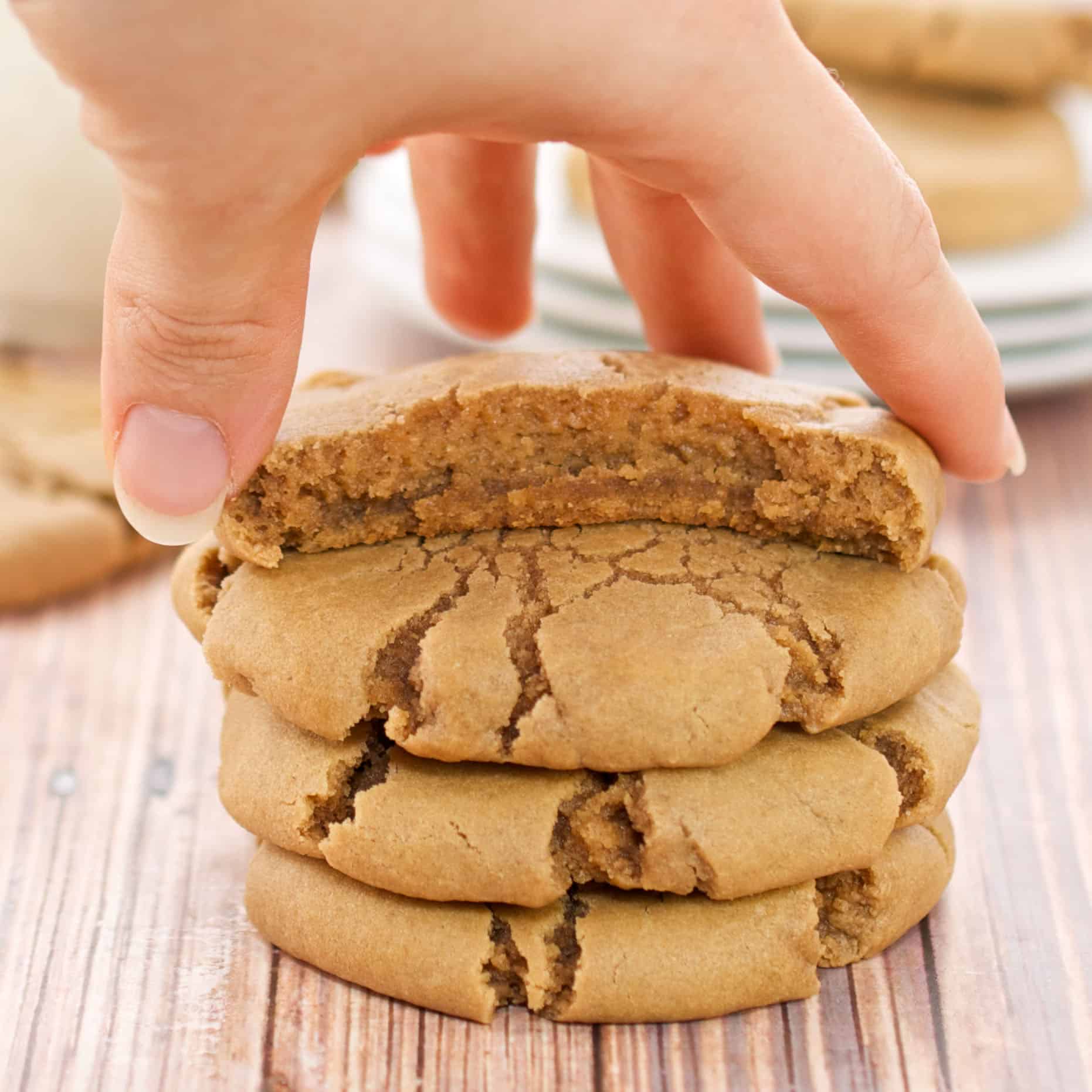 Chocolate Peanut Butter Whoopie Pies – Everyone loves Whoopy Bars. So these soft cake-like cookies are filled peanut butter to make the most amazing homemade whopping pies ever.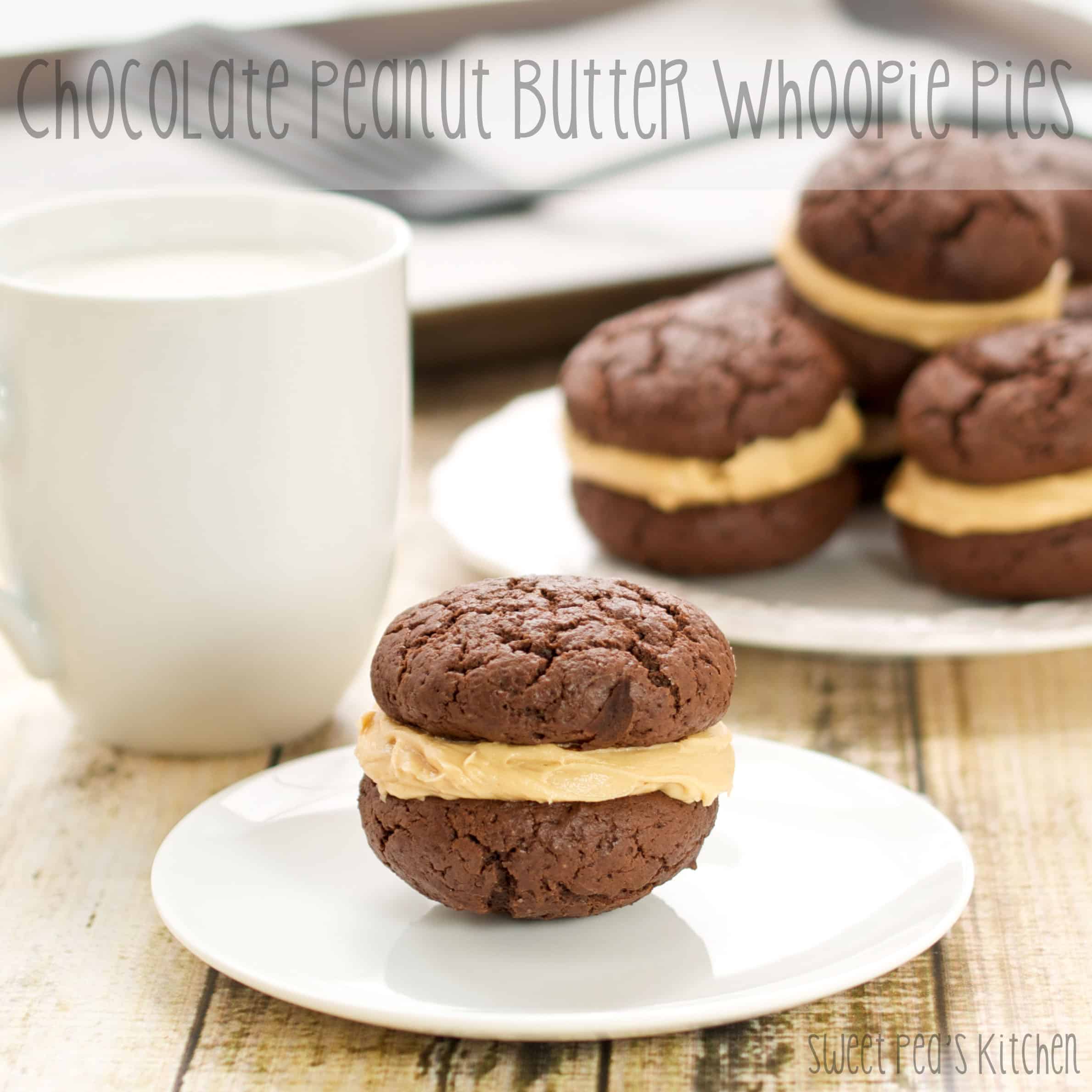 Get new recipes weekly plus our FREE ebook!