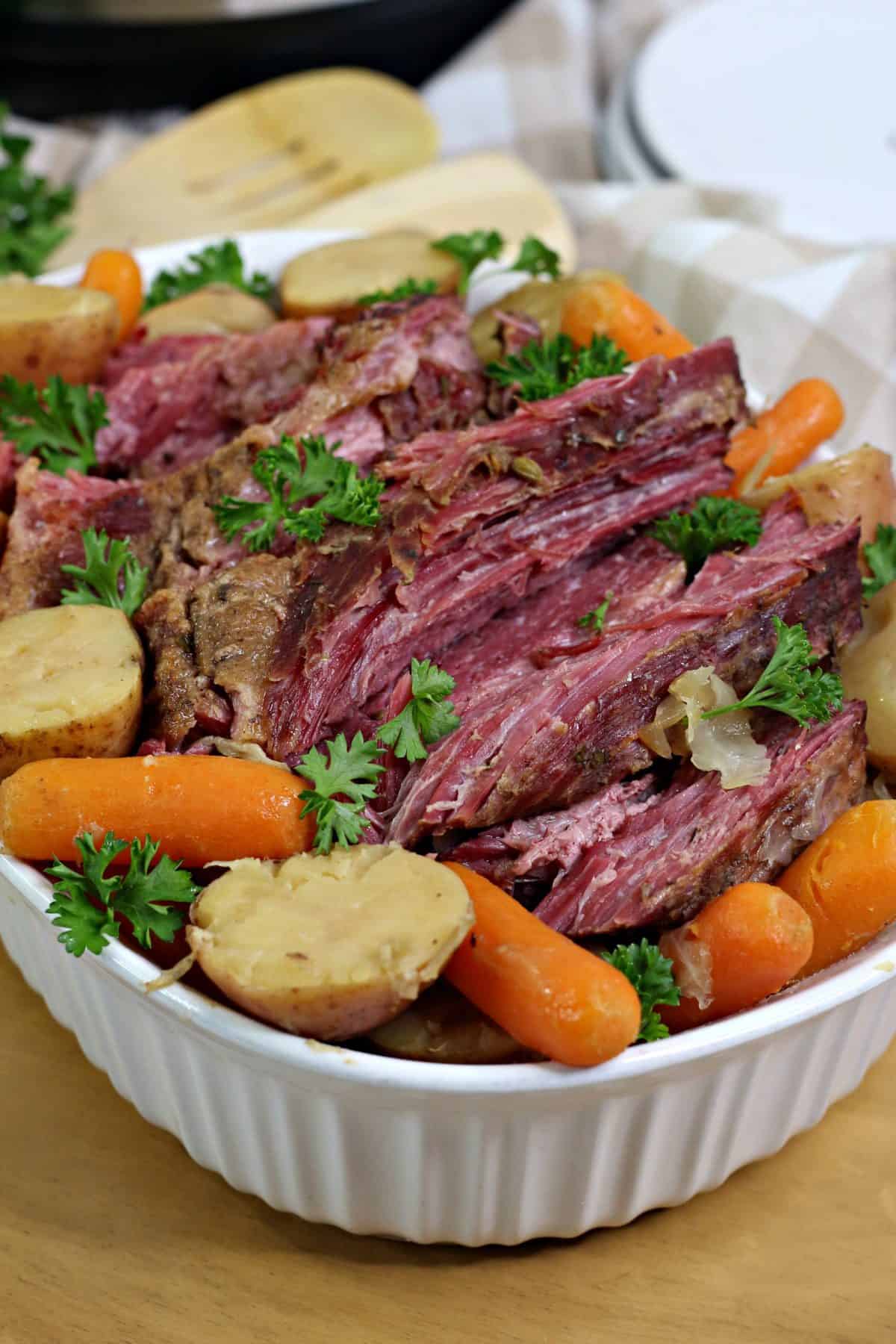 This Instant Pot Corned Beef and Cabbage Recipe is absolutely delicious and the perfect no-fuss dinner idea.
When you make corned beef in your instant pot you will end up with juicy meat that super tender, flavorful, and unforgettable. This instant pot corned beef and cabbage recipe is something you can serve for all your family dinners.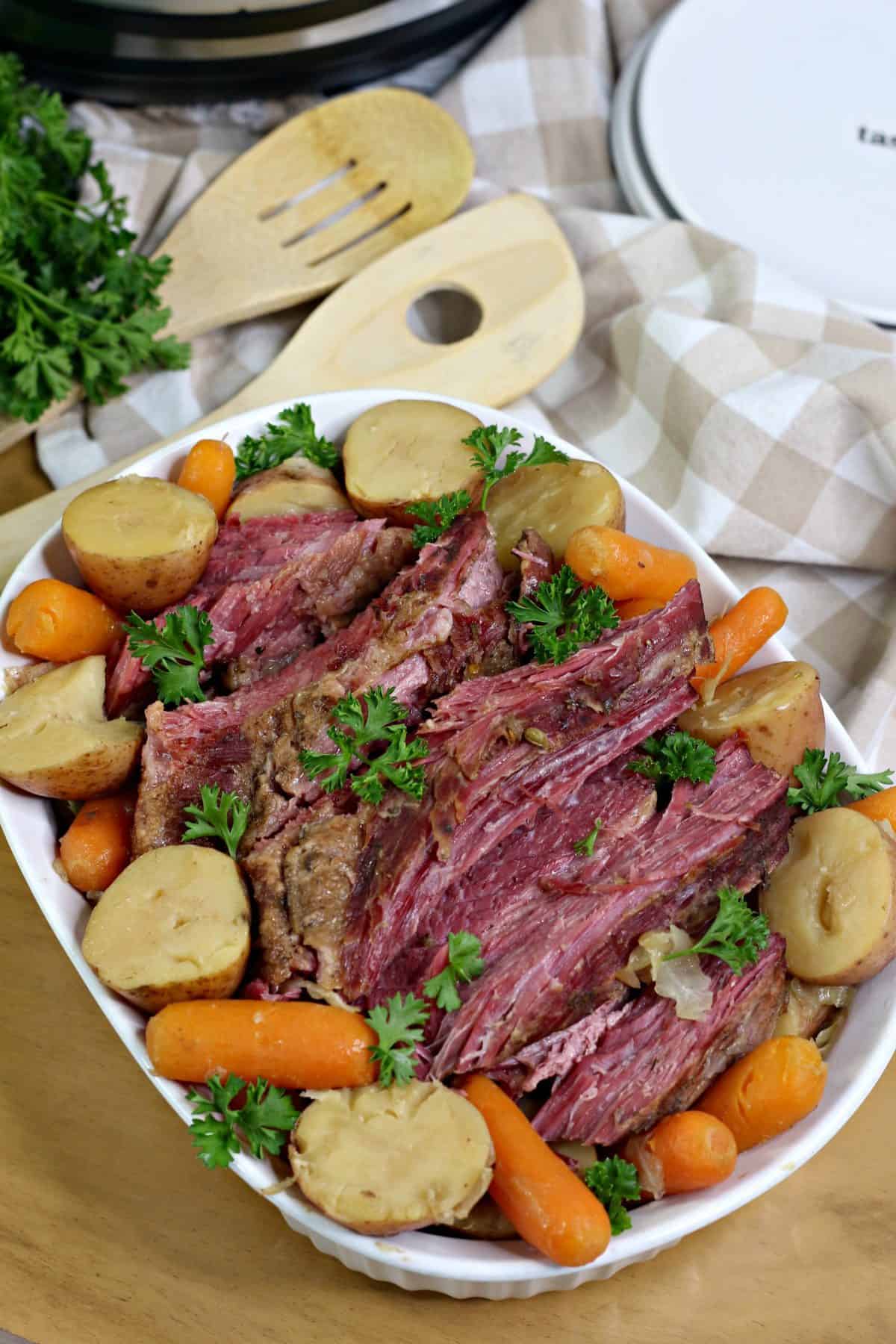 Scroll to bottom for printable recipe card.
Instant Pot Corned Beef and Cabbage
I recently wanted to make a traditional, classic, corned beef recipe. After some practice, I realized that I wanted to cook it in my instant pot instead of in my oven.
I'm so glad I tried to make this corned beef in my instant pot. It turned out beautifully, juicy, and the meat was fall-apart tender. When I shared this Guinness corned beef recipe with one of my friends she was so excited to learn how to make it in her instant pot too. It was also very successful and she was so happy that she made it that way.
All around this instant pot corned beef and cabbage has been a huge winner in my family and friends circle.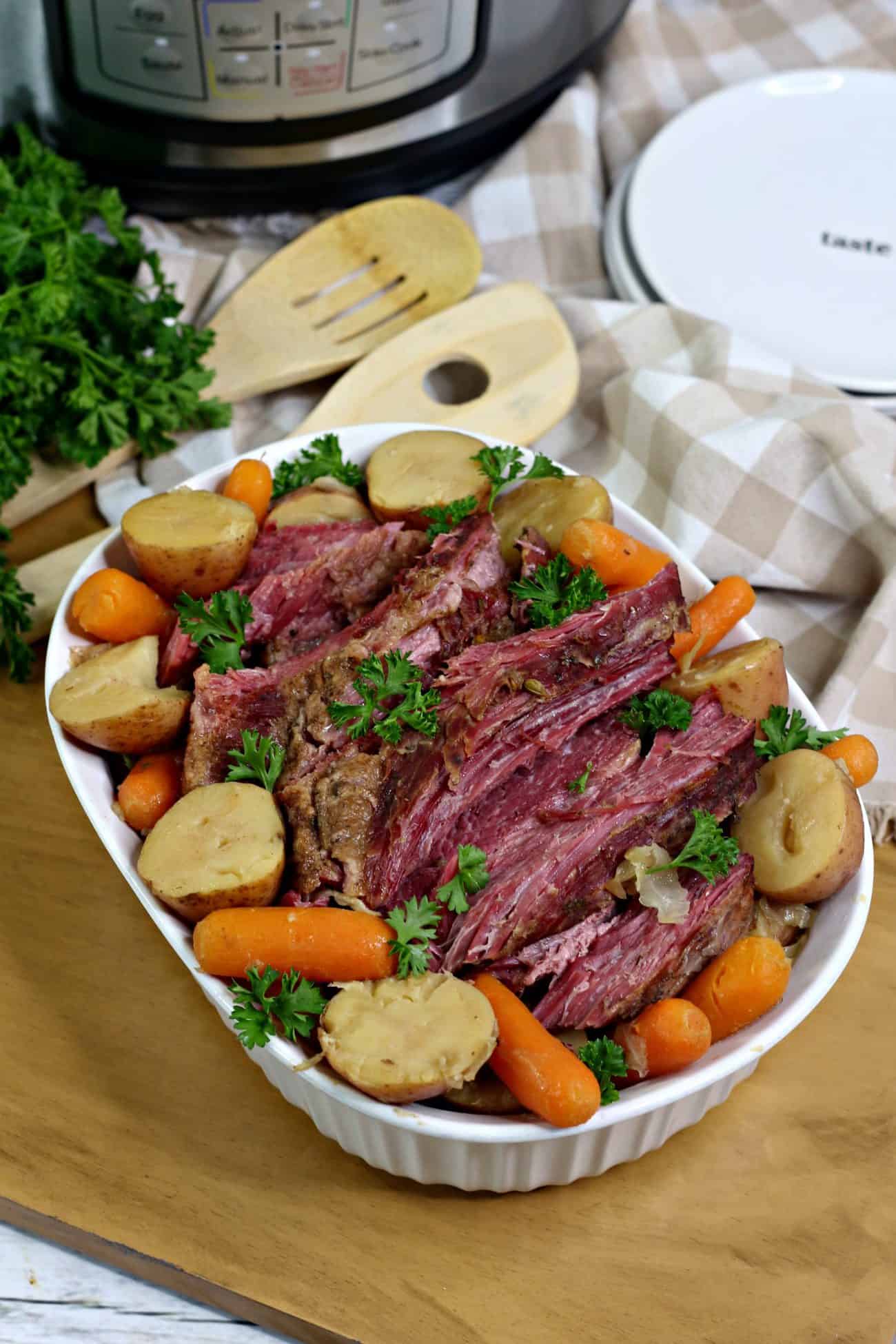 Why Is My Corned Beef Tough?
If you find that the instant pot Corned Beef seems to be tough there's an easy fix for that. All you need to do is cook it for a little bit longer. I recommend cooking it for an additional 15 to 20 minutes and checking the corned beef again. If it's not tender by then go ahead and cook a little bit longer. Every instant pot is a little bit different and some cook differently than others.
What is Corned Beef
Typically, corned beef is made by using a brisket. It takes a long time to go to the process to be fall-apart tender. Brineing it with a salt solution is the best way to do that. Corned beef is traditionally served for St. Patrick's Day. however, you can enjoy this instant pot corned beef and cabbage recipe all year round.
Can I Skip Adding Vegetables In This Recipe
Yes, if you do not want to add the vegetables into this pressure cooker corned beef that is more than fine. You can simply leave them out of the recipe and just use the beer, brisket, and seasonings.
Tips For Success
I have a few tips to help ensure that your corned beef instant pot recipe turns out correctly every time you make it.
Keep in mind that it takes around 30 minutes for the instant pot to come to pressure. You need to take this into consideration as you are preparing to make otherwise you may be surprised by how long it takes.
Use a good quality meat for best results. You also want to stick with a brisket that is around 4 pounds. If you get a larger piece of meat is going to take a lot longer to cook.
I know it can be tempting to be in a hurry and do a quick release, but it's best to let the corned beef complete the natural release process of the pressure in the instant pot. If you do a quick release the meat is more likely to be not near as tender and juicy.
Storing Leftovers
If you end up with leftovers of this easy corned beef recipe allow them plenty of time to cool down after cooking. Once they're cool you can place them in any glass or plastic food storage container that you have on hand. Make sure the lid fits snug and it will last in the refrigerator up to 5 days.
You can quickly and easily reheat the corned beef in the microwave. Just place it in a microwave-safe container and he's up for a couple of minutes or until it is hot all the way through.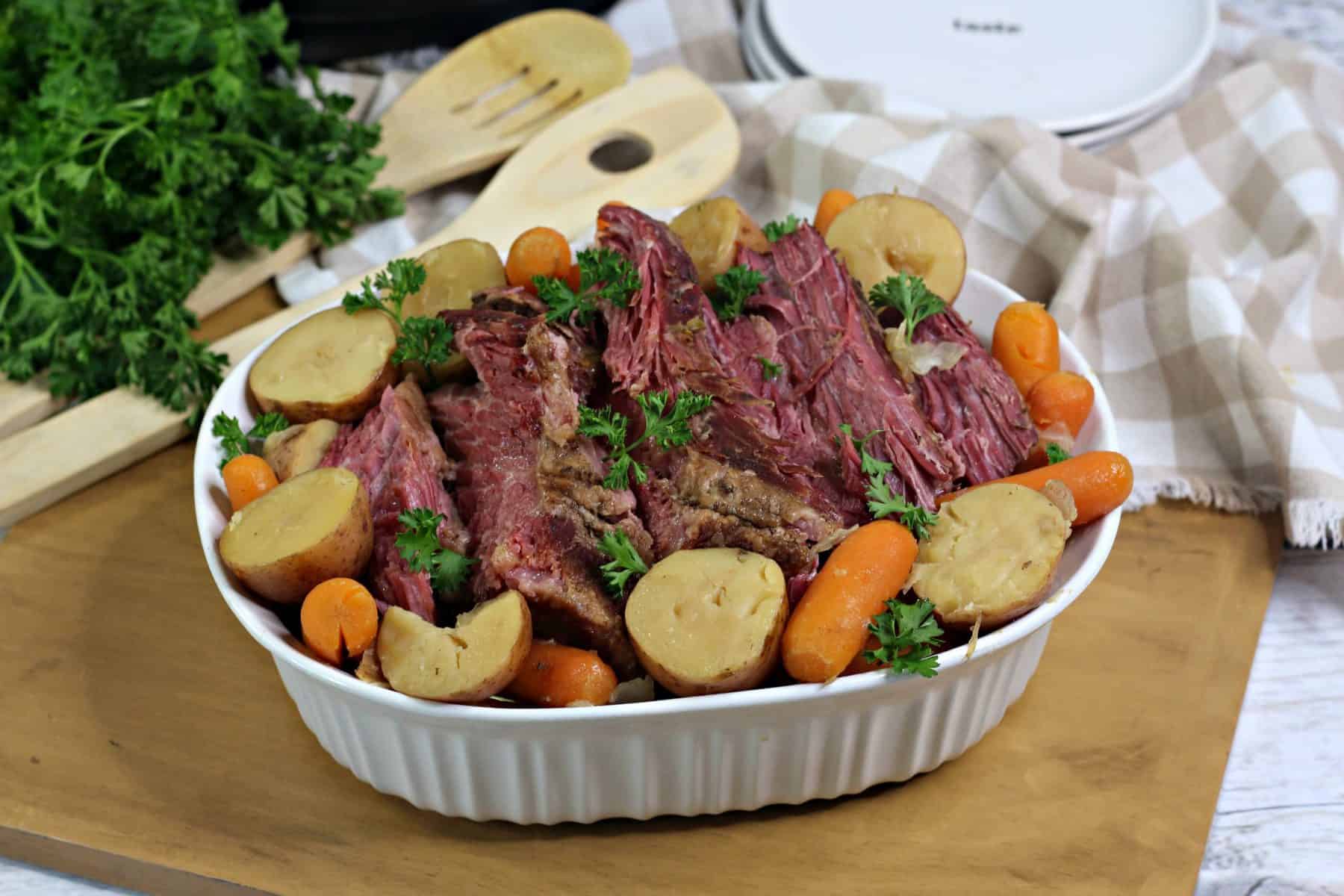 Ingredients
Here are the ingredients that you will be needing to make this delicious pressure cooker corned beef recipe.
2 TBSP minced garlic
1 White onion (quartered)
4 lb. corn beef brisket (rinsed), approx
(keep spice packet)
12oz Guinness Beer
2 Cups beef broth
2 Cups water
1 Small bag of baby carrots
10-12 Baby red potatoes, small cut in half
1 Head cabbage (cut into 6th)
2-3 Bay leaves
1 TBSP coriander seed
2 Tsp mustard seed
How to Make Corned Beef in Instant pot
Step 1: Add the garlic and onion to the instant pot in Sautee for 1 to 2 minutes or until it becomes fragrant. Turn off the saute feature.
Step 2: Place the brisket into the instant pot with garlic and onions. Add the spices all over the piece of brisket. Slowly pour in the beer, broth, and water into the instant pot.
Step 3: As you're pouring the liquid into the instant pot be careful not to pour it on top of the brisket. Otherwise, it will wash the spices from the and it will not be as flavorful.
Step 4: Add the lid to the instant pot and turn the valve to the sealed position. Turn on the manual button to high pressure for 90 minutes. After the brisket is done cooking allow it to complete a natural release until all of the pressure has removed on its own.
Step 5: After the pressure has been released very carefully remove the lid from the instant pot. Take some tongs and carefully remove the brisket from the pan.
Step 6: Using a large spoon take some of the juices in pour over the top of the brisket. Be sure to cover the brisket with the juices then add foil allowing me to rest for a while.
Step 7: Next, add the carrots and potatoes to the instant pot turn the valve switch to the sealed position. Cook on high pressure for 3 minutes. Complete a quick-release to remove the pressure using a wooden spoon or kitchen towel.
Step 8: Add cabbage to the instant pot. Then place the lid back on the pot one more time and put it on the field position. Turn the instant pot to high pressure for 2 minutes. Then do another quick release to get the pressure out of the instant pot.
Step 9: At the corned beef and vegetables to a large serving platter. Pour the juice is directly over the meat and vegetables to keep them both and.
Enjoy!
Now, remember to save this recipe on Pinterest for later 🙂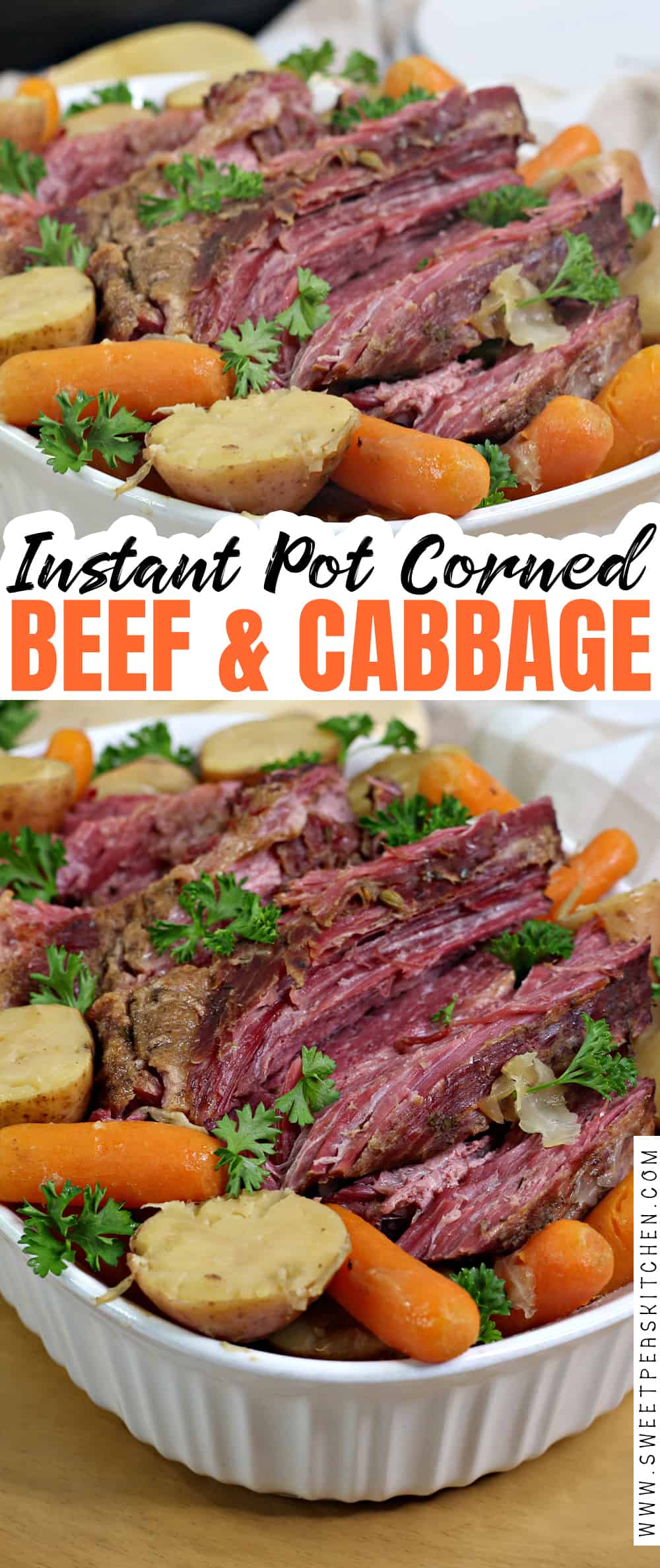 Pin this recipe now to remember it later
Instant Pot Corned Beef and Cabbage
Instant Pot Corned Beef and Cabbage is a classic St. Patty's Day meal. Learn how to make fork tender corned beef and cabbage right in your electric pressure cooker. Shorter cook time, same great flavor you know and love.
Ingredients
4

lb.

corn beef brisket

,

rinsed, approx

1

Small bag of baby carrots

10-12

Baby red potatoes

,

small cut in half

1

Head cabbage

,

cut into 6th
Want to save this recipe? Enter your email below and we'll send the recipe straight to your inbox!
NOTE: By saving this recipe, you agree to join our weekly recipes newsletter.
Instructions
Put the garlic and onion in the pot.

Saute for 1-2 minutes.

Add brisket in the pot on top of the onions and garlic.

Sprinkle spices over and around the brisket.

Slowly pour the beer, broth, and water in the pot.

Watch so that you don't wash off the spices from the meat.

Add the lid to the pot, lock in place.

Press the Manual button, high pressure, to 90 minutes.

Then allow a 15-minute natural release.

Manually release the remaining steam.

Open the lid.

Next using tongs carefully remove the meat to a dish.

Using a large spoon remove some of the juices and pour it over the brisket.

Cover the brisket and juices with foil allowing it to rest.

Add the carrots, potatoes to the pot.

Close the lid again, and set it to sealing.

Set the manual, high pressure, set for 3 minutes.

Quick release when the cook cycle is complete.

Add the cabbage to the pot.

Close the lid again, and set it to sealing.

Set the manual, high pressure, set for 2 minutes.

Quick release when the cook cycle is complete.

Put both the meat and vegetables in a serving platter.

Add the juices by pouring it directly over the meat and vegetables to ensure that it is moist and juicy.

Enjoy!

Notes
Servings: 5 - 7
Prep: 30 mins
Cook: 1 hour and 50 minutes minutes
Follow me on Pinterest for daily delicious recipes!
Here are some of my favorite instant pot dinner recipes that I think you'll enjoy.
Easy instant pot crack chicken – if you want something that's going to wow everyone in your family this is a chicken dish really need to try.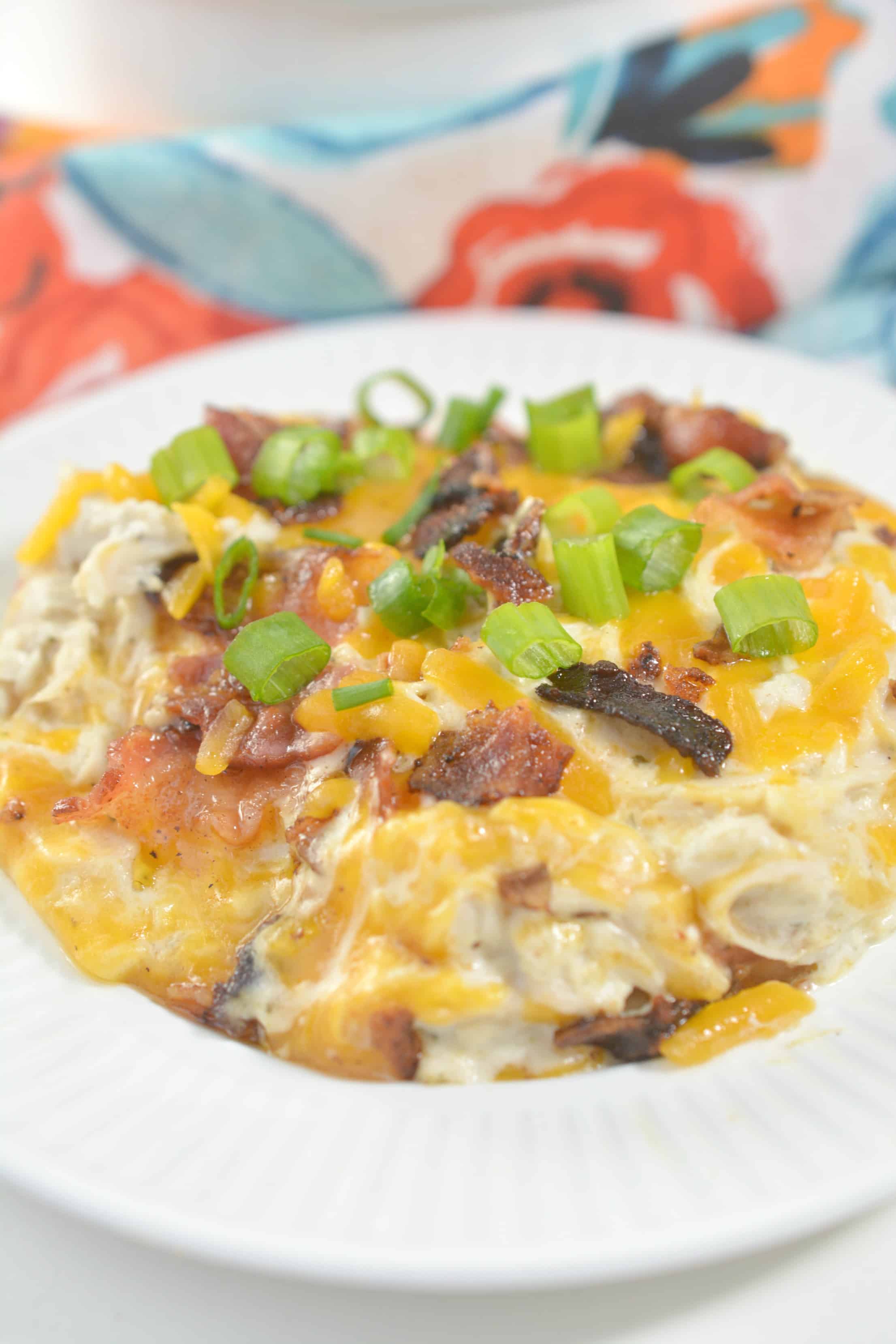 Instant pot pork loin – we love to eat pork loin on the weekends. This recipe always produces the juiciest and most fresh pork loin ever.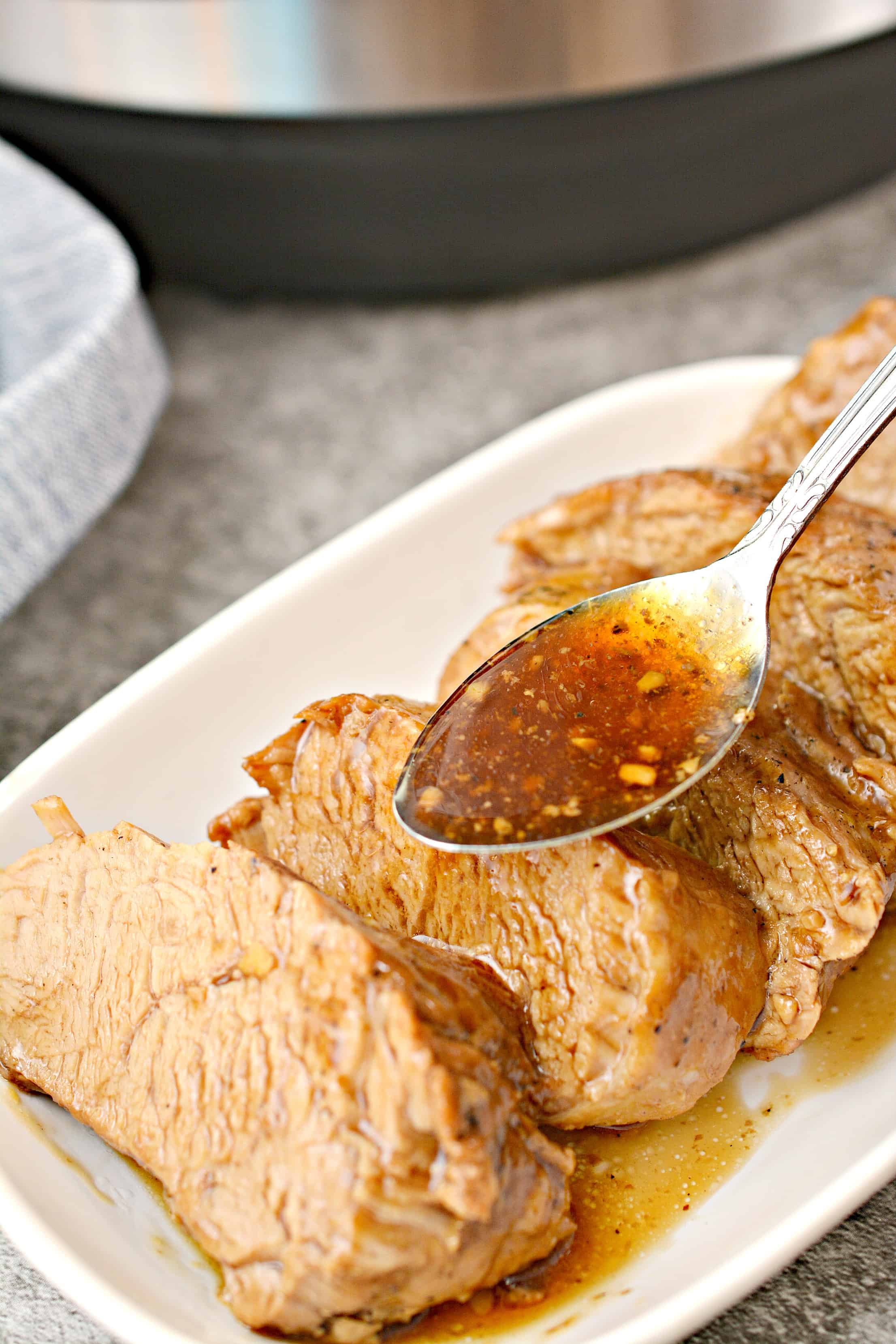 Instant pot French onion soup – there is no soup quite like homemade french onion soup to ensure you have a good day.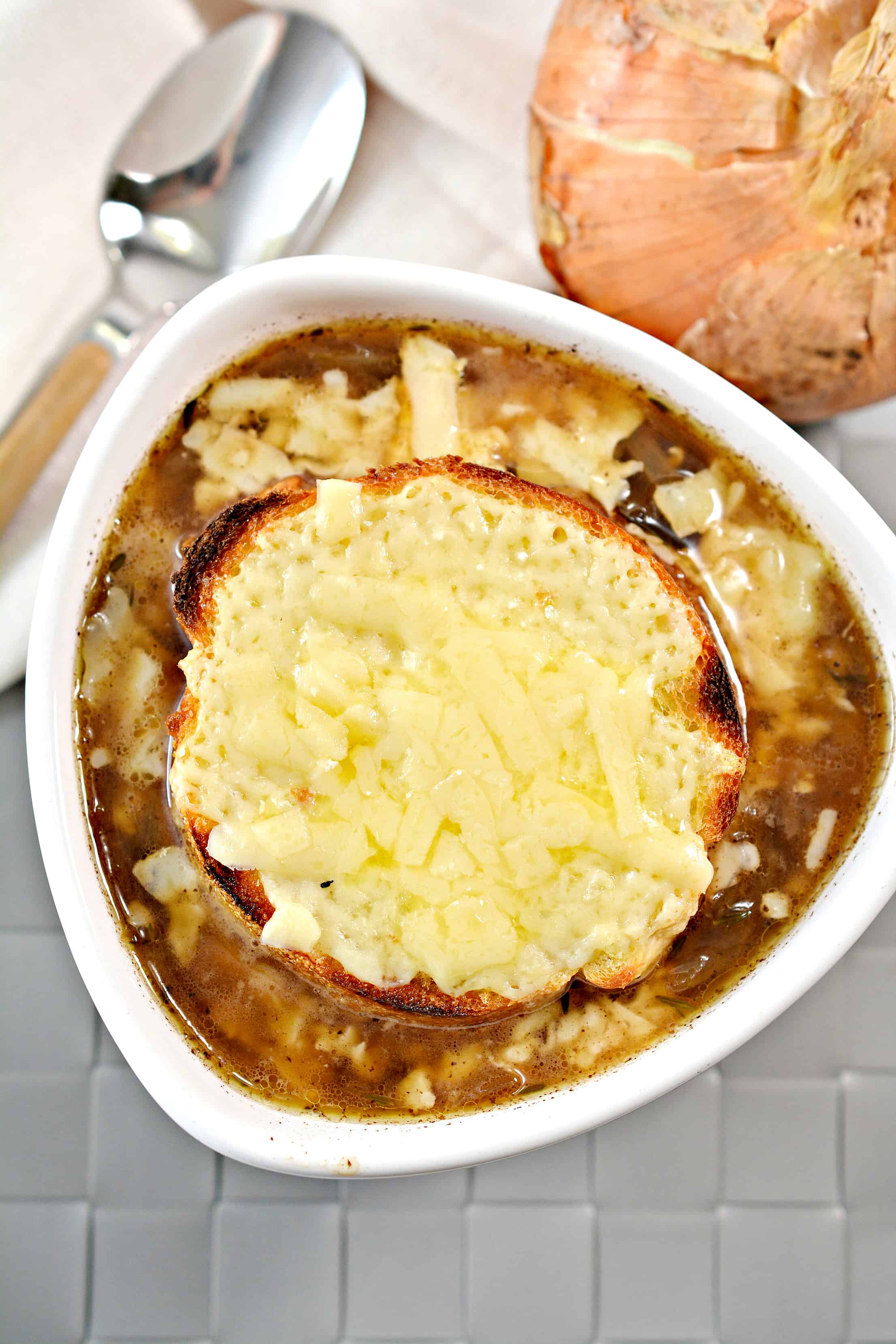 Instant pot chicken Tuscan pasta – if you are looking for something that is, rich, and delicious you should add this Tuscan pasta to your recipe list.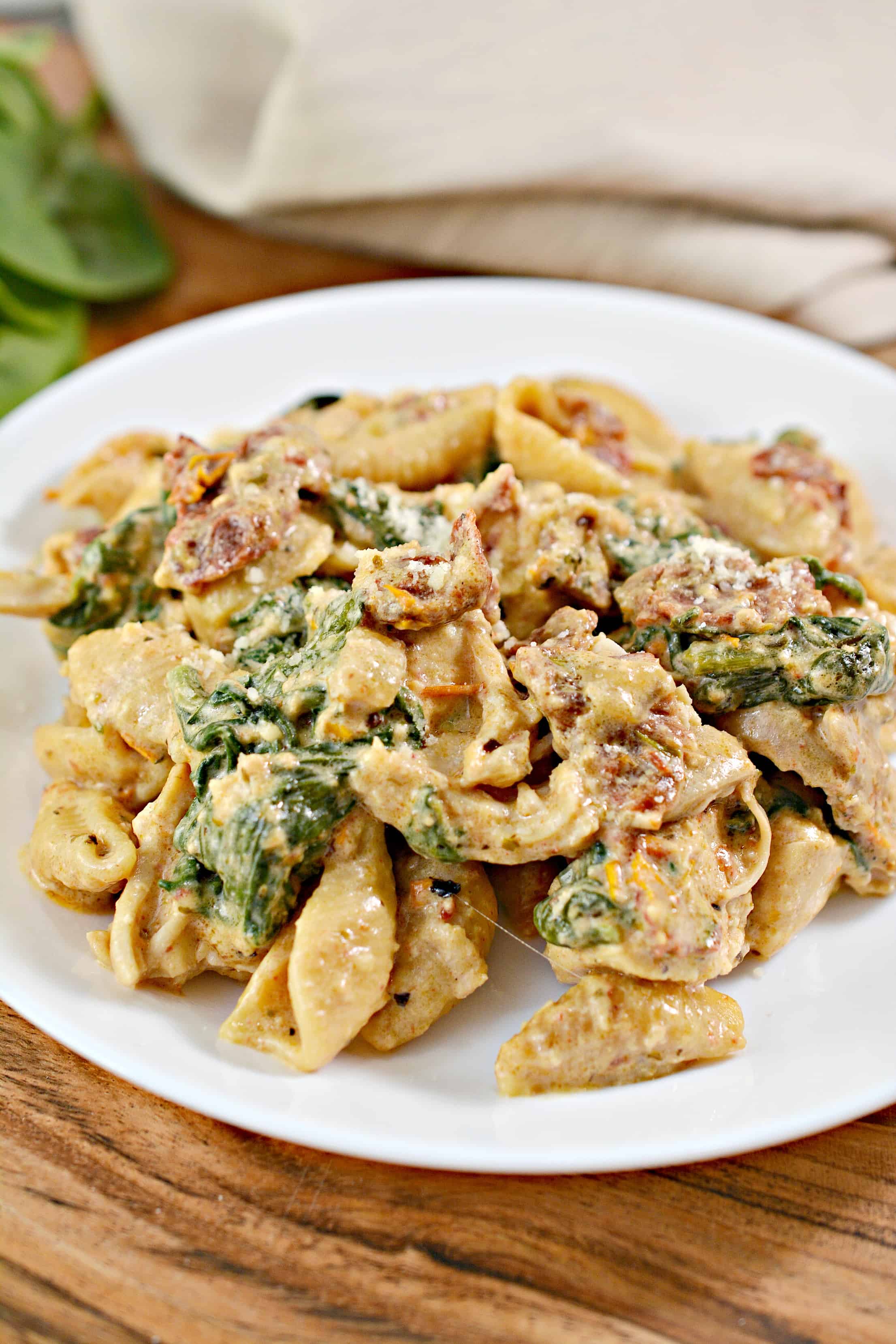 Get new recipes weekly plus our FREE ebook!