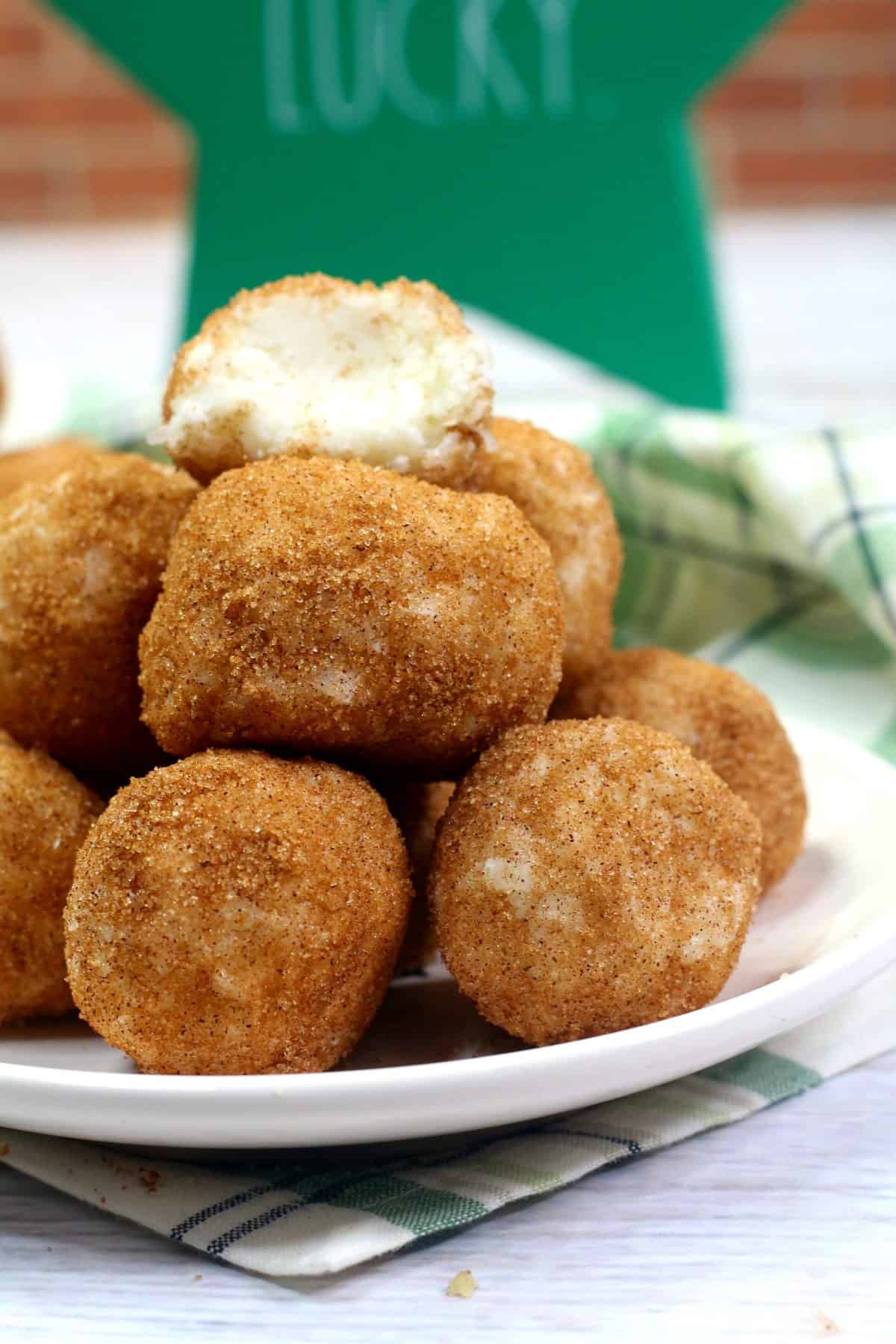 This Irish Potato Candy Recipe is old-fashioned, delicious, and easy to make.
If you're looking for an amazing Saint Patrick's Day dessert, this traditional potato candy recipe is exactly what you need. It's fluffy, delightful, and has the perfect amount of cream cheese, shredded coconut, sugar, and spices.
Scroll to bottom for printable recipe card.
Irish Potato Candy Recipe
You are in for a real treat once you try this old fashioned potato candy. The flavor of the coconut combined with the cinnamon and brown sugar is finger-licking good. We always make this recipe for St Patrick's Day. Every year we look forward to it because we know that everyone who eats it is going to enjoy it. So if you're planning a Saint Patrick's Day event or party, I would definitely include this potato candy recipe on your menu. And if you've never tried potato candy, I don't recommend waiting any longer.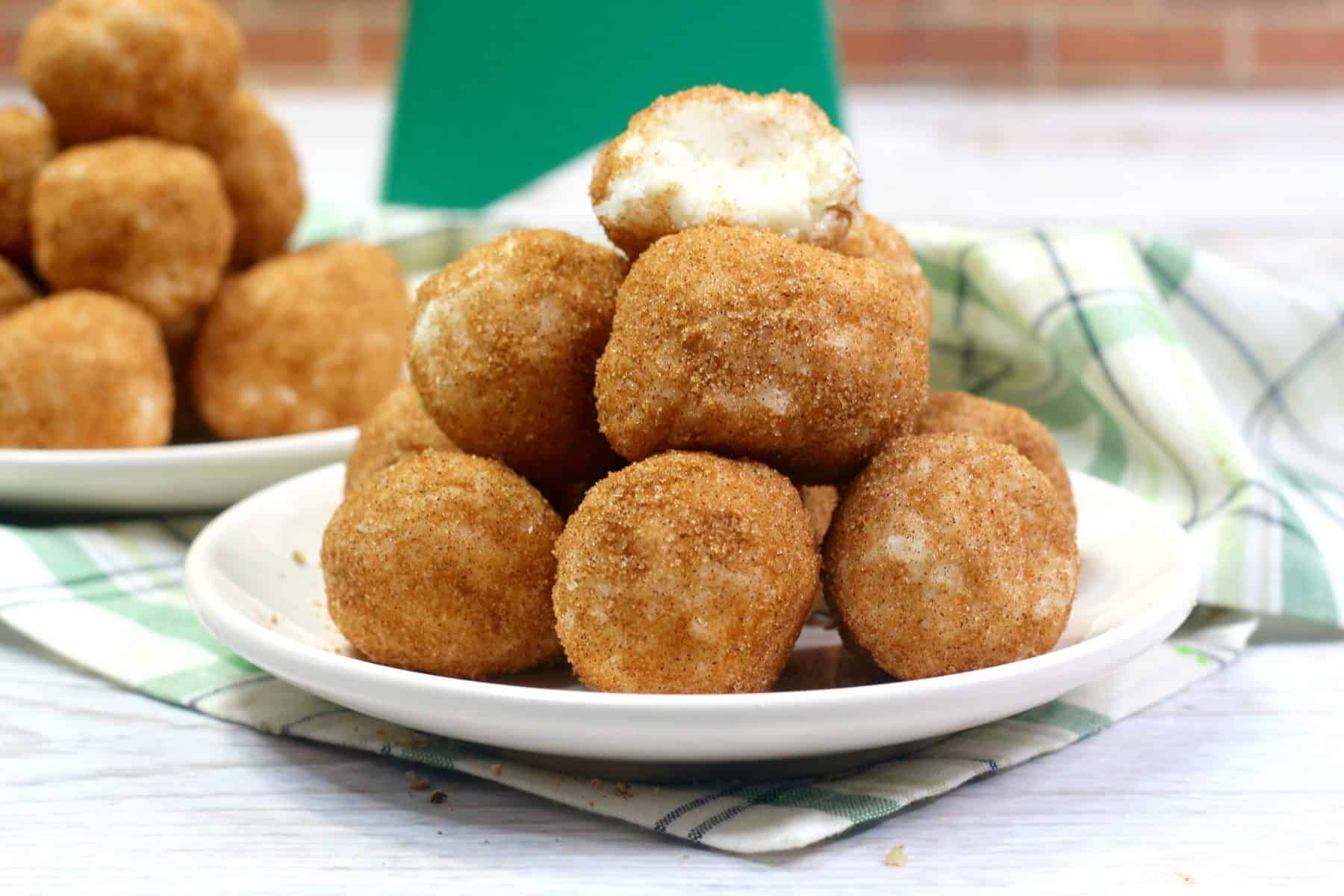 Once you taste it, you're going to be hooked for life!
Are there Potatoes in Potato Candy
While traditional recipes for potato candy did indeed include mashed potatoes, my recipe for potato candy does not. It used to be a little bit different back in the day; they used to always include mashed potatoes. When combined with the sweetness of the powdered sugar, you end up with a delicious result that's been around for a long time. It's surprising that you could mix mashed potatoes with the other ingredients and not taste them.
Why Is It Called Potato Candy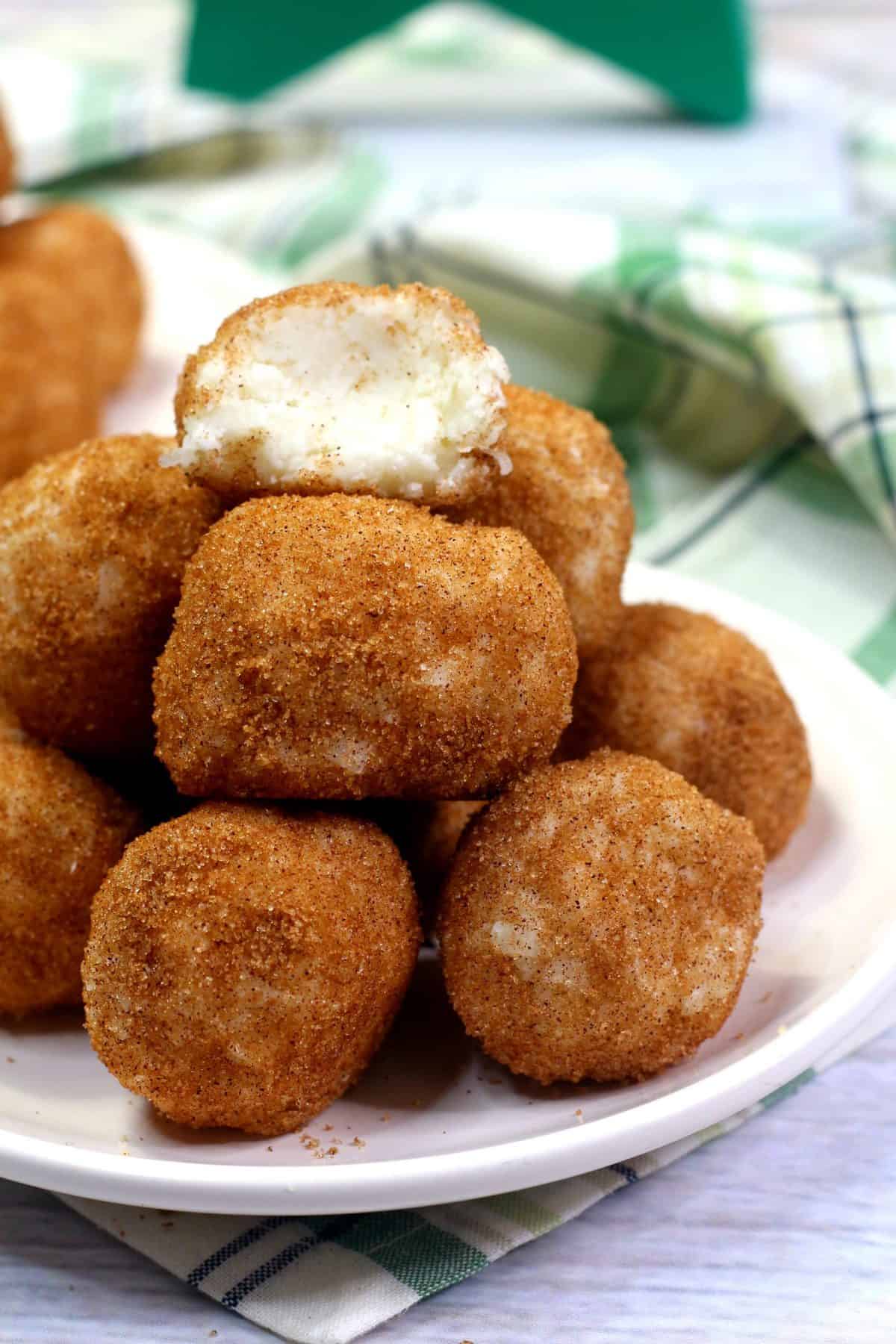 The main reason why they call it potato candy was that back when it was first invented, mashed potatoes were used to help to bind together the other ingredients. Even though you can't even taste the mashed potatoes, they still call it potato candy.
Variations to Recipe
There are few things that you can do to this potato candy recipe to give it some variety. Here are a few ideas to get you started.
Chocolate: dip the Irish candy into some melted chocolate. It's a delicious option that goes well with the other ingredients in the candy.
Peanut butter: add a little bit of peanut butter to the batter. A couple of tablespoons would be plenty.
Cocoa Powder: roll the Irish candy balls into some cocoa instead of the cinnamon and brown sugar mixture. It makes them more rich and decadent.
Almond extract: swap the vanilla extract for almond extract instead. It's a really fun way to add some extra flavor that tastes awesome.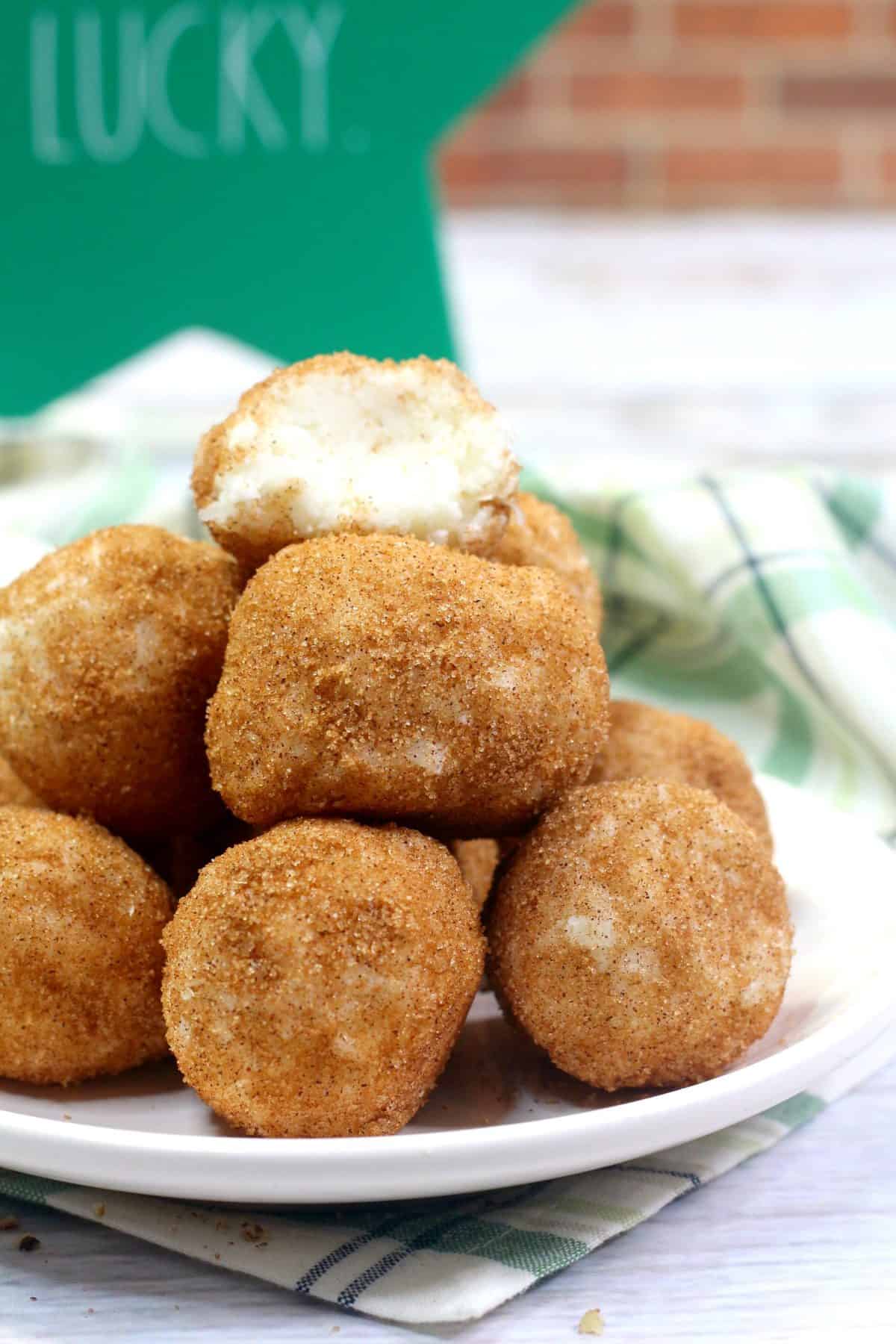 Is Irish Candy Really Irish
There is a lot of debate if potato candy is actually Irish or not. It has been said over the years that potato candy originated in Germany. However, many people who celebrate Saint Patrick's Day and other Irish occasions include potato candy on their menus. So while it's not set in stone where it came from, it is undoubtedly enjoyed whether you're Irish or not.
Can You Freeze Irish Candy
Yes, you can freeze Irish candy. First, you will need to lay the potato candy out on a baking sheet, so it is not touching each other. Then place the baking sheet in the freezer and fries for up to 3 hours. After the Irish candy is frozen, you can remove it from the pan and place it into a freezer-safe Ziploc bag or another freezer-safe container. Or place it in the refrigerator until it's defrosted.
Does Irish Candy Need to Be Refrigerated
Yes, you'll need to refrigerate this Irish potato candy. It is fine to keep it at room temperature for up to 2 hours at a time. Then you can refrigerate it, and it will last up to five days. It tastes really good after being chilled.
Ingredients
This incredible Irish dessert only requires 7 simple ingredients. It's amazing something so delicious can be made with so little effort. Here are the ingredients you're going to need to get started making this potato candy recipe.
4 oz cream cheese, softened
¼ C unsalted butter softened
4 C powdered sugar
2 ½ C shredded coconut
1 tsp pure vanilla extract
1 tbsp ground cinnamon
½ C light brown sugar
How to Make Irish Potato Candy
I'm so excited to start telling you how to make this Irish potato candy recipe. These step by step directions will help you along the way.
Step 1: Combine the butter and cream cheese in a stand mixer until it is creamy and smooth. It's very important that the cream cheese and butter are room temperature when you start, so it blends smoothly.
Step 2: Then, you'll need to beat in the vanilla and slowly add the powdered sugar. Keep the mixer on low as you're incorporating the ingredients.
Step 3: Now, you'll need to add in the shredded coconut. Just fold it in until it's combined.
a.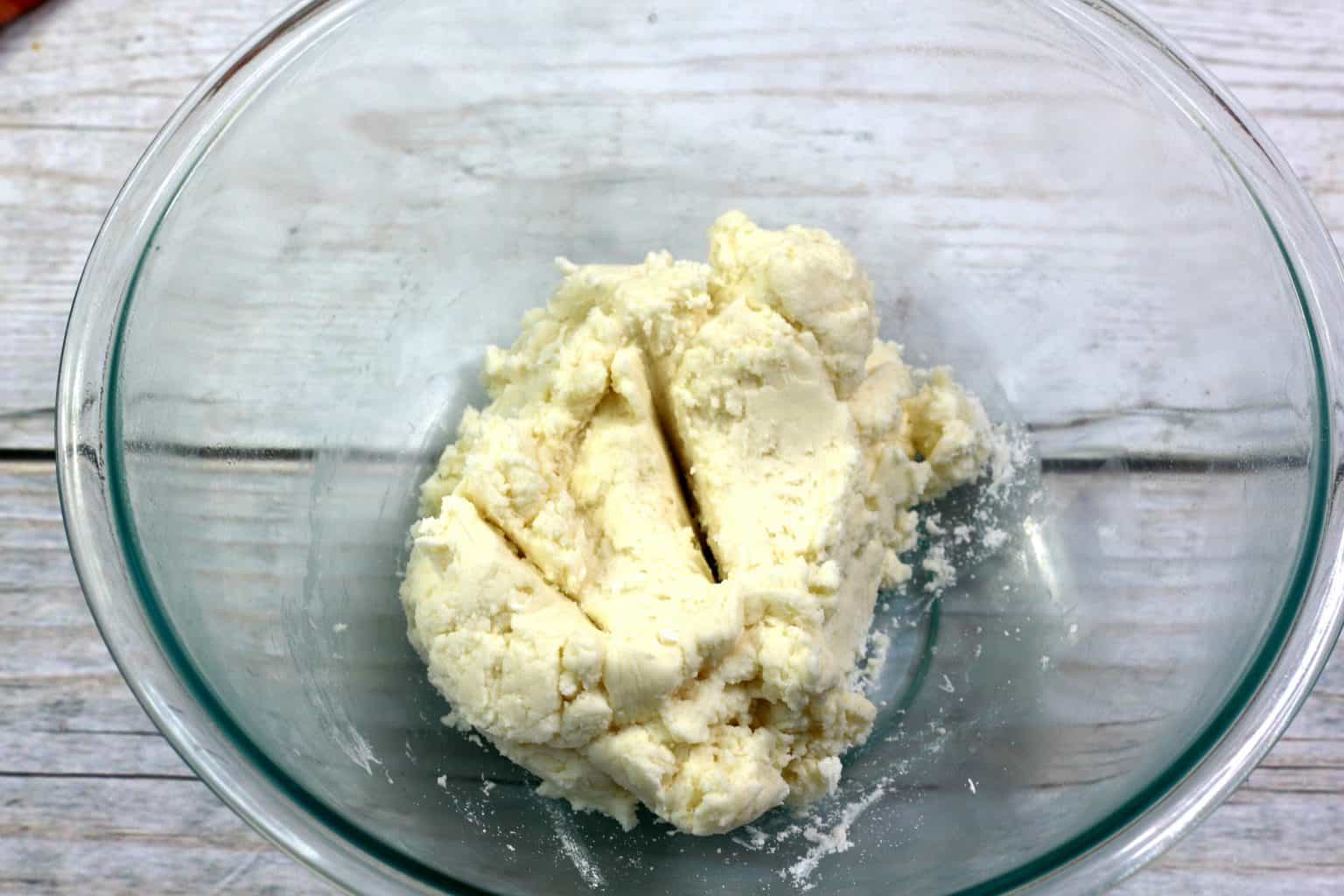 b.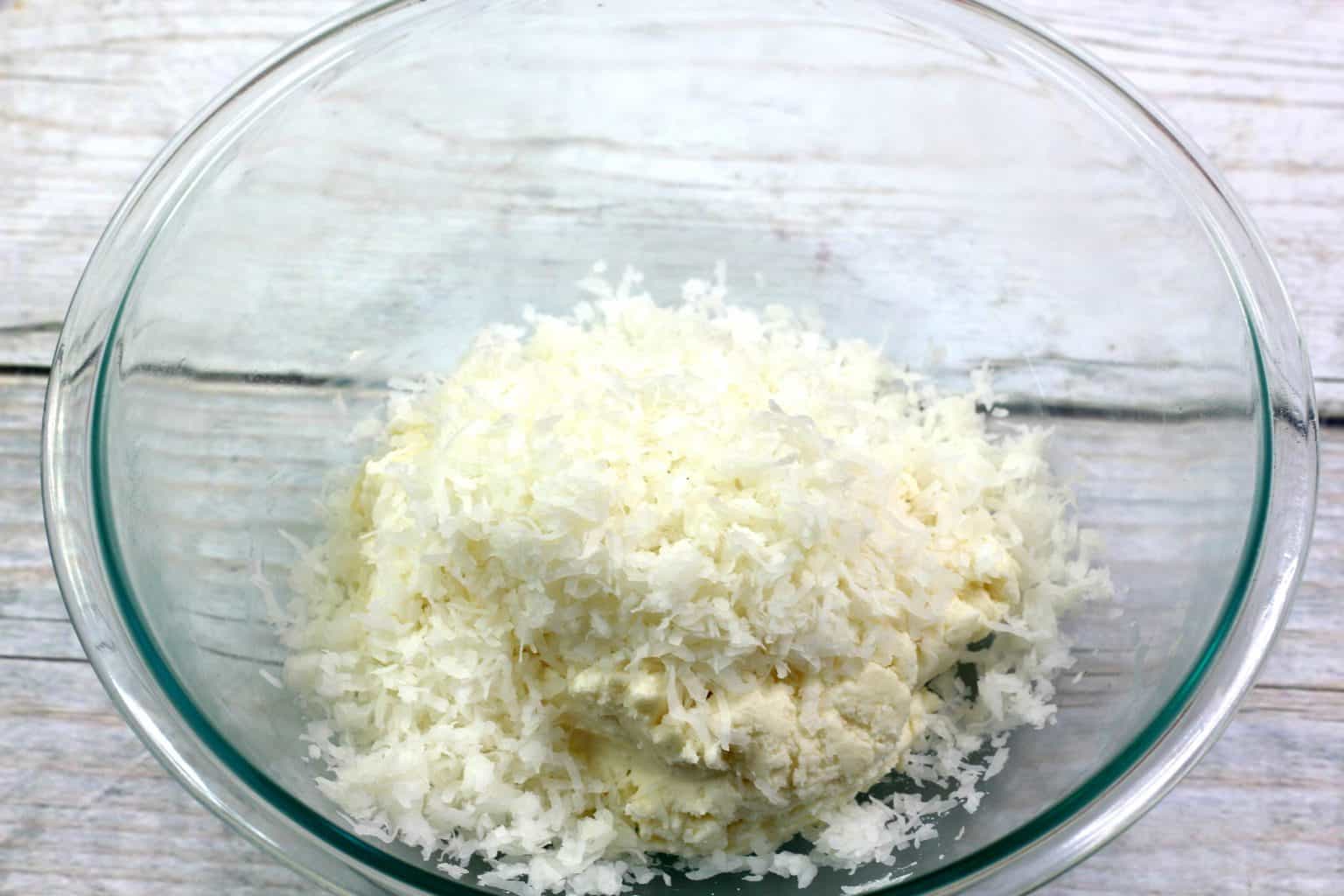 Step 4: Place a piece of aluminum foil over the top of the bowl. Refrigerate the Irish potato candy dough for 1 hour.
Step 5: Then, take a piece of parchment paper and line a cookie sheet.
Step 6: Take a tablespoon and use it to scoop the batter and roll it into a ball.
Step 7: Continue this process until all of the potato candies have been rolled into balls. Place them all on the baking sheet.
Step 8: Add the brown sugar and cinnamon together in a medium-sized bowl using a fork or whisk.
Step 9: Roll each ball into the brown sugar and cinnamon mixture. Make sure they are covered well.
Step 10: Place the potato candy on a serving tray and enjoy!
Now, remember to save this recipe on Pinterest for later 🙂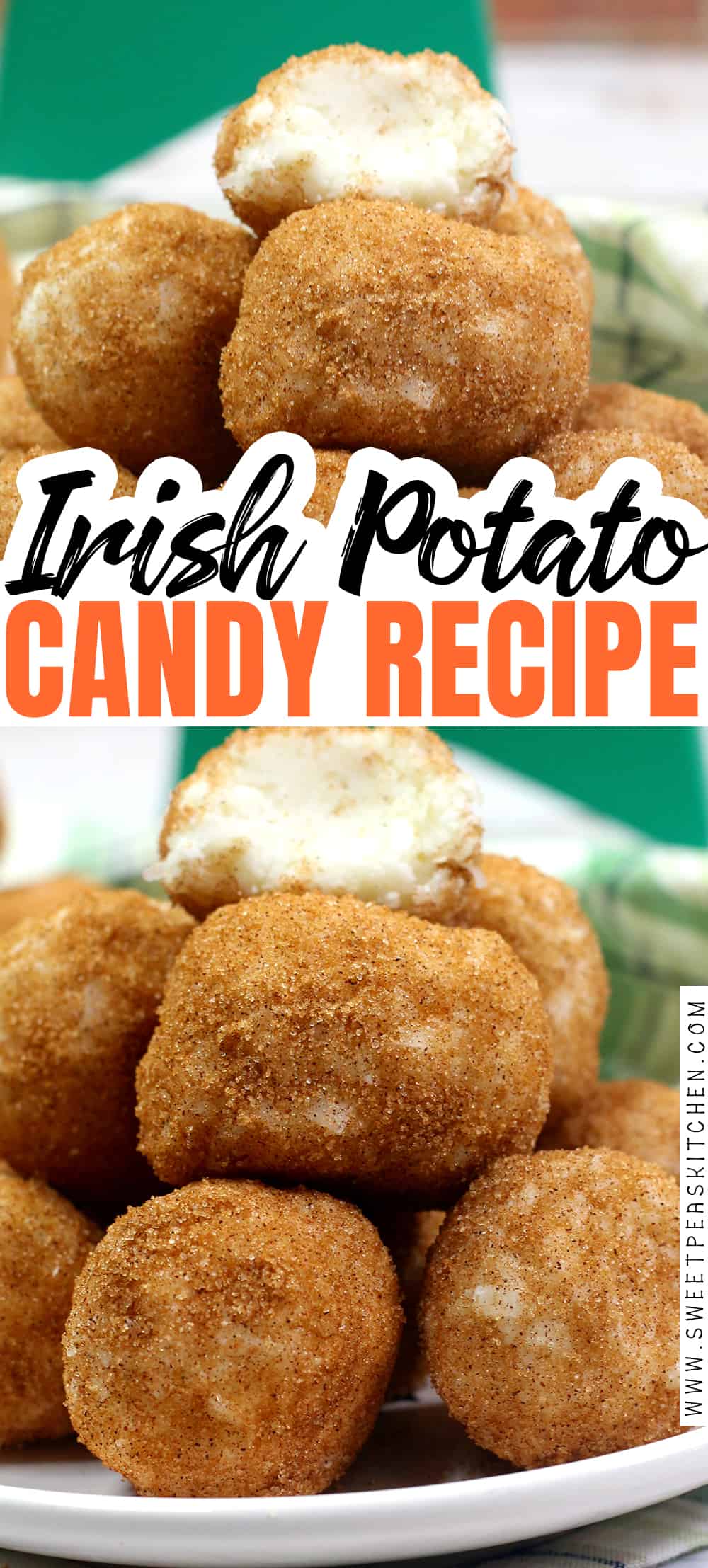 Pin this recipe now to remember it later
Irish Potato Candy
Irish Potato Candy is a traditional potato candy. Cream cheese, shredded coconut and more come together to create this old fashioned potato candy that is so addictive.
Ingredients
4

oz

cream cheese

,

softened

¼

C

unsalted butter

,

softened

1

tsp

pure vanilla extract
Want to save this recipe? Enter your email below and we'll send the recipe straight to your inbox!
NOTE: By saving this recipe, you agree to join our weekly recipes newsletter.
Instructions
Using a hand mixer, cream together the butter and cream cheese until combined and smooth. Make sure to use softened cream cheese.

Beat in the vanilla until combined then gradually mix in the powdered sugar on low.

Next you will fold in the shredded coconut and mix until it is just combined.

Cover with foil and place into the fridge for 1 hour to allow the mixture to set up.

Line the cookie sheet with parchment paper.

Using a tablespoon, scoop out some of the mixture and roll it into a mis haped ball

Set onto the cookie sheet. Repeat step until all of the potato candies are rolled into a ball

In a medium bowl, whisk together the brown sugar and cinnamon.

Coat each dough ball in the brown sugar mixture.

Place homemade potato candy onto a serving tray. Then serve up and Enjoy!
Follow me on Pinterest for daily delicious recipes!
I have some additional tasty recipes that you are for sure going to want to bite into. Here are some of my personal favorites.
Irish Cream brownie cheesecake – the texture and flavor in these Irish cream brownies drive me wild. Everything about them is perfection.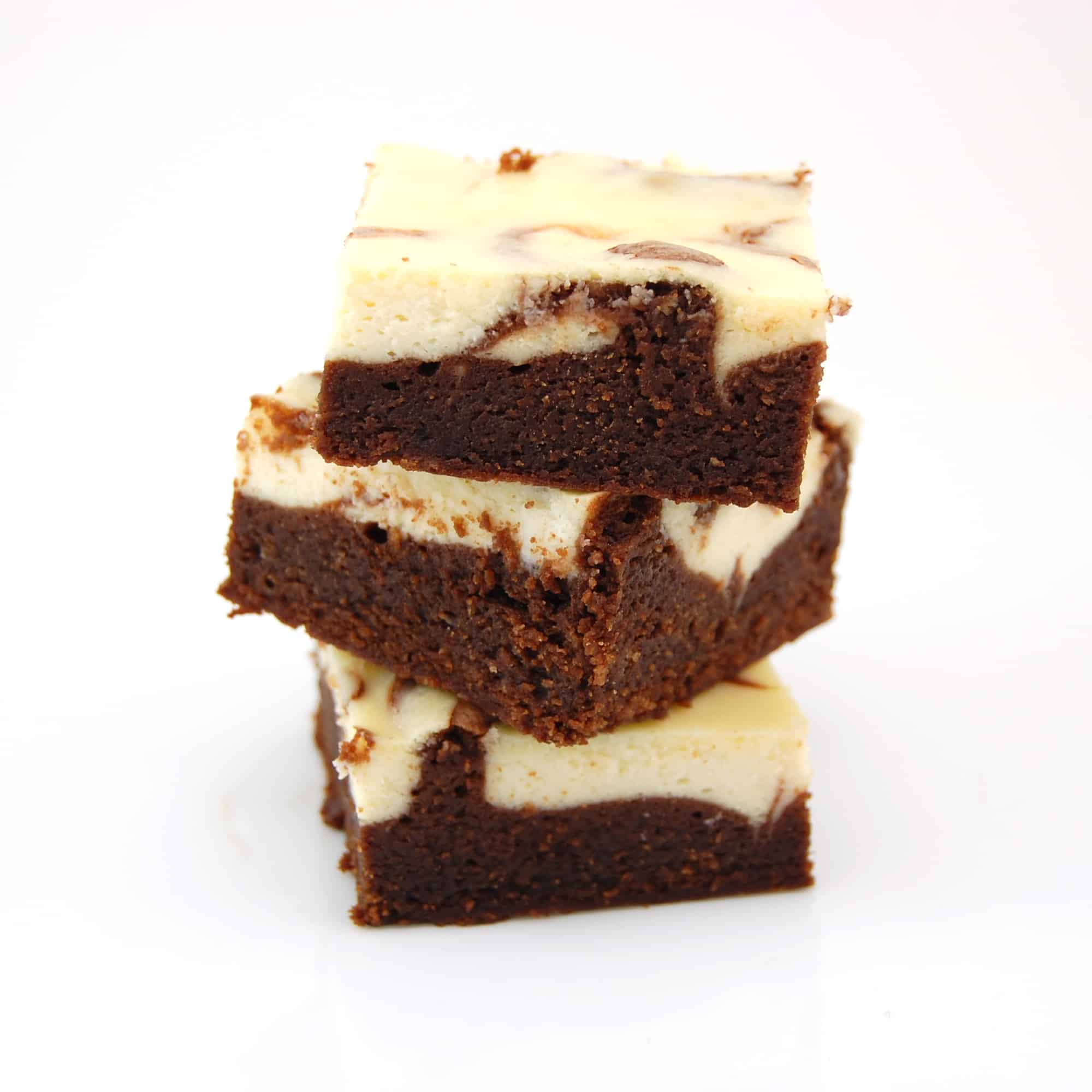 Authentic Irish scones – if you are a fan of scones, these are going to be calling your name. We love to eat them for breakfast and also serve them at brunch.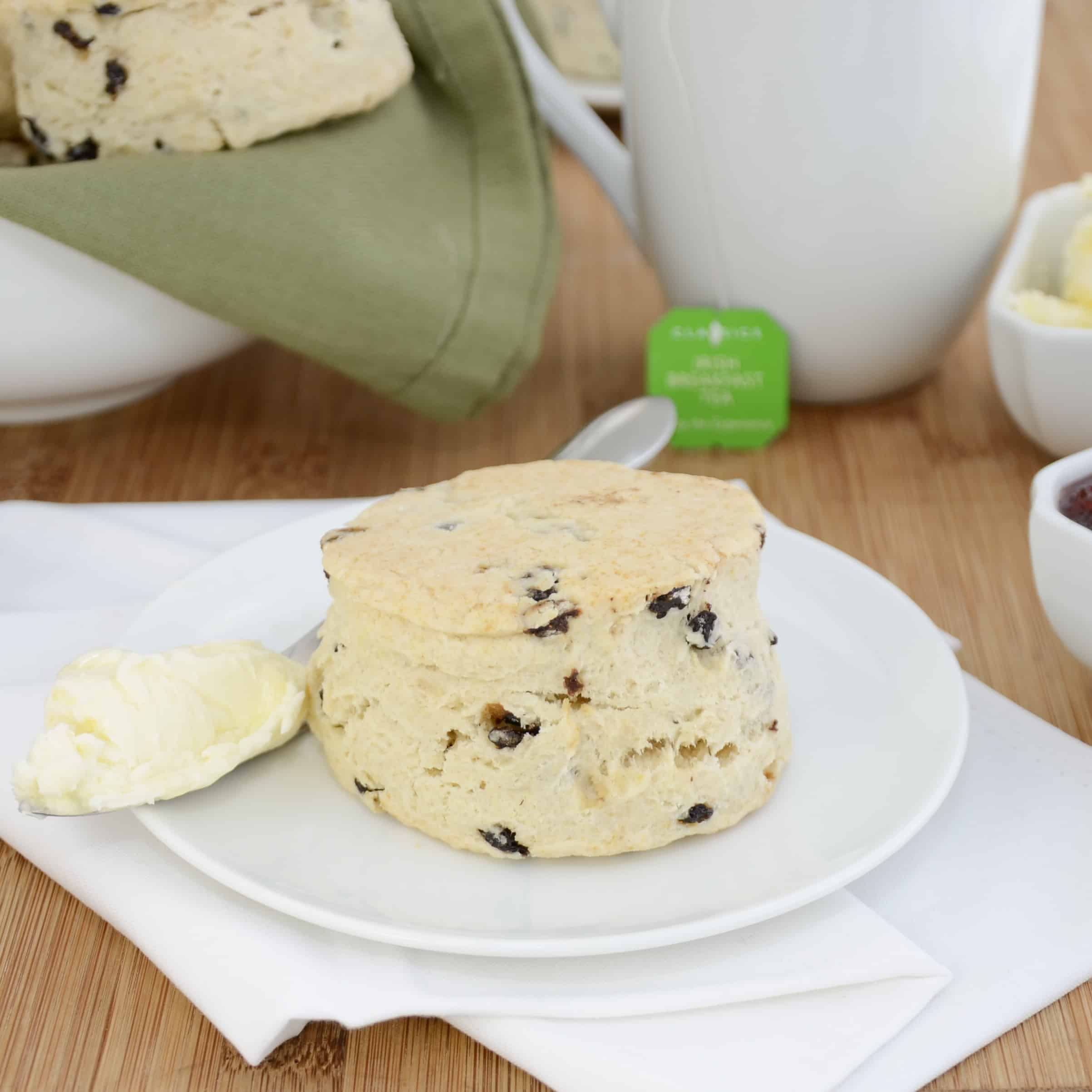 Instant pot Bailey's cheesecake – this is one of my ultimate favorite cheesecake recipes. It's so rich and creamy.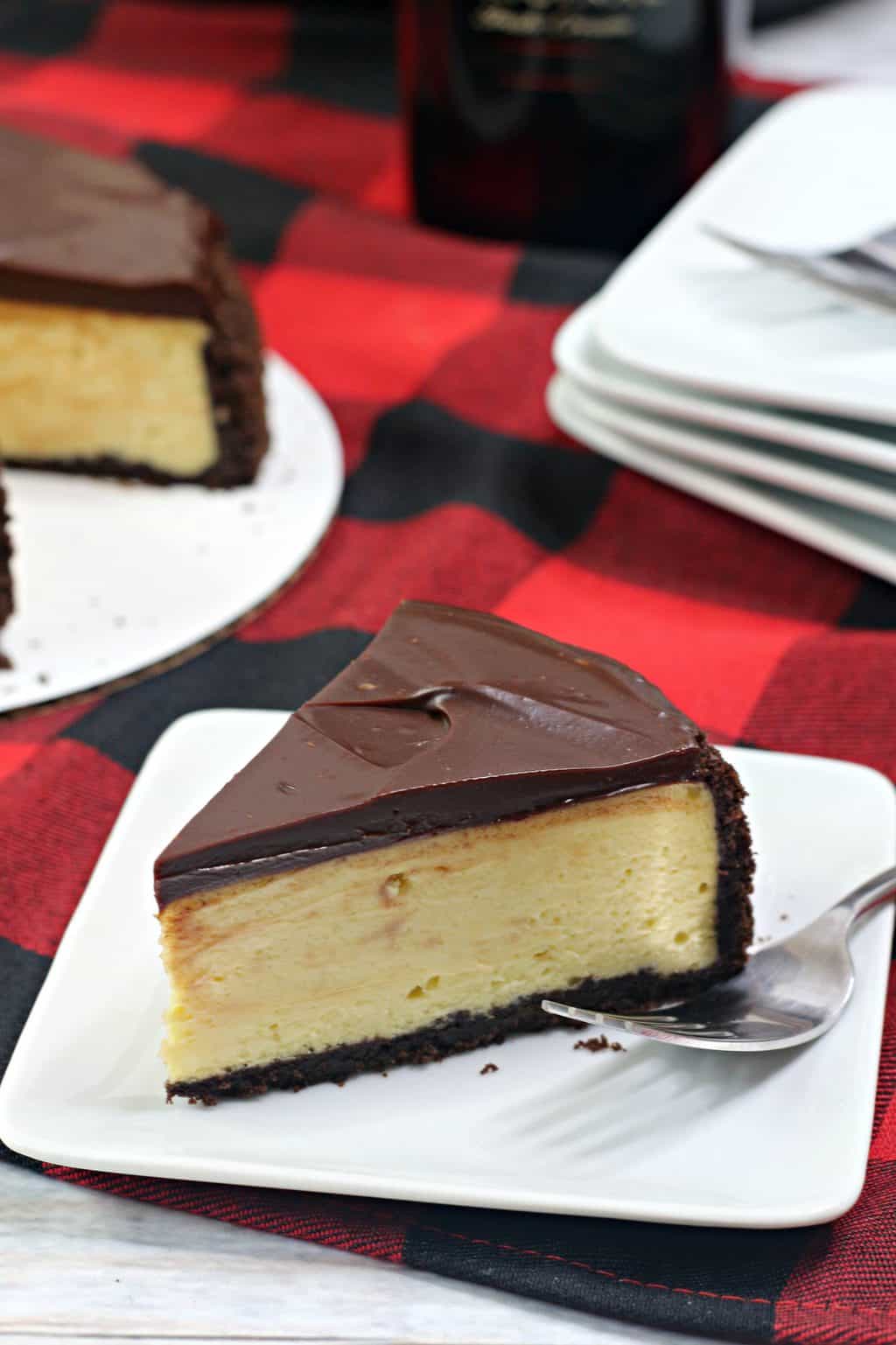 Irish Cream whoopie pies – you can never go wrong making whoopie pies, especially when they have Irish cream in them. They are great for all occasions.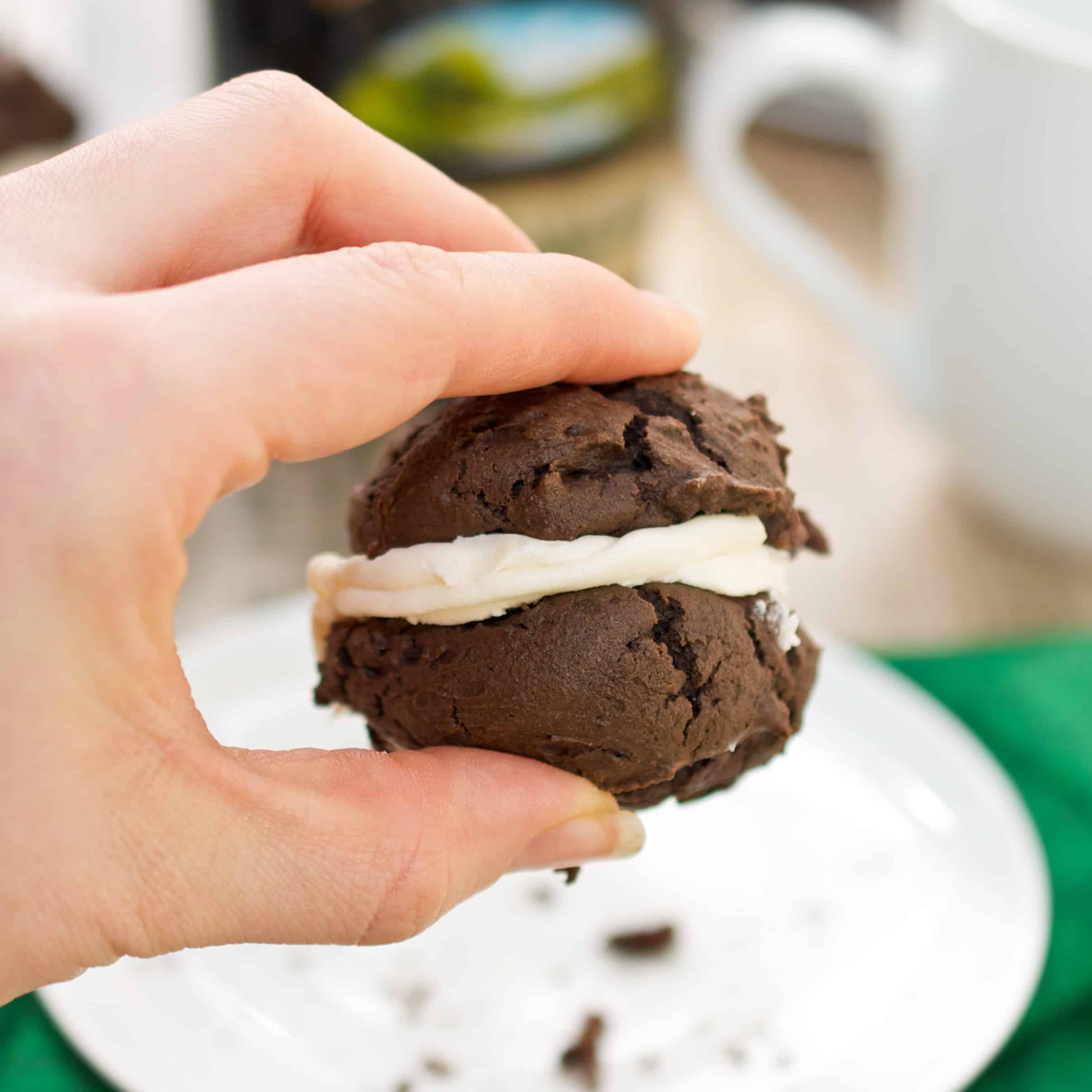 Get new recipes weekly plus our FREE ebook!