Scroll to bottom for printable recipe card.

You can resist drinking this Raspberry Margarita recipe! It's sweet, tangy, and packed with lots and lots of flavor. Make a tequila raspberry margarita for any occasion, especially those backyard barbecues when you need a tasty drink.
Raspberry Margarita
Who's ready for summer? I know I am! 😀 With the official start of summer arriving tomorrow, what better way to celebrate the longest day of the year than with a big ole raspberry margarita? Last year when I was pregnant with Little Sweet Pea, I craved these margaritas. Craaaaved! I would make them for our summer parties and watch all of our friends and family enjoy them while I sipped on my water. Well, not this year, folks!
Margaritas are one of my favorites summertime drinks, and if you've never made them from scratch, you're really missing out. These babies are super delicious and kinda creep up on you (if you know what I mean)! 😉 They're perfect for quenching your thirst all summer long. From the raspberry puree to the raspberry liqueur, these margaritas are packed with plenty of raspberry flavor!
Honestly, I love this raspberry cocktail so much; you can find me drinking it in the winter too. I can't help it! They are just so yummy. Sometimes we will make this tequila raspberry margarita for Christmas or New Year's get-togethers. They are red and vibrant and perfect for the holiday months too. It's totally up to you when you want to sip one of these tequila margaritas.
Fresh or Frozen Raspberries? Which is Better?
When I make this tequila margarita, I truly prefer the texture and results of using fresh raspberries. However, you can totally use frozen raspberries if you'd rather. They are both good; I just think that fresh is better for my tastes. But there is NOTHING wrong with using frozen. The good thing about using frozen raspberries is that you can get them to taste good even when raspberries aren't in season. So, go ahead and make these raspberry cocktails with frozen or fresh, depending on what you like best. You'll just need to follow the recipe and instructions as it was written.
What Is Best Alcohol to Use For Margarita
Margaritas are known for having tequila. You can use a silver or gold tequila depending on what you have on hand and what flavor you prefer. Pretty much as long as it's tequila, you can't go wrong. You can swap the alcohol for something else like vodka, for example, but it wouldn't actually be a "margarita." That's more than fine, so don't' let the name make you change your mind on what you like the best.
Easy Way To Salt Rim Of Glass
I find that that easiest way to salt the rim of a glass is to first take a lemon or lime wedge and rub it all the way around the edge of the glass. I prefer limes, but lemons will also work well. Then put the glass upside down and dip it into a shallow bowl that has been filled with salt or sugar. Twist the glass into the salt and stand it up. Fill it with your favorite margarita like this raspberry margarita and sip the night away.
Garnishments For Margarita
There are lots of things you can use as a garnishment for these tequila margaritas. Here are a few of our favorite ideas that I think you will enjoy.
Salt – Rim your margarita glass with salt. It is delicious and looks fabulous too.
Sugar – If you aren't into salt as much, you can also use sugar. It's a sweet way to add flavor to the tequila raspberry margarita.
Fresh Raspberries – Add some fresh raspberries to a cocktail toothpick and add them to the glasses. Plus, they are yummy to munch on.
Kiwi Slice – Add a bright green slice of kiwi fruit to your glass.
Lime Slice – Take a lime and slice it, then add wedge it onto the glass. It adds a pop of color.
Strawberries – They make an awesome garnish for any mixed drink, especially these margaritas.
Lemon Wedge – I love the look of fresh lemons on my cocktails. It's the perfect addition to these raspberry margaritas.
Can I Double Recipe
Of course! This recipe makes between 4 and 6 margaritas depending on how big you make them. You may need to work in batches, but you can double or triple this recipe easily. Store it in the freezer until you are ready to serve. You may need to thaw for a few minutes on the counter if it's been in the freezer very long.
Ingredients
Only 9 ingredients standing between you and this tasty raspberry margarita. Let's take a look at what you will be needing.
Fresh raspberries
Lime juice
Lemon juice
Superfine sugar
Pinch table salt
Crushed ice
Tequila
Triple Sec
Chambord
How to Make A Raspberry Margarita
First Step: It works best to use a food processor with a metal blade or a high-quality blender. You will need to puree the raspberries with the lemon juice, lime juice, sugar, and salt. Mix until it's smooth and creamy. Then strain the mixer through a fine mesh strainer into a pitcher that can hold all the mixture. Pour in the tequila, triple sec, and Chambord into the large pitcher with the raspberry mixture. Add one cup of crushed ice into the margarita and stir well. Chill until you are ready to serve.
Second Step: Evenly divide one cup of crushed ice among 4-6 glasses. Then pour on the raspberry margarita mixture and serve immediately. Enjoy!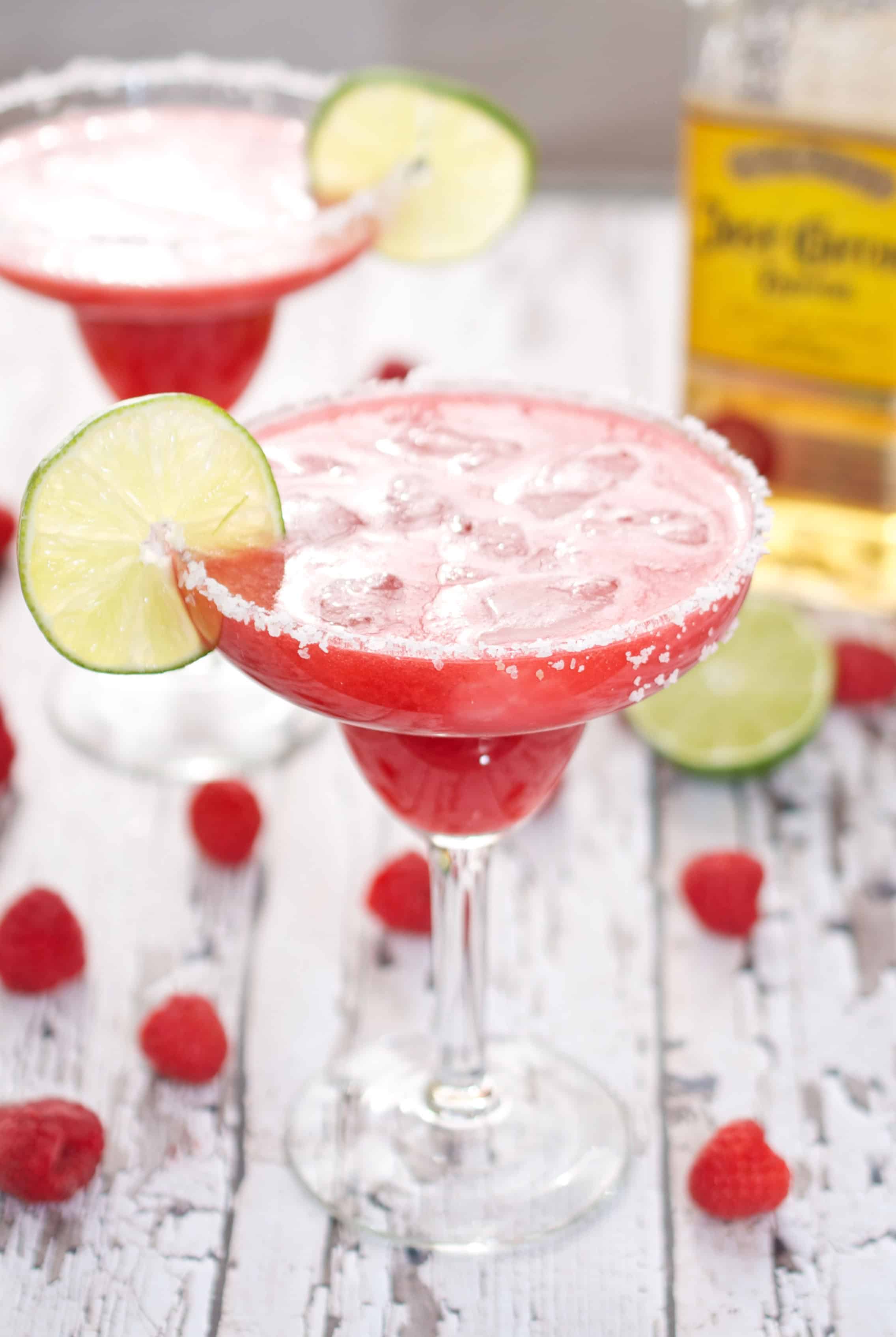 Looking for some more tasty cocktails? Check these out for your next party.
Pin this recipe now to remember it later
Ingredients
1/2

cup

lime juice from 2 to 3 medium limes

1/2

cup

lemon juice from 2 to 3 medium lemons
Want to save this recipe? Enter your email below and we'll send the recipe straight to your inbox!
NOTE: By saving this recipe, you agree to join our weekly recipes newsletter.
Instructions
In the bowl of a food processor fitted with the metal blade, puree raspberries, lime and lemon juices, sugar, and salt until smooth. Strain mixture through a fine mesh strainer into a large pitcher. Add tequila, Triple Sec, and Chambord, and 1 cup crushed ice to the pitcher. Stir until thoroughly combined and chilled.
Divide remaining 1 cup of crushed ice between 4 or 6 margarita or double old-fashioned glasses. Pour margarita into ice-filled glasses; serve immediately.
Follow me on Pinterest for daily delicious recipes!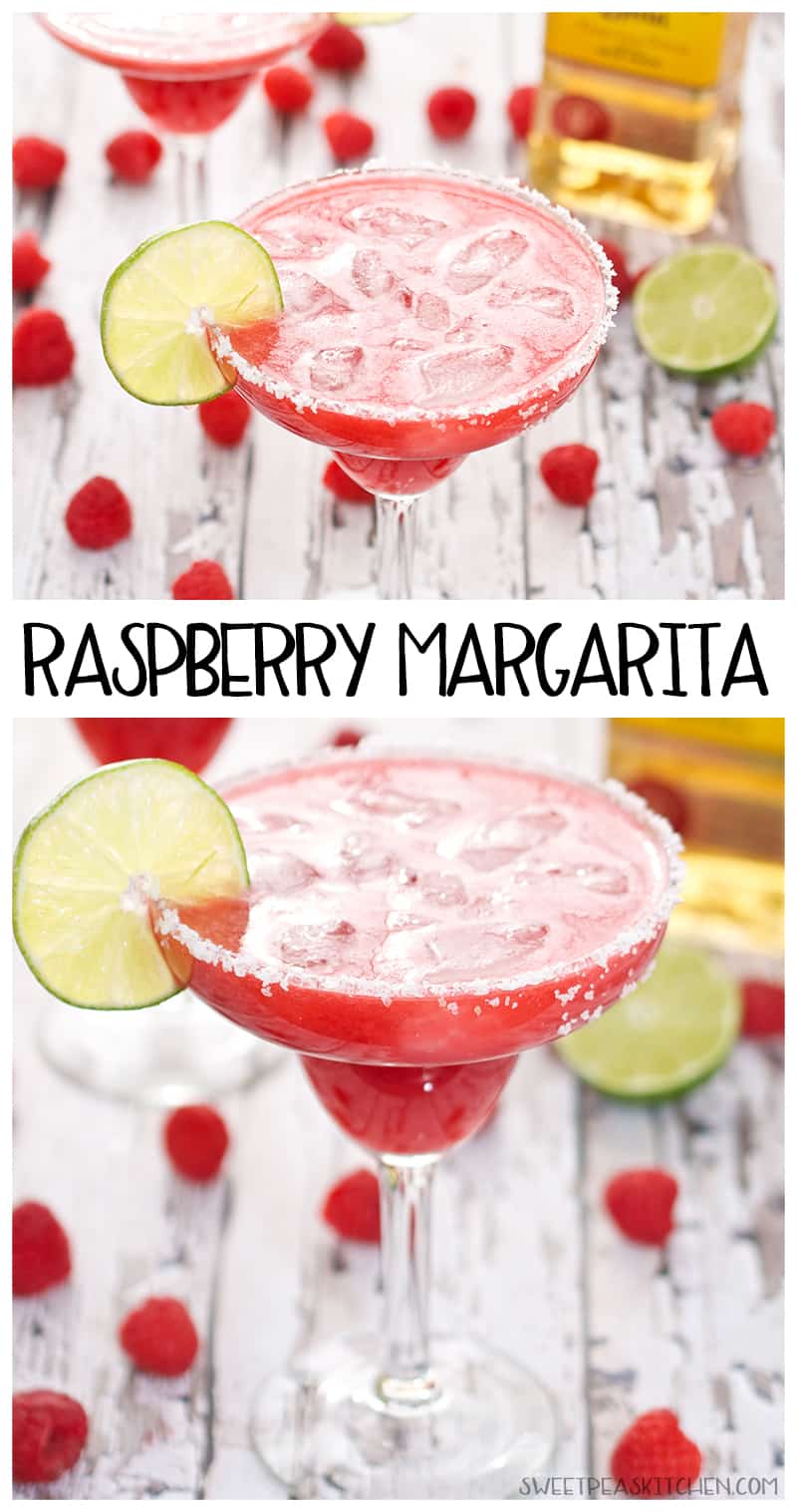 Get new recipes weekly plus our FREE ebook!