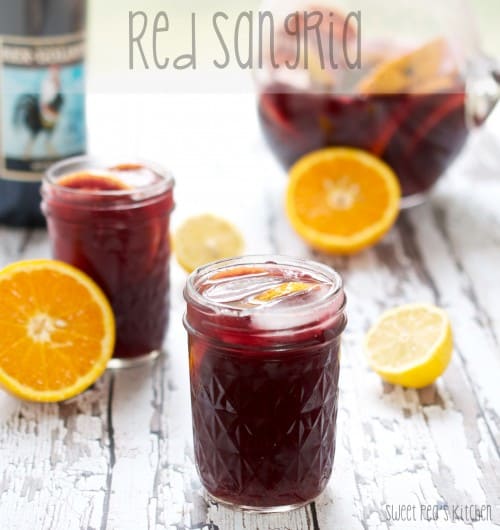 Red Sangria is going to be your new favorite drink! Beat the heat this summer with this simple, refreshing summer cocktail! Serve this fruity alcoholic drink at your next summer bash or when you are relaxing after a hot day.
Scroll to bottom for printable recipe card.
Red Sangria
Discovering this recipe for Sangria has truly revolutionized my summer evenings. It is my go-to drink when it's warm outside! This version of sangria takes only seconds to make and only requires a handful of ingredients: lemons, oranges, sugar, cheap wine, and triple sec.
An inexpensive Merlot is the best choice for this recipe. I like to choose a merlot that's less than $10 a bottle. The loud flavors of the fruit will overpower the wine and will ruin the subtle qualities of fine wine, so skip it for this recipe. Seriously, take my word for it and save that expensive wine for a great steak dinner. 🙂 I am not ashamed to admit that when I make this sangria recipe for a crowd, I typically triple the recipe and serve it in our drink dispenser. It's always a big hit!
Although this recipe takes seconds to make, the most important step when making sangria is to let it sit before drinking, a full day is best, but if that's impossible, give it an absolute minimum of two hours to sit. The longer sangria sits before drinking, the more smooth and mellow it will taste.
Best Wine for Sangria
When you are making this red wine sangria, opt for super cheap wine that is medium-bodied. You don't need anything that is fancy or high dollar. The more money you spend, the more money you waste on this drink. If you are drinking a glass of wine on its own, then go for the expensive stuff, but in this case, cheap is way better. Because of the fruits, sugar, and juices, they will take over the flavor of the wine.
What Fruit To Put in Sangria
For this easy sangria recipe, we recommend using oranges and lemons. They taste fabulous with the other ingredients and will give you a pretty delicious flavor. You can also use strawberries, peaches, apples, plums, blackberries, or blueberries too. Play around with the fruits to see what flavors you enjoy the most.
How long does it take to blend sangria?
You will need to let the sangria sit for 2 – 8 hours to really let the flavors blend together. The longer it sits, the better it's going to taste. Sometimes if I am in a hurry, I will only let it sit for 2 hours, but I prefer the flavors after it has set around 8 hours. That's when it tastes absolutely the best.
Can I Double Recipe
Of course! This recipe for red sangria makes 4 servings. So you can simply double or even triple the ingredients to make as much as you need. I recommend making enough for everyone to have two of them. They are so good; it's hard to resist that second drink. Keep it in a large airtight container until you are ready to serve it for the best results. It needs to be kept cold until you are ready to serve, and shake or stir it before serving.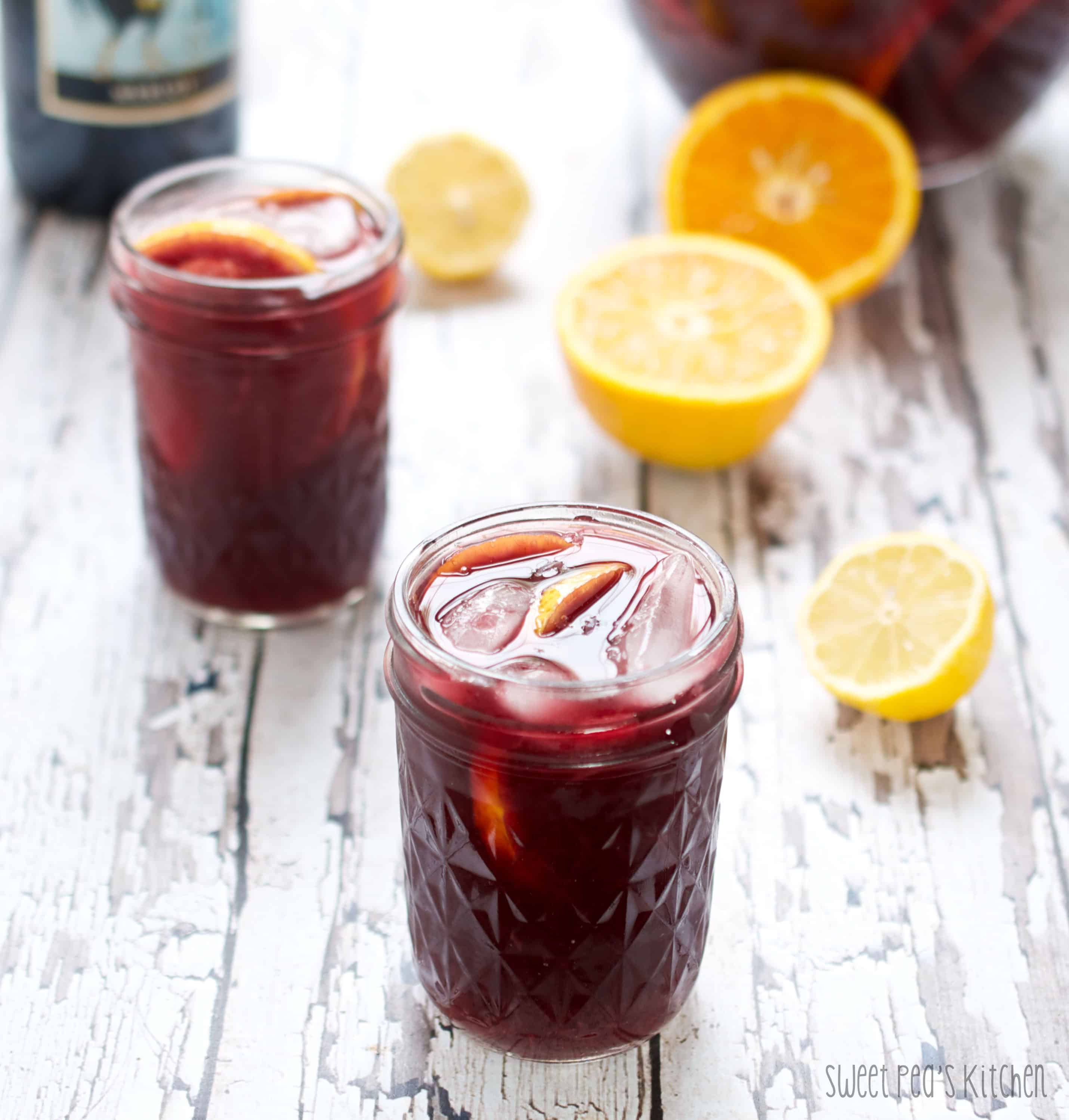 How to Serve Sangria
You can serve the red wine sangria over ice, or you can add chunks of fruit to the glass. Either way, it needs to be cold when you serve it. You can also rim the glasses with sugar to add extra sweetness to it. Don't forget to garnish the red sangria with some slices of oranges or lemons. They both look gorgeous with the deep color of the sangria and the bright oranges or lemons.
Ingredients
All you need is five ingredients, and you can quickly and easily prepare this awesome red sangria. It's one of the best sangria recipes I have tried in a long time because it's so good. I think you are going to love it as much as I do. Let's take a peek at what you need to get started.
2 large, heavy, juicy juice oranges, washed; one orange sliced; remaining orange juiced
1 large, heavy, juicy lemon, washed and sliced
1/4 cup granulated sugar
1/4 cup Triple Sec
1 bottle inexpensive, fruity, medium-bodied red wine (750 milliliters), chilled
How to Make Sangria
The best part is that you only need to follow a few steps to make this red sangria. It's time to get started, so you can be sipping on this tasty drink.
First Step: Put the orange and lemon slices in a large pitcher along with sugar. Take a wooden spoon and lightly mash the fruit. This will gently pull out the juice from the fruit. Continue to do this until the sugar has dissolved and the fruit has been pressed. Pour in the orange juice, red wine, and triple sec and stir. Place the pitcher in the refrigerator for 2 hours all the way up to 8 hours.
Second Step: Right before you serve the fruity alcoholic drink, you will need to stir it briskly. This will help distribute the fruit and pulp that has settled along the bottom of the pitcher. Serve over ice and with your favorite garnishes. Enjoy!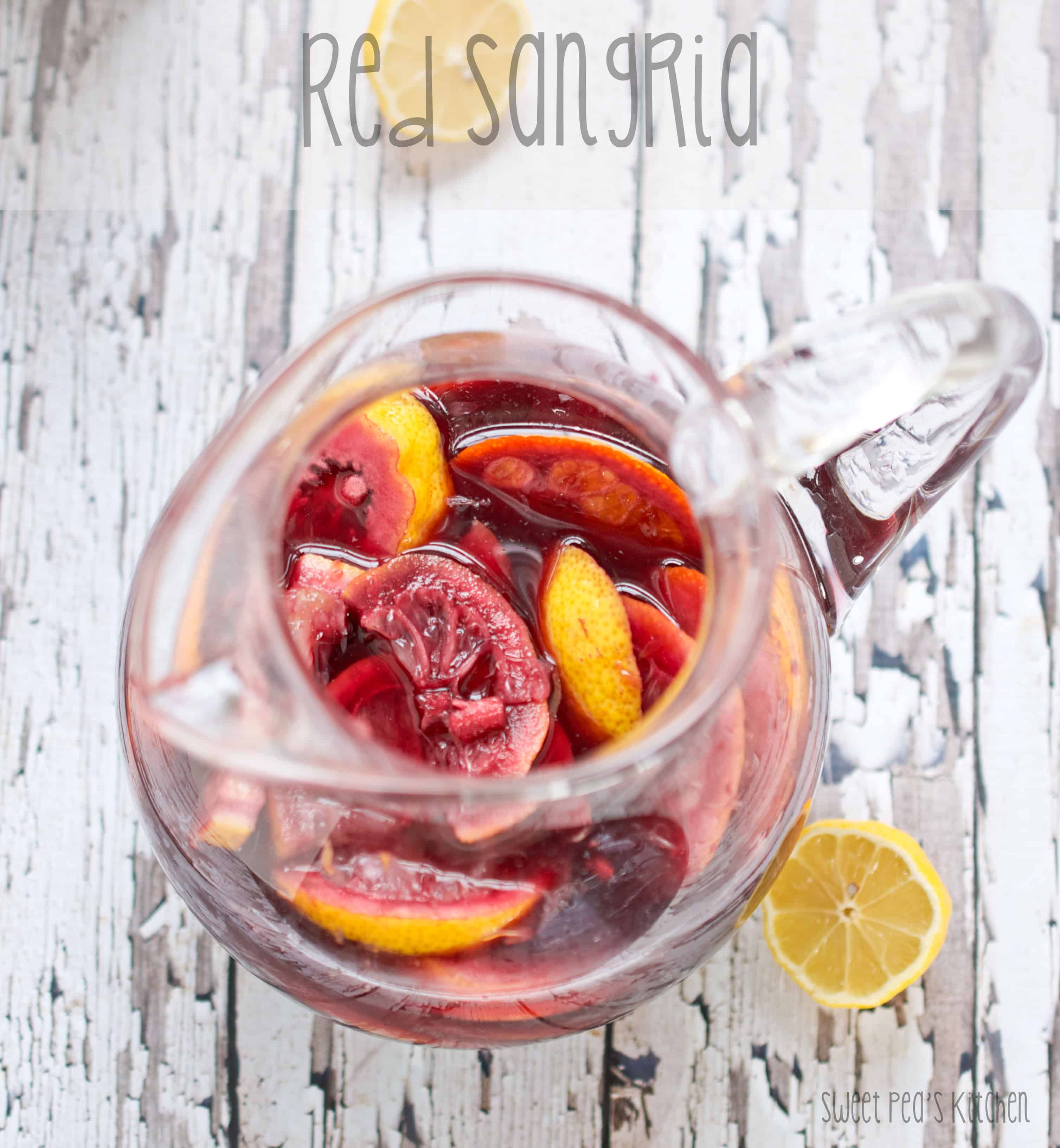 Hosting a party or like to enjoy a drink after working all day? Here are some of my favorite drink recipes that I think you are going to enjoy sipping. Take a look at these drool-worthy drinks.
Pin this recipe now to remember it later
Red Sangria
This version of sangria take only seconds to make and requires only a handful of ingredients: lemons, oranges, sugar, cheap wine, and triple sec.
Ingredients
2

large

,

heavy, juicy juice oranges, washed; one orange sliced; remaining orange juiced

1

large

,

heavy, juicy lemon, washed and sliced

1

bottle inexpensive

,

fruity, medium-bodied red wine (750 milliliters), chilled
Want to save this recipe? Enter your email below and we'll send the recipe straight to your inbox!
NOTE: By saving this recipe, you agree to join our weekly recipes newsletter.
Instructions
1. Add sliced orange, lemon, and sugar to large pitcher; mash gently with wooden spoon until fruit releases some juice, but is not totally crushed, and sugar dissolves, about 1 minute. Stir in orange juice, Triple Sec, and wine; refrigerate for at least 2, and up to 8, hours.

2. Before serving, stir briskly to distribute settled fruit and pulp; serve immediately over ice if desired.
Follow me on Pinterest for daily delicious recipes!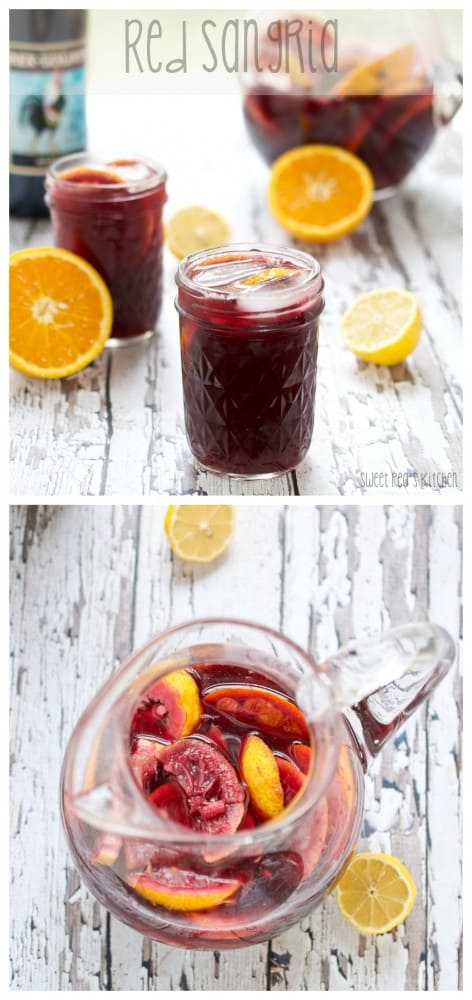 Get new recipes weekly plus our FREE ebook!