When you taste this stuffed cornish hen recipe, you'll be amazed by how juicy and savory it is. My special ingredient is the wild rice stuffing with carrots, mushrooms, and thyme. Making this stuffed cornish game hen recipe is one of my all-time favorites because the meat turns out beautifully every time.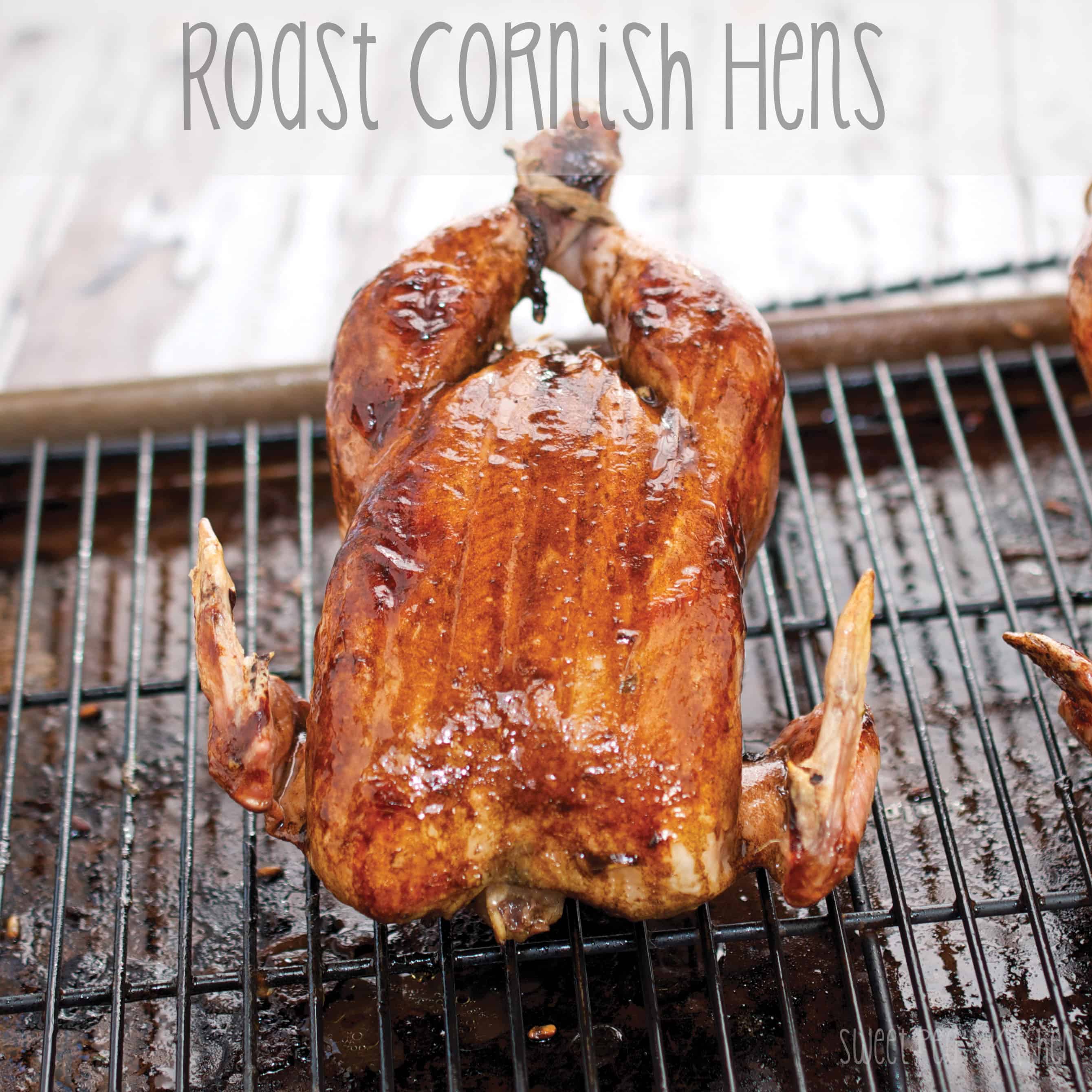 Scroll to bottom for printable recipe card.
Roasted Stuffed Cornish Hen Recipe
You know I am a sucker for simple recipes, and that's why this easy cornish hen recipe is one of my go-to's. Cornish hens are the perfect size for you to eat the entire thing yourself too! Kids go wild for them as well. This roasted cornish hen recipe is packed with protein and flavor.
Cornish Game Hen Recipe Ingredients
Basically, you just need a few ingredients, and you will be ready to sink your teeth into the yummiest, juiciest roasted cornish hen recipe ever.
Kosher salt – You can also use table salt if that works better for you. But keep in mind depending on what you use, you'll need 1-2 cups! This is what brings out that delicious flavor of the stuffed cornish game hens.
Cornish game hens – Try to keep them less than 1 1/2 pounds whenever possible. If they are more uniform in size, they will cook at the same rate and save yourself a headache later.
Balsamic vinegar – Adding some balsamic gives this stuffed cornish hen recipe some added pizzazz that's so good!
Olive oil – You could use another kind of oil if you would rather. I just love the results of olive oil, and I always happen to have it on hand.
Dry vermouth or white wine – No matter which one you use, it tastes wonderful with this cornish game hen recipe.
Wild Rice Stuffing with Carrots, Mushrooms, and Thyme – This is one of my all-time favorite wild recipes! It makes me so hungry thinking about it.
How To Cook Cornish Hens
This stuffed cornish game hen recipe is loaded with so much flavor. I love to make them when we have friends over because they are always raving about it. Take a look at how simple it is to make this easy cornish hen recipe:
First Step: Dissolve kosher or table salt in 5 quarts of cold water in a bucket or large bowl. Place the cornish hens with the breast side down in the bucket. Refrigerate the cornish game hens for 2-3 hours, then remove from water, rinse and pat dry. Using a paring knife, poke holes in the skin over the breasts and legs.
Second Step: Whisk the balsamic vinegar and oil together in a small bowl and preheat the oven to 400 degrees.
Third Step: Place 1/2 cup of the hot stuffing into the cavity of the hens. Using 6-inch kitchen twine, tie the legs together. Place the game hens breast side down and the wings facing out on a large wire rack. Set the wire rack over a large roasting pan.
NOTE: Make sure to not put the cornish game hens too closely together. Give as much space as possible, so they cook evenly.
Fourth Step: Roast the stuffed cornish game hens until the backs are a golden brown. It usually takes around 25 minutes for them to brown up. Then remove from the oven and using a food brush add the vinegar and olive oil glaze on their backs. Then flip them over and brush the breasts and leg area.
Fifth Step: Place the game hens back in the oven and add one cup of water to the pan and continue roasting until the internal temperature reaches 150 degrees. This typically takes around 15-20 minutes, but maybe a little less or a little longer depending on your oven.
Sixth Step: Once the birds reach 150 degrees, remove the pan from the oven and brush with the vinegar and olive oil mixture again. Add another 1/2 cup of water to the pan and increase the oven to 450 degrees. Roast the cornish hens until they are brown, and the cavity is 160 degrees F. This usually takes around 5 – 10 minutes.
Seventh Step: After then have reached 160 degrees F. Remove them from the oven and add the remaining glaze and let rest for 10 minutes. They will finish heating up at this point.
Eighth Step: Add the juice from the roasting pan into a small saucepan and remove excess fat. Pour in the vermouth or white wine and simmer over medium-high heat so the flavors can blend together, which takes 2-3 minutes. For each hen, drizzle 1/4 cup of sauce on top.
What Is Dry Vermouth?
Dry vermouth is a wine that has been infused with herbs, spices, and brandy. It's wonderful for adding lots of flavor to various dishes, like this stuffed cornish game hen recipe.
Don't worry! If you don't have access to it, you can easily swap it out with white wine, and it will still taste wonderful.
Can This Stuffed Cornish Game Hen Recipe Be Made Ahead?
Yes, you can make these cornish game hens ahead of time! They are perfect for meal planning or meal prepping. Make sure they are properly cooked all the way, then place them in an airtight container in the refrigerator. They last in the fridge around 3 days.
You can also freeze the roasted cornish hens by wrapping them with foil and placing them in a freezer-safe container. They last up to 6 months in the freezer!
How Do You Reheat Cornish Hens?
If frozen, place in the fridge overnight so it can thaw. Once the cornish hens are thawed, place them in the oven at 350 degrees F. until they are warm all the way through. Usually, this takes 10-15 minutes, but it might take a little longer. Once they are warm, you can serve!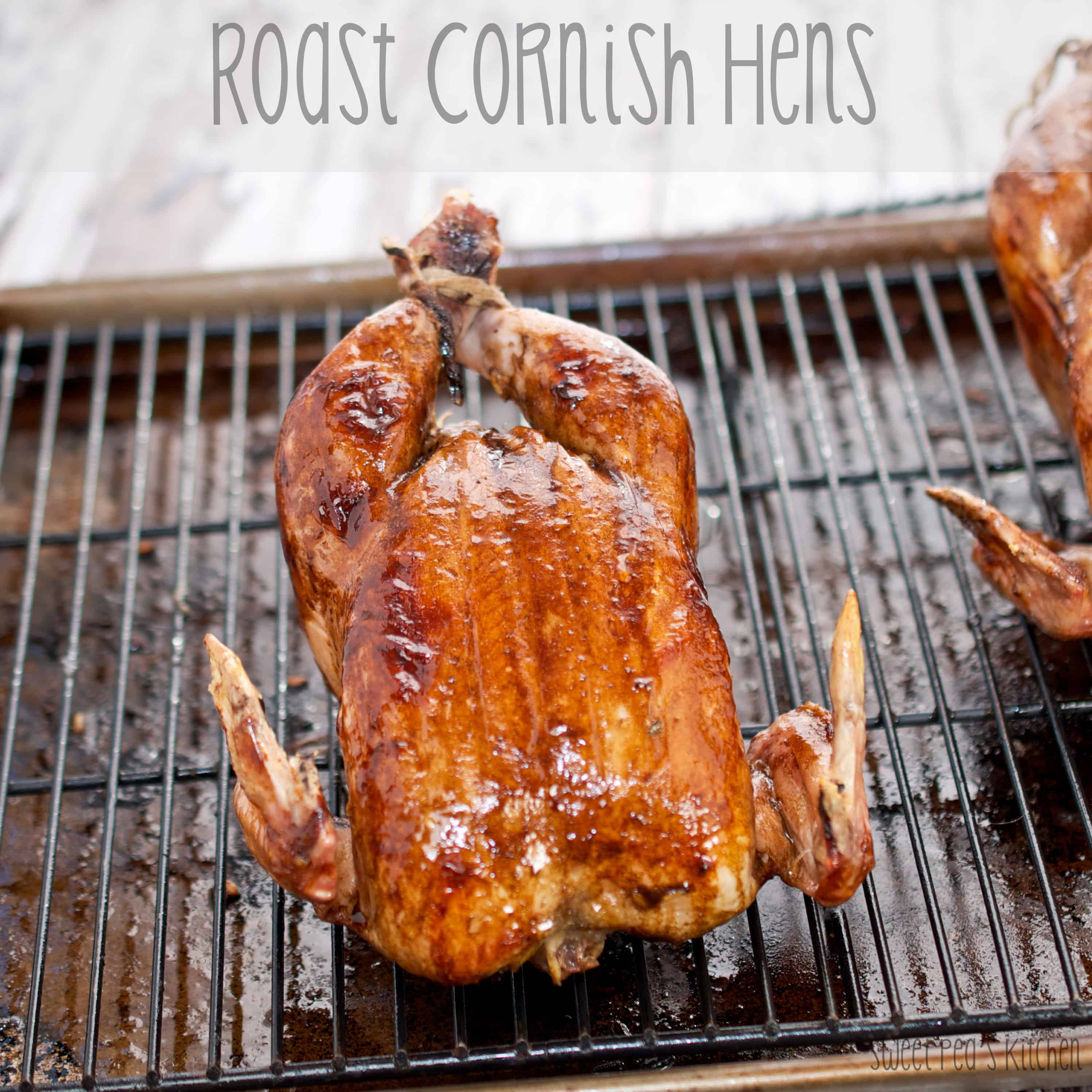 What To Serve With Cornish Hens
I have no doubt you are going to fall head over heels in love with this cornish hen recipe! Here are a few ideas to serve with these amazing birds:
Now, remember to save this recipe on Pinterest for later 🙂

Pin this recipe now to remember it later
Roasted Stuffed Cornish Hen Recipe
This stuffed cornish hen recipe is juicy, delicious and EASY! You can't go wrong with this roasted cornish hen recipe stuffed with wild rice stuffing. Yum!
Ingredients
2

cups

kosher salt or 1 cup table salt

6

Cornish game hens

,

each less than 1 1/2 pounds if possible, trimmed of extra fat, giblets removed, rinsed well

6

tablespoons

balsamic vinegar

1/4

cup

dry vermouth or white wine
Want to save this recipe? Enter your email below and we'll send the recipe straight to your inbox!
NOTE: By saving this recipe, you agree to join our weekly recipes newsletter.
Instructions
In a large bowl or bucket, dissolve salt in 5 quarts cold water. Add hens breast side down; refrigerate 2 to 3 hours. Remove, rinse thoroughly, pat dry, and prick skin all over breast and legs with a paring knife.

Heat oven to 400 degrees. In a small bowl whisk balsamic vinegar and oil together; set aside. Spoon

1/2 cup hot stuffing

into cavity of each hen; tie its legs together with 6-inch piece of kitchen twine. Arrange them breast side down and wings facing out (leaving as much space as possible between each bird) on large (at least 19-by-13–inch) wire rack, set over equally large roasting or jelly-roll pan. Roast until backs are golden brown, about 25 minutes. Remove pan from oven, brush bird backs with vinegar and oil glaze, turn hens breast side up and wings facing out, and brush breast and leg area with additional glaze. Return the pan to the oven, add 1 cup water, roast until meat thermometer inserted into the stuffed cavity registers about 150 degrees, about 15 to 20 minutes longer. Remove pan from oven again, brush birds with re-blended glaze, return pan to oven, add another 1/2 cup water to pan and increase oven temperature to 450 degrees. Roast until birds are spotty brown and cavity registers 160 degrees, 5 to 10 minutes longer, depending on bird size. Remove birds from oven, brush with remaining glaze, and rest for 10 minutes.

While the birds are roasting, pour hen "jus" from roasting pan into a small saucepan, spoon off excess fat, add vermouth or wine, and simmer over medium-high heat until flavors blend, 2 to 3 minutes. Drizzle about 1/4 cup sauce over each hen and serve, passing remaining sauce separately.
Follow me on Pinterest for daily delicious recipes!
Want More Healthy Recipes?
Instant Pot Turkey Noodle Soup With Vegetables – It's full of soothing ingredients, takes minimal effort to create, and friends and family can't resist it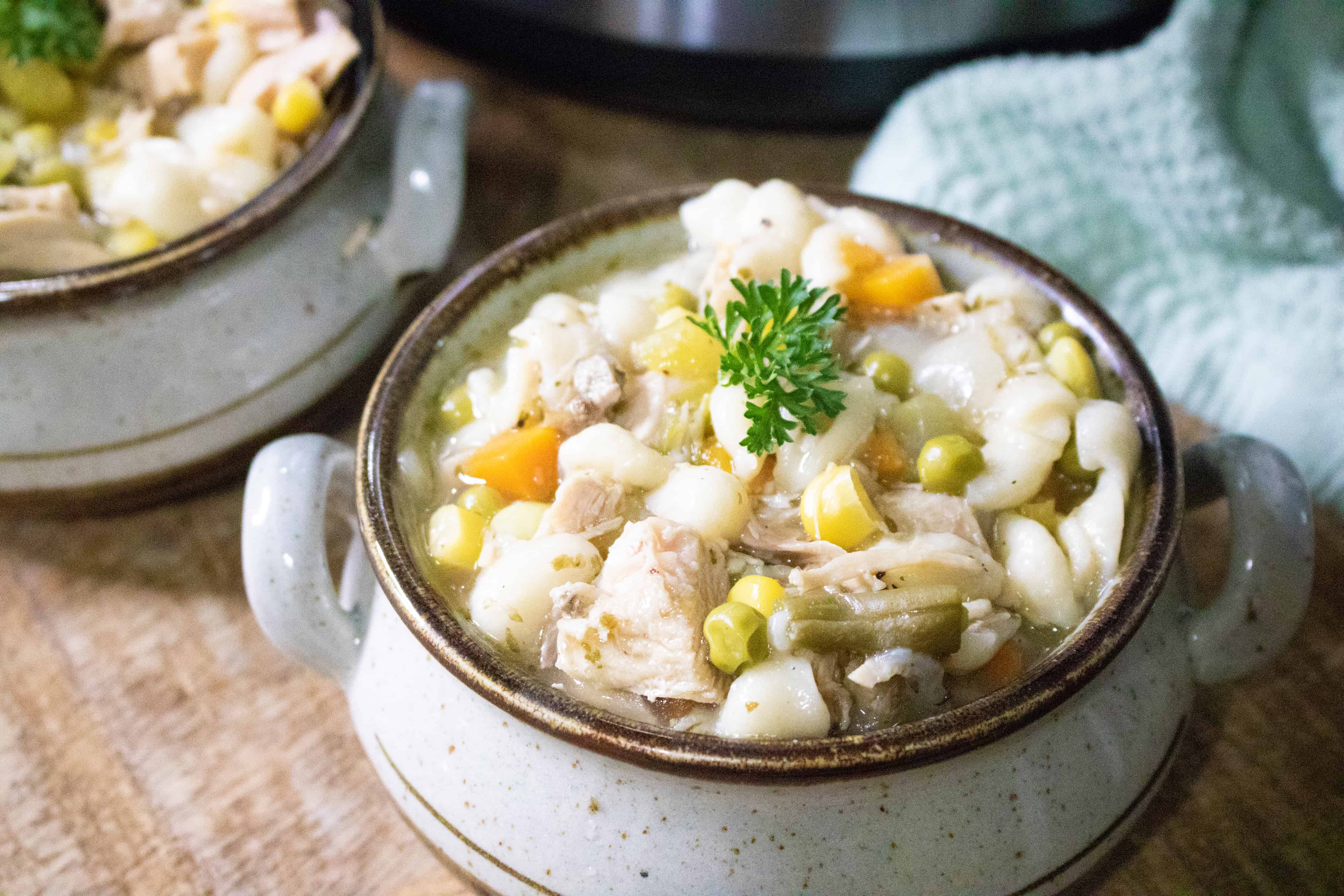 Meatballs and Potatoes Soup – This Meatball and Potato Soup will not only become one of your go-to hearty soup recipes for chilly nights but one of your favorite easy healthy soup recipes!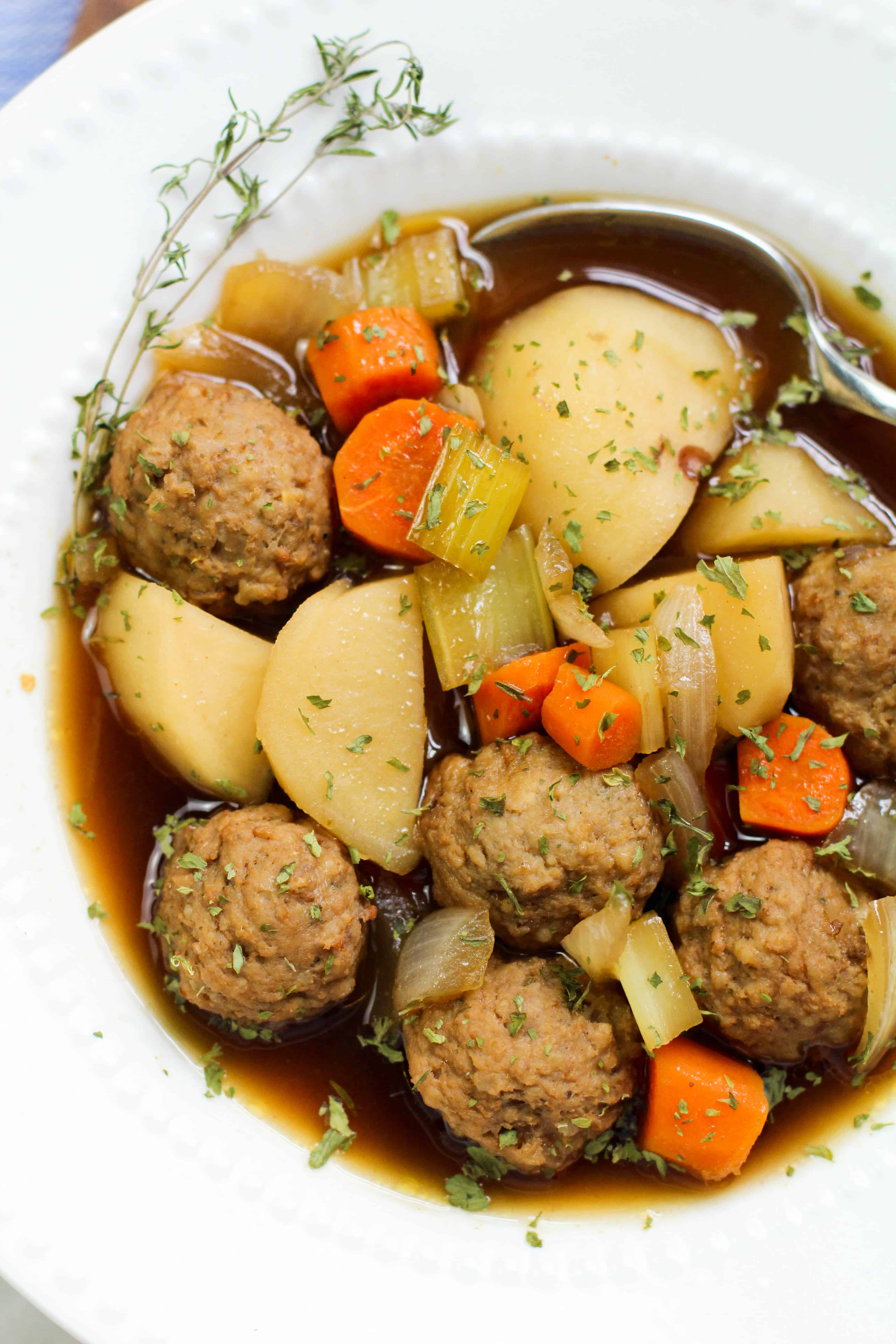 Weight Loss Vegetable Soup – Whether you're trying to lose a few pounds after the holidays or just want to give your body a healthy jumpstart, this Weight Loss Vegetable Soup is for you.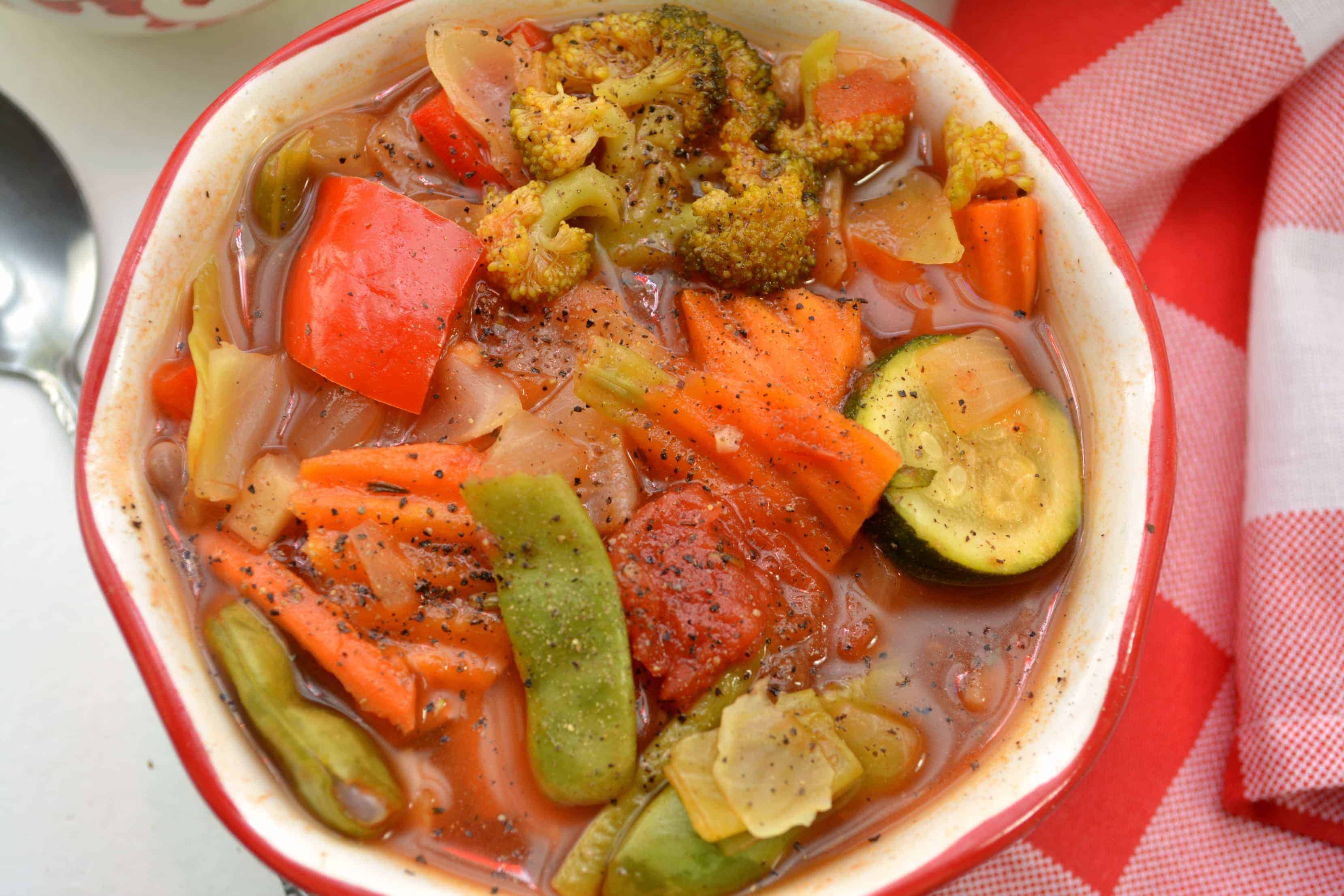 Instant Pot Smoked Sausage And Bean Soup – Oh, the amazing flavors in this Instant Pot smoked sausage and bean soup is out of this world.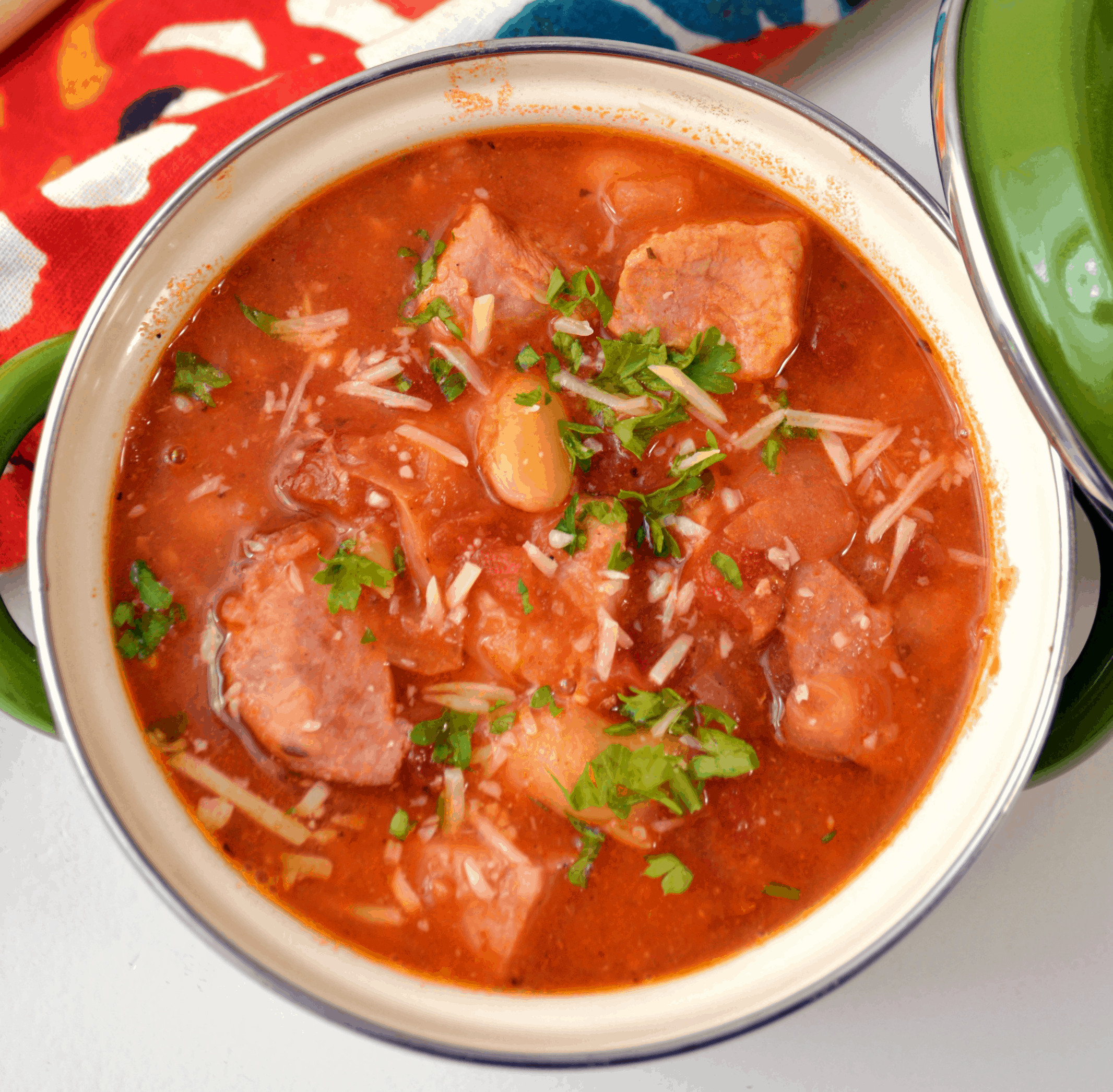 Potato Soup – This slow cooker potato soup is the best crockpot potato soup you will ever make!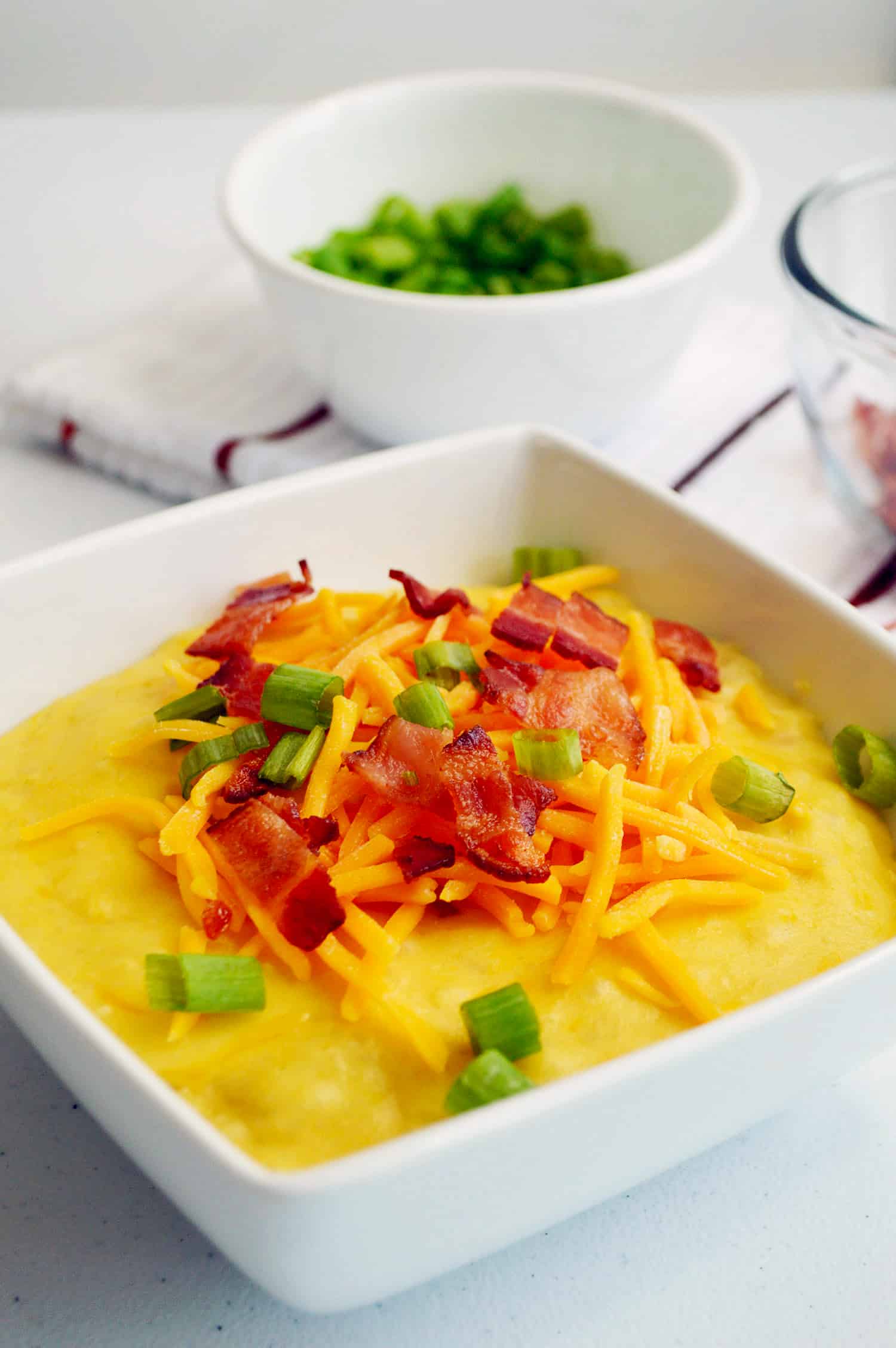 Easy Beef Stew – Easy stew recipes are a winter staple for many, and this beef stew is a crowd-pleaser.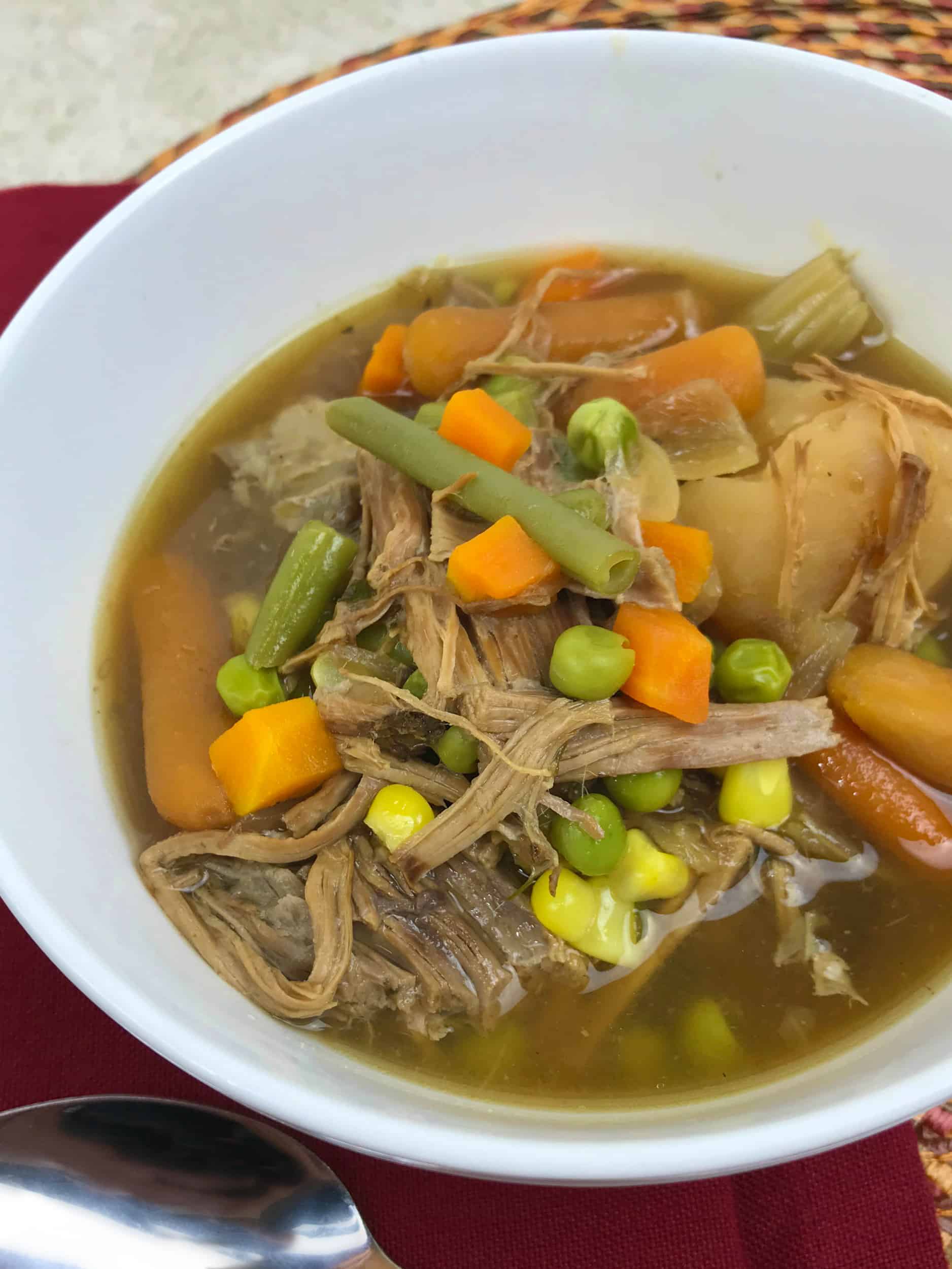 Instant Pot Chicken Noodle Soup – With this chicken noodle soup Instant Pot recipe, there's no need to wait hours for a savory soup.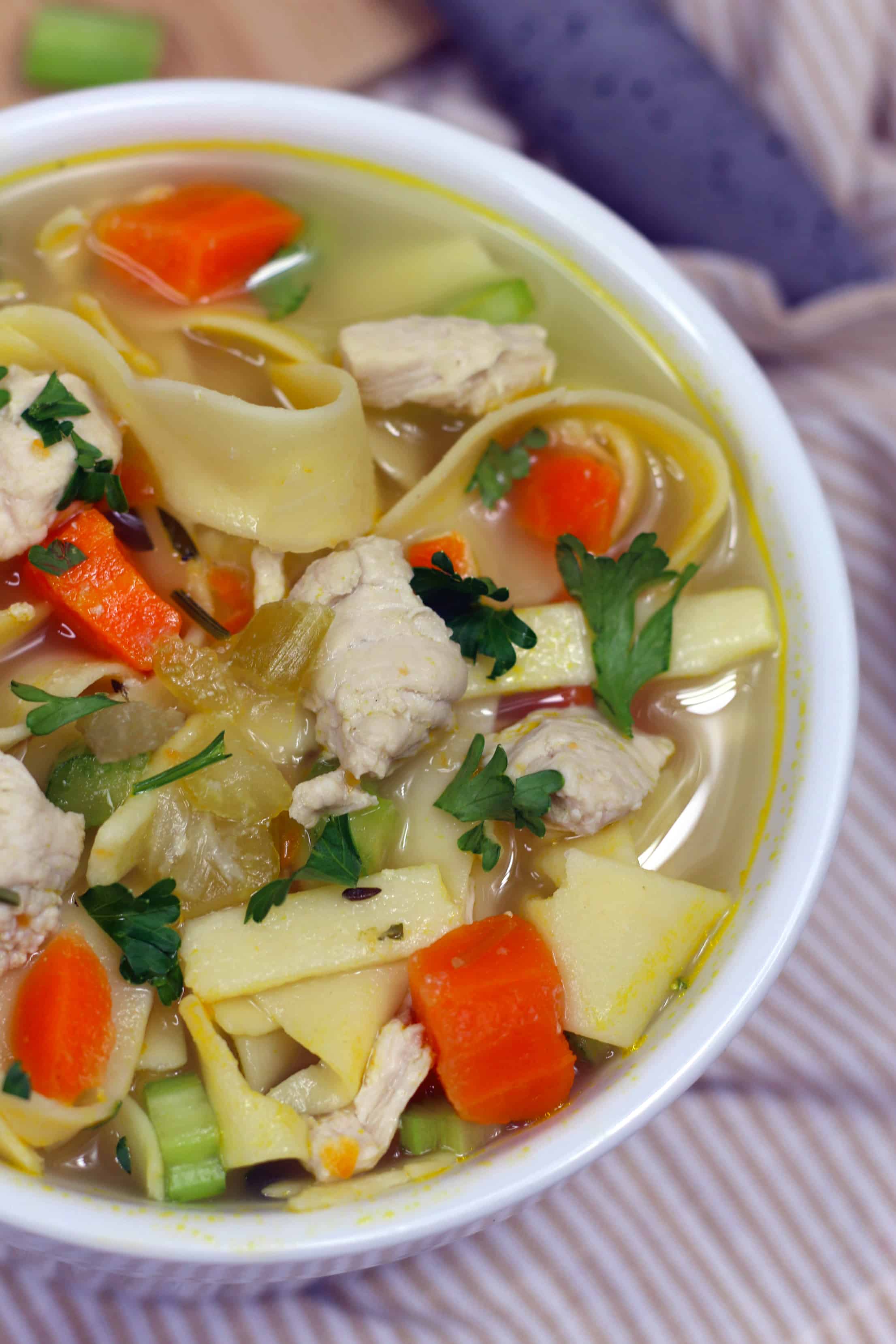 Get new recipes weekly plus our FREE ebook!