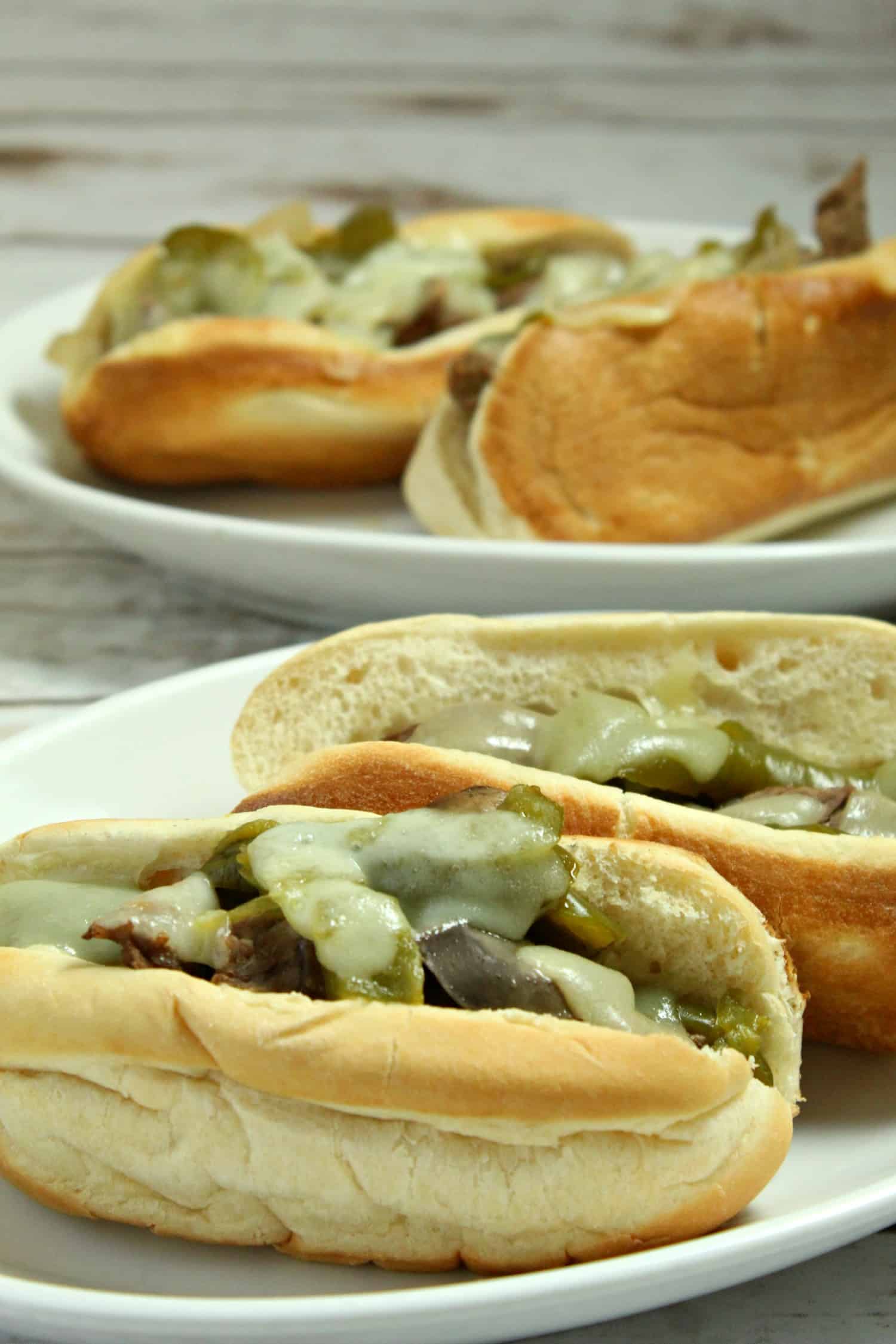 Get the taste of take-out right in your home with this slow cooker Philly cheesesteak. Who am I kidding, this is way better than take-out any day! You will get juicy, tender steak in every bite along with onions, mushrooms, bell peppers all nestled in a hoagie bun topped with melty cheese.
If you have ever had an authentic Philly cheesesteak, you know how amazing they are and how much flavor is packed into that sandwich. I made a goal for myself that I was going to try to make a Philly cheesesteak sandwich that turned out even half as good. I did it! The secret weapon is that this is a slow cooker beef recipe, so the meat is super tender
In addition to tender meat, it's also really full of flavor because it cooks for so many hours it can really absorb the seasonings.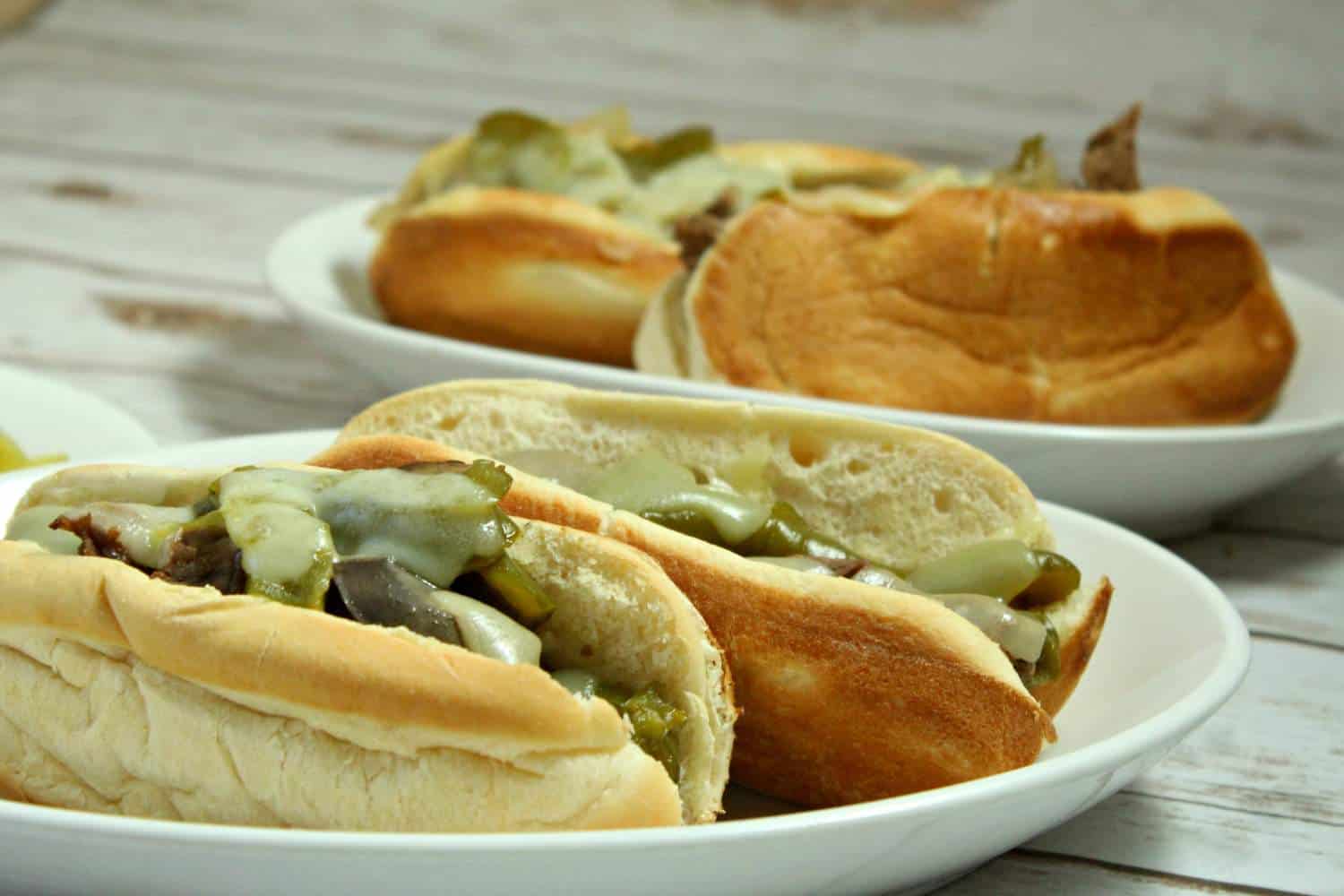 So next time you are craving something utterly delicious, try this homemade Philly cheesesteak because you are going to love every bite!
Scroll to bottom for printable recipe card.
How To Make Slow Cooker Philly Cheesesteak
When you use your slow cooker to make this Philly cheesesteak recipe, you will have all kinds of time to do other things while it's cooking away. You will appreciate the fact that you don't have to stand over it the entire time it's cooking.
Go to the store, hit the library, or even take a much-needed nap. Here are the quick steps to get you started:
First Step: Add the onions, brown sugar, and Worcestershire sauce in your slow cooker and give it a quick stir.
Second Step: After stirring, add the butter and steak into the slow cooker. Top the meat with garlic powder, salt, and pepper.
Third Step: Slice the mushrooms and green peppers, then add them to the slow cooker. Add the beef broth and soy sauce. Pour over everything, but keep 1/2 cup of the broth because you will use it later.
Fourth Step: Put the lid on the slow cooker and cook on low for 6-8 hours. Or you can cook on high for 5-6 hours. Once you have reached halfway through the cooking time, pour in the 1/2 cup of beef broth, and continue cooking.
Fifth Step: Turn the slow cooker temperature to warm and toss in the chopped parsley. Stir it, so it incorporates.
Sixth Step: Before serving add some mayonnaise to the hoagie rolls and spoon in the steak mixture.
Seventh Step: Top the hoagie sandwich with cheese, then wrap each sandwich in aluminum foil. Bake in the oven at 400 degrees F. for 5-10 minutes, so the cheese becomes melted. YUMMY!
That is all you need to do, and you can DEVOUR every single last crumb until it's gone. Sorry, I know you are probably starving and need to make this recipe ASAP now. 🙂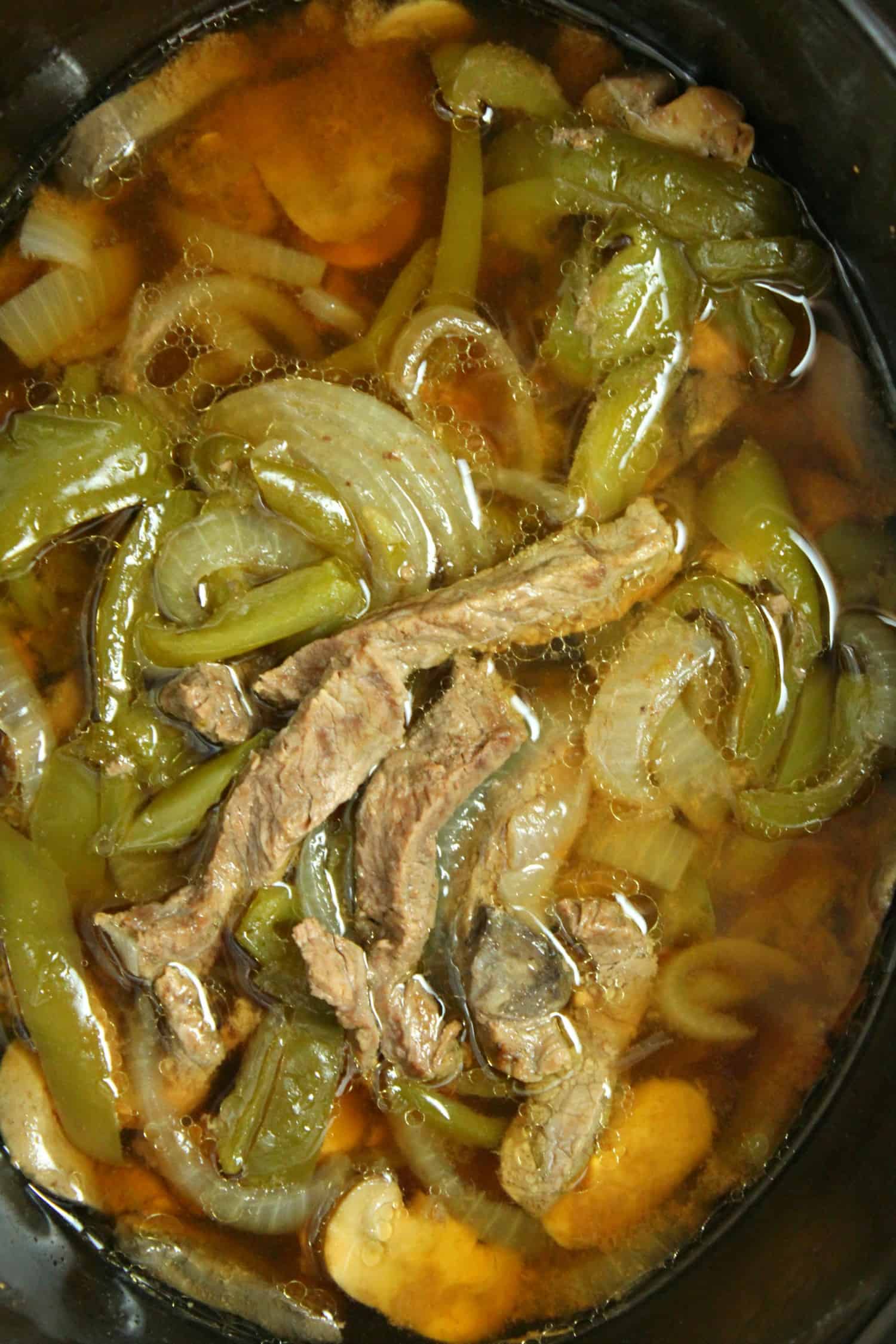 What Kind Of Steak Do You Use For Philly Cheesesteak?
For this recipe, I either use skirt steak or sirloin. Because you are cooking it in the slow cooker, it makes the meat extra tender and juicy. This is great because you can get away with using a less expensive cut of meat instead of having to spend a ton. Now, on occasion, if I find a good deal on ribeyes, I will use that.
If you are ever making a Philly cheesesteak that isn't in the crockpot, then I recommend using ribeye because it gives you a better result and the meat doesn't get tough like other cuts.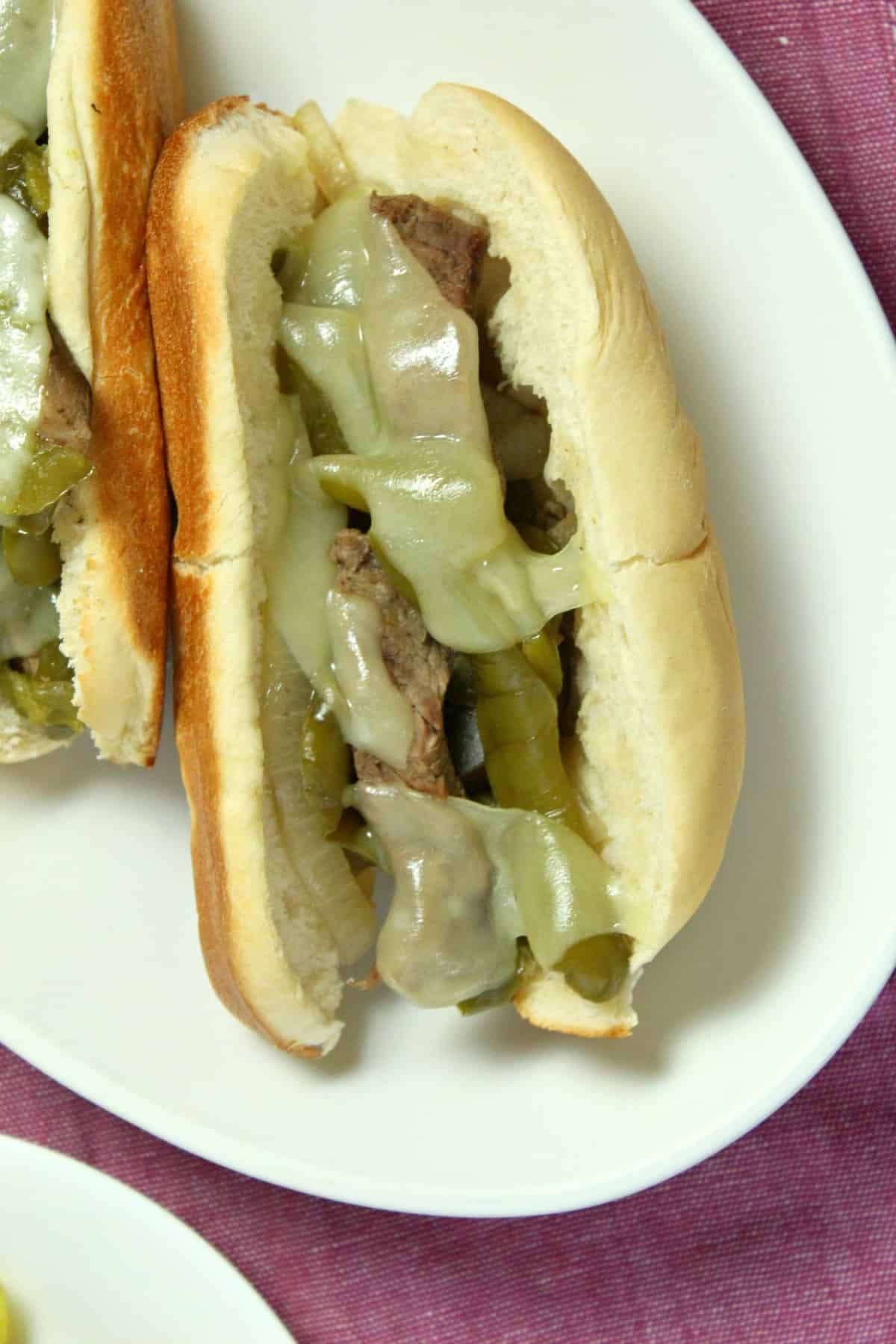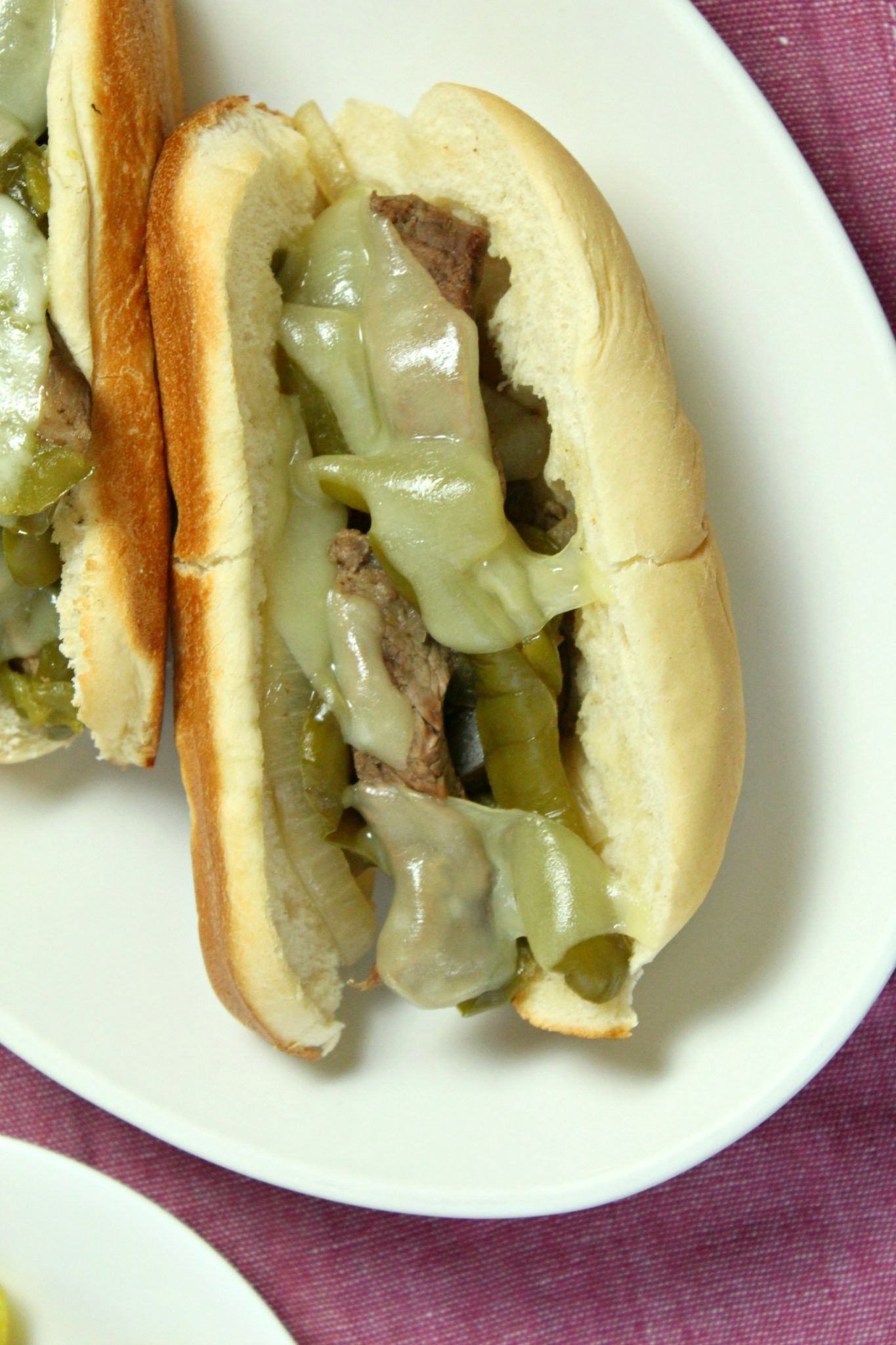 What Goes With Philly Cheesesteak?
When you make this slow cooker beef recipe, you will find that homemade Philly cheesesteak goes with all kinds of foods. I wanted to give you a few ideas so you can try them all.
Baked Beans – That sweet and smokey flavor of baked beans is a perfect combination for the steak and cheese sandwich.
Potato Salad – Classic cool potato salad goes with almost all sandwiches, especially this Philly cheesesteak recipe.
Chips – If you don't feel like making anything else, no worries! You can just serve some of your favorite potato chips, and everyone will be happy. Or if you feel really wild, you can cut fresh potatoes into chips and fry them. Sprinkle with salt and pepper and serve.
Fries – Whether you love sweet potato, waffle, crinkle cut, or steak fries, they ALL taste great with these beef sandwiches. I say try them each one.
Onion Rings – Okay, so maybe I am just an onion ring fanatic, but they go wonderfully with these sandwiches. Dip them in barbecue sauce for a fun twist.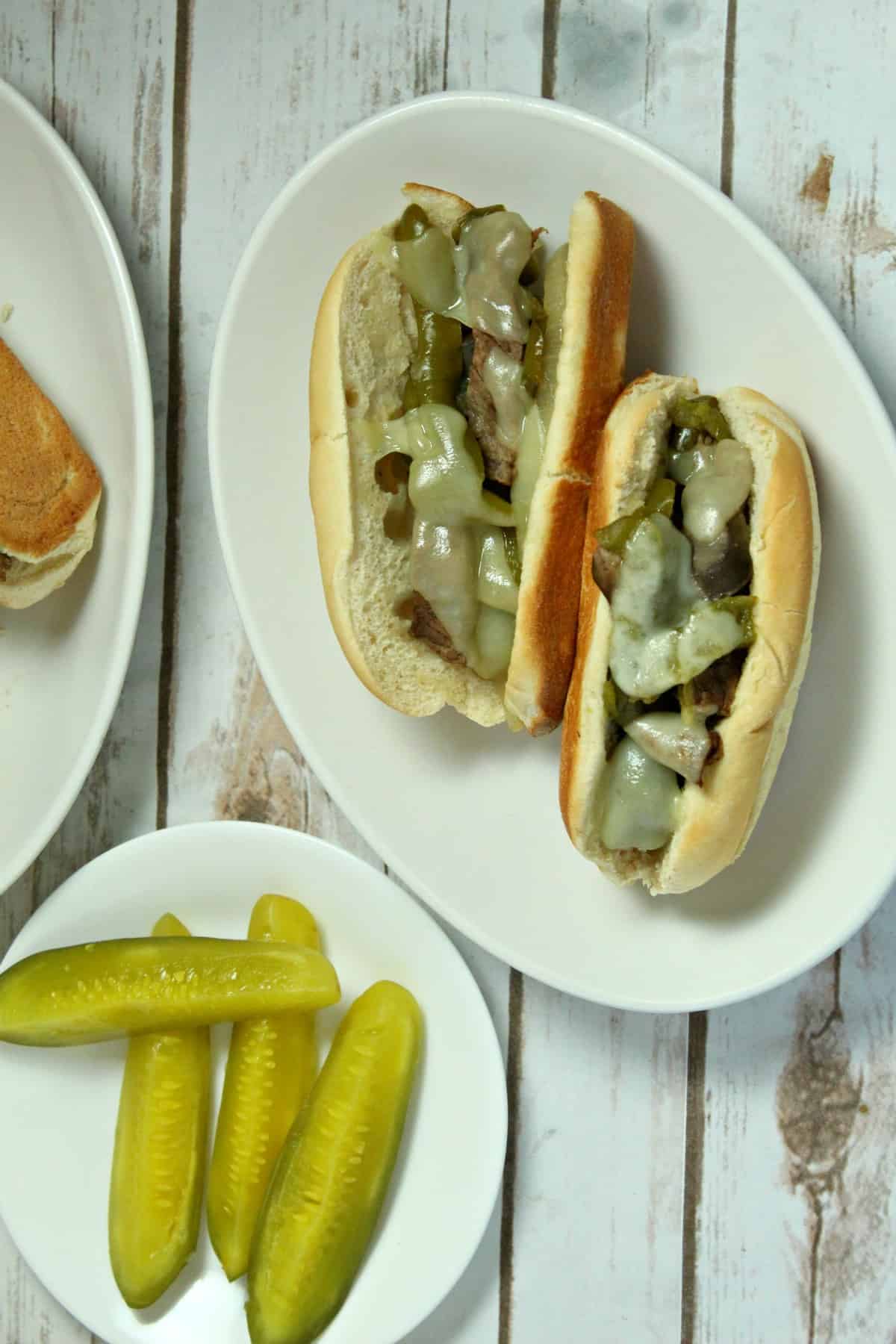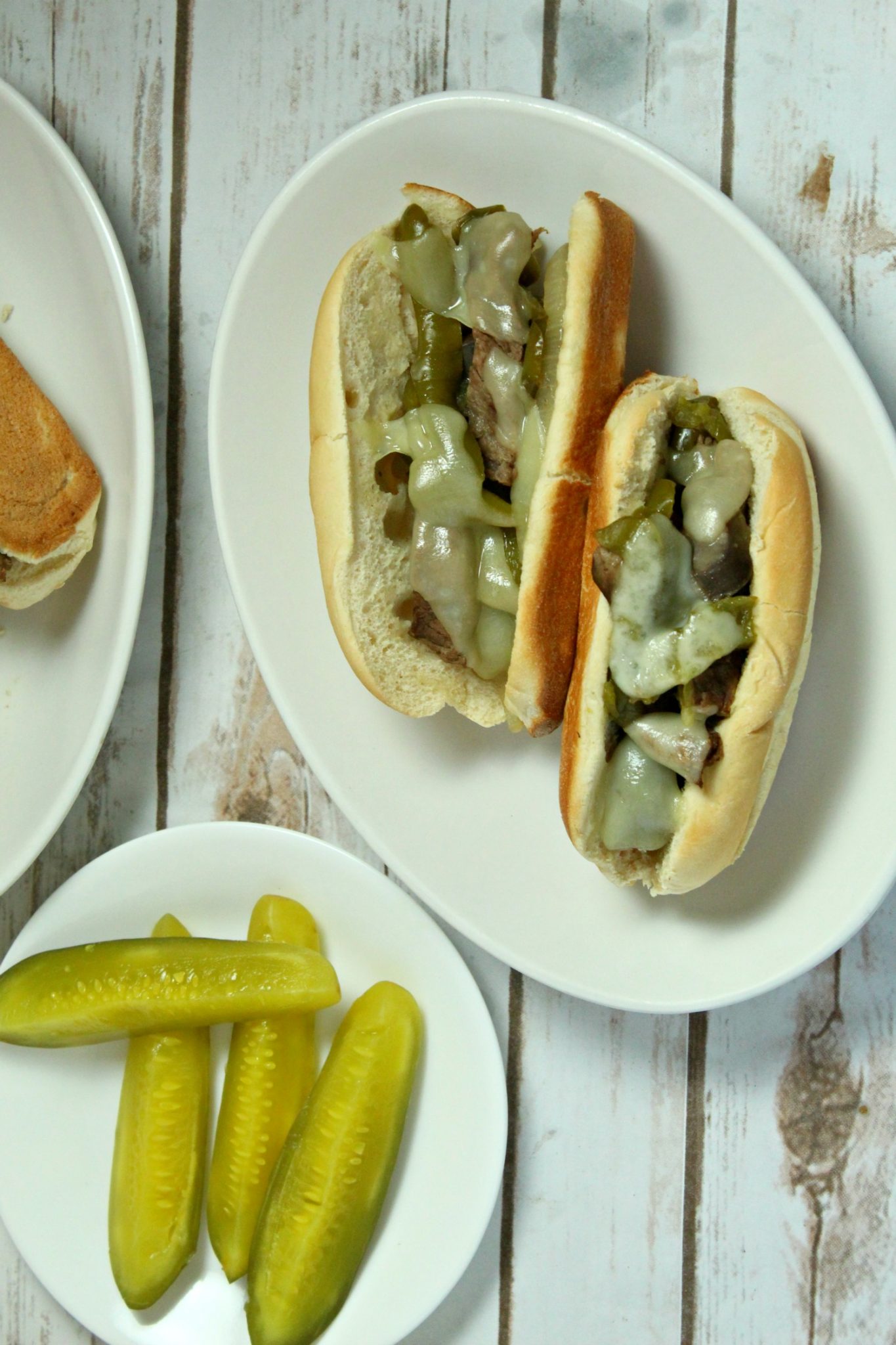 How To Store Leftover Homemade Philly Cheesesteak
If you aren't able to eat all of the cheesesteaks, you can save the leftovers. If you made all of the mixture into sandwiches, the easiest way is to leave them in the aluminum foil and place them in plastic zipper bags. Put them in the fridge for 2-3 days. Then when you are ready to eat the sandwich, just bake it at 350 degrees F. It will take about 10-15 minutes to bake. The reason it takes a little longer than the first time is because all the ingredients are cold instead of right out of the crockpot.
If you didn't make the mix into sandwiches, you can heat them up in a skillet with a tablespoon of olive oil. Then just gently toss until it's all hot. Then add the mix to the hoagies and top with cheese. Place in the oven like the recipe calls for.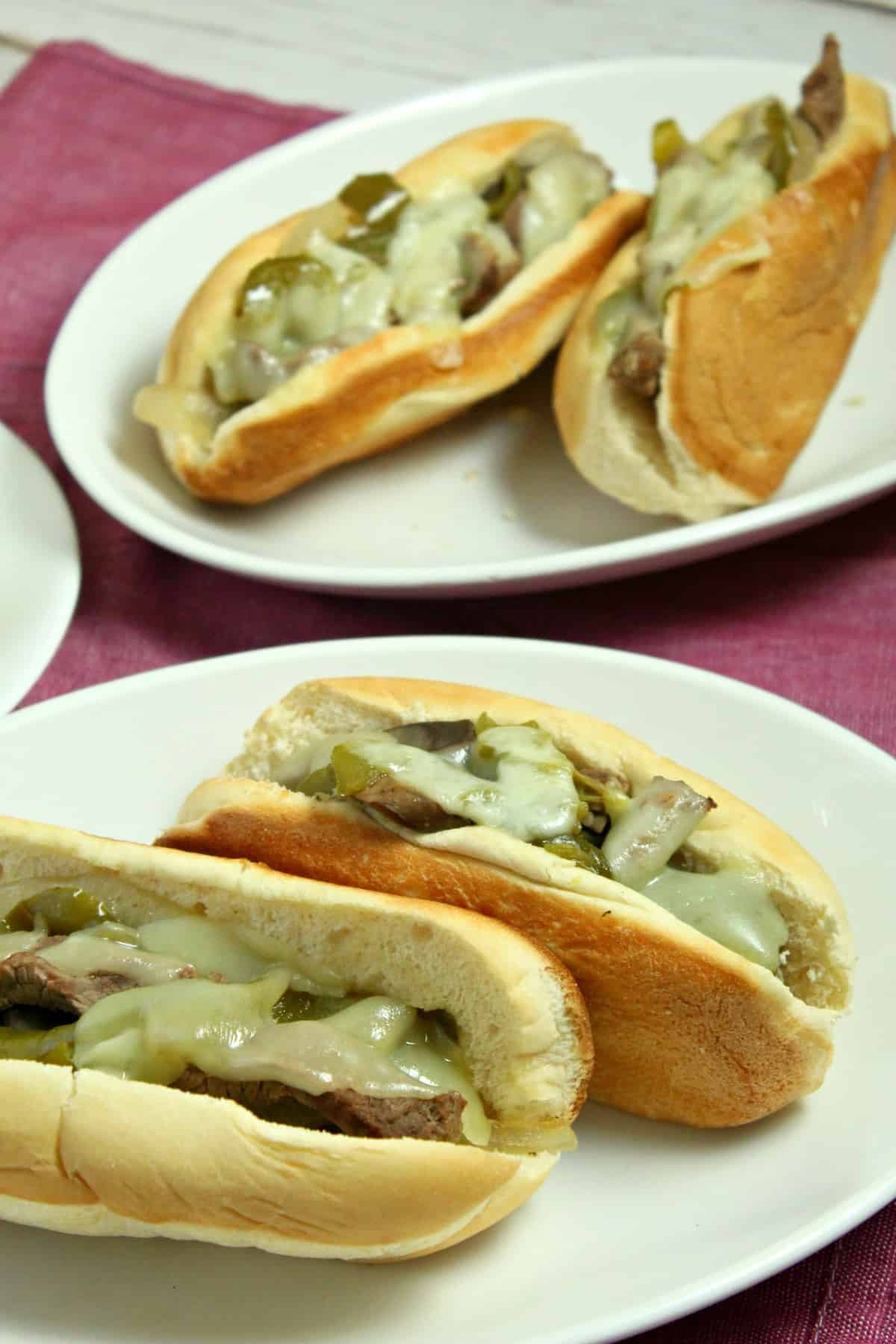 Can I Freeze This Slow Cooker Beef Recipe?
Yes, you can freeze leftovers of this slow cooker recipe. If you have baked the sandwiches already, just keep them wrapped and place them in an airtight container in the freezer. Then allow them to defrost in the fridge overnight then bake as directed. If you didn't turn the mix into a sandwich, you can just put all of it in a freezer-safe bag. Then defrost in the fridge overnight and reheat. This is an excellent idea if you like to meal prep!
Enjoy!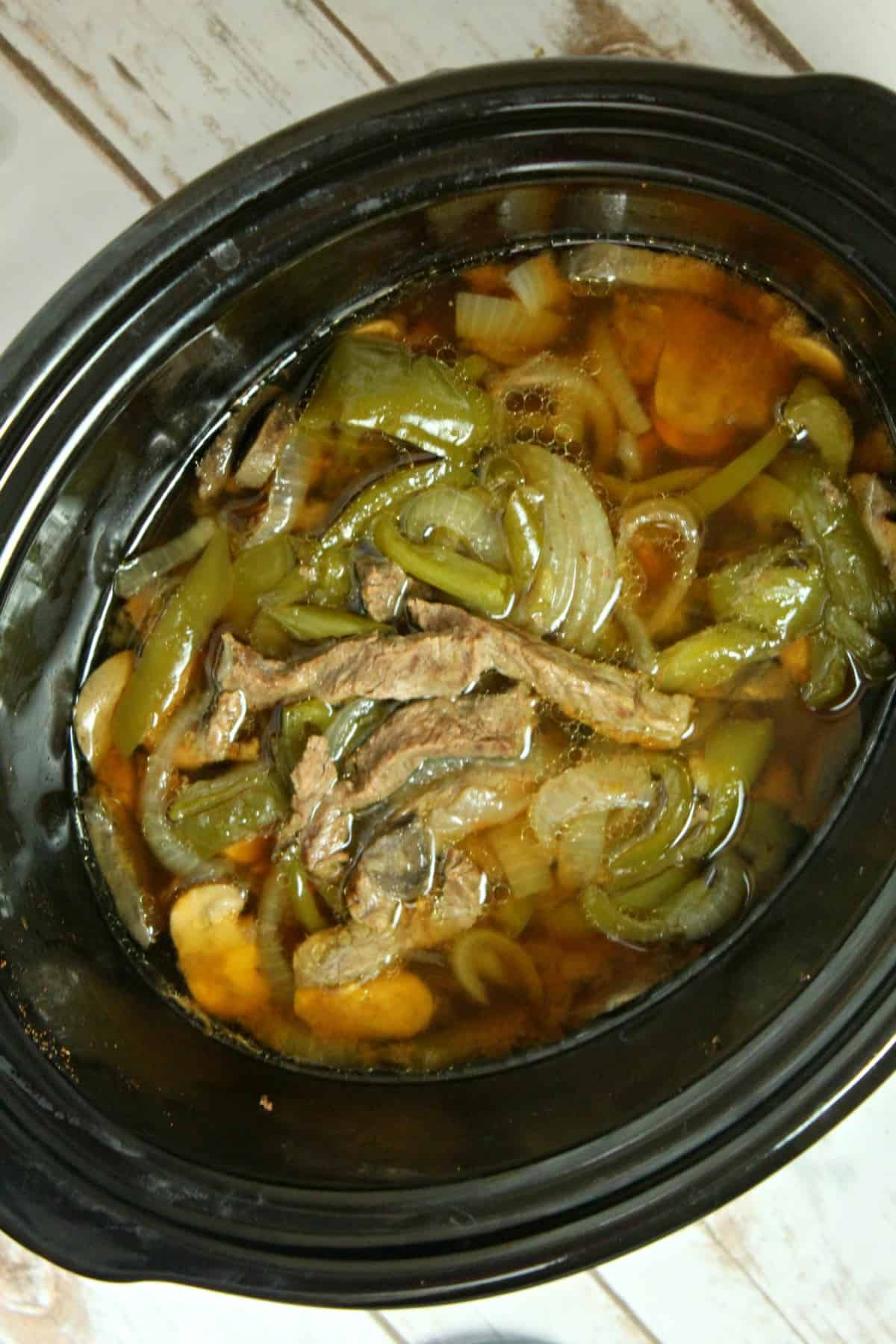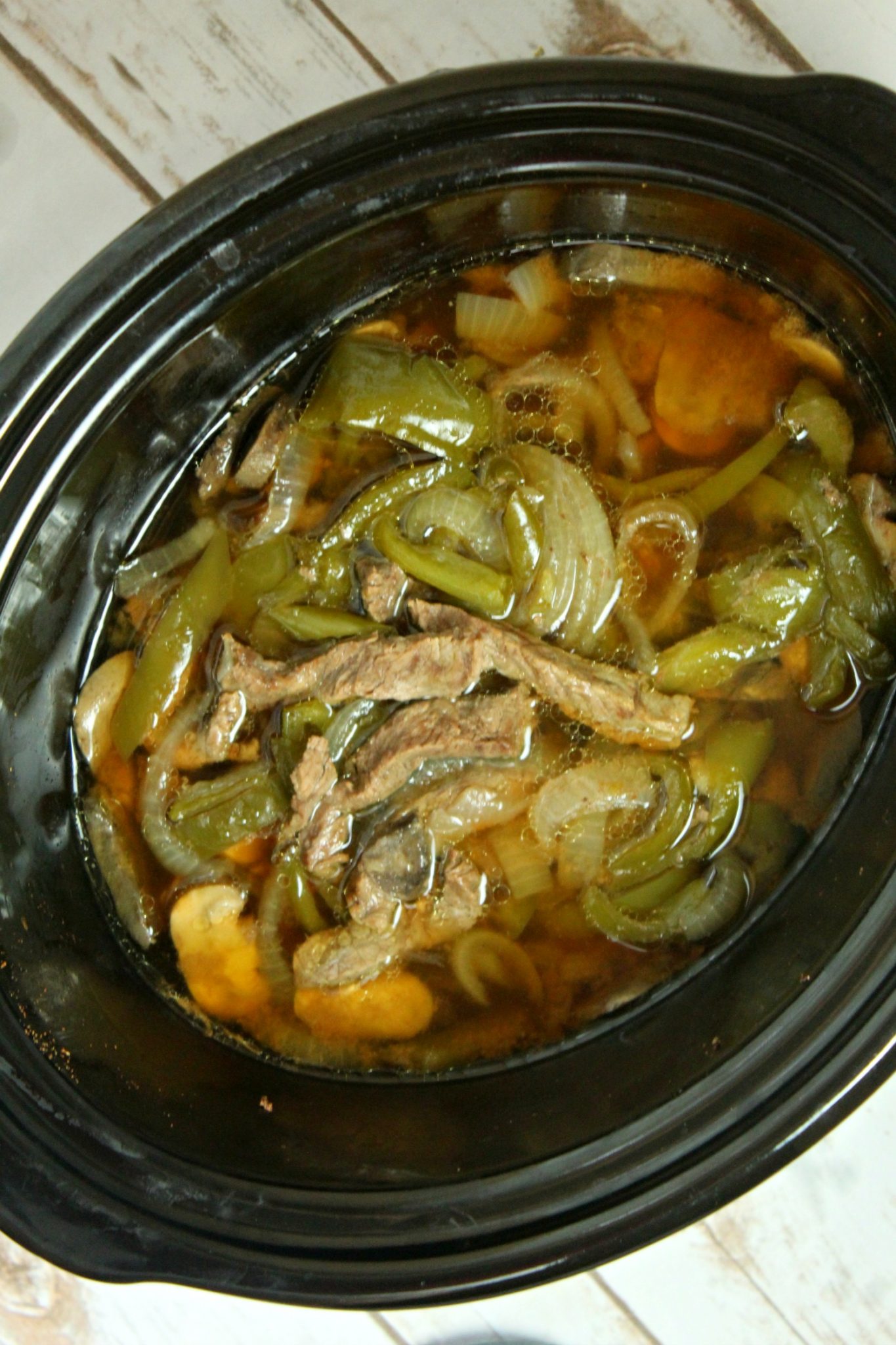 Save this recipe on Pinterest for later 🙂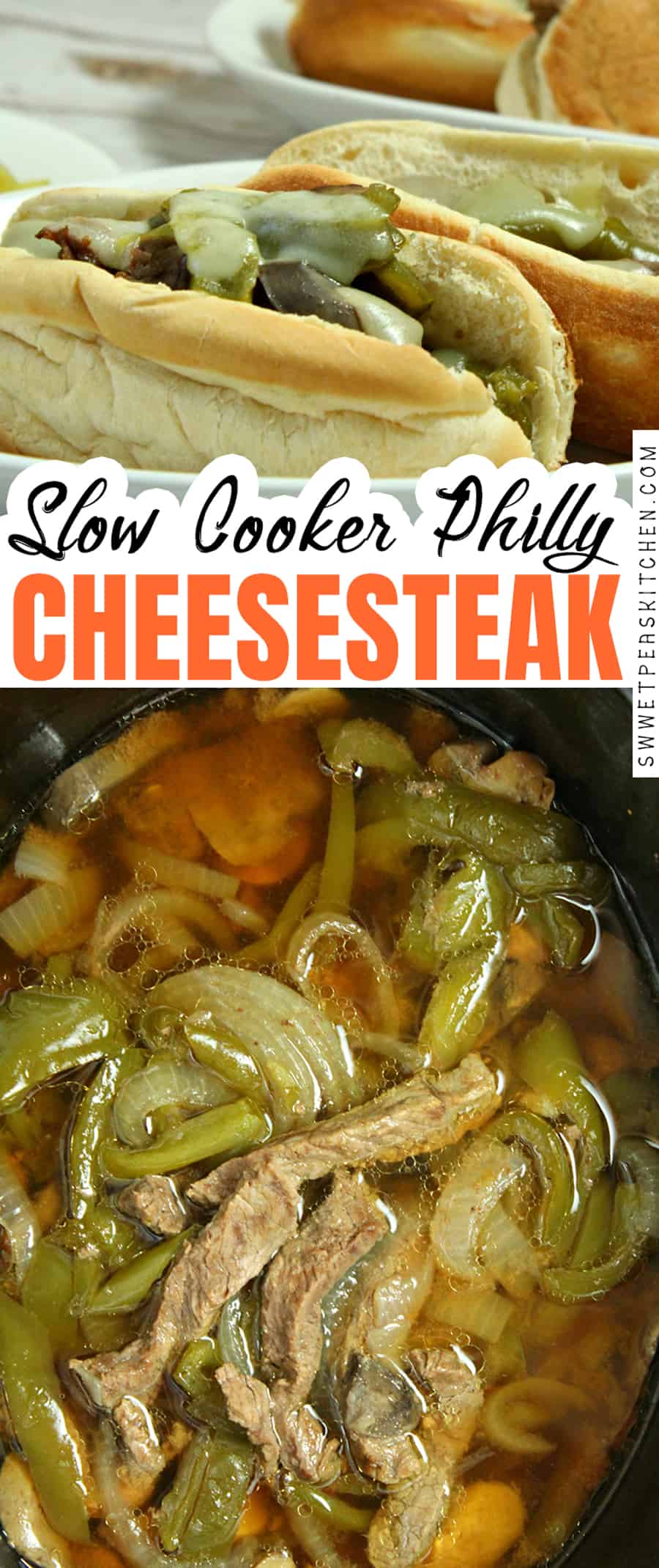 Pin this recipe now to remember it later
Slow Cooker Philly Cheesesteak
These Slow Cooker Philly Cheesesteaks are the easiest, most flavorful homemade Philly cheesesteak sandwiches you'll ever make! Better than takeout!
Ingredients
1/2

medium white onion

,

sliced thinly

1

tbsp.

Worcestershire sauce

2

lbs.

skirt steak or sirloin steak

salt and pepper

,

to taste

1/2

cup

mushrooms

,

sliced

2

medium green bell peppers

,

sliced thinly

1/4

cup

chopped fresh parsley

hoagie rolls

,

mayonnaise, and provolone cheese, for serving
Want to save this recipe? Enter your email below and we'll send the recipe straight to your inbox!
NOTE: By saving this recipe, you agree to join our weekly recipes newsletter.
Instructions
Combine onions, brown sugar, and Worcestershire sauce in a slow cooker.

Stir around and add in butter and steak. Season meat with garlic powder, salt, and pepper.

Add sliced mushrooms and green bell peppers to the slow cooker. Pour beef broth and soy sauce over everything, reserving 1/2 cup of the beef broth for later.

Cover the slow cooker and cook on LOW for 6-8 hours (alternately, you can cook on HIGH for 5-6 hours), being sure to toss and add the other 1/2 cup beef broth about halfway through the cook time.

Turn off heat or set to warm and stir in chopped parsley.

To serve, spread mayonnaise on each hoagie roll and load it up with the steak mixture.

Top with cheese, wrap in foil, and bake at 400 for about 5-10 minutes to allow the cheese to melt.
Notes
8 Weight Watchers Freestyle Smartpoints (6 servings)
Follow me on Pinterest for daily delicious recipes!
Check out more slow cooker recipes:
Easy Slow Cooker Chicken Parmesan – Looking for an Easy Slow Cooker Chicken Parmesan recipe? One bite and this will be the only way you will make chicken parmesan again. Simple and delicious, you have to try this recipe.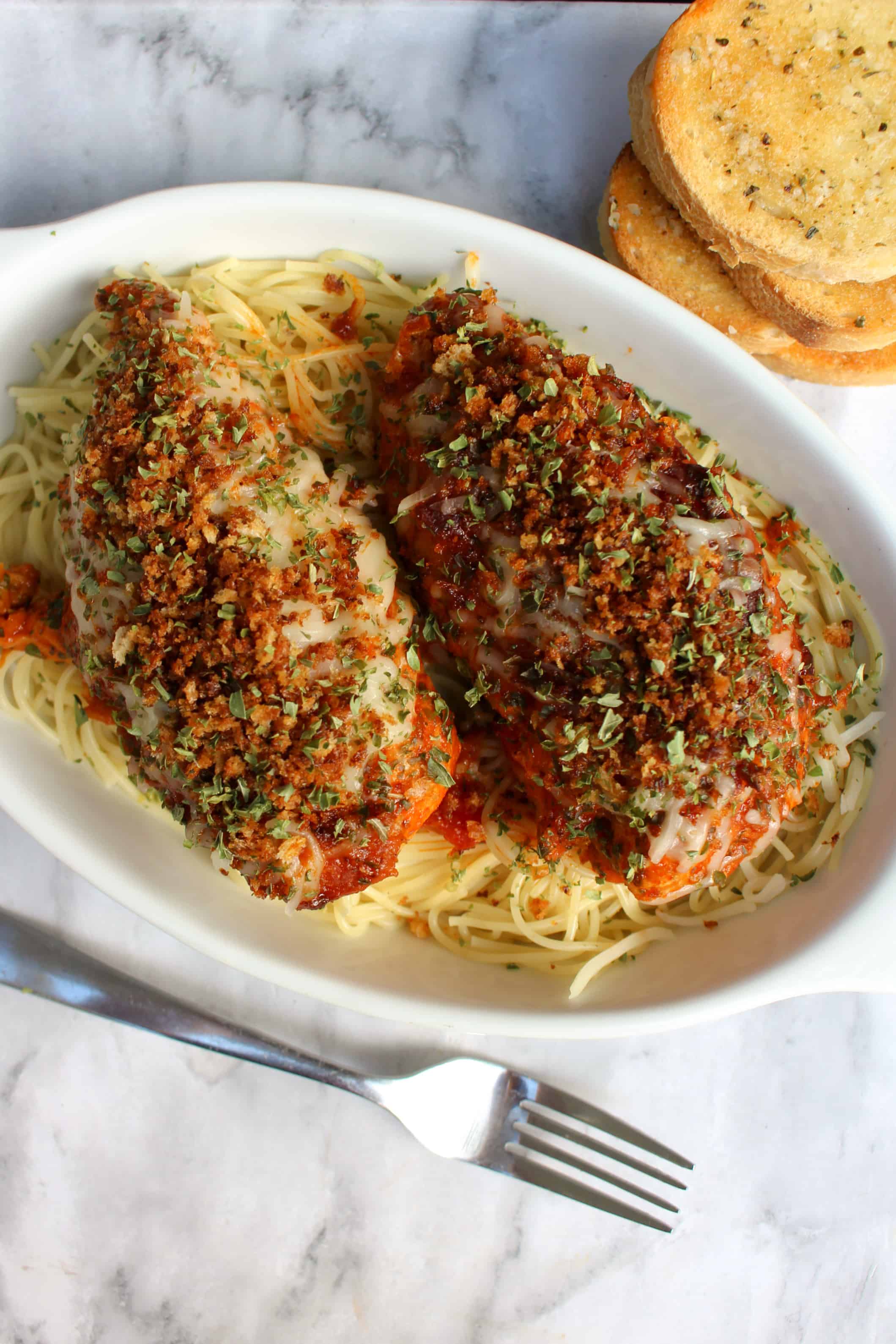 Stuffed Pepper Soup in the Slow Cooker – is one of the best easy slow cooker recipes you'll ever try, one of my favorite budget slow cooker meals, great for feeding the entire family on a budget!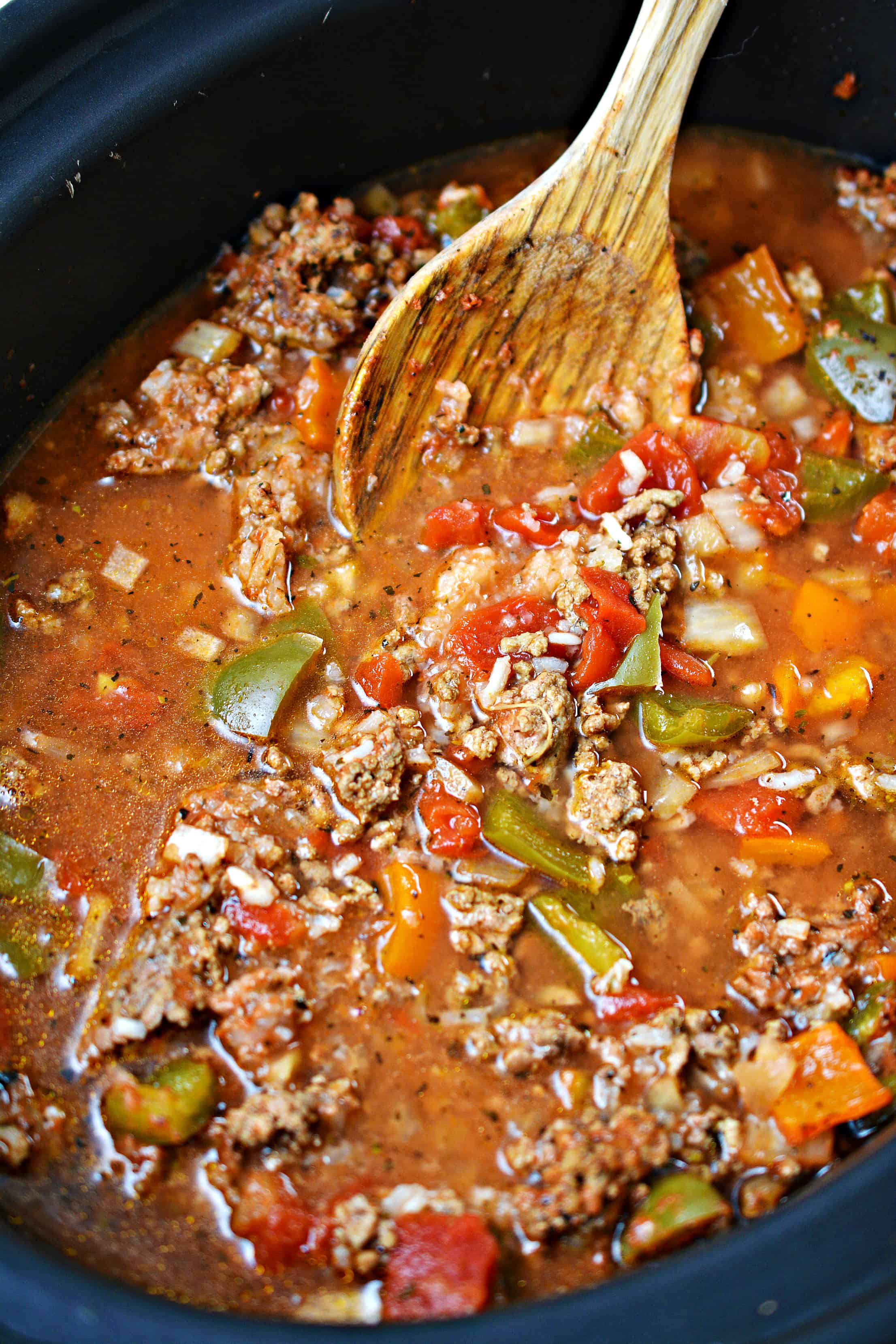 Slow Cooker Mississippi Pot Roast – Slow Cooker Mississippi Pot Roast is one of the easiest, most flavor pot roast recipes you'll ever make. Made with only a handful of ingredients, it's a tender, melt-in-your-mouth pot roast that the entire family will love.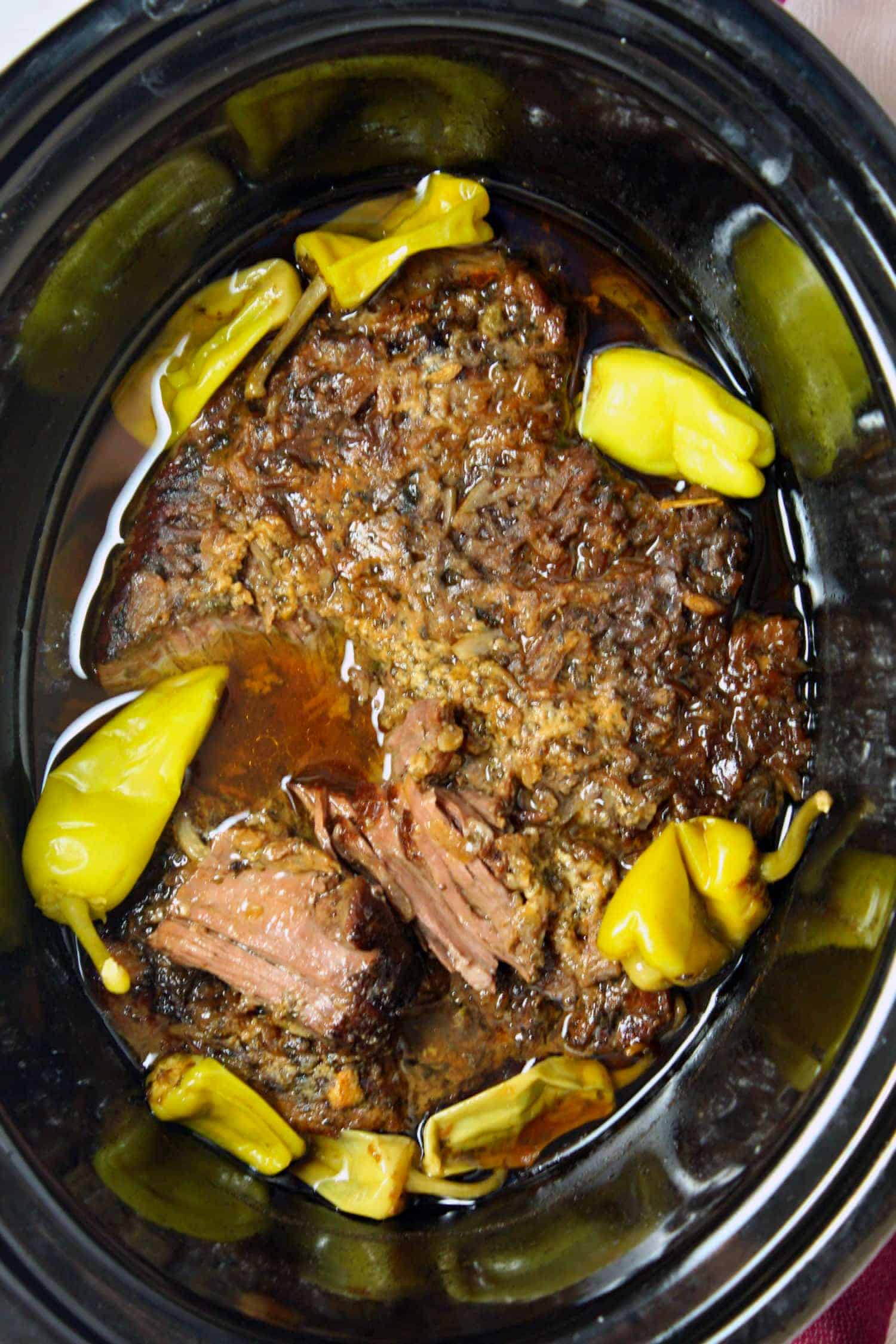 Get new recipes weekly plus our FREE ebook!