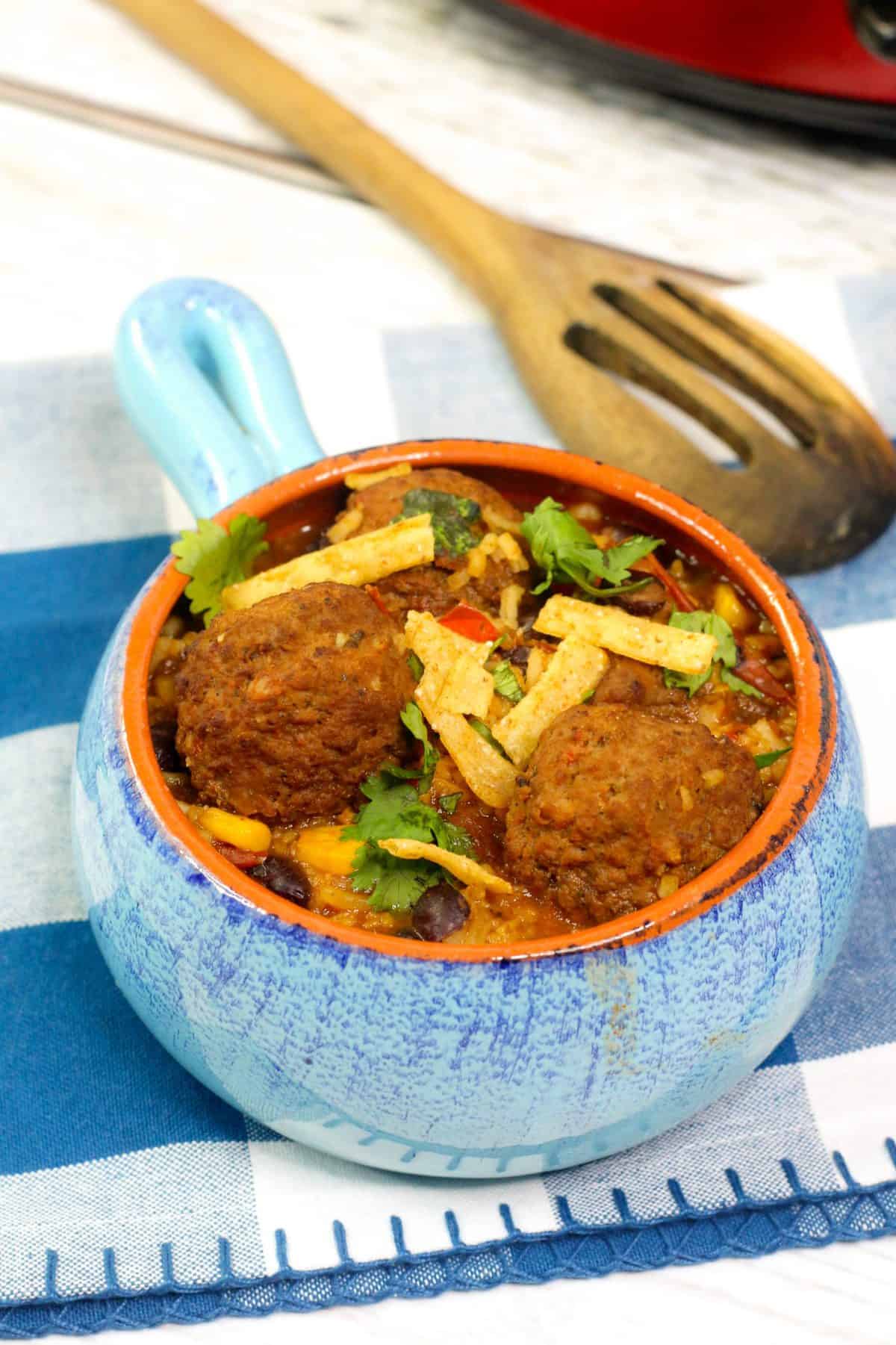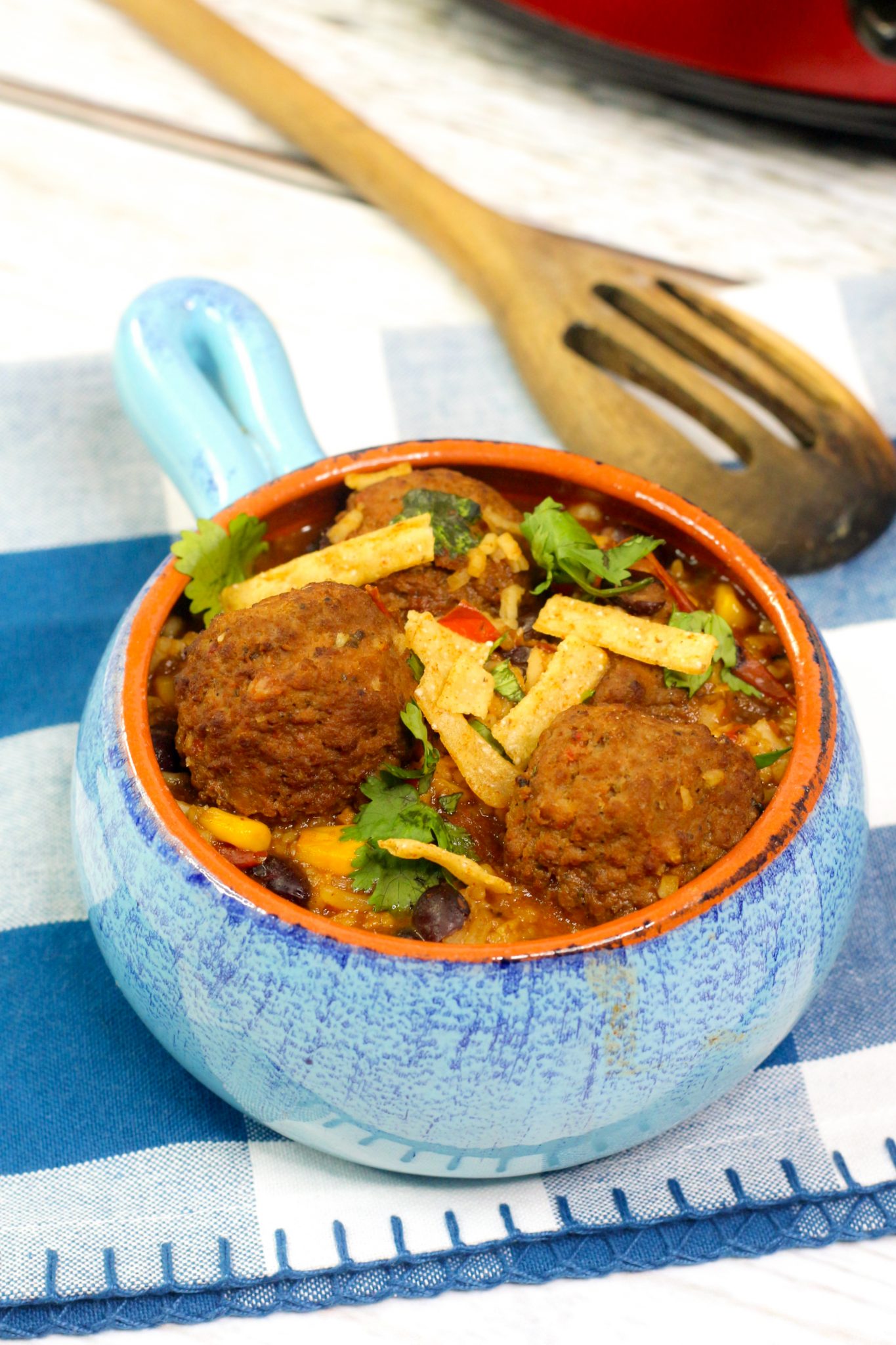 You are going to love this easy Slow Cooker Tex Mex Meatball Soup Recipe. This quick dinner idea will save you tons of time on those crazy busy evenings. Meatball soup is bound to be one of your new favorite meals. You can throw together this slow cooker meatball soup with very little prep time.
Slow Cooker Tex Mex Meatball Soup Recipe
Life can be so hectic, especially in the evenings after work. I'm always on the hunt to find the best busy meal recipes. Thankfully this quick dinner idea is absolutely perfect and pleases the whole family.
Every time I make Mexican meatball soup, even my youngest goes back for seconds, and that rarely ever happens. She will eat frozen meatball soup like the world is coming to an end, and that's how I know this is a great recipe. I'm so excited to share this slow cooker meatball soup with you so your family can enjoy it as much as mine does.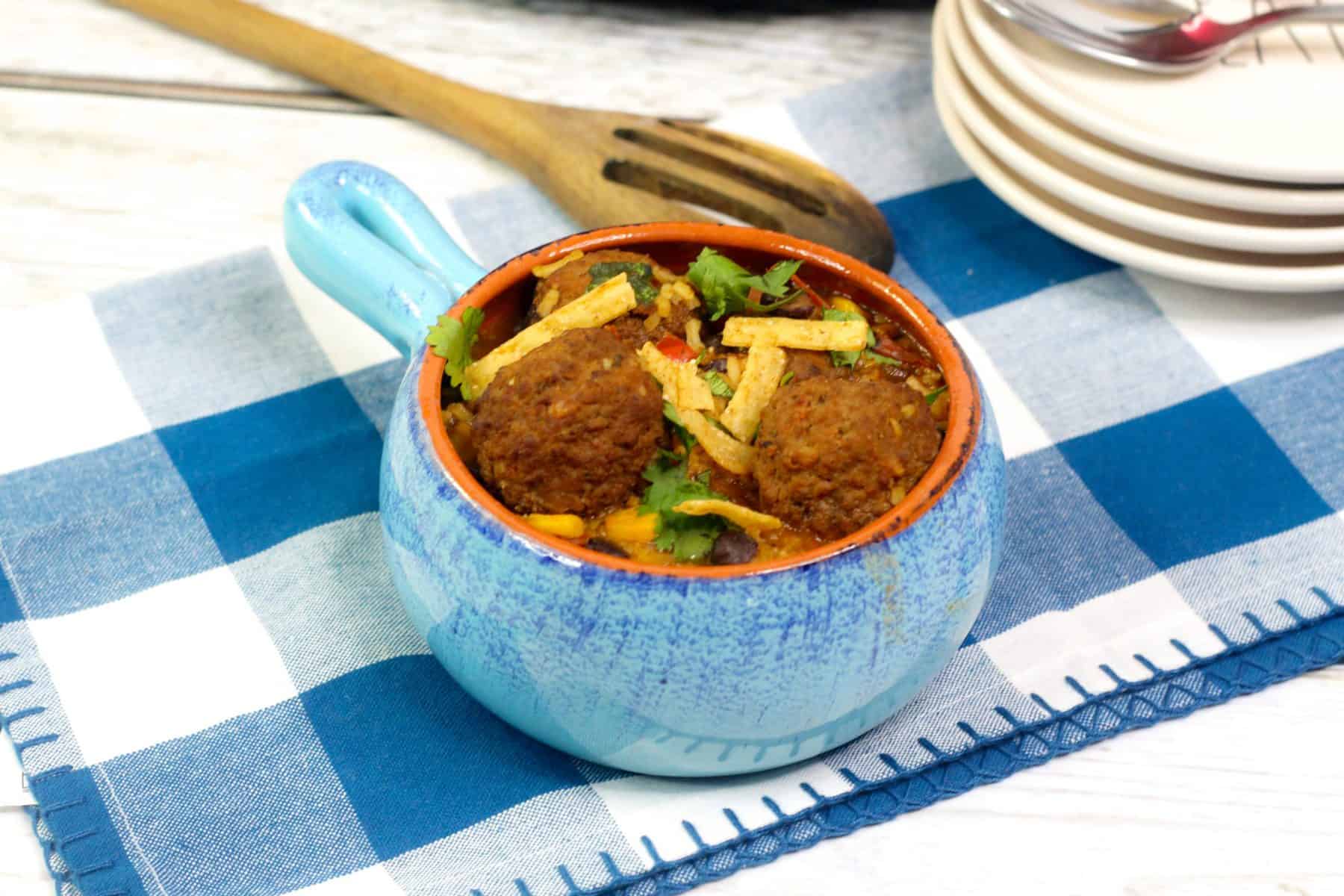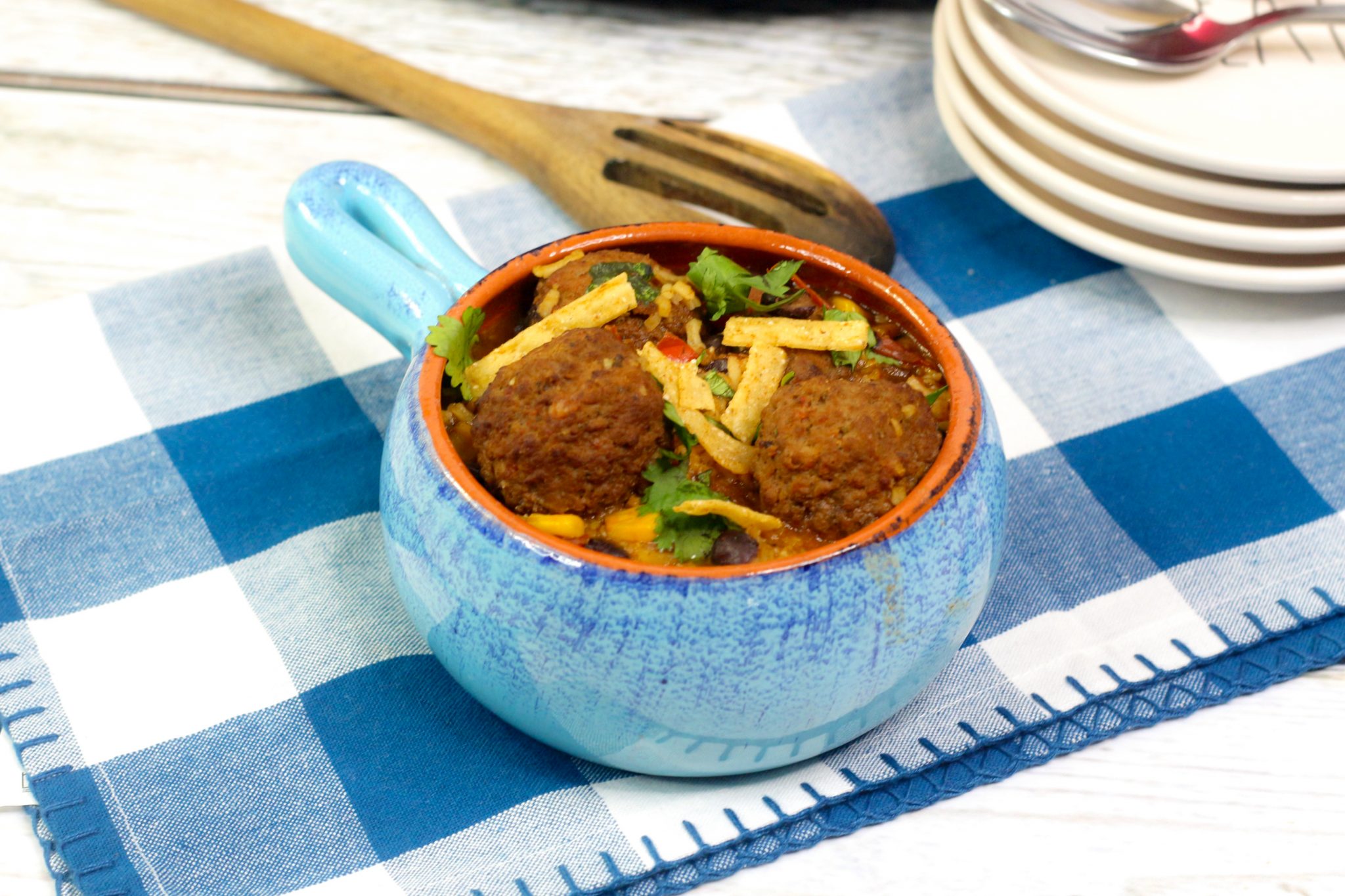 The next time you're heading out to a potluck, you can bring this easy meatball soup with you and win over any crowd in a matter of minutes. If you take this simple Mexican meatball soup to a gathering, you will rarely ever have any leftovers because everyone devours every single drop.
What are the best meatballs to use?
The best meatballs to use for this frozen meatball soup recipe is frozen meatballs. That's my favorite thing about Tex-Mex meatball soup is that it's so easy to make. You could use homemade meatballs if you wanted to; however, they won't hold up in the slow cooker as well as frozen meatballs do. You can actually use any brand or variety of Meatballs that you enjoy. We really prefer the homestyle frozen meatballs, but there are plenty of other options out there that would also be tasty as well.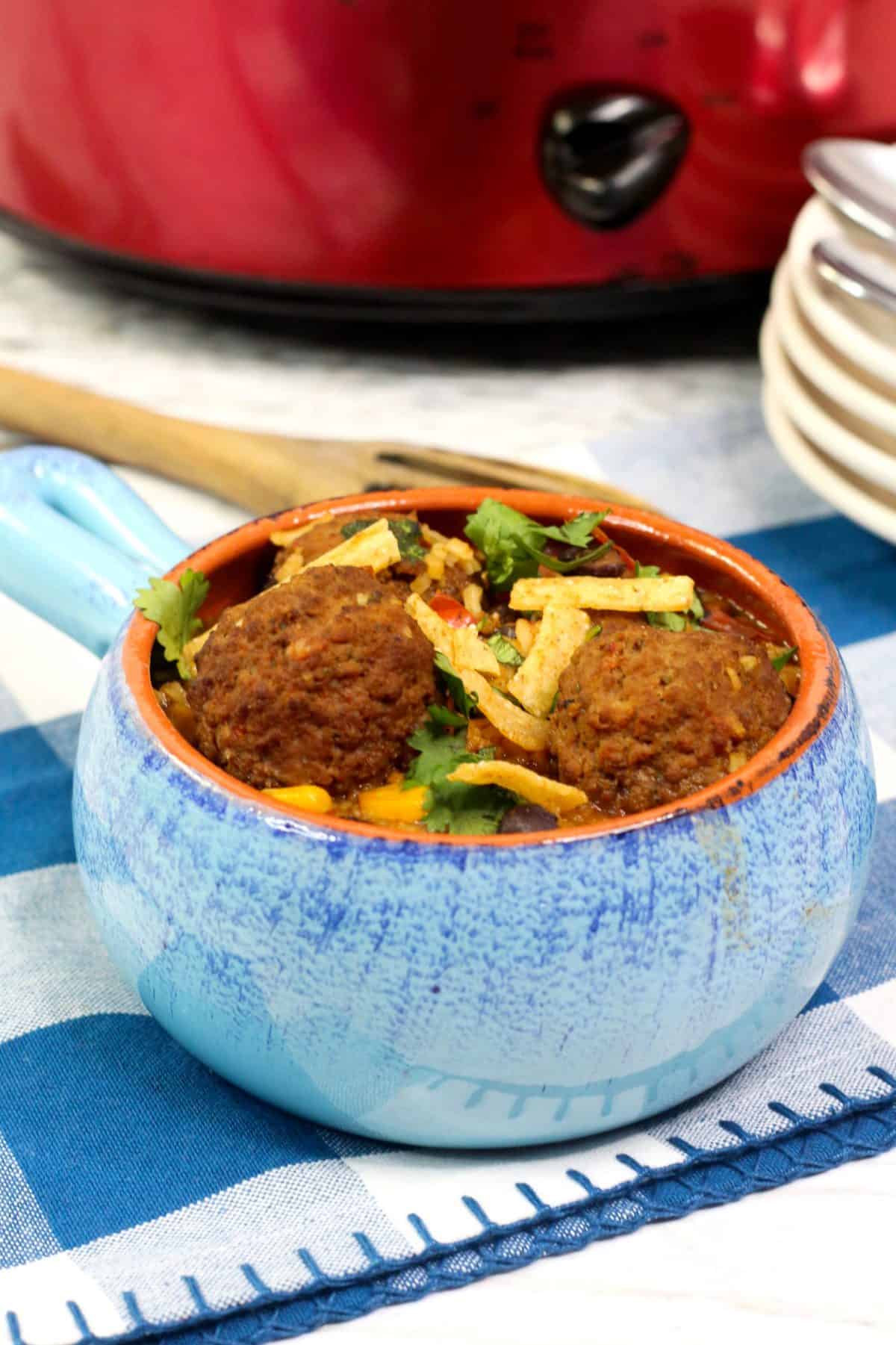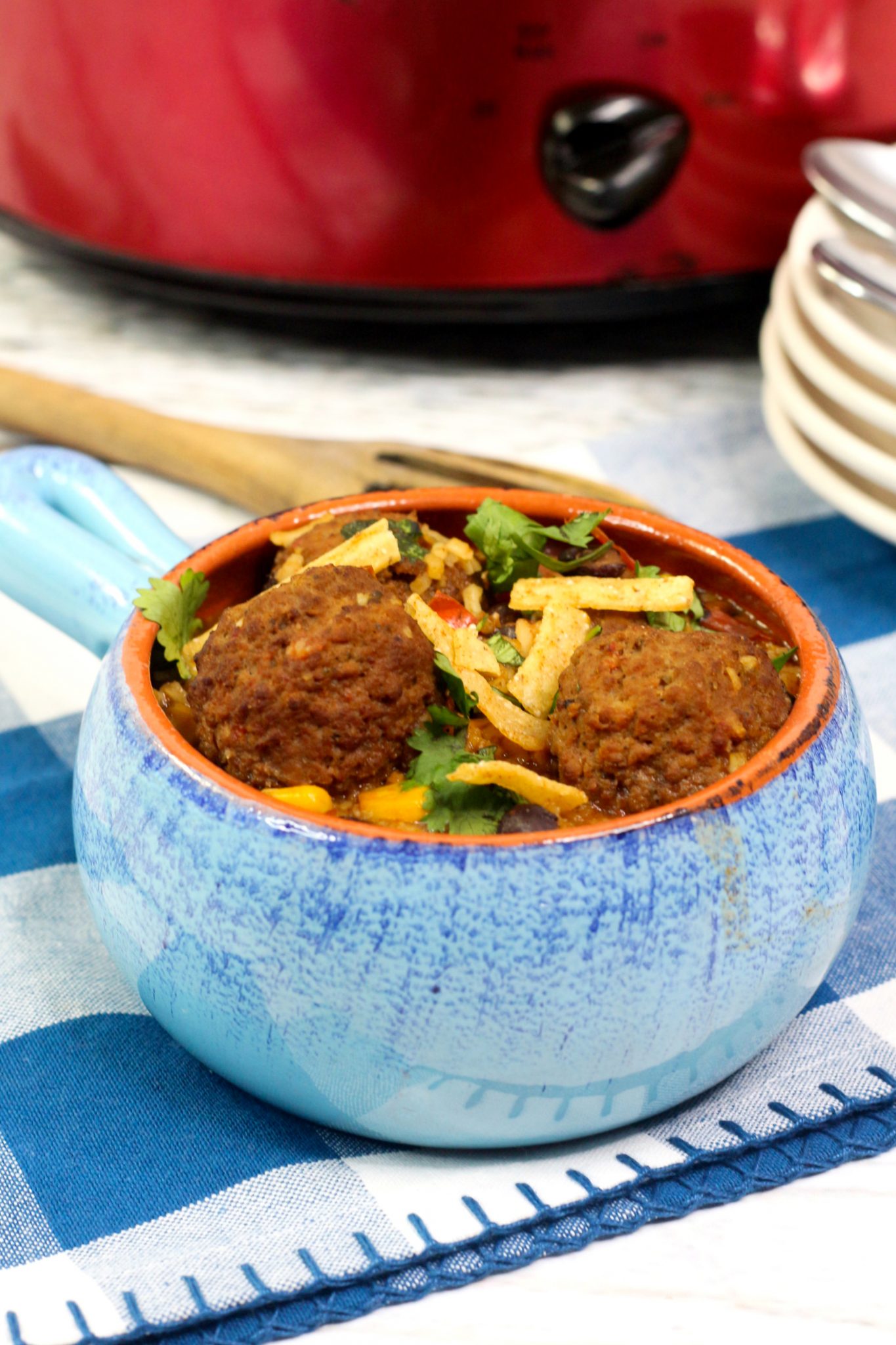 Toppings to Mexican meatball soup
There are so many tasty topping ideas for this Tex Mex meatball soup recipe. Here are a few ideas that I think you were going to enjoy:
Sour cream

Fresh jalapenos

Diced onions

Red bell peppers

Crackers

Tortilla chips
Can I swap out to white rice instead of basmati rice?
Yes, you can swap out basmati rice for white rice if you'd rather. Both are really tasty and great options that go well with this Mexican meatball soup. You could also go with brown rice if that fits your needs a little bit better. There are no wrong answers when it comes to which rice to serve with this Mexican meatball soup.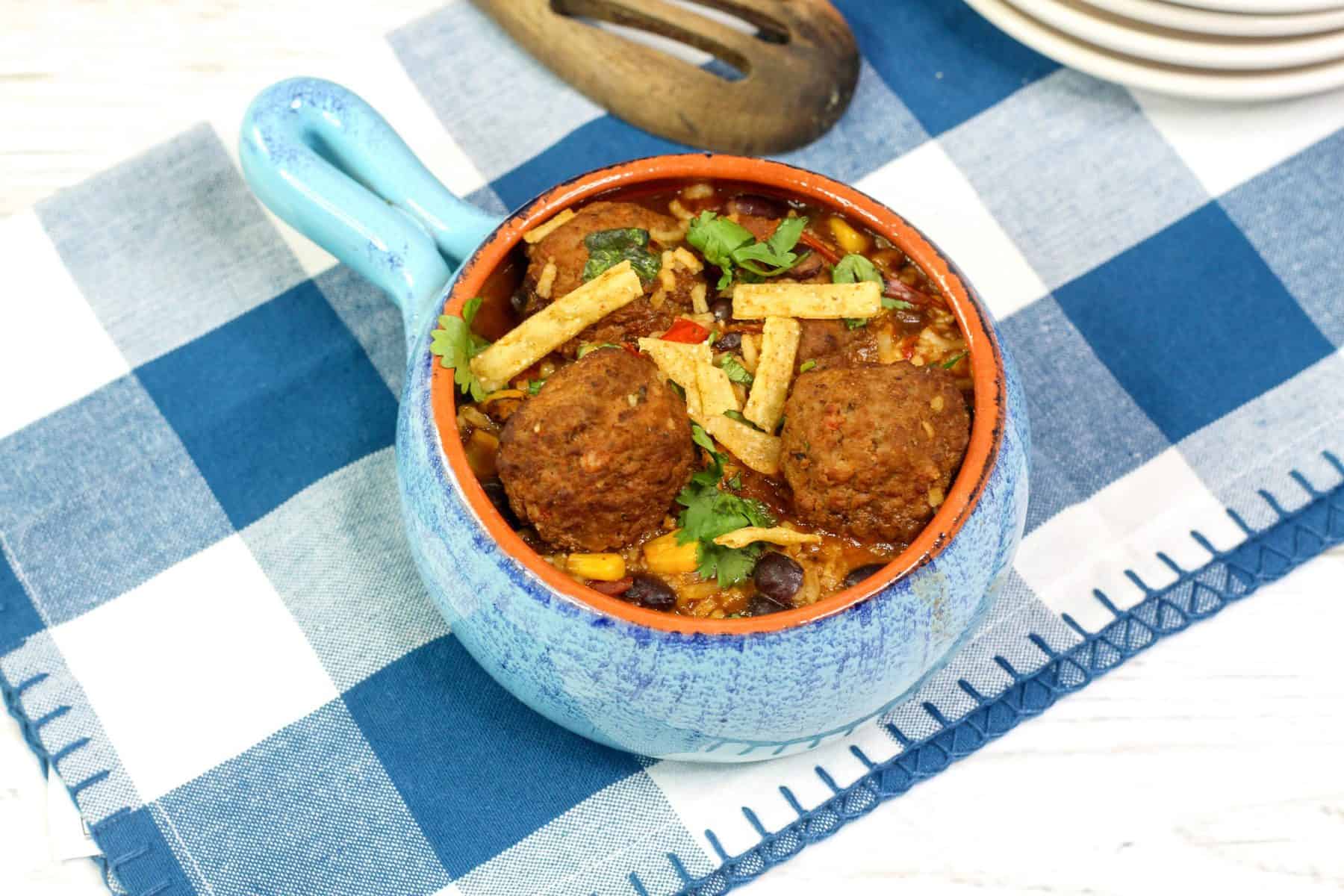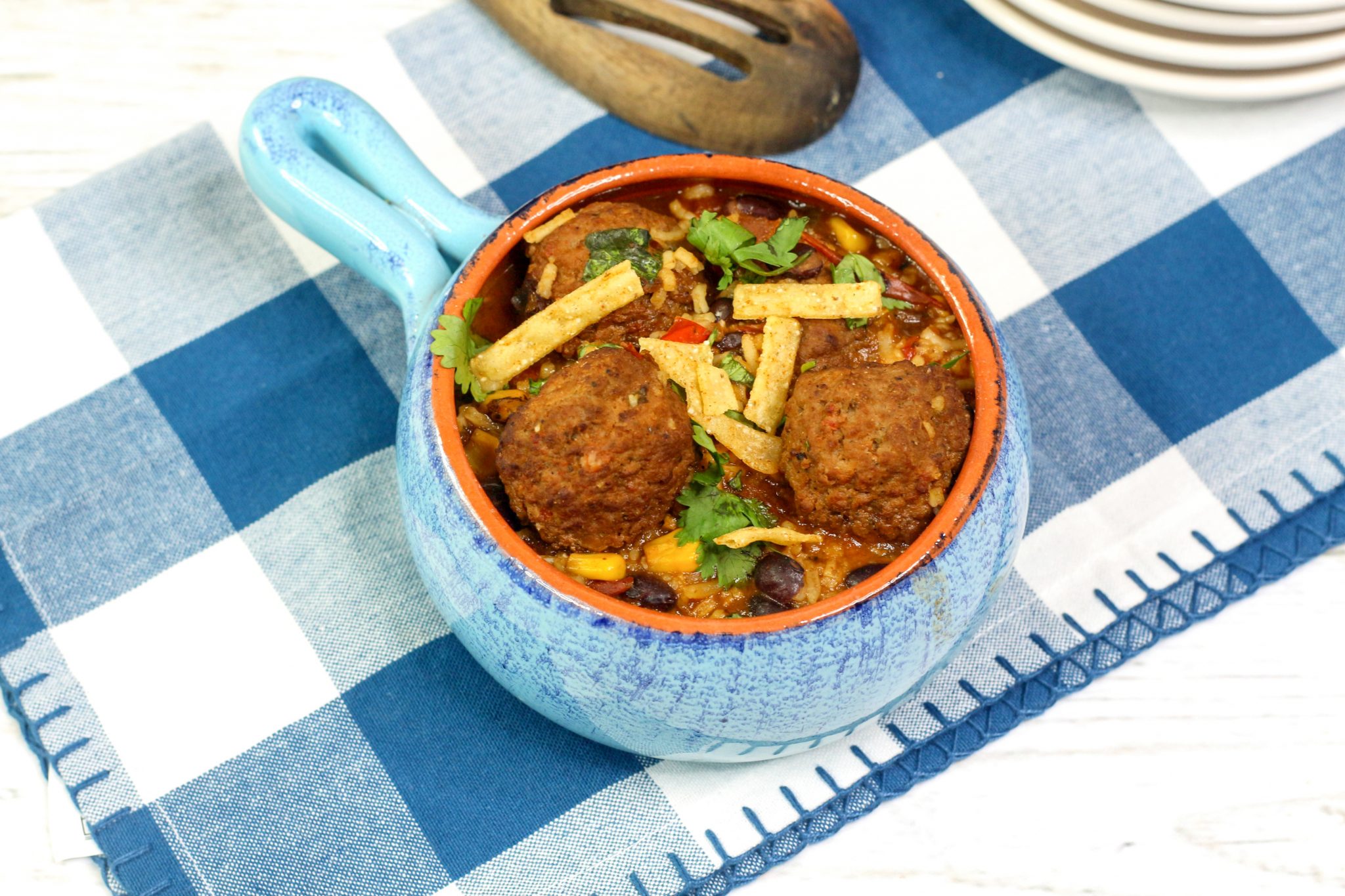 Storing leftover soup
Storing leftover Tex-Mex meatball soup is super easy. Allow the soup plenty of time to cool down after cooking. Once the soup has adequately cooled you can then place it inside of an airtight container. You can easily store the leftover soup in the refrigerator or freezer, depending on your preference. The meatball soup will last 4 to 5 days in the fridge or up to three months in the freezer.
When freezing, be sure only to fill the container 2/3 of the way full to allow a room for the soup to expand as it freezes.
Does Mexican meatball soup freeze well
Yes, this meatball soup freezes very well. You just need to make sure to keep it in an airtight container and do not overfill the container before freezing. You will need to defrost the Mexican meatball soup in the refrigerator overnight before reheating.
You can microwave the Tex-Mex soup or heat it up in a saucepan on the stove using medium heat. Once the soup is hot, it's ready to be served.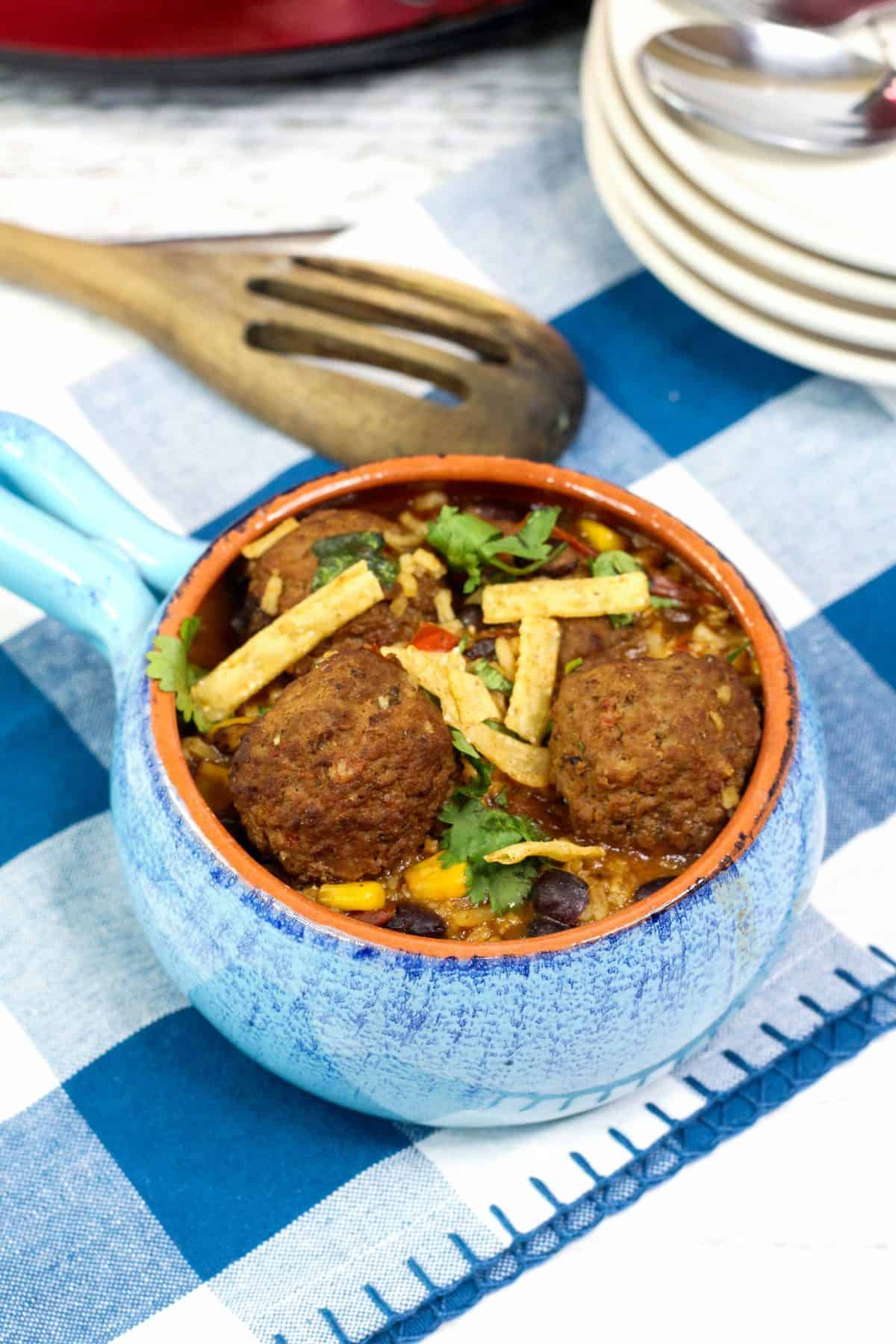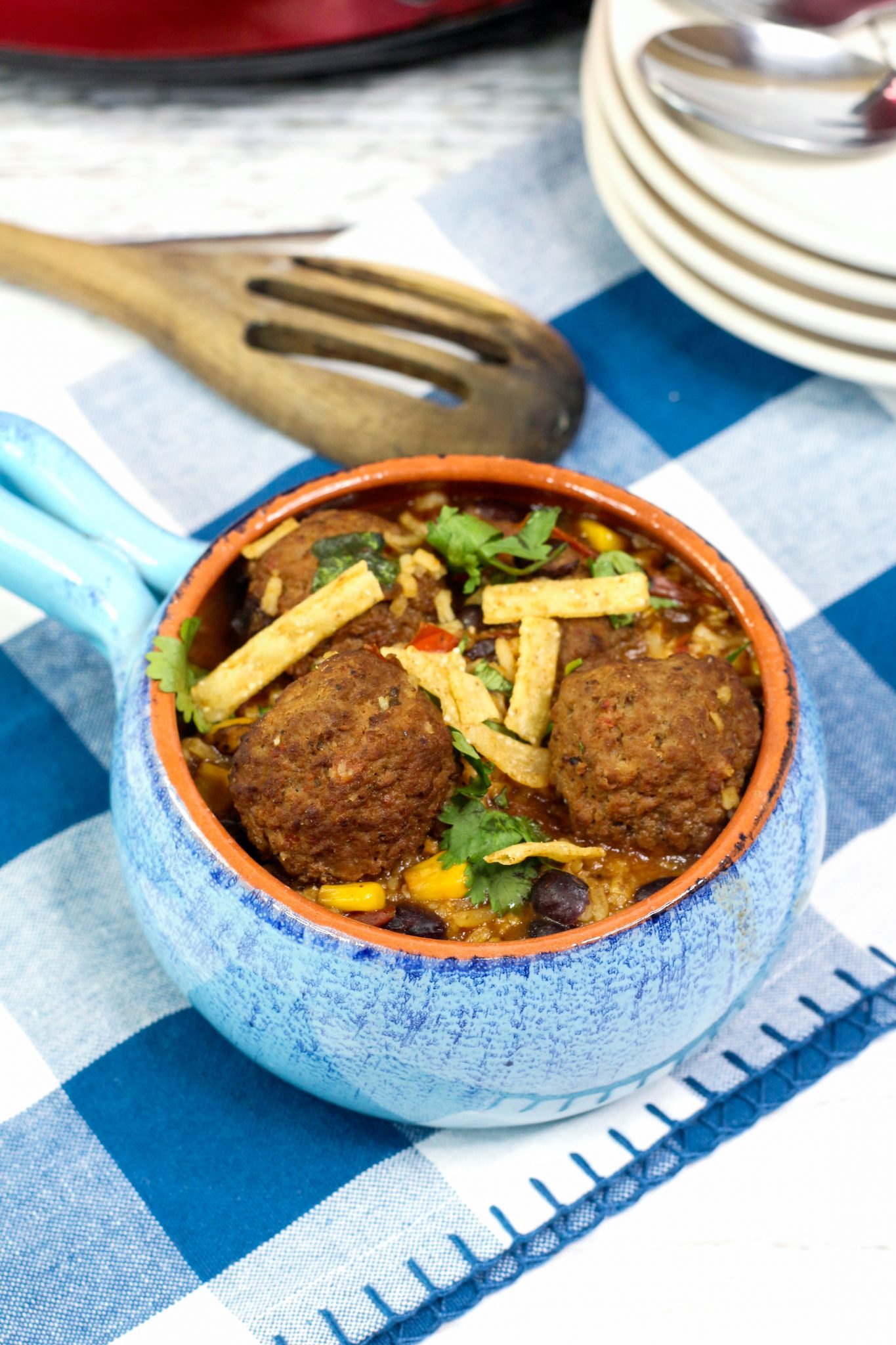 Ingredients
Don't worry, I realized it looks like there's a lot of ingredients in this Tex-Mex meatball soup. However, most of the ingredients are seasonings or diced peppers and onions. All of the ingredients are very simple to work with and taste fabulous.
Olive oil
Bag of frozen beef meatballs
Diced onion
Red peppers, diced
Green peppers, diced
Minced garlic
Black beans
Corn
Cooked Basmati rice
Beef broth
Diced tomatoes do not drain
Tomato sauce
Ground cumin
Dried oregano
Dried ancho chili
Cilantro leaves chopped
Salt and pepper to taste
How to Make Mexican meatball soup
This meatball soup is so simple to make, and I cannot wait for you to taste it. Using your slow cooker allows you plenty of time to work on other things or to set it and forget it. This will give you more time in the evenings to focus on other things like side items or desserts.
Step 1: Begin by sauteing the onions and peppers with olive oil in a small skillet or pan.
Step 2: Place the meatballs in a 6-quart slow-cooker along with the onions, peppers, beef broth, black beans, canned corn, roasted tomatoes, tomato sauce, garlic, and spices.
Step 3: Stir all of the ingredients very carefully in the Tex-Mex meatball soup mixture.
Step 4: Add the lid to the slow cooker and cook for 6 to 7 hours on low or cook for 4 hours on high.
Step 5: Mix in the cooked rice once the soup is done. The rice should be prepared according to the directions on the back of the package.
Step 6: Add some chop fresh cilantro and tortilla strips or your favorite toppings to this yummy meatball soup.
Enjoy!
Now, remember to save this recipe on Pinterest for later 🙂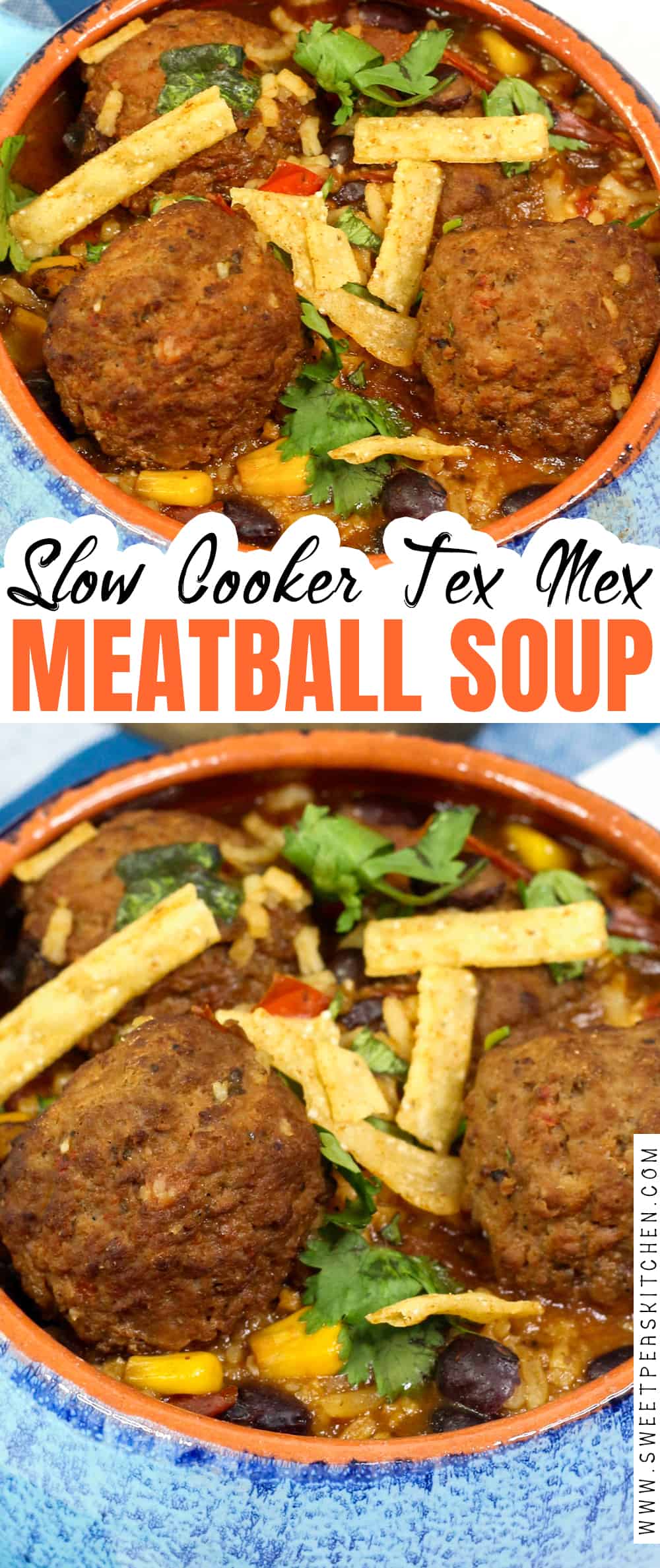 Pin this recipe now to remember it later
Tex Mex Meatball Soup
Tex Mex Meatball Soup is a quick and easy weeknight soup that is loaded with Tex-Mex flavor in every bite. This meatball soup uses frozen meatballs for a quick and easy prep.
Ingredients
1

bag of frozen beef meatballs

½

cup

green peppers

,

diced

2

cups

Cooked Basmati rice

2- 8

oz

can diced tomatoes do not drain

1/2

teaspoon

ground cumin

1/2

teaspoon

dried oregano

1/4

cup

cilantro leaves chopped
Instructions
In a small saute pan add in your oil, onions, peppers, and cook until they are translucent.

In a 6 quart slow cooker, add the meatballs, onions mixture, beef broth, black beans, canned corn, roasted tomatoes, tomato sauce, garlic and spices.

Stir to combine the Tex-Mex meatballs soup base.

Cover and cook on low for 6-7 hours or high for 4 hours.

Stir in the cooked rice once your cook time is up. Just cook the rice as directed on the package.

Garnish with cilantro and tortilla strips or your favorite toppings for this meatball soup.
Notes
Prep time: 30 min
Total Time: 4 hours 30 min
Serves: 6
Follow me on Pinterest for daily delicious recipes!
Now that I have your attention let's talk about some other tasty slow cooker meal ideas to feed your hungry crew. These delicious meals are fantastic for those crazy busy nights.
Slow cooker Philly cheesesteak – we love these Philly cheesesteak sandwiches so much. They are way better than getting food from your local restaurant. Plus, they're super simple to make.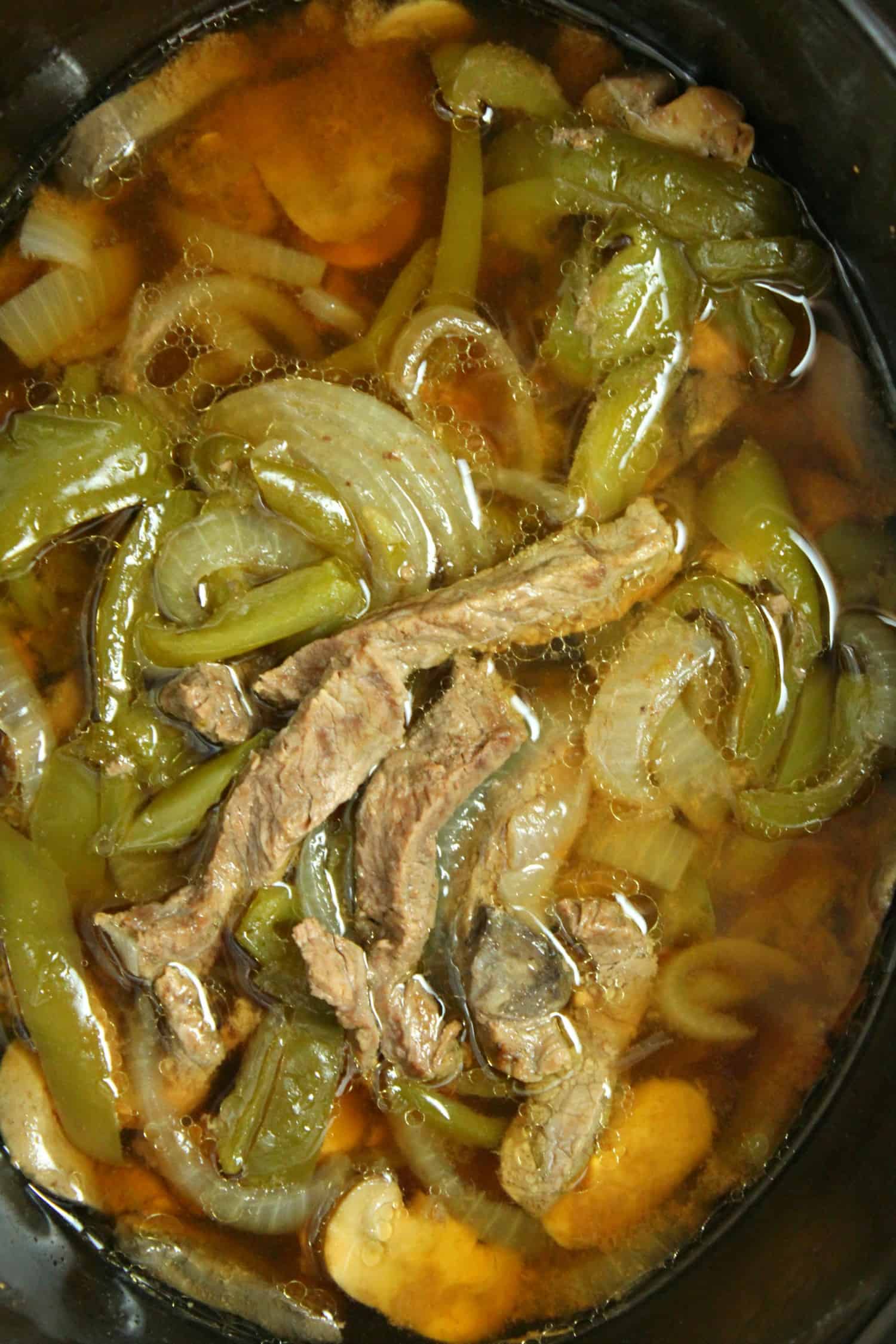 Slow cooker shepherd's pie – if you love shepherd's pie, you are going to go wild for this super easy dinner idea. It's so simple to make even your kiddos can help you throw it together.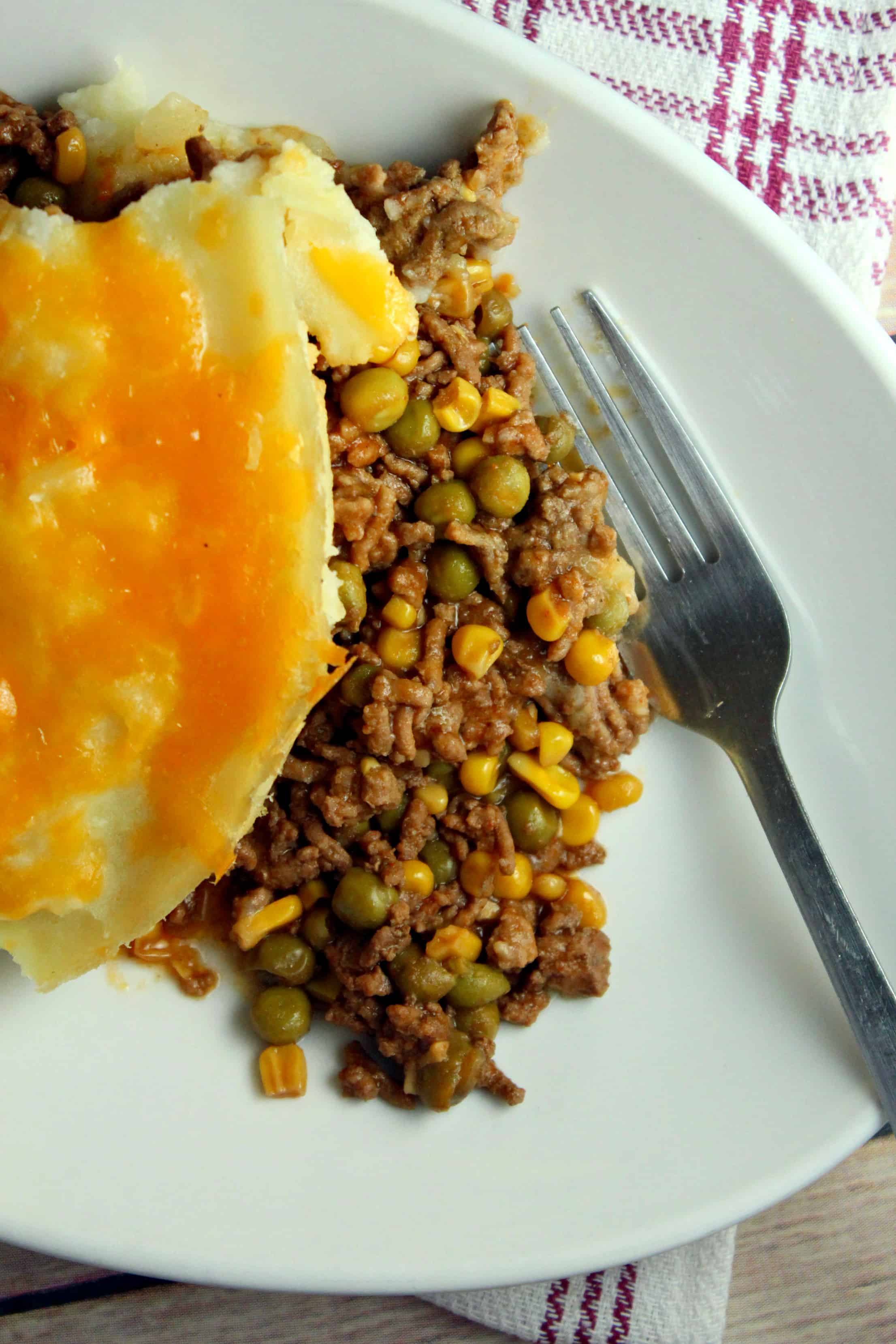 Best Crock-Pot chicken alfredo – we are pretty much addicted to chicken alfredo no matter how it's made. We especially love this chicken alfredo recipe and making breadsticks to go with it.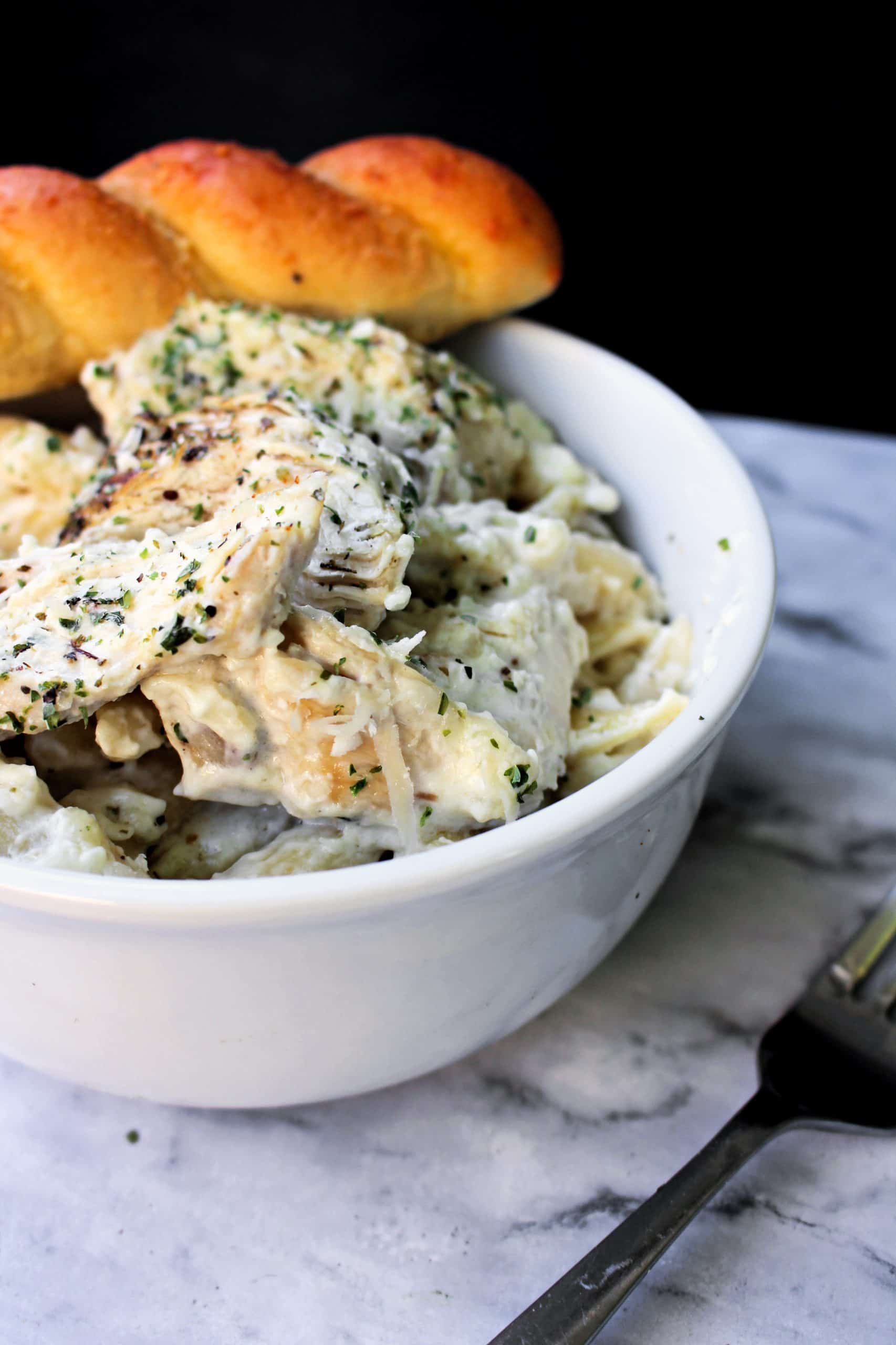 BBQ slow cooker beef stew – you have never had beef stew-like this before! Every bite is purely delicious and leaves you wanting the next bite.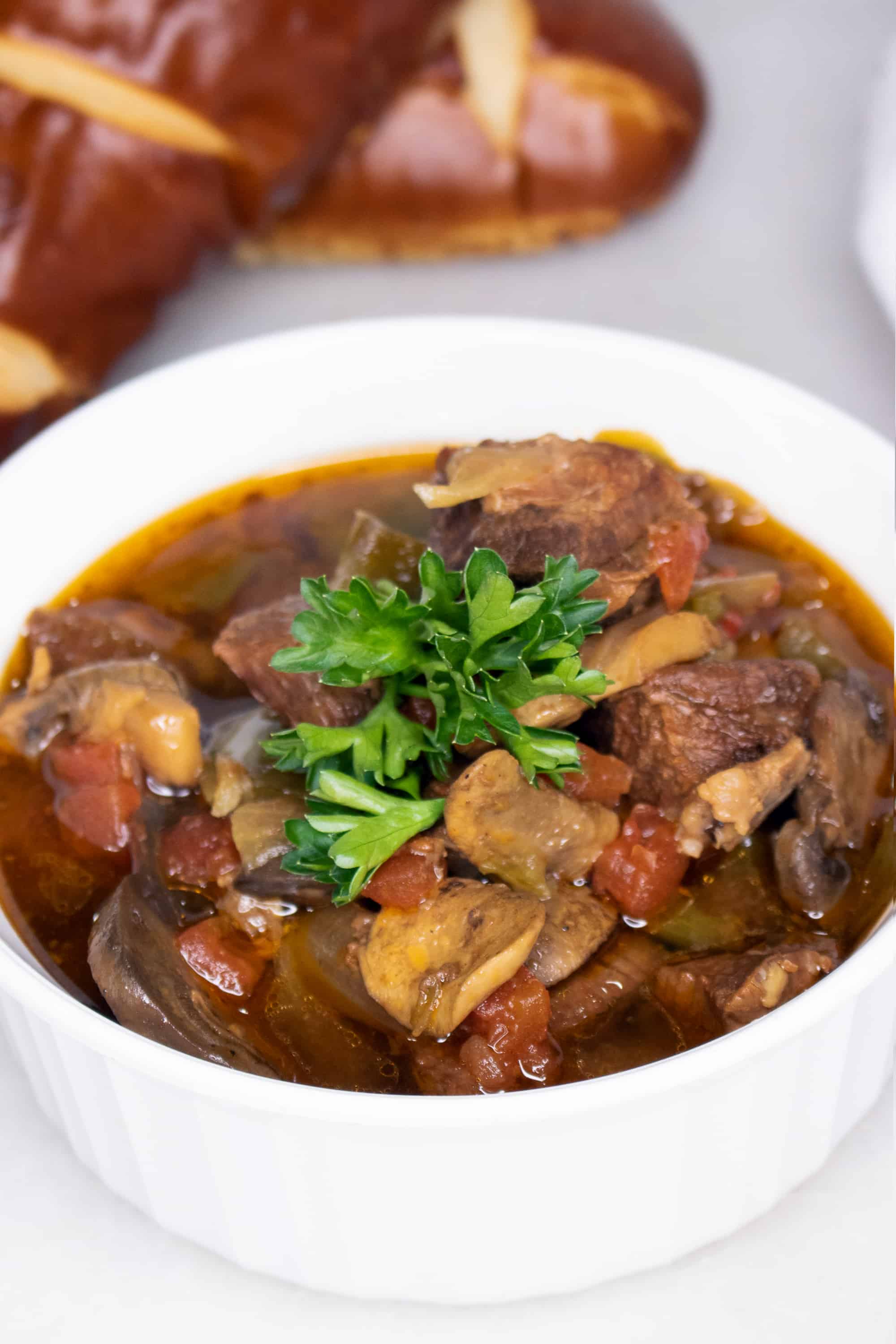 Get new recipes weekly plus our FREE ebook!