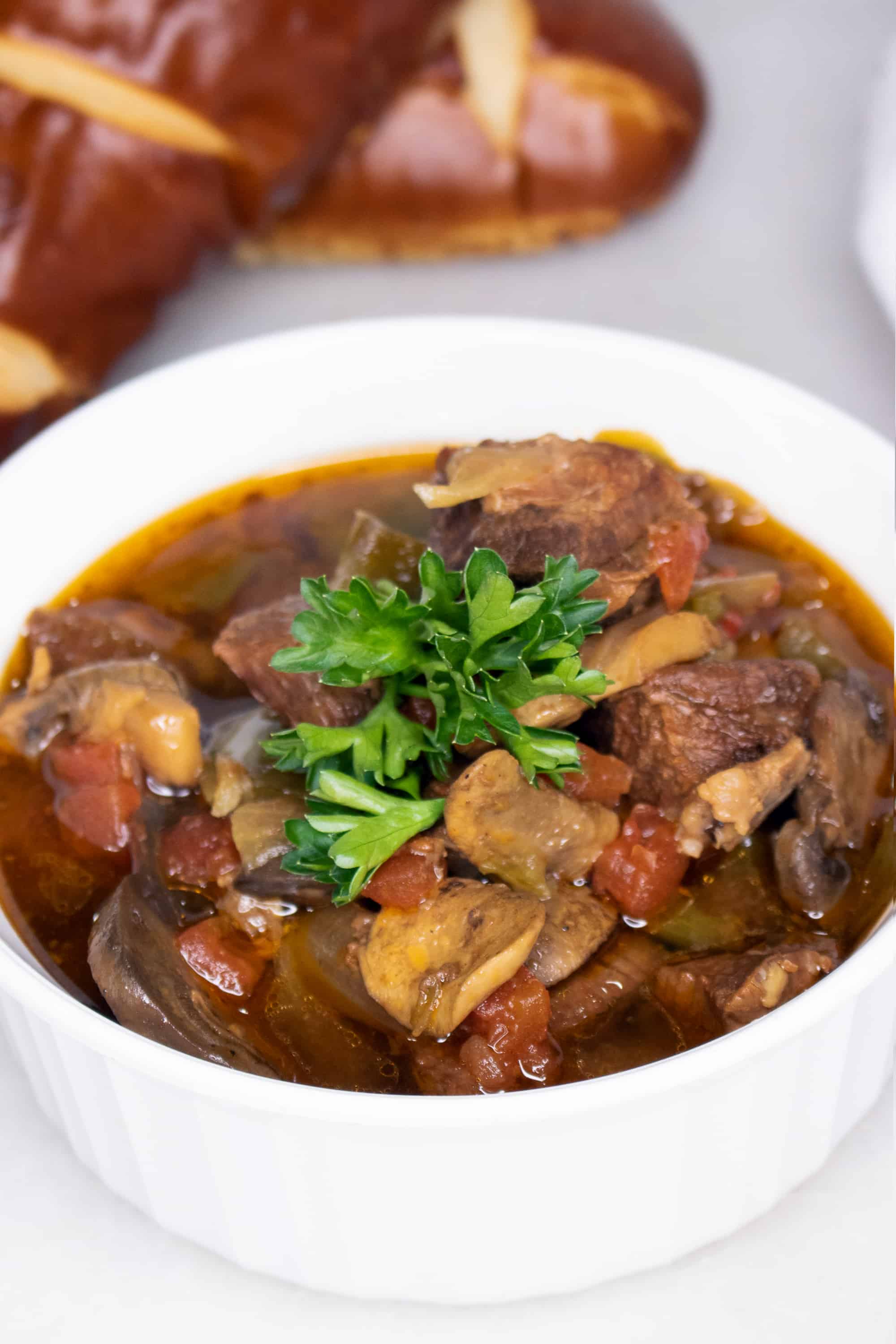 This Slow Cooker Beef Stew is a simple twist on a classic slow cooker beef stew. A hearty and flavorful meal that's perfect for cold and lazy nights, this will become on your favorite slow cooker stew recipes.
Your slow cooker can be your best friend when it comes to putting together amazing tasting meals. The meat in this dish turns out so tender and will just melt right in your mouth. The tang of the barbecue sauce in this Slow Cooker BBQ Beef Stew will tantalize your taste buds like nothing you have ever tasted before. It will quickly become a family favorite and be on your menu at least twice a month or maybe more! Take what you knew about beef stew in the slow cooker and throw it right out the window. There is a new version in town and it's going to knock your socks off.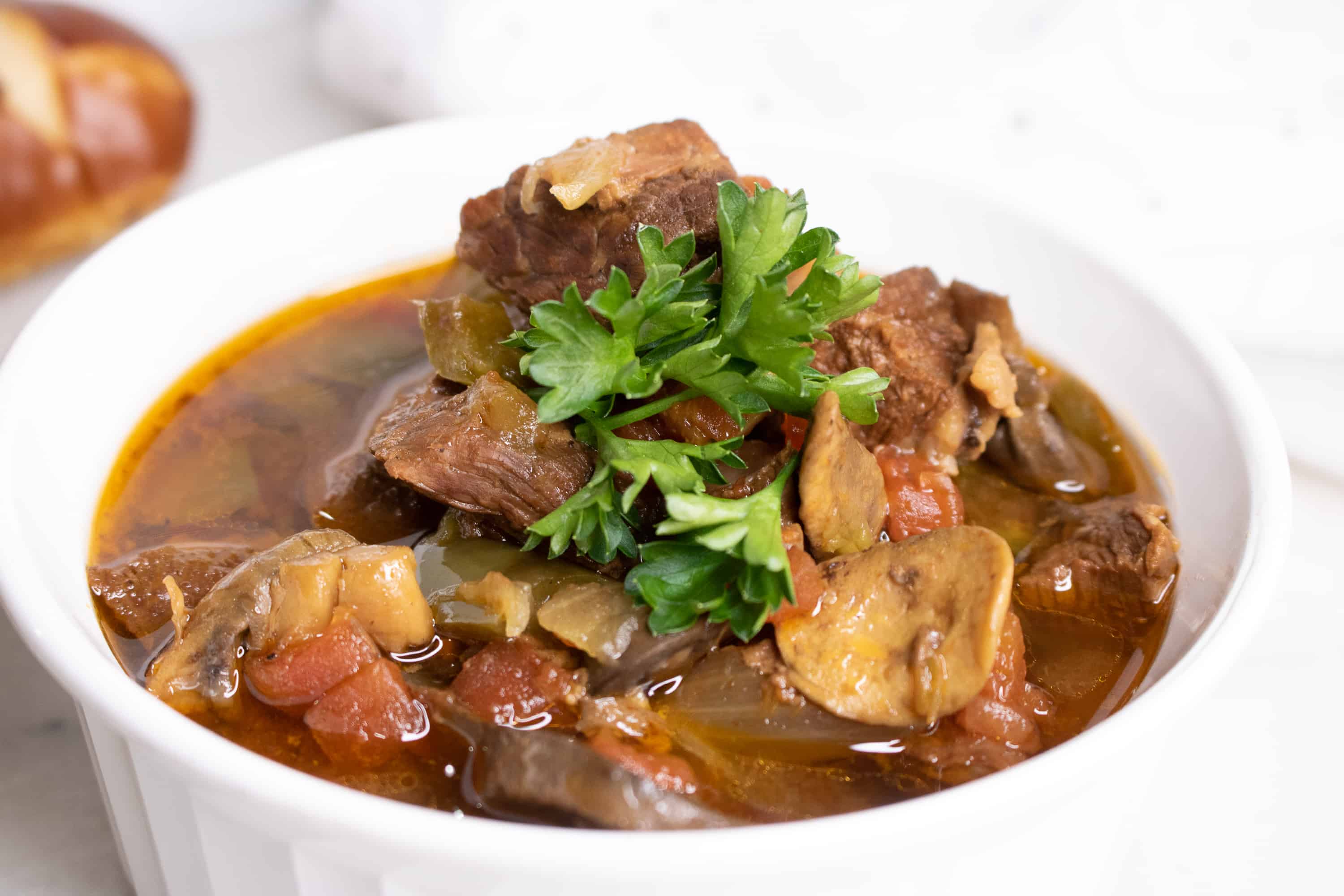 Scroll to bottom for printable recipe card.
How Long Does it Take to Make BBQ Slow Cooker Beef Stew
When you are making this slow cooker beef stew recipe, you will be using the slow cooker on either low or high. When you cook on high in the slow cooker, the time is usually in half or what it would be on high. This slow cooker recipe usually takes about 8 hours on low. While it is best to cook it on low because it gives the meat more time to cook and get tender. However, cooking on high for 4 hours will still give you a flavorful tender slow cooker beef stew,
What to Serve with Slow Cooker Beef Stew
This is a flavorful and nutrient-packed dinner. It can be a whole dinner by itself but whenever I have soup or stew, I like having hearty bread to dip in it. You can make these Cheesy Quick Biscuits Recipe to dip in the stew. I also love to have dessert. You can try some of these dessert recipes:
Variations to Easy Beef Stew
When it comes to making beef stew, the sky is the limit. You can add whatever you want into this stew.
Add Vegetables– You can add in more vegetables to this recipe. Add in carrots, celery, peas, corn, just about any type of vegetable can be added.
Meat: While this uses stew meat, you can actually use any kind you like. Stew meat is usually inexpensive because it is a tough type of meat. With it being tough, the long, slow cook makes it tender and delicious. You can use any type of cut of meat. You can also use ground beef. While that creates a different texture than classic beef stew, it can still be a delicious flavor.
Stew Meat Recipes
What I love about stew meat is that is an inexpensive cut of meat. While I have only posted a few stew meat recipes, we use it often. I sometimes switch for a more expensive cut of meat. You can use stew meat in these recipes with only a few changes.
How Long Does Easy Beef Stew Last
This easy beef stew recipe will last in the refrigerator for several days, up to 4 days. I love to reheat it the next day for lunch or an easy dinner. I think the longer this stew cooks and then sits together, the better the flavor gets. Sometimes, I like to make a double batch of this easy beef stew. Then, I will take half and freeze it in individual portions. That way, whenever we are short on time, or I need a quick meal, I can take out how much I need and reheat it.
How to Reheat Crock Pot Beef Stew
If I am reheating the whole store the next day, it is best to reheat it in a pot on the stove top. However, sometimes I only reheat it bowl by bowl. In that case, it is easier to reheat it in the microwave, although it would be easy to reheat it on the stovetop as well. When I pull the crock pot beef stew from the freezer, it is best to let it sit in the refrigerator overnight to thaw. When that isn't an option, heating it in a pot on the stove is best because the microwave can overheat parts, while the rest is still frozen.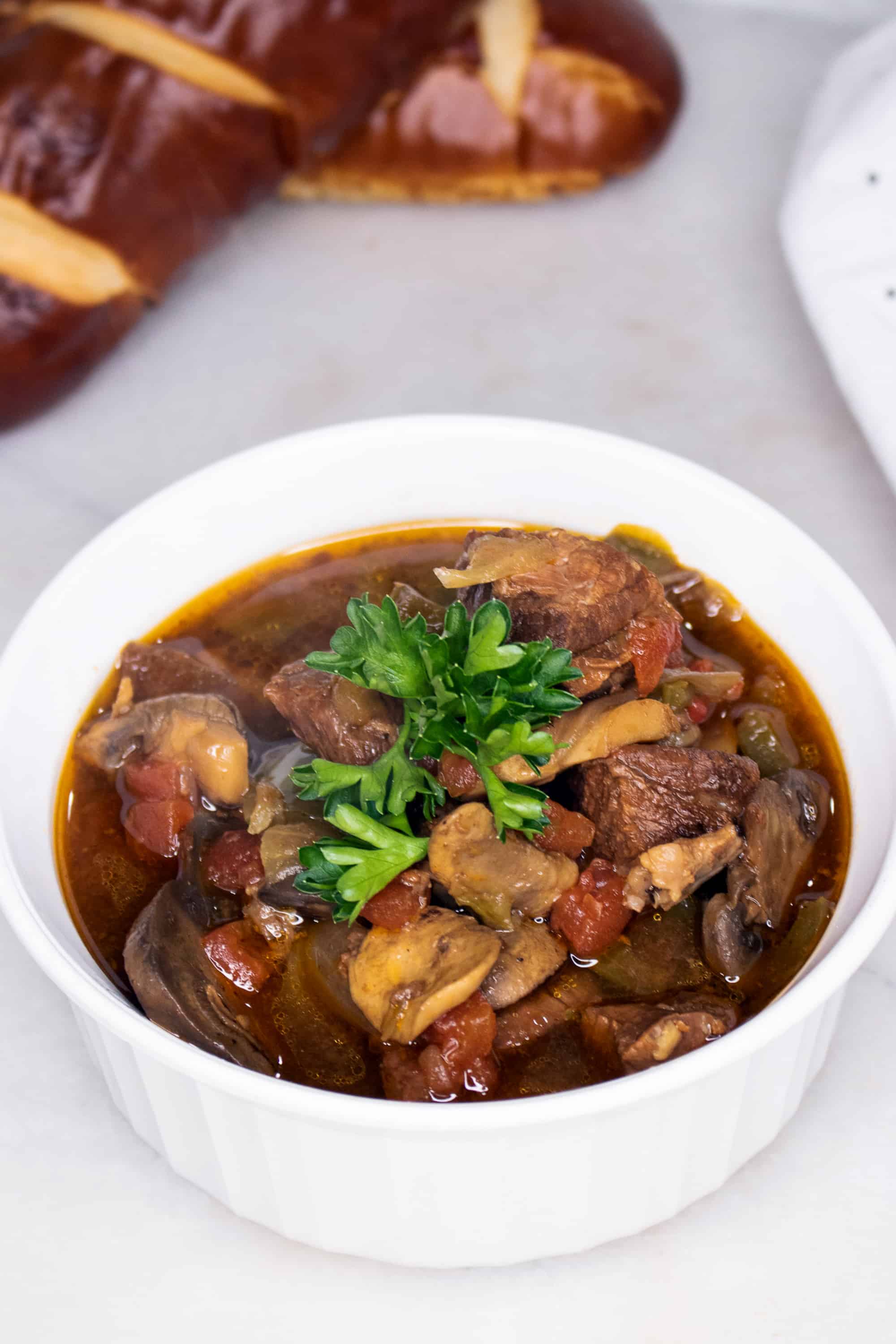 Ingredients in Crock Pot Beef Stew
beef stew meat
olive oil
onion
green pepper
garlic
salt
pepper
beef stock
tomatoes
mushrooms
barbecue sauce
How to Make Easy Beef Stew Recipe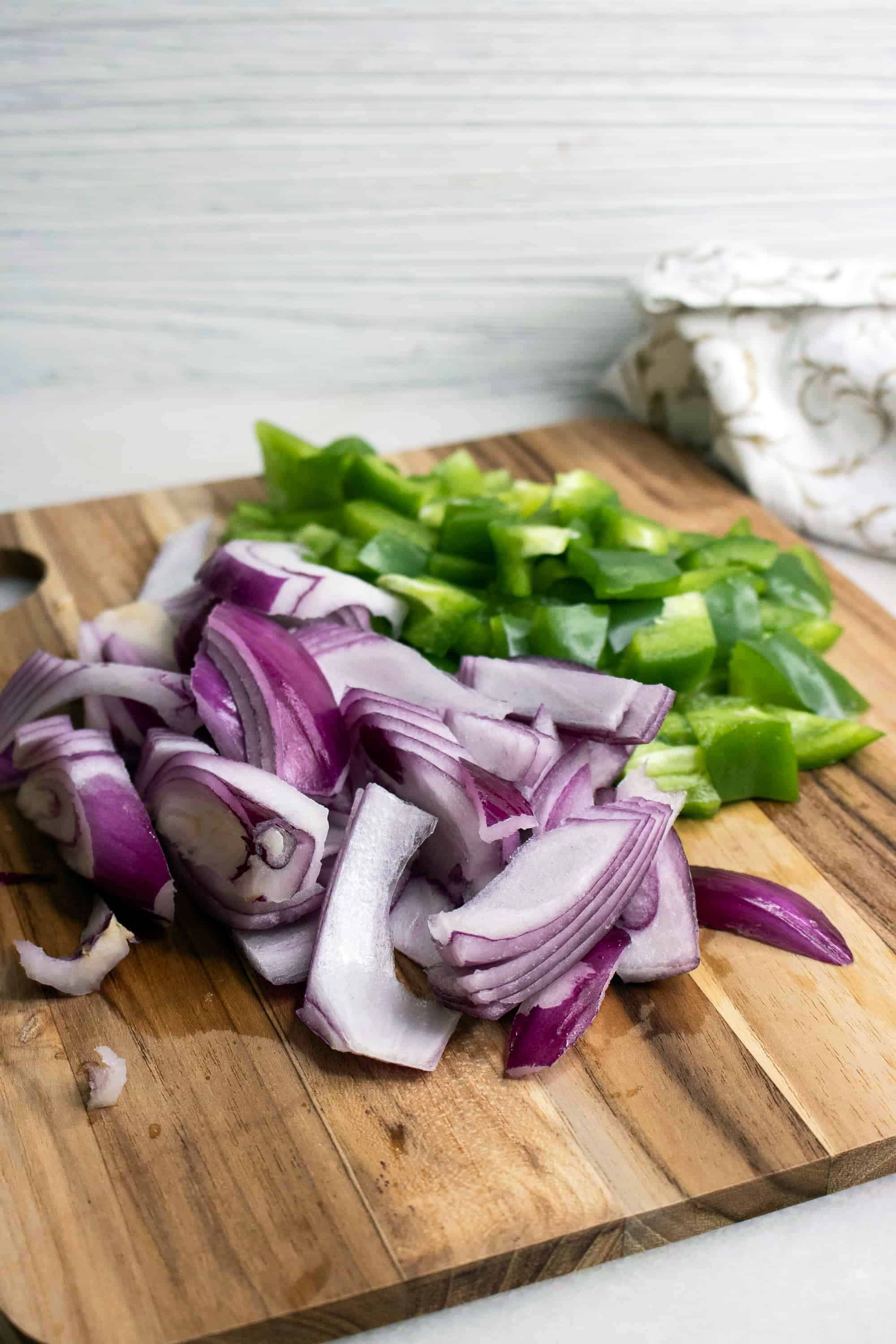 Cut and chop all ingredients. Saute garlic, peppers, and onion on the stovetop over medium-high heat.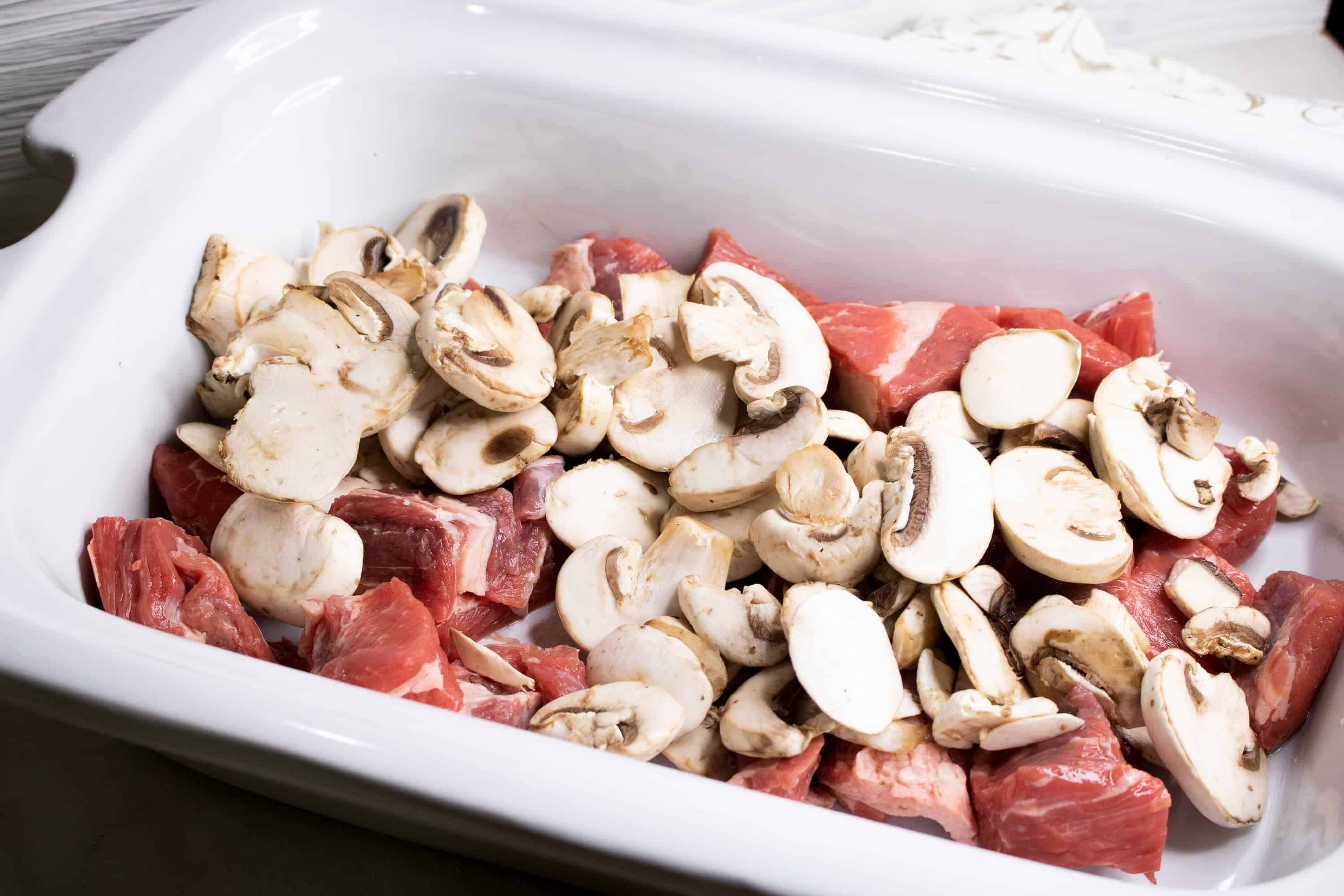 Place beef chunks and mushrooms in the bottom of the slow cooker. Add sauteed veggies on top.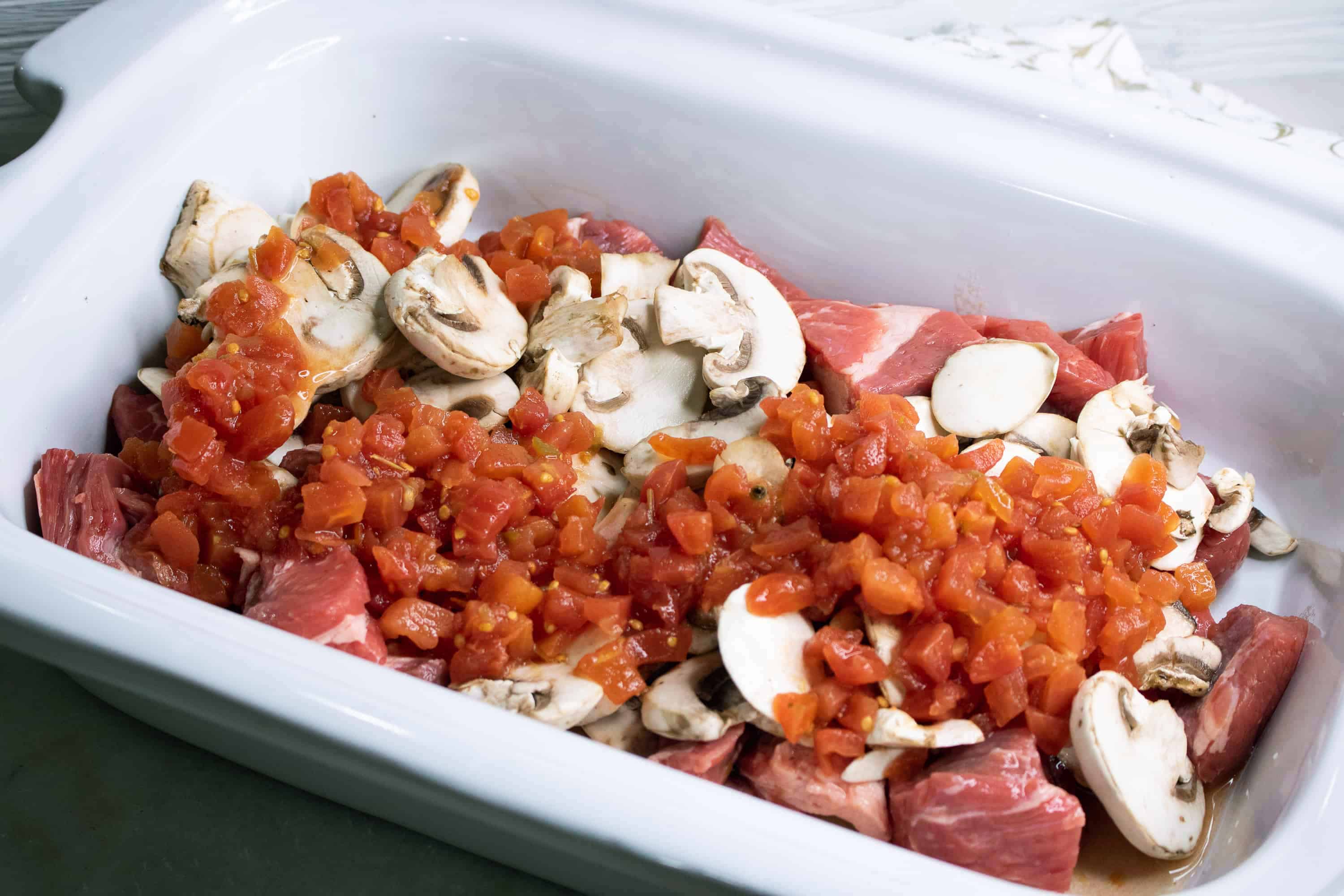 Add all other ingredients to the slow cooker over beef, mushrooms, and veggies.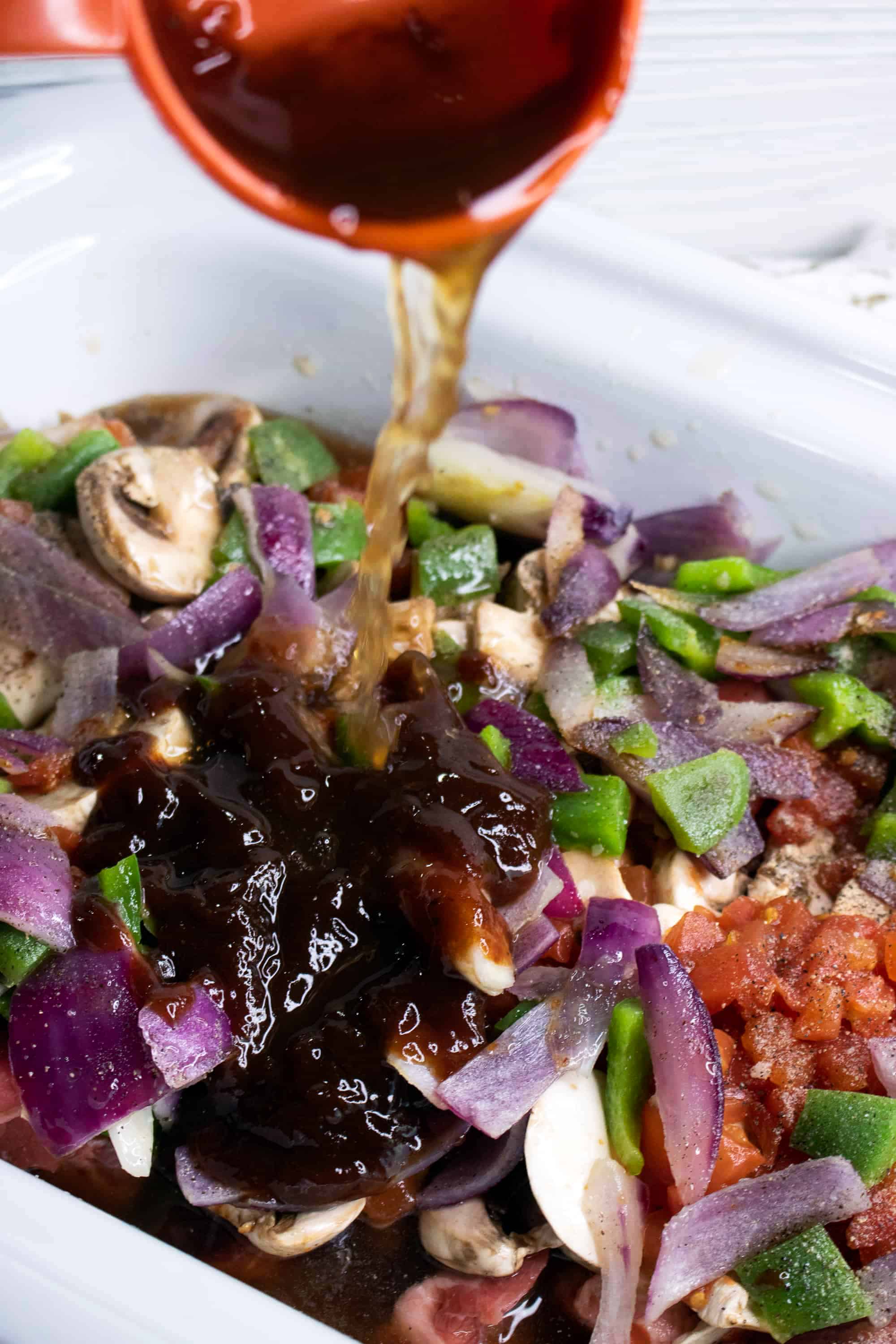 Cook on low for 8 hours. Thicken with cornstarch mixture if desired. Enjoy Slow Cooker BBQ Beef Stew hot.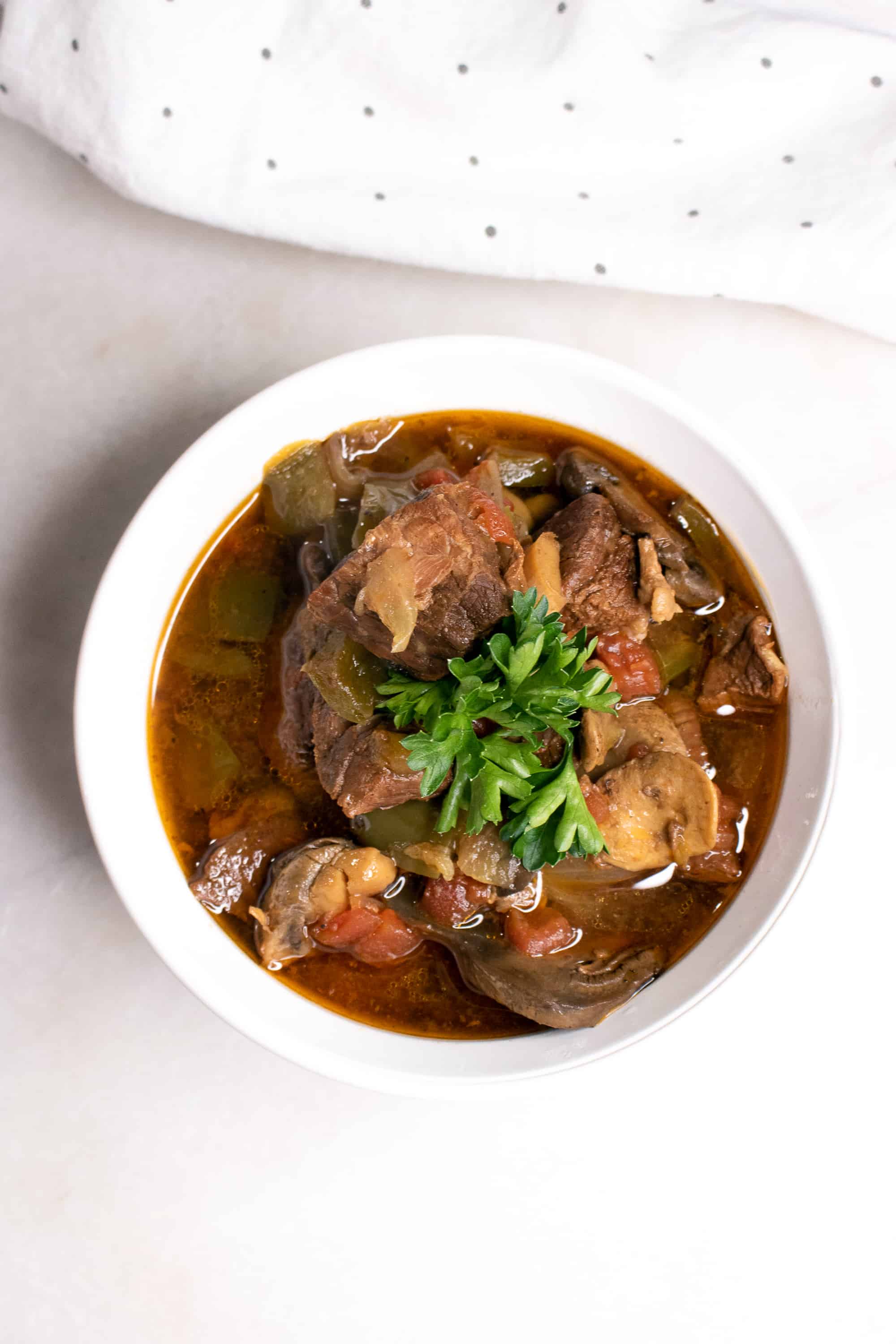 Now, time to save this recipe on Pinterest for later 🙂

Pin this recipe now to remember it later
BBQ Slow Cooker Beef Stew
This Slow Cooker BBQ Beef Stew is a simple twist on a classic slow cooker beef stew. A hearty and flavorful meal that's perfect for cold and lazy nights, this will become on your favorite slow cooker stew recipes.
Ingredients
½

cup

green pepper

,

chopped

2

garlic cloves

,

pressed or chopped

8

ounces

mushrooms

,

sliced
Want to save this recipe? Enter your email below and we'll send the recipe straight to your inbox!
NOTE: By saving this recipe, you agree to join our weekly recipes newsletter.
Instructions
Saute the onion, pepper and garlic in large pan over medium-high heat for 4-5 minutes

Add these together with the remaining ingredients in a slow cooker and cook over low heat for 8 hours.

If a thicker stew is desired, mix together ¼ cup of water with 2-3 tablespoons of corn starch and then stir into the stew to thicken.
Notes
7 Weight Watchers Freestyle Smartpoints
Follow me on Pinterest for daily delicious recipes!
More favorite slow cooker recipes:
Easy Slow Cooker Chicken Parmesan – Looking for an Easy Slow Cooker Chicken Parmesan recipe? One bite and this will be the only way you will make chicken parmesan again. Simple and delicious, you have to try this recipe.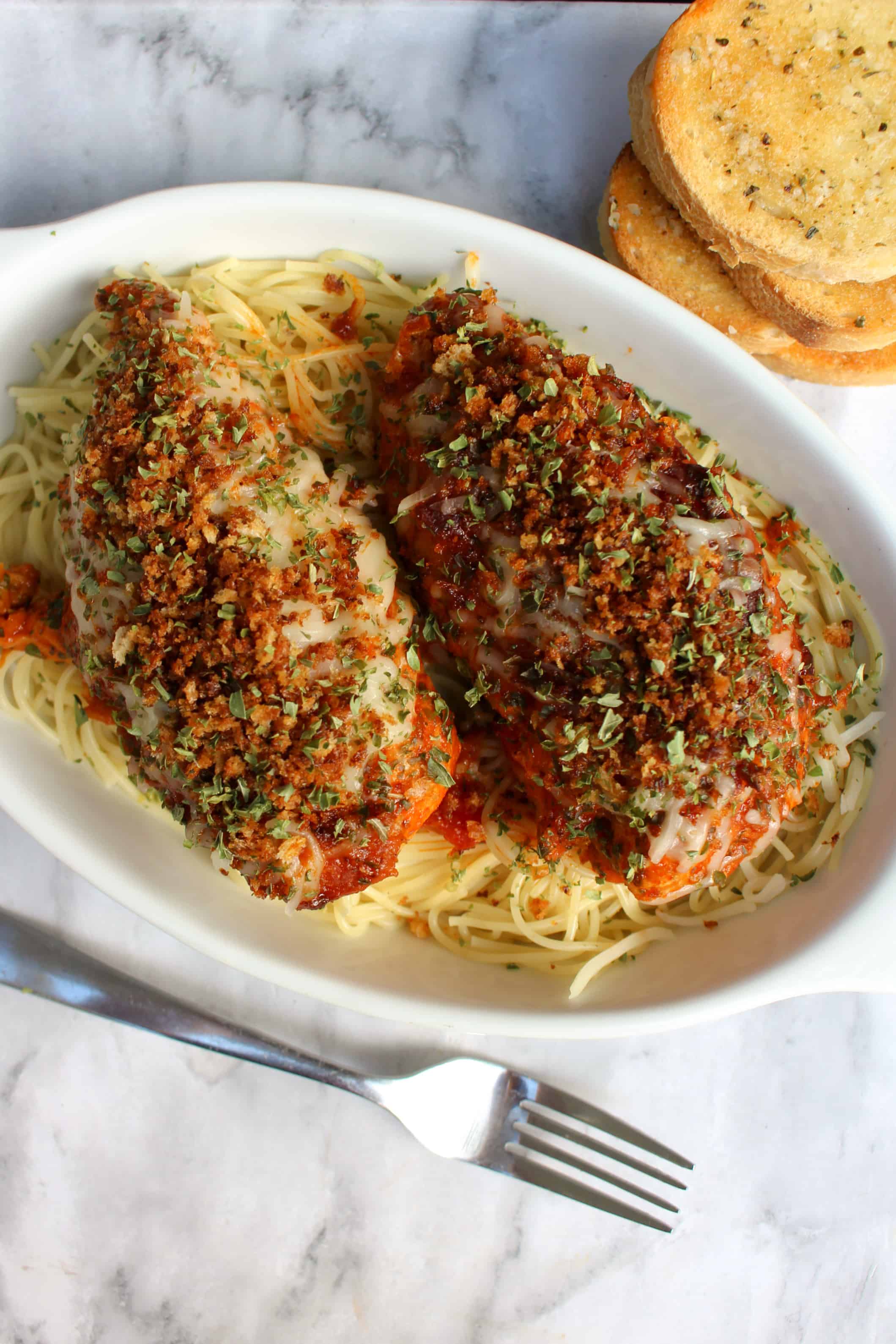 Stuffed Pepper Soup in the Slow Cooker – is one of the best easy slow cooker recipes you'll ever try, one of my favorite budget slow cooker meals, great for feeding the entire family on a budget!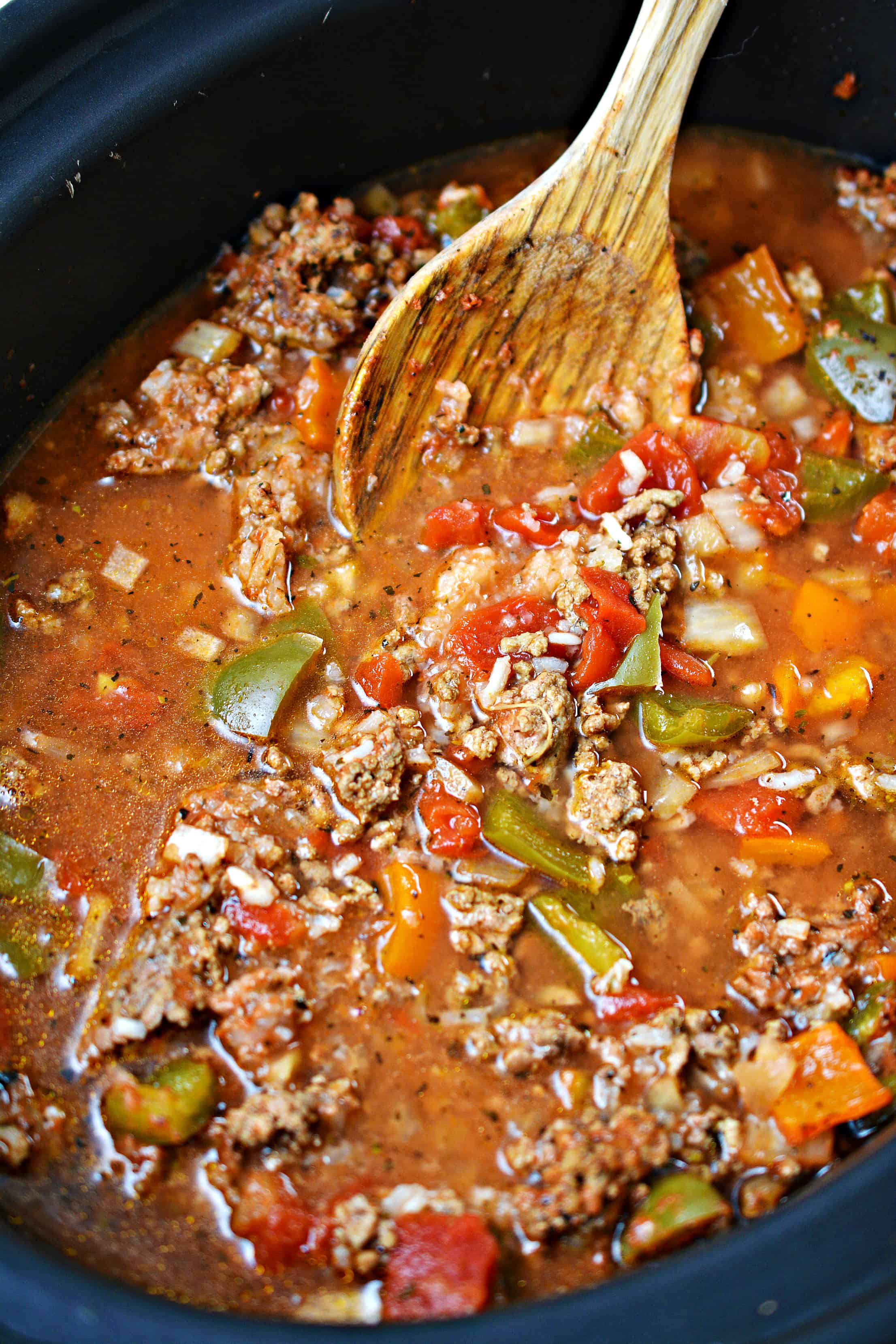 Slow Cooker Philly Cheesesteak – These Slow Cooker Philly Cheesesteaks are the easiest, most flavorful homemade Philly cheesesteak sandwiches you'll ever make! Better than takeout!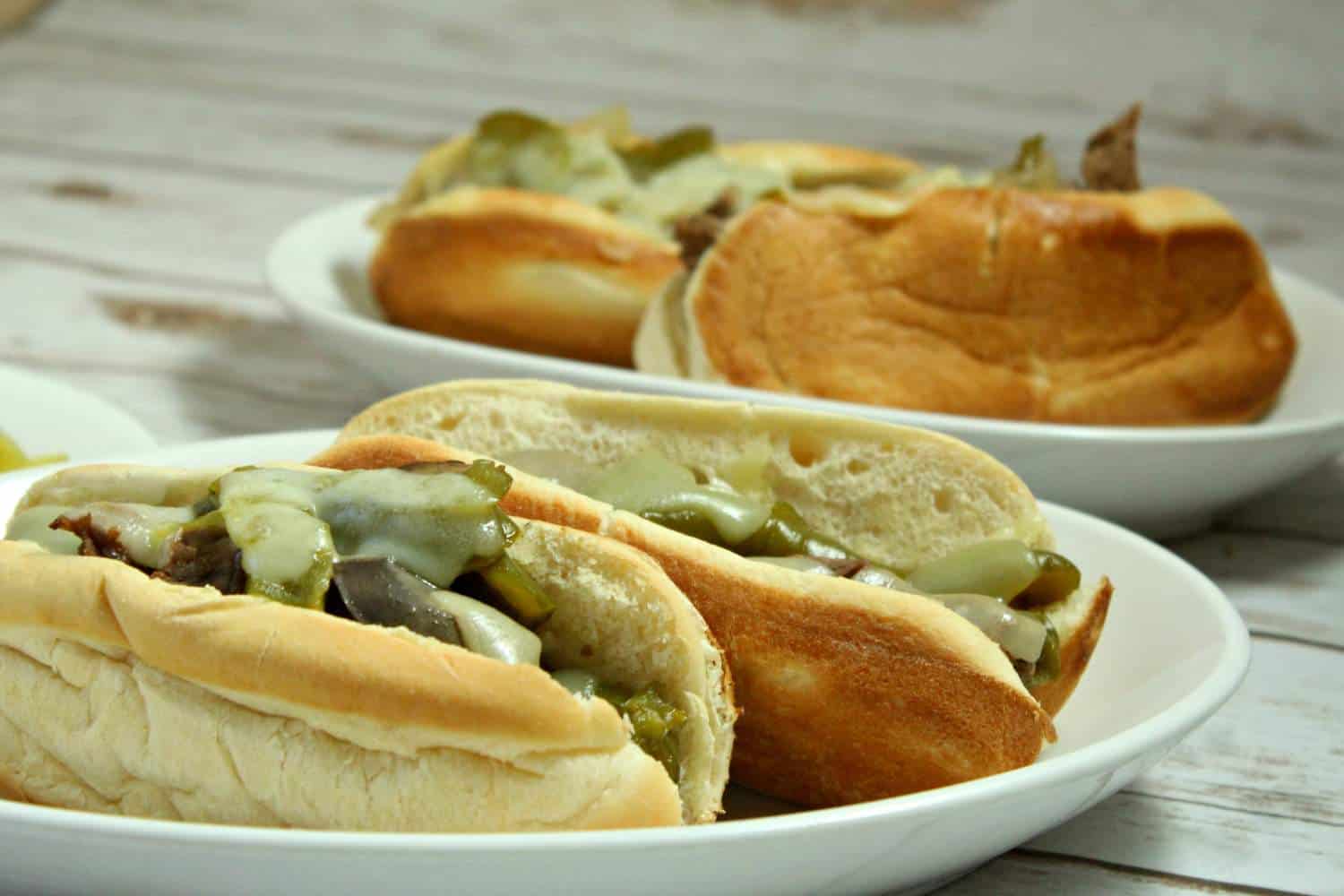 Slow Cooker Mississippi Pot Roast – Slow Cooker Mississippi Pot Roast is one of the easiest, most flavor pot roast recipes you'll ever make. Made with only a handful of ingredients, it's a tender, melt-in-your-mouth pot roast that the entire family will love.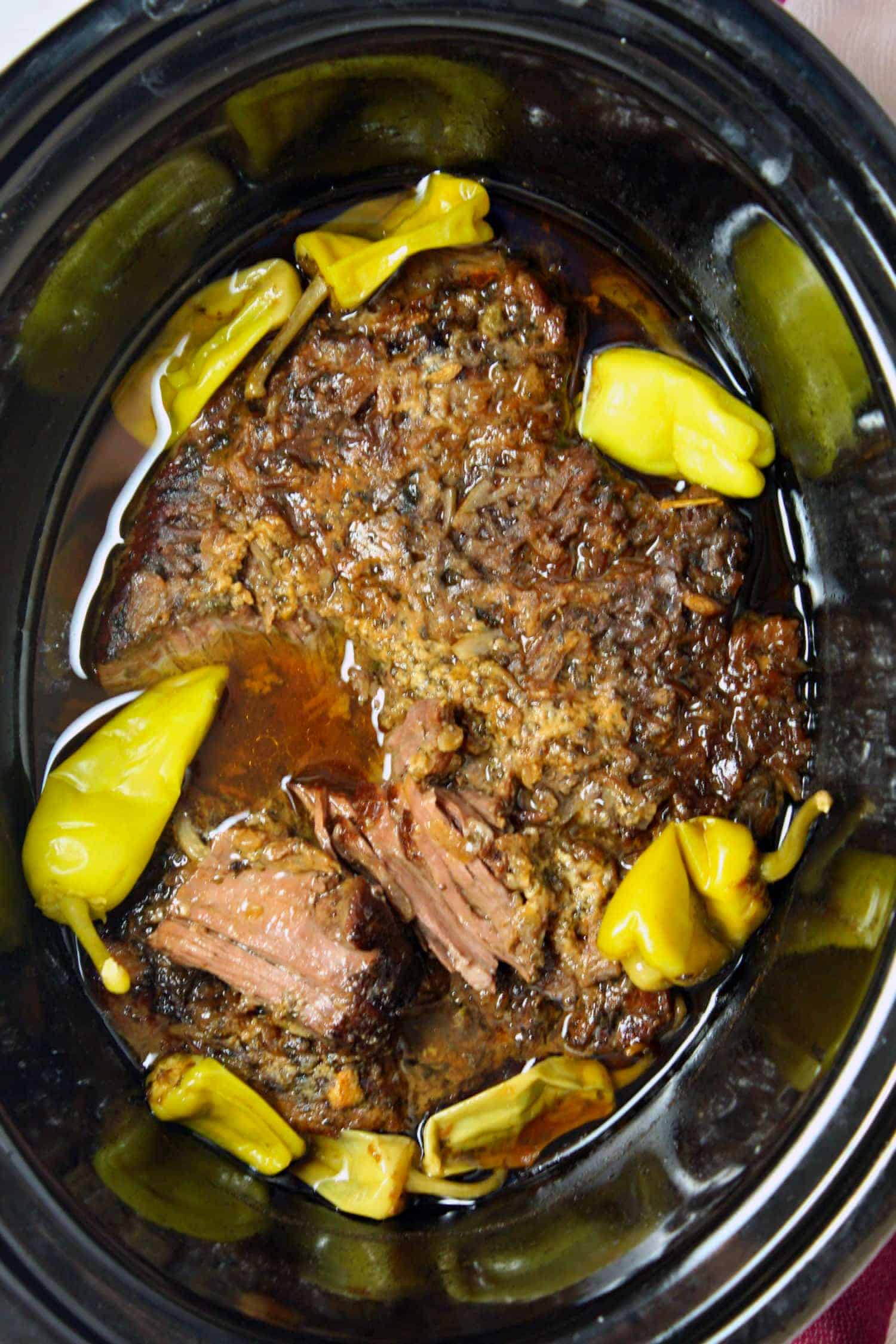 Get new recipes weekly plus our FREE ebook!