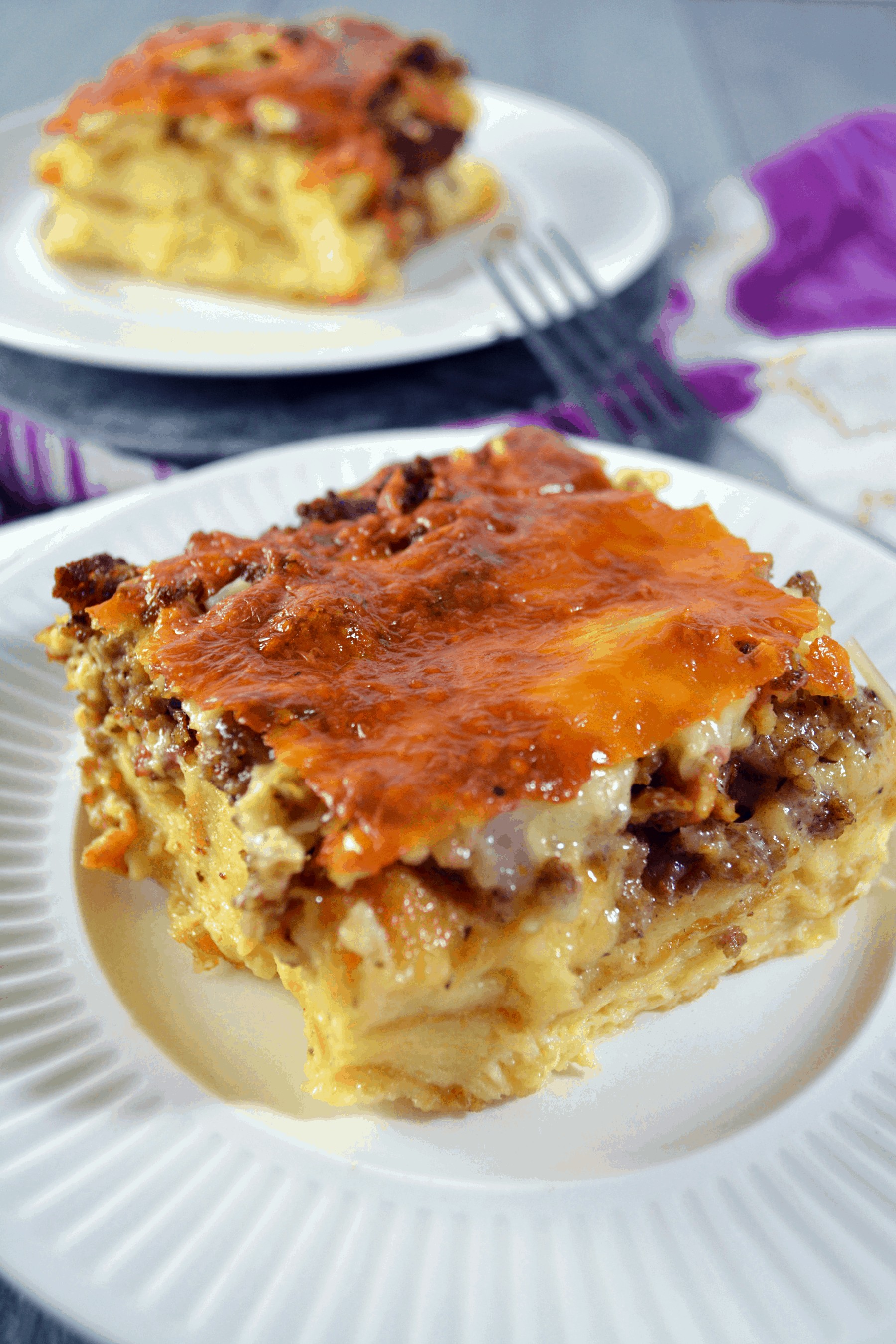 Everything about this croissant breakfast casserole is mouthwatering good! From the flaky buttery crust to the salty bacon and sausage to the creamy eggs. You will be smacking your lips as soon as you take a bite and will be begging for more. This croissant breakfast bake doesn't just taste more amazing than words; it's also pretty easy to make too.
Often when the holidays are around, I like to make a breakfast bake because I don't have to do a ton to whip it up. I can prepare it the night before and toss it in the oven right before we are ready to eat it. This is a crowd-pleasing dish because it has so much character and flavor. I know a lot of people crave a sweet and sugary breakfast, but many days I want something with protein and savory flavors. This breakfast sausage croissant bake hits the nail on the head every time.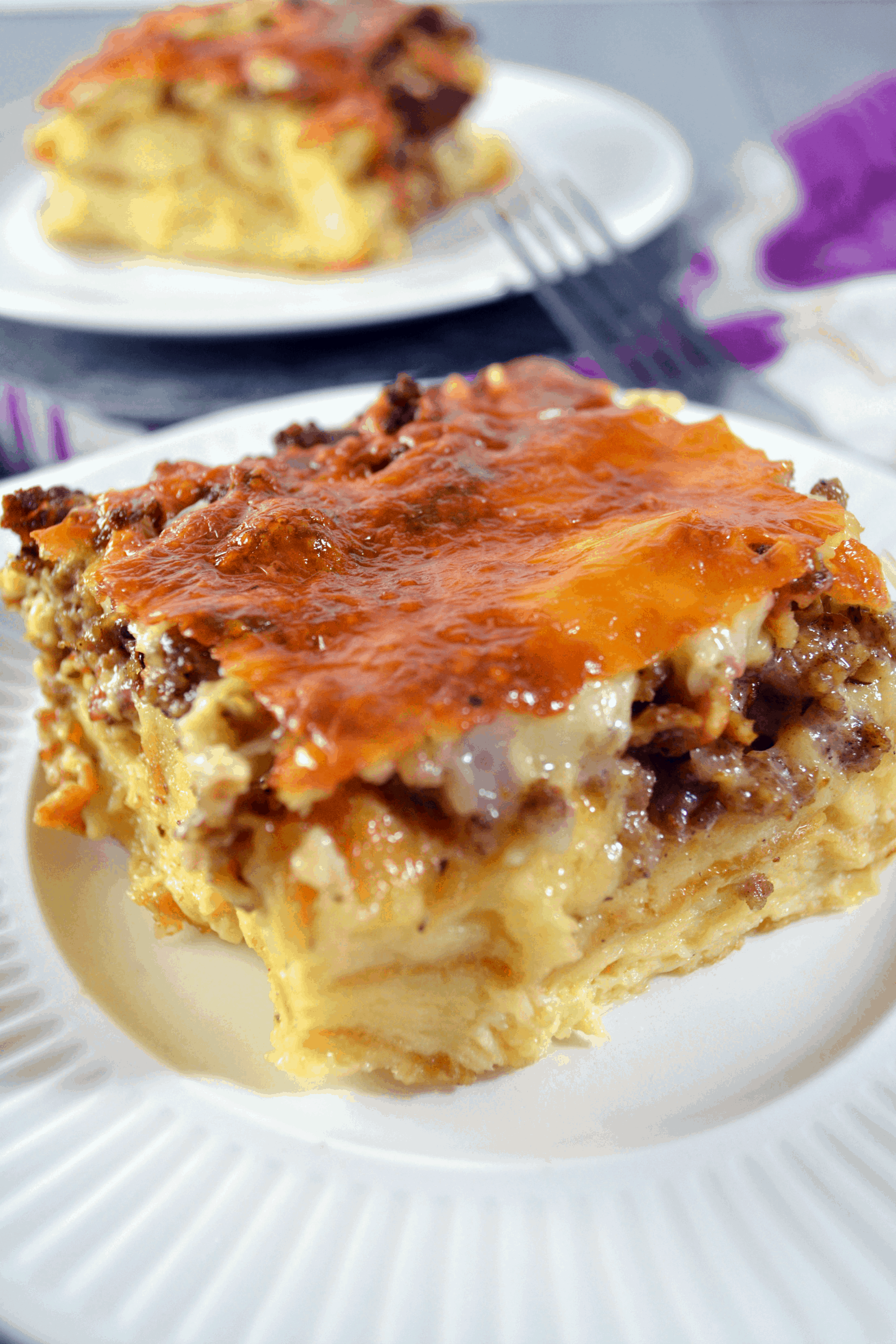 Scroll to bottom for printable recipe card.
How To Make This Croissant Breakfast Casserole
You will be so happy you made this make-ahead breakfast casserole as soon as it touches your lips. It's one of my favorites because I don't have to spend tons of time hanging out in the kitchen cooking. Easy peasy and saves me tons of time when I make it in advance too.
First Step: Begin by cooking the bacon until it's crispy. Then crumble into small pieces and set aside.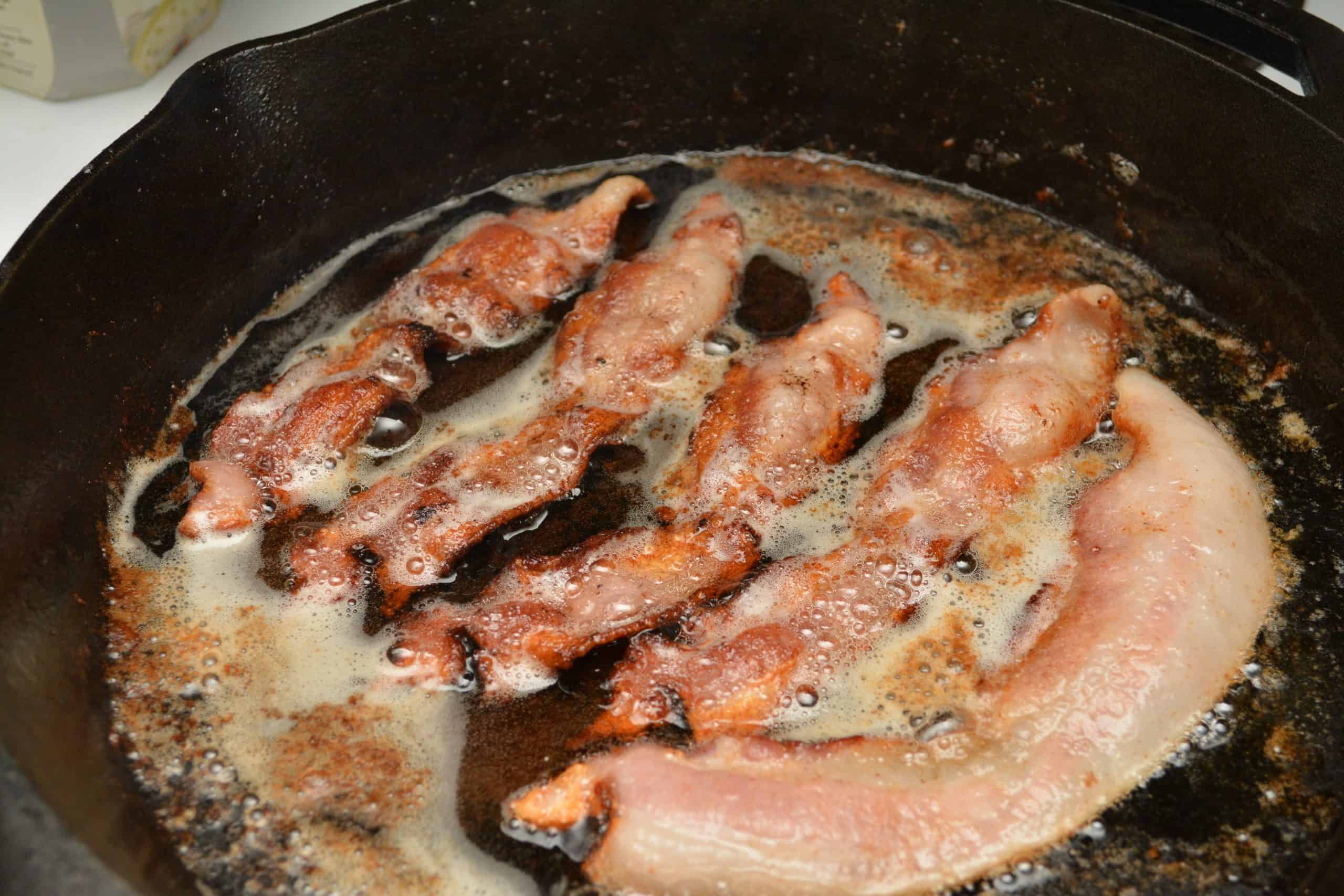 Second Step: Cook the pork sausage in a skillet over medium-high heat until its browned. Then add the crumbled bacon to the sausage in the skillet.
Third Step: Sprinkle with 1 teaspoon of salt. Then add 1/2 teaspoon of basil on top of the meat mixture. Stir until incorporated.
Fourth Step: Take 8 croissants and cut or tear them into bite-sized pieces. Layer them in the bottom of a 9×13 baking dish that has been greased. Press the croissants are in an even layer along the bottom.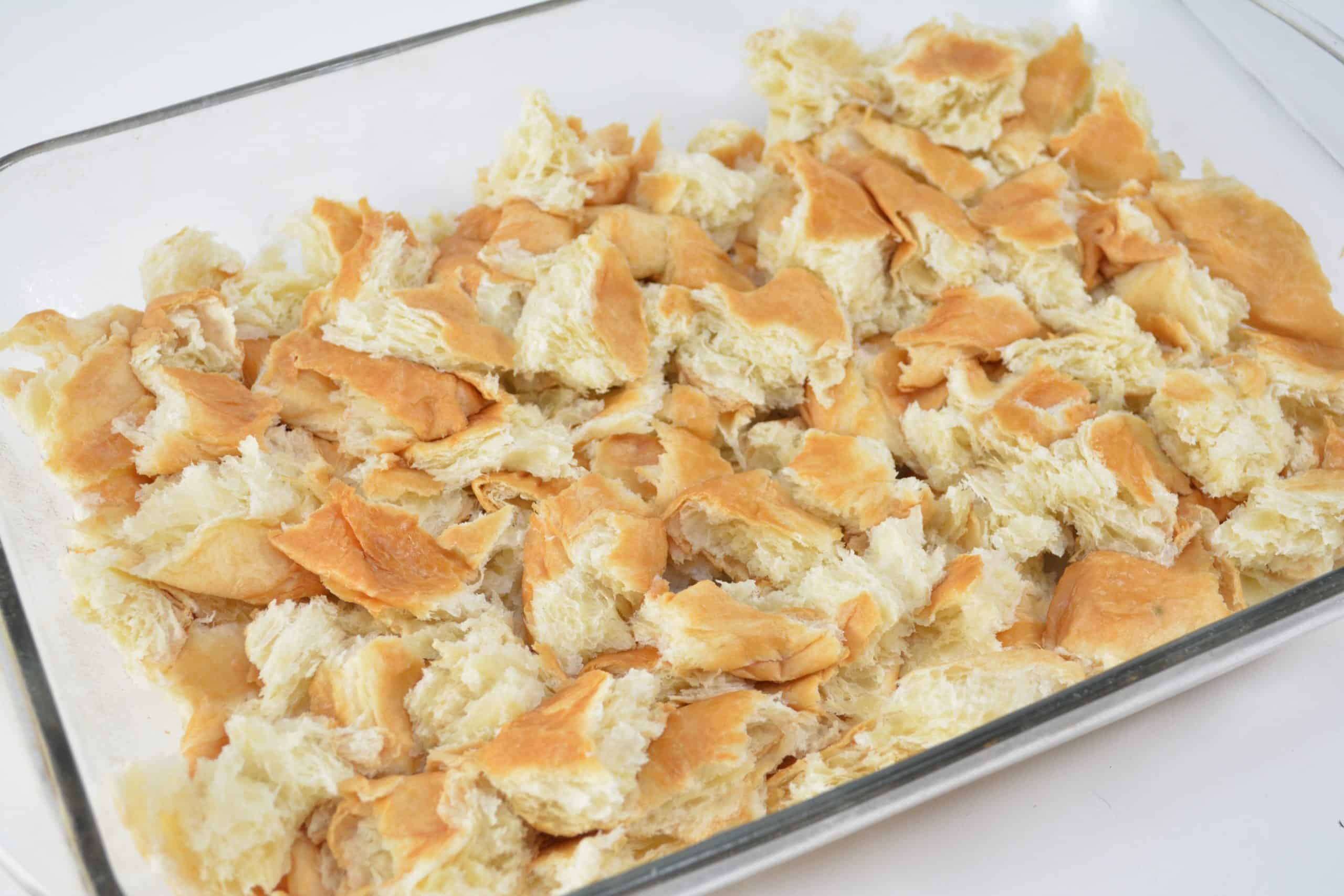 Fifth Step: Add the meat mixture to the top of the croissants.
Sixth Step: Combine 2 3/4 cups of milk and 1 cup of heavy cream in a mixing bowl.
Seventh Step: Break open 5 eggs into the milk mixture. Whisk until everything is combined.
Eighth Step: Pour eggs and milk over the top of the meat and sausage in the baking dish.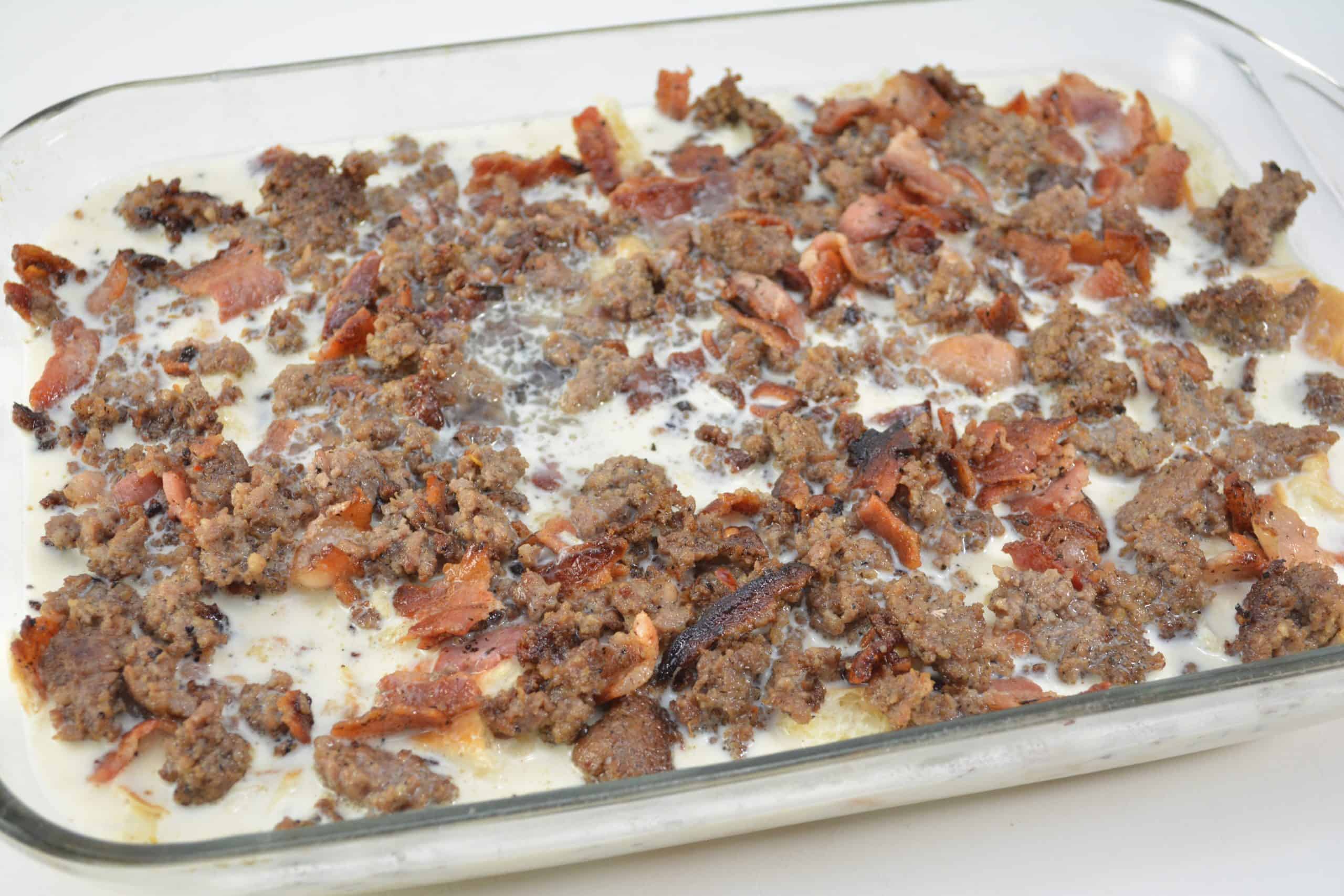 Ninth Step: Get a piece of aluminum foil and cover the baking dish and let sit overnight.
Letting it sit overnight in the fridge will let the flavors marry together perfectly.
Tenth Step: The next morning, remove the aluminum foil and add parmesan cheese on top.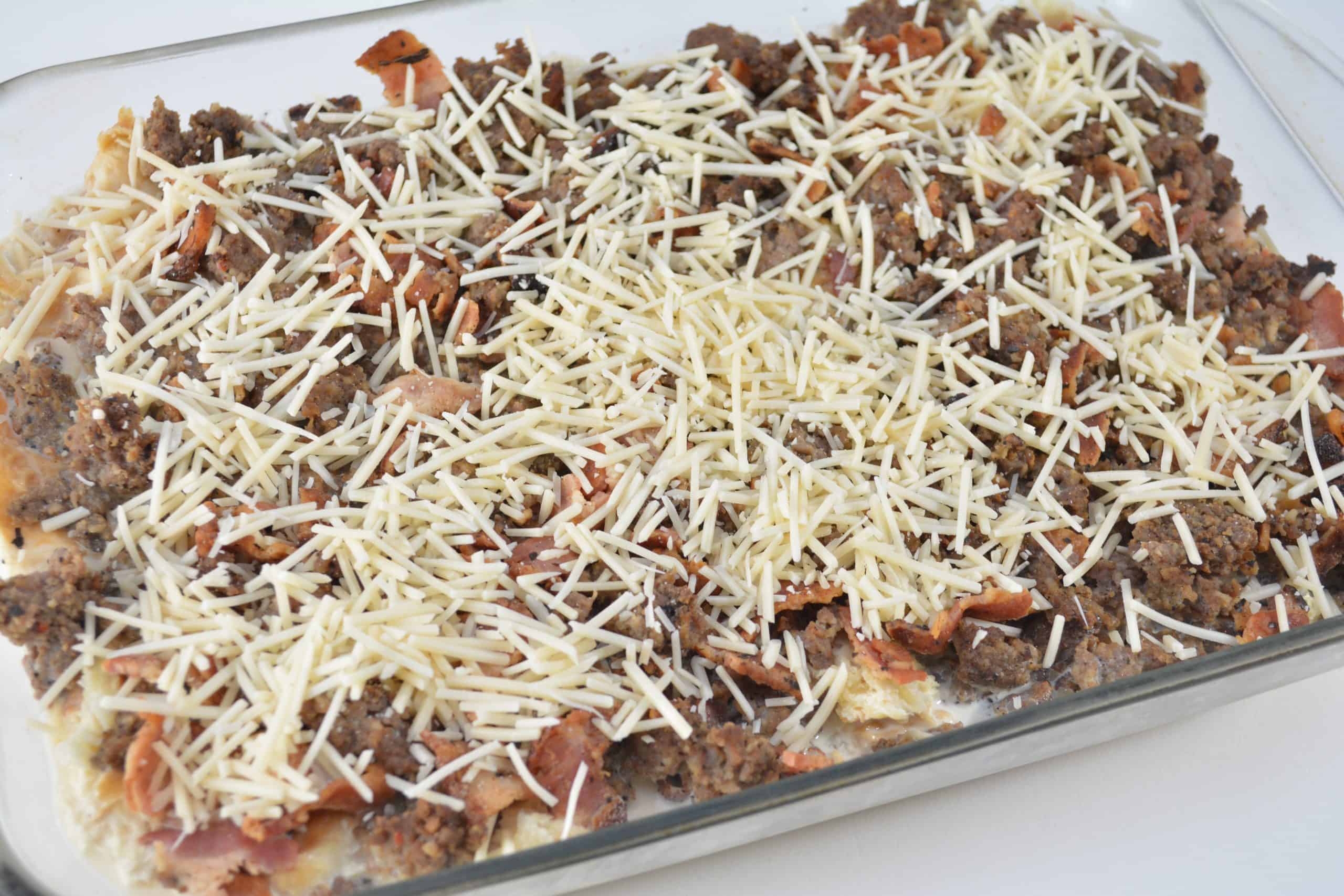 Eleventh Step: Sprinkle with white cheddar cheese and bake for 45-55 minutes until the eggs are done and there isn't any liquid leftover. If you find it's not done all the way you can cook for a few extra minutes. If the top is brown, then add some aluminum foil to protect it from burning as you continue to bake.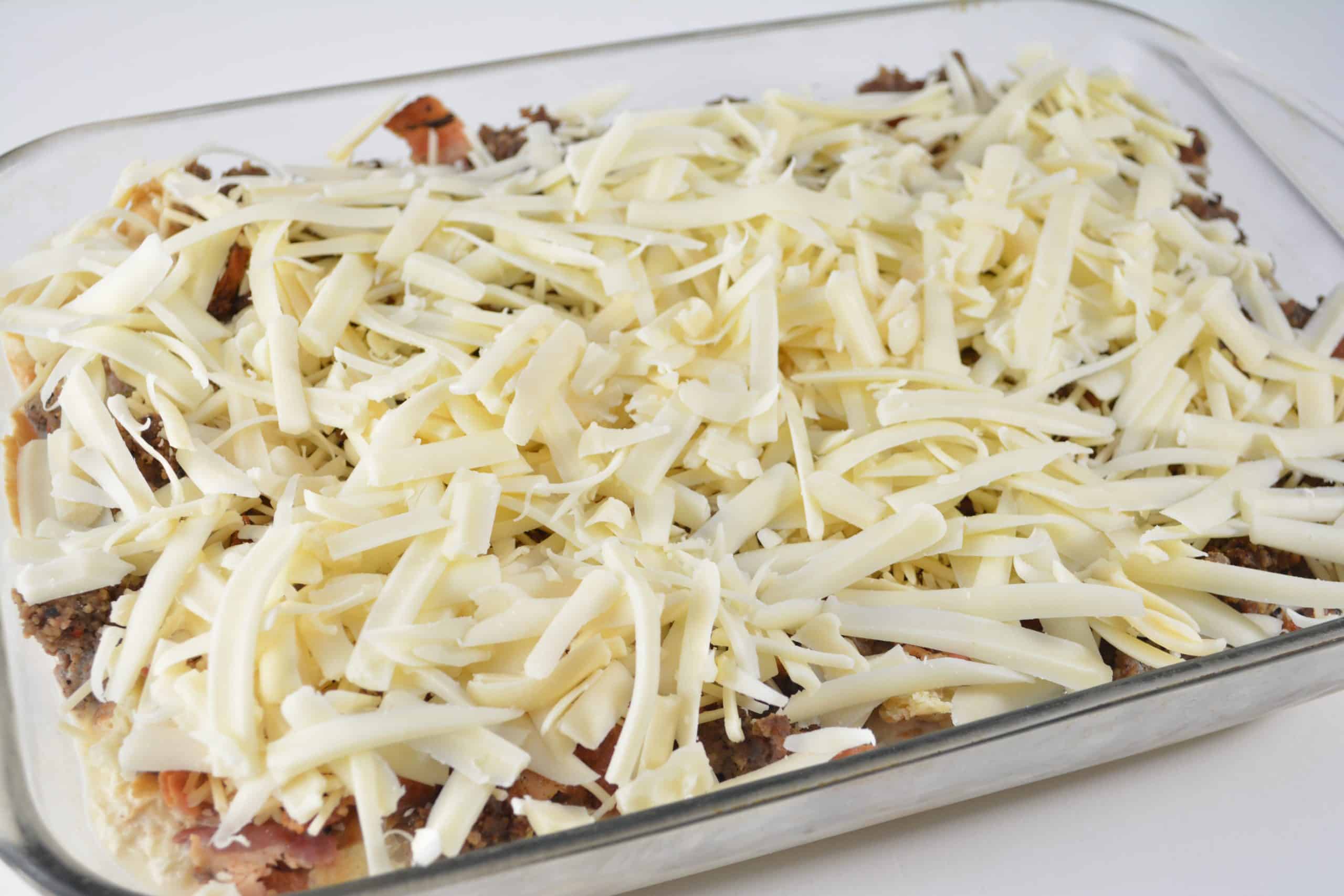 Make-Ahead Breakfast Casserole Variations
You will never go wrong with making and serving this easy breakfast recipe the way it's written, but it's also great with other ingredients too. Just thinking of it makes me hungry! Try a few of these ideas:
Ham – I like a lot of meat and consider adding a little bit of ham to the mix makes it even better. You can omit one of the other meats or keep all three of them. Either way, it's super tasty.
Mushrooms – Chop up a few mushrooms and sautee them, so they soften. Add them into the meat mixture for a variety of flavors.
Swiss Cheese – I LOVE the flavor of the swiss cheese with the sausage and bacon. It is one of the best combinations ever.
Tomatoes – You can use either fresh tomatoes (homegrown are amazing) or some canned tomatoes. Either way, it goes well with this recipe.
Green Onions – Dice up some green onions and add to the egg mixture. It tastes so good and adds a pretty color to the recipe too.
Spinach – If you are wanting to add some extra nutrients into your casserole, then spinach is a wonderful option. Just mix it in with the eggs, and it will cook lovely and taste incredible.
Pepper Jack Cheese – Sometimes I want a little bit of spice to my casserole recipe. Pepper jack cheese is the perfect amount of heat too.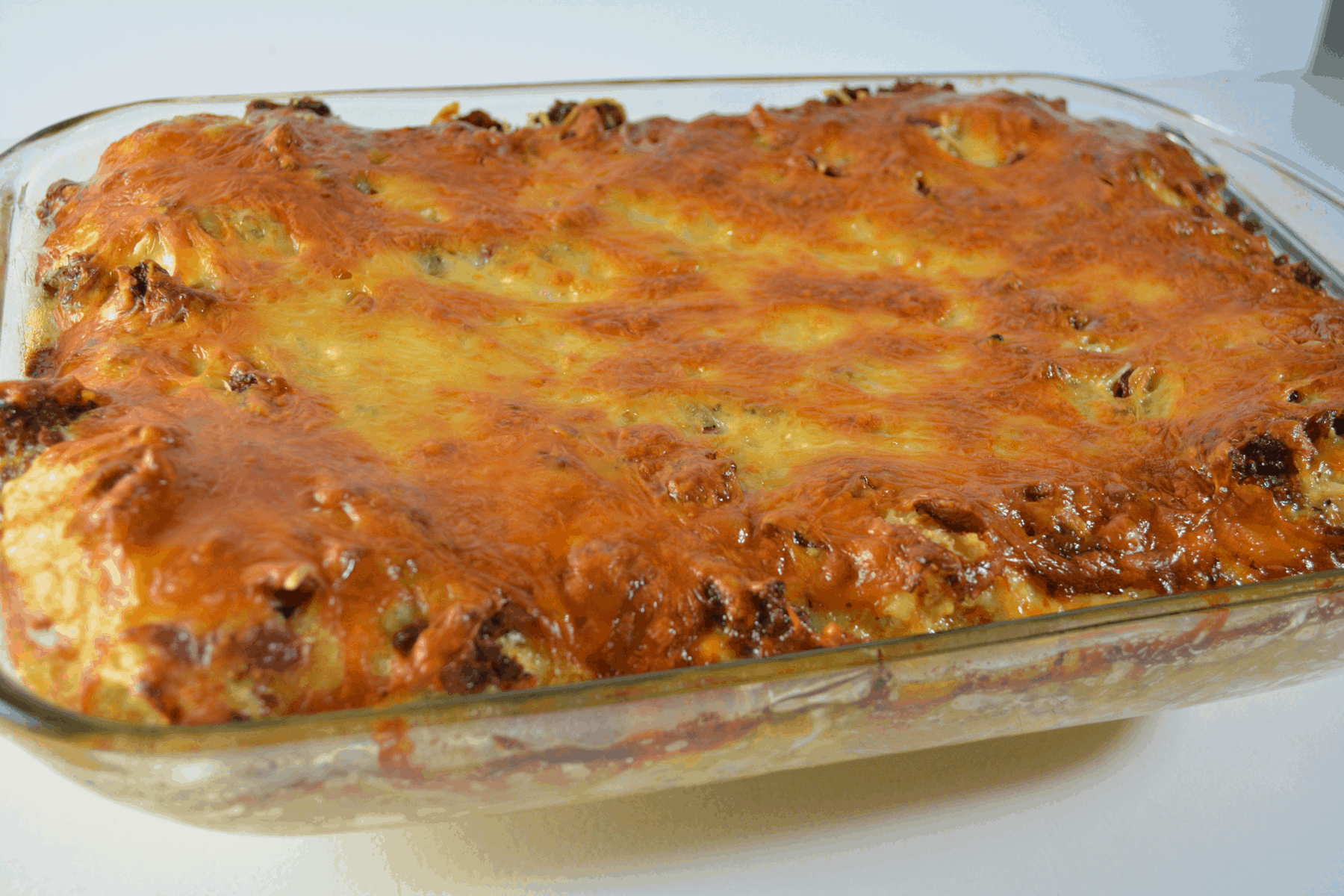 Can Breakfast Casserole Be Made 2 Days Ahead?
Yes, you can absolutely make this easy breakfast recipe up to 2 days in advance. Don't let it sit in the fridge any longer than 2 days because it will start to go bad and won't turn out as well.
How Do You Store Leftover Breakfast Sausage Croissant Bake?
Once you cook the breakfast sausage croissant bake allow it to cool down. Then once it's cooled, you can cover and place in the refrigerator for 3-4 days. If you see that this easy breakfast recipe becomes dried out, really watery or it has mold then it's gotten old and should be thrown away.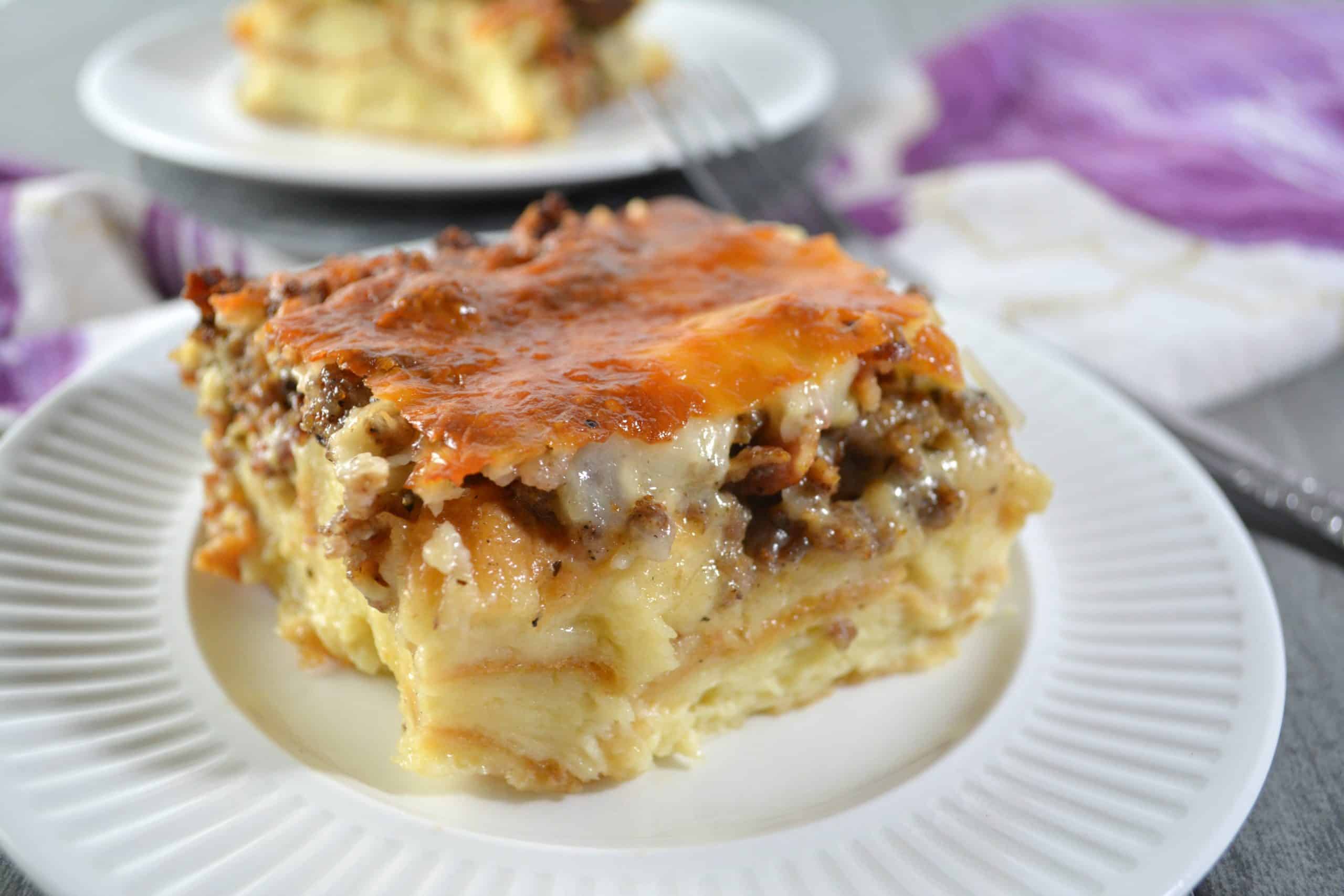 Can I Freeze This Easy Breakfast Recipe?
Yes, you can freeze this easy breakfast recipe. As always allow it to cool before freezing or you will have condensation built up, and it won't be fresh for very long. It will last around 1 month in the freezer. Make sure it's wrapped up in an airtight container. To serve, place it in the fridge overnight then warm up. Then heat up and eat this easy breakfast recipe.
How Do You Reheat This Breakfast Sausage Croissant Bake?
You should allow the croissant breakfast casserole to defrost if you have frozen it. Place it on a microwave-safe plate and cover with a damp paper towel. Warm it up for 1-2 minutes until it is hot in the center. It will warm up rather quickly, so keep an eye on it.
You could also warm up the croissant casserole in the oven. Heat the oven up to 350 degrees F. Allow it to bake for 10-15 minutes. Once it feels warm enough, you can serve it. It doesn't taste appetizing if it's cold in the center, so make sure it's hot before serving. 🙂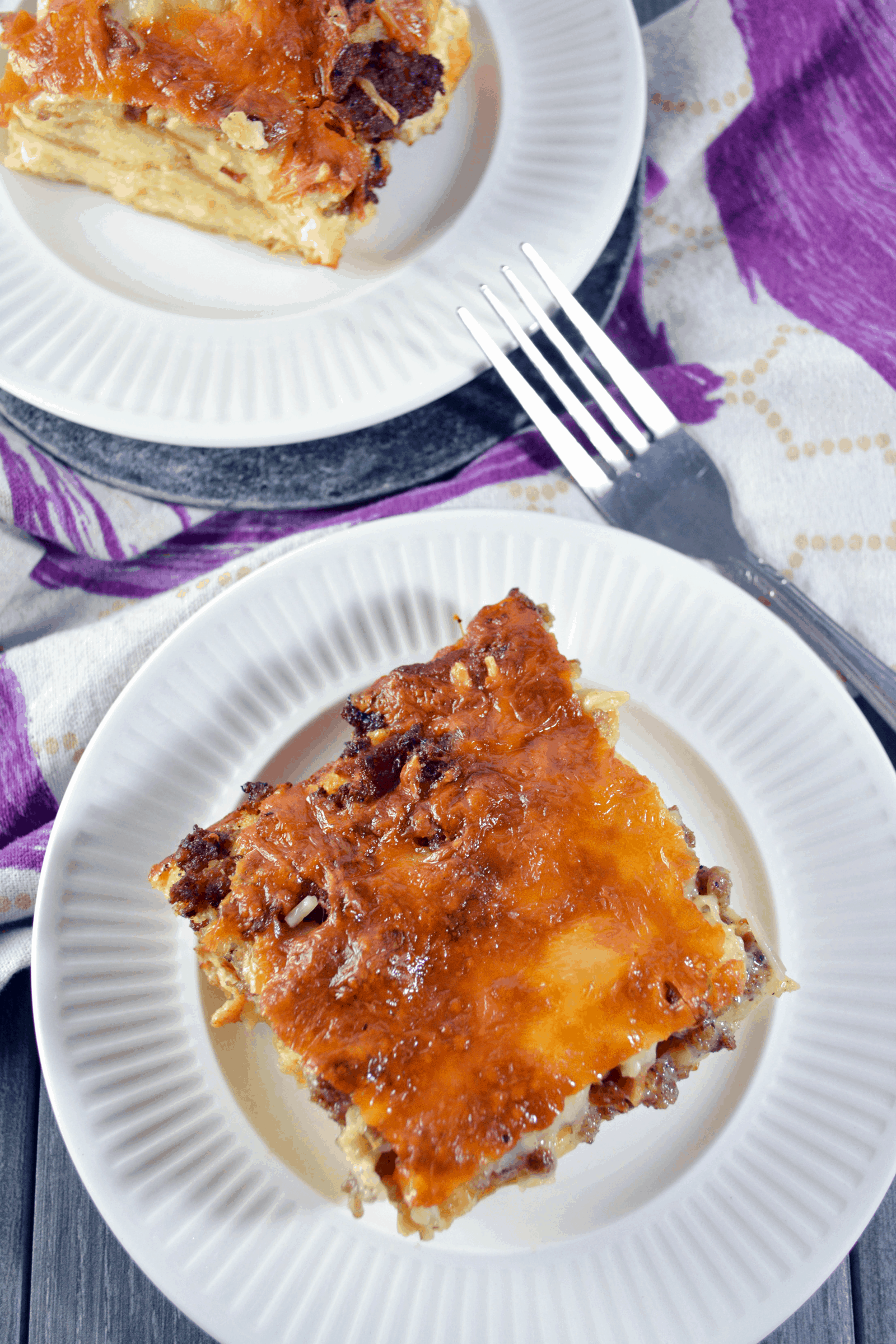 Now, remember to save this recipe on Pinterest for later 🙂

Pin this recipe now to remember it later
Meat and Cheese Croissant Overnight Breakfast Bake
Meat and Cheese Croissant Overnight Breakfast Casserole is a tasty way to jump start the day. Loaded with meat, croissants, eggs and more.
Ingredients
1

lb.

Pork breakfast sausage

8

oz.

Shredded white cheddar cheese
Want to save this recipe? Enter your email below and we'll send the recipe straight to your inbox!
NOTE: By saving this recipe, you agree to join our weekly recipes newsletter.
Instructions
Cook 1 pound of bacon until it is crispy, set it aside until it cools, and then crumble it into pieces.

Brown 1 pound of pork breakfast sausage over medium high heat. Add the crumbled bacon to the skillet.

Add 1 teaspoon of salt and ½ a teaspoon of basil to the meat mixture.

In a greased 9x13 baking dish, tear 8 croissants into bite sized pieces. Press them into the bottom of the pan to form one layer.

Pour the meat mixture over top of the croissants.

In a mixing bowl, combine 2 ¾ cups of milk and 1 cup of heavy cream.

Add in 5 beaten eggs, and whisk to combine them well.

Pour the liquid mixture over top of the meat and croissants in the baking dish.

Cover the dish with tin foil, and place it in the fridge to sit overnight.

In the morning, uncover the casserole dish, and sprinkle 1 cup of parmesan cheese over the mixture.

Top the breakfast bake with 8 ounces of shredded white cheddar, and bake it in the oven for 45-55 minutes until it is cooked through and the liquid has been absorbed. If you need additional cooking time, and the top has begun to get to brown, you can place tin foil over the top to continue cooking the bottom.
Follow me on Pinterest for daily delicious recipes!
Even More Recipes To Try:
Instant Pot Apple Pepper Jelly Recipe – This jelly would be perfect to serve with crackers!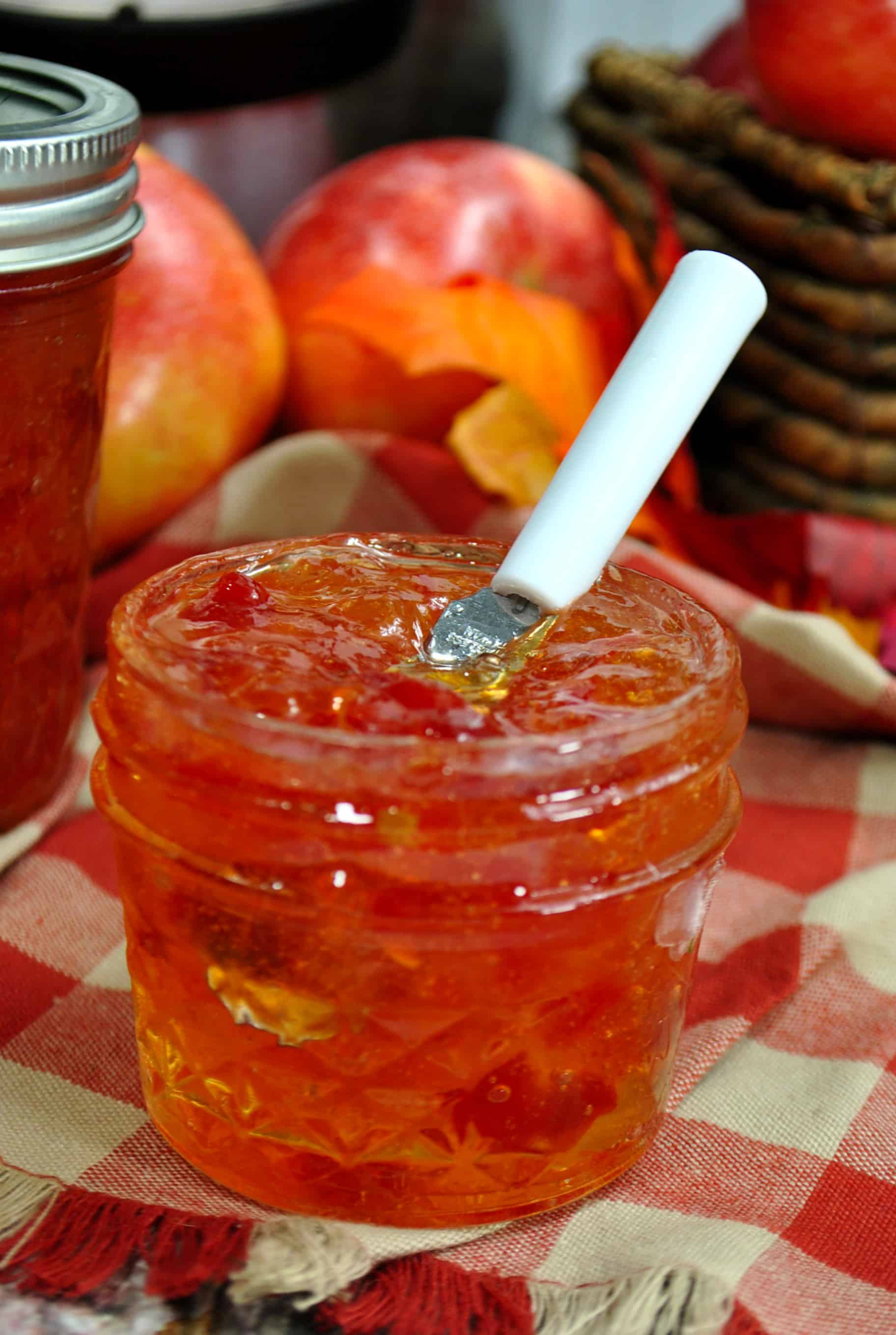 Three Cheese Pizza Nachos with Pepperoni – With this easy nachos recipe, you can make Italian nachos at home whenever the craving hits.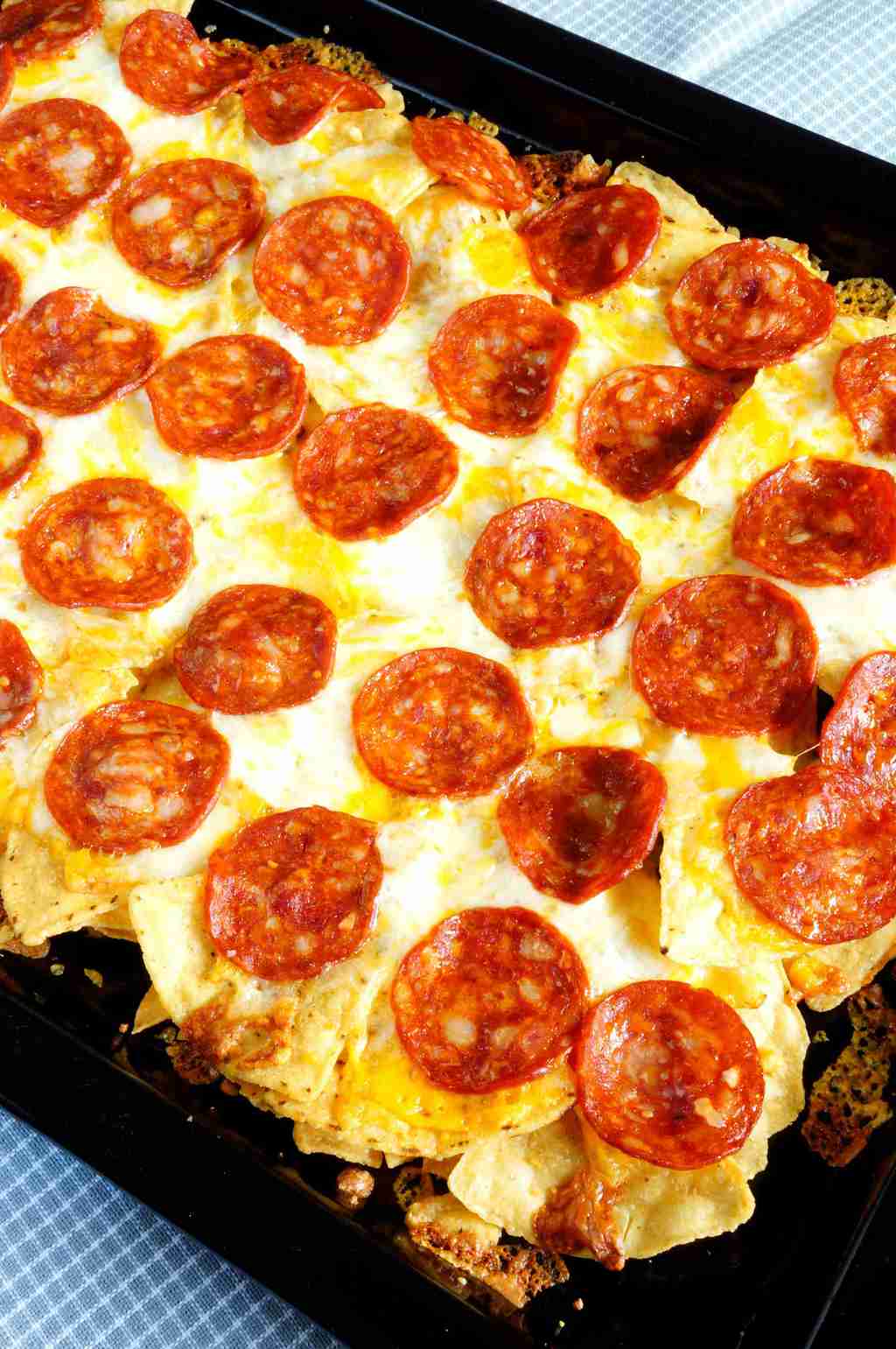 Gooey Bacon Cheese Dip Recipe – Want the best bacon cheese dip recipe? Wait until you try Gooey Bacon Cheese Dip Recipe!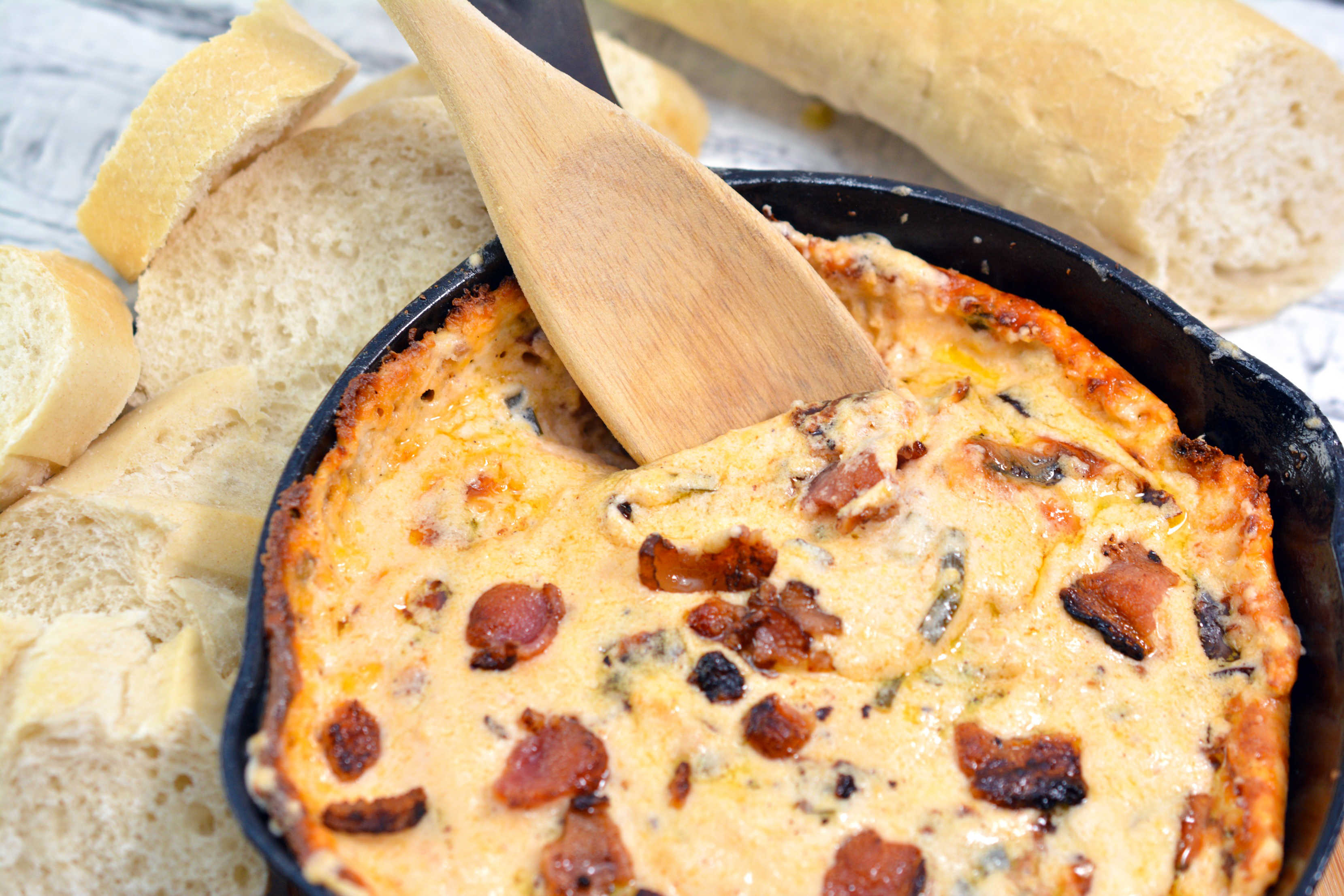 Buffalo Shrimp Recipe – These Baked Buffalo Shrimp are a quick and easy shrimp appetizer that's perfect for holiday parties, game days or even a light dinner!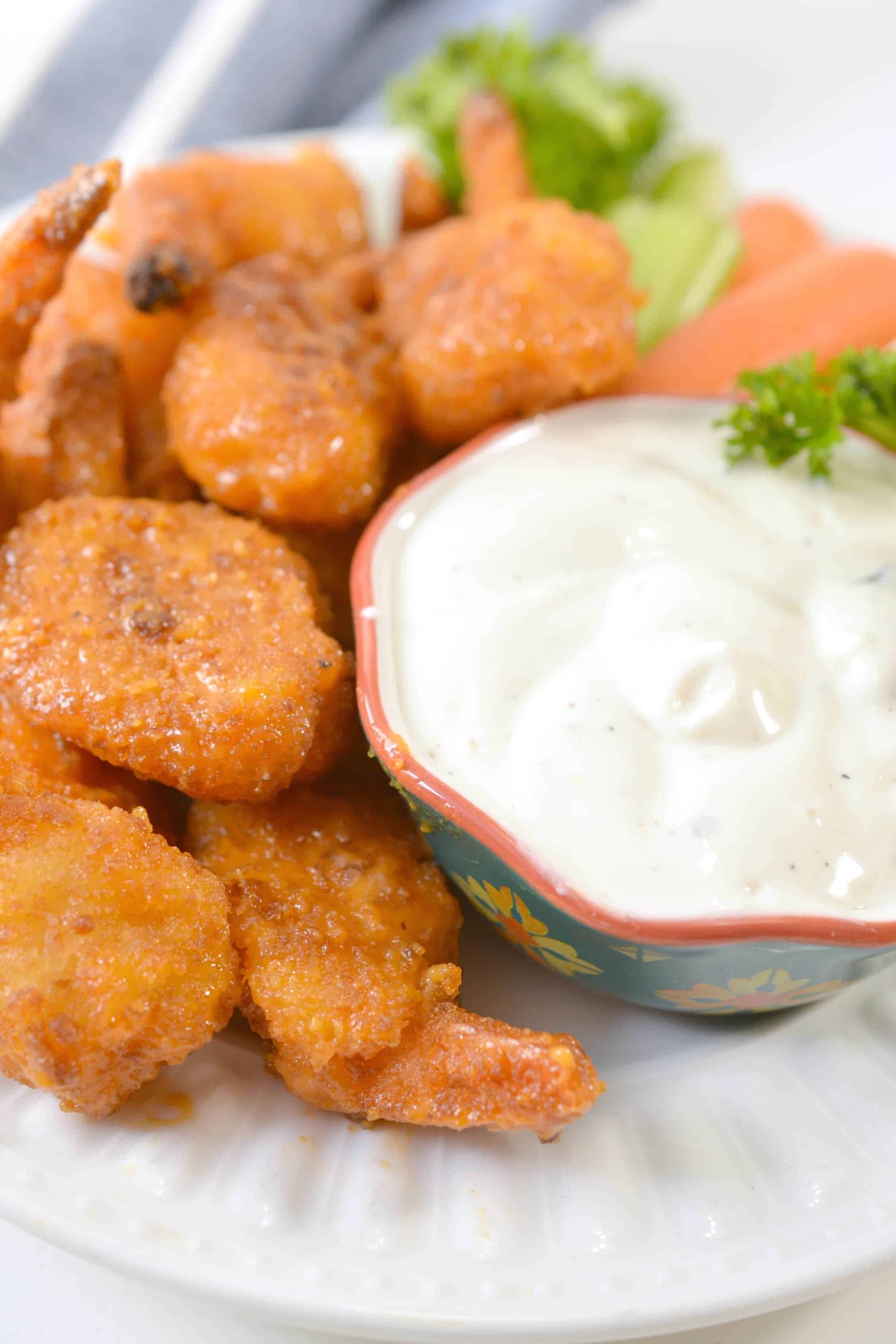 Mini Pizza Bites Pretzels – Love pizza pretzel bites and want to make them at home? This is the perfect recipe.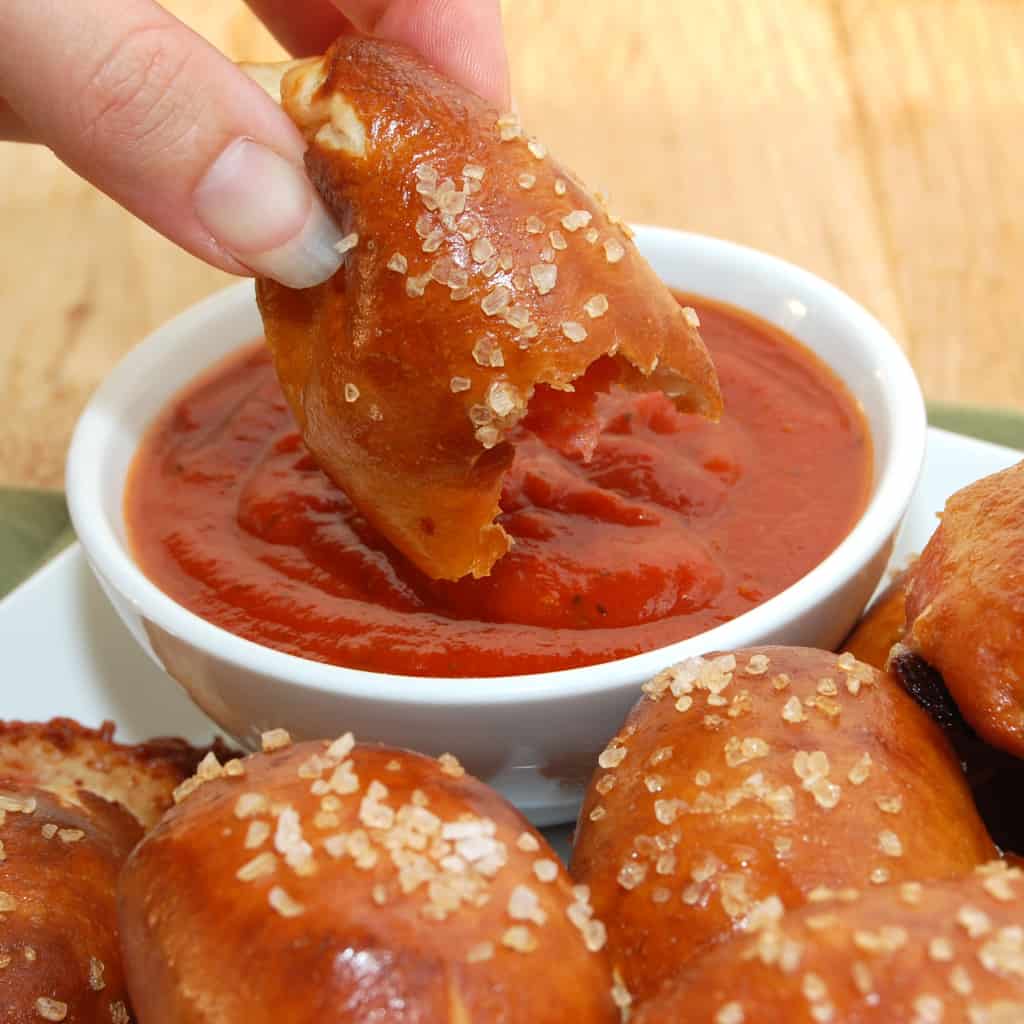 Get new recipes weekly plus our FREE ebook!