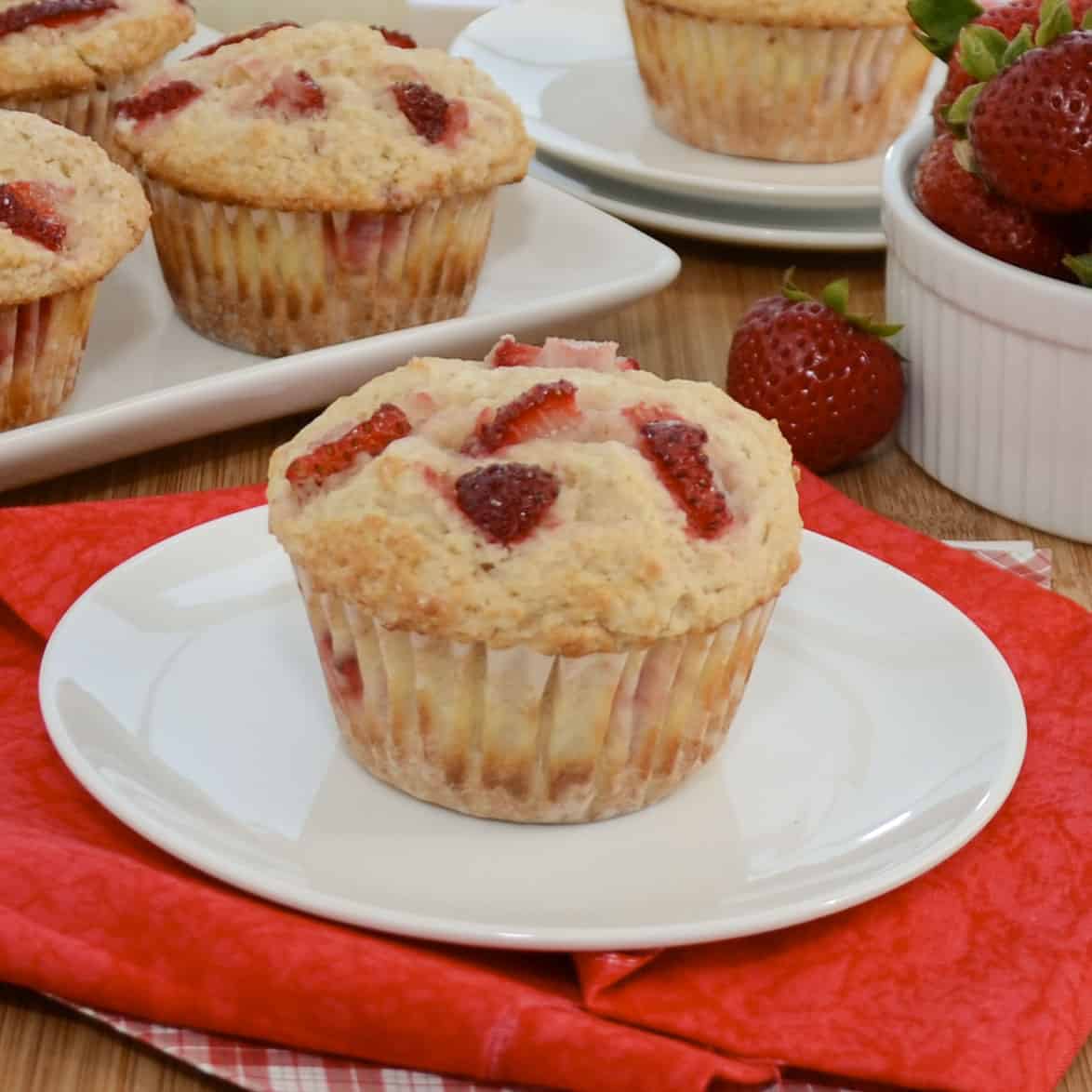 Strawberry Cream Muffins are soft, delicious, and have fresh strawberries folded inside to give you a special treat. These strawberry muffins will leave you yearning for the next bite. You can't resist the flavor of these comforting homemade strawberry muffins.
Scroll to bottom for printable recipe card.
Strawberry Cream Muffins
Moist and tender muffins studded with fresh strawberries and a delicious cream cheese filling baked right in the middle. One of my readers, Elisabeth, told me about this recipe back in May, and I have been waiting for the perfect time to make them. She exclaimed that "they are the best muffin I ever put in my mouth!" With that kind of review, I knew I just had to make them! As soon as I saw that these muffins had a cream cheese middle, I was sold! I made these the morning of our big 4th of July cookout. They were a huge hit and devoured within minutes of coming out of the oven. 🙂
I am pretty sure you have figured out by now that I am legit obsessed with MUFFINS! Can you blame me? They make the perfect snack, breakfast, brunch, or when you are heading out the door. We enjoy taking the strawberry muffins on road trips so we can avoid spending money on food at every restroom break. Plus, they are great for neighbors and friends that need a little thoughtful gift for the holidays. When you need something easy for your kids to eat that doesn't make a huge mess, reach for these strawberry muffins. You won't regret it, I promise.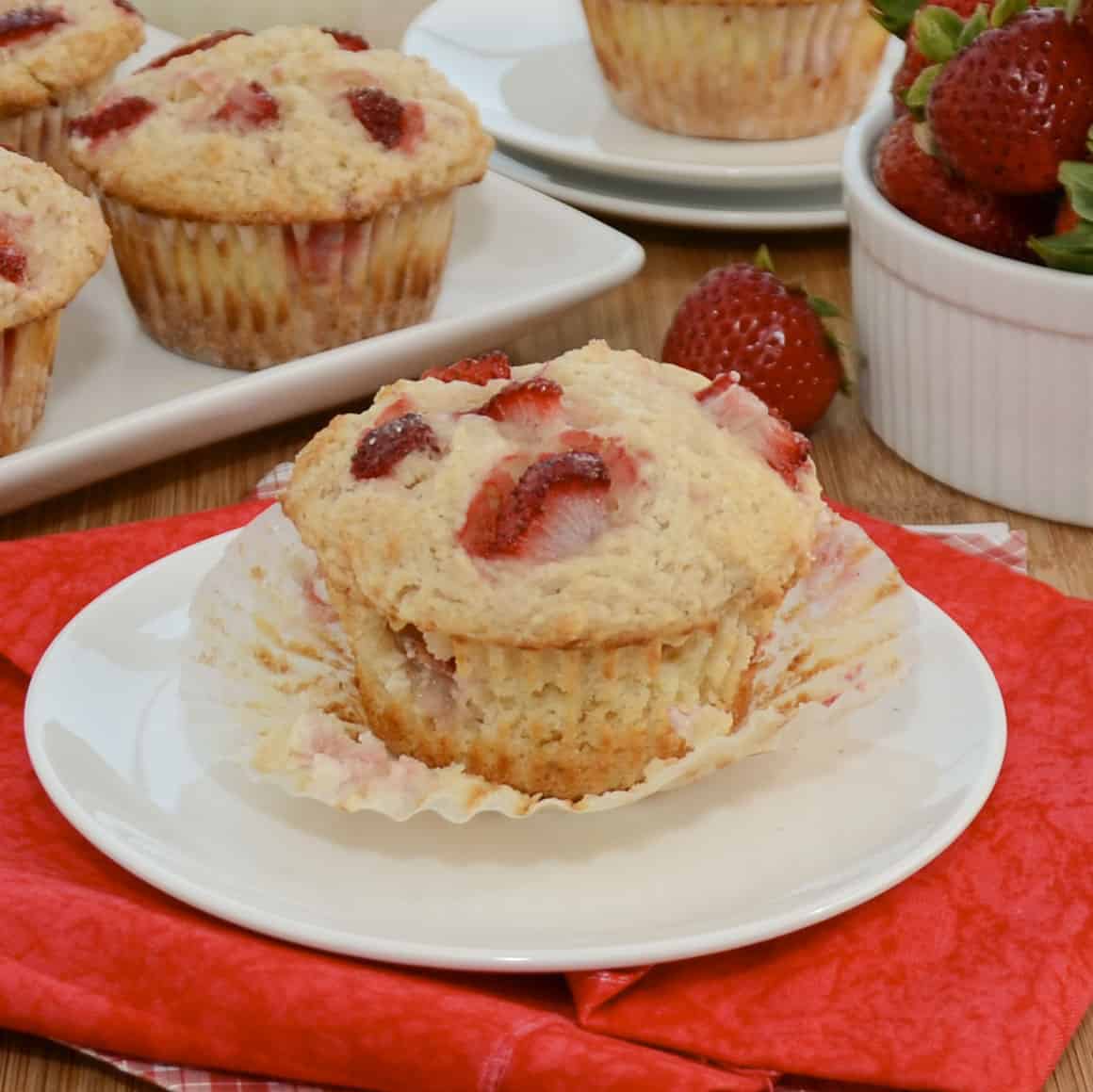 How to Pick Ripe Strawberries
Nothing is more frustrating than biting into some unripe strawberries. They don't have that natural sweetness we all crave. Instead, shop for strawberries that are bright red. They will give you the best flavor. Keep in mind that after a strawberry is picked, it won't continue to ripen as some fruits do. Plus, you need to pick ones that are plump and don't have any mold growing on them.
Can I Use Frozen Strawberries In This Recipe
Sure! It's not a problem at all to swap out fresh strawberries for frozen strawberries. Sometimes our market has a HUGE deal on frozen fruit, and I always stock up. This means that I have them handy to add to all my favorite baked goods. So go ahead and make the swap; it won't hurt a thing.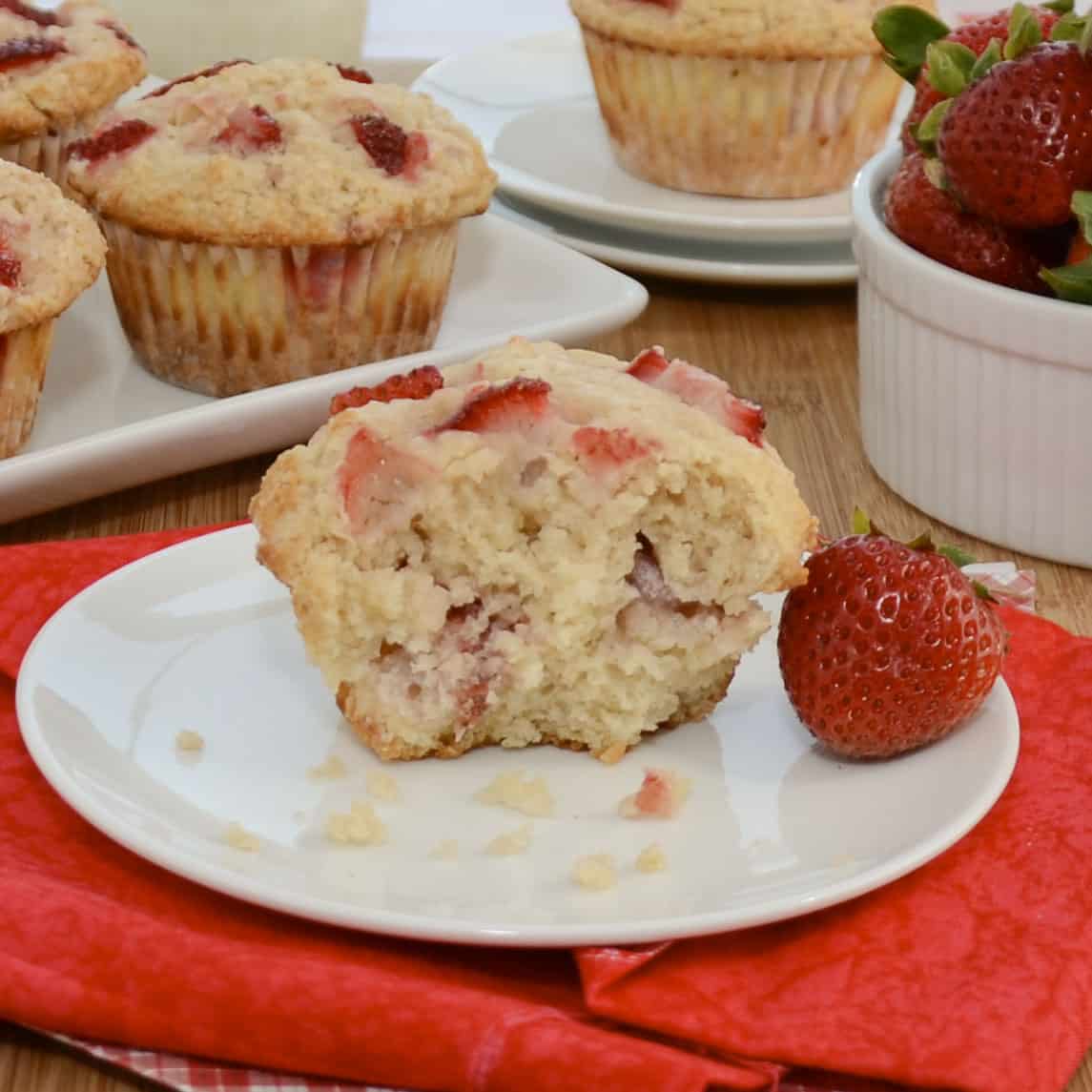 How To Store Fruit Muffins
After the homemade strawberry muffins have had plenty of time to cool down, put them inside of a food storage container. They need to be kept away from moisture and heat. Also, make sure that they are alright too. They should never sit in direct sunlight, or condensation will form, and they will be soggy.
Can I add chocolate chips to muffins?
Sure! Chocolate and strawberries go hand in hand, so it makes sense to add some in. I recommend adding in your favorite chocolate chips or chop up some chocolate pieces. White chocolate, milk chocolate, semi-sweet, and dark will all be pretty delicious. Keep in mind milk may be a little bit too sweet for some people, but I am always a fan.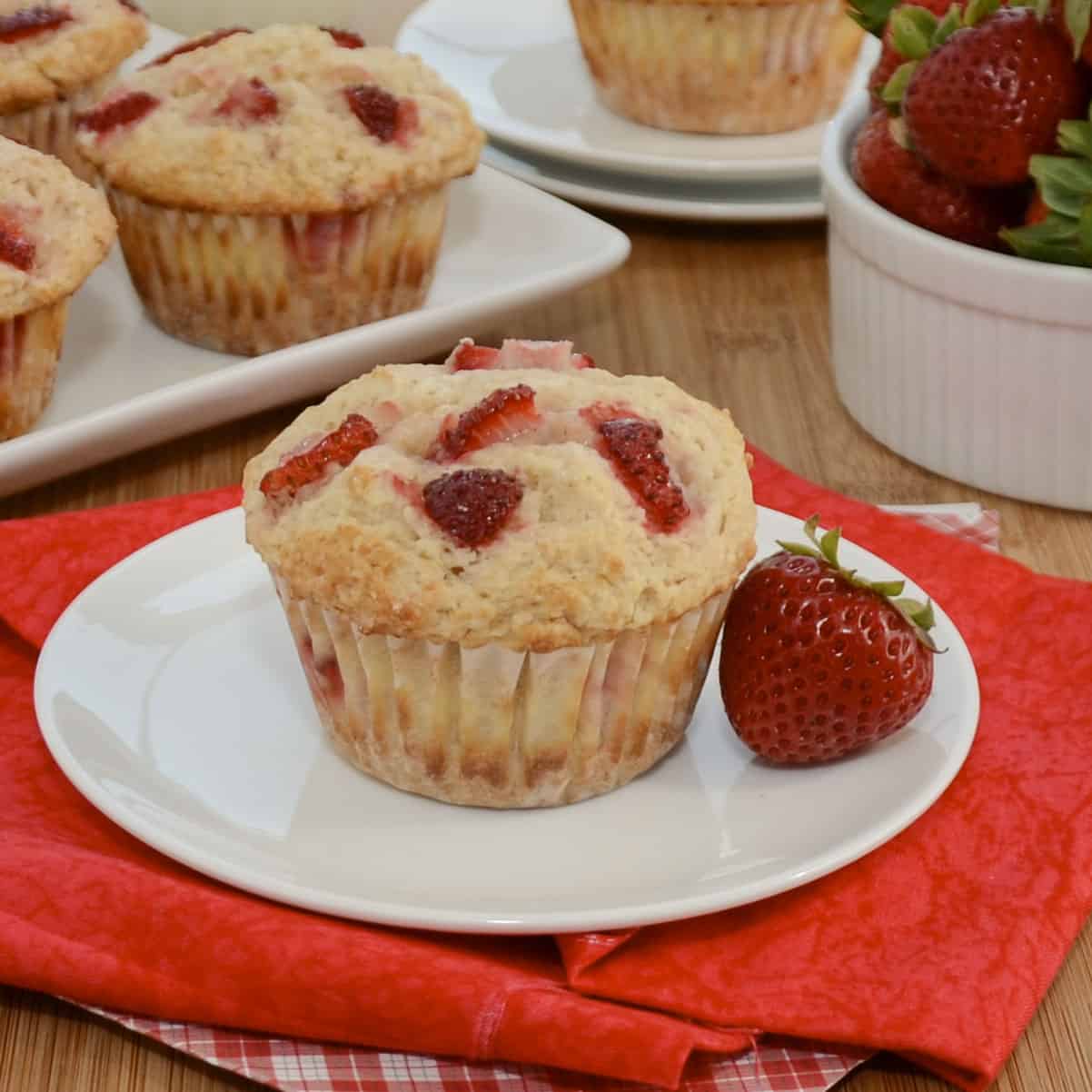 Ingredients
The ingredients for these strawberry cream muffins are pretty easy to work with. Once you sink your teeth into a fresh-baked batch of muffins, you will be hooked for life!
Room temperature cream cheese
Egg
Granulated white sugar
Pure vanilla extract
All purpose flour
Granulated sugar
Baking powder
Salt
Ground cinnamon
Room temperature buttermilk
Melted unsalted butter
Vanilla extract
Almond extract
Large eggs, room temperature
Fresh strawberries, chopped, divided
Turbinado sugar
How to Make Strawberry Cream Muffins
Here are the easy to follow steps to making your own batch of strawberry muffins. Take a look, and you will see how quickly they come together.
First Step: Turn on the oven to 400 degrees and add some muffin liners to a muffin pan. If you'd rather use nonstick spray instead of muffin liners, that is fine as well.
Second Step: Combine the vanilla, cream cheese, 1/3 cup of sugar, and 1/2 beaten egg until it's mixed well and there aren't any lumps remaining.
Third Step: Mix the all purpose flour, baking powder, salt, and sugar together in a large bowl. Combine with a whisk and set aside.
Fourth Step: Put the butter, almond extract, vanilla extract, buttermilk, and eggs together in a small bowl. Mix and pour the liquid ingredients into the flour mixture. Stir until just combined. Don't overmix.
Fifth Step: Put strawberry muffin batter into the muffin cups. Fill them up halfway. Then add half of the strawberries and put them in the muffin tins. Add the cream cheese mixture to the muffins and add the rest of the strawberries on top. Add the remaining batter so that you don't see the cream cheese or strawberry layers. Top with a few more sliced fresh strawberries.
Sixth Step: Add some of the turbinado sugar and bake the strawberry cream muffins for 16-18 minutes or until you can insert a toothpick, and it comes out clean.
Seventh Step: Let the muffins sit in the muffin tin for 5 minutes and place on a wire rack to cool for 5 minutes.
Then serve and enjoy!
Now, remember to save this recipe on Pinterest for later 🙂
Pin this recipe now to remember it later
Strawberries 'n Cream Muffins
Strawberry Cream Muffins are soft, delicious, and have fresh strawberries folded inside to give you a special treat. These strawberry muffins will leave you yearning for the next bite. You can't resist the flavor of these comforting homemade strawberry muffins.
Ingredients
4

ounces

cream cheese

,

room temperature

1/2

egg

,

about 1 1/2 tablespoons beaten

1/4

teaspoon

vanilla extract

2 ½

teaspoon

baking powder

1/2

teaspoon

ground cinnamon

1

cup

buttermilk

,

room temperature

1/2

cup

unsalted butter

,

melted

1 ½

teaspoon

vanilla extract

1/8

teaspoon

almond extract

2

large eggs

,

room temperature

1

cup

fresh strawberries

,

chopped, divided
Want to save this recipe? Enter your email below and we'll send the recipe straight to your inbox!
NOTE: By saving this recipe, you agree to join our weekly recipes newsletter.
Instructions
Preheat the oven to 400 degrees F. Line muffin cups with muffin liners or spray with nonstick cooking spray.

In a small bowl, mix together the cream cheese, 1/3 cup sugar, 1/2 beaten egg, and 1/4 teaspoon vanilla extract until thoroughly combined and no lumps remain.

In a large bowl, whisk together the flour, sugar, baking powder and salt; set aside.

In a small bowl, whisk together the butter, vanilla extract, almond extract, buttermilk and eggs. Pour the liquid ingredients into the dry ingredients, stirring just to combine.

Fill each muffin cup halfway with batter. Evenly divide half of the strawberries between each muffin cup. Evenly divide the cream cheese mixture among the muffin cups on top of the strawberries. Top the muffins evenly with remaining batter so strawberries and cream cheese mixture are covered. Top the muffins with remaining strawberries.

Sprinkle tops of muffins with turbinado sugar and bake until toothpick inserted in the center comes out with a few moist crumbs attached, about 16 to 18 minutes.

Cool muffins in muffin tin for 5 minutes, then transfer to wire rack and cool 5 minutes before serving.
Follow me on Pinterest for daily delicious recipes!
If you are like me and practically eat muffins every day, then you need some awesome muffin recipes on hand. Check these out:
Banana Nutella Muffins – They are rich, decadent, and almost taste like you are eating a fancy dessert instead of breakfast. That's my kind of muffin!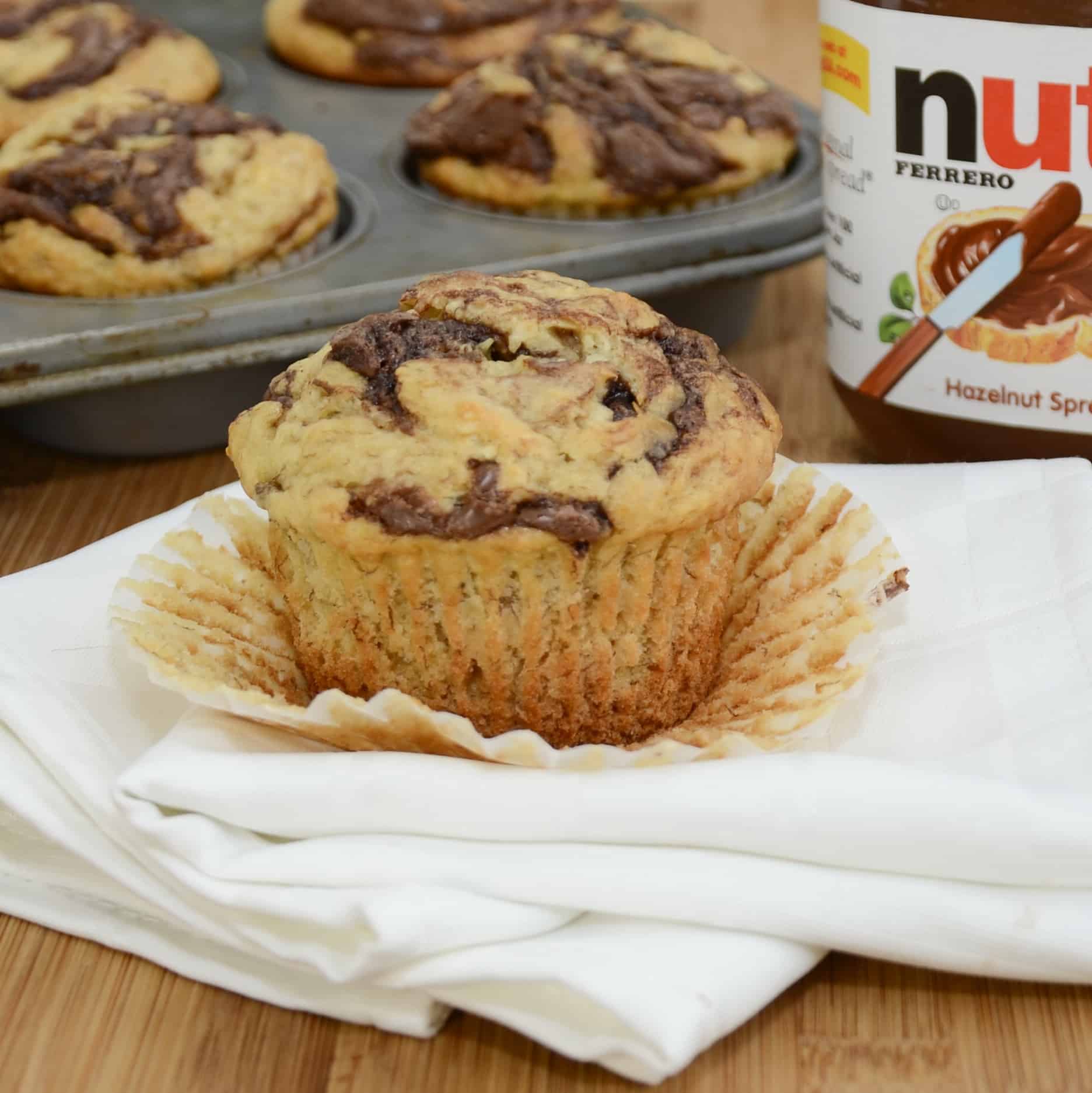 Easy Pumpkin Muffins with Crumb Topping – The topping on these muffins is the BOMB! They are so fluffy and delicious, you can't help but go back for another one.
Cheddar Cheese Muffins – If you are on the hunt for the perfect savory muffin, you are in luck. These cheddar cheese muffins are so tasty and go with lots of meals.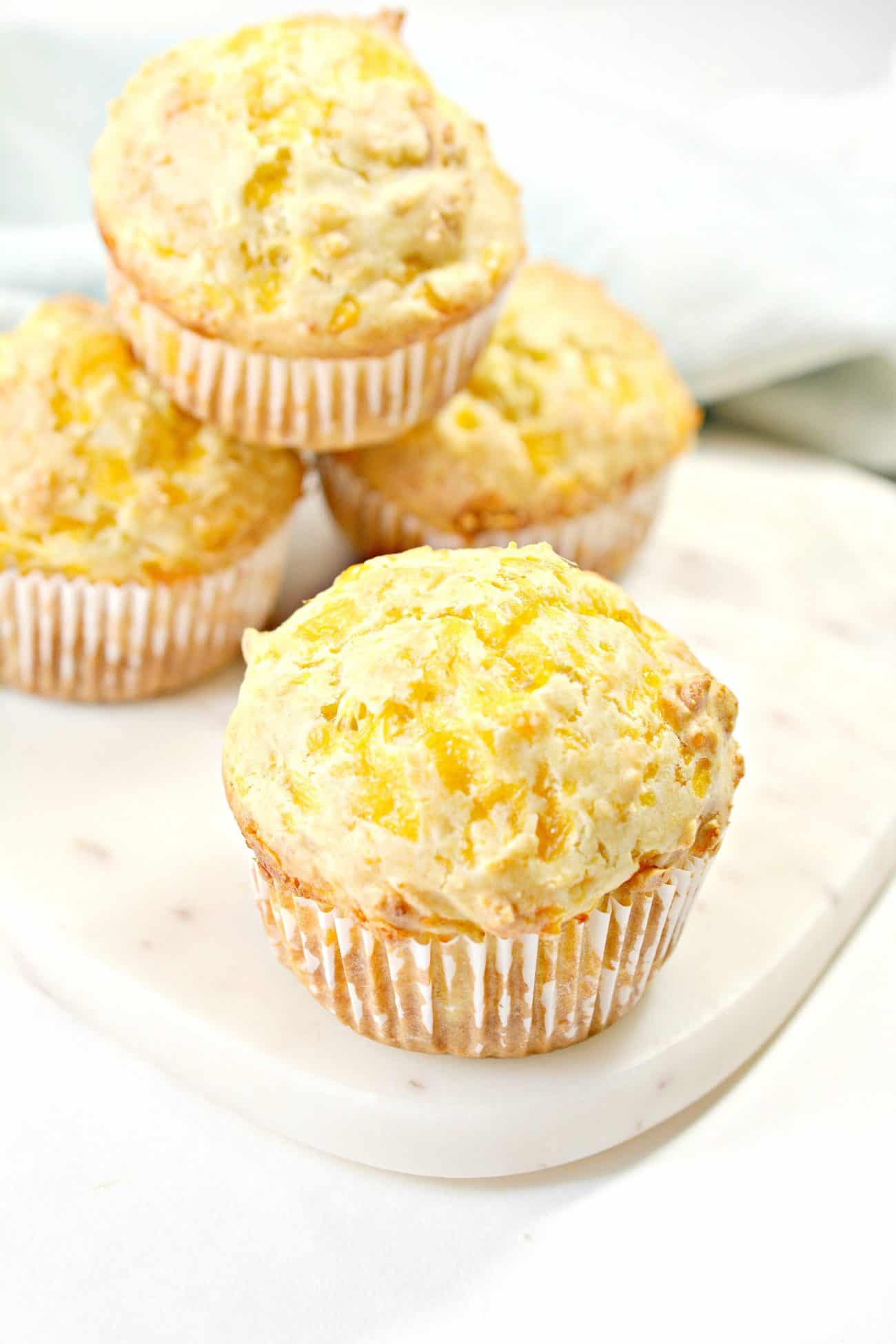 French Toast Muffins – We are always up for eating French toast for breakfast, so I knew transforming my favorite flavors into muffins was going to be a hit. It turned out fabulous.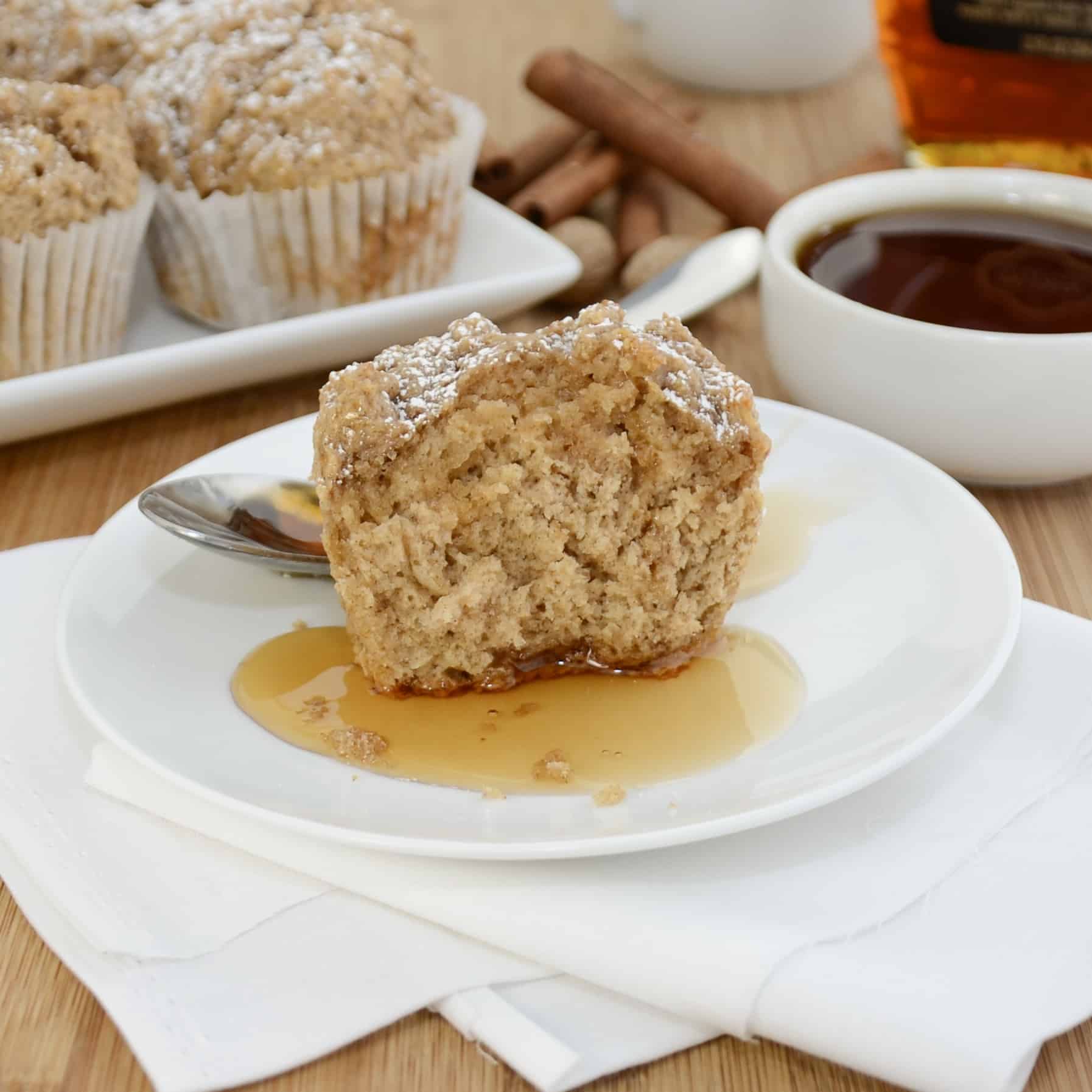 Get new recipes weekly plus our FREE ebook!