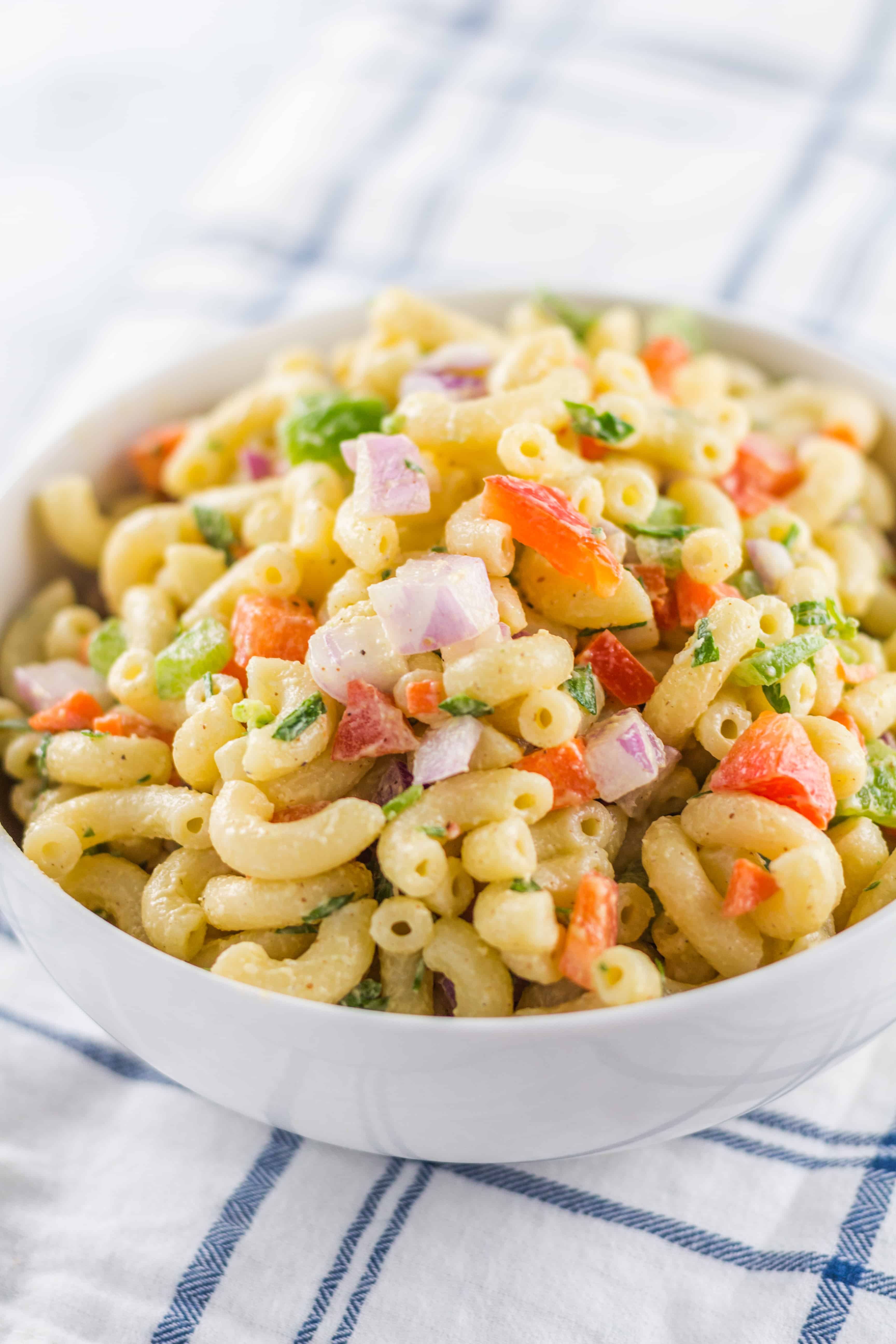 This is the best macaroni salad recipe ever! Every bite of this cold pasta salad is perfectly seasoned with dijon mustard and mayonnaise sauce. It's a great side dish to serve with any dinner, potlucks, or barbecues.
I was inspired to make this mac salad recipe because we usually buy the boxed stuff. After eating it so many times, we just got tired of it and wanted to try something new. I figured that it couldn't be that hard to throw my own together, and after a few tries, I got it right. This macaroni salad recipe is the exact refreshing summer side dish we were craving.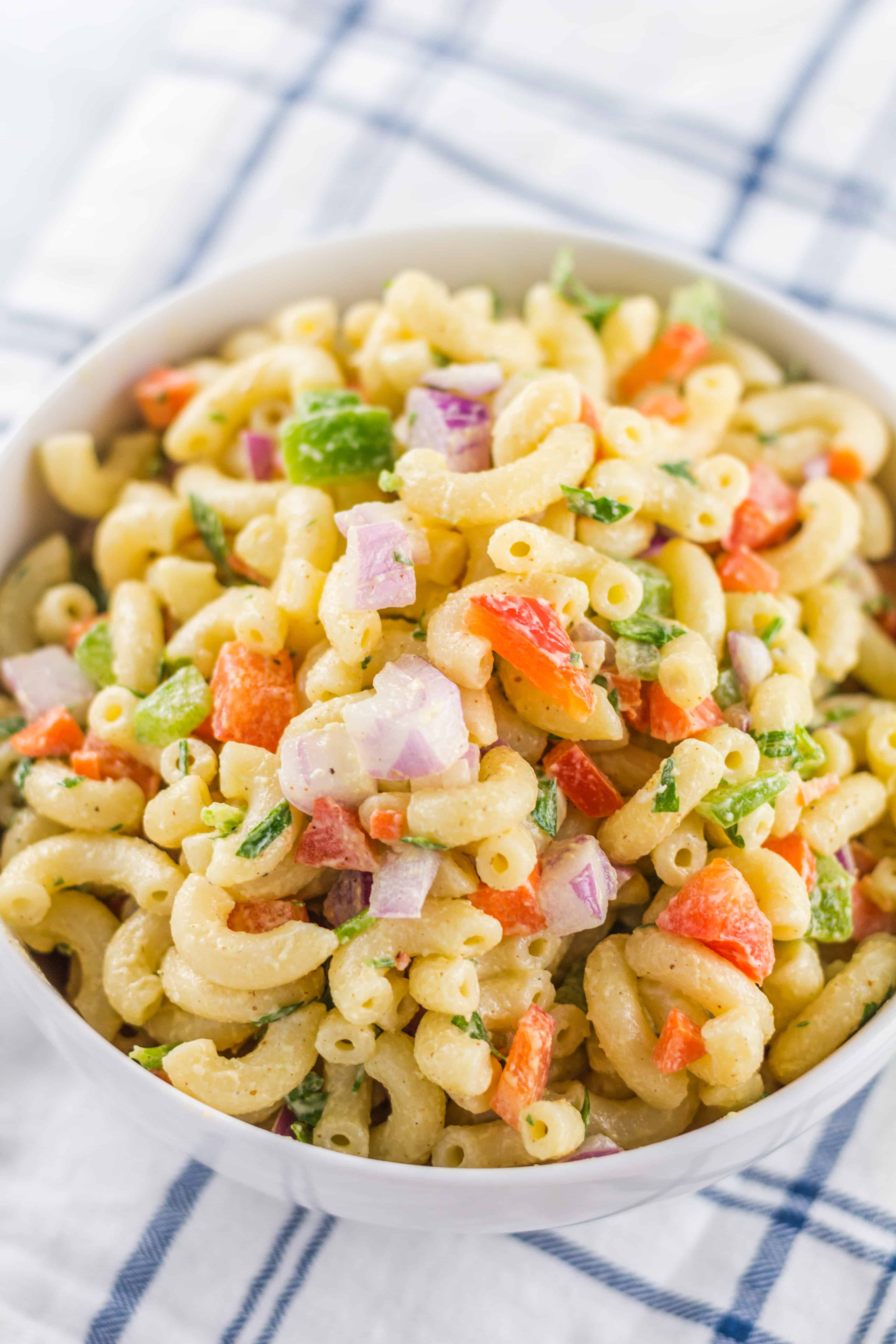 Scroll to bottom for printable recipe card.
How To Make Macaroni Salad
Cool down after a scorching hot day with some refreshing cold pasta salad. I am confident once you get a taste of this yummy dish, you are going to want to add it to your regular menu. Here are the super quick and easy instructions.
First Step: Chop or dice the red onion, bell peppers, and carrots. Thinly chop the fresh parsley.
Second Step: Follow the directions on the macaroni noodles package. I prefer to make the noodles al dente, so it doesn't get slimy or mushy.
Third Step: Place the macaroni in a bowl to cool down.
Fourth Step: Once the macaroni is cool, add in the parsley, carrots, bell peppers, red onions, dijon mustard, mayonnaise, salt, and pepper. Mix all the ingredients well and serve once it's cold.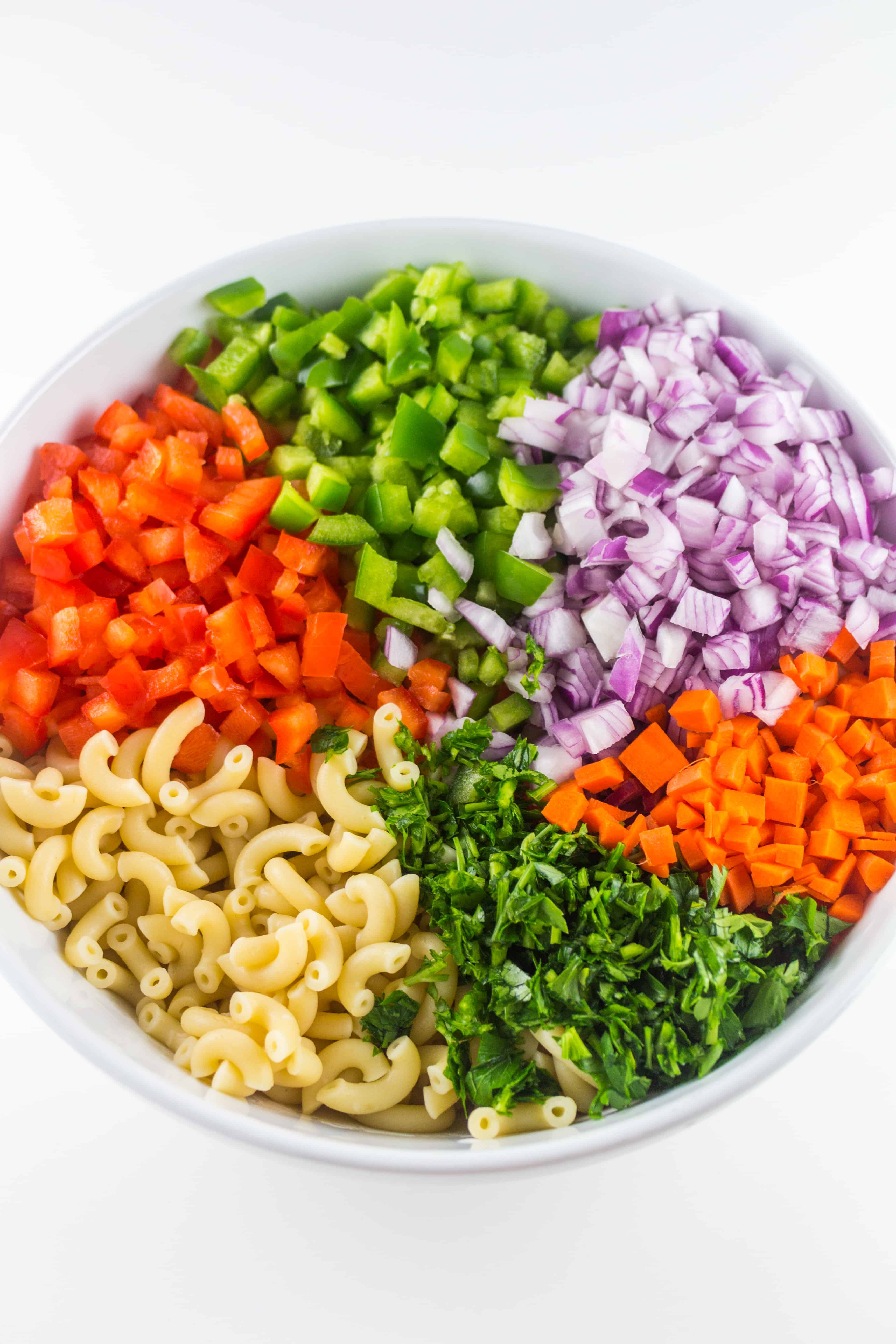 Cold Pasta Salad Variations
This is the best pasta salad because the way it's made is so easy and you can do a lot with it. It's one of those recipes you can toss all kind of things in, and it will be fabulous. Here are some of my tried and true ideas to try:
Chicken – Dice up some chicken breast and add into the mac salad recipe and you can have a complete meal.
Tomatoes – They are especially yummy when they are homegrown and fresh out of the garden. Either way, dice them up and toss them in once the salad is cold.
Olives – I crave that tangy flavor of black or green olives. Use a dicer and chop them up fine or add them whole, whichever you prefer.
Cheese – Adding come diced Colby Jack cheese gives a great flavor and texture to the dish. Another cheese option is to sprinkle some freshly grated parmesan on top right before serving. YUM!
Pepperoni – Either quarter full-sized pieces of pepperoni or add mini pepperonis to the easy pasta salad.
Ham – I like to chop it up into really small pieces and mix in every once in a while. It tastes fabulous, and I can eat it for a light lunch.
Eggs – Looking to add more protein to your diet? Toss in a few chopped hardboiled eggs. They make it nice and creamy too.
Cayenne Pepper – If you like a subtle heat, sprinkle a little bit of cayenne pepper in the classic pasta salad.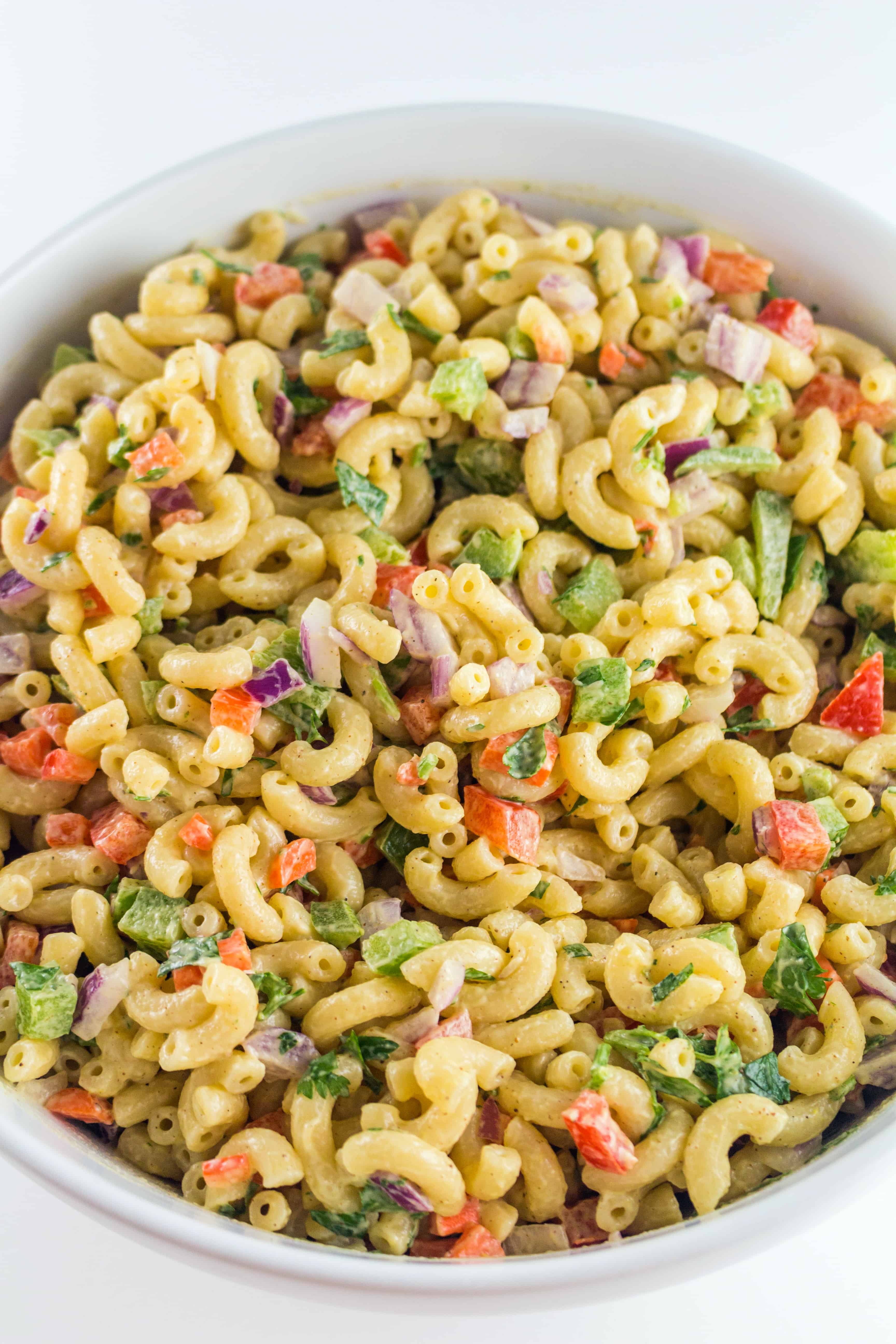 Do You Rinse Macaroni For Macaroni Salad?
In general, if you should rinse pasta is going to depend on the type of dish you are making. When making cold pasta salad like this recipe, it's fine to rinse the noodles with cold water. This will actually help cool the noodles down much quicker than letting them sit. If you are making something that is intended to be served hot, like goulash for example, then you should rinse the macaroni. The reason being that it simply cools the noodles off, which is the opposite of what you are needing.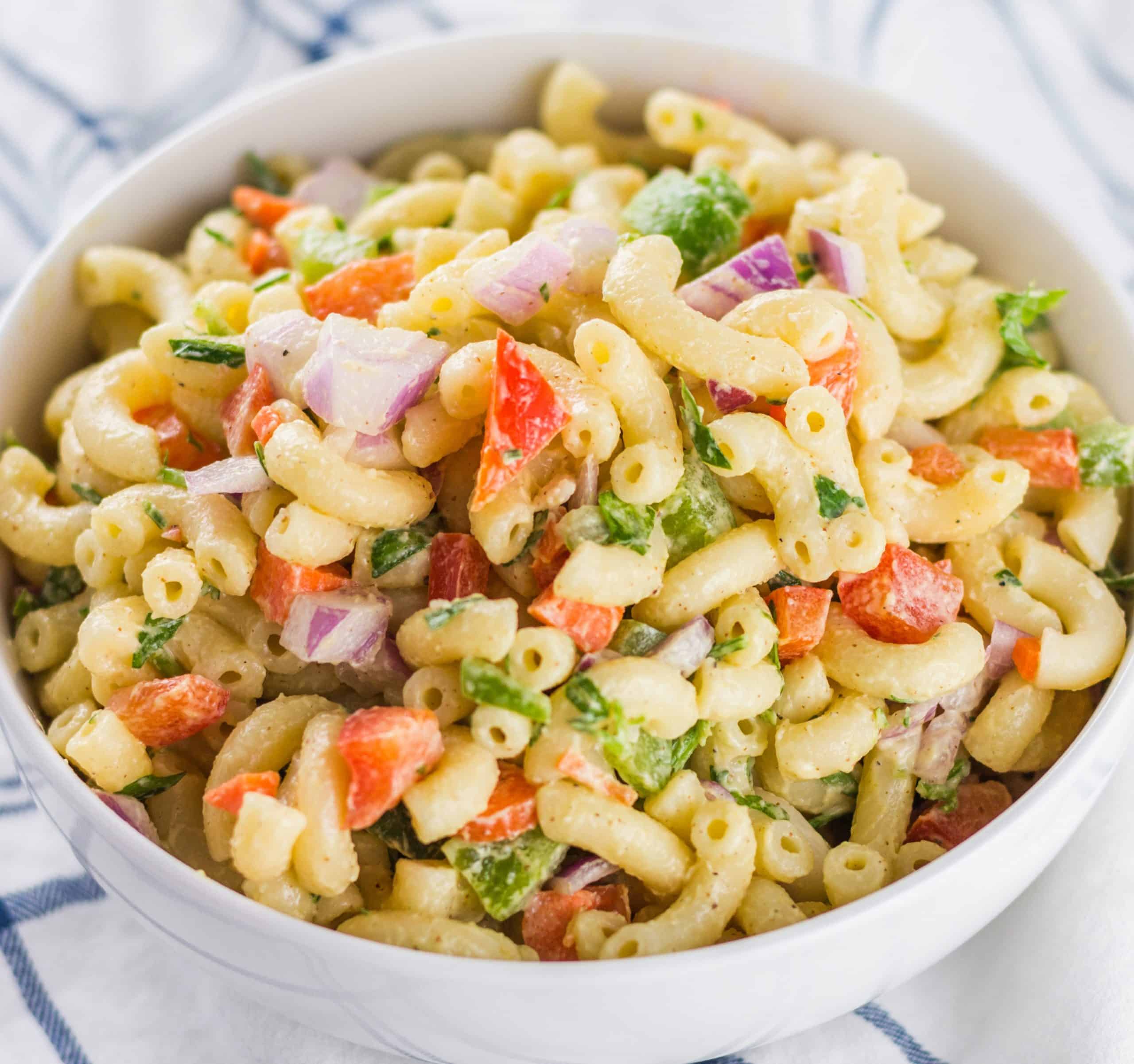 Can I Use Different Noodles?
Yes, you can use different pasta noodles if you want to. I happened to have the macaroni noodles on hand when I was experimenting and loved it. You could also try some other varieties like:
Spaghetti Noodles – If you haven't had cold spaghetti noodles, you have been missing out. Give them a try because they are amazing.
Bow Tie Pasta – This adds a beautiful look to the summer side dish.
Rotini – Is is another excellent option to try out. It's so good and goes well with the sauce in this recipe.
Fusili – Adds a fun look and tastes lovely too.
Is Macaroni Salad Vegan?
While not all macaroni salad is vegan, mine happens to be. I used vegan mayonnaise for this recipe. If you don't tolerate regular mayonnaise, you can use a vegan version as I did. Or if you love regular mayonnaise, then you can use that as well.
How Do You Keep Pasta Salad From Drying Out?
The best defense to prevent pasta from being dry is not to overcook it. If you let the noodles boil too long, they will become mushy, and they will absorb all the dressing quickly. Another thing I like to do is add a tablespoon of olive oil to the cooked noodles and stir them around well. This will keep them from sticking to each other and keep them nice and moist.
How Do You Store This Summer Side Dish?
You should store the leftover homemade pasta salad in the refrigerator in an airtight container. On average, it will last around 3-5 days as long as it stays cold. You can serve it at room temperature, but it should never sit out longer than 2 hours of the mayonnaise will go bad. Then bacteria will grow rapidly, and you could become ill. This is especially true if you use regular mayonnaise.
How Will I Know If Pasta Salad Has Gone Bad?
If you bite into some pasta salad and it tastes strange, there is a good possibility that it has gone bad. You should throw it out if that ever happens. When the pasta starts to go bad, it will end up super dried out or extremely watery. Either way, it's an indication things aren't right. If there is a pungent odor or you happen to notice mold growing, then you should for sure get rid of it. Never eat old food because it can make you very ill.
Enjoy!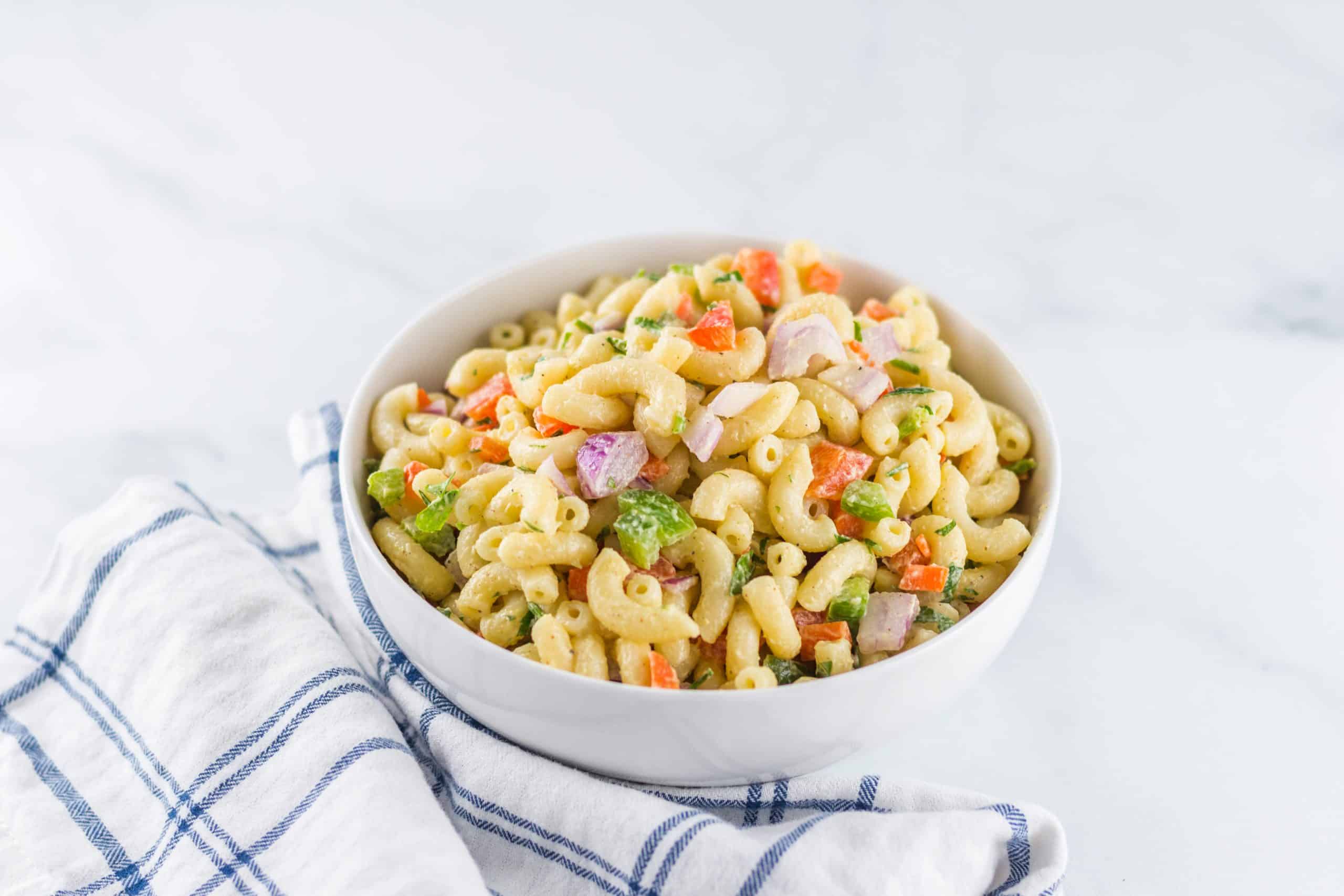 Now, remember to save this recipe on Pinterest for later 🙂

Pin this recipe now to remember it later
The Best Macaroni Salad Recipe
The Best Macaroni Salad Recipe! A cold mac salad recipe that will be great for a side dish for dinner, potlucks, or even a summer cookout.
Ingredients
¾

cup

Mayonnaise

,

can use vegan mayonnaise
can use vegan mayonnaise
1

tbsp.

Spicy Dijon Mustard

Salt and Pepper

,

to taste
Want to save this recipe? Enter your email below and we'll send the recipe straight to your inbox!
NOTE: By saving this recipe, you agree to join our weekly recipes newsletter.
Instructions
Cook macaroni to al dente according to package directions, drain and rinse. Transfer to large bowl, let cool.

While macaroni cooks and cools, chop red onion, bell peppers, parsley and dice carrot, set aside.

Add red onion, bell peppers, parsley, carrot, mayonnaise, mustard and salt and pepper to macaroni. Mix well, refrigerate until cool. Serve cold or at room temperature.
Follow me on Pinterest for daily delicious recipes!
Check Out These Other Side Dish Recipes
Cauliflower Mac and Cheese – Once you bite into the cheesy goodness of the cauliflower cheese bake, you are going to forget all about the old stuff!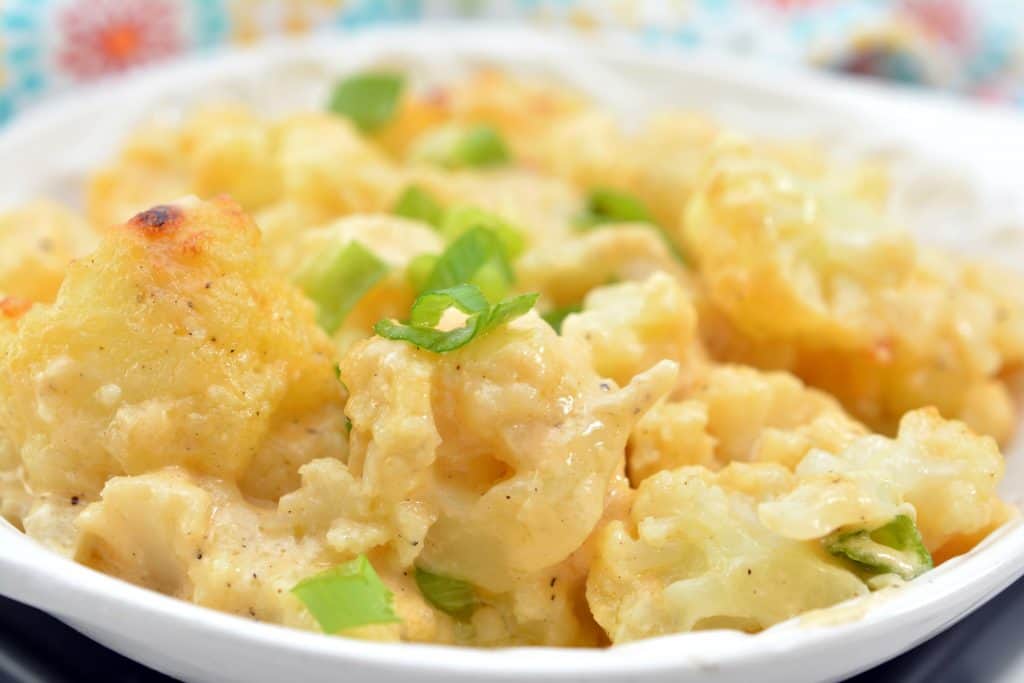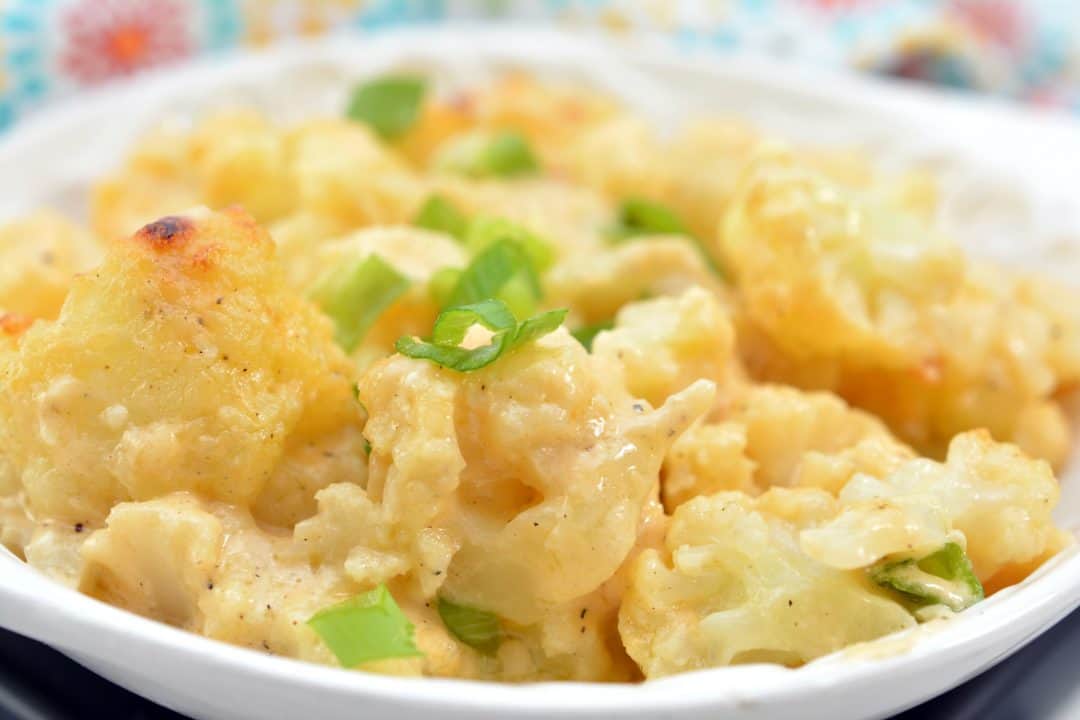 Roasted Turnips – That's my kind of recipe.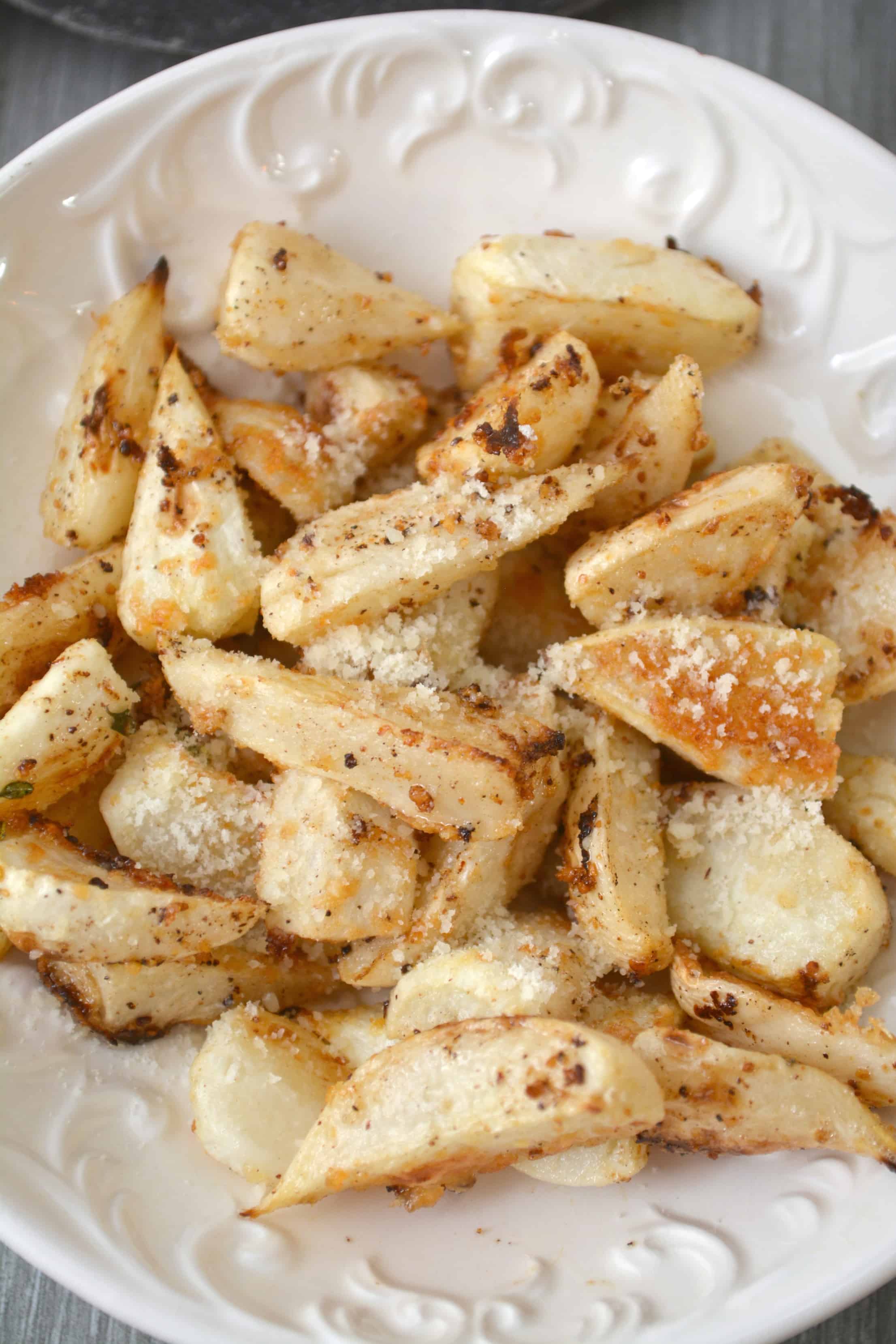 Southern Stuffing – best homemade stuffing recipe you'll ever make!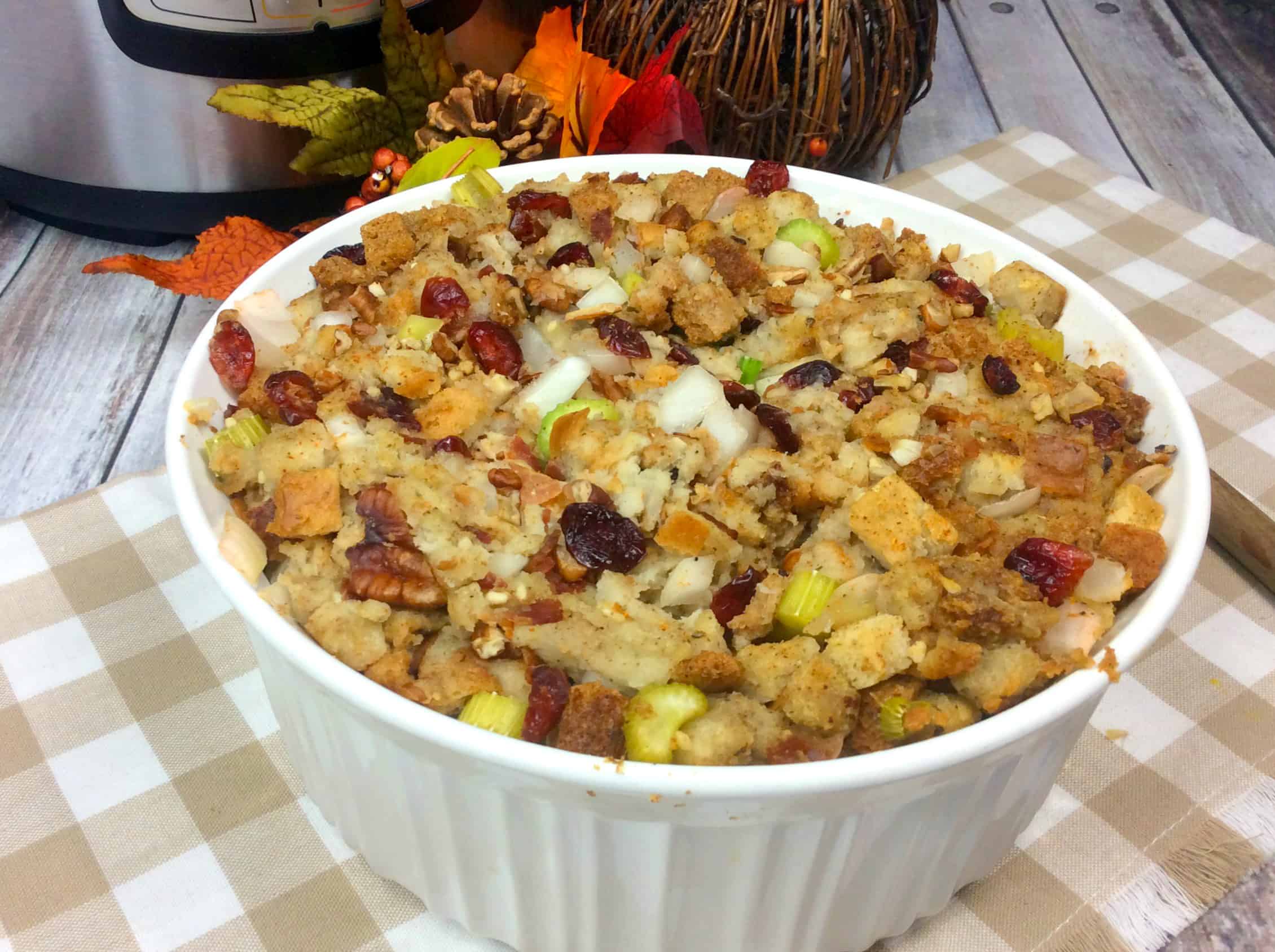 Get new recipes weekly plus our FREE ebook!