This Easy Vegetable Beef Soup is a hearty, healthy meal that will be a hit year-round.
A great way to use garden fresh veggies in the summer months or to warm up during the cooler months, this ground beef vegetable soup is one you'll make again and again.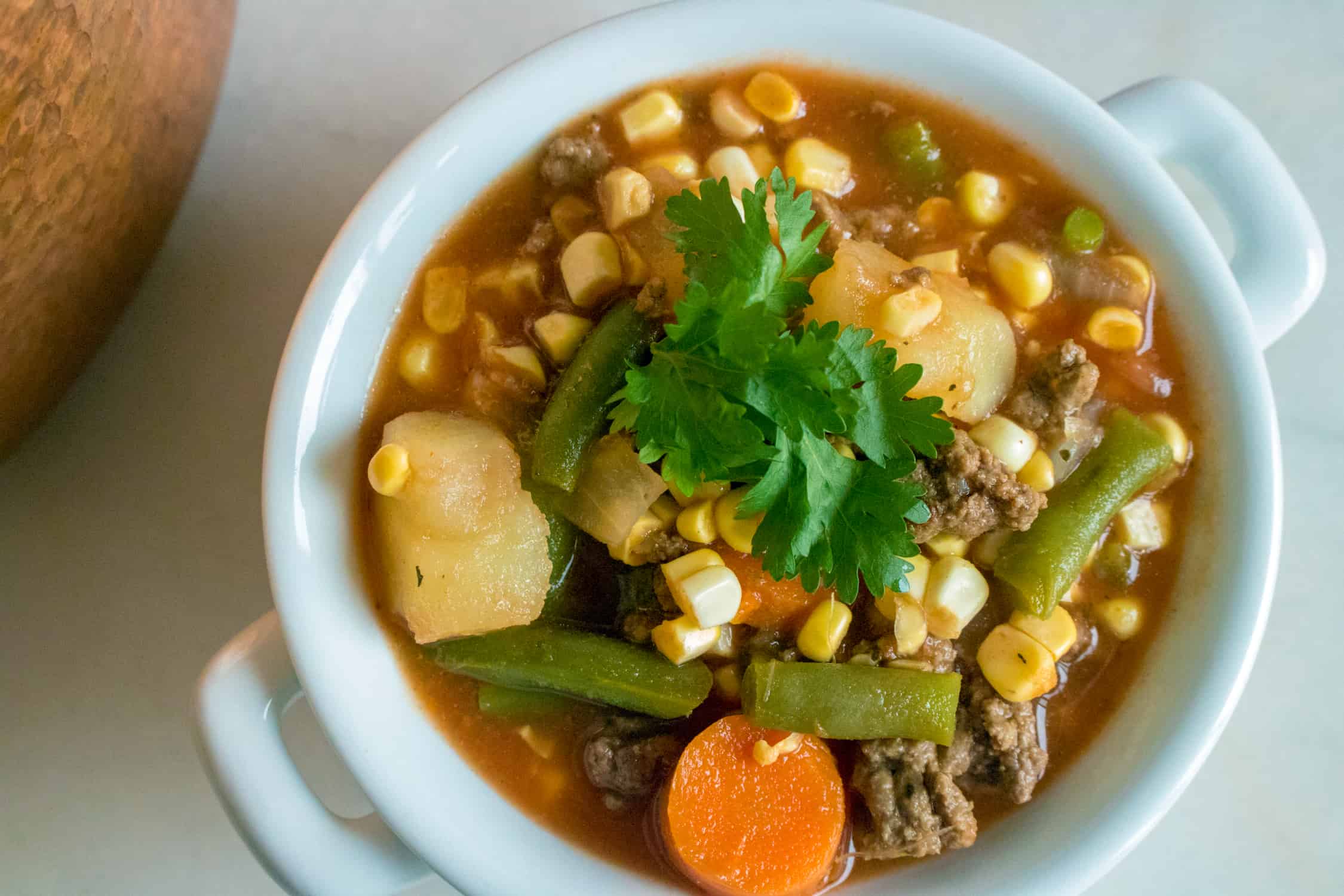 Vegetable Beef Soup is something that reminds me so much of my childhood.
There is just something about the bowl of goodness being sat in front of me that takes me back to being a child coming in from playing outside in the cold and warming right on up in the kitchen. It is such a hearty meal that can be made in one pan and feeds not only the stomach but the soul.
Simmering all of the ingredients together in this soup makes for a great meal all can gather around for after a long day.
Scroll to bottom for printable recipe card.
What to Serve with Easy Vegetable Beef Soup

Vegetables are something that not all children can get in the mood for when they are offered on their own. My kids are no exception and I know that I was a tough kid when I was little about this. I always got excited about Homemade Vegetable Beef Soup.
When I make this Vegetable Beef Soup, I like to have something to dip in it, like soup and sandwiches or crusty bread.
or any other crusty bread or sandwich you like.
Of course, what is dinner without dessert? Some of my favorites desserts are:

Variations to Hamburger Vegetable Soup
As an adult, combining together all fresh ingredients (depending on the time of the year) is just a feeling of accomplishment. If you have to use frozen, I won't hold that against you! I've definitely done it and while fresh it better, sometimes the ease of using frozen veggies wins.
Other ways to add variety to this Hamburger Vegetable Soup:
Ground Chicken, Turkey or pork– This soup doesn't have to be made with beef. Change it up with whatever meat you have on hand.
Vegetables– There is no reason that this soup has to be made with certain vegetables. Use whatever you like or what you have on hand.
Make it Vegan– Want to make this a meatless meal? Use vegetable broth instead of beef broth. If you still want to feel like you are having hamburger vegetable soup, use meatless crumbles. These crumbles have the taste and texture of ground beef.
I feel like Homemade Vegetable Beef Soup is one of those recipes each family has a version of. With this ground beef vegetable soup, I took the recipe my mom always made growing up and added a few changes to it.
This Vegetable Beef Soup can be tweaked based on what you have on hand in the garden or the freezer. Think of the ingredients listed as suggestions or guidelines. The ingredients listed below happen to be my favorite combination of flavors.
I love having all of these together inside one amazing meal in a bowl.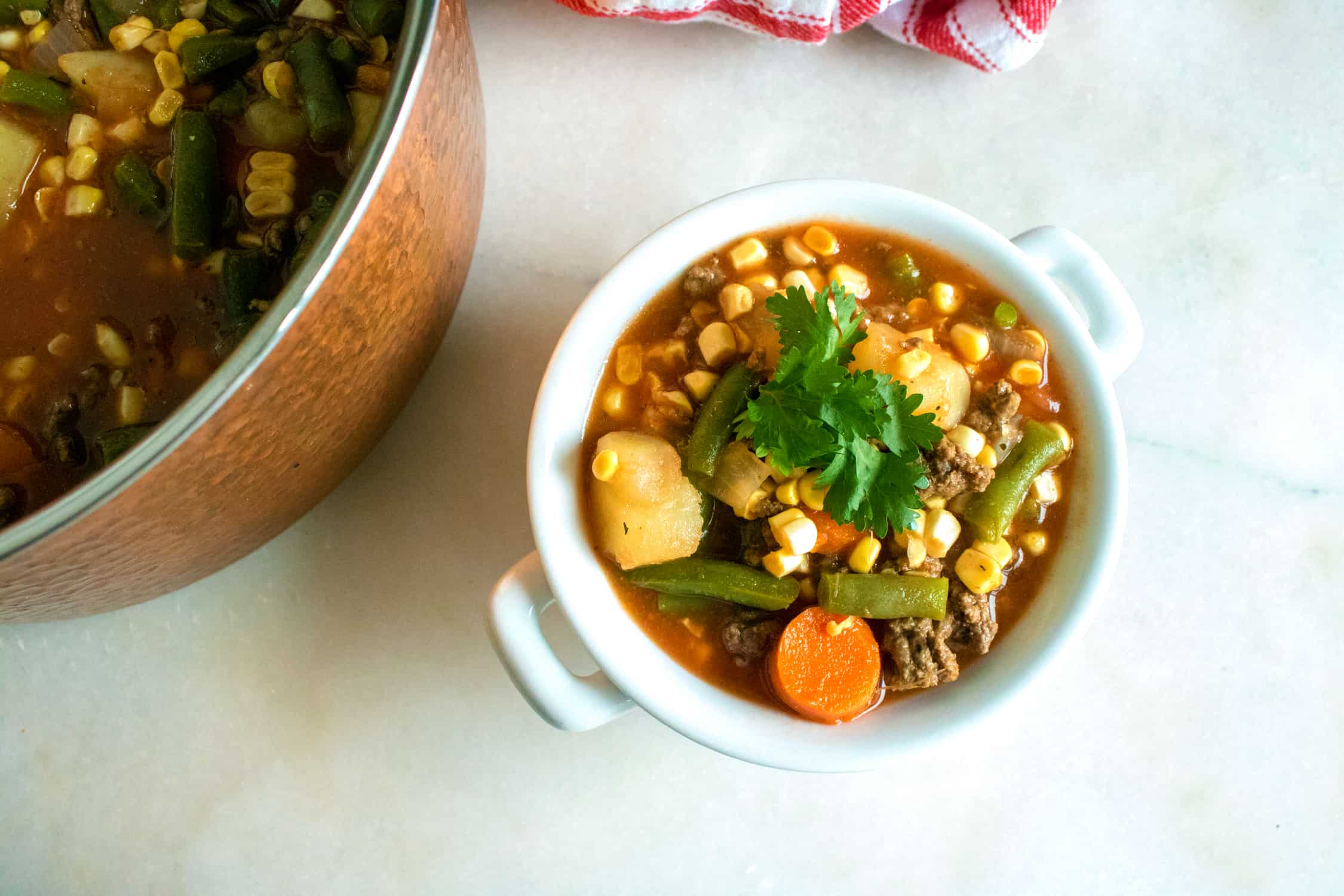 How to Store Hamburger Vegetable Soup
Whenever I make hamburger vegetable soup, I always plan for leftovers.
The leftover soup tastes even better then next day. To store the hamburger vegetable soup, you will need an airtight container or a container and plastic wrap. This ensures that the air and moisture stay away from the soup. It will stay fresh in the refrigerator for up to 5 days. If you know that you will not finish the leftovers of this soup in 5 days freeze the soup right away.
Storing the soup in a freezer bag will ensure it will still taste amazing when you thaw it to eat it again.
Ingredients in Easy Vegetable Beef Soup
potatoes
water
carrots
onion
salt and pepper
green beans
tomato juice
ground beef
corn
Italian seasoning
garlic powder
bay leaves
How To Make How to Make Vegetable Soup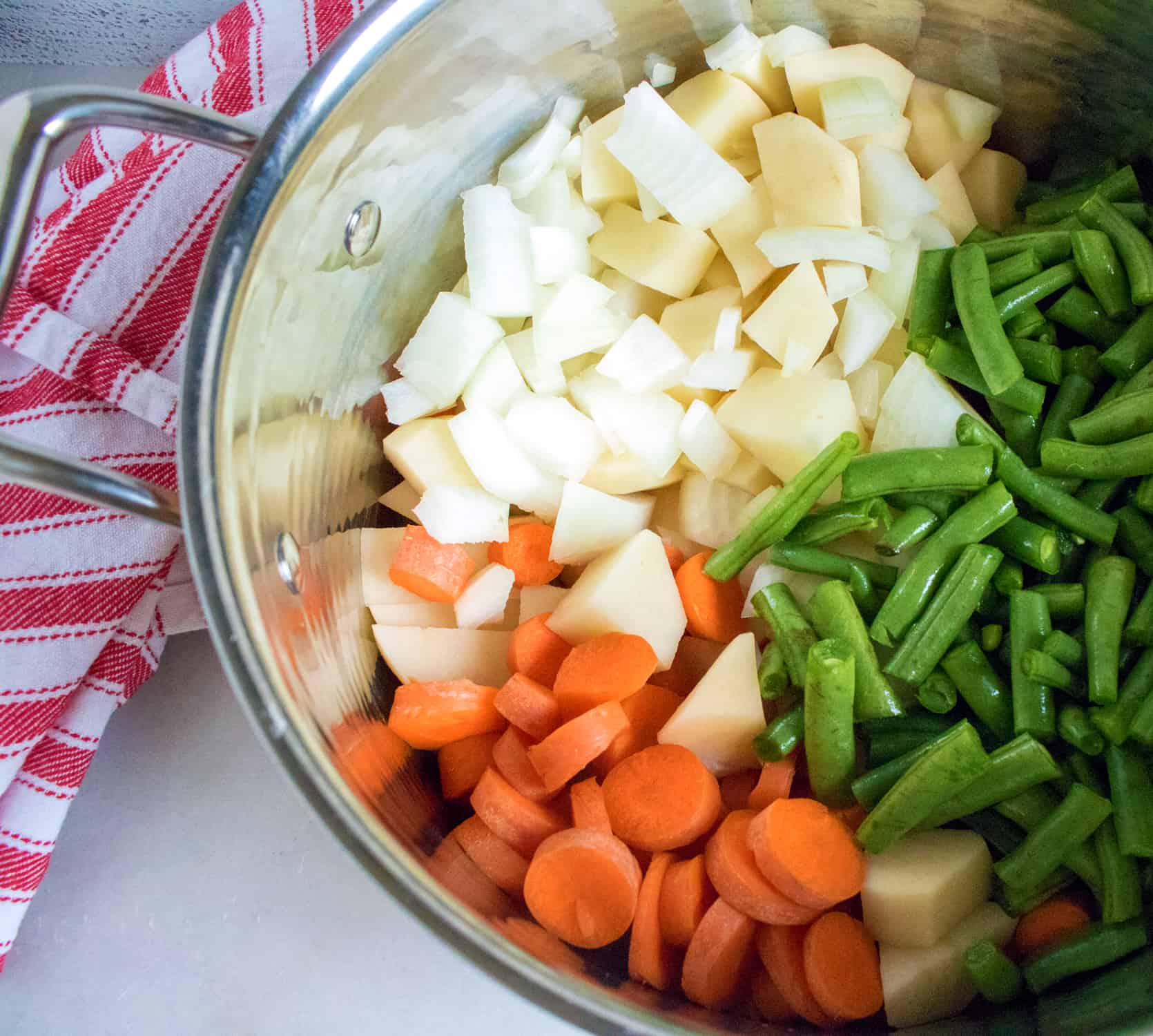 Step 1. Begin by chopping carrots, potatoes, green beans, and onions into equal-sized pieces. Place them in the bottom of a large pot, add water and bring to boil.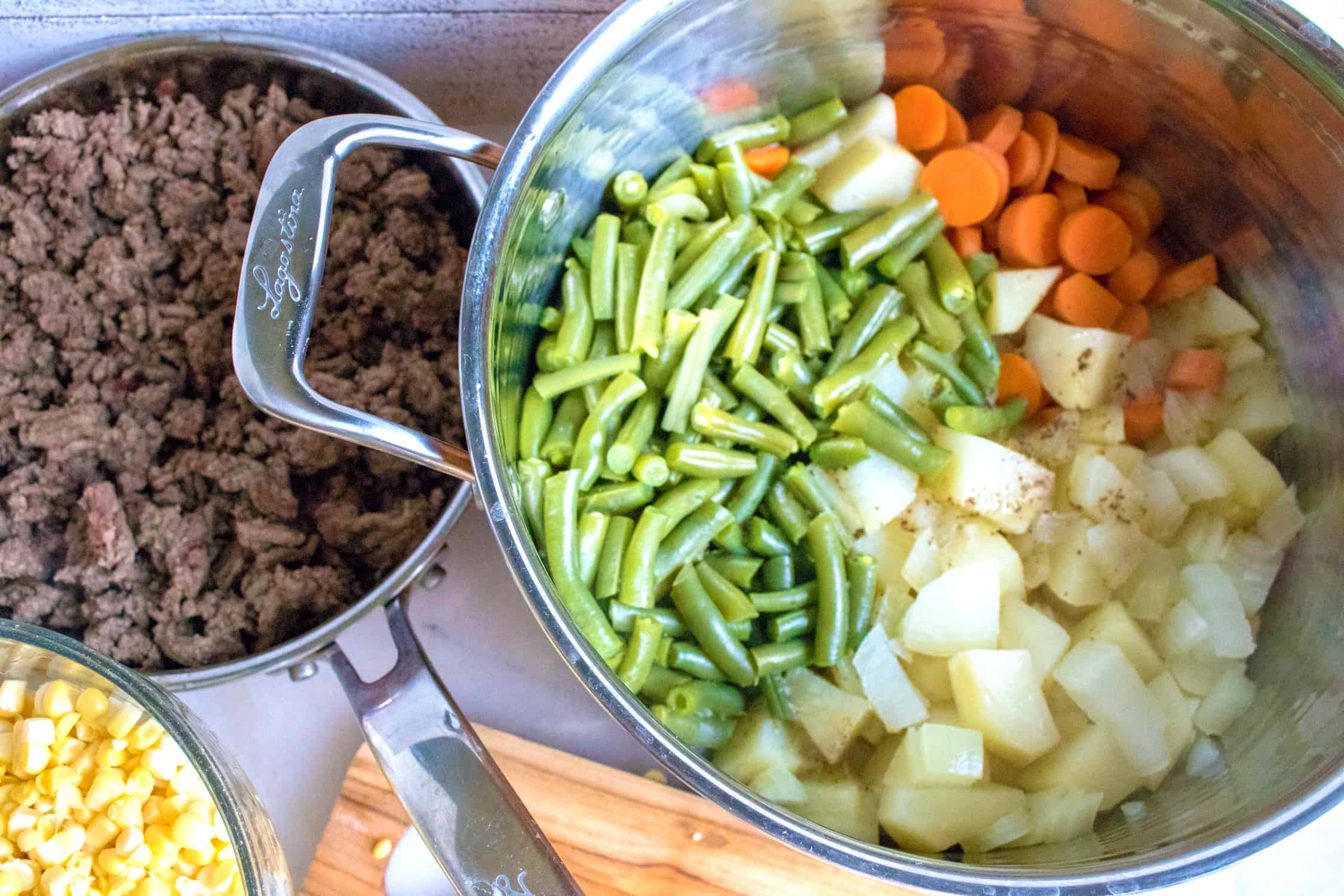 Step 2. Cook ground beef in a separate pan. Drain well.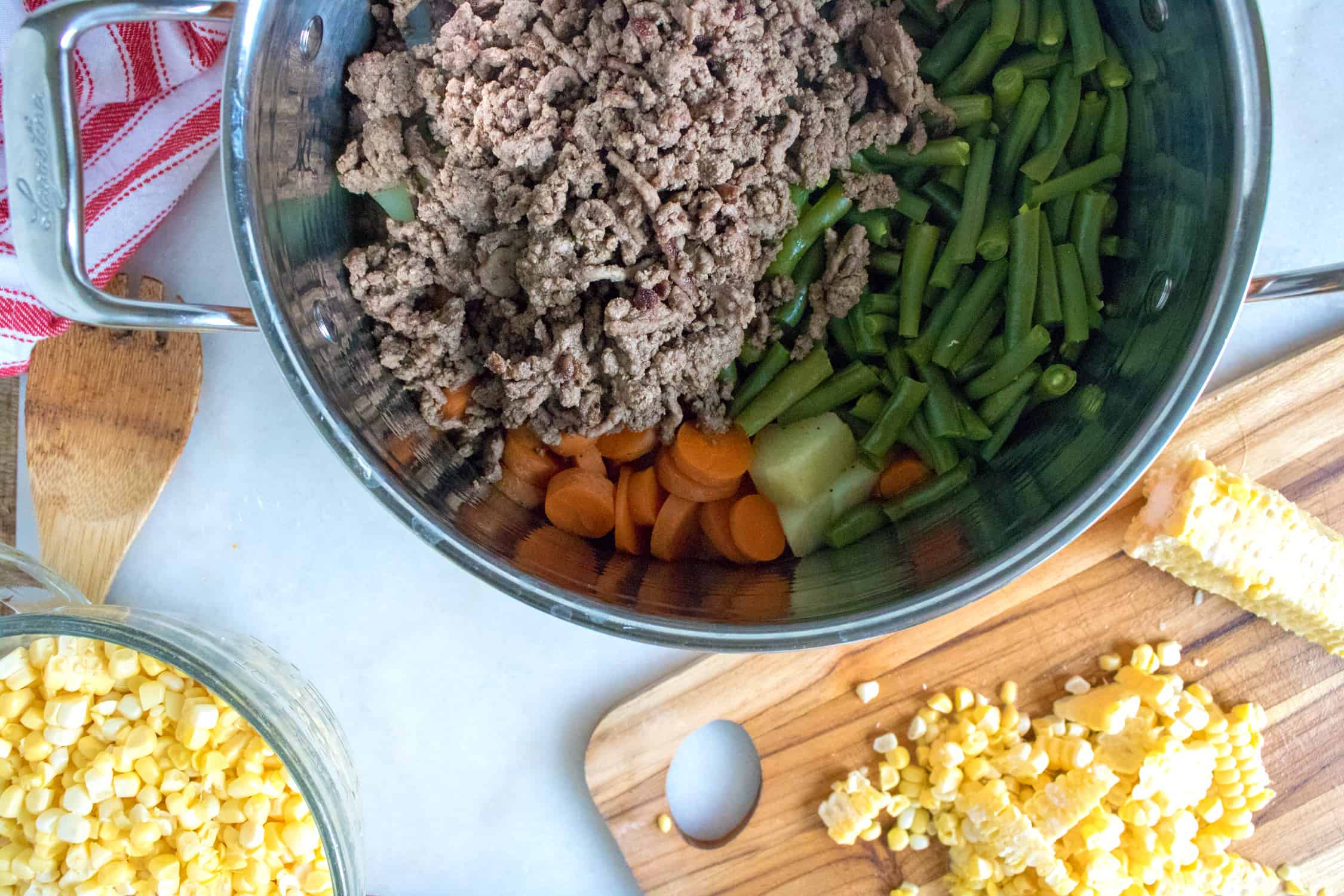 Step 3. Add drained ground beef to the pot with vegetables.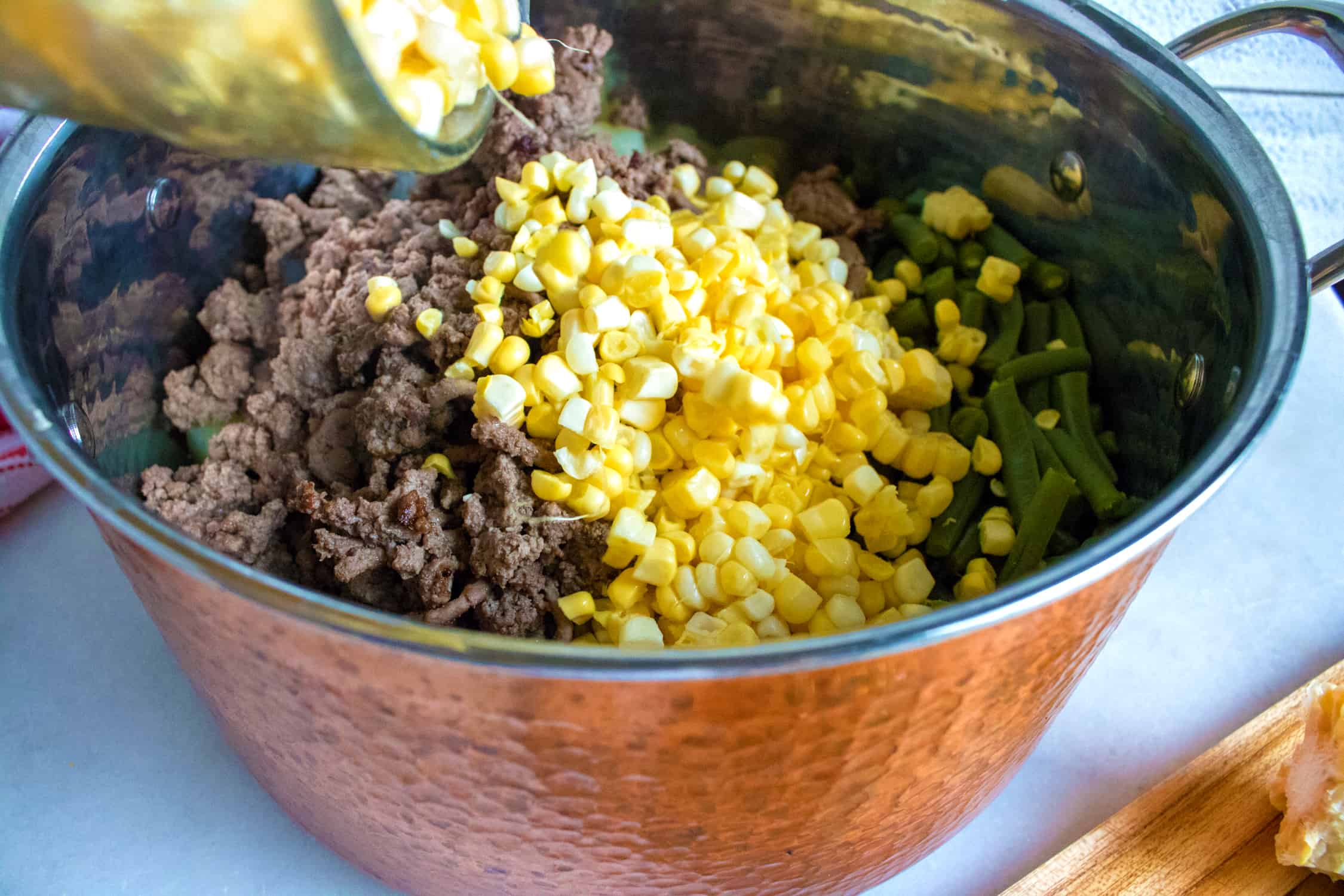 Step 4. Add in fresh sweet corn, removed from the cob.
a.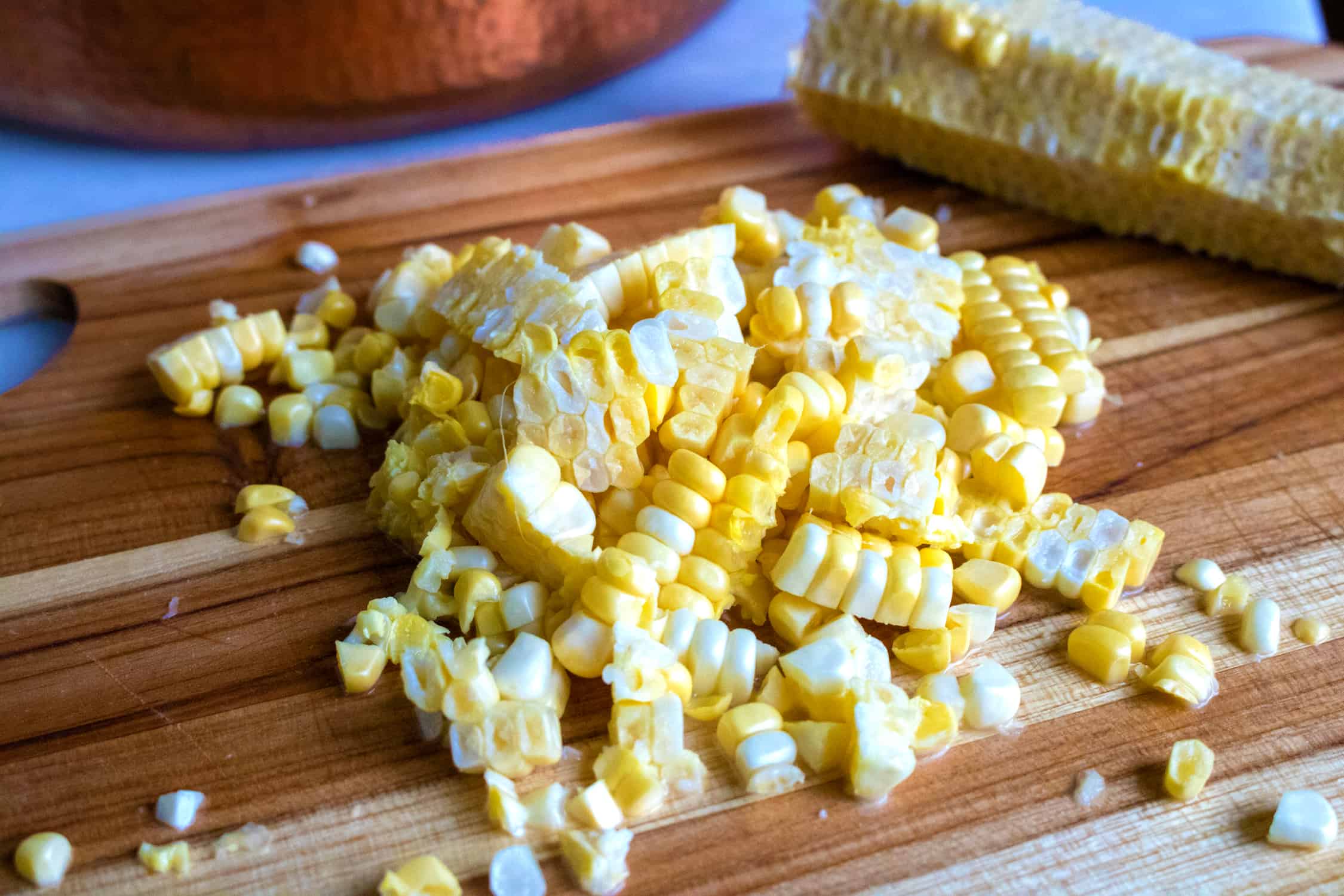 b.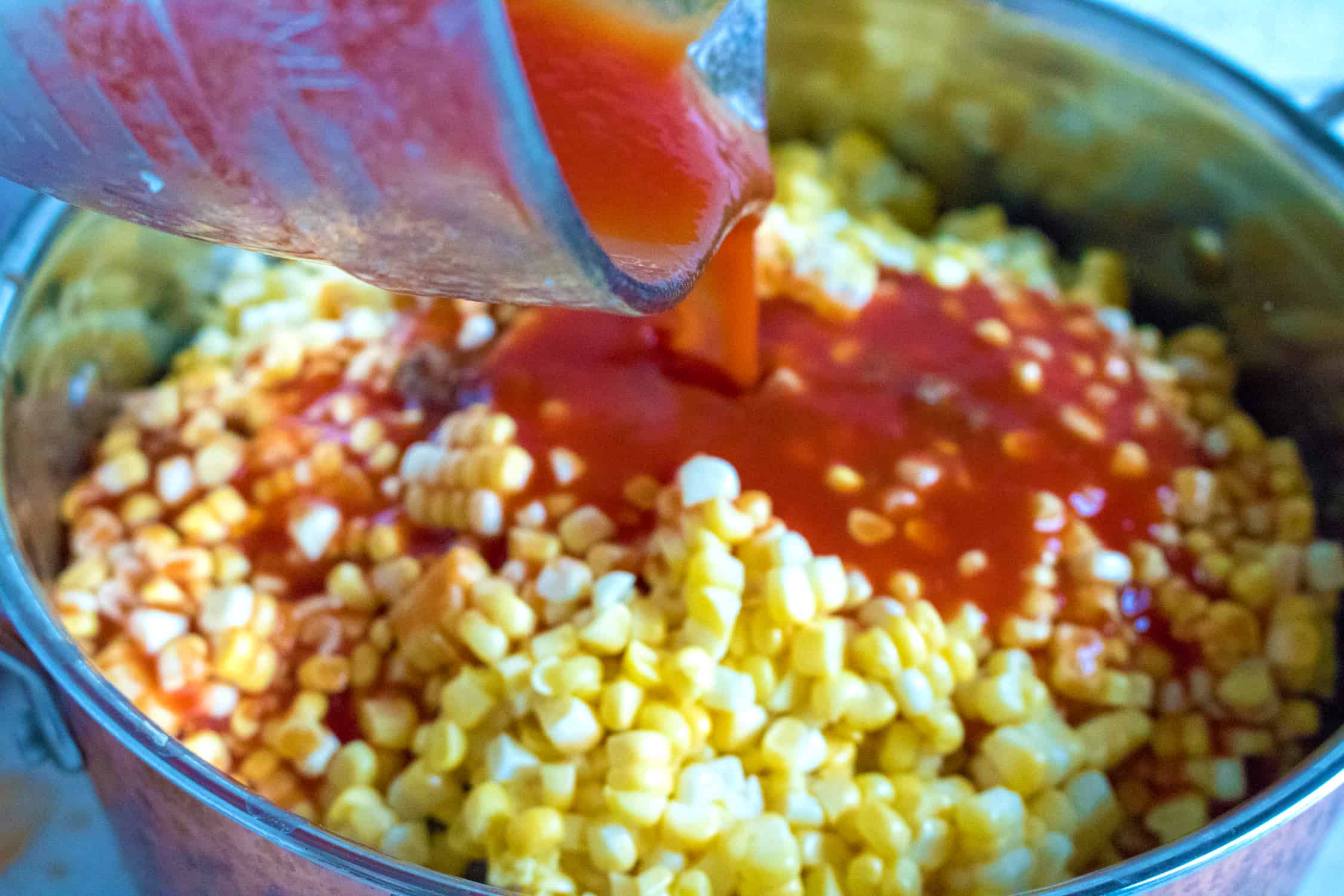 Step 5. Then, add in tomato.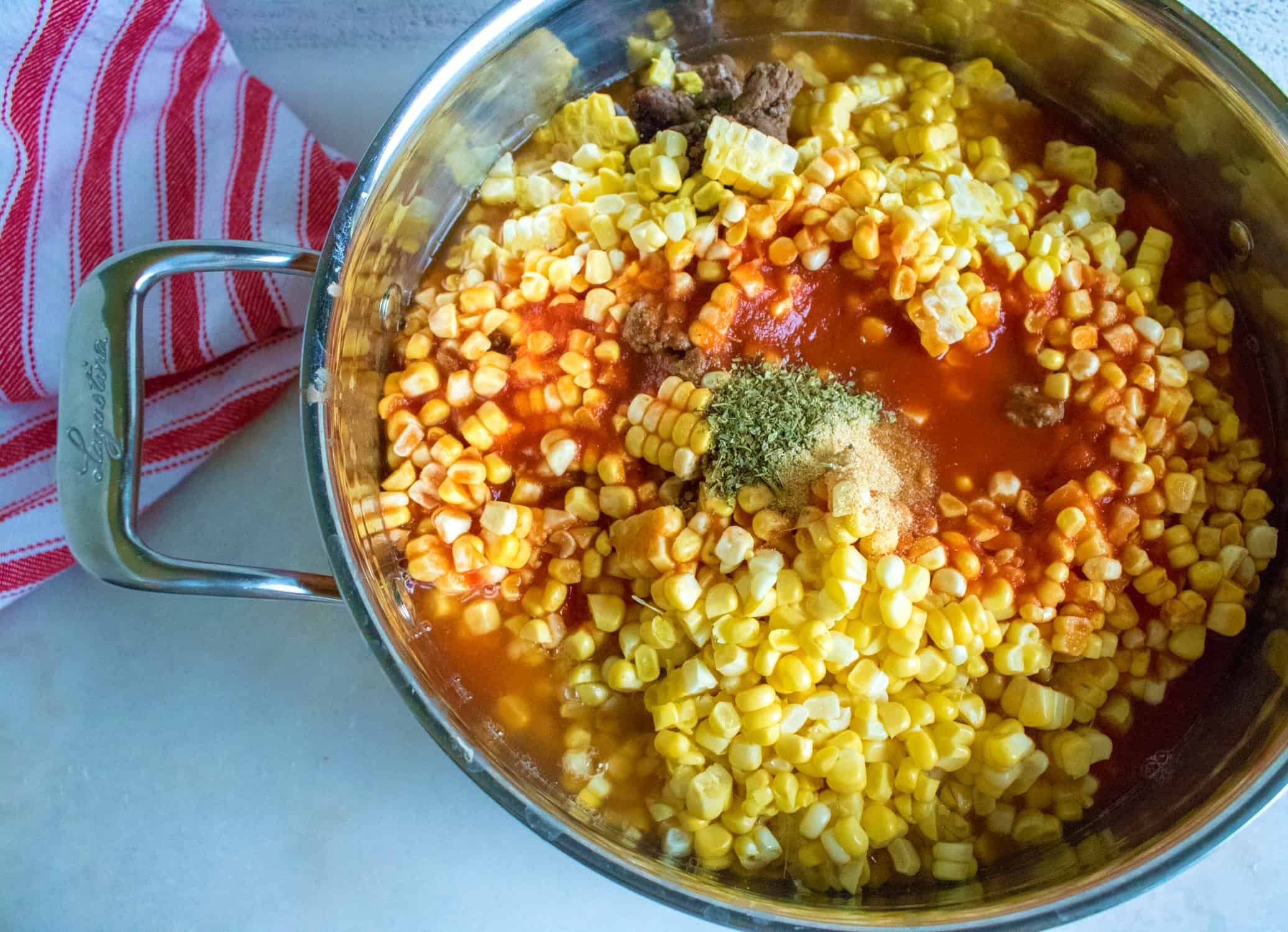 Step 6. Finally, add seasonings.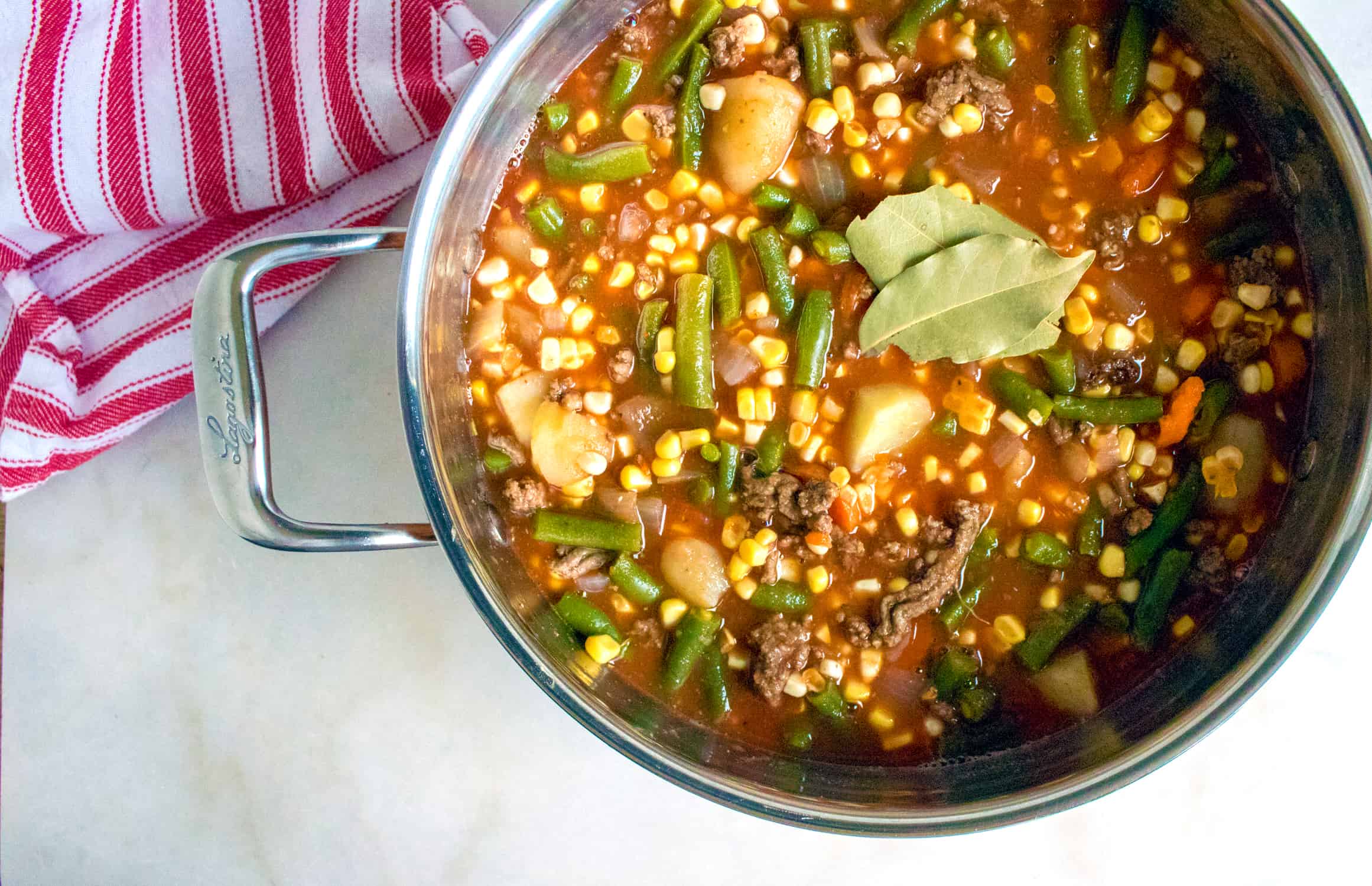 Step 7. Return to stove and cook for an additional 30 minutes.
Enjoy hot.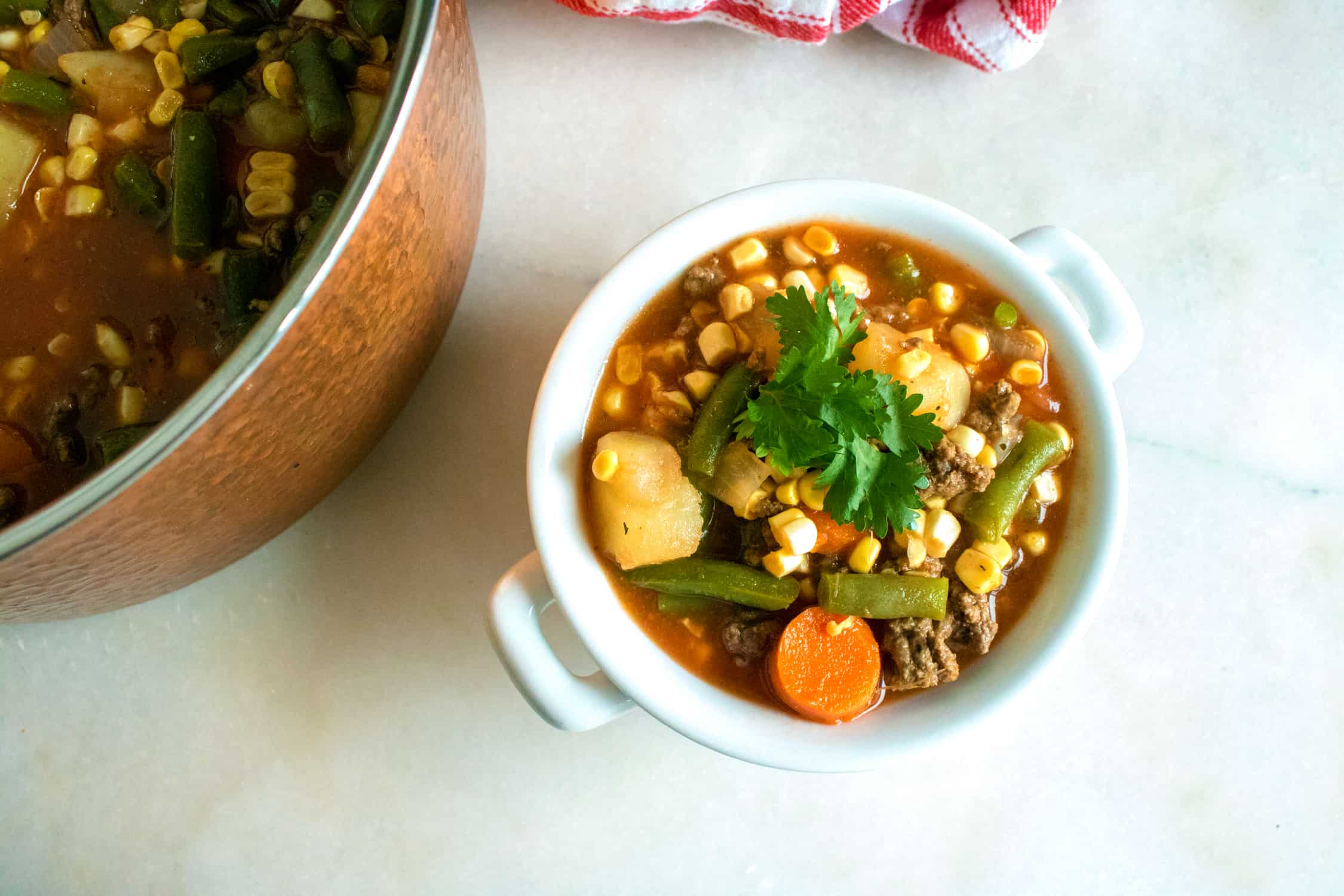 Now, remember to save this hearty soup on Pinterest for later 🙂

Pin this recipe now to remember it later
Best Ever Vegetable Beef Soup
This Easy Vegetable Beef Soup is a hearty, healthy meal that will be a hit year-round. A great way to use garden fresh veggies in the summer months or to warm up during the cooler months, this ground beef vegetable soup is one you'll make again and again.
Ingredients
4

large potatoes

,

peeled and cubed

4

cups

fresh or frozen cut green beans

1/2

pounds

ground beef

,

cooked and drained

4

cups

fresh or frozen corn

1

teaspoon

Italian seasoning

1/2

teaspoon

garlic powder
Want to save this recipe? Enter your email below and we'll send the recipe straight to your inbox!
NOTE: By saving this recipe, you agree to join our weekly recipes newsletter.
Instructions
In a large saucepan, combine the potatoes, water, carrots, onion, salt and pepper; bring to a boil.

Reduce heat; cover and simmer for 25 minutes or until tender.

Add the remaining ingredients. Cover and simmer 30 minutes longer or until heated through, stirring occasionally.

Discard bay leaves before serving.
Video
Follow me on Pinterest for daily delicious recipes!
More Soup Recipes To Try
Instant Pot Detox Fat Flush Soup – This soup is not only tasty it is a great soup cleanse. .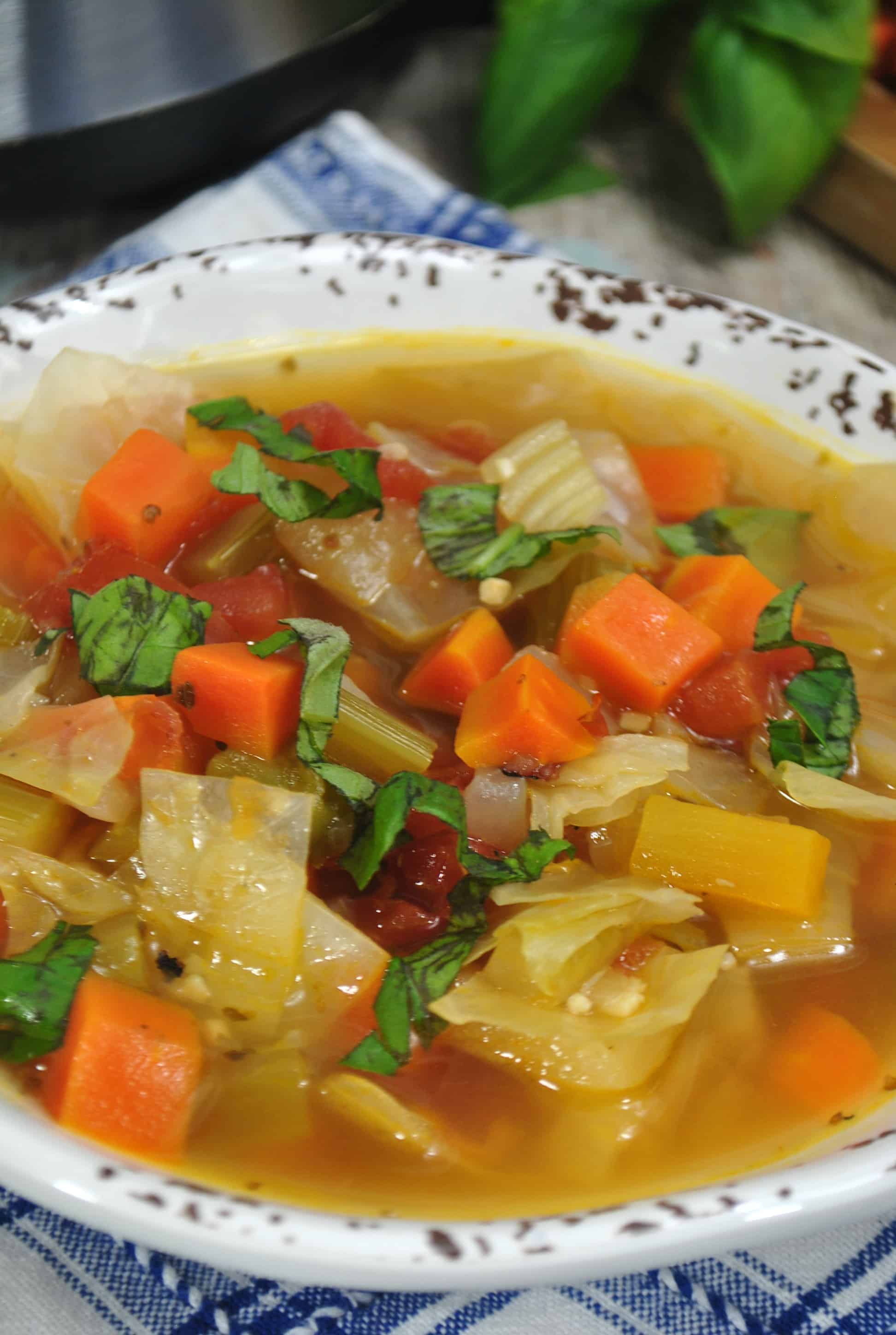 Potato Soup – the best crockpot potato soup you will ever make!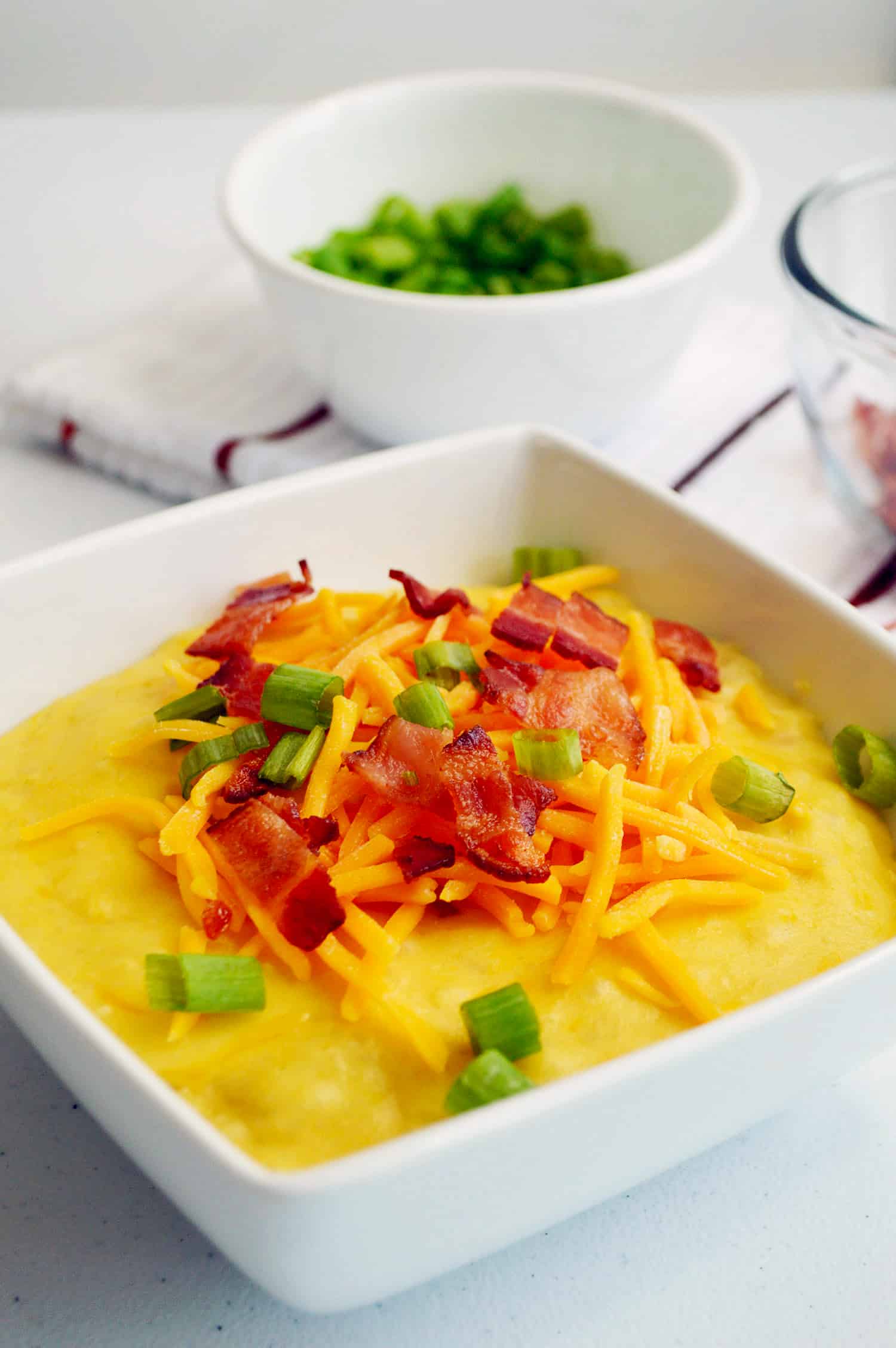 Meatball Soup – This Meatball and Potato Soup will your favorite easy healthy soup recipes!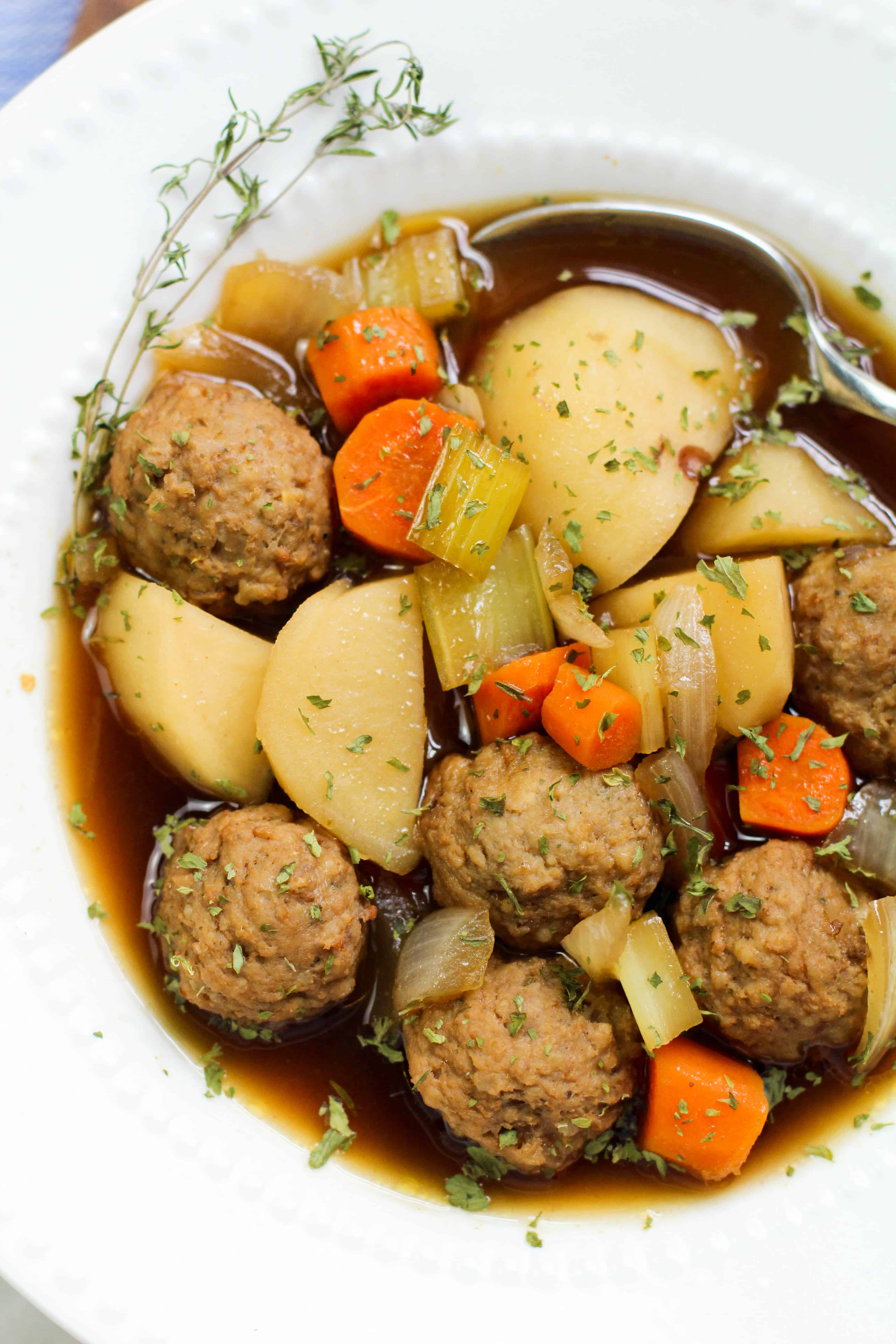 Get new recipes weekly plus our FREE ebook!