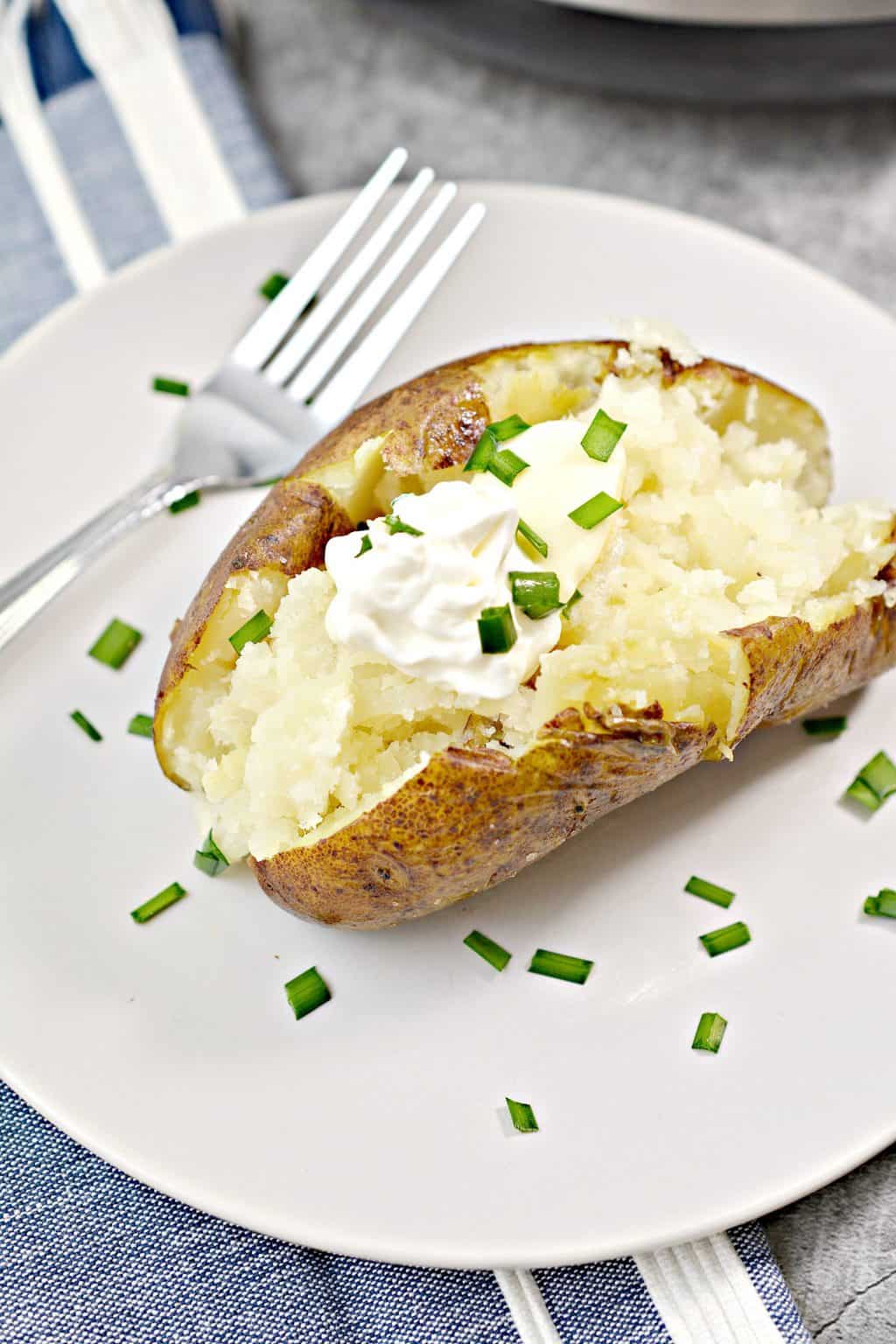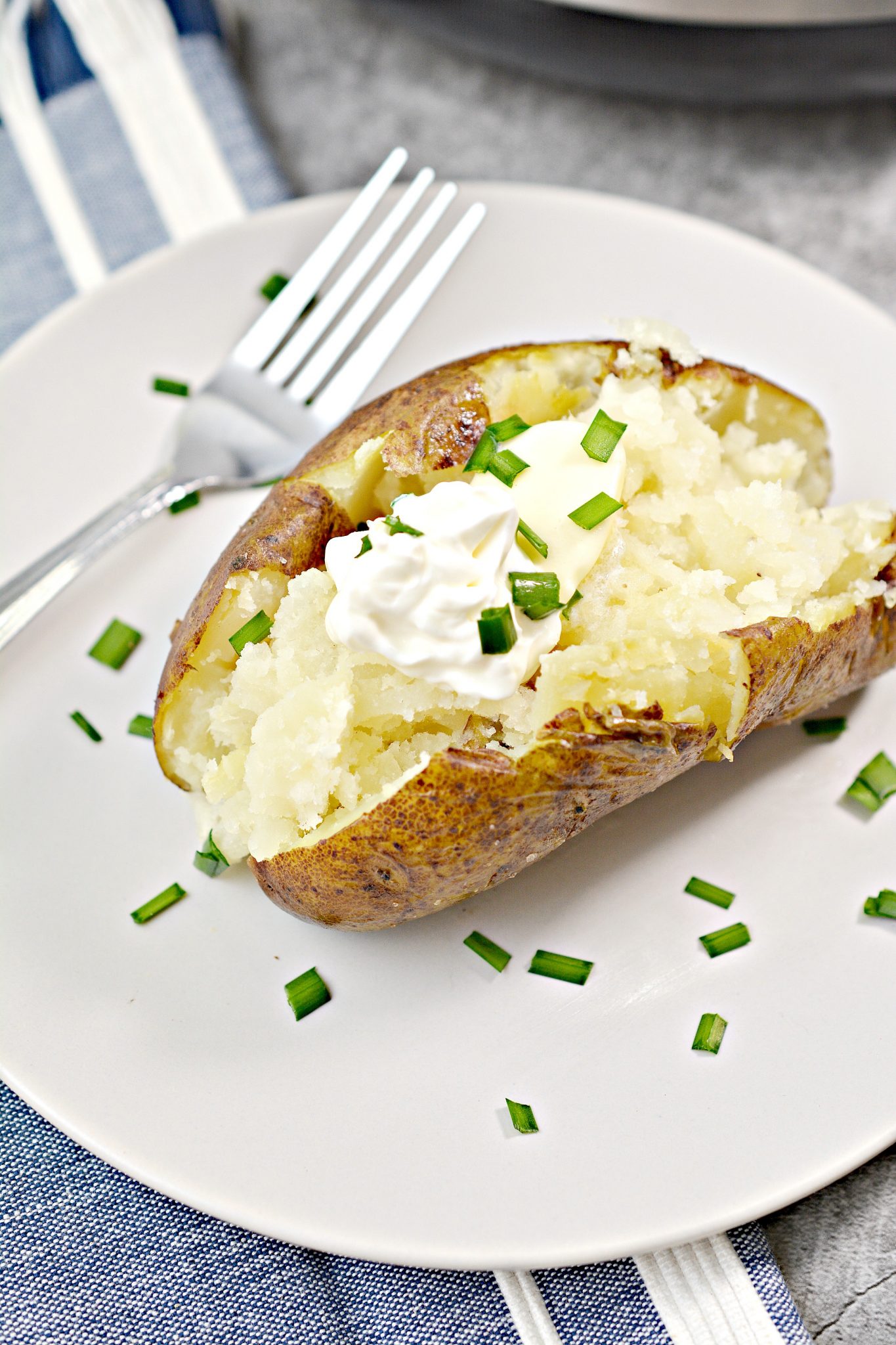 Instant Pot Baked Potatoes are so much easier than baking! I'm always a fanatic for any kind of potatoes, but these pressure cooker baked potatoes are amazing. If you're anything like me, you want to use your oven the least amount possible, especially in the hot months.
Scroll to bottom for printable recipe card.
Easy Instant Pot Baked Potatoes
While I usually broil the potatoes after they come out of the Instant Pot to crisp up the skin, it's just a few minutes. This is much better than heating the kitchen for an hour or an hour and a half. I'm so glad I can use this Instant Pot baked potato recipe instead. The best part is that you literally only need potatoes, so no need for fancy ingredients.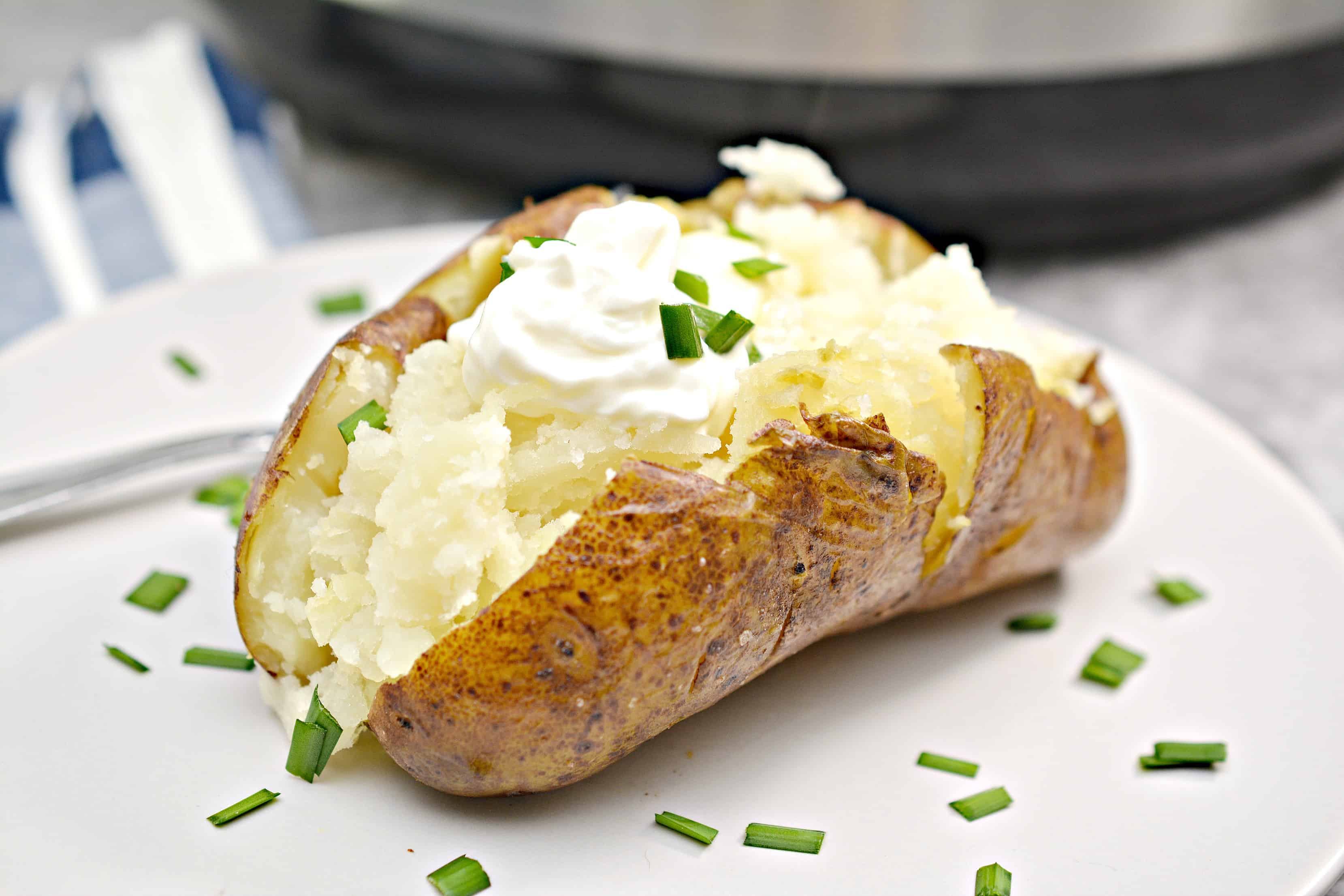 How To Bake Potatoes In Instant Pot
I love using my pressure cooker to make all sorts of recipes. These pressure cooker baked potatoes are my newest favorite dish, and I can't wait to share it with you. It's an easy process, and you'll love using your Instant Pot.
First Step: Wash the potatoes well and dry them with a towel. Use a knife or fork to poke holes all over the potatoes.
Second Step: Pour 1 cup of cold water in the bottom of the Instant Pot pan. Put the trivet in place, so the potatoes don't touch the pan itself.
Third Step: Add the potatoes to the trivet in a single layer.
Fourth Step: Put the lid on the Instant Pot and set the valve to the sealed position.
Fifth Step: Turn the pressure cooker to manual and set it for 16 minutes if the potatoes are small or medium-sized. If they are large, you need to cook them for 20 minutes.
Sixth Step: After the potatoes have cooked, you need to do a 10-minute natural release, then you can do a quick release to finish venting.
Seventh Step: Once the potatoes are done cooking, remove them from the Instant Pot. You can serve them right away with toppings or broil them for 3-5 minutes to crisp up the skin.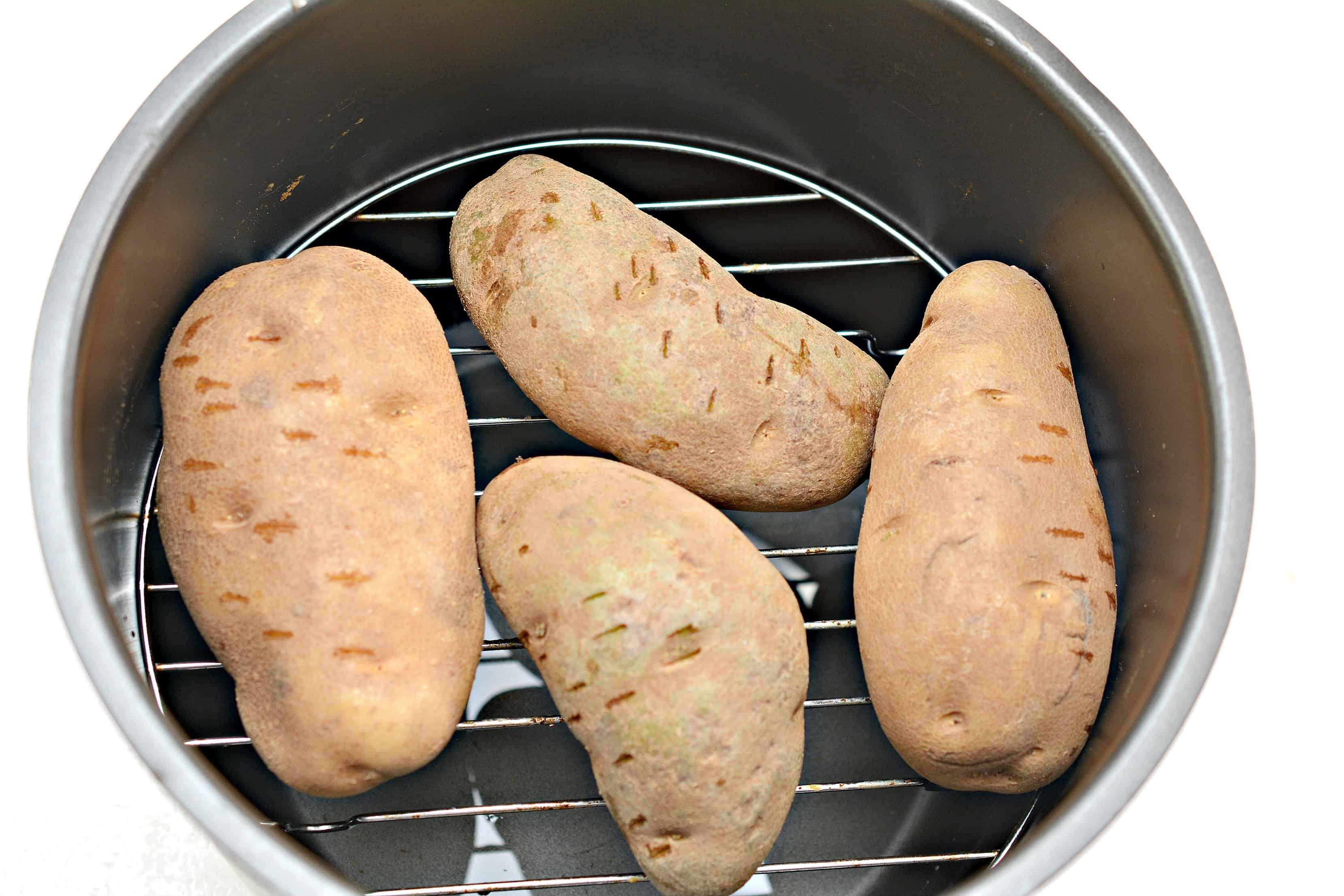 Instant Pot Baked Potatoes Topping Ideas
The thing I love about baked potatoes is that you can eat them as your meal. You don't even have to make other foods to go with it unless you want to. Or you can serve it as a side to your favorite dinner idea. Take a look at some topping ideas for you to try out:
Chili – Make a batch of chili to put on top of these pressure cooker baked potatoes. Seriously so good!
Broccoli & Cheese – If you want to get some added nutrients in your life, fill up the potato with some broccoli and cheese.
Sour Cream – You can't really have potatoes without sour cream…can you? Yum!
Cheese – One of my favorite toppings will always be some good old-fashioned cheese. Use cheddar, mozzarella, or even Pepper Jack as a surprise.
Bacon – Cook some bacon and crumble it up to put on top of the potatoes. It's an asset to any potato recipe if you ask me.
Pulled Pork – If you want to add some pizzazz to your life, top this Instant Pot baked potato recipe with some barbecue pulled pork. It's worth sinking your teeth into.
Chives – I can never get enough chives when it comes to topping my baked potatoes. They add a touch of flavor and look gorgeous too.
Do I Need To Wrap The Potatoes In Foil?
No, you never want to wrap the potatoes with foil when you are cooking them in your pressure cooker. They will end up slimy and unflattering texture. Actually, even when you bake potatoes in the oven, foil isn't really helpful. If you love crispy skin, it's best to bake them with a little olive oil, salt, and pepper and call it a day.
Can I Use Sweet Potatoes With This Instant Pot Baked Potato Recipe?
Yes, absolutely, you can use sweet potatoes if you want. Follow the recipe precisely, and you'll be enjoying your yummy sweet potatoes in no time. They turn out perfectly every time, and you'll soon find this is a great way to cook them too.
What Do I Do If My Potatoes Are Still Raw?
If the potatoes aren't cooked all the way through, you can continue cooking them in the pressure cooker for 5 more minutes. Check them again, and if they aren't done, you can cook them a little longer as needed. There is nothing worse than biting into an underdone potato, so make sure they are cooked all the way before serving.
How Do I Store Baked Potatoes?
Once the potatoes are baked, they are best when you eat them right away. However, if you want to make a larger batch to eat later, you sure can! Just put the potatoes in a ziplock bag and refrigerate for up to 4-5 days.
You can also freeze baked potatoes for 1-2 months as well. To freeze them, wrap each one in plastic wrap and do a flash freeze. Once they are frozen, place them in a freezer bag.
How Do You Reheat Baked Potatoes?
You can microwave the baked potatoes or bake them in the oven. If you warm them in the oven, heat it to 425 degrees and let them cook for 35 minutes or so until they are warm. Then serve as you normally would.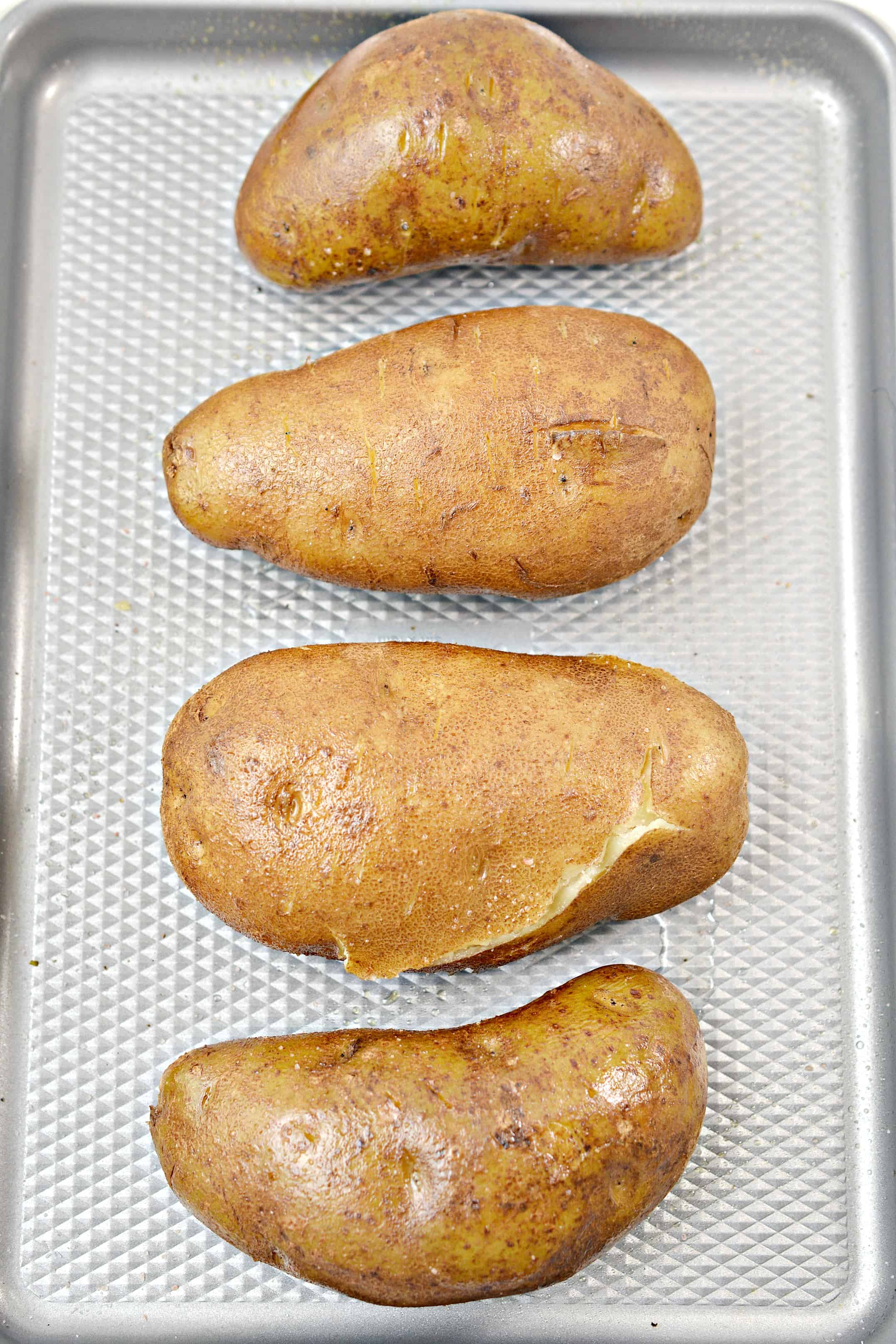 Enjoy!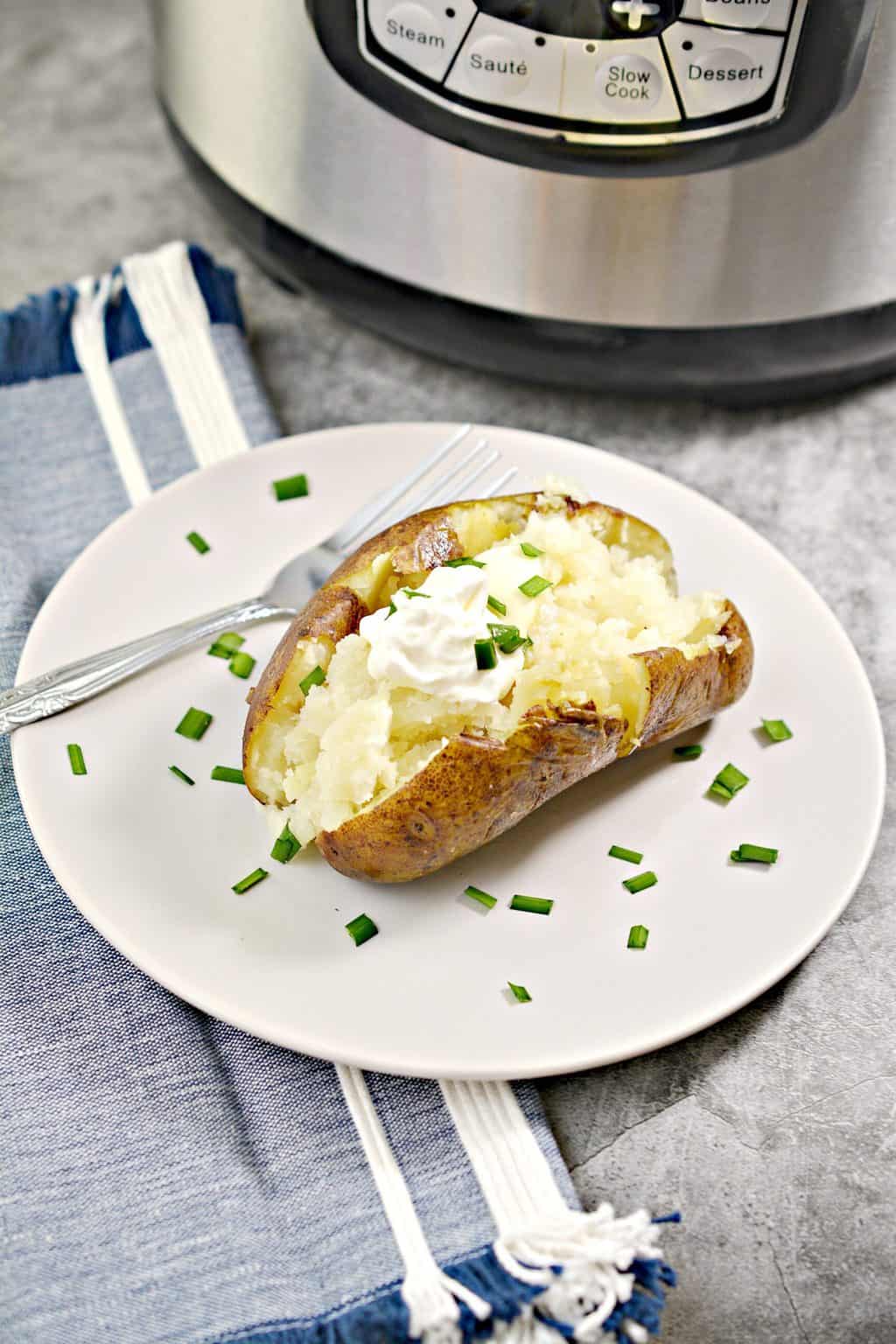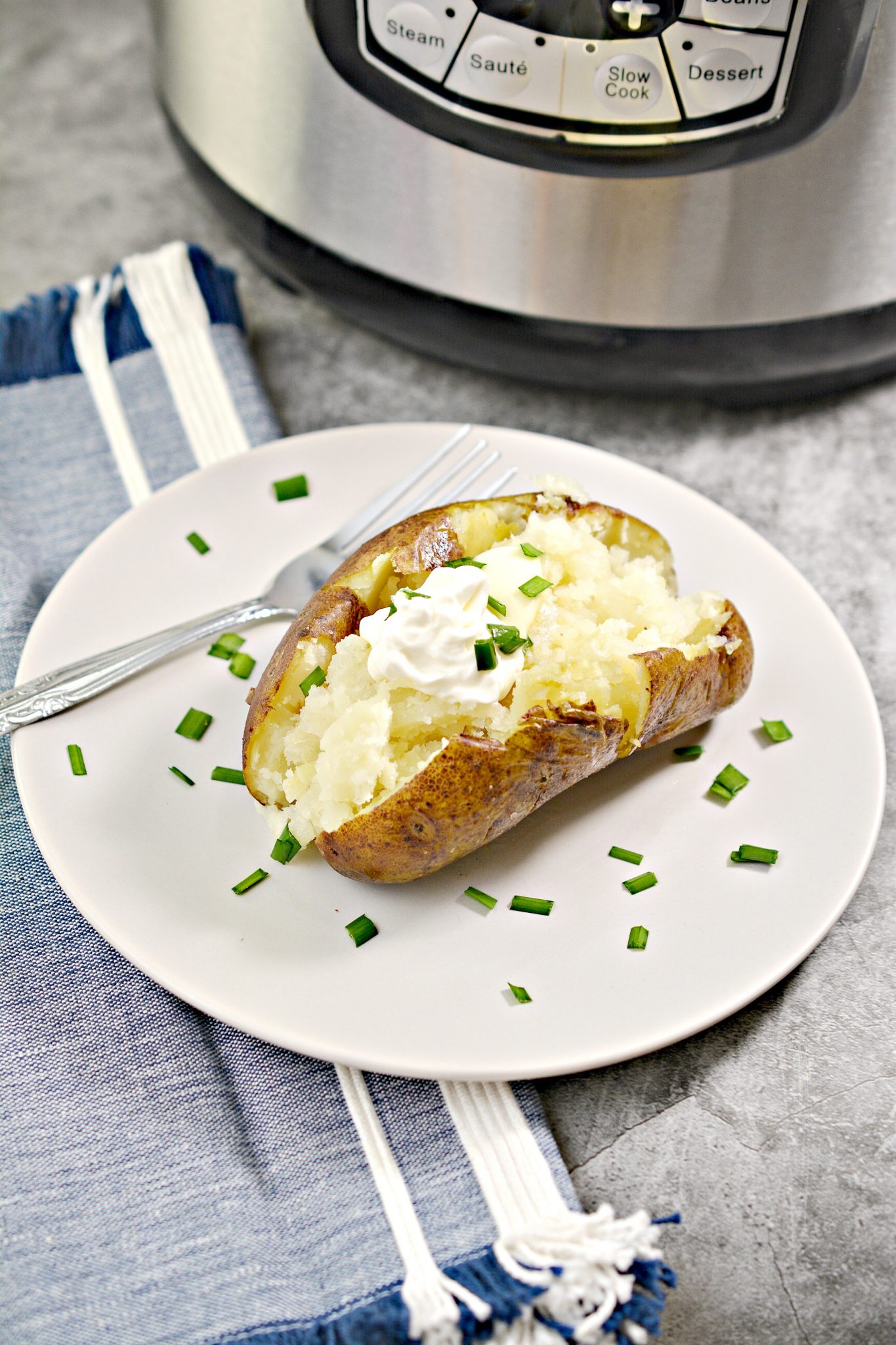 If you are like me and can't get enough potato recipes, you're in for a real treat! Each of these potato recipes is a must-try and pure comfort food. Check them out:
Now, remember to save this recipe on Pinterest for later 🙂

Pin this recipe now to remember it later
Easy Instant Pot Baked Potatoes
Save time and energy making these Easy Instant Pot Baked Potatoes! You will never want to bake potatoes the traditional way again, it's so simple!
Want to save this recipe? Enter your email below and we'll send the recipe straight to your inbox!
NOTE: By saving this recipe, you agree to join our weekly recipes newsletter.
Instructions
Begin by thoroughly washing and drying your baking potatoes. Poke holes all over the potatoes with the tines of a fork.

Place 1 cup of cold water into the bottom of the Instant Pot, and put the trivet into the bottom of the pot.

Layer the baking potatoes on top of the trivet in the Instant Pot.

Close the lid of the Instant Pot, and make sure the release valve is set to sealing.

Using the manual setting, set the Instant Pot to 16 minutes for medium potatoes or 20 minutes for large ones.

Allow the Instant Pot to conduct a 10 minute natural release where you do not touch it at all for 10 minutes once the cook time is over. Carefully release any additional pressure at the end of that time by turning the release valve to the venting position, and remove the baked potatoes from the Instant Pot.

Prepare the potatoes with your favorite toppings and serve.

Or, if desired, you can cover the potatoes in olive oil, and place them on a baking sheet under the broiler for 3-5 minutes to make the skin crispy.
Follow me on Pinterest for daily delicious recipes!
Make sure you check our best recipes below:
Cherry Dr. Pepper Cake – It's a hit with kids and adults alike and, bonus, it's so easy to make!
Blueberry Lemon Cheesecake Bars Recipe – This cheesecake recipe goes father when cutting into bars.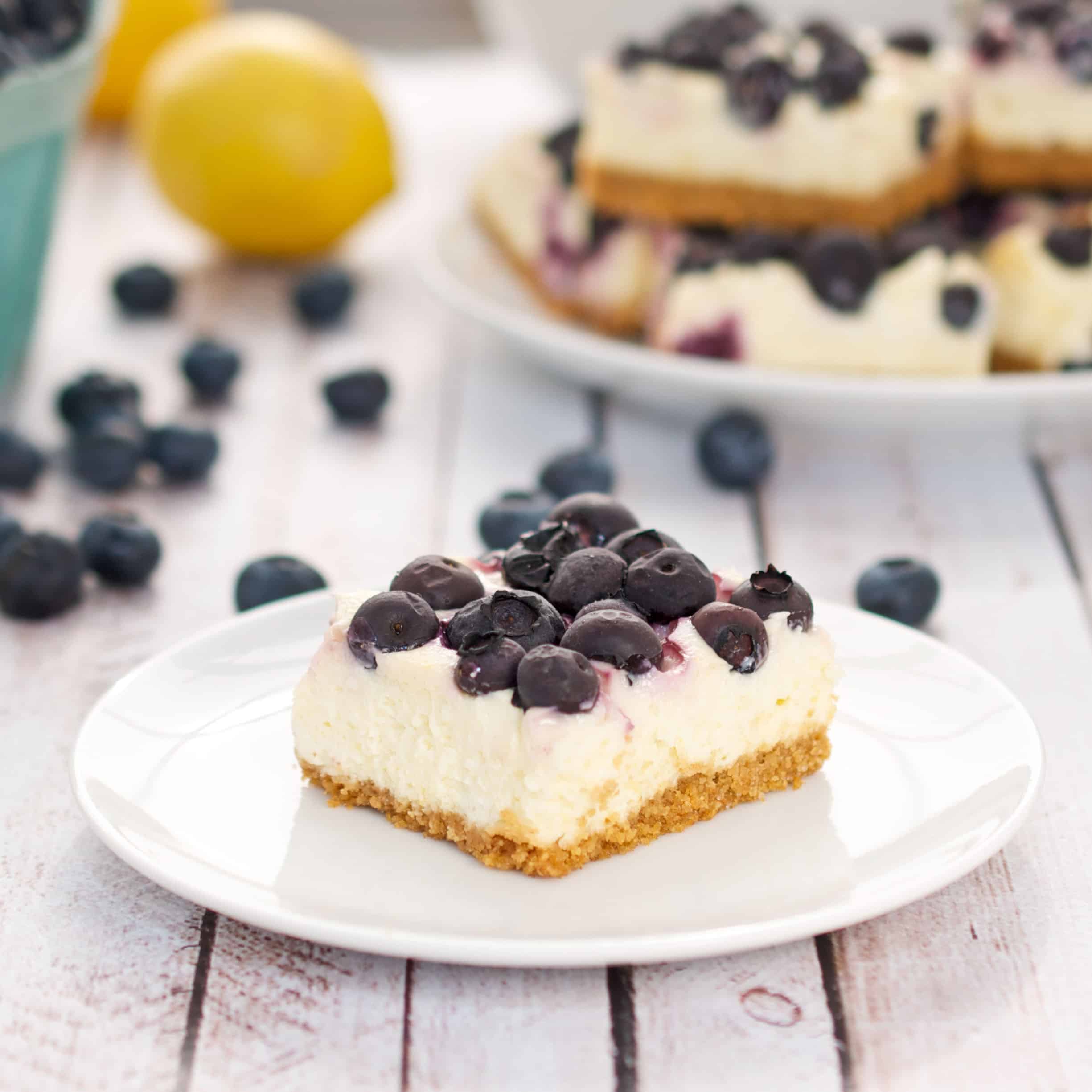 Homemade Cream Cheese Biscuits Recipe – The best biscuit recipe you will ever need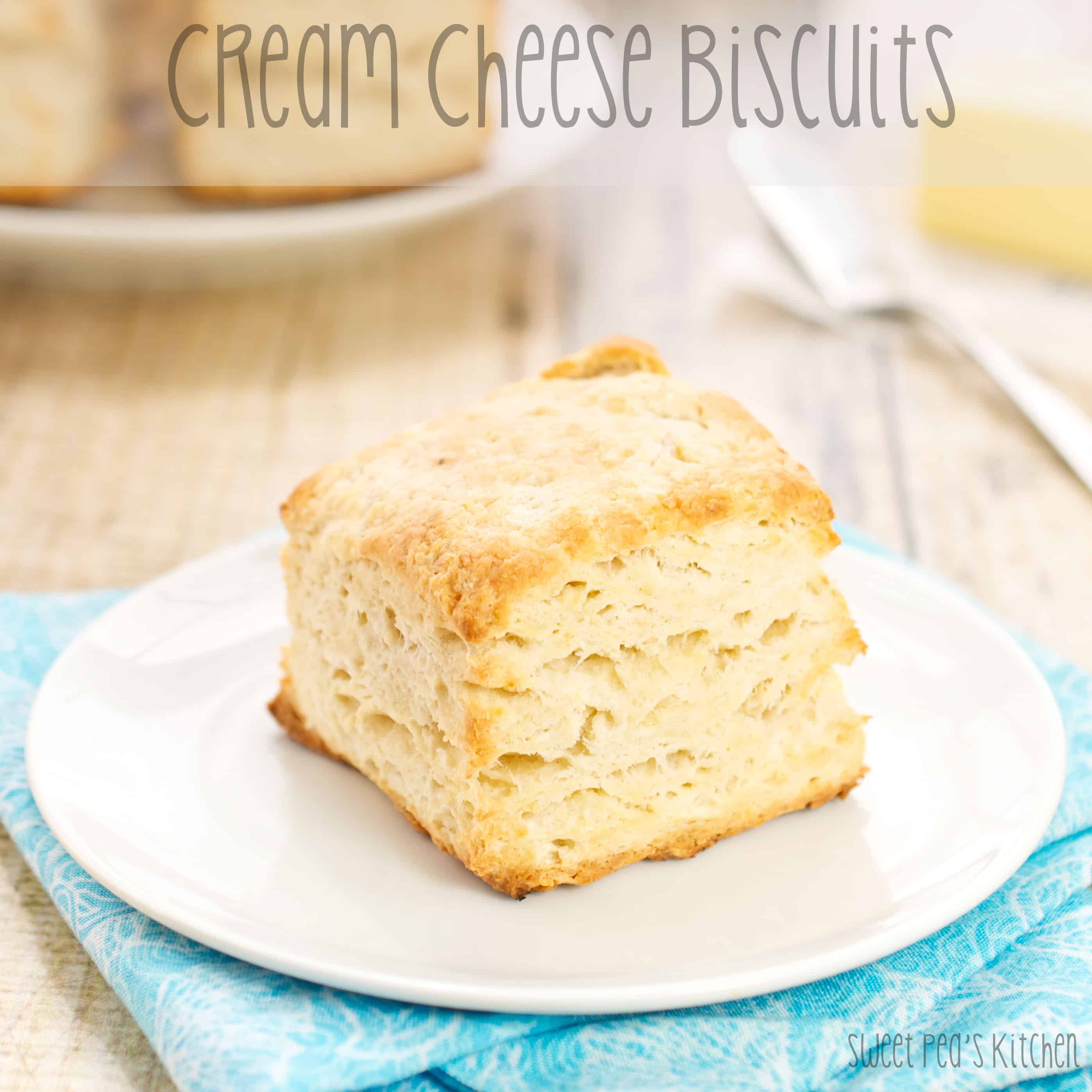 Triple Chocolate Instant Pot Cheesecake Recipe – Creamy and rich with a strong chocolate flavor!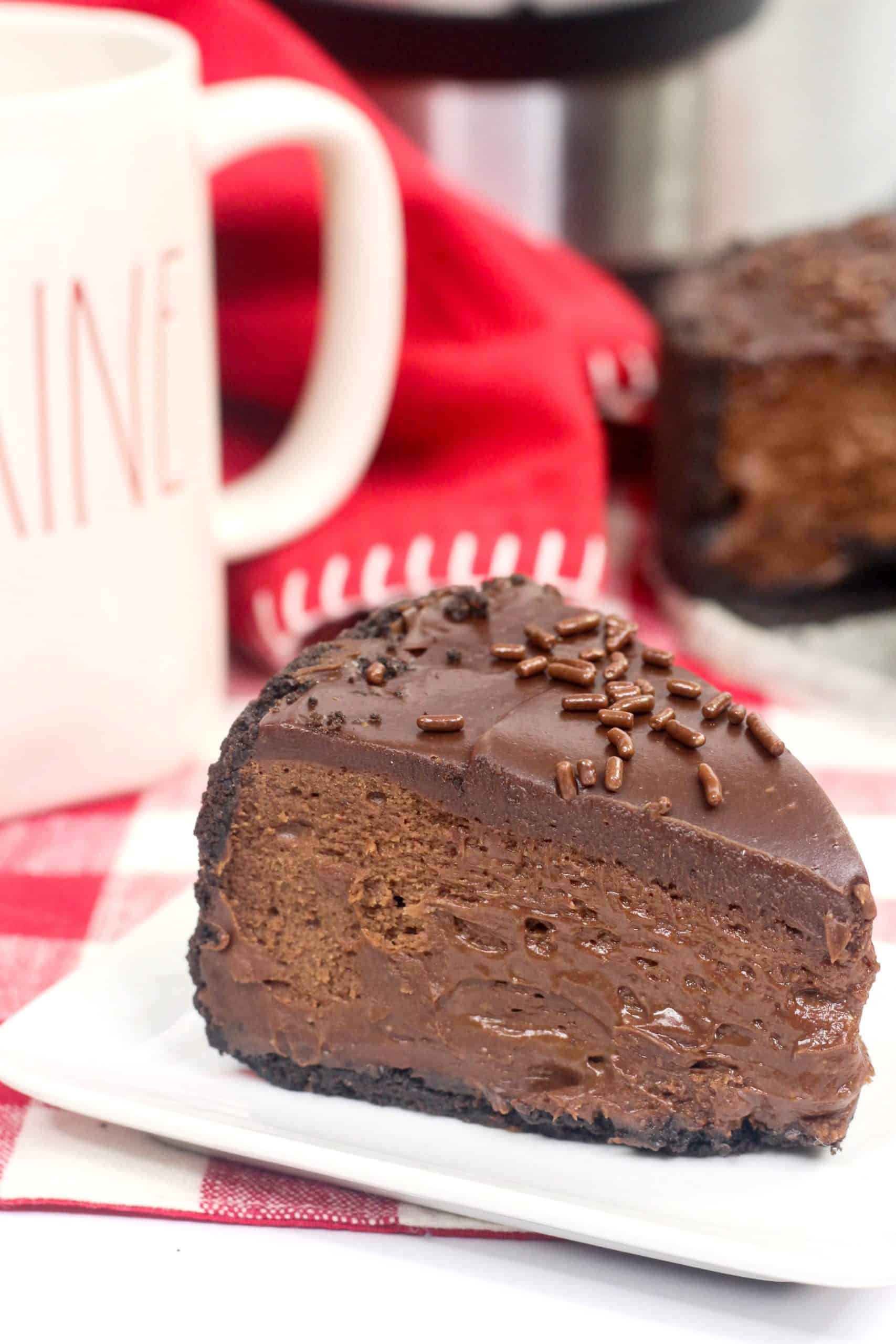 Homemade Fried Mozzarella Sticks Recipe – homemade mozzarella sticks have a perfectly crispy batter that is beyond delicious.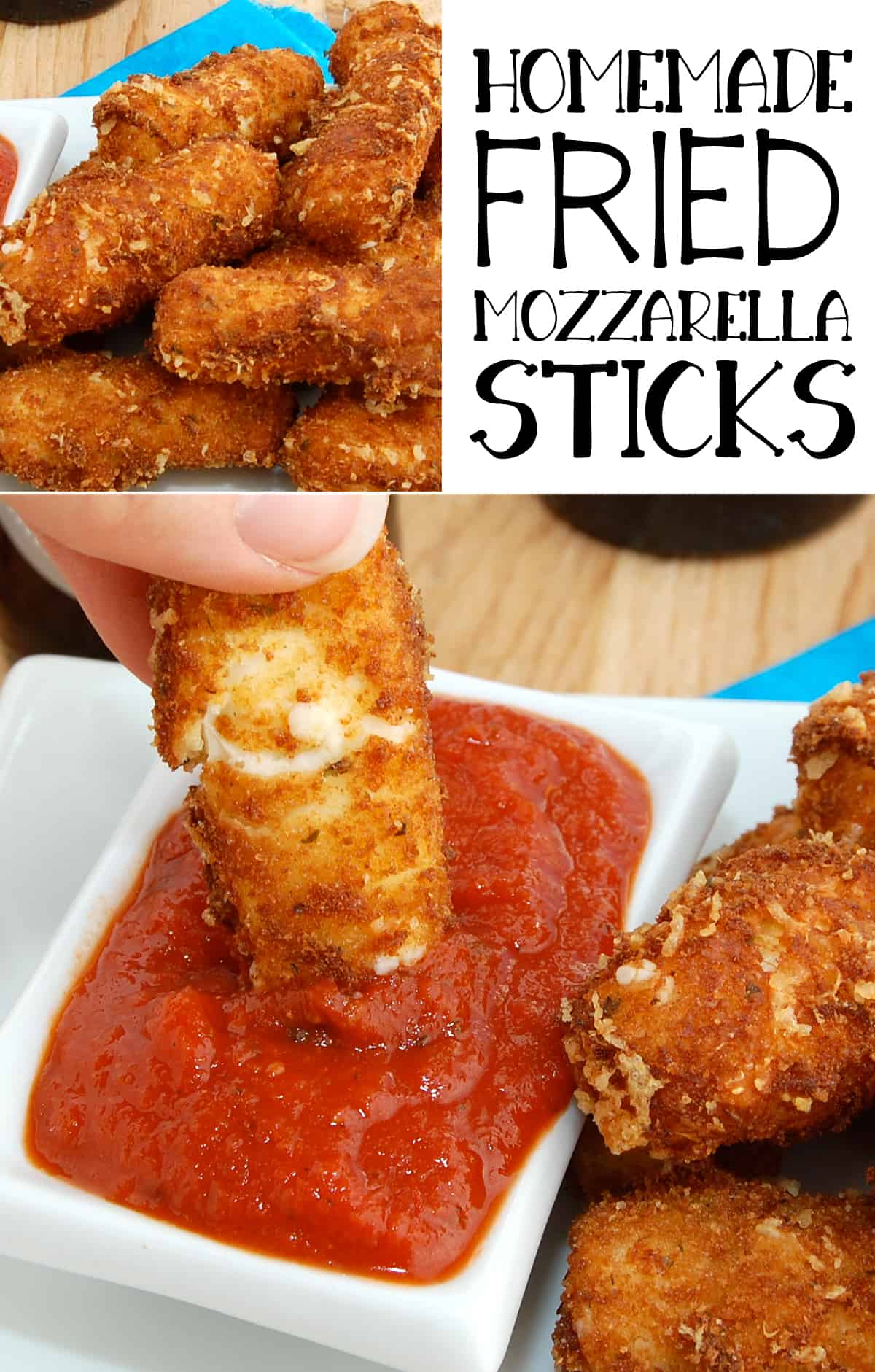 Get new recipes weekly plus our FREE ebook!