Levain Chocolate Chip Cookies are the indulgent dessert you have been waiting for! They are moist, delicious, and packed with double chocolate! When the sweetness hits your tongue, you will be in love with the best cookies you've ever tasted.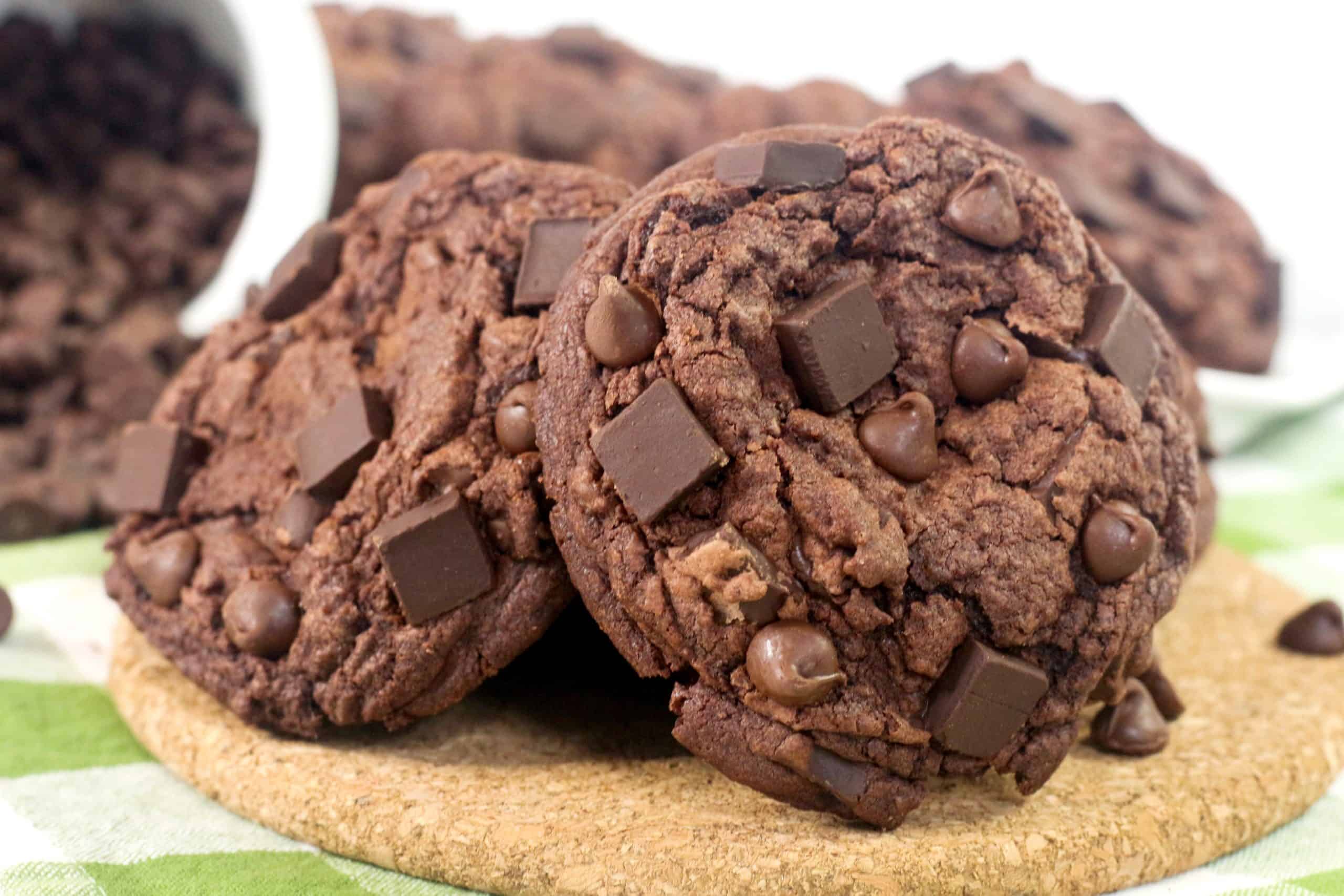 Levain Chocolate Chip Cookies Recipe
You already know that I am addicted to all things CHOCOLATE! I can't help it, that sweet heavenly treat is irresistible. Whenever I want to make a dessert that I know will impress all my friends and family, I whip out my Levain cookie recipe. I have never had anyone turn their nose away from this bakery-style chocolate chip cookies. Truly they are one of the easiest and most delicious cookies I've ever nibbled on. Once you try them, I'm certain you will agree.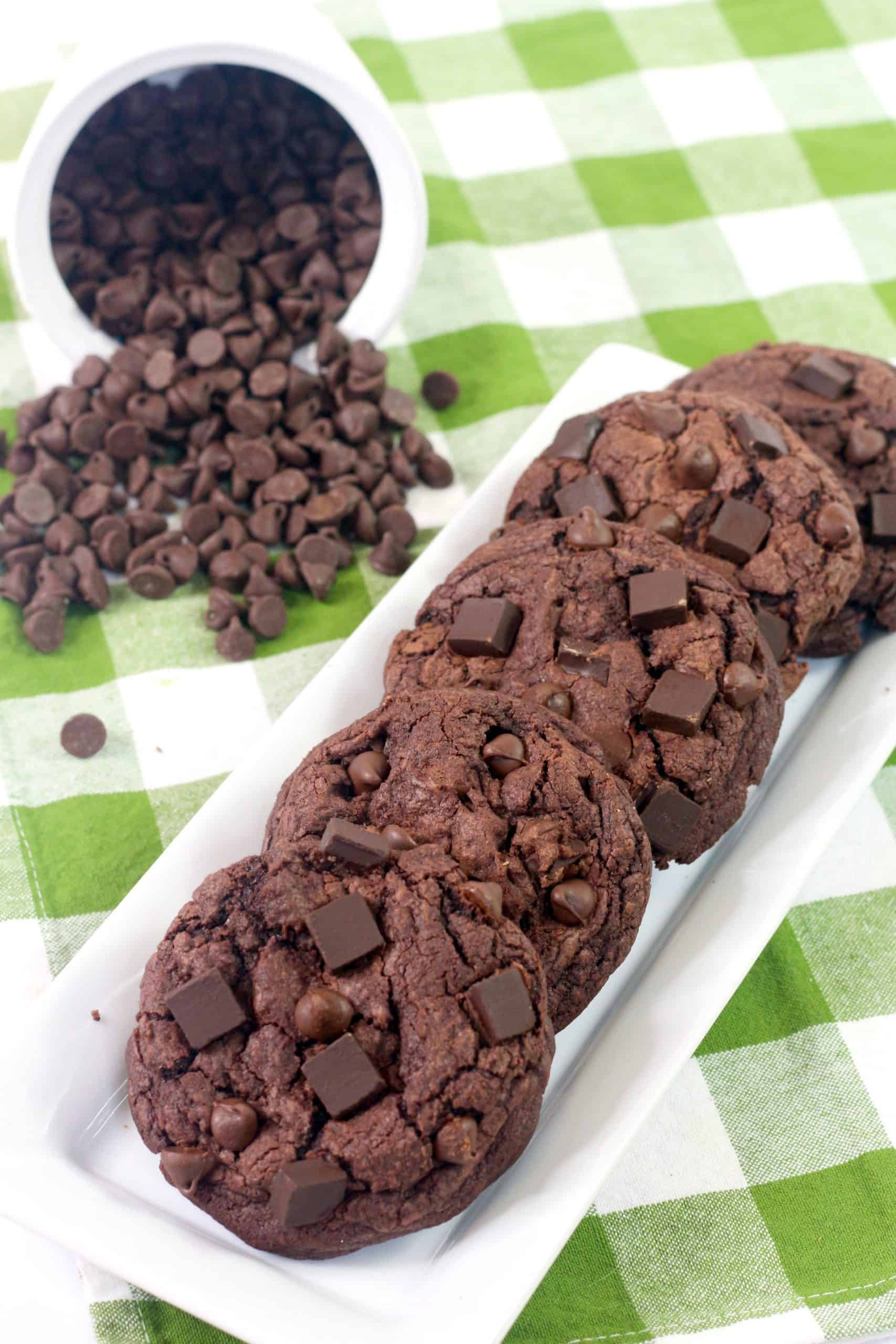 Levain Chocolate Chip Cookie Recipe Ingredients
When you taste these homemade chocolate chip cookies, you will think they require some kind of special or fancy ingredients, but they don't! Just the regular ingredients that you have in your pantry will do the trick, and they are positively heavenly.
Butter
Brown Sugar
Sugar
Eggs
Dark Baking Cocoa
Cake Flour
All-Purpose Flour
Cornstarch
Baking Soda
Salt
Semisweet Chocolate Chips
How To Make Levain Cookies
Trust me when I tell you that you are going to want to try these double chocolate cookies. They taste amazing and will please a crowd in minutes. Perfect for parties, events, or a delectable dessert.
First Step: Begin by preheating the oven to 410 degrees F.
Second Step: Mix together the cold butter, brown sugar, and white sugar until they are light, creamy and fluffy in a large bowl. This takes around 4 minutes.
Third Step: Put an egg into the sugar mixture and combine well. Then add another egg and mix in well.
Fourth Step: Slowly add the cocoa, cake flour, all-purpose flour, cornstarch, baking soda, and salt and mix until combined.
Fifth Step: Fold in the semi-sweet chocolate chips.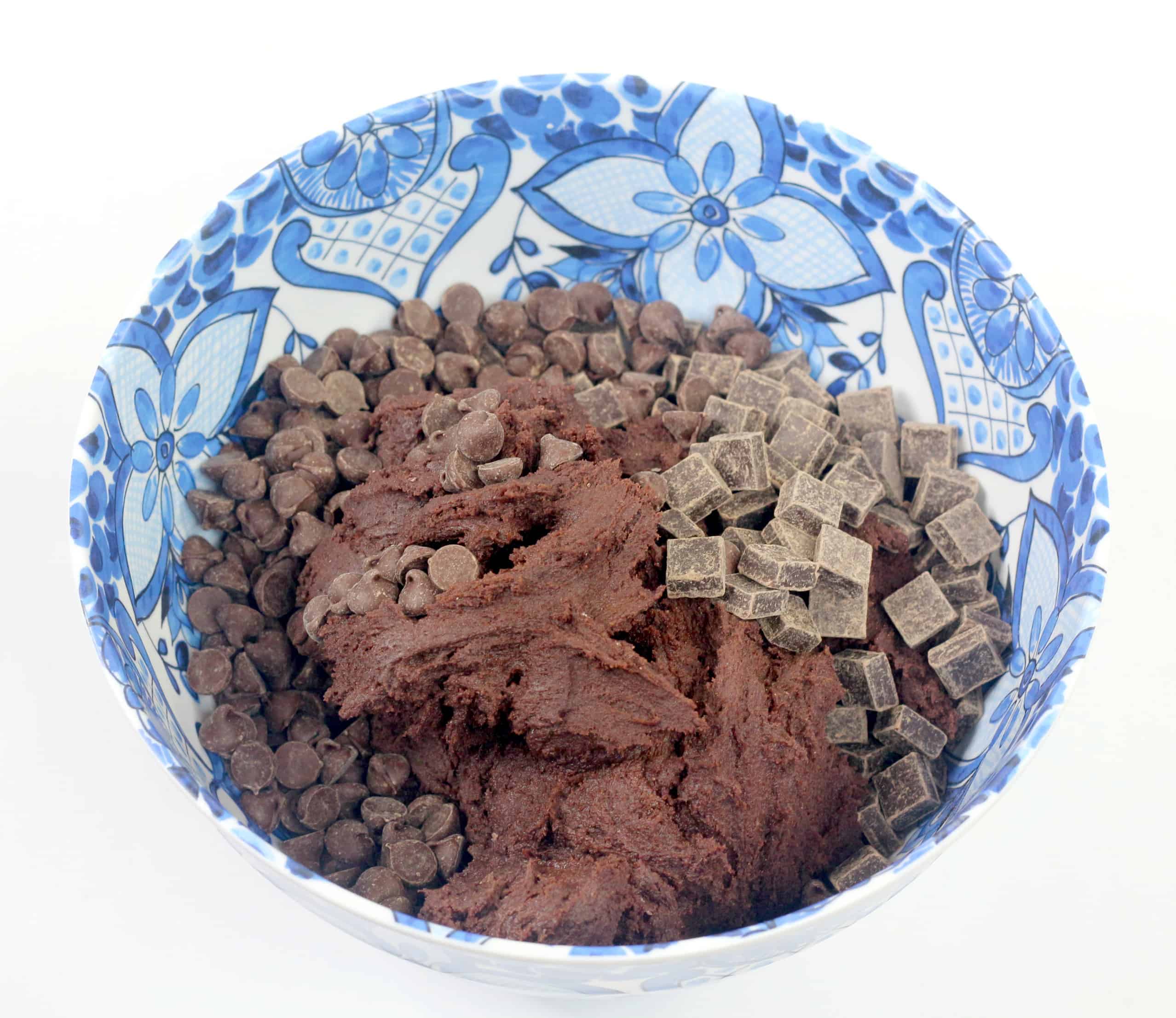 Sixth Step: Put the chocolate chip cookie dough in the fridge for 15 minutes.
Seventh Step: Roll the dough into large balls and place them on a cookie sheet. Using your fingers lightly press on the top of the dough to help smooth it out. Space the cookies, so 4-6 fit on a large baking sheet.
NOTE: This chocolate cookie dough is for 8-12 extra-large cookies.
Eight Step: Put the cookies in the oven and bake for 9-11 minutes until the center is set. Let them rest for 10-15 minutes before serving, then enjoy!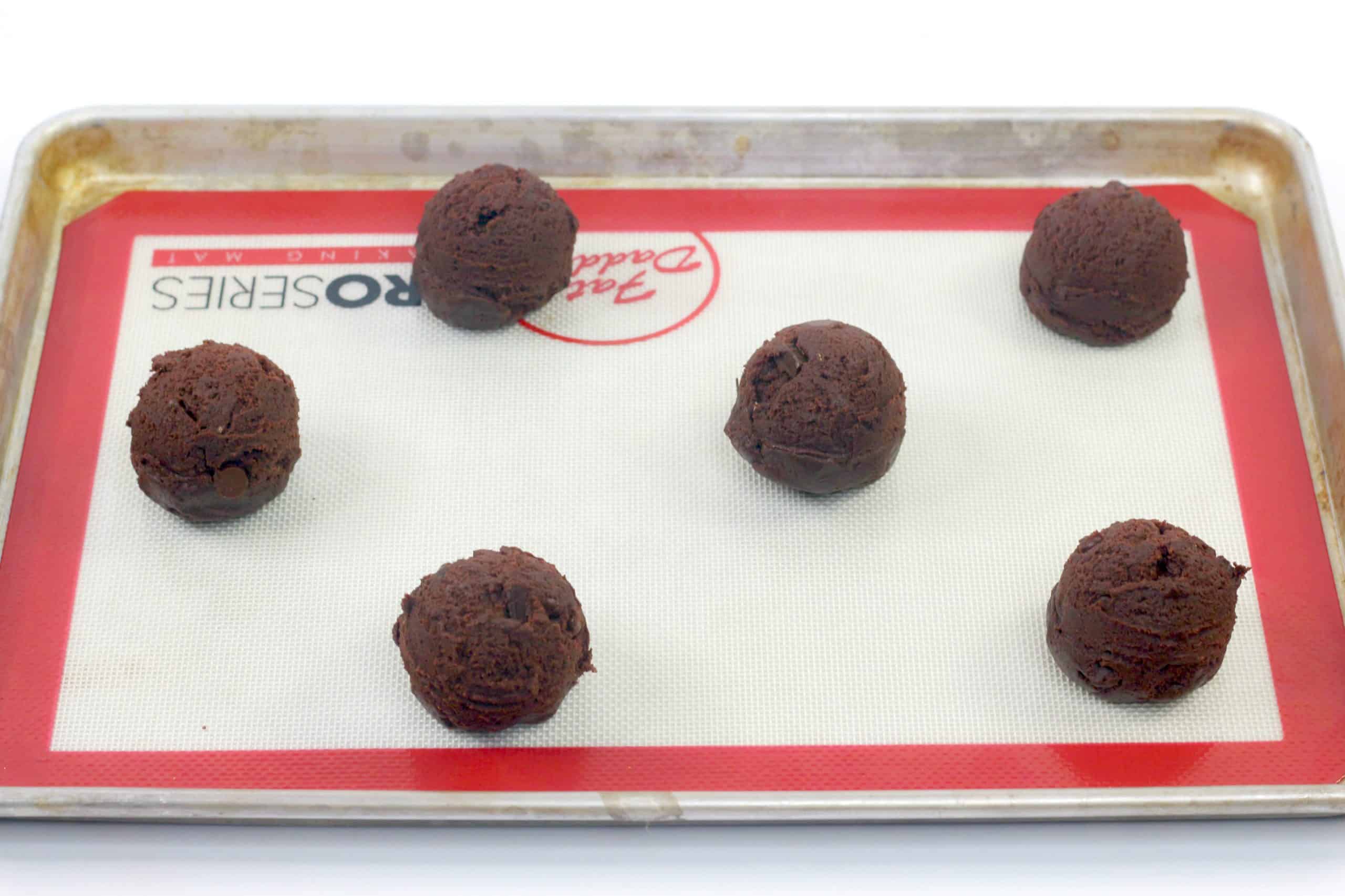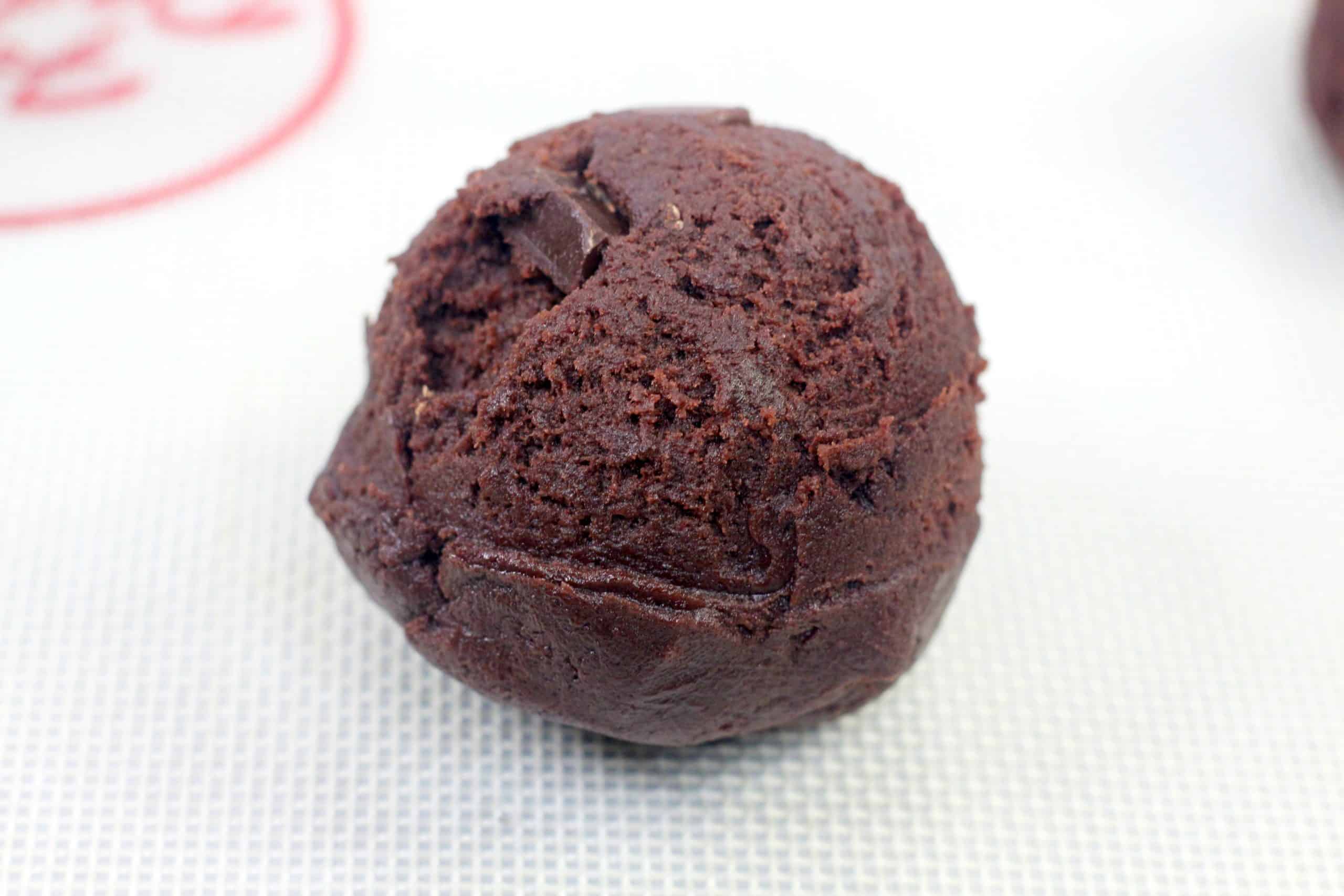 Levain Chocolate Chip Cookie Recipe Variations
These fantastic Levain chocolate chip cookies can be adjusted to fit your desires by adding some extra ingredients here and there. Try some of these ideas to add some extra pizzazz to these already amazing cookies.
White Chocolate – Crush up some white chocolate or use white chocolate chips. It will add some terrific flavor and make them even more incredible.
Milk Chocolate – If you find yourself really craving something sweet, opt to use some milk chocolate. It takes these Levain chocolate cookies to the next level of awesome.
Oreos – Crush up some Oreo cookies and add them to the batter. The flavor is irresistible, and they look really fantastic with the crushed cookies in them.
Walnuts – If you love nuts in your cookies, you should add in 1/4 – 1/2 cup of walnuts. Oh my goodness, it's out of this world!
Peanut Butter Chips – I can never get enough of peanut butter and chocolate together. Toss in some peanut butter chips for a whole new dimension. Yum!
Marshmallows – Adding a few mini marshmallows is a fun way to add some charm to these already fantastic cookies. Kids go wild for anything that has a marshmallow in it…trust me!
How Do I Make Uniform Sized Cookies?
The best way to make uniform sized cookies is by using a cookie scoop. There are a variety of sized scoops you can buy, ranging from 2 inches all the way up to 4 inches. Keep in mind the bigger the cookies are, the longer they will take to bake, and the smaller they are, the faster they will bake.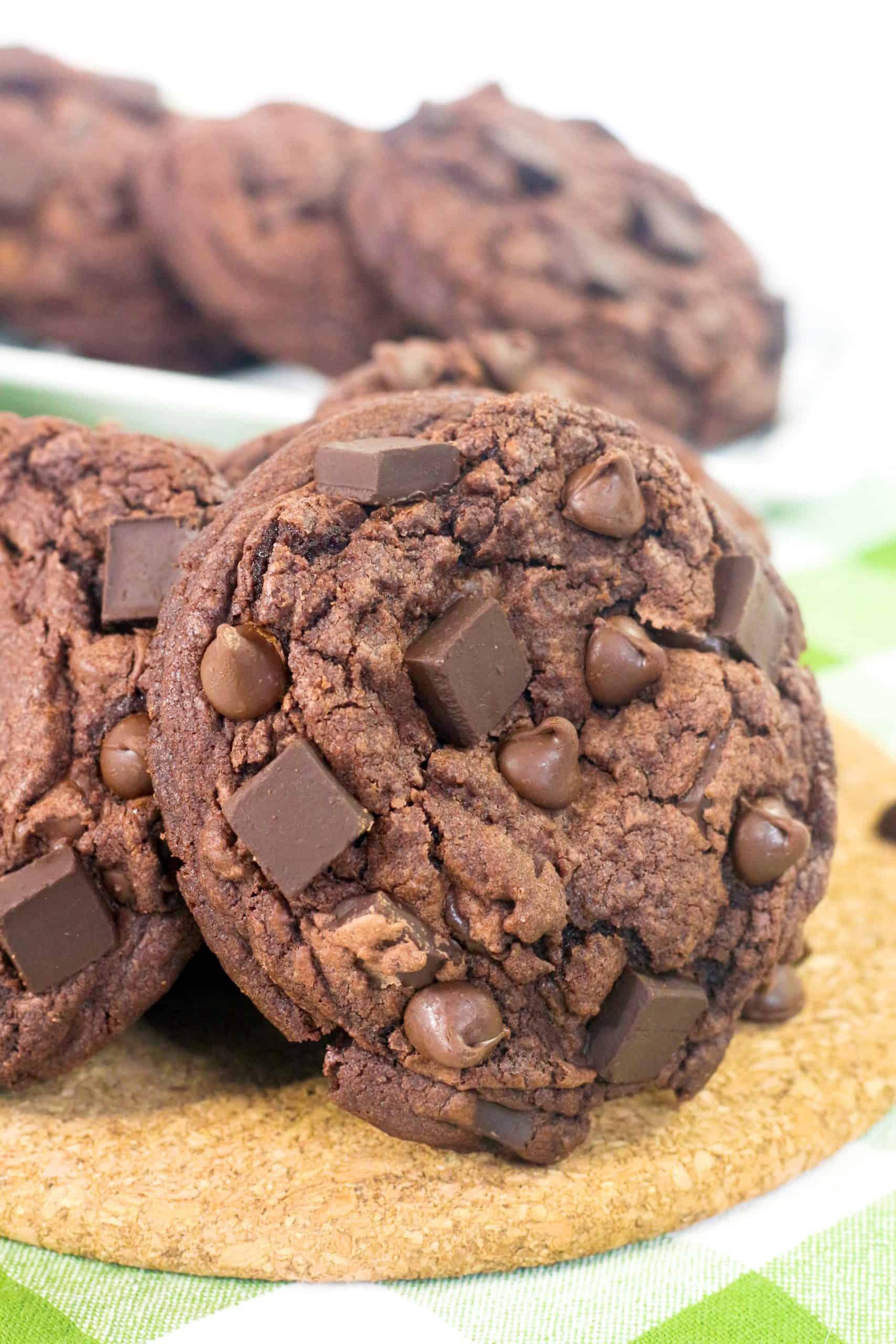 How Do You Store Levain Chocolate Chip Cookies?
This Levain chocolate chip cookie recipe is wonderful for making ahead of time because they are easy to store. Keep the freshly baked cookies in an airtight storage container, and they will last 3-5 days. You can keep them on the counter, in the pantry, or even refrigerate them if you want to. Either way, they are lovely to grab for a snack on the go or an easy dessert.
Can You Freeze Chocolate Chip Cookies?
Yes, you can freeze these Levain chocolate cookies! Keep them in a container that has a tight-fitting lid or use a freezer-safe bag and remove extra air. Then freeze the chocolate cookies for up to 3 months. Sometimes I will make a double or even triple batch, so I have some on hand whenever I get a craving for them. They are so easy to grab and eat. Just thaw them on the counter, and once they aren't frozen, you can start eating them.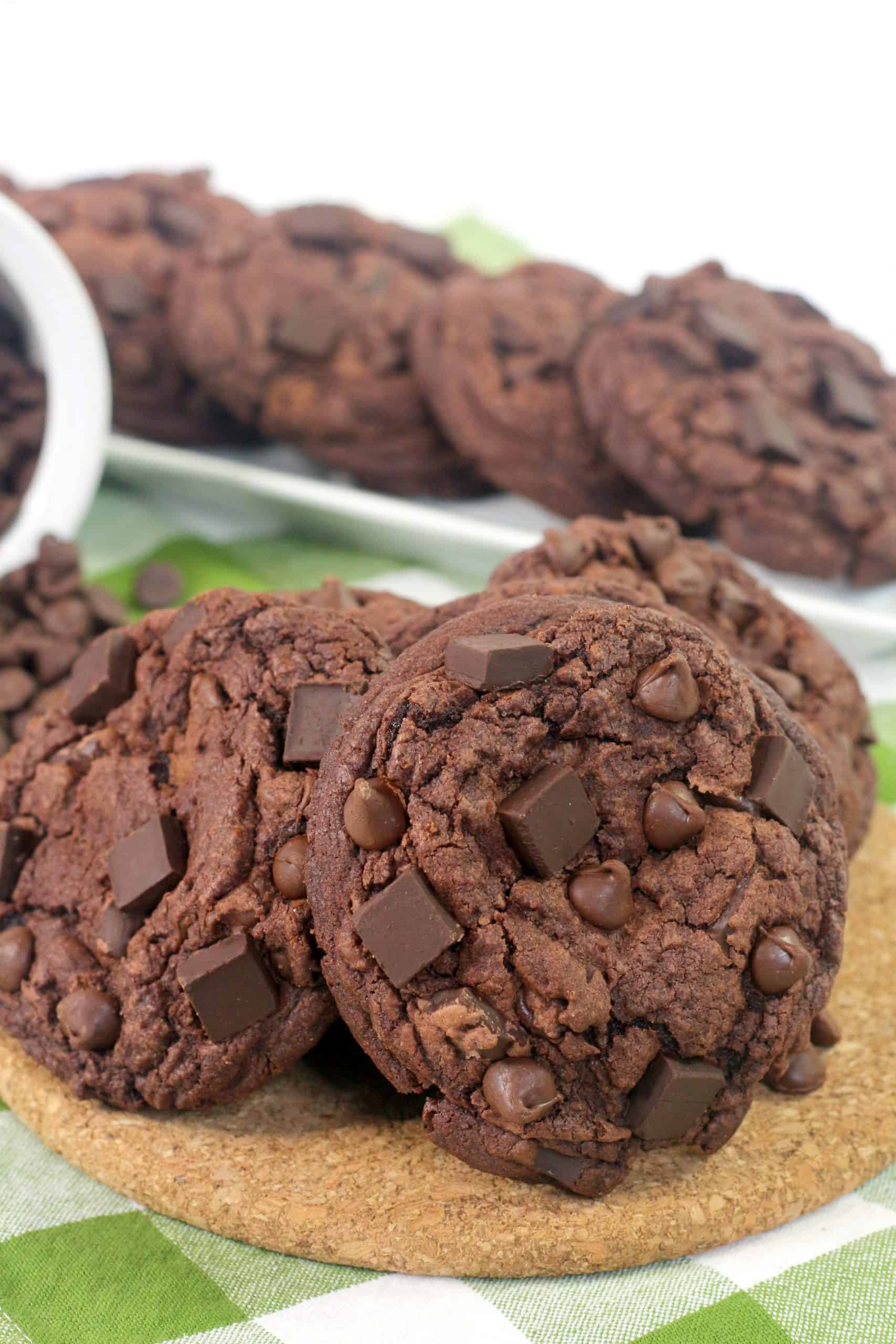 I can never get enough of these Levain chocolate chip cookies, and I bet you will feel the same. If you decide you want to try something different, you should check out these amazing desserts while you are at it. They are fabulous as well!
Now, remember to save this recipe on Pinterest for later 🙂

Pin this recipe now to remember it later
Levain Chocolate Chip Cookies Recipe
Moist, delicious Levain Chocolate Chip Cookies will cure your sweet tooth. This Levain cookie recipe is scrumptious and has double chocolate!
Ingredients
1

C

Cold Butter cut into small cubes

1 1/2

C

All-Purpose Flour

1 1/3

C

Semisweet Chocolate Chips
Instructions
Preheat oven to 410 degrees.

In large bowl, cream together cold butter and sugars until light and fluffy, about 4 minutes.

Add eggs one at a time, mixing well after each addition.

Add cocoa, cake flour, all-purpose flour, cornstarch, baking soda, and salt and stir until combined.

Stir in semisweet chocolate chips.

Chill dough for 15 minutes.

Separate dough into large balls and place on lightly colored cookie sheet.

Lightly press on top of dough to smooth out.

You will fit 4-6 cookies on one large cookie sheet.

The dough makes 8-12 extra large cookies.

Bake for 9-11 minutes or until golden brown on the top.

Let them rest for at least 10-15 minutes to set.

Enjoy!
Follow me on Pinterest for daily delicious recipes!
More recipes you may enjoy:
Chocolate Earthquake Cake Recipe – This dessert is the perfect choice for someone who loves both chocolate cake and cheesecake.
Instant Pot Apple Cake Recipe – Easy and delicious, this Instant Pot apple cake will knock your socks off!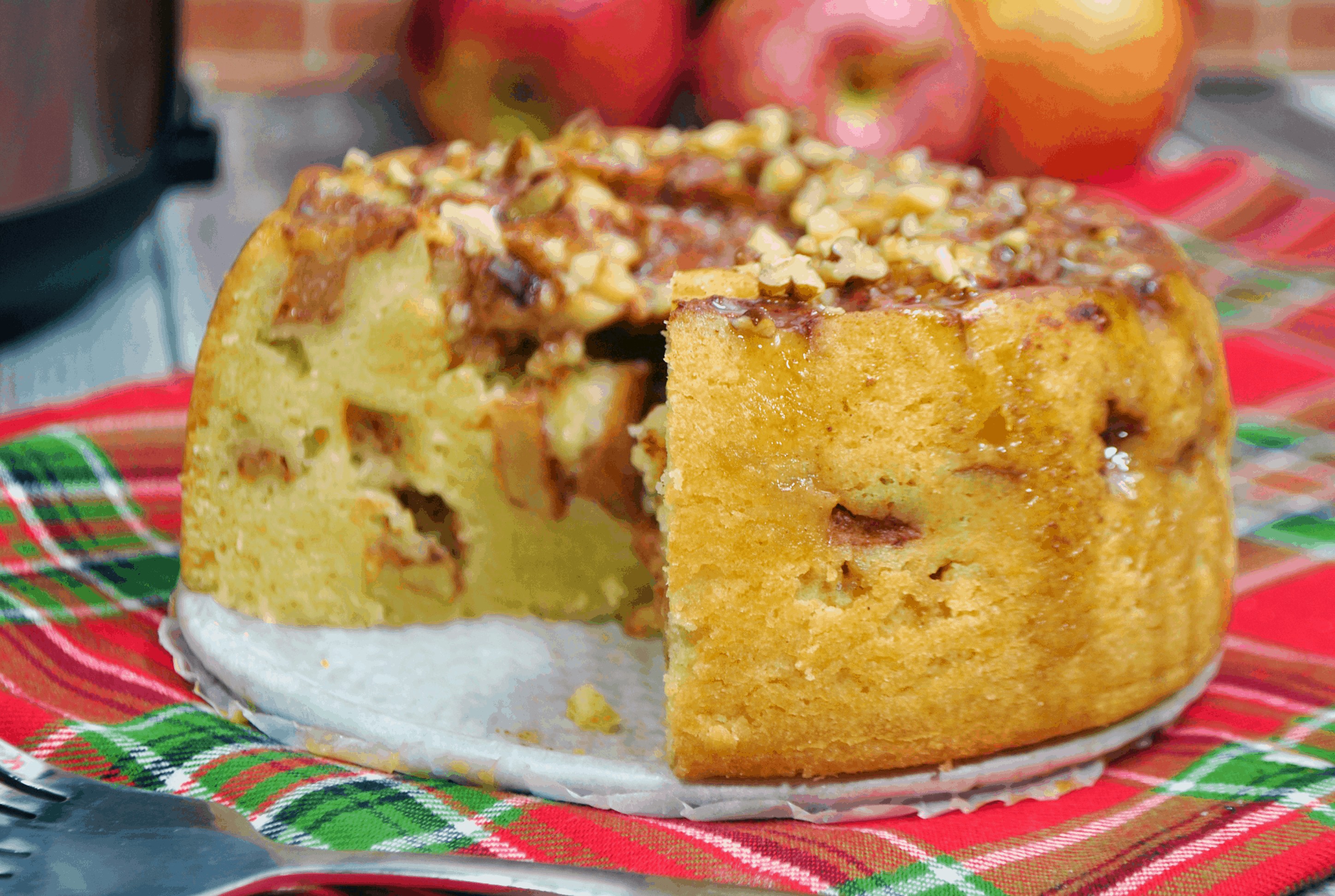 Better Than Sex Pumpkin Cake – This Better Than Sex Cake Pumpkin Cake is the best pumpkin cake recipe you'll ever make.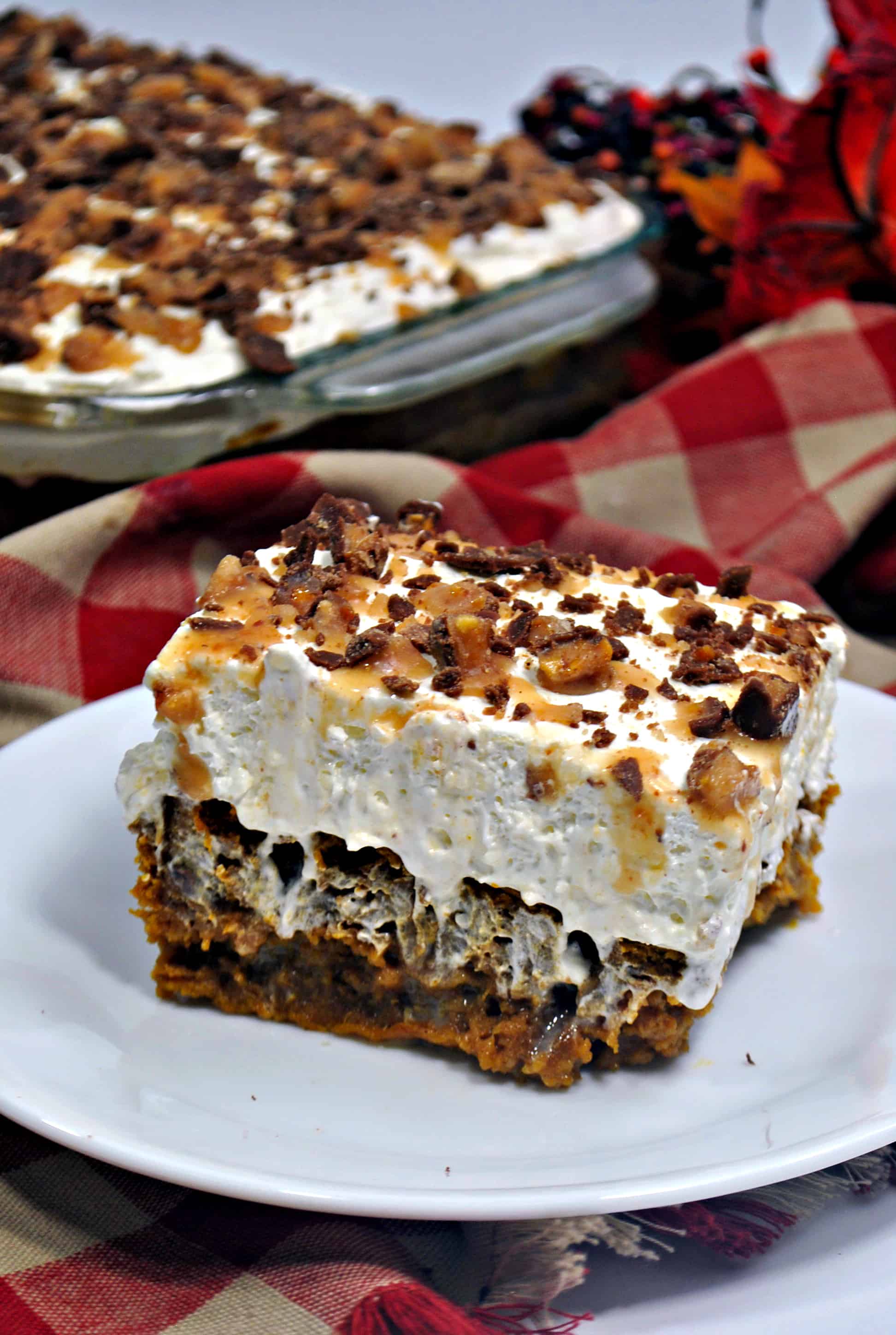 Cherry Dr. Pepper Cake – It's a hit with kids and adults alike and, bonus; it's so easy to make!
Cherry Almond Bundt Cake – This is one bundt cake recipe you will want to make.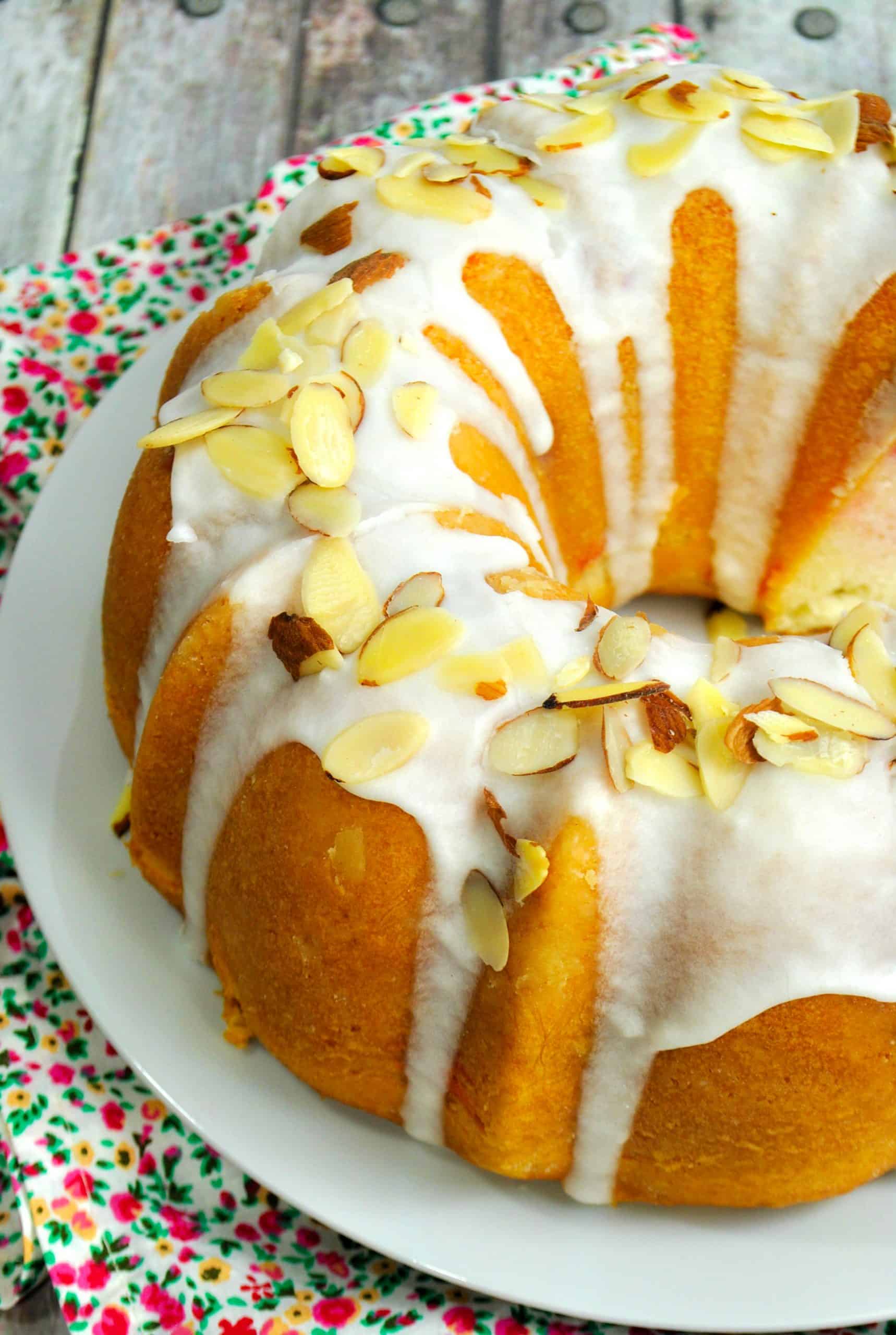 Get new recipes weekly plus our FREE ebook!