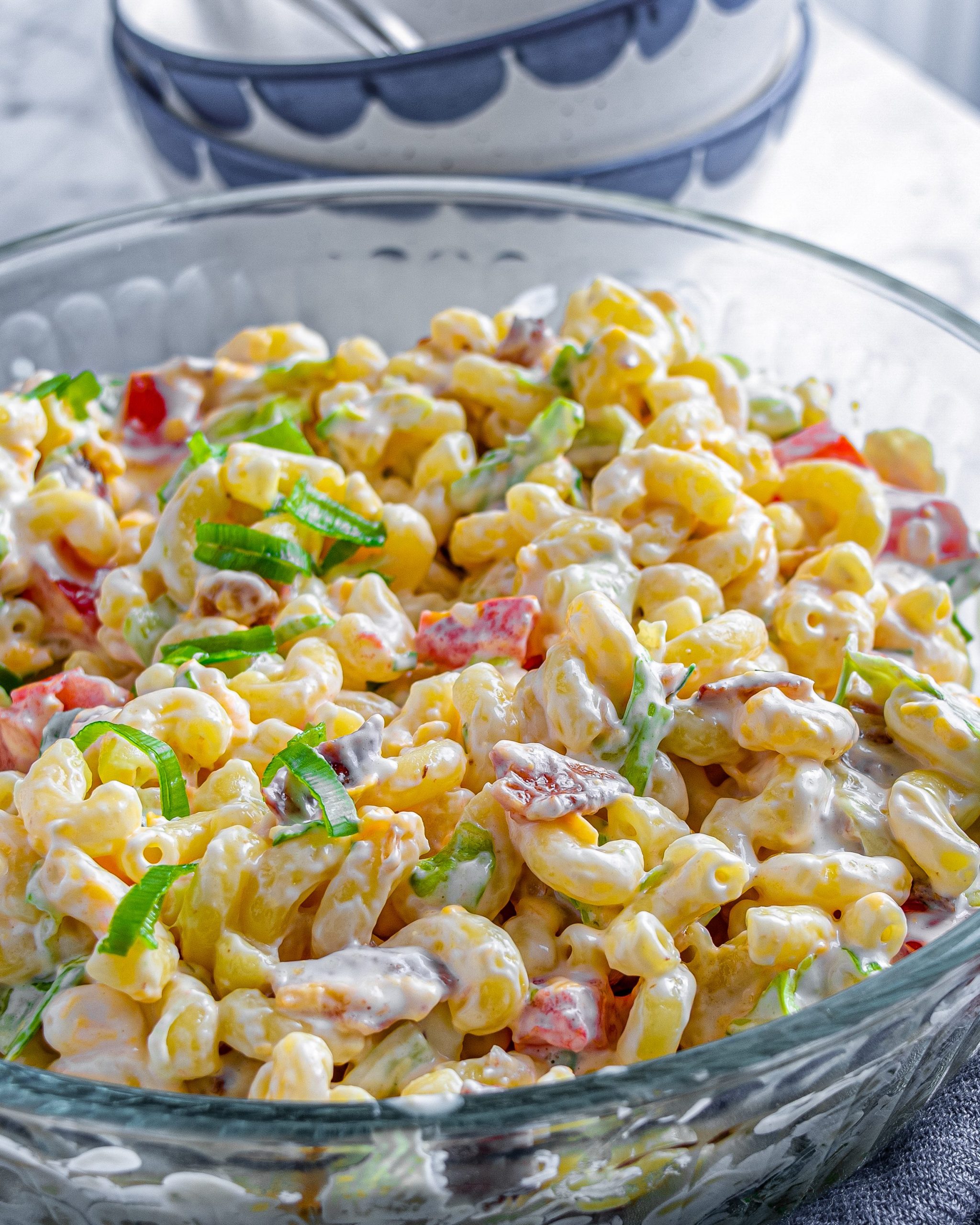 The beauty of a good macaroni salad is that it's the perfect dish for both a summer barbecue and a winter potluck. And this BLT Macaroni Salad recipe is the perfect recipe.
Whether you're looking for a mayo-based salad or something a little lighter, this dish has you covered.
Want to save this recipe? Enter your email below and we'll send the recipe straight to your inbox!
NOTE: By saving this recipe, you agree to join our weekly recipes newsletter.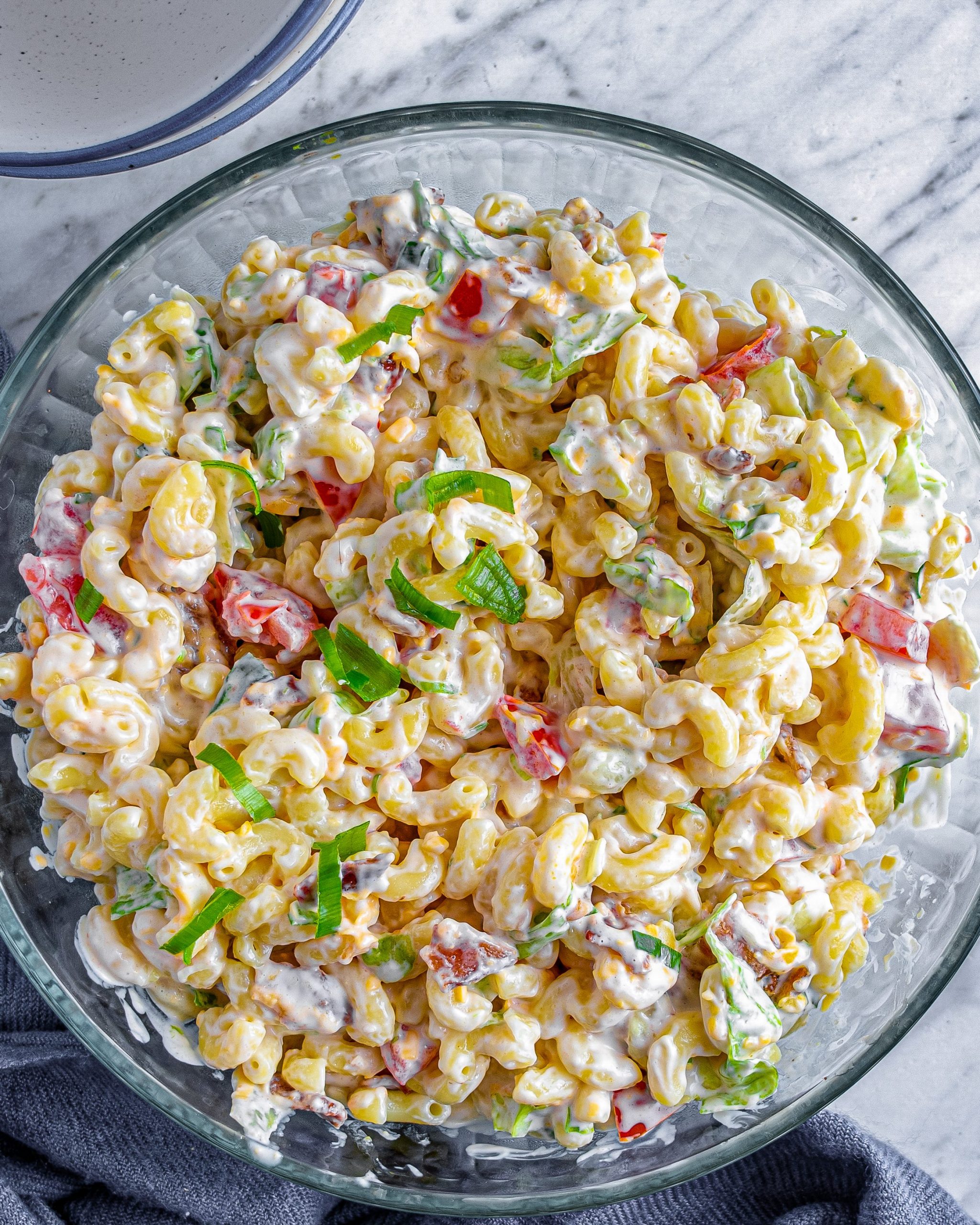 So whether you're cooking for a crowd or just looking for a new way to use up some leftover bacon, give this BLT Macaroni Salad recipe a try.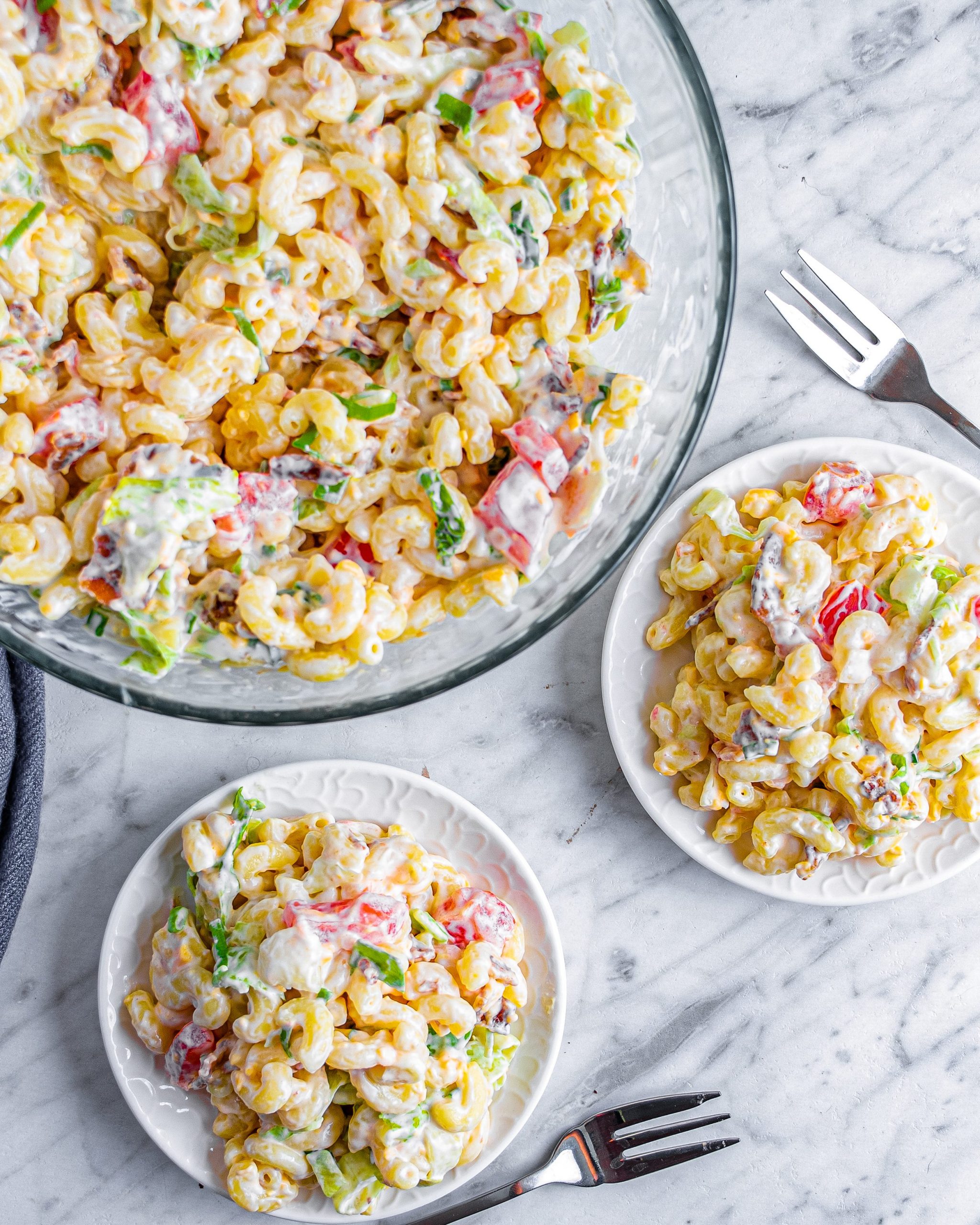 The salad is easy to make and it's sure to be a hit with your friends and family.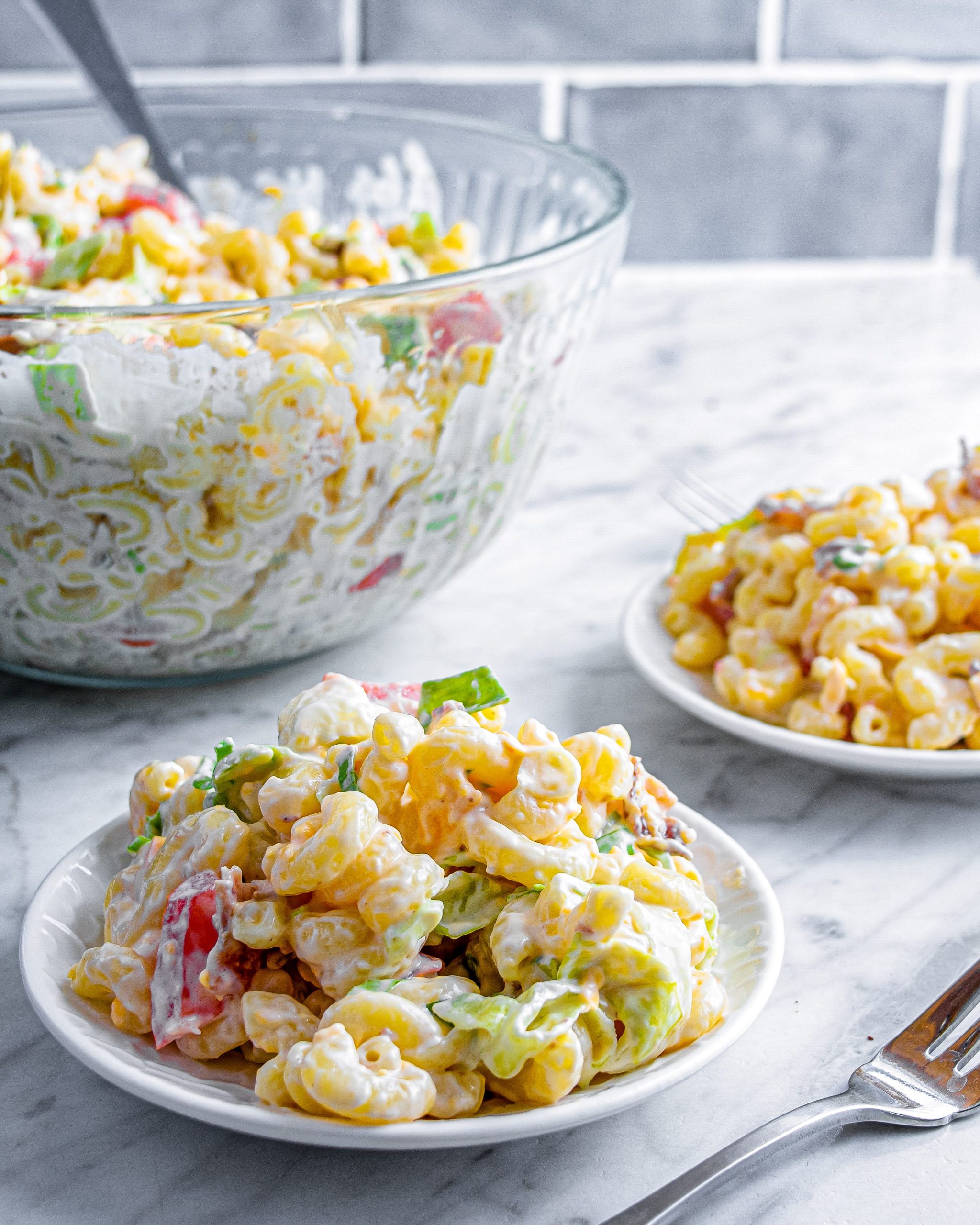 So, the next time you're looking for a macaroni salad recipe, consider giving this BLT Macaroni Salad a try.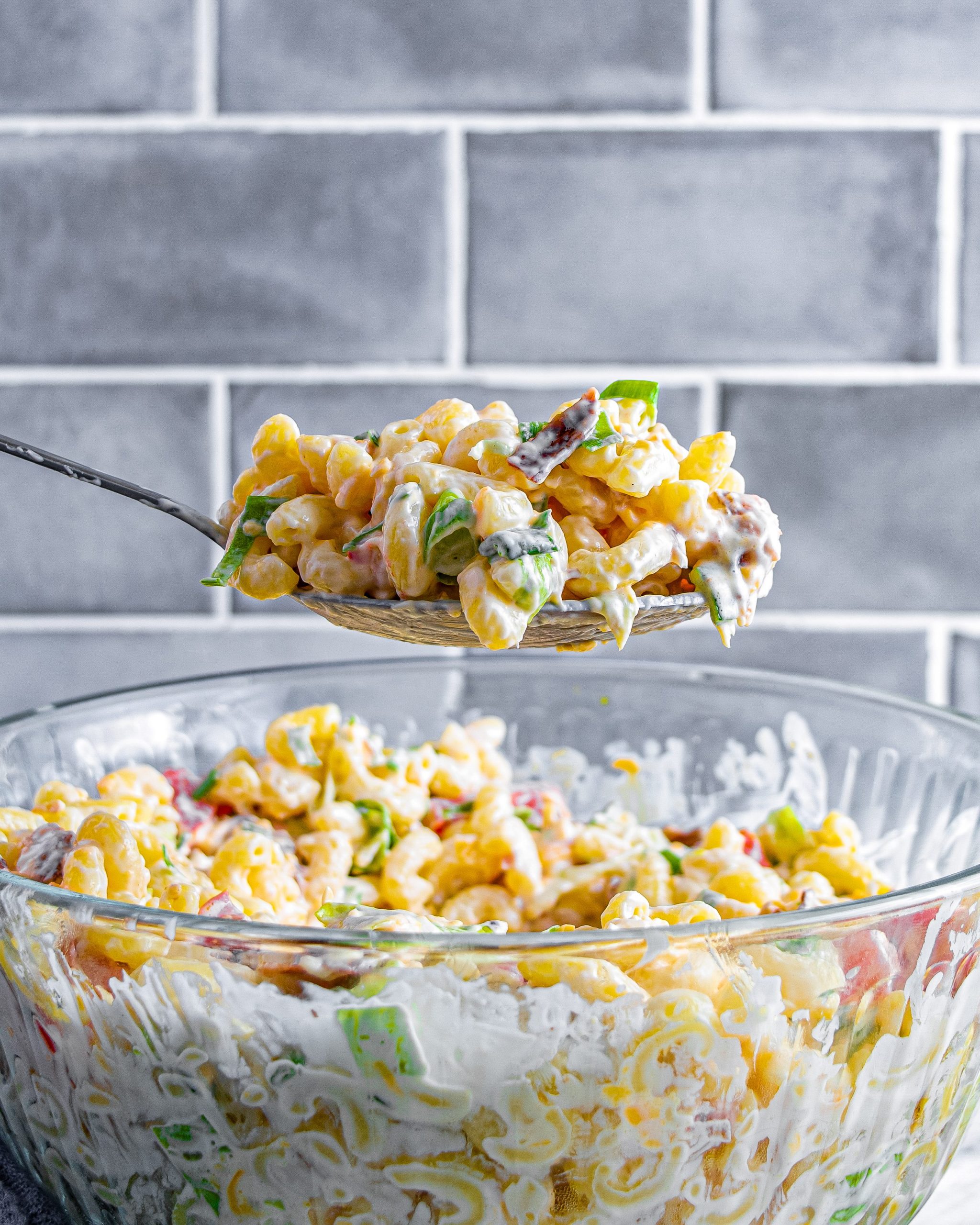 Scroll to Bottom for Printable Recipe Card Below!
Why do I love this recipe?
Great summer salad, potluck salad, etc.
Versatile in ingredients you can use.
Fresh ingredients.
Favorite BLT Sandwich made into a pasta salad.
Kid-friendly
Try this BLT bites for another tasty option.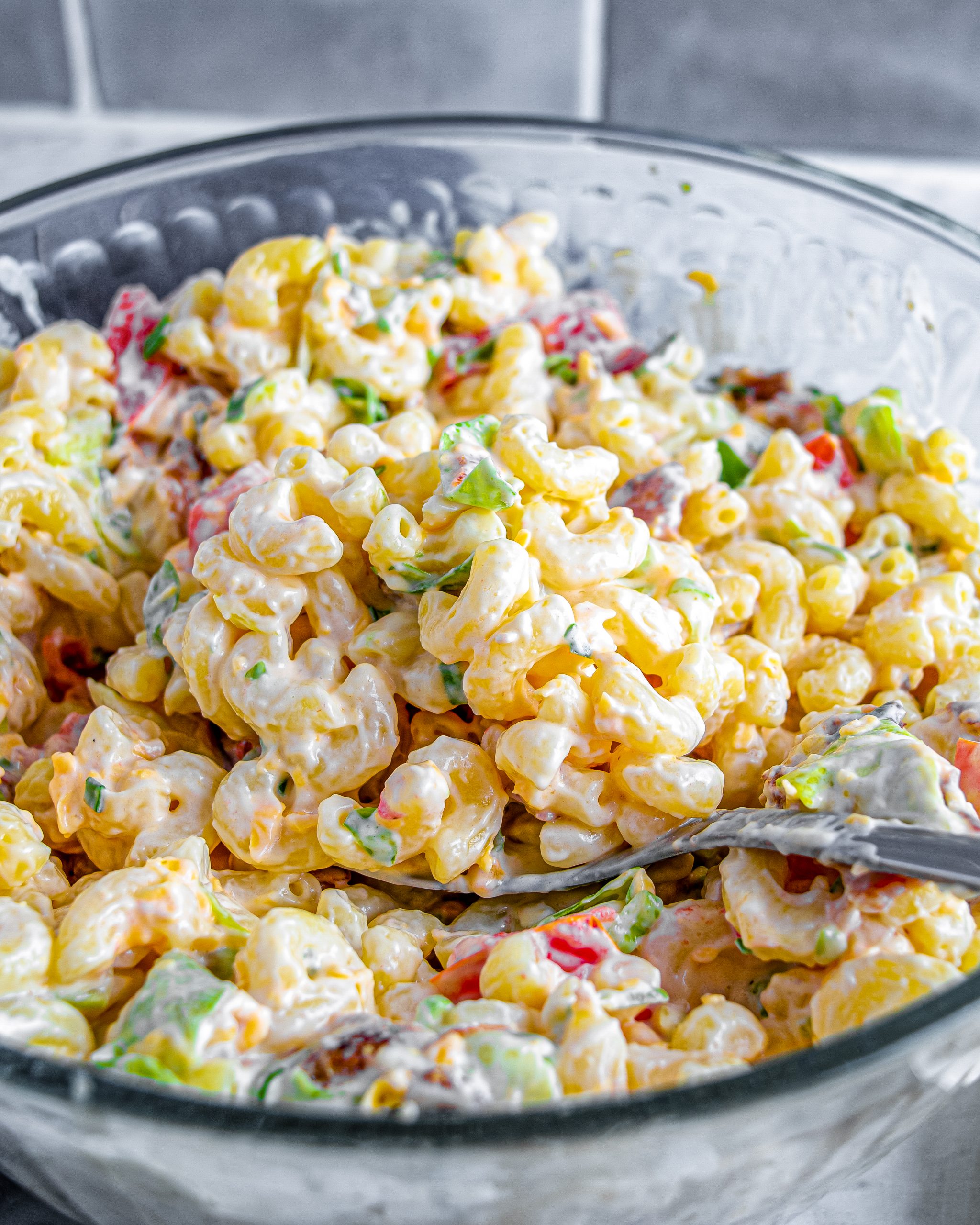 Did pasta salad originate in Italy?
Pasta salad as we know it today is a dish that has its roots in many different cultures, including Italy, but it is not a traditional dish from Italy.
What to serve with BLT pasta salad for a crowd?
To serve with BLT pasta salad for a crowd, consider adding a fresh green salad, grilled vegetables, or garlic bread. You could also serve a cold soup, like gazpacho, to start the meal.
What Type of Tomatoes Should You Use in a BLT Pasta Salad?
For a BLT pasta salad, it's best to use ripe, juicy tomatoes that have a good balance of sweet and tart flavors. Roma tomatoes, cherry tomatoes, or grape tomatoes are all good options.
The Ideal Pasta for a Creamy, Delectable Pasta Salad
The ideal pasta for a creamy, delectable pasta salad is a short, sturdy pasta shape, such as rotini, farfalle, or penne, that can hold up well to dressing and other ingredients.
Is this BLT Pasta Salad Recipe easy to Double?
This BLT pasta salad recipe can easily be doubled to serve a larger crowd. Simply double the ingredients and adjust the dressing and seasonings to taste.
This California spaghetti salad is another great salad for serving a crowd. Tons of fresh flavors and is delicious.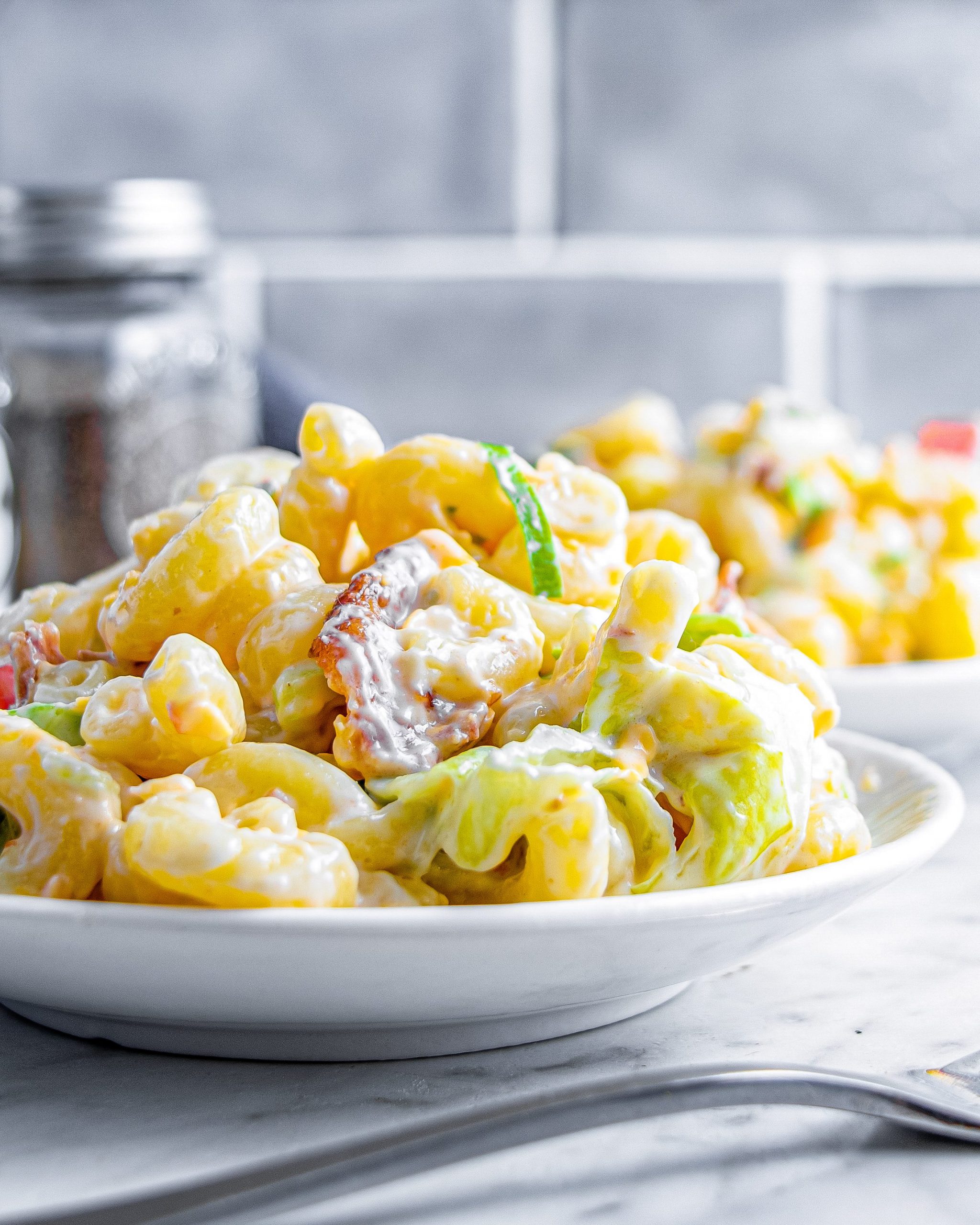 Ingredients:
Uncooked macaroni noodles
Mayonnaise
Bacon crumbles
White vinegar
Large tomato
Green onions
Shredded cheddar cheese
Baby spinach
Salt and pepper to taste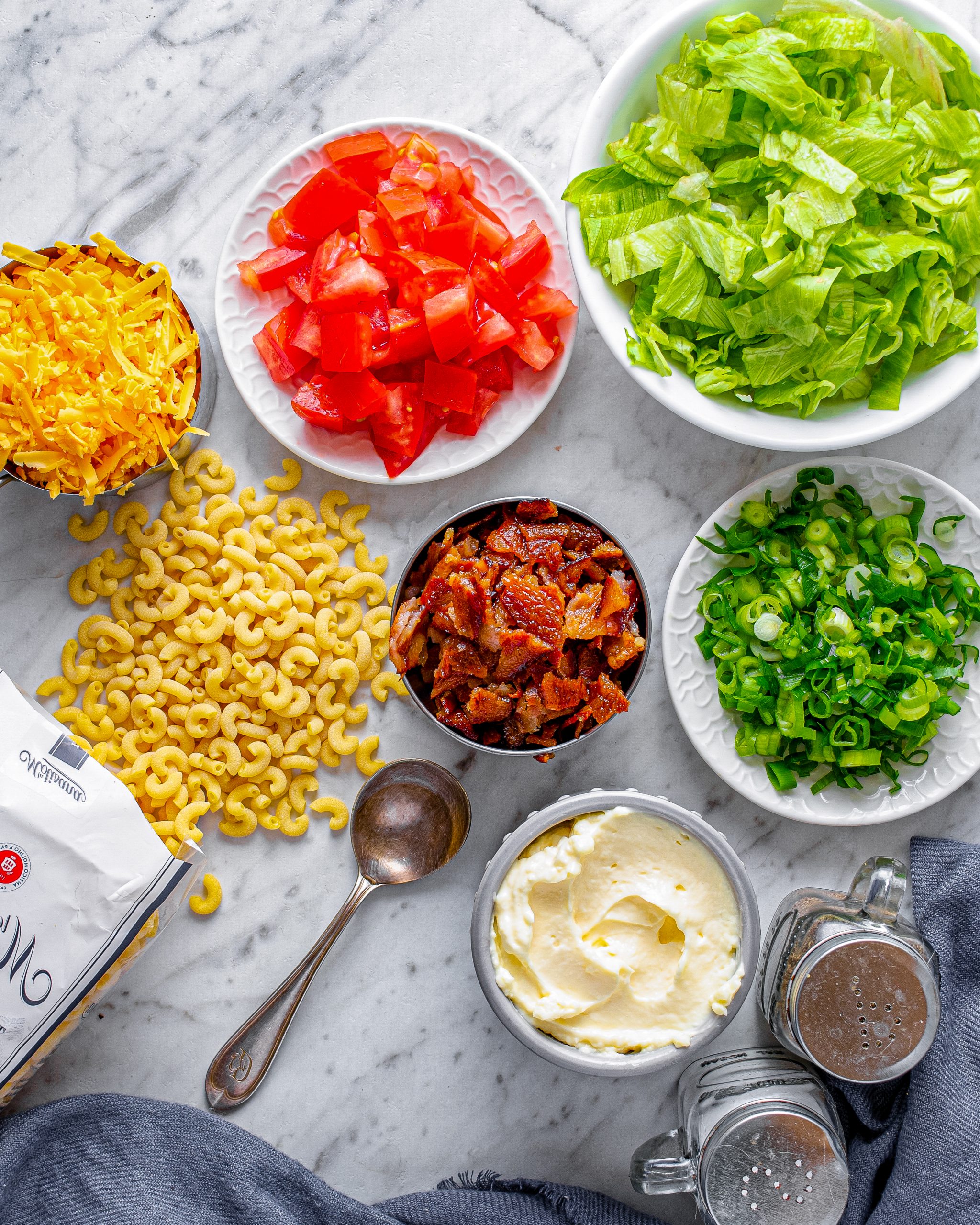 How to make BLT Macaroni Salad?
Step 1. Add the pasta to a pot of boiling water. Cook until done to your liking.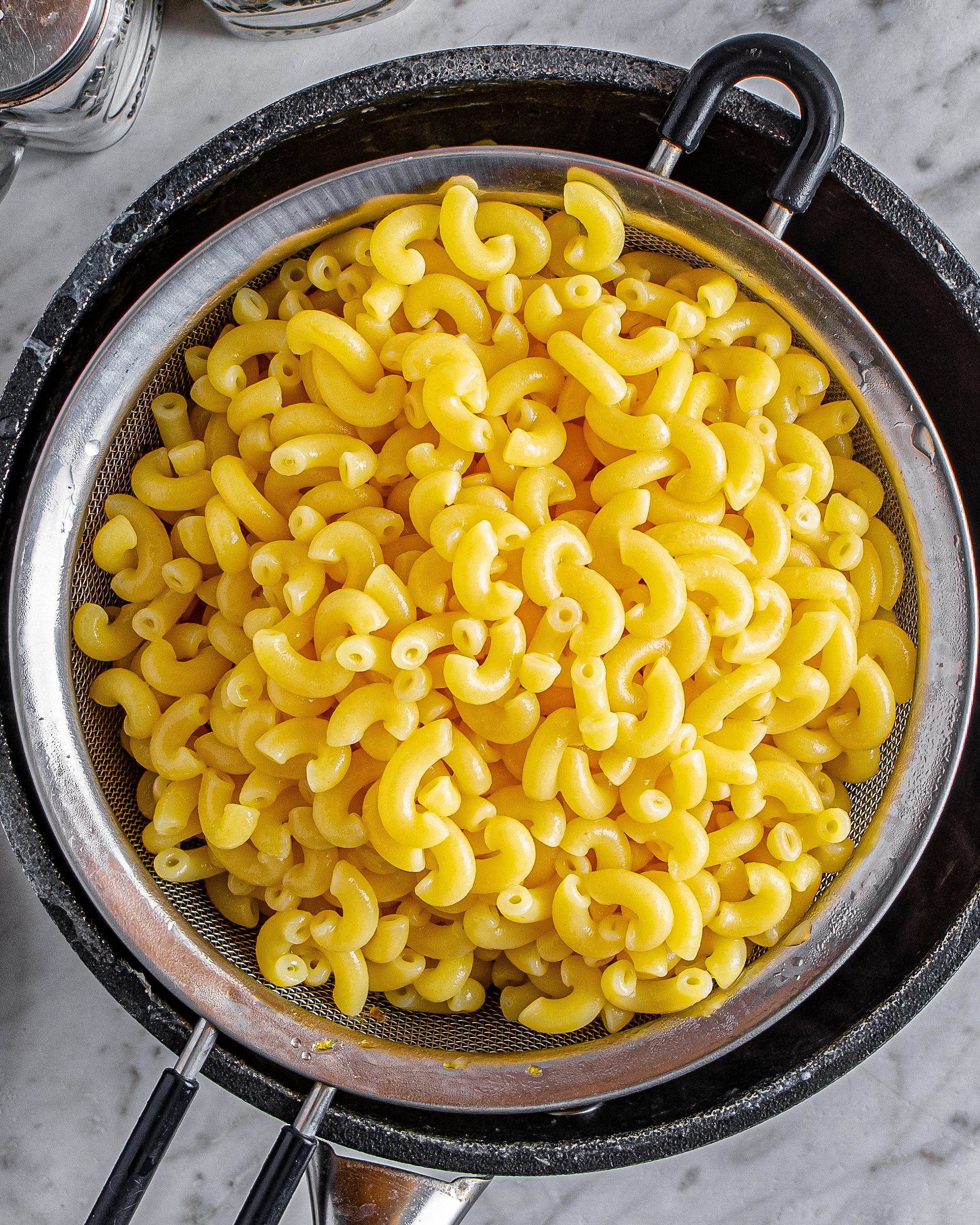 Step 2. Drain the pasta well, and run it under cold water to cool it well.
Step 3. Place all of the ingredients except for the pasta into a large mixing bowl, and stir to combine well.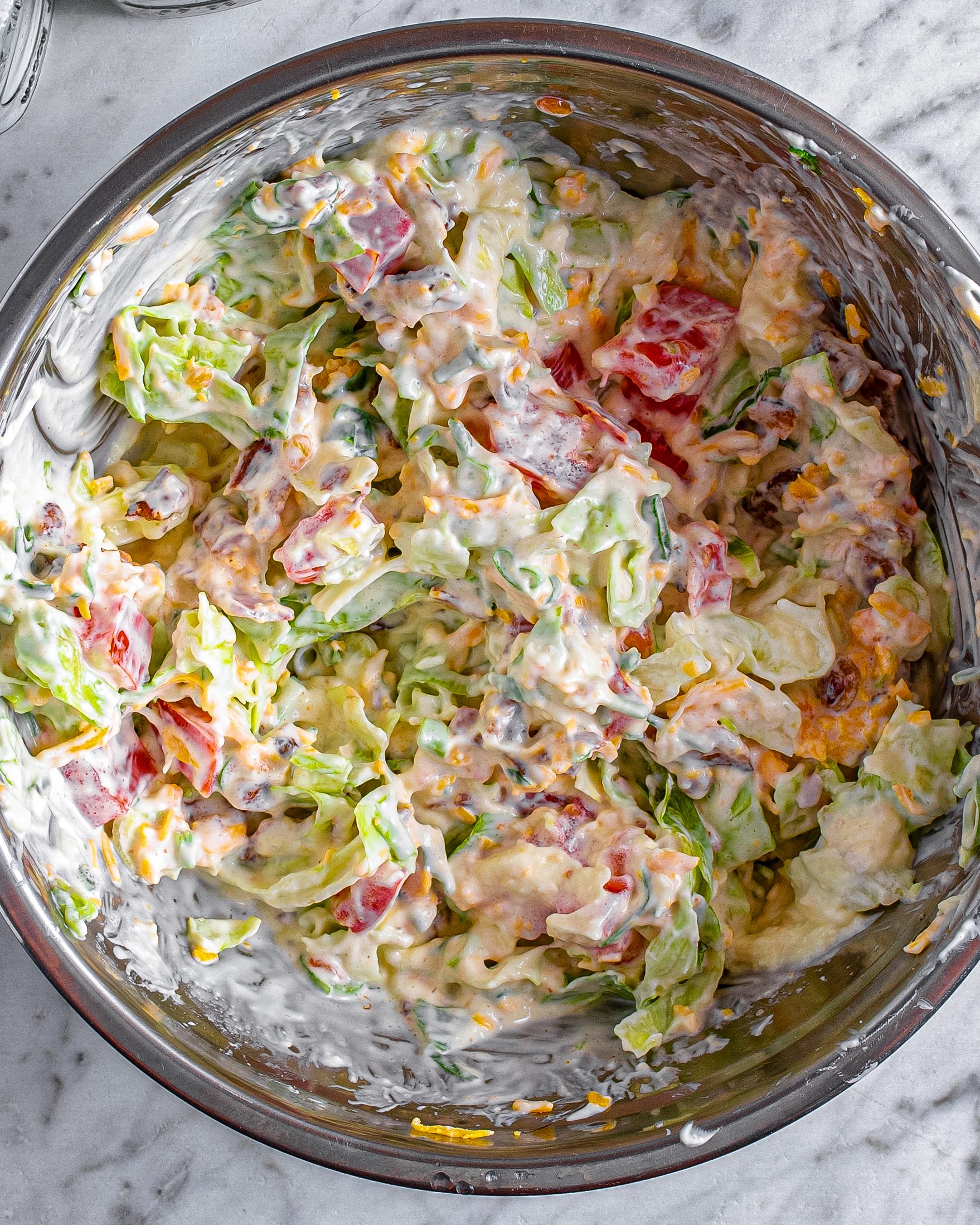 Step 4. Once cooled and fully drained, add the pasta to the mixing bowl, and mix to combine.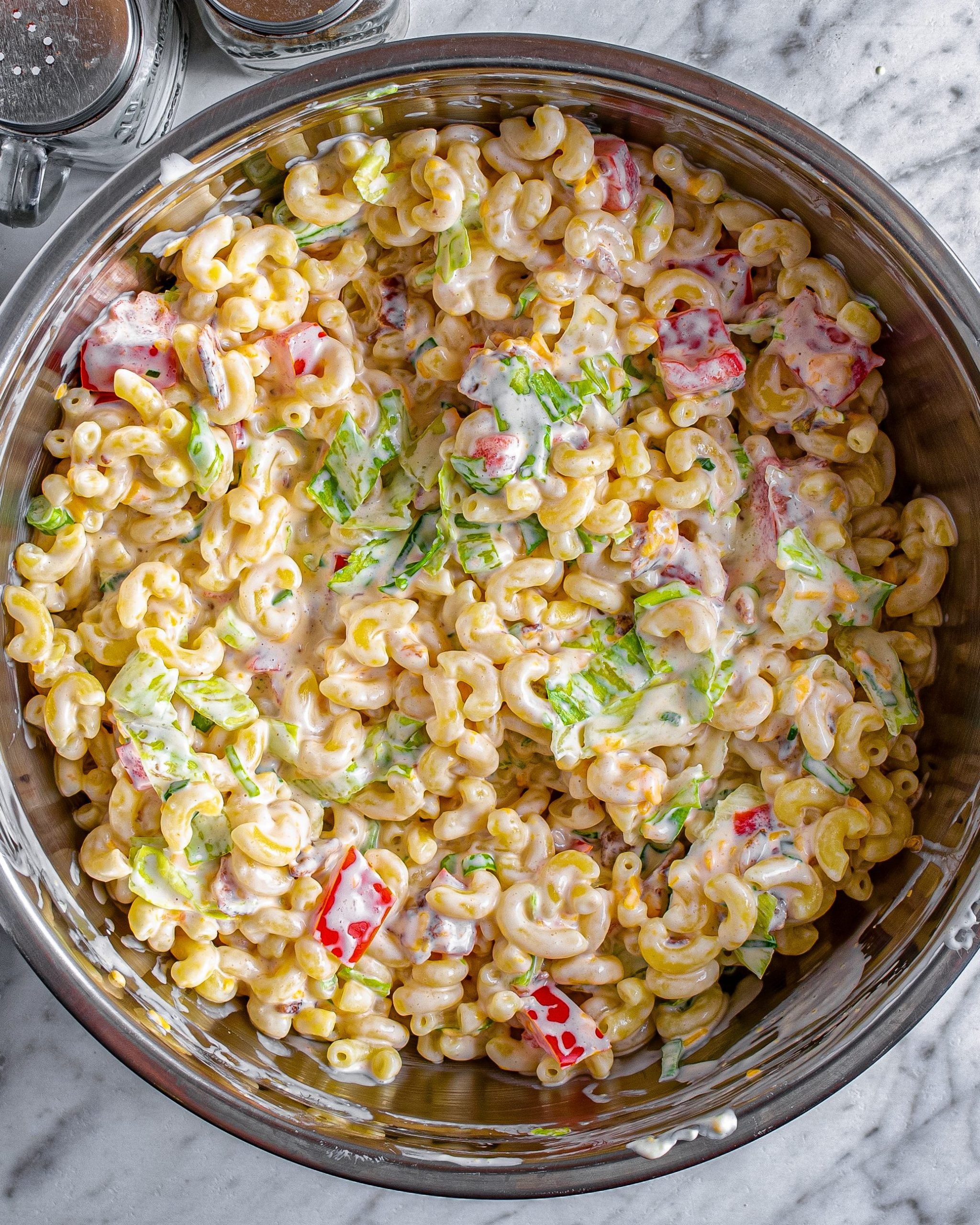 Step 5. Chill for 1-2 hours before serving.
Want to save this recipe? Enter your email below and we'll send the recipe straight to your inbox!
NOTE: By saving this recipe, you agree to join our weekly recipes newsletter.
Pin this recipe now to remember it later
BLT Macaroni Salad
This BLT Macaroni Salad is the perfect summer dish. It's light, refreshing, and packed with flavor. Plus, it's easy to make and can be made ahead of time.
Ingredients
2

c

Noodles

,

cooked to al dente and drained

1

c

Bacon

,

cooked and crumbled

1

Tomato

,

Large, chopped

½

c

Green onions

,

chopped

½

c

Shredded cheddar cheese
Want to save this recipe? Enter your email below and we'll send the recipe straight to your inbox!
NOTE: By saving this recipe, you agree to join our weekly recipes newsletter.
Instructions
Stir together the cheddar cheese, bacon, mayonnaise, vinegar, spinach, green onions, tomato and salt and pepper to taste in a large bowl.

Add in the pasta, and toss to combine everything well.

Chill for at least 2 hours before serving.
Nutrition
Calories:
828
kcal
|
Carbohydrates:
16
g
|
Protein:
6
g
|
Fat:
82
g
|
Saturated Fat:
22
g
|
Polyunsaturated Fat:
30
g
|
Monounsaturated Fat:
27
g
|
Trans Fat:
0.1
g
|
Cholesterol:
63
mg
|
Sodium:
475
mg
|
Potassium:
87
mg
|
Fiber:
1
g
|
Sugar:
1
g
|
Vitamin A:
155
IU
|
Vitamin C:
2
mg
|
Calcium:
54
mg
|
Iron:
1
mg
Follow me on Pinterest for daily delicious recipes!
THANKS FOR PINING!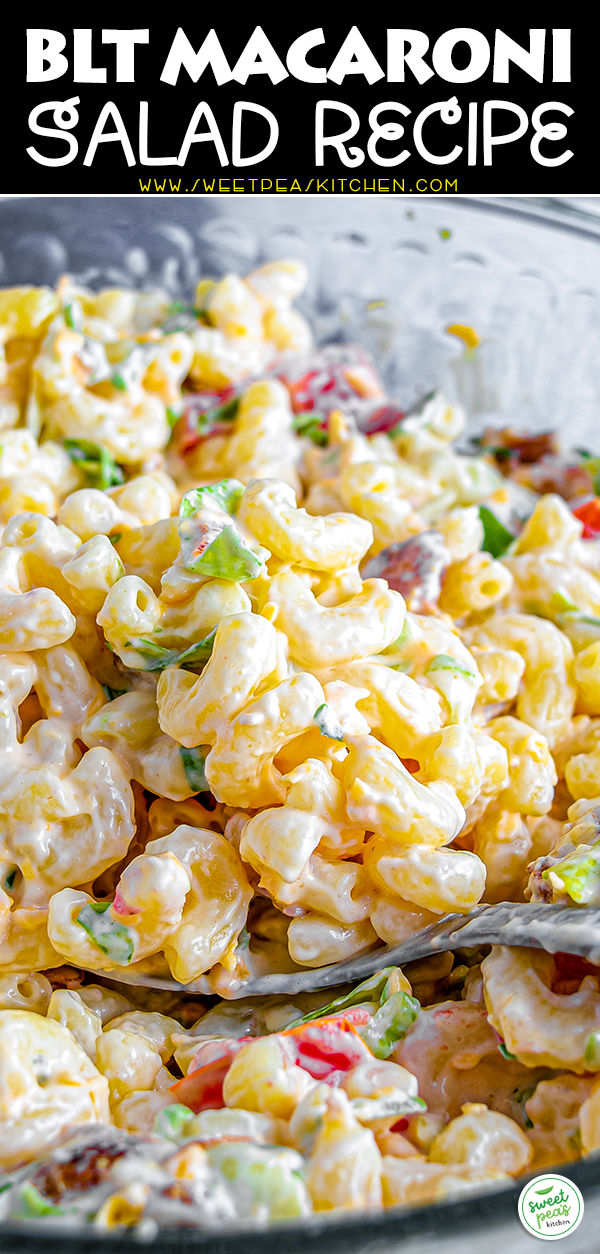 Why is my pasta salad flavorless?
Your pasta salad may taste flavorless for a variety of reasons, including the use of bland ingredients, not using enough seasonings, or using the wrong type of dressing.
To make your pasta salad more flavorful, try using more herbs, spices, and acidic ingredients, such as lemon juice or vinegar, and make sure to properly season it.
Why does pasta salad sometimes taste metallic?
The metallic taste in pasta salad can be caused by the use of low-quality ingredients or utensils that have reacted with the food.
To avoid this, use high-quality ingredients and make sure to properly store and clean your kitchen equipment.
How long does pasta salad last?
Pasta salad typically lasts 3-5 days in the refrigerator when stored in an airtight container. To extend its shelf life.
Make sure to properly refrigerate the pasta salad and consume it within the recommended time frame.
Is Fat-Free Greek Yogurt Kosher?
Fat-free Greek yogurt is typically considered kosher as long as it is made with kosher ingredients and produced in accordance with kosher dietary laws.
However, it is always best to check the labeling and certifications to make sure the product meets your specific dietary requirements.
Can you freeze this recipe?
Freezing pasta salad is not recommended, as the pasta and vegetables can become mushy and the dressing may separate upon thawing. If you need to store the pasta salad for a longer period of time, it is best to keep it in the refrigerator for up to 5 days.
Can I make this in advance?
You can make pasta salad in advance, but keep in mind that some ingredients, such as lettuce and cherry tomatoes, may become soggy over time. To mitigate this, you can add these ingredients just before serving.
To make the pasta salad in advance, cook the pasta, let it cool, and mix it with the other ingredients.
Store the pasta salad in an airtight container in the refrigerator until you're ready to serve it. You may need to adjust the seasoning and dressing before serving, as the flavors may meld and change over time.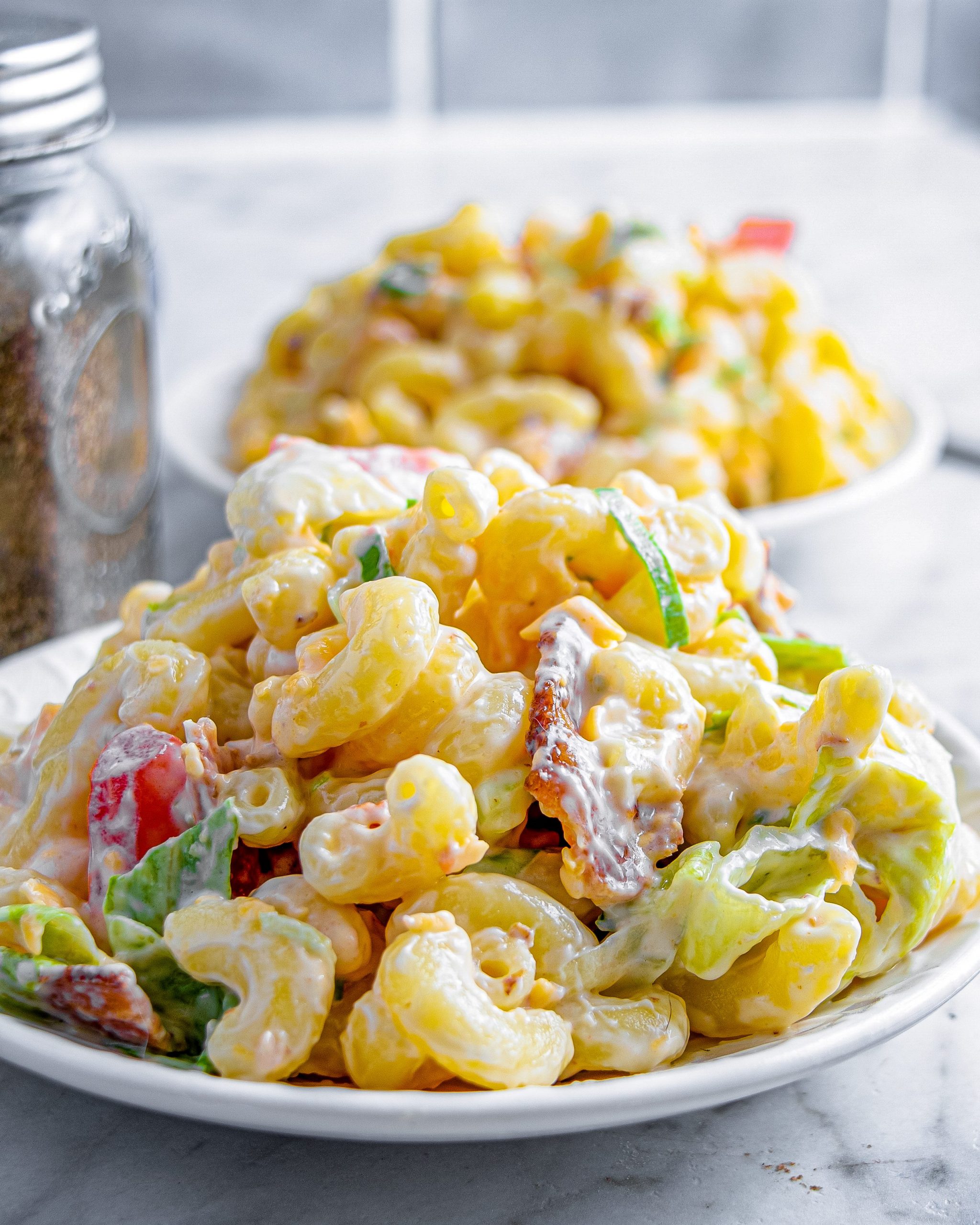 More easy salad recipe ideas?
Fruit Salad to Die For – This homemade fruit salad is packed with fresh flavors.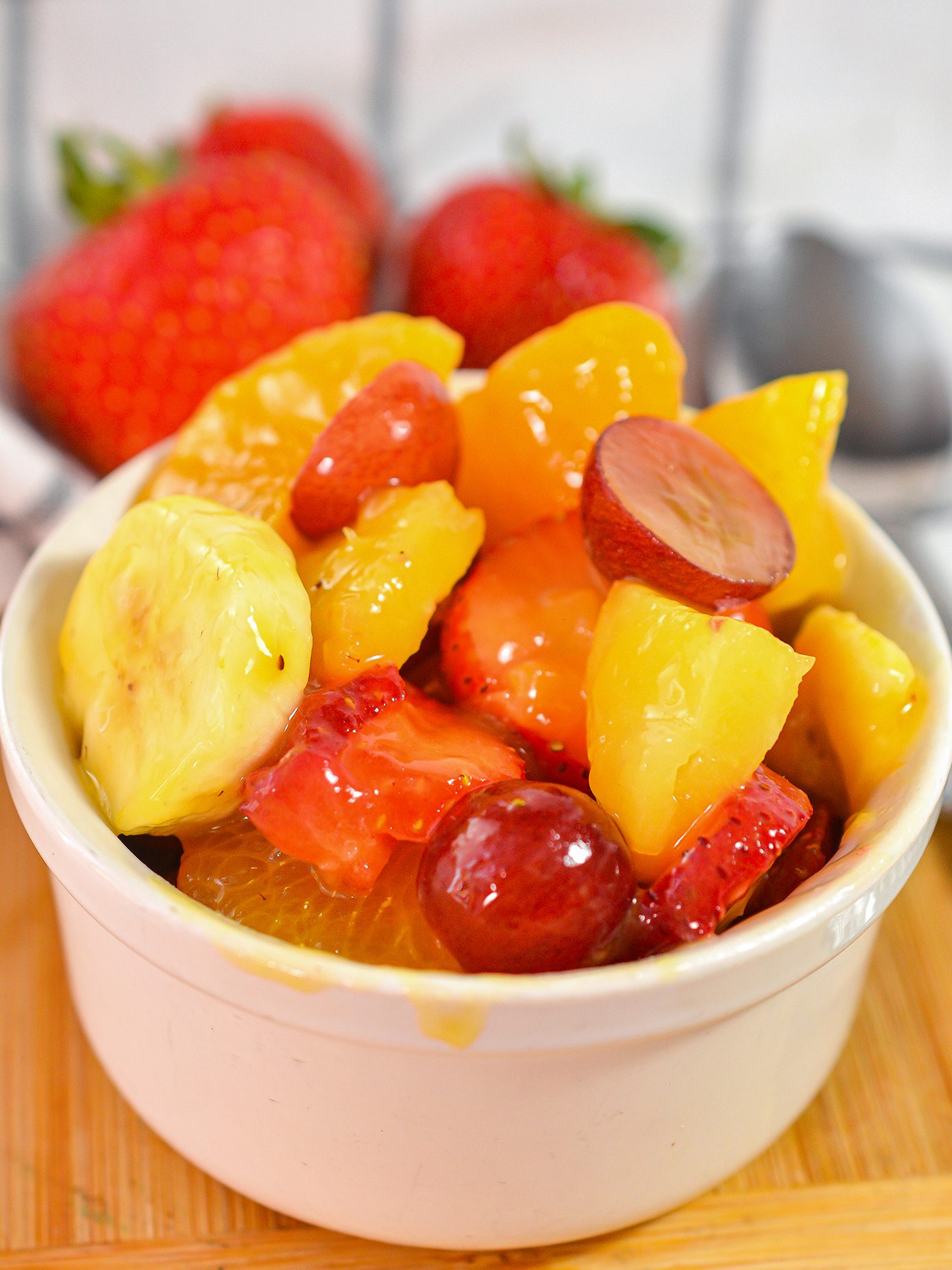 California Spaghetti Salad – its delicious food!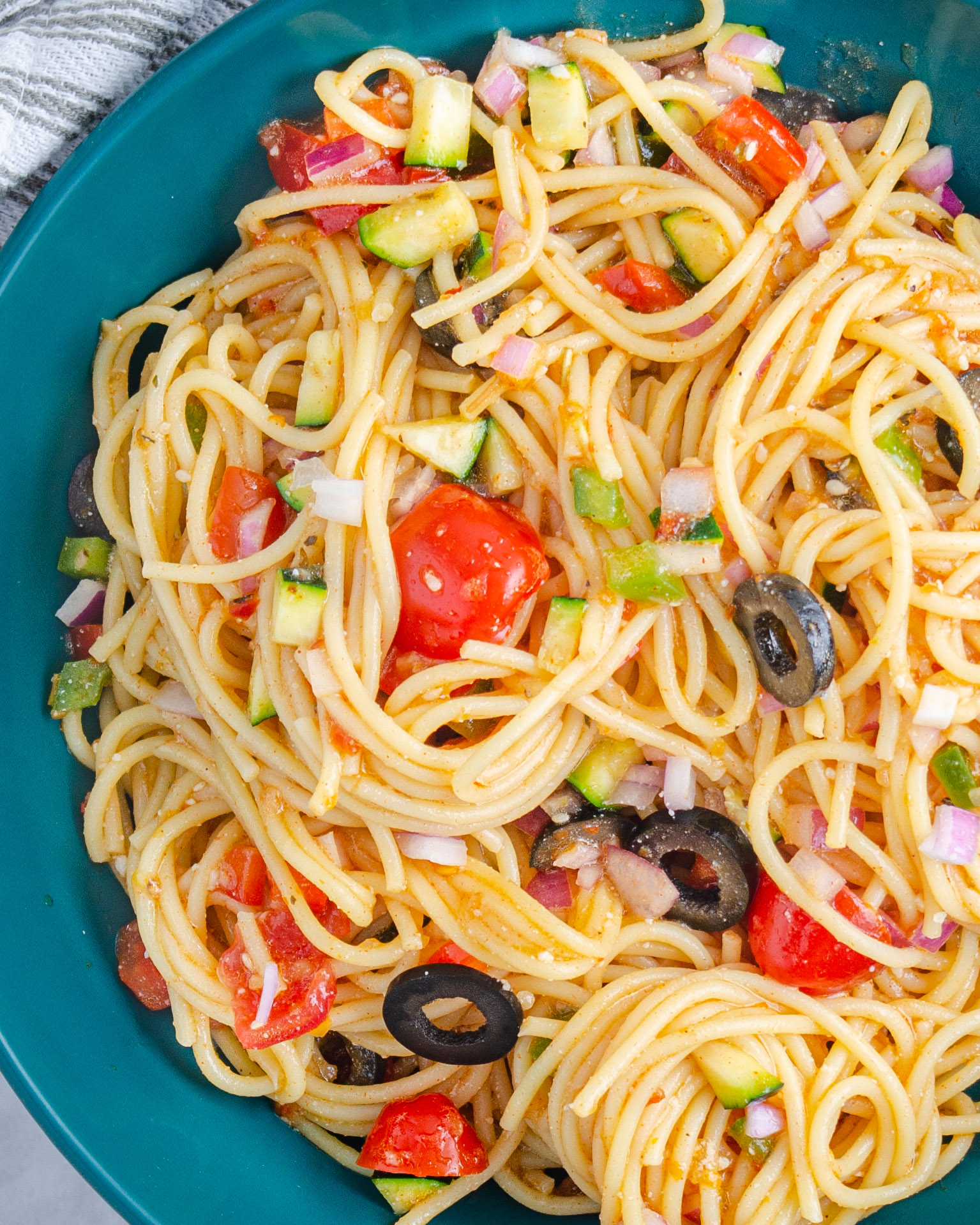 Dad's Creamy Cucumber Salad – The perfect side to bring to your next potluck or barbecue.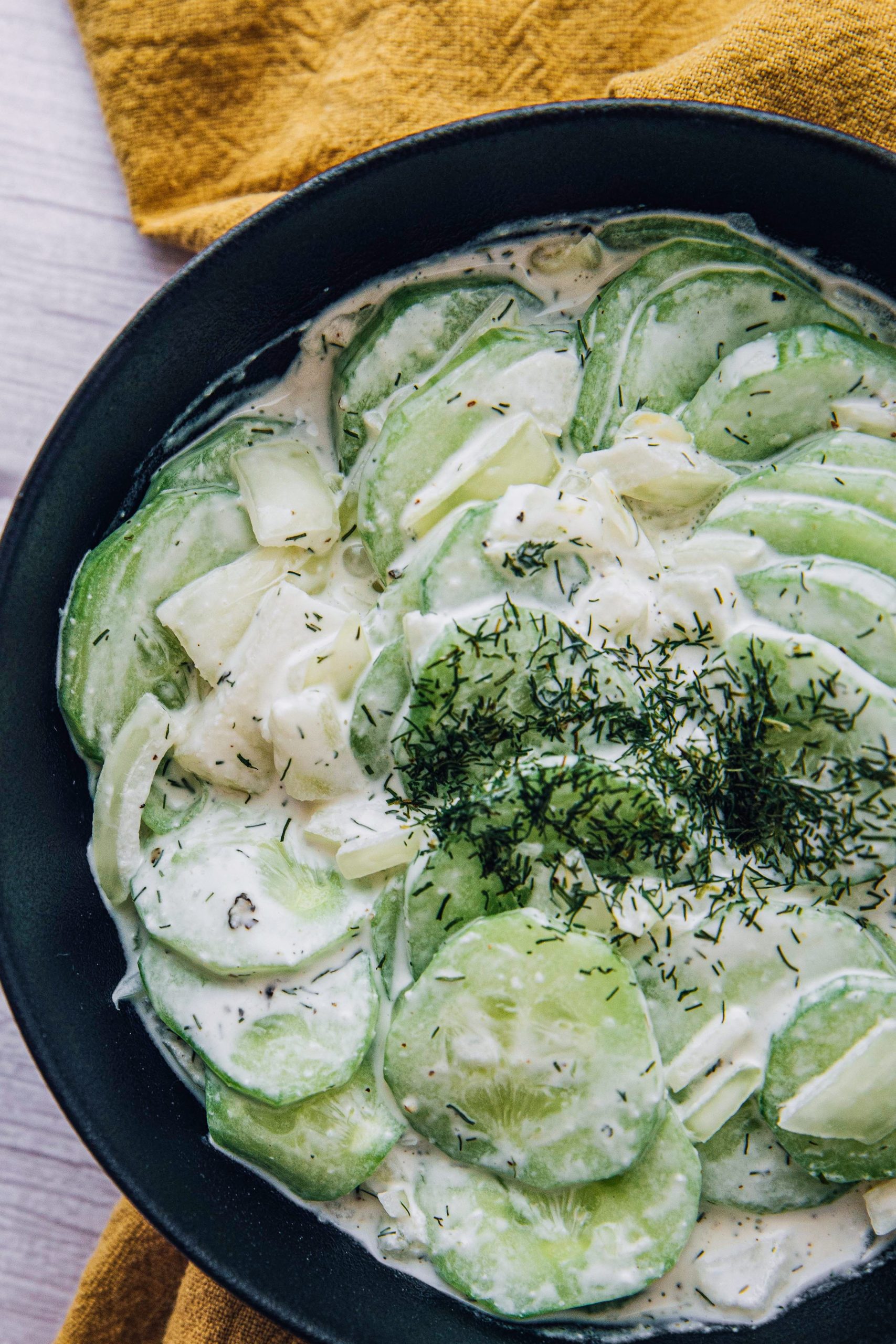 Get new recipes weekly plus our FREE ebook!